You claim you're an insurance underwriter, but if you hope to land your next job, you need to prove this to the hiring manager.
We can help you to create a resume that makes your case, with our top tips and writing advice in the guide below.
We've also added an insurance underwriter resume example that's bound to get the recruiter's approval.
Contents
| | |
| --- | --- |
| How to write a Insurance Underwriter resume | |

Insurance Underwriter Resume Example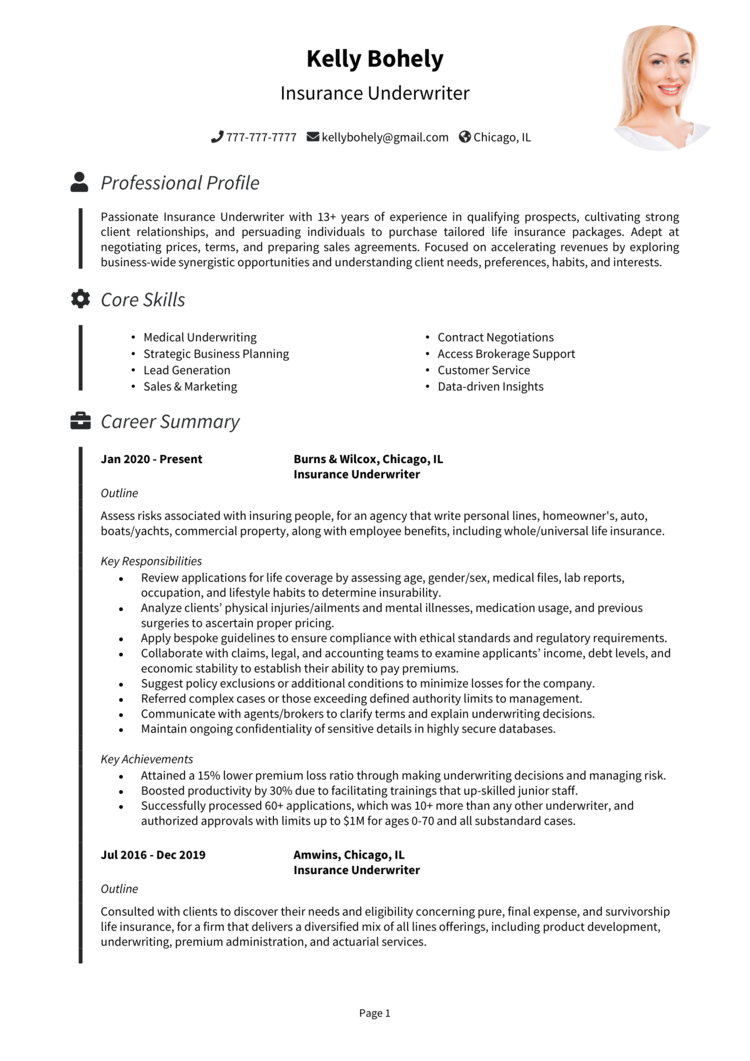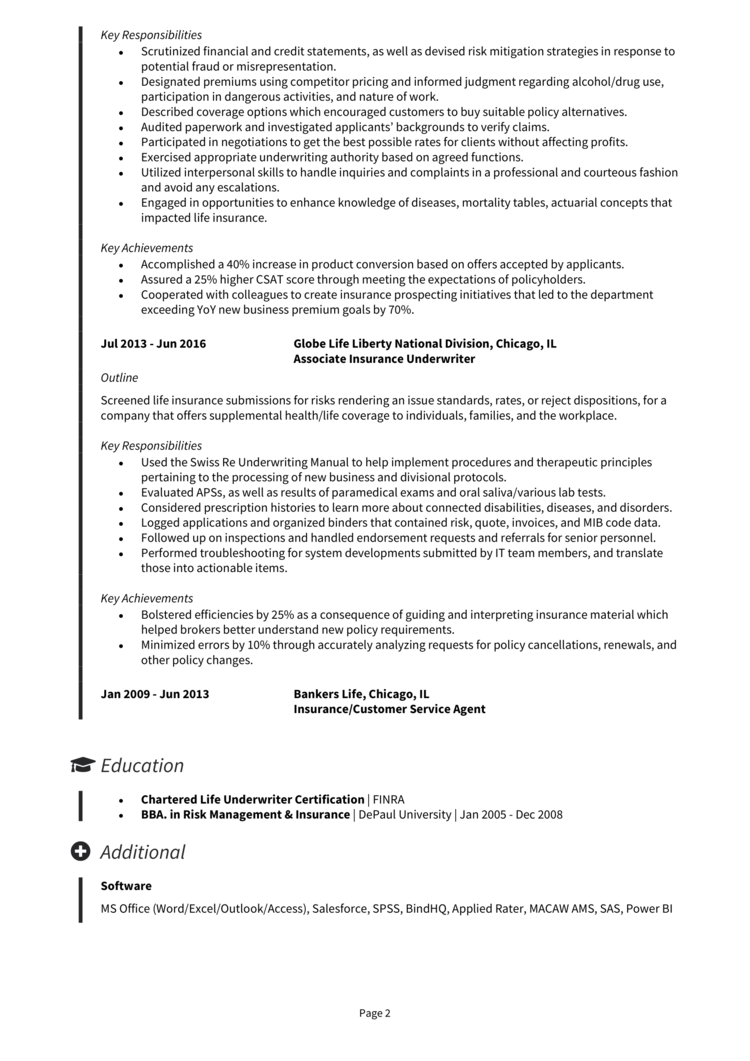 This example Insurance Underwriter resume is well-structured to provide a pleasant reading experience for recruiters, and contains all of the crucial information they want to see.
The rest of the guide will show you exactly how you can achieve this in your own resume.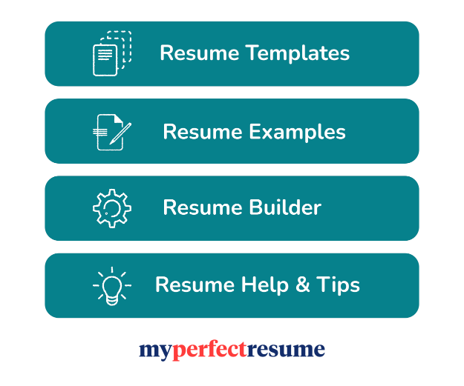 Insurance Underwriter resume layout and format
Formatting is often overlooked when writing resume, but it's a crucial element of it"s success.
Creating a document that not only looks good, but is easily comprehended, is the key to gaining and holding the attention of busy hiring managers.
Use these formatting tips for best results.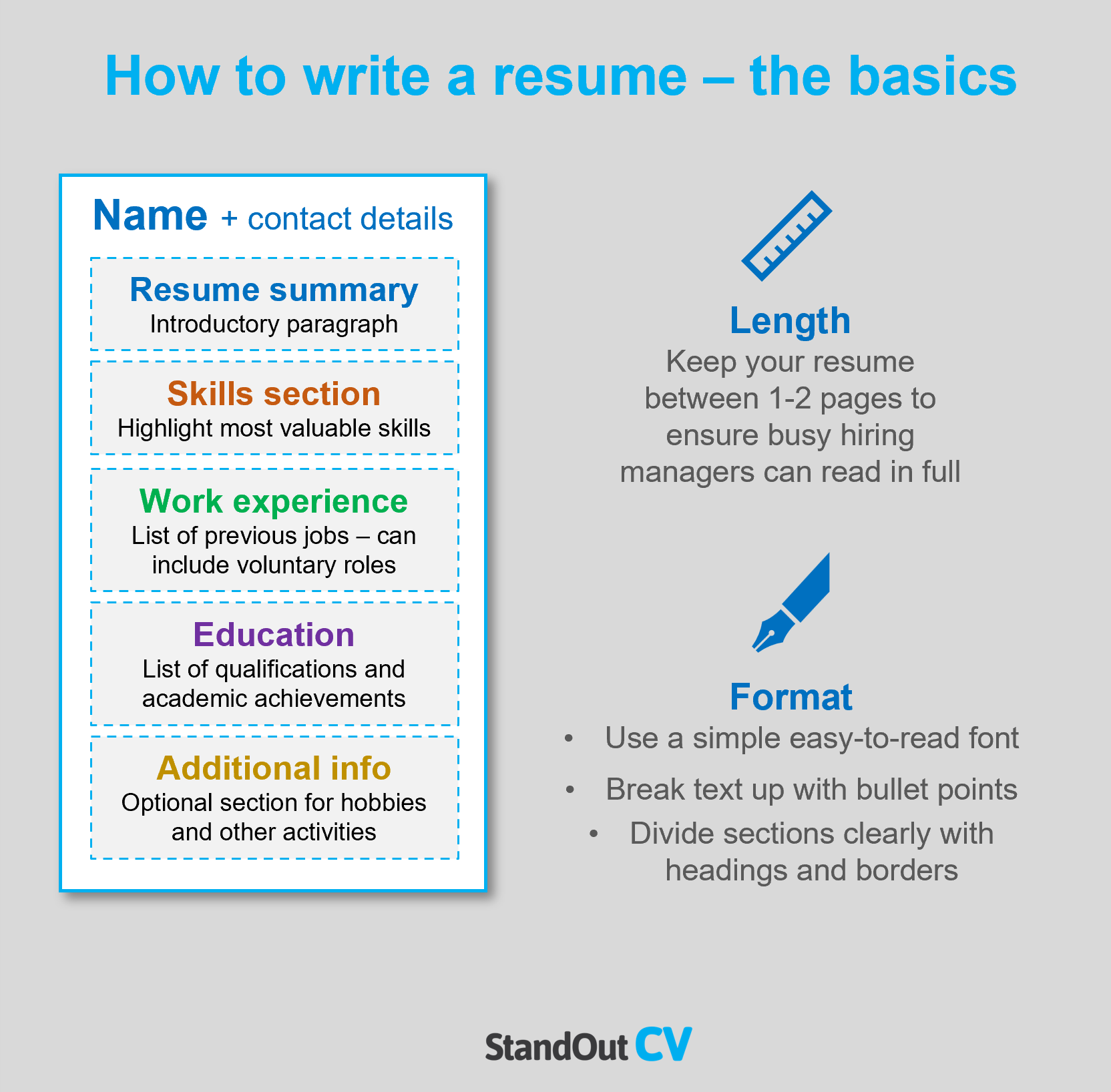 Formatting your resume
Length: Recruiters often see hundreds of resumes per day – so keep yours under 2 pages in length, if you want to ensure it gets read in full.
Font & readability: Complex fonts are a readers' worst nightmare and will leave recruiters struggling to understand your message. Use a clear simple lean font in a color that stands out against the page, and break your text up with bullet points to make the content easily digestible.
Layout & Structure: When it comes to designing your resume, it's essential to make it visually appealing, but it's equally important not to overlook functionality. To achieve this, you should organize the page into clear sections using bold headings and borders.
Photos: While a photo is not usually necessary on your resume in the United States, it may be beneficial to include one in regions and industries where it is customary.
Quick tip: Achieving a professional look for your resume can be difficult and time-consuming. If you want to create an attractive resume quickly, try our partner's Resume Builder and use one of their eye-catching resume templates.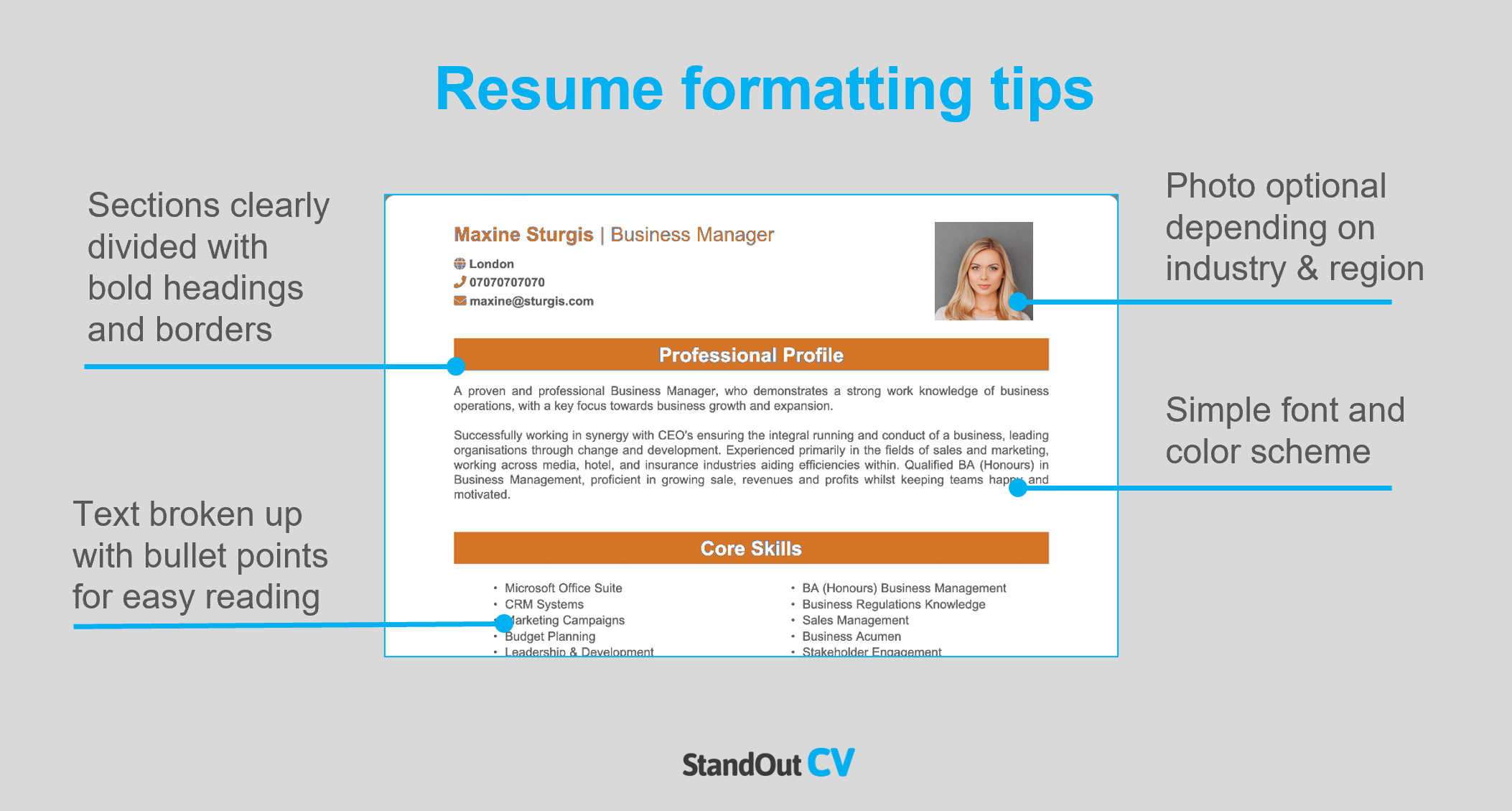 Resume layout
Divide the page into these sections when you write your own resume.
Name and contact details – Simply state who you are, and how to get in touch with you.
Resume summary – An introductory paragraph at the very top of your resume which summarizes your skills, experience and suitability for your target jobs.
Core skills section – A bullet-pointed list of your skills that relate most to your target jobs.
Work experience – A list of your current and previous jobs, including all of your responsibilities and achievements.
Education – A section that showcases all of your education and academic achievements.
Additional info (optional) – Here you can add an extra section for things like hobbies and interests, or anything else that might be relevant to your target jobs.
Here's what to include in each part of your resume.
Contact Details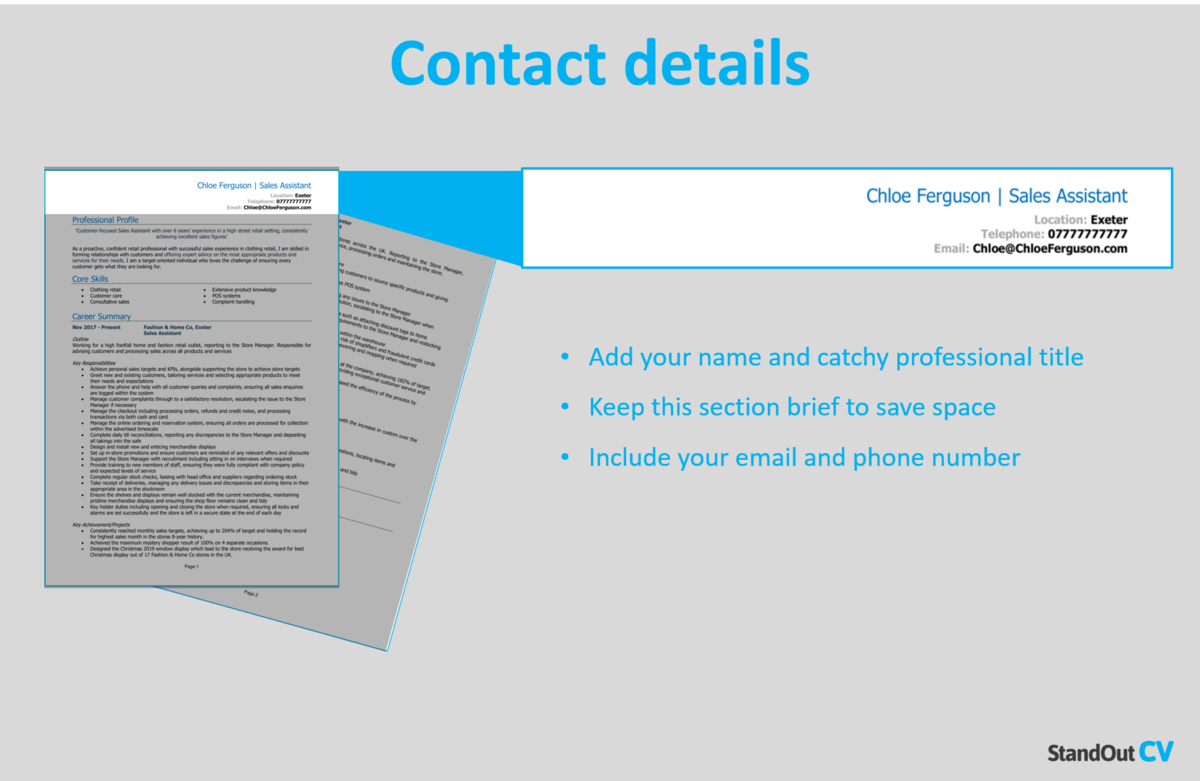 Add your name and contact details to the header of your resume, so that anybody reading can easily see how to contact you.
Name and profession title
Cell phone number – or any number you are easily reachable on
Location – Add your local area such as Washington or San Diego – not your full address as that will take up too much space.
Email address – Use a professional looking address.
You can add a link to your LinkedIn profile if you have one – you do not need to include personal details like date of birth or religion.
Insurance Underwriter Resume Summary
Grab the attention of recruiters right away by including a compelling summary at the top of your resume that summarizes your most valuable skills and experience.
This brief yet impactful section enables you to demonstrate why you're the best candidate for the job and convince recruiters to keep reading.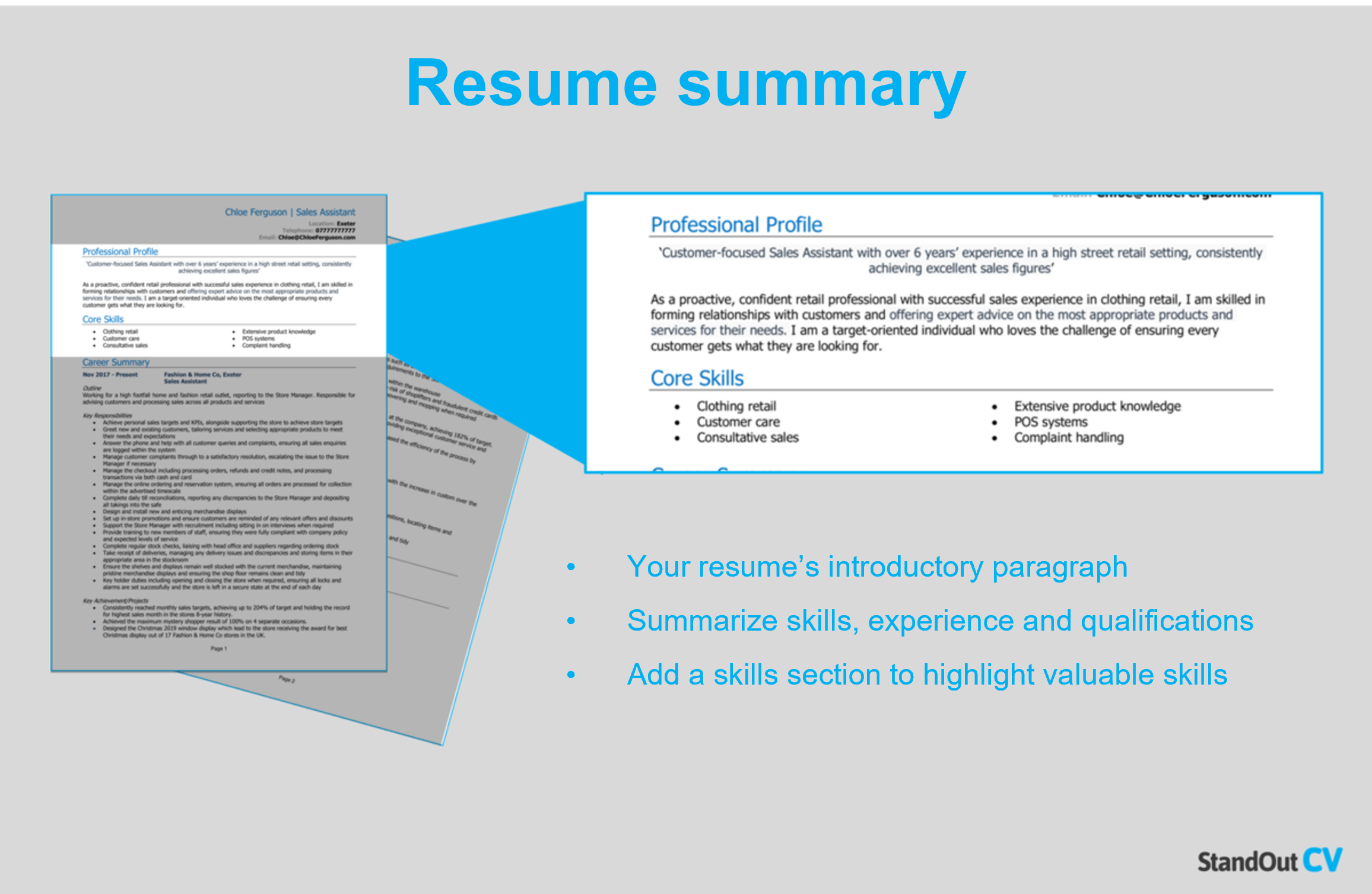 How to create a resume summary that will excite recruiters:
Keep it short: A concise and focused resume summary is essential for capturing a recruiter's attention and keeping them engaged. Limiting your summary to 4-7 lines ensures that you make a strong impression in the first few seconds of them opening the document.
Tailor to target jobs: To mirror your target jobs, scrutinize the job description and include as many relevant skills as possible in your resume.
Avoid using cliches: Recruiters look for facts in resumes, such as hard skills and qualifications – so, leave out the meaningless cliches like "hard worker who works well in a team and individually"
Insurance Underwriter resume summary example
Passionate Insurance Underwriter with 13+ years of experience in qualifying prospects, cultivating strong client relationships, and persuading individuals to purchase tailored life insurance packages. Adept at negotiating prices, terms, and preparing sales agreements. Focused on accelerating revenues by exploring business-wide synergistic opportunities and understanding client needs, preferences, habits, and interests.
What to include in your Insurance Underwriter resume summary?
Summary of your experience: What type of organizations have you worked at? What types of roles have you done and what have you contributed to previous employers?
Relevant skills: Incorporate your highly relevant skills for Insurance Underwriter jobs to exhibit your suitability as soon as your resume is opened.
Qualifications: Showcase your level of education with a quick mention of any qualifications that are essential for the Insurance Underwriter roles you are applying to.
Quick tip: Choose from hundreds of pre-written summaries across all industries, and add one to your resume with one-click in our partner's Resume Builder. All written by recruitment experts and easily tailored to suit your unique skillset and style.
Core skills section
Underneath your summary, write a core skills section to make your most relevant skills jump off the page at readers.
It should be made up of 2-3 columns of bullet points of your relevant skills.
Before you do this, look over the job description and make a list of any specific skills, specialisms or knowledge required.
Then, make sure to use your findings in your list. This will paint you as the perfect match for the role.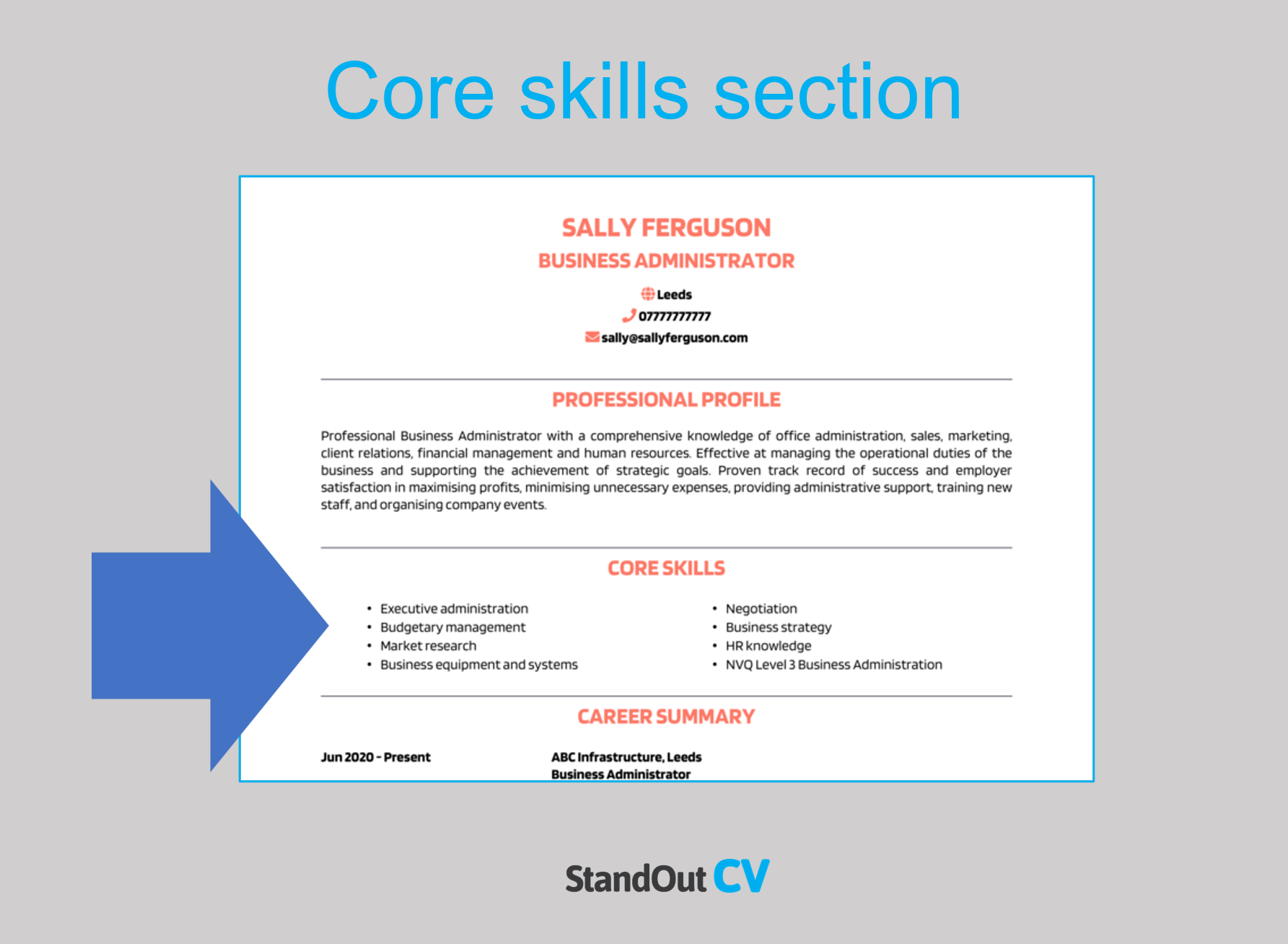 Best skills for your Insurance Underwriter resume
Risk Assessment – Evaluating risks associated with insurance policies, including analyzing data, assessing potential hazards, and determining appropriate coverage levels.
Policy Analysis – Thoroughly reviewing insurance applications, policy documents, and supporting materials to assess eligibility, coverage limits, and exclusions.
Underwriting Guidelines – Utilizing knowledge of insurance company guidelines and industry regulations to ensure compliance when evaluating and approving insurance applications.
Financial Analysis – Analyzing financial statements, credit reports, and other relevant financial data to assess the financial stability and risk profile of applicants.
Decision-Making – Evaluating information, making sound judgments, and determining appropriate premiums, coverage terms, and policy endorsements.
Stakeholder Communication – Interacting with clients, agents, and other stakeholders, providing clear explanations of underwriting decisions and policy terms.
Industry Knowledge – Maintaining up-to-date knowledge of insurance industry trends, market conditions, and regulatory changes that impact underwriting decisions and policies.
Negotiation – Negotiating terms and conditions with clients or agents, balancing risk exposure and coverage needs while maintaining a profitable portfolio.
Technical Proficiency – Utilizing underwriting software systems, databases, and other technology tools to manage and track policy information, analyze data, and generate reports.
Quick tip: Our partner's Resume Builder contains thousands of in-demand skills for every profession that can be added to your resume in seconds – saving you time and greatly improving your chances of landing job interviews and getting hired.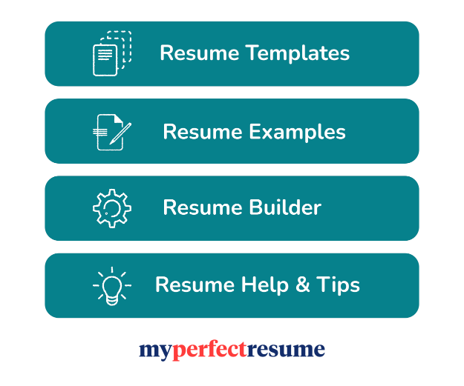 Work experience
So, you've got the recruiter interested with your catchy summary… Great work.
Now it's time to show them the impact you make in the workplace by listing out your previous jobs and what you achieved in each one.
If you have tons of experience, you can condense this part down to the last few years – if you are junior, then you should include as much possible (even volunteering and school work placements)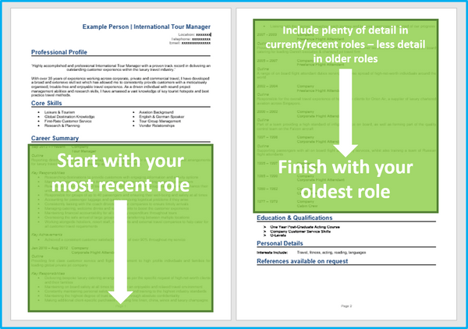 Structuring your jobs
It's easy to overwhelm readers when writing about a job you have been doing for years or even months.
Break the information up like this to keep it simple for recruiters to understand.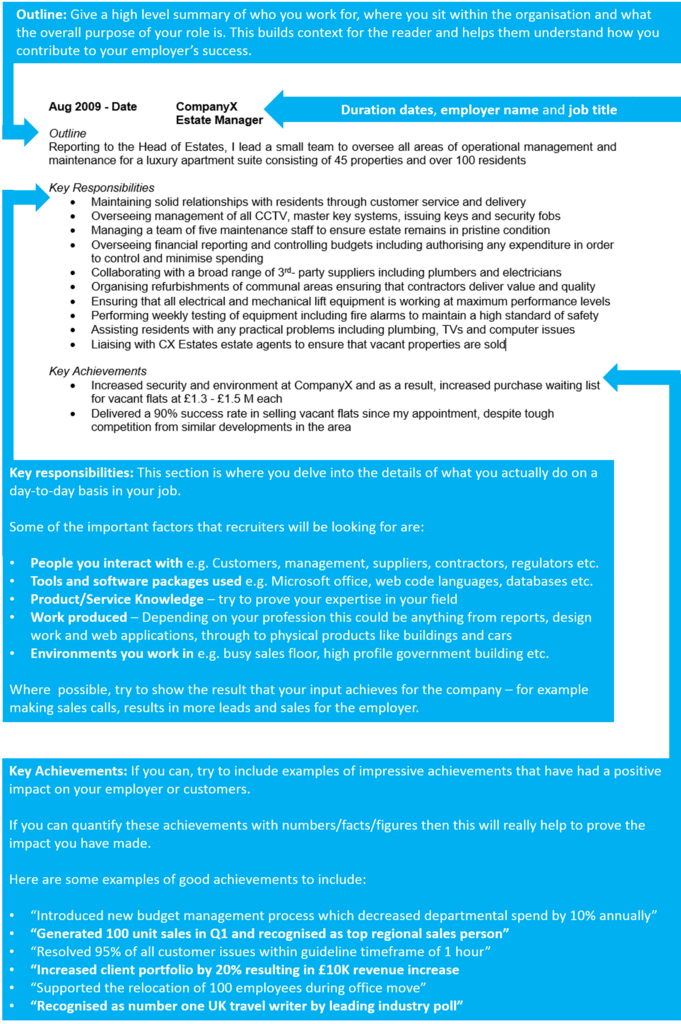 Job outline
Begin each job with a short summary of who the organization is, where you sit within it, and what the main goal of your position is.
Key responsibilities
The bulk of the role description should be comprised of bullet points that explain all of your duties in the job.
Keep the sentences short and simple to make them easy for recruiters to digest.
Key achievements
Show employers the value you can bring to them by adding a few achievements to your jobs.
Whether you've saved the company money or improved an internal process, let recruiters know
Add some numbers to give readers a real scale of the impact, e.g. "reduced call wait time by 10%"
Example job for Insurance Underwriter resume
Outline
Assess risks associated with insuring people, for an agency that write personal lines, homeowner's, auto, boats/yachts, commercial property, along with employee benefits, including whole/universal life insurance.
Key Responsibilities
Review applications for life coverage by assessing age, gender/sex, medical files, lab reports, occupation, and lifestyle habits to determine insurability.
Analyze clients' physical injuries/ailments and mental illnesses, medication usage, and previous surgeries to ascertain proper pricing.
Apply bespoke guidelines to ensure compliance with ethical standards and regulatory requirements.
Collaborate with claims, legal, and accounting teams to examine applicants' income, debt levels, and economic stability to establish their ability to pay premiums.
Quick tip: Create impressive job descriptions easily in our partner's Resume Builder by adding pre-written job phrases for every industry and career stage.

Education section
Nearing the end of your resume, your education/qualifications section should be added.
In a well-structured list, add all of your qualifications and certifications that qualify you to perform a typical Insurance Underwriter role.
If you have plenty of work experience, keep this section brief – if not, add lots of detail to make up for your lack of experience.
Additional information
If you have anything else to add which is relevant to the jobs you are applying for, the additional info section is the place to add it.
Perhaps you have a hobby which involves relevant skills, or maybe you have some awards or publications worth mentioning.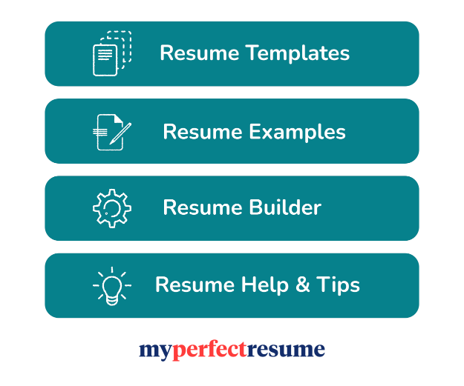 Writing your own winning Insurance Underwriter resume
Writing a Insurance Underwriter resume can be challenging but following the steps above will ensure that you land plenty of interviews.
Good luck with your job search!