You're intelligent, persuasive, and thorough; you're so good in fact, you could sell sand at the beach!
But that's not really your style, you prefer selling to businesses, and you're good at it. So how do you effectively sell yourself on your resume?
Well, that's exactly what we're here to teach you. Find out how to showcase your skills and experience in our detailed guide below, complete with a B2B sales executive resume example.
Contents
| | |
| --- | --- |
| How to write a B2B Sales resume | |

B2B Sales Resume Example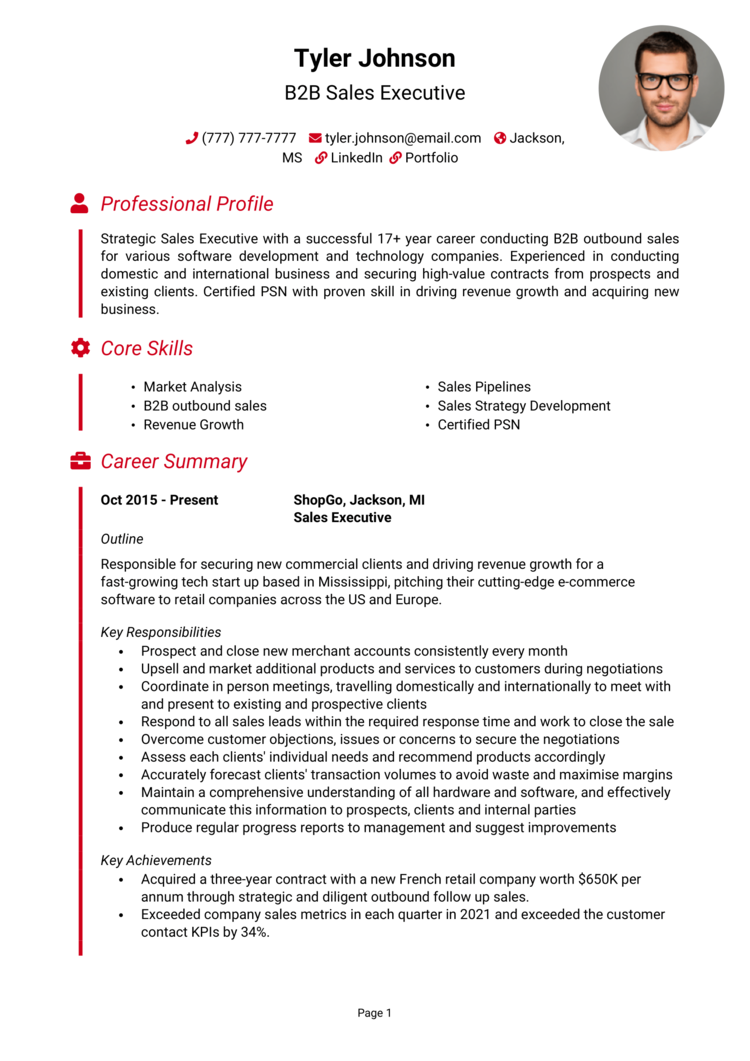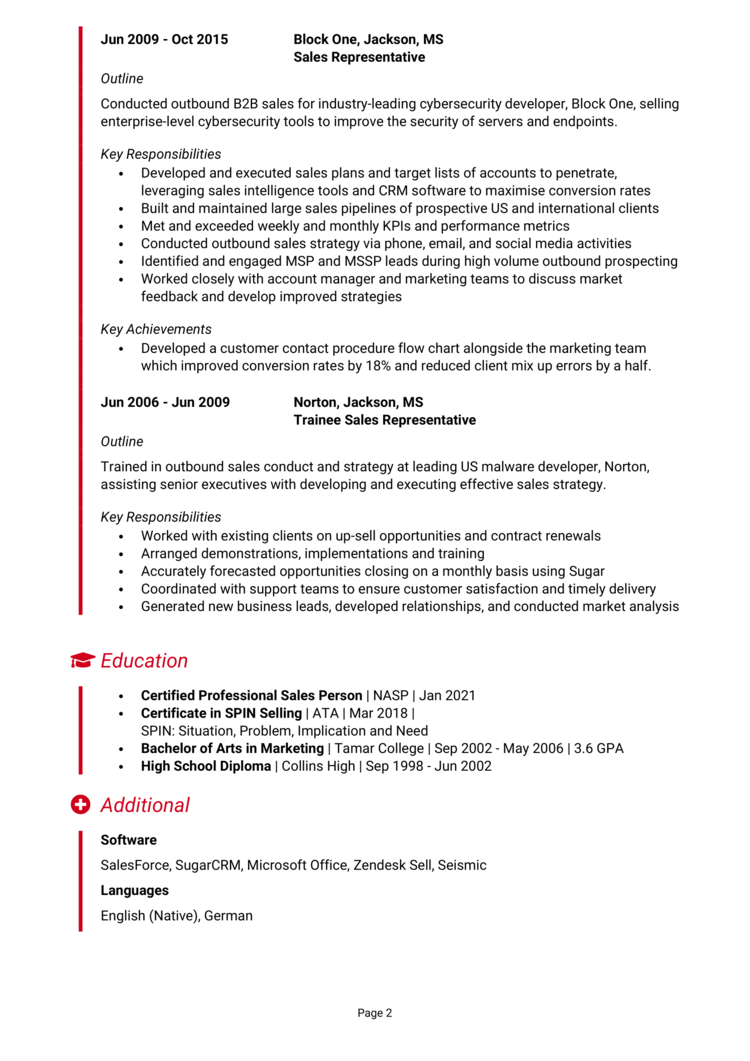 The example B2B Sales Executive resume above shows you how a professional resume should look, along with the type of content it should contain.
You can see that the information is well-organized across the page and its easy for busy recruiters to see the candidate's important skills.
Keep this in mind when writing your own resume.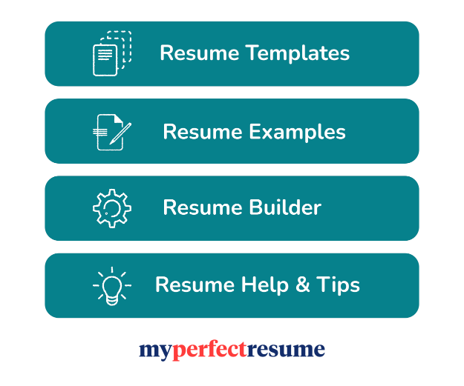 B2B Sales resume layout and format
If you want to get noticed in the job market, you have to pay attention to the format and layout of your resume.
Essentially your resume needs to look highly polished, and provide hiring managers with an easy reading experience.
Use these resume formatting tips to get a head start on this.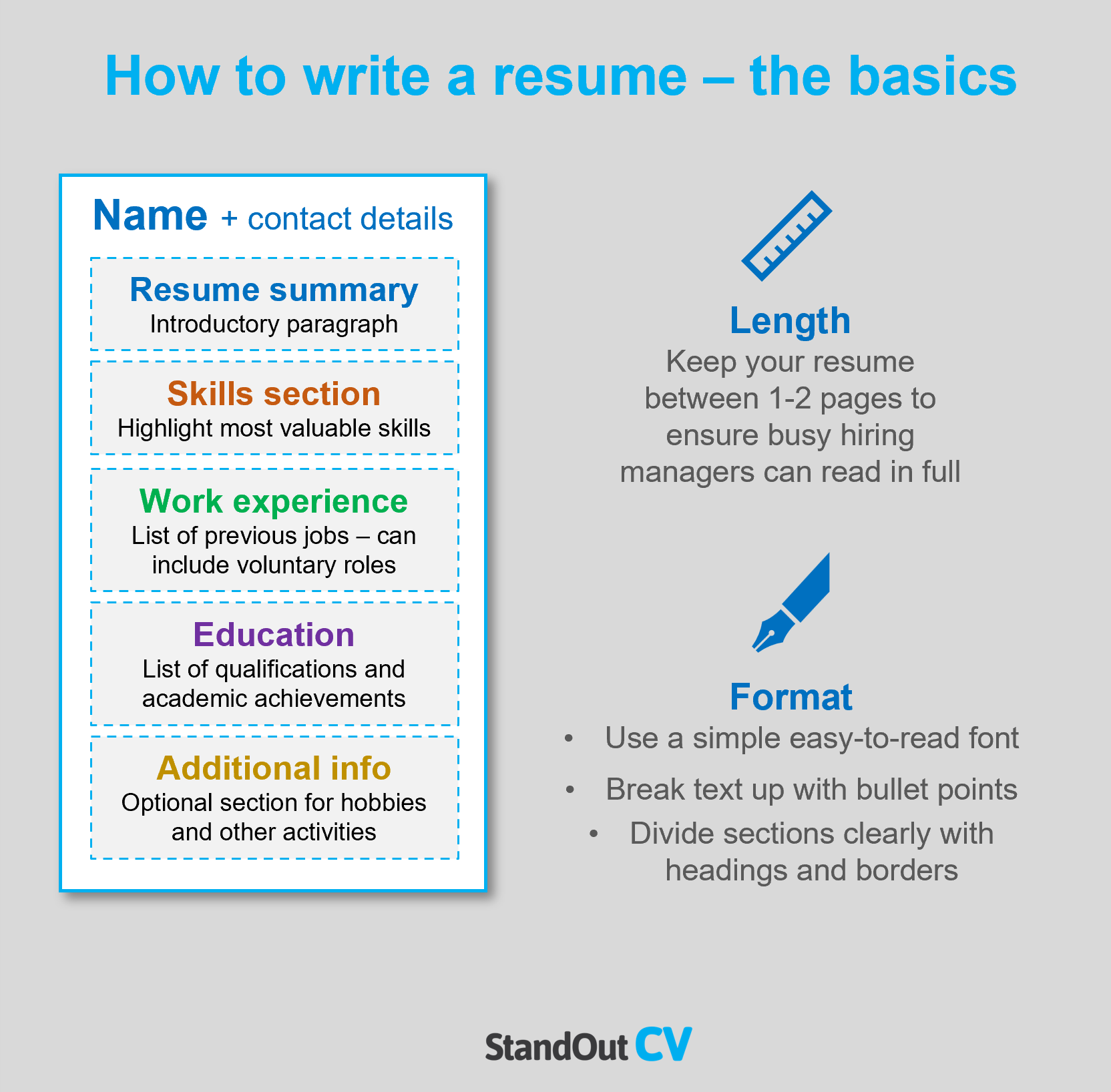 Formatting your resume
Length: Keep your resume to 2 pages or under. You've probably heard that recruiters and hiring managers don't have lots of time to read every resume, so keep yours brief if you want to ensure that they read all of the important info in yours.
Font & readability: The key to an effective resume is its readability, so it's best to use a clear and simple font and format it with bullet points and short paragraphs to make it easy for recruiters to read through quickly.
Layout & Structure: A visually appealing resume is important, but don't forget about functionality. To ensure a functional design, use bold headings and borders to organize the page into clear sections.
Photos: While adding a photo to your resume is not mandatory in the USA, it can be beneficial if you are applying to organizations in creative industries.
Quick tip: Achieving a professional look for your resume can be difficult and time-consuming. If you want to create an attractive resume quickly, try our partner's Resume Builder and use one of their eye-catching resume templates.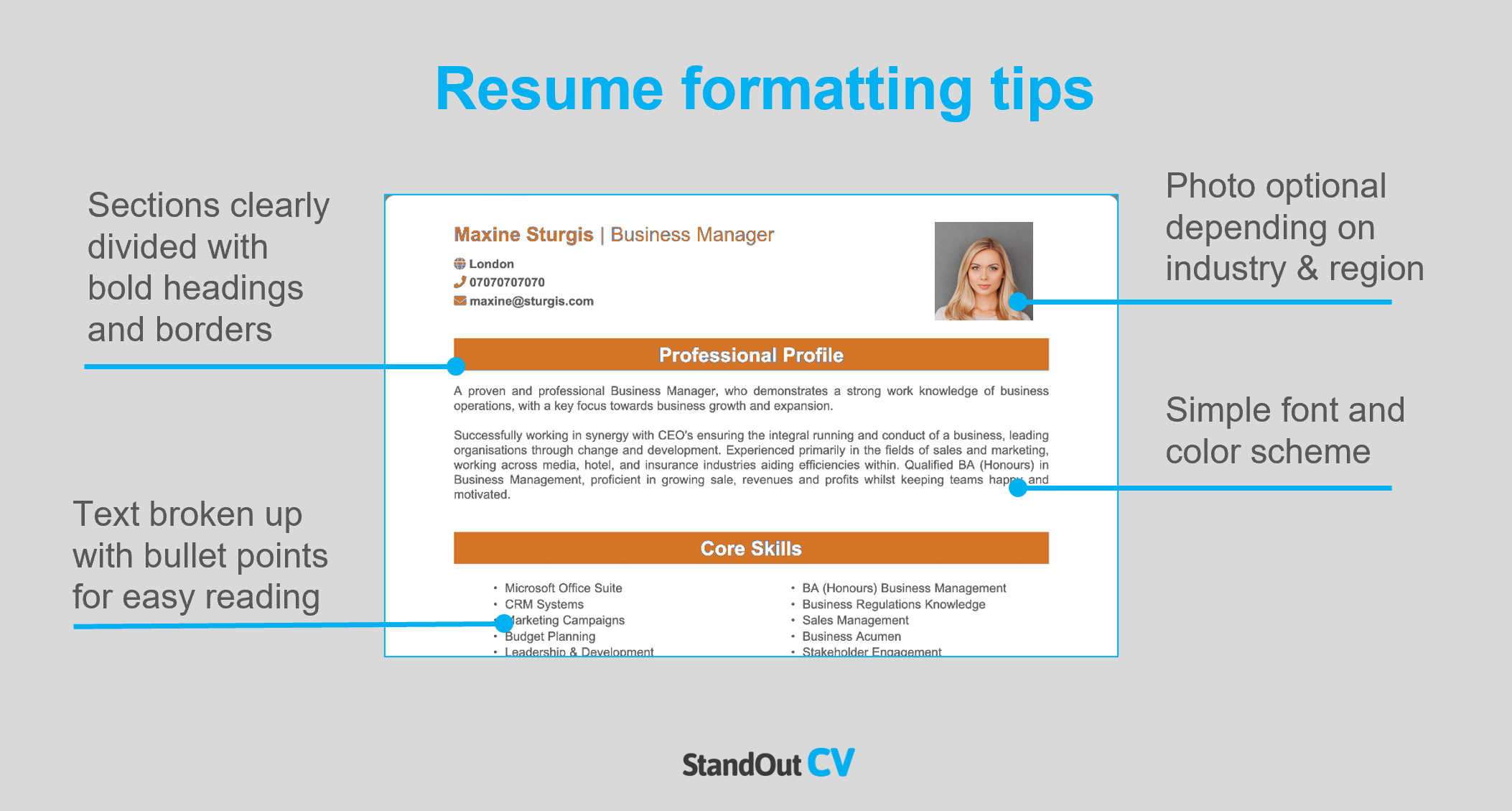 Resume layout
Divide the page into these sections when you write your own resume.
Name and contact details – Simply state who you are, and how to get in touch with you.
Resume summary – An introductory paragraph at the very top of your resume which summarizes your skills, experience and suitability for your target jobs.
Core skills section – A bullet-pointed list of your skills that relate most to your target jobs.
Work experience – A list of your current and previous jobs, including all of your responsibilities and achievements.
Education – A section that showcases all of your education and academic achievements.
Additional info (optional) – Here you can add an extra section for things like hobbies and interests, or anything else that might be relevant to your target jobs.
Here's what to include in each part of your resume.
Contact Details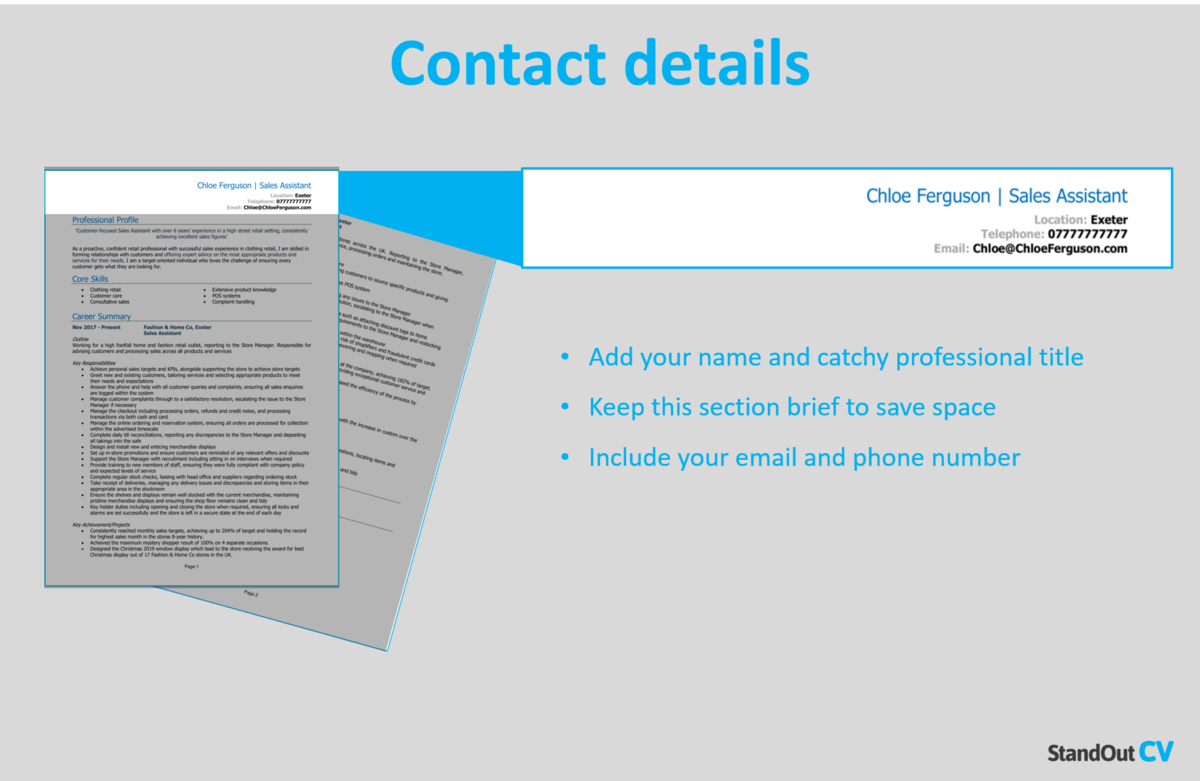 Make it easy for hiring managers to contact you by adding your contact details to the top of your resume.
Keep this section small to save space and include the following.
Name and profession title
Telephone number – Ideally your cell phone so you can answer quickly.
Location – Add your general location such as LA or New York
Email address – Use a professional looking one with no nicknames.
You can add a link to your LinkedIn profile if you have one – you do not need to include personal details like date of birth or marital status.
B2B Sales Resume Summary
Your resume summary is like your introduction to the recruiter or hiring manager – it should grab their attention and leave them eager to read more about you.
Achieve this by writing a snappy overview of your skills, knowledge and what value you can bring to an employer.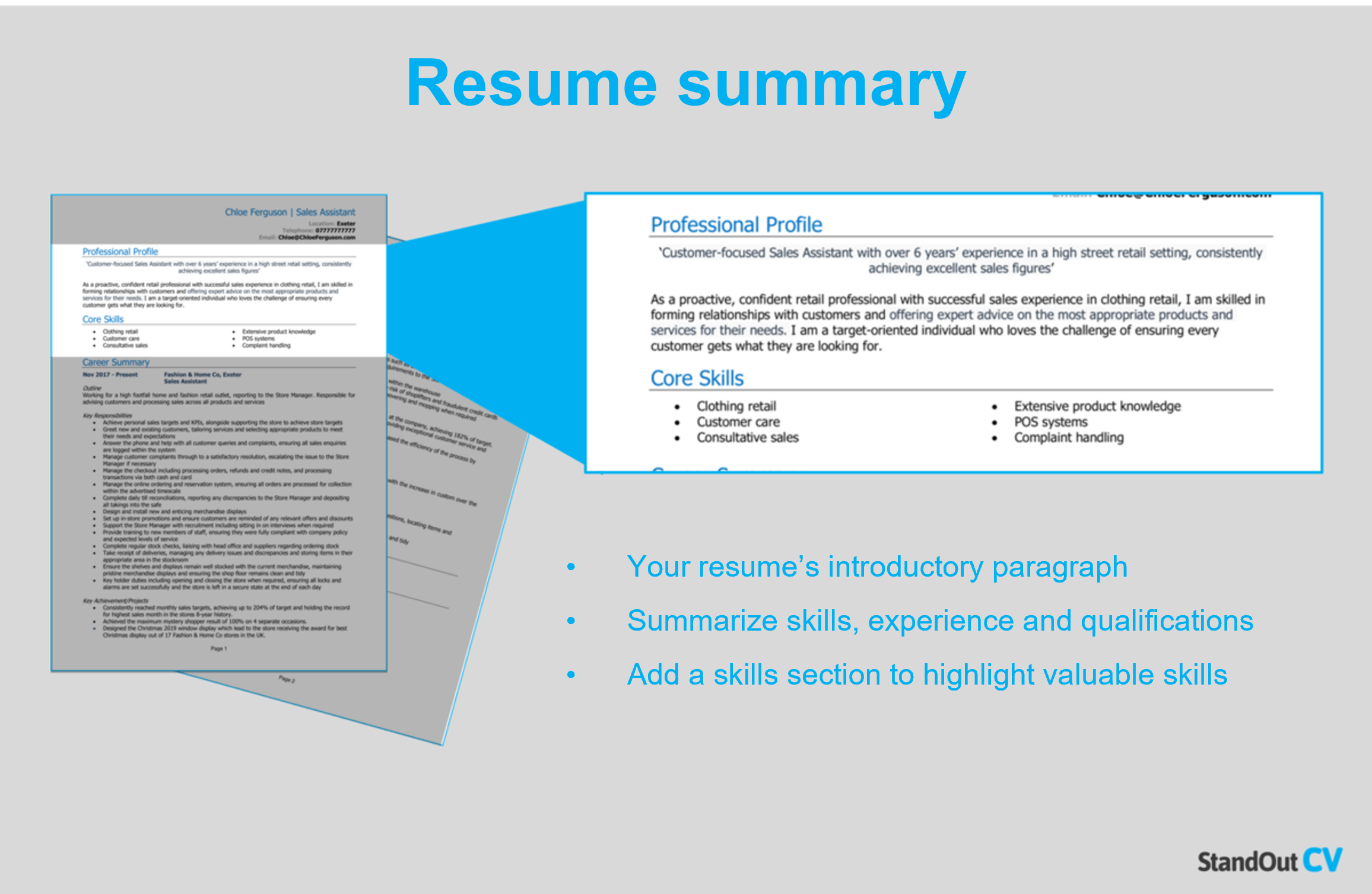 How to create a resume summary that will excite recruiters:
Keep it short: Your summary is intended to be a high-level introduction to hook readers' attention, so keep it brief (4-7 lines) – save the details for later in your resume.
Tailor to target jobs: To mirror your target jobs, scrutinize the job description and include as many relevant skills as possible in your resume.
Avoid using cliches: To capture the attention of recruiters you must provide factual information, such as hard skills and qualifications, and avoid using empty phrases like "Go-getter who thinks outside the box."
B2B Sales resume summary example
Strategic Sales Executive with a successful 17+ year career conducting B2B outbound sales for various software development and technology companies. Experienced in conducting domestic and international business and securing high-value contracts from prospects and existing clients. Certified PSN with proven skill in driving revenue growth and acquiring new business.
What to include in your B2B Sales resume summary?
Summary of your experience: Provide an overview of the type of work you have done in the past and the impact you have made at previous employers.
Relevant skills: To quickly showcase your suitability for B2B Sales jobs, ensure that your summary emphasizes your most relevant skills to the jobs you are applying for.
Qualifications: Any qualifications that are important to the B2B Sales jobs you are applying for, should be mentioned in the summary.
Quick tip: Choose from hundreds of pre-written summaries across all industries, and add one to your resume with one-click in our partner's Resume Builder. All written by recruitment experts and easily tailored to suit your unique skillset and style.
Core skills section
Next, you should create a bullet pointed list of your core skills, formatted into 2-3 columns.
Here, you should focus on including the most important skills or knowledge listed in the job advertisement.
This will instantly prove that you're an ideal candidate, even if a recruiter only has time to briefly scan your resume.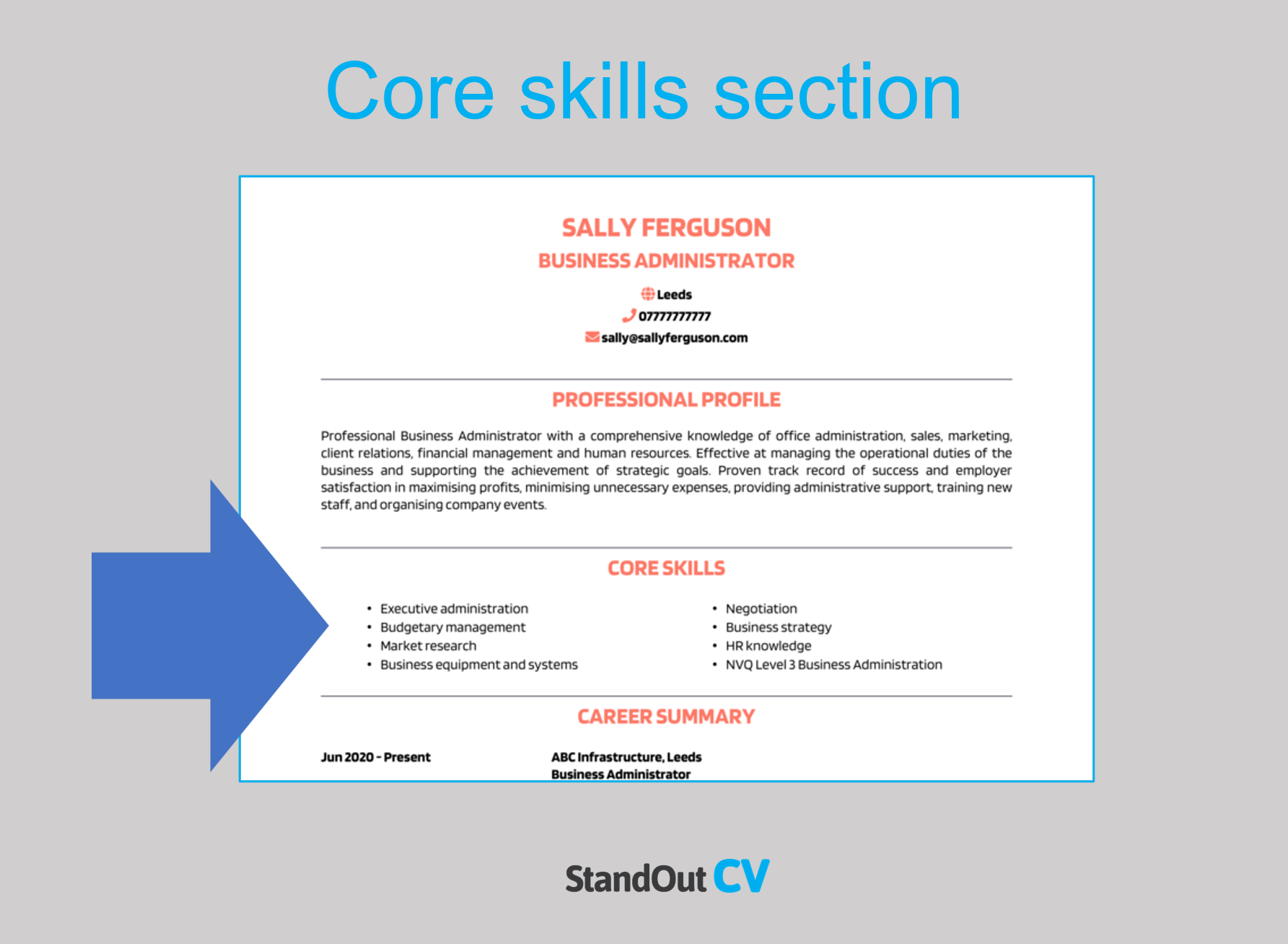 Best skills for your B2B Sales resume
Prospecting – Identifying and researching potential clients, industries, and market segments to build a strong pipeline of leads for B2B sales opportunities.
Relationship Management – Building and nurturing relationships with clients, understanding their needs, and developing trust and rapport to establish long-term business partnerships.
Consultative Selling – Understanding client pain points, offering tailored solutions, and positioning products or services as valuable solutions to address their specific business challenges.
Product Knowledge – Maintaining a deep understanding of the features, benefits, and applications of the products or services being sold, allowing for effective communication and value proposition delivery to clients.
Negotiation and Closing Deals – Negotiating and closing deals, including pricing, terms, and contract negotiations, while maintaining a win-win mindset for both the client and the company.
Sales Presentations – Delivering compelling and persuasive sales presentations that highlight the value proposition of the products or services, effectively addressing client needs and objections.
Sales Pipeline Management – Managing the sales pipeline, including tracking leads, opportunities, and sales activities, and effectively using CRM systems to monitor and drive sales progress.
Competitive Analysis – Utilizing knowledge of the competitive landscape, including competitors' offerings, market positioning, and pricing strategies, to develop effective sales strategies and differentiate from competitors.
Sales Forecasting and Reporting – Analyzing sales data, forecasting future sales trends, and providing accurate sales reports to management, supporting decision-making and sales strategy adjustments.
Sales Metrics and Analytics – Utilizing sales metrics and analytics to measure and evaluate sales performance, identify areas for improvement, and optimize sales strategies and processes.
Quick tip: Our partner's Resume Builder contains thousands of in-demand skills for every profession that can be added to your resume in seconds – saving you time and greatly improving your chances of landing job interviews and getting hired.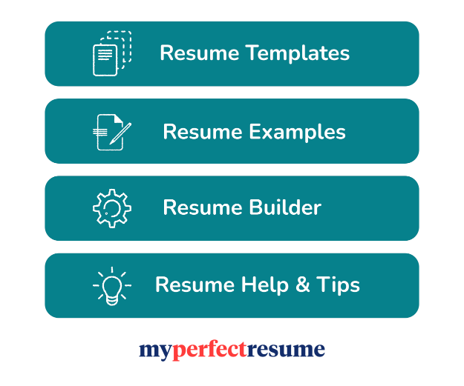 Work experience
So, you've got the recruiter interested with your catchy summary… Great work.
Now it's time to show them the impact you make in the workplace by listing out your previous jobs and what you achieved in each one.
If you have tons of experience, you can condense this part down to the last few years – if you are junior, then you should include as much possible (even volunteering and school work placements)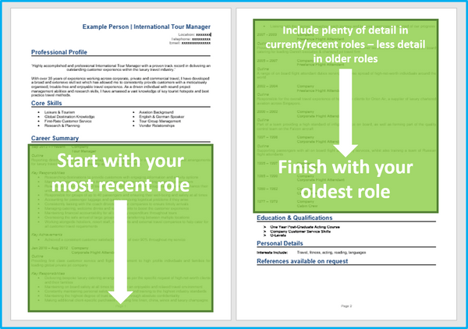 Structuring your jobs
Your job description probably includes tons of information, so it's vital to organize it well when writing about it on your resume.
Structure your jobs as like the example below to make skim-reading easy for recruiters and hiring managers.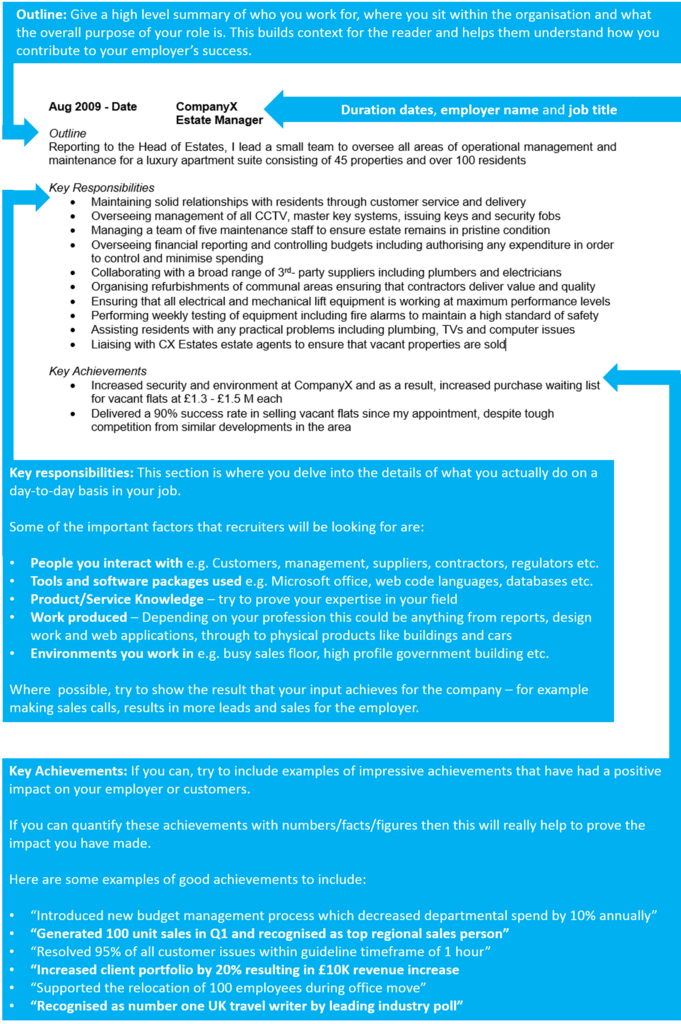 Job outline
Begin each job with a short summary of who the organization is, where you sit within it, and what the main goal of your position is.
Key responsibilities
The bulk of the role description should be comprised of bullet points that explain all of your duties in the job.
Keep the sentences short and simple to make them easy for recruiters to digest.
Key achievements
Round off each job by adding some impressive achievements you made in the role.
Anything you've done that has made a big impact on your employer will make a good impression, think; generating revenue, saving costs, or improving a product.
Quantify your achievements with number where possible e.g. "reduced call wait time by 10%"
Example job for B2B Sales resume
Outline
Responsible for securing new commercial clients and driving revenue growth for a fast-growing tech start up based in Mississippi, pitching their cutting-edge e-commerce software to retail companies across the US and Europe.
Key Responsibilities
Prospect and close new merchant accounts consistently every month
Upsell and market additional products and services to customers during negotiations
Coordinate in person meetings, travelling domestically and internationally to meet with and present to existing and prospective clients
Respond to all sales leads within the required response time and work to close the sale
Quick tip: Create impressive job descriptions easily in our partner's Resume Builder by adding pre-written job phrases for every industry and career stage.

Education section
Nearing the end of your resume, your education/qualifications section should be added.
In a well-structured list, add all of your qualifications and certifications that qualify you to perform a typical B2B Sales role.
If you have plenty of work experience, keep this section brief – if not, add lots of detail to make up for your lack of experience.
Additional information
The bottom of your resume is a place to add any "additional info"
Any other info that didn't fall into any of the previous sections can be added here.
If you have hobbies that are related to your profession or any awards or publications – add them here.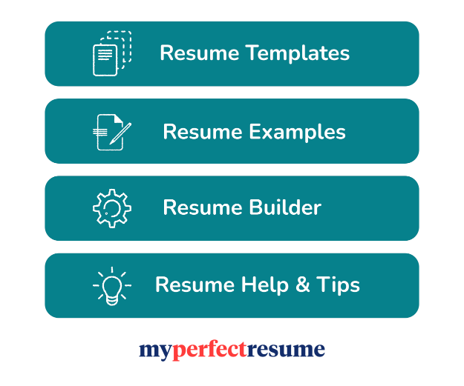 Writing your own winning B2B Sales resume
Crafting a strong B2B Sales resume can be a daunting task, but implementing the steps outlined above will significantly increase your chances of securing multiple interview opportunities.
Good luck with your job search!