Azure DevOps is a very promising segment of the tech world and one which promises lots of exciting career opportunities.
But in order to succeed in the role, you need to have a good understanding of Microsoft's Azure, and you need to be able to showcase this on your resume.
To help you do this, we've put together the following guide, complete with an Azure DevOps resume example and our top writing tips.
Contents
| | |
| --- | --- |
| How to write a Azure DevOps resume | |

Azure DevOps Resume Example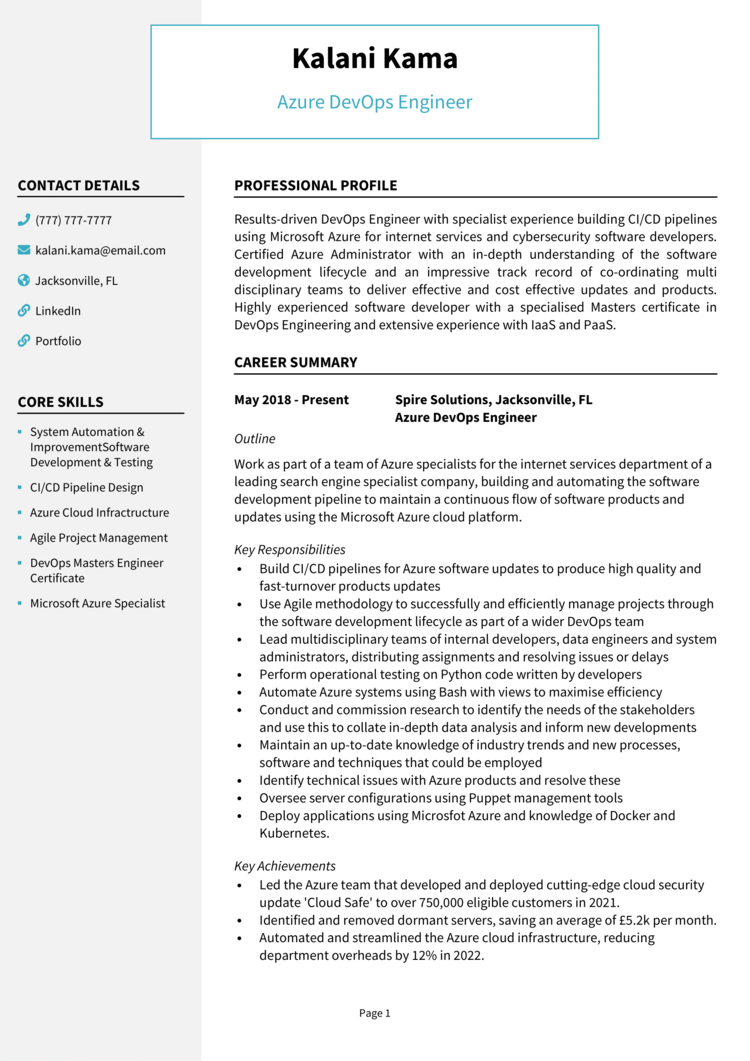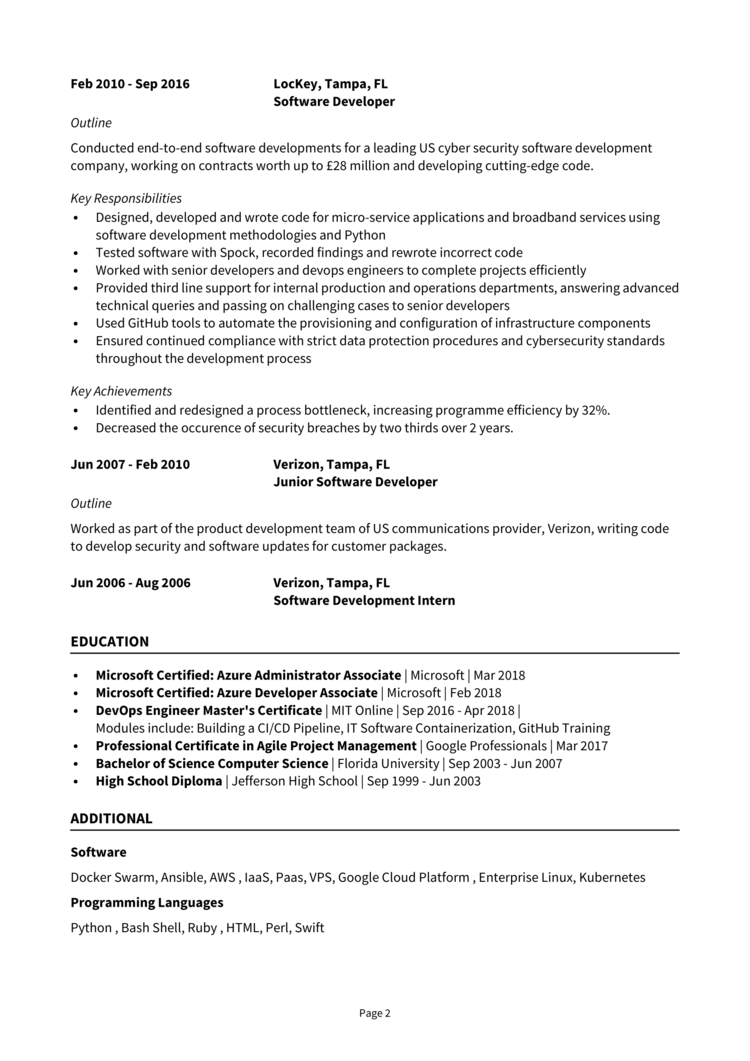 This Azure DevOps resume example shows you the most effective layout for a resume in today's job market, along with the type of content you need to include.
Stick closely to these guidelines as you write your own resume, to boost your chances of getting lots of responses, interviews and job offers.
Now lets dive into the details of how you write your own eye-catching resume…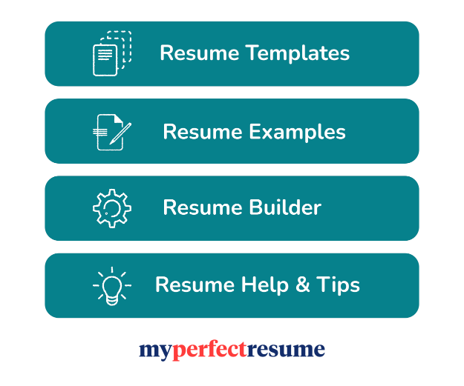 Azure DevOps resume layout and format
Your resume layout and format will play a big role in helping hiring managers to take notice of your resume and stay glued to it.
Shoot for a simple yet professional look to ensure you make a strong first impression, and organize the page in a way that is easy for readers to digest the information.
The following formatting tips should help.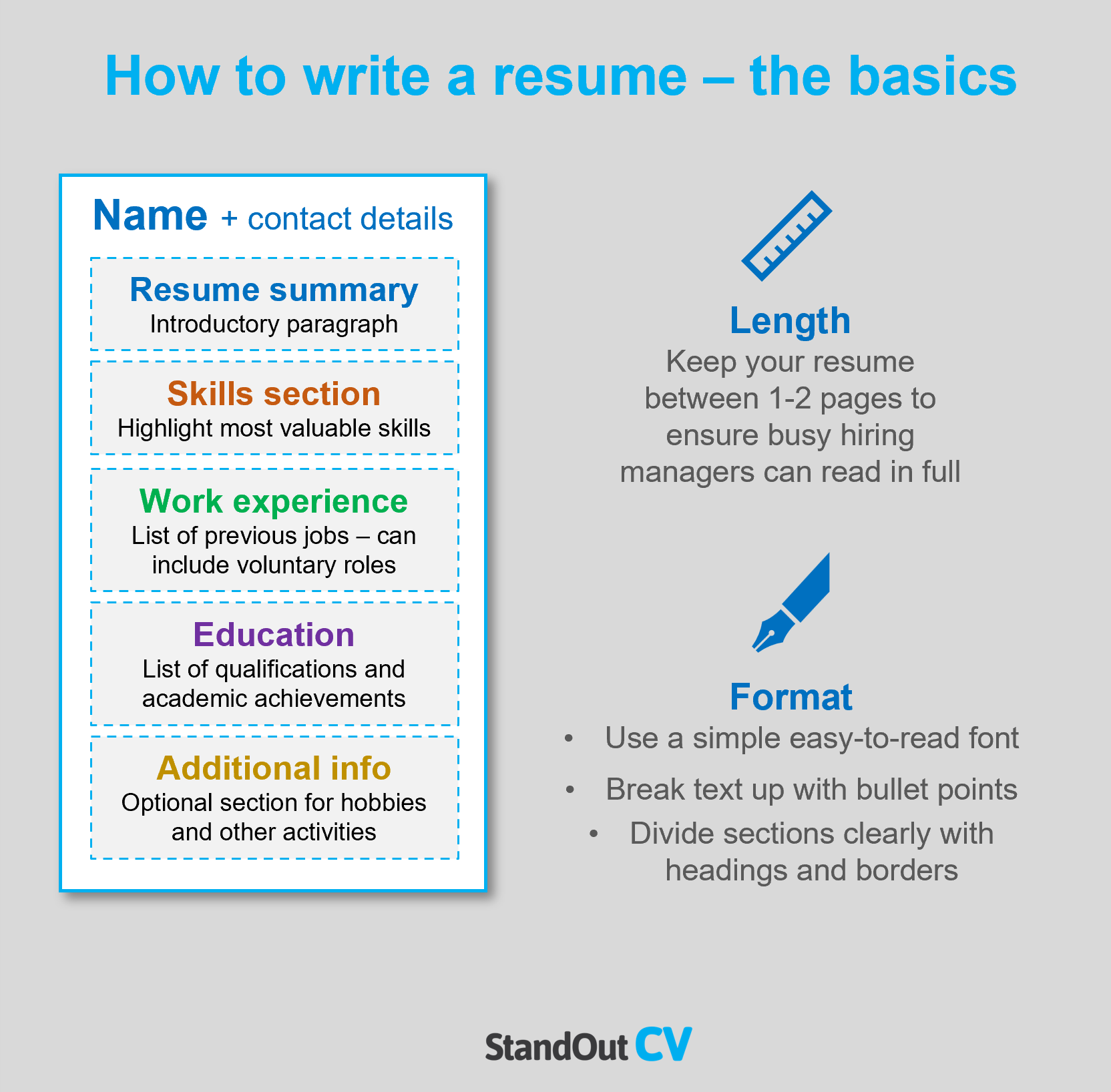 Formatting your resume for success
Length: To ensure that recruiters will read all of your resume, limit its length to 2 pages – as they someteimes read hundreds of resumes daily.
Font & readability: Complex fonts are a readers' worst nightmare and will leave recruiters struggling to understand your message. Use a clear simple lean font in a color that stands out against the page, and break your text up with bullet points to make the content easily digestible.
Layout & Structure: Go with a resume design that looks good, but also allows for easy reading and navigation for employers. Ensure the page is clearly split up into sections by adding large font headings and dividing borders. Keep the color scheme simple and don't overcrowd the page.
Photos: You are not obliged to add a photo to your resume in the USA, but it can be a nice way of adding some life to the document.
Quick tip: Achieving a professional look for your resume can be difficult and time-consuming. If you want to create an attractive resume quickly, try our partner's Resume Builder and use one of their eye-catching resume templates.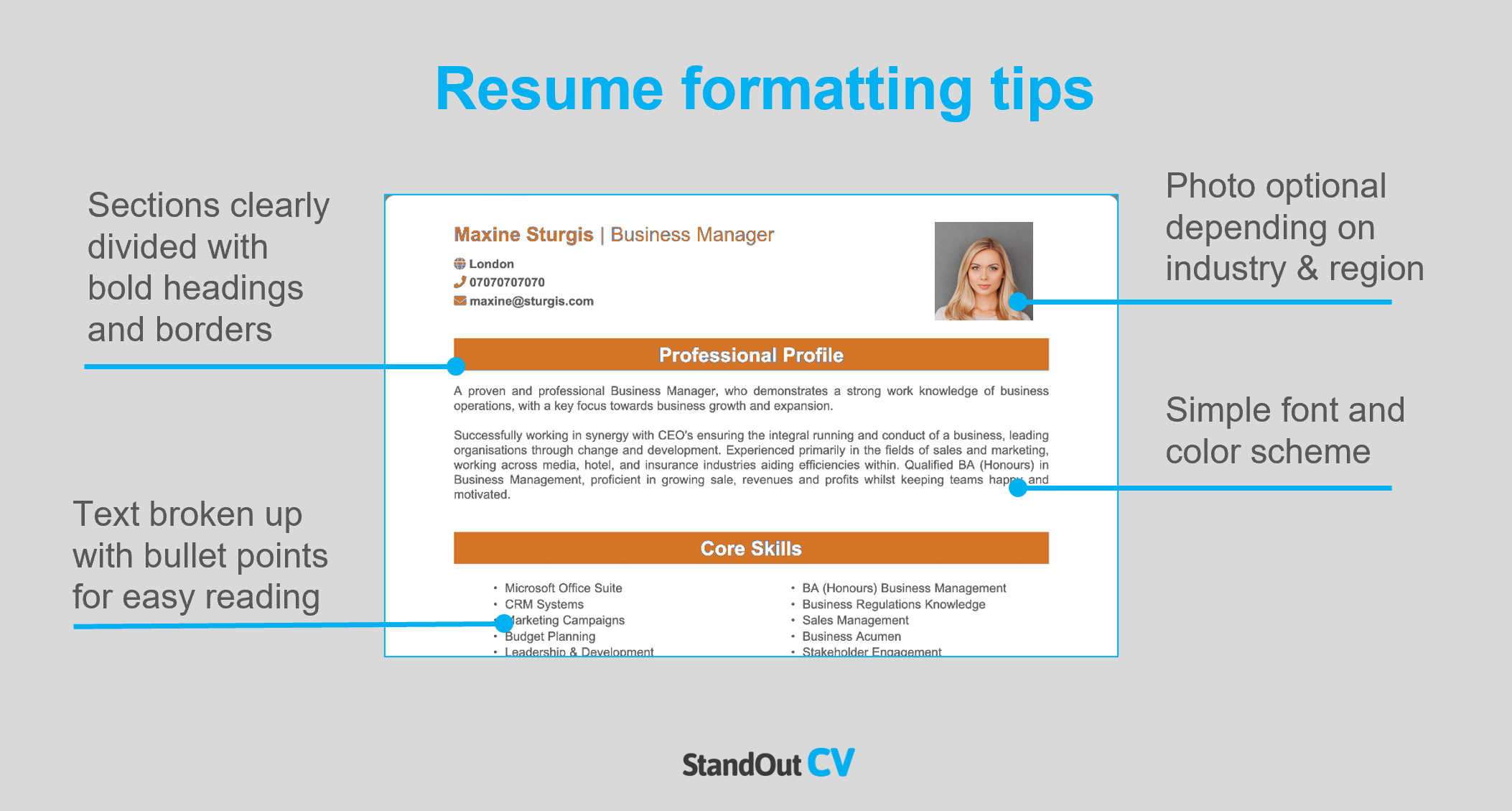 Resume layout
Include the following sections when you write your resume.
Name and contact details – Make it easy for employers to contact you, by putting these at the top.
Resume summary – An intro paragraph sitting at the top of your resume, summarizing the reasons why you should be hired.
Skills section – A short snappy list of your most important skills, that can be quickly digested
Work experience – Reverse chronological list of your previous jobs – voluntary work and college placements can be included if you have no paid experience.
Education – List your qualifications and professional training.
Additional info – An optional section for things like hobbies and interests.
Here's what to include in each part of your resume.
Contact Details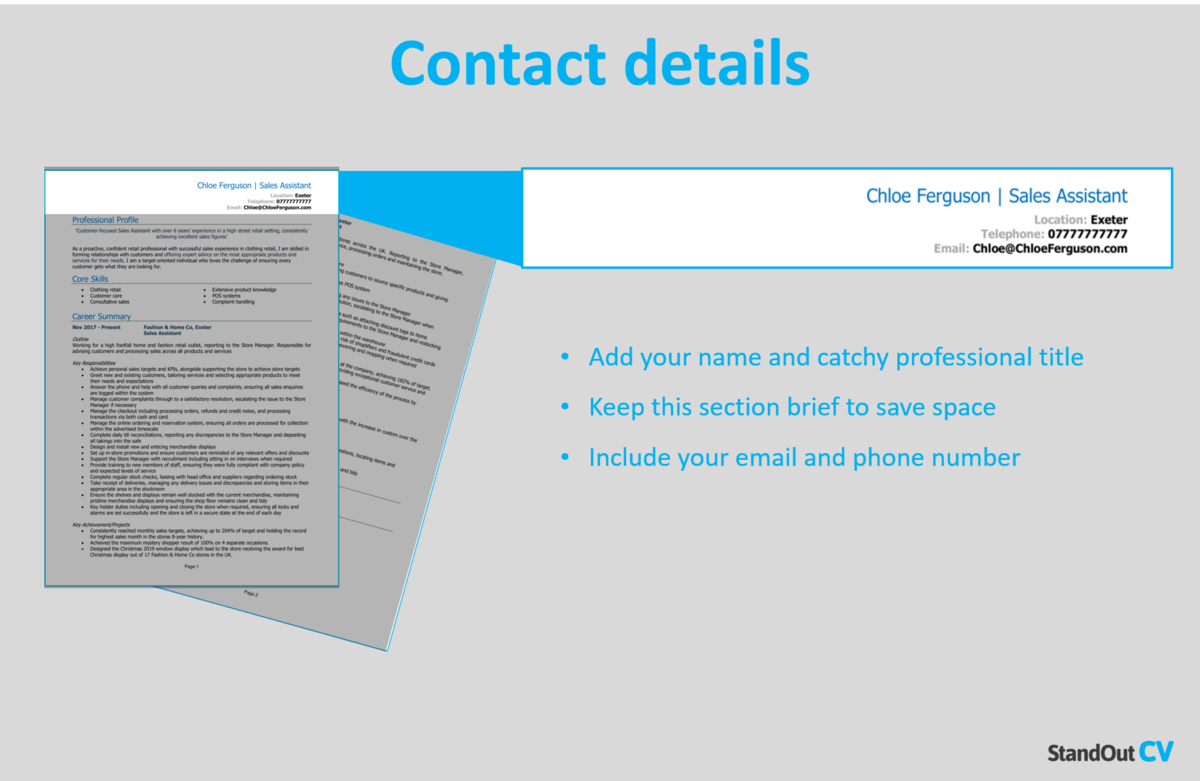 Keep your contact details short to save resume space and include the following.
Name and profession title
Cell phone number
Location – Add your local area such as Silicon Valley or New York, unless you are looking for work in a different location
Email address – Keep it professional and don't use an old address that you thought was cool in high school, but now looks a bit embarrassing.
You can add a link to your LinkedIn profile if you have one – you do not need to include personal details like date of birth or marital status.
Azure DevOps Resume Summary
Your resume summary is like your introduction to the recruiter or hiring manager – it should grab their attention and leave them eager to read more about you.
Achieve this by writing a snappy overview of your skills, knowledge and what value you can bring to an employer.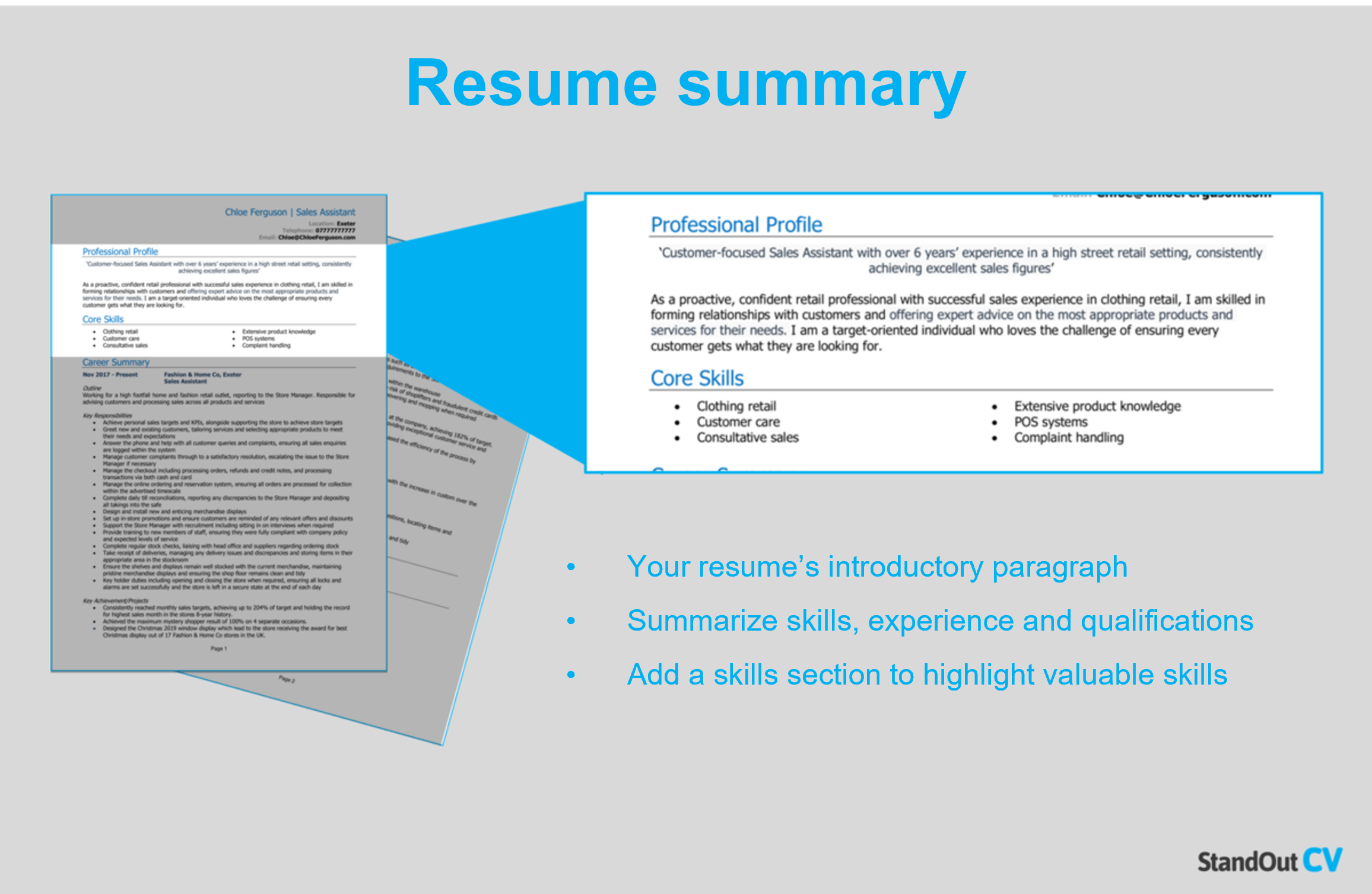 How to create a resume summary that will get you noticed:
Keep it short: To capture a recruiter's attention and keep them interested in your resume, limit your summary to 4-7 lines as you only have a few seconds to make an impression
Tailor to target jobs: Tailor your resume to your target jobs by studying the job description and adding as many matching skills as you can.
Avoid using cliches: You might be a "highly motivated go-getter who thinks outside the box" but generic meaningless cliches like that don't tell employers much about you – stick to factual information in your summary.
Example resume summary for Azure DevOps
Results-driven DevOps Engineer with specialist experience building CI/CD pipelines using Microsoft Azure for internet services and cyber security software developers. Certified Azure Administrator with an in-depth understanding of the software development life cycle and an impressive track record of coordinating multi-disciplinary teams to deliver effective and cost-effective updates and products. Highly experienced software developer with a specialized master's certificate in DevOps Engineering and extensive experience with IaaS and PaaS.
What to include in your Azure DevOps resume summary?
Summary of experience: What kind of companies have you worked for in the past? And which jobs have you carried out?
Relevant skills: Incorporate your highly relevant skills for Azure DevOps jobs to exhibit your suitability as soon as your resume is opened.
Qualifications: Showcase your level of education with a quick mention of any qualifications that are essential for the Azure DevOps roles you are applying to.
Quick tip: Choose from hundreds of pre-written summaries across all industries, and add one to your resume with one-click in our partner's Resume Builder. All written by recruitment experts and easily tailored to suit your unique skillset and style.
Core skills section
In addition to your resume summary, your core skills section provides an easily digestible snapshot of your skills – perfect for grabbing the attention of busy hiring managers.
As Azure DevOps jobs might receive a huge pile of applications, this is a great way to stand out and show off your suitability for the role.
It should be made up of 2-3 columns of bullet points and be made up of skills that are highly relevant to the jobs you are targeting.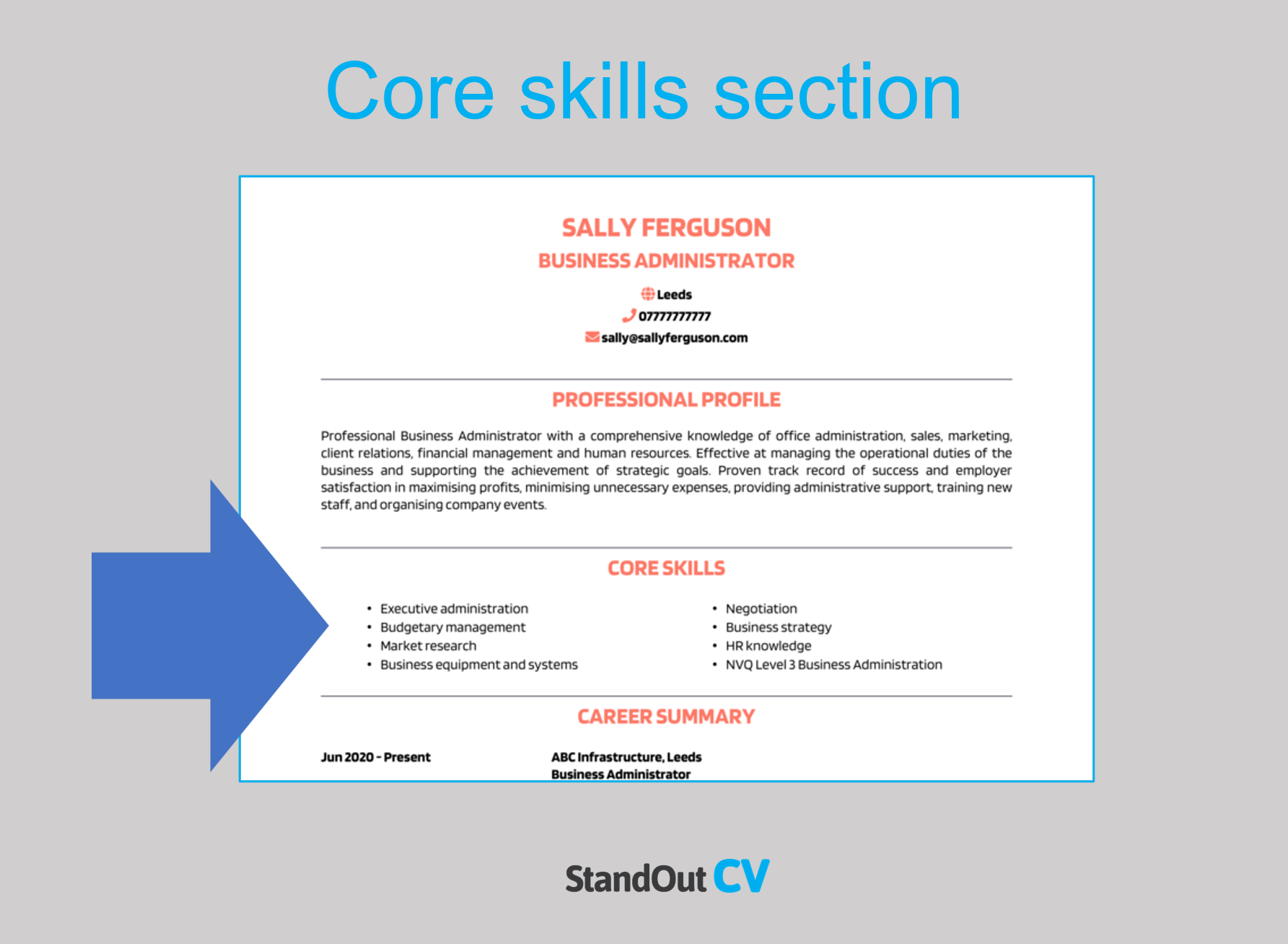 Best skills for your Azure DevOps resume
Azure Cloud Platform – Maintaining in-depth knowledge of the Azure cloud platform, including an understanding of Azure services, resource management, and deployment methodologies.
DevOps Tools – Understanding DevOps tools and practices, including source control, continuous integration and delivery (CI/CD), and infrastructure as code (IaC).
Infrastructure Management – Managing infrastructure using code, including scripting and automation of infrastructure setup and management.
Containerization – Maintaining knowledge of containerization, including experience with Docker and Kubernetes, and managing containerized applications in the cloud.
Agile Methodologies – Maintaining knowledge of agile methodologies, including Scrum, Kanban, and Lean, and applying these principles to software development and project management.
Configuration Management – Working with configuration management tools, including Ansible, Chef, and Puppet, and managing server configurations at scale.
Monitoring and Logging – Working with monitoring and logging tools, including Azure Monitor and Log Analytics, and identifying and troubleshooting issues in cloud environments.
Security – Maintaining knowledge of security principles and practices, including identity and access management, security policies, and compliance requirements.
Quick tip: Our partner's Resume Builder contains thousands of in-demand skills for every profession that can be added to your resume in seconds – saving you time and greatly improving your chances of landing job interviews and getting hired.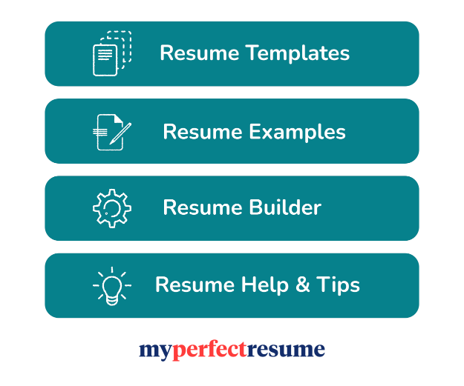 Work experience
So, you've grabbed the recruiters' attention with your summary, now it's time to show them what you're really capable of in your work experience section.
List your previous jobs from current to oldest, showing off the impact you made at each organization.
If you have tons of experience, you should just list the most recent an relevant jobs – but if you have little or no experience, add it all and even consider putting in voluntary work.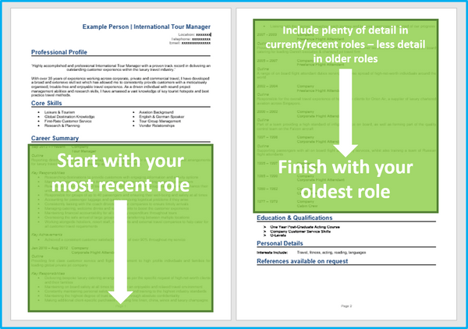 Structuring your jobs
It's easy to overwhelm readers when writing about a job you have been doing for years or even months.
Break the information up like this to keep it simple for recruiters to understand.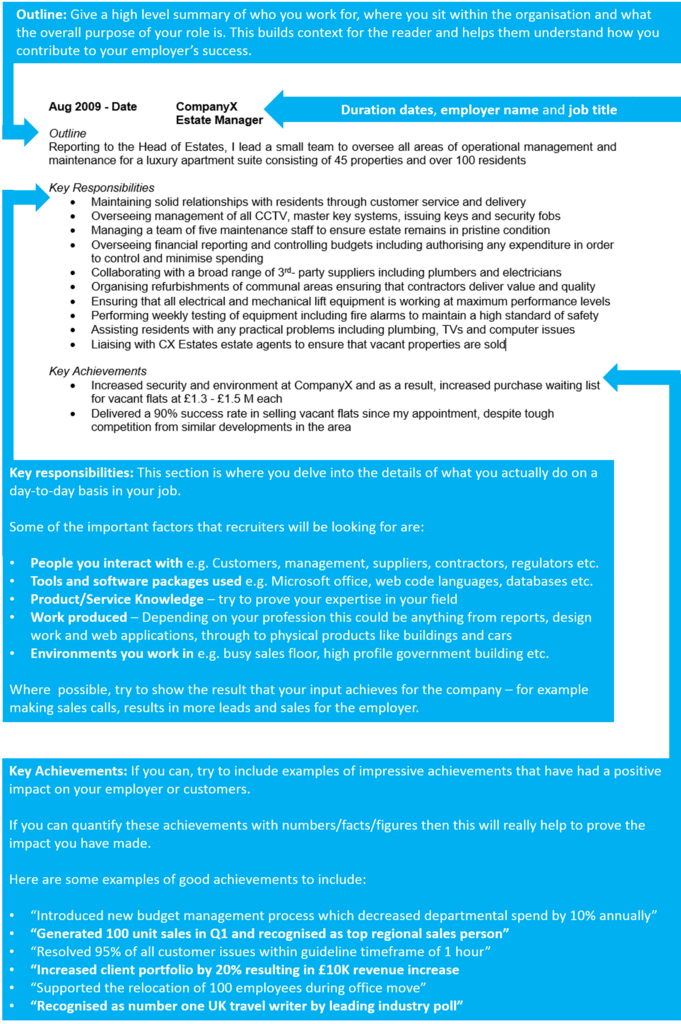 Job outline
Start with a 1-2 sentence outline of the role, summarizing what the goal of your position was, who you reported to (or managed) and the type of organization you worked for.
Key responsibilities
The bulk of the role description should be comprised of bullet points that explain all of your duties in the job.
Keep the sentences short and simple to make them easy for recruiters to digest.
Key achievements
Round off each job by adding some impressive achievements you made in the role.
Anything you've done that has made a big impact on your employer will make a good impression, think; generating revenue, saving costs, or improving a product.
Quantify your achievements with number where possible e.g. "reduced call wait time by 10%"
Example job for Azure DevOps resume
Outline
Work as part of a team of Azure specialists for the internet services department of a leading search engine specialist company, building and automating the software development pipeline to maintain a continuous flow of software products and updates using the Microsoft Azure cloud platform.
Key Responsibilities
Build CI/CD pipelines for Azure software updates to produce high quality and fast-turnover products updates
Use Agile methodology to manage projects successfully and efficiently through the software development lifecycle as part of a wider DevOps team
Lead multidisciplinary teams of internal developers, data engineers and system administrators, distributing assignments and resolving issues or delays
Perform operational testing on Python code written by developers
Quick tip: Create impressive job descriptions easily in our partner's Resume Builder by adding pre-written job phrases for every industry and career stage.

Education section
Nearing the end of your resume, your education/qualifications section should be added.
In a well-structured list, add all of your qualifications and certifications that qualify you to perform a typical Azure DevOps role.
If you have plenty of work experience, keep this section brief – if not, add lots of detail to make up for your lack of experience.
Additional information
The additional info section is optional but can be useful if you have anything else to add that could benefit your application.
For example, you may have some hobbies and interests that are relevant to your job – or you might have awards or publications to shout about.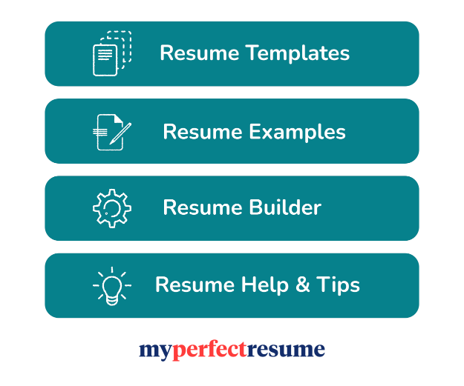 Writing your own Azure DevOps resume
Writing a Azure DevOps resume can be challenging but following the steps above will ensure that you land plenty of interviews.
If you want to speed up the process and use an attractive professional template, try out our partner's Resume Builder.
Good luck with your job search!