Your CV is your first impression, so if you want to stand out from the competition it needs to be strong.
It's vital to adopt a well-defined structure, which brings forward your applicable strengths and gets you noticed by employers
This guide, which contains a web developer CV example, will help you produce an eye-catching CV.
Guide contents
Web developer CV example
Structuring and formatting your CV
Writing your CV profile
Detailing work experience
Your education
Skills required for your web developer CV

Web developer CV example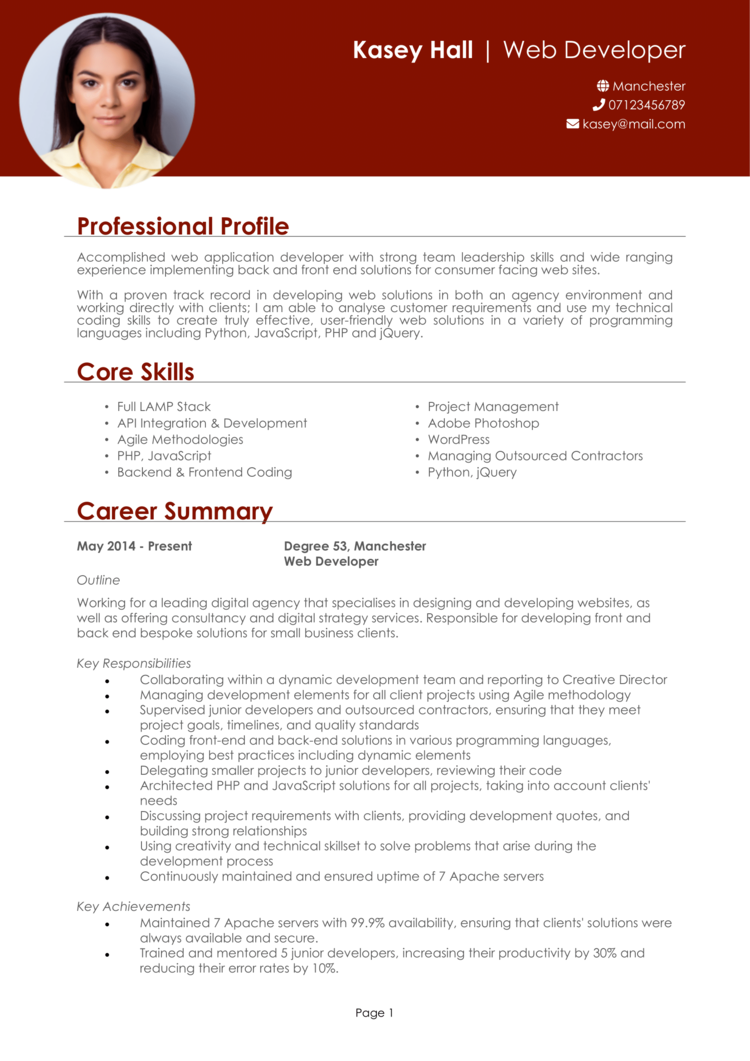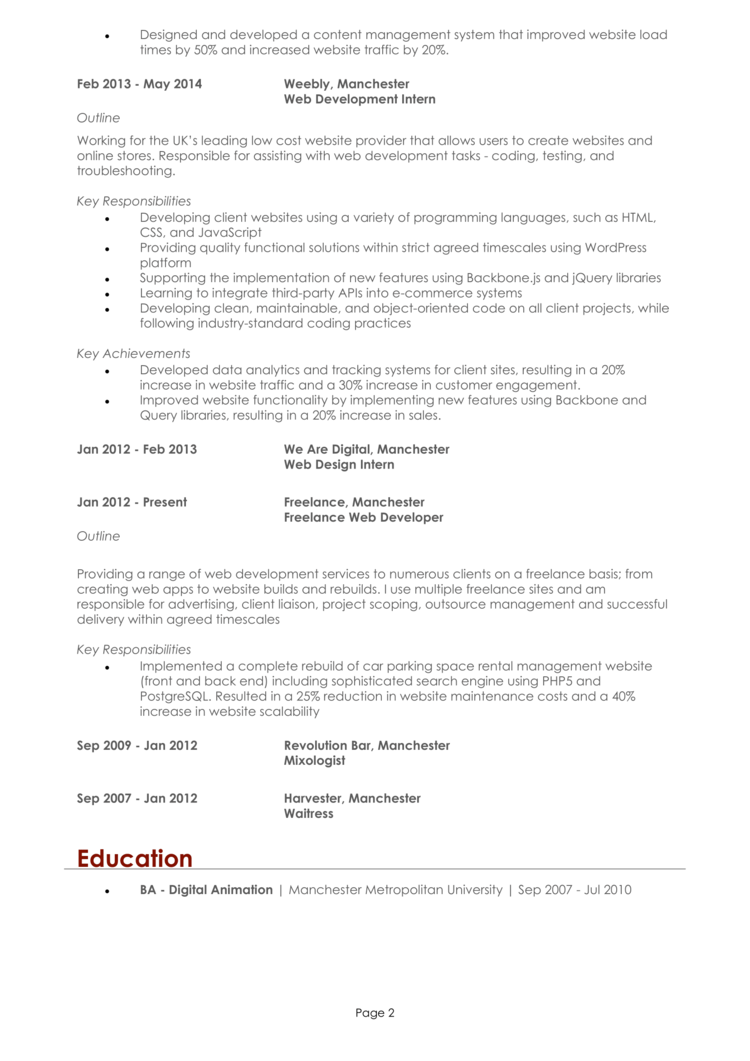 This CV example highlights how to structure your CV, so that it's not only visually pleasing but promotes your suitability for web development roles.
As this guide continues, I'll talk you through how to correctly structure and write your own attention-grabbing CV.
Web developer CV structure & format
The structure and format of your CV is just as significant as the content within it.
Keep to a structure that helps recruiters to navigate your experience, promoting ease of reading whilst making your transferable strengths a focal point.
This infographic teaches you how to write a CV, detailing what sections to include.
Formatting Tips
Facilitate ease of reading by breaking up large blocks of text with sections, bullet points and bold headers
Don't overcomplicate your CV – instead stick to a muted colour pallet and clear font, a busy layout will only distract recruiters' attention
Your CV length should be no more than two sides of A4, any longer it will become boring to read
Avoid adding imagery to your CV, company logos and profile pictures take up valuable space without adding impact to your CV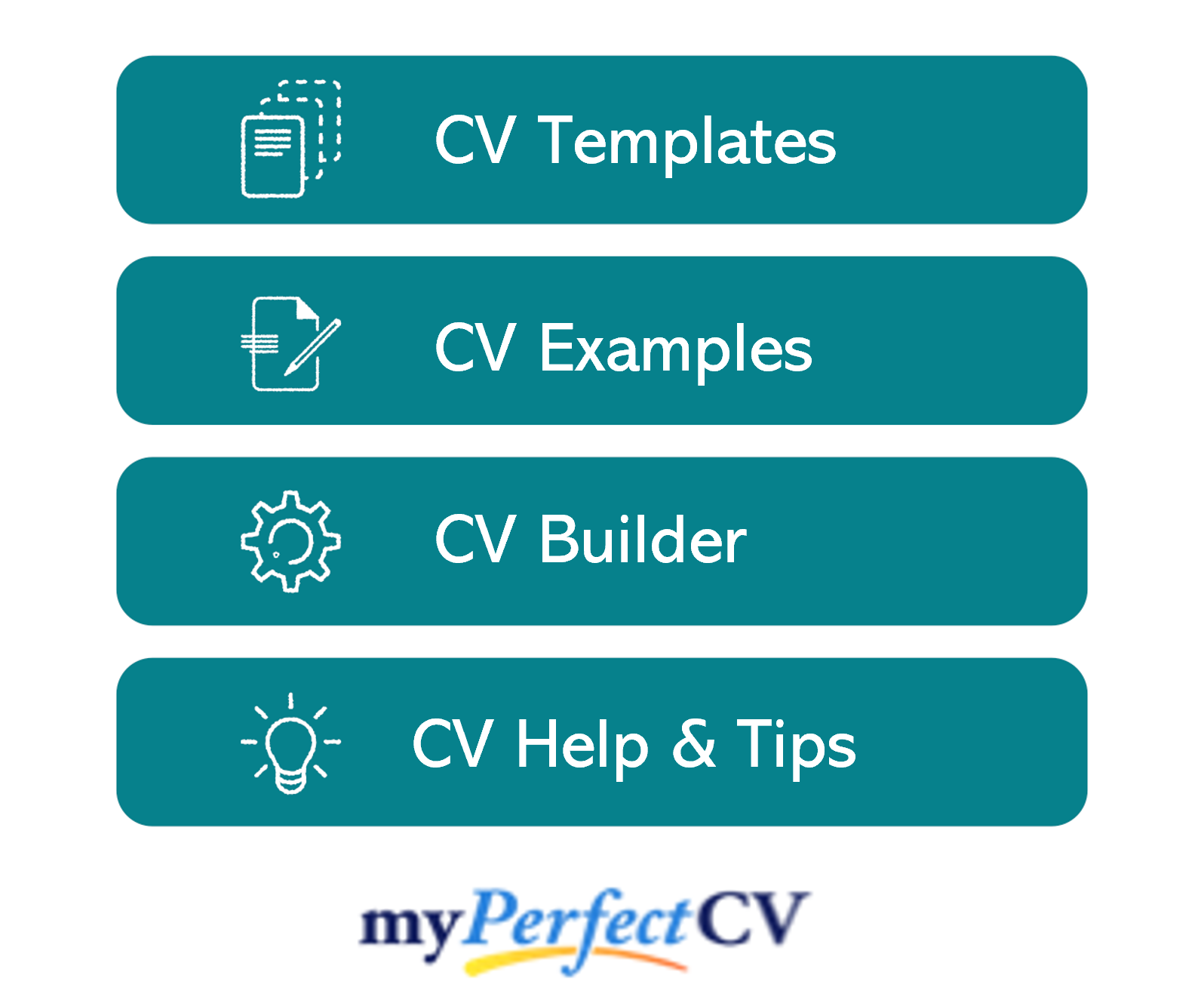 Structuring your CV
Ensure recruiters can easily flow through your experience, by breaking information into the below CV structure:
Contact details – make your contact details easily accessible to recruiters
Profile – give an overview of your applicable skills, experience and qualifications in a short, concise paragraph
Work experience / Career history – document your work experience in reverse chronological order
Education – display any qualifications obtained especially those pertinent to web developer vacancies
Interest and hobbies – unlike other sections this is optional, and can be used to boost your relevancy for web developer roles
I'll now talk you through what to include within each of the above sections.
CV Contact Details
Ensure recruiters can easily reach you by keeping your contact details to the top of the page.
Only look to include crucial information such as:
Phone number
Email address
Location
Add a link to your LinkedIn profile or a portfolio of work if applicable
Quick Tip: Reserve space by not adding extra information such as marital status, your date of birth or your full home address as the city you reside is sufficient.
Web developer CV Profile
Commence your CV with an opening paragraph between 5-10 lines that summarises your industry specific experience, qualifications and strengths.
Your CV profile needs to attract recruiters' attention and entice them to read further, displaying your relevancy for web developer roles.
Consider these tips when producing your CV profile:
Research the industry prior to producing your profile, allowing you to tailor yourself to the sector by matching key words and skills
Keep your profile concise, 5-10 lines is an ideal length, enabling you to elaborate elsewhere in your CV
Be unique in your descriptions, avoid adding cliche statements such as "I give 110%", recruiters have read these types of phrases hundreds of times before
What to include in your web developer CV profile?
Web developer qualifications – certificate in interactive media? or diplomas in information technology?
Technical skills – ability to use software such as Dreamweaver, Photoshop or JavaScript as well as the capacity to be creative or work in code
Previous companies worked for – whether you worked in house, for a design agency or freelance working for individual clients
Level of your experience – are you competent in coding, have you created sites as part of a team or have experience working on several solo projects
Core skills section
Underneath your CV profile, look to incorporate a core skills section that is comprised of 2 to 3 columns of bullet points.
Display your marketable strengths to recruiters at first glance, featuring your applicableness for web developer roles.
The vital skills section below could provide you some inspiration when putting together this section.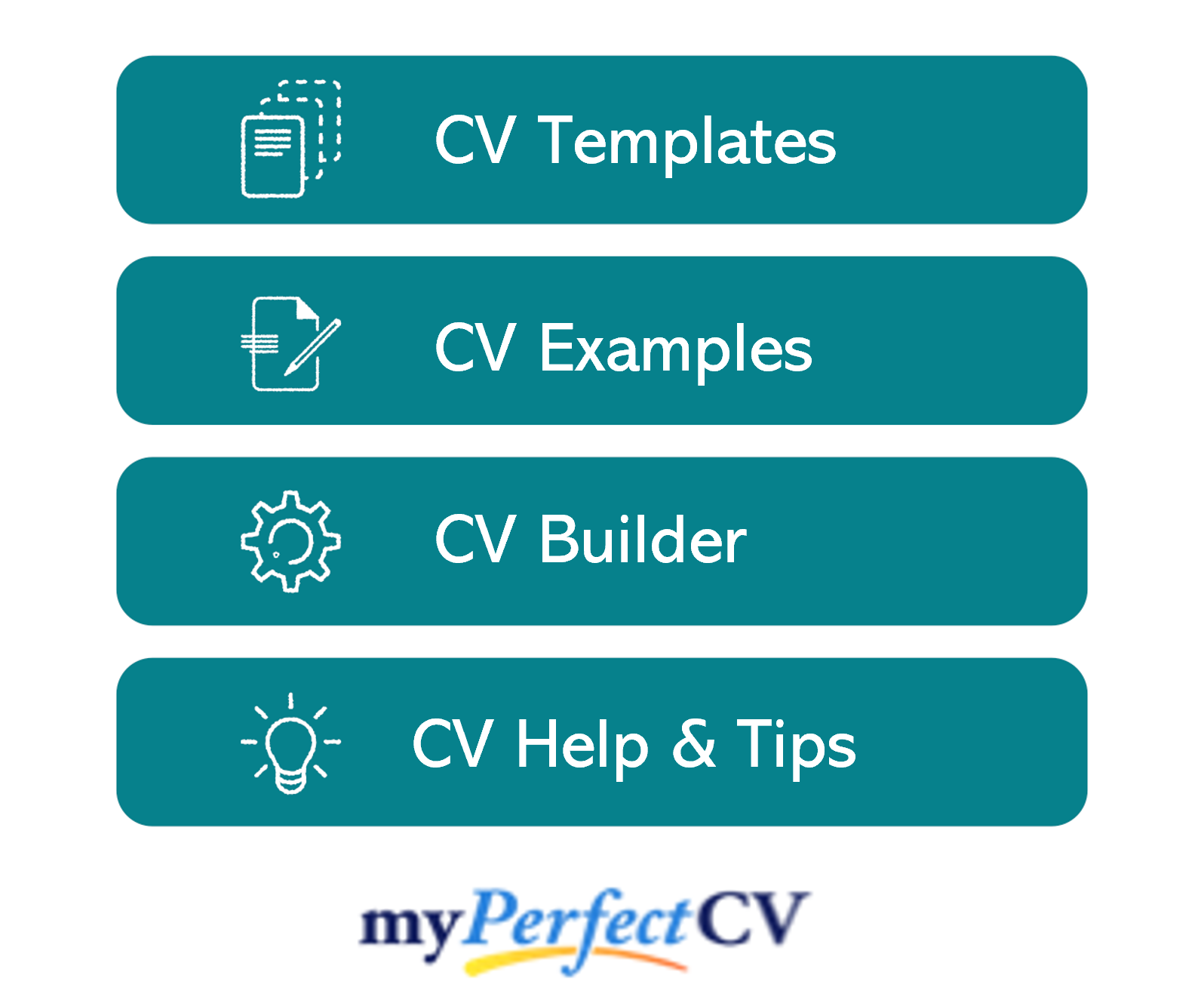 Work experience/Career history
Record all areas of your work experience, begin with your most recent or related positions.
Include all areas of your career history whether freelancing, work experience, internships or full/part time experience.
As you work backwards through your experience, reserve space by shortening your role descriptions.
Structuring your roles
Break your role descriptions into three clearly defined sections, helping recruiters to pinpoint each component of your experience.
Outline
Give recruiters insight with an overview of your role, the company you work for or even the department you were part of.
E.g.
"Working as a web developer for a marketing agency, supporting clients to execute their vision and employer brand."
Key responsibilities
Record your key duties within bullet point form.
E.g.
Supporting clients with the maintenance of their sites, proactively managing site issues
Creating new sites in line with client specifications
Key achievements
Showcase the value you had within each organisation, by detailing your key achievements.
E.g.
Created a new site contact form that improve completion rate by 20%
Education
Underneath your work experience incorporate an education section, documenting the courses most specific to web development roles.
For example, look to include diplomas in creative media, apprenticeships in information technology or awards in creating websites.
If you have space, also look to include additional qualifications such as GCSEs, A Levels, Degrees or other vocational courses.
Interests and hobbies
This is an additional section that can be used to boost your application, by further proving your capacity to perform in web development roles.
Include hobbies that display your transferable skills such as creativity, a methodical approach or knowledge of various systems.
This could be working on a blog or YouTube channel in your spare time, creating sites for passion projects or being creative in a variety of ways such as attending an art class.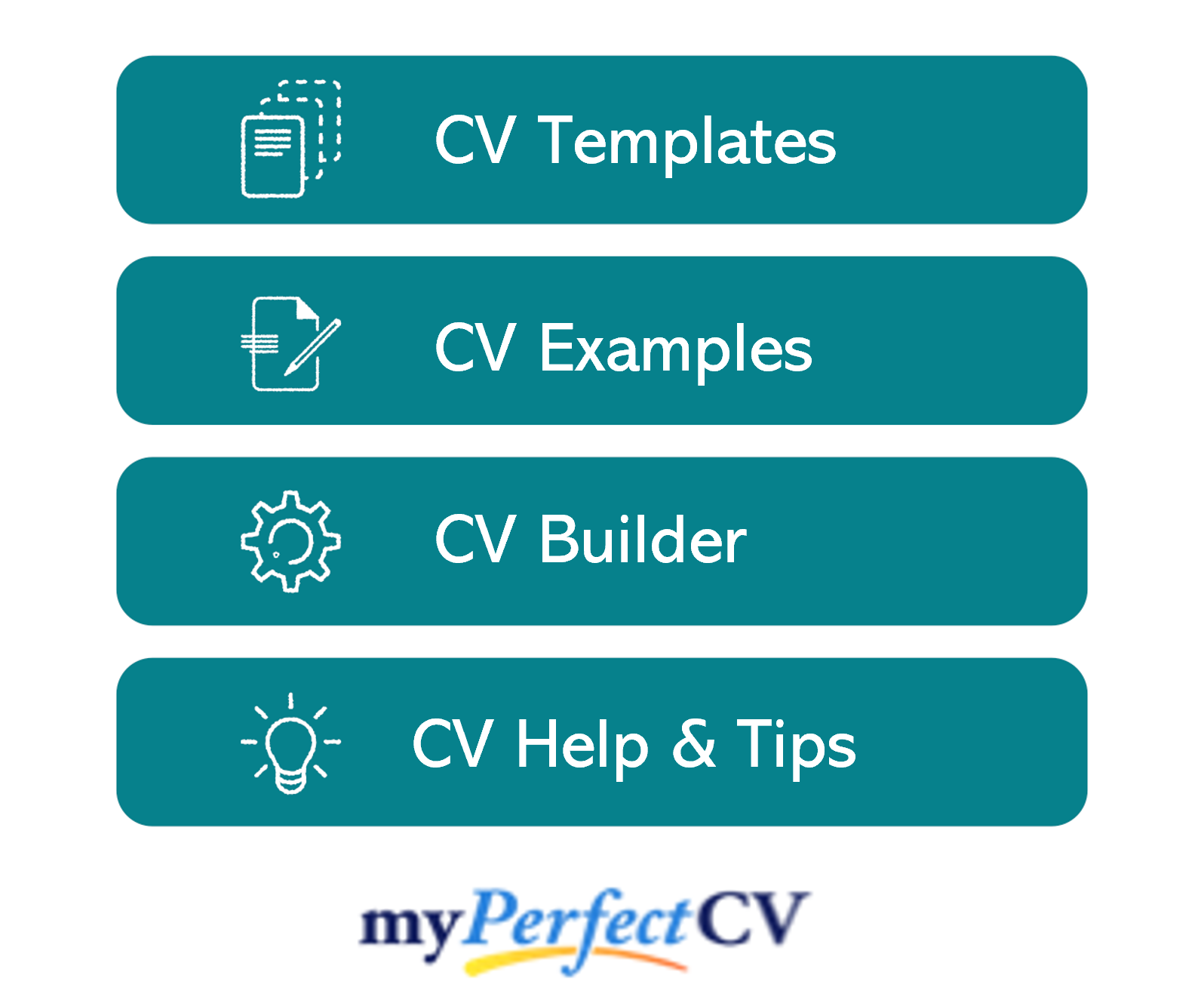 Essential skills for your web developer CV
Industry specific strengths should be a focal point throughout your CV, helping to tailor your application.
HTML, CSS, JS– knowledge of front end coding languages 
Writing and maintaining web applications – creation and ongoing maintenance of sites for clients or in-house stakeholders
JavaScript – whether for web applications, websites, web servers or presentations
Experience with Photoshop – capacity to produce designs through Photoshop
Writing your web developer CV
Your CV is vital for you to stand out to recruiters, especially when you're looking to explore roles in a competitive market.
Working to a structure that highlights your applicableness for web development roles is imperative to grabbing recruiters' attention.
By using this guide, you'll be able to produce a killer CV that will land you plenty of interviews.
Best of luck with your job search.
See also: UX designer