A position as an underwriter is varied and interesting, and the salary is pretty generous too.
This position requires that you have financial know-how, strong analytical skills and impressive communication, but how do you demonstrate all of this effectively on your CV?
Well, to help you impress the recruiter, we've put together a comprehensive guide that offers our top tips, as well as an example underwriter CV.
Guide contents
Underwriter CV example
Structuring and formatting your CV
Writing your CV profile
Detailing work experience
Your education
Skills required for your Underwriter CV

Underwriter CV example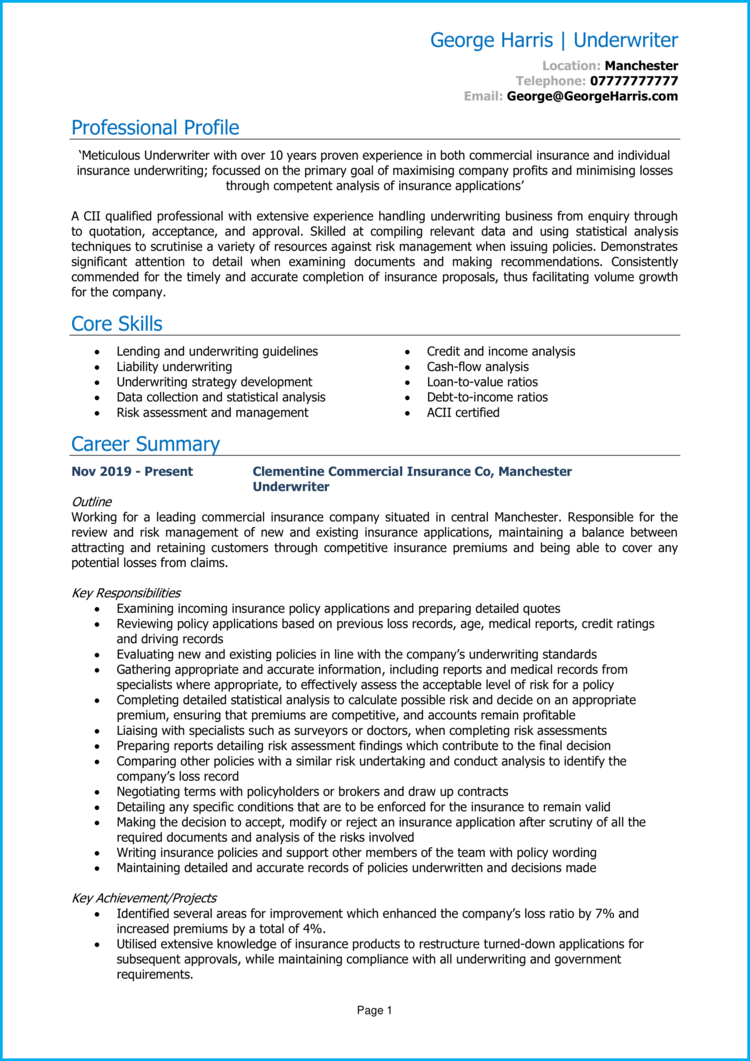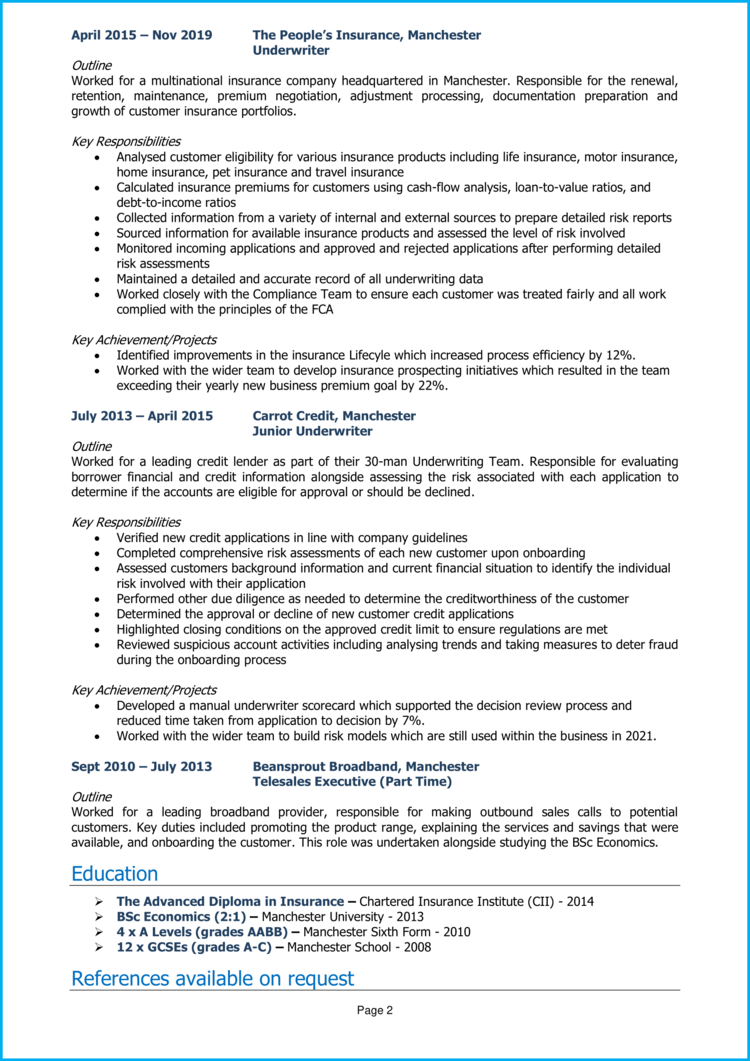 The above CV example demonstrates the type of info you should be including within your Underwriter CV, as well as how to display this information in a way which looks professional and is easy for time-strapped recruiters to read.
This is the standard you should be aiming for, so remember to refer back to it throughout the CV writing process.
Underwriter CV structure and format
The format and structure of your CV is important because it will determine how easy it is for recruiters and employers to read your CV.
If they can find the information they need quickly, they'll be happy; but if they struggle, your application could be overlooked.
A simple and logical structure will always create a better reading experience than a complex structure, and with a few simple formatting tricks, you'll be good to go.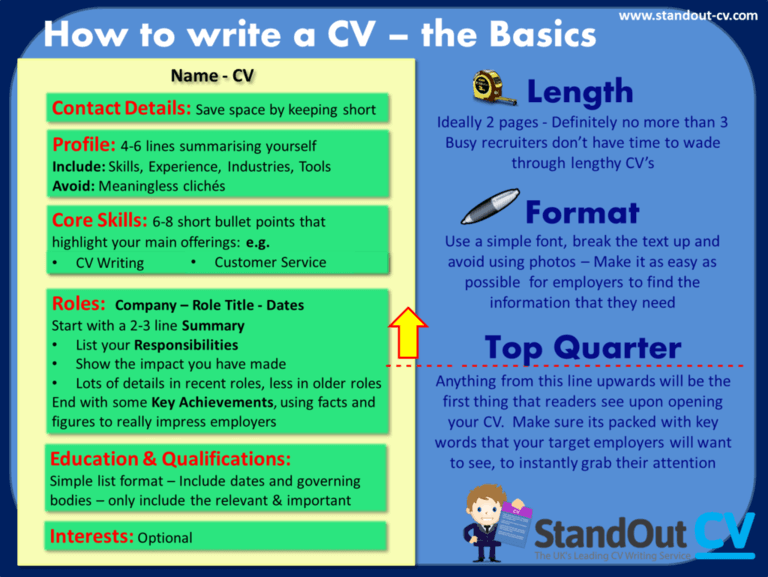 Formatting Tips
Length: If you want to hold the reader's attention and ensure your CV isn't yawn-worthy, it's best to stick to two sides of A4 or less. This is more than enough room to highlight why you're a good match for the role – anything more can quickly become tedious!
Readability: Recruiters appreciate CVs that they can quickly scan through without trouble. Ensure yours makes the cut by formatting your headings for attention (bold or coloured fonts should do the trick) and breaking up long paragraphs into smaller chunks or short, snappy bullet points.
Design: Your CV needs to look professional, sleek and easy to read. A subtle colour palette, clear font and simple design are generally best for this, as fancy designs are often harder to navigate.
Avoid photos: Logos, profile photos or other images aren't necessary and rarely add any value – save the space for written content, instead!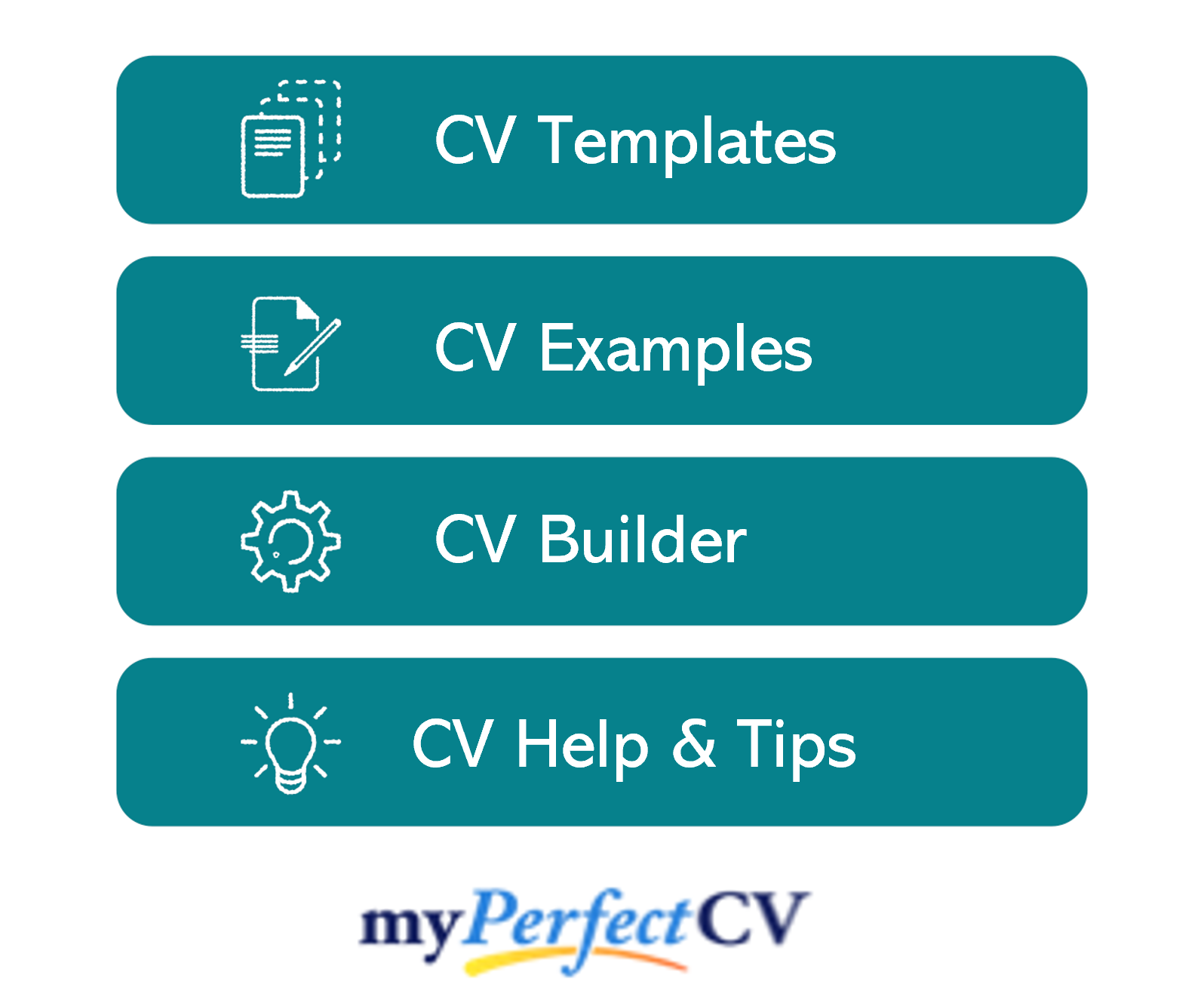 Structuring your CV
Divide your CV into the following major sections when writing it:
Name and contact details – Head your CV with your name and contact details, to let the reader know who you are and how to contact you.
CV profile – A brief paragraph which summarises your skills and experience and highlights why you're a good match for the role.
Core skills list – A snappy, bullet-pointed list of your most relevant skills.
Work experience – A structured list of your work experience in reverse chronological order.
Education – A summary of any relevant qualifications or professional training you've completed.
Hobbies and interests – An optional section, which should only be used if your hobbies are relevant to the jobs you're applying to.
Now I'll guide you through exactly what you should include in each CV section.
CV Contact Details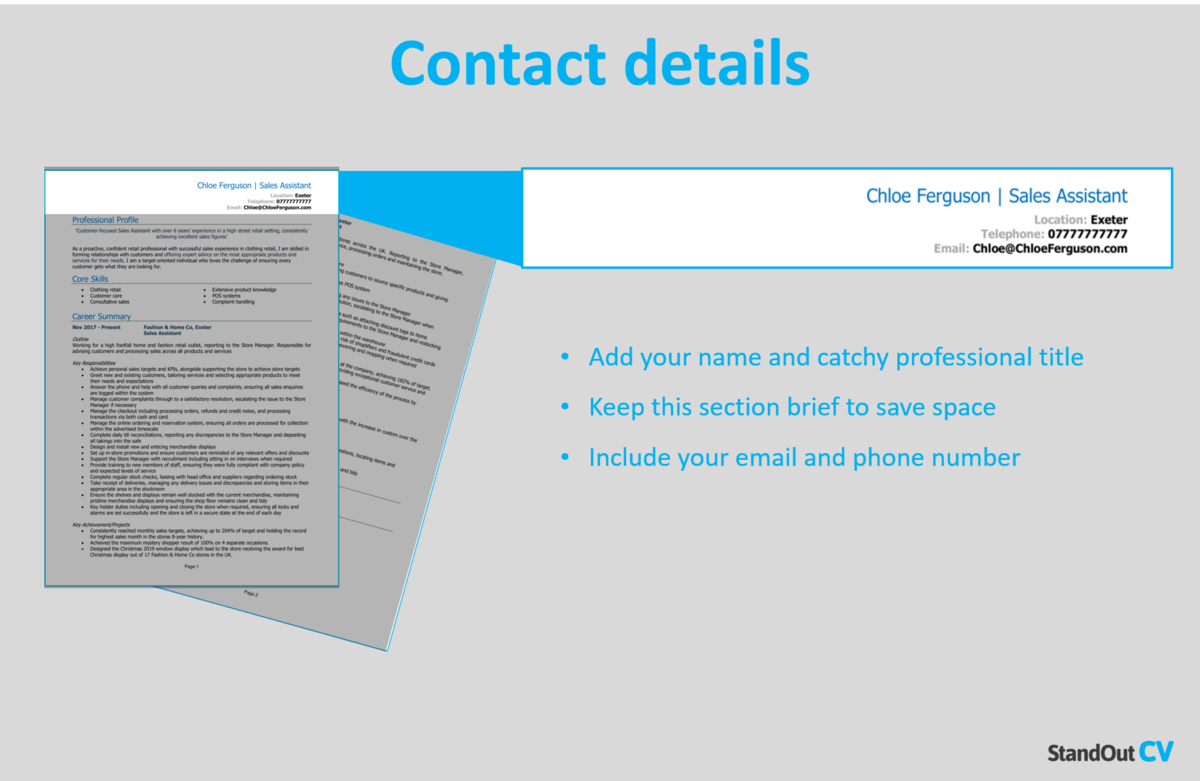 Start off your CV with a basic list of your contact details.
Here's what you should include:
Mobile number
Email address – It's often helpful to make a new email address, specifically for your job applications.
Location – Share your town or city; there's no need for a full address.
LinkedIn profile or portfolio URL – Make sure the information on them is coherent with your CV, and that they're up-to-date
Quick tip: Delete excessive details, such as your date of birth or marital status. Recruiters don't need to know this much about you, so it's best to save the space for your other CV sections.
Underwriter CV Profile
Your CV profile (or personal statement, if you're an entry-level applicant) provides a brief overview of your skills, abilities and suitability for a position.
It's ideal for busy recruiters and hiring managers, who don't want to waste time reading unsuitable applications.
Think of it as your personal sales pitch. You've got just a few lines to sell yourself and prove you're a great match for the job – make it count!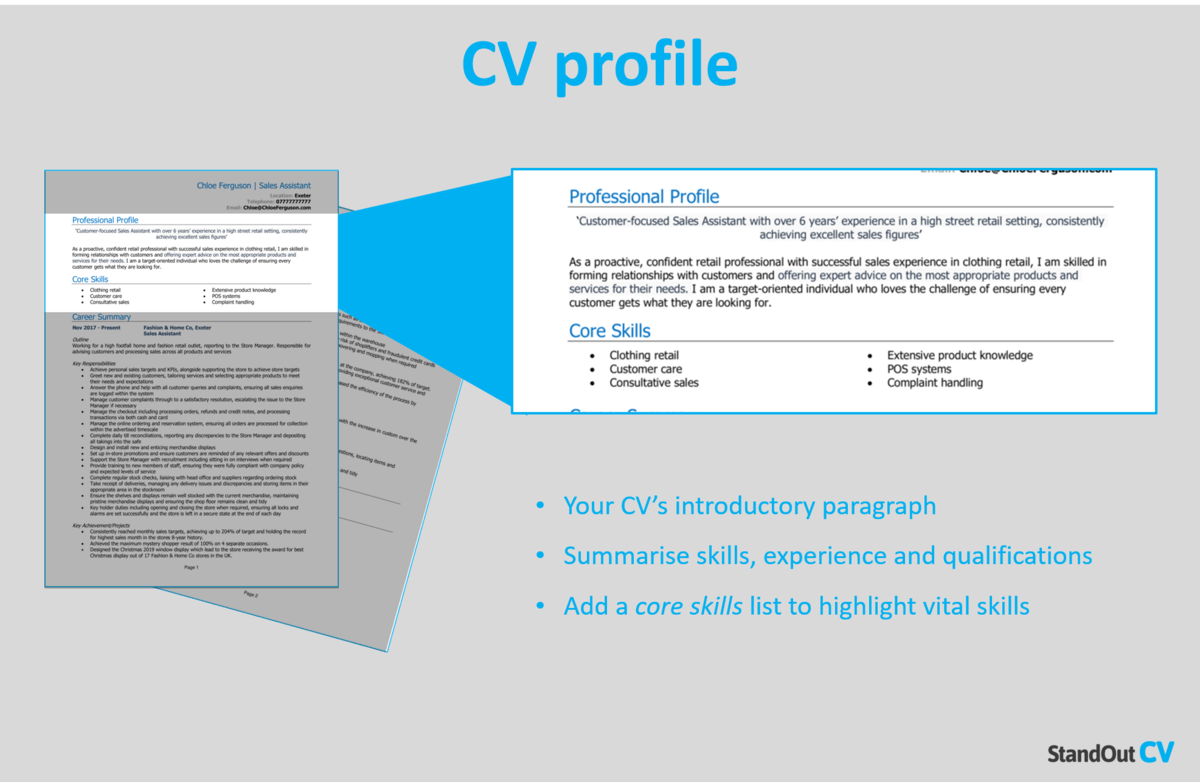 Tips for creating an impactful CV profile:
Keep it brief: It might be tempting to submit a page-long CV profile, but recruiters won't have the time to read it. To ensure every word gets read, it's best to include high-level information only; sticking to a length of 3-5 lines.
Tailor it: No matter how much time you put into your CV profile, it won't impress if it's irrelevant to the role you're applying for. Before you start writing, make a list of the skills, knowledge and experience your target employer is looking for. Then, make sure to mention them in your CV profile and throughout the rest of your application.
Don't add an objective: Avoid discussing your career goals in your CV profile – if you think they're necessary, briefly mention them in your cover letter instead.
Avoid cliches: Focus on fact, not fluff. Phrases like "Committed and enthusiastic thought-leader" and "Dynamic problem solver" might sound fancy, but they'll do nothing for your application. Not only do they sound cheesy, but they have no substance – stick to real skills and facts
What to include in your Underwriter CV profile?
Summary of experience: Recruiters will want to know what type of companies you've worked for, industries you have knowledge of, and the type of work you've carried out in the past, so give them a summary of this in your profile.
Relevant skills: Make your most relevant Underwriter key skills clear in your profile. These should be tailored to the specific role you're applying for – so make sure to check the job description first, and aim to match their requirements as closely as you can.
Essential qualifications: Be sure to outline your relevant Underwriter qualifications, so that anyone reading the CV can instantly see you are qualified for the jobs you are applying to.
Quick tip: If spelling and grammar are not a strong point of yours, Use our partner's CV builder to add pre-written content that has been created by recruitment experts, and proofread by our team.
Core skills section
Underneath your profile, create a core skills section to make your most relevant skills jump off the page at readers.
It should be made up of 2-3 columns of bullet points of your relevant skills.
Before you do this, look over the job description and make a list of any specific skills, specialisms or knowledge required.
Then, make sure to use your findings in your list. This will paint you as the perfect match for the role.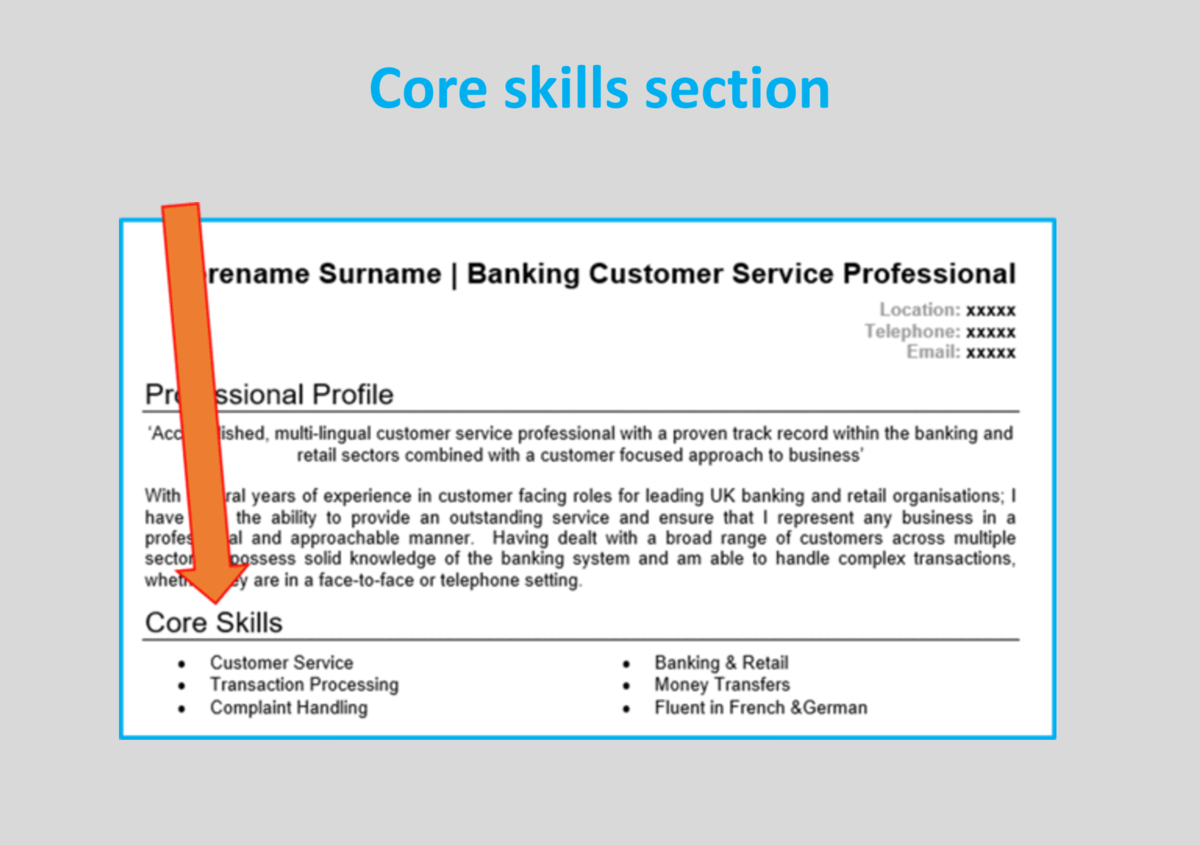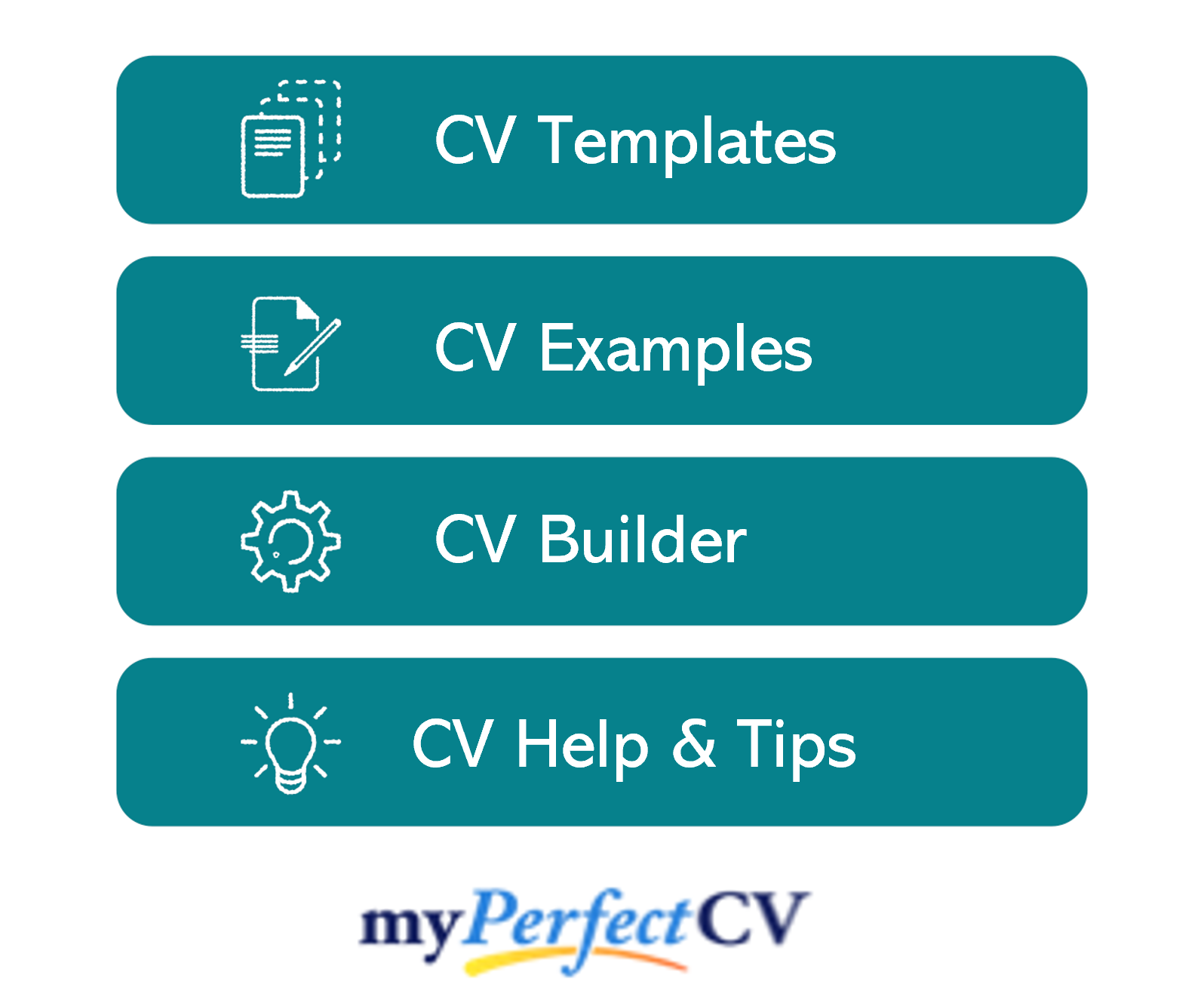 Work experience/Career history
By now, you'll have hooked the reader's attention and need to show them how you apply your skills and knowledge in the workplace, to benefit your employers.
So, starting with your most recent role and working backwards to your older roles, create a thorough summary of your career history to date.
If you've held several roles and are struggling for space, cut down the descriptions for your oldest jobs.
Structuring your roles
If you don't pay attention to the structure of your career history section, it could quickly become bulky and overwhelming.
Get in recruiters' good books by creating a pleasant reading experience, using the 3-step structure below:
Outline
Begin with a summary of your role, detailing what the purpose of your job was, who you reported to and what size of team you were part of (or led).
Key responsibilities
Using easy-to-read bullet points, note down your day-to-day responsibilities in the role.
Make sure to showcase how you used your hard sector skills and knowledge.
Key achievements
Finish off by showcasing 1-3 key achievements made within the role.
This could be anything that had a positive effect on your company, clients or customers, such as saving time or money, receiving exemplary feedback or receiving an award.
Education
At the bottom of your CV is your full education section. You can list your formal academic qualifications, such as:
As well as any specific Underwriter qualifications that are essential to the jobs you are applying for.
Note down the name of the qualification, the organisation at which you studied, and the date of completion.
Interests and hobbies
This section is entirely optional, so you'll have to use your own judgement to figure out if it's worth including.
If your hobbies and interests could make you appear more suitable for your dream job, then they are definitely worth adding.
Interests which are related to the industry, or hobbies like sports teams or volunteering, which display valuable transferable skills might be worth including.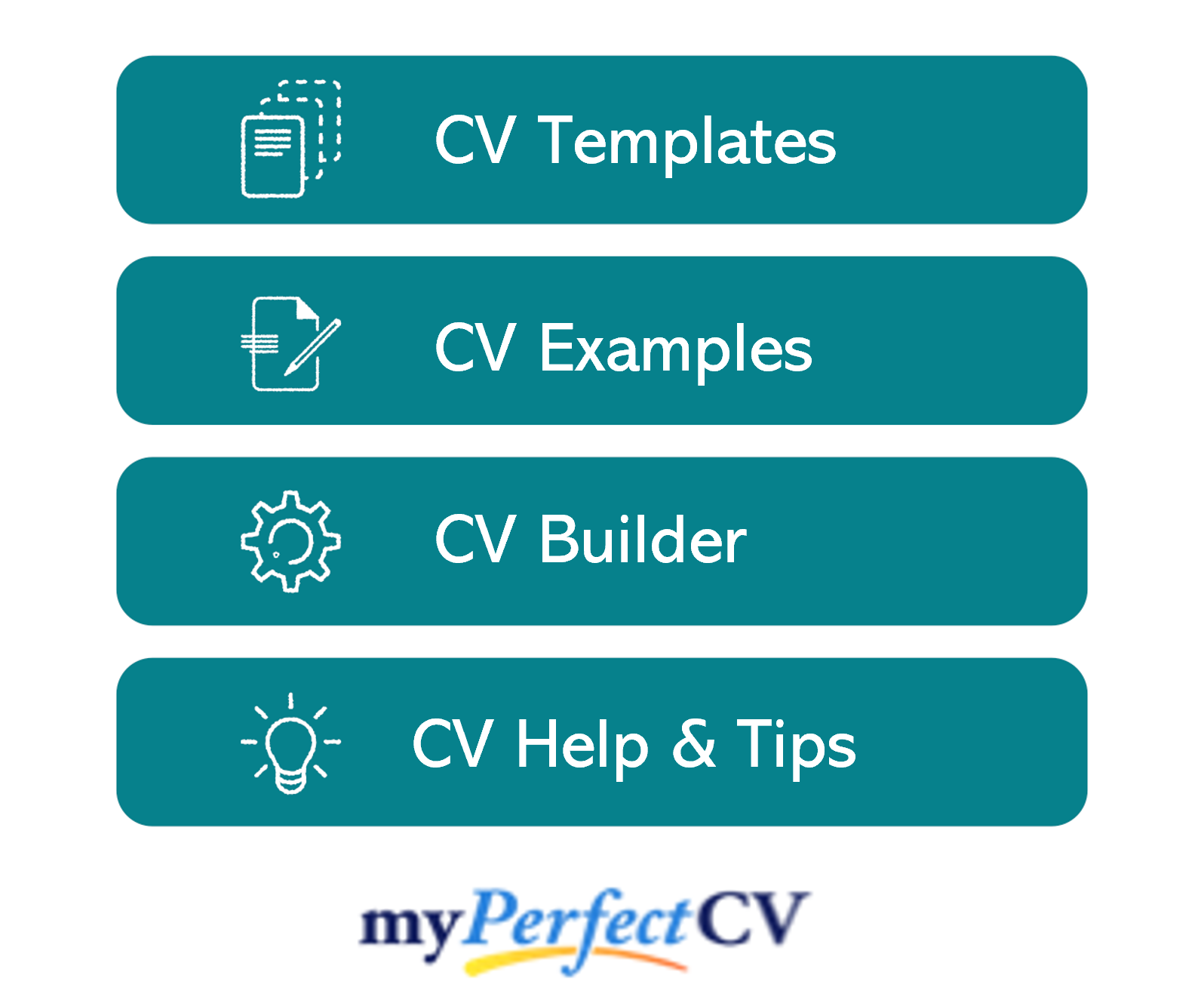 Essential skills for your Underwriter CV
Tailoring your CV to the roles you are applying for is key to success, so make sure to read through the job descriptions and tailor your skills accordingly.
However, commonly desired Underwriter skills include:
IT skills: To be an underwriter, you need a good grasp of industry-specific software, such as insurance software and spreadsheet programs like Excel
Risk assessment: A key part of an underwriter's role is to review financial situations and assess risks that organisations might be making when it comes to loans, insurance pay outs, policies and more
Strong communication: You must also be able to effectively communicate with any insurance companies, sales agents, clients, etc. both verbally and in writing
Data analysis: It is important to be able to think analytically and to interpret data to make informed decisions and mitigate financial risks for clients
Critical decision-making: Underwriters are required to make challenging decisions on behalf of their clients once they have weighed up the data and risks involved; therefore they must think critically
Writing your Underwriter CV
An interview-winning CV for a Underwriter role, needs to be both visually pleasing and packed with targeted content.
Whilst it needs to detail your experience, accomplishments and relevant skills, it also needs to be as clear and easy to read as possible.
Remember to research the role and review the job ad before applying, so you're able to match yourself up to the requirements.
If you follow these guidelines and keep motivated in your job search, you should land an interview in no time.
Best of luck with your next application!