From playing games to online banking and shopping, we use apps on our smartphones every day to do all sorts of important tasks, and mobile app developers are the people who make this possible.
And as mobile apps aren't going anywhere, this means that this role offers a good salary and plenty of opportunities for career progression in the future.
So, if you're hoping to land your next exciting role as a mobile app developer, use our tops tips and example CV below to help you create an impressive application.
Guide contents
Mobile App Developer CV example
Structuring and formatting your CV
Writing your CV profile
Detailing work experience
Your education
Skills required for your Mobile App Developer CV

Mobile App Developer CV example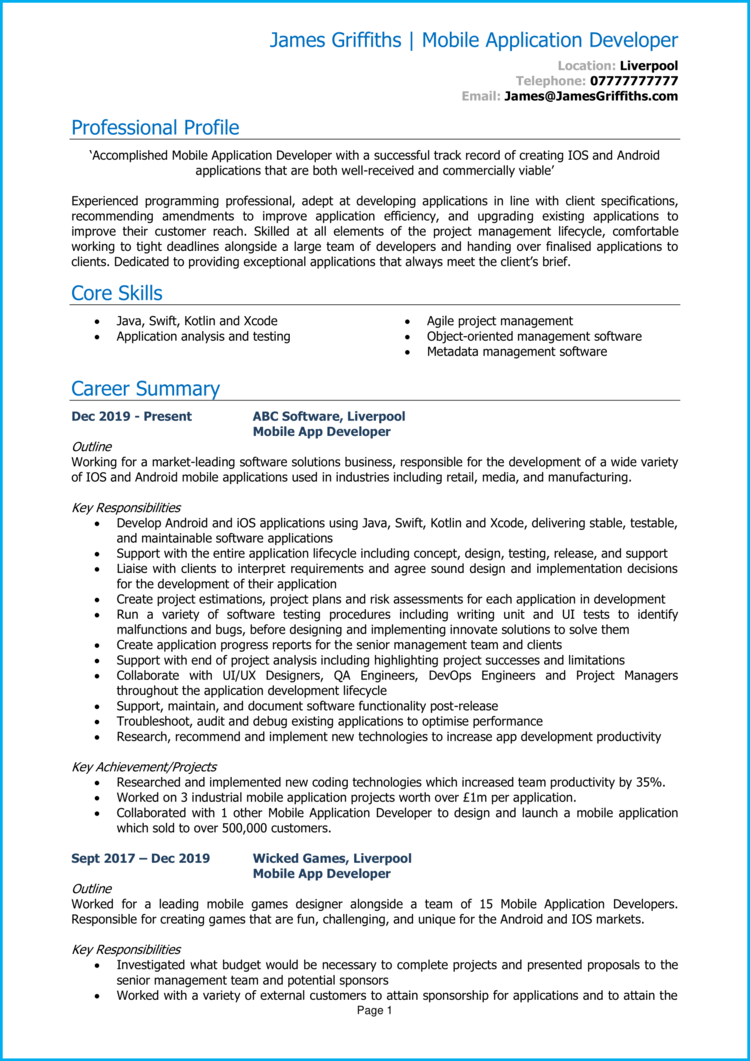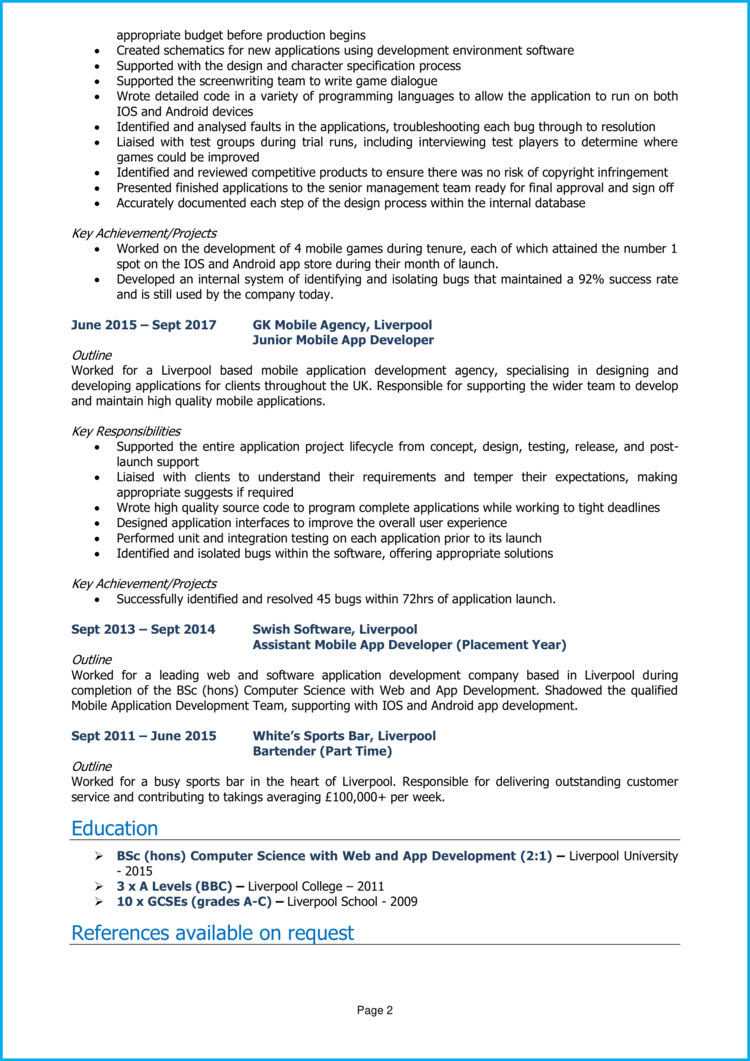 Unsure of what your Mobile App Developer CV should look like?
Take a good look at the CV example above to get familiar with the structure, layout and format of a professional CV.
As you can see, it provides plenty of relevant information about the applicant but is still very easy to read, which will please busy recruiters.
Mobile App Developer CV structure and format
If you focus on the written content of your CV but ignore how it actually looks, your efforts could end up wasted.
No matter how suitable you are for the role, no recruiter wants to spend time squinting and trying to navigate a badly designed and disorganised CV.
Instead, make sure to organise your content into a simple structure and spend some time formatting it for ease of reading – it'll get you in recruiter's good books from the get-go!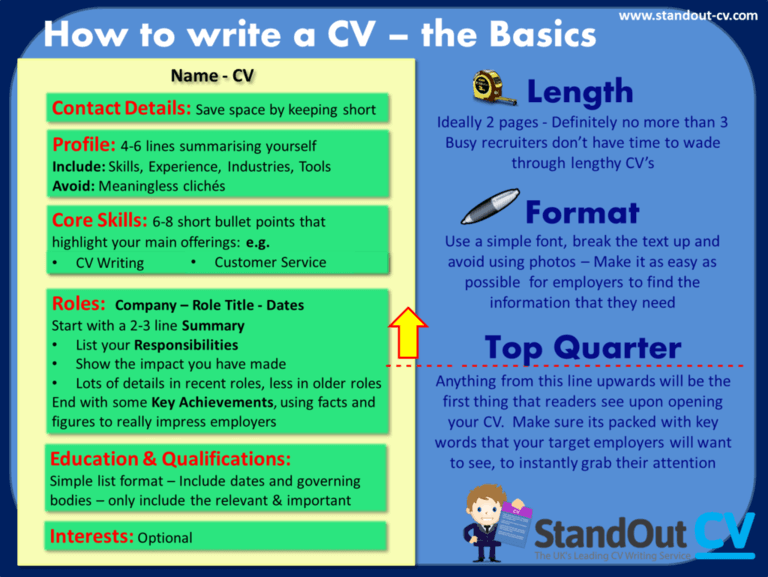 Formatting Tips
Length: Recruiters will be immediately put off by lengthy CVs – with hundreds of applications to read through, they simply don't have the time! Grabbing their attention with a short, snappy and highly relevant CV is far more likely to lead to success. Aim for two sides of A4 or less.
Readability: By clearly formatting your section headings (bold, or a different colour font, do the trick) and breaking up big chunks of text into snappy bullet points, time-strapped recruiters will be able to skim through your CV with ease.
Design: Your CV needs to look professional, sleek and easy to read. A subtle colour palette, clear font and simple design are generally best for this, as fancy designs are often harder to navigate.
Avoid photos: Don't add photos, images or profile pictures to your CV. Not only do they take up much-needed CV space, but they're actually completely unnecessary and won't boost your CV at all.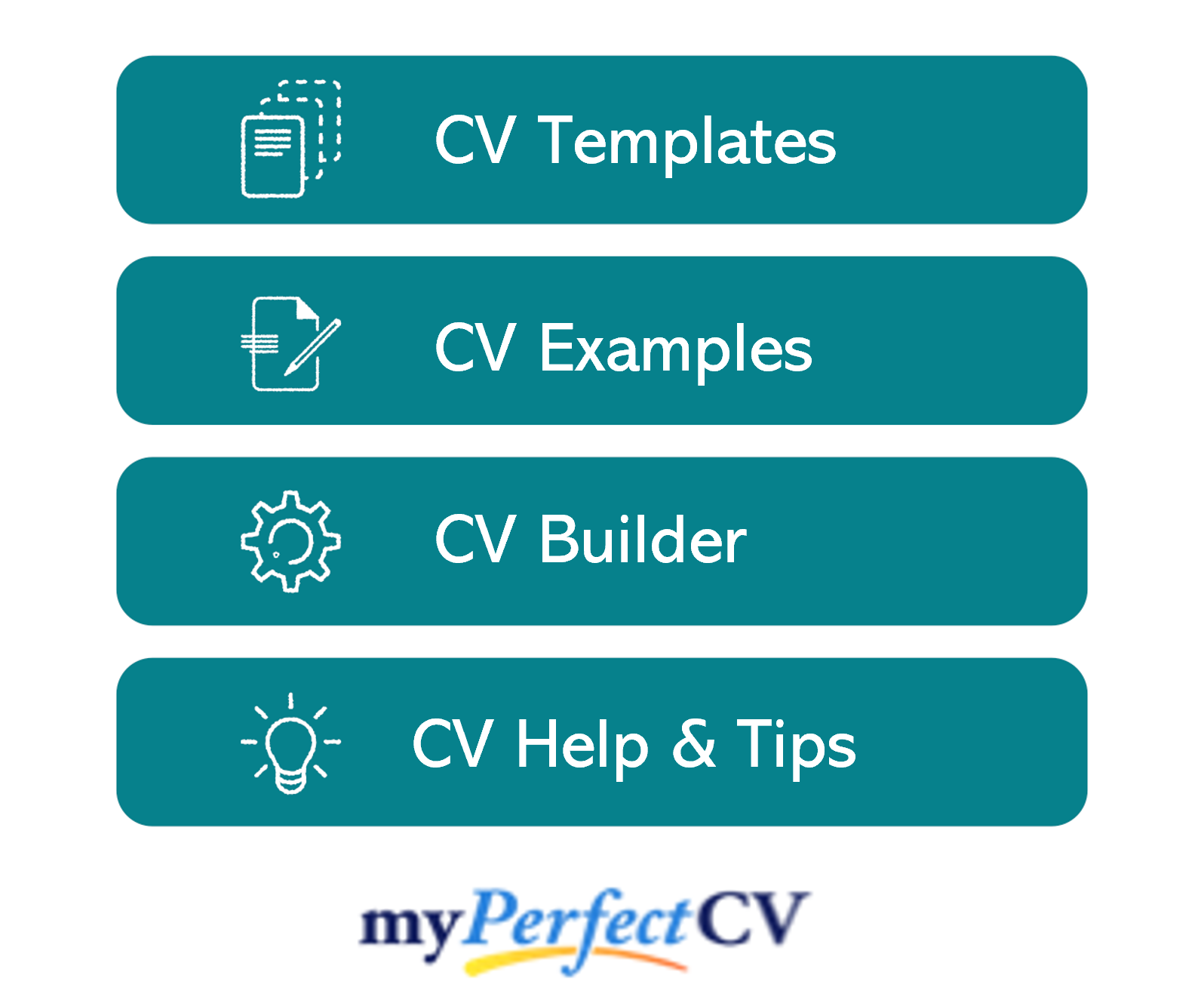 Structuring your CV
When writing your CV, break up the content into the following key sections, to ensure it can be easily digested by busy recruiters and hiring managers:
Contact details – Always list these at the very top of your CV – you don't want them to be missed!
Profile – An introductory paragraph, intended to grab recruiters attention and summarise your offering.
Work experience / career history – Working from your current role and working backwards, list your relevant work experience.
Education – Create a snappy summary of your education and qualifications.
Interest and hobbies – An optional section to document any hobbies that demonstrate transferable skills.
Now I'll guide you through exactly what you should include in each CV section.
CV Contact Details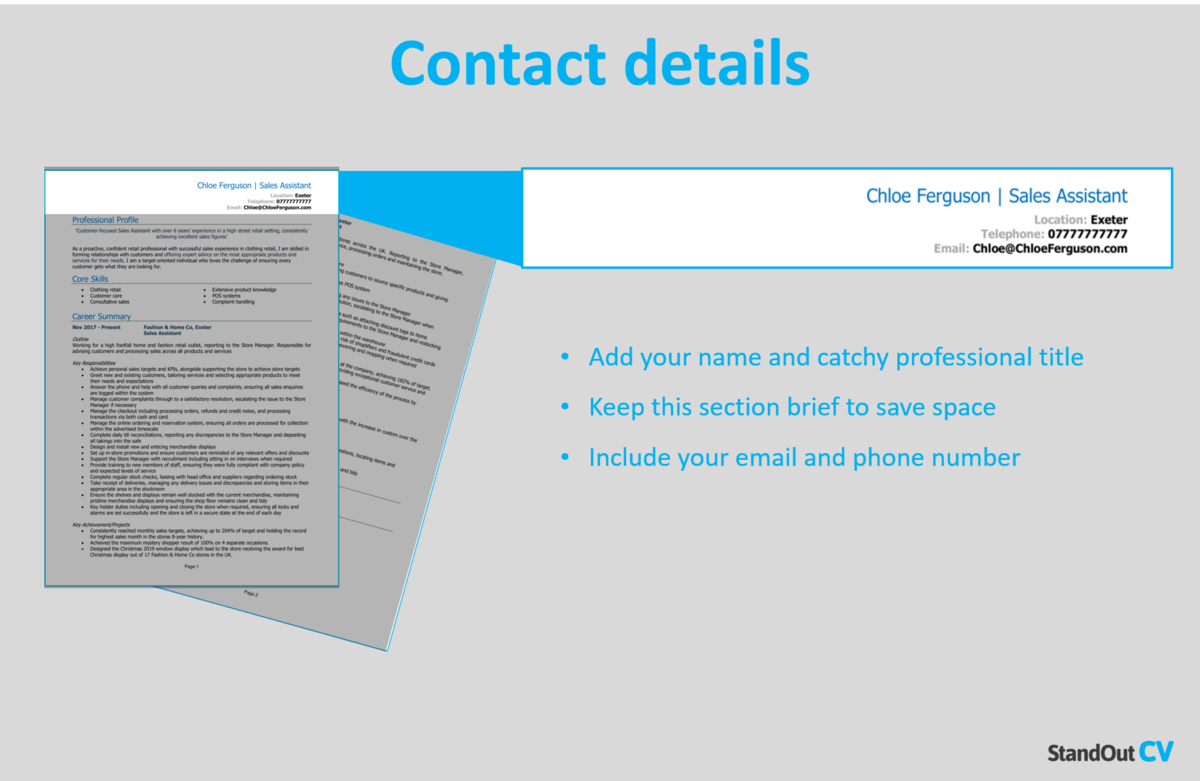 Tuck your contact details into the corner of your CV, so that they don't take up too much space.
Stick to the basic details, such as:
Mobile number
Email address – It should sound professional, such as your full name.
Location -Just write your rough location, rather than your full address.
LinkedIn profile or portfolio URL – If you include these, ensure they're sleek, professional and up-to-date.
Mobile App Developer CV Profile
Recruiters and hiring managers are busy, so it's essential to catch their attention from the get-go.
A strong introductory profile (or personal statement, for junior candidates) at the top of the CV is the first thing they'll read, so it's a great chance to make an impression.
It should be a short but punchy summary of your key skills, relevant experience and accomplishments.
Ultimately, it should explain why you're a great fit for the role you're applying for and inspire recruiters to read the rest of your CV.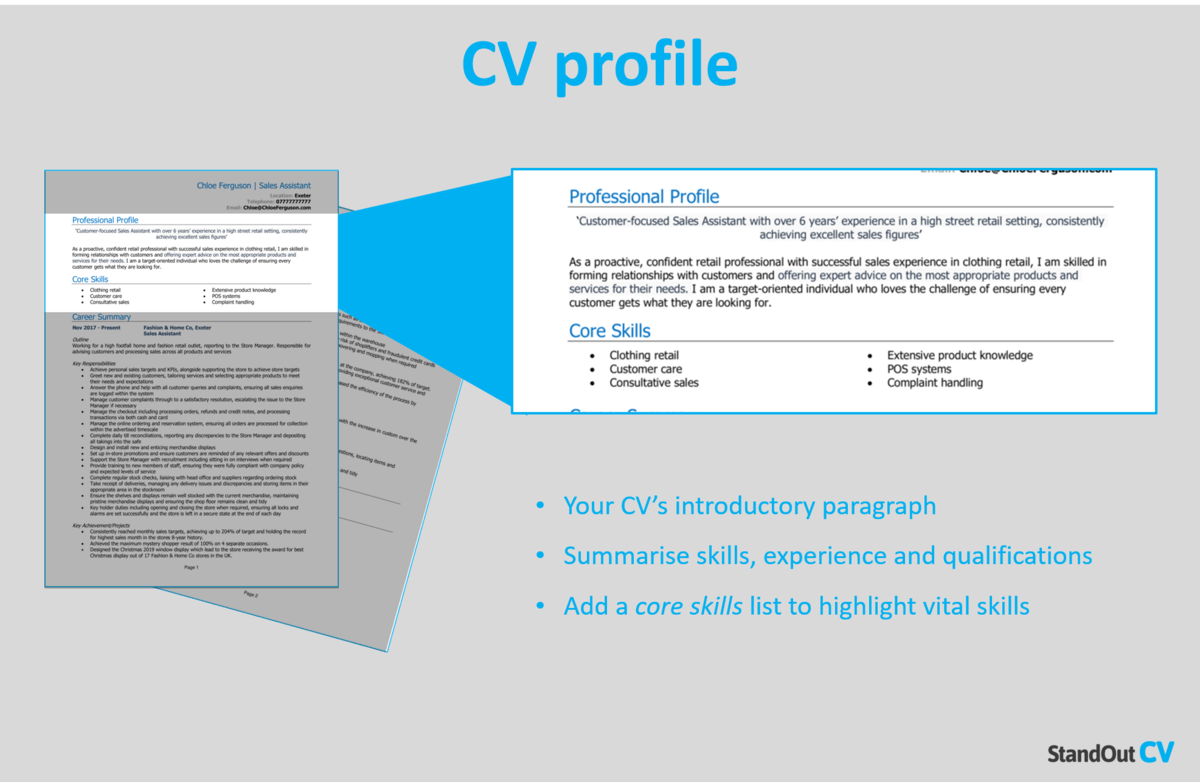 Tips for creating an impactful CV profile:
Keep it brief: Recruiters are busy, so to ensure your profile is actually read, it's best to keep it short and snappy. 3-5 punchy lines makes for the perfect profile.
Tailor it: If recruiters don't see your suitability within a few seconds, they may close your CV straight away. Your CV profile should closely match the essential requirements listed in the job ad, so make sure to review them before you write it.
Don't add an objective: Career goals and objectives are best suited to your cover letter, so don't waste space with them in your CV profile.
Avoid cliches: "Determined team player who always gives 110%" might seem like a good way to fill up your CV profile, but generic phrases like this won't land you an interview. Recruiters hear them time and time again and have no real reason to believe them. Instead, pack your profile with your hard skills and tangible achievements.
What to include in your Mobile App Developer CV profile?
Summary of experience: Start with a brief summary of your relevant experience so far. How many years experience do you have? What type of companies have you worked for? What industries/sectors have you worked in? What are your specialisms?
Relevant skills: Highlight your skills which are most relevant to Mobile App Developer jobs, to ensure that recruiters see your most in-demand skills as soon as they open your CV.
Essential qualifications: Be sure to outline your relevant Mobile App Developer qualifications, so that anyone reading the CV can instantly see you are qualified for the jobs you are applying to.
Quick tip: Even the best of writers can overlook typos and spelling mistakes. Use our partner's CV builder to add pre-written content that has been created by recruitment experts, and proofread by our team.
Core skills section
Next, you should create a bullet pointed list of your core skills, formatted into 2-3 columns.
Here, you should focus on including the most important skills or knowledge listed in the job advertisement.
This will instantly prove that you're an ideal candidate, even if a recruiter only has time to briefly scan your CV.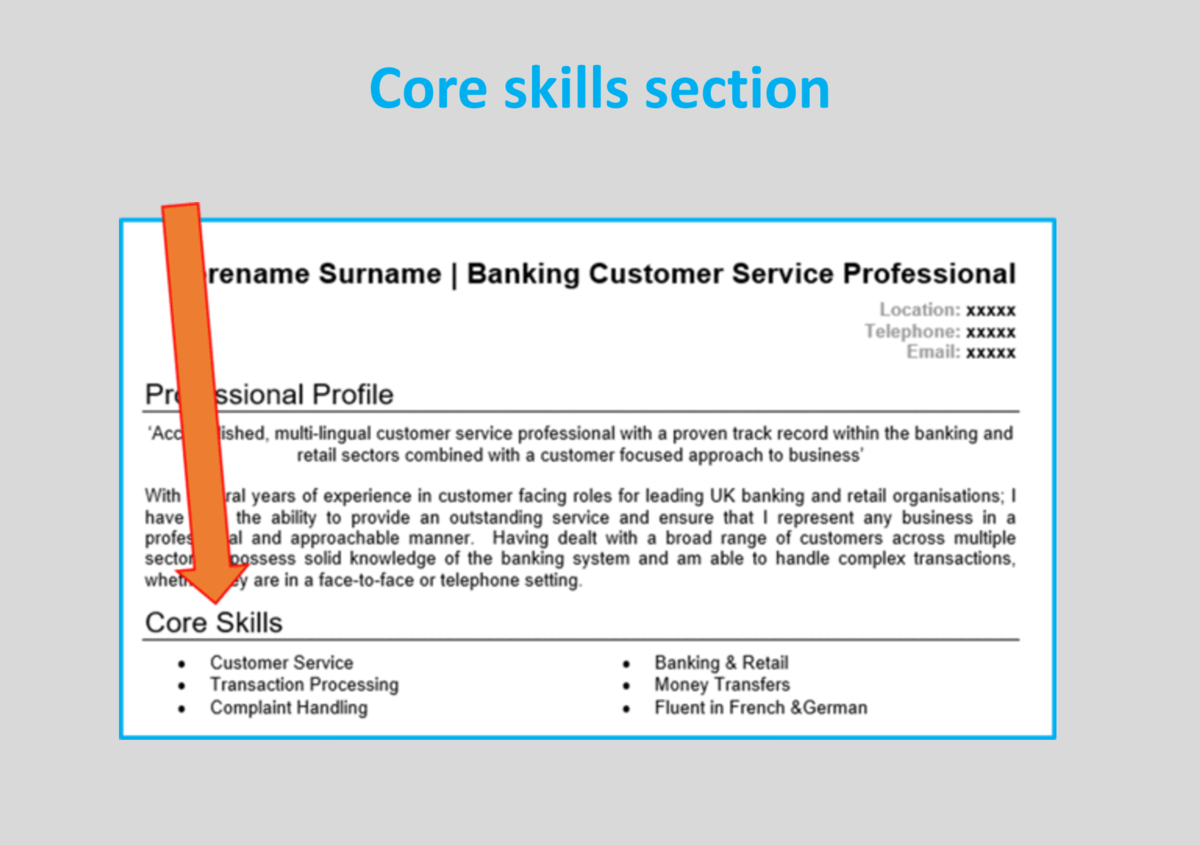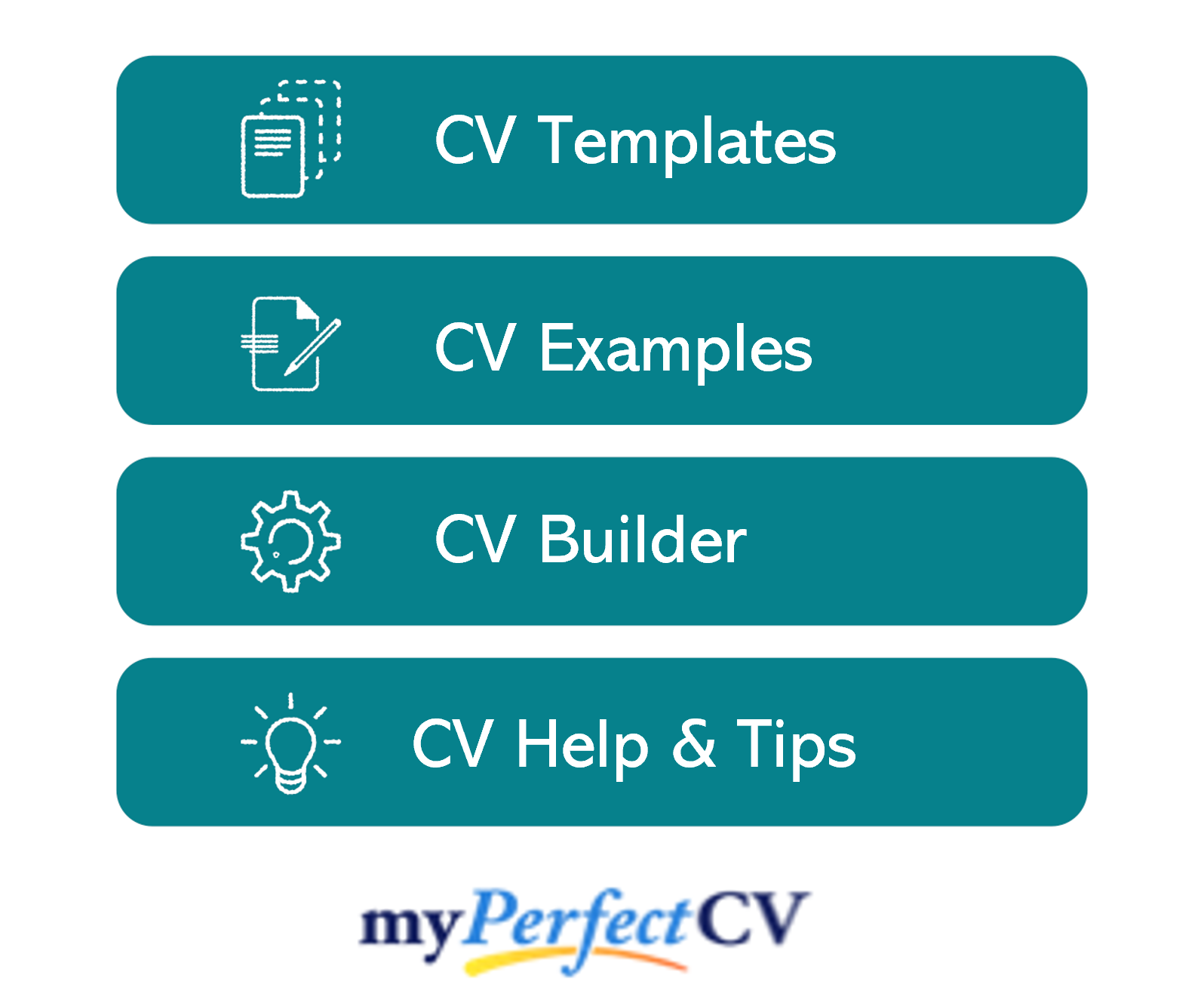 Work experience/Career history
Recruiters will be itching to know more about your relevant experience by now.
Kick-start this section with your most recent (or current) position, and work your way backwards through your history.
You can include voluntary and freelance work, too – as long as you're honest about the nature of the work.
Structuring your roles
Recruiters will be keen to gain a better idea of where you've worked and how you apply your skill-set in the workplace.
However, if they're faced with huge, hard-to-read paragraphs, they may just gloss over it and move onto the next application.
To avoid this, use the simple 3-step role structure, as shown below:
Outline
Start with a brief summary of your role as a whole, as well as the type of company you worked for.
Key responsibilities
Next, write up a punchy list of your daily duties and responsibilities, using bullet points.
Wherever you can, point out how you put your hard skills and knowledge to use – especially skills which are applicable to your target role.
Key achievements
Finish off by showcasing 1-3 key achievements made within the role.
This could be anything that had a positive effect on your company, clients or customers, such as saving time or money, receiving exemplary feedback or receiving an award.
Education
At the bottom of your CV is your full education section. You can list your formal academic qualifications, such as:
As well as any specific Mobile App Developer qualifications that are essential to the jobs you are applying for.
Note down the name of the qualification, the organisation at which you studied, and the date of completion.
Interests and hobbies
The hobbies and interests CV section isn't mandatory, so don't worry if you're out of room by this point.
However, if you have an interesting hobby, or an interest that could make you seem more suitable for the role, then certainly think about adding.
Be careful what you include though… Only consider hobbies that exhibit skills that are required for roles as a Mobile App Developer, or transferable workplace skills.
There is never any need to tell employers that you like to watch TV and eat out.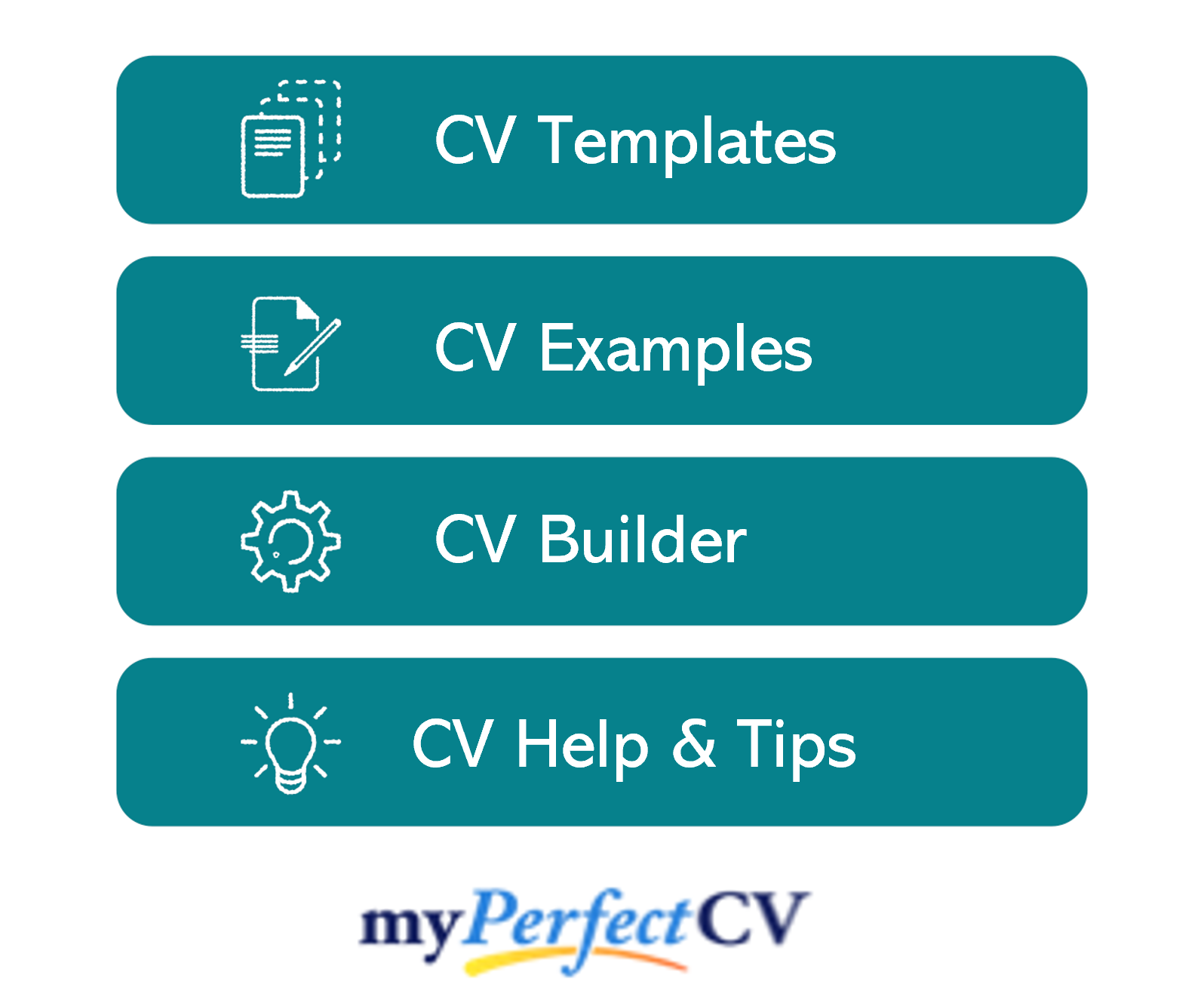 Essential skills for your Mobile App Developer CV
Tailoring your CV to the roles you are applying for is key to success, so make sure to read through the job descriptions and tailor your skills accordingly.
However, commonly desired Mobile App Developer skills include:
Creativity: In order to produce apps that people actually want to use and that are both clean and user-friendly, you must be able to think creatively
Programming languages: Mobile app developers must have a strong knowledge of several of the most popular programming languages, such as Python and JavaScript
Cross-platform development: It is also important that as a developer, you understand multiple operation platforms, including Android, iPhone and Windows
Data collection and analytical skills: App developers must be able to collect data and analyse the way people use their mobile devices in order to create applications people actually want to use
Agility: The fast-paced mobile industry is always changing and successful mobile app developers must be able to adapt and design quickly in order to stay ahead of the completion
Writing your Mobile App Developer CV
Creating a strong Mobile App Developer CV requires a blend of punchy content, considered structure and format, and heavy tailoring.
By creating a punchy profile and core skills list, you'll be able to hook recruiter's attention and ensure your CV gets read.
Remember that research and relevance is the key to a good CV, so research your target roles before you start writing and pack your CV with relevant skills.
Best of luck with your next application!