Credit risk analyst is a great career for those with aptitudes in accounting, finance and economics.
A credit risk analysis CV must encompass your key analyst skills as well as your experience and qualifications to ensure you get noticed.
Check out this example credit risk analyst CV and all the steps needed to create your own CV and land the role of your choice.
Guide contents
Credit Risk Analyst CV example
Structuring and formatting your CV
Writing your CV profile
Detailing work experience
Your education
Skills required for your Credit Risk Analyst CV

Credit Risk Analyst CV example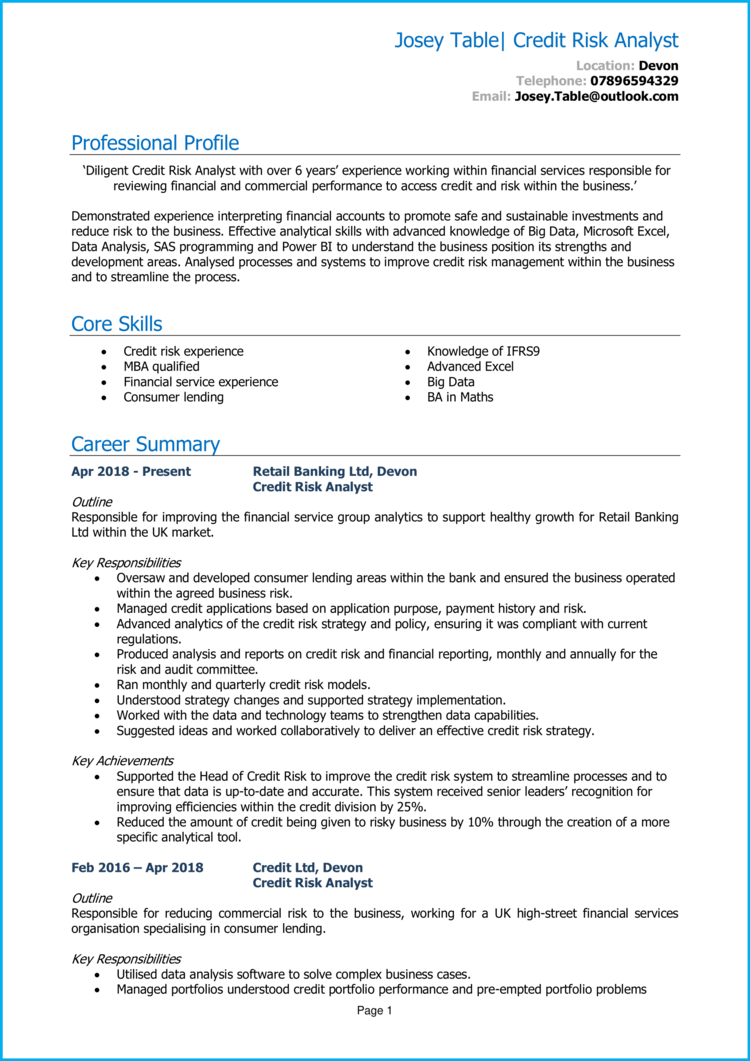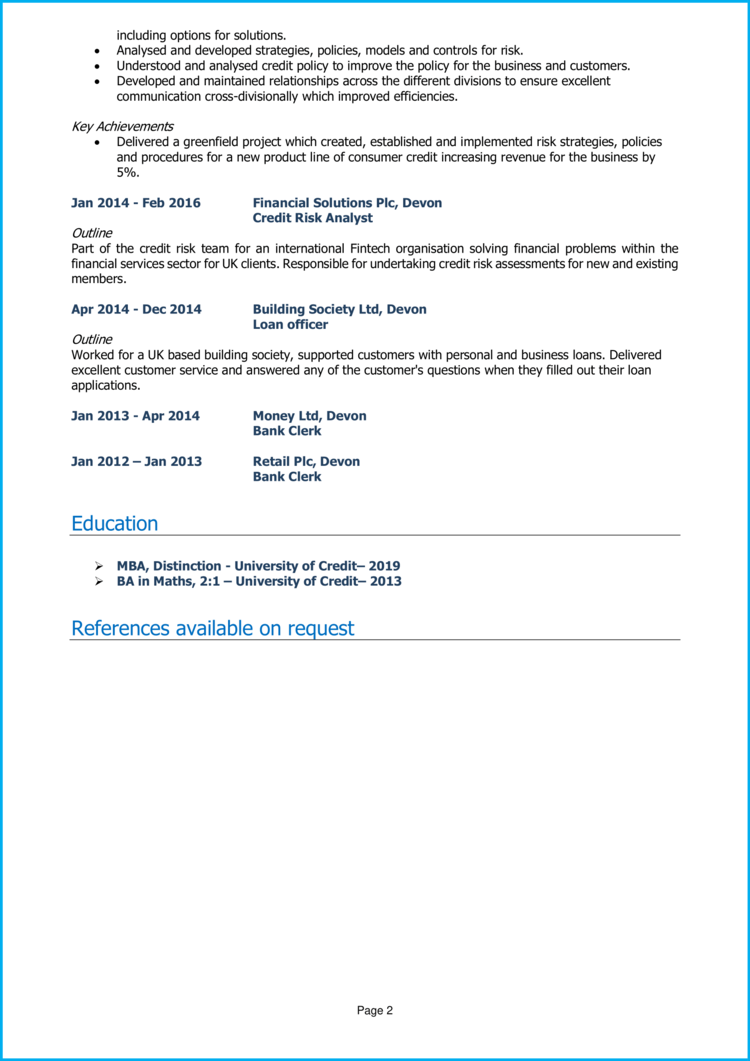 The above CV example demonstrates the type of info you should be including within your Credit Risk Analyst CV, as well as how to display this information in a way which looks professional and is easy for time-strapped recruiters to read.
This is the standard you should be aiming for, so remember to refer back to it throughout the CV writing process.
Credit Risk Analyst CV structure and format
Your CV is the very first impression you'll make on a potential employer.
A disorganised, cluttered and barely readable CV could seriously decrease your chances of landing interviews, so it's essential to make sure yours is slick, professional and easy to navigate.
You can do this by employing a clear structure and formatting your content with some savvy formatting techniques – check them out below: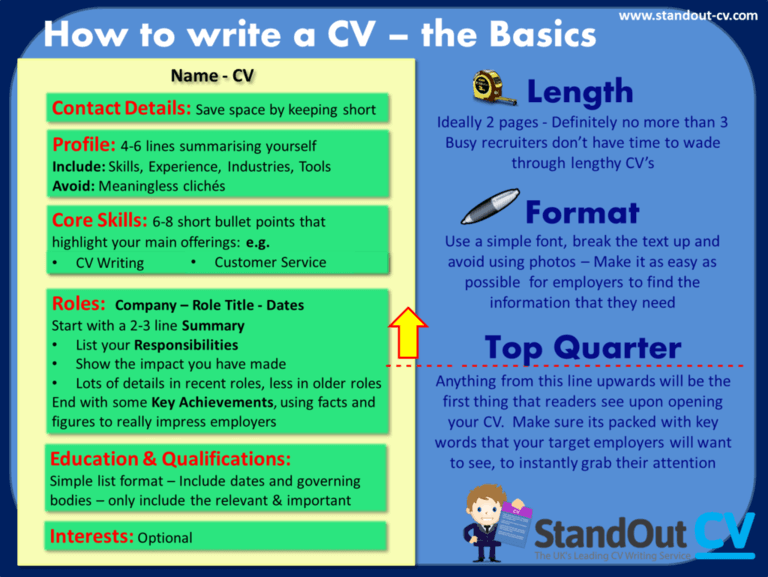 Formatting Tips
Length: Whether you've got one year or three decades of experience, your CV should never be more than two sides of A4. Recruiters are busy people who're often juggling numerous roles and tasks, so they don't have time to read lengthy applications. If you're a recent graduate or don't have much industry experience, one side of A4 is fine.
Readability: To help busy recruiters scan through your CV, make sure your section headings stand out – bold or coloured text works well. Additionally, try to use bullet points wherever you can, as they're far easier to skim through than huge paragraphs. Lastly, don't be afraid of white space on your CV – a little breathing space is great for readability.
Design: The saying 'less is more' couldn't be more applicable to CVs. Readability is key, so avoid overly complicated designs and graphics. A subtle colour palette and easy-to-read font is all you need!
Avoid photos: Logos, profile photos or other images aren't necessary and rarely add any value – save the space for written content, instead!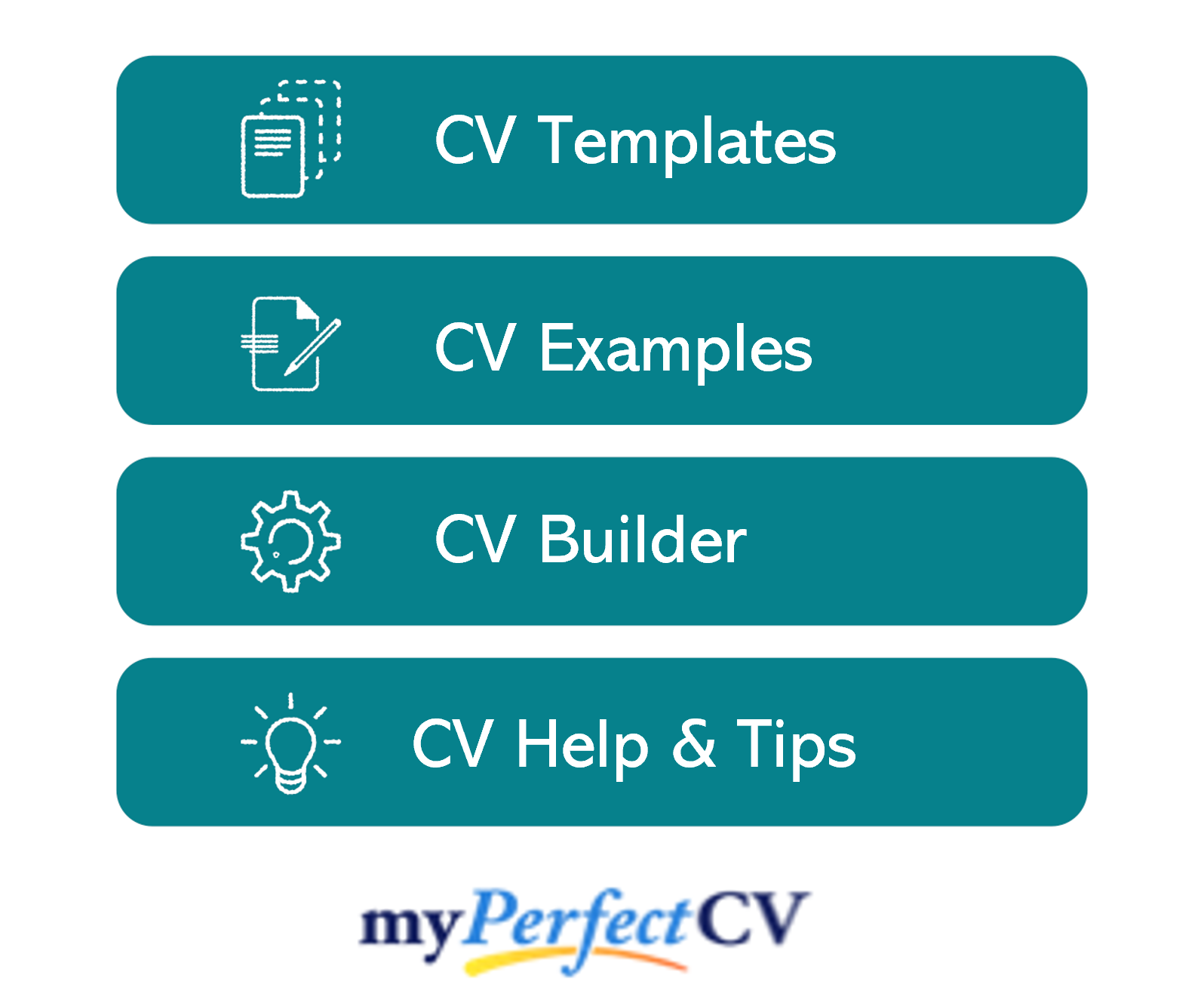 Structuring your CV
As you write your CV, divide and sub-head into the following sections:
Name and contact details – Always start with these, so employers know exactly how to get in touch with you.
CV profile – Add a short summary of your relevant experience, skills and achievements, which highlights your suitability.
Core skills section – A 2-3 columned list of your key skills.
Work experience – A detailed list of any relevant work experience, whether paid or voluntary.
Education – An overview of your academic background and any training you may have completed.
Hobbies and interests – A brief overview of your hobbies and interests, if they're relevant (optional).
Now I'll guide you through exactly what you should include in each CV section.
CV Contact Details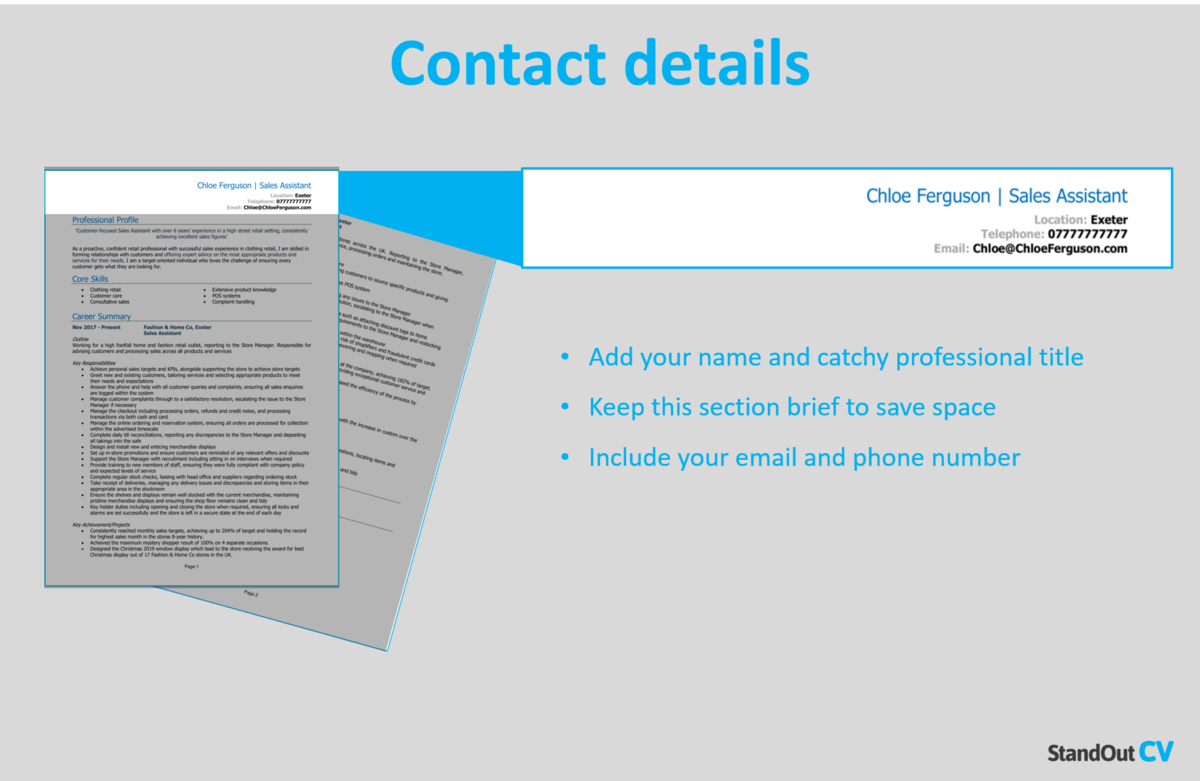 Make it easy for recruiters to get in touch, by heading your CV with your contact details.
There's no need for excessive details – just list the basics:
Mobile number
Email address – Use a professional address with no nicknames.
Location – Just write your your general location, such as 'London' or 'Cardiff' – there's no need to put your full address.
LinkedIn profile or portfolio URL
Credit Risk Analyst CV Profile
Your CV profile (or personal statement, if you're an entry-level applicant) provides a brief overview of your skills, abilities and suitability for a position.
It's ideal for busy recruiters and hiring managers, who don't want to waste time reading unsuitable applications.
Think of it as your personal sales pitch. You've got just a few lines to sell yourself and prove you're a great match for the job – make it count!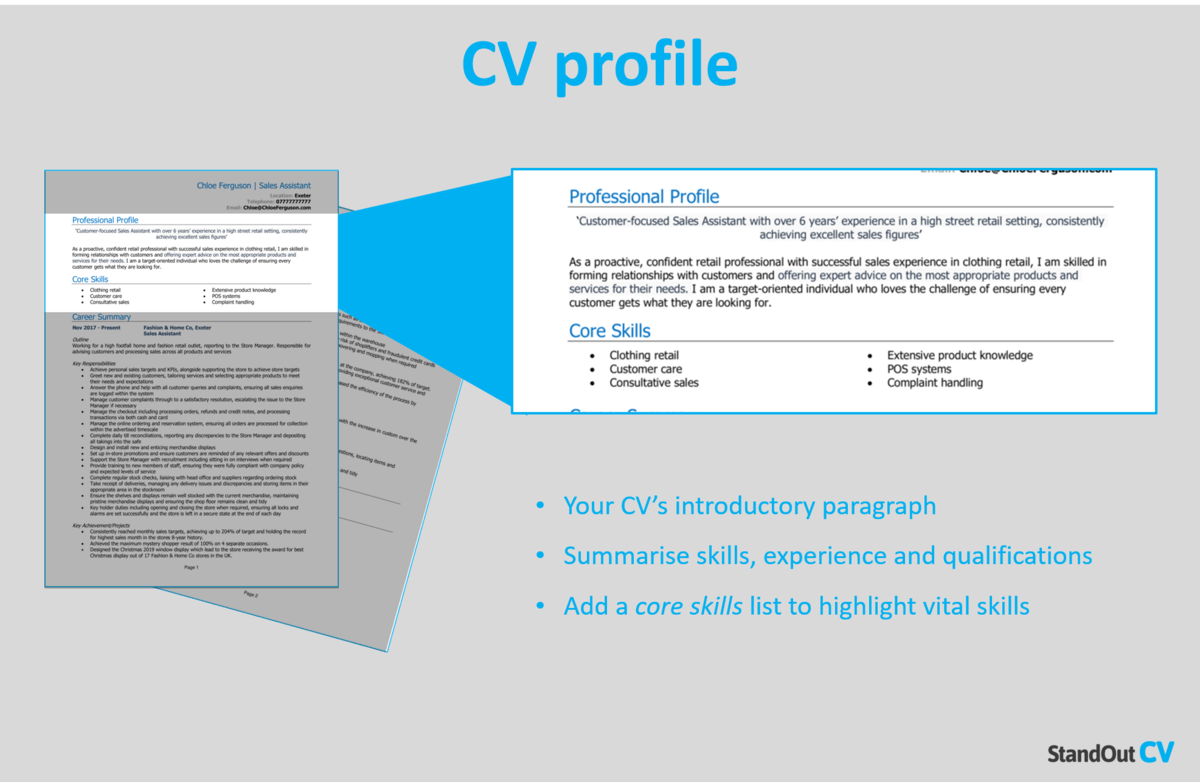 Tips for creating an impactful CV profile:
Keep it brief: The best CV profiles are short, sharp and highly relevant to the target role. For this reason, it's best to write 3-4 lines of high-level information, as anything over might be missed.
Tailor it: If recruiters don't see your suitability within a few seconds, they may close your CV straight away. Your CV profile should closely match the essential requirements listed in the job ad, so make sure to review them before you write it.
Don't add an objective: Career goals and objectives are best suited to your cover letter, so don't waste space with them in your CV profile.
Avoid cliches: "Determined team player who always gives 110%" might seem like a good way to fill up your CV profile, but generic phrases like this won't land you an interview. Recruiters hear them time and time again and have no real reason to believe them. Instead, pack your profile with your hard skills and tangible achievements.
What to include in your Credit Risk Analyst CV profile?
Summary of experience: Demonstrate your suitability for your target jobs by giving a high level summary of your previous work experience, including the industries you have worked in, types of employer, and the type of roles you have previous experience of.
Relevant skills: Make your most relevant Credit Risk Analyst key skills clear in your profile. These should be tailored to the specific role you're applying for – so make sure to check the job description first, and aim to match their requirements as closely as you can.
Essential qualifications: If you have any qualifications which are highly relevant to Credit Risk Analyst jobs, then highlight them in your profile so that employers do not miss them.
Quick tip: If spelling and grammar are not a strong point of yours, Use our partner's CV builder to add pre-written content that has been created by recruitment experts, and proofread by our team.
Core skills section
In addition to your CV profile, your core skills section provides an easily digestible snapshot of your skills – perfect for grabbing the attention of busy hiring managers.
As Credit Risk Analyst jobs might receive a huge pile of applications, this is a great way to stand out and show off your suitability for the role.
It should be made up of 2-3 columns of bullet points and be made up of skills that are highly relevant to the jobs you are targeting.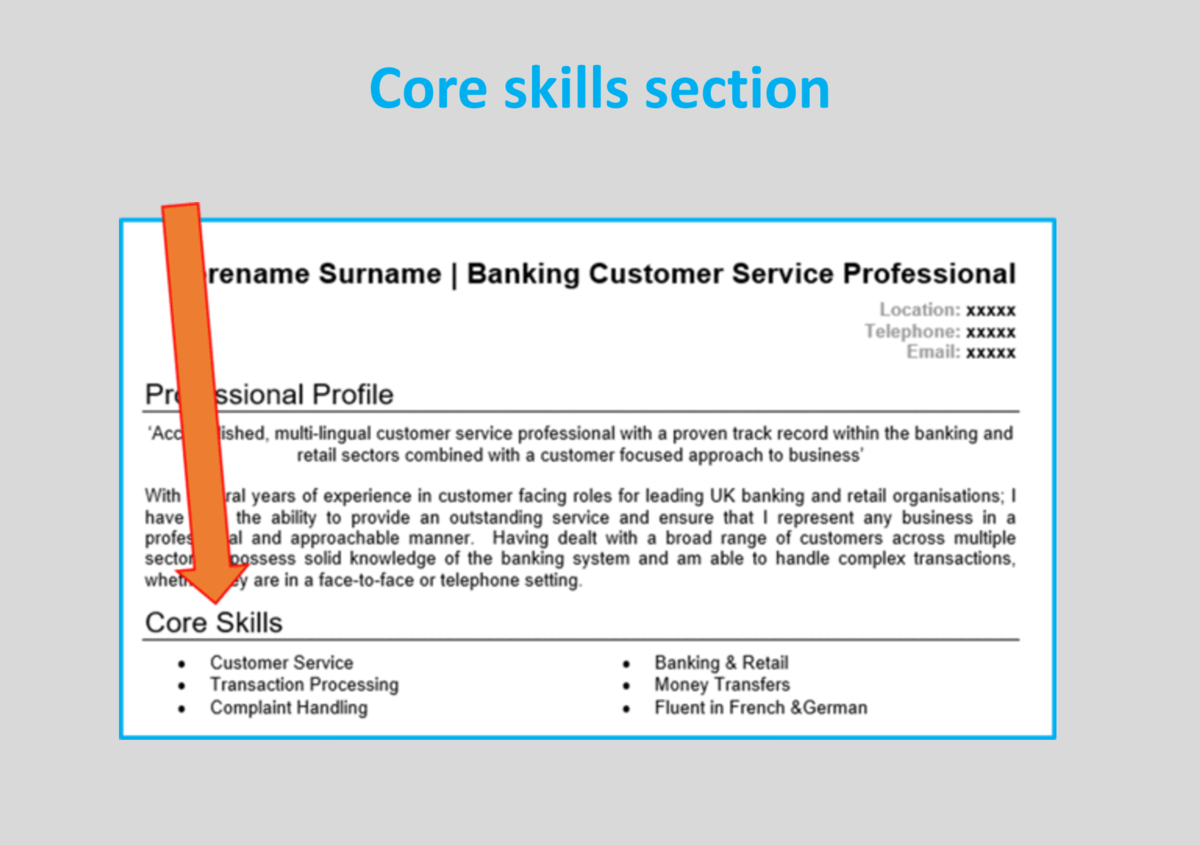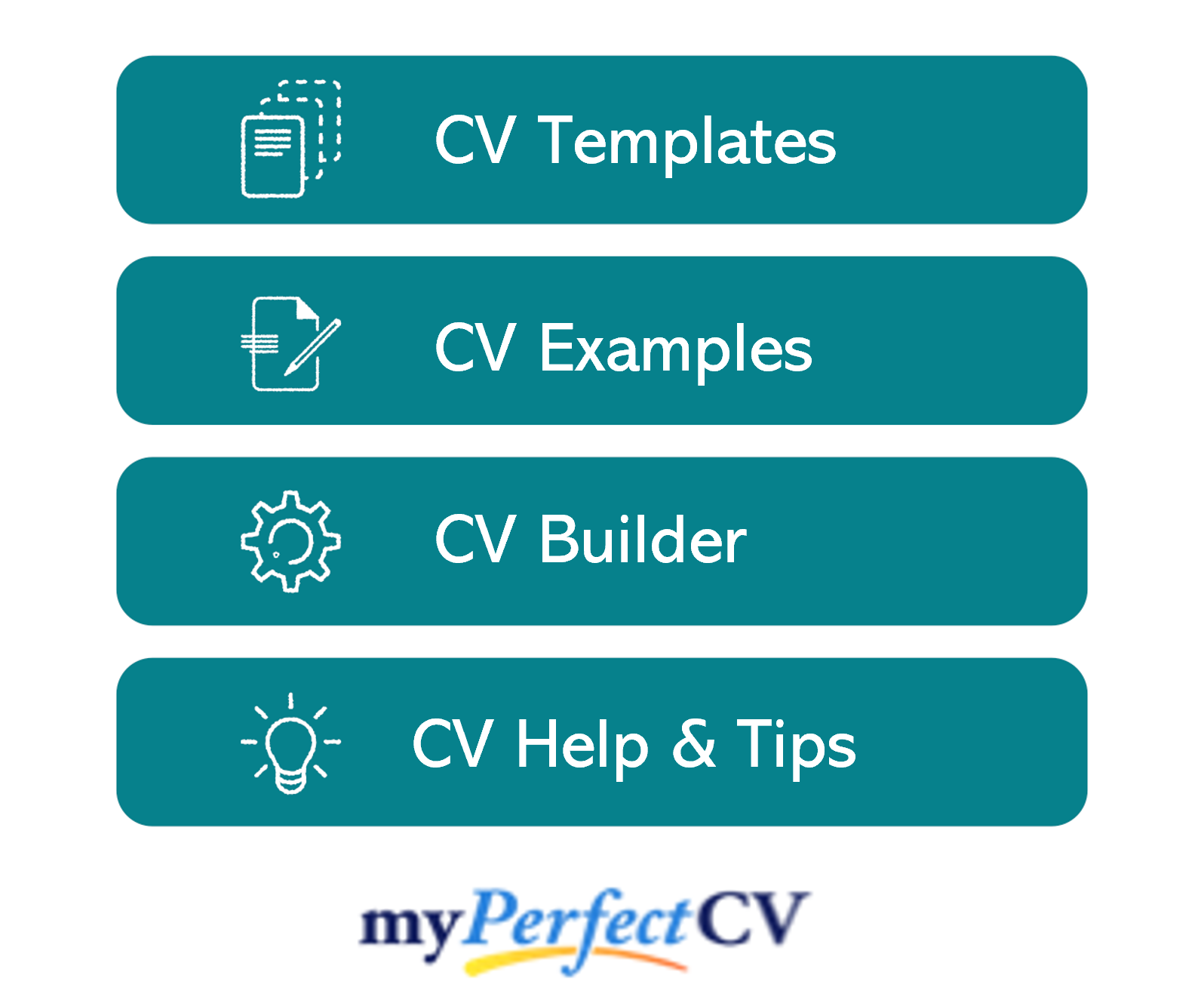 Work experience/Career history
Next up is your work experience section, which is normally the longest part of your CV.
Start with your current (or most recent) job and work your way backwards through your experience.
Can't fit all your roles? Allow more space for your recent career history and shorten down descriptions for your older roles.
Structuring your roles
The structure of your work experience section can seriously affect its impact.
This is generally the biggest section of a CV, and with no thought to structure, it can look bulky and important information can get lost.
Use my 3-step structure below to allow for easy navigation, so employers can find what they are looking for:
Outline
Start with a brief summary of your role as a whole, as well as the type of company you worked for.
E.g.
Responsible for reducing commercial risk to the business, working for a UK high-street financial services organisation specialising in consumer lending.
Key responsibilities
Using easy-to-read bullet points, note down your day-to-day responsibilities in the role.
Make sure to showcase how you used your hard sector skills and knowledge.
E.g.
Managed credit applications based on application purpose, payment history and risk.
Advanced analytics of the credit risk strategy and policy, ensuring it was compliant with current regulations.
Produced analysis and reports on credit risk and financial reporting, monthly and annually for the risk and audit committee.
Key achievements
Finish off by showcasing 1-3 key achievements made within the role.
This could be anything that had a positive effect on your company, clients or customers, such as saving time or money, receiving exemplary feedback or receiving an award.
E.g.
Supported the Head of Credit Risk to improve the credit risk system to streamline processes and to ensure that data is up-to-date and accurate. This system received senior leaders' recognition for improving efficiencies within the credit division by 25%.
Education
After your work experience, your education section should provide a detailed view of your academic background.
Begin with those most relevant to Credit Risk Analyst jobs, such as vocational training or degrees.
If you have space, you can also mention your academic qualifications, such as A-Levels and GCSEs.
Focus on the qualifications that are most relevant to the jobs you are applying for.
Interests and hobbies
Although this is an optional section, it can be useful if your hobbies and interests will add further depth to your CV.
Interests which are related to the sector you are applying to, or which show transferable skills like leadership or teamwork, can worth listing.
On the other hand, generic hobbies like "going out with friends" won't add any value to your application, so are best left off your CV.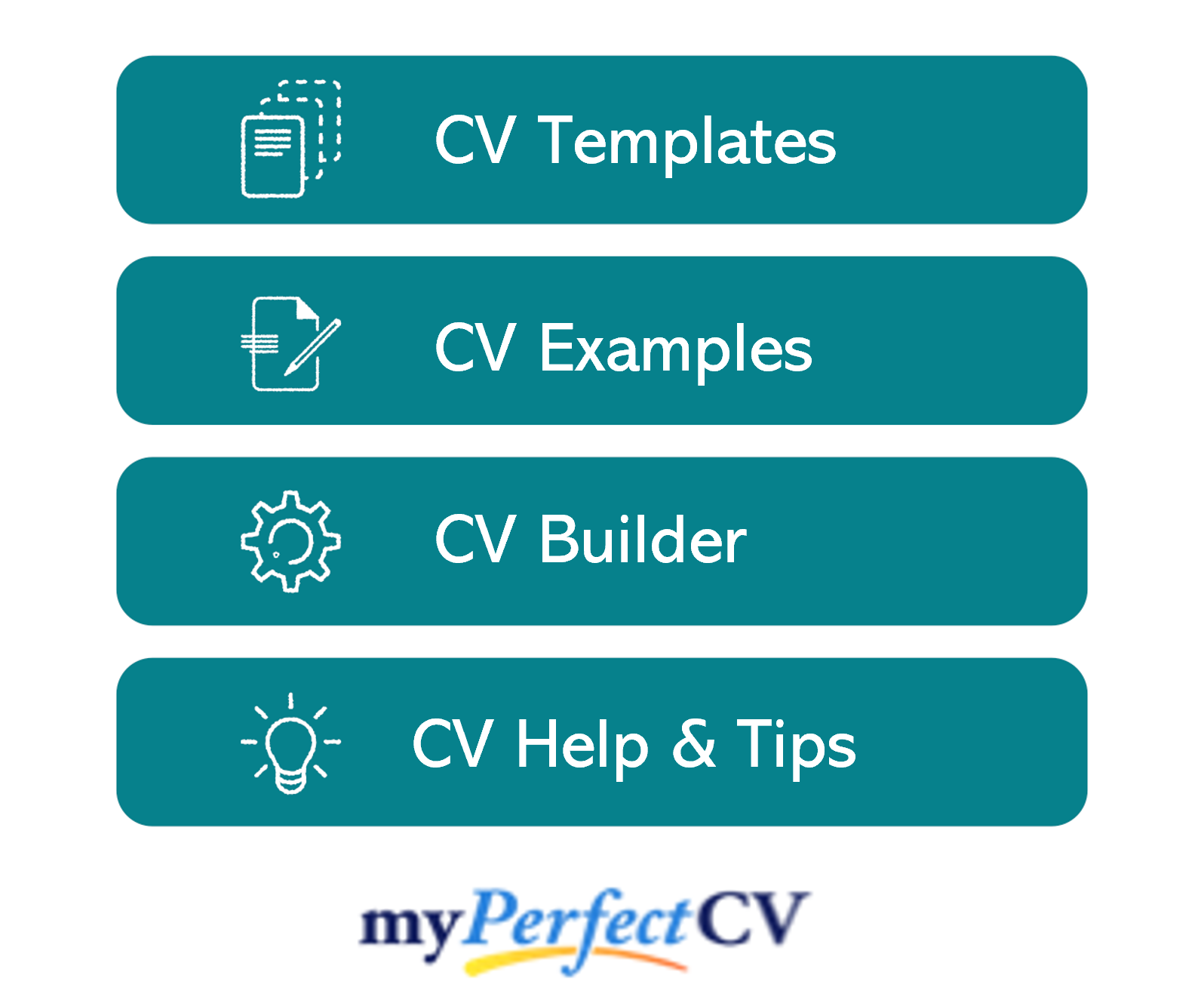 Essential skills for your Credit Risk Analyst CV
Tailoring your CV to the roles you are applying for is key to success, so make sure to read through the job descriptions and tailor your skills accordingly.
However, commonly desired Credit Risk Analyst skills include:
Accounting and finance – Concisely explain your skills gained from your background, incorporating everything from statistical reviews to creating financial statements.
Written communication – You must go beyond 'numbers' to show that you are a skilled writer, capable of presenting complex information in the written form.
Investigation – Demonstrate your skills in assessing situations, evaluating information, verification and evidence collection.
Business acumen – Explain your knowledge of particular industries, and how you are skilled in keeping this up to date.
Quantitative analysis – Detail your meticulous attention to detail with analysing figures and statistical data, relying on mathematical confidence.
Writing your Credit Risk Analyst CV
Creating a strong Credit Risk Analyst CV requires a blend of punchy content, considered structure and format, and heavy tailoring.
By creating a punchy profile and core skills list, you'll be able to hook recruiter's attention and ensure your CV gets read.
Remember that research and relevance is the key to a good CV, so research your target roles before you start writing and pack your CV with relevant skills.
Best of luck with your next application!