Are you looking for your next role as a train driver? Then you need to get your job search on the right track.
We can help you to create a CV that will take the recruiter on a journey. Simply follow out tips and advice in the guide below.
We have also provided a train driver CV example to inspire your own.
Contents
| | |
| --- | --- |
| How to write a Train Driver CV | |

Train Driver CV example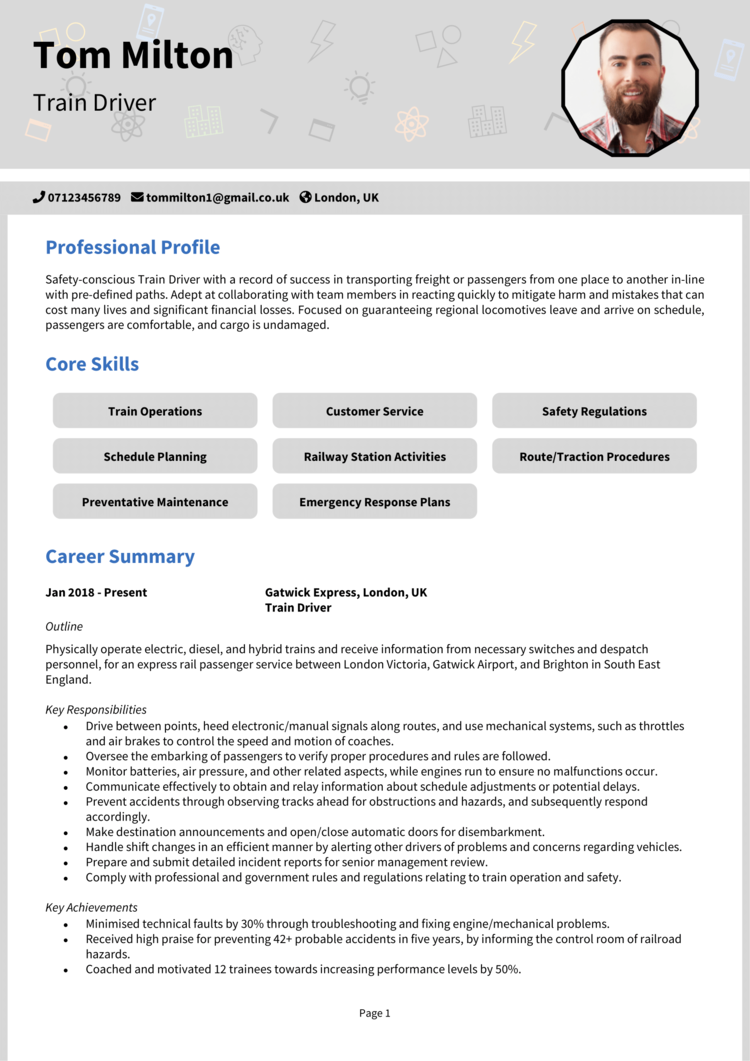 Unsure of what your Train Driver CV should look like?
Have a look at the CV example above to get familiar with the structure, layout and format of a professional CV.
As you can see, it provides plenty of relevant information about the applicant but is still very easy to read, and brief – which will please busy recruiters and hiring managers.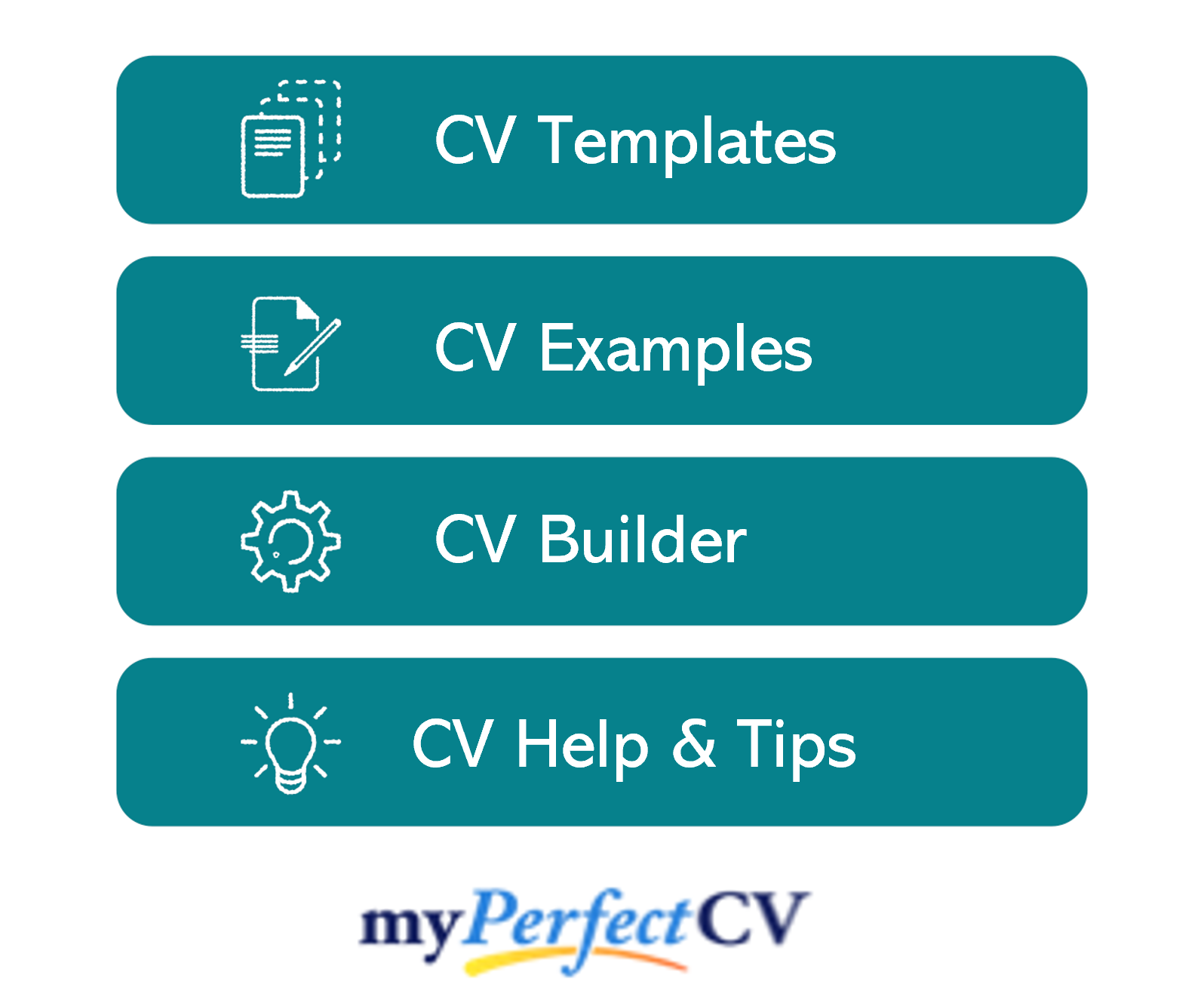 Train Driver CV format and structure
The format and structure of your CV is important because it will determine how easy it is for recruiters and employers to read your CV.
If they can find the information they need quickly, they'll be happy; but if they struggle, your application could be overlooked.
A simple and logical structure will always create a better reading experience than a complex structure, and with a few simple formatting tricks, you'll be good to go.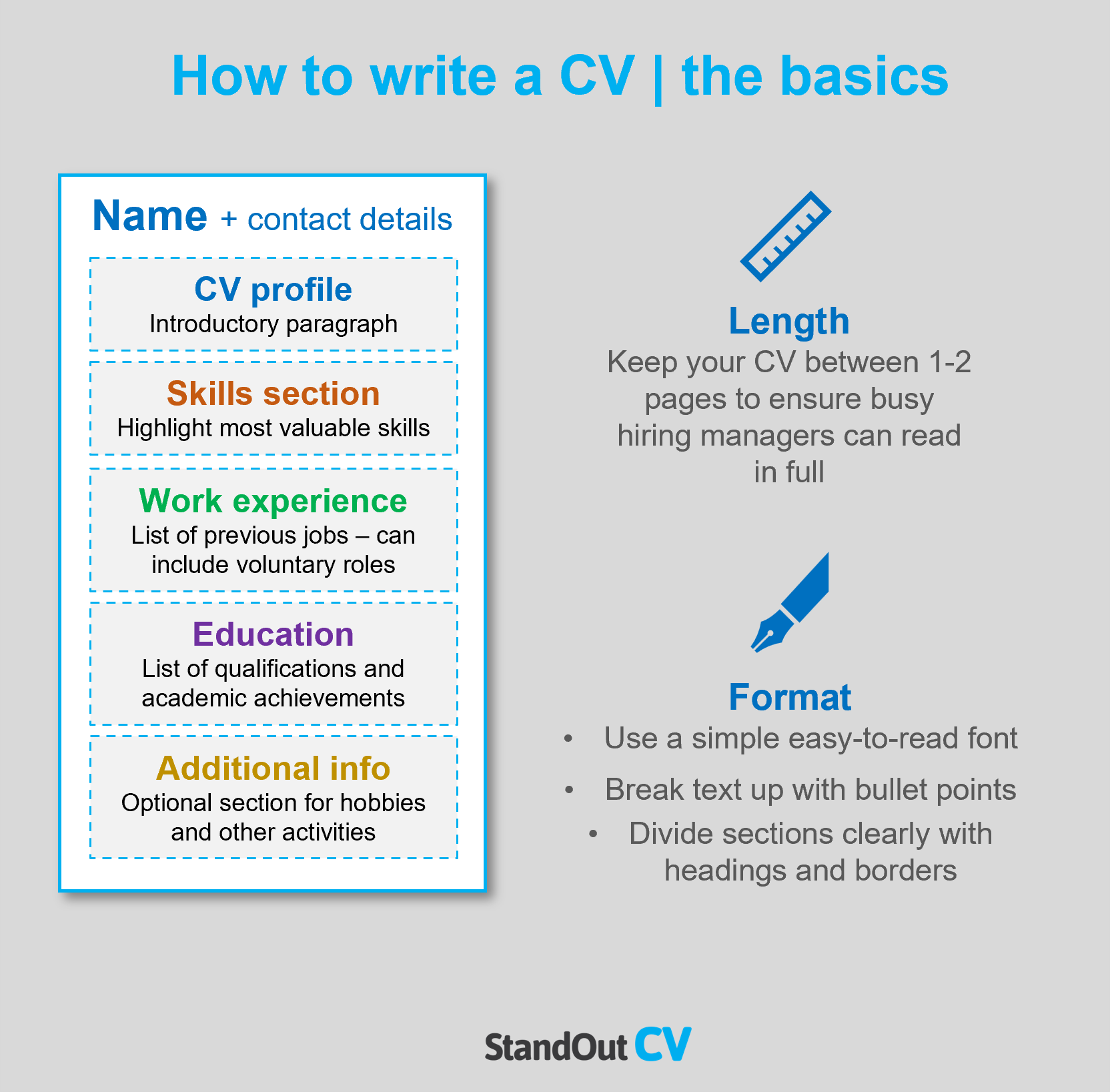 Tips for formatting your Train Driver CV
Length: It's essential to keep your CV concise, regardless of whether you have one year or thirty years of experience. Recruiters are frequently managing multiple roles and responsibilities and do not have the luxury of reading lengthy CVs. Therefore, limit your CV to two sides of A4. If you have little industry experience, one page is sufficient.
Readability: By clearly formatting your section headings (bold, or a different colour font, do the trick) and breaking up big chunks of text into snappy bullet points, time-strapped recruiters will be able to skim through your CV with ease.
Design & format: While it's important that your CV design looks good, it also needs to be functional (which means easy for recruiters to read) Keep the design simple to achieve a good balance between looking good and reading well.
Photos: You can add a profile photo to your CV, if you want to add some personality to it, but they are not a requirement the UK, so you don't have to.
Quick tip: Creating a professional CV style can be difficult and time-consuming when using Microsoft Word or Google Docs. To create a winning CV quickly, try our partner's CV Builder and use one of their eye-catching professional CV templates.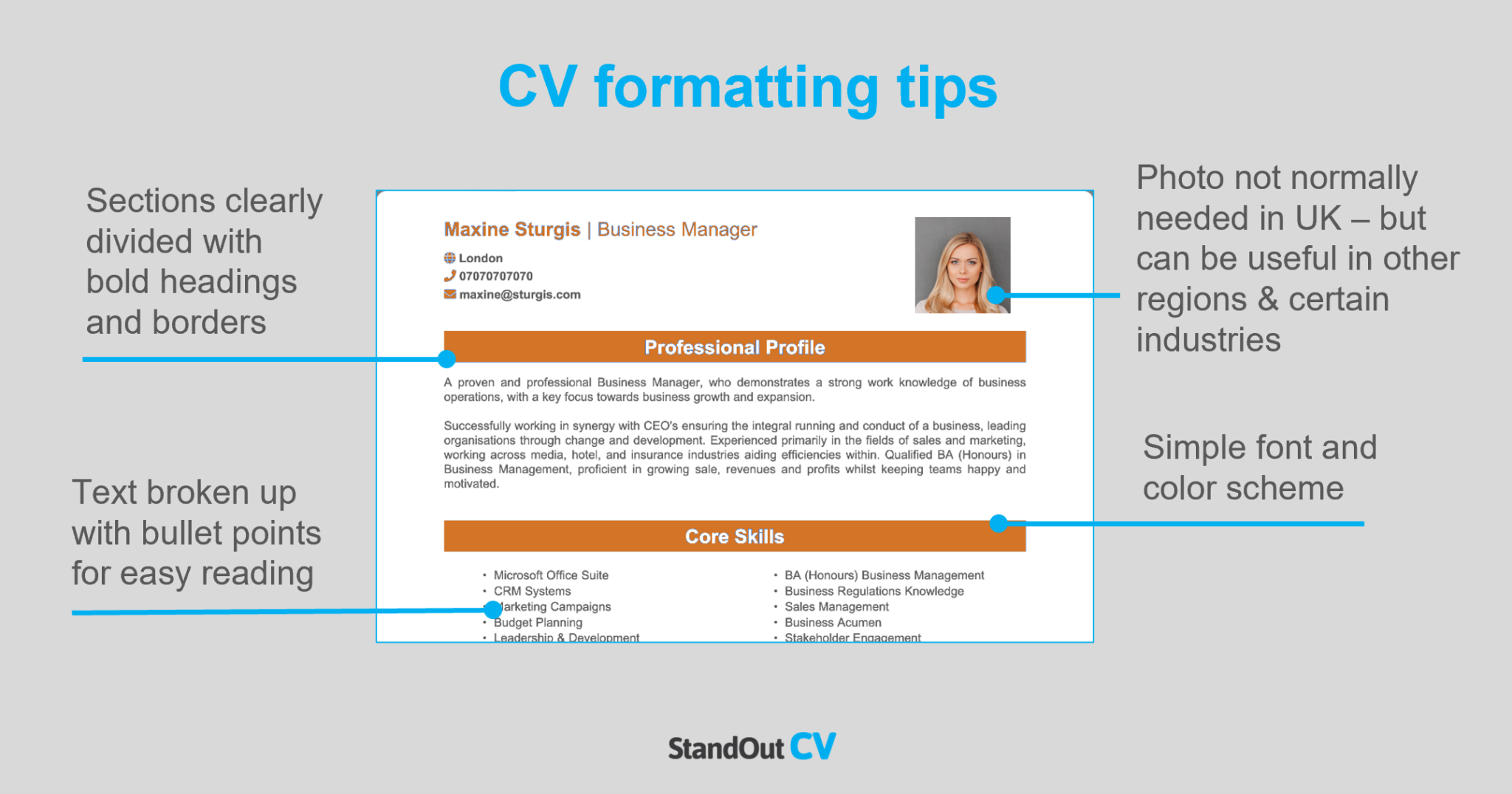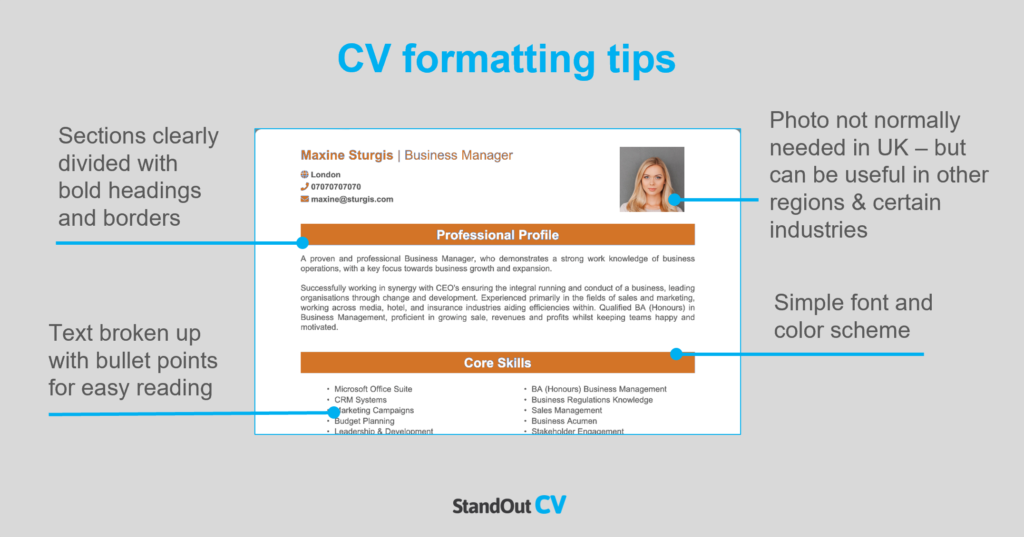 CV structure
When writing your own CV, break up your CV content into the following key sections:
Name and contact details – Place them at the top of your CV, so that employers can easily get in touch.
CV profile – A punchy sales pitch of your key experience, skills and achievements to reel readers in.
Core skills section – A bullet-pointed snapshot of your abilities.
Work experience – A well-structured list of your relevant work experience.
Education – An overview of any relevant qualifications or professional training you have.
Hobbies and interests – A short description of any relevant hobbies or interests (optional).
Now you understand the basic layout of a CV, here's what you should include in each section of yours.
Contact Details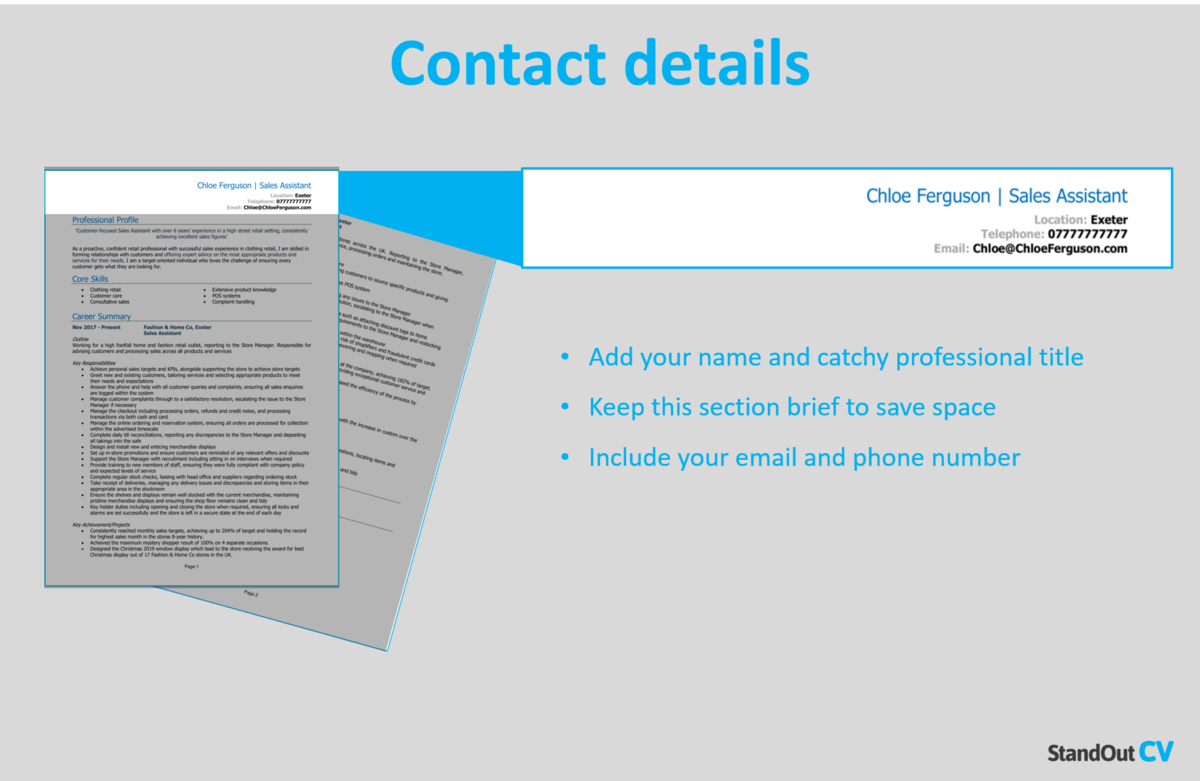 Make it easy for recruiters to get in touch, by heading your CV with your contact details.
There's no need for excessive details – just list the basics:
Mobile number
Email address – Use a professional address with no nicknames.
Location – Just write your your general location, such as 'London' or 'Cardiff' – there's no need to put your full address.
LinkedIn profile or portfolio URL
Train Driver CV Profile
Your CV profile (or personal statement, if you're an entry-level applicant) provides a brief overview of your skills, abilities and suitability for a position.
It's ideal for busy recruiters and hiring managers, who don't want to waste time reading unsuitable applications.
Think of it as your personal sales pitch. You've got just a few lines to sell yourself and prove you're a great match for the job – make it count!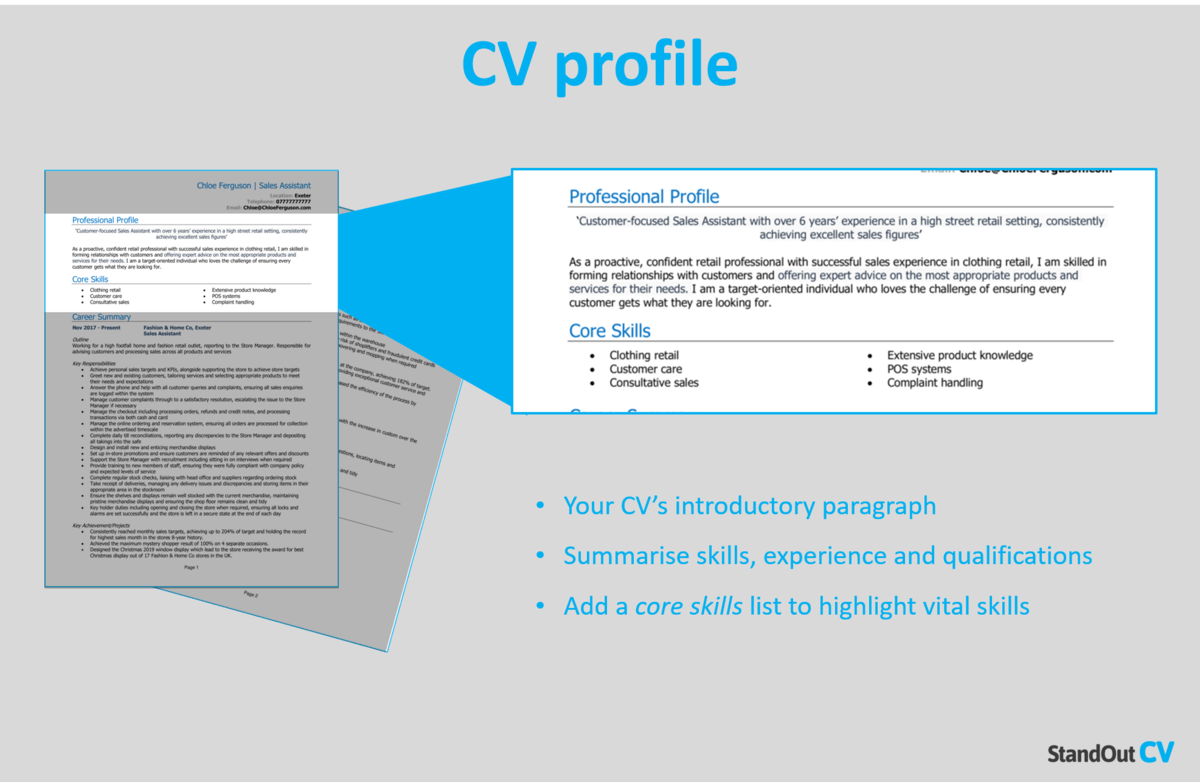 How to write a good CV profile:
Make it short and sharp: Recruiters have piles of CVs to read through and limited time to dedicate to each, so it pays to showcase your abilities in as few words as possible. 3-4 lines is ideal.
Tailor it: The biggest CV mistake? A generic, mass-produced document which is sent out to tens of employers. If you want to land an interview, you need to tailor your CV profile (and your application as a whole) to the specific roles you're applying for. So, before you start writing, remember to read over those job descriptions and make a list of the skills, knowledge and experience the employers are looking for.
Don't add an objective: Career goals and objectives are best suited to your cover letter, so don't waste space with them in your CV profile.
Avoid generic phrases: Cheesy clichès and generic phrases won't impress recruiters, who read the same statements several times per day. Impress them with your skill-set, experience and accomplishments instead!
Example CV profile for a Train Driver
Safety-conscious Train Driver with a record of success in transporting freight or passengers from one place to another in-line with predefined paths. Adept at collaborating with team members in reacting quickly to mitigate harm and mistakes that can cost many lives and significant financial losses. Focused on guaranteeing regional locomotives leave and arrive on schedule, passengers are comfortable, and cargo is undamaged.
What to include in your Train Driver CV profile?
Experience overview: To give employers an idea of your capabilities, show them your track record by giving an overview of the types of companies you have worked for in the past and the roles you have carried out for previous employers – but keep it high level and save the details for your experience section.
Targeted skills: Employers need to know what skills you can bring to their organisation, and ideally they want to see skills that match their job vacancy. So, research your target roles thoroughly and add the most important Train Driver skills to your profile.
Important qualifications: Be sure to outline your relevant Train Driver qualifications, so that anyone reading the CV can instantly see you are qualified for the jobs you are applying to.
Quick tip: If you are finding it difficult to write an attention-grabbing CV profile, choose from hundreds of pre-written profiles across all industries, and add one to your CV with one click in our partner's CV Builder. All profiles are written by recruitment experts and easily tailored to suit your unique skillset.
Core skills section
In addition to your CV profile, your core skills section provides an easily digestible snapshot of your skills – perfect for grabbing the attention of busy hiring managers.
As Train Driver jobs might receive a huge pile of applications, this is a great way to stand out and show off your suitability for the role.
It should be made up of 2-3 columns of bullet points and be made up of skills that are highly relevant to the jobs you are targeting.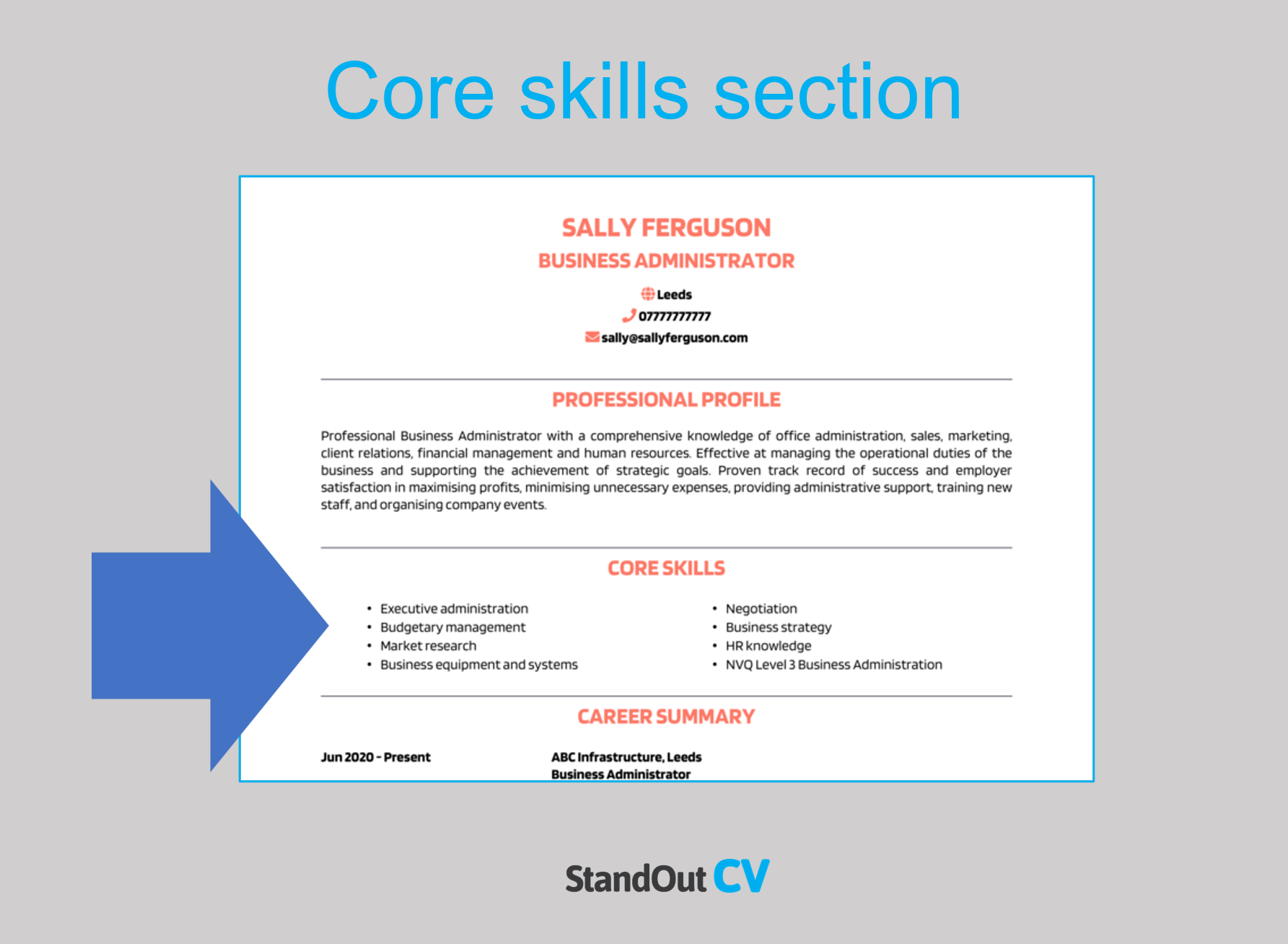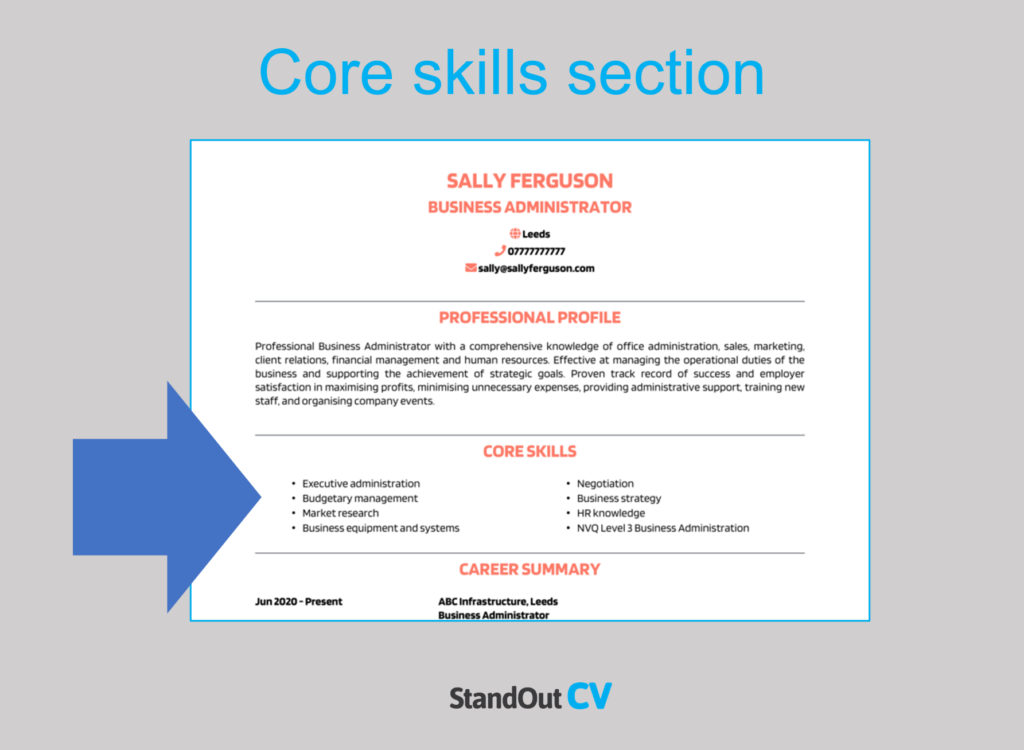 Important skills for your Train Driver CV
Train Operation – Operating different types of trains, following safety protocols, and adhering to railway regulations and procedures.
Technical Knowledge – Maintaining an in-depth knowledge of the mechanical and technical aspects of trains, including controls, braking systems, and emergency procedures.
Route Knowledge – Utilising knowledge of the railway network, including knowledge of the routes, stations, and potential hazards or challenges along the way.
Safety Awareness – Anticipating and responding to potential risks and emergencies.
Critical Decision-making – Making quick decisions, especially in high-pressure situations or when faced with unexpected events.
Communication – Relaying information to passengers, station personnel, and control centres during train operations.
Route Scheduling – Ensuring timely departures and arrivals, as well as adherence to schedules and timetables.
Problem Resolution – Troubleshooting and resolving technical issues or minor faults that may occur during train operations.
Alertness and Concentration – Remaining focused and alert during long periods of driving, maintaining awareness of the surroundings and any changes in the environment.
Quick tip: Our partner's CV Builder has thousands of in-demand skills for all industries and professions, that can be added to your CV in seconds – This will save you time and ensure you get noticed by recruiters.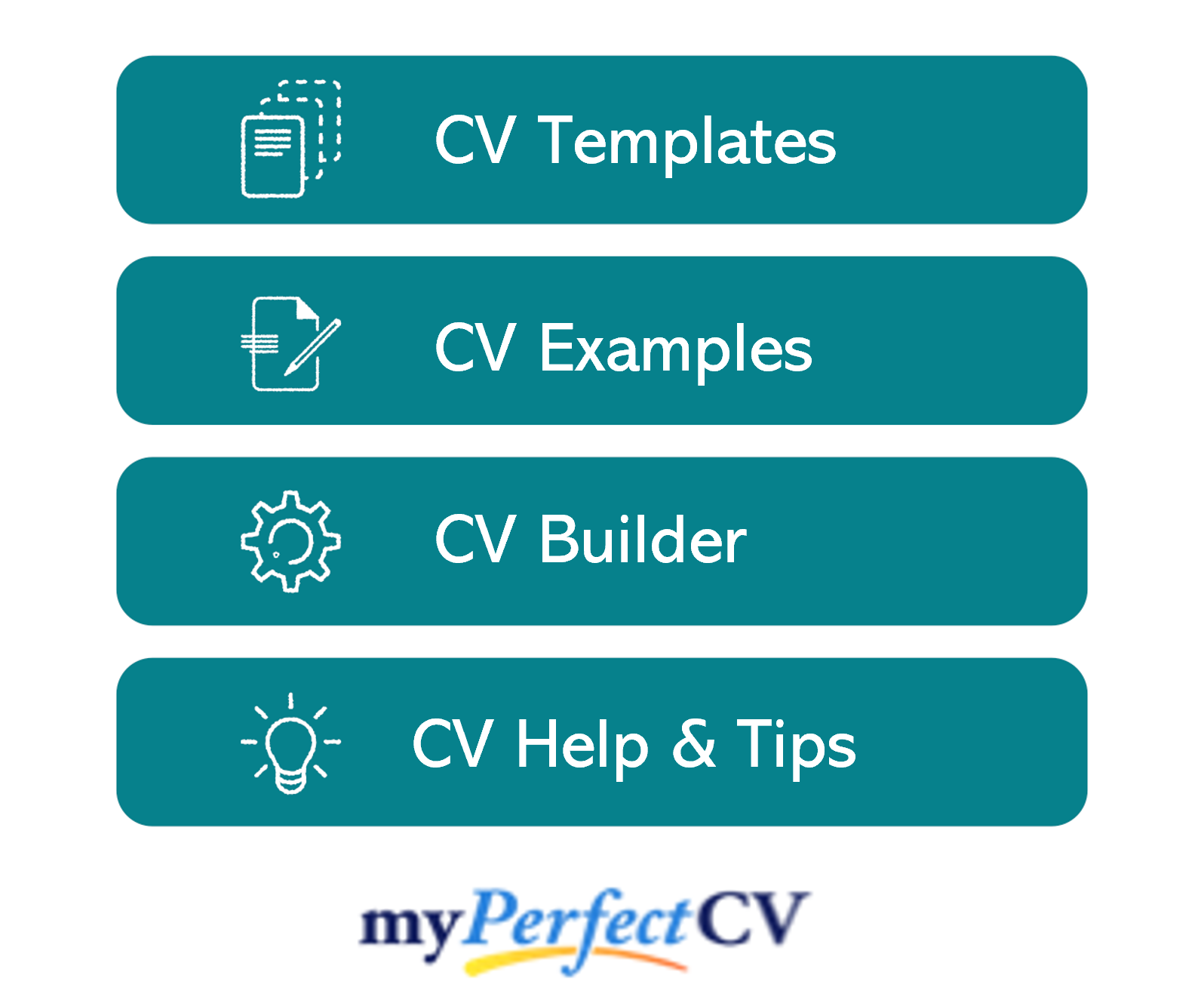 Work experience
Recruiters will be itching to know more about your relevant experience by now.
Kick-start this section with your most recent (or current) position, and work your way backwards through your history.
You can include voluntary and freelance work, too – as long as you're honest about the nature of the work.
Structuring each job
If you don't pay attention to the structure of your career history section, it could quickly become bulky and overwhelming.
Get in recruiters' good books by creating a pleasant reading experience, using the 3-step structure below:
Outline
Begin with a summary of your role, detailing what the purpose of your job was, who you reported to and what size of team you were part of (or led).
Key responsibilities
Use bullet points to detail the key responsibilities of your role, highlighting hard skills, software and knowledge wherever you can.
Keep them short and sharp to make them easily digestible by readers.
Key achievements
Lastly, add impact by highlight 1-3 key achievements that you made within the role.
Struggling to think of an achievement? If it had a positive impact on your company, it counts.
For example, you might increased company profits, improved processes, or something simpler, such as going above and beyond to solve a customer's problem.
Sample job description for Train Driver CV
Outline
Physically operate electric, diesel, and hybrid trains and receive information from necessary switches and despatch personnel, for an express rail passenger service between London Victoria, Gatwick Airport, and Brighton in Southeast England.
Key Responsibilities
Drive between points, heed electronic/manual signals along routes, and use mechanical systems, such as throttles and air brakes to control the speed and motion of coaches.
Oversee the embarking of passengers to verify proper procedures and rules are followed.
Monitor batteries, air pressure, and other related aspects, while engines run to ensure no malfunctions occur.
Communicate effectively to obtain and relay information about schedule adjustments or potential delays.
Quick tip: Create impressive job descriptions easily in our partner's CV Builder by adding pre-written job phrases for every industry and career stage.

Education section
Although there should be mentions of your highest and most relevant qualifications earlier on in your CV, save your exhaustive list of qualifications for the bottom.
If you're an experienced candidate, simply include the qualifications that are highly relevant to Train Driver roles.
However, less experienced candidates can provide a more thorough list of qualifications, including A-Levels and GCSEs.
You can also dedicate more space to your degree, discussing relevant exams, assignments and modules in more detail, if your target employers consider them to be important.
Hobbies and interests
Although this is an optional section, it can be useful if your hobbies and interests will add further depth to your CV.
Interests which are related to the sector you are applying to, or which show transferable skills like leadership or teamwork, can worth listing.
On the other hand, generic hobbies like "going out with friends" won't add any value to your application, so are best left off your CV.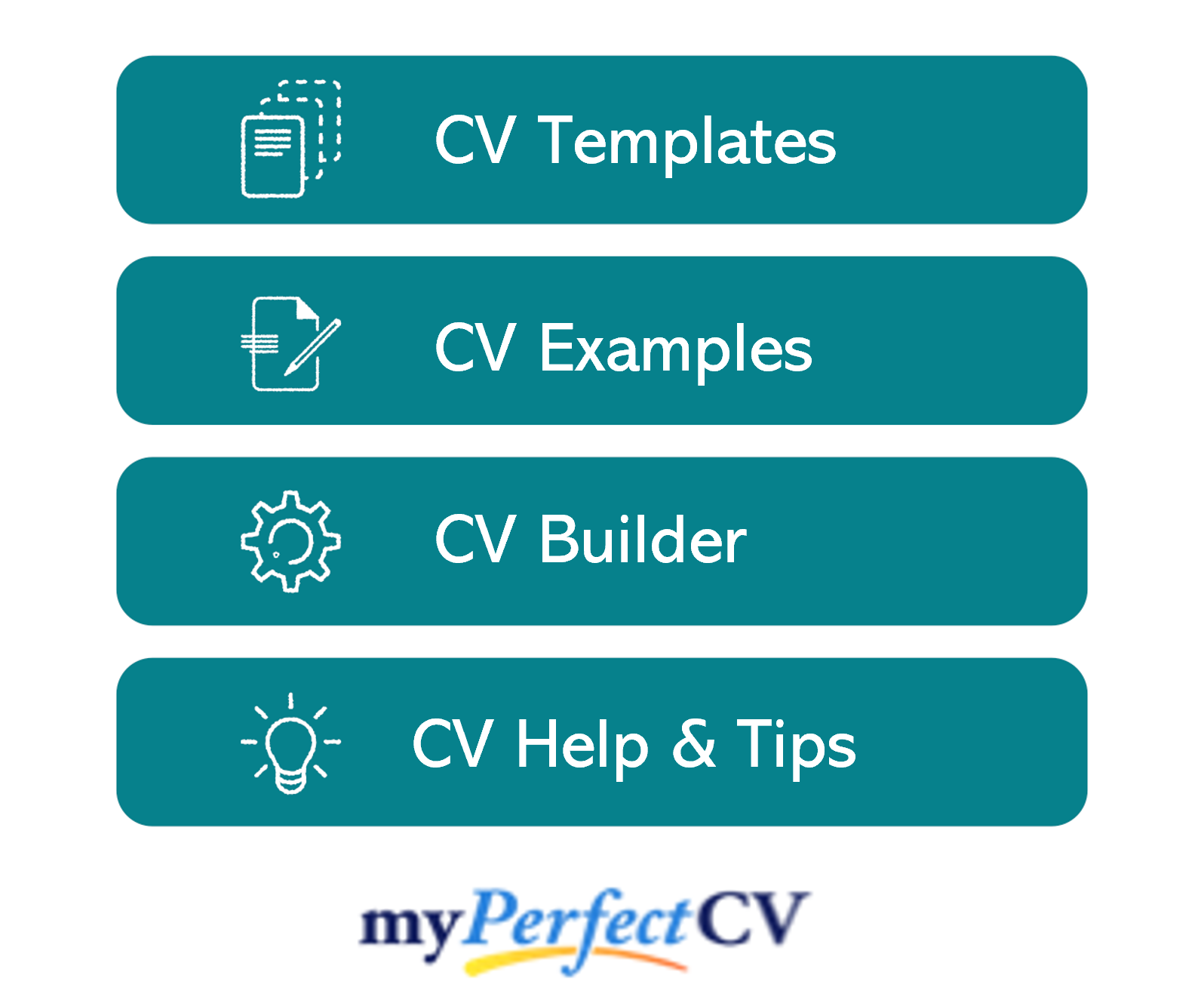 When putting together your Train Driver CV, there are a few key points to remember.
Always tailor your CV to the target role, even if it means creating several versions for different roles.
Additionally, remember that the structure and format of your CV needs just as much attention as the content.
Good luck with your job search!