As well as helping to develop software solutions, you are also ready to take charge of the entire team at every stage of the development lifecycle.
You've got what it takes to lead them and achieve the best results, you just need to prove this to the recruiter.
But with just a couple of pages to do so, writing an interview-winning application can be tricky, so check out our top tips and senior software engineer CV example in the guide below.
Contents
| | |
| --- | --- |
| How to write a Senior Software Engineer CV | |

Senior Software Engineer CV example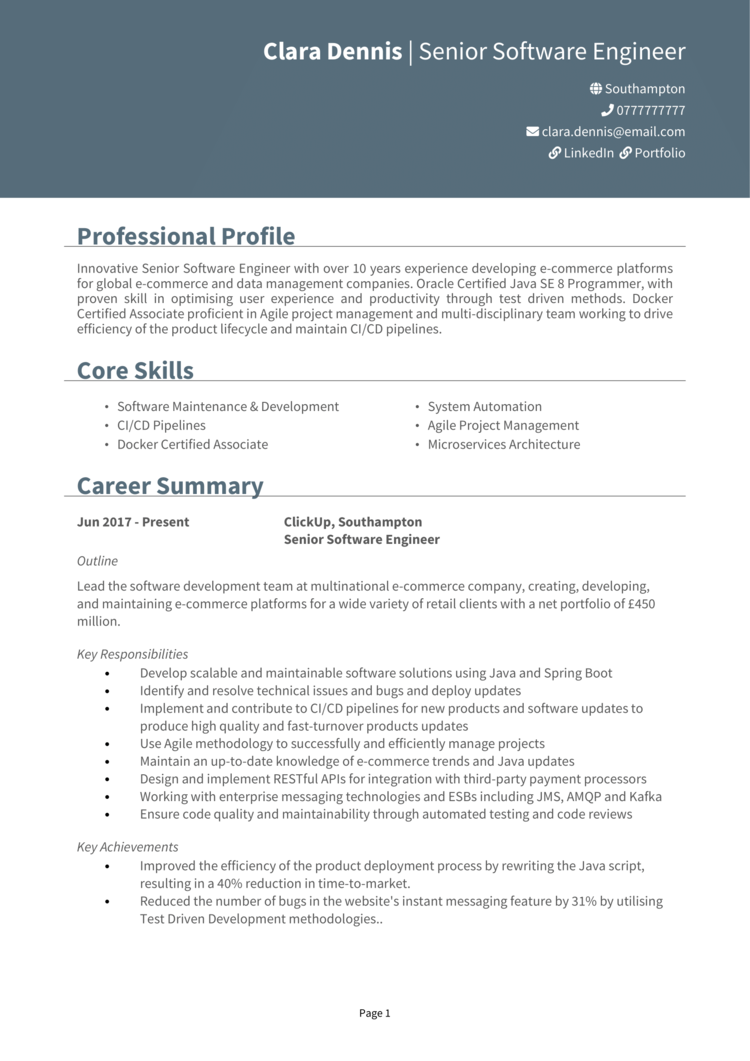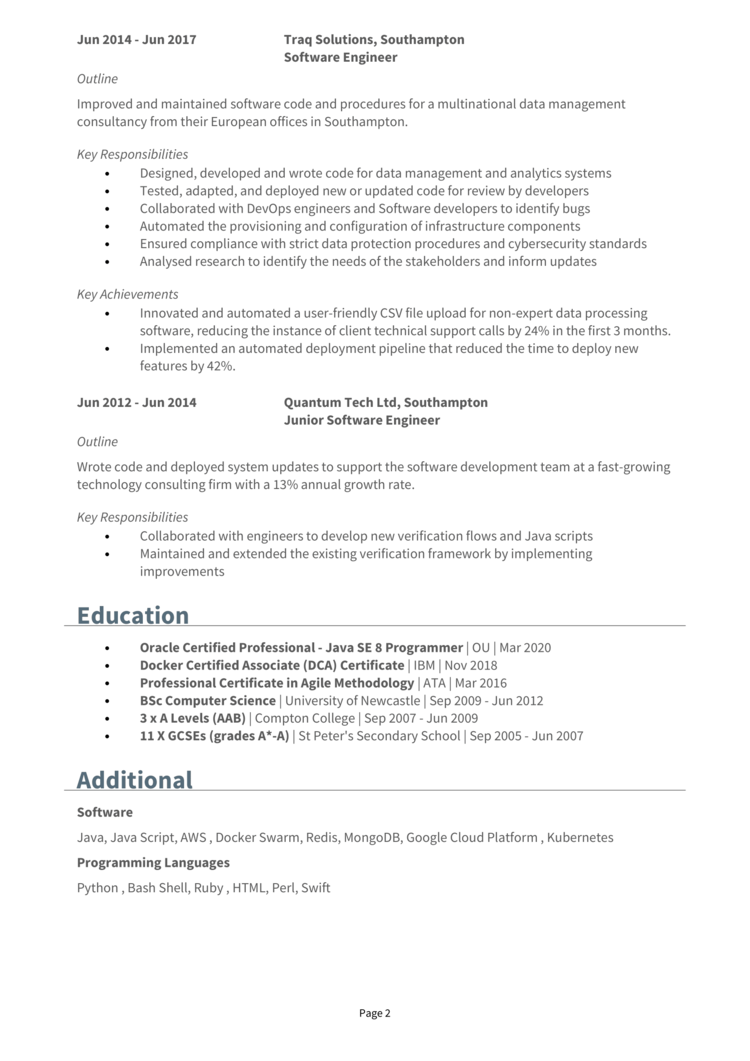 This CV example showcases the optimal structure and format for your Senior Software Engineer CV, providing a pleasant reading experience for busy recruiters.
It also demonstrates the skills, experience and qualifications you should emphasize in your own CV to increase your chances of landing job interviews.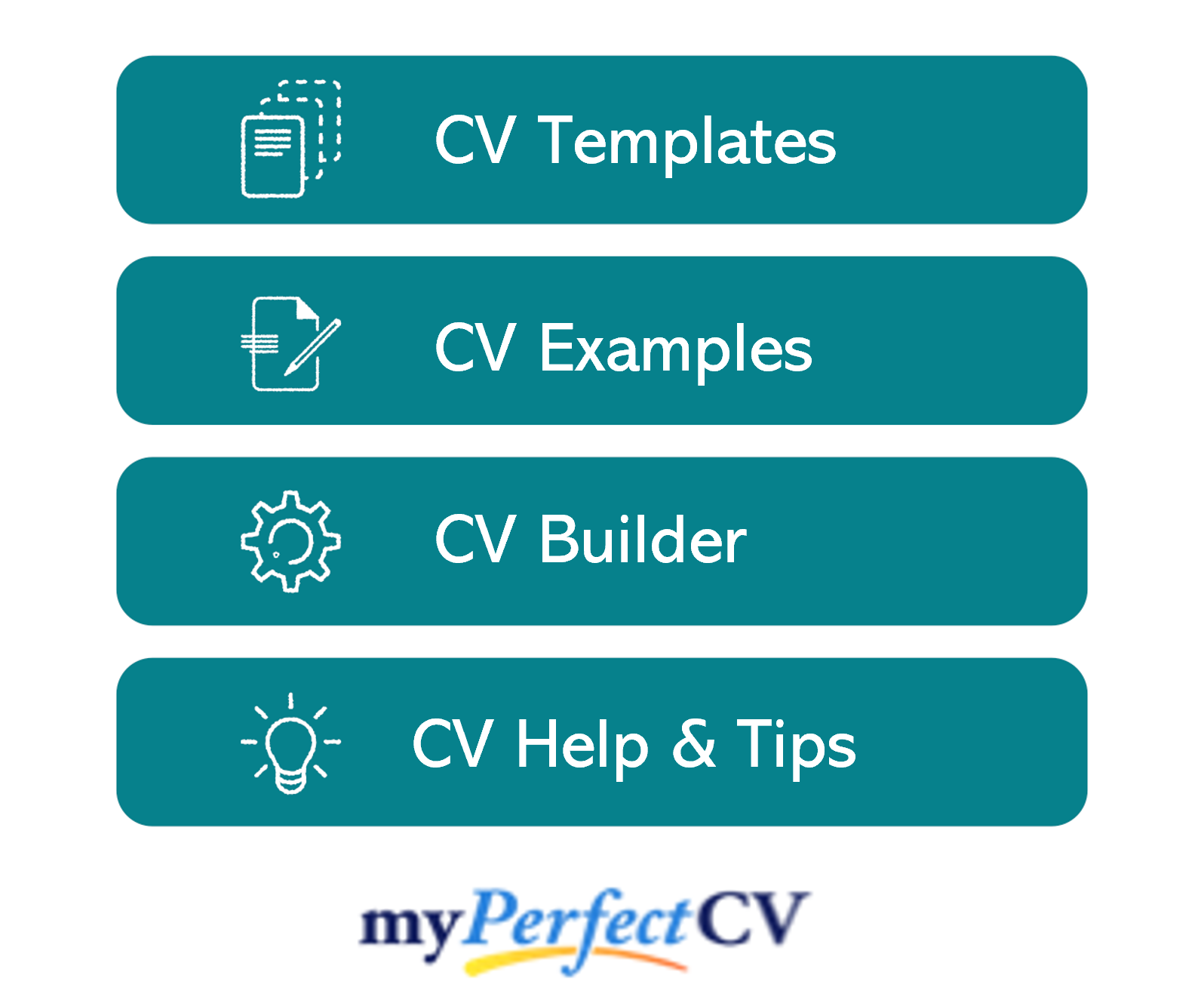 Senior Software Engineer CV format and structure
The format and structure of your CV is important because it will determine how easy it is for recruiters and employers to read your CV.
If they can find the information they need quickly, they'll be happy; but if they struggle, your application could be overlooked.
A simple and logical structure will always create a better reading experience than a complex structure, and with a few simple formatting tricks, you'll be good to go.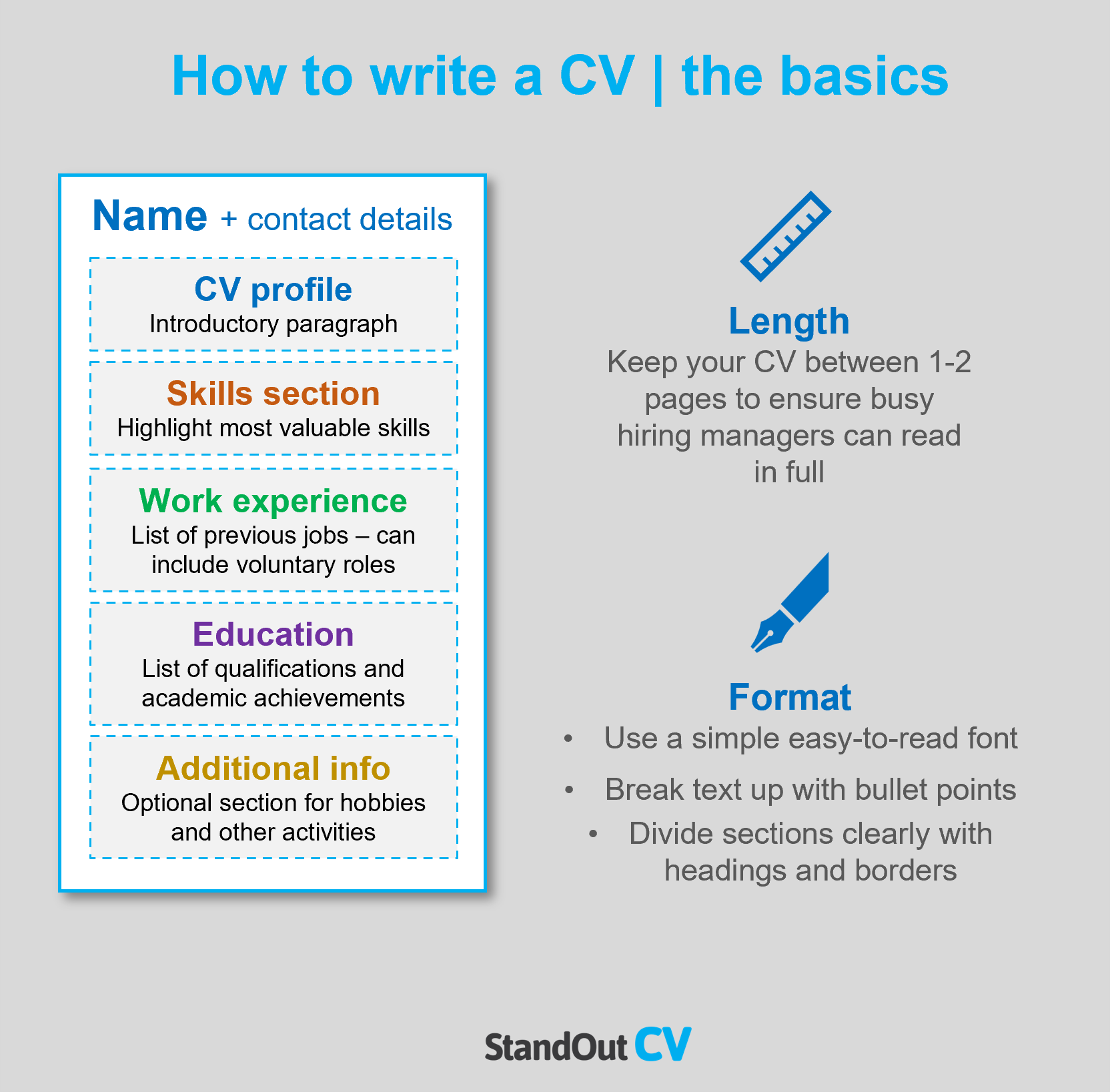 Tips for formatting your Senior Software Engineer CV
Length: It's essential to keep your CV concise, regardless of whether you have one year or thirty years of experience. Recruiters are frequently managing multiple roles and responsibilities and do not have the luxury of reading lengthy CVs. Therefore, limit your CV to two sides of A4. If you have little industry experience, one page is sufficient.
Readability: Make sure your CV is easy to read and looks professional by applying some simple formatting tricks. Bullet points are great for making large paragraphs more digestible, while formatting your headings with bold or coloured text will help the reader to find the information they need, with speed.
Design & format: Your CV needs to look professional, sleek and easy to read. A subtle colour palette, clear font and simple design are generally best for this, as fancy designs are often harder to navigate.
Photos: Recruiters can't factor in appearance, gender or race into the recruitment process, so a profile photo is not usually needed. However, creative employers do like to see them, so you can choose to include one if you think it will add value to your CV .
Quick tip: Creating a professional CV style can be difficult and time-consuming when using Microsoft Word or Google Docs. To create a winning CV quickly, try our partner's CV Builder and use one of their eye-catching professional CV templates.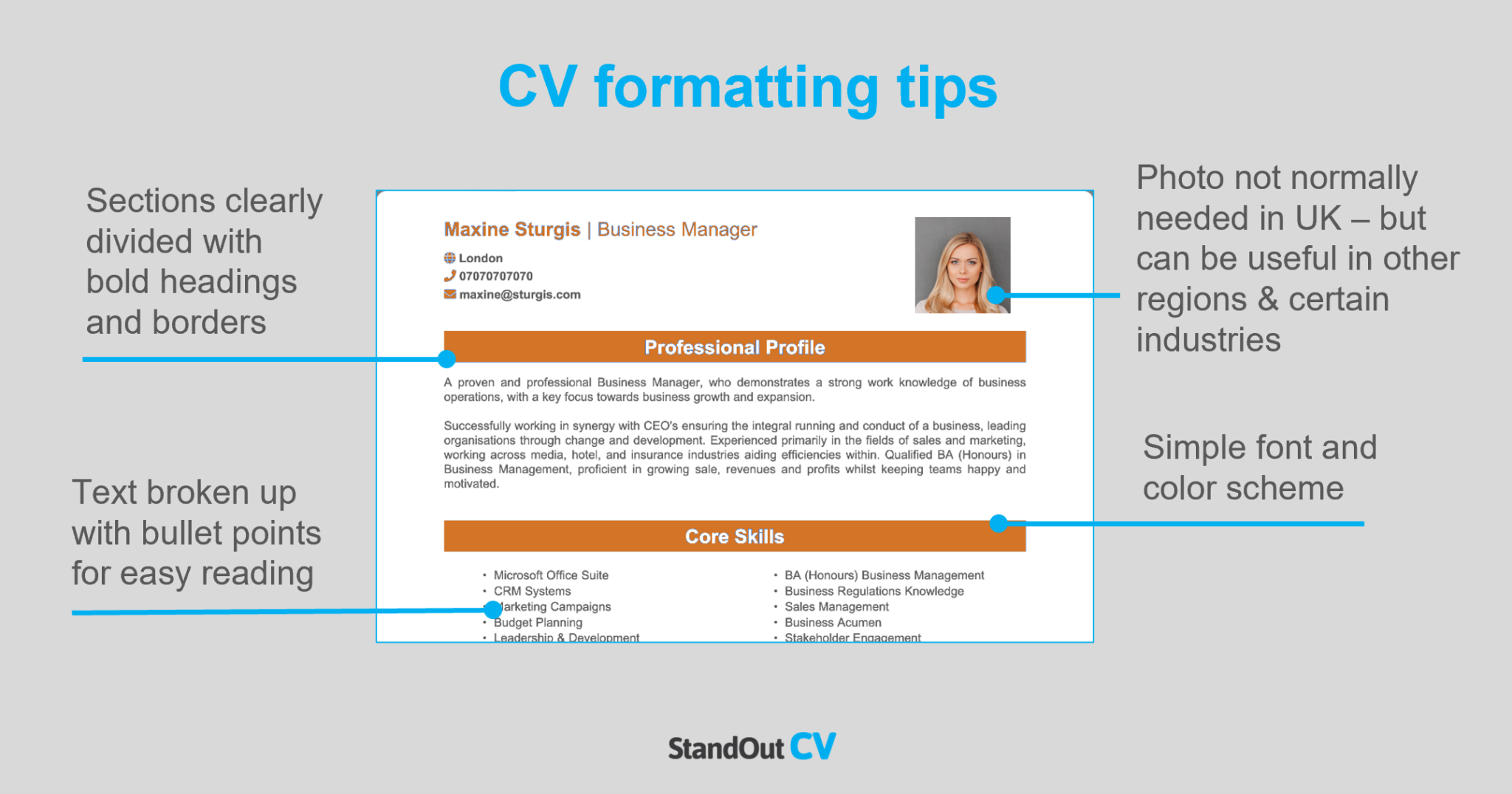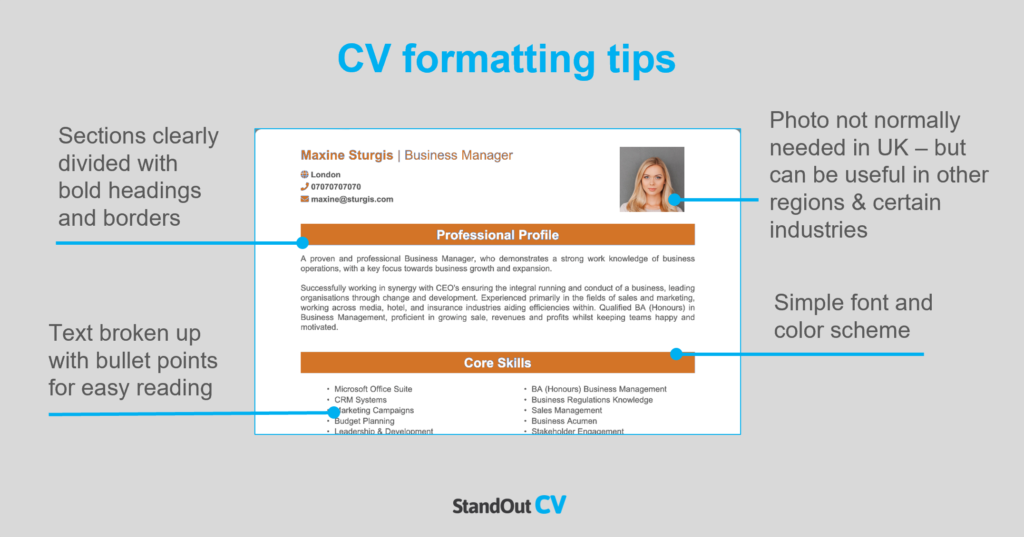 CV structure
When writing your own CV, break up your CV content into the following key sections:
Name and contact details – Place them at the top of your CV, so that employers can easily get in touch.
CV profile – A punchy sales pitch of your key experience, skills and achievements to reel readers in.
Core skills section – A bullet-pointed snapshot of your abilities.
Work experience – A well-structured list of your relevant work experience.
Education – An overview of any relevant qualifications or professional training you have.
Hobbies and interests – A short description of any relevant hobbies or interests (optional).
Now you understand the basic layout of a CV, here's what you should include in each section of yours.
Contact Details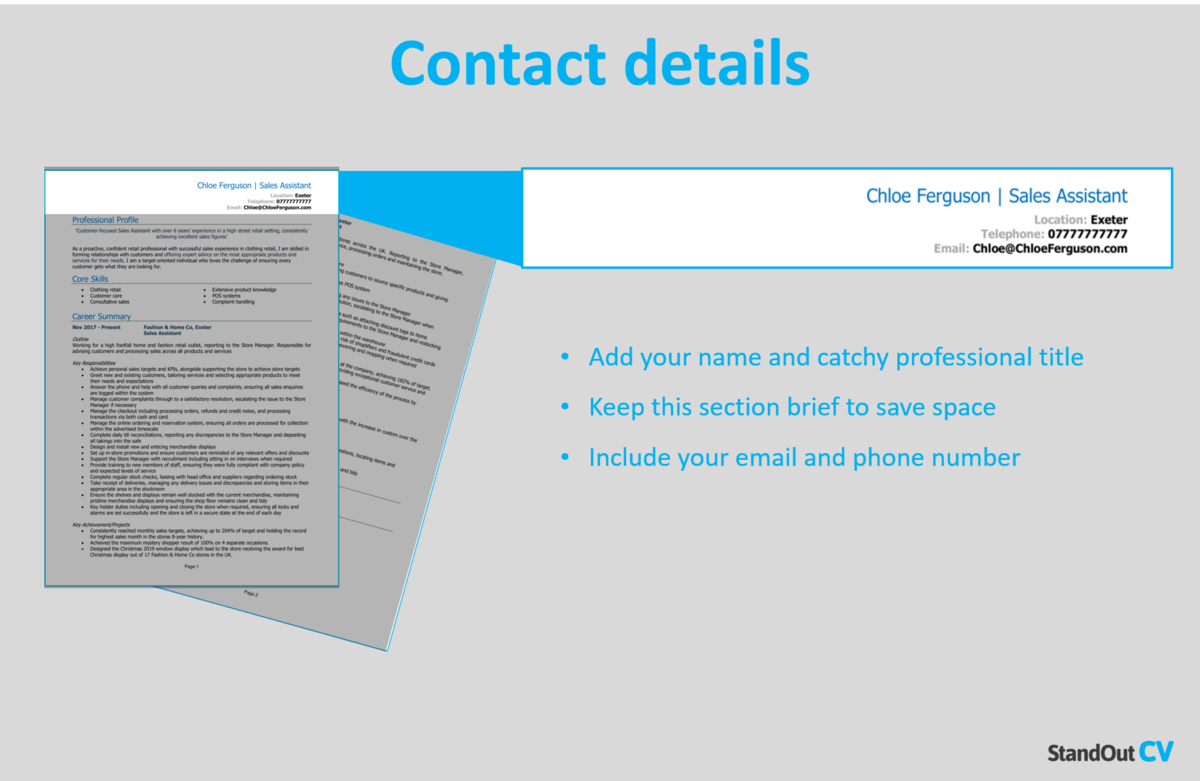 Start off your CV with a basic list of your contact details.
Here's what you should include:
Mobile number
Email address – It's often helpful to make a new email address, specifically for your job applications.
Location – Share your town or city; there's no need for a full address.
LinkedIn profile or portfolio URL – Make sure the information on them is coherent with your CV, and that they're up-to-date
Quick tip: Delete excessive details, such as your date of birth or marital status. Recruiters don't need to know this much about you, so it's best to save the space for your other CV sections.
Senior Software Engineer CV Profile
Make a strong first impression with recruiters by starting your CV with an impactful profile (or personal statement for junior applicants).
This short introduction paragraph should summarise your skills, experience, and knowledge, highlighting your suitability for the job.
It should be compelling enough to encourage recruiters to read through the rest of your CV.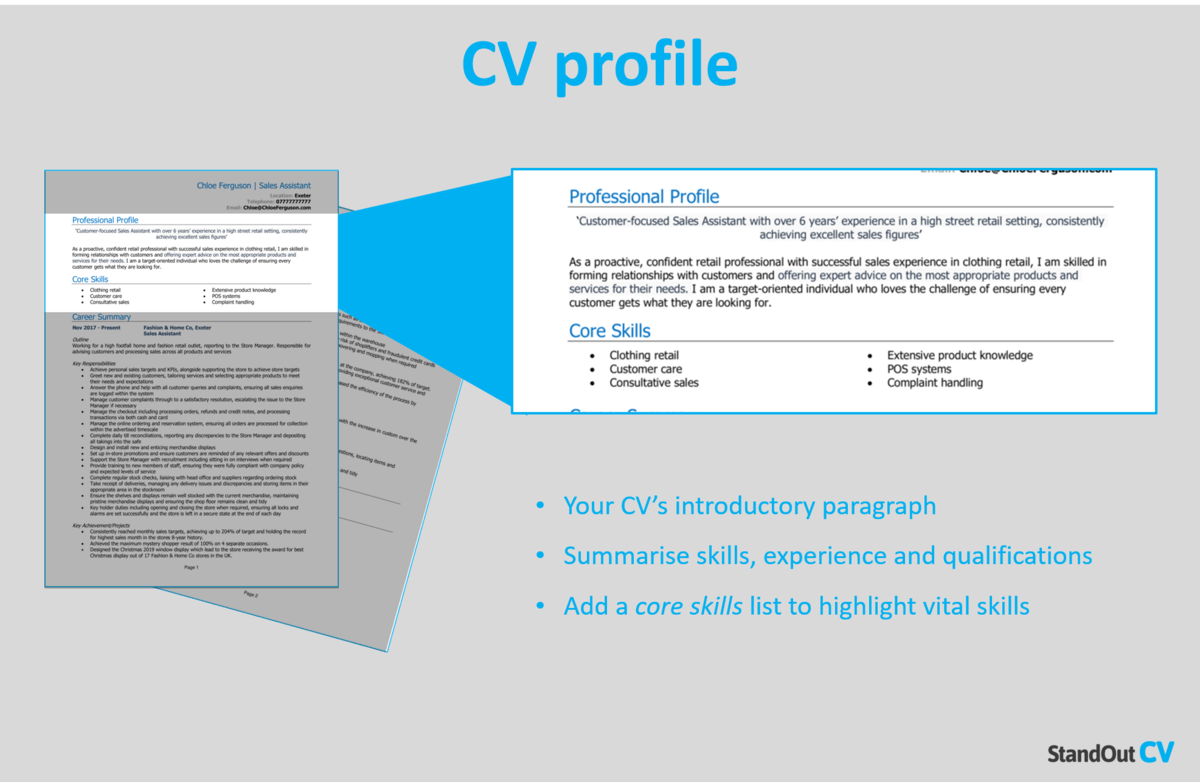 How to write a good CV profile:
Make it short and sharp: Recruiters are busy, so to ensure your profile is actually read, it's best to keep it short and snappy. 3-5 punchy lines makes for the perfect profile.
Tailor it: No matter how much time you put into your CV profile, it won't impress if it's irrelevant to the role you're applying for. Before you start writing, make a list of the skills, knowledge and experience your target employer is looking for. Then, make sure to mention them in your CV profile and throughout the rest of your application.
Don't add an objective: Leave your career objectives or goals out of your profile. You only have limited space to work with, so they're best suited to your cover letter.
Avoid generic phrases: Cheesy clichès and generic phrases won't impress recruiters, who read the same statements several times per day. Impress them with your skill-set, experience and accomplishments instead!
Example CV profile for Senior Software Engineer
Innovative Senior Software Engineer with over 10 years' experience developing e-commerce platforms for global e-commerce and data management companies. Oracle Certified Java SE 8 Programmer, with proven skill in optimising user experience and productivity through test driven methods. Docker Certified Associate proficient in Agile project management and multi-disciplinary team working to drive efficiency of the product lifecycle and maintain CI/CD pipelines.
What to include in your Senior Software Engineer CV profile?
Experience overview: Start with a brief summary of your relevant experience so far. How many years experience do you have? What type of companies have you worked for? What industries/sectors have you worked in? What are your specialisms?
Targeted skills: Highlight your skills which are most relevant to Senior Software Engineer jobs, to ensure that recruiters see your most in-demand skills as soon as they open your CV.
Important qualifications: Be sure to outline your relevant Senior Software Engineer qualifications, so that anyone reading the CV can instantly see you are qualified for the jobs you are applying to.
Quick tip: If you are finding it difficult to write an attention-grabbing CV profile, choose from hundreds of pre-written profiles across all industries, and add one to your CV with one click in our partner's CV Builder. All profiles are written by recruitment experts and easily tailored to suit your unique skillset.
Core skills section
To ensure that your most relevant skills catch the eye of readers, create a core skills section below your profile.
This section should be presented in 2-3 columns of bullet points highlighting your applicable skills. Before crafting this section, carefully examine the job description and create a list of any required skills, specialisms, or knowledge.
Use this list to include the necessary information in your section and present yourself as the ideal match for the position.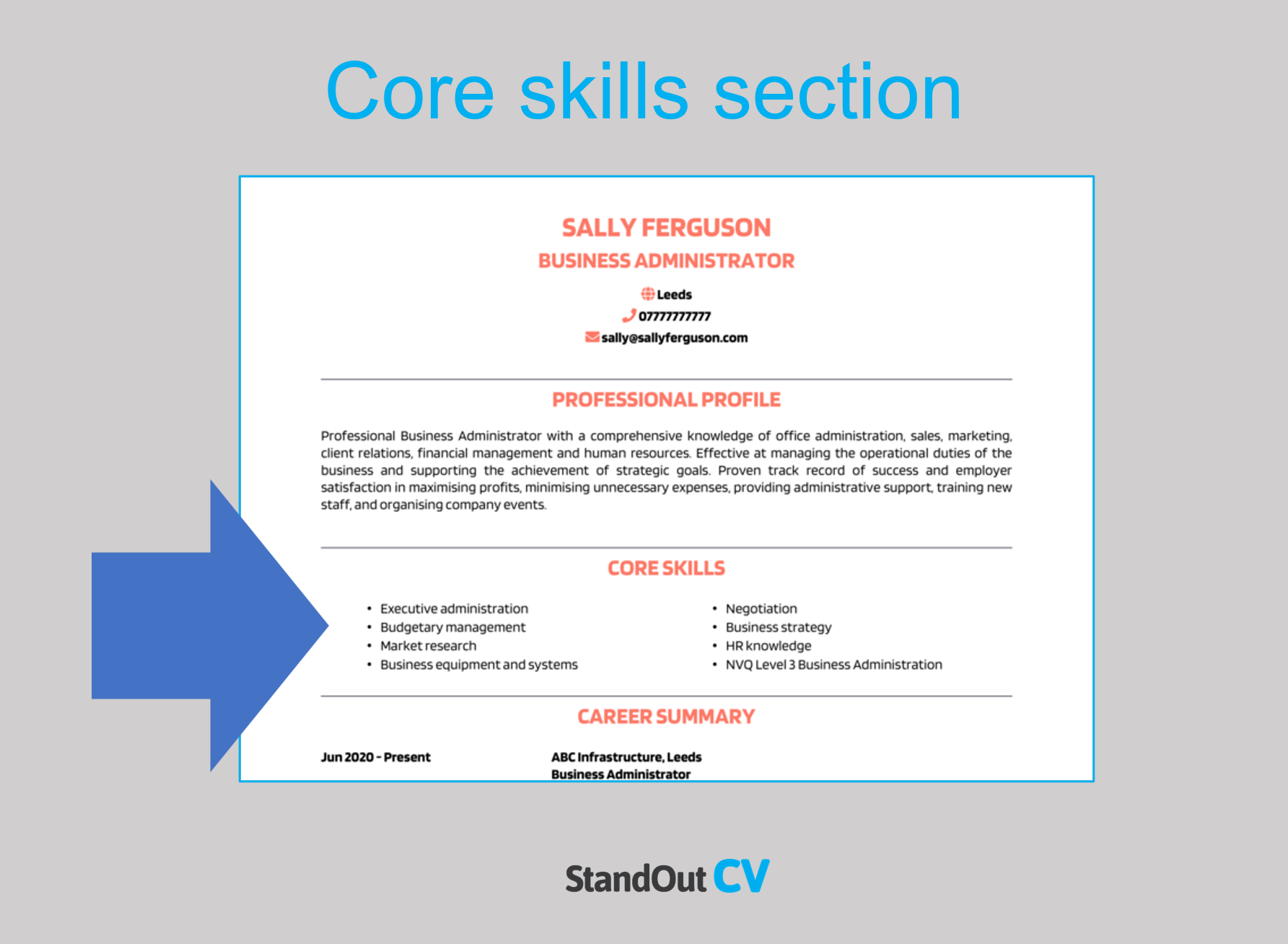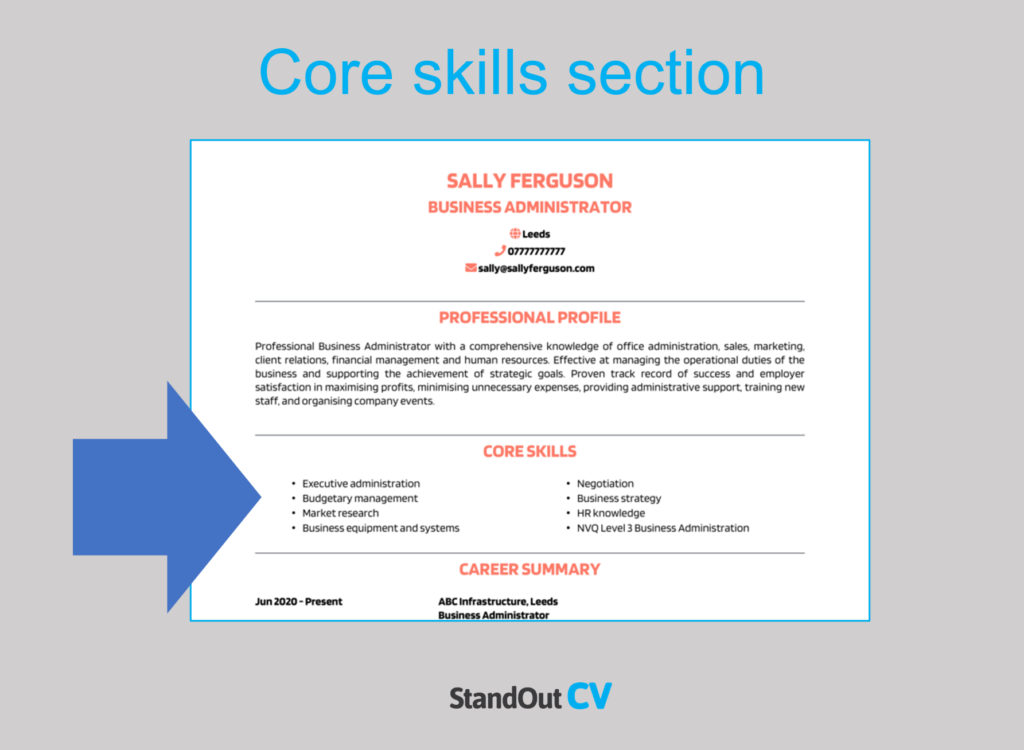 Important skills for your Senior Software Engineer CV
Programming Languages – Utilising multiple programming languages such as Java, Python, C++, or JavaScript, allowing for versatile development capabilities across different projects and technologies.
Software Development – Utilising knowledge of the entire software development life cycle, including requirements analysis, design, coding, testing, and deployment, ensuring high-quality and scalable software solutions.
System Architecture – Designing and implementing robust and scalable system architectures, considering factors such as performance, security, and maintainability.
Problem Resolution – Identifying and resolving complex technical issues, optimising performance, and improving software functionality.
Agile Methodologies – Utilising Agile methodologies, such as Scrum or Kanban, enabling efficient project management, collaboration, and iterative development.
Database Management – Designing and optimising database structures, writing complex queries, and ensuring data integrity and security.
Cloud Technologies – Utilising cloud platforms like AWS, Azure, or Google Cloud, including knowledge of cloud infrastructure, deployment, and scalability for building cloud-native applications.
Version Control – Utilising version control systems such as Git, allowing for effective collaboration, code management, and versioning.
Testing and Automation – Utilising knowledge of software testing methodologies, including unit testing, integration testing, and automated testing frameworks, to ensure the quality and reliability of software.
Collaboration and Leadership – Effectively working in cross-functional teams, mentoring junior developers, and providing technical guidance and leadership.
Quick tip: Our partner's CV Builder has thousands of in-demand skills for all industries and professions, that can be added to your CV in seconds – This will save you time and ensure you get noticed by recruiters.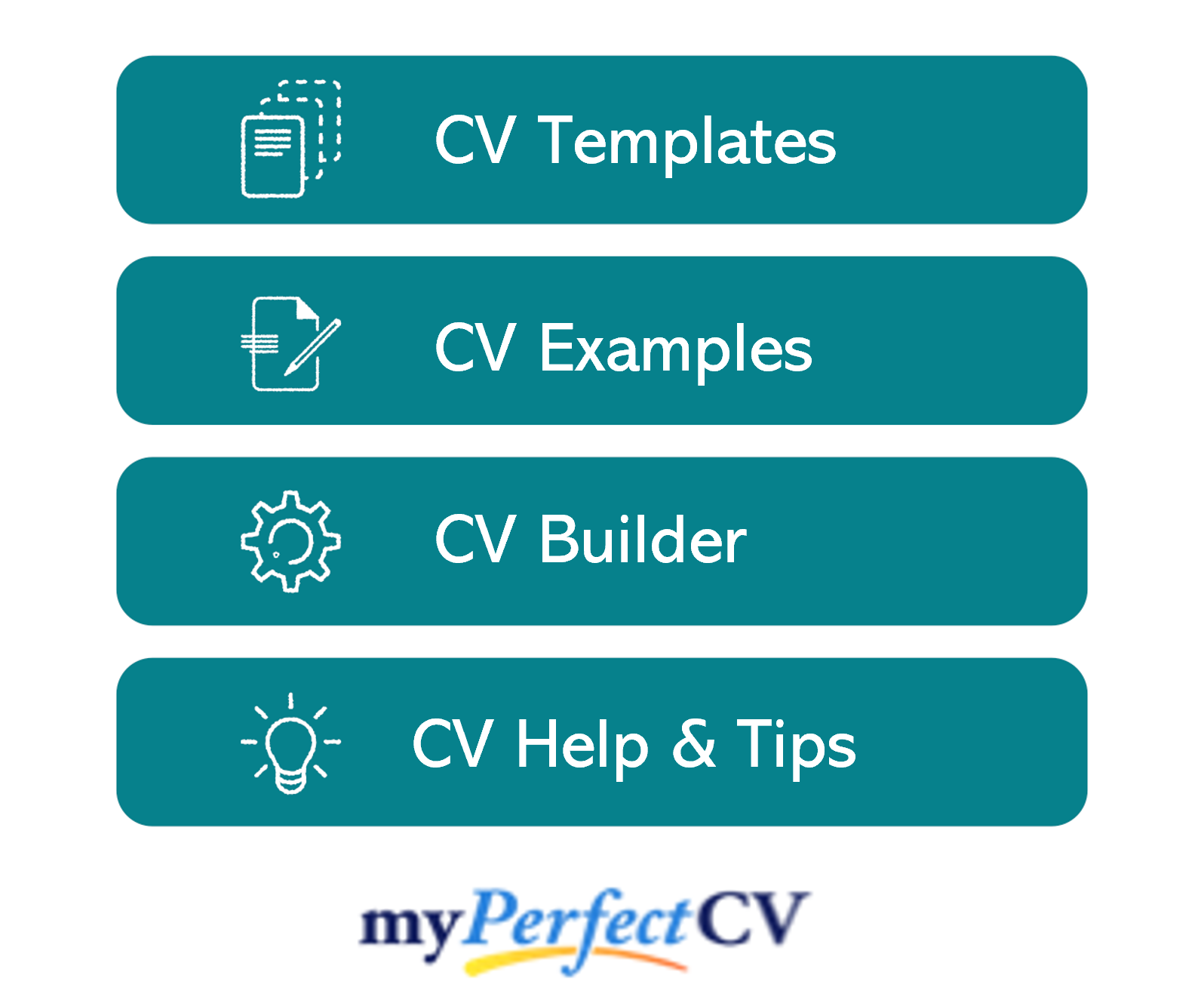 Work experience
Now that recruiters have a good overview of your skills and abilities, you need to jump into the detail of your career history.
Give them a more thorough insight into what you can do by creating a detailed list of your relevant experience.
Start with your current role, and work backwards through all the relevant positions you've held.
This could be freelance, contract or voluntary work too; as long as it's related to the role you're applying for.
Structuring each job
Your work experience section will be long, so it's important to structure it in a way which helps recruiters to quickly and easily find the information they need.
Use the 3-step structure, shown in the below example, below to achieve this.
Outline
Provide a brief overview of the job as a whole, such as what the overriding purpose of your job was and what type of company you worked for.
Key responsibilities
Use bullet points to detail the key responsibilities of your role, highlighting hard skills, software and knowledge wherever you can.
Keep them short and sharp to make them easily digestible by readers.
Key achievements
Finish off by showcasing 1-3 key achievements made within the role.
This could be anything that had a positive effect on your company, clients or customers, such as saving time or money, receiving exemplary feedback or receiving an award.
Sample job description for Senior Software Engineer CV
Outline
Lead the software development team at multinational e-commerce company, creating, developing, and maintaining e-commerce platforms for a wide variety of retail clients with a net portfolio of £450 million.
Key Responsibilities
Develop scalable and maintainable software solutions using Java and Spring Boot
Identify and resolve technical issues and bugs and deploy updates
Implement and contribute to CI/CD pipelines for new products and software updates to produce high quality and fast-turnover products updates
Use Agile methodology to manage projects successfully and efficiently
Quick tip: Create impressive job descriptions easily in our partner's CV Builder by adding pre-written job phrases for every industry and career stage.

Education section
In your education section, make any degrees, qualifications or training which are relevant to Senior Software Engineer roles a focal point.
As well as mentioning the name of the organisation, qualification titles and dates of study, you should showcase any particularly relevant modules, assignments or projects.
Hobbies and interests
Although this is an optional section, it can be useful if your hobbies and interests will add further depth to your CV.
Interests which are related to the sector you are applying to, or which show transferable skills like leadership or teamwork, can worth listing.
On the other hand, generic hobbies like "going out with friends" won't add any value to your application, so are best left off your CV.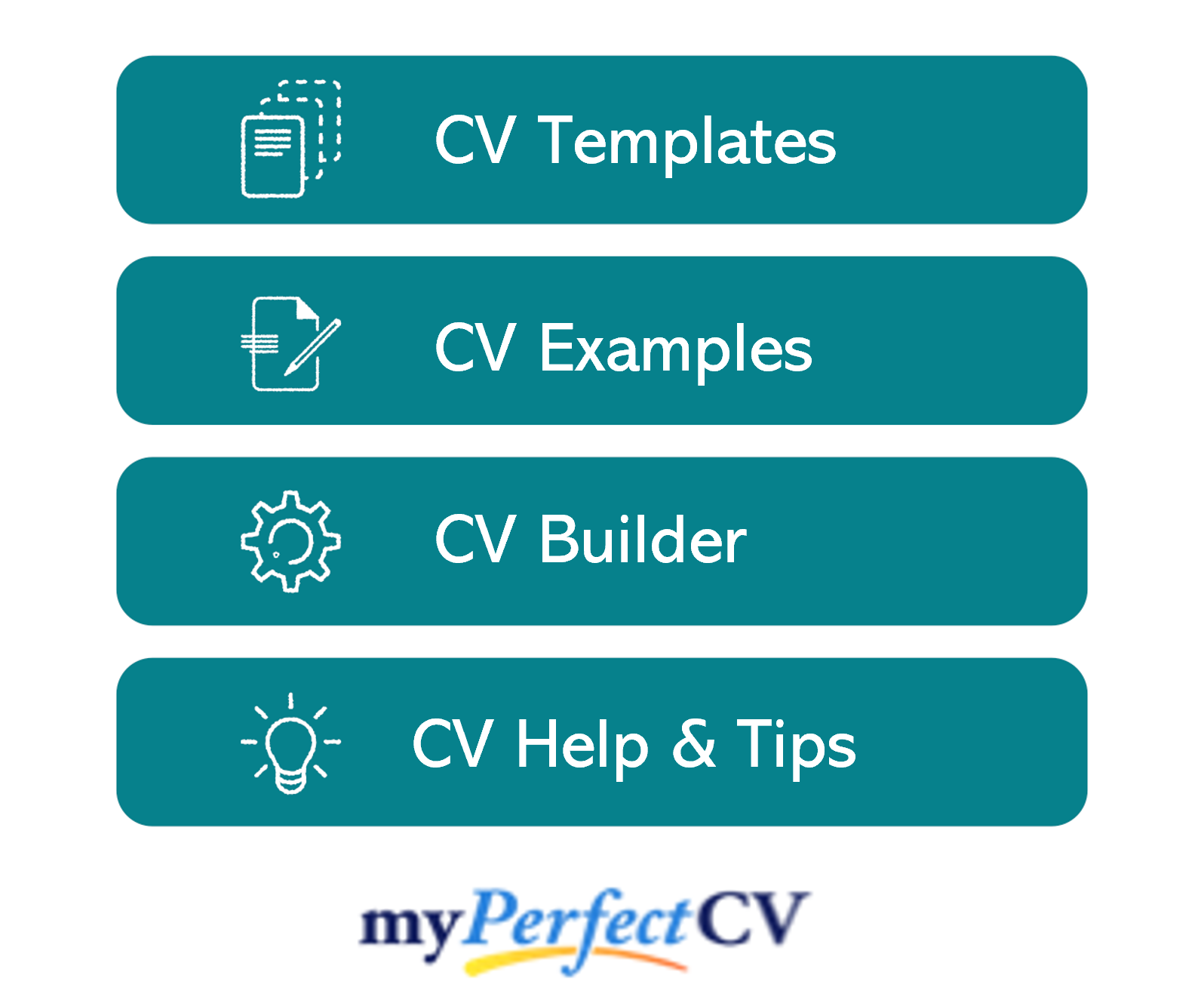 A strong, compelling CV is essential to get noticed and land interviews with the best employers.
To ensure your CV stands out from the competition, make sure to tailor it to your target role and pack it with sector-specific skills and results.
Remember to triple-check for spelling and grammar errors before hitting send.
Good luck with the job search!