So you want to be the appointed Data Protection Officer (DPO)?
Then you need to prove that you're an expert in data protection and that you've got the skills and experience to succeed in this important position.
But we understand that your skills lie in data and not CV writing. So, let us help you perfect your application with our writing guide and data protection officer CV example below.
Contents
| | |
| --- | --- |
| How to write a Data Protection Officer CV | |

Data Protection Officer CV example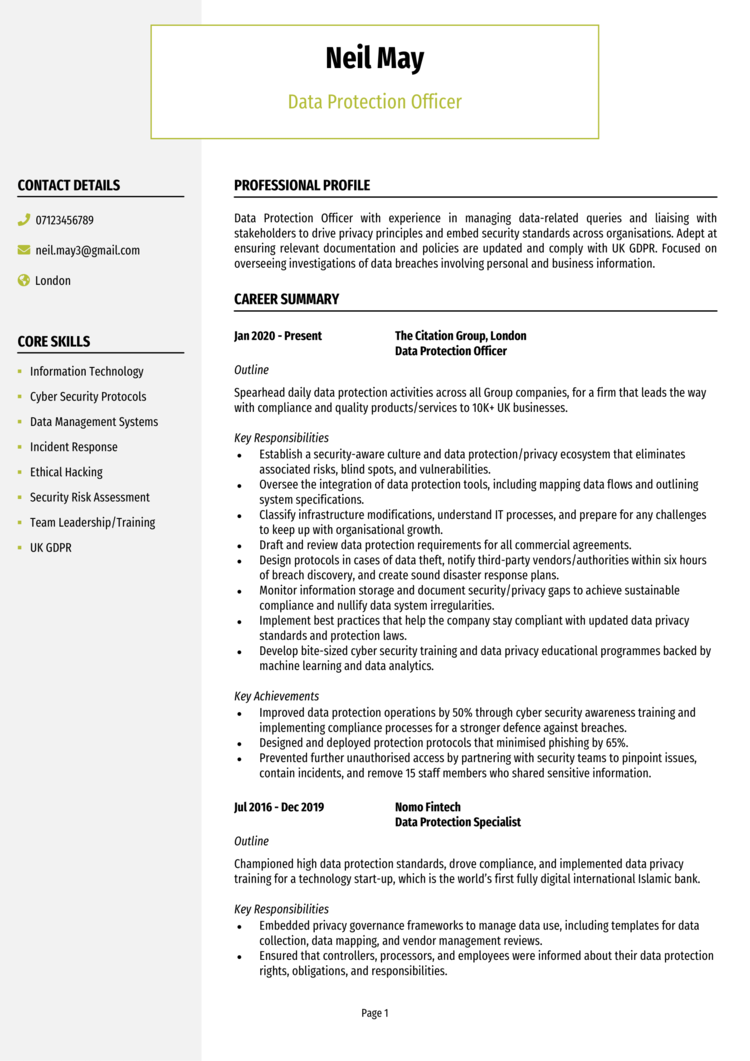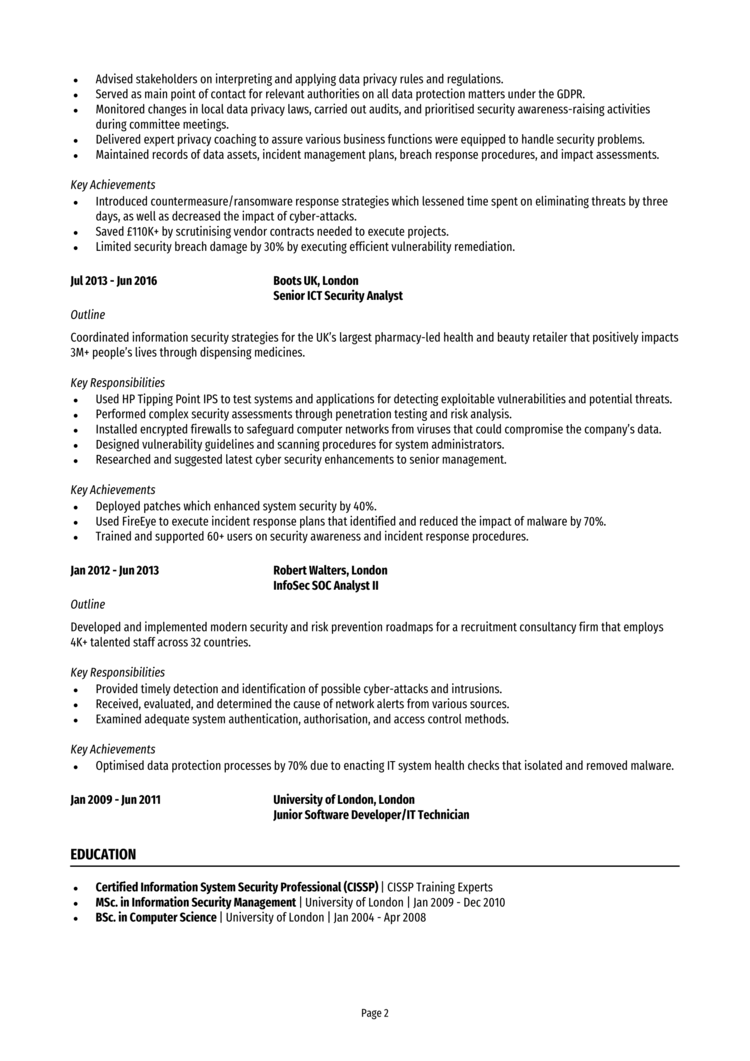 This CV example demonstrates the type of info you should be including within your Data Protection Officer CV, as well as how to format and layout the content in a way which looks professional and is easy for time-strapped recruiters to read.
This is the look and feel you should be aiming for, so remember to refer back to it throughout your CV writing process.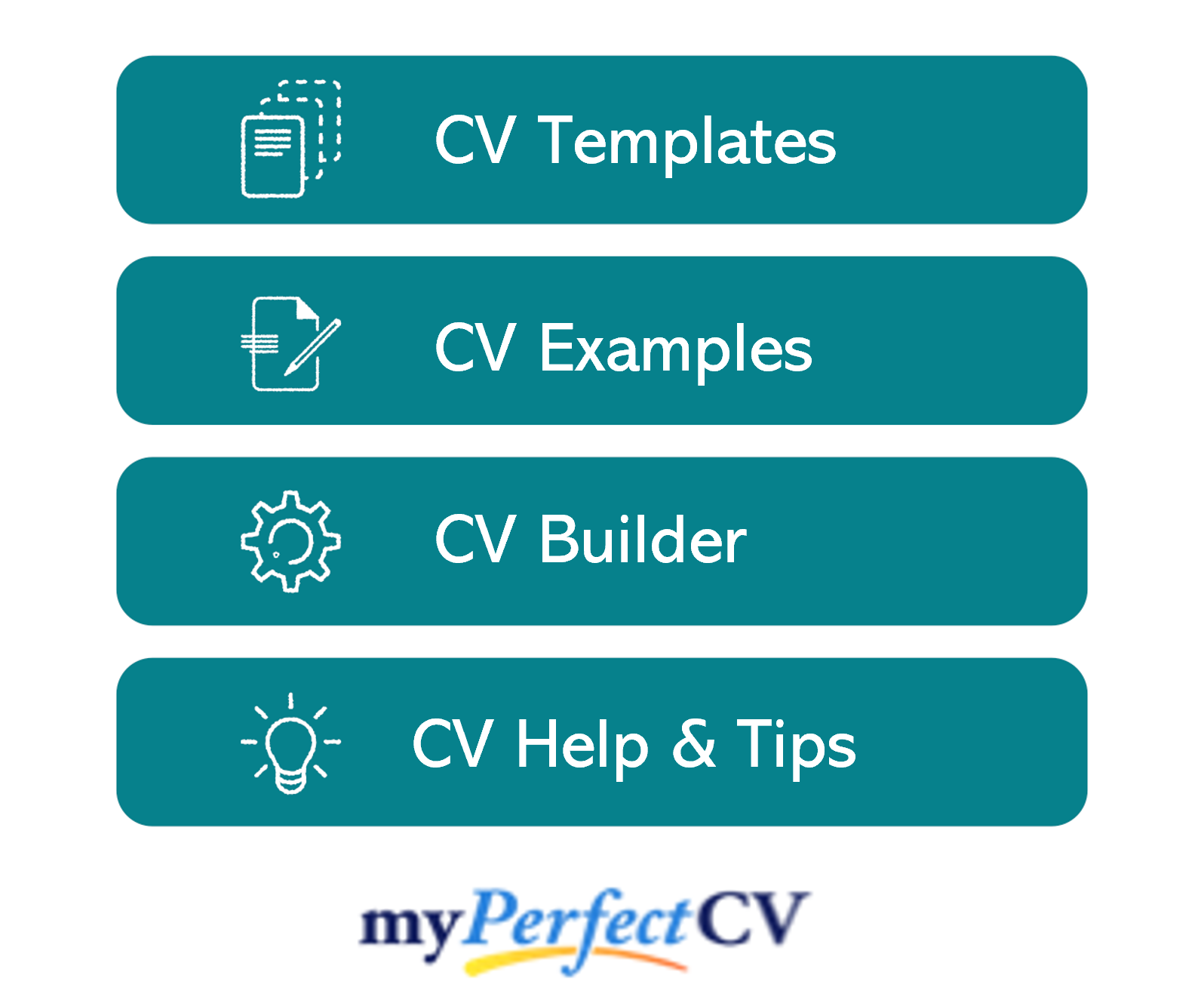 Data Protection Officer CV structure & formatting
The format and structure of your CV is important because it will determine how easy it is for recruiters and employers to read your CV.
If they can find the information they need quickly, they'll be happy; but if they struggle, your application could be overlooked.
A simple and logical structure will always create a better reading experience than a complex structure, and with a few simple formatting tricks, you'll be good to go.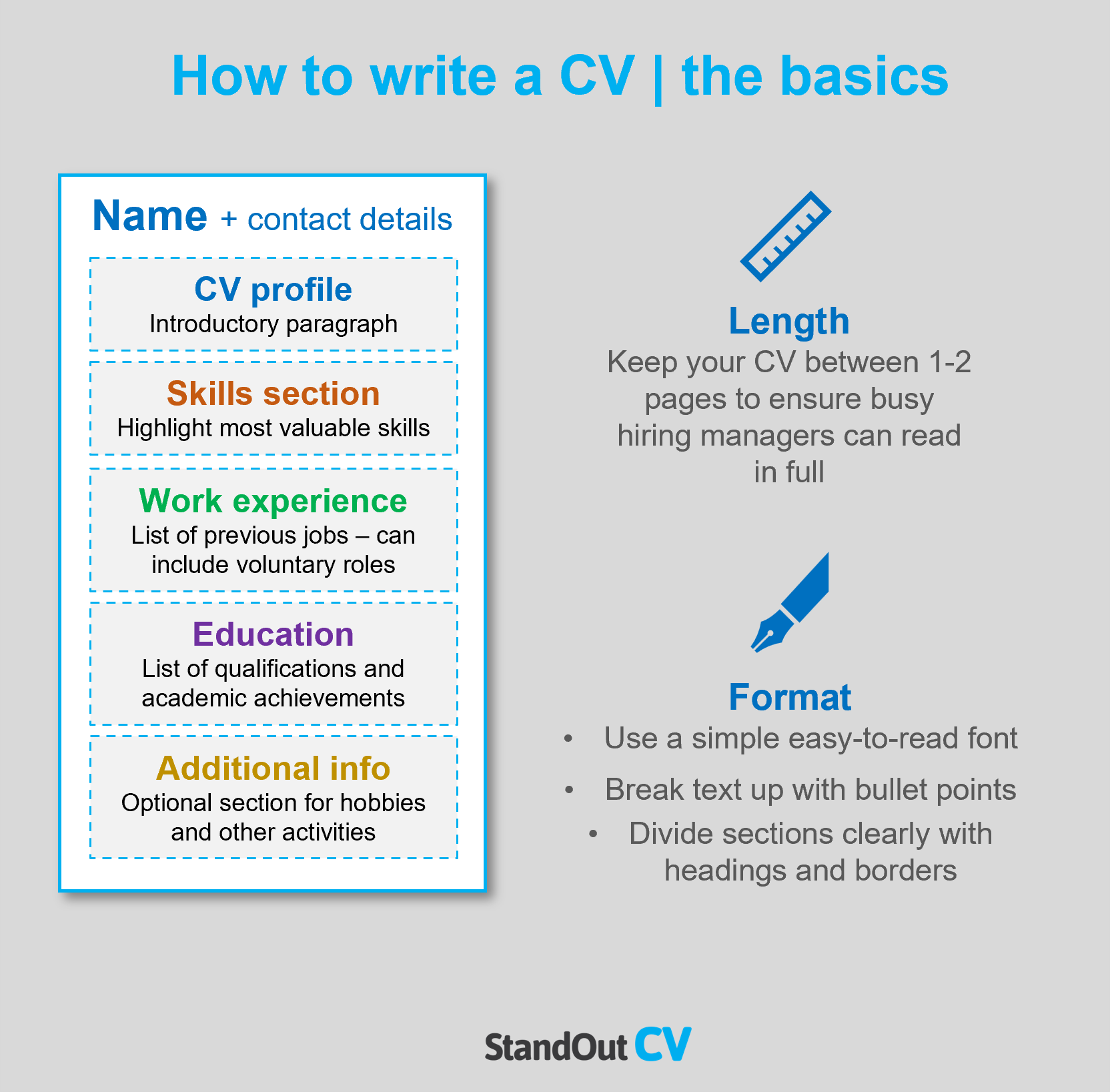 How to format your CV
Length: Think that submitting a five page CV will impress recruiters? You're wrong! Even if you've got tons of experience to brag about, recruiters don't have time to read through overly detailed CVs. Keep it short, concise and relevant – a CV length of 2 sides of A4 pages or less is perfect.
Readability: Columns, lists, bullet points, bold text and subtle colour can all help to aid the readability of your CV. Your overarching goal should be to make the content as easy to read and navigate as possible, whilst also aiming to make your key skills and achievements stand out.
CV design: When it comes to CV design, it's best to keep things simple and sleek. While elaborate designs certainly command attention, it's not always for the right reasons! Readability is key, so whatever you choose to do, make sure you prioritise readability above everything.
Photographs: Recruiters can't factor in appearance, gender or race into the recruitment process, so a profile photo is not usually needed. However, creative employers do like to see them, so you can choose to include one if you think it will add value to your CV .
Quick tip: Creating a professional CV style can be difficult and time-consuming when using Microsoft Word or Google Docs. To create a winning CV quickly, try our partner's CV builder and use one of their eye-catching professional CV templates.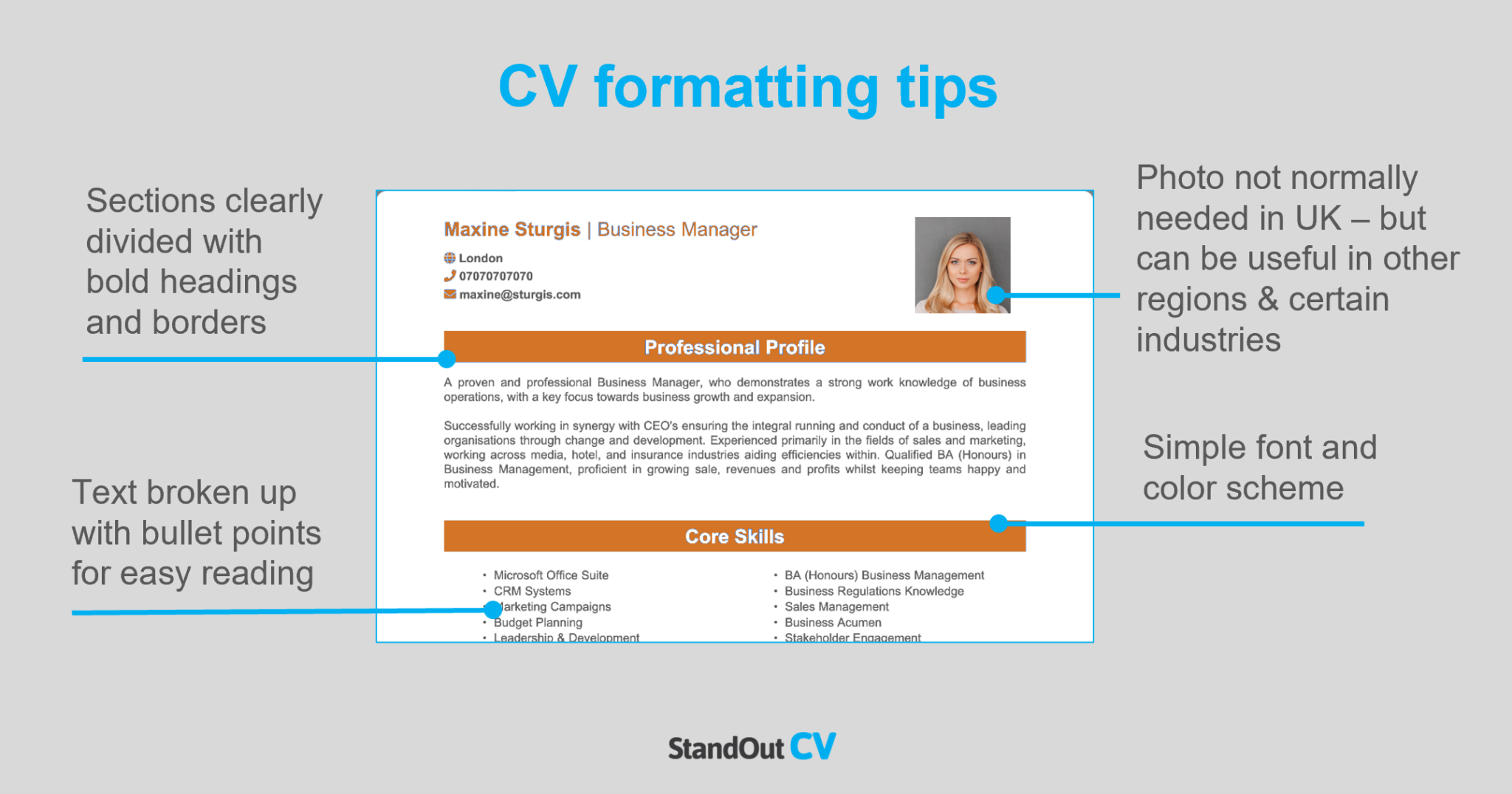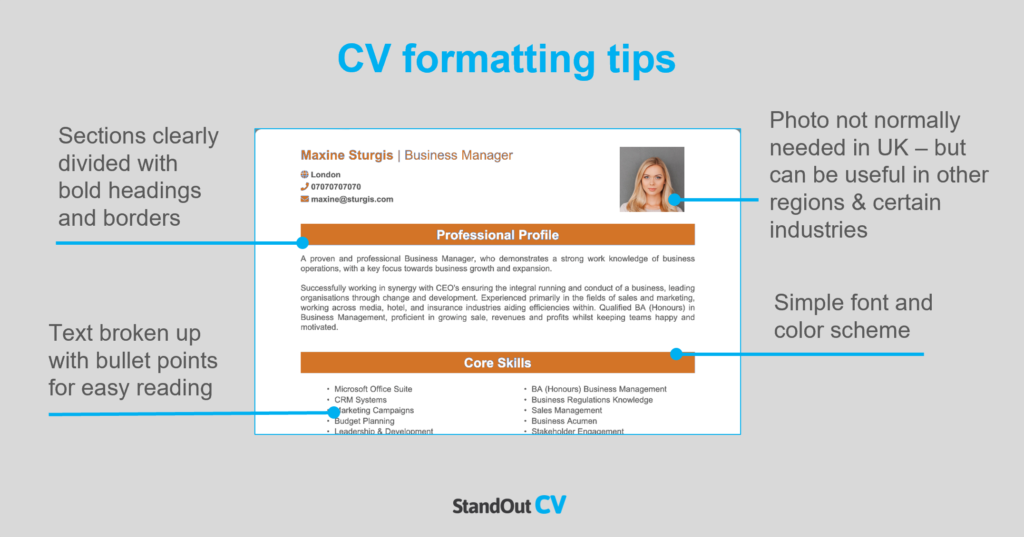 CV structure
When writing your own CV, break up your CV content into the following key sections:
Name and contact details – Place them at the top of your CV, so that employers can easily get in touch.
CV profile – A punchy sales pitch of your key experience, skills and achievements to reel readers in.
Core skills section – A bullet-pointed snapshot of your abilities.
Work experience – A well-structured list of your relevant work experience.
Education – An overview of any relevant qualifications or professional training you have.
Hobbies and interests – A short description of any relevant hobbies or interests (optional).
Now, let's take a closer look at what you should include in each section of your CV.
CV Contact Details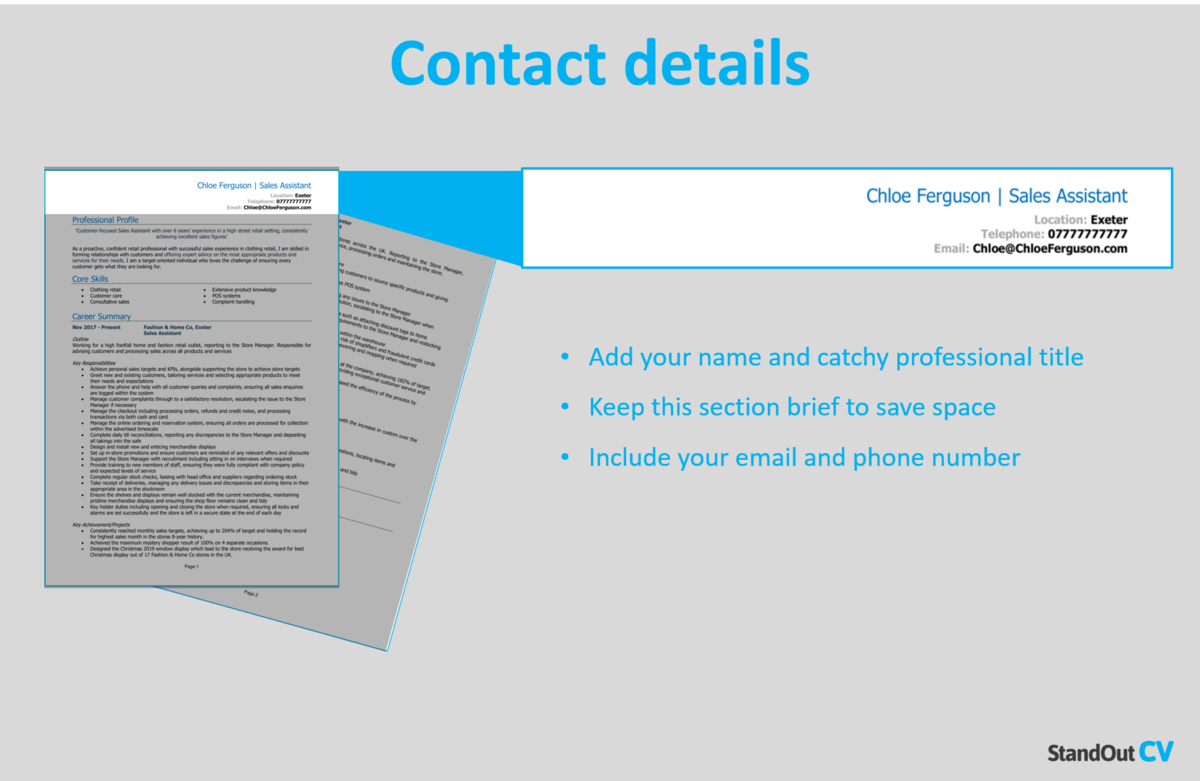 Begin by sharing your contact details, so it's easy for employers to give you a call.
Keep to the basics, such as:
Mobile number
Email address – It should sound professional, with no slang or nicknames. Make a new one for your job applications if necessary.
Location – Simply share your vague location, for example 'Manchester', rather than a full address.
LinkedIn profile or portfolio URL – Remember to update them before you send your application.
Data Protection Officer CV Profile
Your CV profile is basically a short introductory paragraph, which summarises your key selling points and highlights why you'd make a good hire.
So, write a well-rounded summary of what you do, what your key skills are, and what relevant experience you have.
It needs to be short, snappy and punchy and, ultimately, entice the reader to read the rest of your CV.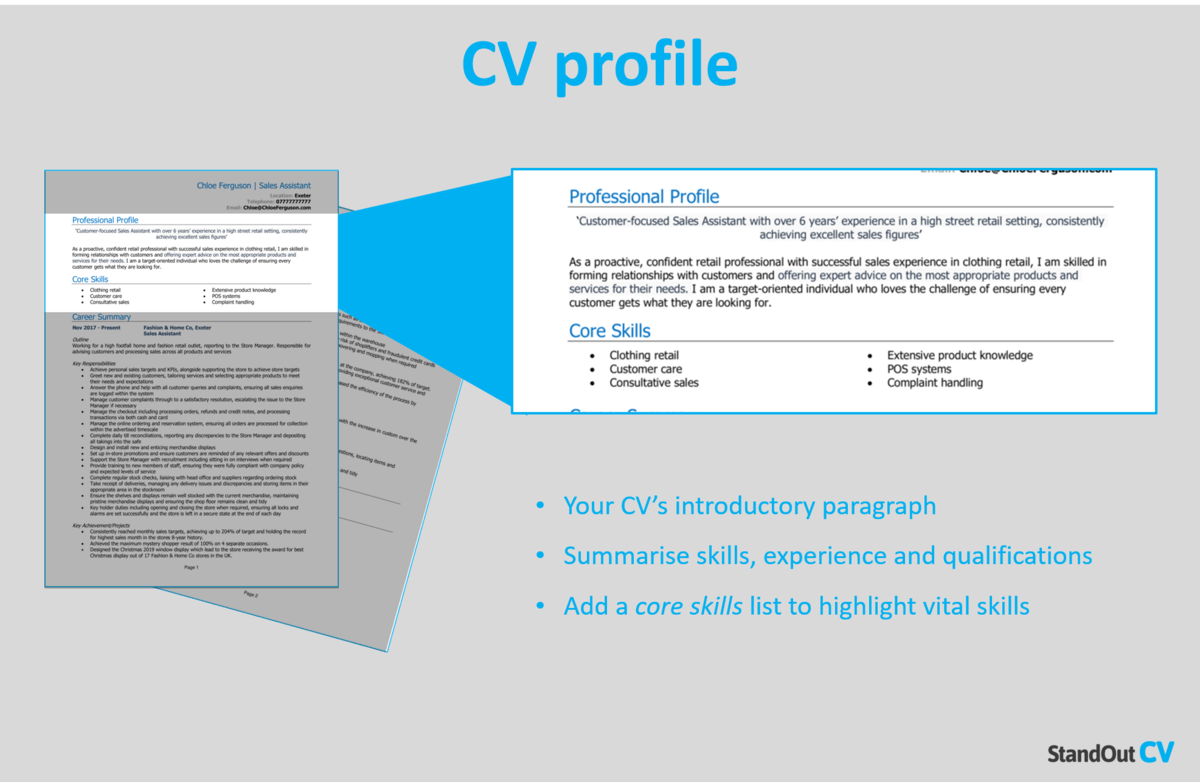 CV profile writing tips:
Make it short and sharp: Aim for a short, snappy paragraph of 3-5 lines. This is just enough room to showcase why you'd make the perfect hire, without going into excessive detail and overwhelming busy recruiters.
Tailor it: If recruiters don't see your suitability within a few seconds, they may close your CV straight away. Your CV profile should closely match the essential requirements listed in the job ad, so make sure to review them before you write it.
Don't add an objective: Career goals and objectives are best suited to your cover letter, so don't waste space with them in your CV profile.
Avoid generic phrases: Focus on fact, not fluff. Phrases like "Committed and enthusiastic thought-leader" and "Dynamic problem solver" might sound fancy, but they'll do nothing for your application. Not only do they sound cheesy, but they have no substance – stick to real skills and facts
Example CV profile for Data Protection Officer
Data Protection Officer with experience in managing data-related queries and liaising with stakeholders to drive privacy principles and embed security standards across organisations. Adept at ensuring relevant documentation and policies are updated and comply with UK GDPR. Focused on overseeing investigations of data breaches involving personal and business information.
What to include in your Data Protection Officer CV profile?
Summary of experience: Demonstrate your suitability for your target jobs by giving a high level summary of your previous work work experience, including the industries you have worked in, types of employer, and the type of roles you have previous experience of.
Relevant skills: Employers need to know what skills you can bring to their organisation, and ideally they want to see skills that match their job vacancy. So, research your target roles thoroughly and add the most important Data Protection Officer skills to your profile.
Vital qualifications: Be sure to outline your relevant Data Protection Officer qualifications, so that anyone reading the CV can instantly see you are qualified for the jobs you are applying to.
Quick tip: If you are finding it difficult to write an attention-grabbing CV profile, choose from hundreds of pre-written profiles across all industries, and add one to your CV with one click in our partner's CV builder. All profiles are written by recruitment experts and easily tailored to suit your unique skillset.
Core skills section
Next, you should create a bullet pointed list of your core skills, formatted into 2-3 columns.
Here, you should focus on including the most important skills or knowledge listed in the job advertisement.
This will instantly prove that you're an ideal candidate, even if a recruiter only has time to briefly scan your CV.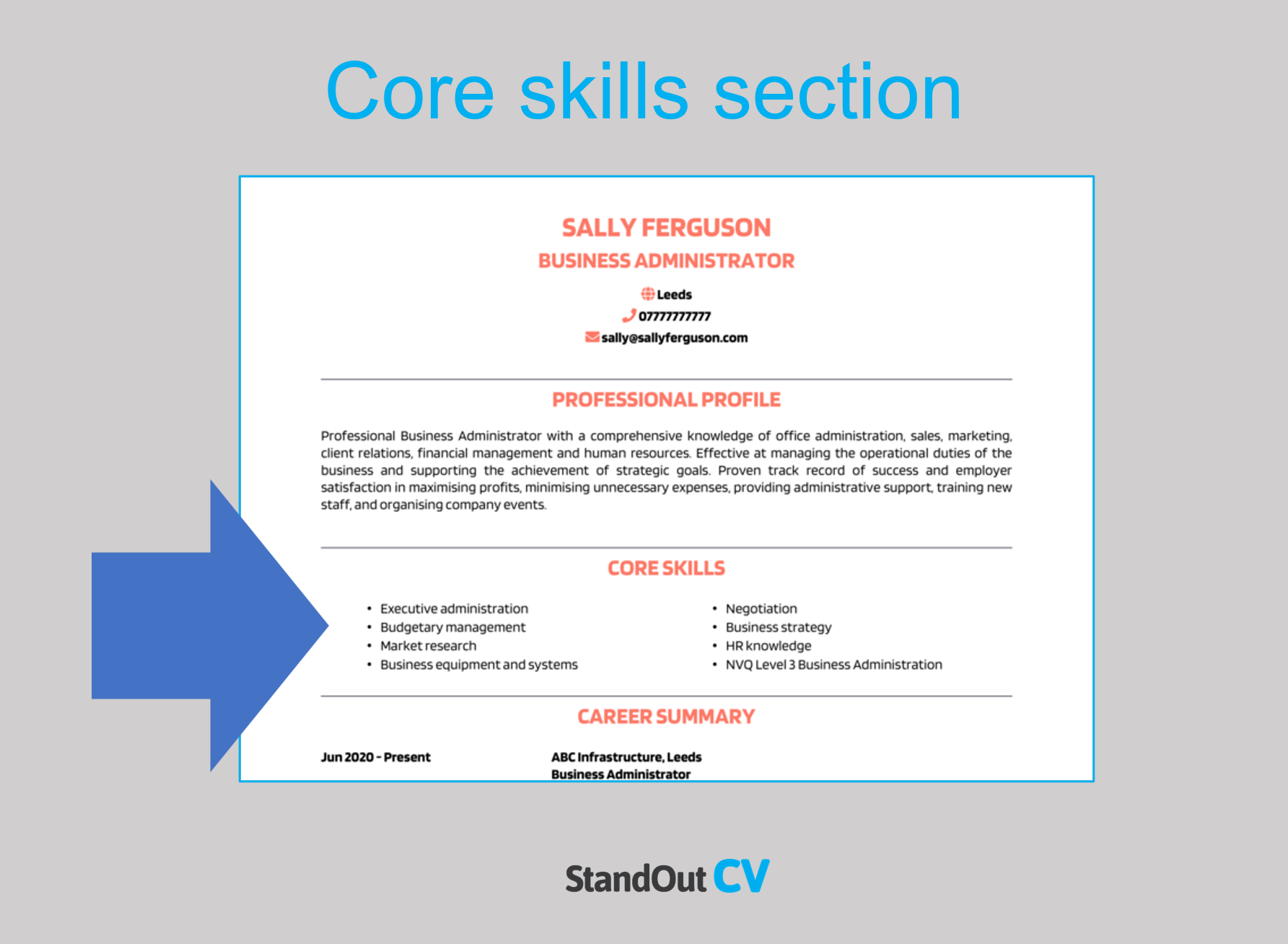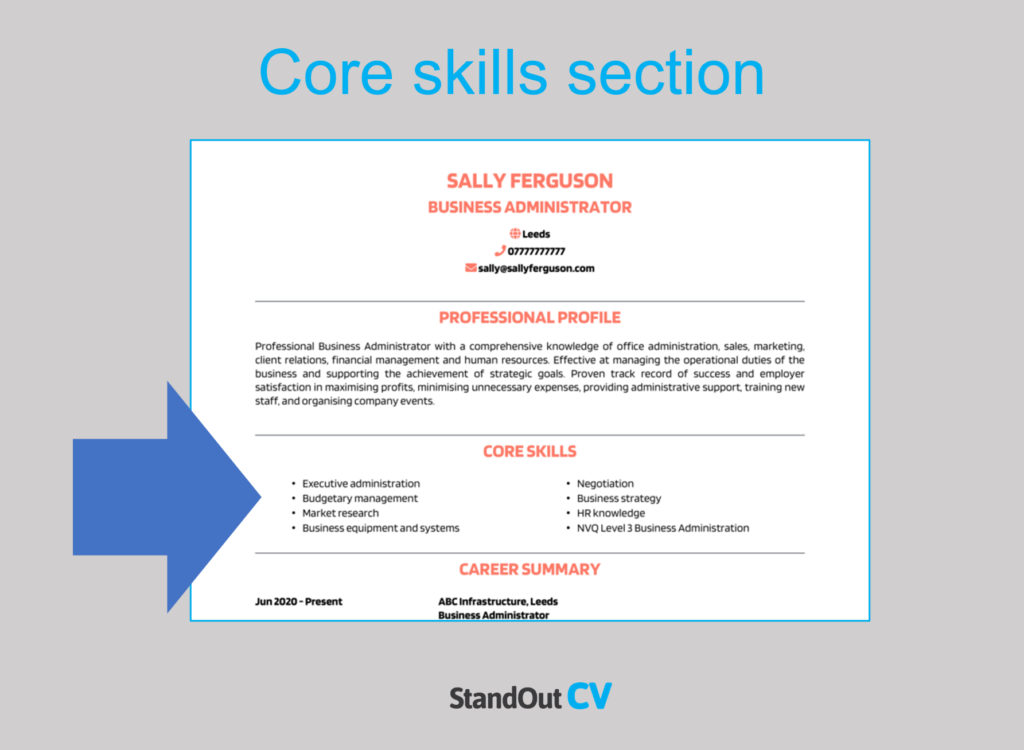 Vital skills for your Data Protection Officer CV
Data Management Systems – utilising technological solutions to ensure the uniformity, accuracy, stewardship, semantic consistency and accountability of the company's data assets.
Incident Response – implementing processes to follow when faced with a data breach including what constitutes as an incident, who is involved in the plan and their contact information, steps to take in a breach and follow-up actions.
Ethical Hacking – authorised attempts to gain unauthorised access to data, duplicating strategies and actions of malicious hackers to detect the vulnerabilities they may try to exploit.
Security Risk Assessment – identifying, assessing and implementing key security controls to prevent data security defects and vulnerabilities.
Data Privacy Laws – ensuring all data services adhere to UK data privacy laws such as the Data Protection Act and GDPR.
Quick tip: Our partner's CV builder has thousands of in-demand skills for all industries and professions, that can be added to your CV in seconds – This will save you time and ensure you get noticed by recruiters.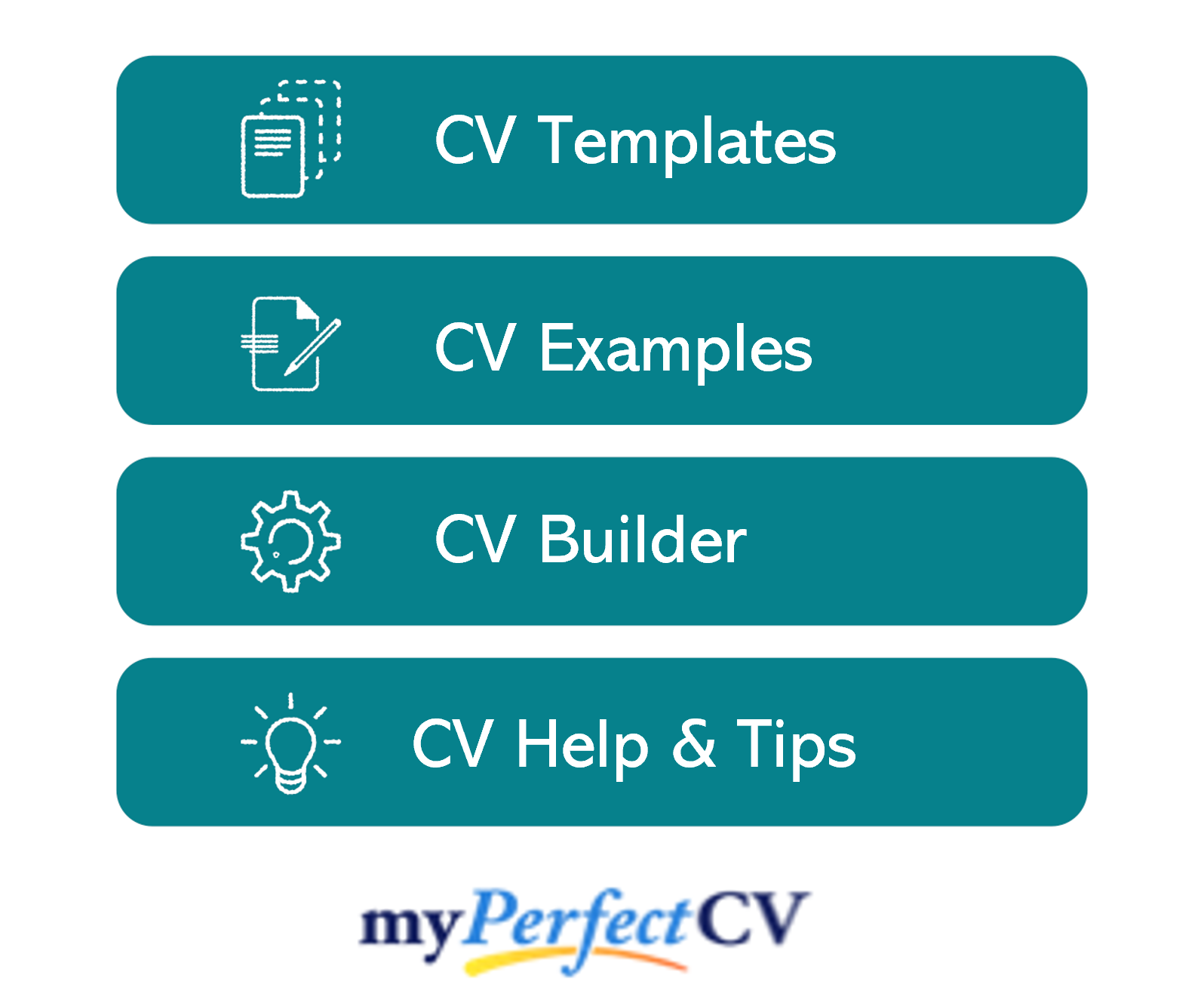 Your work experience section
Next up is your work experience section, which is normally the longest part of your CV.
Start with your current (or most recent) job and work your way backwards through your experience.
Can't fit all your roles? Allow more space for your recent career history and shorten down descriptions for your older roles.
Structuring each role
The structure of your work experience section can seriously affect its impact.
This is generally the biggest section of a CV, and with no thought to structure, it can look bulky and important information can get lost.
Use my 3-step structure below to allow for easy navigation, so employers can find what they are looking for:
Outline
Firstly, give the reader some context by creating a punchy summary of the job as a whole.
You should mention what the purpose or goal of your role was, what team you were part of and who you reported to.
Key responsibilities
Follow with a snappy list of bullet points, detailing your daily duties and responsibilities.
Tailor it to the role you're applying for by mentioning how you put the target employer's desired hard skills and knowledge to use in this role.
Key achievements
To finish off each role and prove the impact you made, list 1-3 stand out achievements, results or accomplishments.
This could be anything which had a positive outcome for the company you worked for, or perhaps a client/customer.
Where applicable, quantify your examples with facts and figures.
Sample job description for Data Protection Officer CV
Outline
Spearhead daily data protection activities across all Group companies, for a firm that leads the way with compliance and quality products/services to 10K+ UK businesses.
Key Responsibilities
Establish a security-aware culture and data protection/privacy ecosystem that eliminates associated risks, blind spots, and vulnerabilities.
Oversee the integration of data protection tools, including mapping data flows and outlining system specifications.
Classify infrastructure modifications, understand IT processes, and prepare for any challenges to keep up with organisational growth.
Draft and review data protection requirements for all commercial agreements.
Quick tip: Create impressive job descriptions easily in our partner's CV builder by adding pre-written job phrases for every industry and career stage.

Education and qualifications section
After your work experience, your education section should provide a detailed view of your academic background.
Begin with those most relevant to Data Protection Officer jobs, such as vocational training or degrees. If you have space, you can also mention your academic qualifications, such as A-Levels and GCSEs.
Focus on the qualifications that are most relevant to the jobs you are applying for.
Hobbies and interests
Although this is an optional section, it can be useful if your hobbies and interests will add further depth to your CV.
Interests which are related to the sector you are applying to, or which show transferable skills like leadership or teamwork, can worth listing.
On the other hand, generic hobbies like "going out with friends" won't add any value to your application, so are best left off your CV.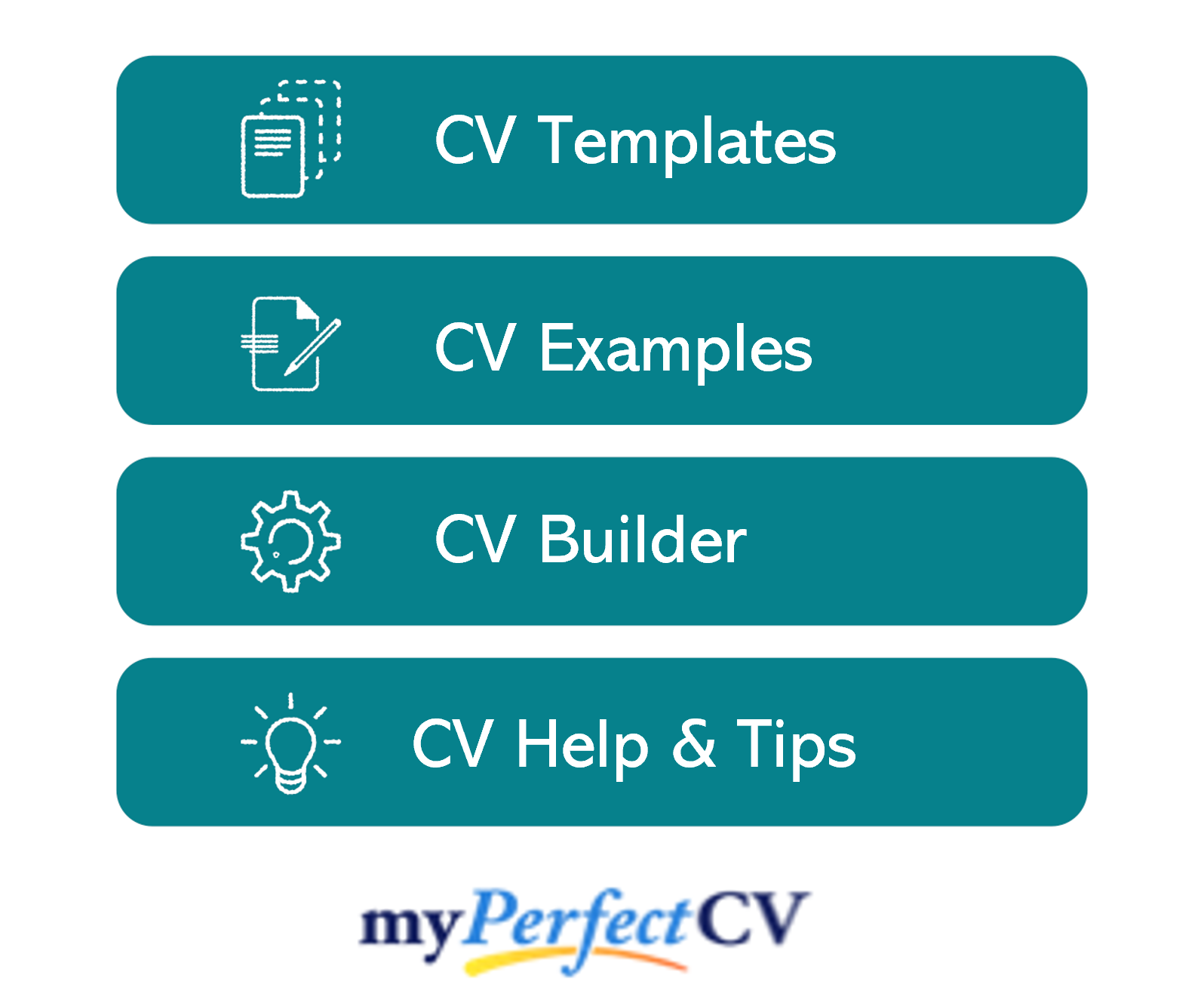 Writing your Data Protection Officer CV
Once you've written your Data Protection Officer CV, you should proofread it several times to ensure that there are no typos or grammatical errors.
With a tailored punchy profile that showcases your relevant experience and skills, paired with well-structured role descriptions, you'll be able to impress employers and land interviews.
Good luck with your next job application!