The machines might be manufacturing the materials or products, but you're the real hero here. You're the one that tells them exactly what to do.
Skilled CNC programmers are in demand right now, but that doesn't mean you're guaranteed the job.
This time, it's your turn to follow instructions as we teach you how to write an impressive application with our step-by-step guide and CNC programmer CV example below.
Contents
| | |
| --- | --- |
| How to write a CNC Programmer CV | |

CNC Programmer CV example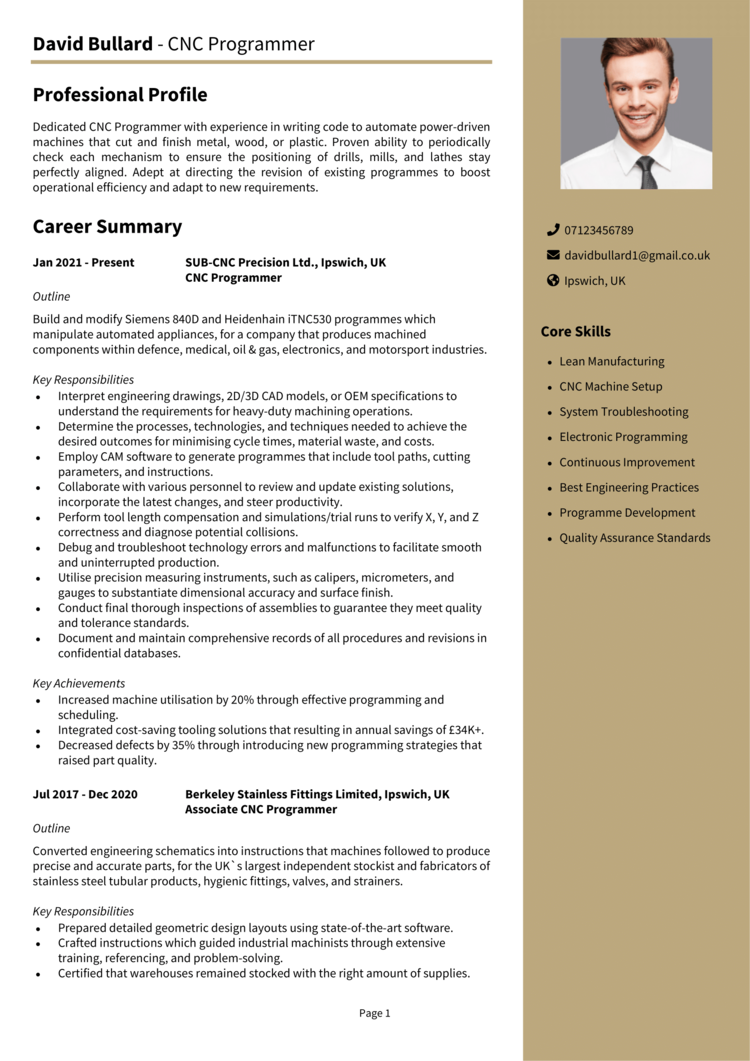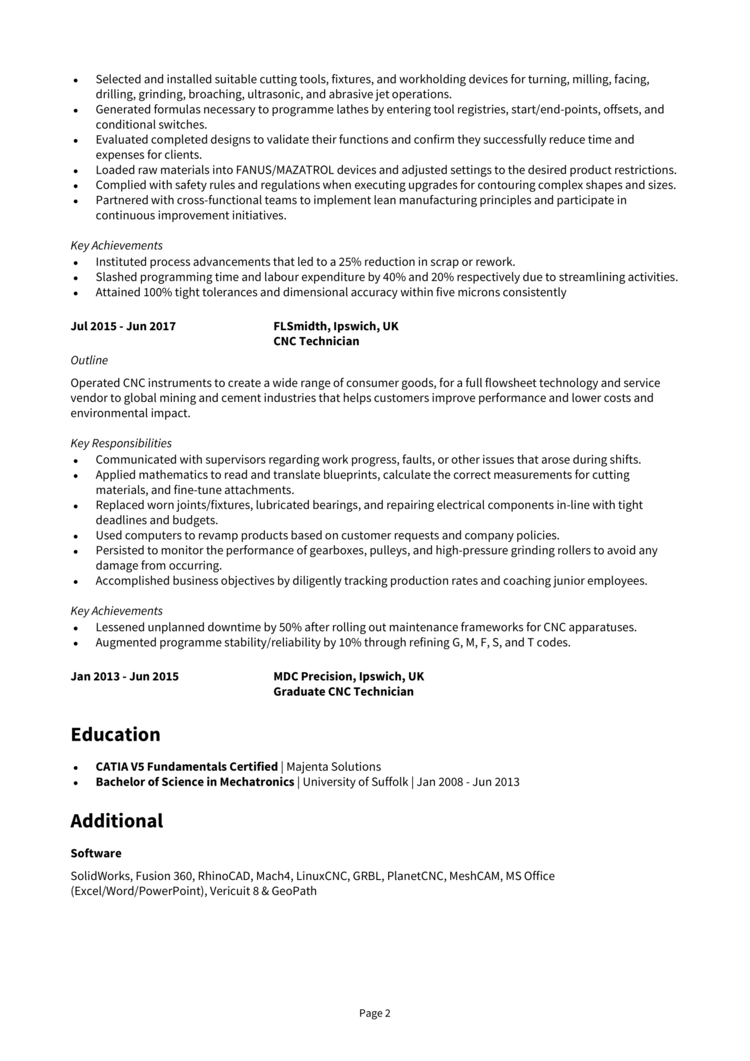 This is a good example of a CNC Programmer CV which is professionally formatted, and structured in a way that allows recruiters to easily find and understand the candidate's key selling points.
Take some time to look at this CV and refer to it throughout the writing of your own CV for best results.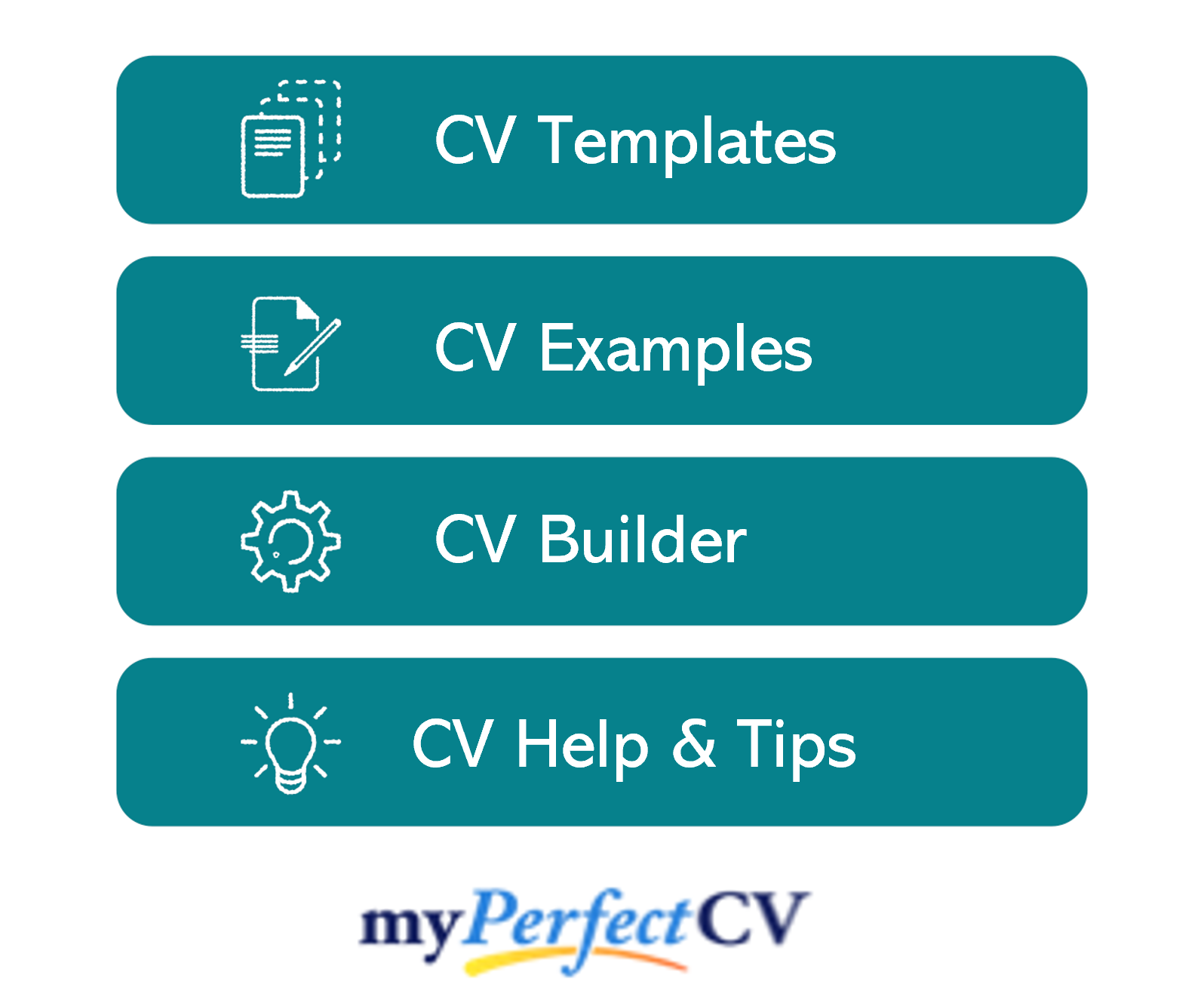 CNC Programmer CV format and structure
Think your CV is just about the content within it? Think again.
Your CV needs to look professional and be easy for recruiters to read, meaning the structure and format of your CV are just as important as the written content within it.
Facilitate ease of reading by using a simple structure which allows anybody to easily navigate your experience.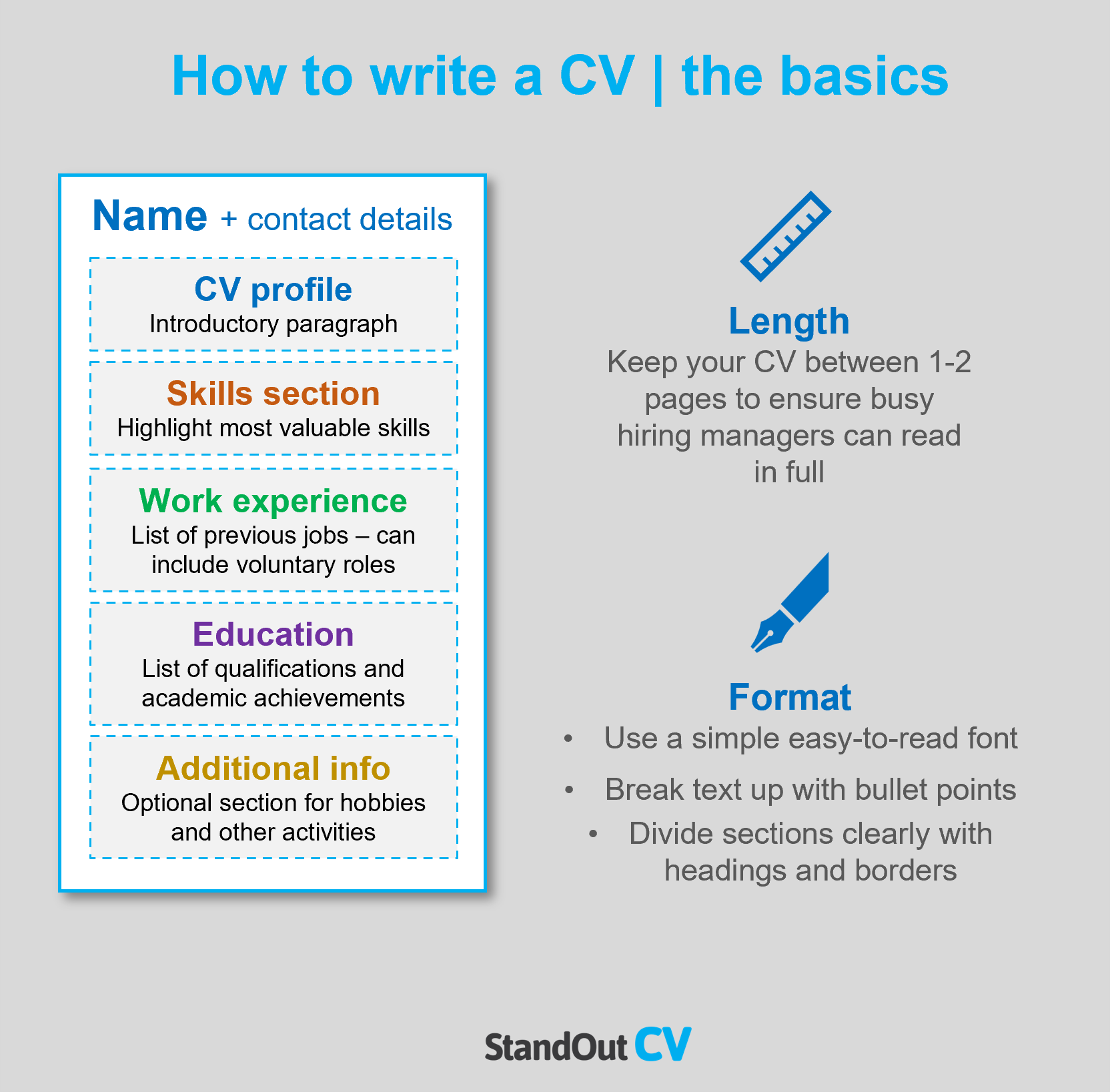 Tips for formatting your CNC Programmer CV
Length: Recruiters will be immediately put off by lengthy CVs – with hundreds of applications to read through, they simply don't have the time! Grabbing their attention with a short, snappy and highly relevant CV is far more likely to lead to success. Aim for two sides of A4 or less.
Readability: To help busy recruiters scan through your CV, make sure your section headings stand out – bold or coloured text works well. Additionally, try to use bullet points wherever you can, as they're far easier to skim through than huge paragraphs. Lastly, don't be afraid of white space on your CV – a little breathing space is great for readability.
Design & format: While it's okay to add your own spin to your CV, avoid overdoing the design. If you go for something elaborate, you might end up frustrating recruiters who, above anything, value simplicity and clarity.
Photos: Headshot photos aren't requiered in a CV by most employers, but some creative and artistic industries like to see them. If you decide to inclide one, make sure you look smart and professional in the picture.
Quick tip: Creating a professional CV style can be difficult and time-consuming when using Microsoft Word or Google Docs. To create a winning CV quickly, try our partner's CV Builder and use one of their eye-catching professional CV templates.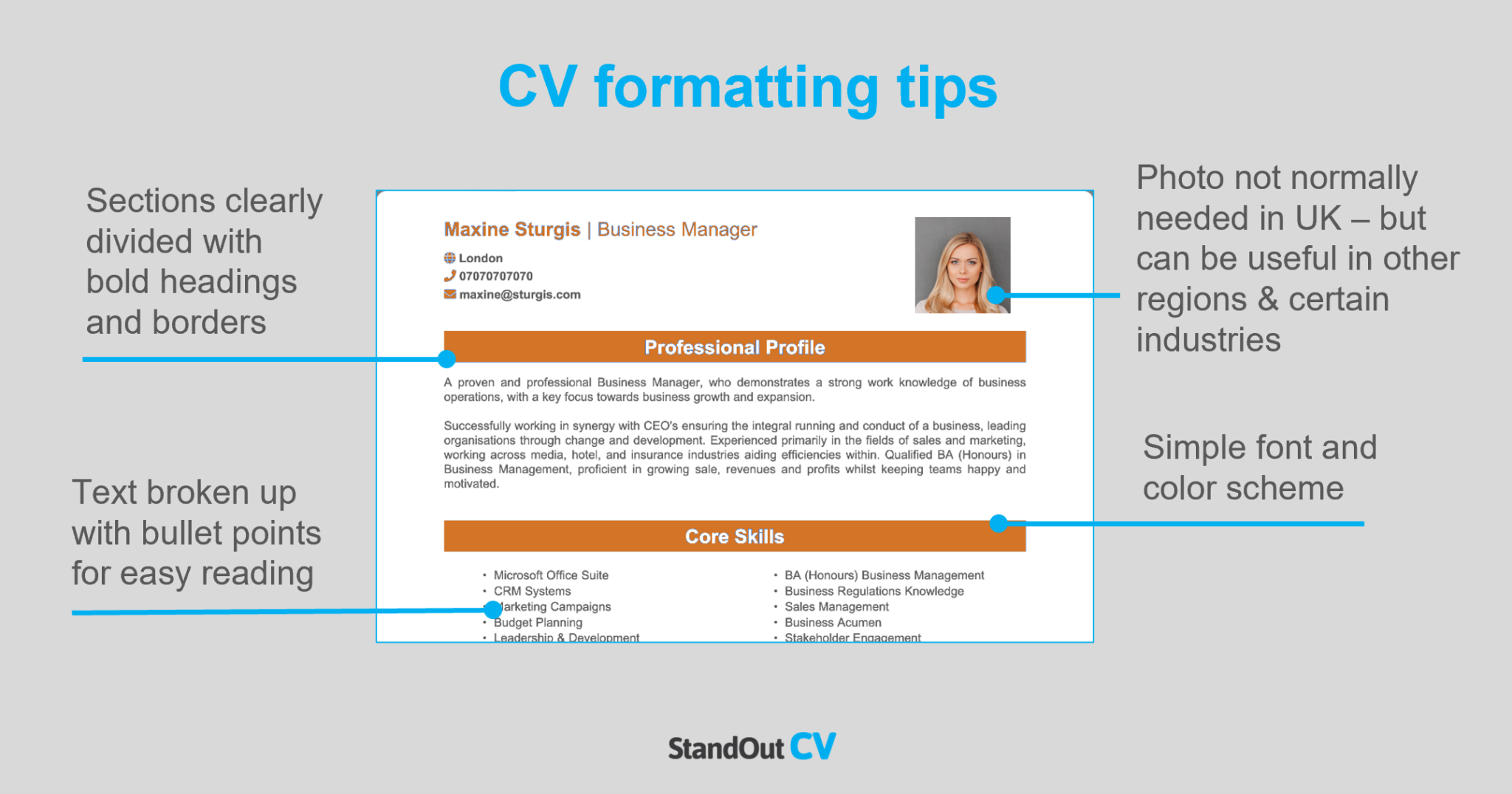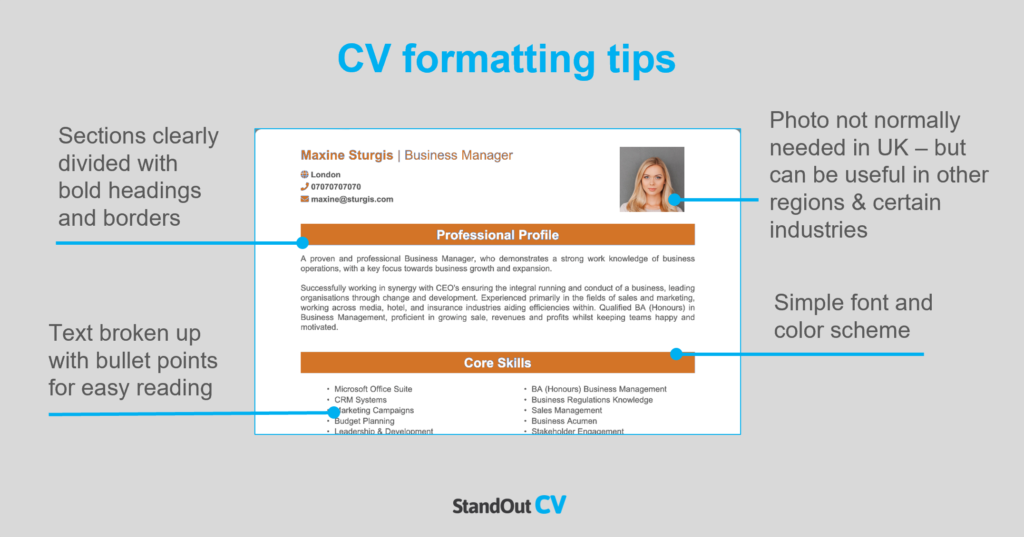 CV structure
To make it easy for busy recruiters and hiring managers to digest your CV, divide the content into several key sections when writing it:
Contact details: Always list your contact details at the very top to avoid them being missed.
Profile: Start with an introductory paragraph that catches recruiters' attention and summarises your offerings.
Work experience/career history: List your relevant work experience in reverse chronological order, starting with your current position.
Education: Provide a concise summary of your education and qualifications.
Interests and hobbies: You can include an optional section to showcase any hobbies that demonstrate transferable skills.
Now you understand the basic layout of a CV, here's what you should include in each section of yours.
Contact Details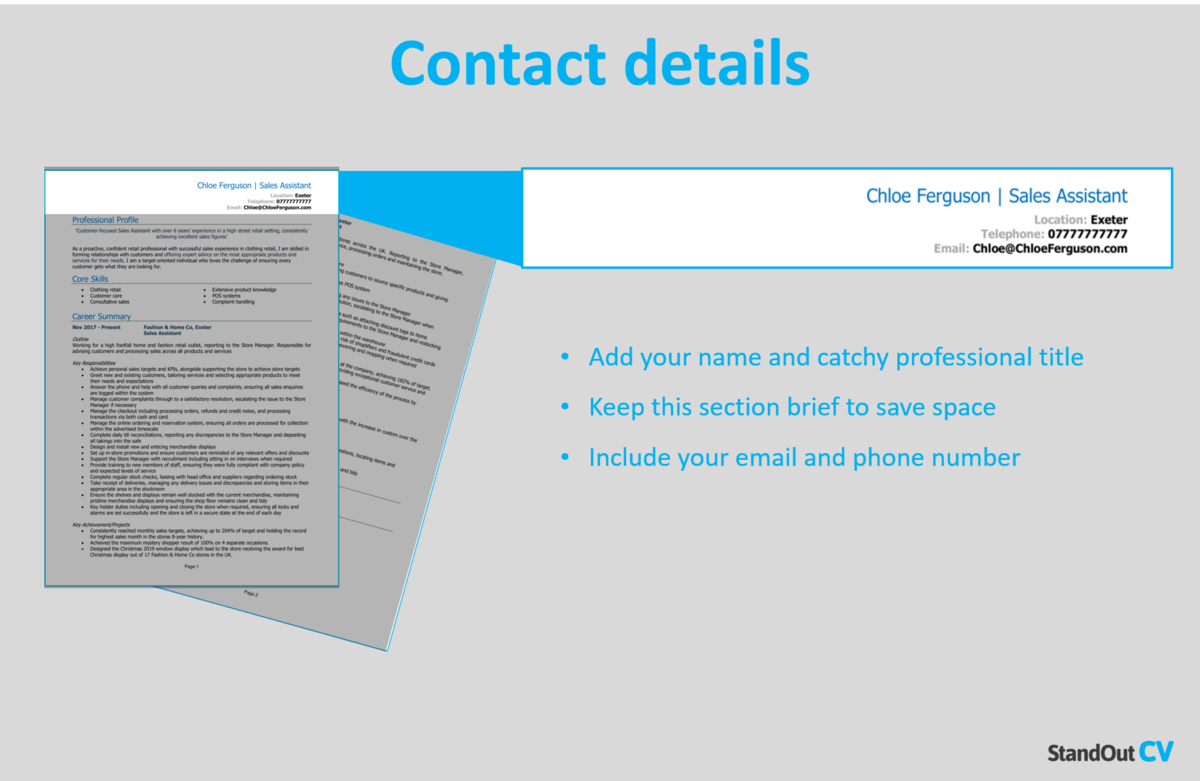 Start off your CV with a basic list of your contact details.
Here's what you should include:
Mobile number
Email address – It's often helpful to make a new email address, specifically for your job applications.
Location – Share your town or city; there's no need for a full address.
LinkedIn profile or portfolio URL – Make sure the information on them is coherent with your CV, and that they're up-to-date
Quick tip: Delete excessive details, such as your date of birth or marital status. Recruiters don't need to know this much about you, so it's best to save the space for your other CV sections.
CNC Programmer CV Profile
Recruiters and hiring managers are busy, so it's essential to catch their attention from the get-go.
A strong introductory profile (or personal statement, for junior candidates) at the top of the CV is the first thing they'll read, so it's a great chance to make an impression.
It should be a short but punchy summary of your key skills, relevant experience and accomplishments.
Ultimately, it should explain why you're a great fit for the role you're applying for and inspire recruiters to read the rest of your CV.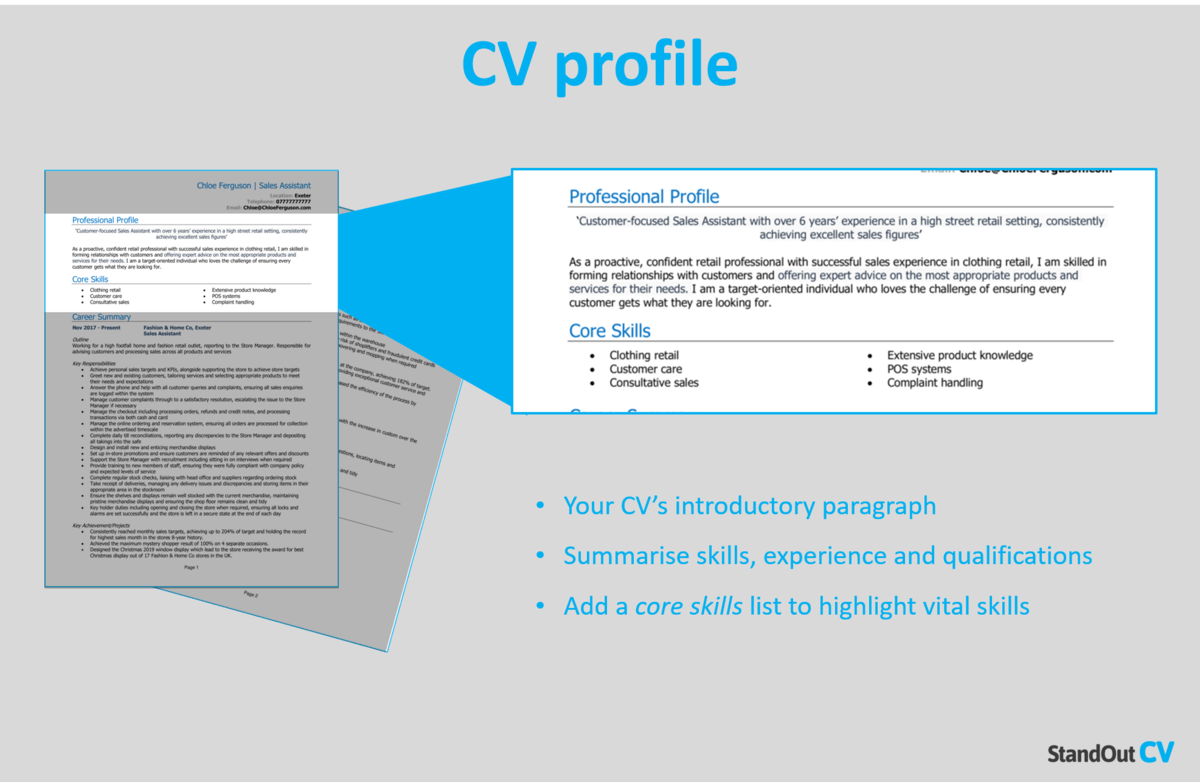 How to write a good CV profile:
Make it short and sharp: Aim for a short, snappy paragraph of 3-5 lines. This is just enough room to showcase why you'd make the perfect hire, without going into excessive detail and overwhelming busy recruiters.
Tailor it: The biggest CV mistake? A generic, mass-produced document which is sent out to tens of employers. If you want to land an interview, you need to tailor your CV profile (and your application as a whole) to the specific roles you're applying for. So, before you start writing, remember to read over those job descriptions and make a list of the skills, knowledge and experience the employers are looking for.
Don't add an objective: Avoid discussing your career goals in your CV profile – if you think they're necessary, briefly mention them in your cover letter instead.
Avoid generic phrases: Clichés like "blue-sky thinker with a go-getter attitude" might sound impressive to you, but they don't actually tell the recruiter much about you. Concentrate on highlighting hard facts and skills, as recruiters are more likely to take these on board.
Example CV profile for CNC Programmer
Dedicated CNC Programmer with experience in writing code to automate power-driven machines that cut and finish metal, wood, or plastic. Proven ability to periodically check each mechanism to ensure the positioning of drills, mills, and lathes stay perfectly aligned. Adept at directing the revision of existing programmes to boost operational efficiency and adapt to new requirements.
What to include in your CNC Programmer CV profile?
Experience overview: Showcase your aptitude for the job you are aiming for by giving a brief summary of your past work history, including the industries you have worked in, the kinds of employers you have served, and the roles you have held.
Targeted skills: Highlight your skills which are most relevant to CNC Programmer jobs, to ensure that recruiters see your most in-demand skills as soon as they open your CV.
Important qualifications: Be sure to outline your relevant CNC Programmer qualifications, so that anyone reading the CV can instantly see you are qualified for the jobs you are applying to.
Quick tip: If you are finding it difficult to write an attention-grabbing CV profile, choose from hundreds of pre-written profiles across all industries, and add one to your CV with one click in our partner's CV Builder. All profiles are written by recruitment experts and easily tailored to suit your unique skillset.
Core skills section
Add a core skills section below your profile to draw attention to your most applicable skills and make them stand out to readers.
This should consist of 2-3 columns of bullet points that emphasise your relevant skills.
Before creating this section, review the job description and compile a list of any specific skills, specializations, or knowledge needed. Incorporate these findings into your list to portray yourself as the ideal candidate for the position.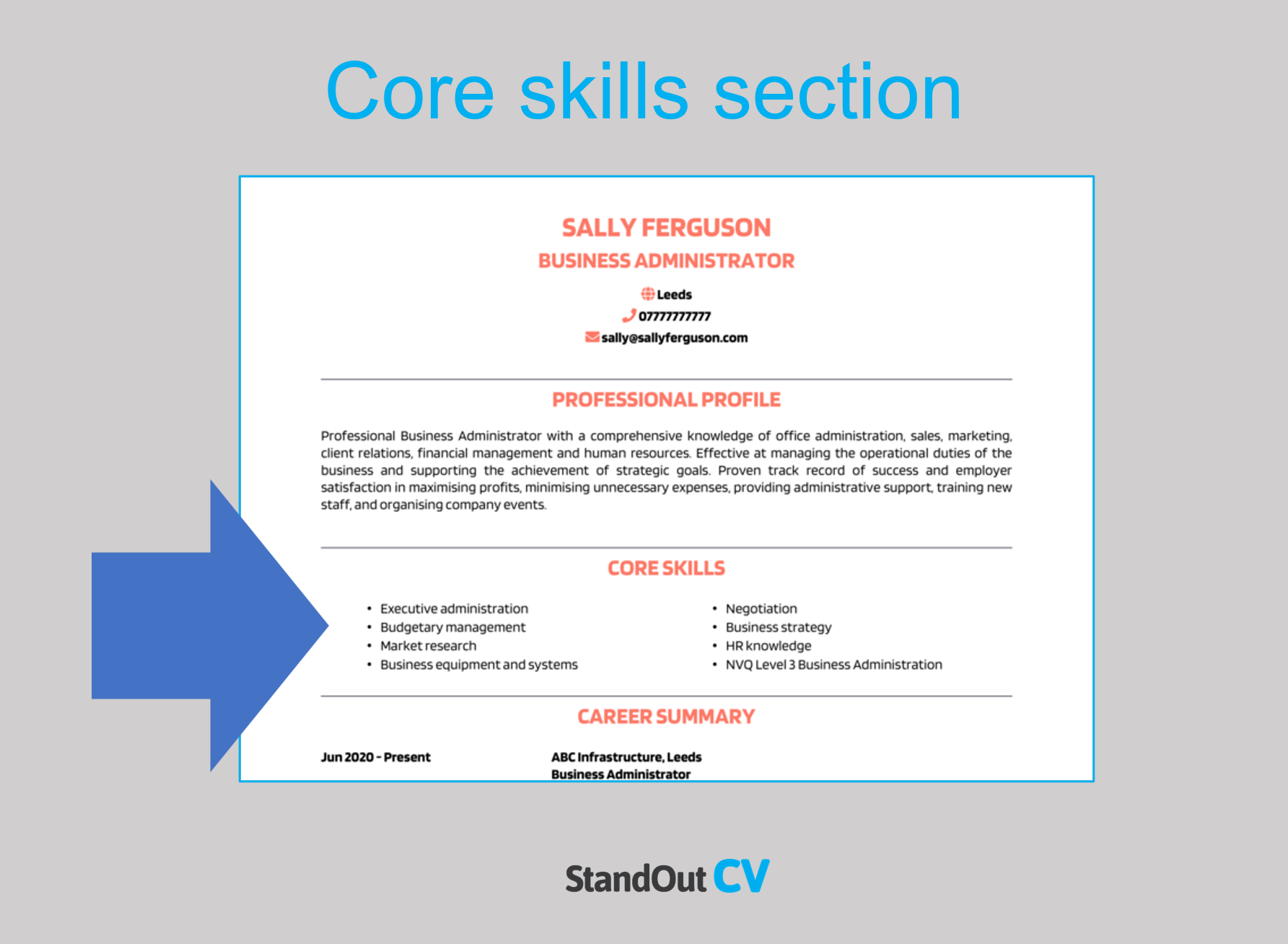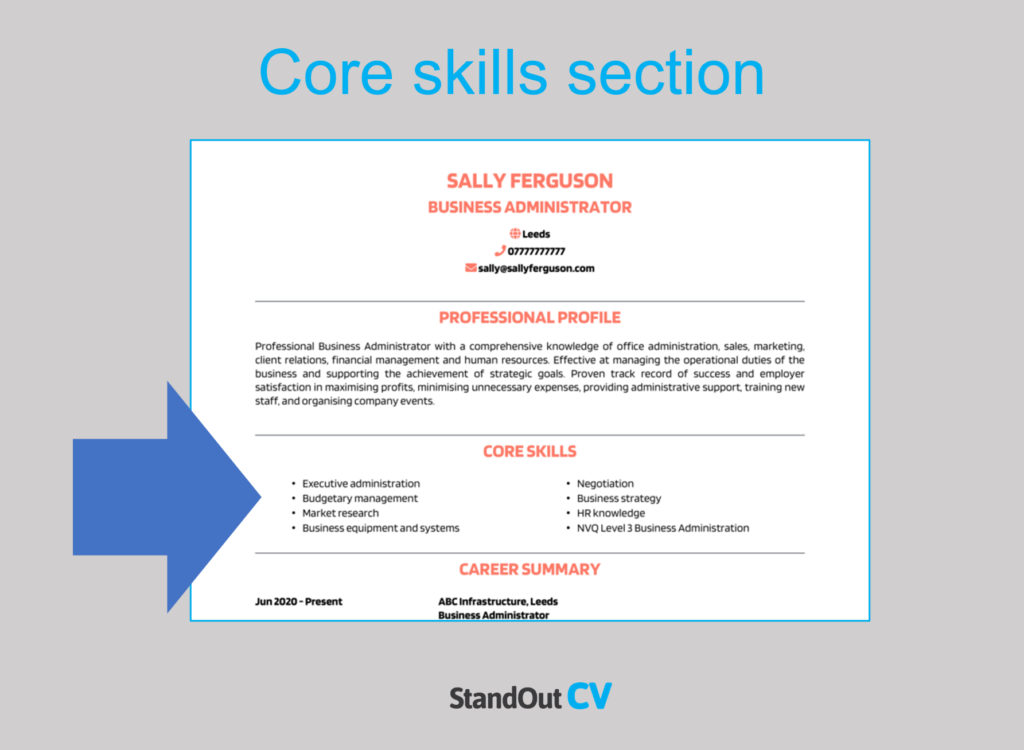 Important skills for your CNC Programmer CV
CNC Machine Operation – Operating and setting up CNC machines, including understanding machine controls, tooling, and workpiece setup.
Blueprint Reading – Reading and interpreting engineering drawings, blueprints, and technical specifications to understand part dimensions and tolerances.
CAD/CAM Software – Utilising computer-aided design (CAD) and computer-aided manufacturing (CAM) software, such as AutoCAD or SolidWorks, to create and program CNC toolpaths.
G-code Programming – Writing and editing G-code programs to control CNC machines, including specifying tool movements, feed rates, and cutting parameters.
Tooling Selection and Optimisation – Selecting appropriate cutting tools, inserts, and work holding fixtures for specific machining operations, as well as optimising tool paths for efficient and accurate machining.
Machine Maintenance and Troubleshooting – Performing routine maintenance tasks on CNC machines, including tool changes, spindle calibration, and coolant management, as well as troubleshooting common machine issues.
Quality Control and Inspection – Utilising knowledge of quality control principles and inspection techniques to verify the accuracy and precision of machined parts, including the use of measuring instruments like callipers and micrometres.
Safety and Compliance – Adhering to safety protocols and workplace health and safety regulations to ensure a safe working environment for CNC machine operation.
Continuous Learning – Keeping up to date with advancements in CNC technology, machining techniques, and programming languages, as well as adapting to new machining processes and setups.
Problem Resolution – Identifying and troubleshooting issues during the machining process.
Quick tip: Our partner's CV Builder has thousands of in-demand skills for all industries and professions, that can be added to your CV in seconds – This will save you time and ensure you get noticed by recruiters.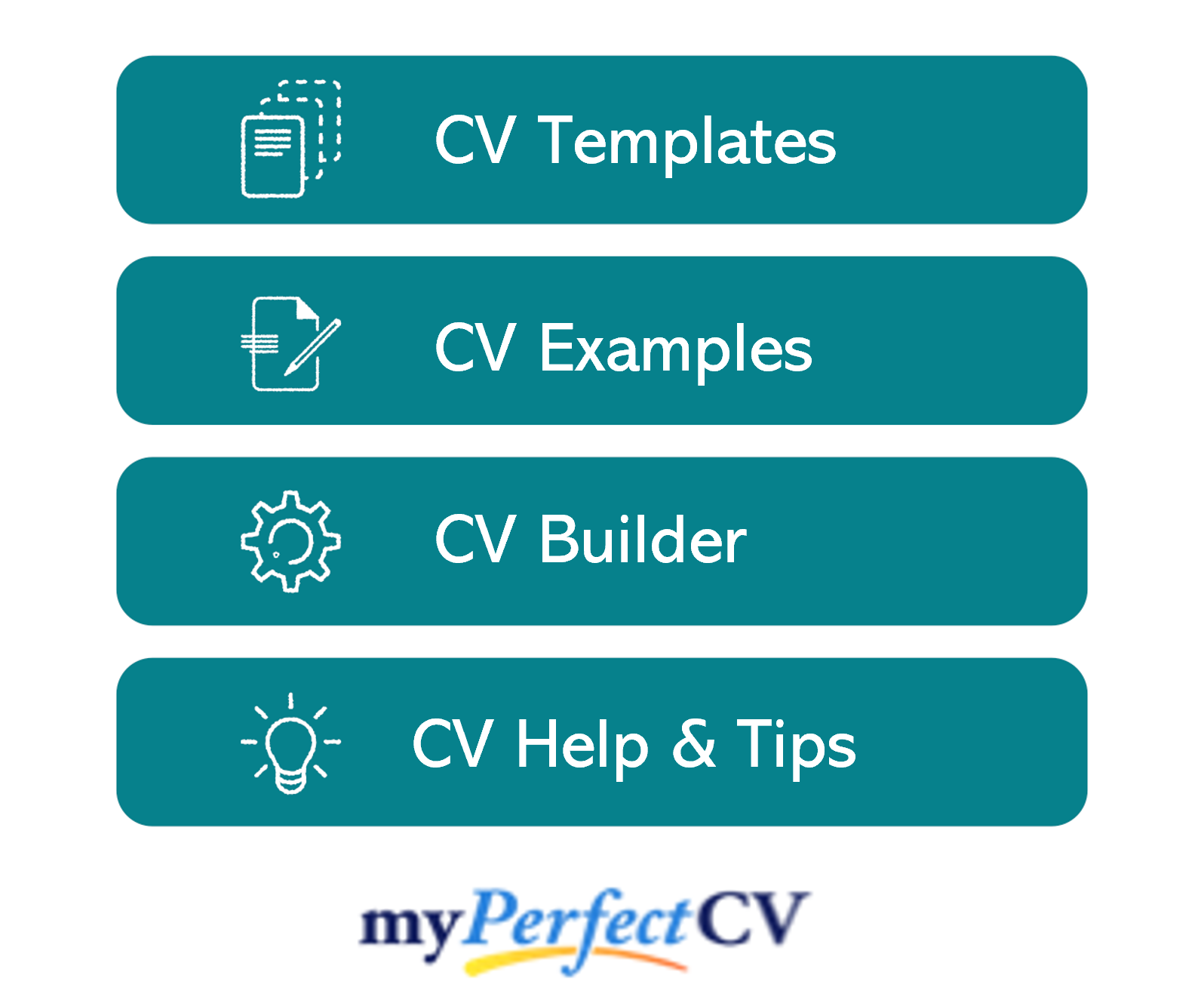 Work experience
Now it's time to get stuck into your work experience, which should make up the bulk of your CV.
Begin with your current (or most recent) job, and work your way backwards.
If you've got too much experience to fit onto two pages, prioritise space for your most recent and relevant roles.
Structuring each job
Lengthy, unbroken chunks of text is a recruiters worst nightmare, but your work experience section can easily end up looking like that if you are not careful.
To avoid this, use my tried-and-tested 3-step structure, as illustrated below:
Outline
Start with a brief summary of your role as a whole, as well as the type of company you worked for.
Key responsibilities
Next, write up a punchy list of your daily duties and responsibilities, using bullet points.
Wherever you can, point out how you put your hard skills and knowledge to use – especially skills which are applicable to your target role.
Key achievements
Lastly, add impact by highlight 1-3 key achievements that you made within the role.
Struggling to think of an achievement? If it had a positive impact on your company, it counts.
For example, you might increased company profits, improved processes, or something simpler, such as going above and beyond to solve a customer's problem.
Sample job description for CNC Programmer CV
Outline
Build and modify Siemens 840D and Heidenhain iTNC530 programmes which manipulate automated appliances, for a company that produces machined components within defence, medical, oil & gas, electronics, and motorsport industries.
Key Responsibilities
Interpret engineering drawings, 2D/3D CAD models, or OEM specifications to understand the requirements for heavy-duty machining operations.
Determine the processes, technologies, and techniques needed to achieve the desired outcomes for minimising cycle times, material waste, and costs.
Employ CAM software to generate programmes that include tool paths, cutting parameters, and instructions.
Collaborate with various personnel to review and update existing solutions, incorporate the latest changes, and steer productivity.
Quick tip: Create impressive job descriptions easily in our partner's CV Builder by adding pre-written job phrases for every industry and career stage.

Education section
At the bottom of your CV is your full education section. You can list your formal academic qualifications, such as:
As well as any specific CNC Programmer qualifications that are essential to the jobs you are applying for. Note down the name of the qualification, the organisation at which you studied, and the date of completion.
Hobbies and interests
The hobbies and interests CV section isn't mandatory, so don't worry if you're out of room by this point.
However, if you have an interesting hobby, or an interest that could make you seem more suitable for the role, then certainly think about adding.
Be careful what you include though… Only consider hobbies that exhibit skills that are required for roles as a CNC Programmer, or transferable workplace skills.
There is never any need to tell employers that you like to watch TV and eat out.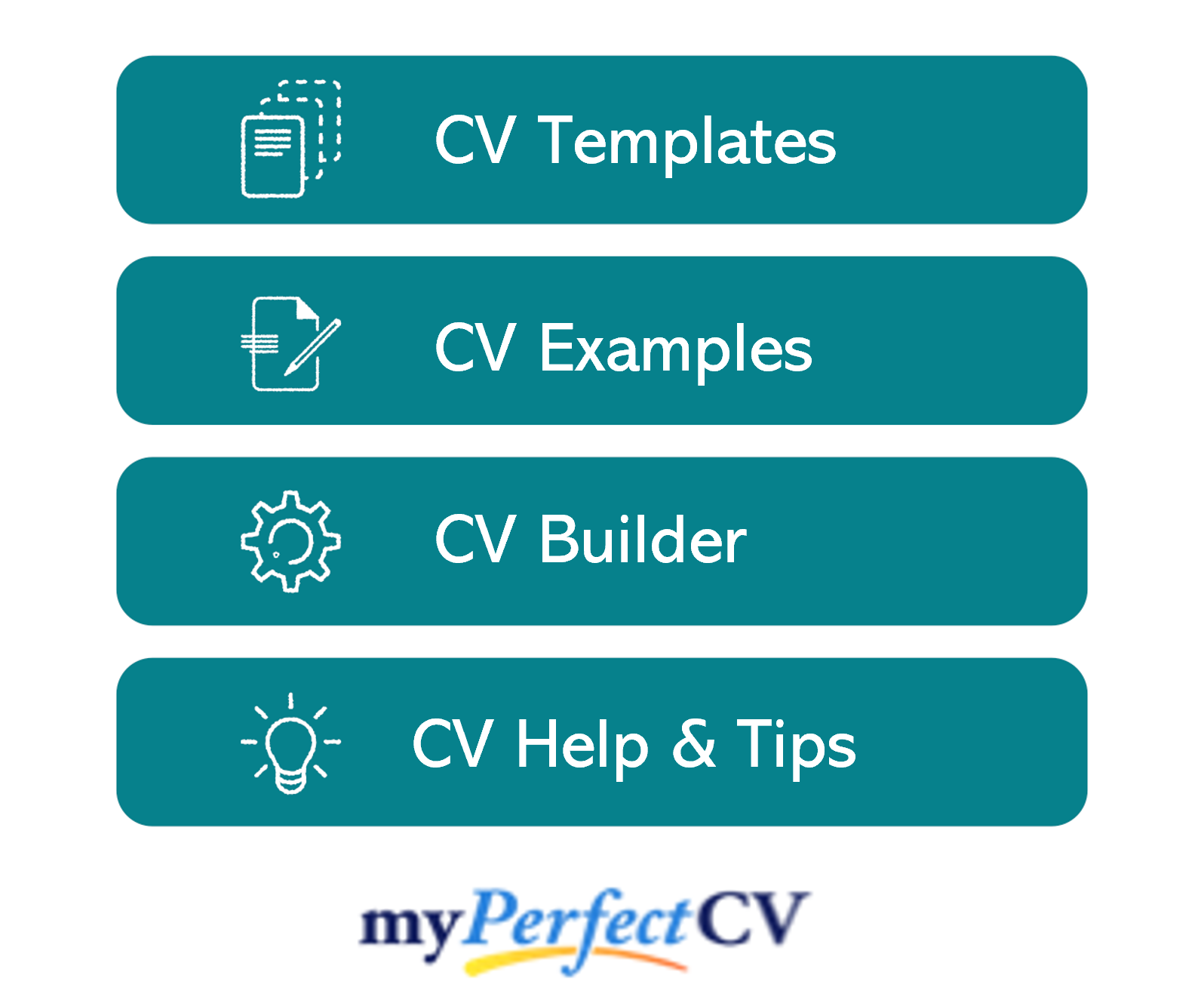 When putting together your CNC Programmer CV, there are a few key points to remember
Always tailor your CV to the target role, even if it means creating several versions for different roles.
Additionally, remember that the structure and format of your CV needs just as much attention as the content.
Good luck with your job search!