Do you know how to develop, test and fix blockchain systems? If so, your skills could be in high demand right now.
But in order to land the job, you need to showcase these impressive skills in a carefully constructed CV.
To help you do this, we've put together a step-by-step guide, along with a blockchain developer CV example.
Contents
| | |
| --- | --- |
| How to write a Blockchain Developer CV | |

Blockchain Developer CV example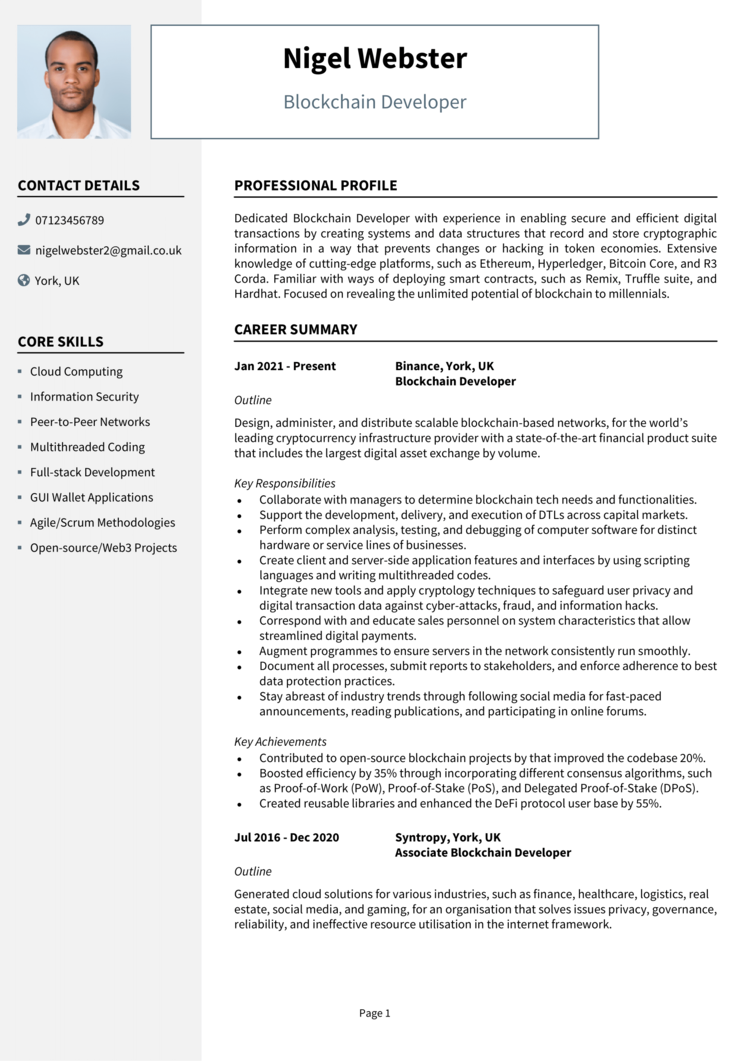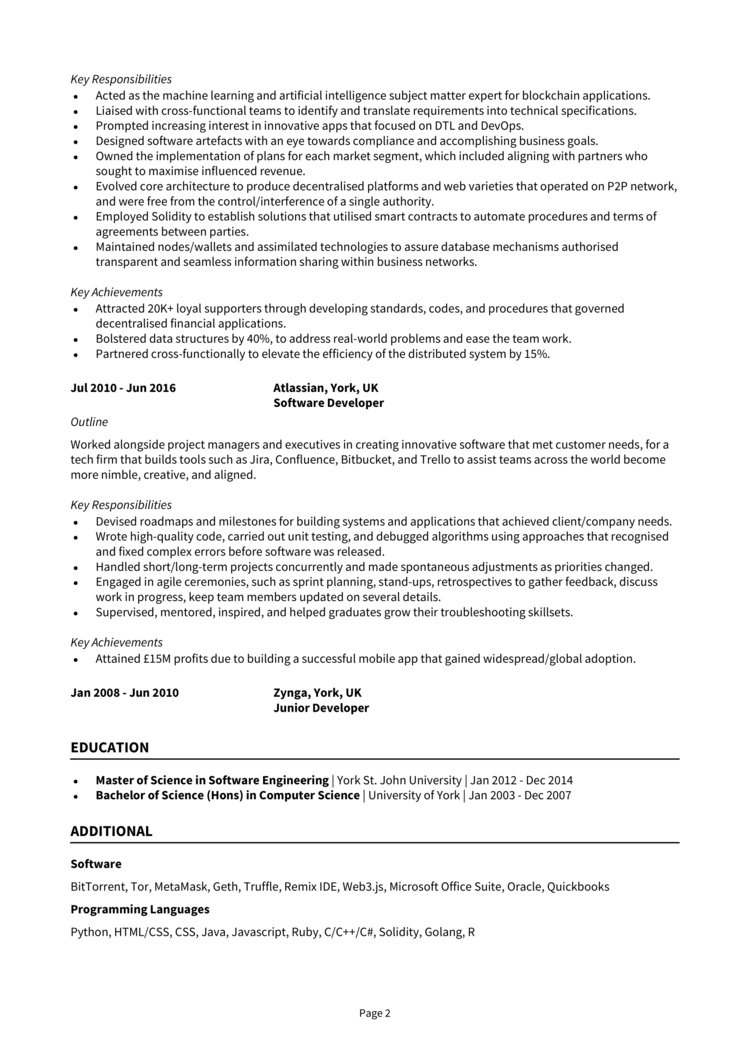 This CV example showcases the optimal structure and format for your Blockchain Developer CV, providing a pleasant reading experience for busy recruiters.
It also demonstrates the skills, experience and qualifications you should emphasize in your own CV to increase your chances of landing job interviews.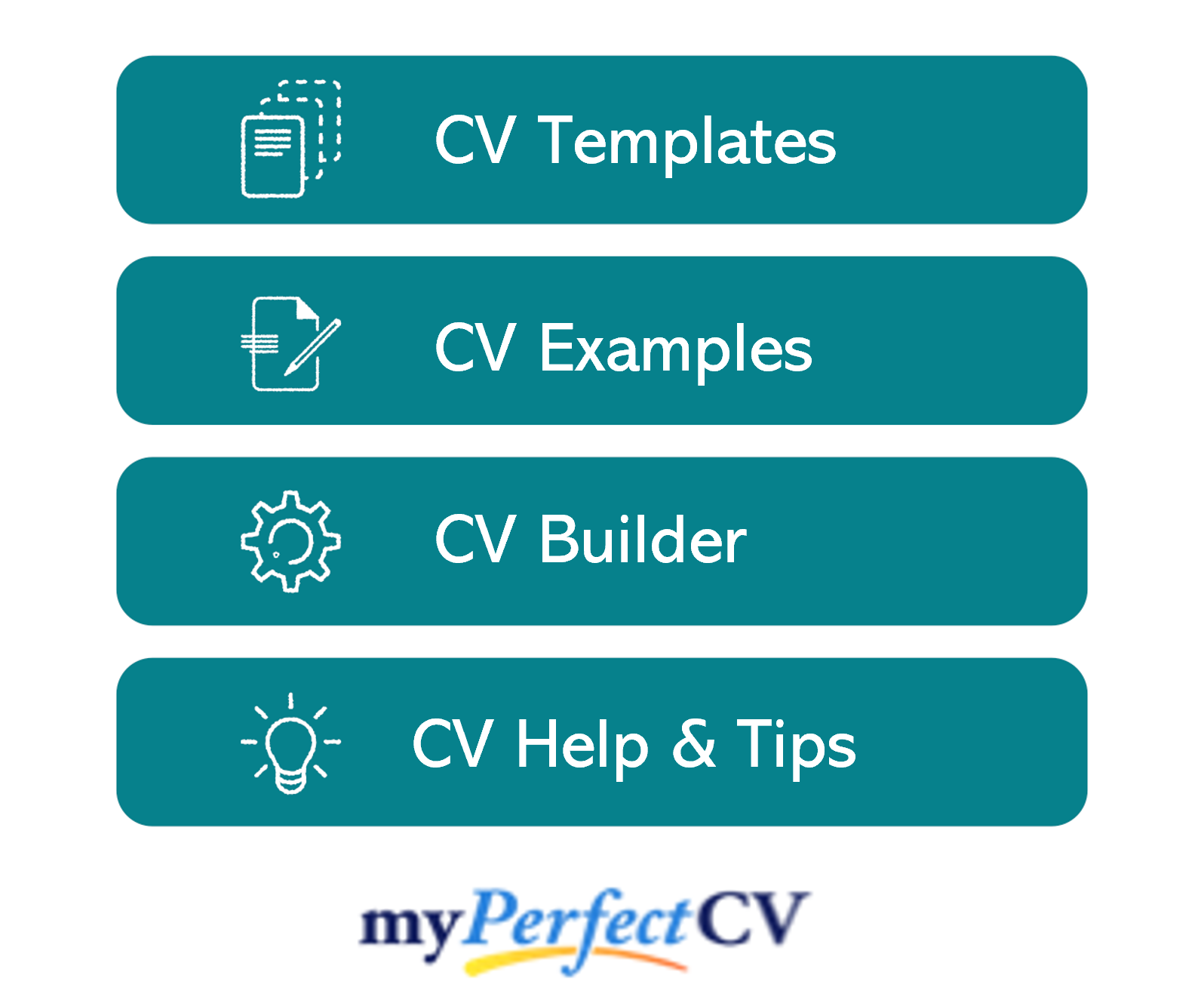 Blockchain Developer CV format and structure
First impressions count, so a sloppy, disorganised CV may cause your CV to be overlooked..
Instead, perfect the format and structure of your CV by working to a clear logical structure and applying some simple formatting tricks to ease readability.
Don't underestimate the importance of this step; if your CV lacks readability, your written content won't even be seen.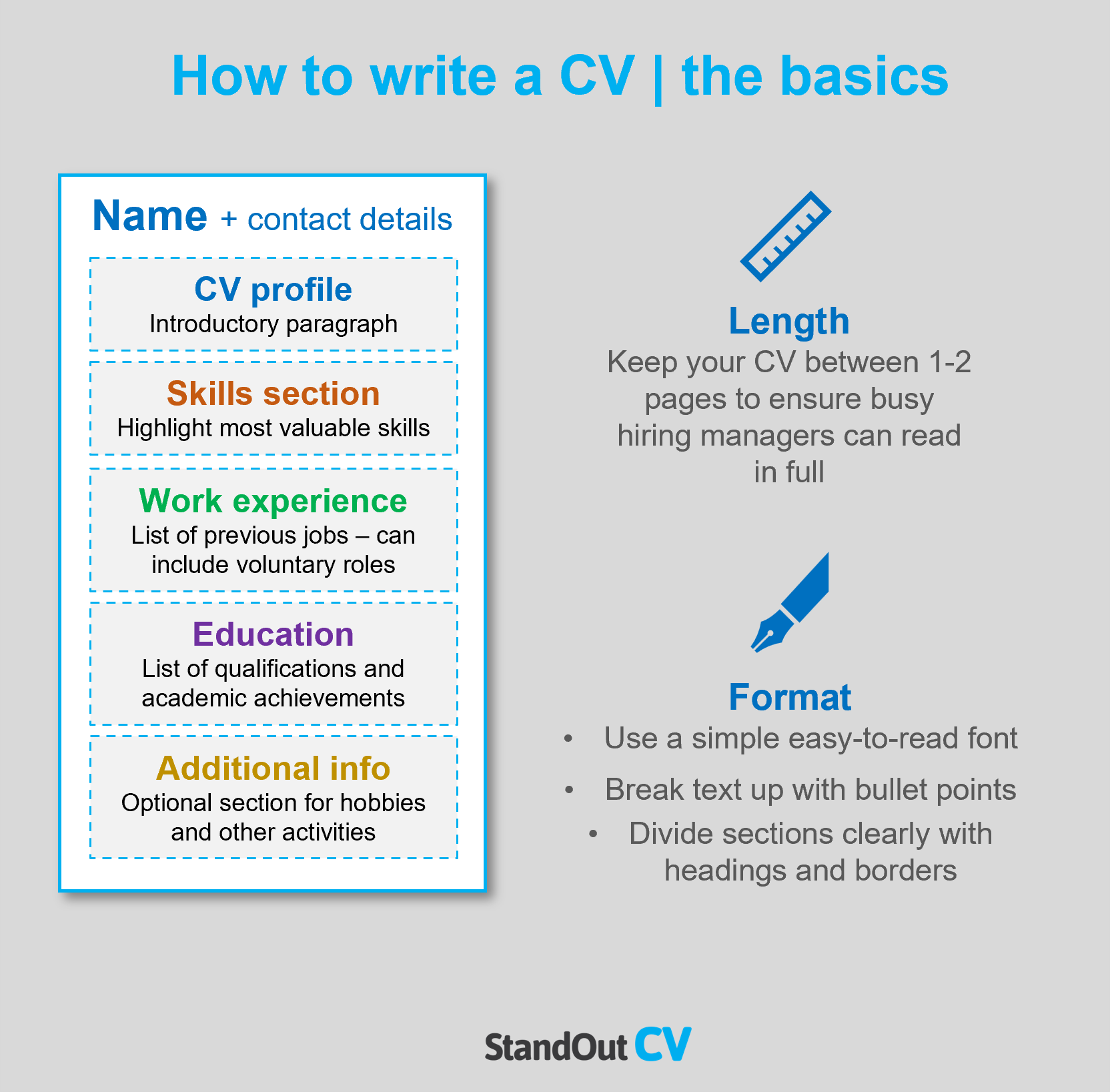 Tips for formatting your Blockchain Developer CV
Length: Even if you've got tons of experience to brag about, recruiters don't have time to read through overly lengthy CVs. Keep it short, concise and relevant – a CV length of 2 sides of A4 pages or less is perfect for the attention spans in today's job market.
Readability: By formatting your section headings with bold or a different colour font and using bullet points to break up large blocks of text, you can help busy recruiters quickly scan through your CV. This makes it easier for them to find important details without wasting time.
Design & format: It's generally best to stick to a simple CV design, as funky or elaborate designs rarely add any value to your application. A clear, modern font and a subtle colour scheme work perfectly and allow your skills, experience and achievements to speak for themselves.
Photos: Headshot photos aren't requiered in a CV by most employers, but some creative and artistic industries like to see them. If you decide to inclide one, make sure you look smart and professional in the picture.
Quick tip: Creating a professional CV style can be difficult and time-consuming when using Microsoft Word or Google Docs. To create a winning CV quickly, try our partner's CV Builder and use one of their eye-catching professional CV templates.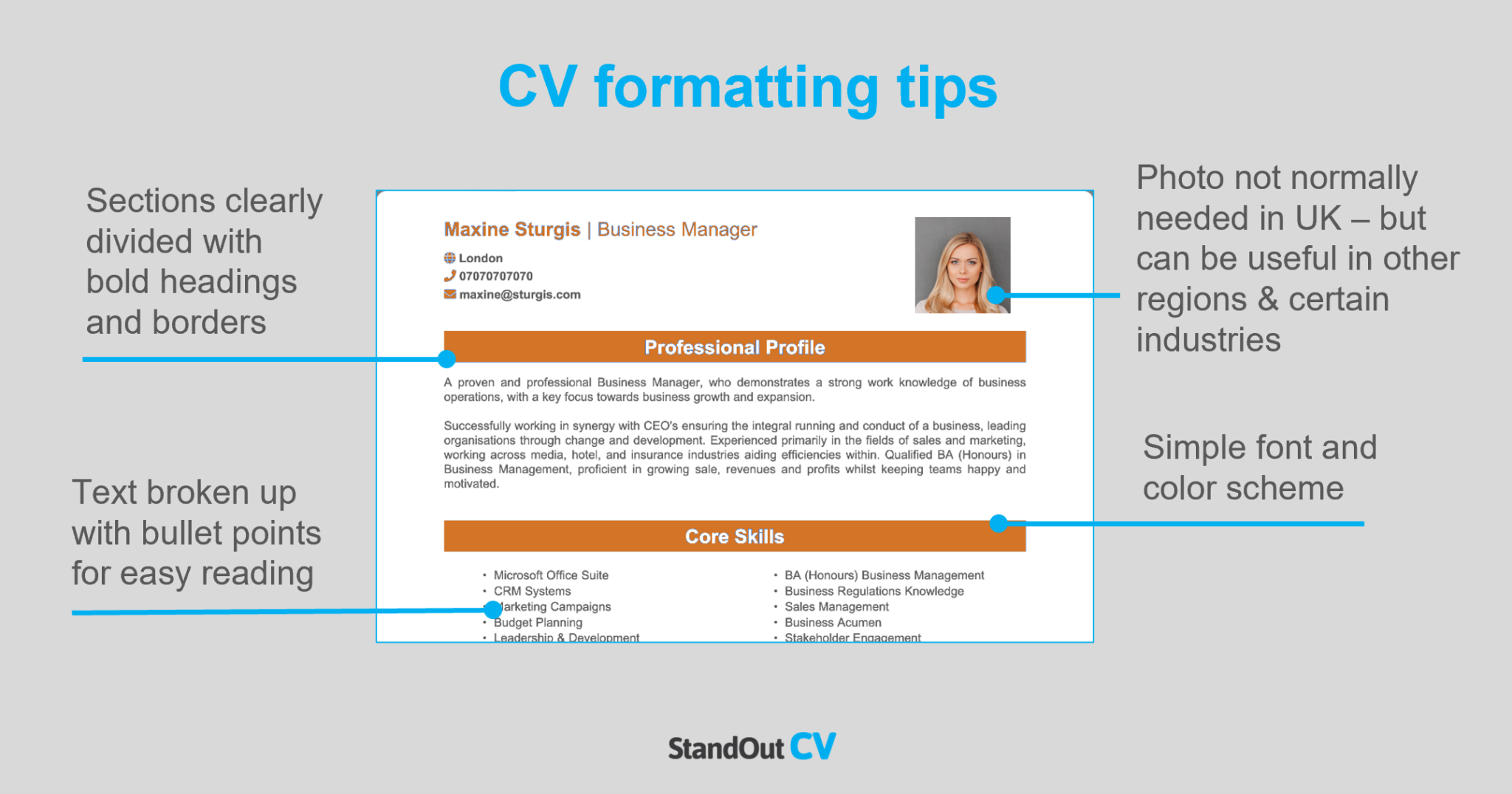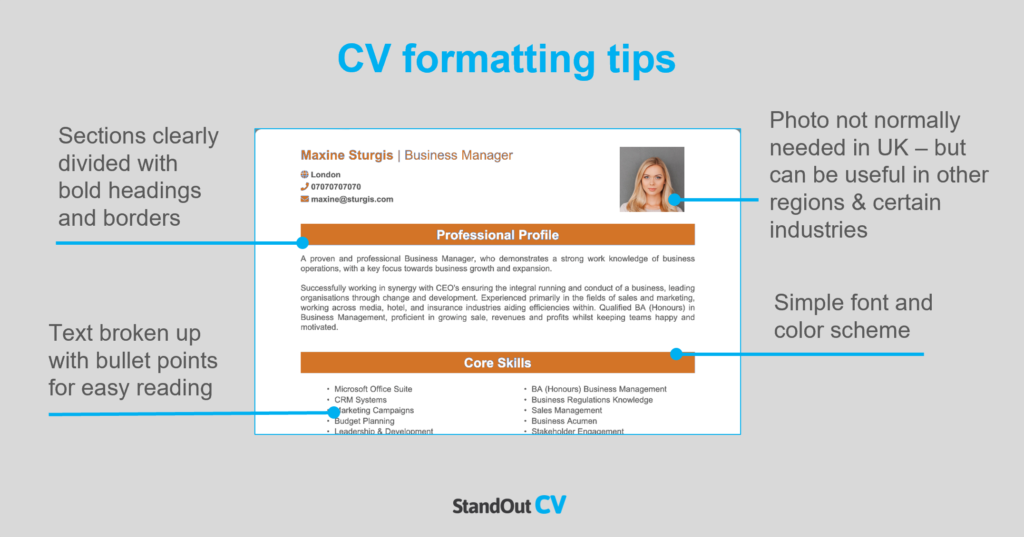 CV structure
As you write your CV, divide and sub-head into the following sections:
Name and contact details – Always start with these, so employers know exactly how to get in touch with you.
CV profile – Add a short summary of your relevant experience, skills and achievements, which highlights your suitability.
Core skills section – A 2-3 columned list of your key skills.
Work experience – A detailed list of any relevant work experience, whether paid or voluntary.
Education – An overview of your academic background and any training you may have completed.
Hobbies and interests – A brief overview of your hobbies and interests, if they're relevant (optional).
Now you understand the basic layout of a CV, here's what you should include in each section of yours.
Contact Details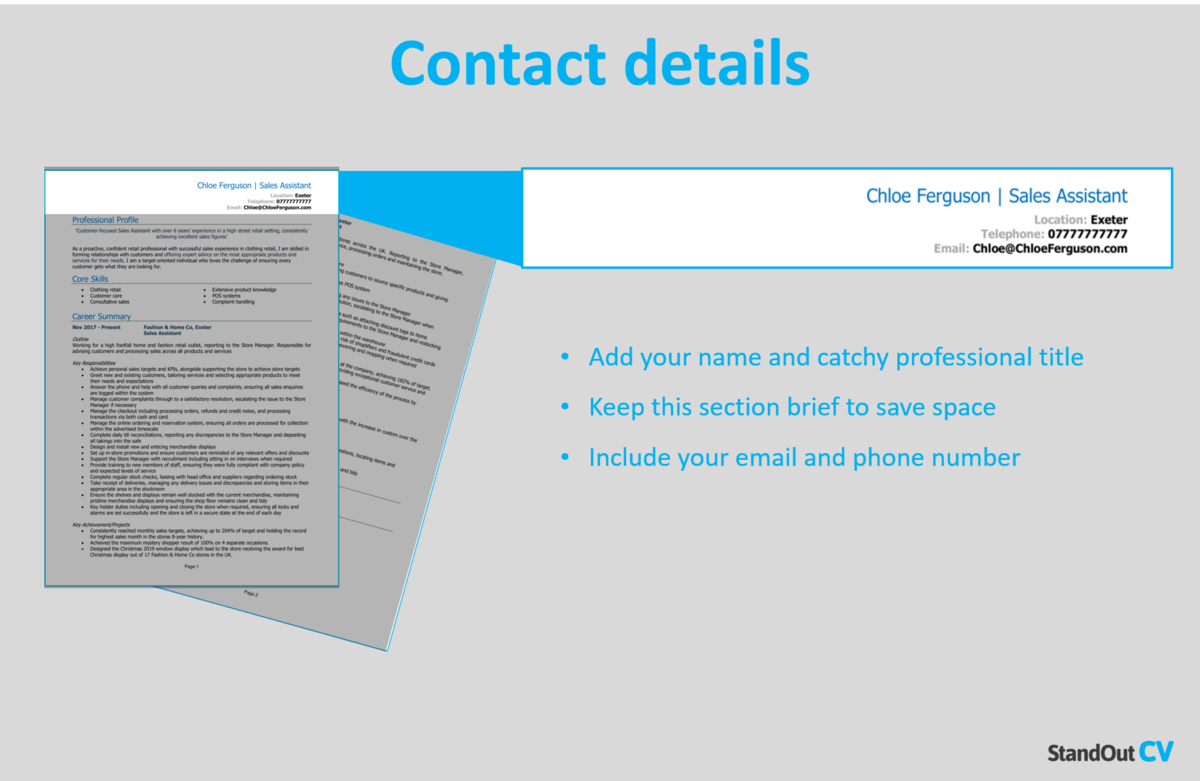 Write your contact details in the top corner of your CV, so that they're easy to find but don't take up too much space.
You only need to list your basic details, such as:
Mobile number
Email address
Location – Don't list your full address. Your town or city, such as 'Norwich' or 'Coventry' is perfect.
LinkedIn profile or portfolio URL – Remember to update these before listing them on an application.
Blockchain Developer CV Profile
Your CV profile is basically a short introductory paragraph, which summarises your key selling points and highlights why you'd make a good hire.
So, write a well-rounded summary of what you do, what your key skills are, and what relevant experience you have.
It needs to be short, snappy and punchy and, ultimately, entice the reader to read the rest of your CV.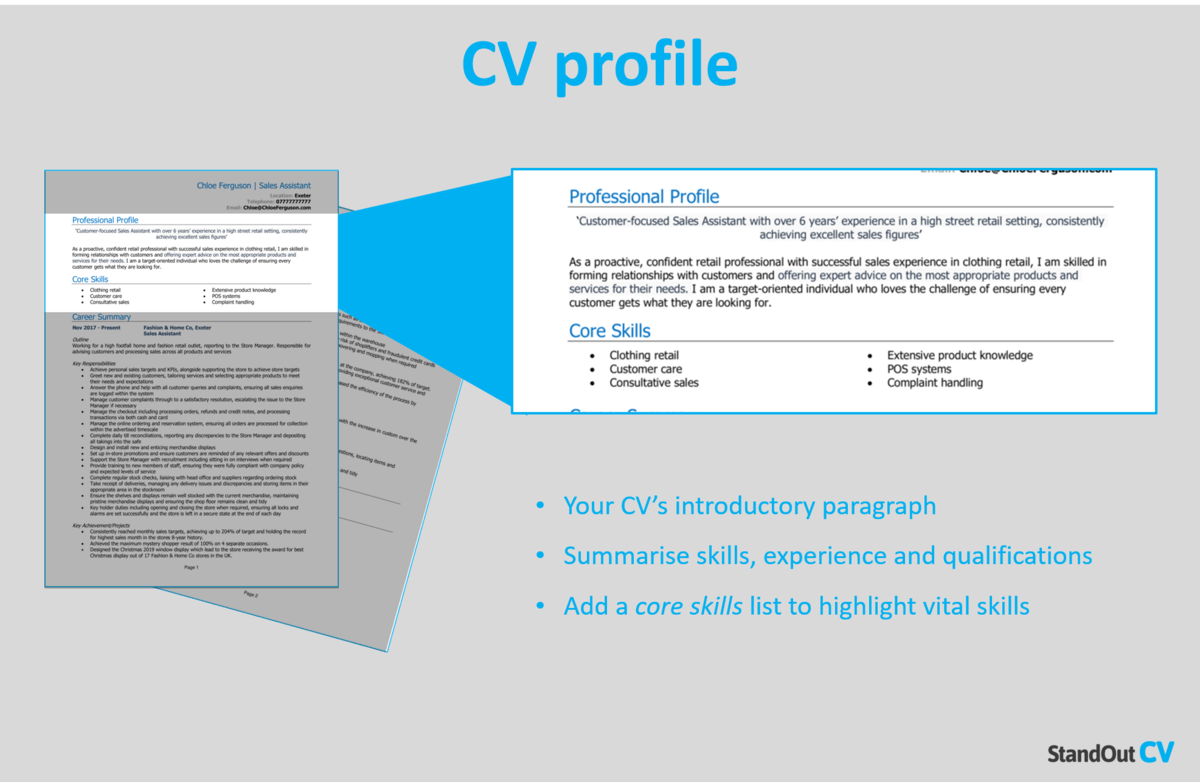 How to write a good CV profile:
Make it short and sharp: The best CV profiles are short, sharp and highly relevant to the target role. For this reason, it's best to write 3-4 lines of high-level information, as anything over might be missed.
Tailor it: Not tailoring your profile (and the rest of your CV) to the role you're applying for, is the worst CV mistake you could make. Before setting pen to paper, look over the job ad and make a note of the skills and experience required. Then, incorporate your findings throughout.
Don't add an objective: Leave your career objectives or goals out of your profile. You only have limited space to work with, so they're best suited to your cover letter.
Avoid generic phrases: Focus on fact, not fluff. Phrases like "Committed and enthusiastic thought-leader" and "Dynamic problem solver" might sound fancy, but they'll do nothing for your application. Not only do they sound cheesy, but they have no substance – stick to real skills and facts
Example CV profile for Blockchain Developer
Dedicated Blockchain Developer with experience in enabling secure and efficient digital transactions by creating systems and data structures that record and store cryptographic information in a way that prevents changes or hacking in token economies. Extensive knowledge of cutting-edge platforms, such as Ethereum, Hyperledger, Bitcoin Core, and R3 Corda. Familiar with ways of deploying smart contracts, such as Remix, Truffle suite, and Hardhat. Focused on revealing the unlimited potential of blockchain to millennials.
What to include in your Blockchain Developer CV profile?
Experience overview: Start with a brief summary of your relevant experience so far. How many years experience do you have? What type of companies have you worked for? What industries/sectors have you worked in? What are your specialisms?
Targeted skills: Employers need to know what skills you can bring to their organisation, and ideally they want to see skills that match their job vacancy. So, research your target roles thoroughly and add the most important Blockchain Developer skills to your profile.
Important qualifications: If the jobs you are applying to require candidates to have certain qualifications, then you must add them in your profile to ensure they are seen by hiring managers.
Quick tip: If you are finding it difficult to write an attention-grabbing CV profile, choose from hundreds of pre-written profiles across all industries, and add one to your CV with one click in our partner's CV Builder. All profiles are written by recruitment experts and easily tailored to suit your unique skillset.
Core skills section
To ensure that your most relevant skills catch the eye of readers, create a core skills section below your profile.
This section should be presented in 2-3 columns of bullet points highlighting your applicable skills. Before crafting this section, carefully examine the job description and create a list of any required skills, specialisms, or knowledge.
Use this list to include the necessary information in your section and present yourself as the ideal match for the position.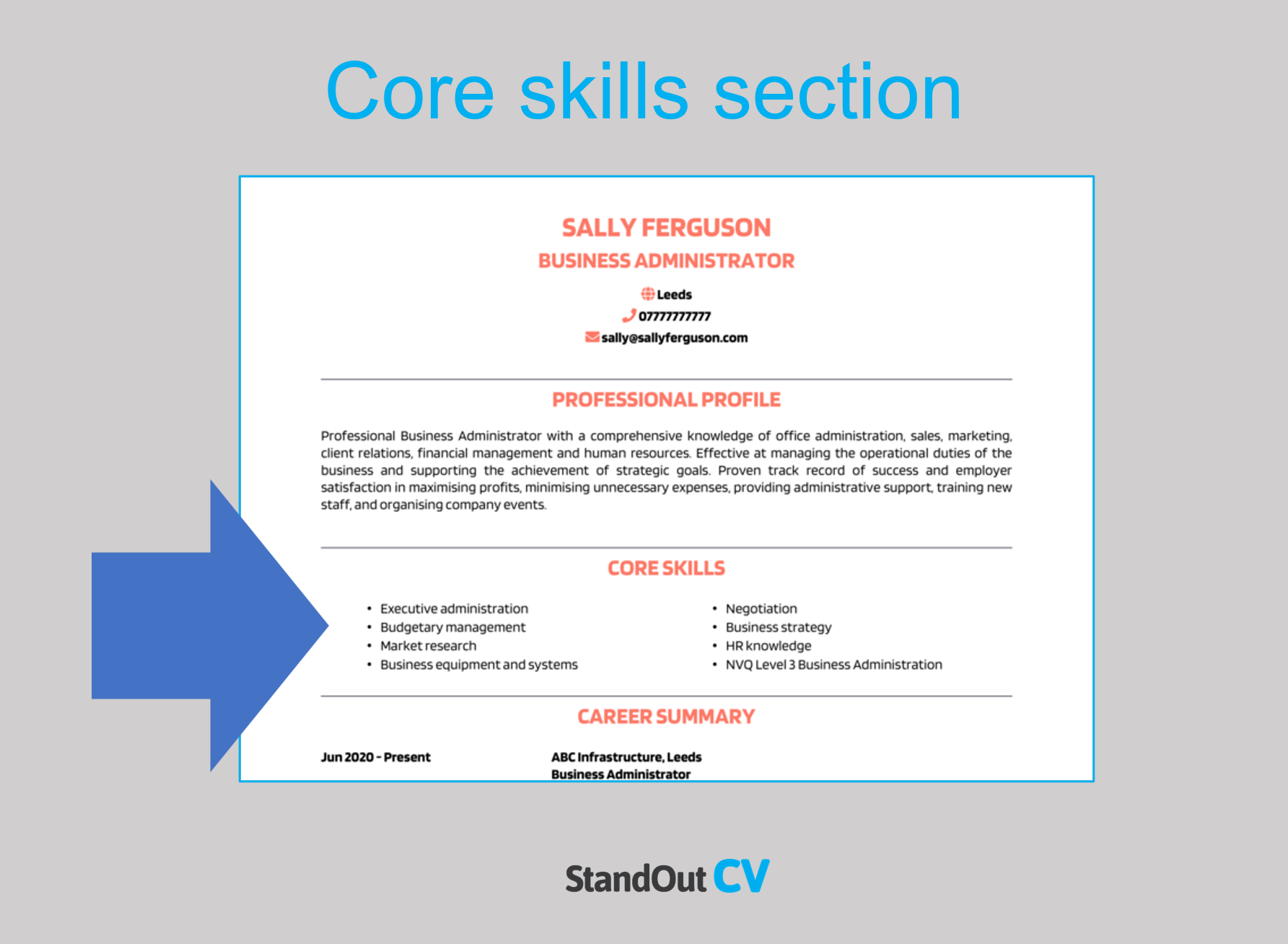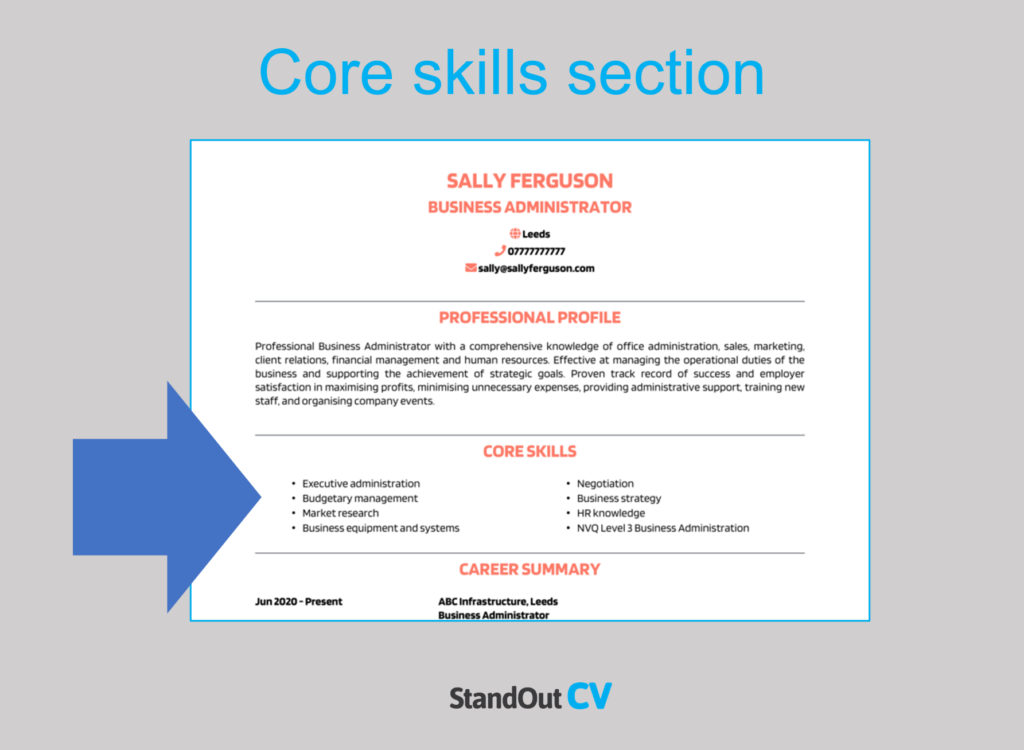 Important skills for your Blockchain Developer CV
Blockchain Development – Developing blockchain solutions using frameworks like Ethereum, Hyperledger, or Corda, including smart contract development and deployment.
Solidity Programming – Programming smart contracts using Solidity, the programming language for Ethereum-based blockchain platforms.
Distributed Ledger Technology – Utilising knowledge of the underlying principles and concepts of distributed ledger technology, including consensus algorithms, cryptography, and decentralised networks.
Smart Contract Development – Designing and implementing secure and efficient smart contracts that automate processes and transactions on the blockchain.
Blockchain Security – Utilising knowledge of best practices to ensure the security of blockchain networks, including secure key management, encryption, and vulnerability assessment.
Cryptography – Utilising knowledge of cryptographic algorithms and protocols used in blockchain systems, such as hashing, digital signatures, and encryption.
Web Development – Utilising web development technologies like HTML, CSS, and JavaScript, to build blockchain-based decentralised applications (DApps) and user interfaces.
API Integration – Integrating blockchain systems with external applications and services through APIs, enabling seamless data exchange and interoperability.
Testing and Debugging – Conducting thorough testing and debugging of blockchain applications to ensure their reliability, security, and performance.
Blockchain Governance – Utilising knowledge of blockchain governance models, including consensus mechanisms, network governance, and community-driven decision-making processes.
Quick tip: Our partner's CV Builder has thousands of in-demand skills for all industries and professions, that can be added to your CV in seconds – This will save you time and ensure you get noticed by recruiters.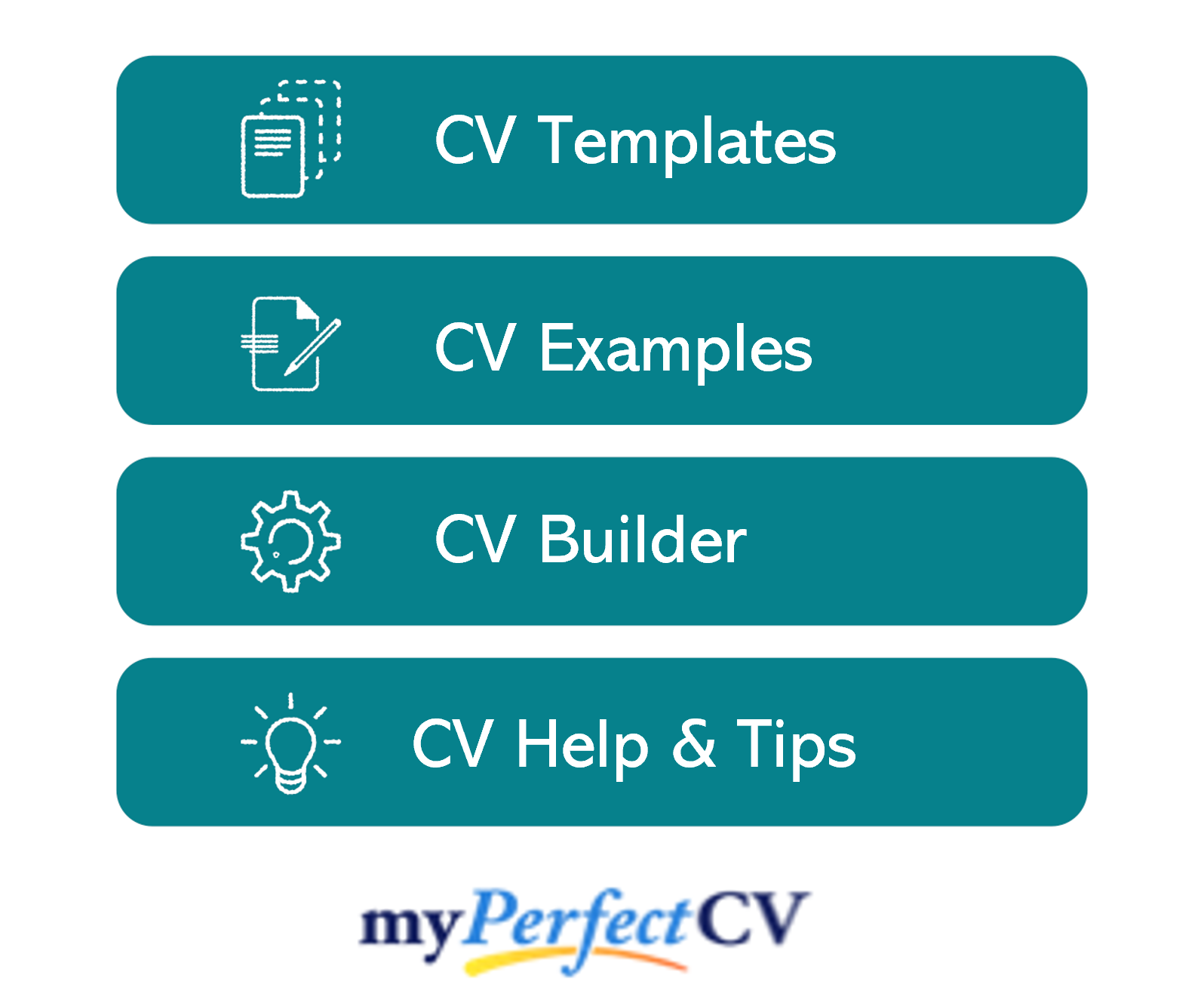 Work experience
Now it's time to get stuck into your work experience, which should make up the bulk of your CV.
Begin with your current (or most recent) job, and work your way backwards.
If you've got too much experience to fit onto two pages, prioritise space for your most recent and relevant roles.
Structuring each job
Whilst writing your CV, it's essential to look at it from the eyes of a recruiter.
If they're met with giant blocks of text which are impossible to navigate, they might get frustrated and skip onto the next CV.
Instead, make use of the 3-step structure shown below, to give them a pleasant reading experience.
Outline
Start with a brief summary of your role as a whole, as well as the type of company you worked for.
Key responsibilities
Follow with a snappy list of bullet points, detailing your daily duties and responsibilities.
Tailor it to the role you're applying for by mentioning how you put the target employer's desired hard skills and knowledge to use in this role.
Key achievements
Lastly, add impact by highlight 1-3 key achievements that you made within the role.
Struggling to think of an achievement? If it had a positive impact on your company, it counts.
For example, you might increased company profits, improved processes, or something simpler, such as going above and beyond to solve a customer's problem.
Sample job description for Blockchain Developer CV
Outline
Design, administer, and distribute scalable blockchain-based networks, for the world's leading cryptocurrency infrastructure provider with a state-of-the-art financial product suite that includes the largest digital asset exchange by volume.
Key Responsibilities
Collaborate with managers to determine blockchain tech needs and functionalities.
Support the development, delivery, and execution of DTLs across capital markets.
Perform complex analysis, testing, and debugging of computer software for distinct hardware or service lines of businesses.
Create client and server-side application features and interfaces by using scripting languages and writing multithreaded codes.
Quick tip: Create impressive job descriptions easily in our partner's CV Builder by adding pre-written job phrases for every industry and career stage.

Education section
Although there should be mentions of your highest and most relevant qualifications earlier on in your CV, save your exhaustive list of qualifications for the bottom.
If you're an experienced candidate, simply include the qualifications that are highly relevant to Blockchain Developer roles.
However, less experienced candidates can provide a more thorough list of qualifications, including A-Levels and GCSEs.
You can also dedicate more space to your degree, discussing relevant exams, assignments and modules in more detail, if your target employers consider them to be important.
Hobbies and interests
This section is entirely optional, so you'll have to use your own judgement to figure out if it's worth including.
If your hobbies and interests could make you appear more suitable for your dream job, then they are definitely worth adding.
Interests which are related to the industry, or hobbies like sports teams or volunteering, which display valuable transferable skills might be worth including.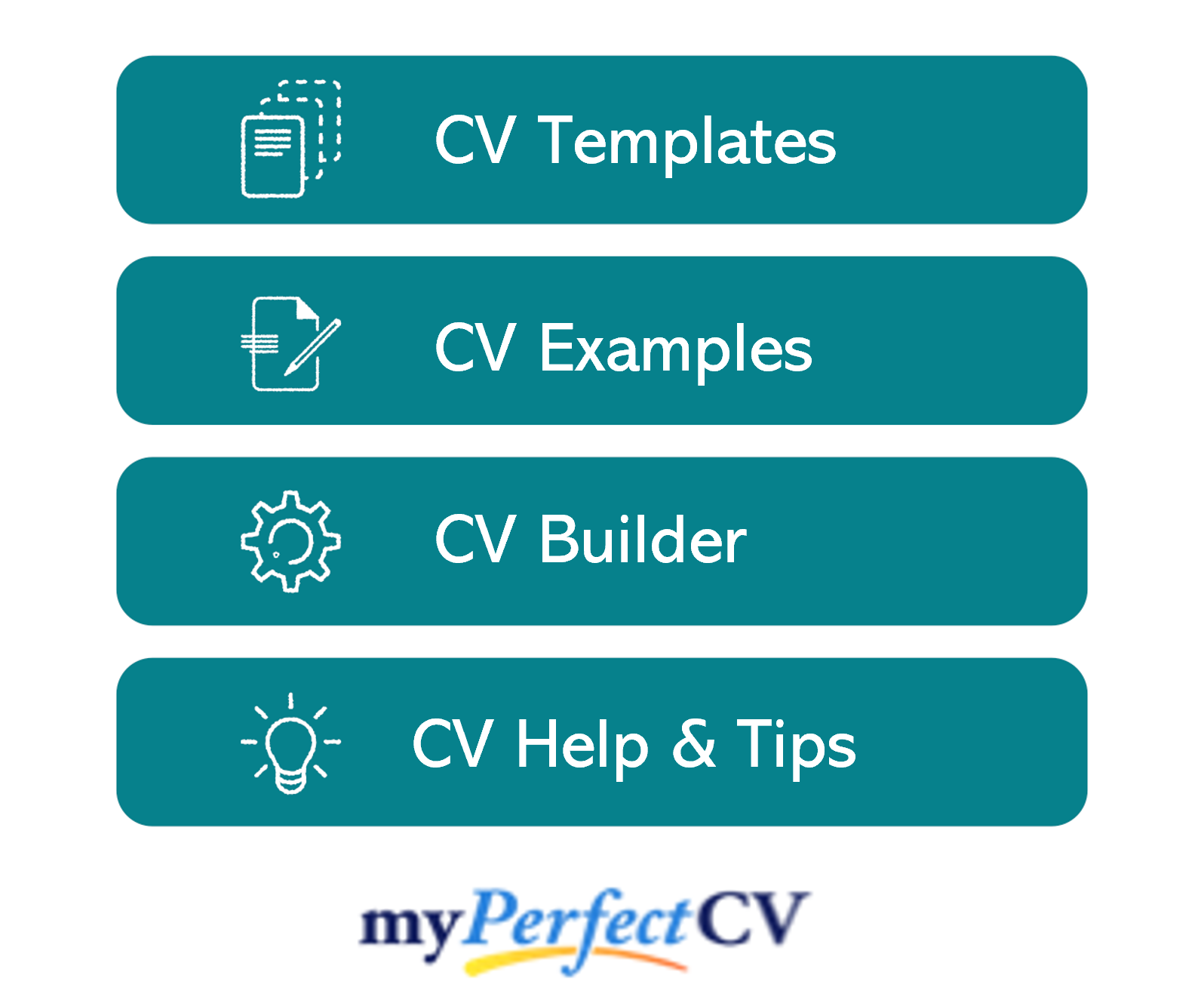 When putting together your Blockchain Developer CV, there are a few key points to remember
Always tailor your CV to the target role, even if it means creating several versions for different roles.
Additionally, remember that the structure and format of your CV needs just as much attention as the content.
Good luck with your job search!