Are you looking for a position assisting the finance manager with important day-to-day financial systems and processes?
Then you need a CV that's going to grab their attention, and the best way to reach any finance manager (and recruiter) is through numbers!
Below, we'll show you how to use facts and figures, along with a whole host of other writing tips to help you create a strong application. You can also use our assistant finance manager CV example.
Contents
| | |
| --- | --- |
| How to write a Assistant Finance Manager CV | |

Assistant Finance Manager CV example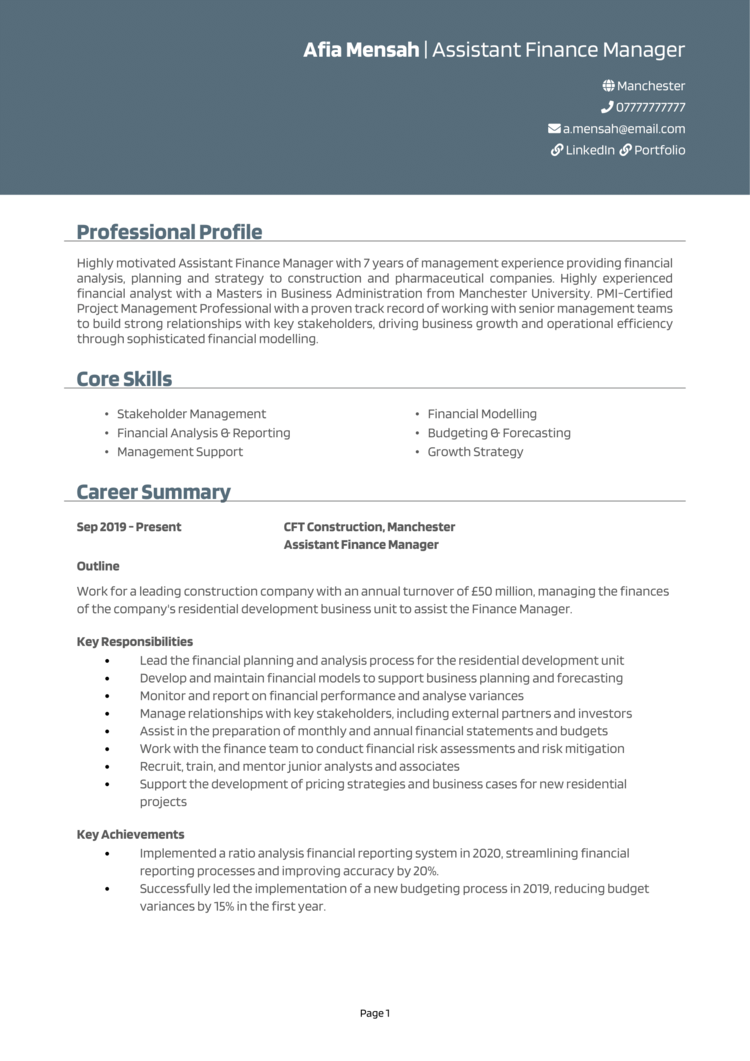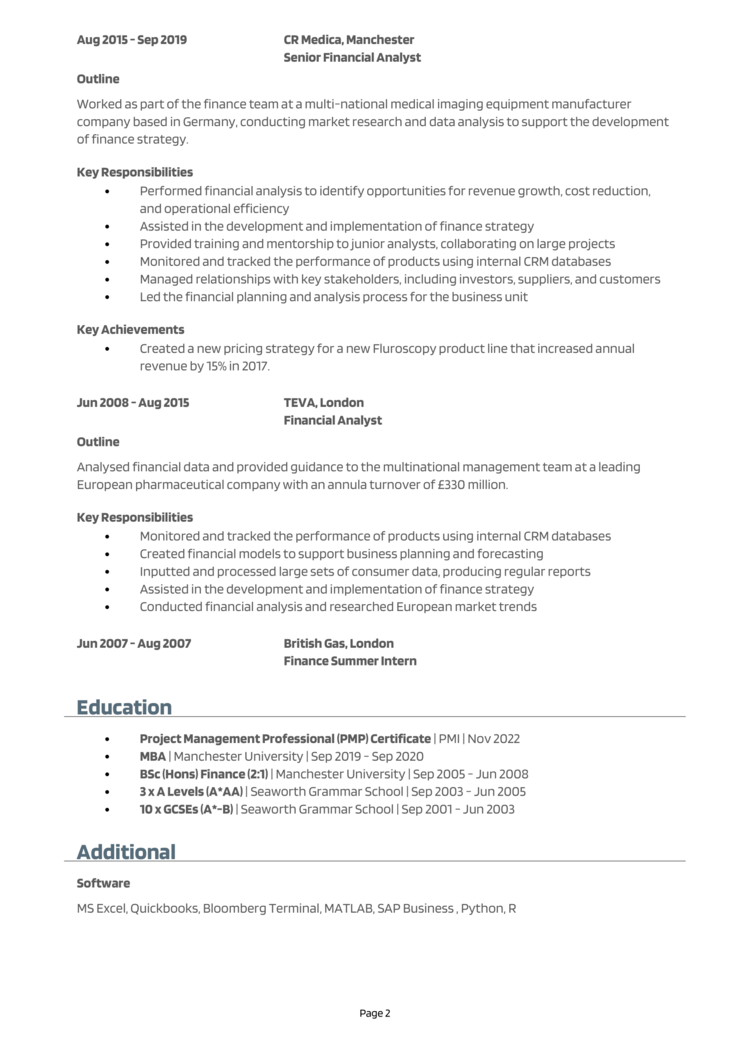 This is a good example of a Assistant Finance Manager CV which contains all of the information that a hiring manager will need to be impressed, and presents it in a well- structured, easy-to-read format.
Take some time to study and understand this CV, and refer to it throughout the writing of your own CV for best results.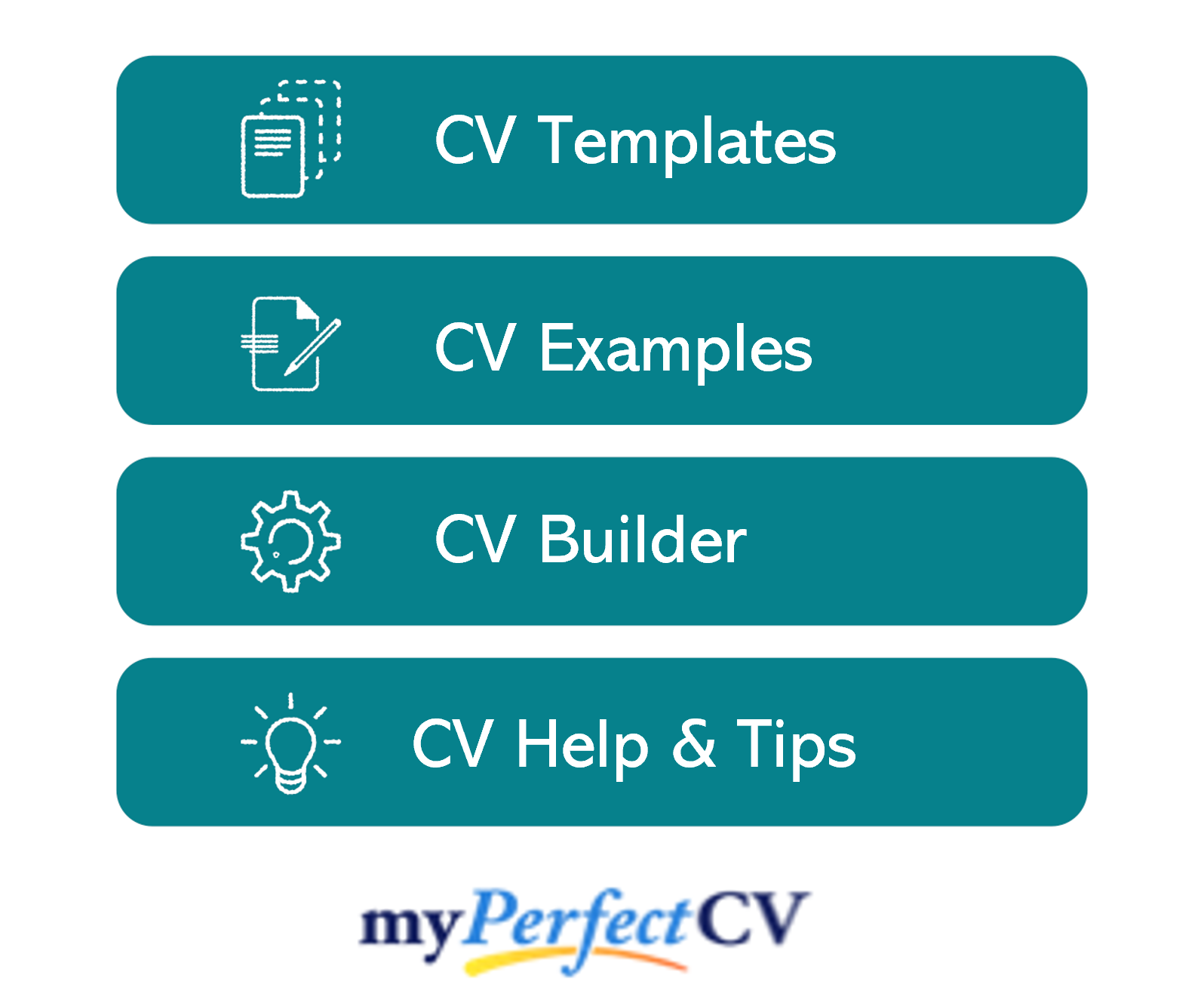 Assistant Finance Manager CV format and structure
The format and structure of your CV is important because it will determine how easy it is for recruiters and employers to read your CV.
If they can find the information they need quickly, they'll be happy; but if they struggle, your application could be overlooked.
A simple and logical structure will always create a better reading experience than a complex structure, and with a few simple formatting tricks, you'll be good to go.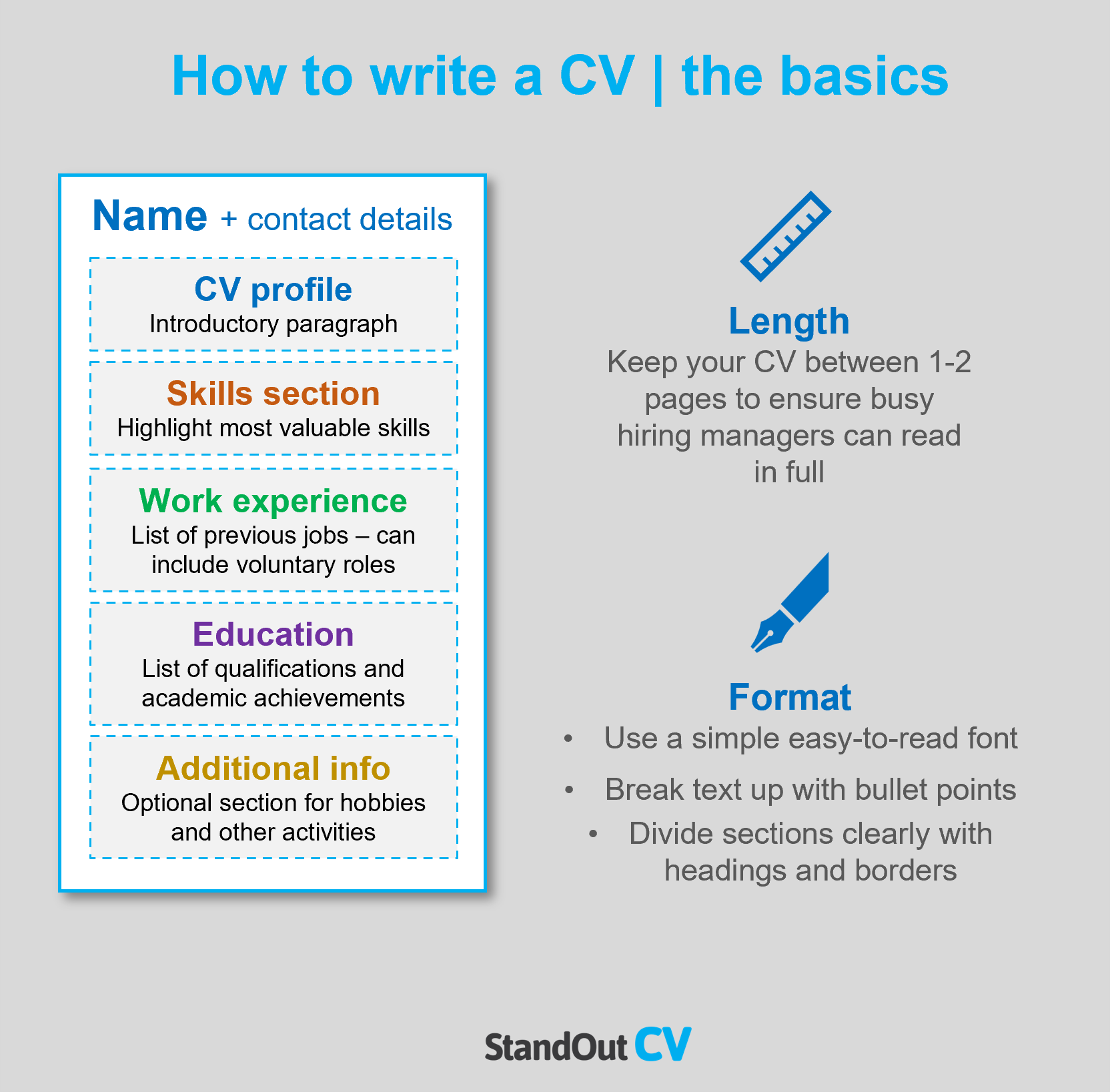 Tips for formatting your Assistant Finance Manager CV
Length: If you want to hold the reader's attention and ensure your CV isn't yawn-worthy, it's best to stick to two sides of A4 or less. This is more than enough room to highlight why you're a good match for the role – anything more can quickly become tedious!
Readability: Help out time-strapped recruiters by formatting your CV for easy reading. Using lots of bullet points and lists will help them to skim through your info, while clearly formatted headings will allow them to navigate towards the content which is most useful to them.
Design & format: When it comes to CV design, it's best to keep things simple and sleek. While elaborate designs certainly command attention, it's not always for the right reasons! Readability is key, so whatever you choose to do, make sure you prioritise readability above everything.
Photos: Recruiters can't factor in appearance, gender or race into the recruitment process, so a profile photo is not usually needed. However, creative employers do like to see them, so you can choose to include one if you think it will add value to your CV .
Quick tip: Creating a professional CV style can be difficult and time-consuming when using Microsoft Word or Google Docs. To create a winning CV quickly, try our partner's CV Builder and use one of their eye-catching professional CV templates.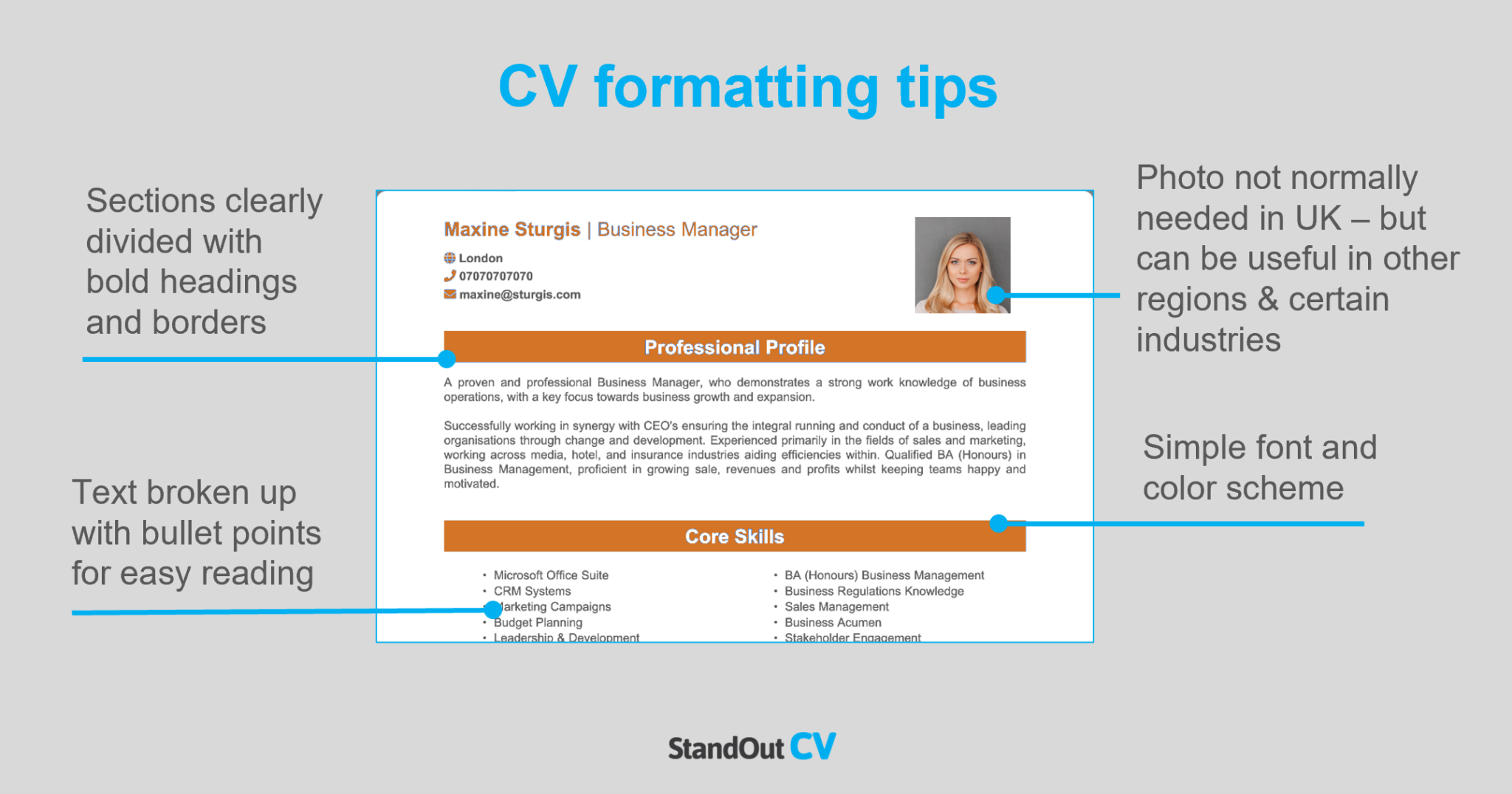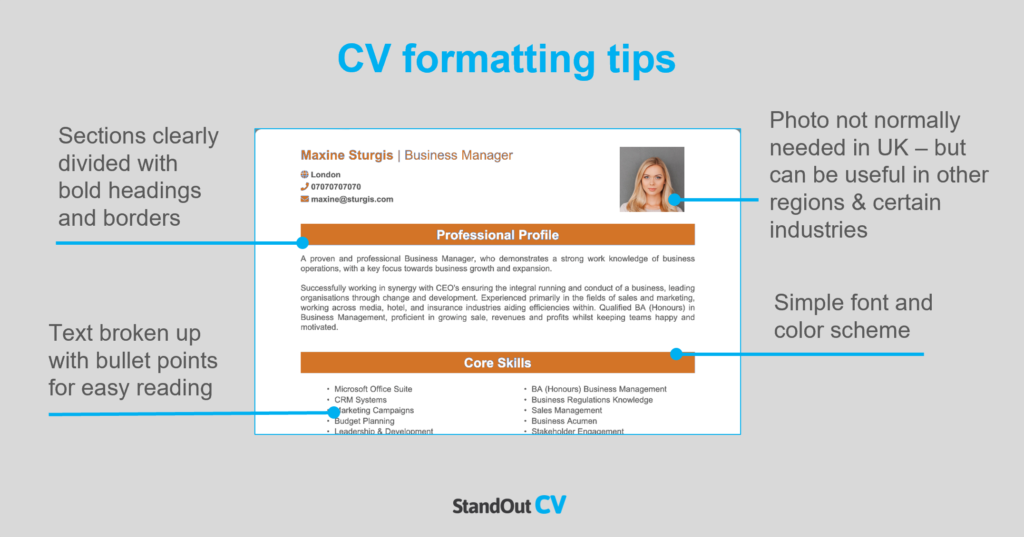 CV structure
To make it easy for busy recruiters and hiring managers to digest your CV, divide the content into several key sections when writing it:
Contact details: Always list your contact details at the very top to avoid them being missed.
Profile: Start with an introductory paragraph that catches recruiters' attention and summarises your offerings.
Work experience/career history: List your relevant work experience in reverse chronological order, starting with your current position.
Education: Provide a concise summary of your education and qualifications.
Interests and hobbies: You can include an optional section to showcase any hobbies that demonstrate transferable skills.
Now you understand the basic layout of a CV, here's what you should include in each section of yours.
Contact Details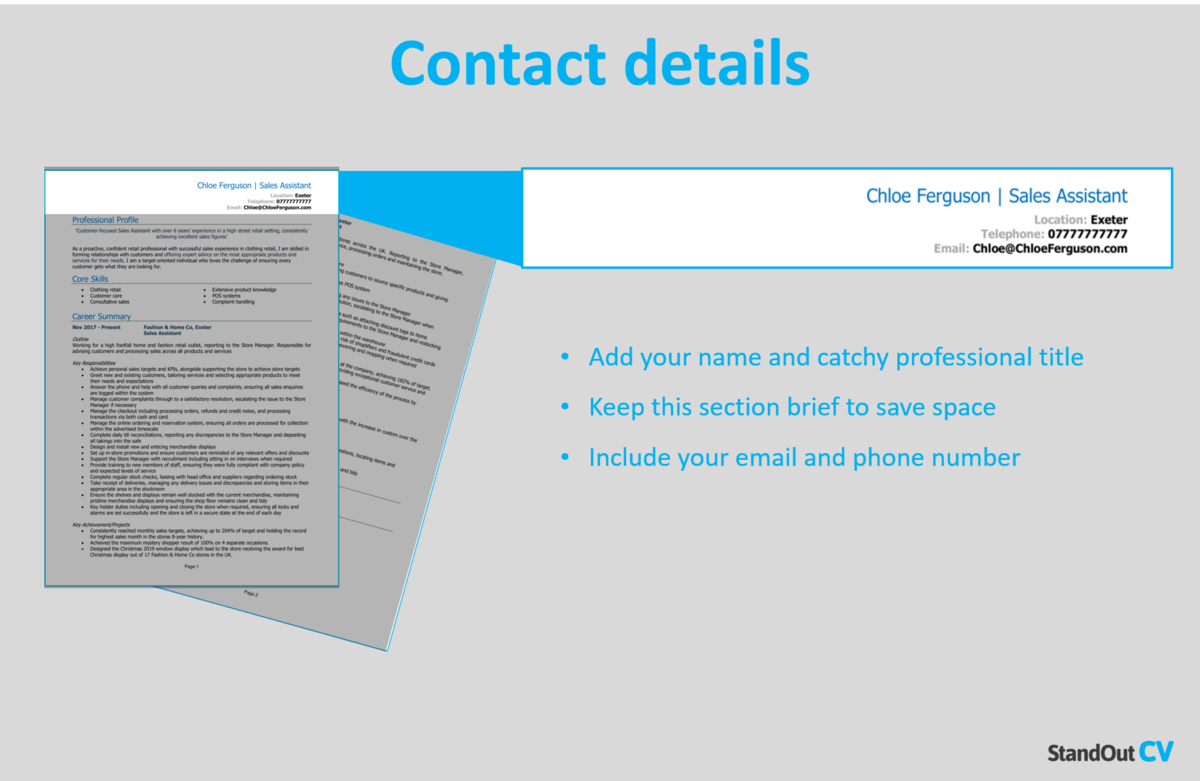 Start off your CV with a basic list of your contact details.
Here's what you should include:
Mobile number
Email address – It's often helpful to make a new email address, specifically for your job applications.
Location – Share your town or city; there's no need for a full address.
LinkedIn profile or portfolio URL – Make sure the information on them is coherent with your CV, and that they're up-to-date
Quick tip: Delete excessive details, such as your date of birth or marital status. Recruiters don't need to know this much about you, so it's best to save the space for your other CV sections.
Assistant Finance Manager CV Profile
To immediately capture the attention of recruiters, begin your CV with a powerful profile (or personal statement for junior applicants).
This is a brief introductory paragraph that summarises your skills, experience, and knowledge.
It should position you as the ideal candidate for the job and encourage recruiters to read on.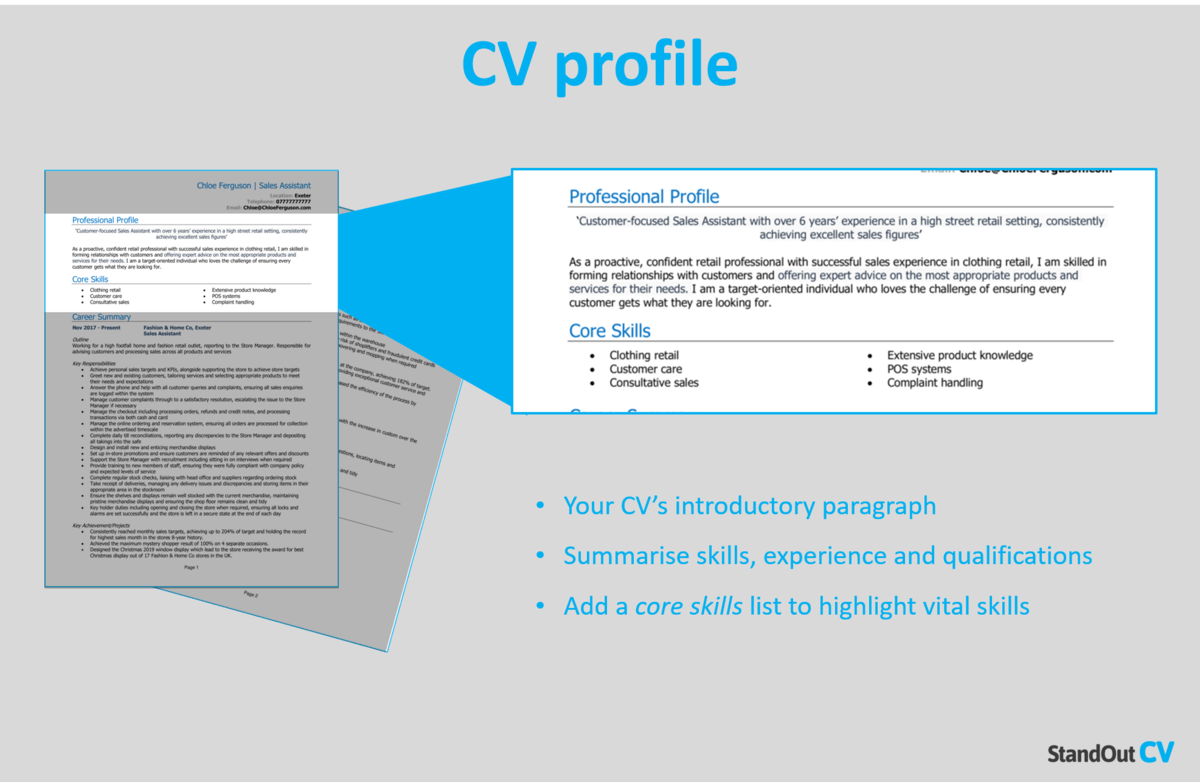 How to write a good CV profile:
Make it short and sharp: Aim for a short, snappy paragraph of 3-5 lines. This is just enough room to showcase why you'd make the perfect hire, without going into excessive detail and overwhelming busy recruiters.
Tailor it: No matter how much time you put into your CV profile, it won't impress if it's irrelevant to the role you're applying for. Before you start writing, make a list of the skills, knowledge and experience your target employer is looking for. Then, make sure to mention them in your CV profile and throughout the rest of your application.
Don't add an objective: You only have a small space for your CV profile, so avoid writing down your career goals or objectives. If you think these will help your application, incorporate them into your cover letter instead.
Avoid generic phrases: If your CV is riddled with clichès like "Dynamic thought-leader", hit that delete button. Phrases like these are like a broken record to recruiters, who read them countless times per day. Hard facts, skills, knowledge and results are sure to yield far better results.
Example CV profile for Assistant Finance Manager
Highly motivated Assistant Finance Manager with 7 years of management experience providing financial analysis, planning and strategy to construction and pharmaceutical companies. Highly experienced financial analyst with a master's in business administration from Manchester University. PMI-Certified Project Management Professional with a proven track record of working with senior management teams to build strong relationships with key stakeholders, driving business growth and operational efficiency through sophisticated financial modelling.
What to include in your Assistant Finance Manager CV profile?
Experience overview: Recruiters will want to know what type of companies you've worked for, industries you have knowledge of, and the type of work you've carried out in the past, so give them a summary of this in your profile.
Targeted skills: Make your most relevant Assistant Finance Manager key skills clear in your profile. These should be tailored to the specific role you're applying for – so make sure to check the job description first, and aim to match their requirements as closely as you can.
Important qualifications: If you have any qualifications which are highly relevant to Assistant Finance Manager jobs, then highlight them in your profile so that employers do not miss them.
Quick tip: If you are finding it difficult to write an attention-grabbing CV profile, choose from hundreds of pre-written profiles across all industries, and add one to your CV with one click in our partner's CV Builder. All profiles are written by recruitment experts and easily tailored to suit your unique skillset.
Core skills section
To ensure that your most relevant skills catch the eye of readers, create a core skills section below your profile.
This section should be presented in 2-3 columns of bullet points highlighting your applicable skills. Before crafting this section, carefully examine the job description and create a list of any required skills, specialisms, or knowledge.
Use this list to include the necessary information in your section and present yourself as the ideal match for the position.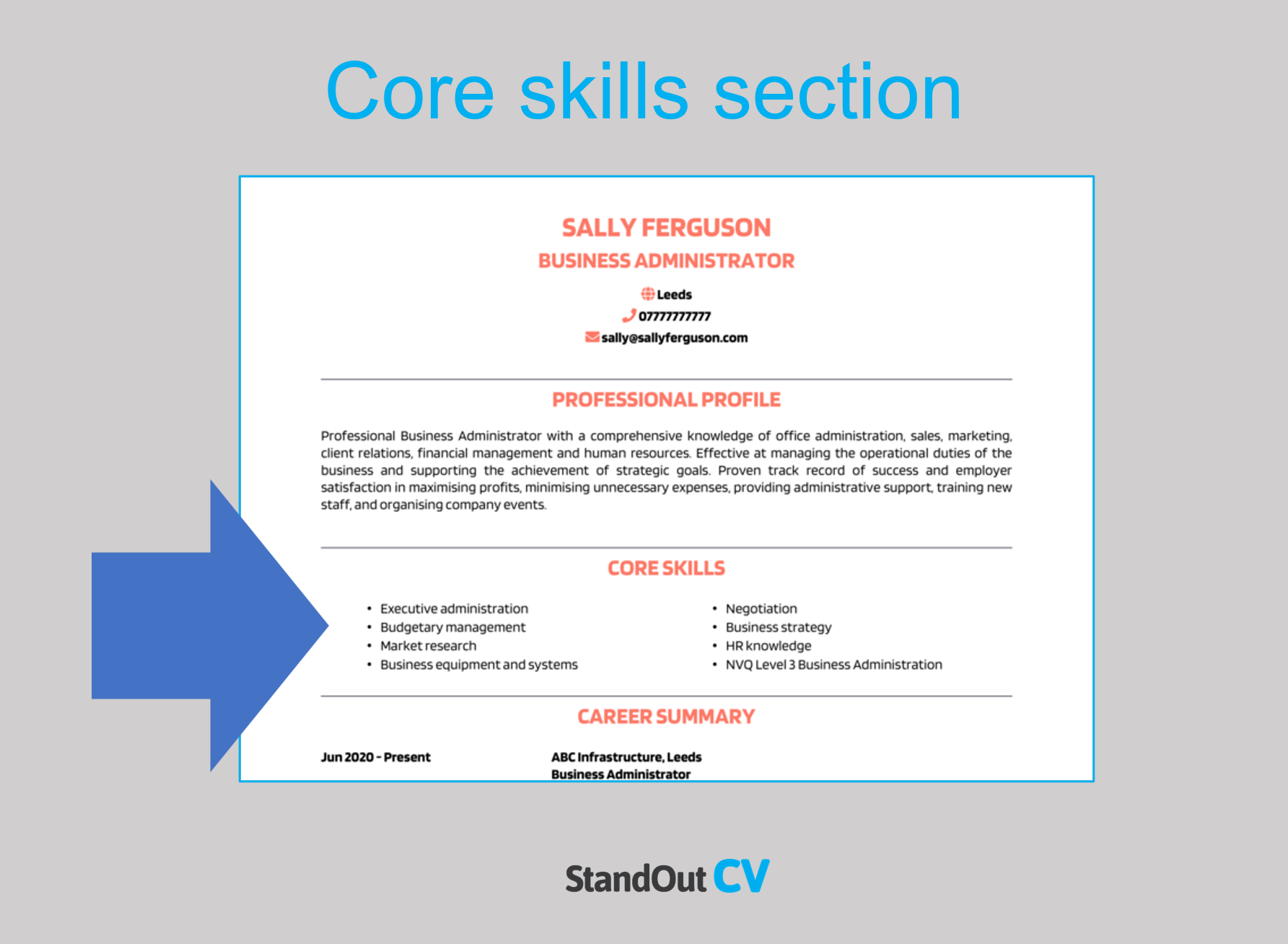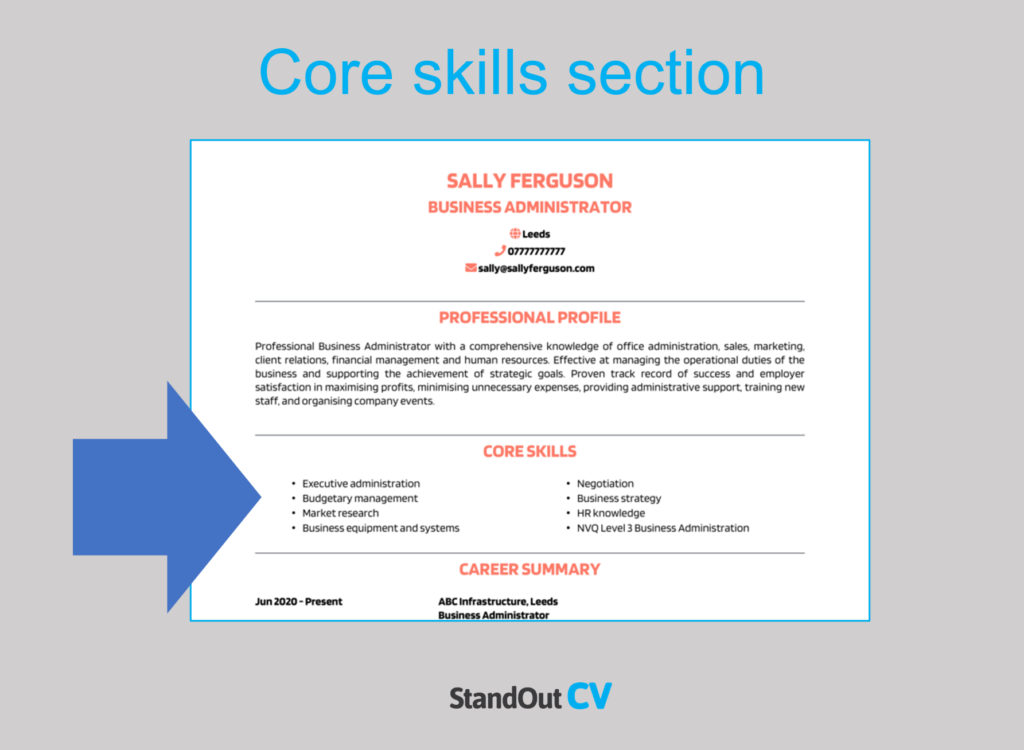 Important skills for your Assistant Finance Manager CV
Financial Analysis – Analysing financial data, interpreting financial statements, and identifying trends and patterns to support decision-making.
Budgeting and Forecasting – Preparing budgets, conducting financial forecasting, and monitoring actual performance against planned targets.
Financial Reporting – Preparing accurate and timely financial reports, including income statements, balance sheets, and cash flow statements.
Taxation – Utilising knowledge of UK tax laws and regulations, including corporate tax, VAT, and payroll taxes, to ensure compliance.
Cost Control – Utilising knowledge of cost control measures and techniques to identify cost-saving opportunities and optimise financial performance.
Financial Systems – Utilising financial software and systems, such as ERP systems, to manage financial data and streamline processes.
Risk Management – Utilising knowledge of risk assessment and mitigation strategies, including identifying and addressing financial risks and ensuring compliance with regulations.
Cash Flow Management – Managing cash flow, including monitoring cash inflows and outflows, optimising working capital, and managing liquidity.
Financial Planning and Strategy – Contributing to financial planning and strategic decision-making, including evaluating investment opportunities, and assessing financial viability.
Stakeholder Management – Engaging with stakeholders, including senior management, auditors, and regulatory bodies.
Quick tip: Our partner's CV Builder has thousands of in-demand skills for all industries and professions, that can be added to your CV in seconds – This will save you time and ensure you get noticed by recruiters.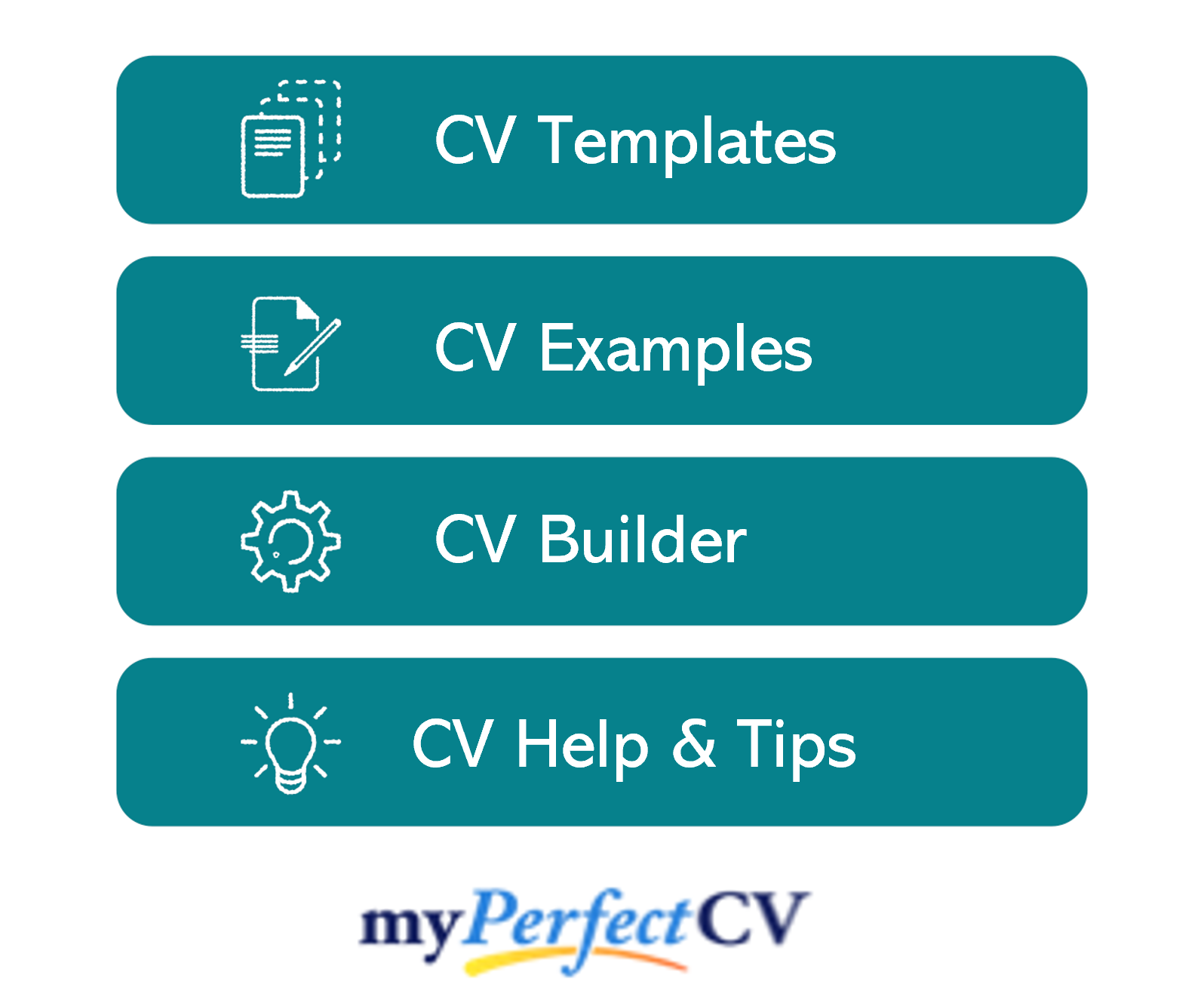 Work experience
Now that recruiters have a good overview of your skills and abilities, you need to jump into the detail of your career history.
Give them a more thorough insight into what you can do by creating a detailed list of your relevant experience.
Start with your current role, and work backwards through all the relevant positions you've held.
This could be freelance, contract or voluntary work too; as long as it's related to the role you're applying for.
Structuring each job
Your work experience section will be long, so it's important to structure it in a way which helps recruiters to quickly and easily find the information they need.
Use the 3-step structure, shown in the below example, below to achieve this.
Outline
Start with a 1-2 sentence summary of your role as a whole, detailing what the goal of your position was, who you reported to or managed, and the type of organisation you worked for.
Key responsibilities
Next up, you should write a short list of your day-to-day duties within the job.
Recruiters are most interested in your sector-specific skills and knowledge, so highlight these wherever possible.
Key achievements
Round up each role by listing 1-3 key achievements, accomplishments or results.
Wherever possible, quantify them using hard facts and figures, as this really helps to prove your value.
Sample job description for Assistant Finance Manager CV
Outline
Working for a leading construction company with an annual turnover of £50 million, managing the finances of the company's residential development business unit to assist the Finance Manager.
Key Responsibilities
Lead the financial planning and analysis process for the residential development unit
Develop and maintain financial models to support business planning and forecasting
Monitor and report on financial performance and analyse variances
Manage relationships with key stakeholders, including external partners and investors
Quick tip: Create impressive job descriptions easily in our partner's CV Builder by adding pre-written job phrases for every industry and career stage.

Education section
Although there should be mentions of your highest and most relevant qualifications earlier on in your CV, save your exhaustive list of qualifications for the bottom.
If you're an experienced candidate, simply include the qualifications that are highly relevant to Assistant Finance Manager roles.
However, less experienced candidates can provide a more thorough list of qualifications, including A-Levels and GCSEs.
You can also dedicate more space to your degree, discussing relevant exams, assignments and modules in more detail, if your target employers consider them to be important.
Hobbies and interests
The hobbies and interests CV section isn't mandatory, so don't worry if you're out of room by this point.
However, if you have an interesting hobby, or an interest that could make you seem more suitable for the role, then certainly think about adding.
Be careful what you include though… Only consider hobbies that exhibit skills that are required for roles as a Assistant Finance Manager, or transferable workplace skills.
There is never any need to tell employers that you like to watch TV and eat out.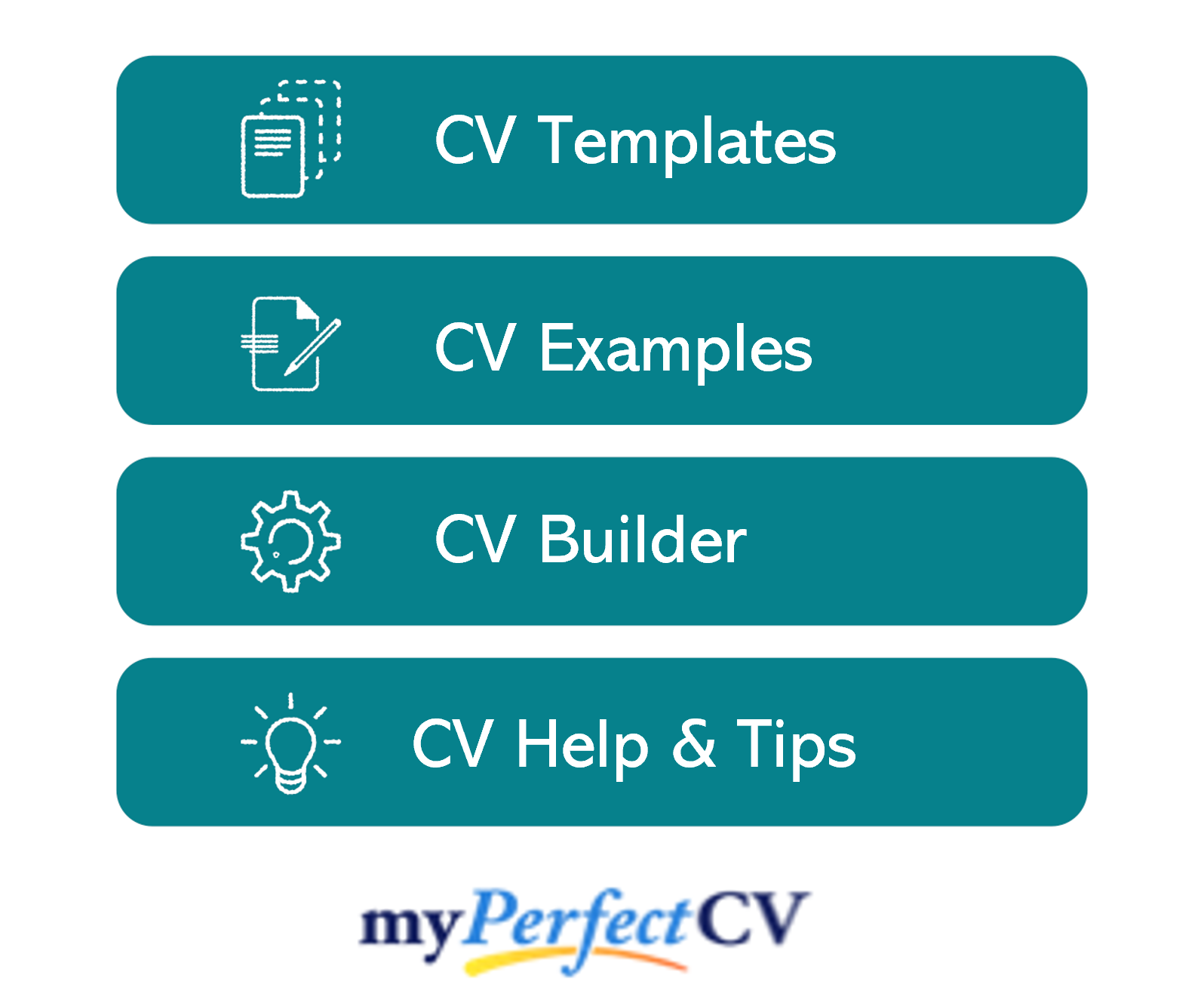 A strong, compelling CV is essential to get noticed and land interviews with the best employers.
To ensure your CV stands out from the competition, make sure to tailor it to your target role and pack it with sector-specific skills and results.
Remember to triple-check for spelling and grammar errors before hitting send.
Good luck with the job search!