You're caring and nurturing, and you love looking after children; you're ticking all the right boxes for a nanny. But how do you prove this to potential employers?
Nanny positions can be competitive, so you need to write a resume that goes above and beyond to highlight your relevant qualities, skills, and experience.
If you're not sure where to start, that's OK! Below, we've created a resume-writing guide, along with a nanny resume example to inspire your own.
Contents
| | |
| --- | --- |
| How to write a Nanny resume | |

Nanny Resume Example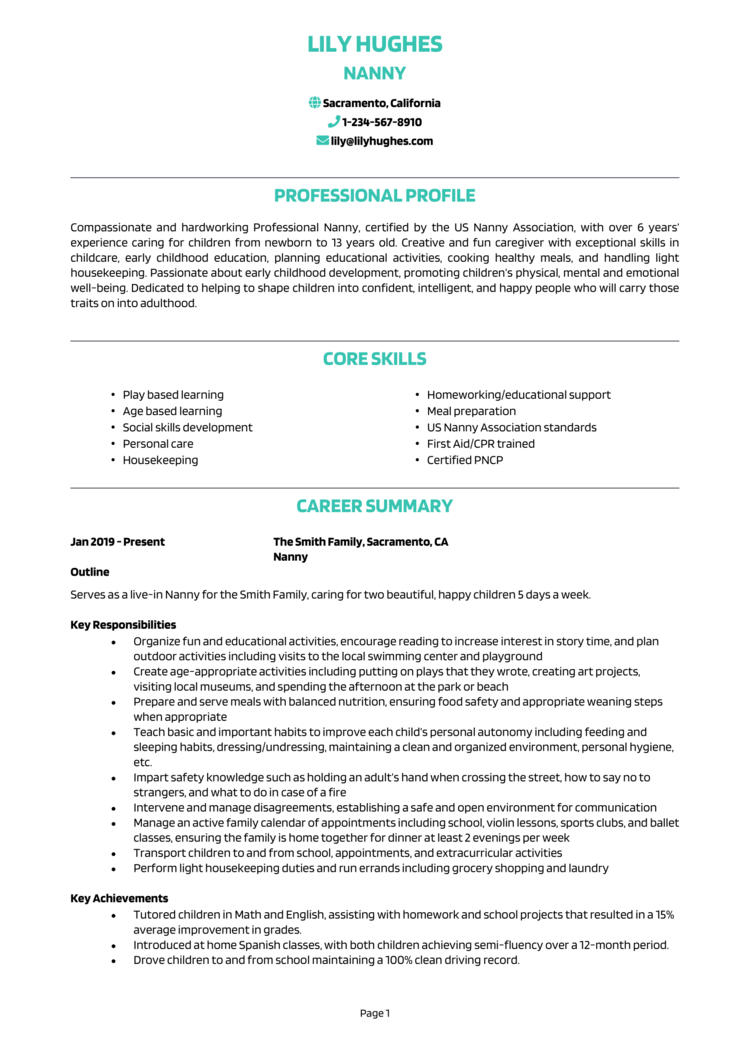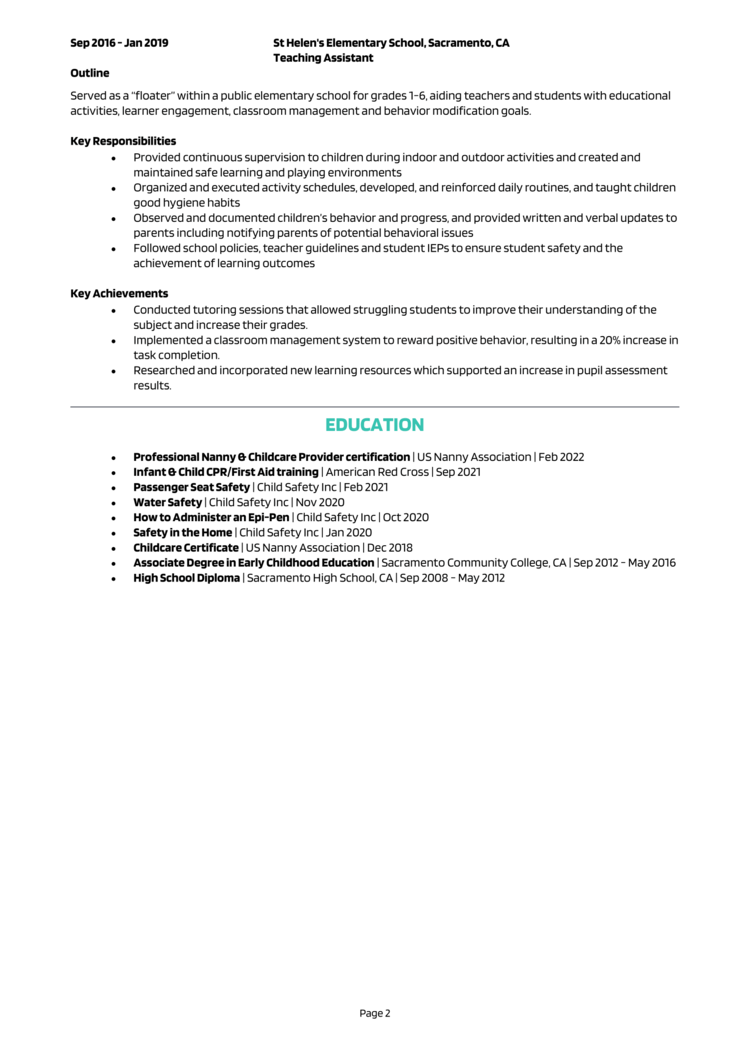 This Nanny resume example shows you the most effective layout for a modern resume, along with the type of content you need to include.
Stick closely to these guidelines as you write your own resume, to maximize your chances of getting responses, interviews and job offers.
Now lets dive into the details of how you write your own eye-catching resume…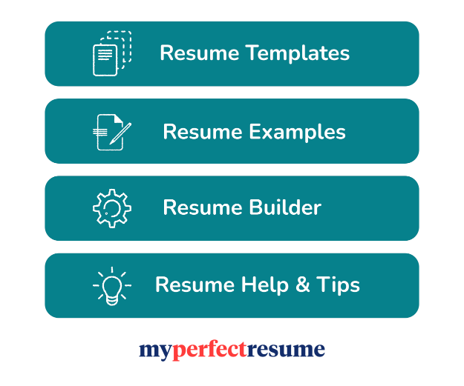 Nanny resume layout and format
Your resume layout and format will play a big role in helping hiring managers to take notice of your resume and stay glued to it.
Shoot for a simple yet professional look to ensure you make a strong first impression, and organize the page in a way that is easy for readers to digest the information.
The following formatting tips should help.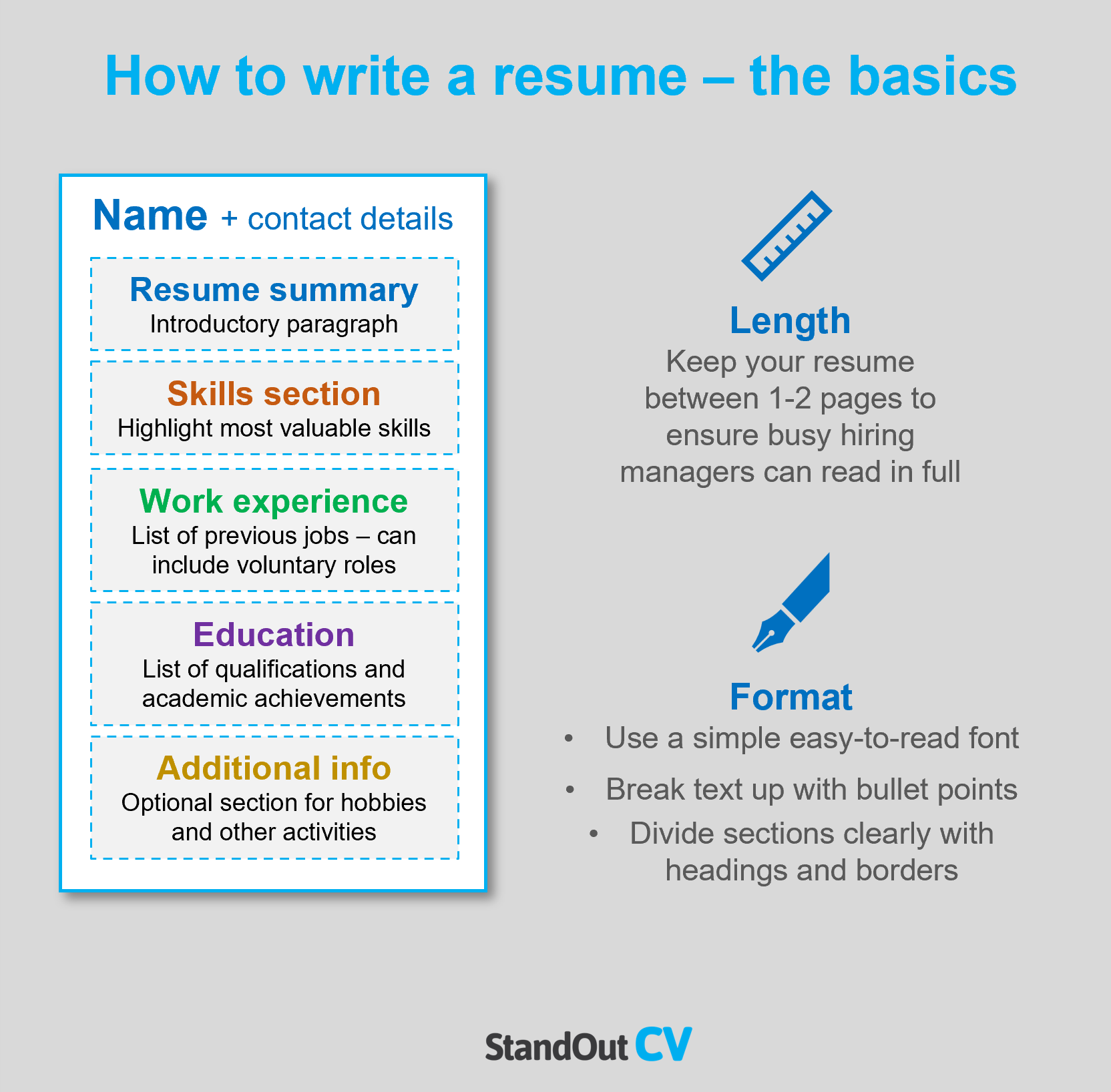 Tips for resume formatting
Length: Attention spans in recruitment are notoriously short, so keep your resume short and sweet. There's no exact rule for resume length, but aim for 2 pages or less if you want to ensure yours gets read in full.
Font and text: Complex fonts are a readers' worst nightmare and will leave recruiters struggling to understand your message. Use a clear simple lean font in a color that stands out against the page, and break your text up with bullet points to make the content easily digestible.
Design & structure: Go with a resume design that looks good, but also allows for easy reading and navigation for employers. Ensure the page is clearly split up into sections by adding large font headings and dividing borders. Keep the color scheme simple and don't overcrowd the page.
Photos and images: It's not mandatory to add a photo to your resume in the USA but it if you're applying to organizations within the creative fields, it can be beneficial.
Quick tip: Formatting a resume to look professional can be difficult and time-consuming. If you want to create an attractive resume quickly, try our partner's Resume Builder and use one of their eye-catching resume templates.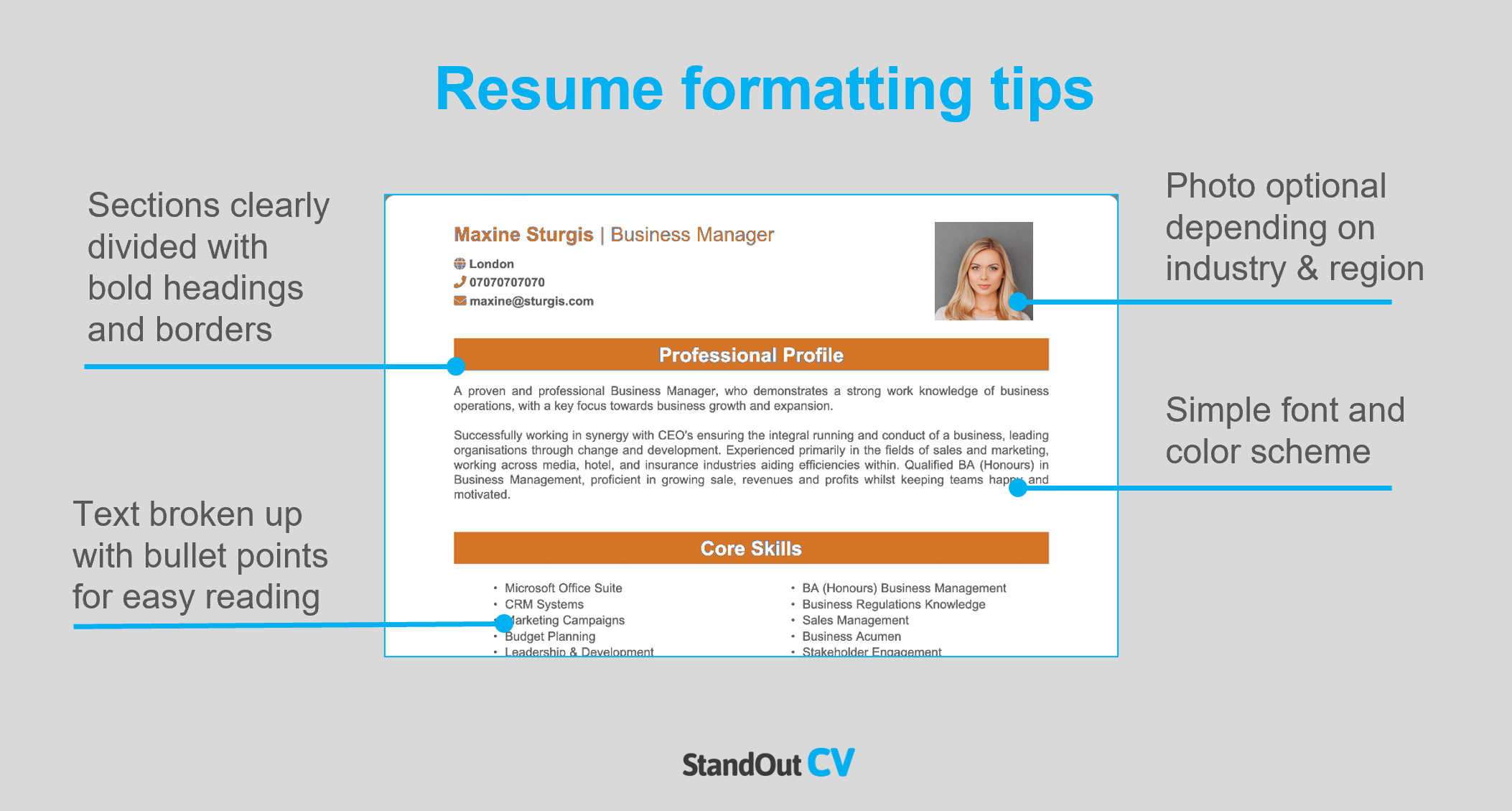 Resume layout
Organize the document into these sections when you write your resume.
Name and contact details – Employers need to know how to get in touch with you – so list your email and cell phone number here.
Resume summary – An intro paragraph at the top of the resume which summarizes your suitability for target jobs.
Skills section – A bullet-pointed list of your most relevant skills and knowledge.
Work experience – A list of your previous jobs (or at least the most relevant and recent ones)
Education – Add academic and professional qualifications that prove you can carry out the job
Additional info – If they are relevant to the jobs you are applying for, you can add an extra section for things like hobbies and interests.
Now, here's what to include in each of these sections in your resume.
Resume Contact Details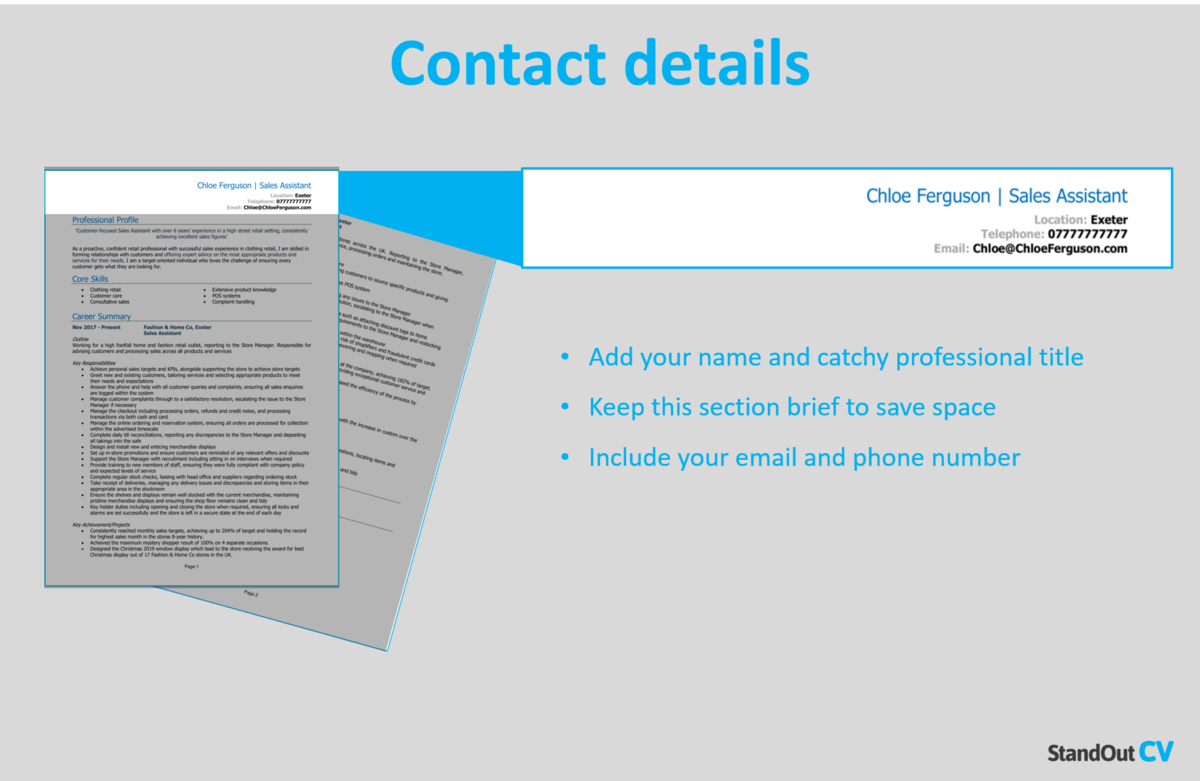 Add your name and contact details to the very top of your resume, making it easy for recruiters to get in touch
Name and profession title
Cell phone number – or another number you can answer quickly
Location – Add your local area such as San Diego or New York – not your full address as that will take up too much space.
Email address – Use your name or close variation – no nicknames from high school.
You can add a link to your LinkedIn profile if you have one – you do not need to include personal details like date of birth or marital status.
Nanny Resume Summary
Your resume summary is like an elevator pitch. It's your chance to sell yourself to employers within a short space of time.
Achieve this by summarizing your skills and expertise, whilst highlighting your abilities that closely match the jobs you are aiming for.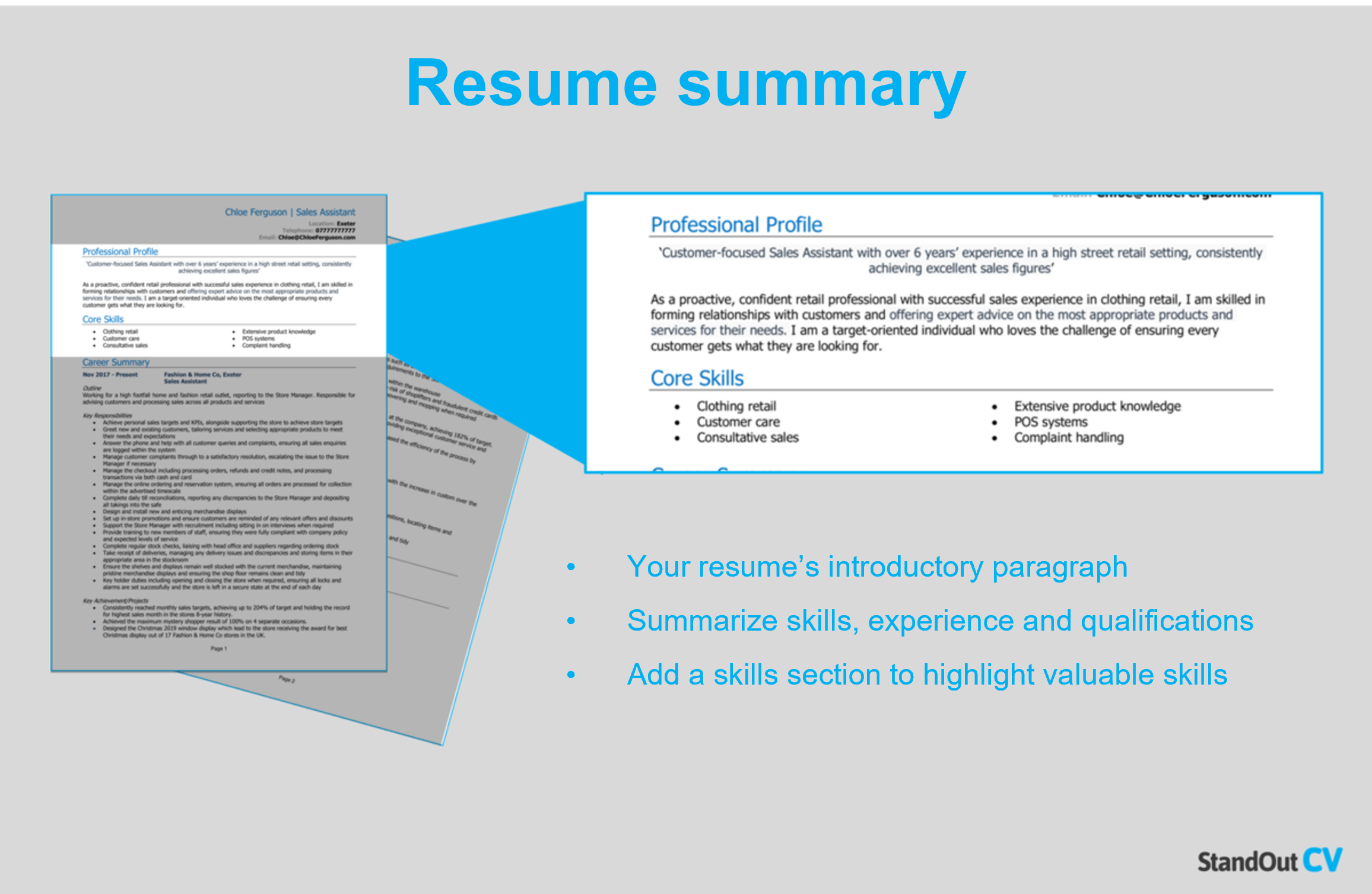 Top tips for creating an effective resume summary:
Keep it brief: Aim for a short punchy paragraph of 4-7 lines. This is just enough info to showcase why you'd make the perfect hire, without going into excessive detail and overwhelming busy recruiters at such an early stage in the resume.
Tailor it: Optimize your summary to match the requirements of your target jobs, by mirroring the key words from the job description as closely as possible.
Avoid cliches: Recruiters always see cringey cliches like "hardworking guru who works well in a team or individually" – they don't mean much to anyone, so focus your summary on tangible skills and experience.
Example resume summary for Nanny
Compassionate and hardworking Professional Nanny, certified by the US Nanny Association, with over 6 years' experience caring for children from newborn to 13 years old. Creative and fun caregiver with exceptional skills in childcare, early childhood education, planning educational activities, cooking healthy meals, and handling light housekeeping. Passionate about early childhood development, promoting children's physical, mental and emotional well-being. Dedicated to helping to shape children into confident, intelligent, and happy people who will carry those traits on into adulthood.
What to include in your Nanny resume summary?
Summary of your experience: What kind of companies have you worked for in the past? And which jobs have you carried out?
Relevant skills: Skills that are highly relevant to Nanny work should be made prominent throughout your summary.
Important qualifications: Mention any Nanny qualifications that are important to your profession in the summary briefly, to show you are qualified to carry out the role.
Quick tip: Choose from hundreds of pre-written summaries across all industries, and add one to your resume with one click in our partner's Resume Builder. All written by our recruitment experts and easily tailored to suit your unique skillset.
Core skills section
Sitting just underneath your resume summary, your core skills section gives recruiters 4-10 of your most in-demand skills in just a glance.
As Nanny jobs may get hundreds of applications, this is a great way to stand out and quickly grab hiring managers' attention.
It should be made up of 2-3 columns of bullet points and highlight attributes that are hyper-relevant to the jobs you are aiming for.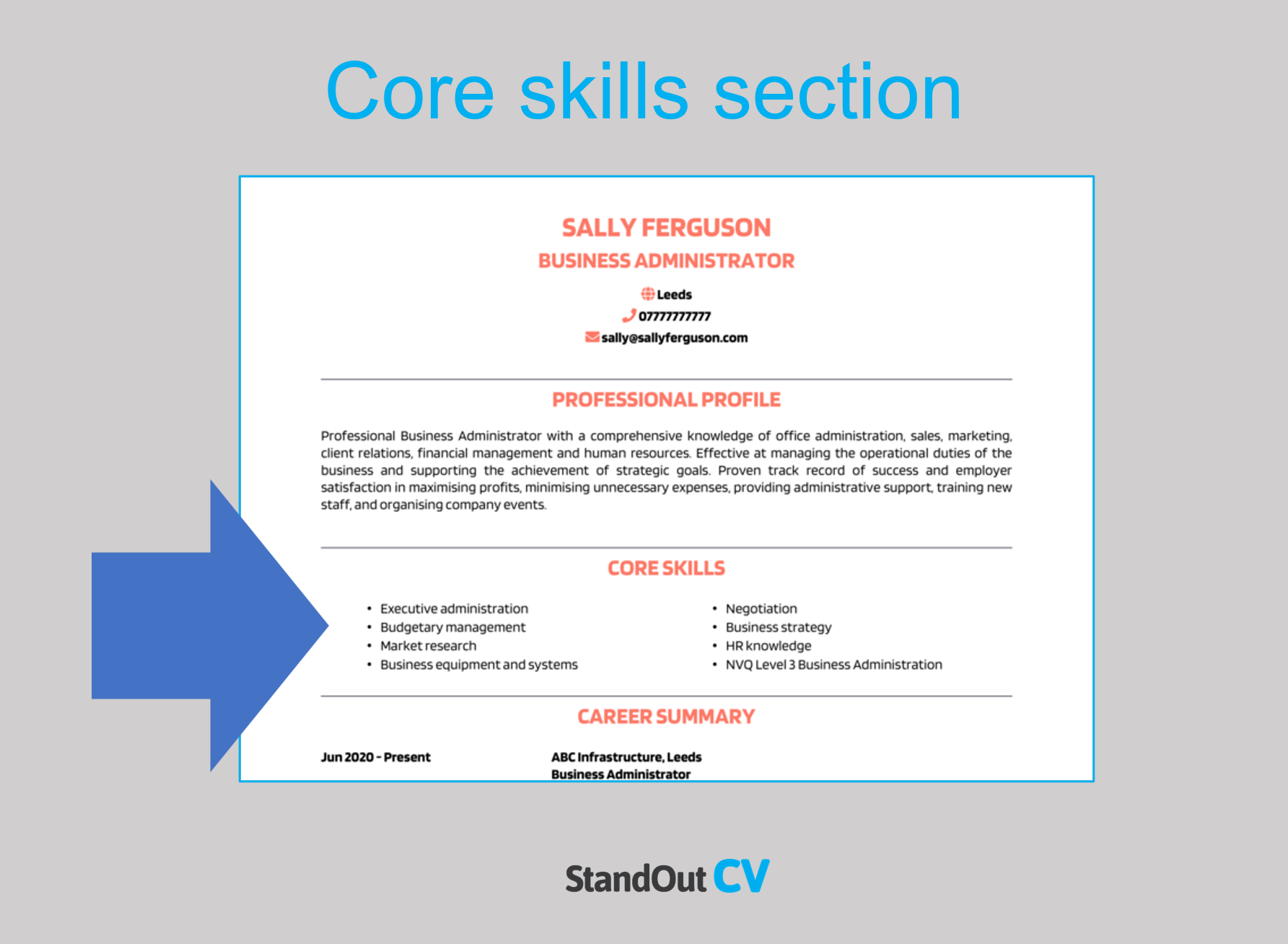 Best skills for your Nanny resume
Play based learning – Allowing children to learn through their developing sense of inquiry, exploration, interaction, and problem solving.
Homeworking/educational support – Providing support with homework to encourage academic learning and improve grades.
Age based learning – Creating and leading age-appropriate activities to enhance learning.
Meal preparation – Providing nutritional, balanced meals that support growth and brain development.
Social skills development – Encourage appropriate social skills by asking questions, taking turns, roleplaying, and modeling empathy.
Quick tip: Our partner's Resume Builder contains thousands of in-demand skills for every profession that can be added to your resume in seconds – saving you time and greatly improving your chances of landing job interviews.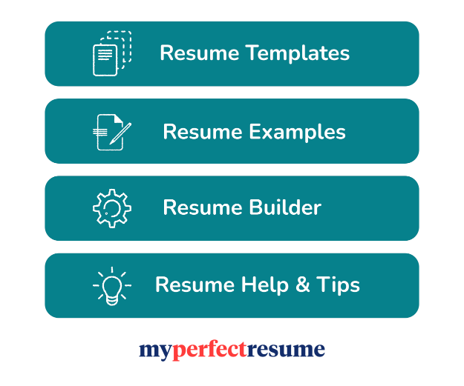 Resume work experience section
Now that you've reeled recruiters in with your awesome summary, it's time to delve into your work experience.
Here you'll list your previous jobs (starting with your most recent and working backward) and showcase how you apply your skills in the workplace.
Provide lots of detail in recent jobs, and less in older roles.
If you have no relevant paid experience, you can include voluntary work and placements – but if you have lots of experience, you can leave out some of the really old jobs.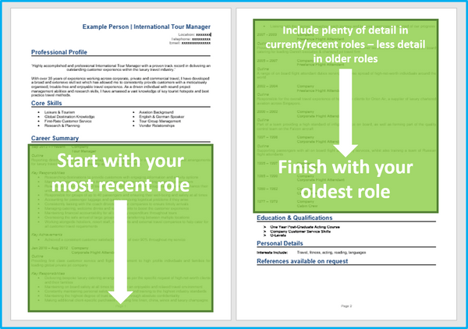 Structuring your job descriptions
It's easy to overwhelm readers when writing about a job you have been doing for years or even months.
Break the information up like this to keep it simple for recruiters to understand.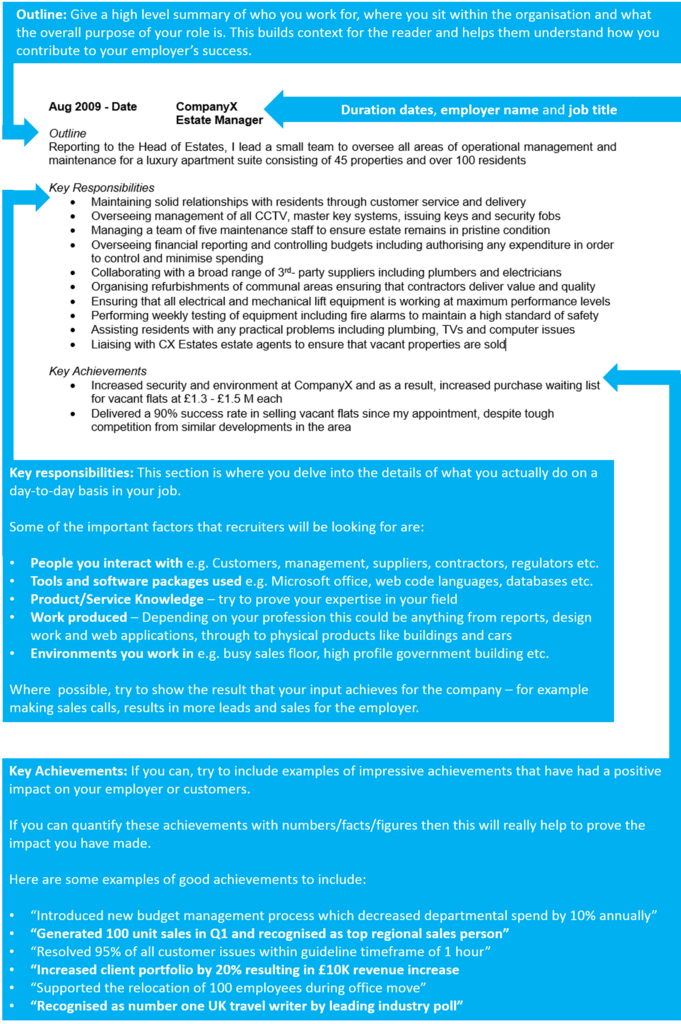 Job outline
Begin each job with a short summary of who the organization is, where you sit within it, and what the main goal of your position is.
Key responsibilities
List your notable responsibilities in short sharp bullet points to demonstrate your input and how you contributed to the organization's success.
Highlight the skills that are most important to the roles you are applying for.
Key achievements
Show employers the value you can bring to them by adding a few achievements to your jobs.
Whether you've saved the company money or improved an internal process, let recruiters know
Add some numbers to give readers a real scale of the impact, e.g. "reduced call wait time by 10%"
Example job for Nanny resume
Outline
Serves as a live-in Nanny for the Smith Family, caring for two beautiful, happy children 5 days a week.
Key Responsibilities
Organize fun and educational activities, encourage reading to increase interest in story time, and plan outdoor activities including visits to the local swimming center and playground
Create age-appropriate activities including putting on plays that they wrote, creating art projects, visiting local museums, and spending the afternoon at the park or beach
Prepare and serve meals with balanced nutrition, ensuring food safety and appropriate weaning steps when appropriate
Teach basic and important habits to improve each child's personal autonomy including feeding and sleeping habits, dressing/undressing, maintaining a clean and organized environment, personal hygiene, etc.
Quick tip: Create impressive job descriptions easily in our partner's Resume Builder by adding pre-written job phrases for every industry and career stage.

Education resume section
Nearing the end of your resume, your education/qualifications section should be added.
In a well-structured list, add all of your qualifications and certifications that qualify you to perform a typical Nanny role.
If you have plenty of work experience, keep this section brief – if not, add lots of detail to make up for your lack of experience.
Additional info for your resume
The additional info section is optional but can be useful if you have anything else to add that could benefit your application.
For example ,you may have some hobbies and interests that are relevant to your job – or you might have awards or publications to shout about.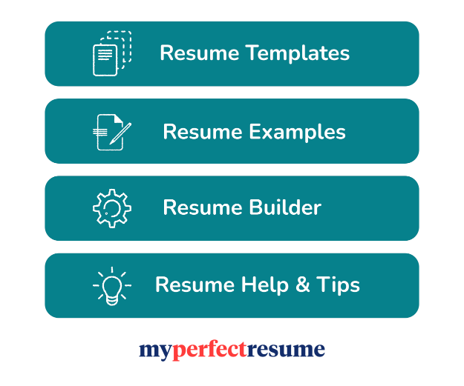 Writing your Nanny resume
Writing a Nanny resume can be challenging but following the steps above will ensure that you land plenty of interviews.
If you want to speed up the process and use an attractive professional template, try out our partner's Resume Builder.
Good luck with your job search!