Juggling multiple tasks, motivating your team, setting goals, and ensuring you're on target to hit them, is all in a day's work for you.
But in order to secure your next area manager role, you need to prove this to a recruiter with impressive facts and figures.
Find out how in our guide below, complete with a whole host of useful tips and an area manager resume example.
Contents
| | |
| --- | --- |
| How to write a Area Manager resume | |

Area Manager Resume Example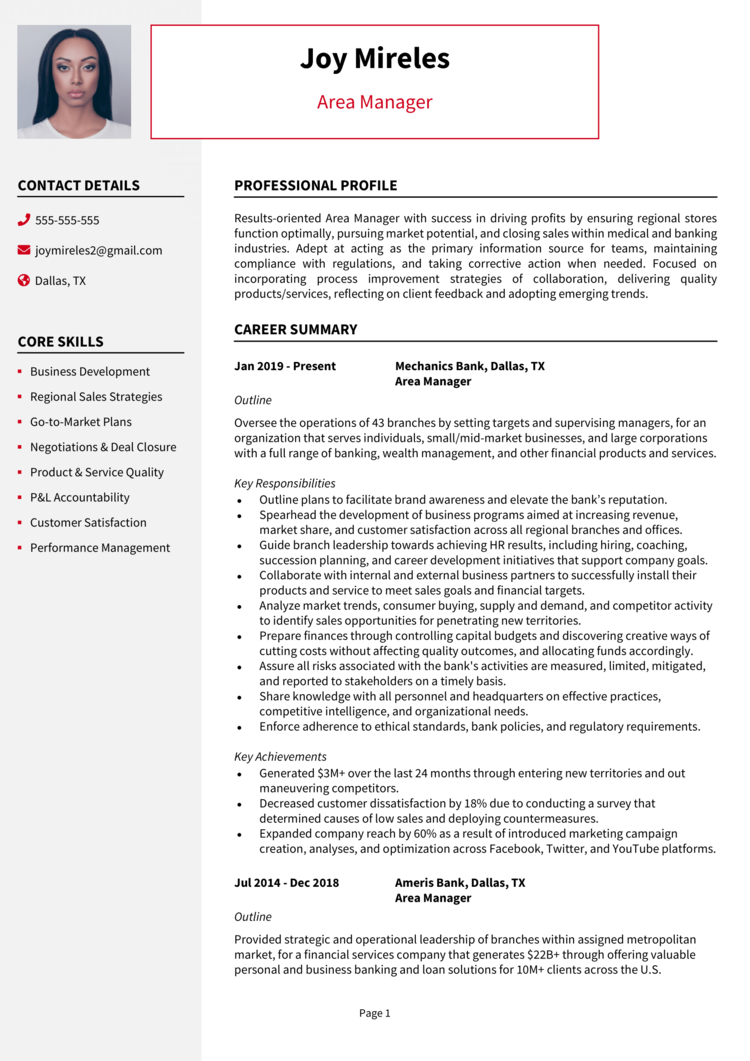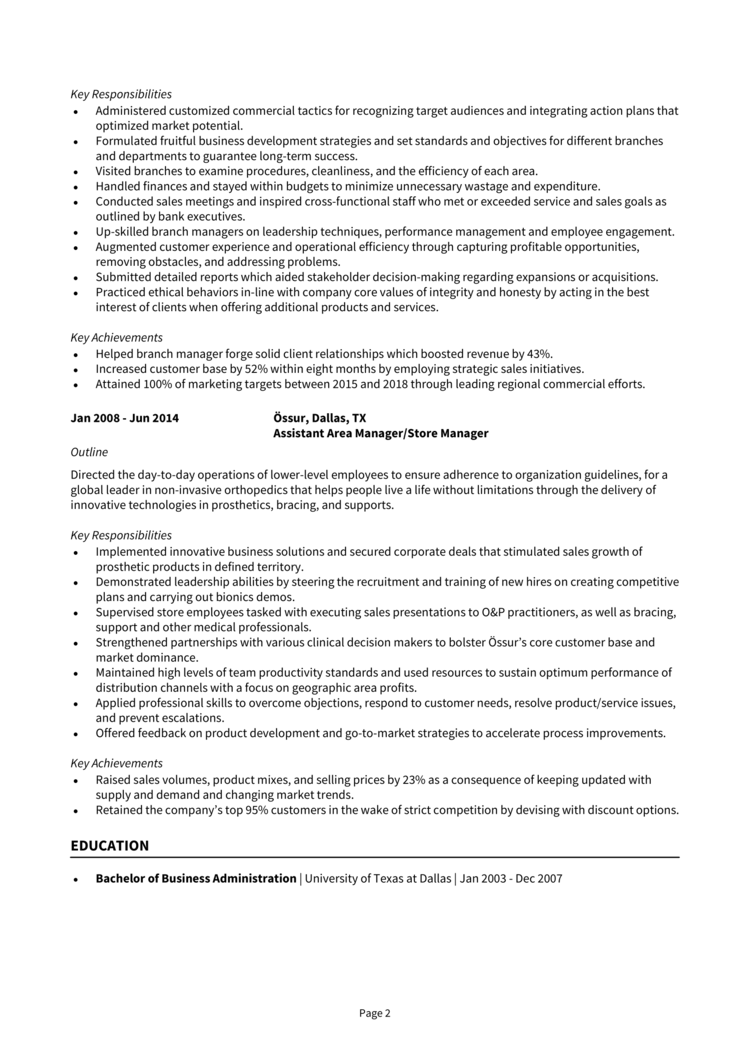 This Area Manager resume example gives you a good idea of how a good Area Manager resume should look and read.
The information is presented professionally and the content is well structured to ensure that time-strapped recruiters and hiring managers can find the important skills and knowledge quickly.
Refer to this example as you write your own resume.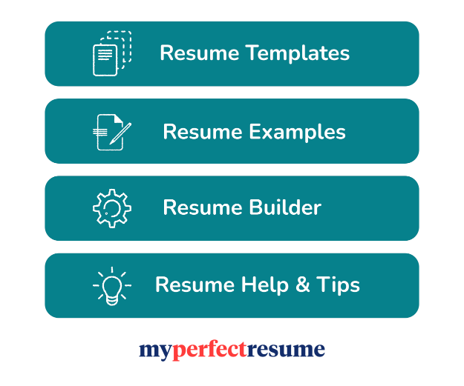 Area Manager resume layout and formatting
Your resume layout and format will play a big role in helping hiring managers to take notice of your resume and stay glued to it.
Shoot for a simple yet professional look to ensure you make a strong first impression, and organize the page in a way that is easy for readers to digest the information.
The following formatting tips should help.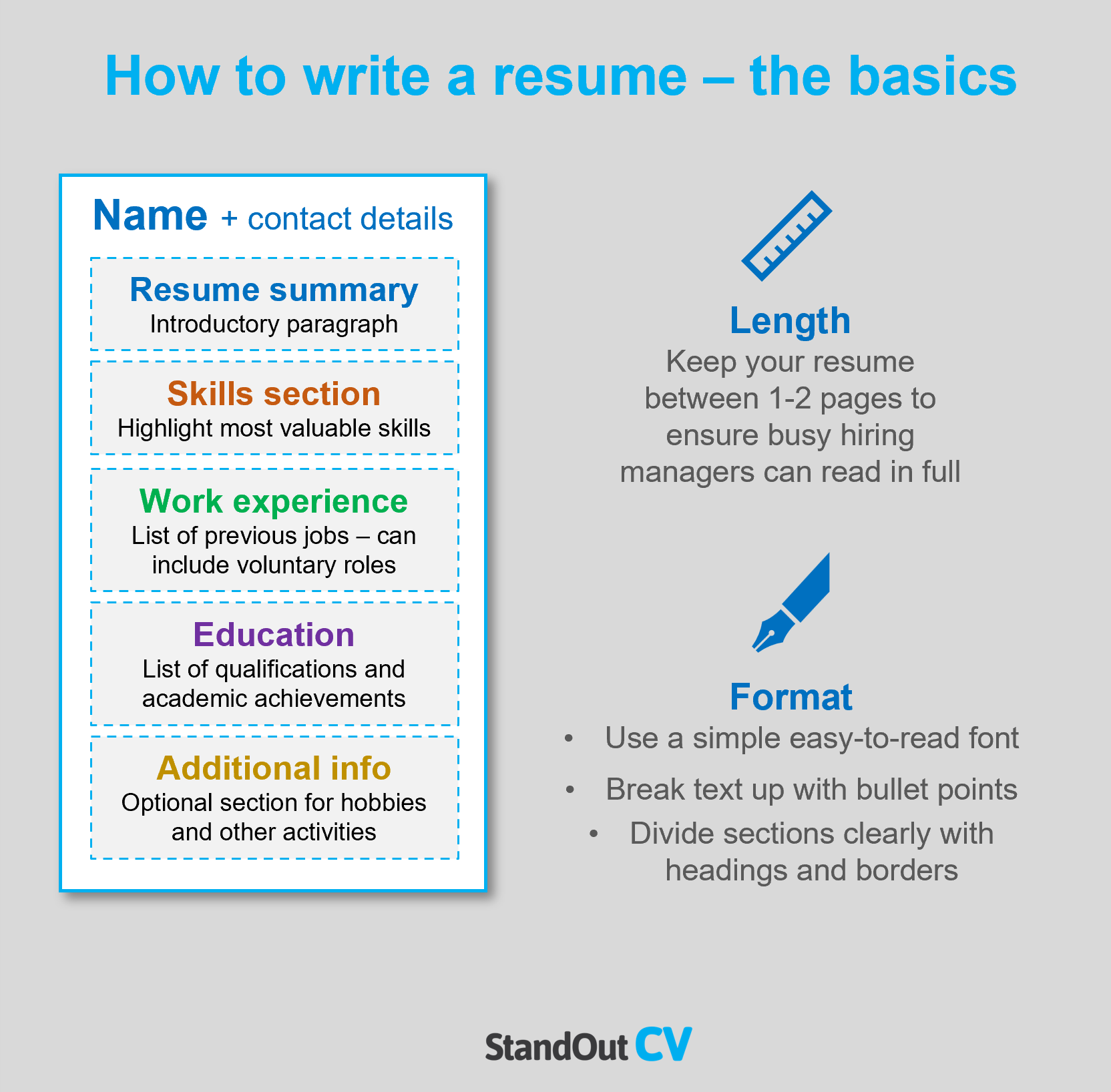 Formatting your resume
Length: As recruiters have a limited amount of time to review each resume they see, keep your resume to 2 pages or less to increase the chances of it being thoroughly reviewed.
Font & readability: Complex fonts are a readers' worst nightmare and will leave recruiters struggling to understand your message. Use a clear simple lean font in a color that stands out against the page, and break your text up with bullet points to make the content easily digestible.
Layout & Structure: A well-designed resume is not just visually pleasing, but it must also be functional. To achieve a functional design, use bold headings and borders to separate the content into clear sections.
Photos: While a photo is not usually necessary on your resume in the United States, it may be beneficial to include one in regions and industries where it is customary.
Quick tip: Achieving a professional look for your resume can be difficult and time-consuming. If you want to create an attractive resume quickly, try our partner's Resume Builder and use one of their eye-catching resume templates.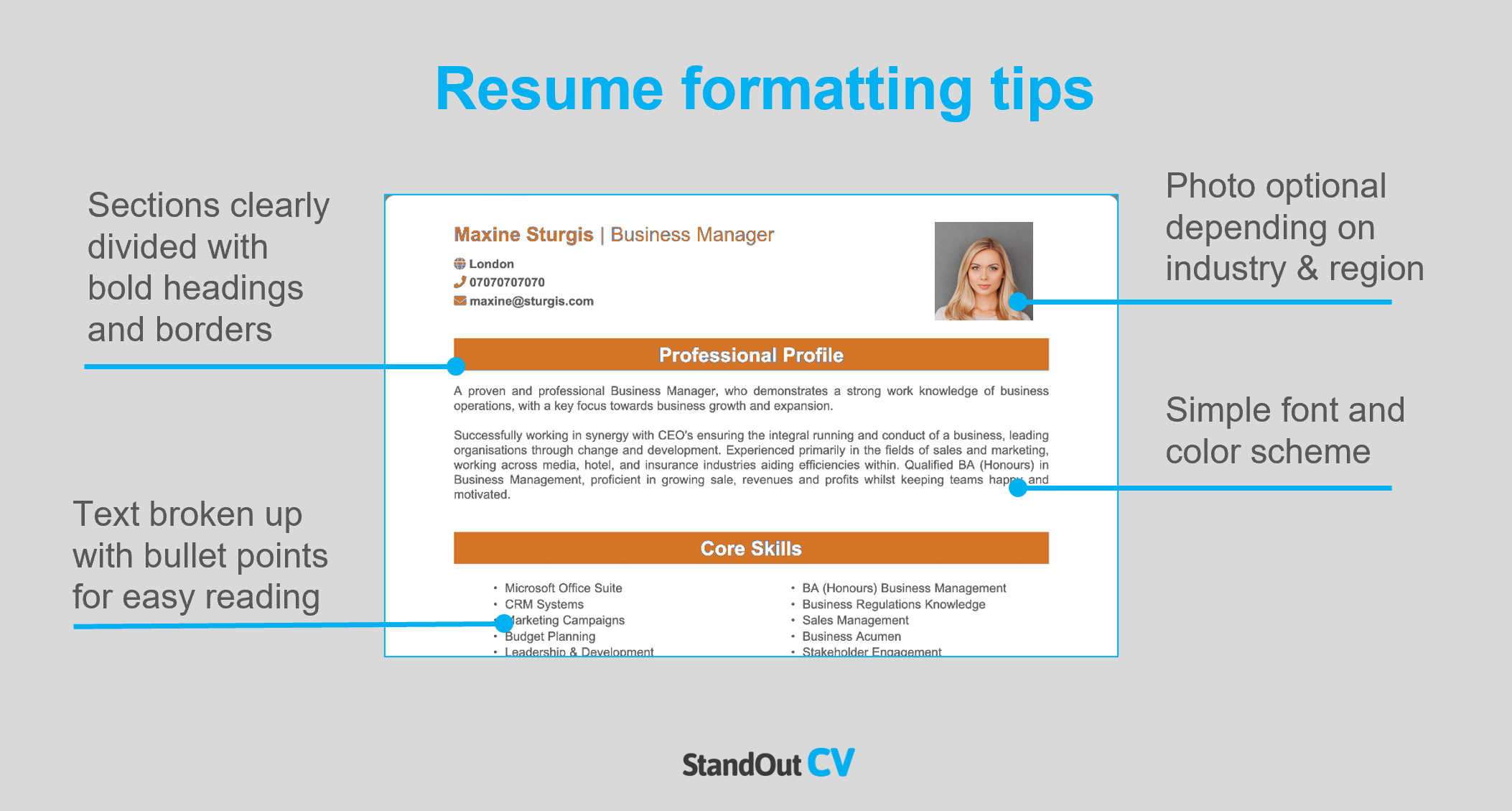 Resume layout
Divide the page into these sections when you write your own resume.
Name and contact details – Simply state who you are, and how to get in touch with you.
Resume summary – An introductory paragraph at the very top of your resume which summarizes your skills, experience and suitability for your target jobs.
Core skills section – A bullet-pointed list of your skills that relate most to your target jobs.
Work experience – A list of your current and previous jobs, including all of your responsibilities and achievements.
Education – A section that showcases all of your education and academic achievements.
Additional info (optional) – Here you can add an extra section for things like hobbies and interests, or anything else that might be relevant to your target jobs.
Here's what to include in each part of your resume.
Contact Details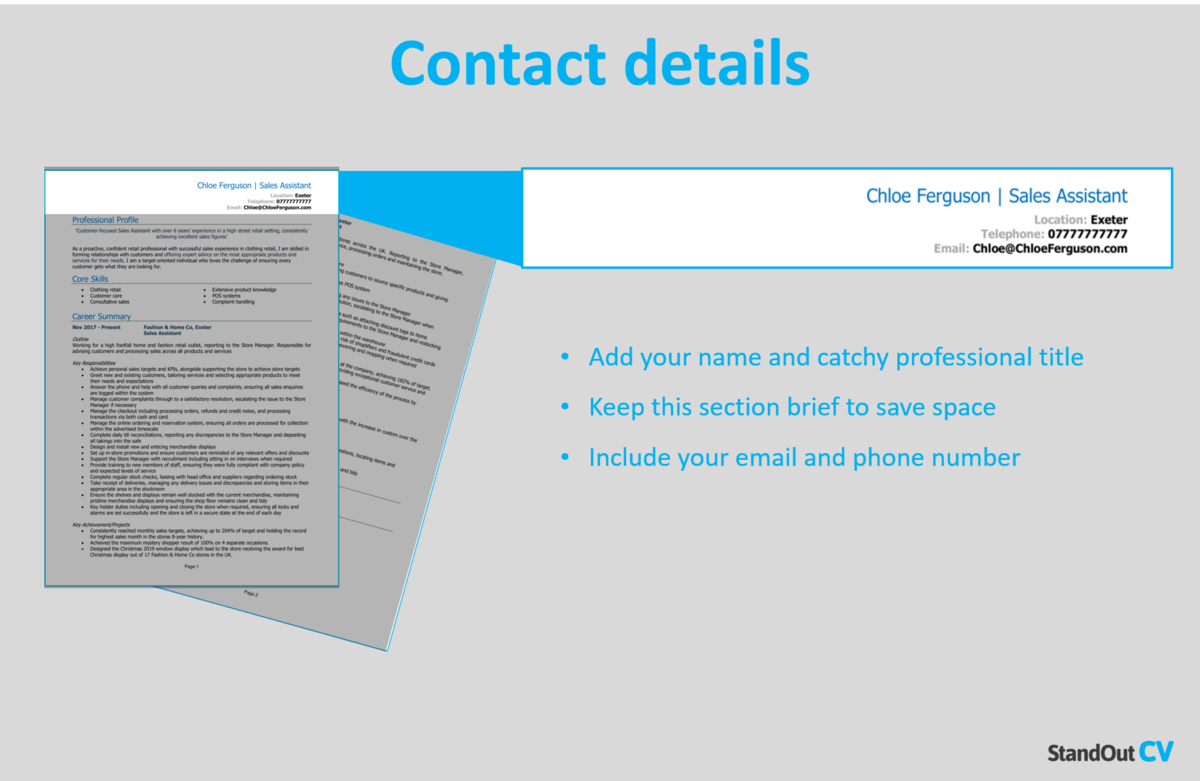 Add your name and contact details to the very top of your resume, making it easy for recruiters to get in touch
Name and profession title
Cell phone number – or another number you can answer quickly
Location – Add your local area such as San Diego or New York – not your full address as that will take up too much space.
Email address – Use your name or close variation – no nicknames from high school.
You can add a link to your LinkedIn profile if you have one – you do not need to include personal details like date of birth or marital status.
Area Manager Resume Summary
Make a strong first impression on recruiters by beginning your resume with a powerful summary that highlights your most valuable skills and experience.
This brief summary provides an opportunity to showcase why you're the ideal candidate for the job and persuade recruiters to read further into your resume.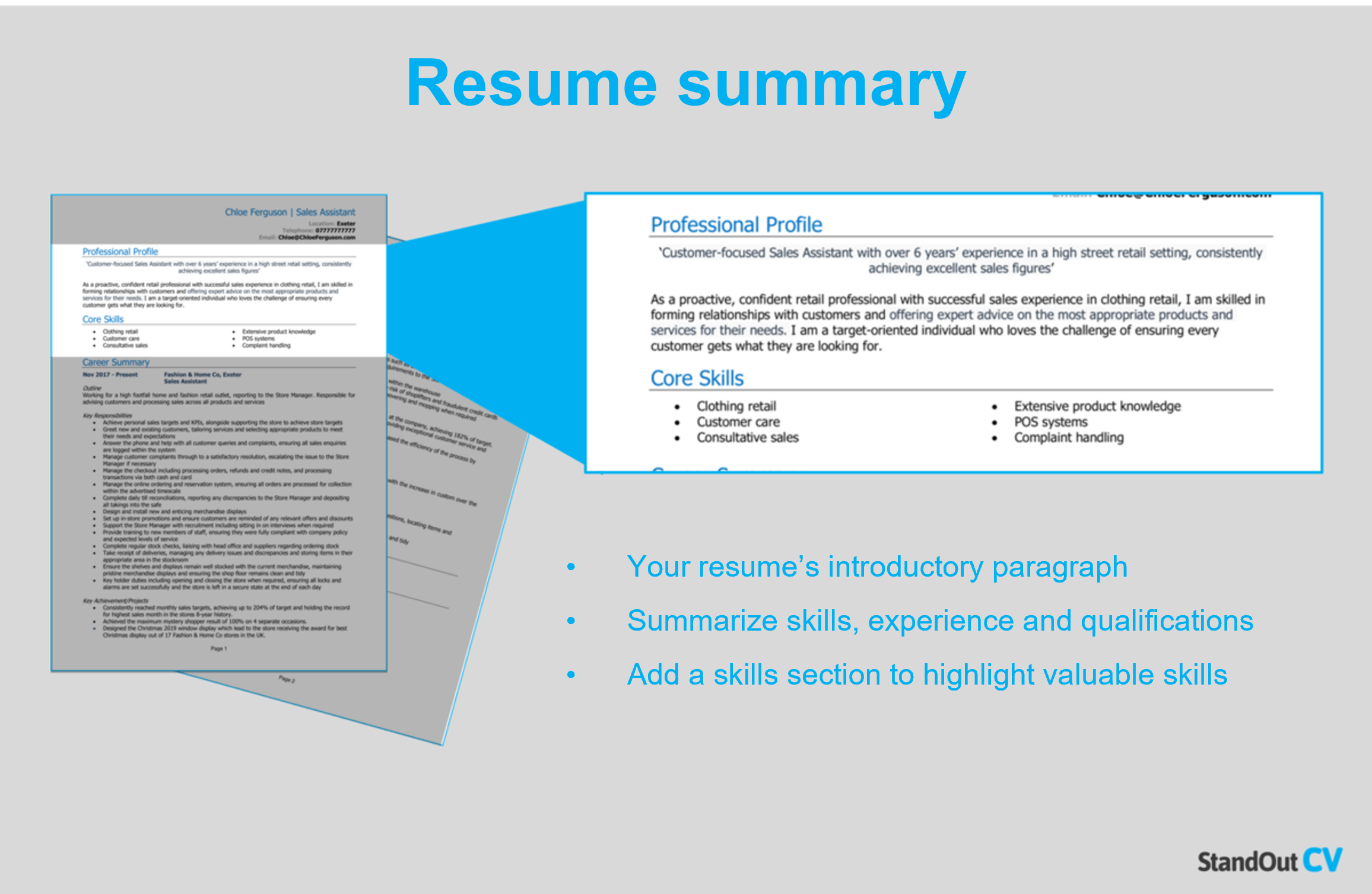 How to create a resume summary that will excite recruiters:
Keep it short: A concise and focused resume summary is essential for capturing a recruiter's attention and keeping them engaged. Limiting your summary to 4-7 lines ensures that you make a strong impression in the first few seconds of them opening the document.
Tailor to target jobs: Tailor your resume to your target jobs by studying the job description and adding as many matching skills as you can.
Avoid using cliches: Although you may believe that you're a "team player who always gives 110%," these kinds of cliches don't communicate much about your skills and qualifications to potential employers. It's more effective to stick to factual information in your resume.
Area Manager resume summary example
Results-oriented Area Manager with success in driving profits by ensuring regional stores function optimally, pursuing market potential, and closing sales within medical and banking industries. Adept at acting as the primary information source for teams, maintaining compliance with regulations, and taking corrective action when needed. Focused on incorporating process improvement strategies of collaboration, delivering quality products/services, reflecting on client feedback and adopting emerging trends.
What to include in your Area Manager resume summary?
Summary of your experience: Summarize the type of work you have done in the past and the benefits you have delivered for the organizations you worked at.
Relevant skills: To quickly showcase your suitability for Area Manager jobs, ensure that your summary emphasizes your most relevant skills to the jobs you are applying for.
Qualifications: Any qualifications that are important to the Area Manager jobs you are applying for, should be mentioned in the summary.
Quick tip: Choose from hundreds of pre-written summaries across all industries, and add one to your resume with one-click in our partner's Resume Builder. All written by recruitment experts and easily tailored to suit your unique skillset and style.
Core skills section
Your core skills section, positioned just below your resume summary, provides recruiters with a quick glance at 4-10 of your most in-demand skills.
For Area Manager jobs, where hiring managers may receive hundreds of applications, this section can help you stand out and immediately grab their attention.
To be effective, this section should consist of 2-3 columns of bullet points that highlight attributes that are highly relevant to the jobs you are targeting.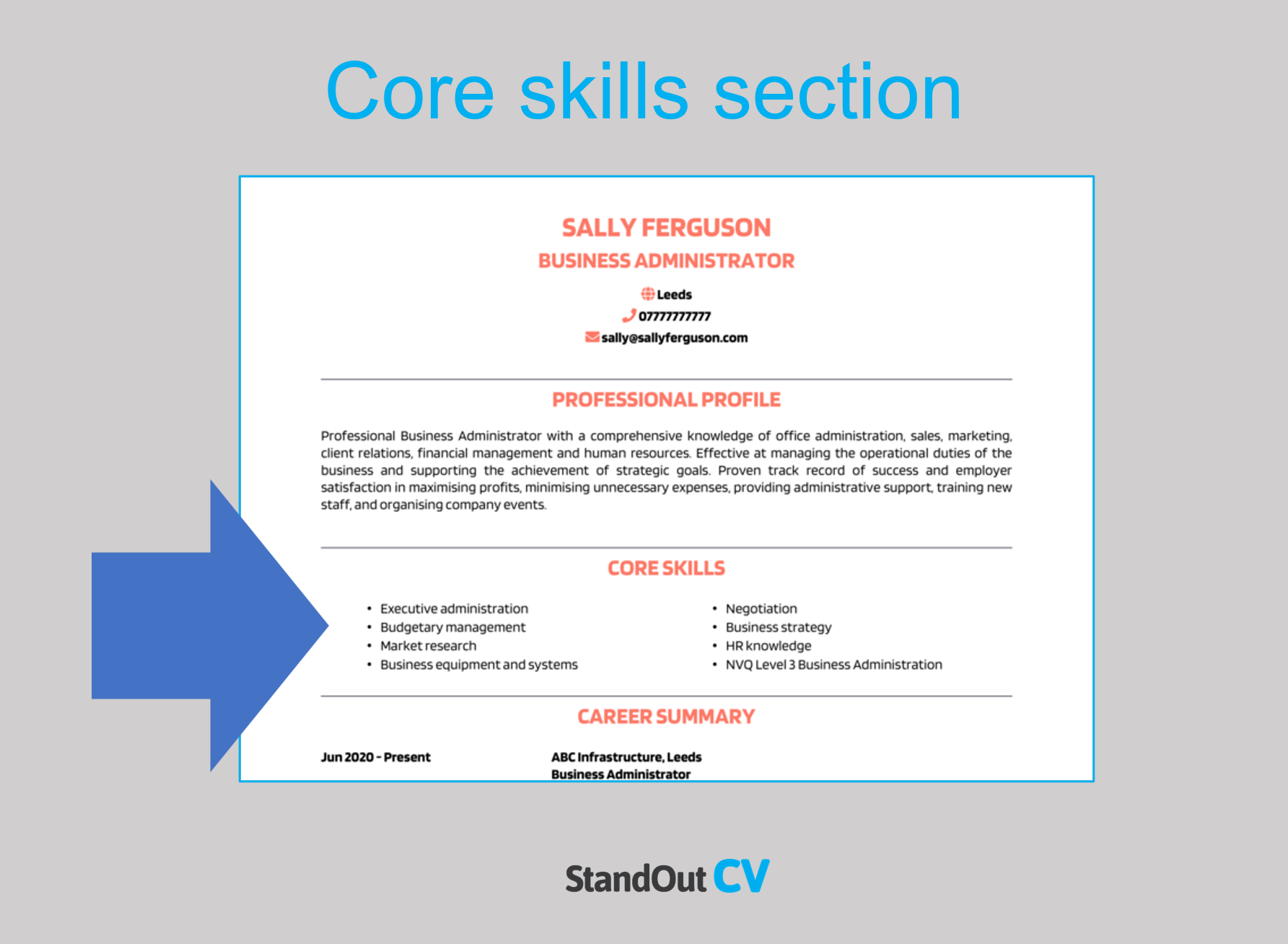 Best skills for your Area Manager resume
Leadership and mentoring – Leading and managing teams of employees, setting goals, and providing direction and guidance to ensure that objectives are met.
Strategic planning – Developing and implementing strategic plans and initiatives, considering market trends, competition, and other factors, to achieve business goals.
Budget management – Creating and managing budgets for multiple locations, ensuring that expenses are within budget and resources are allocated appropriately.
Performance management – Managing the performance of employees, including setting expectations, providing feedback, and developing and implementing performance improvement plans.
Operations management – Maintaining knowledge of operational processes, including supply chain management, inventory control, and logistics, to ensure that operations run smoothly and efficiently.
Project management – Managing multiple projects simultaneously, coordinating resources, tasks, and timelines to ensure successful completion.
Customer service – Maintaining detailed understanding of customer service principles and practices, including handling complaints and resolving issues, to ensure that customers are satisfied with products and services.
Sales and marketing – Maintaining knowledge of sales and marketing principles, including advertising, branding, and promotional strategies, to increase sales and revenue.
Data analysis – Gathering and analyzing data, using tools such as spreadsheets and data visualization software, to make informed decisions.
Effective communication – Using strong written and verbal communication skills to interact with employees, customers, and other stakeholders, presenting ideas and instructions clearly and effectively.
Quick tip: Our partner's Resume Builder contains thousands of in-demand skills for every profession that can be added to your resume in seconds – saving you time and greatly improving your chances of landing job interviews and getting hired.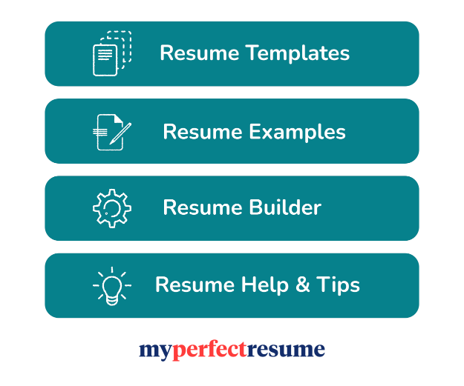 Work experience
So, you've got the recruiter interested with your catchy summary… Great work.
Now it's time to show them the impact you make in the workplace by listing out your previous jobs and what you achieved in each one.
If you have tons of experience, you can condense this part down to the last few years – if you are junior, then you should include as much possible (even volunteering and school work placements)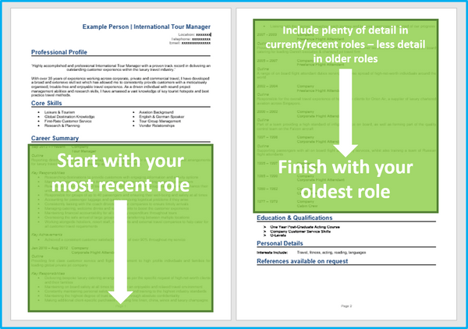 Structuring your jobs
Resume job descriptions contain lots of information, so its crucial to structure them well.
Use the structure below to ensure hiring managers can consume the information easily.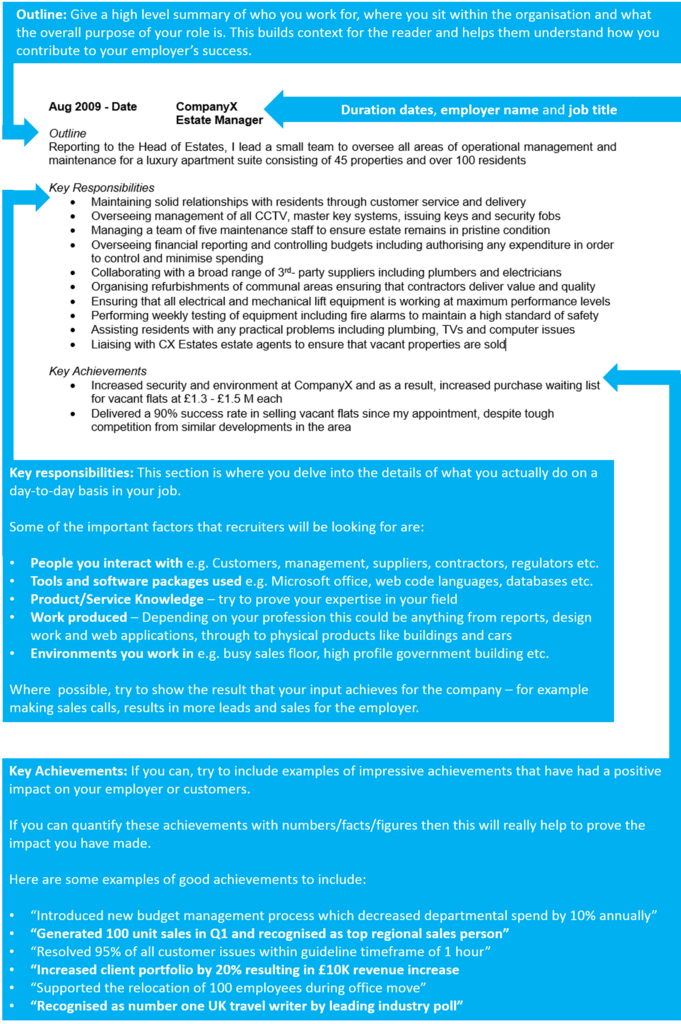 Job outline
To provide context to your jobs, begin each job with a concise summary of the organization, your role within it, and the main objectives of your position.
Key responsibilities
Then delve into the detail of your job by listing out easy-to-read bullet points which show how you apply your skills in the workplace.
Tailor these bullet points to focus on the skills and knowledge that are required in the jobs you are applying for.
Key achievements
Finish each role by highlighting some impressive achievements you made whilst in the role.
Anything that benefited the employer can be included from making financial savings, to winning new customers.
Quantify your achievements with facts and figures if you can, e.g. "reduced call wait time by 10%"
Example job for Area Manager resume
Outline
Oversee the operations of 43 branches by setting targets and supervising managers, for an organization that serves individuals, small/mid-market businesses, and large corporations with a full range of banking, wealth management, and other financial products and services.
Key Responsibilities
Outline plans to facilitate brand awareness and elevate the bank's reputation.
Spearhead the development of business programs aimed at increasing revenue, market share, and customer satisfaction across all regional branches and offices.
Guide branch leadership towards achieving HR results, including hiring, coaching, succession planning, and career development initiatives that support company goals.
Collaborate with internal and external business partners to successfully install their products and service to meet sales goals and financial targets.
Quick tip: Create impressive job descriptions easily in our partner's Resume Builder by adding pre-written job phrases for every industry and career stage.

Education section
Towards the bottom of your resume, add your education section.
Here you should list your professional qualifications and academic record, such as high school diplomas or college degrees.
If you have lots of work experience, you can keep this section brief (because recruiters will be more interested in your career. If you have little/no experience then you should bulk this section up with plenty of detail.
Additional information
At the end of your resume, you can add any extra information that might be relevant to the jobs you are applying for.
This could be hobbies, interests, publications, clubs or memberships.
This section is optional and doesn't need to be added if you have nothing more relevant to add.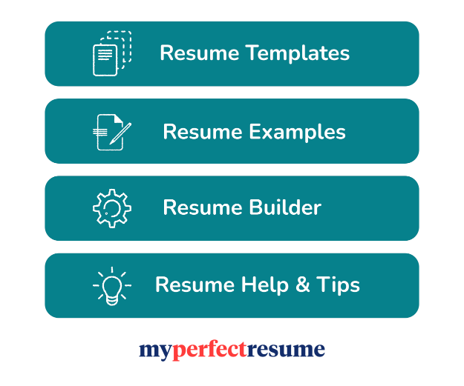 Writing your own winning Area Manager resume
Crafting a strong Area Manager resume can be a daunting task, but implementing the steps outlined above will significantly increase your chances of securing multiple interview opportunities.
Good luck with your job search!