If you're an empathetic person who wants to make a real difference, a role as a health care assistant can be rewarding and fulfilling.
But in order to secure yourself a job, you're going to need to create a professional and compelling CV.
This step-by-step guide, which comes with an example health care assistant CV, will teach you how to write a CV that lands you the job.
Here's what the guide includes:
Guide contents
Health care assistant CV example
Structuring and formatting your CV
Writing your CV profile
Detailing work experience
Your education
Skills required for your health care assistant CV

Health care assistant CV example (style 1)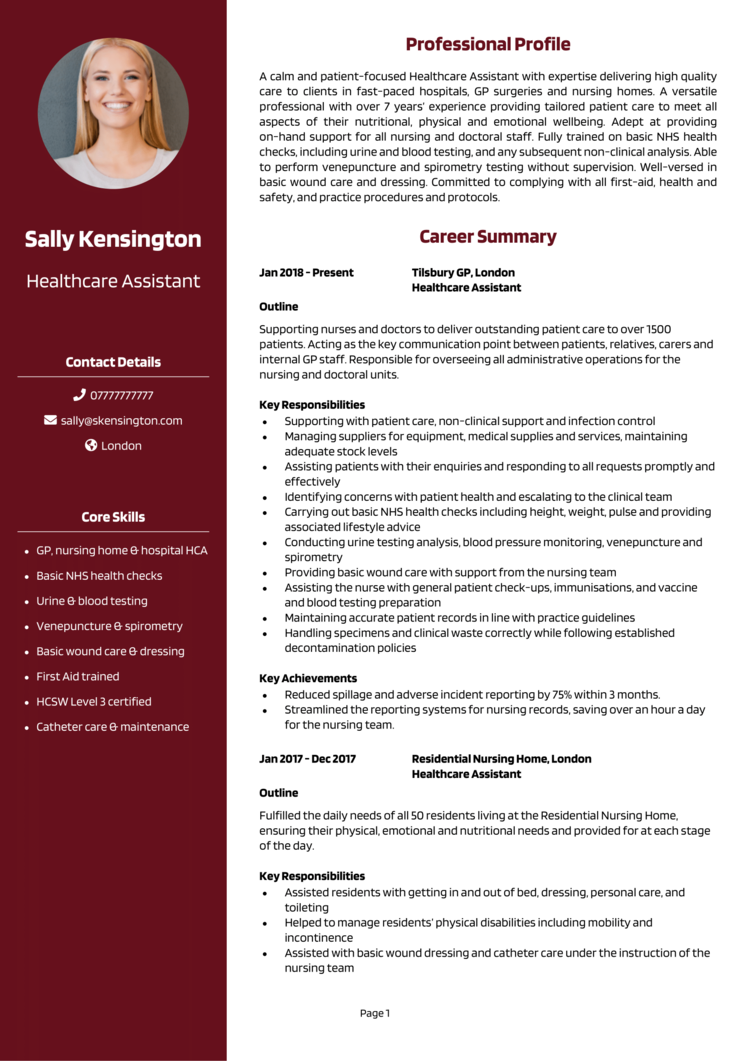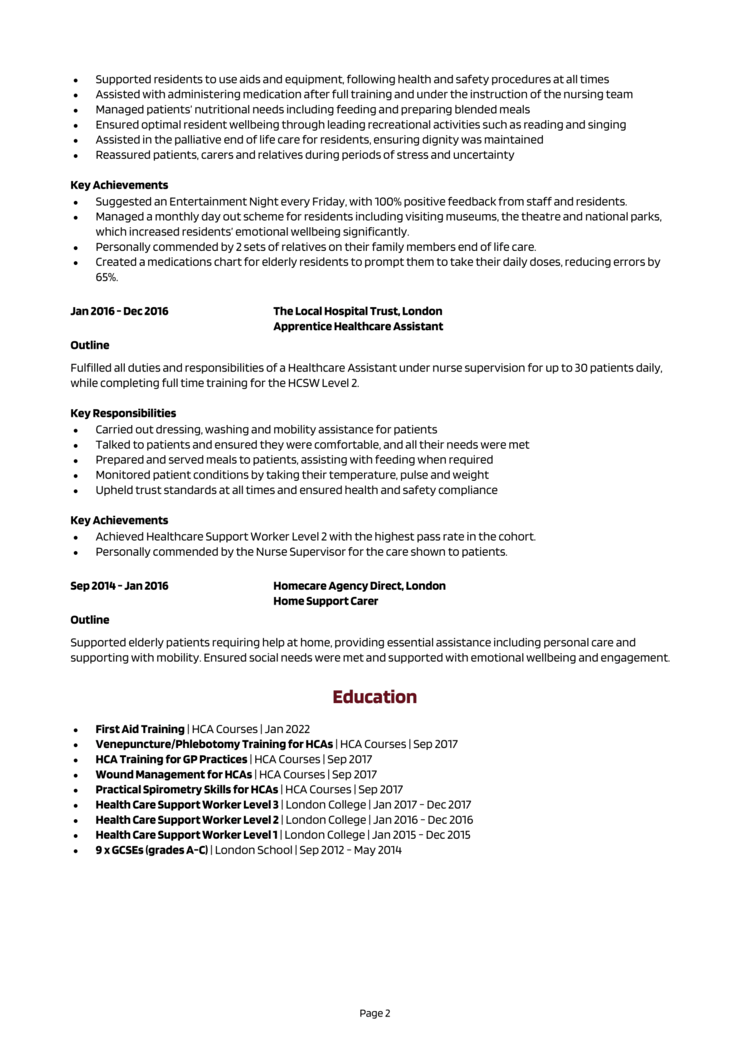 Health care assistant CV example (style 2)


The above CV example demonstrates the type of info you should be including within your health care assistant CV, as well as how to display this information in a way which looks professional.
This is the benchmark you should be aiming for, so remember to refer back to it throughout the CV writing process.
Health care assistant CV structure & format
The format and structure of your CV are important because they'll determine how easy it is for recruiters and employers to read your CV.
If they can find the information they need quickly, they'll be happy; but if they struggle, your application could be overlooked.
A simple and logical structure will always create a better reading experience than a complex structure, and with a few simple formatting tricks, you'll be good to go.
Check them out below:
Formatting Tips
CV length:

T

wo sides of A4 makes for the perfect CV length, though one page is okay for less experienced applicants. This forces you to make sure that every single sentence adds value to your CV and ensures you avoid waffle.
Design:

Don't waste time adding fancy designs to your CV. It generally adds no value to your application and may even end up distracting recruiters away from the important written content.

Readability:

By clearly formatting your section headings (bold, or a different colour font, do the trick) and breaking up big chunks of text into snappy bullet points, time-strapped recruiters will be able to skim through your CV with ease.

Avoid: It's tempting to add a profile photo or images to your CV, especially if you're struggling to fill up the page – but it's best avoided! They won't add any value to your application and, as it's not the 'done' thing in the UK, may even be a disadvantage.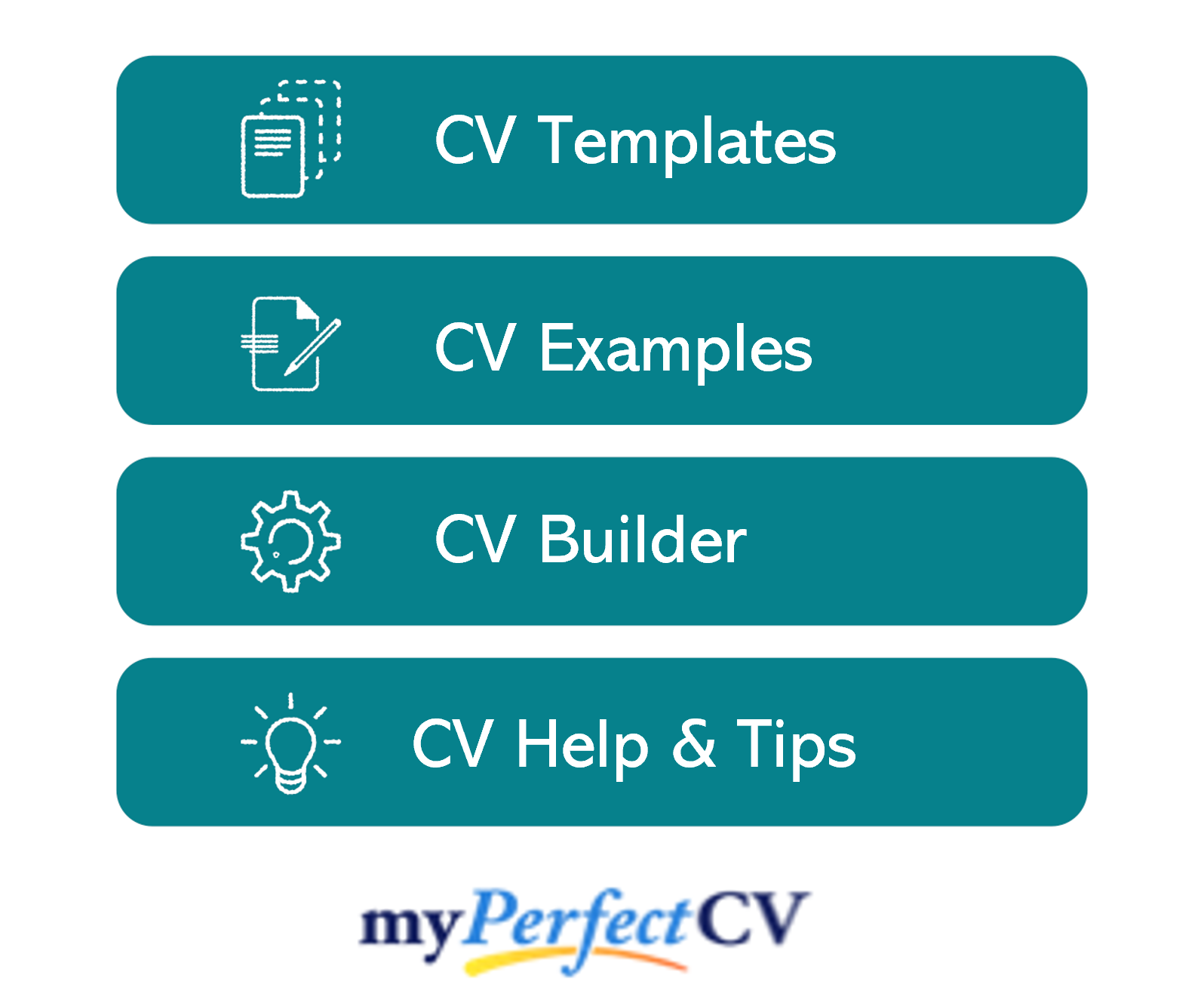 Structuring your CV
For easy reading, work to the following CV structure:
Contact details – Make it easy for recruiters to get in touch with you by listing your contact details at the top of your CV.
Profile – A short and snappy summary of your experience and skills, showcasing what makes you a good fit for the position.
Work experience/career history – Note down all your work history, with your current position first, then working backwards.
Education – A list of your academic background and professional/vocational qualifications.
Interest and hobbies – This is an optional section, which you can use to highlight any relevant hobbies or interests.
CV Contact Details
Kickstart your CV with your contact details, so recruiters can get in touch easily.
Here's what you should include:
Mobile number

Email address – Make sure it's professional, with no silly nicknames.
Location – Your town or city is sufficient, rather than a full address.
Quick tip: Avoid listing your date of birth, marital status or other irrelevant details – they're unnecessary.
Health care assistant CV Profile
Your CV profile (or personal statement, if you're an entry-level applicant) provides a brief overview of your skills, abilities and suitability for a position.
It's ideal for busy recruiters and hiring managers, who don't want to waste time reading unsuitable applications.
Think of it as your personal sales pitch. You've got just a few lines to sell yourself and prove you're a great match for the job – make it count!
Tips to consider when creating your profile:
Avoid clichés:

C

lichés like "Committed team player with a go-getter attitude" might sound impressive to you, but they don't actually tell the recruiter much about you. Concentrate on highlighting hard facts and skills, as recruiters are more likely to take these on board.
Tailor it:

When recruiters spot a generic CV, they chuck it straight into the bin. The CV should closely match the essential requirements listed in the job ad, so make sure to review the skills and knowledge require before you write your CV profile.

Keep it short: Your profile should be short and snappy – 3-5 lines is perfect.
Ditch objectives: You only have a short space for your CV profile, so avoid writing down your career goals or objectives. If you think these will help your application, incorporate them into your cover letter instead.

What to include in your health care assistant CV profile?
Level of experience – Whether this will be your first health care assistant role after leaving school or have 5 years experience, you should make your experience level clear here.
Environments you have worked in – Perhaps you've worked in a local GP practise, in a private care home or across a number of specialist hospital wards – but whatever type of experience you've gained so far, employers will be keen to know.
Health care skills – Focus on any hard skills you've gained, such as taking blood, ward hygiene, taking temperatures, pulse, respiration and weight, etc. If you're new to the sector, mention key soft skills, such as empathy, patience and the ability to remain calm under pressure.

Qualifications: Give an insight into your highest or most relevant qualifications, whether that's your GCSEs, A-Levels or a diploma in health and social care.
Quick tip: A poorly written CV will fail to impress recruiters and employers. Use our partner's CV builder to create a winning CV in minutes with professional templates and pre-written content for every industry.
Core skills section
Next, you should create a bullet point list of your core skills, formatted into 2-3 columns.
Here, you should focus on including any skills or knowledge listed in the job advertisement.
This will instantly prove that you're an ideal candidate, even if a recruiter only has time to briefly scan your CV.
Work experience/Career history
By this point, employers will be keen to know more detail about your career history.
Starting with your most recent role and, working backwards, create a snappy list of any relevant roles you've held.
This could be voluntary, part-time or temporary jobs too.
Quick tip: Will this will be your first full-time job out of school? You can still list part-time jobs, even if they're irrelevant. However, do focus on drawing upon transferable skills, such as working as part of a team, time management and organisation.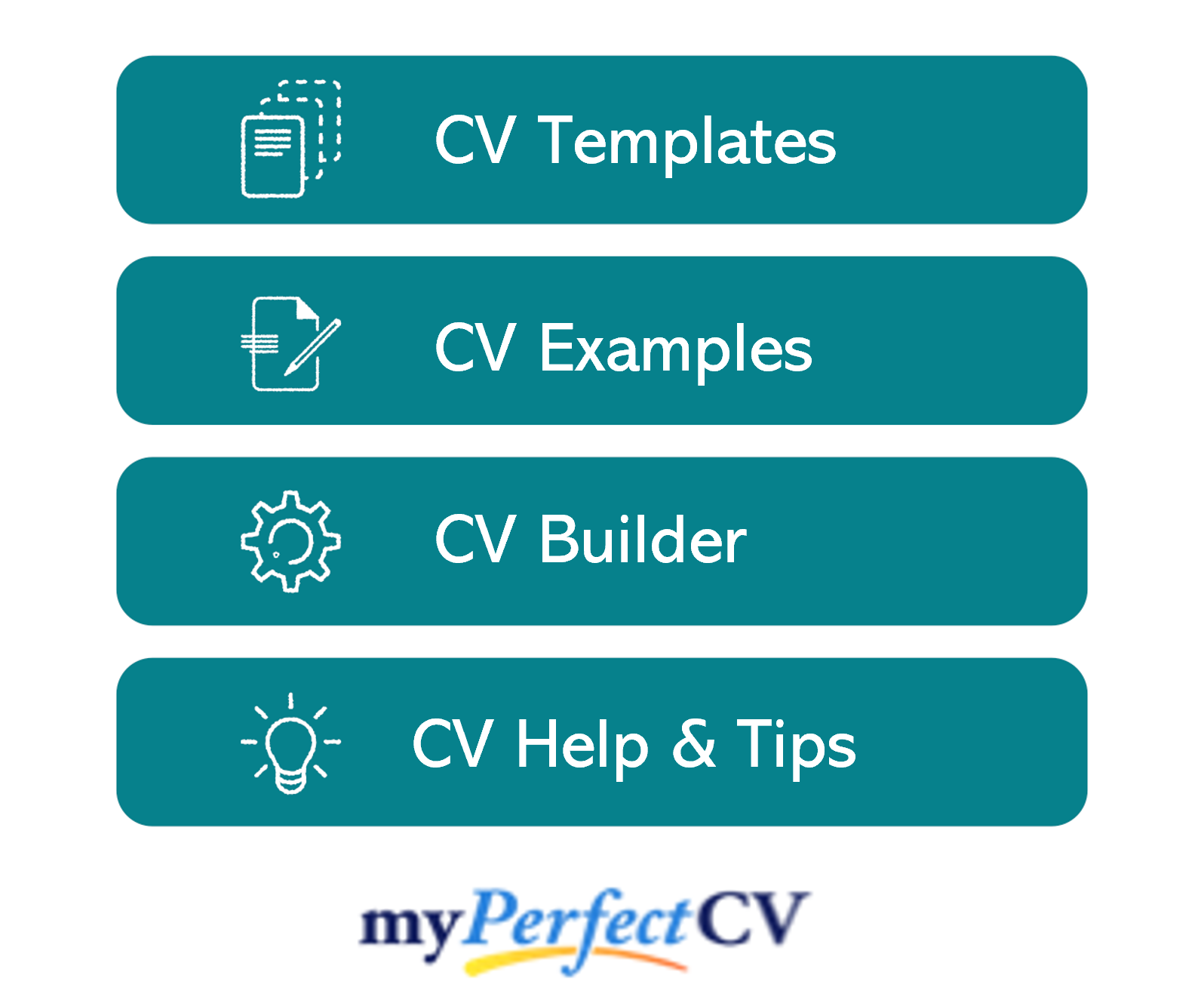 Structuring your roles
Your work experience section will be long, so it's important to structure it in a way which helps recruiters to quickly and easily find the information they need.
Use the 3-step structure, shown in the below example, below to achieve this.
Outline
Start with a summary of the organisation and department you worked within, and give some context to your role as a whole.
E.g.
"Assisted nursing staff on the neurological ward of a large public hospital; provided support patients and performed a variety of clinical tasks, ensuring exceptional levels of patient care at all times."
Key responsibilities
Using bullet points, note down your day-to-day responsibilities in the role.
Make sure to showcase how you used your healthcare skills and knowledge.
E.g.
Kept up-to-date observation and medication records for patients.
Assisted patients with feeding, cleaning and bathing with upmost levels of patience and confidentially.
Took blood pressure and kept records in line with health and safety standards.

Key achievements
Round up each role by listing 1-3 key achievements, accomplishments or results.
This might be a difficult situation or emergency you dealt with, or personal feedback you received from a patient or their family.
E.g.
Received over 10 personal thank you letters from families of patients, due to my high standards of care.
Saved the life of a child in an emergency situation with limited staff and resources, utilizing CPR.
Educ
ation
Towards the bottom of your CV, list any relevant qualifications such as GCSE's, A-Levels, BTEC's or NVQ's in areas like social work or health and social care. Any relevant vocational qualifications, such as First Aid or CPR, are worth listing too.
Make sure to give a well-rounded overview of your general education, too, for example, '10 GCSE's B-D, including Maths C, English B and Science C'.
If you're currently studying to be a nurse and are applying to work as a HCA for experience or extra income, make sure to note this down. Where you'd usually list a completion date, just state 'Due to graduate [year]'.
Interests and hobbies
This section should only be used if your hobbies and interests align with the care sector and add further value to your application.
For example, hobbies that show your nurturing and compassionate nature would be ideal for a HCA.
This might be volunteering at a care home, at an animal rescue shelter or helping out a children's home.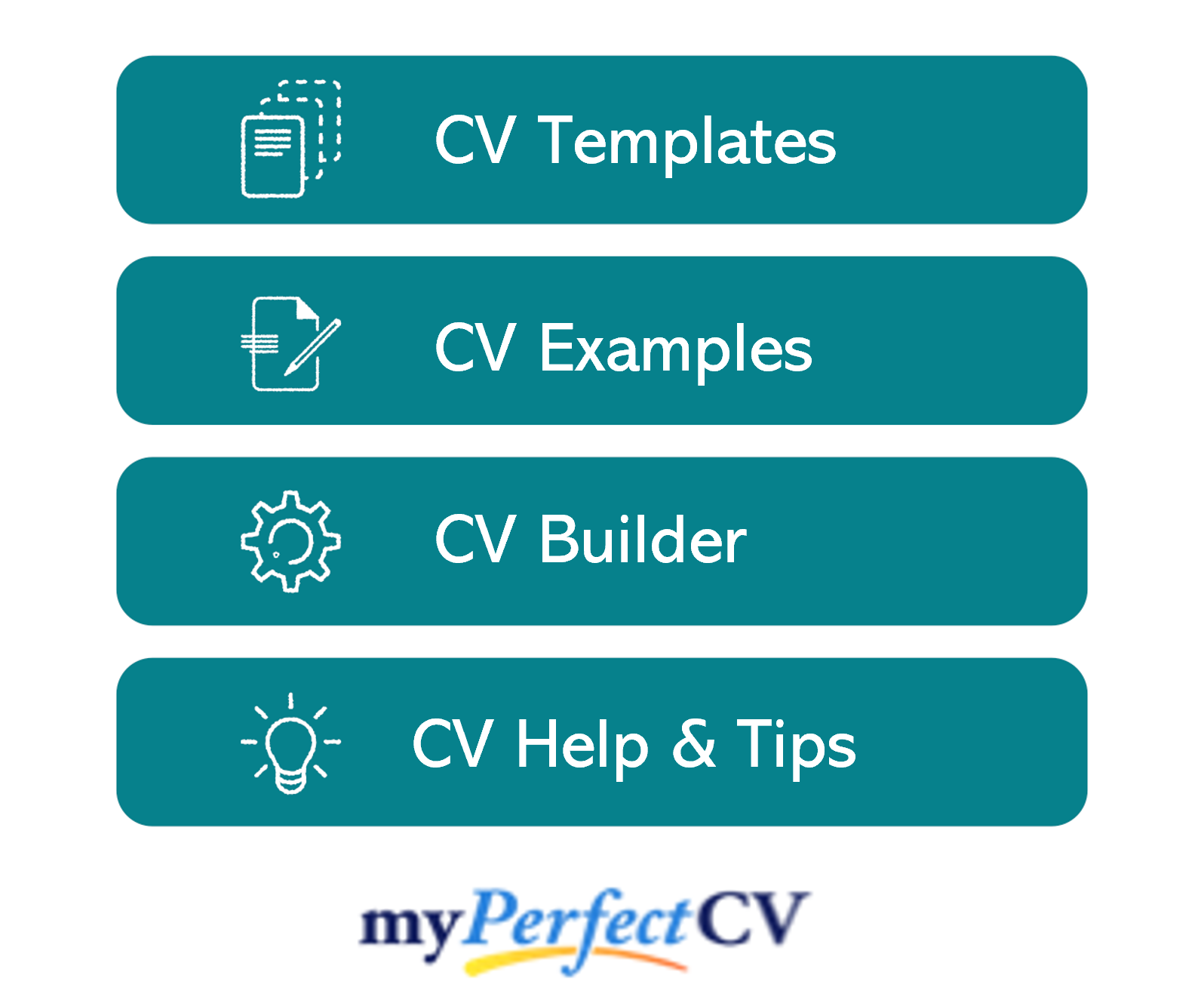 Essential skills for your healthcare assistant CV

Patience, empathy & compassion

– You'll be helping patients to undertake private tasks such as showering and using the toilet, so you'll need to possess an empathetic and patient nature in order to be able to make them feel calm and at ease.

Interpersonal & communication –

Patients may feel lonely and isolated, so part of your role will be to talk and listen to them; providing an essential support system.

Washing, dressing & feeding

– If patients are too weak, you'll need to help them carry out everyday personal care.

Making beds and changing bedpans

– HCA's are

responsible for ensuring the comfort of patients, meaning that linens and bedpans will need to be changed daily.

Medical observations

–

Taking and recording temperatures, pulse, respiration and weight of patients.
Writing your healthcare assistant CV
An interview-winning CV for a healthcare assistant role needs to be professional and packed with relevant content.
Whilst it needs to detail your experience, accomplishments and relevant skills, it also needs to be as clear and easy to read as possible.
Remember to research the role and review the job ad before applying, so you're able to match yourself up to the requirements.
If you follow these guidelines and keep motivated in your job search, you should land an interview in no time.
Best of luck with your next application!