Writing a CV is always a challenge, but when applying for the top roles in your industry, it can feel even more daunting.
As a CEO with so much experience to your name, it's essential to focus on creating a well-structured and organised CV which highlights your most notable skills and achievements.
To help you do just that, I've created a step-by-step CEO CV guide, complete with an example CEO CV, to help you put forward an application which leaves employers eager to interview you.
Here's what I'll cover in the guide:
Guide contents
CEO CV example
Structuring and formatting your CV
Writing your CV profile
Detailing work experience
Your education
Skills required for your CEO CV

CEO CV example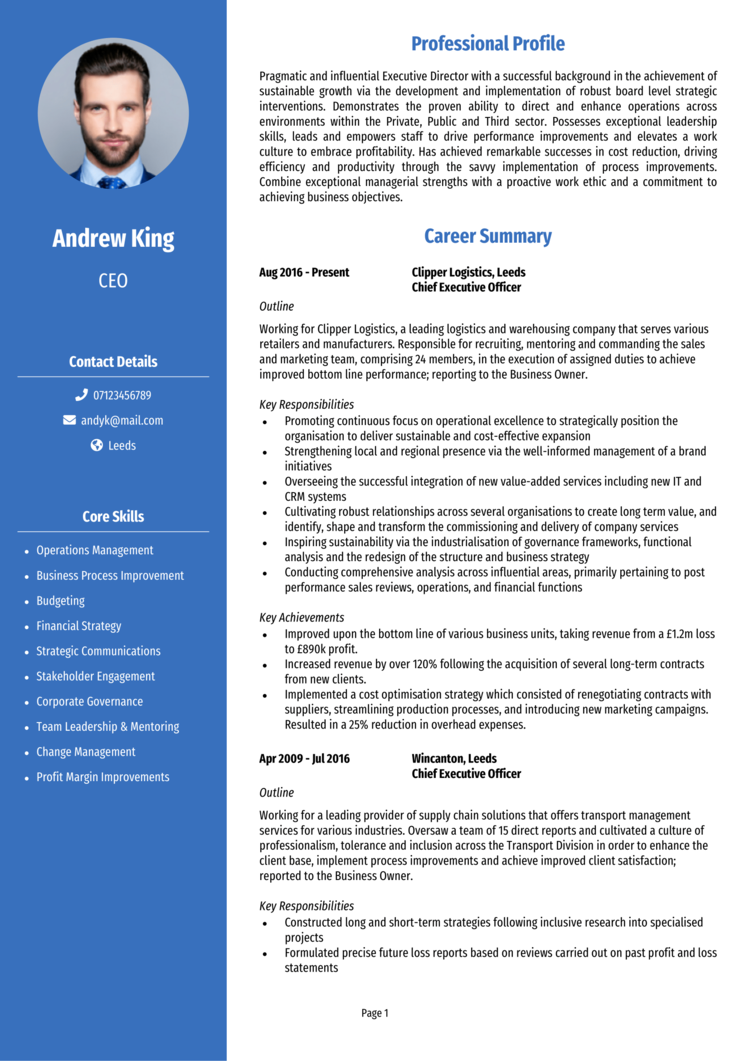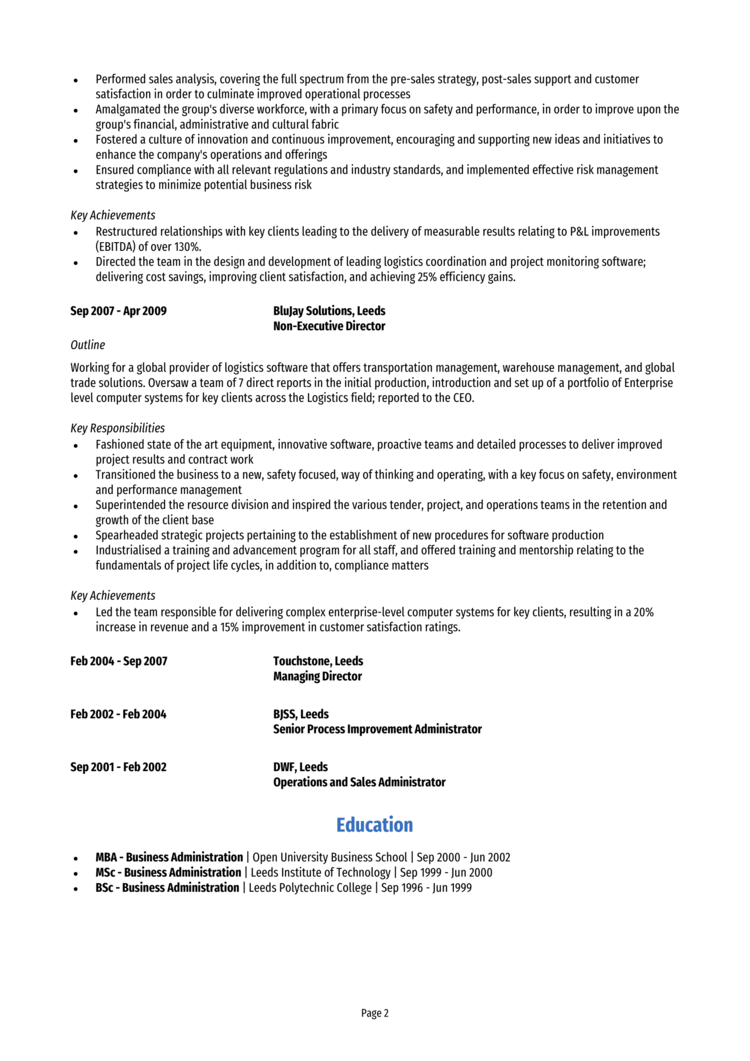 The CV example above shows how you can create a pleasant reading experience for employers, even if you've got decades of experience to showcase.
Next, I'll walk you through how to structure and format your own CEO CV, before launching into the detail of what information needs to be included in each section.
CEO CV structure & format
There's plenty of competition for senior roles, so hiring managers could have piles of CV's to look through – but limited time to do so!
Therefore, the key to producing an interview-winning CEO CV is structuring it in a way which makes your key selling points stand out, even if your CV is being skim read.
You should also make use of my savvy formatting tricks, to ensure your vast experience is easy to navigate.
Formatting Tips
Break up text as much as possible by using bold headings, bullet points and columns. Avoid long blocks of uninterrupted text – they're a recruiters' pet hate!
Stick to a simple, crisp font and muted colour scheme – fancy designs will only distract from the all-important content.
Even though you're applying for senior roles, you still need to keep your CV to a maximum of 2 sides of A4. This may seem tricky, but it'll force you to pick out your most relevant experience, skills and attributes – so it's actually a positive!
Avoid include logos or pictures. They're simply not required, add no advantage to your application and merely waste valuable space.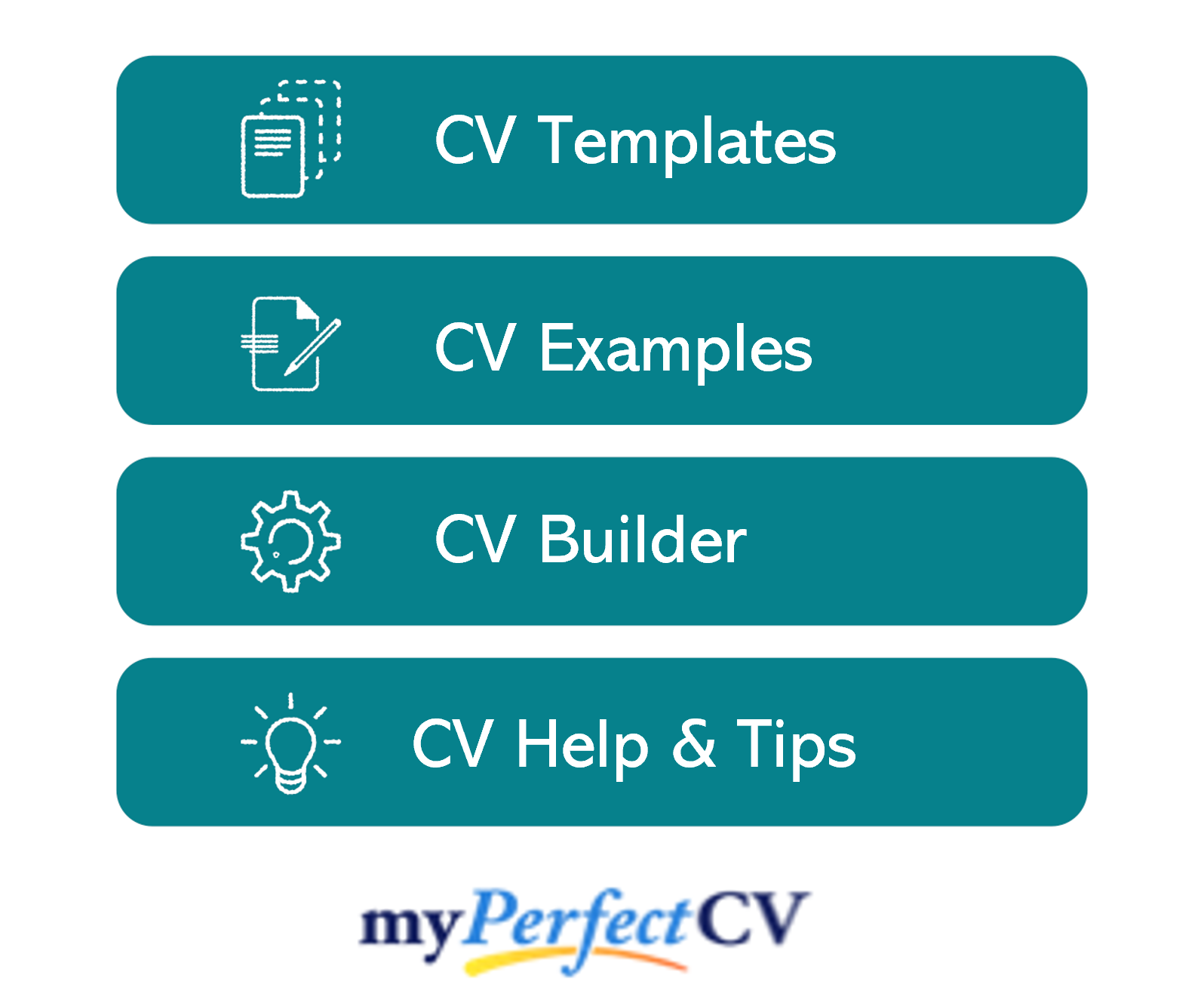 Structuring your CV
Break your CV into clearly defined sections working towards the below structure:
Contact details – These should be listed at the very top of the first page of your CV.
Profile – A punchy, high-level introduction which summarises your offerings to grab the attention of busy recruiters.
Work experience / Career history – Work in reverse chronological order, prioritising space for your most recent and relevant roles.
Education – Note down your qualifications, especially those which are relevant to the role you're applying for.
Interest and hobbies – An optional section, but can be used to showcase hobbies which are relevant to the target role.
Now, I'll take you through what you need to include in each of these CV sections, in order to create a CV which wows recruiters.
CV Contact Details
Start your CV by noting down your contact information.
Stick to the basic details – there's no need to include things like date of birth, marital status or your full address.
Phone number
Email address
Location – Just list your town or city, for example, 'Norwich'.
If you have one, include a link to your LinkedIn profile.
CEO CV Profile
For any senior role, you face some stiff competition, making it vital to hook the attention of hiring managers as soon as they set their eyes on your CV.
The best way to do this is to create a punchy personal profile which showcases exactly why you'd be the best hire for the job.
Tips to consider when creating your profile:
Cliché or generic phrases such as "Hardworking team player with a can-do attitude" won't impress recruiters, especially at senior level. They're completely unproven and don't add value to your candidacy. Instead, focus on hard facts like skills, achievements and industry knowledge.
Your profile needs to be short, sharp and punchy, so stick to a length of between 5-10 lines and focus on high-level details. You can add far more detail later on in your CV.
Always tailor your CV profile to the specific positions you're applying for, making sure to match the essential requirements listed in the role advertisements as closely as you can.
Avoid mentioning your career objectives or motivations in your profile – this type of information is best suited to your cover letter.
What to include in your CEO CV profile?
Your industry/market expertise – Investment banking, fashion, property, pharma…
Your field specialism – Programme management, strategic planning, economic analysis, finance, business leadership…
Level you work at – Developing start-ups, leading multi-million-pound initiatives, managing international operations…
Results you deliver – Generating revenue, building client databases, reducing costs, increasing market share…
Subject expertise – Software knowledge, industry regulations, technology specialisms…
Relevant qualifications – While experience trumps qualifications at senior level, it's worth mentioning any qualifications you hold which are considered vital in your field.
Core skills section
Creating a snappy list of your key skills is a highly effective way to spark the interest of busy recruiters.
Consult the job description and carry out sector research to identify which of your skills you need to be included. Focus on hard and technical skills, sector knowledge, methodologies and specialisms.
Even if they a recruiter was to quickly scan through your CV, this list, paired with your profile, ensures they know that you'd be a perfect fit for the role.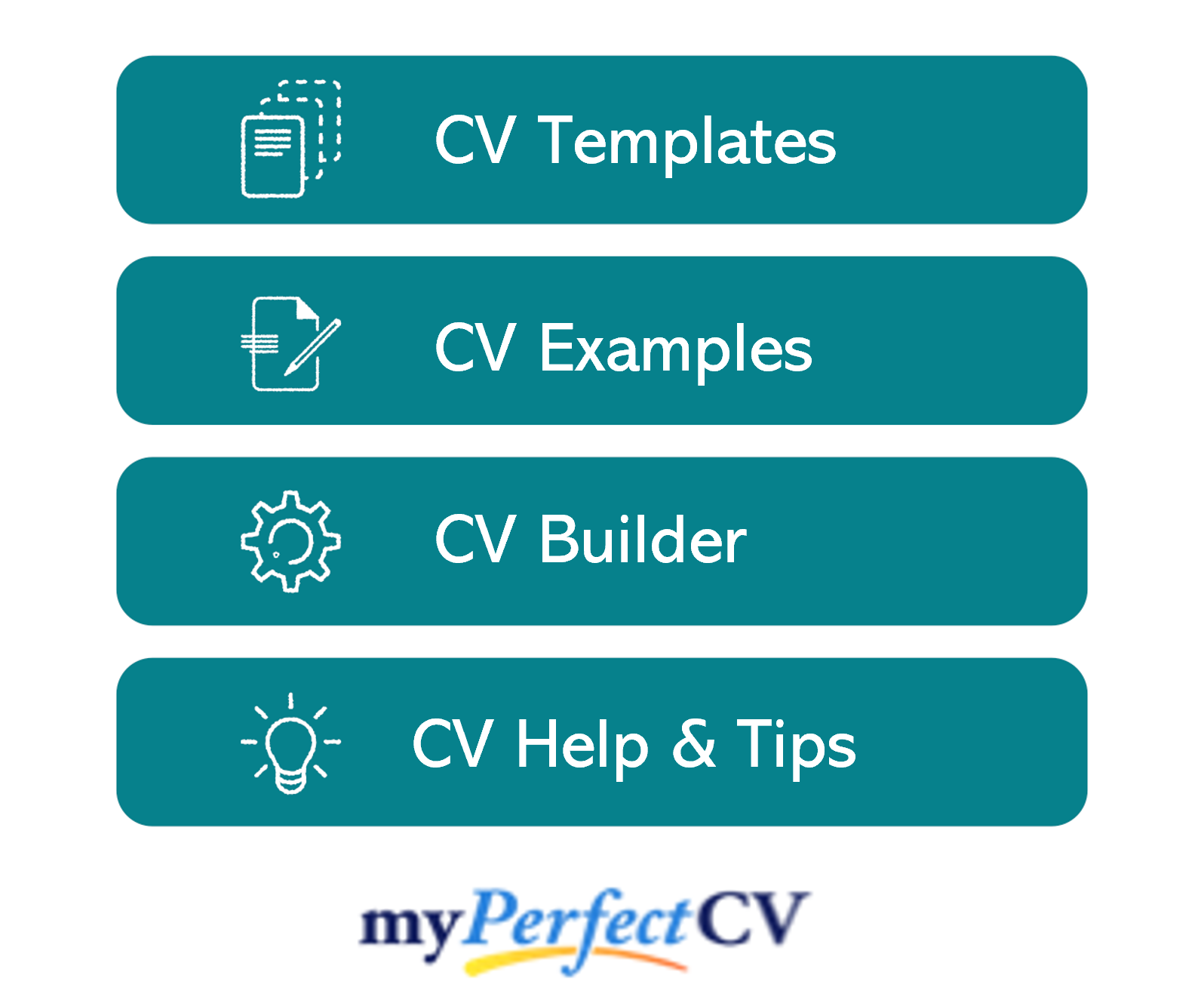 Work experience/Career history
Now that you've optimised the top section of your CV and hooked the attention of the reader, you can go into more detail about your relevant work experience.
Start with your current role and work backwards. By this stage of your career, you're bound to have plenty of experience, but you still need to stick to the 2-page maximum length.
So, focus the attention on your roles from the past 1-10 years, and reduce the detail for your older roles. You can add your oldest roles as a simple, one-line summary, or even throw numerous roles into one. For example:
"1985 – 1984: Various roles within investment banking"
Structuring your roles
No recruiter wants to be faced with huge blocks of text, so break up your roles by using my simple, three-stage structure.
This method, along with some simple formatting tricks, makes it easy for readers to skim through your roles and gauge the impact you made within each.
Outline
To provide some context to the role, begin with a brief summary of the company you worked with, where you sat within the business and what the overarching purpose of your role was.
E.g.
"Leading EMEA region for international banking transactions, tasked with overseeing 3 multi-million-pound transformation programmes and continued growth of service sales."
Key responsibilities
Use bullet points to detail your day-to-day duties, making sure to showcase the impact your contributions made to the wider success of the business.
E.g.
Managed and reported the budget (£5m) setting process for 2015/16 and return to NTDA.
Developed collaborative relationships with all stakeholders – Execs/Non-Execs, NTDA, PWC, EY and internal staff to aid information gathering process and buy-in.
Key achievements
If you're applying for a chief executive officer role, you'll be expected to bring results from the get-go. After all, if you're expecting a high salary, the employer needs to know they'll receive a return on their investment.
So, use this section to demonstrate your results and achievements in previous roles, using facts and figures to highlight the significance of your work.
E.g.
Developed 8 assessment centres, managed the consultancy period and made a number of redundancies and hires for vacant positions, saving circa £200k annually
Renegotiated key staff supplier contracts, reding staffing bill by £30k per month (15% saving)
Education
For a role at this level, recruiters will be far more interested in your experience over your qualifications, so you should keep the education section brief.
Avoid listing your GCSE or A-Level grades, but do note down any mandatory qualifications for your sector, as well as your highest qualification, such as a degree.
Interests and hobbies
Hobbies or interests are highly unlikely to influence the hiring decision for a position at this level. In most cases, it's best to skip this section and save the space for the most important sections of your CV.
However, highly relevant interests, such as writing for industry blogs, speaking at events or running your own sector-specific website, could add value to your application and may be worth including.
It's best to use your own judgement here – just make sure you only list things which will add value to your application.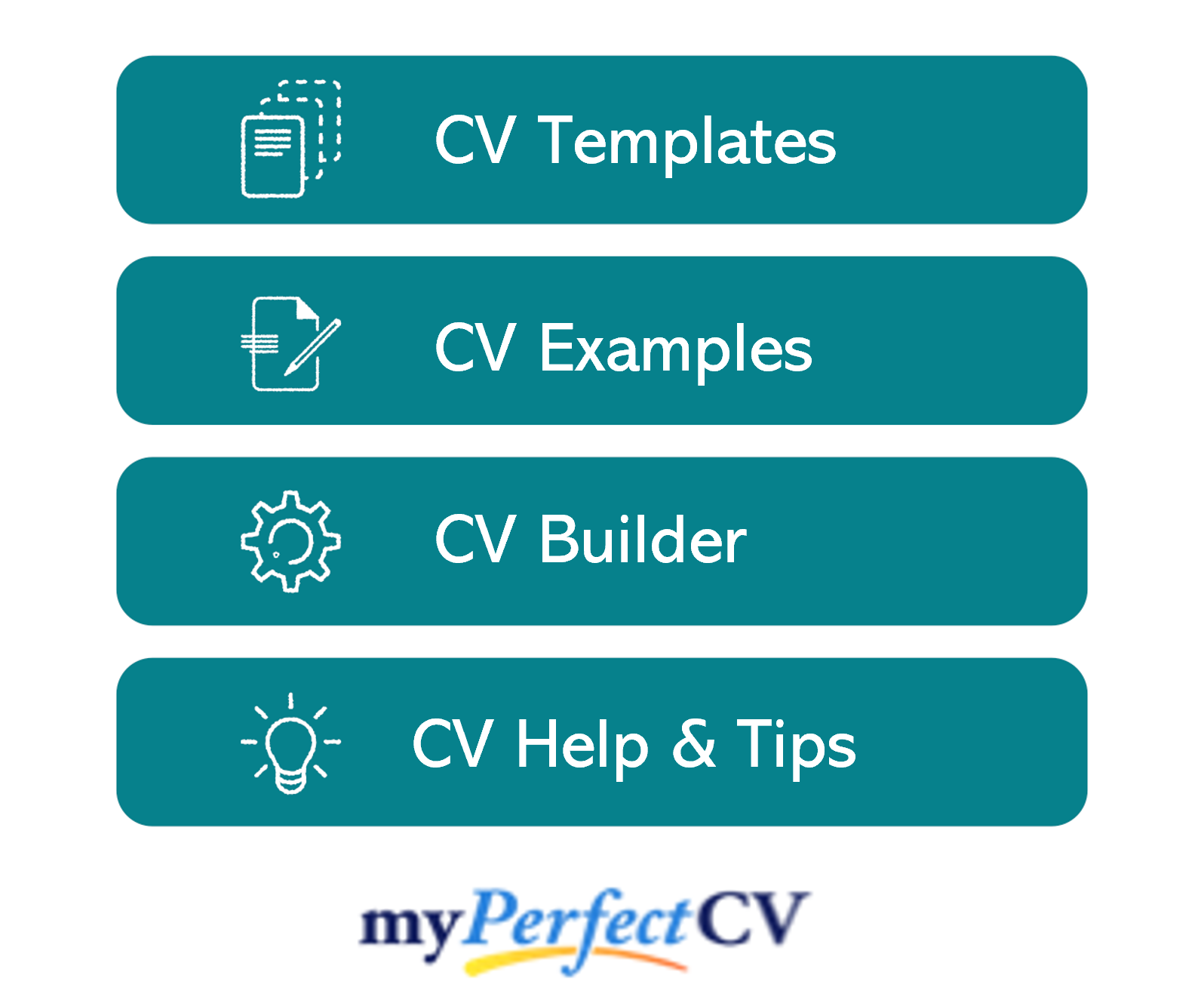 Essential skills for your CEO CV
The required skill set will change depending on the sector, but generally, you'll be expected to hold the following CEO skills:
Operations management – Overseeing company operations to ensure they produce the desired results and are consistent with the overall business strategy and mission.
Business Strategy – Planning, developing and implementing strategic plans to advance the company's mission and objectives.
Business development – Identifying new sales opportunities and driving business growth.
Financial analysis, forecasting & control – Driving profitability and overseeing the company's financial activity, including budgeting, reporting, and auditing.
Team leadership – Showing leadership, guiding senior management and building a positive and productive culture in the workplace.
Writing your CEO CV
Winning one of the top roles in your industry is no easy task, but a strong, professional and well-written CV is sure to spark the attention of the right people.
With plenty of experience to showcase, the key to creating an interview-winning CEO CV is a solid structure and format. By using clearly defined sections, a simple style and plenty of bullet points throughout, you'll allow your key selling points to stand out without overwhelming the reader.
Remember to litter your profile and work experience sections with lots of quantified results, to prove the value you could add to an organisation.
Good luck with your job search!