If you want to get your job search off to a flying start, try one of our editable CV templates.
They are free to download and provide you with a winning structure and format that is guaranteed to get you noticed by employers.
We have a template for every industry and career stage.
Contents

No experience CV template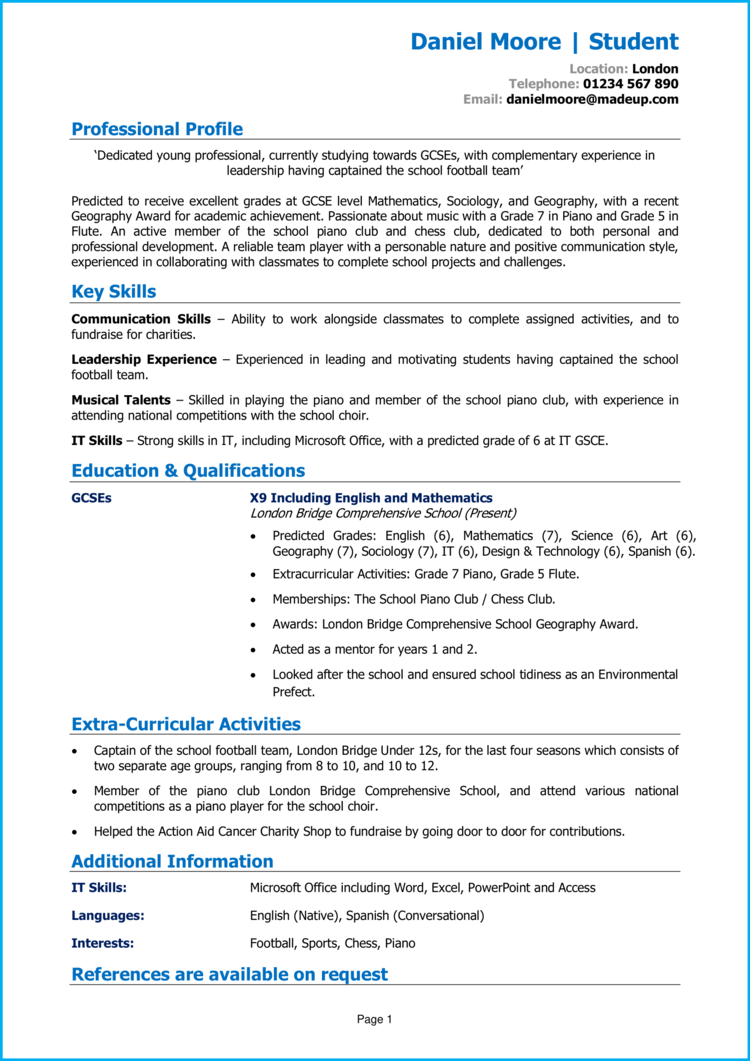 Top tips for writing a CV with no experience
Writing a winning CV can feel like a challenge when you don't have any experience but remember, it's not always the most experienced candidate that gets the job. You can still create a great CV that highlights your achievements and sells your skills:
Start your CV off strong with a snappy personal statement that outlines your key skills, qualifications and what makes you perfect for the jobs you are applying to
Use your CV structure to your advantage by placing your most important achievements higher up. With little experience, this will usually mean making you education section a focal point, near the top
Highlight your transferable skills from your education and hobbies, and demonstrate how you can apply these to the role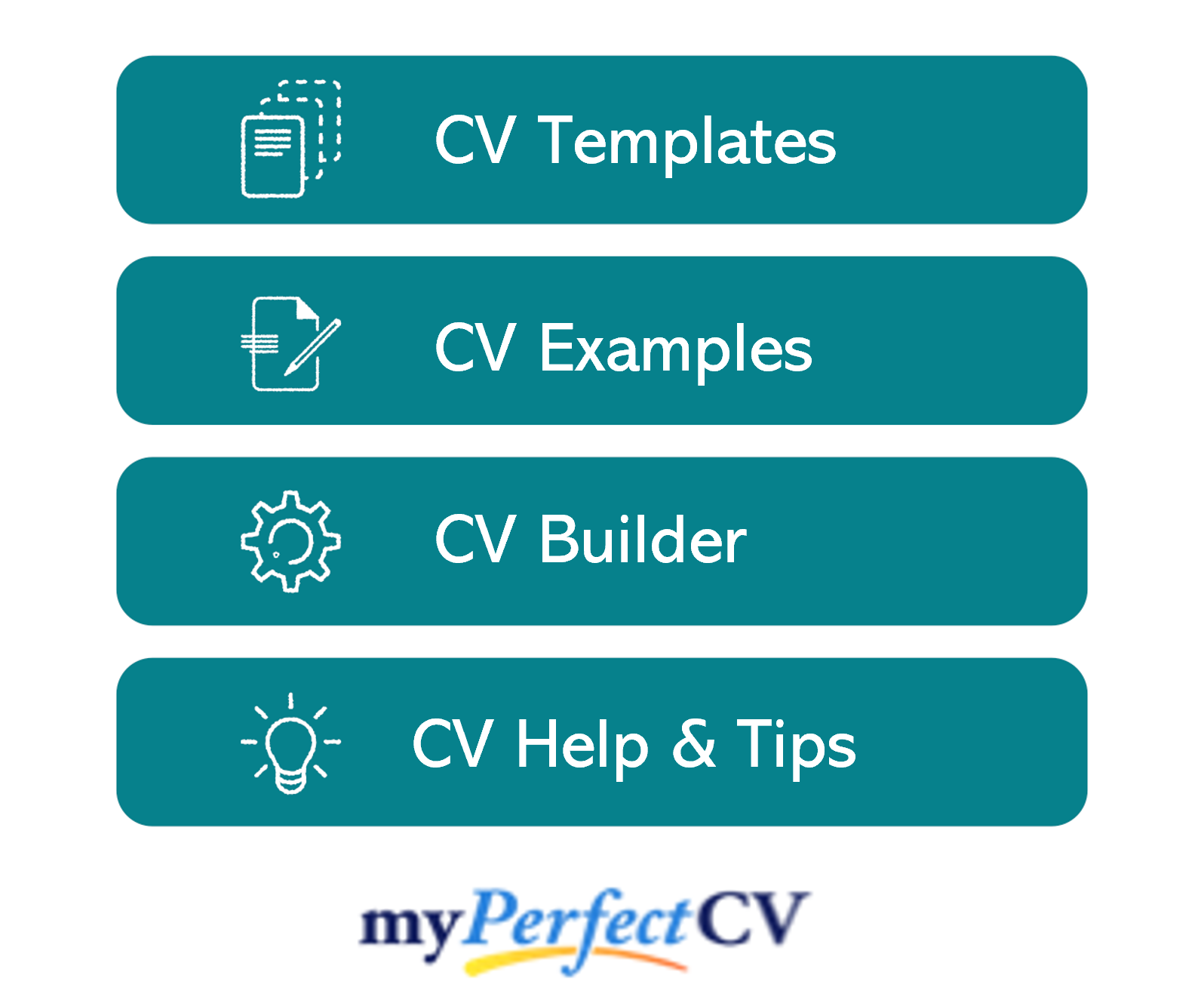 School leaver CV template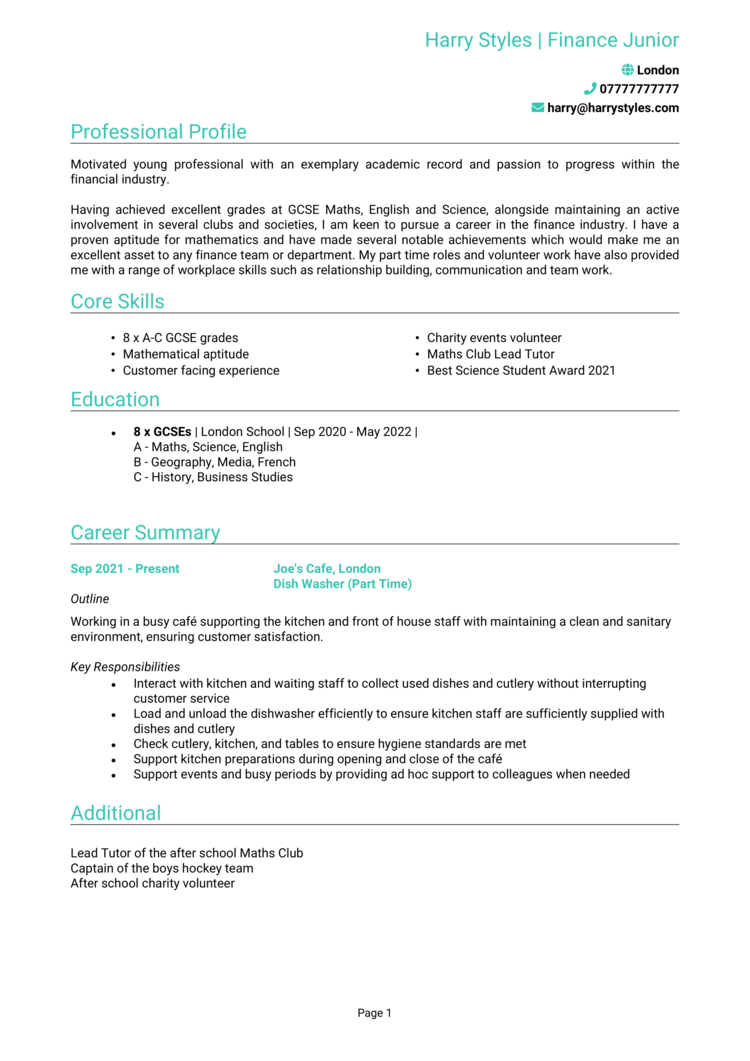 Top tips for writing a school leaver CV
Whether you're applying for work experience, an entry-level job or a training programme, writing your first CV after you've left school can be nerve-wracking. Here are our top tips for combatting those nerves and creating a strong application:
Put your English lessons to good use and start your school leaver CV with a gripping personal statement that outlines how your education and skills could benefit an employer.
Make your education a key focus of your CV and outline any subjects or modules you studied that are relevant to the role you're applying for
Include a hobbies and interests section. This can make up for your lack of experience and can demonstrate your transferable skills for the workplace
Graduate CV template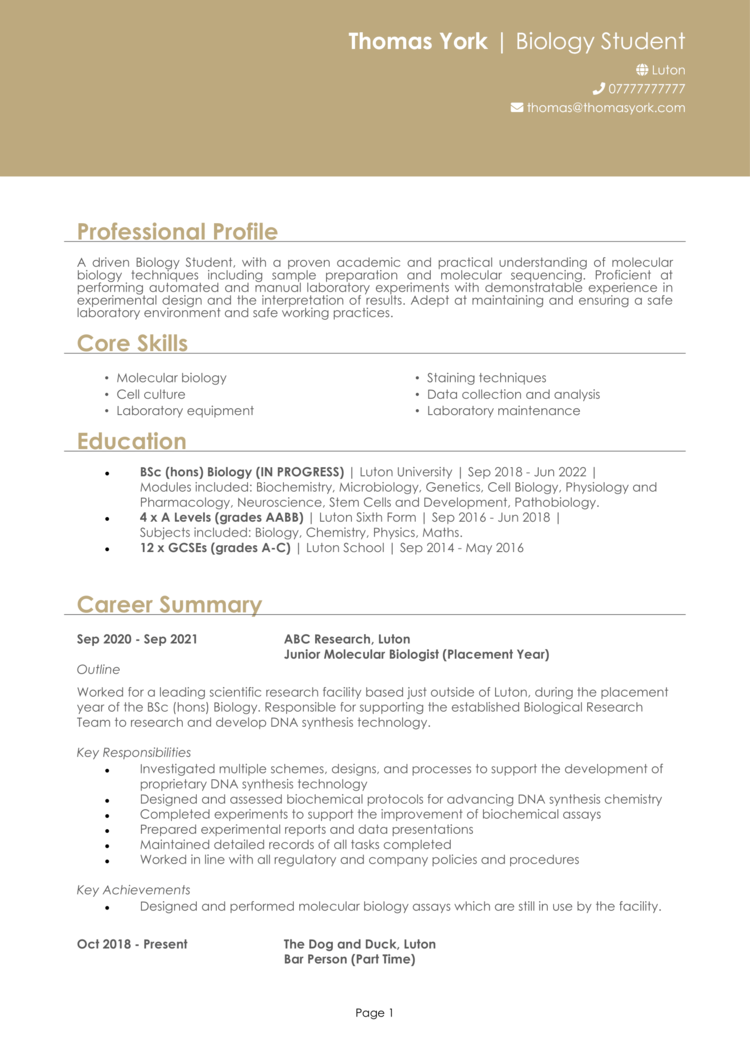 Top tips for writing a graduate CV
The graduate job market can be competitive, so it's important that you create a killer CV that helps you to stand out. Use our template above and the top tips below to help you do this:
Your degree and subsequent qualifications are likely to be your main asset so make this the focal point of your personal statement and include plenty of detail in your education section.
If you don't have any experience you should include a hobbies and interests section to shout about your skills and achievements from sports teams, clubs, volunteering etc.
Research the jobs you are hoping to apply for thoroughly and be sure to reflect the key candidate requirements throughout your CV
Career change CV template

Top tips for writing a career change CV
Writing a career change CV can be a daunting task, you're moving away from the industry you know, and you might be concerned that you don't have any relevant work experience. The good news is, using the tips below you can effectively sell your relevant skills and achievements:
When you're starting a whole new career, it's a good idea to start your CV from scratch and tailor it completely to your new chosen sector
You should use your personal profile to address why you're making a career change and to highlight the transferable skills that make you right for the new role
Ensure that you place any new courses or voluntary work that you have taken to equip yourself for the new sector – and place them at the top of the CV so that they are not missed
Accounting CV template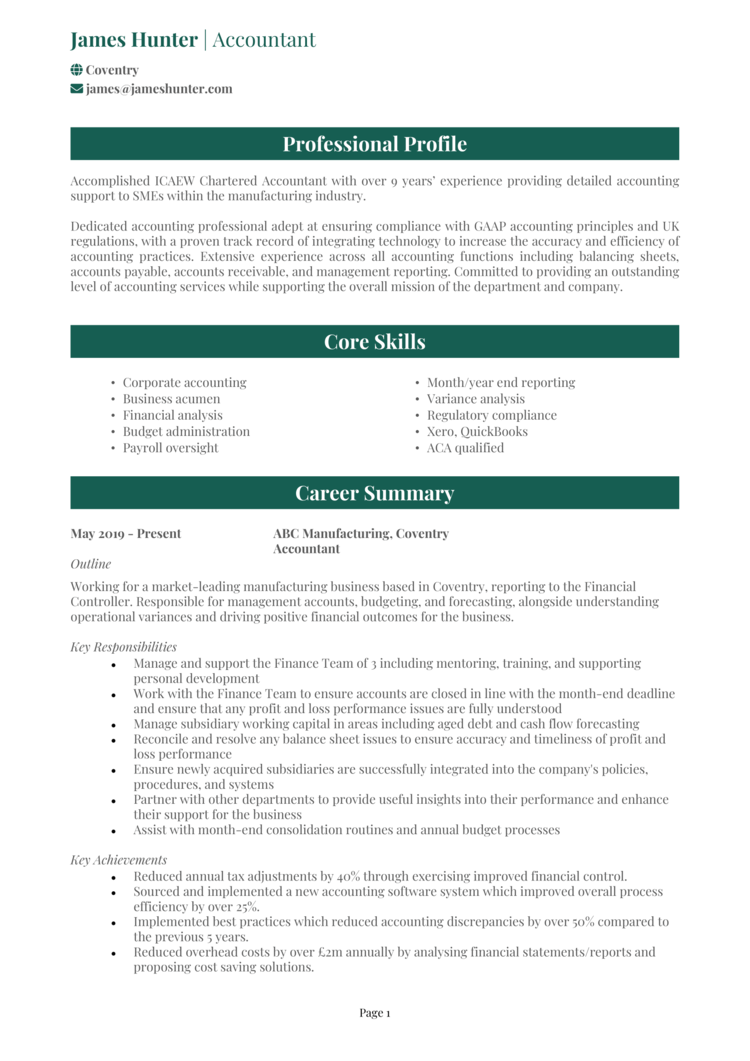 Top tips for writing an accounting CV
If you're looking for an accounting role, it's essential you get your CV right. You can grab the recruiters attention with a well-structured, strong CV by using the following advice:
Carefully review the job description to identify the skills you possess that this specific employer is looking for. Then you can highlight these skills throughout your CV
As an accountant, you use figures constantly, so ensure you do the same in your CV. Use statistics and figures to quantify your achievements in past roles to show how you can add real value
Don't forget about your transferable skills! As an accountant it can be easy to focus on your hard, technical skills but remember, soft skills are important for the role to
Admin CV template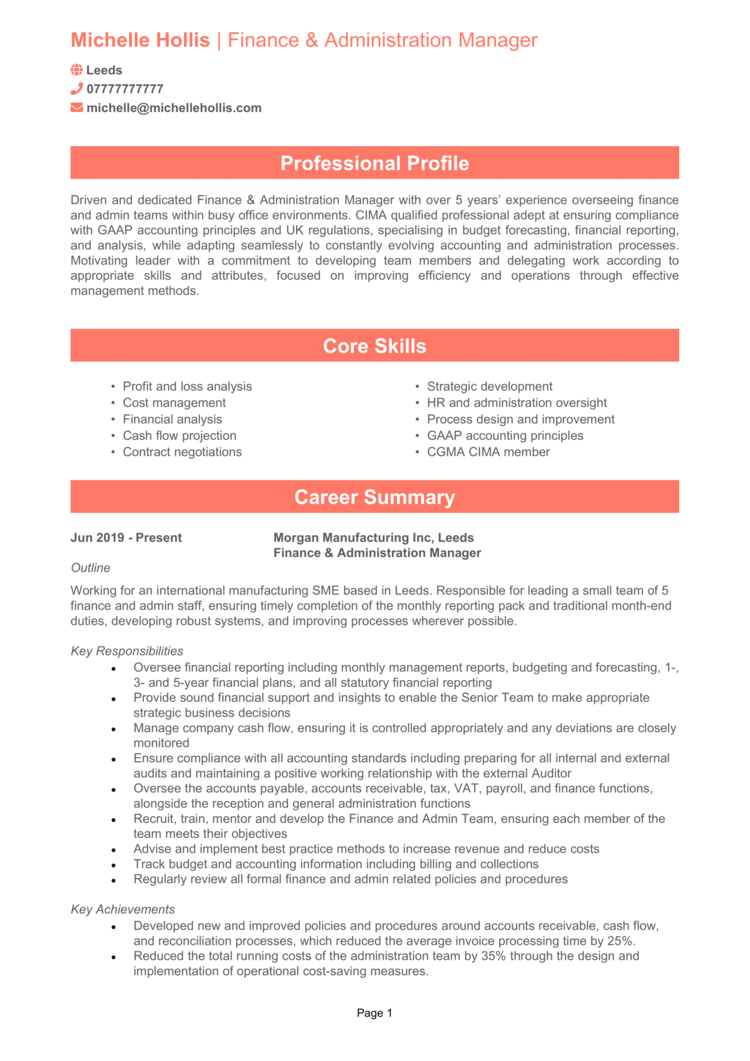 Top tips for writing an admin CV
Whether you're looking to start a career in administration or you're already in the industry and hoping to take the next step, you need to create a stand-out CV that separates you from the competition. Our top tips below will help you to perfect your CV and land an admin role:
You should start by writing a persuasive personal profile that highlights your current situation, your key admin skills and the types of organisations you have you worked for in the past
Be sure to include a core skills section which outlines your soft skills, admin-specific skills and any technical skills you have that will help you in the role
When outlining your work experience, include a bullet pointed list of your responsibilities and give examples of how your actions have benefited past employers
Management CV template

Top tips for writing a management CV
If you're hoping to secure a management role, you need a strong CV that is going to showcase your leadership skills. To help you achieve this, we've pulled together some helpful tips:
You need to get the layout of your management CV just right, break this down into clearly defined sections and use bullet points where necessary. This way hiring managers can find the information they're looking for quickly and efficiently
Grab the recruiters attention right away by using your personal profile to summarise your high-level skills and experience. This will encourage them to keep reading
It's easy to say you're a good leader but you need to prove it! Make sure you include your key achievements and past results, quantifying these where possible, to show your value as a manager
Marketing CV template

Top tips for writing a marketing CV
Your role in marketing might mean you're promoting products or services on a daily basis, yet when it comes to promoting yourself, you freeze up. To overcome this, use our top tips for creating an impressive marketing CV:
Marketing is a competitive industry, as such, you should do your research and make sure to tailor every application to the specific company and role before you apply
You need to highlight your marketing skills throughout your CV but it's important to name any specific marketing tools or platforms you can use. Particularly if these are listed in the job description
Use your education section to outline any relevant sector qualifications you have such as your degree, marketing certifications or any online courses you have undertaken
IT CV template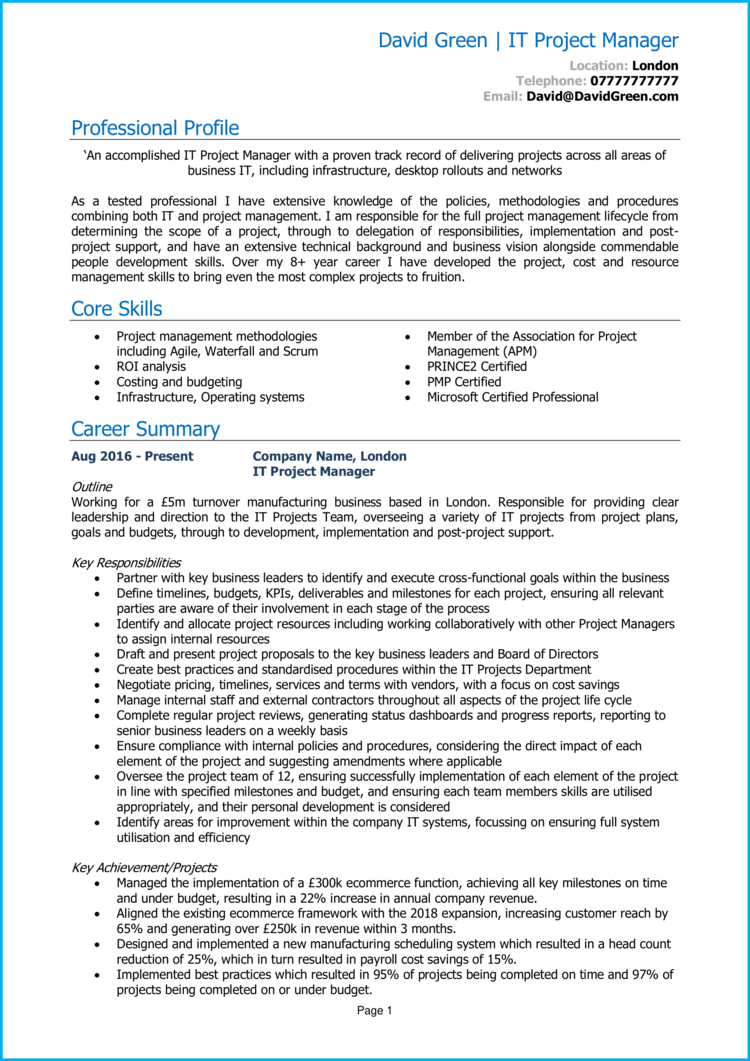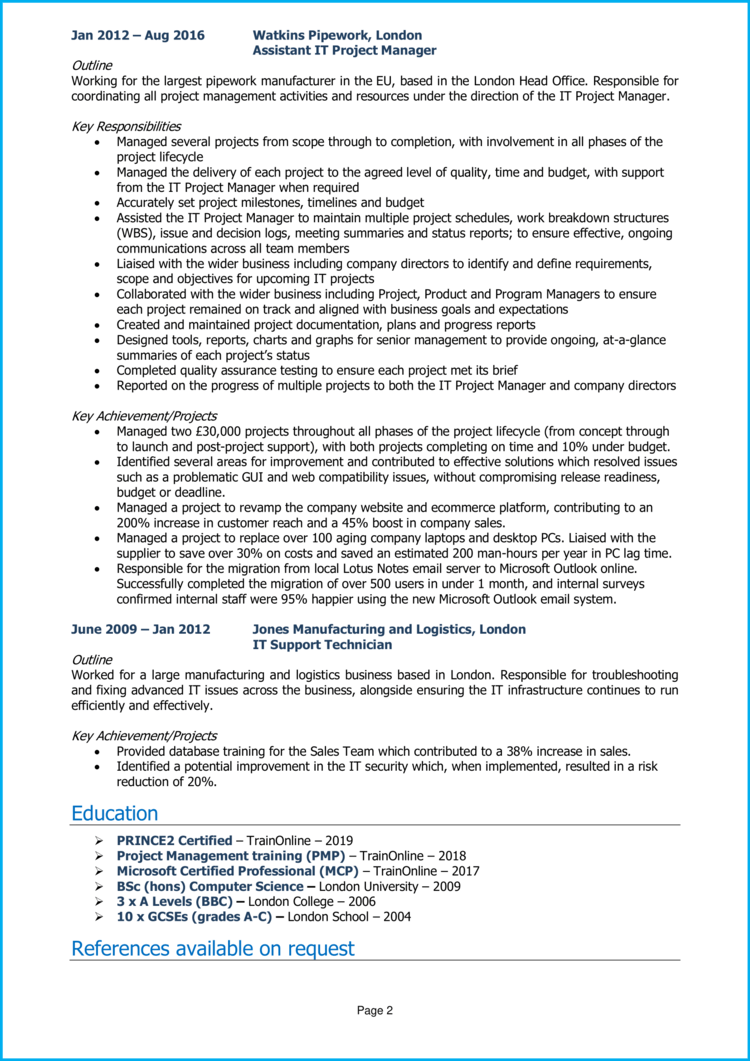 Top tips for writing an IT CV
If you're searching for an IT role, then you need to create a CV that is going to showcase all your technical skills. Below, we've pulled together our top tips for doing this effectively:
Make sure your personal profile isn't stuffed full of clichés, instead use this short introduction wisely to outline your key skills and experience in the IT sector
Avoid listing skills which aren't relevant to the role. You might know lots of programming languages, frameworks and other technical skills but if they aren't relevant, they're just taking up valuable space
Be sure to provide examples of your direct impact on past projects, quantifying these if possible. You can dot this in your personal profile, employment history and achievements sections