Do you love working with young children? If so, then a role as a childcare assistant is perfect for you.
But when you're caring for other people's most precious belongings, you need to prove you've got the skills and training to keep them safe.
So, to increase your chances of securing an interview, you need a standout application. We can help you to create just that using our step-by-step guide and childcare assistant CV example.
Contents
| | |
| --- | --- |
| How to write a Childcare Assistant CV | |

Childcare Assistant CV example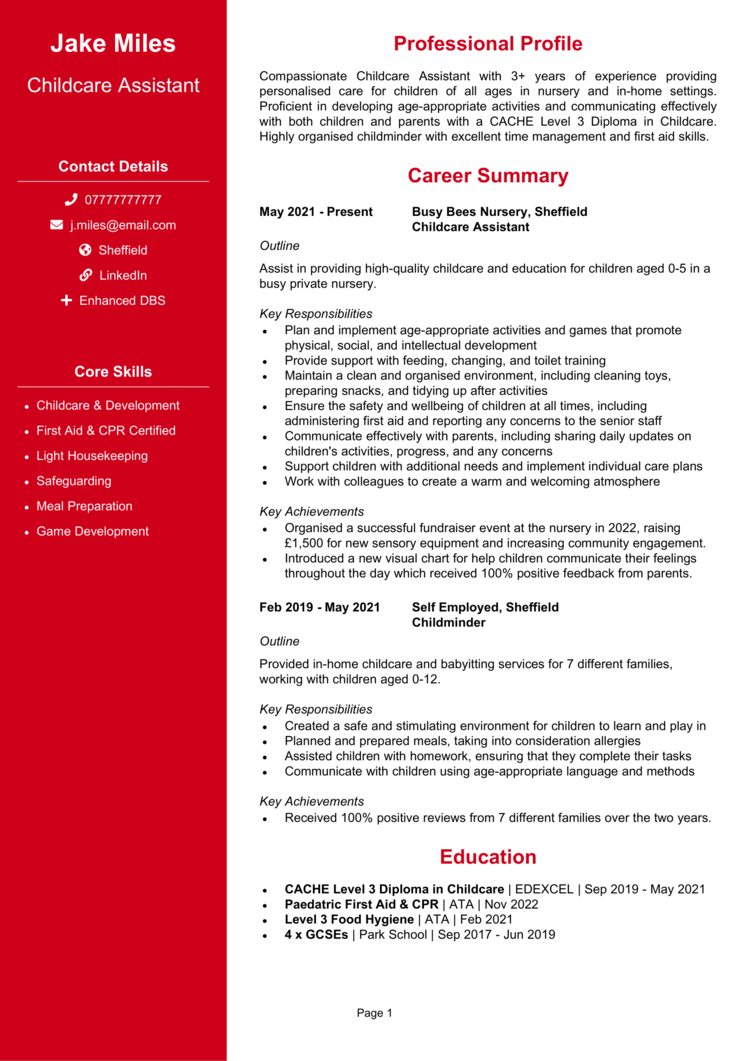 This CV example demonstrates the type of info you should be including within your Childcare Assistant CV, as well as how to format and layout the content in a way which looks professional and is easy for time-strapped recruiters to read.
This is the look and feel you should be aiming for, so remember to refer back to it throughout your CV writing process.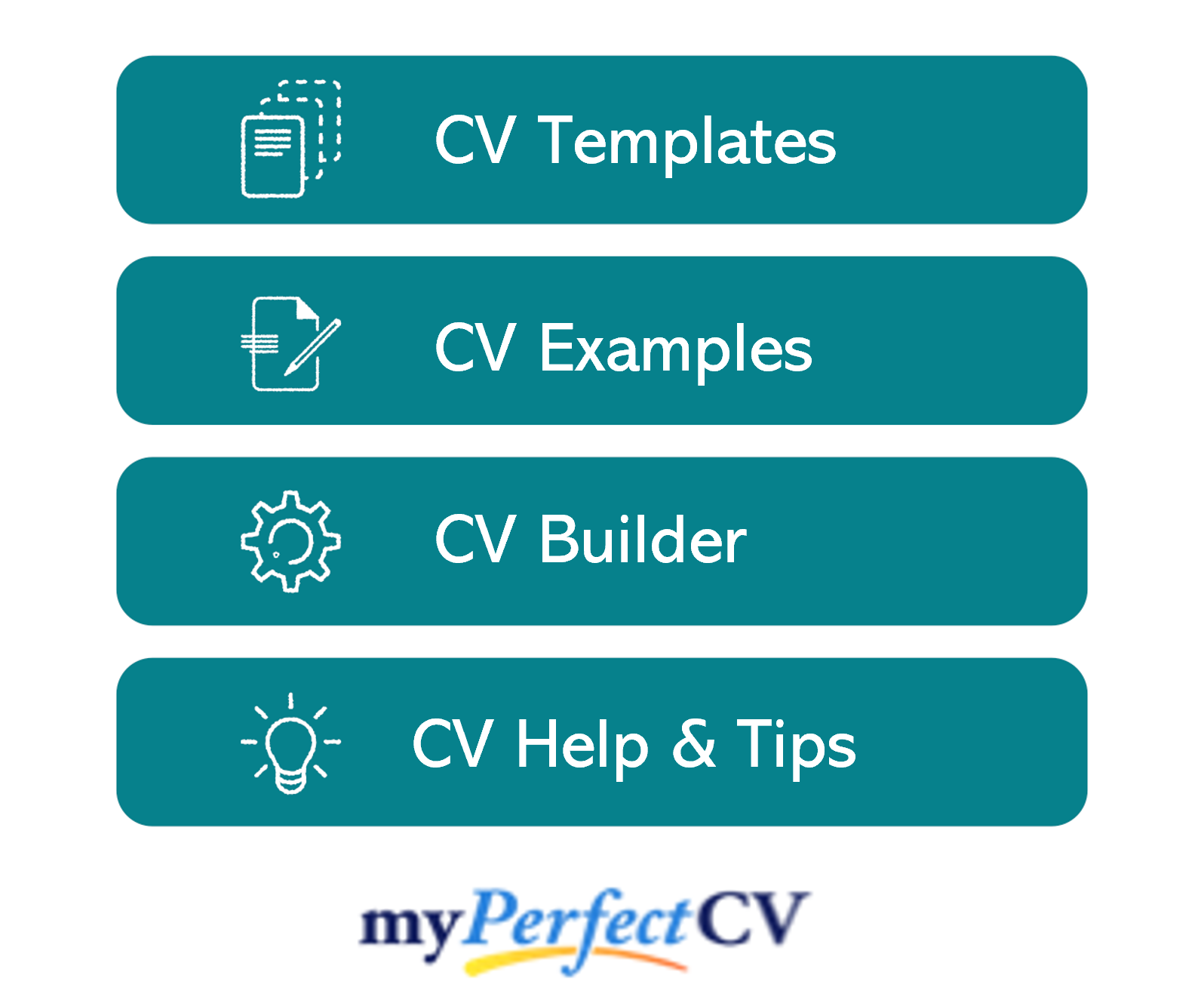 Childcare Assistant CV format and structure
Recruiters and employers are busy, and if they can't find the information they're looking for in a few seconds, it could be game over for your application.
You need to format and structure your CV in a way which allows the reader to pick out your key information with ease, even if they're strapped for time.
It should be clear, easily legible, well-organised and scannable – check out some simple tips and tricks below: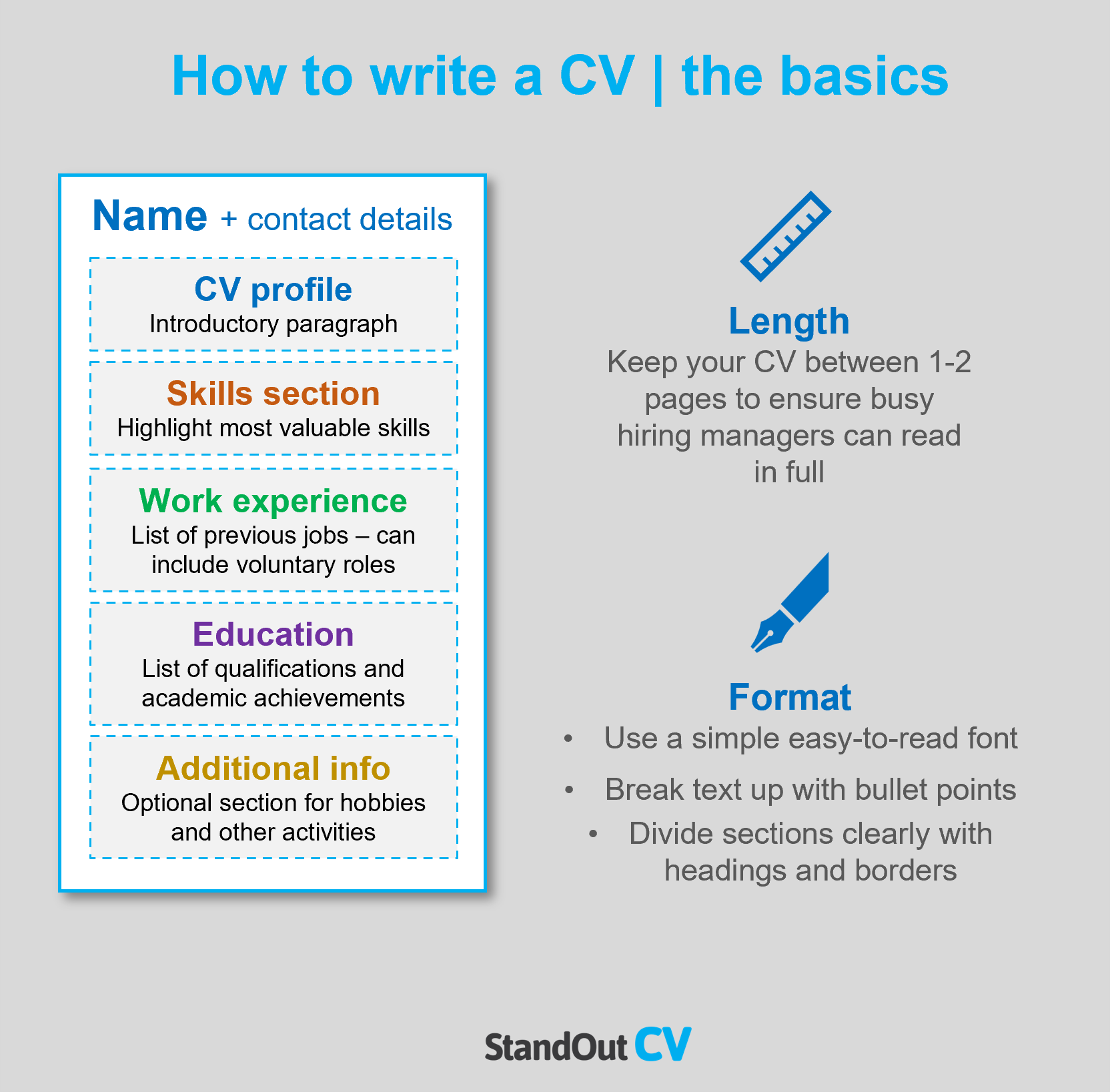 Tips for formatting your Childcare Assistant CV
Length: Your CV should always be limited to two sides of A4, regardless of whether you have a year or three decades of experience. With recruiters juggling multiple responsibilities, they don't have time to sift through lengthy applications.
Readability: To help recruiters quickly skim through your CV, it's important to format your section headings with bold or a different colour font and break up lengthy paragraphs into short sharp bullet points. This enables them to easily identify important information and assess your suitability.
Design & format: While it's okay to add your own spin to your CV, avoid overdoing the design. If you go for something elaborate, you might end up frustrating recruiters who, above anything, value simplicity and clarity.
Photos: You can add a profile photo to your CV, if you want to add some personality to it, but they are not a requirement the UK, so you don't have to.
Quick tip: Creating a professional CV style can be difficult and time-consuming when using Microsoft Word or Google Docs. To create a winning CV quickly, try our partner's CV Builder and use one of their eye-catching professional CV templates.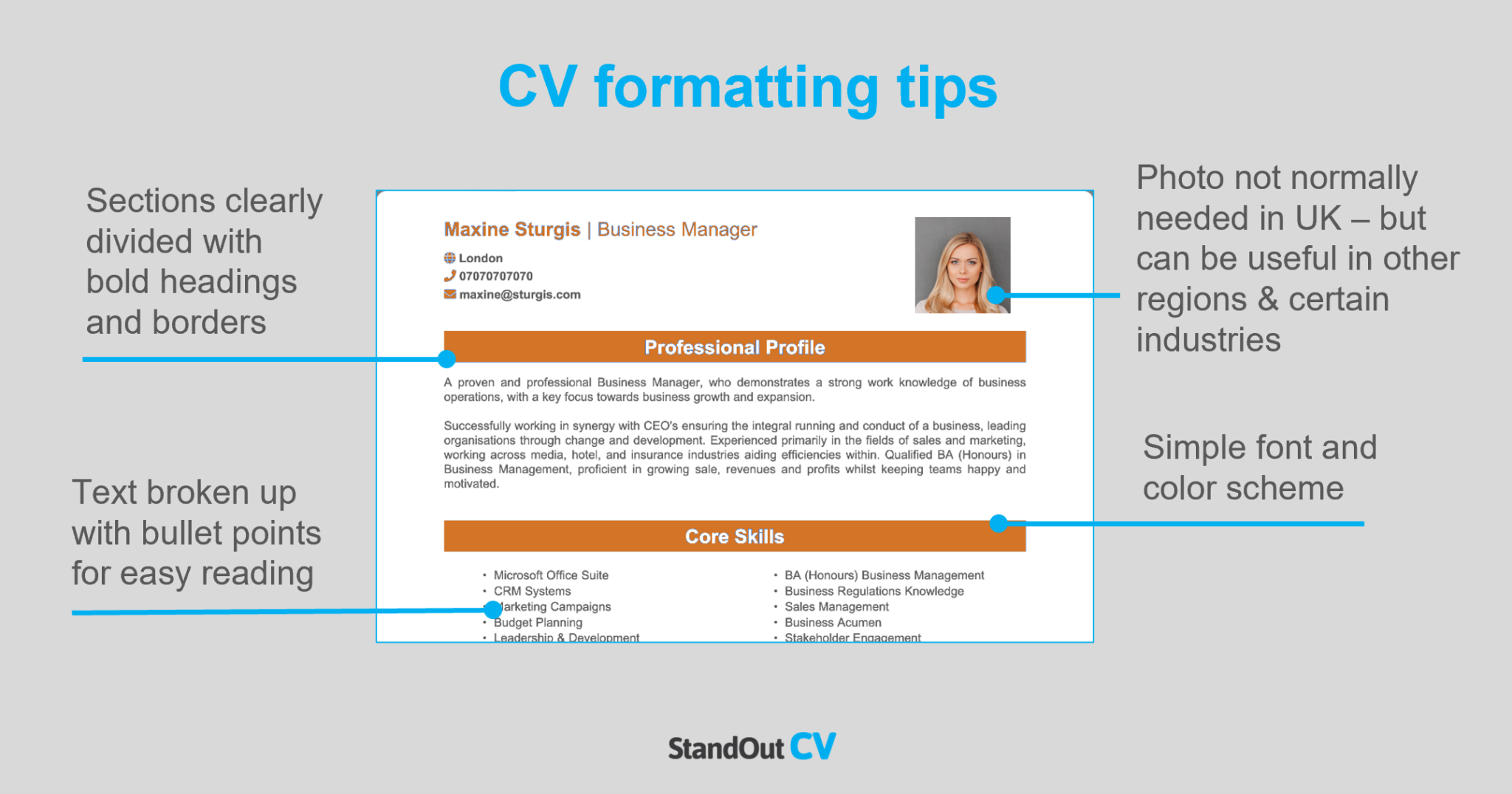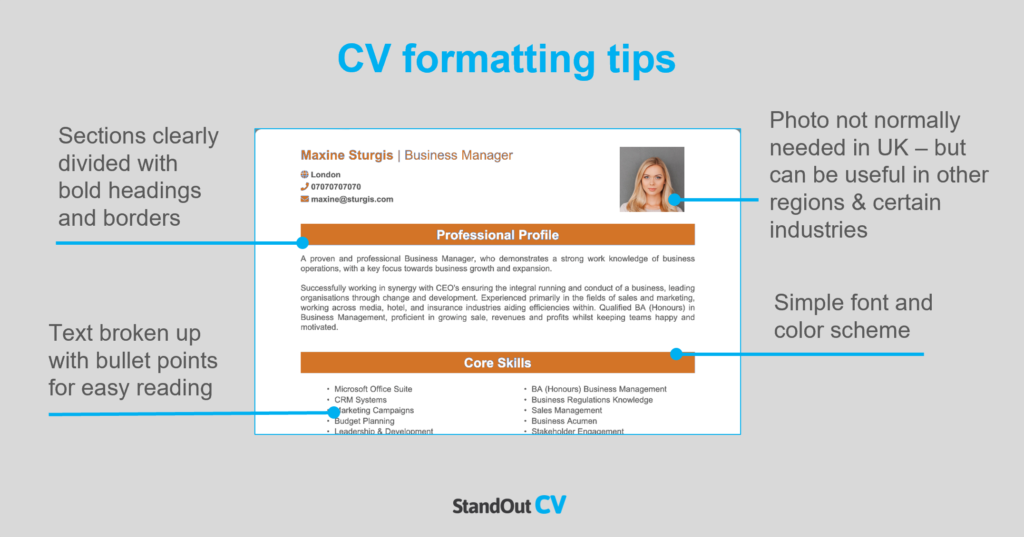 CV structure
For easy reading, write your CV to the following CV structure:
Contact details – Make it easy for recruiters to get in touch with you by listing your contact details at the top of your CV.
Profile – A short and snappy summary of your experience and skills, showcasing what makes you a good fit for the position.
Work experience / career history – Note down all your work history, with your current position first, then working backwards.
Education – A short list of your academic background and professional/vocational qualifications.
Interest and hobbies – This is an optional section, which you can use to highlight any relevant hobbies or interests.
Now you understand the basic layout of a CV, here's what you should include in each section of yours.
Contact Details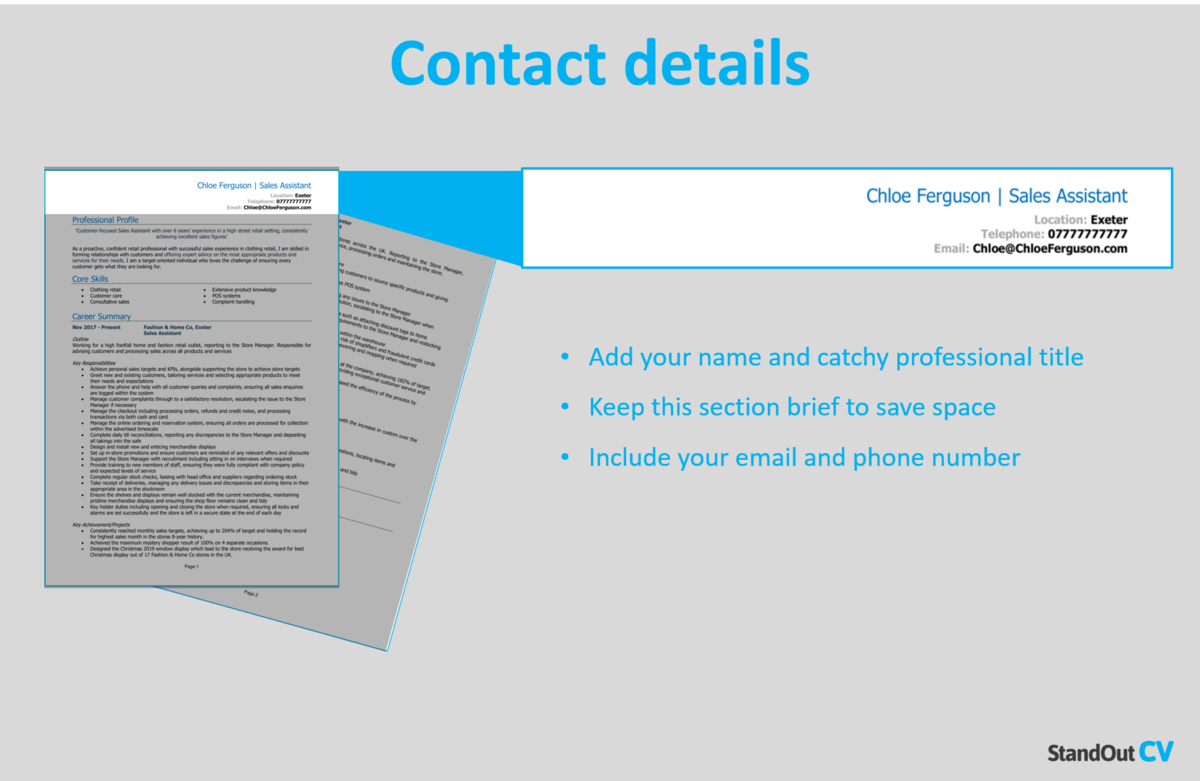 Make it easy for recruiters to get in touch, by heading your CV with your contact details.
There's no need for excessive details – just list the basics:
Mobile number
Email address – Use a professional address with no nicknames.
Location – Just write your your general location, such as 'London' or 'Cardiff' – there's no need to put your full address.
LinkedIn profile or portfolio URL
Childcare Assistant CV Profile
Recruiters read through countless applications every day.
If they don't find what they're looking for quickly, they'll simply move onto the next one.
That's what makes your CV profile (or personal statement, if you're an entry-level/graduate candidate) so important.
This short and snappy summary sits at the top of your CV, and should give a high-level overview of why you're a good match for the job.
This way, you can ensure that busy recruiters see your suitability from the outset, and so, feel your CV is worth their time.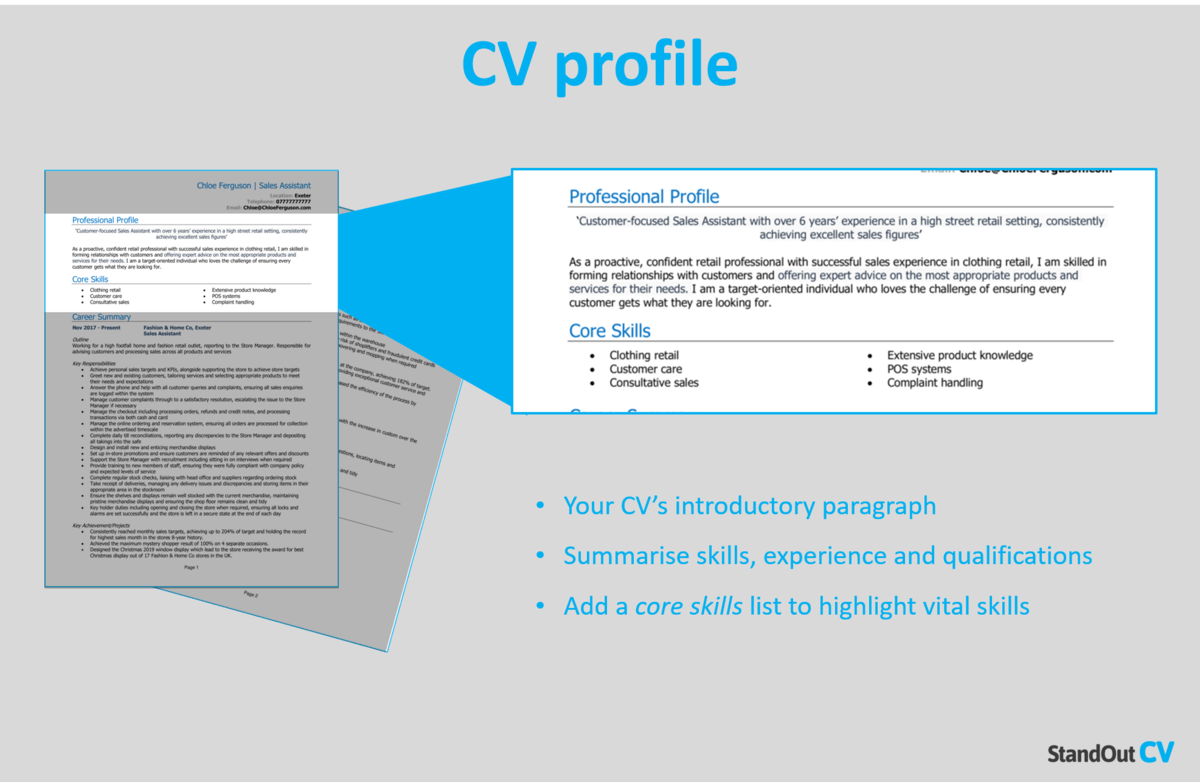 How to write a good CV profile:
Make it short and sharp: The best CV profiles are short, sharp and highly relevant to the target role. For this reason, it's best to write 3-4 lines of high-level information, as anything over might be missed.
Tailor it: Recruiters can spot a generic, mass-produced CV at a glance – and they certainly won't be impressed! Before you write your profile (and CV as a whole), read through the job advert and make a list of any skills, knowledge and experience required. You should then incorporate your findings throughout your profile and the rest of your CV.
Don't add an objective: Career goals and objectives are best suited to your cover letter, so don't waste space with them in your CV profile.
Avoid generic phrases: Focus on fact, not fluff. Phrases like "Committed and enthusiastic thought-leader" and "Dynamic problem solver" might sound fancy, but they'll do nothing for your application. Not only do they sound cheesy, but they have no substance – stick to real skills and facts
Example CV profile for Childcare Assistant
Compassionate Childcare Assistant with 3+ years of experience providing personalised care for children of all ages in nursery and in-home settings. Proficient in developing age-appropriate activities and communicating effectively with both children and parents with a CACHE Level 3 Diploma in Childcare. Highly organised childminder with excellent time management and first aid skills.
What to include in your Childcare Assistant CV profile?
Experience overview: Start with a brief summary of your relevant experience so far. How many years experience do you have? What type of companies have you worked for? What industries/sectors have you worked in? What are your specialisms?
Targeted skills: Employers need to know what skills you can bring to their organisation, and ideally they want to see skills that match their job vacancy. So, research your target roles thoroughly and add the most important Childcare Assistant skills to your profile.
Important qualifications: If the job postings require specific qualifications, it is essential to incorporate them in your profile to ensure visibility to hiring managers.
Quick tip: If you are finding it difficult to write an attention-grabbing CV profile, choose from hundreds of pre-written profiles across all industries, and add one to your CV with one click in our partner's CV Builder. All profiles are written by recruitment experts and easily tailored to suit your unique skillset.
Core skills section
Add a core skills section below your profile to draw attention to your most applicable skills and make them stand out to readers.
This should consist of 2-3 columns of bullet points that emphasise your relevant skills.
Before creating this section, review the job description and compile a list of any specific skills, specializations, or knowledge needed. Incorporate these findings into your list to portray yourself as the ideal candidate for the position.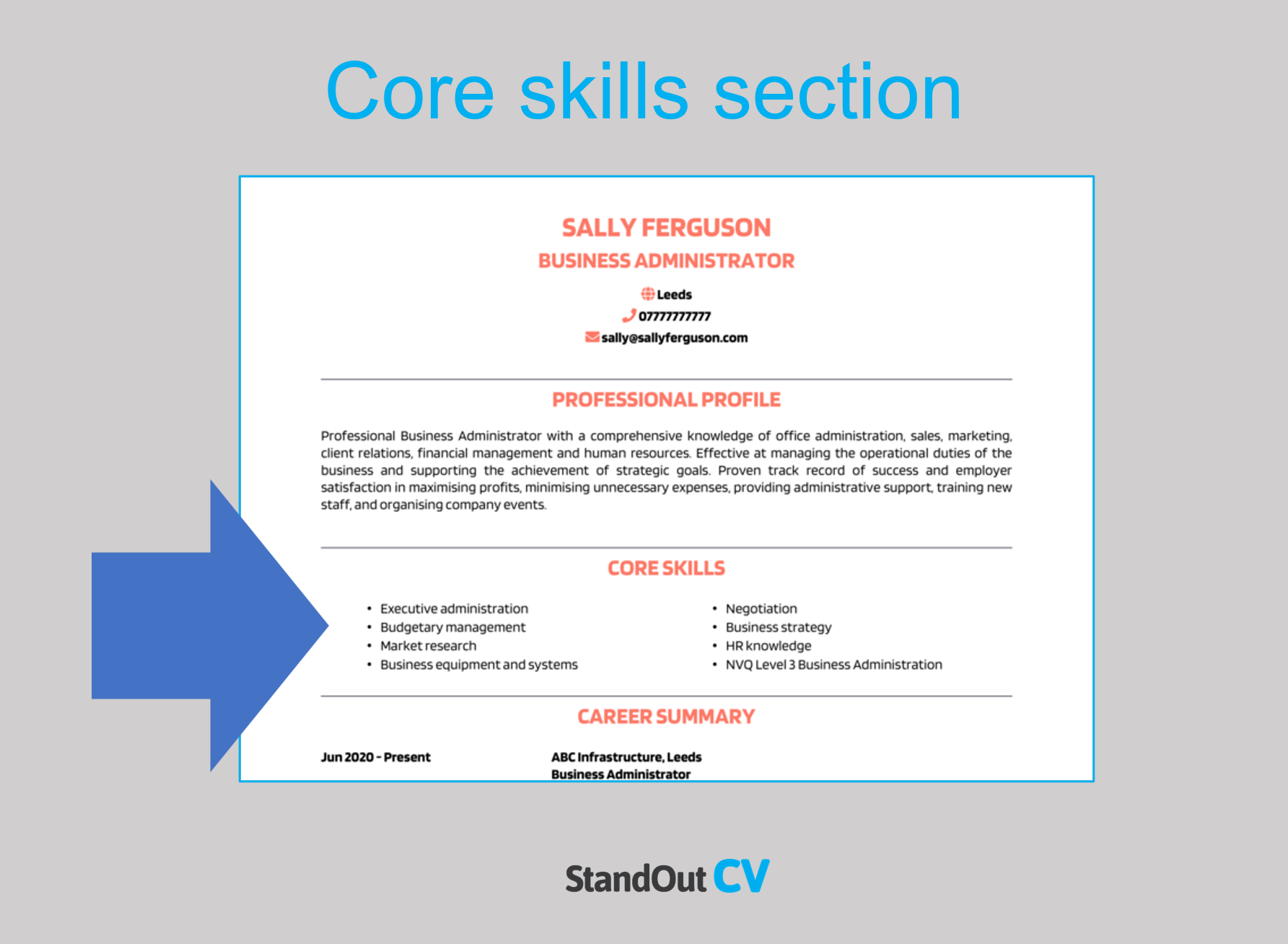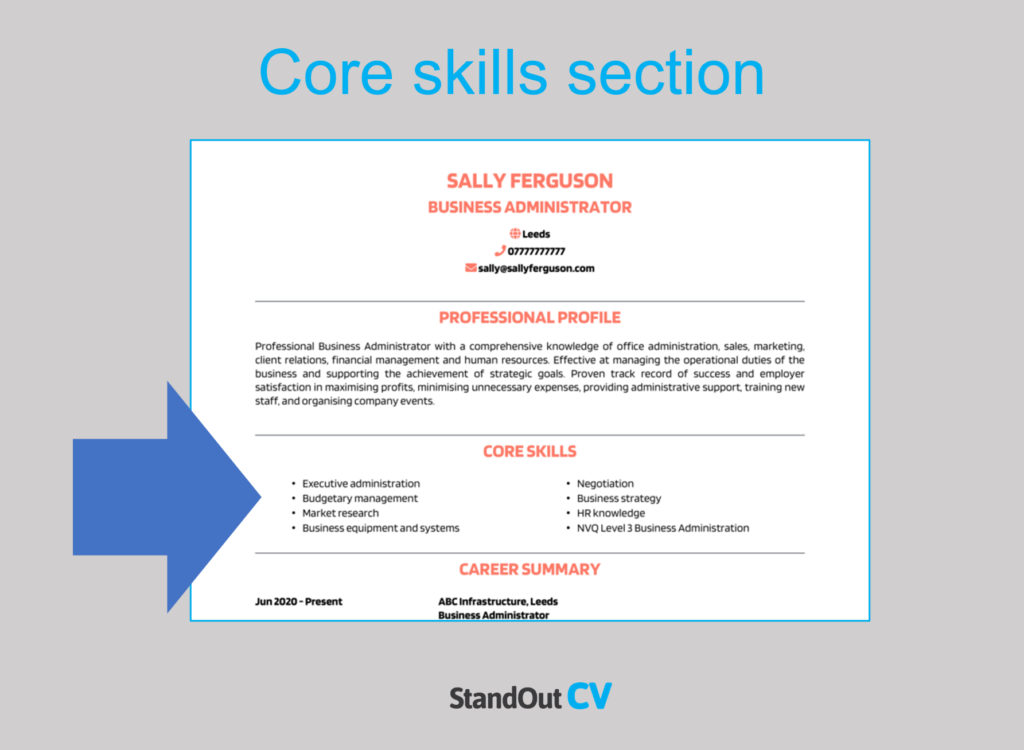 Important skills for your Childcare Assistant CV
Child Development – Utilising knowledge of child development stages, milestones, and age-appropriate activities to provide proper care and support to children.
Communication – Effectively interacting with children, parents, and colleagues in a clear and respectful manner.
Safety and First Aid – Utilising knowledge of safety protocols and first aid techniques to ensure the well-being and safety of children in different situations.
Behaviour Management – Implementing positive behaviour management strategies, maintaining discipline, and addressing challenging behaviours in a constructive manner.
Routine and Scheduling – Creating and implementing daily schedules, routines, and activities for children.
Observation and Assessment – Observing and assessing children's development, behaviour, and learning progress to identify individual needs and provide appropriate support.
Educational Resources – Developing engaging and educational activities, crafts, and play opportunities that foster children's creativity and learning.
Problem Resolution – Addressing unexpected situations, adapting to changing circumstances, and finding solutions in a timely manner.
Patience and Empathy – Maintaining patience, understanding, and empathy towards children's emotions, needs, and challenges, and providing a nurturing and supportive environment.
Quick tip: Our partner's CV Builder has thousands of in-demand skills for all industries and professions, that can be added to your CV in seconds – This will save you time and ensure you get noticed by recruiters.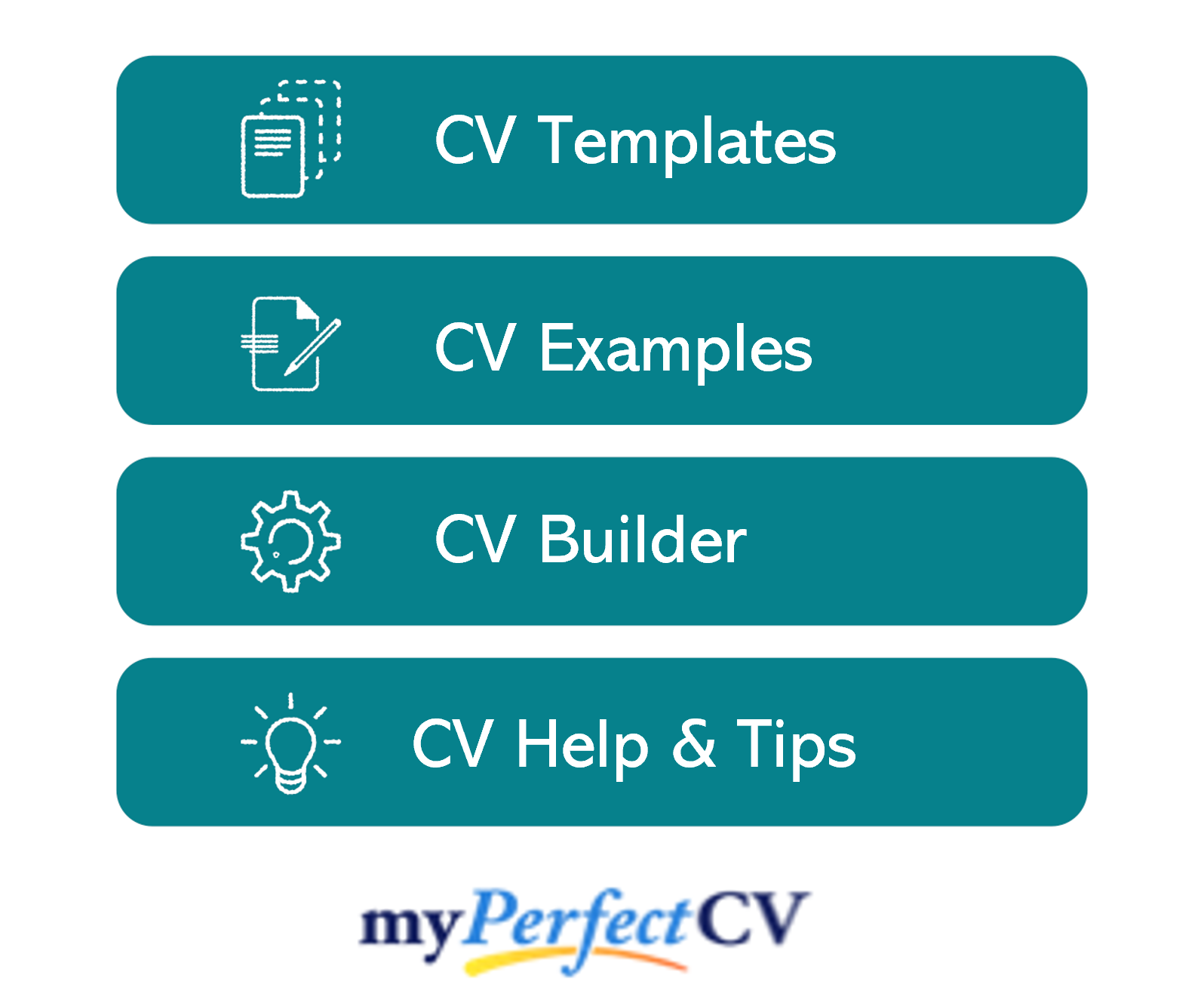 Work experience
Now it's time to get stuck into your work experience, which should make up the bulk of your CV.
Begin with your current (or most recent) job, and work your way backwards.
If you've got too much experience to fit onto two pages, prioritise space for your most recent and relevant roles.
Structuring each job
Recruiters will be keen to gain a better idea of where you've worked and how you apply your skill-set in the workplace.
However, if they're faced with huge, hard-to-read paragraphs, they may just gloss over it and move onto the next application.
To avoid this, use the simple 3-step role structure, as shown below:
Outline
Start with a solid introduction to your role as a whole, in order to build some context.
Explain the nature of the organisation you worked for, the size of the team you were part of, who you reported to and what the overarching purpose of your job was.
Key responsibilities
Next, write up a punchy list of your daily duties and responsibilities, using bullet points.
Wherever you can, point out how you put your hard skills and knowledge to use – especially skills which are applicable to your target role.
Key achievements
Lastly, add impact by highlight 1-3 key achievements that you made within the role.
Struggling to think of an achievement? If it had a positive impact on your company, it counts.
For example, you might increased company profits, improved processes, or something simpler, such as going above and beyond to solve a customer's problem.
Sample job description for Childcare Assistant CV
Outline
Assist in providing high-quality childcare and education for children aged 0-5 in a busy private nursery.
Key Responsibilities
Plan and implement age-appropriate activities and games that promote physical, social, and intellectual development
Provide support with feeding, changing, and toilet training
Maintain a clean and organised environment, including cleaning toys, preparing snacks, and tidying up after activities
Ensure the safety and wellbeing of children at all times, including administering first aid and reporting any concerns to the senior staff
Quick tip: Create impressive job descriptions easily in our partner's CV Builder by adding pre-written job phrases for every industry and career stage.

Education section
Although there should be mentions of your highest and most relevant qualifications earlier on in your CV, save your exhaustive list of qualifications for the bottom.
If you're an experienced candidate, simply include the qualifications that are highly relevant to Childcare Assistant roles.
However, less experienced candidates can provide a more thorough list of qualifications, including A-Levels and GCSEs.
You can also dedicate more space to your degree, discussing relevant exams, assignments and modules in more detail, if your target employers consider them to be important.
Hobbies and interests
Although this is an optional section, it can be useful if your hobbies and interests will add further depth to your CV.
Interests which are related to the sector you are applying to, or which show transferable skills like leadership or teamwork, can worth listing.
On the other hand, generic hobbies like "going out with friends" won't add any value to your application, so are best left off your CV.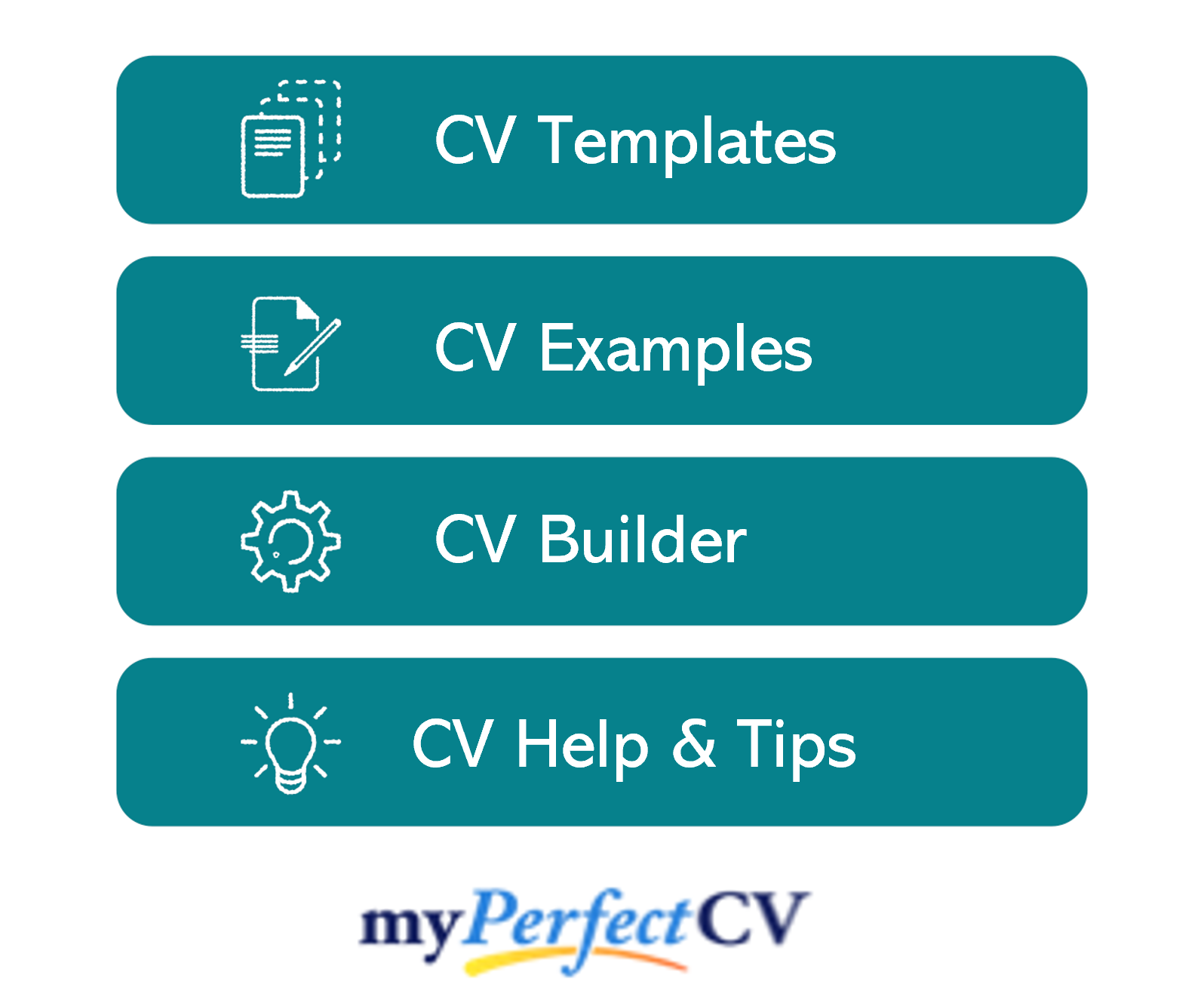 Creating a strong Childcare Assistant CV requires a blend of punchy content, considered structure and format, and heavy tailoring.
By creating a punchy profile and core skills list, you'll be able to hook recruiter's attention and ensure your CV gets read.
Remember that research and relevance is the key to a good CV, so research your target roles before you start writing and pack your CV with relevant skills.
Best of luck with your next application!