Can you use AutoCAD to create beautiful designs? If so, your skills could be in high demand right now.
But if your strengths lie in design and not words, that's OK. We can help you to craft an interview-winning CV below.
Check it out for all our top tips, along with an AutoCAD draftsman CV example to guide you.
Contents
| | |
| --- | --- |
| How to write a AutoCAD Draftsman CV | |

AutoCAD Draftsman CV example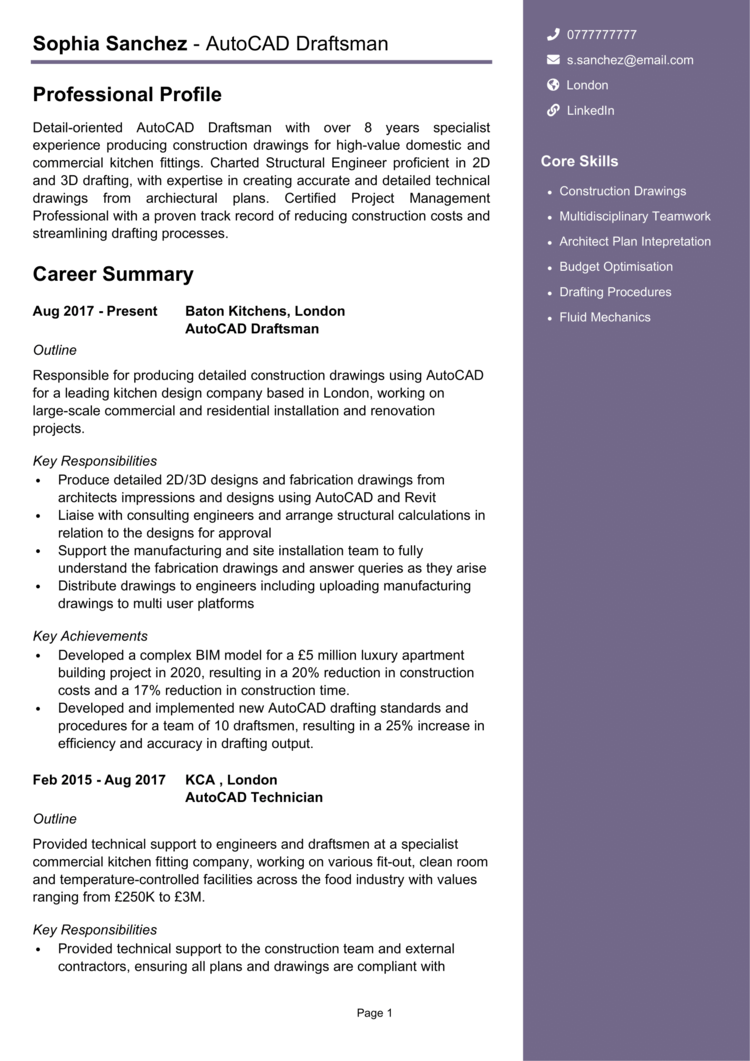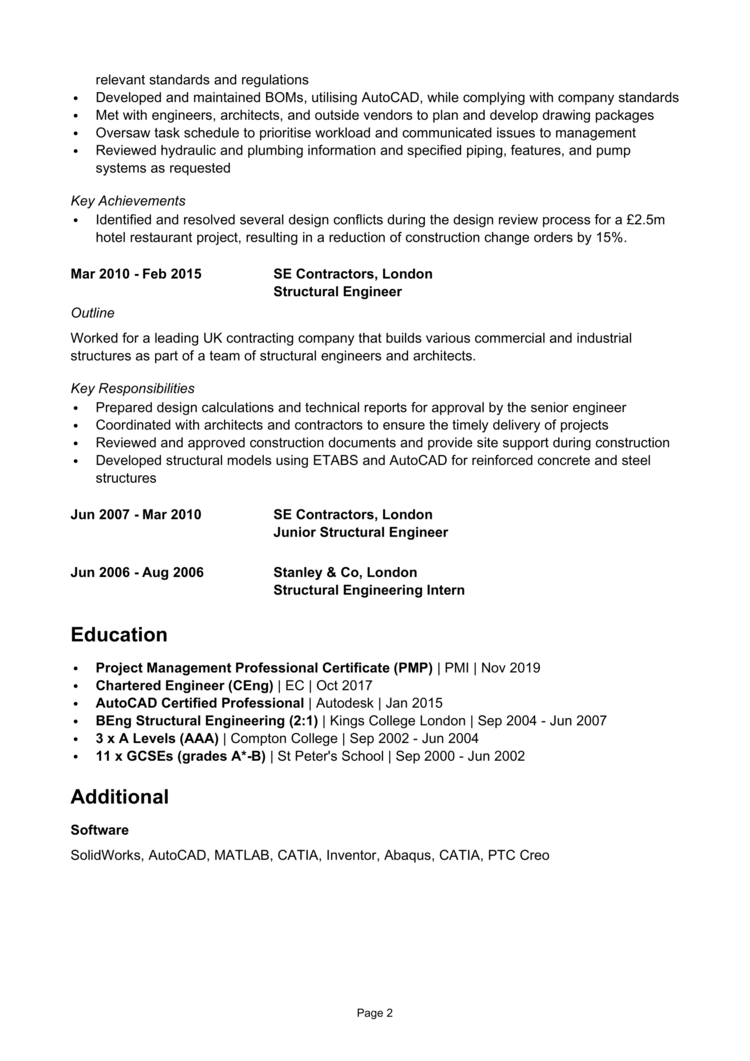 This CV example demonstrates the type of info you should be including within your AutoCAD Draftsman CV, as well as how to format and layout the content in a way which looks professional and is easy for time-strapped recruiters to read.
This is the look and feel you should be aiming for, so remember to refer back to it throughout your CV writing process.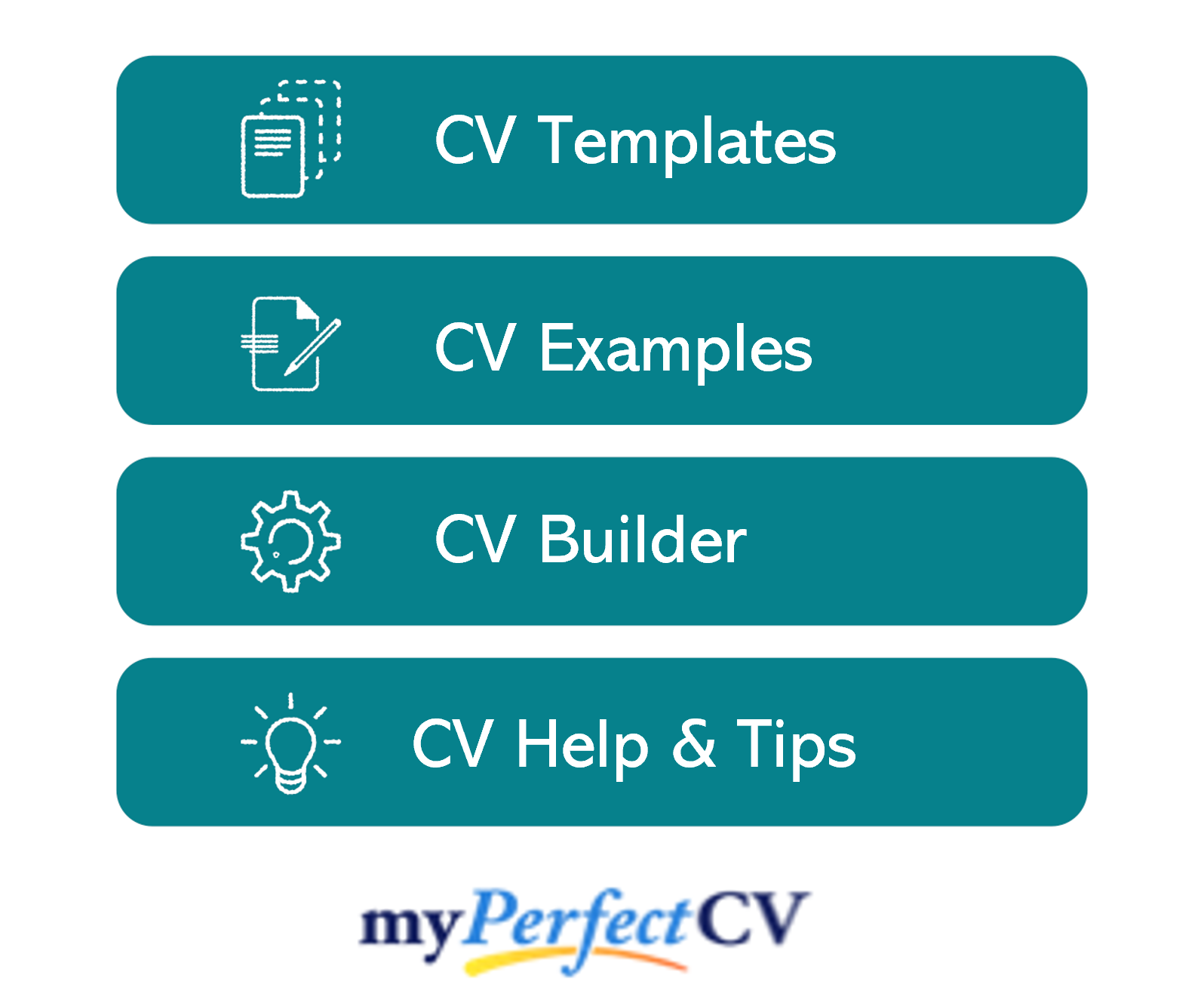 AutoCAD Draftsman CV format and structure
In today's fast-paced job market, recruiters and employers are often short on time. If they can't locate the information they're searching for within a few seconds, it could result in them overlooking your application.
To avoid this happening, it's critical to structure and format your CV in a way that allows them to quickly identify your key skills and offerings, even when they're pressed for time.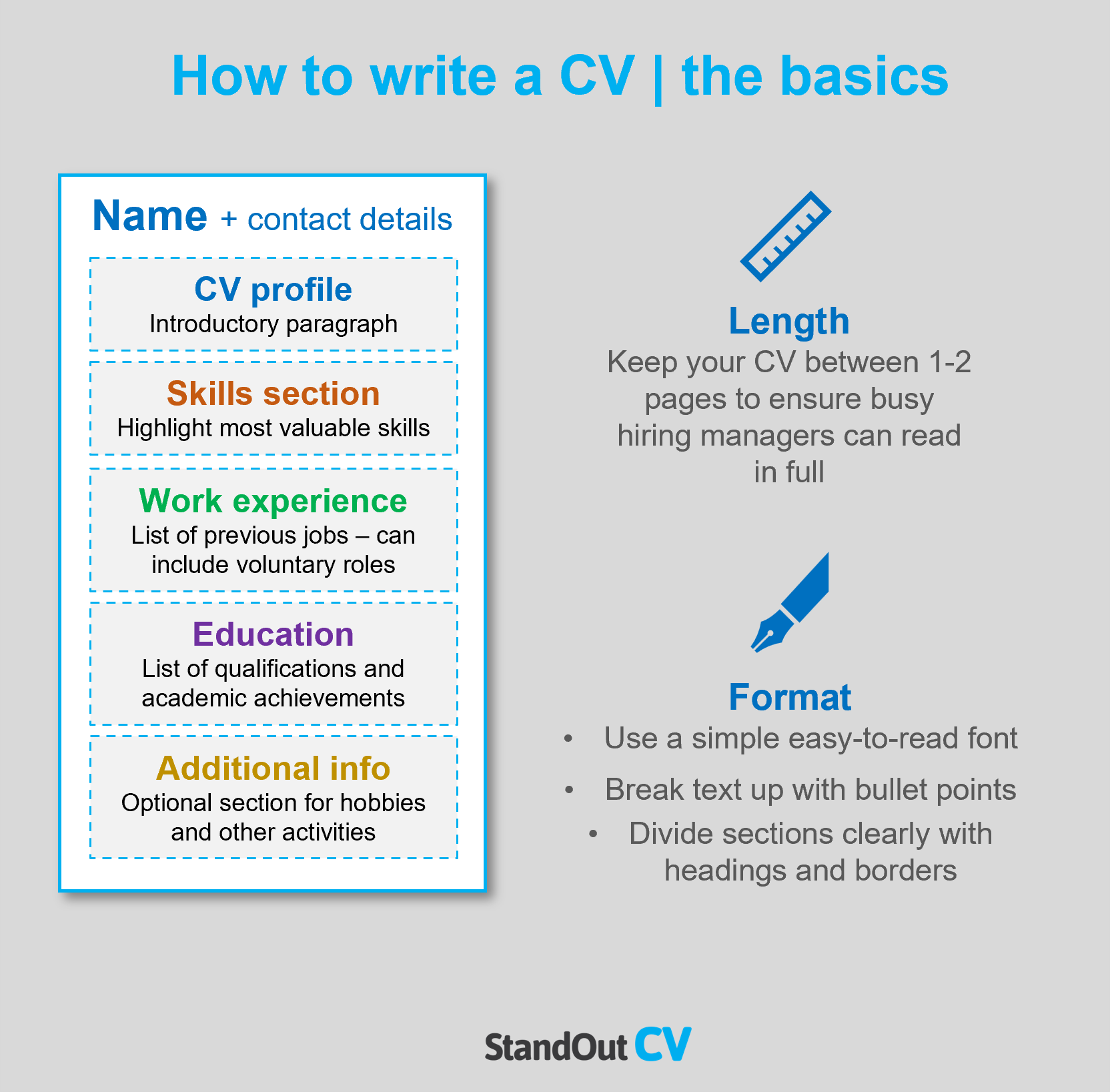 Tips for formatting your AutoCAD Draftsman CV
Length: Recruiters will be immediately put off by lengthy CVs – with hundreds of applications to read through, they simply don't have the time! Grabbing their attention with a short, snappy and highly relevant CV is far more likely to lead to success. Aim for two sides of A4 or less.
Readability: To help recruiters quickly skim through your CV, it's important to format your section headings with bold or a different colour font and break up lengthy paragraphs into short sharp bullet points. This enables them to easily identify important information and assess your suitability.
Design & format: When it comes to CV design, it's best to keep things simple and sleek. While elaborate designs certainly command attention, it's not always for the right reasons! Readability is key, so whatever you choose to do, make sure you prioritise readability above everything.
Photos: Profile photos or aren't a requirement for most industries, so you don't need to add one in the UK – but if you do, just make sure it looks professional
Quick tip: Creating a professional CV style can be difficult and time-consuming when using Microsoft Word or Google Docs. To create a winning CV quickly, try our partner's CV Builder and use one of their eye-catching professional CV templates.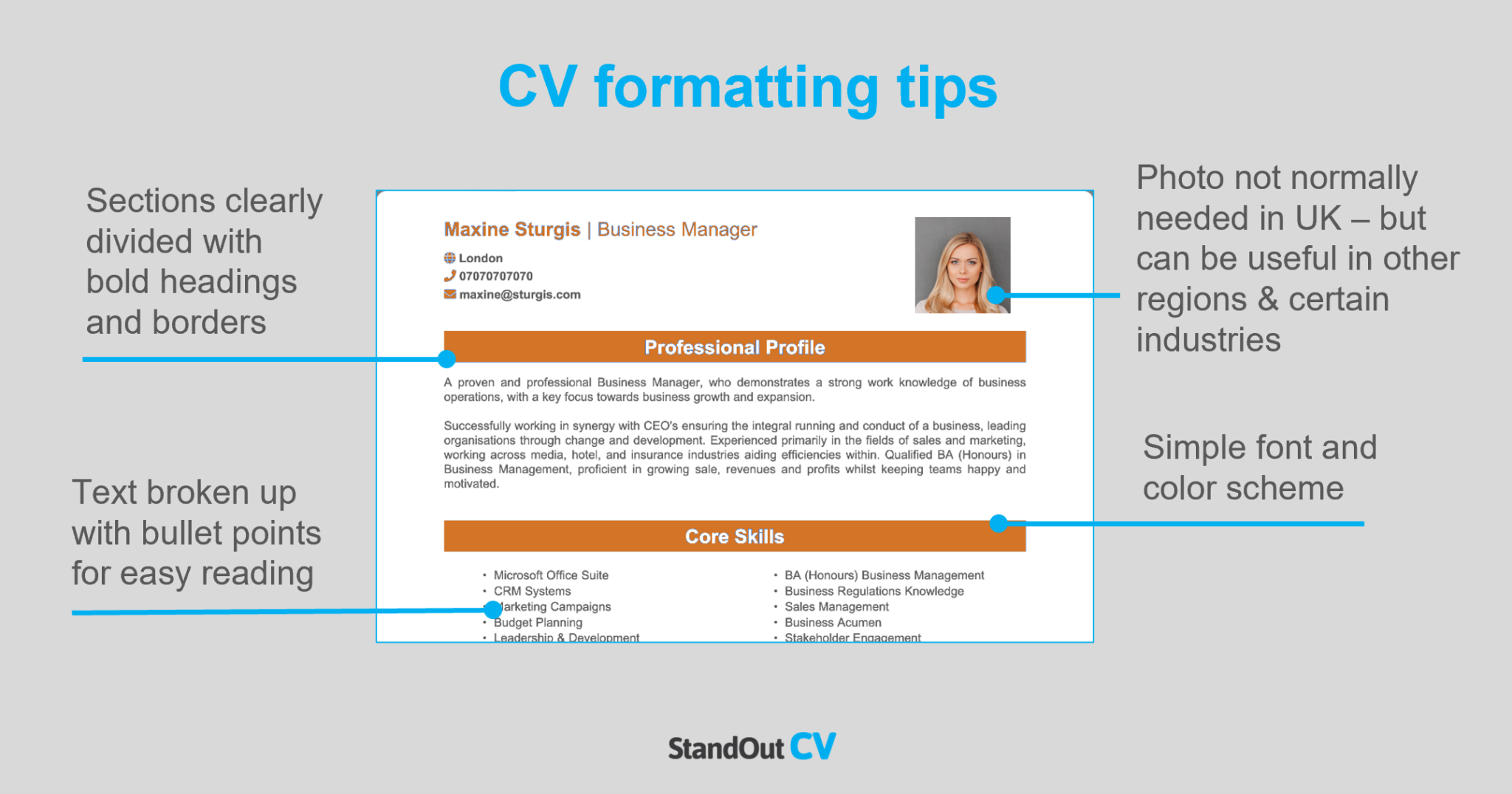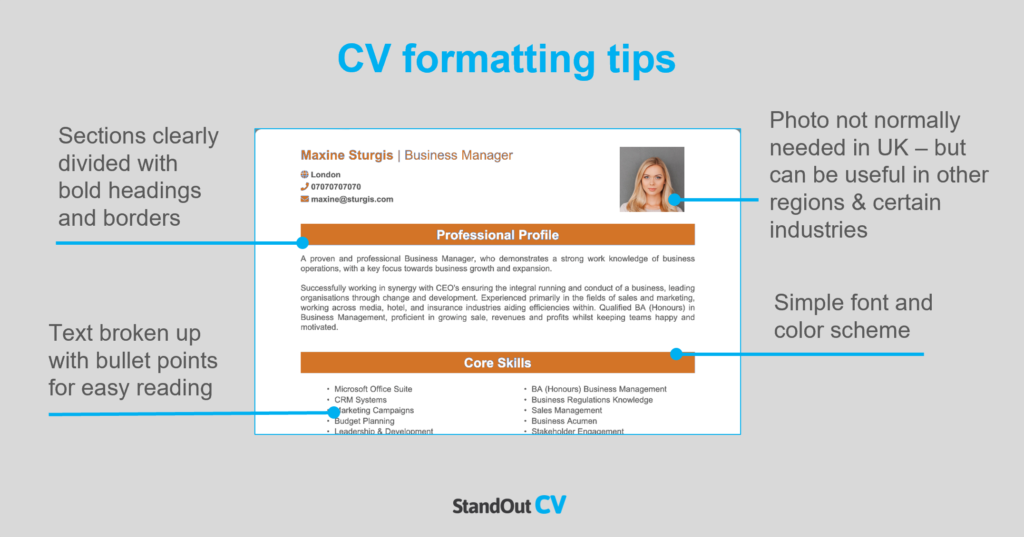 CV structure
To make it easy for busy recruiters and hiring managers to digest your CV, divide the content into several key sections when writing it:
Contact details: Always list your contact details at the very top to avoid them being missed.
Profile: Start with an introductory paragraph that catches recruiters' attention and summarises your offerings.
Work experience/career history: List your relevant work experience in reverse chronological order, starting with your current position.
Education: Provide a concise summary of your education and qualifications.
Interests and hobbies: You can include an optional section to showcase any hobbies that demonstrate transferable skills.
Now you understand the basic layout of a CV, here's what you should include in each section of yours.
Contact Details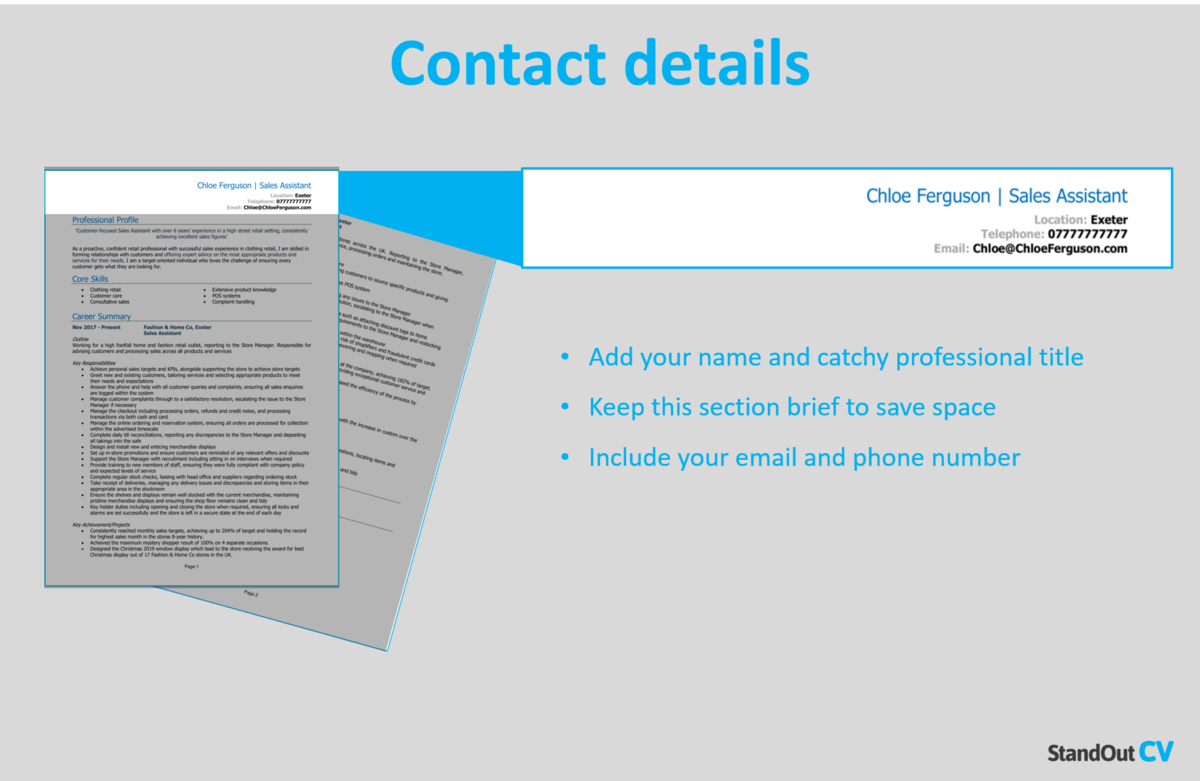 Tuck your contact details into the corner of your CV, so that they don't take up too much space.
Stick to the basic details, such as:
Mobile number
Email address – It should sound professional, such as your full name.
Location -Just write your rough location, rather than your full address.
LinkedIn profile or portfolio URL – If you include these, ensure they're sleek, professional and up-to-date.
AutoCAD Draftsman CV Profile
Grab the reader's attention by kick-starting your CV with a powerful profile (or personal statement, if you're a junior applicant).
This is a short introduction paragraph which summarises your skills, knowledge and experience.
It should paint you as the perfect match for the job description and entice recruiters to read through the rest of your CV.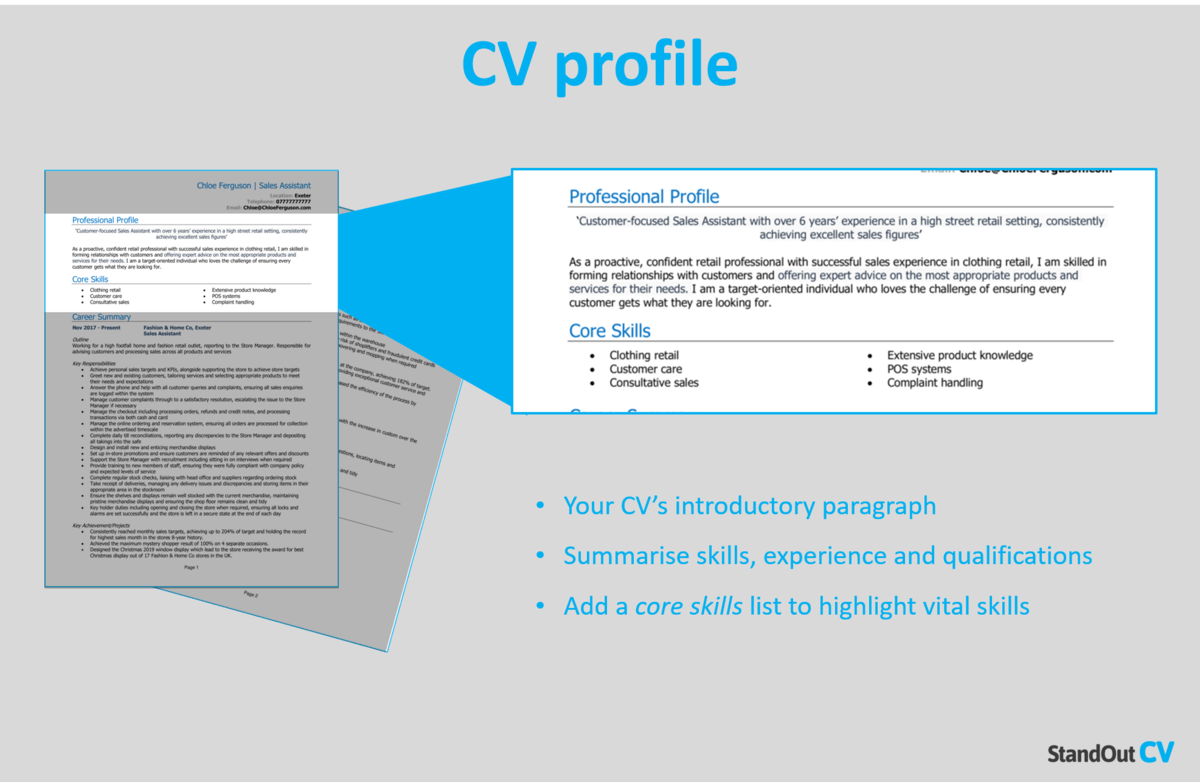 How to write a good CV profile:
Make it short and sharp: It might be tempting to submit a page-long CV profile, but recruiters won't have the time to read it. To ensure every word gets read, it's best to include high-level information only; sticking to a length of 3-5 lines.
Tailor it: The biggest CV mistake? A generic, mass-produced document which is sent out to tens of employers. If you want to land an interview, you need to tailor your CV profile (and your application as a whole) to the specific roles you're applying for. So, before you start writing, remember to read over those job descriptions and make a list of the skills, knowledge and experience the employers are looking for.
Don't add an objective: Career goals and objectives are best suited to your cover letter, so don't waste space with them in your CV profile.
Avoid generic phrases: If there's one thing that'll annoy a recruiter, it's a clichè-packed CV. Focus on showcasing your hard skills, experience and the results you've gained in previous roles, which will impress recruiters far more.
Example CV profile for AutoCAD Draftsman
Detail-oriented AutoCAD Draftsman with over 8 years specialist experience producing construction drawings for high-value domestic and commercial kitchen fittings. Charted Structural Engineer proficient in 2D and 3D drafting, with expertise in creating accurate and detailed technical drawings from architectural plans. Certified Project Management Professional with a proven track record of reducing construction costs and streamlining drafting processes. 
What to include in your AutoCAD Draftsman CV profile?
Experience overview: Recruiters will want to know what type of companies you've worked for, industries you have knowledge of, and the type of work you've carried out in the past, so give them a summary of this in your profile.
Targeted skills: Ensure that your profile highlights your key skills that are most relevant to your AutoCAD Draftsman, and tailor them to match the specific job you are applying for. To do this, refer to the job description to closely align your skills with their requirements.
Important qualifications: If you have any qualifications which are highly relevant to AutoCAD Draftsman jobs, then highlight them in your profile so that employers do not miss them.
Quick tip: If you are finding it difficult to write an attention-grabbing CV profile, choose from hundreds of pre-written profiles across all industries, and add one to your CV with one click in our partner's CV Builder. All profiles are written by recruitment experts and easily tailored to suit your unique skillset.
Core skills section
Next, you should create a bullet pointed list of your core skills, formatted into 2-3 columns.
Here, you should focus on including the most important skills or knowledge listed in the job advertisement.
This will instantly prove that you're an ideal candidate, even if a recruiter only has time to briefly scan your CV.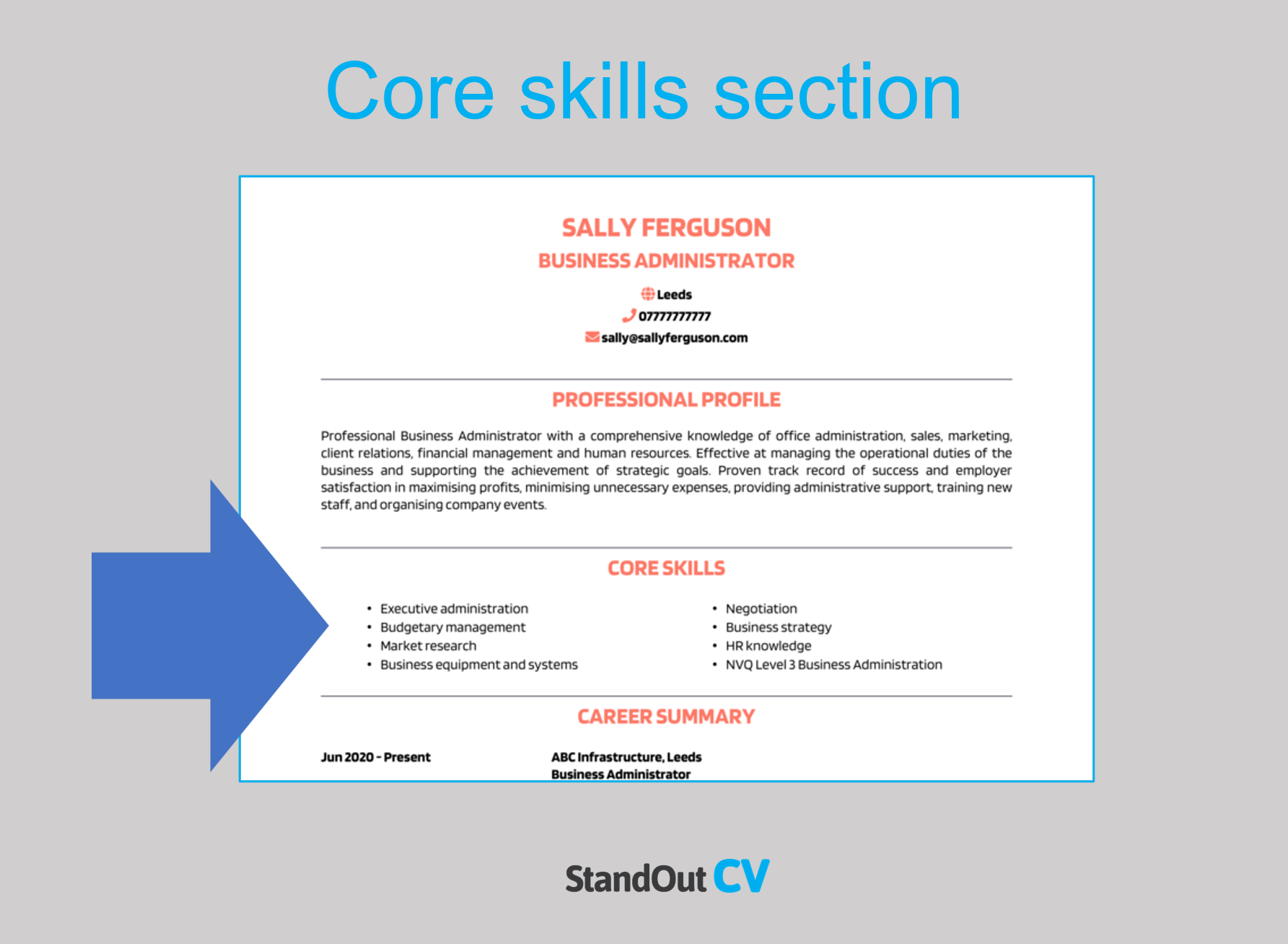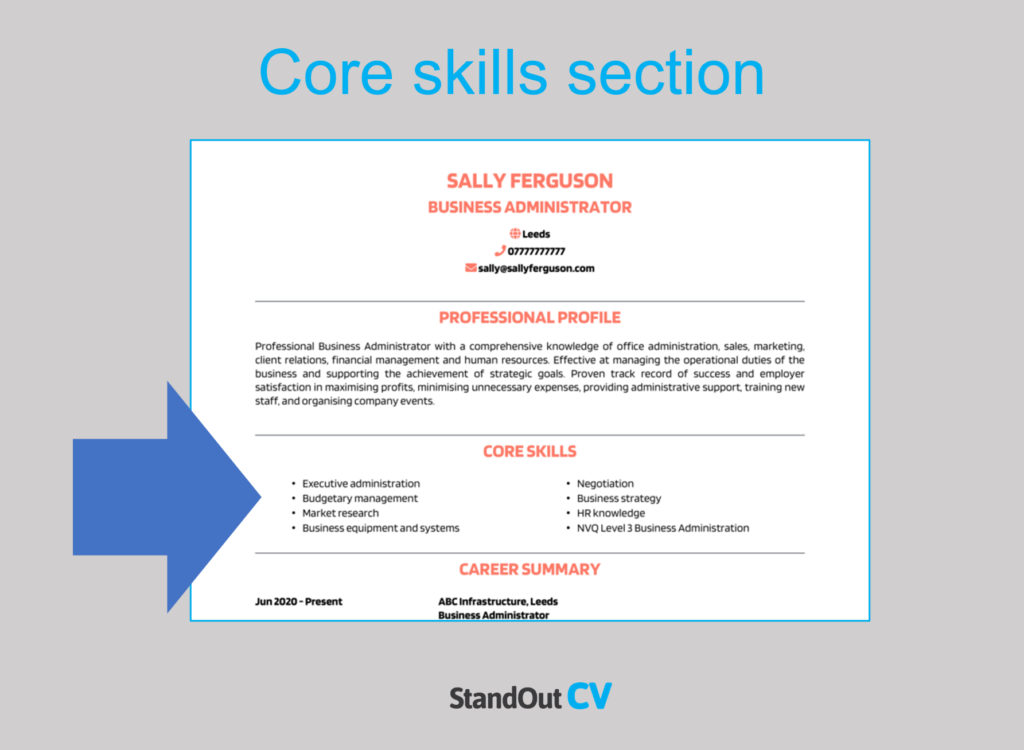 Important skills for your AutoCAD Draftsman CV
AutoCAD Proficiency – Utilising mastery of AutoCAD software to create and modify 2D and 3D technical drawings and designs.
Technical Drawing – Interpreting and creating technical drawings, including understanding of scales, dimensions, and annotations.
Blueprint Reading – Interpreting and understanding architectural and engineering blueprints, including symbols, notations, and measurements.
Drafting Standards – Utilising knowledge of industry-standard drafting practices, including layering, line types, text styles, and dimensioning conventions.
CAD Standards Compliance – Adhering to organisational and industry-specific CAD standards and guidelines in the creation and modification of drawings.
Detailing and Annotation – Adding accurate detailing and annotations to drawings, including dimensions, callouts, and notes.
3D Modelling – Creating and manipulating 3D models using AutoCAD, including solids, surfaces, and meshes.
Drawing Coordination – Coordinating drawings with other disciplines and collaborating with architects, engineers, and other stakeholders.
File Management – Organising and managing CAD files and drawings, including file naming conventions, version control, and file backup.
Problem Resolution – Identifying and resolving drawing-related issues, such as conflicts or inaccuracies.
Quick tip: Our partner's CV Builder has thousands of in-demand skills for all industries and professions, that can be added to your CV in seconds – This will save you time and ensure you get noticed by recruiters.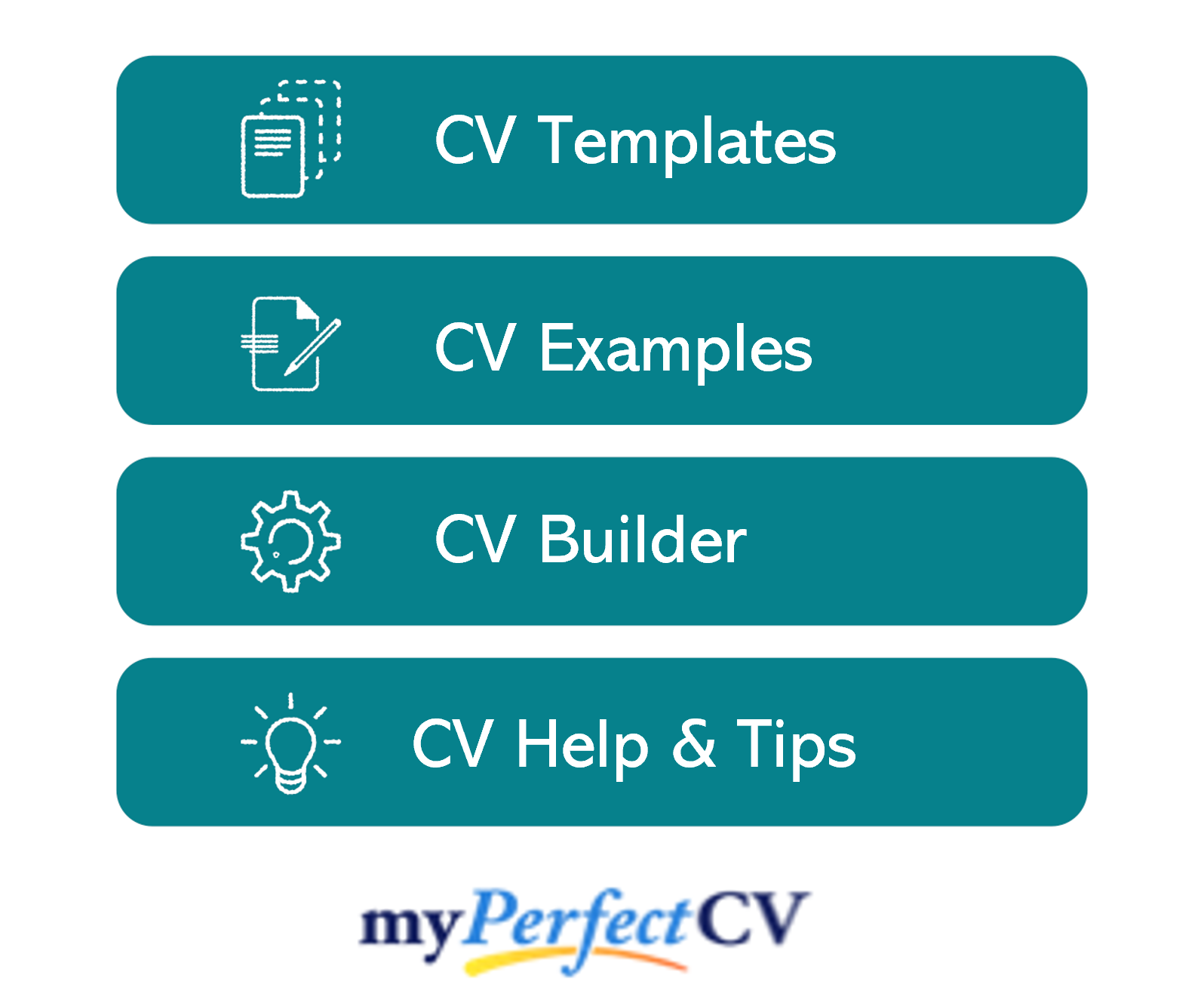 Work experience
By now, you'll have hooked the reader's attention and need to show them how you apply your skills and knowledge in the workplace, to benefit your employers.
So, starting with your most recent role and working backwards to your older roles, create a thorough summary of your career history to date.
If you've held several roles and are struggling for space, cut down the descriptions for your oldest jobs.
Structuring each job
Lengthy, unbroken chunks of text is a recruiters worst nightmare, but your work experience section can easily end up looking like that if you are not careful.
To avoid this, use my tried-and-tested 3-step structure, as illustrated below:
Outline
Begin with a summary of your role, detailing what the purpose of your job was, who you reported to and what size of team you were part of (or led).
Key responsibilities
Use bullet points to detail the key responsibilities of your role, highlighting hard skills, software and knowledge wherever you can.
Keep them short and sharp to make them easily digestible by readers.
Key achievements
To finish off each role and prove the impact you made, list 1-3 stand out achievements, results or accomplishments.
This could be anything which had a positive outcome for the company you worked for, or perhaps a client/customer.
Where applicable, quantify your examples with facts and figures.
Sample job description for AutoCAD Draftsman CV
Outline
Responsible for producing detailed construction drawings using AutoCAD for a leading kitchen design company based in London, working on large-scale commercial and residential installation and renovation projects.
Key Responsibilities
Produce detailed 2D/3D designs and fabrication drawings from architect's impressions and designs using AutoCAD and Revit
Liaise with consulting engineers and arrange structural calculations in relation to the designs for approval
Support the manufacturing and site installation team to fully understand the fabrication drawings and answer queries as they arise
Distribute drawings to engineers including uploading manufacturing drawings to multi user platforms
Quick tip: Create impressive job descriptions easily in our partner's CV Builder by adding pre-written job phrases for every industry and career stage.

Education section
After your work experience, your education section should provide a detailed view of your academic background.
Begin with those most relevant to AutoCAD Draftsman jobs, such as vocational training or degrees.
If you have space, you can also mention your academic qualifications, such as A-Levels and GCSEs.
Focus on the qualifications that are most relevant to the jobs you are applying for.
Hobbies and interests
This section is entirely optional, so you'll have to use your own judgement to figure out if it's worth including.
If your hobbies and interests could make you appear more suitable for your dream job, then they are definitely worth adding.
Interests which are related to the industry, or hobbies like sports teams or volunteering, which display valuable transferable skills might be worth including.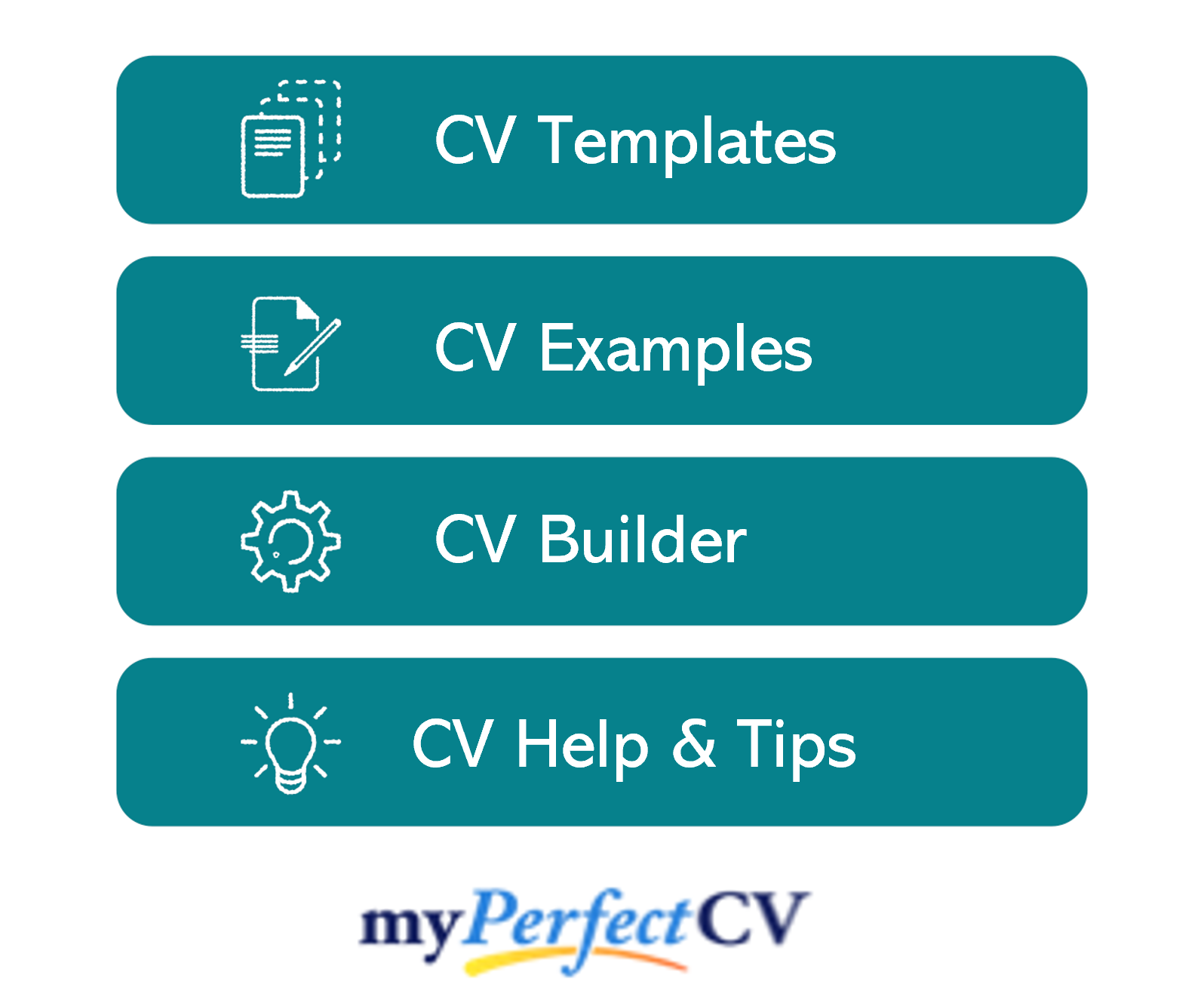 An interview-winning CV for an AutoCAD Draftsman role, needs to be both visually pleasing and packed with targeted content.
Whilst it needs to detail your experience, accomplishments and relevant skills, it also needs to be as clear and easy to read as possible.
Remember to research the role and review the job ad before applying, so you're able to match yourself up to the requirements.
If you follow these guidelines and keep motivated in your job search, you should land an interview in no time.
Best of luck with your next application!