As an assistant, you'll be the director's right-hand person; their second in command. So they need to know you've got what it takes to ensure each motion picture is a success.
Demonstrating all of that in your CV might feel impossible, but with the right guidance, you can create an impressive application.
Check out our detailed writing guide below, complete with an assistant director CV example to inspire your own.
Contents
| | |
| --- | --- |
| How to write a Assistant Director CV | |

Assistant Director CV example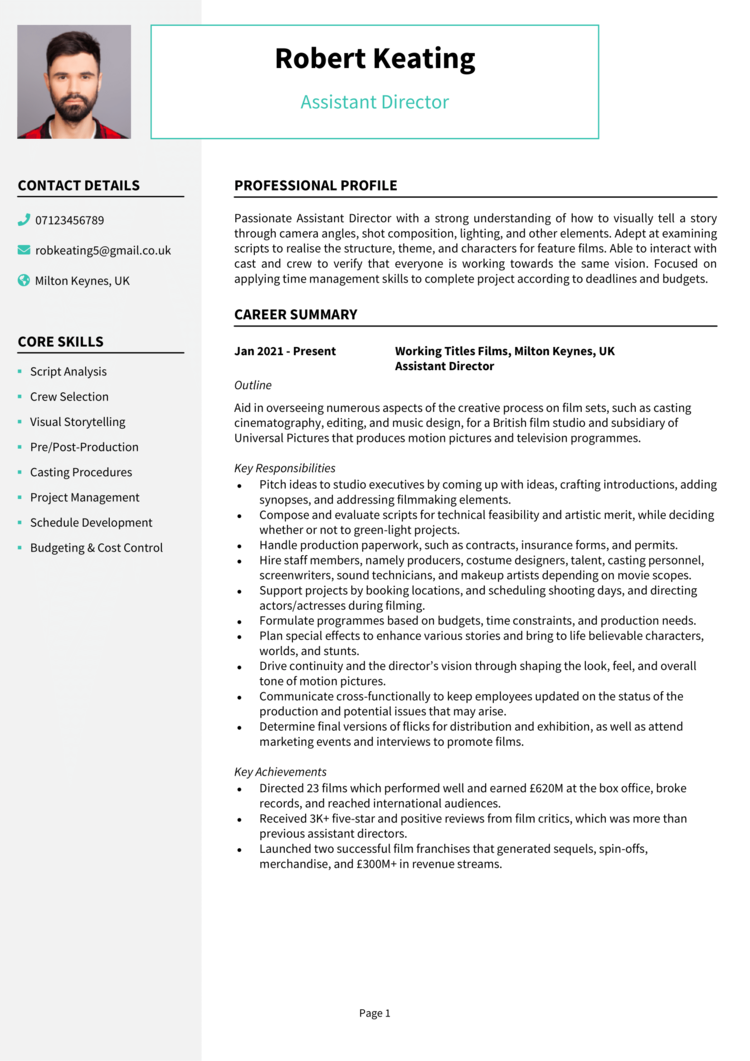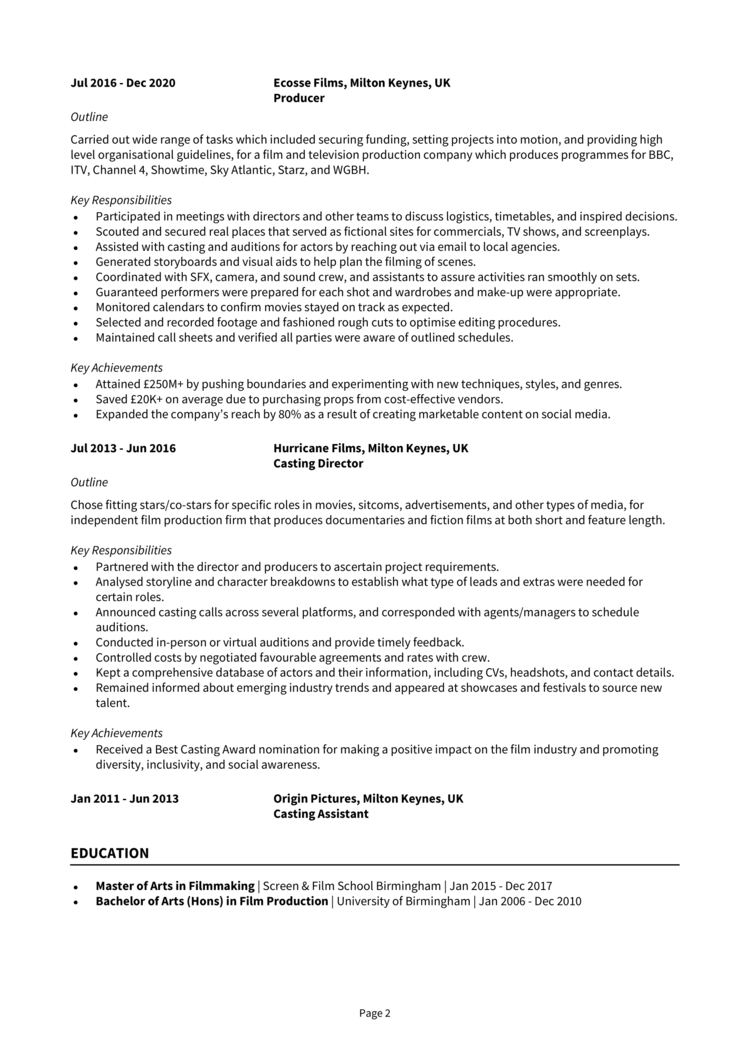 This CV example showcases the optimal structure and format for your Assistant Director CV, providing a pleasant reading experience for busy recruiters.
It also demonstrates the skills, experience and qualifications you should emphasize in your own CV to increase your chances of landing job interviews.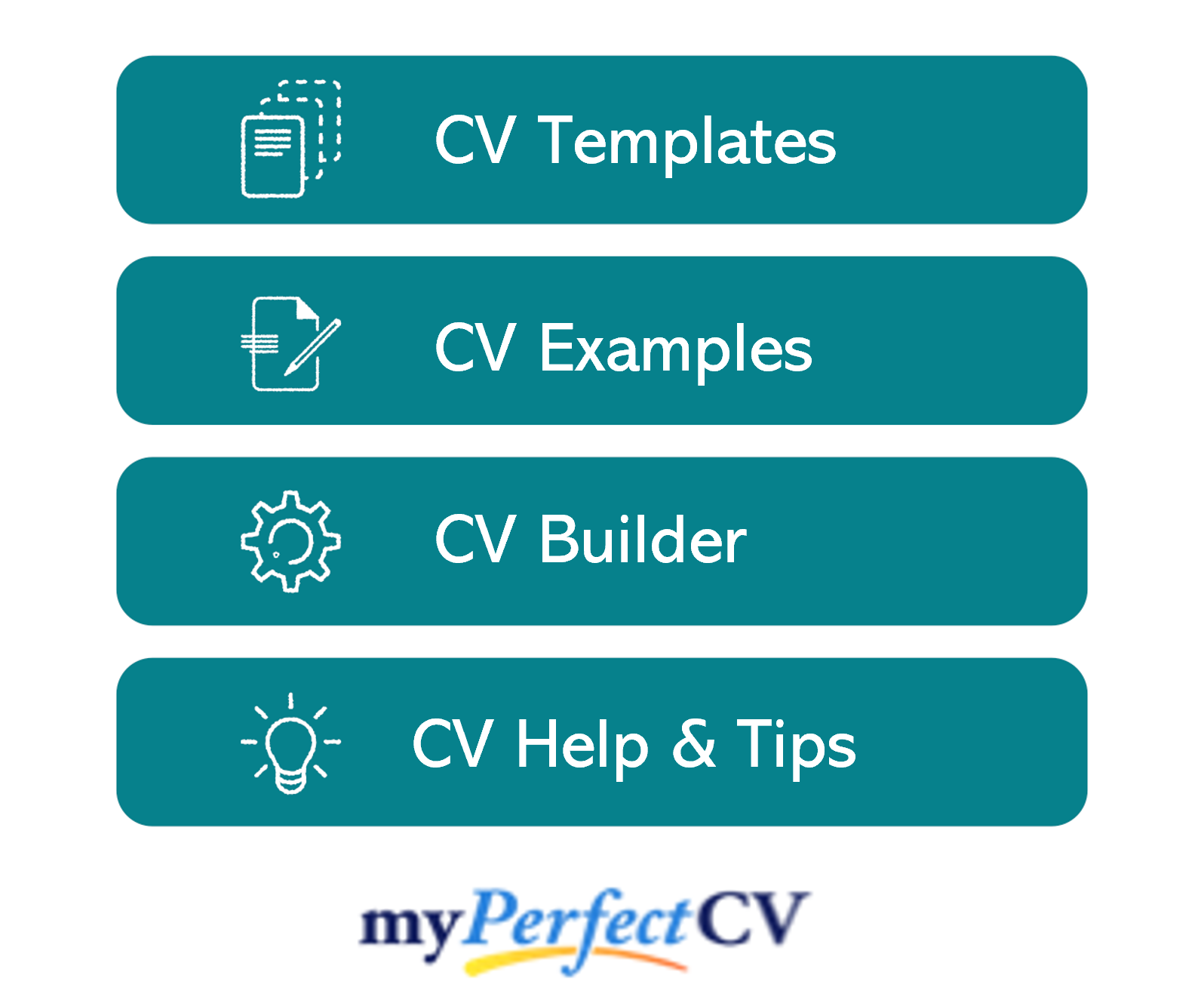 Assistant Director CV format and structure
Think your CV is just about the content within it? Think again.
Your CV needs to look professional and be easy for recruiters to read, meaning the structure and format of your CV are just as important as the written content within it.
Facilitate ease of reading by using a simple structure which allows anybody to easily navigate your experience.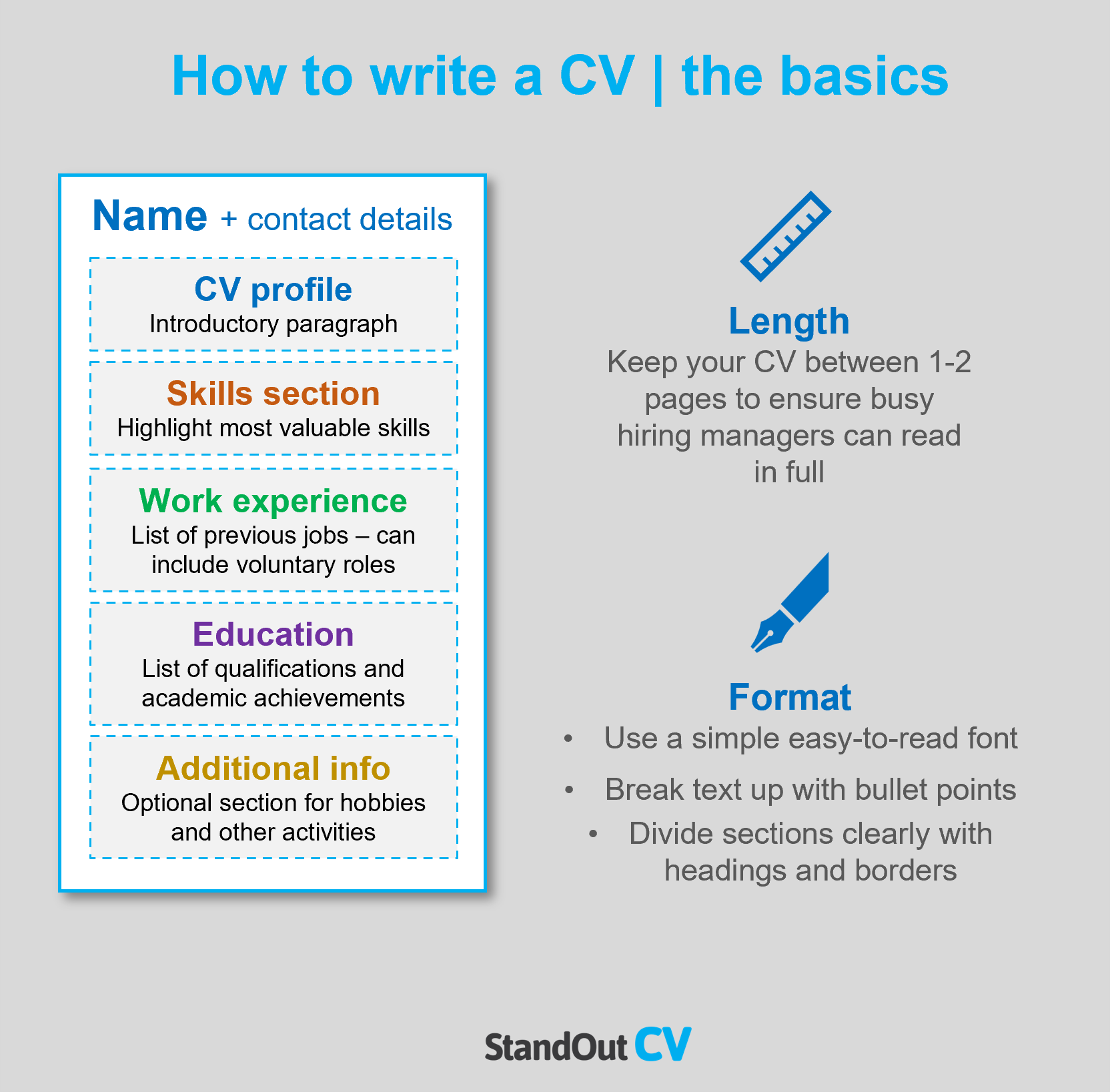 Tips for formatting your Assistant Director CV
Length: Even if you've got tons of experience to brag about, recruiters don't have time to read through overly lengthy CVs. Keep it short, concise and relevant – a CV length of 2 sides of A4 pages or less is perfect for the attention spans in today's job market.
Readability: Make sure your CV is easy to read and looks professional by applying some simple formatting tricks. Bullet points are great for making large paragraphs more digestible, while formatting your headings with bold or coloured text will help the reader to find the information they need, with speed.
Design & format: While it's important that your CV design looks good, it also needs to be functional (which means easy for recruiters to read) Keep the design simple to achieve a good balance between looking good and reading well.
Photos: Recruiters can't factor in appearance, gender or race into the recruitment process, so a profile photo is not usually needed. However, creative employers do like to see them, so you can choose to include one if you think it will add value to your CV .
Quick tip: Creating a professional CV style can be difficult and time-consuming when using Microsoft Word or Google Docs. To create a winning CV quickly, try our partner's CV Builder and use one of their eye-catching professional CV templates.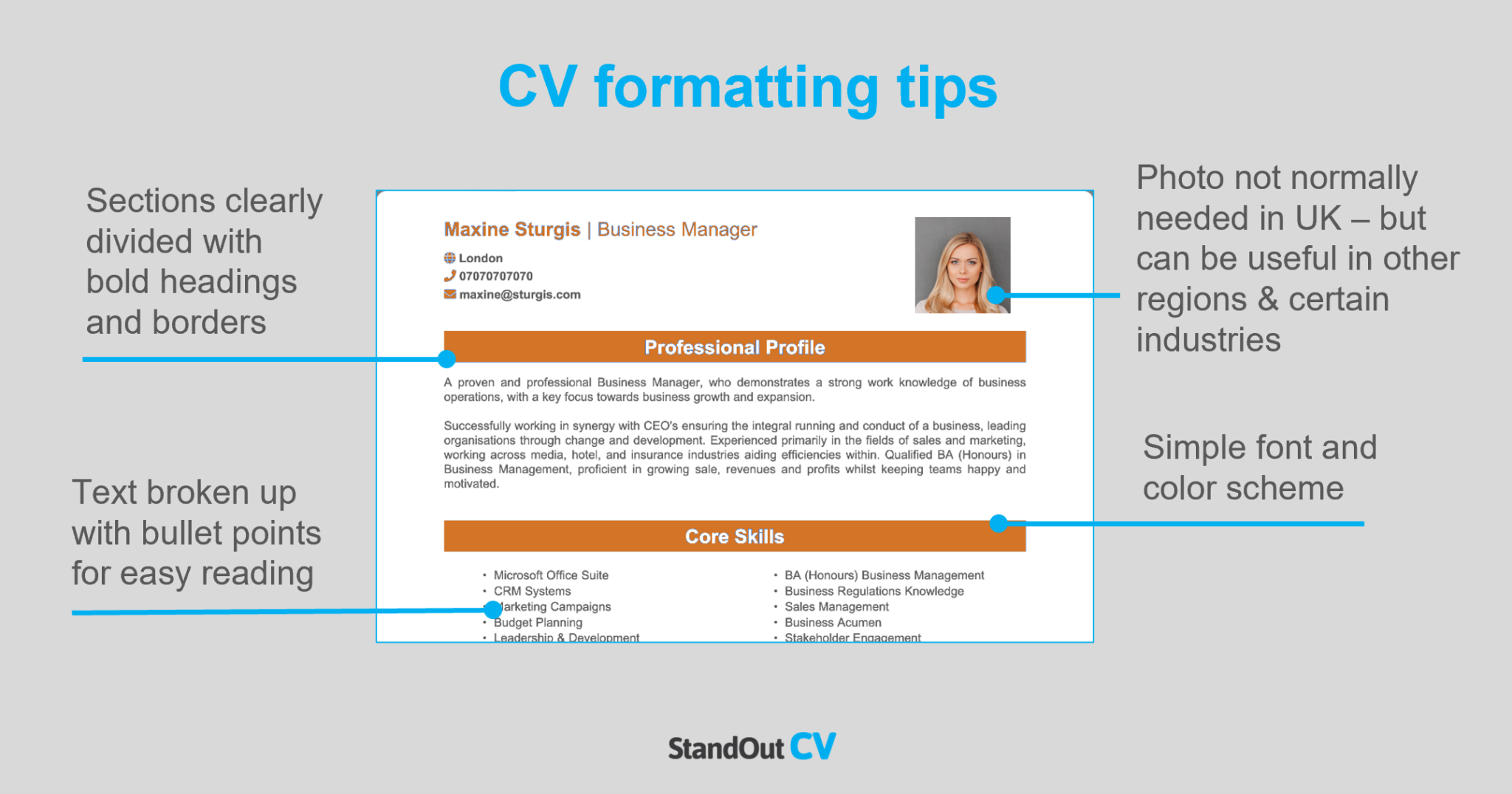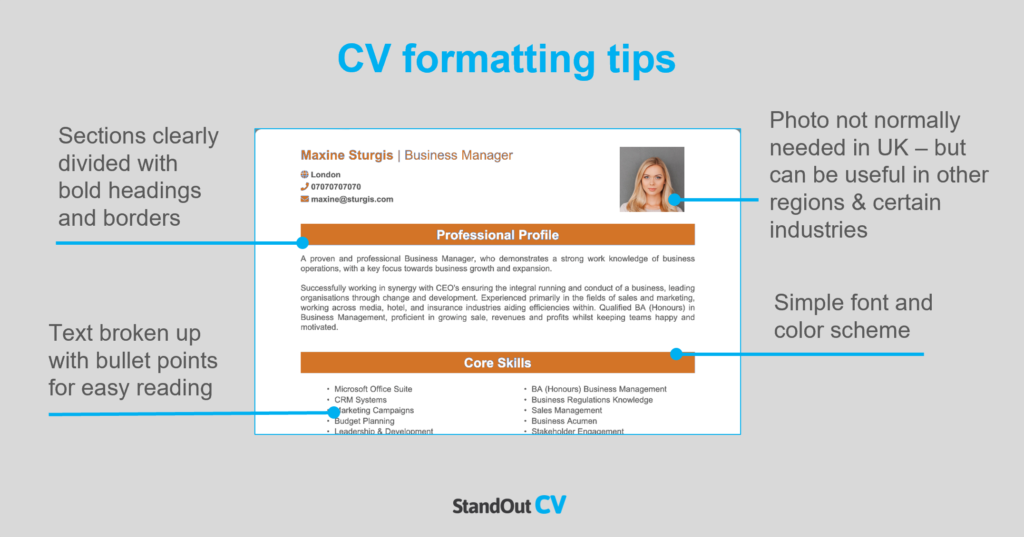 CV structure
As you write your CV, work to the simple but effective structure below:
Name and contact details – Pop them at the top of your CV, so it's easy for recruiters to contact you.
CV profile – Write a snappy overview of what makes you a good fit for the role; discussing your key experience, skills and accomplishments.
Core skills section – Add a short but snappy list of your relevant skills and knowledge.
Work experience – A list of your relevant work experience, starting with your current role.
Education – A summary of your relevant qualifications and professional/vocational training.
Hobbies and interests – An optional sections, which you could use to write a short description of any relevant hobbies or interests.
Now you understand the basic layout of a CV, here's what you should include in each section of yours.
Contact Details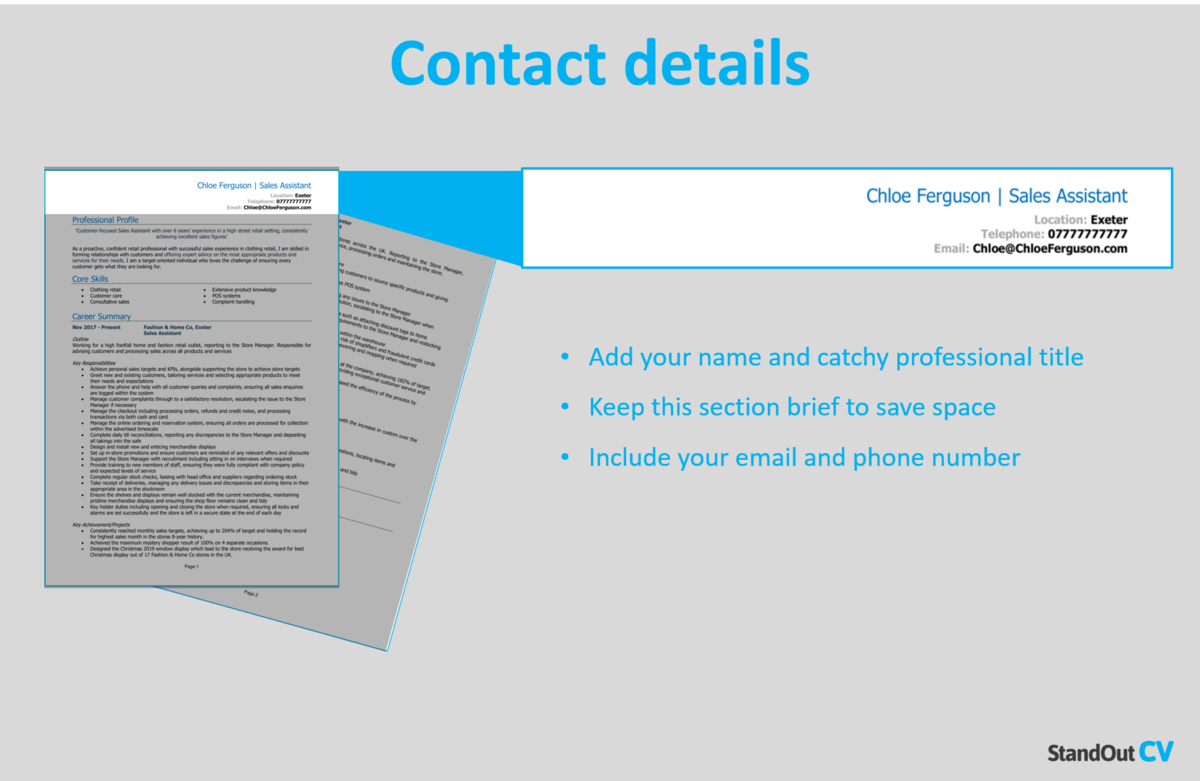 Write your contact details in the top corner of your CV, so that they're easy to find but don't take up too much space.
You only need to list your basic details, such as:
Mobile number
Email address
Location – Don't list your full address. Your town or city, such as 'Norwich' or 'Coventry' is perfect.
LinkedIn profile or portfolio URL – Remember to update these before listing them on an application.
Assistant Director CV Profile
Grab the reader's attention by kick-starting your CV with a powerful profile (or personal statement, if you're a junior applicant).
This is a short introduction paragraph which summarises your skills, knowledge and experience.
It should paint you as the perfect match for the job description and entice recruiters to read through the rest of your CV.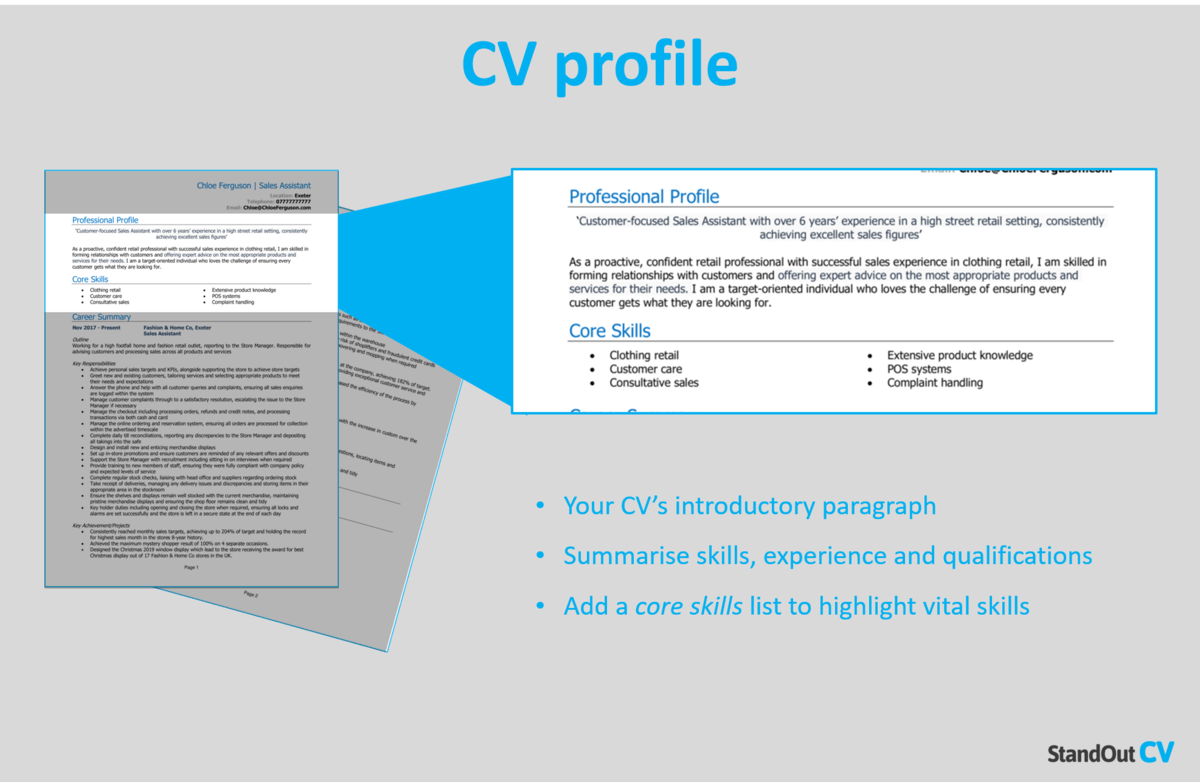 How to write a good CV profile:
Make it short and sharp: It might be tempting to submit a page-long CV profile, but recruiters won't have the time to read it. To ensure every word gets read, it's best to include high-level information only; sticking to a length of 3-5 lines.
Tailor it: Not tailoring your profile (and the rest of your CV) to the role you're applying for, is the worst CV mistake you could make. Before setting pen to paper, look over the job ad and make a note of the skills and experience required. Then, incorporate your findings throughout.
Don't add an objective: Want to talk about about your career goals and objectives? While the profile may seem like a good space to do so, they're actually much better suited to your cover letter.
Avoid generic phrases: "Determined team player who always gives 110%" might seem like a good way to fill up your CV profile, but generic phrases like this won't land you an interview. Recruiters hear them time and time again and have no real reason to believe them. Instead, pack your profile with your hard skills and tangible achievements.
Example CV profile for Assistant Director
Passionate Assistant Director with a strong understanding of how to visually tell a story through camera angles, shot composition, lighting, and other elements. Adept at examining scripts to realise the structure, theme, and characters for feature films. Able to interact with cast and crew to verify that everyone is working towards the same vision. Focused on applying time management skills to complete project according to deadlines and budgets.
What to include in your Assistant Director CV profile?
Experience overview: Showcase your aptitude for the job you are aiming for by giving a brief summary of your past work history, including the industries you have worked in, the kinds of employers you have served, and the roles you have held.
Targeted skills: Highlight your skills which are most relevant to Assistant Director jobs, to ensure that recruiters see your most in-demand skills as soon as they open your CV.
Important qualifications: If the job postings require specific qualifications, it is essential to incorporate them in your profile to ensure visibility to hiring managers.
Quick tip: If you are finding it difficult to write an attention-grabbing CV profile, choose from hundreds of pre-written profiles across all industries, and add one to your CV with one click in our partner's CV Builder. All profiles are written by recruitment experts and easily tailored to suit your unique skillset.
Core skills section
Add a core skills section below your profile to draw attention to your most applicable skills and make them stand out to readers.
This should consist of 2-3 columns of bullet points that emphasise your relevant skills.
Before creating this section, review the job description and compile a list of any specific skills, specializations, or knowledge needed. Incorporate these findings into your list to portray yourself as the ideal candidate for the position.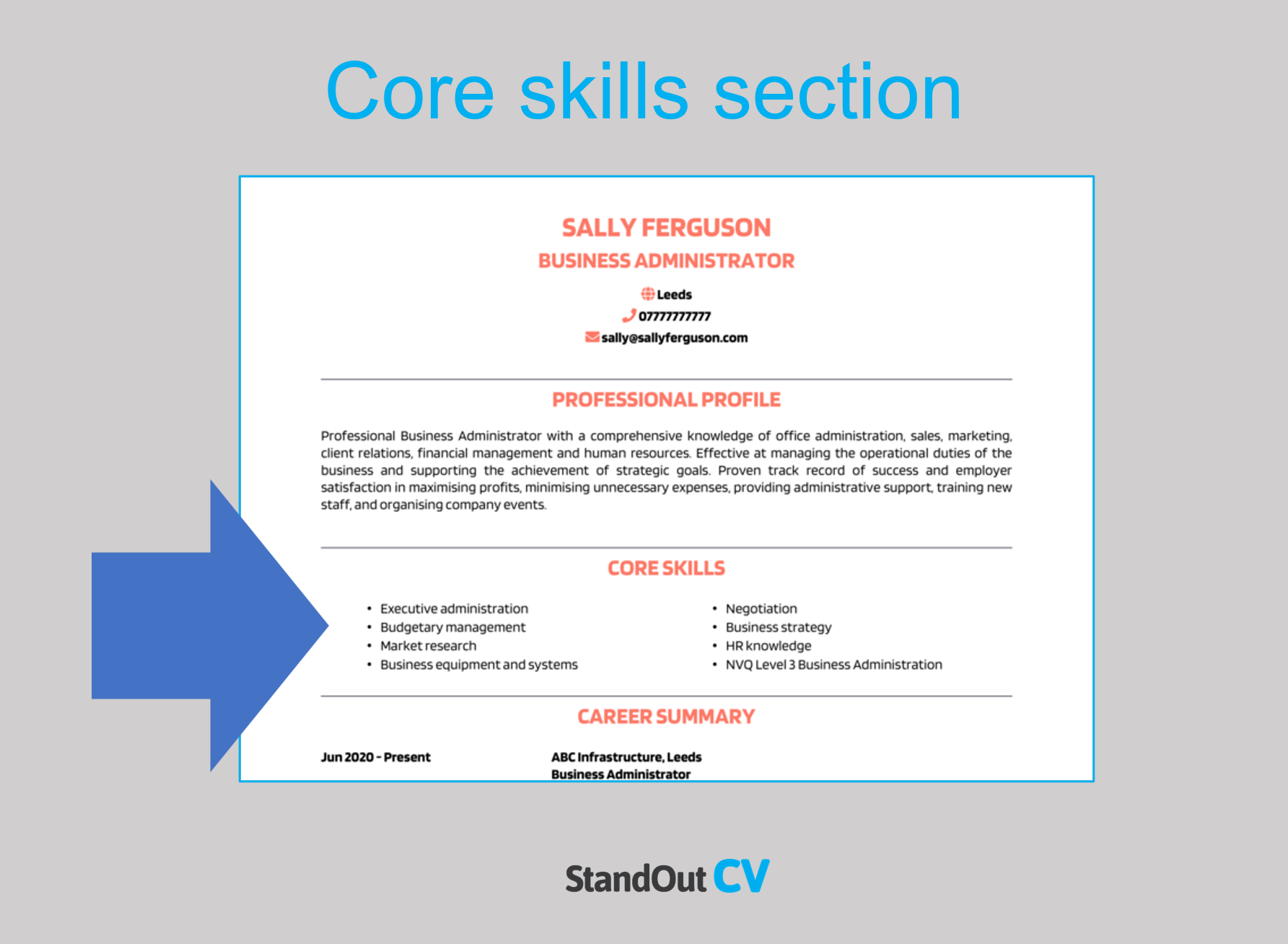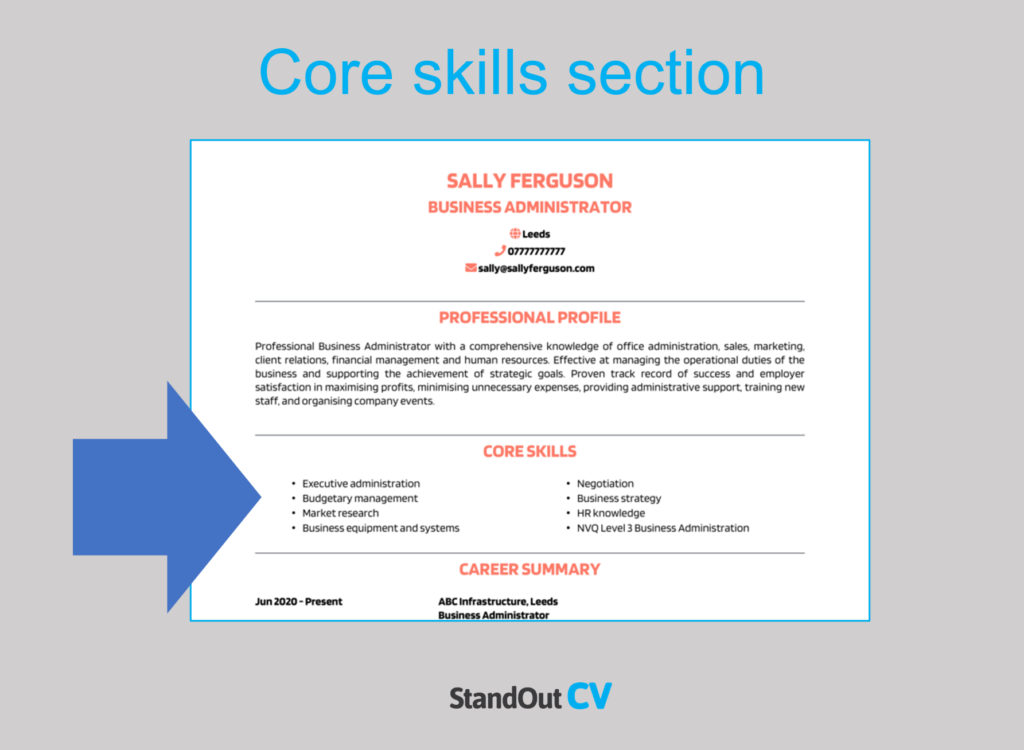 Important skills for your Assistant Director CV
Production Management – Coordinating and managing various production activities, including scheduling, budgeting, and resource allocation.
Script Analysis – Analysing scripts, identifying potential logistical challenges, and making recommendations for production feasibility.
Set Operations – Utilising knowledge of set protocols, procedures, and equipment, ensuring smooth operations on set and adherence to health and safety regulations.
Call Sheets and Scheduling – Creating and managing call sheets, production schedules, and daily shooting plans.
Set Communication – Conveying information and instructions to cast, crew, and production team members.
Production Leadership – Providing guidance, motivation, and direction to the production team, ensuring efficient workflow and adherence to project goals.
Problem Resolution – Identifying and resolving production challenges and issues, finding creative solutions while adhering to project constraints.
Conflict Resolution – Managing conflicts and diffusing tense situations that may arise on set or during production.
Stakeholder Collaboration – Working collaboratively with various stakeholders, including directors, producers, cast, crew, and other departments.
Production Logistics – Utilising knowledge of production logistics, including location scouting, permitting, travel arrangements, and equipment rental, to ensure efficient and smooth operations throughout the production process.
Quick tip: Our partner's CV Builder has thousands of in-demand skills for all industries and professions, that can be added to your CV in seconds – This will save you time and ensure you get noticed by recruiters.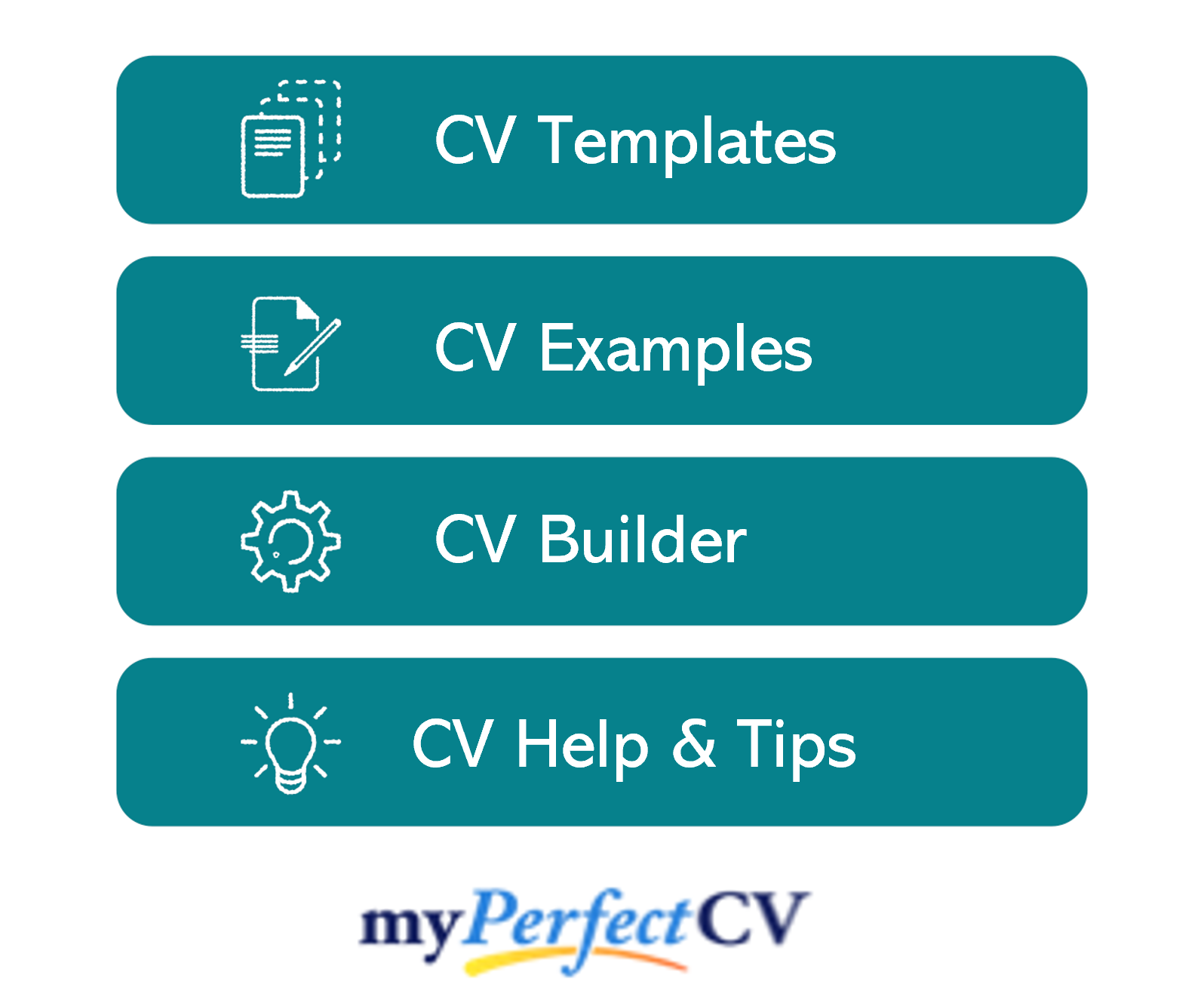 Work experience
Recruiters will be itching to know more about your relevant experience by now.
Kick-start this section with your most recent (or current) position, and work your way backwards through your history.
You can include voluntary and freelance work, too – as long as you're honest about the nature of the work.
Structuring each job
Lengthy, unbroken chunks of text is a recruiters worst nightmare, but your work experience section can easily end up looking like that if you are not careful.
To avoid this, use my tried-and-tested 3-step structure, as illustrated below:
Outline
Start with a solid introduction to your role as a whole, in order to build some context.
Explain the nature of the organisation you worked for, the size of the team you were part of, who you reported to and what the overarching purpose of your job was.
Key responsibilities
Using easy-to-read bullet points, note down your day-to-day responsibilities in the role.
Make sure to showcase how you used your hard sector skills and knowledge.
Key achievements
Lastly, add impact by highlight 1-3 key achievements that you made within the role.
Struggling to think of an achievement? If it had a positive impact on your company, it counts.
For example, you might increased company profits, improved processes, or something simpler, such as going above and beyond to solve a customer's problem.
Sample job description for Assistant Director CV
Outline
Aid in overseeing numerous aspects of the creative process on film sets, such as casting cinematography, editing, and music design, for a British film studio and subsidiary of Universal Pictures that produces motion pictures and television programmes.
Key Responsibilities
Pitch ideas to studio executives by coming up with ideas, crafting introductions, adding synopses, and addressing filmmaking elements.
Compose and evaluate scripts for technical feasibility and artistic merit, while deciding whether to green-light projects.
Handle production paperwork, such as contracts, insurance forms, and permits.
Hire staff members, namely producers, costume designers, talent, casting personnel, screenwriters, sound technicians, and makeup artists depending on movie scopes.
Quick tip: Create impressive job descriptions easily in our partner's CV Builder by adding pre-written job phrases for every industry and career stage.

Education section
At the bottom of your CV is your full education section. You can list your formal academic qualifications, such as:
As well as any specific Assistant Director qualifications that are essential to the jobs you are applying for. Note down the name of the qualification, the organisation at which you studied, and the date of completion.
Hobbies and interests
This section is entirely optional, so you'll have to use your own judgement to figure out if it's worth including.
If your hobbies and interests could make you appear more suitable for your dream job, then they are definitely worth adding.
Interests which are related to the industry, or hobbies like sports teams or volunteering, which display valuable transferable skills might be worth including.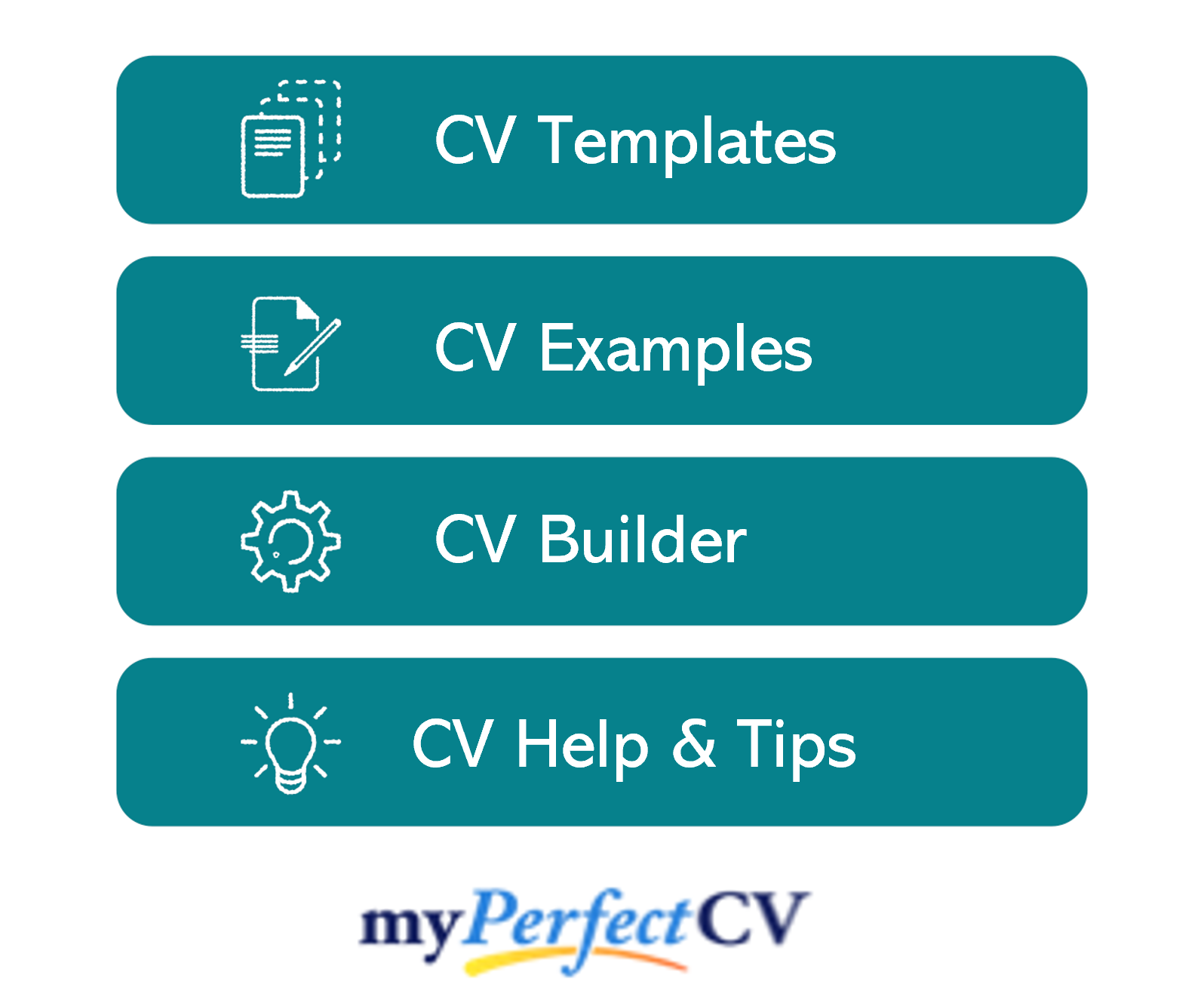 Creating a strong Assistant Director CV requires a blend of punchy content, considered structure and format, and heavy tailoring.
By creating a punchy profile and core skills list, you'll be able to hook recruiter's attention and ensure your CV gets read.
Remember that research and relevance is the key to a good CV, so research your target roles before you start writing and pack your CV with relevant skills.
Best of luck with your next application!