A carpentry apprenticeship is the ideal way to learn on the job and improve your skill set.
However, you're not the only one trying to get into the industry and these roles can be competitive. This means you have to do all you can to stand out from the crowd and secure your position.
Below, we'll give you the tools to create the perfect application, complete with an apprentice carpenter CV example to guide you.
Contents
| | |
| --- | --- |
| How to write a Apprentice Carpenter CV | |

Apprentice Carpenter CV example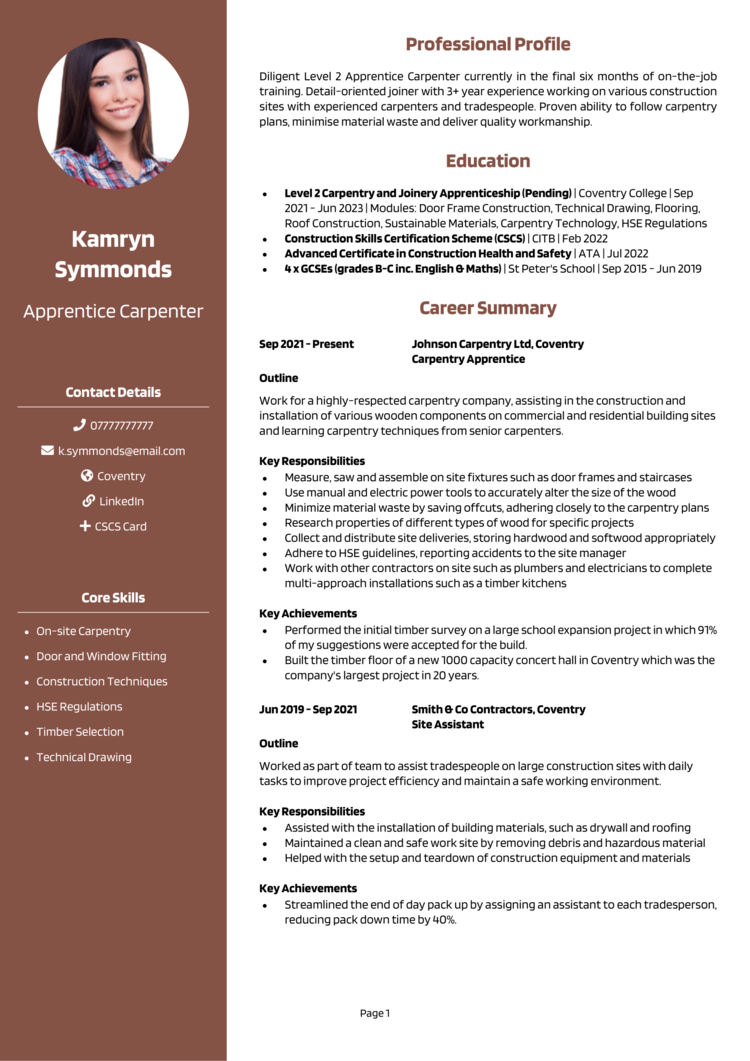 This CV example illustrates the ideal structure and format for your Apprentice Carpenter CV, making it easy for busy hiring managers to quickly identify your suitability for the jobs you're applying for,
It also gives some guidance on the skills, experience and qualifications you should emphasise in your own CV.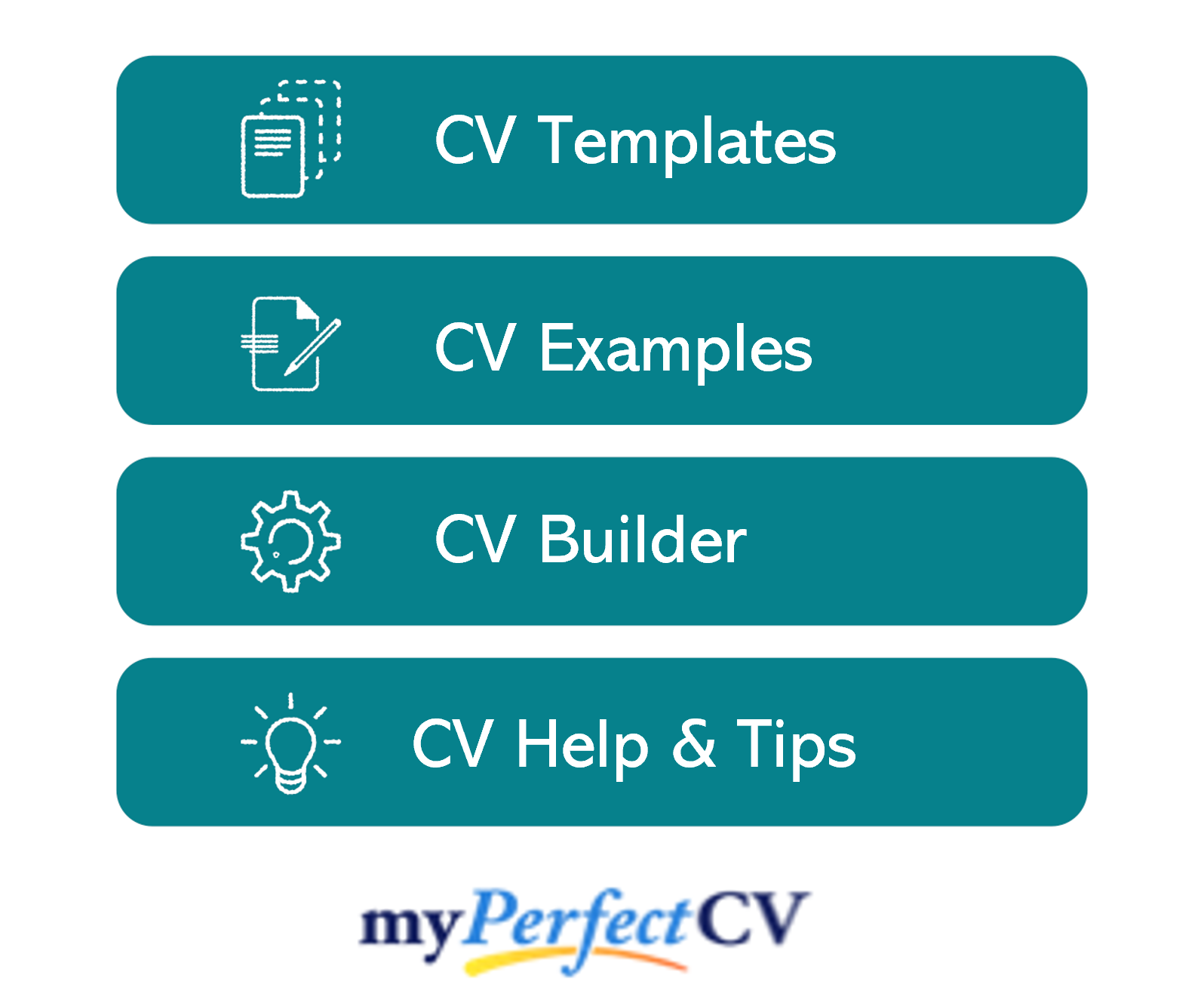 Apprentice Carpenter CV format and structure
Hiring managers and recruiters are frequently overloaded with applications, and if they can't identify the relevant information in your CV within a few seconds, your application may be overlooked.
To avoid this, it's essential to format and structure your CV in a manner that makes it simple to pick out the most important information, even if the reader is in a rush.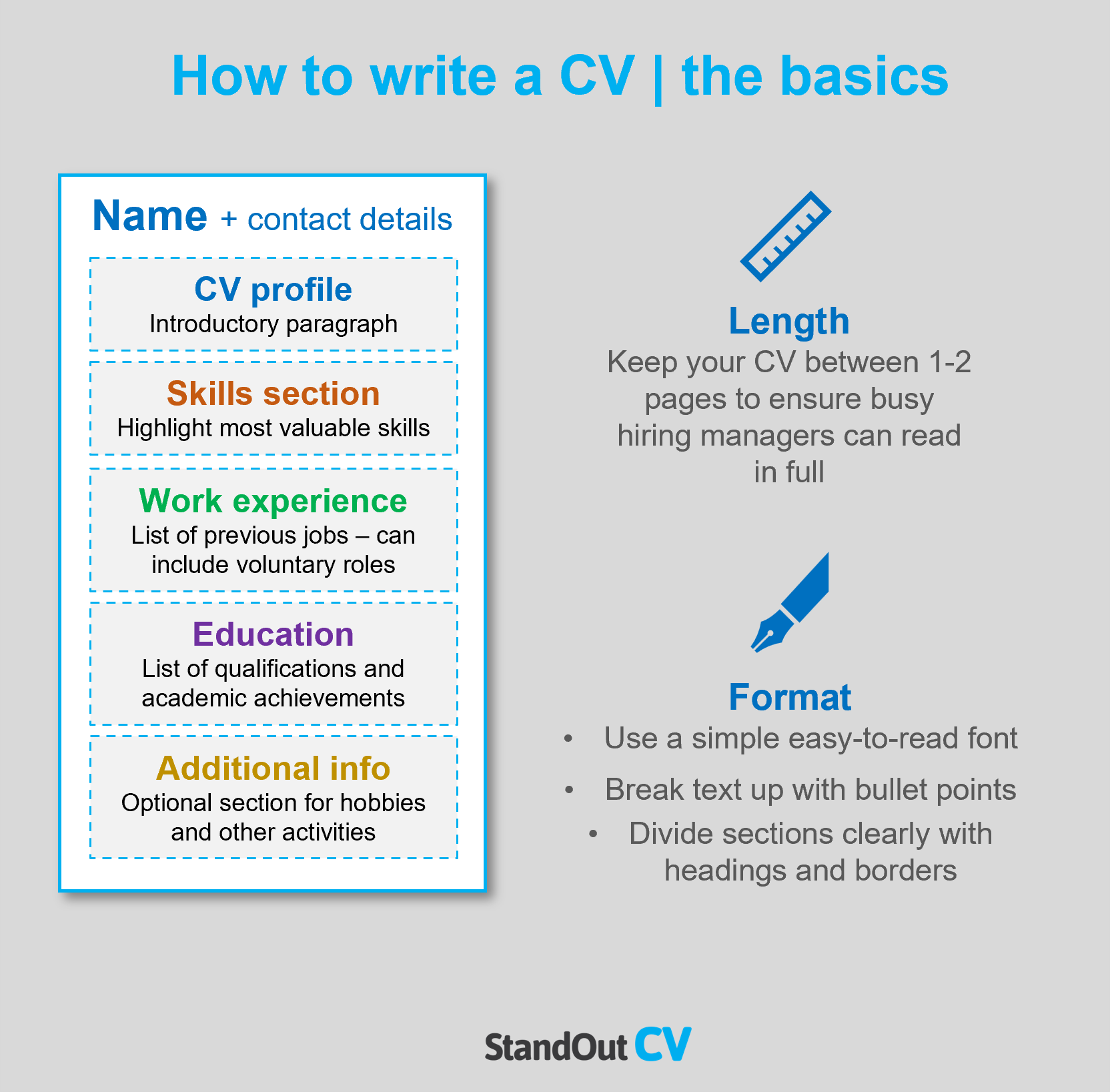 Tips for formatting your Apprentice Carpenter CV
Length: Two sides of A4 makes for the the perfect CV length, though one page is okay for less experienced applicants. This forces you to make sure that every single sentence adds value to your CV and ensures you avoid unnecessary  info.
Readability: Help out time-strapped recruiters by formatting your CV for easy reading. Using lots of bullet points and lists will help them to skim through your info, while clearly formatted headings will allow them to navigate towards the content which is most useful to them.
Design & format: Your CV needs to look professional, sleek and easy to read. A subtle colour palette, clear font and simple design are generally best for this, as fancy designs are often harder to navigate.
Photos: Profile photos or aren't a requirement for most industries, so you don't need to add one in the UK – but if you do, just make sure it looks professional
Quick tip: Creating a professional CV style can be difficult and time-consuming when using Microsoft Word or Google Docs. To create a winning CV quickly, try our partner's CV Builder and use one of their eye-catching professional CV templates.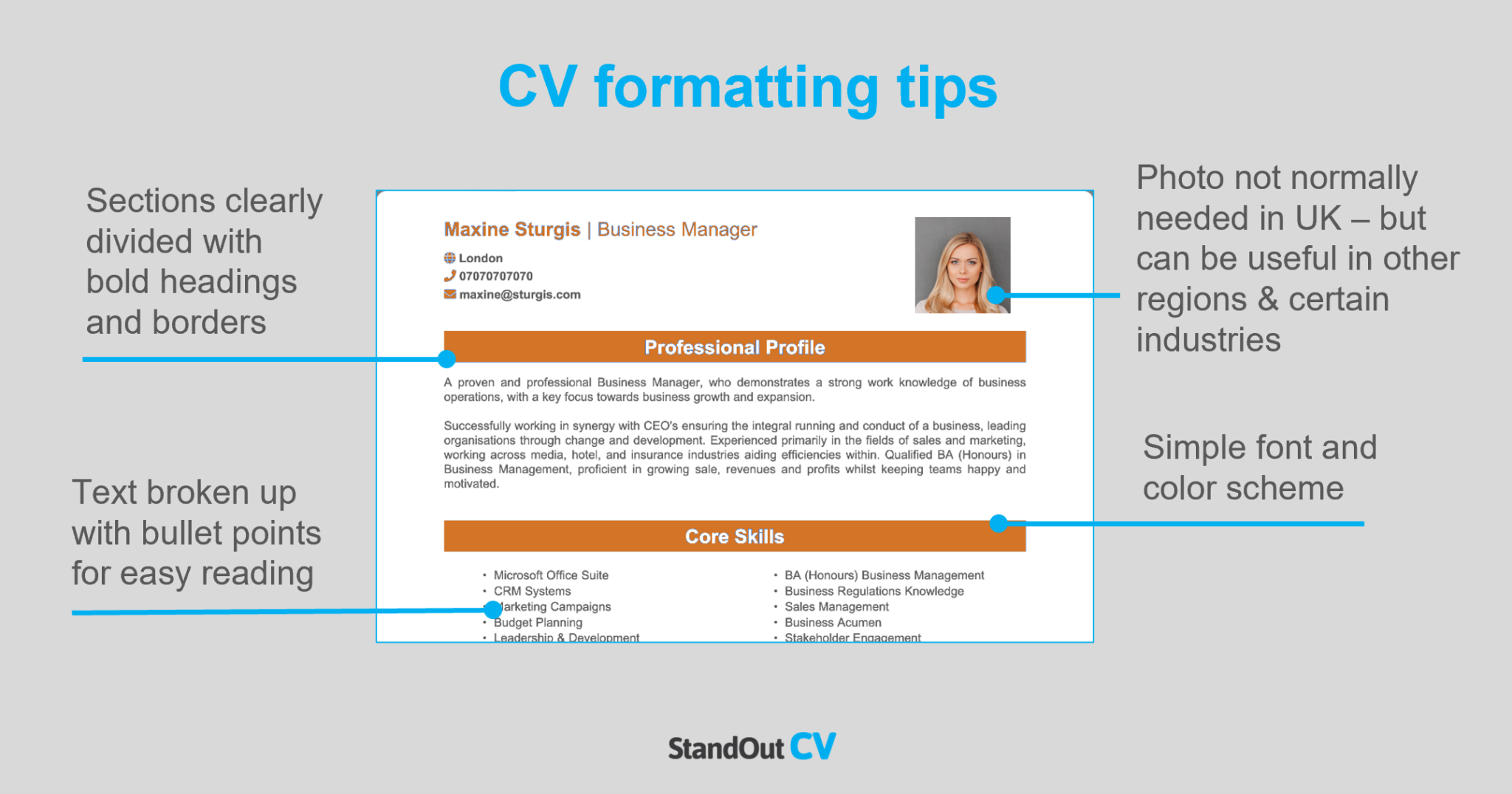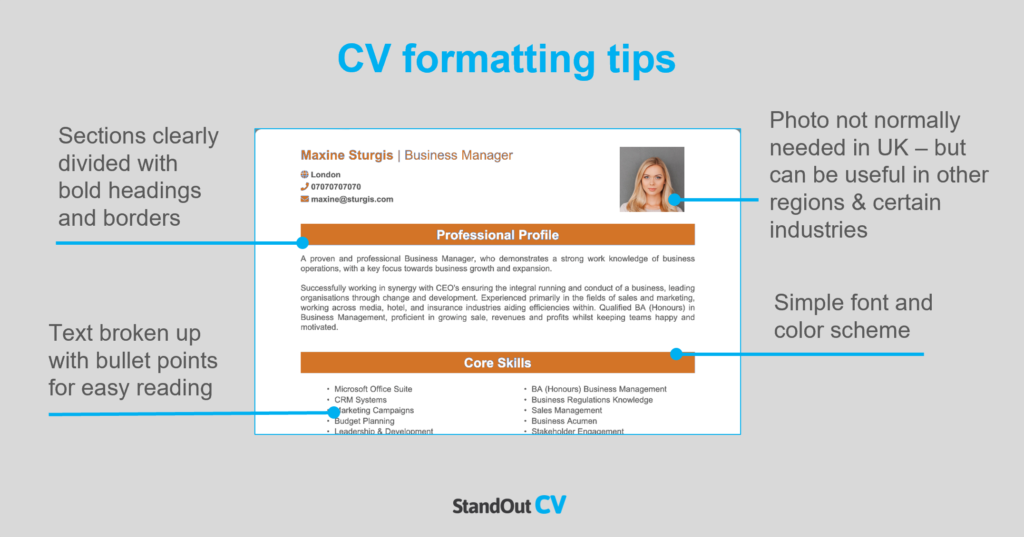 CV structure
As you write your CV, divide and sub-head into the following sections:
Name and contact details – Always start with these, so employers know exactly how to get in touch with you.
CV profile – Add a short summary of your relevant experience, skills and achievements, which highlights your suitability.
Core skills section – A 2-3 columned list of your key skills.
Work experience – A detailed list of any relevant work experience, whether paid or voluntary.
Education – An overview of your academic background and any training you may have completed.
Hobbies and interests – A brief overview of your hobbies and interests, if they're relevant (optional).
Now you understand the basic layout of a CV, here's what you should include in each section of yours.
Contact Details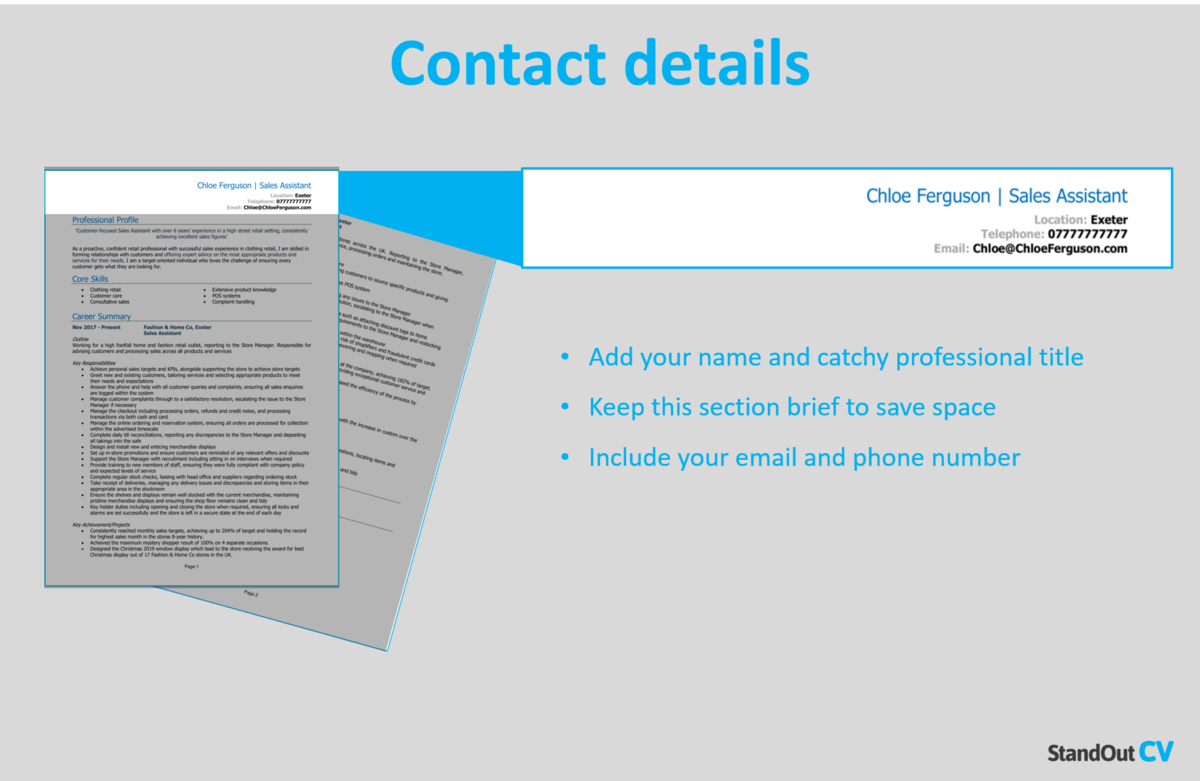 Make it easy for recruiters to get in touch, by heading your CV with your contact details.
There's no need for excessive details – just list the basics:
Mobile number
Email address – Use a professional address with no nicknames.
Location – Just write your your general location, such as 'London' or 'Cardiff' – there's no need to put your full address.
LinkedIn profile or portfolio URL
Apprentice Carpenter CV Profile
Recruiters and hiring managers are busy, so it's essential to catch their attention from the get-go.
A strong introductory profile (or personal statement, for junior candidates) at the top of the CV is the first thing they'll read, so it's a great chance to make an impression.
It should be a short but punchy summary of your key skills, relevant experience and accomplishments.
Ultimately, it should explain why you're a great fit for the role you're applying for and inspire recruiters to read the rest of your CV.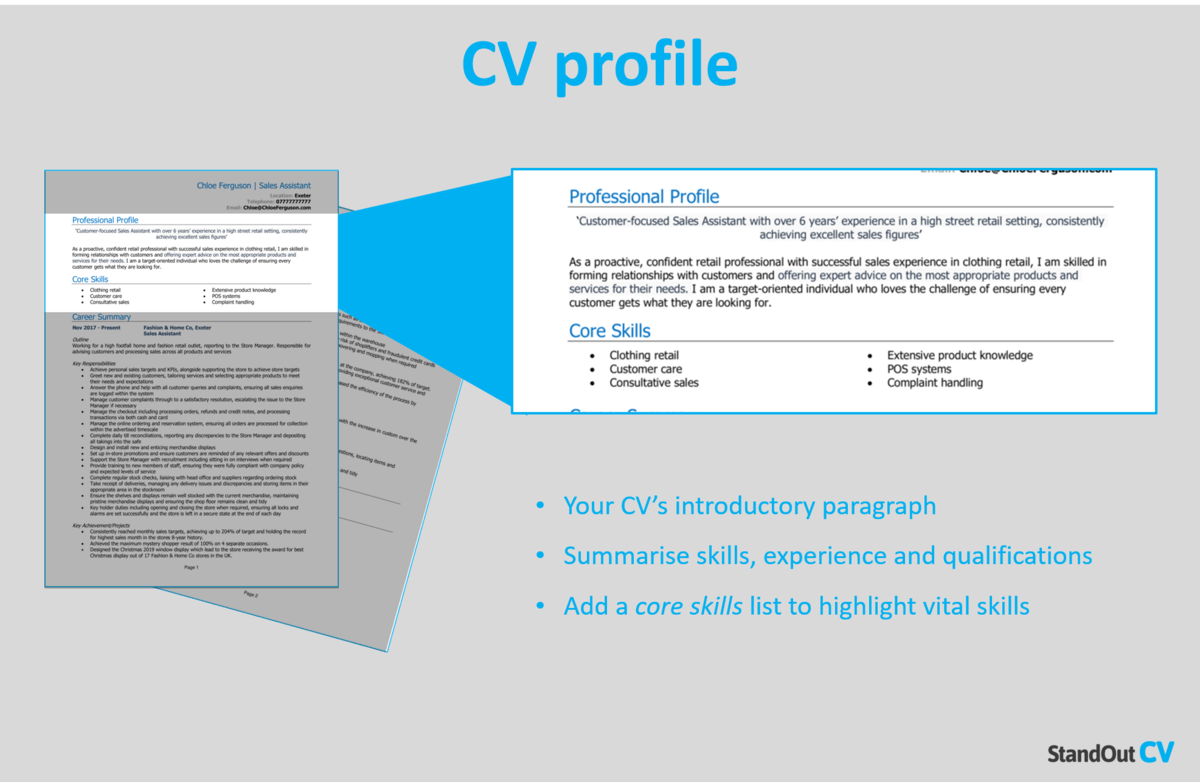 How to write a good CV profile:
Make it short and sharp: When it comes to CV profile length, less is more, as recruiters are often time-strapped. Aim for around of 3-5 persuasive lines.
Tailor it: Before writing your CV, make sure to do some research. Figure out exactly what your desired employers are looking for and make sure that you are making those requirements prominent in your CV profile, and throughout.
Don't add an objective: Leave your career objectives or goals out of your profile. You only have limited space to work with, so they're best suited to your cover letter.
Avoid generic phrases: Cheesy clichès and generic phrases won't impress recruiters, who read the same statements several times per day. Impress them with your skill-set, experience and accomplishments instead!
Example CV profile for Apprentice Carpenter
Diligent Level 2 Apprentice Carpenter currently in the final six months of on-the-job training. Detail-oriented joiner with 3+ year experience working on various construction sites with experienced carpenters and tradespeople. Proven ability to follow carpentry plans, minimise material waste and deliver quality workmanship.
What to include in your Apprentice Carpenter CV profile?
Experience overview: Recruiters will want to know what type of companies you've worked for, industries you have knowledge of, and the type of work you've carried out in the past, so give them a summary of this in your profile.
Targeted skills: Employers need to know what skills you can bring to their organisation, and ideally they want to see skills that match their job vacancy. So, research your target roles thoroughly and add the most important Apprentice Carpenter skills to your profile.
Important qualifications: If you have any qualifications which are highly relevant to Apprentice Carpenter jobs, then highlight them in your profile so that employers do not miss them.
Quick tip: If you are finding it difficult to write an attention-grabbing CV profile, choose from hundreds of pre-written profiles across all industries, and add one to your CV with one click in our partner's CV Builder. All profiles are written by recruitment experts and easily tailored to suit your unique skillset.
Core skills section
Create a core skills section underneath your profile to spotlight your most in-demand skills and grab the attention of readers.
This section should feature 2-3 columns of bullet points that emphasise your applicable skills for your target jobs. Before constructing this section, review the job description and compile a list of any specific skills, specialisms, or knowledge required.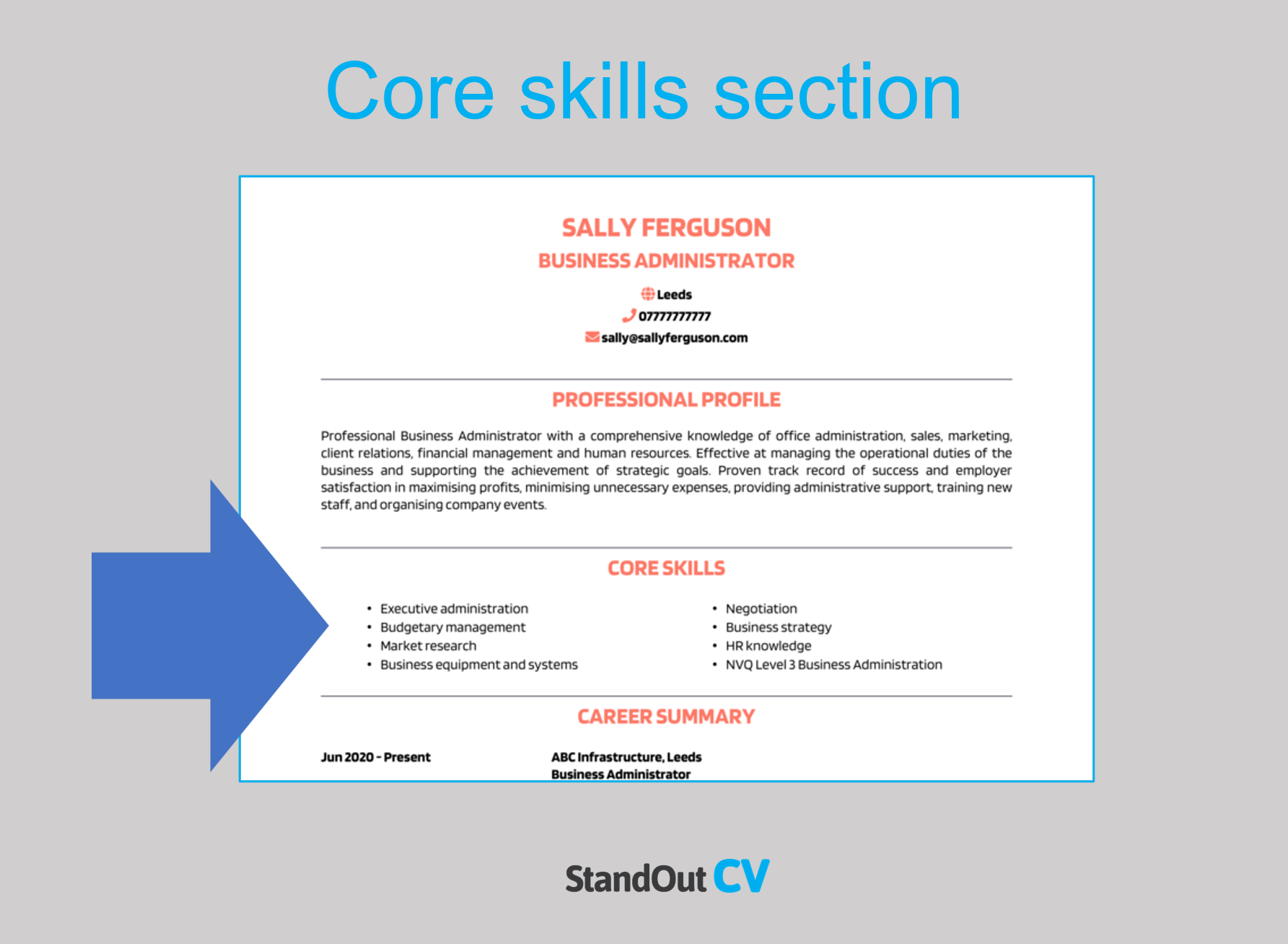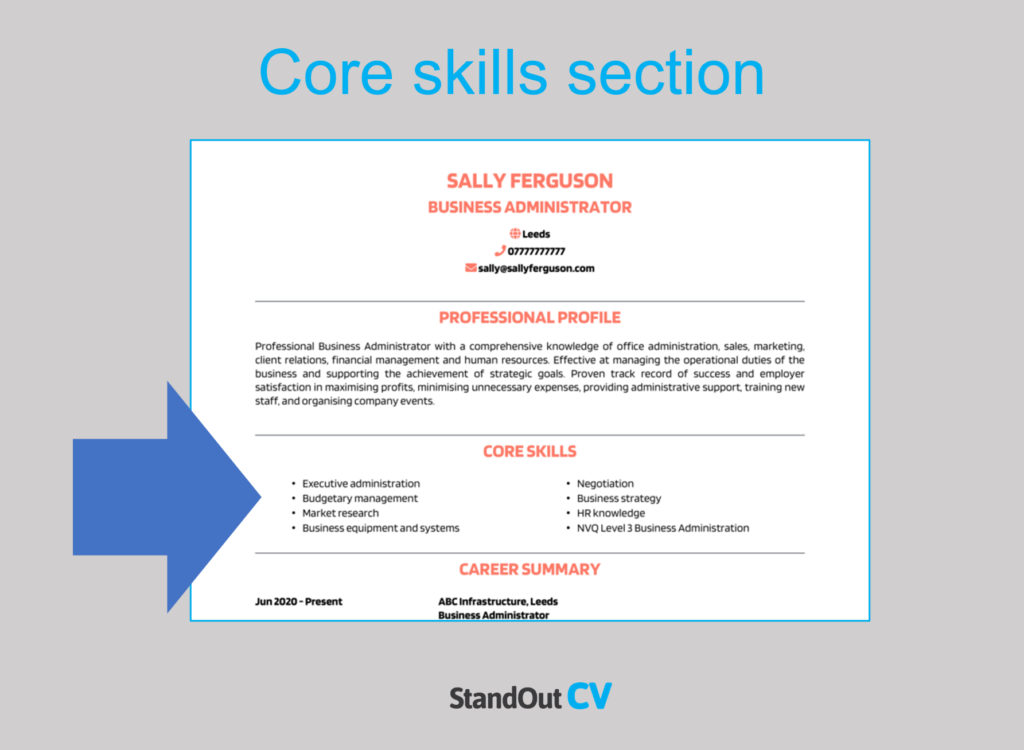 Important skills for your Apprentice Carpenter CV
Carpentry Techniques – Utilising various carpentry techniques, including measuring, cutting, shaping, and assembling wood and other materials according to specifications.
Blueprint Reading – Interpreting and understanding construction blueprints, plans, and drawings to accurately execute carpentry tasks.
Tool and Equipment – Utilising different carpentry tools and equipment, including their safe handling, and proper maintenance to ensure efficiency and safety on the job.
Material Selection and Handling – Utilising knowledge of different types of wood, lumber, and other construction materials, and selecting, handling, and storing them appropriately.
Joinery and Framing – Utilising a variety of joinery techniques, such as mortise and tenon, dovetail, and biscuit joints, as well as framing methods for constructing walls, floors, and roofs.
Installation and Finishing – Installing and fitting doors, windows, trim, cabinets, and other carpentry components, as well as applying finishes like varnish, paint, or stain.
Problem Resolution – Identifying and solving common carpentry challenges, adapting to unforeseen circumstances, and finding effective solutions to ensure quality workmanship.
Workplace Safety – Maintaining knowledge of health and safety regulations, adhering to safety protocols, and maintaining a safe working environment for oneself and others.
Trade Collaboration – Working effectively as part of a construction team, communicate clearly, and coordinate tasks with other tradespeople on-site.
Quick tip: Our partner's CV Builder has thousands of in-demand skills for all industries and professions, that can be added to your CV in seconds – This will save you time and ensure you get noticed by recruiters.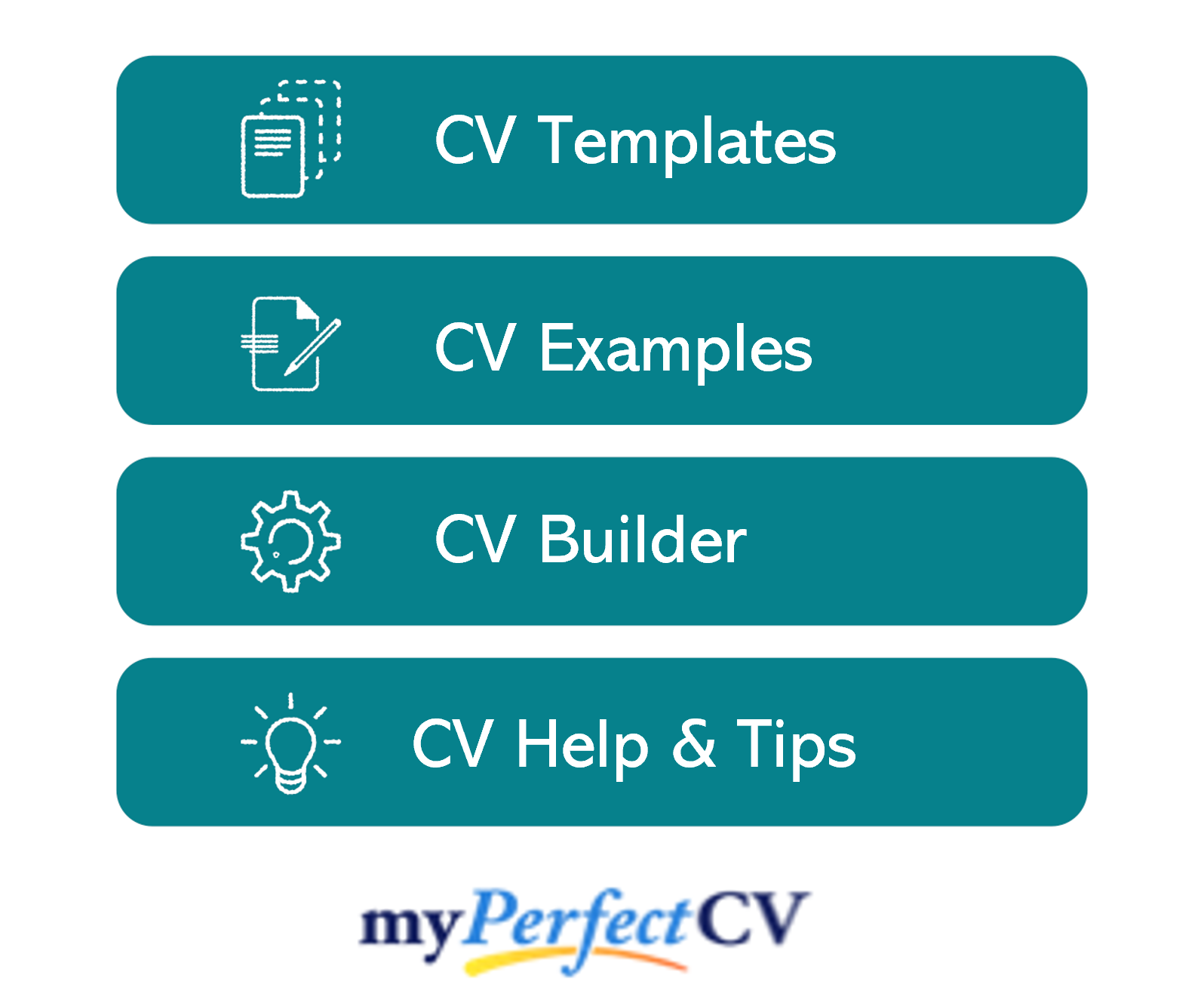 Work experience
Next up is your work experience section, which is normally the longest part of your CV.
Start with your current (or most recent) job and work your way backwards through your experience.
Can't fit all your roles? Allow more space for your recent career history and shorten down descriptions for your older roles.
Structuring each job
Recruiters will be keen to gain a better idea of where you've worked and how you apply your skill-set in the workplace.
However, if they're faced with huge, hard-to-read paragraphs, they may just gloss over it and move onto the next application.
To avoid this, use the simple 3-step role structure, as shown below:
Outline
Start with a solid introduction to your role as a whole, in order to build some context.
Explain the nature of the organisation you worked for, the size of the team you were part of, who you reported to and what the overarching purpose of your job was.
Key responsibilities
Use bullet points to detail the key responsibilities of your role, highlighting hard skills, software and knowledge wherever you can.
Keep them short and sharp to make them easily digestible by readers.
Key achievements
Finish off by showcasing 1-3 key achievements made within the role.
This could be anything that had a positive effect on your company, clients or customers, such as saving time or money, receiving exemplary feedback or receiving an award.
Sample job description for Apprentice Carpenter CV
Outline
Working for a highly respected carpentry company, assisting in the construction and installation of various wooden components on commercial and residential building sites and learning carpentry techniques from senior carpenters.
Key Responsibilities
Measure, saw and assemble on site fixtures such as door frames and staircases
Use manual and electric power tools to accurately alter the size of the wood
Minimise material waste by saving offcuts, adhering closely to the carpentry plans
Research properties of different types of wood for specific projects
Quick tip: Create impressive job descriptions easily in our partner's CV Builder by adding pre-written job phrases for every industry and career stage.

Education section
After your work experience, your education section should provide a detailed view of your academic background.
Begin with those most relevant to Apprentice Carpenter jobs, such as vocational training or degrees. If you have space, you can also mention your academic qualifications, such as A-Levels and GCSEs.
Focus on the qualifications that are most relevant to the jobs you are applying for.
Hobbies and interests
This section is entirely optional, so you'll have to use your own judgement to figure out if it's worth including.
If your hobbies and interests could make you appear more suitable for your dream job, then they are definitely worth adding.
Interests which are related to the industry, or hobbies like sports teams or volunteering, which display valuable transferable skills might be worth including.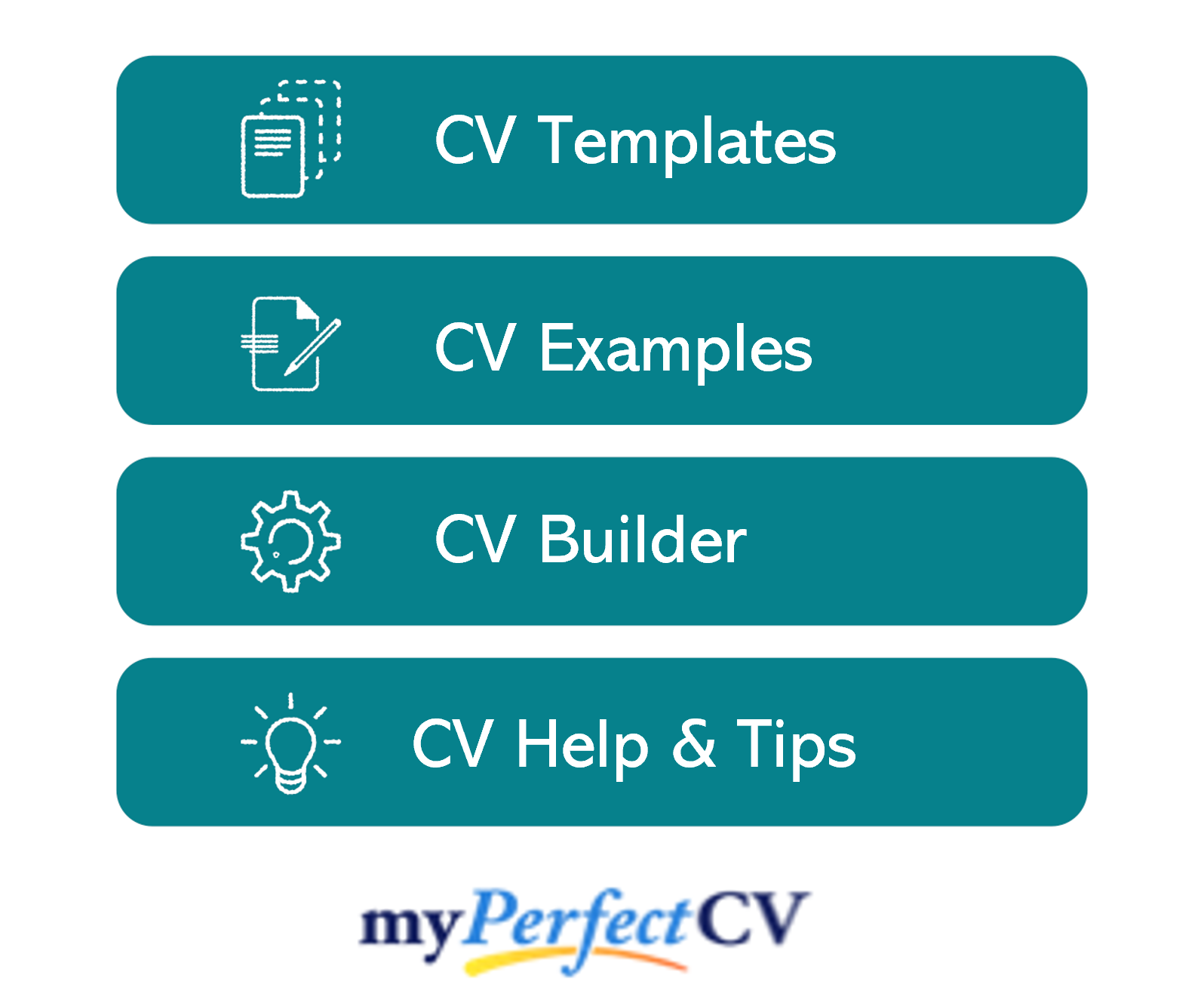 An interview-winning CV for a Apprentice Carpenter role, needs to be both visually pleasing and packed with targeted content.
Whilst it needs to detail your experience, accomplishments and relevant skills, it also needs to be as clear and easy to read as possible.
Remember to research the role and review the job ad before applying, so you're able to match yourself up to the requirements.
If you follow these guidelines and keep motivated in your job search, you should land an interview in no time.
Best of luck with your next application!