You've perfected your sales techniques and you've got plenty of impressive stats to back it up.
But if you want to land that sales manager role, you need to make sure you're highlighting your most impressive figures and leadership skills in your cover letter.
And we can help you to boost your chances of writing an interview-winning application with our expert advice and sales manager cover letter examples below.

Sales Manager cover letter example 1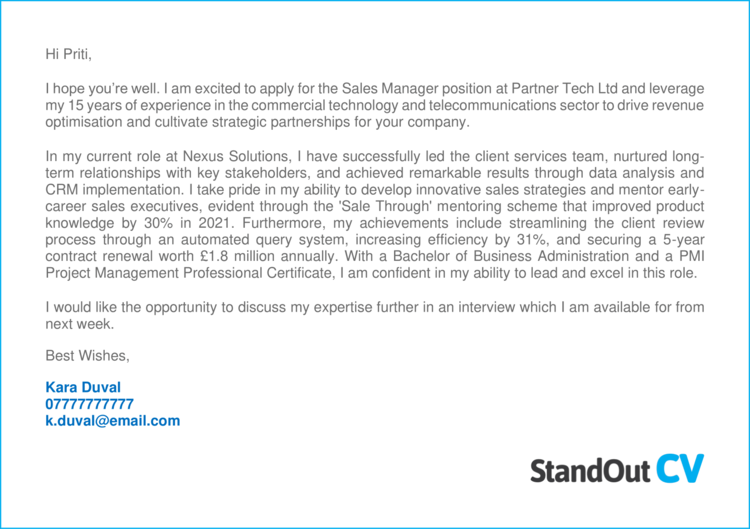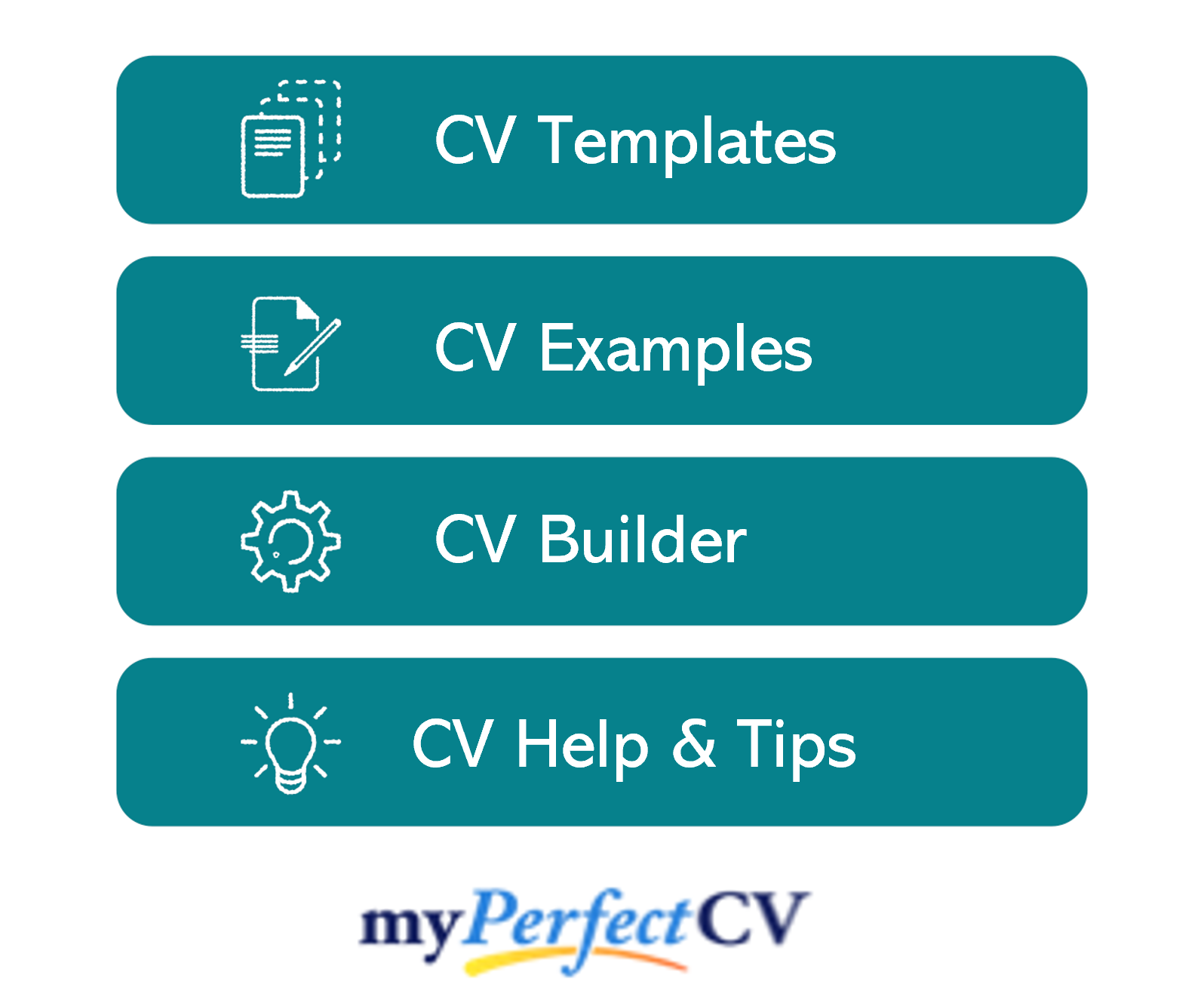 Sales Manager cover letter example 2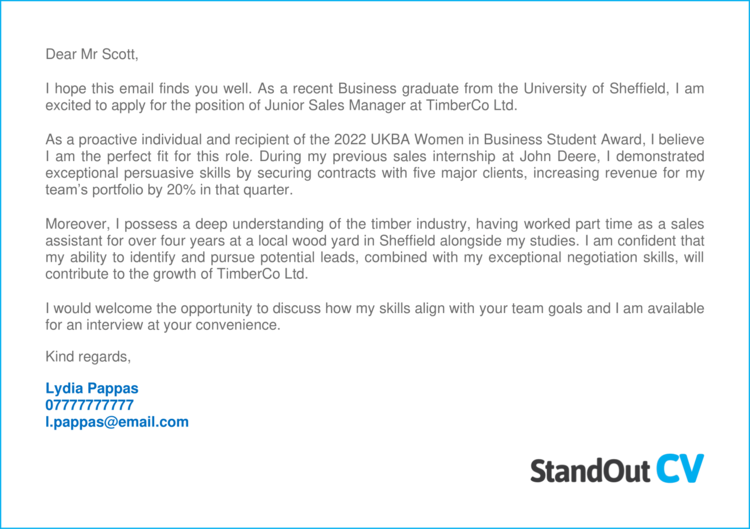 Sales Manager cover letter example 3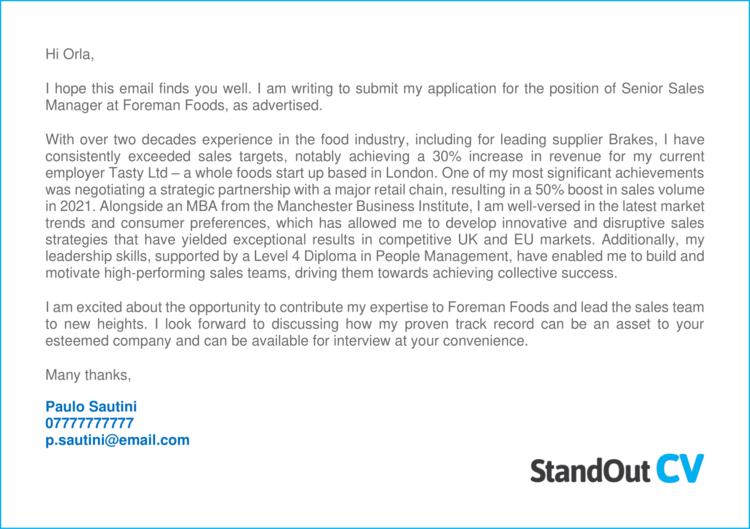 These 3 Sales Manager cover letter examples should provide you with a good steer on how to write your own cover letter, and the general structure to follow.
Our simple step-by-step guide below provides some more detailed advice on how you can craft a winning cover letter for yourself, that will ensure your CV gets opened.
How to write a Sales Manager cover letter
Here's how you can write your own eye-catching cover letter, broken down into simple steps.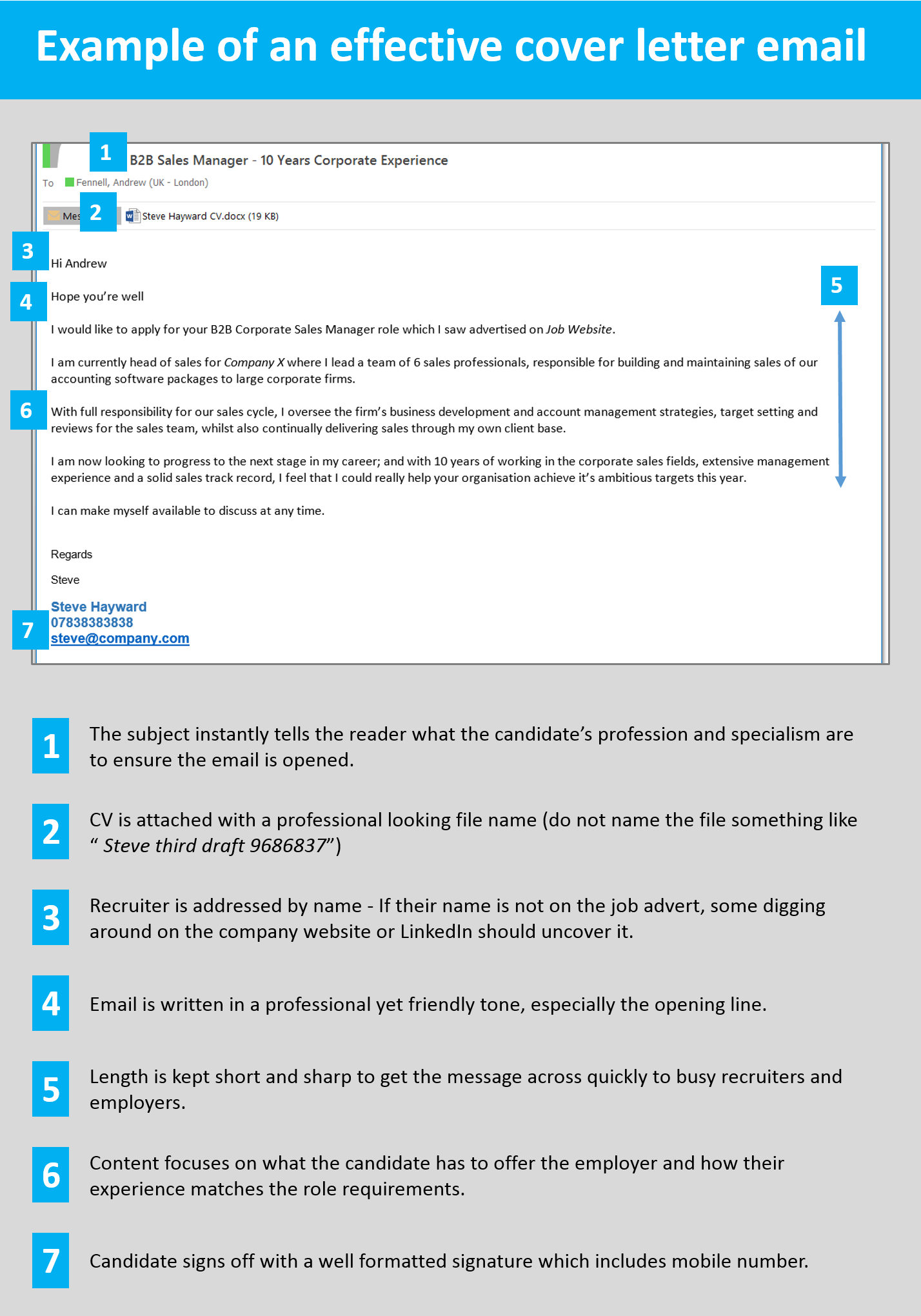 Write your cover letter in the body of an email/message
Type the content of your cover letter directly into the email you are sending, or if you are applying via a job board, directly into their messaging system.
The reason for doing this it to ensure that your cover letter gets seen instantly and you can start connecting with the recruiter as soon as they open your message.
If you attach your cover letter as a separate document, the recipient will have to open up the document, which will slow the process down, or make them less likely to even open your cover letter – which could mean your application gets skipped over.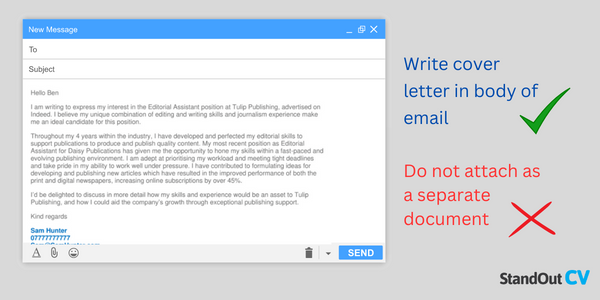 Start with a friendly greeting

To kick your cover letter off, start with a friendly greeting to build rapport with the recruiter instantly.
Your greeting should be personable but professional. Not too casual, but not too formal either
Go with something like…
Hi
Hi [insert recruiter name]
Hi [insert department/team name]
Avoid old-fashioned greetings like "Dear sir/madam" unless applying to very formal companies.
How to find the contact's name?
Addressing the recruitment contact by name is an excellent way to start building a strong relationship. If it is not listed in the job advert, try these methods to find it.
Check out the company website and look at their About page. If you see a hiring manager, HR person or internal recruiter, use their name. You could also try to figure out who would be your manager in the role and use their name.
Head to LinkedIn, search for the company and scan through the list of employees. Most professionals are on LinkedIn these days, so this is a good bet.
Identify the role you are applying for
Once you have opened the cover letter with a warm greeting, you need to explain which role you are interested in.
Sometimes a recruitment consultant could be managing over 10 vacancies, so it's crucial to pinpoint exactly which one you are interested in.
Highlight the department/area if possible and look for any reference numbers you can quote.
These are some examples you can add..
I am interested in applying for the role of Sales Manager with your company.
I would like to apply for the role of Sales assistant (Ref: 40f57393)
I would like to express my interest in the customer service vacancy within your retail department
I saw your advert for an IT project manager on Reed and would like to apply for the role.
Highlight your suitability
The main purpose of your cover letter is to excite recruiters and make them eager to open your CV. And you achieve this by quickly demonstrating your suitability to the job you are applying for.
Take a look at the job adverts you are applying for, and make note of the most important skills being asked for.
Then, when you write your cover letter, make your suitability the focal point.
Explain how you meet the candidate requirements fully, and why you are so well suited to carry out the job.
This will give recruiters all the encouragement they need to open your CV and consider your application.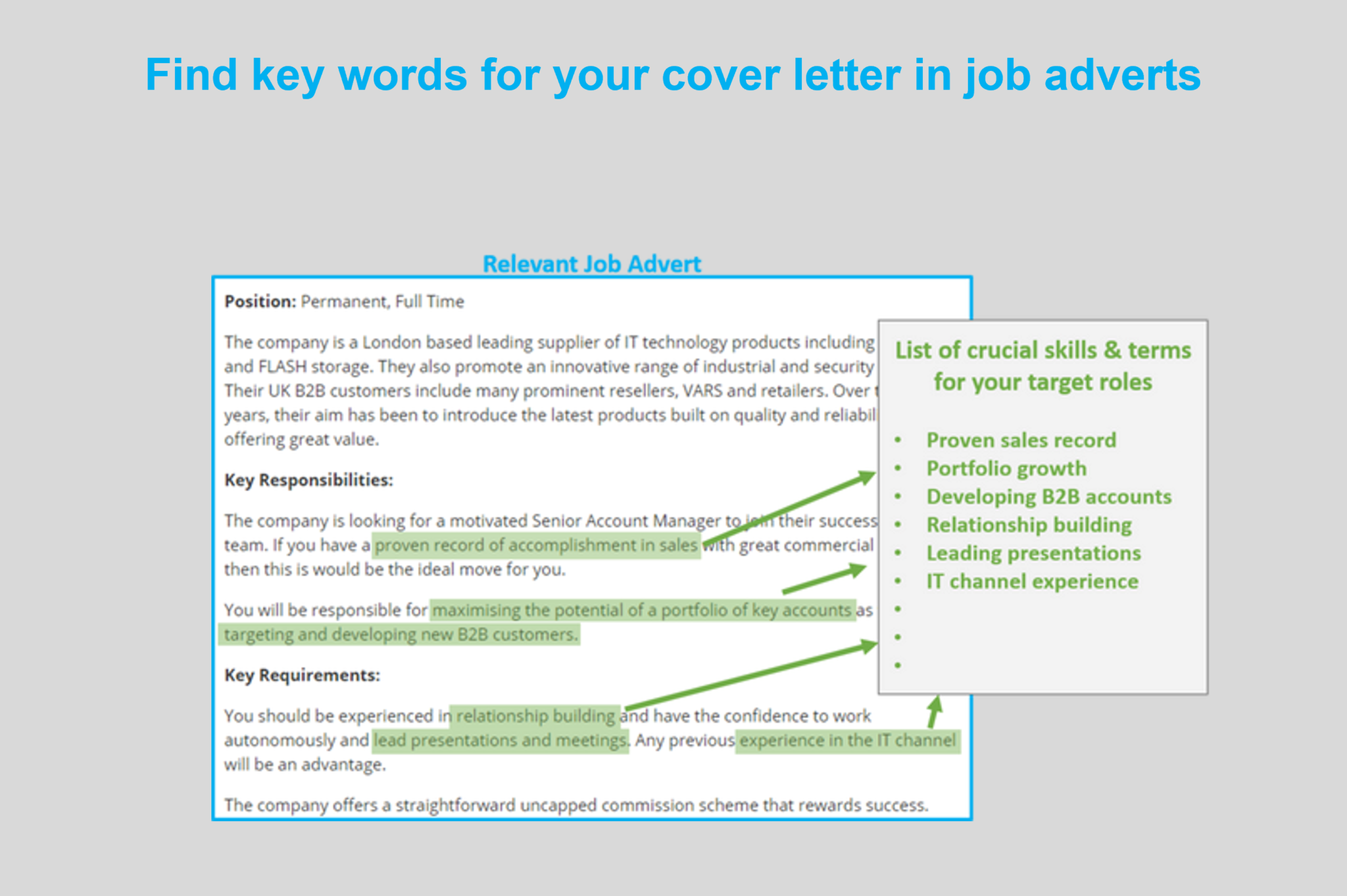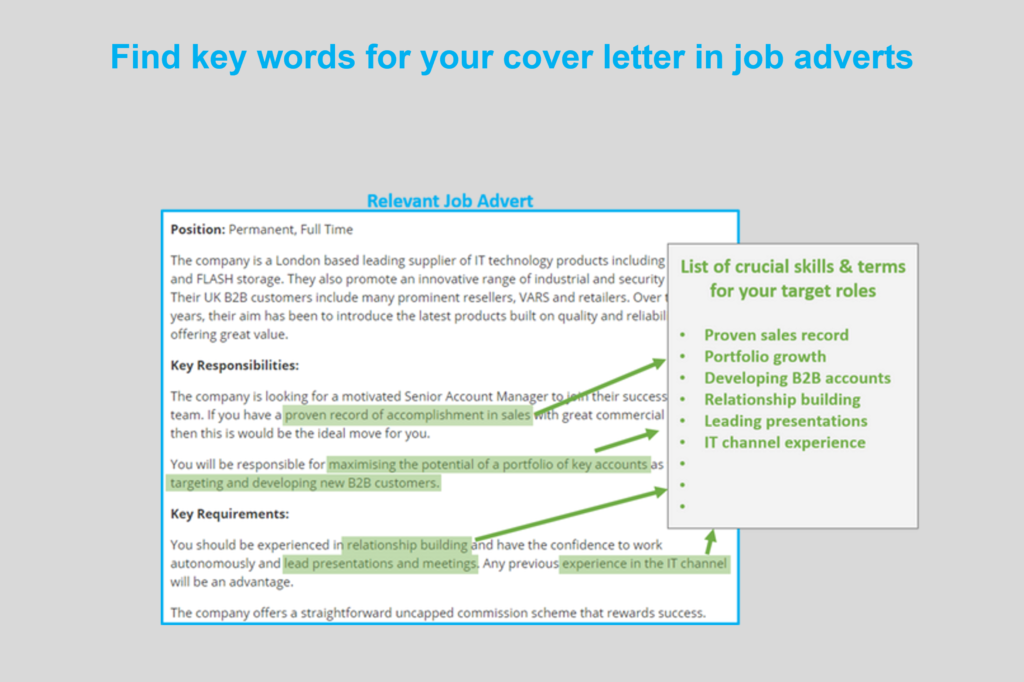 Keep it short and sharp
When sending a job application to a recruiter or hiring manager, it is important to remember that they will normally be very busy and pushed for time.
Therefore, you need to get you message across to them quickly (in a matter of seconds ideally). So, keep your cover letter short and to-the-point. A long waffling cover letter will overwhelm recruiters when they are running through hundreds of emails in there inbox, but a concise one will get their attention.
So, keep your cover letter to just a few sentences long, and save the extensive detail for your CV.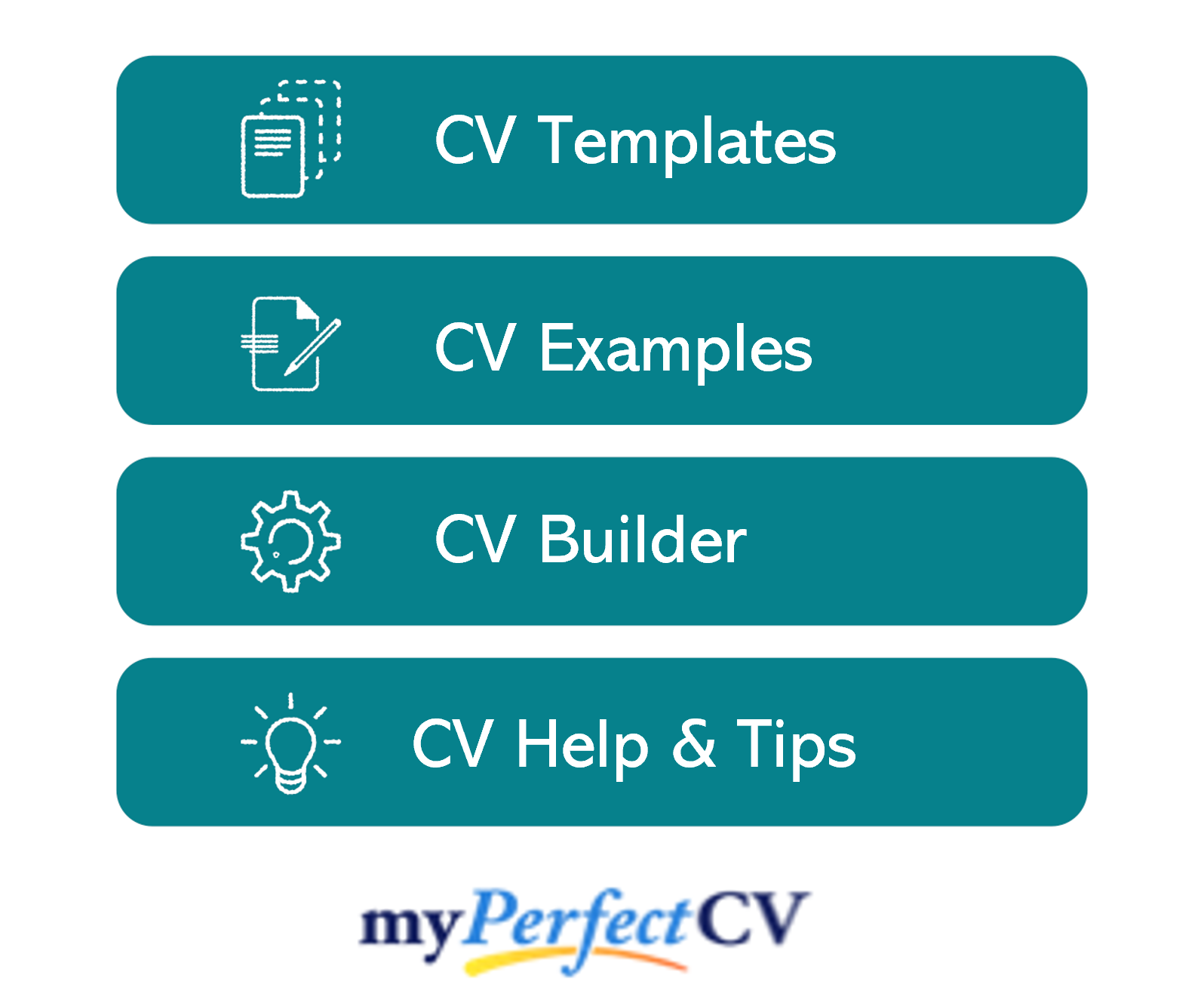 Sign off professionally
To round of your cover letter, add a professional signature to the bottom, giving recruiters your vital contact information.
This not only gives various means of contacting you, it also looks really professional and shows that you know how to communicate in the workplace.
Include the following points;
A friendly sign off – e.g. "Warm regards"
Your full name
Phone number (one you can answer quickly)
Email address
Optional
Profession title
Professional social network – e.g. LinkedIn
Here is an example signature;
Warm regards,
Gerald Baker
Senior Accountant
07887500404
Gbaker213@hotmail.com
LinkedIn
Quick tip: To save yourself from having to write your signature every time you send a job application email, you can save it within your email drafts, or on a separate document that you could copy in.

What to include in your Sales Manager cover letter
So, what type of information should you write about in your Sales Manager cover letter?
The specifics will obviously depend on your profession and the jobs you are applying to, but these are the key areas you should be covering.
Your industry experience – Tell recruiters the types of companies you have been working for and the roles you have held in the past.
Your qualifications – Highlight your most important relevant qualifications to show employers you are qualified to do the roles you are applying for.
The impact you have made – Demonstrate the positive impact you have made for employers in previous jobs. Have you saved money? Improved processes? Made customers happy?
Your reasons for moving – Employers will want to know why you are leaving your current/previous role, so provide them with a brief explanation here.
Your availability – When will you be able to start a new job? Check your current contract to find out your notice period if you are in a position already.
Sales Manager cover letter templates
Copy and paste these Sales Manager cover letter templates to get a head start on your own.
Template 1
Hi Priti,
I hope you're well. I am excited to apply for the Sales Manager position at Partner Tech Ltd and leverage my 15 years of experience in the commercial technology and telecommunications sector to drive revenue optimisation and cultivate strategic partnerships for your company.
In my current role at Nexus Solutions, I have successfully led the client services team, nurtured long-term relationships with key stakeholders, and achieved remarkable results through data analysis and CRM implementation. I take pride in my ability to develop innovative sales strategies and mentor early-career sales executives, evident through the 'Sale Through' mentoring scheme that improved product knowledge by 30% in 2021. Furthermore, my achievements include streamlining the client review process through an automated query system, increasing efficiency by 31%, and securing a 5-year contract renewal worth £1.8 million annually. With a Bachelor of Business Administration and a PMI Project Management Professional Certificate, I am confident in my ability to lead and excel in this role.
I would like the opportunity to discuss my expertise further in an interview which I am available for from next week.
Best Wishes,
Kara Duval
Template 2
Dear Mr Scott,
I hope this email finds you well. As a recent Business graduate from the University of Sheffield, I am excited to apply for the position of Junior Sales Manager at TimberCo Ltd.
As a proactive individual and recipient of the 2022 UKBA Women in Business Student Award, I believe I am the perfect fit for this role. During my previous sales internship at John Deere, I demonstrated exceptional persuasive skills by securing contracts with five major clients, increasing revenue for my team's portfolio by 20% in that quarter.
Moreover, I possess a deep understanding of the timber industry, having worked part time as a sales assistant for over four years at a local wood yard in Sheffield alongside my studies. I am confident that my ability to identify and pursue potential leads, combined with my exceptional negotiation skills, will contribute to the growth of TimberCo Ltd.
I would welcome the opportunity to discuss how my skills align with your team goals and I am available for an interview at your convenience.
Kind regards,
Lydia Pappas
Template 3
Hi Orla,
I hope this email finds you well. I am writing to submit my application for the position of Senior Sales Manager at Foreman Foods, as advertised.
With over two decades experience in the food industry, including for leading supplier Brakes, I have consistently exceeded sales targets, notably achieving a 30% increase in revenue for my current employer Tasty Ltd – a whole foods start up based in London. One of my most significant achievements was negotiating a strategic partnership with a major retail chain, resulting in a 50% boost in sales volume in 2021. Alongside an MBA from the Manchester Business Institute, I am well-versed in the latest market trends and consumer preferences, which has allowed me to develop innovative and disruptive sales strategies that have yielded exceptional results in competitive UK and EU markets. Additionally, my leadership skills, supported by a Level 4 Diploma in People Management, have enabled me to build and motivate high-performing sales teams, driving them towards achieving collective success.
I am excited about the opportunity to contribute my expertise to Foreman Foods and lead the sales team to new heights. I look forward to discussing how my proven track record can be an asset to your esteemed company and can be available for interview at your convenience.
Many thanks,
Paulo Sautini
Writing a strong attention-grabbing cover letter is a vital step in landing a good Sales Manager job.
Use the tips, strategies and examples above to get more responses from you job applications and start lining job interview up.
Good luck with your job search!