Your head is already bursting with knowledge, but you love nothing more than doing your research and gathering new information.
Well, it's time to put those research skills to use to find out more about the company and what the employer expects from your application.
In our guide below, we'll show you what to include in your cover letter and how to use your research to your advantage. Check out our top tips and researcher cover letter examples below.

Researcher cover letter example 1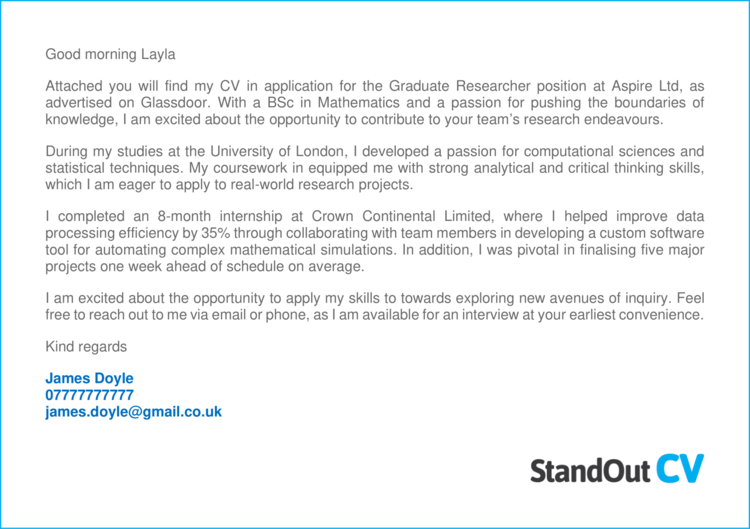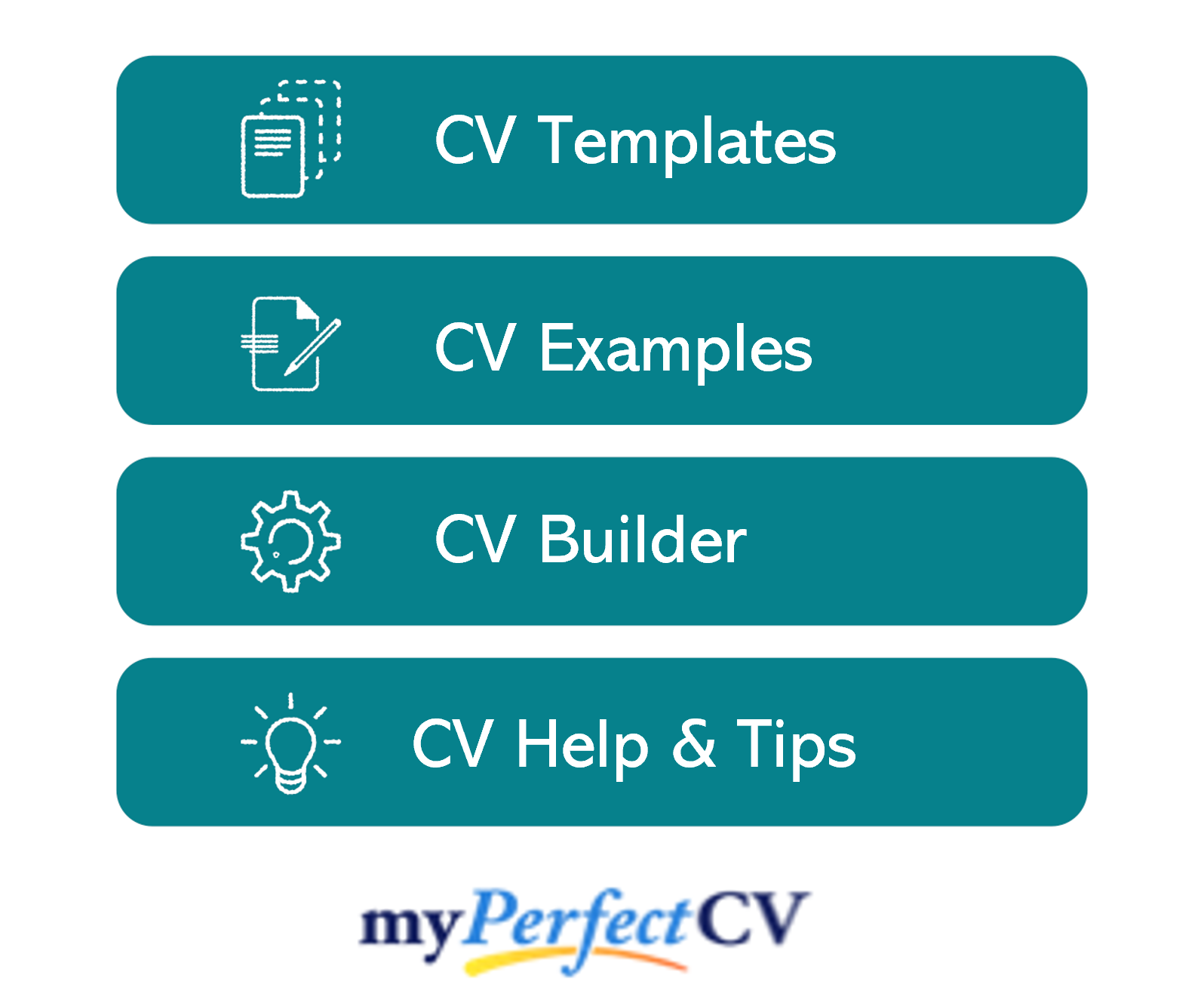 Researcher cover letter example 2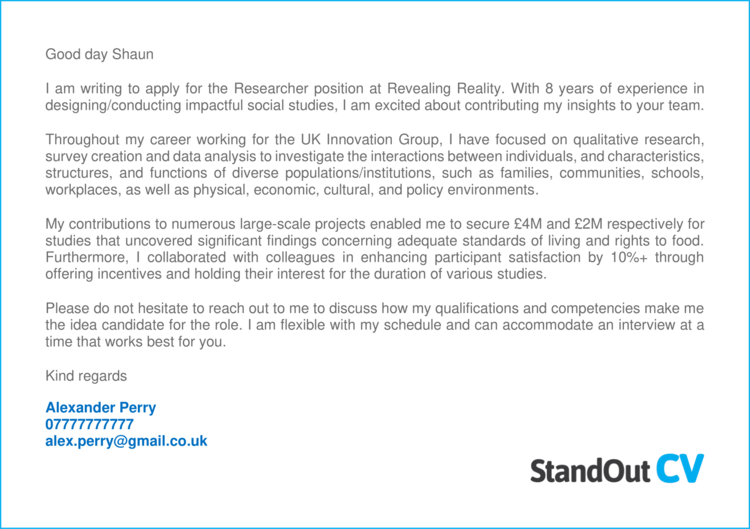 Researcher cover letter example 3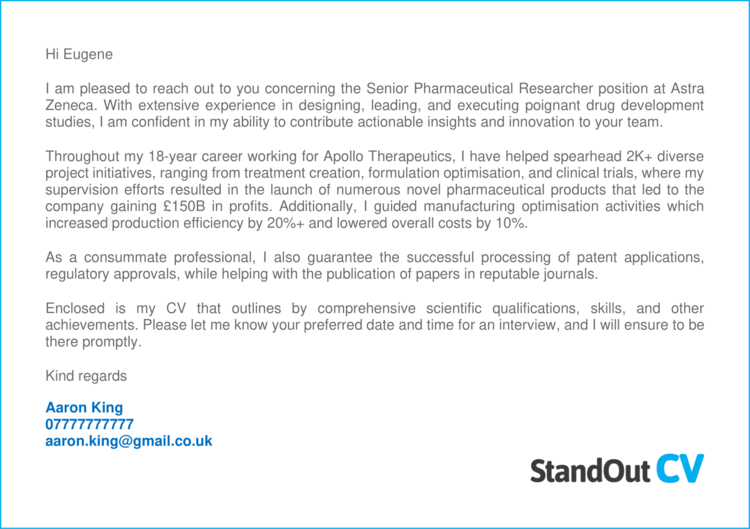 The example cover letters here should give you a good general idea on how your Researcher cover letter should be formatted and written.
The rest of this guide gives more specific guidance on how to create your own cover letter in this format, and even includes some templates you can copy and paste.
How to write a Researcher cover letter
Here's how you can write your own eye-catching cover letter, broken down into simple steps.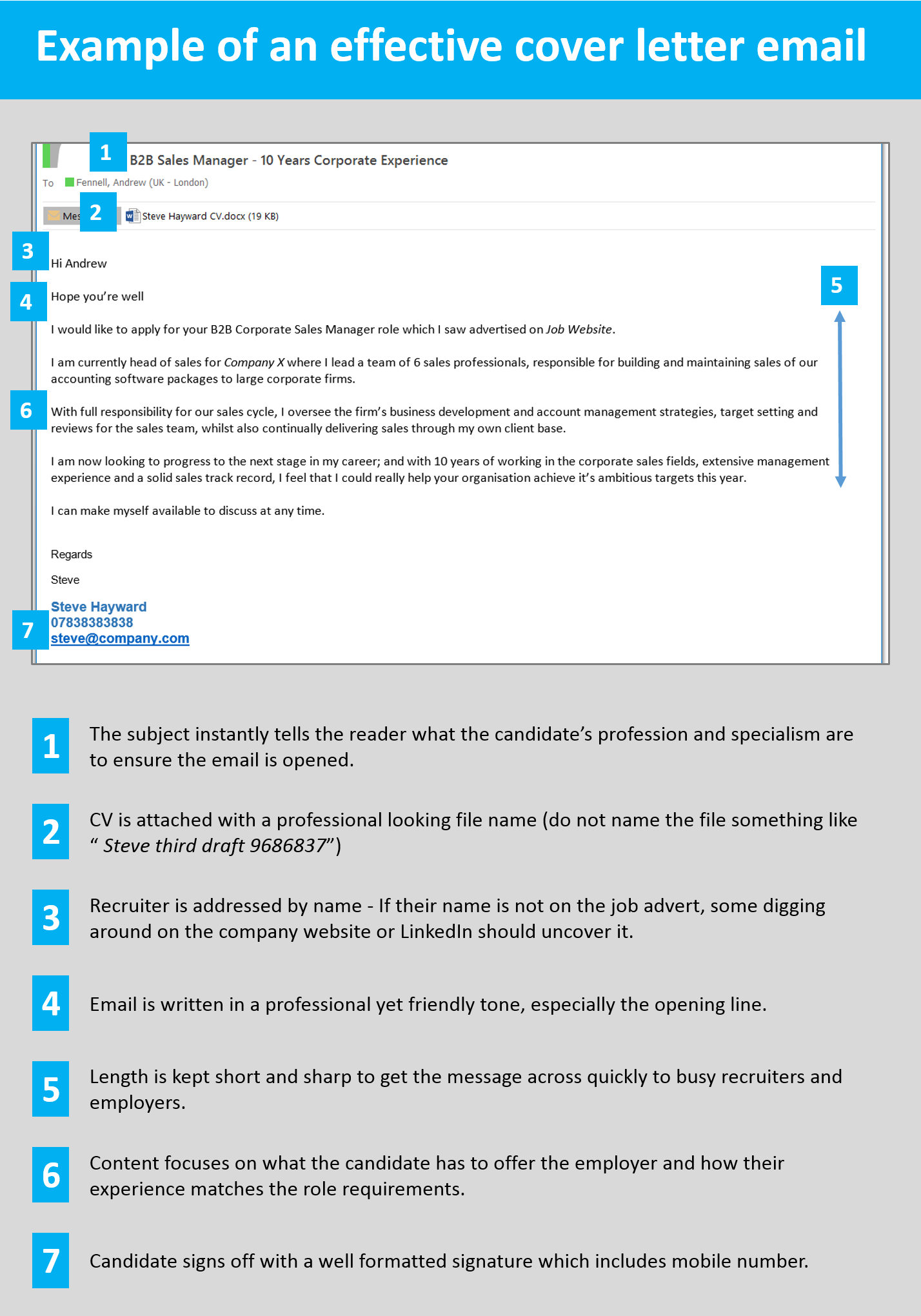 Write your cover letter in the body of an email/message
When you send a cover letter with a job application, you should always write your message into the body of your email – or the body of the messaging system if you are sending via a job website.
Why do this?
Simply because you want to get your message seen as soon as the recruiter opens your application.
If you attach the cover letter as a separate item, this means the recipient will have to open it before they can read it – slowing down the process and potentially causing frustration along the way.
So, write your cover note in the body of your email/message to ensure you make an instant connection with the reader.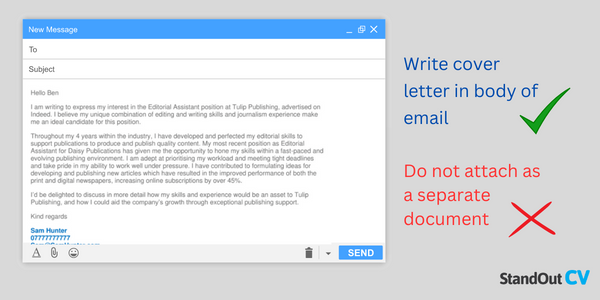 Start with a friendly greeting

Start you cover letter with a greeting that is professional but friendly.
This will build rapport with the recruiter whilst showing your professionalism.
Hi, hope you're well
Hi [insert recruiter name]
Hi [insert department/team name]
Avoid overly formal greetings like "Dear sir/madam" unless applying to very traditional companies.
How to find the contact's name?
Addressing the recruitment contact by name is an excellent way to start building a strong relationship. If it is not listed in the job advert, try these methods to find it.
Check out the company website and look at their About page. If you see a hiring manager, HR person or internal recruiter, use their name. You could also try to figure out who would be your manager in the role and use their name.
Head to LinkedIn, search for the company and scan through the list of employees. Most professionals are on LinkedIn these days, so this is a good bet.
Identify the role you are applying for
Once you've opened up the cover letter with a warm greeting to start building a relationship, it is time to identify which role you want to apply for.
Recruiters are often managing multiple vacancies, so you need to ensure you apply to the correct one.
Be very specific and use a reference number if you can find one.
I am interested in applying for the position of Researcher with your company.
I would like to apply for the role of Sales assistant (Ref: 406f57393)
I would like to express my interest in the customer service vacancy within your retail department
I saw your advert for a junior project manager on Reed and would like to apply for the role.
Highlight your suitability
The bulk of your cover letter should be focused around highlighting your suitability for the job you are applying to.
Doing this will show the recruiter that you are suitable candidate and encourage them to open your CV.
The best way to do this, is by studying the job advert you are applying to, and find out what the most important skills and knowledge are.
Once you know the most important requirements, you then need to highlight your matching skills to the recruiter. In a few sentences, tell them exactly why you are a good fit for the job and what you can offer the company.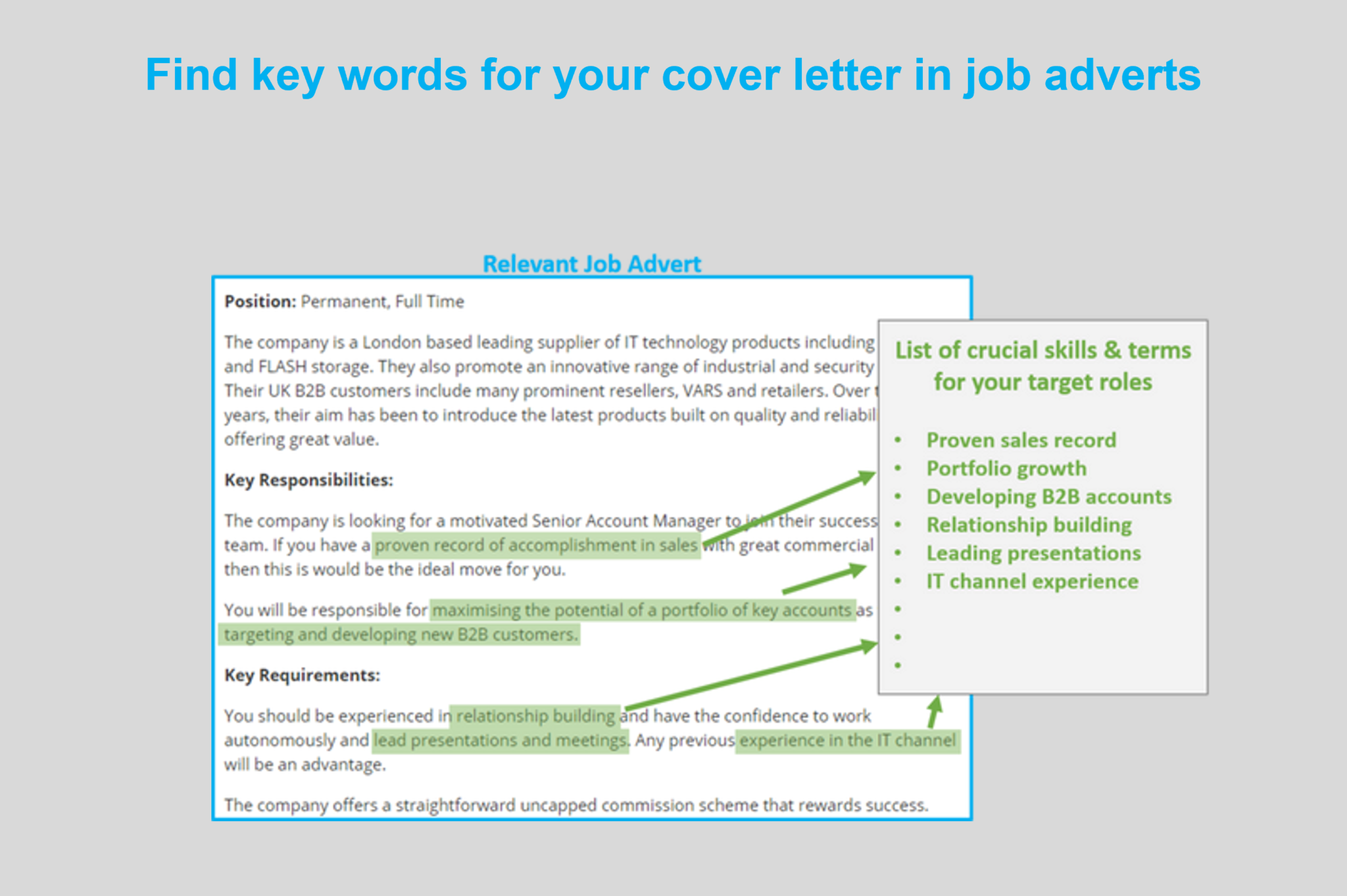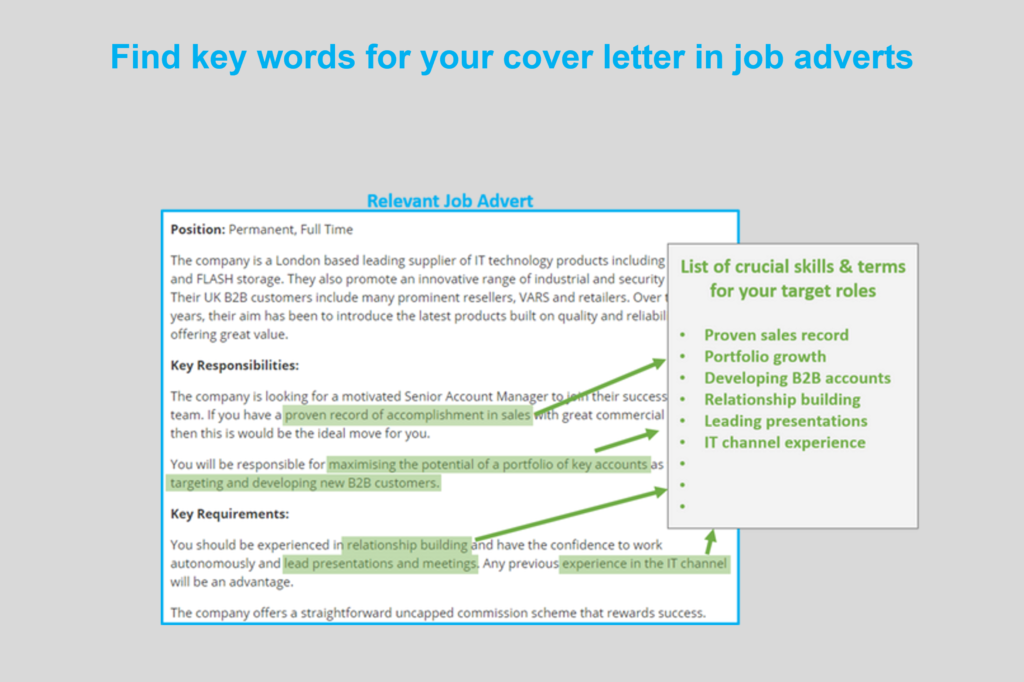 Keep it short and sharp
When sending a job application to a recruiter or hiring manager, it is important to remember that they will normally be very busy and pushed for time.
Therefore, you need to get you message across to them quickly (in a matter of seconds ideally). So, keep your cover letter short and to-the-point. A long waffling cover letter will overwhelm recruiters when they are running through hundreds of emails in there inbox, but a concise one will get their attention.
So, keep your cover letter to just a few sentences long, and save the extensive detail for your CV.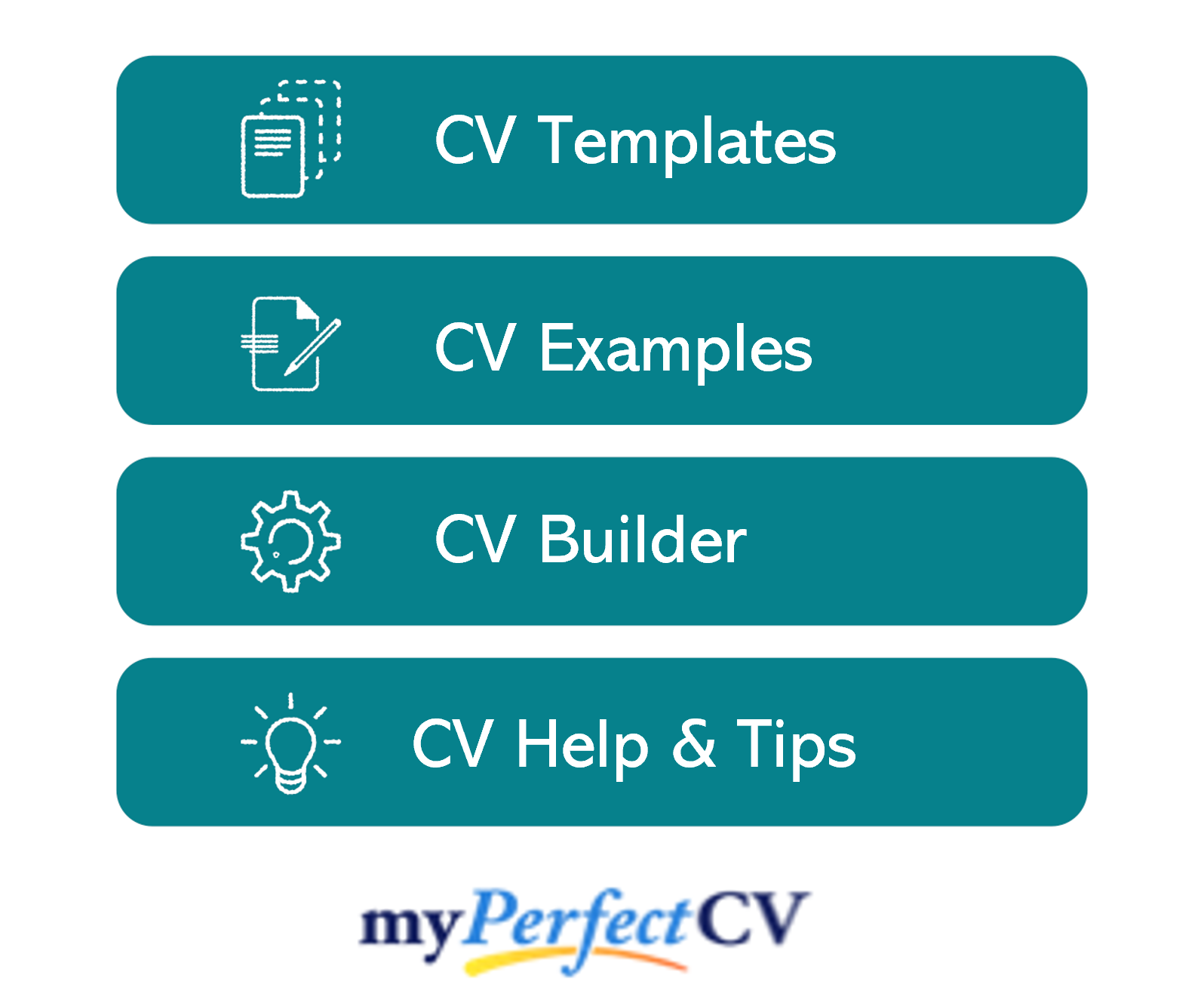 Sign off professionally
To finish off your cover note, add a professional signature to the bottom, stating your important contact details and information.
This not only provides recruiters with multiple means of contacting you, but it also adds a nice professional appearance to the cover letter, which shows that you know how to conduct yourself in the workplace.
Include the following points;
A friendly sign off – e.g. "Warm regards"
Your full name
Phone number (one you can answer quickly)
Email address
Optional
Profession title
Professional social network – e.g. LinkedIn
Here is an example signature;
Warm regards,
Aaron Smith
Customer service professional
075557437373
Aaron@smith.com
LinkedIn
Quick tip: To save yourself from having to write your signature every time you send a job application, you can save it within your email drafts, or on a separate document that you could copy in.

What to include in your Researcher cover letter
Your Researcher cover letter will be unique to your situation, but there are certain content guidelines you should stick to for best results.
To attract and entice recruiters, stick with the following key subjects in your cover letter – adapting them to fit your profession and target jobs.
Your professional experience – Employers will be keen to know if your experience is suitable for the job you are applying to, so provide a good summary of it in your cover letter.
Your qualifications and education – Highlight your most relevant and high-level of qualification, especially if they are essential to the job.
The positive impact you have made – Employers love to hear about the benefits you can bring to them, so shout about anything impressive you have done, such as saving money or improving processes.
Your reasons for leaving – Use a few words of your cover letter to explain why you are leaving your current job and ensure you avoid any negative reasons.
Your availability – Let recruiters know when you can start a new job. Are you immediately available, or do you have a month notice period?
Researcher cover letter templates
Copy and paste these Researcher cover letter templates to get a head start on your own.
Template 1
Good morning, Layla
Attached you will find my CV in application for the Graduate Researcher position at Aspire Ltd, as advertised on Glassdoor. With a BSc in Mathematics and a passion for pushing the boundaries of knowledge, I am excited about the opportunity to contribute to your team's research endeavours.
During my studies at the University of London, I developed a passion for computational sciences and statistical techniques. My coursework in equipped me with strong analytical and critical thinking skills, which I am eager to apply to real-world research projects.
I completed an 8-month internship at Crown Continental Limited, where I helped improve data processing efficiency by 35% through collaborating with team members in developing a custom software tool for automating complex mathematical simulations. In addition, I was pivotal in finalising five major projects one week ahead of schedule on average.
I am excited about the opportunity to apply my skills to towards exploring new avenues of inquiry. Feel free to reach out to me via email or phone, as I am available for an interview at your earliest convenience.
Kind regards
James Doyle
Template 2
Good day Shaun
I am writing to apply for the Researcher position at Revealing Reality. With 8 years of experience in designing/conducting impactful social studies, I am excited about contributing my insights to your team.
Throughout my career working for the UK Innovation Group, I have focused on qualitative research, survey creation and data analysis to investigate the interactions between individuals, and characteristics, structures, and functions of diverse populations/institutions, such as families, communities, schools, workplaces, as well as physical, economic, cultural, and policy environments.
My contributions to numerous large-scale projects enabled me to secure £4M and £2M respectively for studies that uncovered significant findings concerning adequate standards of living and rights to food. Furthermore, I collaborated with colleagues in enhancing participant satisfaction by 10%+ through offering incentives and holding their interest for the duration of various studies.
Please do not hesitate to reach out to me to discuss how my qualifications and competencies make me the idea candidate for the role. I am flexible with my schedule and can accommodate an interview at a time that works best for you.
Kind regards
Alexander Perry
Template 3
Hi Eugene
I am pleased to reach out to you concerning the Senior Pharmaceutical Researcher position at Astra Zeneca. With extensive experience in designing, leading, and executing poignant drug development studies, I am confident in my ability to contribute actionable insights and innovation to your team.
Throughout my 18-year career working for Apollo Therapeutics, I have helped spearhead 2K+ diverse project initiatives, ranging from treatment creation, formulation optimisation, and clinical trials, where my supervision efforts resulted in the launch of numerous novel pharmaceutical products that led to the company gaining £150B in profits. Additionally, I guided manufacturing optimisation activities which increased production efficiency by 20%+ and lowered overall costs by 10%.
As a consummate professional, I also guarantee the successful processing of patent applications, regulatory approvals, while helping with the publication of papers in reputable journals.
Enclosed is my CV that outlines by comprehensive scientific qualifications, skills, and other achievements. Please let me know your preferred date and time for an interview, and I will ensure to be there promptly.
Kind regards
Aaron King
Writing a strong attention-grabbing cover letter is a vital step in landing a good Researcher job.
Use the tips, strategies and examples above to get more responses from you job applications and start lining job interview up.
Good luck with your job search!