Are you ready for a varied and fast-paced role as a personal assistant?
Not only do you have to juggle your own workload, but you'll have to manage calendars, prioritise tasks and pick up any last-minute requests your boss might have.
So if you've got what it takes to excel in this role, you need to show off this impressive skill set. Find out how to do that with our handy guide and personal assistant cover letter examples below.

Personal Assistant cover letter example 1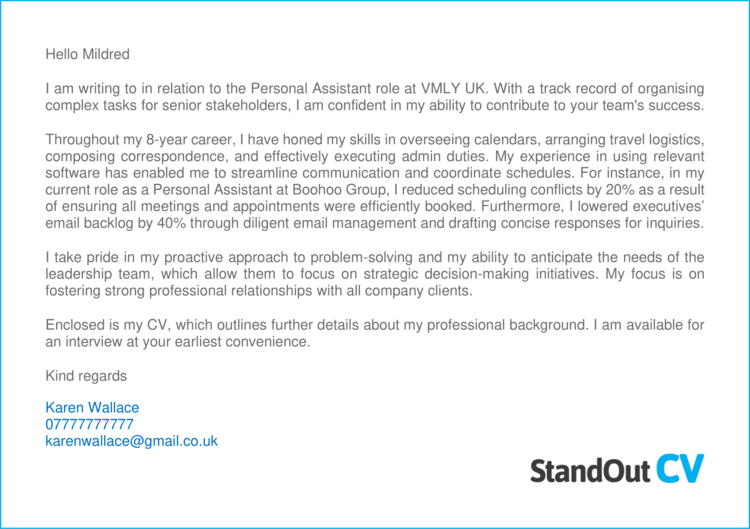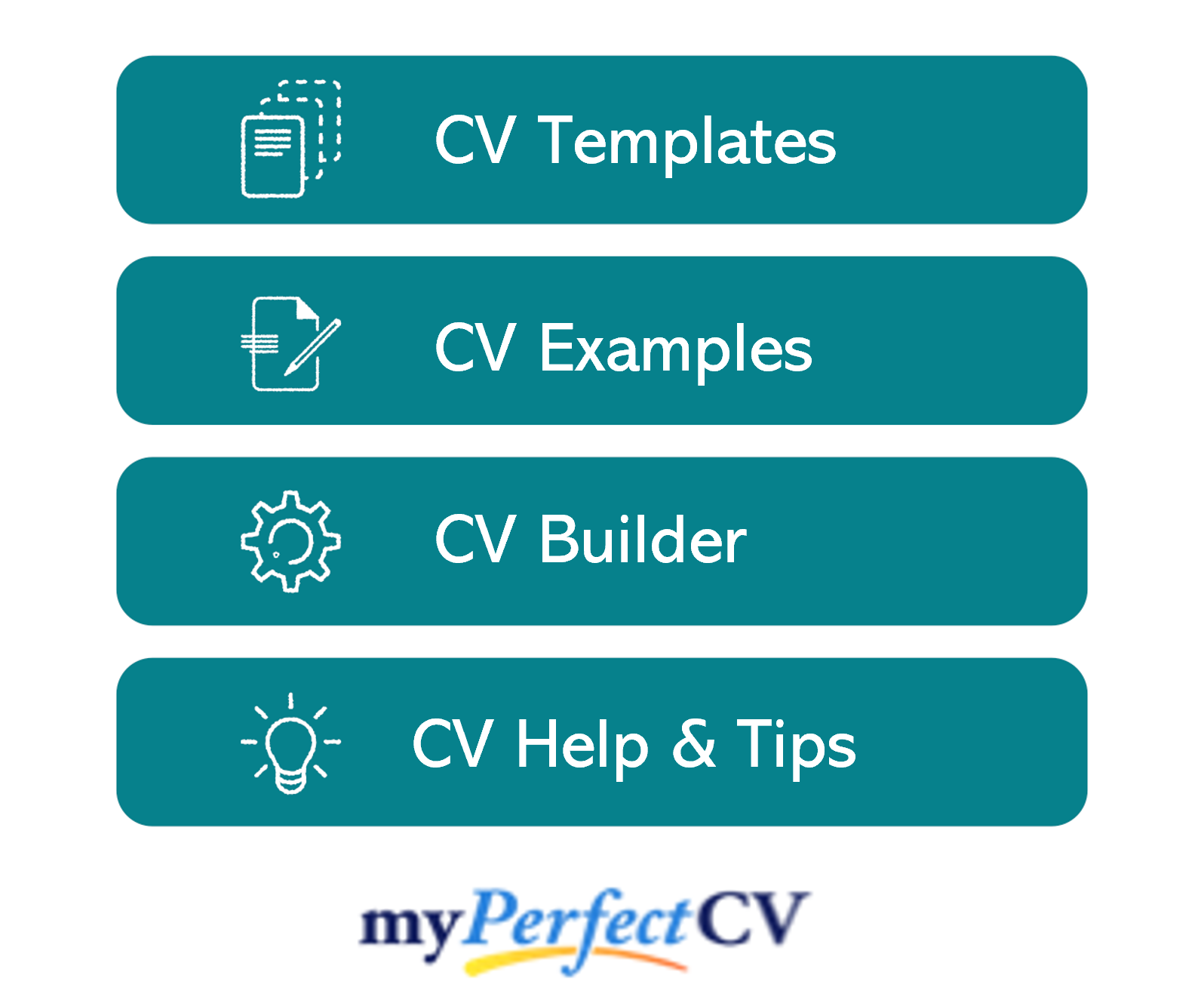 Personal Assistant cover letter example 2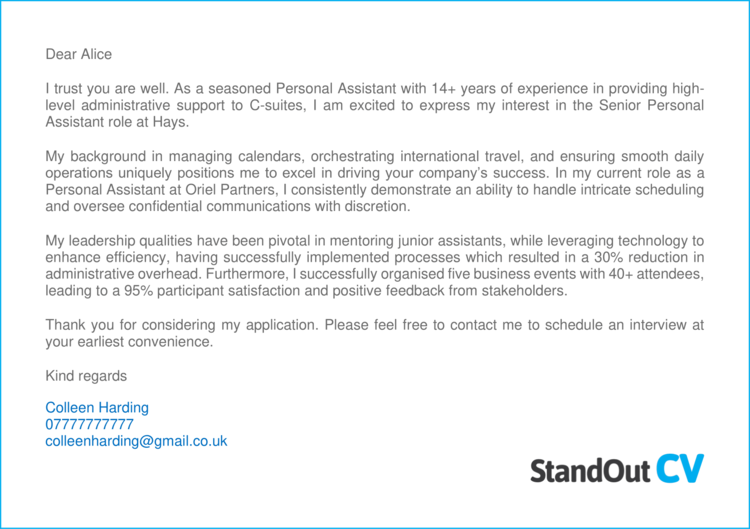 Personal Assistant cover letter example 3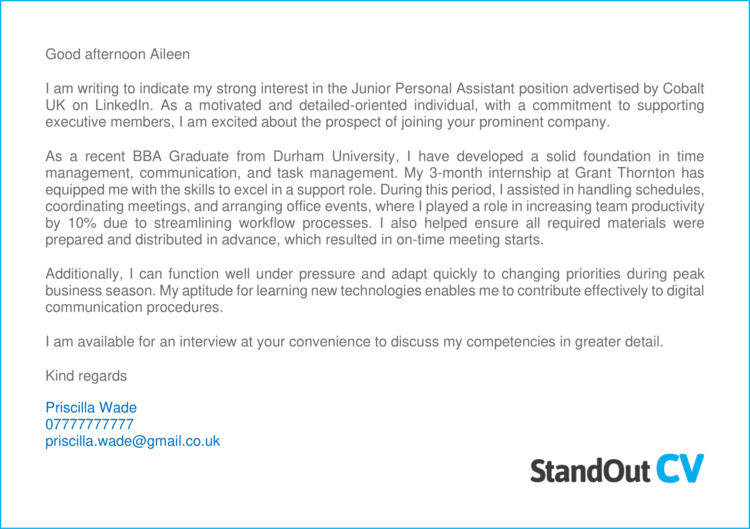 The example cover letters here should give you a good general idea on how your Personal Assistant cover letter should be formatted and written.
The rest of this guide gives more specific guidance on how to create your own cover letter in this format, and even includes some templates you can copy and paste.
How to write a Personal Assistant cover letter
Here's a simple process to write your own interview-winning cover letter.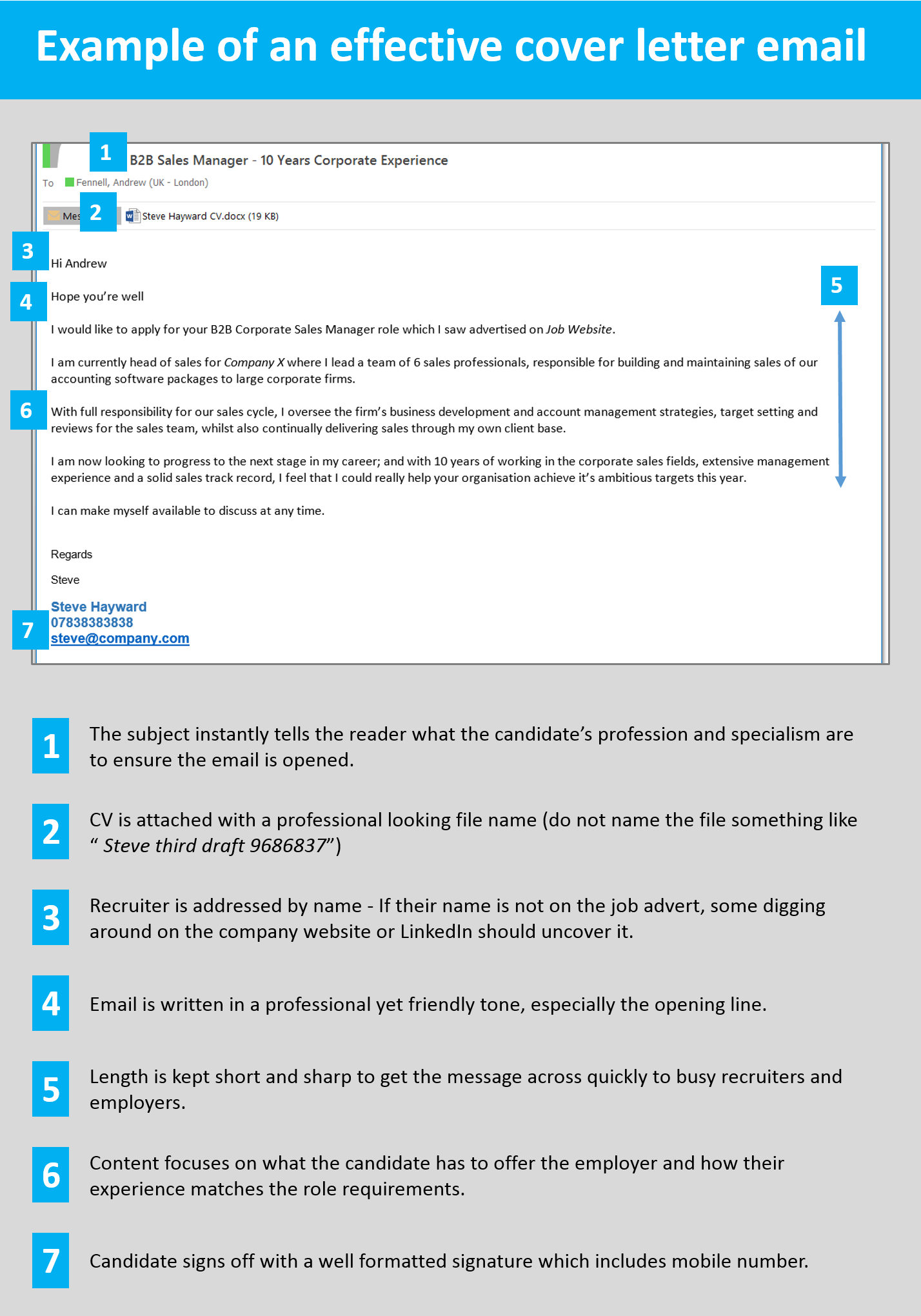 Write your cover letter in the body of an email/message
You should write your cover letter in the body of the email (or messaging system if sending via a job board) and never attach it as a document.
The reason for this?
You want your cover letter to start connecting with the recruiter from the moment they open your application.
If they have to open a document to read it, it will slow things down and they may not even bother to open it.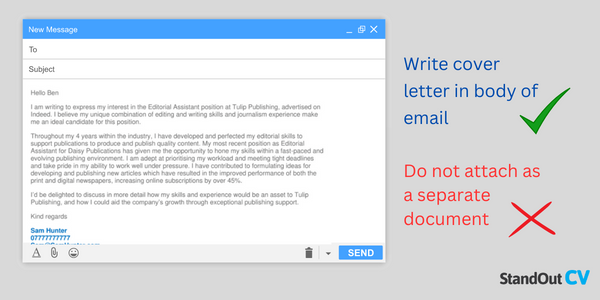 Start with a friendly greeting

To start building rapport with the recruiter or hiring manager right away, lead with a friendly greeting.
Try to strike a balance between professional and personable.
Go with something like…
Hi
Hi [insert recruiter name]
Hi [insert department/team name]
Stay away from old-fashioned greetings like "Dear sir/madam" unless applying to very formal companies – they can come across as cold and robotic.
How to find the contact's name?
Addressing the recruitment contact by name is an excellent way to start building a strong relationship. If it is not listed in the job advert, try to uncover it via these methods.
Check out the company website and look at their About page. If you see a hiring manager, HR person or internal recruiter, use their name. You could also try to figure out who would be your manager in the role and use their name.
Head to LinkedIn, search for the company and scan through the list of employees. Most professionals are on LinkedIn these days, so this is a good bet.
Identify the role you are applying for
Once you have opened the cover letter with a warm greeting, you need to explain which role you are interested in.
Sometimes a recruitment consultant could be managing over 10 vacancies, so it's crucial to pinpoint exactly which one you are interested in.
Highlight the department/area if possible and look for any reference numbers you can quote.
These are some examples you can add..
I am interested in applying for the role of Personal Assistant with your company.
I would like to apply for the role of Sales assistant (Ref: 40f57393)
I would like to express my interest in the customer service vacancy within your retail department
I saw your advert for an IT project manager on Reed and would like to apply for the role.
Highlight your suitability
The main purpose of your cover letter is to excite recruiters and make them eager to open your CV. And you achieve this by quickly demonstrating your suitability to the job you are applying for.
Take a look at the job adverts you are applying for, and make note of the most important skills being asked for.
Then, when you write your cover letter, make your suitability the focal point.
Explain how you meet the candidate requirements fully, and why you are so well suited to carry out the job.
This will give recruiters all the encouragement they need to open your CV and consider your application.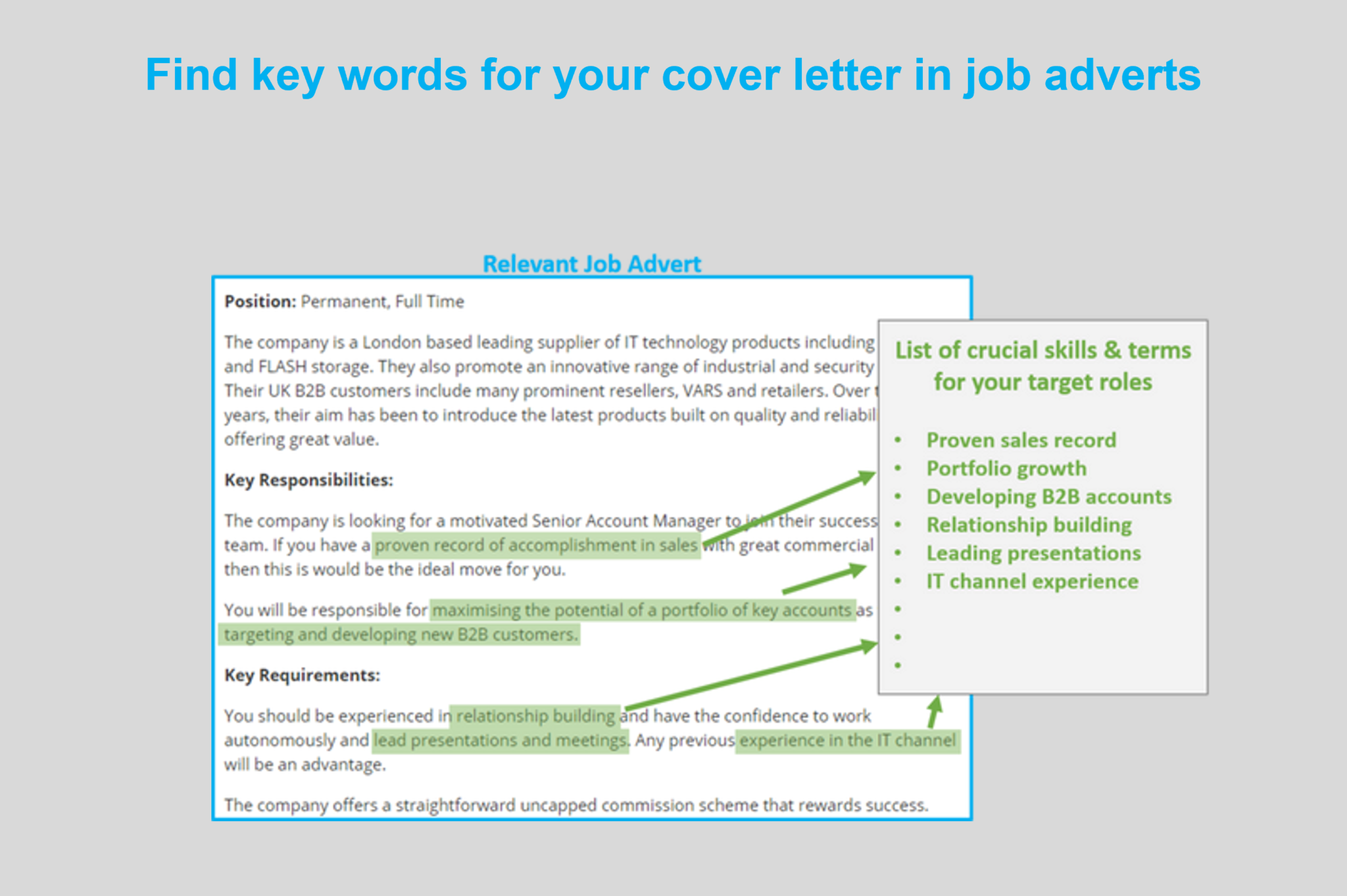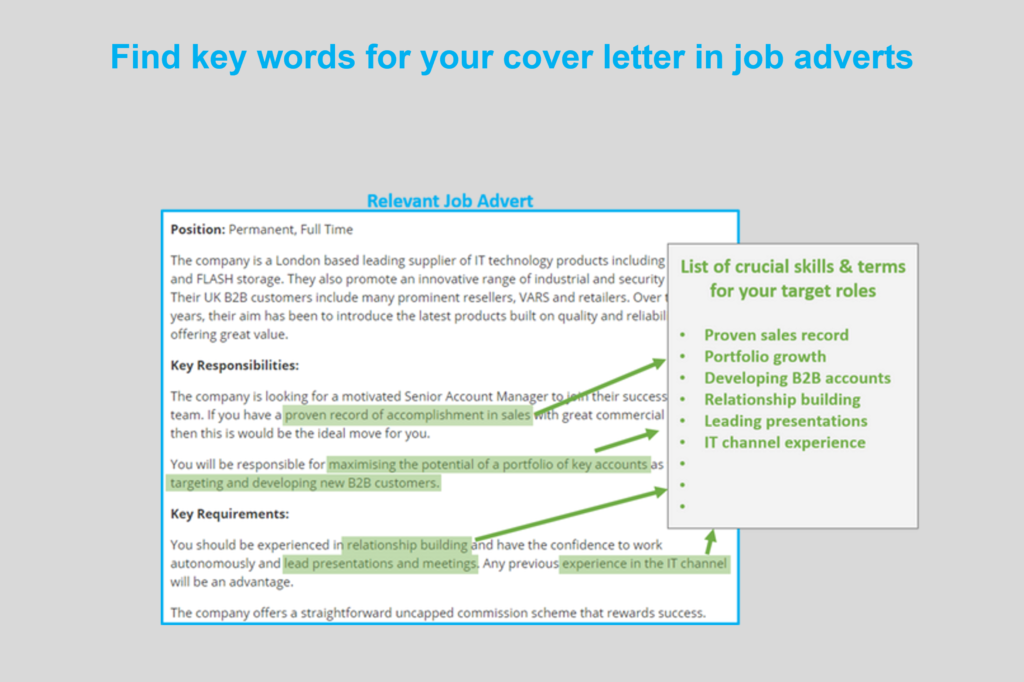 Keep it short and sharp
A good cover letter is short and sharp, getting to the point quickly with just enough information to grab the attention of recruiters.
Ideally your cover letter should be around 4-8 sentences long – anything longer will risk losing the attention of time-strapped recruiters and hiring managers.
Essentially you need to include just enough information to persuade the reader to open up your CV, where the in-depth details will sit.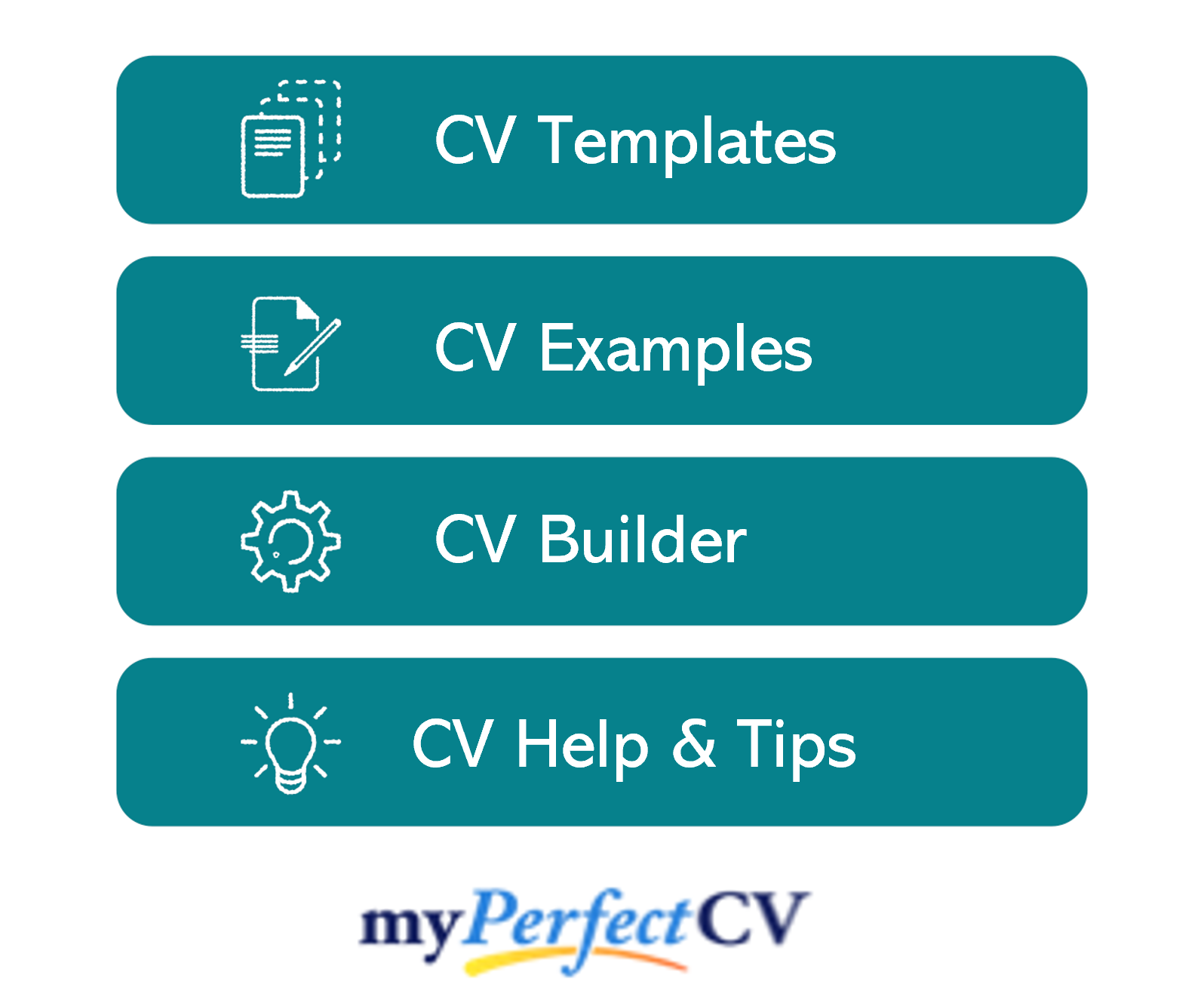 Sign off professionally
To finish off your cover note, add a professional signature to the bottom, stating your important contact details and information.
This not only provides recruiters with multiple means of contacting you, but it also adds a nice professional appearance to the cover letter, which shows that you know how to conduct yourself in the workplace.
Include the following points;
A friendly sign off – e.g. "Warm regards"
Your full name
Phone number (one you can answer quickly)
Email address
Optional
Profession title
Professional social network – e.g. LinkedIn
Here is an example signature;
Warm regards,
Aaron Smith
Customer service professional
075557437373
Aaron@smith.com
LinkedIn
Quick tip: To save yourself from having to write your signature every time you send a job application, you can save it within your email drafts, or on a separate document that you could copy in.

What to include in your Personal Assistant cover letter
Here's what kind of content you should include in your Personal Assistant cover letter…
The exact info will obviously depend on your industry and experience level, but these are the essentials.
Your relevant experience – Where have you worked and what type of jobs have you held?
Your qualifications – Let recruiters know about your highest level of qualification to show them you have the credentials for the job.
The impact you have made – Show how your actions have made a positive impact on previous employers; perhaps you've saved them money or helped them to acquire new customers?
Your reasons for moving – Hiring managers will want to know why you are leaving your current or previous role, so give them a brief explanation.
Your availability – When can you start a new job? Recruiters will want to know how soon they can get you on board.
Don't forget to tailor these points to the requirements of the job advert for best results.
Personal Assistant cover letter templates
Copy and paste these Personal Assistant cover letter templates to get a head start on your own.
Template 1
Hello Mildred
I am writing to in relation to the Personal Assistant role at VMLY UK. With a track record of organising complex tasks for senior stakeholders, I am confident in my ability to contribute to your team's success.
Throughout my 8-year career, I have honed my skills in overseeing calendars, arranging travel logistics, composing correspondence, and effectively executing admin duties. My experience in using relevant software has enabled me to streamline communication and coordinate schedules. For instance, in my current role as a Personal Assistant at Boohoo Group, I reduced scheduling conflicts by 20% as a result of ensuring all meetings and appointments were efficiently booked. Furthermore, I lowered executives' email backlog by 40% through diligent email management and drafting concise responses for inquiries.
I take pride in my proactive approach to problem-solving and my ability to anticipate the needs of the leadership team, which allow them to focus on strategic decision-making initiatives. My focus is on fostering strong professional relationships with all company clients.
Enclosed is my CV, which outlines further details about my professional background. I am available for an interview at your earliest convenience.
Kind regards
Karen Wallace
Template 2
Dear Alice
I trust you are well. As a seasoned Personal Assistant with 14+ years of experience in providing high-level administrative support to C-suites, I am excited to express my interest in the Senior Personal Assistant role at Hays.
My background in managing calendars, orchestrating international travel, and ensuring smooth daily operations uniquely positions me to excel in driving your company's success. In my current role as a Personal Assistant at Oriel Partners, I consistently demonstrate an ability to handle intricate scheduling and oversee confidential communications with discretion.
My leadership qualities have been pivotal in mentoring junior assistants, while leveraging technology to enhance efficiency, having successfully implemented processes which resulted in a 30% reduction in administrative overhead. Furthermore, I successfully organised five business events with 40+ attendees, leading to a 95% participant satisfaction and positive feedback from stakeholders.
Thank you for considering my application. Please feel free to contact me to schedule an interview at your earliest convenience.
Kind regards
Colleen Harding
Template 3
Good afternoon, Aileen
I am writing to indicate my strong interest in the Junior Personal Assistant position advertised by Cobalt UK on LinkedIn. As a motivated and detailed-oriented individual, with a commitment to supporting executive members, I am excited about the prospect of joining your prominent company.
As a recent BBA Graduate from Durham University, I have developed a solid foundation in time management, communication, and task management. My 3-month internship at Grant Thornton has equipped me with the skills to excel in a support role. During this period, I assisted in handling schedules, coordinating meetings, and arranging office events, where I played a role in increasing team productivity by 10% due to streamlining workflow processes. I also helped ensure all required materials were prepared and distributed in advance, which resulted in on-time meeting starts.
Additionally, I can function well under pressure and adapt quickly to changing priorities during peak business season. My aptitude for learning new technologies enables me to contribute effectively to digital communication procedures.
I am available for an interview at your convenience to discuss my competencies in greater detail.
Kind regards
Priscilla Wade
Writing an impressive cover letter is a crucial step in landing a Personal Assistant job, so taking the time to perfect it is well worth while.
By following the tips and examples above you will be able to create an eye-catching cover letter that will wow recruiters and ensure your CV gets read – leading to more job interviews for you.
Good luck with your job search!