Securing modelling roles is much easier when the recruiter can see you in person, but in the early stages, you have to rely on your words to grab their attention.
But if you feel more at home in front of a camera than a computer, we can help. In the guide below, we've put together some top writing tips to get you started.
We've also created some model cover letter examples to inspire your own.

Model cover letter example 1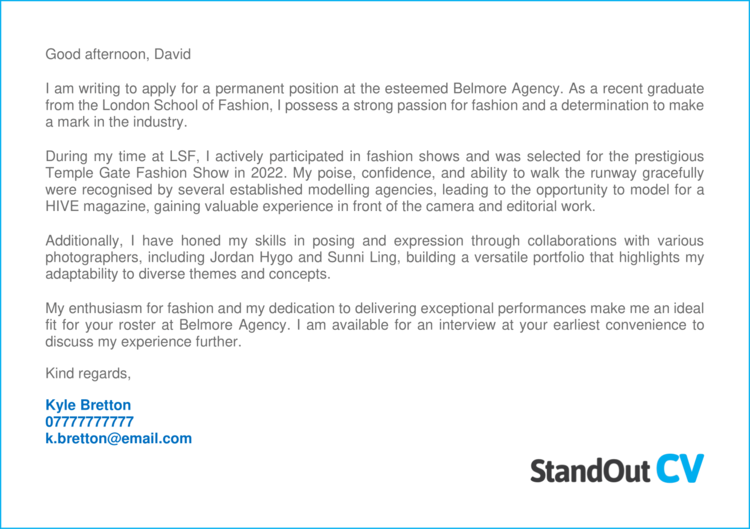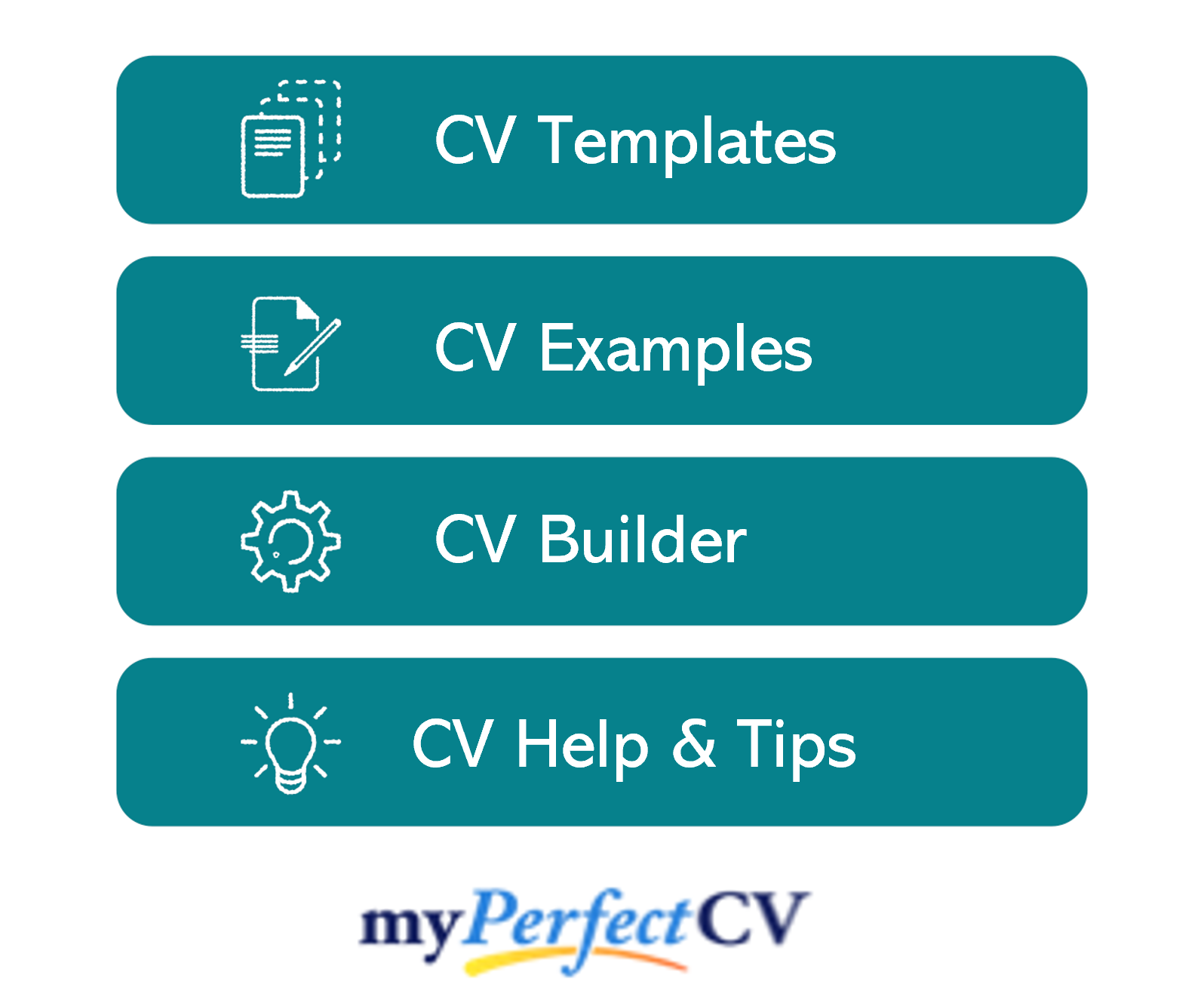 Model cover letter example 2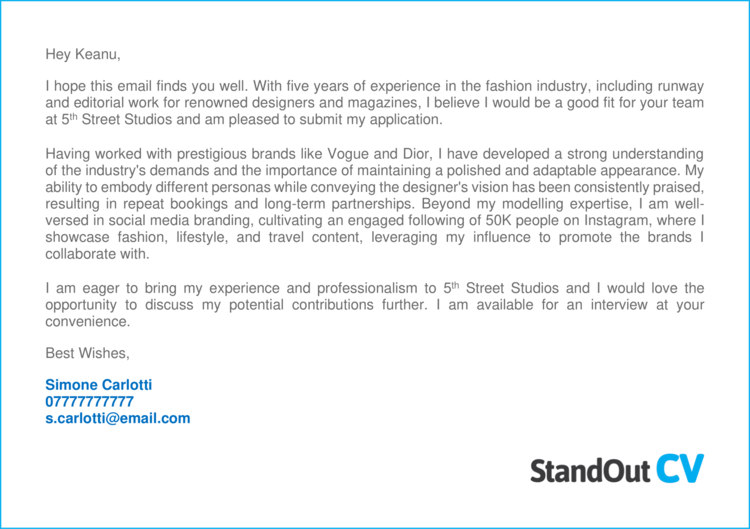 Model cover letter example 3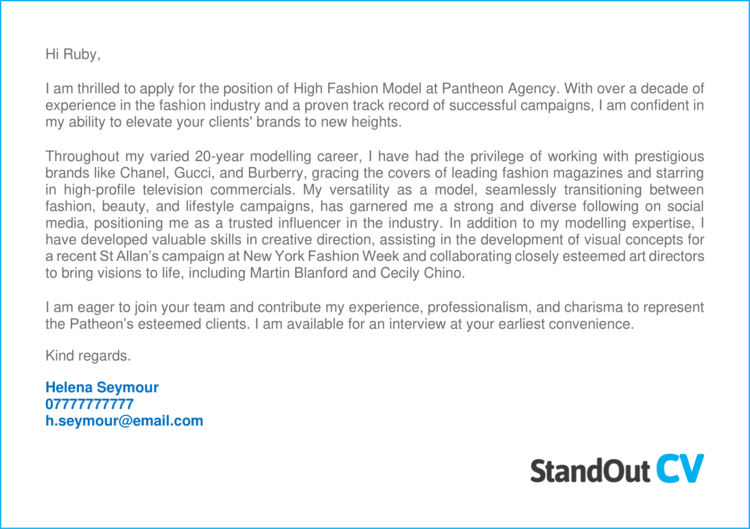 The example cover letters here should give you a good general idea on how your Model cover letter should be formatted and written.
The rest of this guide gives more specific guidance on how to create your own cover letter in this format, and even includes some templates you can copy and paste.
How to write a Model cover letter
Here's how to write your own winning Model cover letter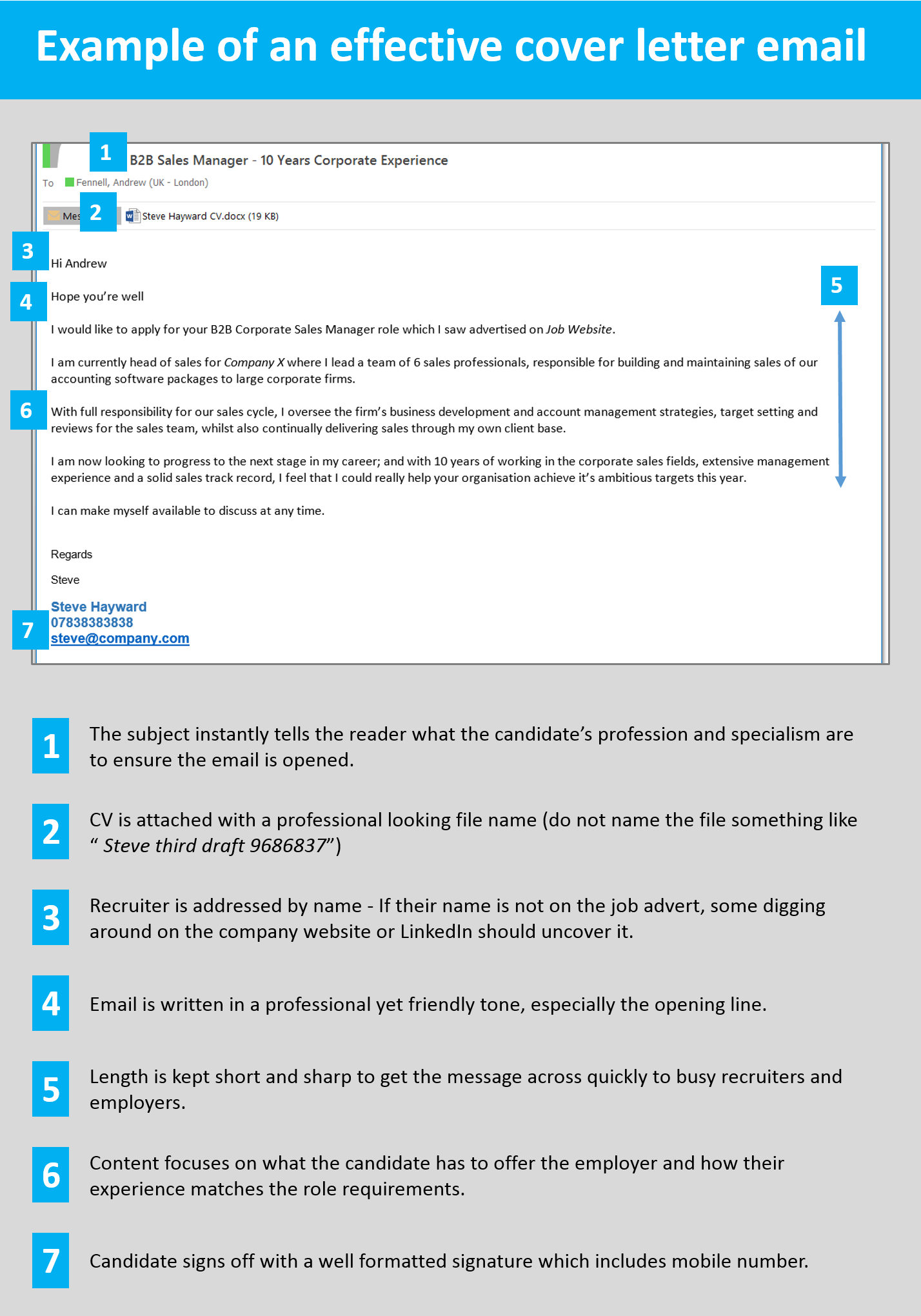 Write your cover letter in the body of an email/message
Type the content of your cover letter directly into the email you are sending, or if you are applying via a job board, directly into their messaging system.
The reason for doing this it to ensure that your cover letter gets seen instantly and you can start connecting with the recruiter as soon as they open your message.
If you attach your cover letter as a separate document, the recipient will have to open up the document, which will slow the process down, or make them less likely to even open your cover letter – which could mean your application gets skipped over.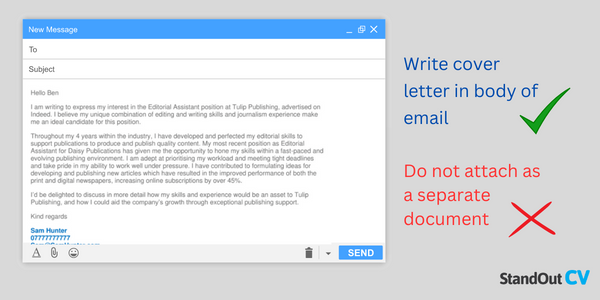 Start with a friendly greeting

To build an instant connection with the recruiter reading your cover letter, start with a warm greeting.
It should be friendly but not casual – keeping it professional at all times.
Hi, hope you're well
Hi [insert recruiter name]
Hi [insert department/team name]
Avoid overly formal greetings like "Dear sir/madam" unless applying to very traditional companies.
How to find the contact's name?
Addressing the recruitment contact by name is an excellent way to start building a strong relationship. If it is not listed in the job advert, try these methods to find it.
Check out the company website and look at their About page. If you see a hiring manager, HR person or internal recruiter, use their name. You could also try to figure out who would be your manager in the role and use their name.
Head to LinkedIn, search for the company and scan through the list of employees. Most professionals are on LinkedIn these days, so this is a good bet.
Identify the role you are applying for
After you have greeted the recruiter, it's important to state the job you are applying to.
Recruiters are often managing multiple vacancies, so they need to know exactly which job you are referring to.
Be as specific as possible and use a reference number if you can find one.
Here are some examples you can use;
I am interested in applying for the role of admin assistant with your organisation.
I would like to apply for the role of Sales assistant (Ref: 4057393)
I would like to express my interest in the customer service vacancy within your retail department
I saw your advertisement for a trainee project manager on Reed and would like to apply for the role.
Highlight your suitability
The sole objective of your cover letter is to motivate recruiters into to opening your CV. And you achieve this by quickly explaining your suitability to the roles you are applying for.
Take a look at the job descriptions you are applying to, and make note of the most important skills and qualifications being asked for.
Then, when crafting your cover letter, make your suitability the central focus.
Explain why you are the best qualified candidate, and why you are so well suited to carry out the job.
This will give recruiters all the encouragement they need to open your CV and consider you for the job.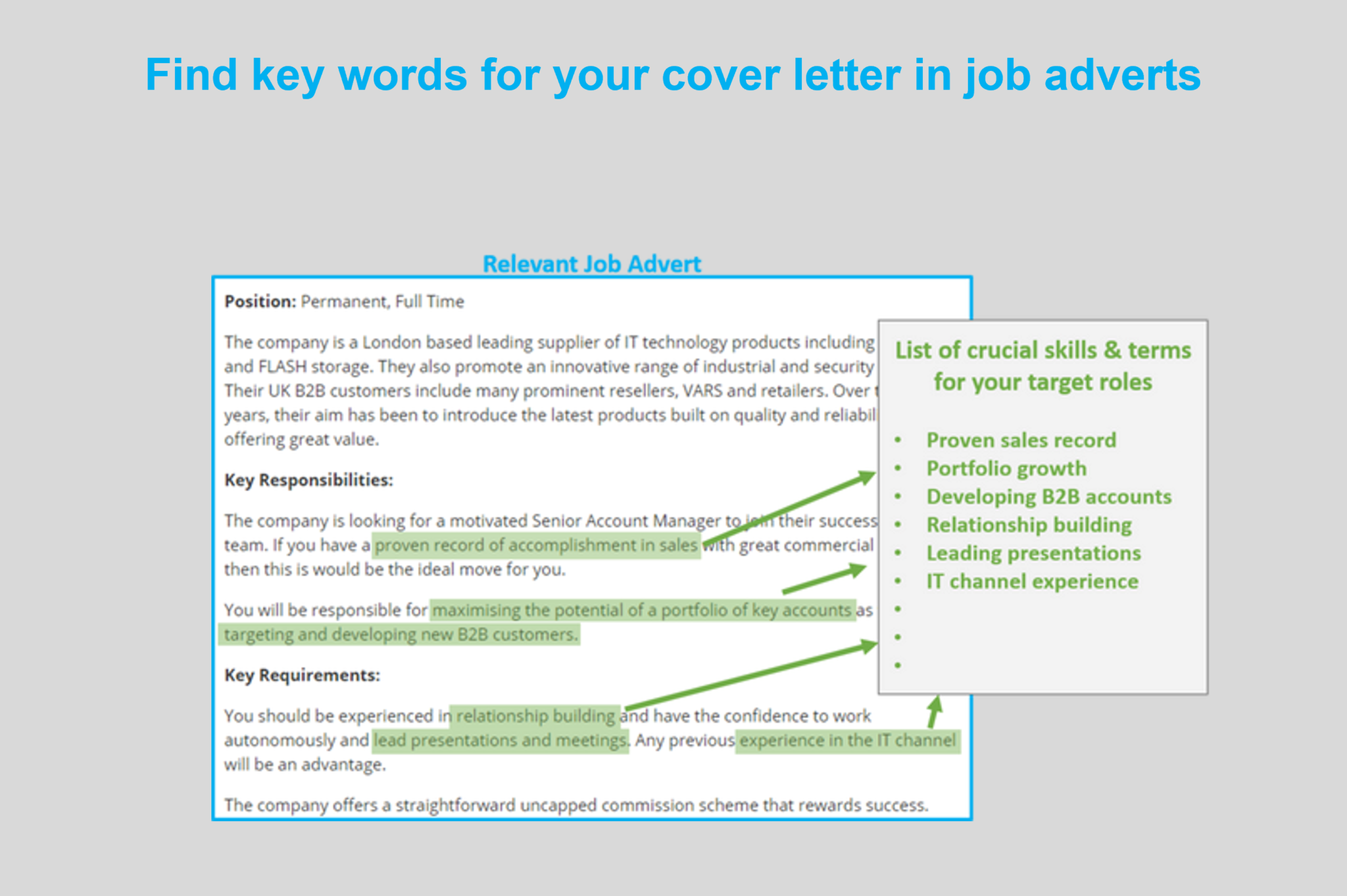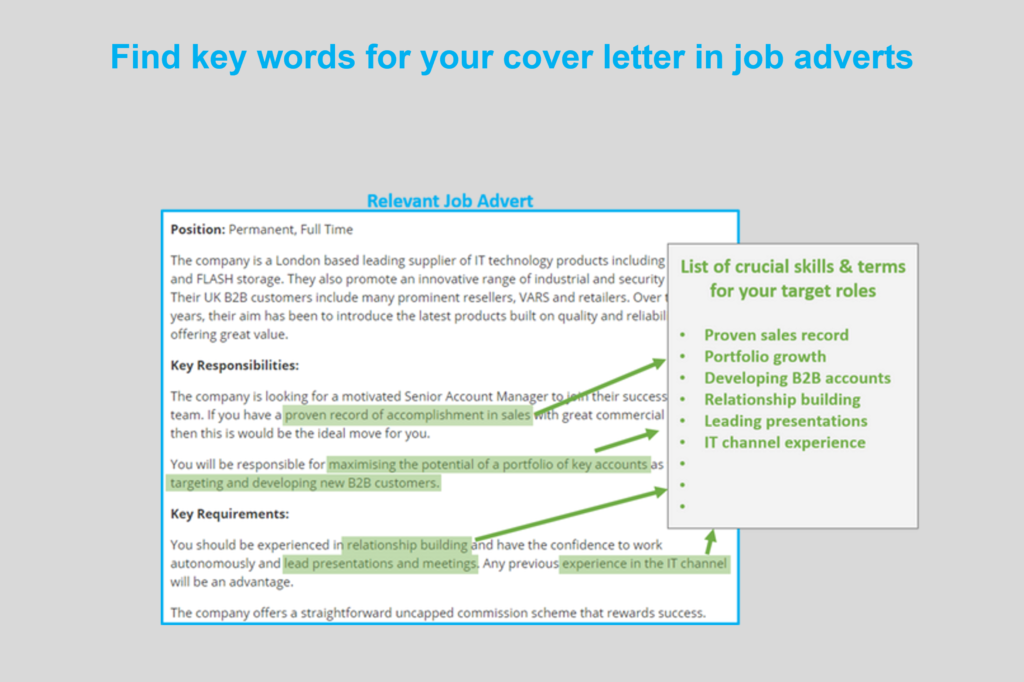 Keep it short and sharp
When sending a job application to a recruiter or hiring manager, it is important to remember that they will normally be very busy and pushed for time.
Therefore, you need to get you message across to them quickly (in a matter of seconds ideally). So, keep your cover letter short and to-the-point. A long waffling cover letter will overwhelm recruiters when they are running through hundreds of emails in there inbox, but a concise one will get their attention.
So, keep your cover letter to just a few sentences long, and save the extensive detail for your CV.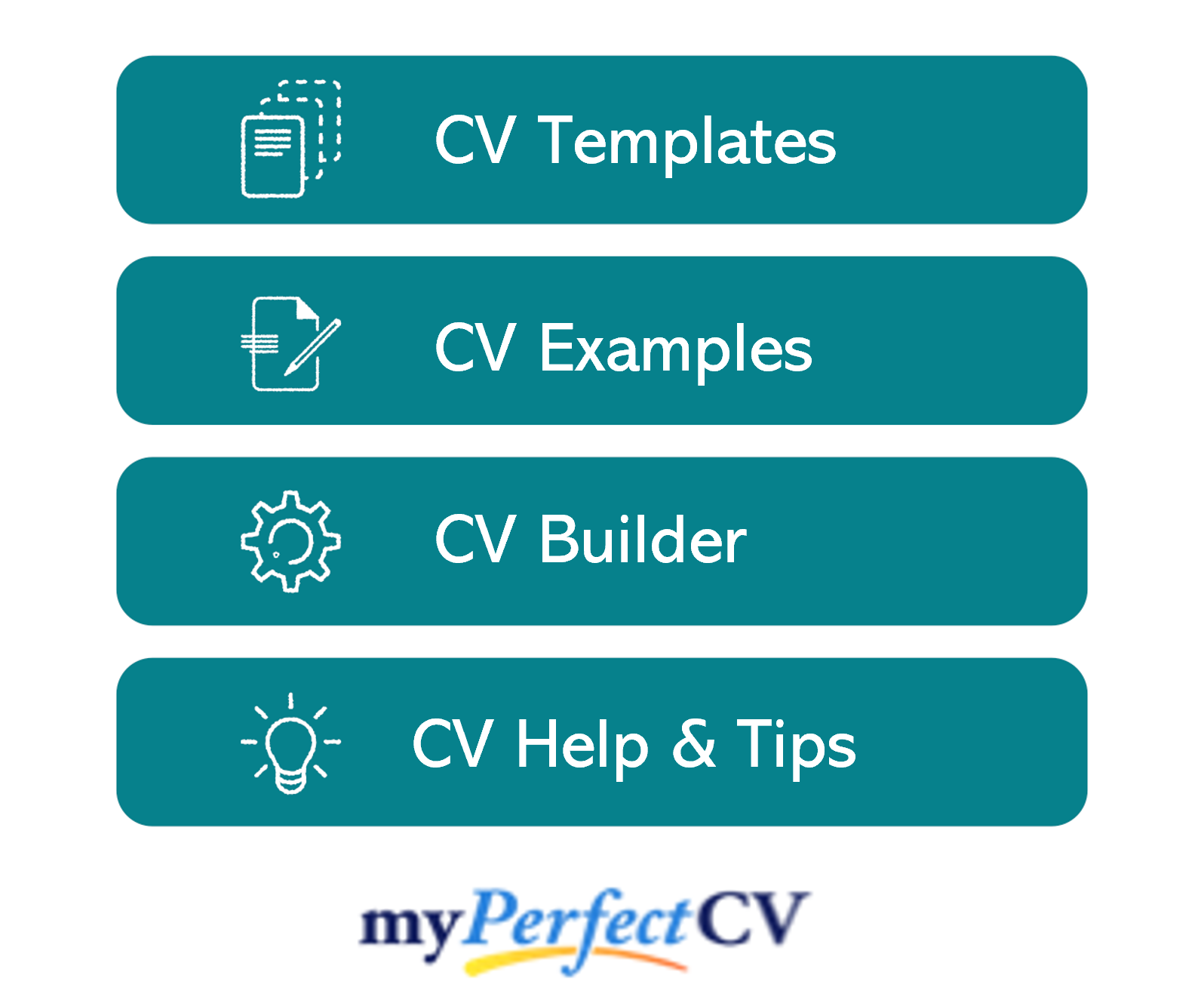 Sign off professionally
To finish off your cover note, add a professional signature to the bottom, stating your important contact details and information.
This not only provides recruiters with multiple means of contacting you, but it also adds a nice professional appearance to the cover letter, which shows that you know how to conduct yourself in the workplace.
Include the following points;
A friendly sign off – e.g. "Warm regards"
Your full name
Phone number (one you can answer quickly)
Email address
Optional
Profession title
Professional social network – e.g. LinkedIn
Here is an example signature;
Warm regards,
Aaron Smith
Customer service professional
075557437373
Aaron@smith.com
LinkedIn
Quick tip: To save yourself from having to write your signature every time you send a job application, you can save it within your email drafts, or on a separate document that you could copy in.

What to include in your Model cover letter
Your Model cover letter will be unique to your situation, but there are certain content guidelines you should stick to for best results.
To attract and entice recruiters, stick with the following key subjects in your cover letter – adapting them to fit your profession and target jobs.
Your professional experience – Employers will be keen to know if your experience is suitable for the job you are applying to, so provide a good summary of it in your cover letter.
Your qualifications and education – Highlight your most relevant and high-level of qualification, especially if they are essential to the job.
The positive impact you have made – Employers love to hear about the benefits you can bring to them, so shout about anything impressive you have done, such as saving money or improving processes.
Your reasons for leaving – Use a few words of your cover letter to explain why you are leaving your current job and ensure you avoid any negative reasons.
Your availability – Let recruiters know when you can start a new job. Are you immediately available, or do you have a month notice period?
Model cover letter templates
Copy and paste these Model cover letter templates to get a head start on your own.
Template 1
Good afternoon, David
I am writing to apply for a permanent position at the esteemed Belmore Agency. As a recent graduate from the London School of Fashion, I possess a strong passion for fashion and a determination to make a mark in the industry.
During my time at LSF, I actively participated in fashion shows and was selected for the prestigious Temple Gate Fashion Show in 2022. My poise, confidence, and ability to walk the runway gracefully were recognised by several established modelling agencies, leading to the opportunity to model for a HIVE magazine, gaining valuable experience in front of the camera and editorial work.
Additionally, I have honed my skills in posing and expression through collaborations with various photographers, including Jordan Hygo and Sunni Ling, building a versatile portfolio that highlights my adaptability to diverse themes and concepts.
My enthusiasm for fashion and my dedication to delivering exceptional performances make me an ideal fit for your roster at Belmore Agency. I am available for an interview at your earliest convenience to discuss my experience further.
Kind regards,
Kyle Bretton
Template 2
Hey Keanu,
I hope this email finds you well. With five years of experience in the fashion industry, including runway and editorial work for renowned designers and magazines, I believe I would be a good fit for your team at 5th Street Studios and am pleased to submit my application.
Having worked with prestigious brands like Vogue and Dior, I have developed a strong understanding of the industry's demands and the importance of maintaining a polished and adaptable appearance. My ability to embody different personas while conveying the designer's vision has been consistently praised, resulting in repeat bookings and long-term partnerships. Beyond my modelling expertise, I am well-versed in social media branding, cultivating an engaged following of 50K people on Instagram, where I showcase fashion, lifestyle, and travel content, leveraging my influence to promote the brands I collaborate with.
I am eager to bring my experience and professionalism to 5th Street Studios and I would love the opportunity to discuss my potential contributions further. I am available for an interview at your convenience.
Best Wishes,
Simone Carlotti
Template 3
Hi Ruby,
I am thrilled to apply for the position of High Fashion Model at Pantheon Agency. With over a decade of experience in the fashion industry and a proven track record of successful campaigns, I am confident in my ability to elevate your clients' brands to new heights.
Throughout my varied 20-year modelling career, I have had the privilege of working with prestigious brands like Chanel, Gucci, and Burberry, gracing the covers of leading fashion magazines and starring in high-profile television commercials. My versatility as a model, seamlessly transitioning between fashion, beauty, and lifestyle campaigns, has garnered me a strong and diverse following on social media, positioning me as a trusted influencer in the industry. In addition to my modelling expertise, I have developed valuable skills in creative direction, assisting in the development of visual concepts for a recent St Allan's campaign at New York Fashion Week and collaborating closely esteemed art directors to bring visions to life, including Martin Blanford and Cecily Chino.
I am eager to join your team and contribute my experience, professionalism, and charisma to represent the Patheon's esteemed clients. I am available for an interview at your earliest convenience.
Kind regards
Helena Seymour
Writing an impressive cover letter is a crucial step in landing a Model job, so taking the time to perfect it is well worth while.
By following the tips and examples above you will be able to create an eye-catching cover letter that will wow recruiters and ensure your CV gets read – leading to more job interviews for you.
Good luck with your job search!