Can you implement and execute marketing strategies, whilst also overseeing the marketing team?
Sure you can, that's why you're perfect for the managerial role.
The trouble is, you need to prove that you can juggle all these responsibilities in just a few paragraphs.
But we have good news, we can help you to do just that. Check out our comprehensive guide below, packed with top tips and marketing manager cover letter examples to inspire you.

Marketing Manager cover letter example 1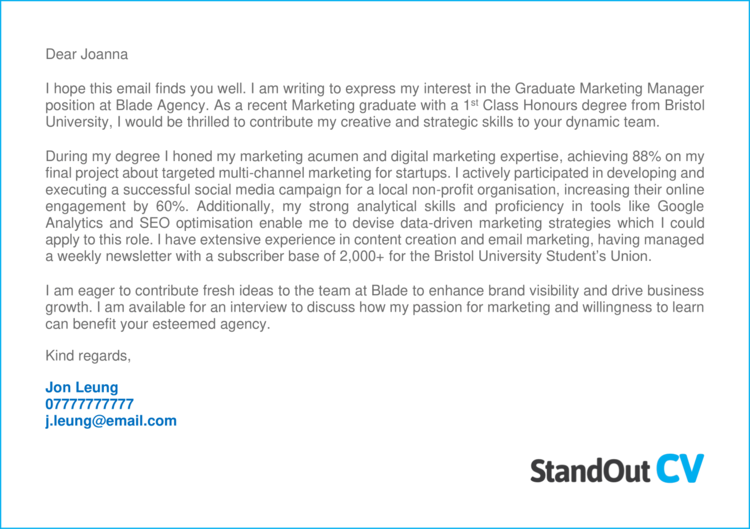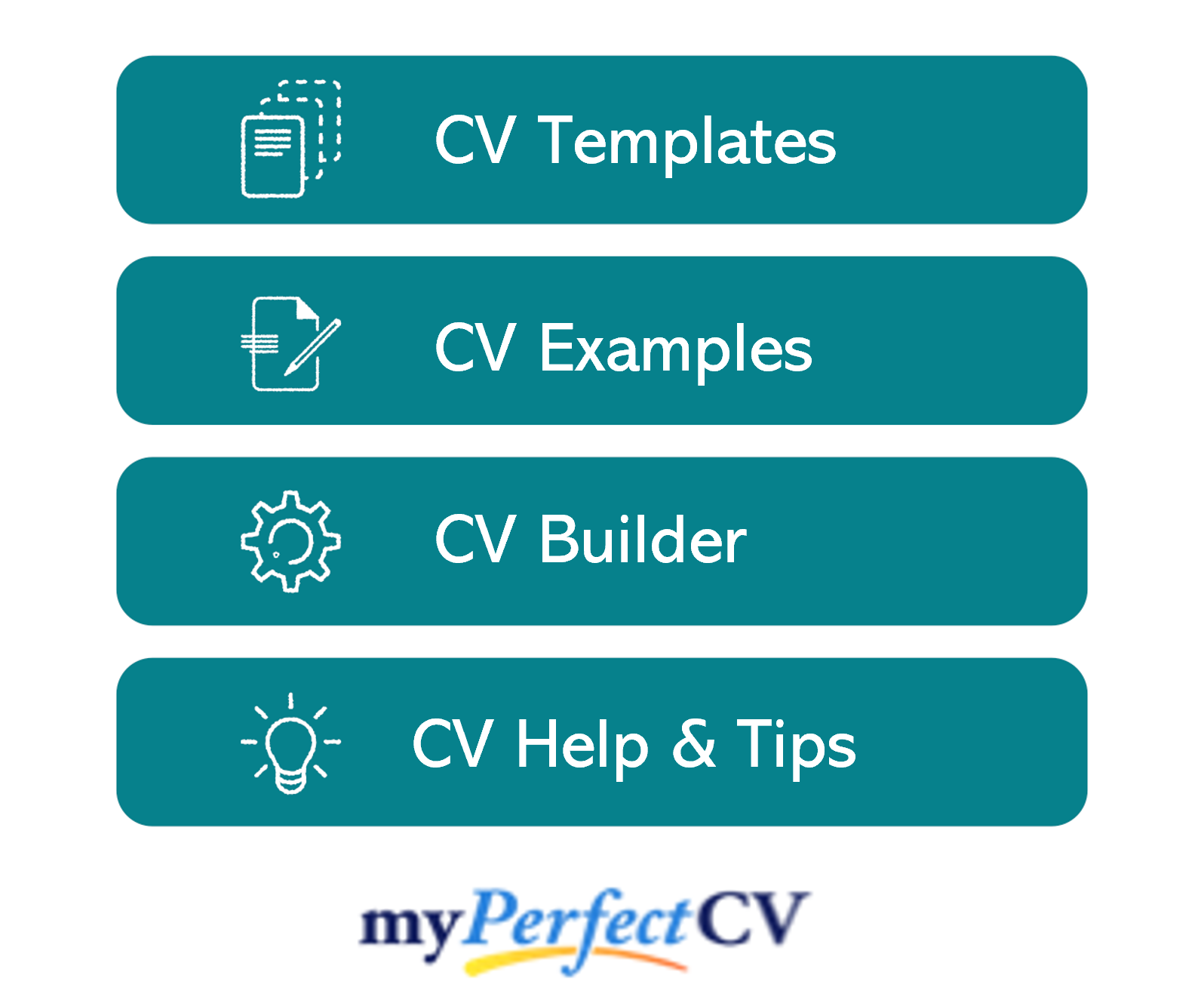 Marketing Manager cover letter example 2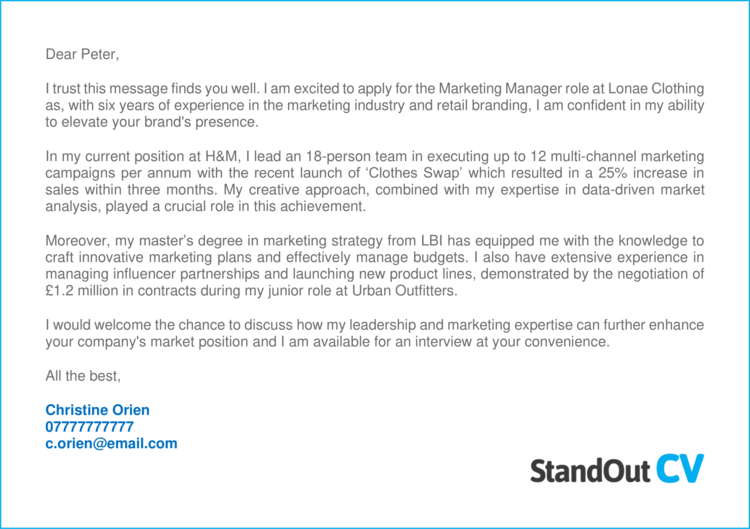 Marketing Manager cover letter example 3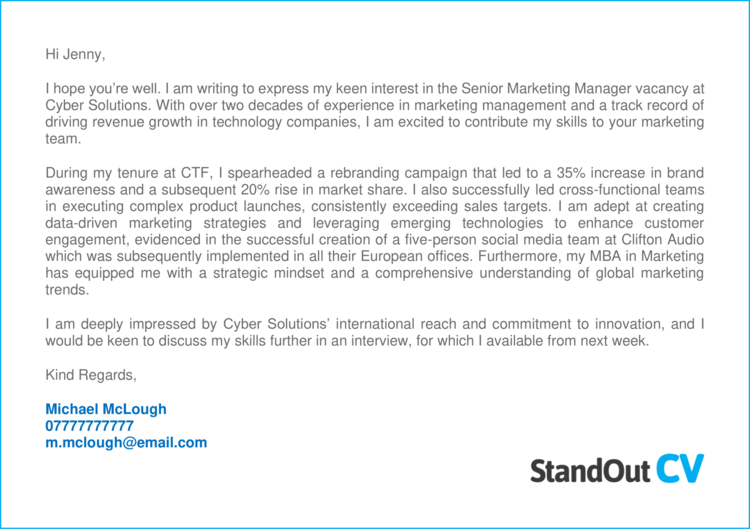 The Marketing Manager cover letter examples above should give you a good idea of the type of content you need to include in your own cover letter, and how it should be structured.
But if you're really looking to wow recruiters and get your CV in front of the very best employers, then check out our guidance on how to write your own effective cover letter below.
How to write a Marketing Manager cover letter
A simple step-by-step guide to writing your very own winning cover letter.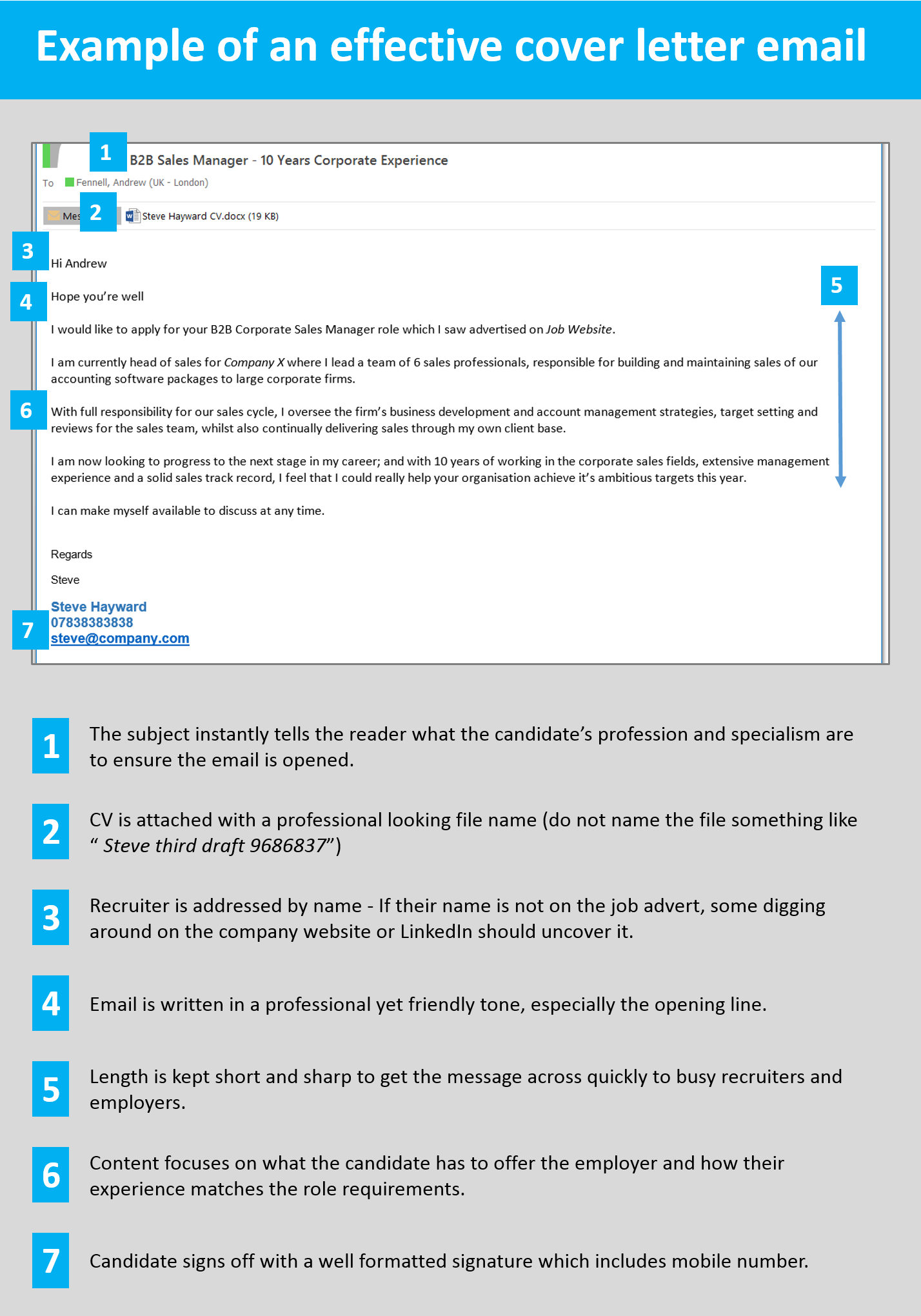 Write your cover letter in the body of an email/message
Type the content of your cover letter directly into the email you are sending, or if you are applying via a job board, directly into their messaging system.
The reason for doing this it to ensure that your cover letter gets seen instantly and you can start connecting with the recruiter as soon as they open your message.
If you attach your cover letter as a separate document, the recipient will have to open up the document, which will slow the process down, or make them less likely to even open your cover letter – which could mean your application gets skipped over.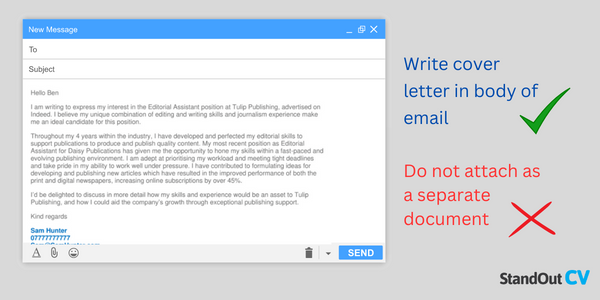 Start with a friendly greeting

To kick your cover letter off, start with a friendly greeting to build rapport with the recruiter instantly.
Your greeting should be personable but professional. Not too casual, but not too formal either
Go with something like…
Hi
Hi [insert recruiter name]
Hi [insert department/team name]
Avoid old-fashioned greetings like "Dear sir/madam" unless applying to very formal companies.
How to find the contact's name?
Addressing the recruitment contact by name is an excellent way to start building a strong relationship. If it is not listed in the job advert, try these methods to find it.
Check out the company website and look at their About page. If you see a hiring manager, HR person or internal recruiter, use their name. You could also try to figure out who would be your manager in the role and use their name.
Head to LinkedIn, search for the company and scan through the list of employees. Most professionals are on LinkedIn these days, so this is a good bet.
Identify the role you are applying for
Once you have opened the cover letter with a warm greeting, you need to explain which role you are interested in.
Sometimes a recruitment consultant could be managing over 10 vacancies, so it's crucial to pinpoint exactly which one you are interested in.
Highlight the department/area if possible and look for any reference numbers you can quote.
These are some examples you can add..
I am interested in applying for the role of Marketing Manager with your company.
I would like to apply for the role of Sales assistant (Ref: 40f57393)
I would like to express my interest in the customer service vacancy within your retail department
I saw your advert for an IT project manager on Reed and would like to apply for the role.
Highlight your suitability
The bulk of your cover letter should be focused around highlighting your suitability for the job you are applying to.
Doing this will show the recruiter that you are suitable candidate and encourage them to open your CV.
The best way to do this, is by studying the job advert you are applying to, and find out what the most important skills and knowledge are.
Once you know the most important requirements, you then need to highlight your matching skills to the recruiter. In a few sentences, tell them exactly why you are a good fit for the job and what you can offer the company.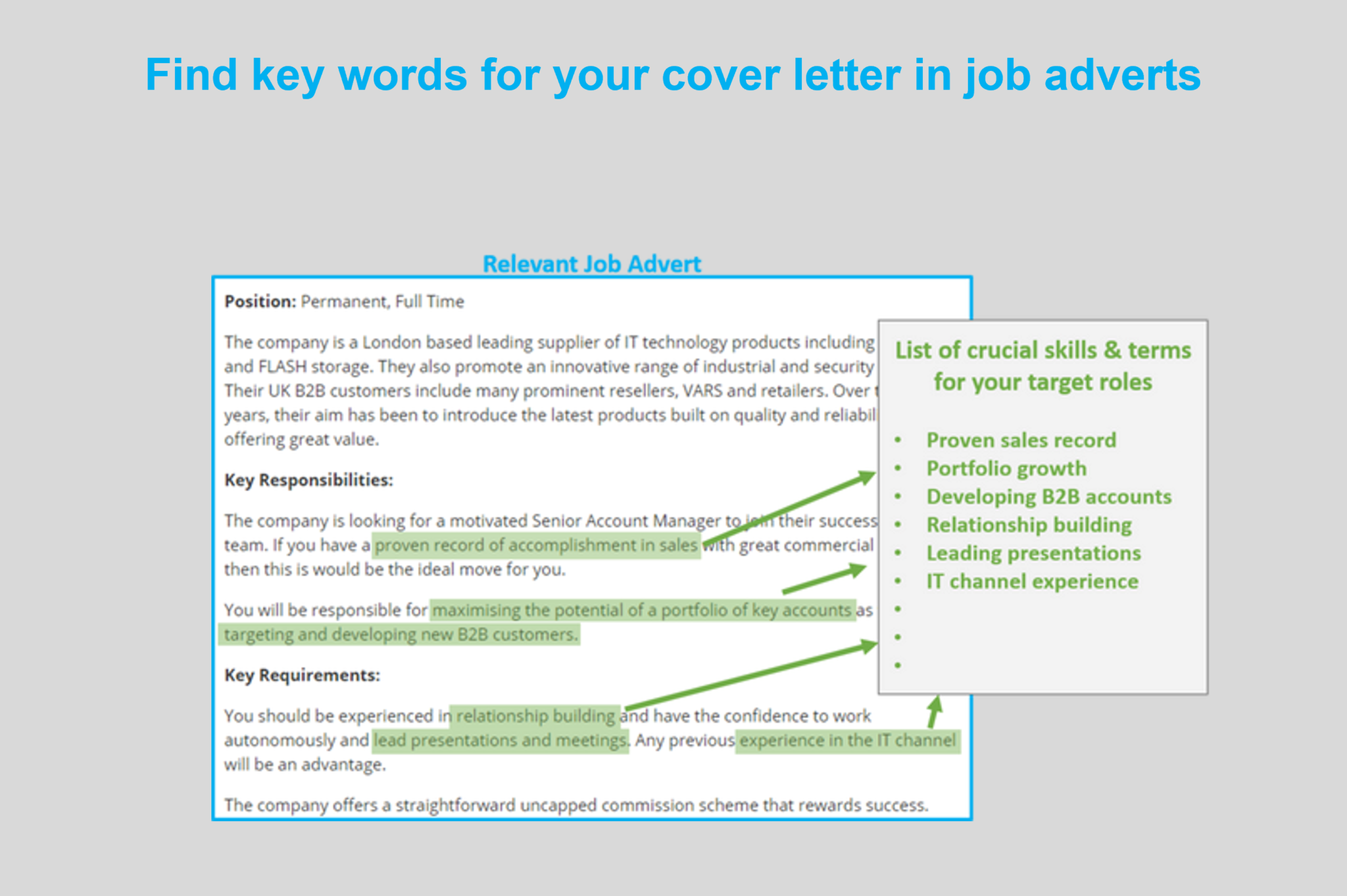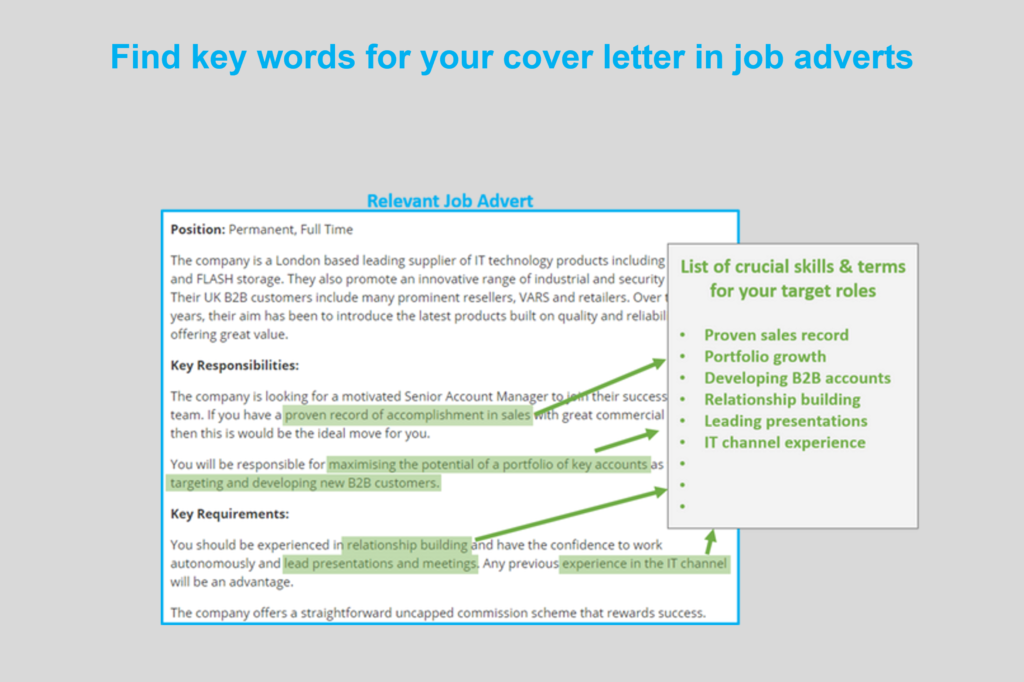 Keep it short and sharp
A good cover letter is short and sharp, getting to the point quickly with just enough information to grab the attention of recruiters.
Ideally your cover letter should be around 4-8 sentences long – anything longer will risk losing the attention of time-strapped recruiters and hiring managers.
Essentially you need to include just enough information to persuade the reader to open up your CV, where the in-depth details will sit.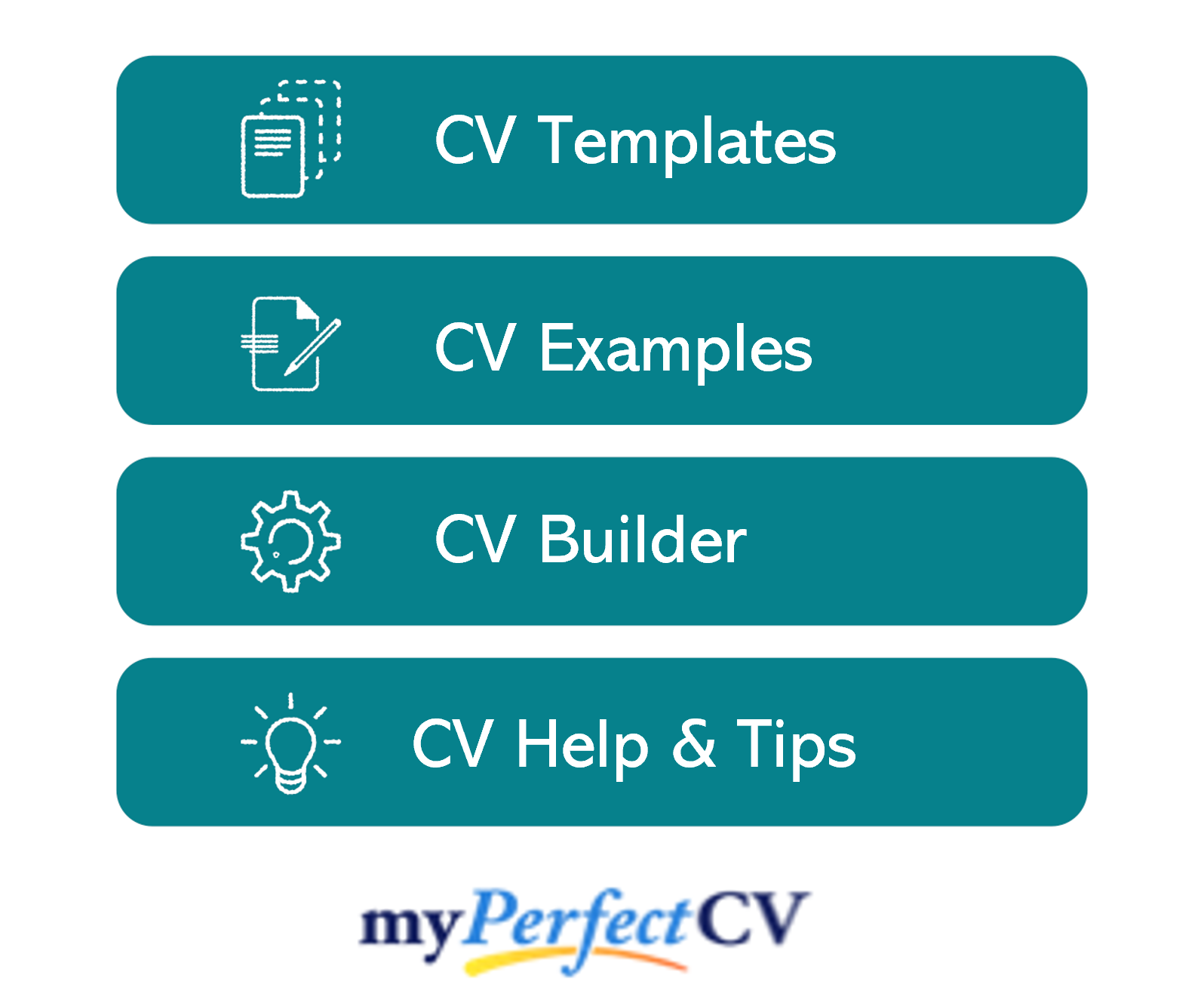 Sign off professionally
To round of your cover letter, add a professional signature to the bottom, giving recruiters your vital contact information.
This not only gives various means of contacting you, it also looks really professional and shows that you know how to communicate in the workplace.
Include the following points;
A friendly sign off – e.g. "Warm regards"
Your full name
Phone number (one you can answer quickly)
Email address
Optional
Profession title
Professional social network – e.g. LinkedIn
Here is an example signature;
Warm regards,
Gerald Baker
Senior Accountant
07887500404
Gbaker213@hotmail.com
LinkedIn
Quick tip: To save yourself from having to write your signature every time you send a job application email, you can save it within your email drafts, or on a separate document that you could copy in.

What to include in your Marketing Manager cover letter
Your Marketing Manager cover letter will be unique to your situation, but there are certain content guidelines you should stick to for best results.
To attract and entice recruiters, stick with the following key subjects in your cover letter – adapting them to fit your profession and target jobs.
Your professional experience – Employers will be keen to know if your experience is suitable for the job you are applying to, so provide a good summary of it in your cover letter.
Your qualifications and education – Highlight your most relevant and high-level of qualification, especially if they are essential to the job.
The positive impact you have made – Employers love to hear about the benefits you can bring to them, so shout about anything impressive you have done, such as saving money or improving processes.
Your reasons for leaving – Use a few words of your cover letter to explain why you are leaving your current job and ensure you avoid any negative reasons.
Your availability – Let recruiters know when you can start a new job. Are you immediately available, or do you have a month notice period?
Marketing Manager cover letter templates
Copy and paste these Marketing Manager cover letter templates to get a head start on your own.
Template 1
Dear Joanna
I hope this email finds you well. I am writing to express my interest in the Graduate Marketing Manager position at Blade Agency. As a recent Marketing graduate with a 1st Class Honours degree from Bristol University, I would be thrilled to contribute my creative and strategic skills to your dynamic team.
During my degree I honed my marketing acumen and digital marketing expertise, achieving 88% on my final project about targeted multi-channel marketing for startups. I actively participated in developing and executing a successful social media campaign for a local non-profit organisation, increasing their online engagement by 60%. Additionally, my strong analytical skills and proficiency in tools like Google Analytics and SEO optimisation enable me to devise data-driven marketing strategies which I could apply to this role. I have extensive experience in content creation and email marketing, having managed a weekly newsletter with a subscriber base of 2,000+ for the Bristol University Student's Union.
I am eager to contribute fresh ideas to the team at Blade to enhance brand visibility and drive business growth. I am available for an interview to discuss how my passion for marketing and willingness to learn can benefit your esteemed agency.
Kind regards,
Jon Leung
Template 2
Dear Peter,
I trust this message finds you well. I am excited to apply for the Marketing Manager role at Lonae Clothing as, with six years of experience in the marketing industry and retail branding, I am confident in my ability to elevate your brand's presence.
In my current position at H&M, I lead an 18-person team in executing up to 12 multi-channel marketing campaigns per annum with the recent launch of 'Clothes Swap' which resulted in a 25% increase in sales within three months. My creative approach, combined with my expertise in data-driven market analysis, played a crucial role in this achievement.
Moreover, my master's degree in marketing strategy from LBI has equipped me with the knowledge to craft innovative marketing plans and effectively manage budgets. I also have extensive experience in managing influencer partnerships and launching new product lines, demonstrated by the negotiation of £1.2 million in contracts during my junior role at Urban Outfitters.
I would welcome the chance to discuss how my leadership and marketing expertise can further enhance your company's market position and I am available for an interview at your convenience.
All the best,
Christine Orien
Template 3
Hi Jenny,
I hope you're well. I am writing to express my keen interest in the Senior Marketing Manager vacancy at Cyber Solutions. With over two decades of experience in marketing management and a track record of driving revenue growth in technology companies, I am excited to contribute my skills to your marketing team.
During my tenure at CTF, I spearheaded a rebranding campaign that led to a 35% increase in brand awareness and a subsequent 20% rise in market share. I also successfully led cross-functional teams in executing complex product launches, consistently exceeding sales targets. I am adept at creating data-driven marketing strategies and leveraging emerging technologies to enhance customer engagement, evidenced in the successful creation of a five-person social media team at Clifton Audio which was subsequently implemented in all their European offices. Furthermore, my MBA in Marketing has equipped me with a strategic mindset and a comprehensive understanding of global marketing trends.
I am deeply impressed by Cyber Solutions' international reach and commitment to innovation, and I would be keen to discuss my skills further in an interview, for which I available from next week.
Kind Regards,
Michael McLough
Writing a strong attention-grabbing cover letter is a vital step in landing a good Marketing Manager job.
Use the tips, strategies and examples above to get more responses from you job applications and start lining job interview up.
Good luck with your job search!