You've got a way with words and you can turn even the most mundane topic into a masterpiece. But when it comes to your cover letter, you've got writer's block.
In the guide below, we'll help you write a standout application that effectively pitches your skills and experience to the recruiter.
We've also put together some journalist cover letter examples to inspire you.

Journalist cover letter example 1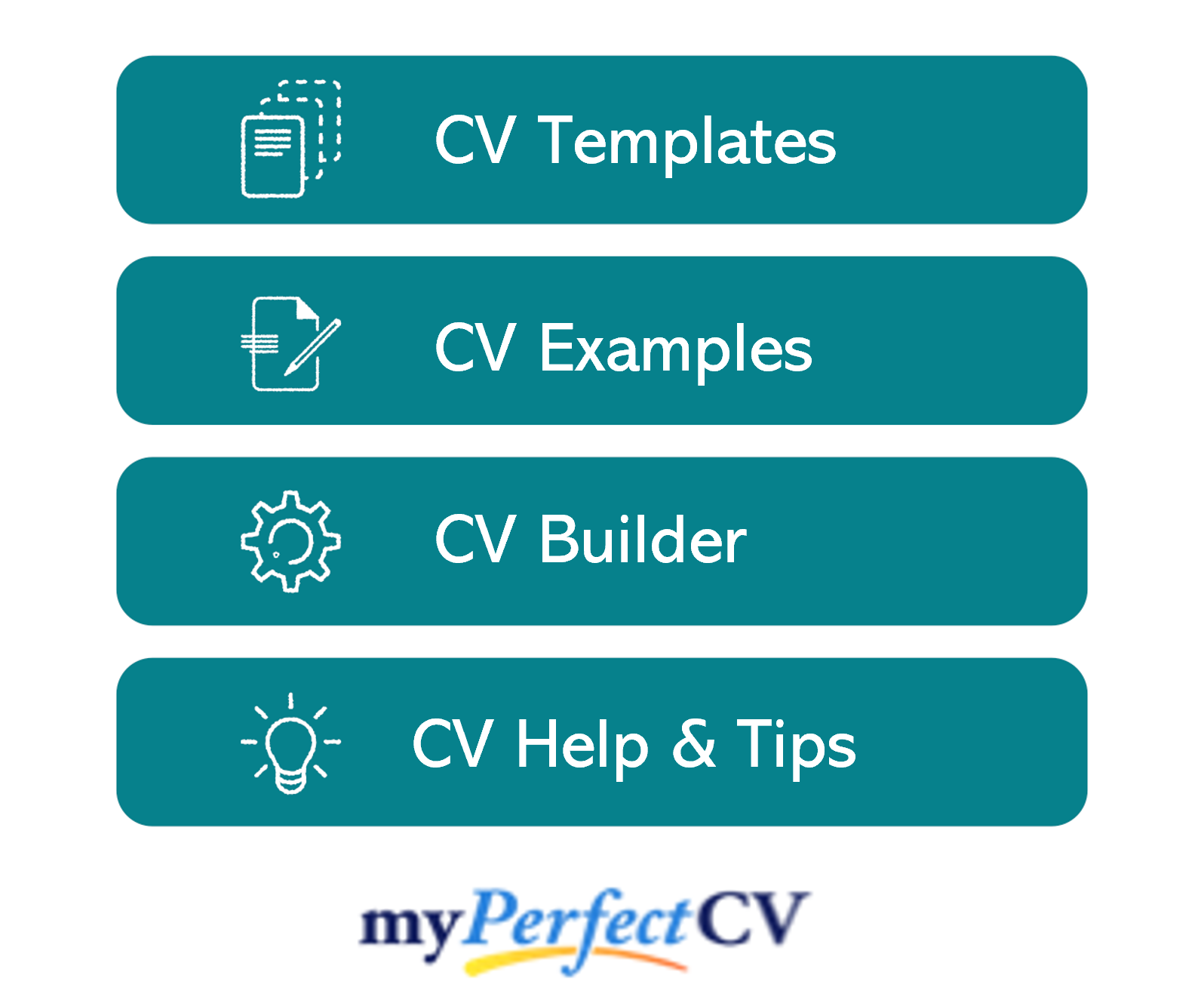 Journalist cover letter example 2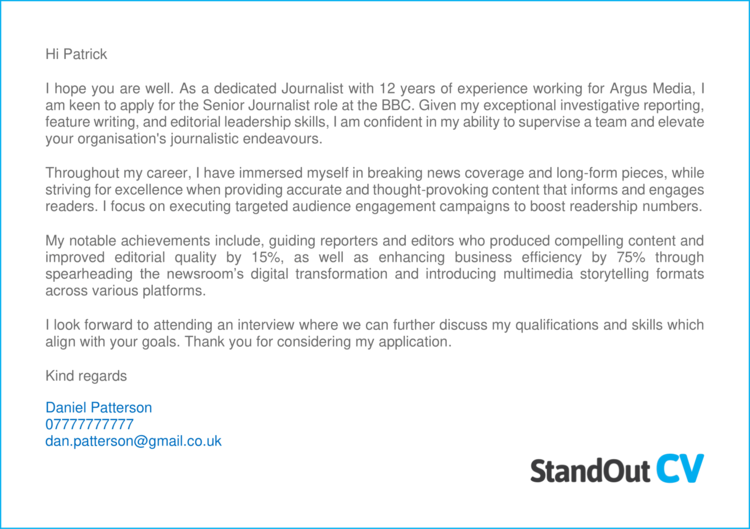 Journalist cover letter example 3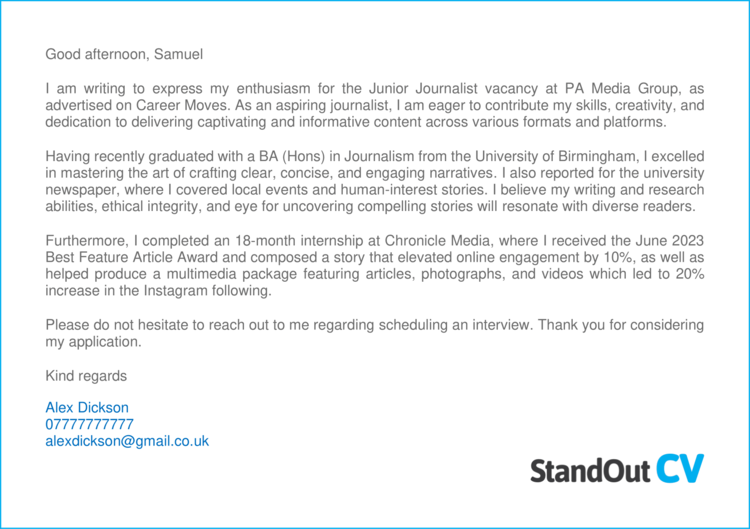 These 3 Journalist cover letter examples will provide you with some good ideas on how to format a cover letter, along with the type of message you should be trying to put across to recruiters.
To further understand exactly how you can write a cover letter that will get you noticed, check out our further guidance.
How to write a Journalist cover letter
Here's a simple process to write your own interview-winning cover letter.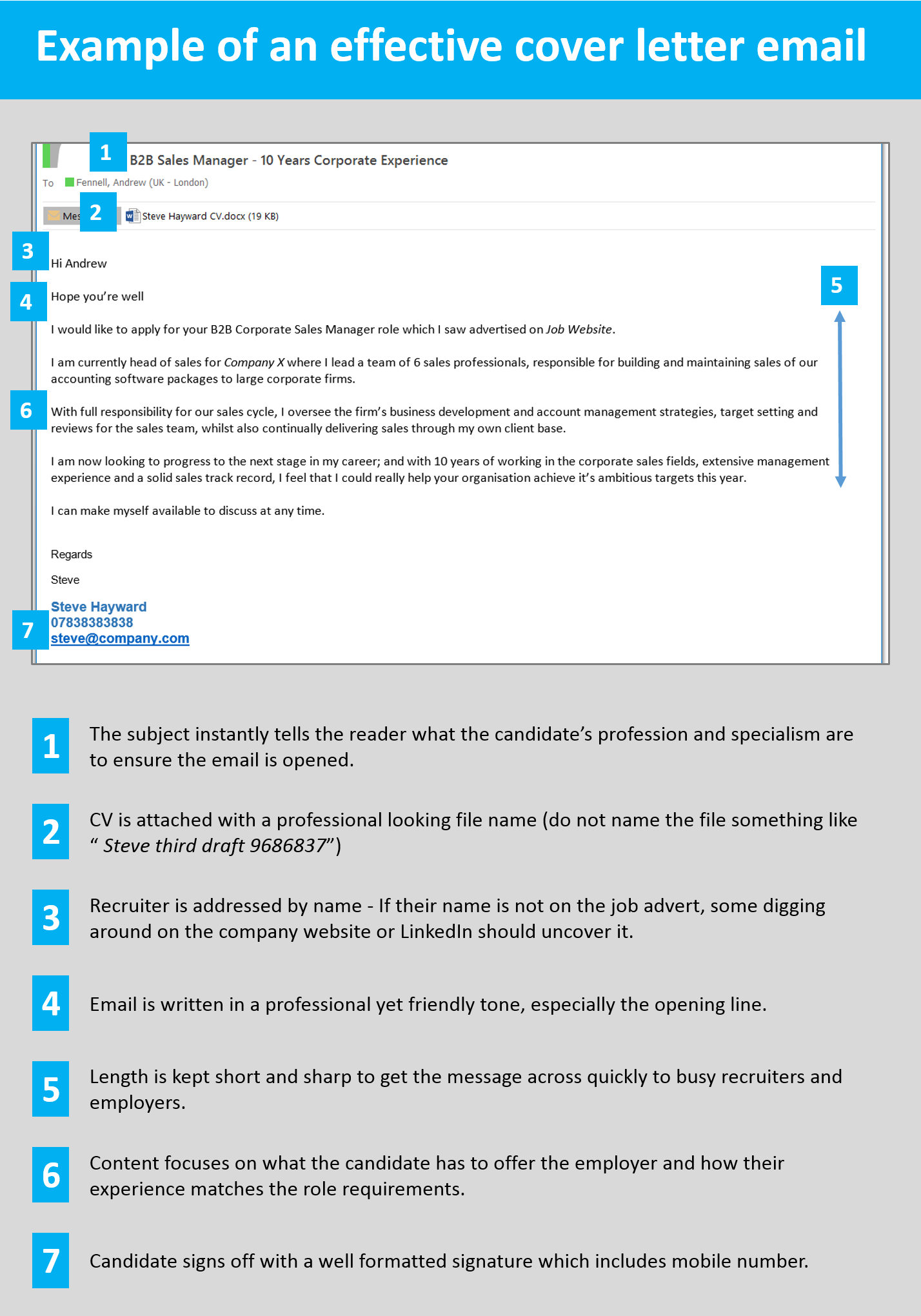 Write your cover letter in the body of an email/message
When you send a cover letter with a job application, you should always write your message into the body of your email – or the body of the messaging system if you are sending via a job website.
Why do this?
Simply because you want to get your message seen as soon as the recruiter opens your application.
If you attach the cover letter as a separate item, this means the recipient will have to open it before they can read it – slowing down the process and potentially causing frustration along the way.
So, write your cover note in the body of your email/message to ensure you make an instant connection with the reader.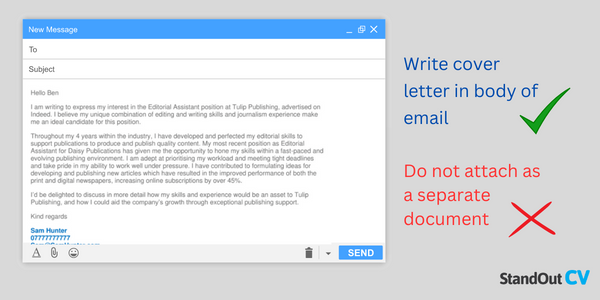 Start with a friendly greeting

To kick your cover letter off, start with a friendly greeting to build rapport with the recruiter instantly.
Your greeting should be personable but professional. Not too casual, but not too formal either
Go with something like…
Hi
Hi [insert recruiter name]
Hi [insert department/team name]
Avoid old-fashioned greetings like "Dear sir/madam" unless applying to very formal companies.
How to find the contact's name?
Addressing the recruitment contact by name is an excellent way to start building a strong relationship. If it is not listed in the job advert, try these methods to find it.
Check out the company website and look at their About page. If you see a hiring manager, HR person or internal recruiter, use their name. You could also try to figure out who would be your manager in the role and use their name.
Head to LinkedIn, search for the company and scan through the list of employees. Most professionals are on LinkedIn these days, so this is a good bet.
Identify the role you are applying for
Once you have opened the cover letter with a warm greeting, you need to explain which role you are interested in.
Sometimes a recruitment consultant could be managing over 10 vacancies, so it's crucial to pinpoint exactly which one you are interested in.
Highlight the department/area if possible and look for any reference numbers you can quote.
These are some examples you can add..
I am interested in applying for the role of Journalist with your company.
I would like to apply for the role of Sales assistant (Ref: 40f57393)
I would like to express my interest in the customer service vacancy within your retail department
I saw your advert for an IT project manager on Reed and would like to apply for the role.
Highlight your suitability
The bulk of your cover letter should be focused around highlighting your suitability for the job you are applying to.
Doing this will show the recruiter that you are suitable candidate and encourage them to open your CV.
The best way to do this, is by studying the job advert you are applying to, and find out what the most important skills and knowledge are.
Once you know the most important requirements, you then need to highlight your matching skills to the recruiter. In a few sentences, tell them exactly why you are a good fit for the job and what you can offer the company.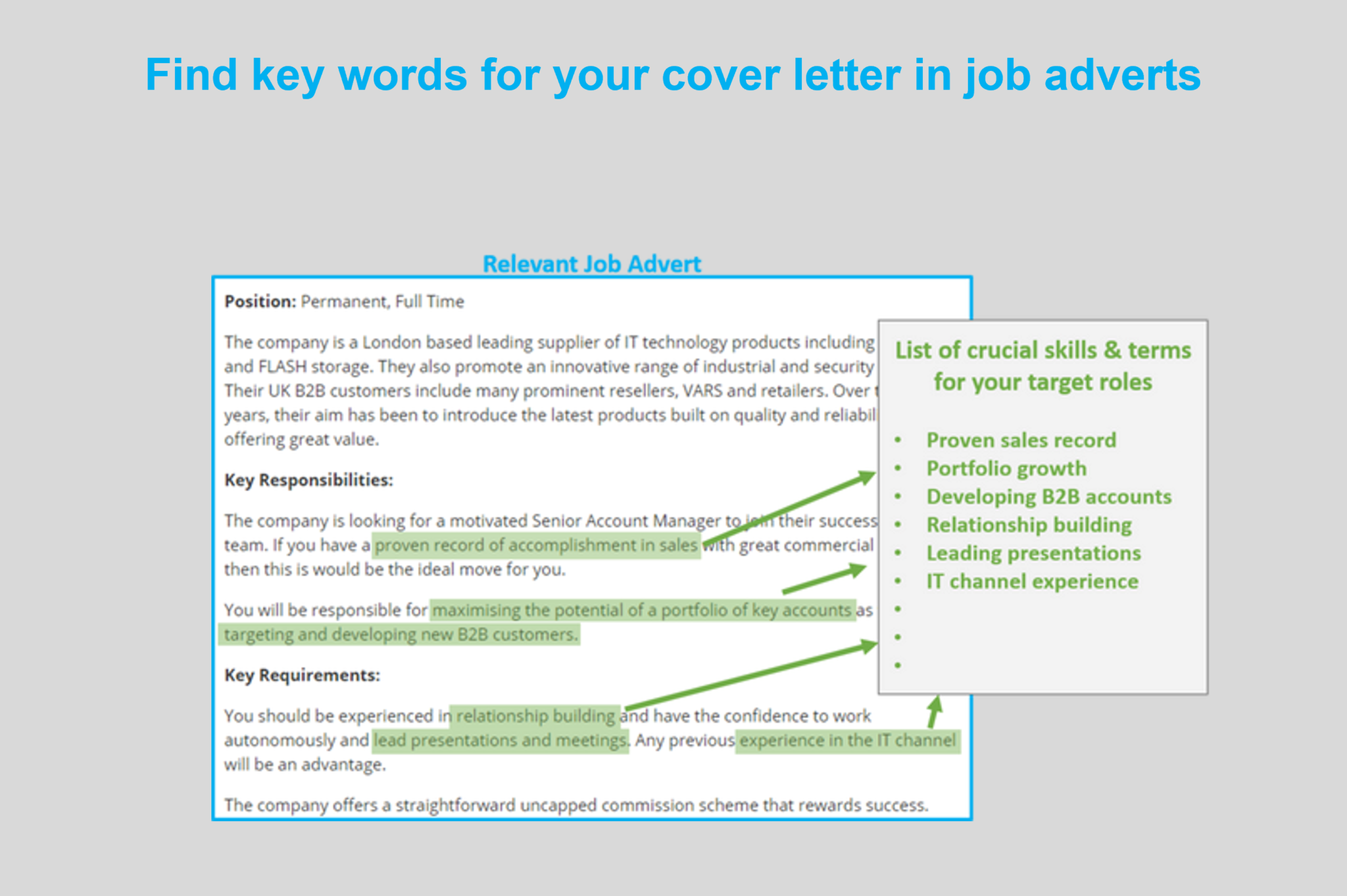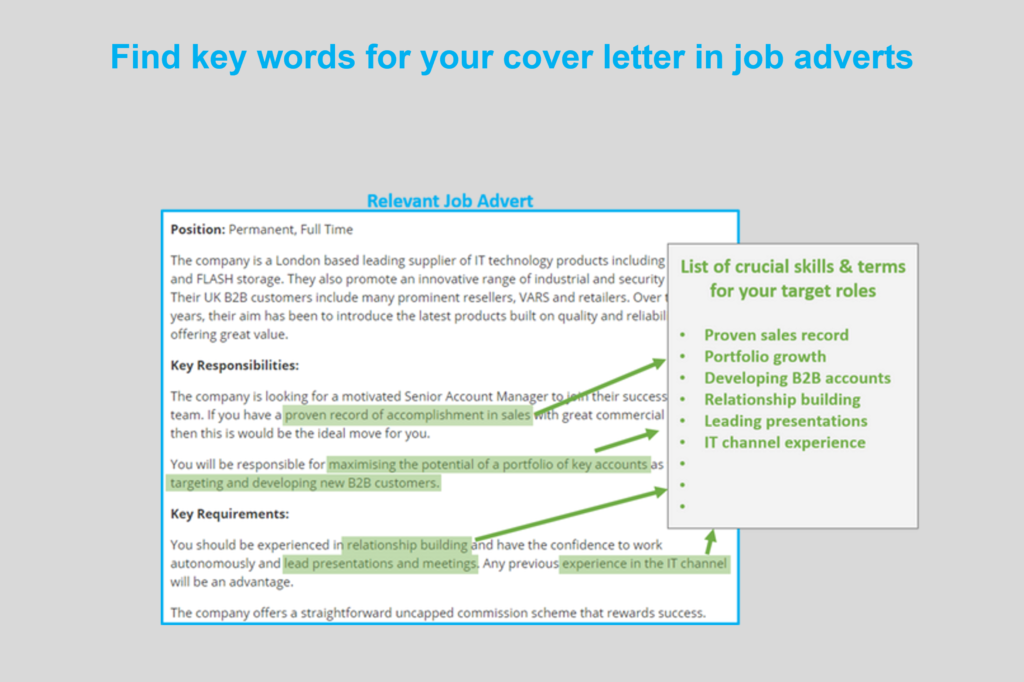 Keep it short and sharp
It is best to keep your cover letter brief if you want to ensure you hold the attention of busy recruiters and hiring managers. A lengthy cover letter will probably not get read in full, so keep yours to around 3-6 sentences and save the real detail for your CV.
Remember the purpose of your cover letter is to quickly get recruiters to notice you and encourage them to open your CV, so it only needs to include the highlights of your experience.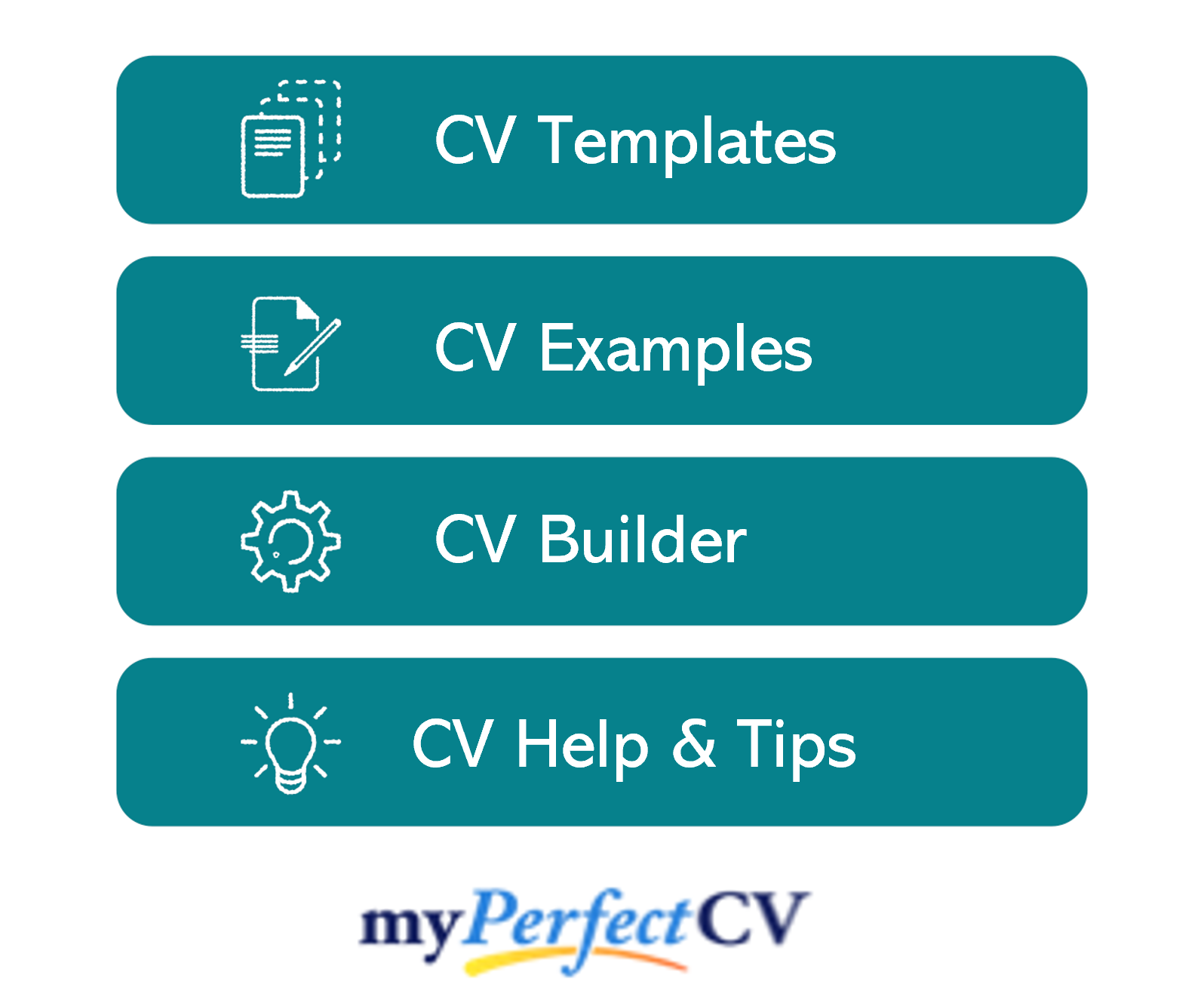 Sign off professionally
To round of your cover letter, add a professional signature to the bottom, giving recruiters your vital contact information.
This not only gives various means of contacting you, it also looks really professional and shows that you know how to communicate in the workplace.
Include the following points;
A friendly sign off – e.g. "Warm regards"
Your full name
Phone number (one you can answer quickly)
Email address
Optional
Profession title
Professional social network – e.g. LinkedIn
Here is an example signature;
Warm regards,
Gerald Baker
Senior Accountant
07887500404
Gbaker213@hotmail.com
LinkedIn
Quick tip: To save yourself from having to write your signature every time you send a job application email, you can save it within your email drafts, or on a separate document that you could copy in.

What to include in your Journalist cover letter
So, what type of information should you write about in your Journalist cover letter?
The specifics will obviously depend on your profession and the jobs you are applying to, but these are the key areas you should be covering.
Your industry experience – Tell recruiters the types of companies you have been working for and the roles you have held in the past.
Your qualifications – Highlight your most important relevant qualifications to show employers you are qualified to do the roles you are applying for.
The impact you have made – Demonstrate the positive impact you have made for employers in previous jobs. Have you saved money? Improved processes? Made customers happy?
Your reasons for moving – Employers will want to know why you are leaving your current/previous role, so provide them with a brief explanation here.
Your availability – When will you be able to start a new job? Check your current contract to find out your notice period if you are in a position already.
Journalist cover letter templates
Copy and paste these Journalist cover letter templates to get a head start on your own.
Template 1
Hi Taylor
I hope you're well. I would like to express my interest in the Journalist vacancy at The Telegraph. As a passionate individual with a track record of delivering engaging and impactful content, I am excited about the opportunity to contribute my skills and experience to your world-rewound company.
During my 5 years as a Journalist at Hearst Media Services, I have honed my abilities in investigative reporting, feature writing, and multimedia storytelling. My dedication to delivering accurate and objective information has consistently driven me to pursue stories that resonate with vast audiences and shed light on important societal issues.
Some accomplishments I contributed towards include, covering the Russia-Ukraine war and other political developments that increased web traffic by 70%, as well as authoring an article on the European heat wave which went viral and boosted the organisation's social media following by 40%. In addition, I was pivotal in hosting a successful podcast series on natural disasters that reached 8K downloads.
Thank you for considering my application. I have attached my CV and a portfolio for your review and look forward to attending an interview at your convenience.
Kind regards
Sean Brown
Template 2
Hi Patrick
I hope you are well. As a dedicated Journalist with 12 years of experience working for Argus Media, I am keen to apply for the Senior Journalist role at the BBC. Given my exceptional investigative reporting, feature writing, and editorial leadership skills, I am confident in my ability to supervise a team and elevate your organisation's journalistic endeavours.
Throughout my career, I have immersed myself in breaking news coverage and long-form pieces, while striving for excellence when providing accurate and thought-provoking content that informs and engages readers. I focus on executing targeted audience engagement campaigns to boost readership numbers.
My notable achievements include, guiding reporters and editors who produced compelling content and improved editorial quality by 15%, as well as enhancing business efficiency by 75% through spearheading the newsroom's digital transformation and introducing multimedia storytelling formats across various platforms.
I look forward to attending an interview where we can further discuss my qualifications and skills which align with your goals. Thank you for considering my application.
Kind regards
Daniel Patterson
Template 3
Good afternoon, Samuel
I am writing to express my enthusiasm for the Junior Journalist vacancy at PA Media Group, as advertised on Career Moves. As an aspiring journalist, I am eager to contribute my skills, creativity, and dedication to delivering captivating and informative content across various formats and platforms.
Having recently graduated with a BA (Hons) in Journalism from the University of Birmingham, I excelled in mastering the art of crafting clear, concise, and engaging narratives. I also reported for the university newspaper, where I covered local events and human-interest stories. I believe my writing and research abilities, ethical integrity, and eye for uncovering compelling stories will resonate with diverse readers.
Furthermore, I completed an 18-month internship at Chronicle Media, where I received the June 2023 Best Feature Article Award and composed a story that elevated online engagement by 10%, as well as helped produce a multimedia package featuring articles, photographs, and videos which led to 20% increase in the Instagram following.
Please do not hesitate to reach out to me regarding scheduling an interview. Thank you for considering my application.
Kind regards
Alex Dickson
Writing a strong attention-grabbing cover letter is a vital step in landing a good Journalist job.
Use the tips, strategies and examples above to get more responses from you job applications and start lining job interview up.
Good luck with your job search!