Investment banking is a competitive industry, and your cover letter is your chance to give context to your CV and stand out from the crowd.
But if you want to get noticed, you need to focus on showcasing your biggest achievements in the field, and we can help.
For top tips and writing advice you can bank on, check out our comprehensive guide and investment banking cover letter examples below.

Investment Banking cover letter example 1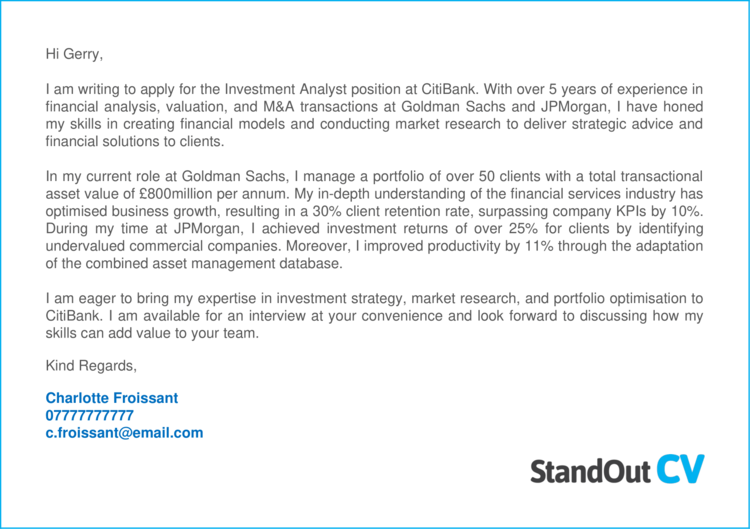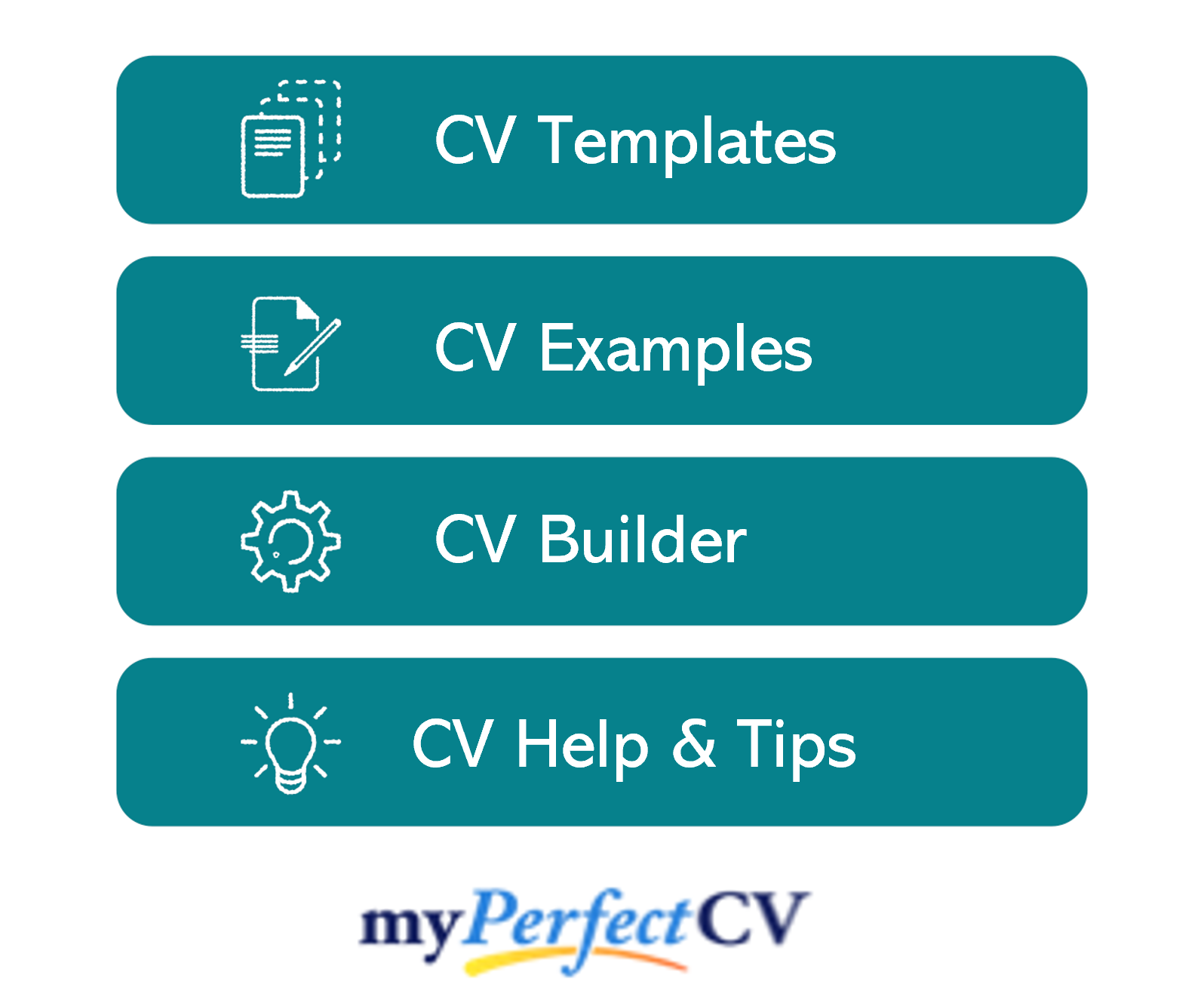 Investment Banking cover letter example 2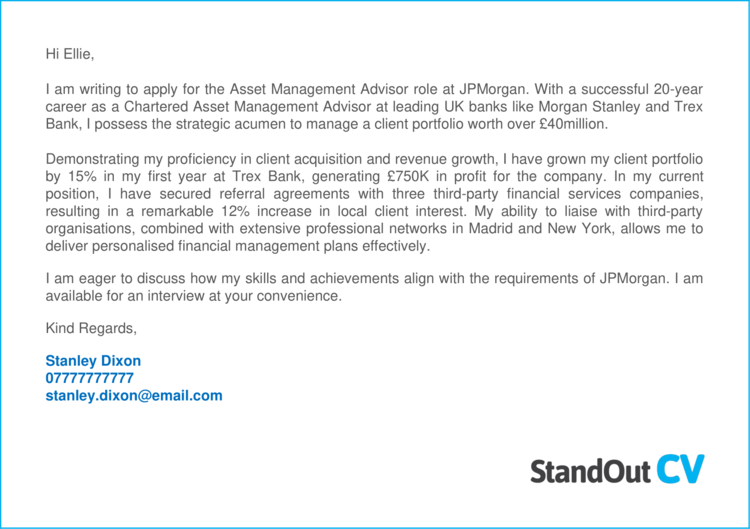 Investment Banking cover letter example 3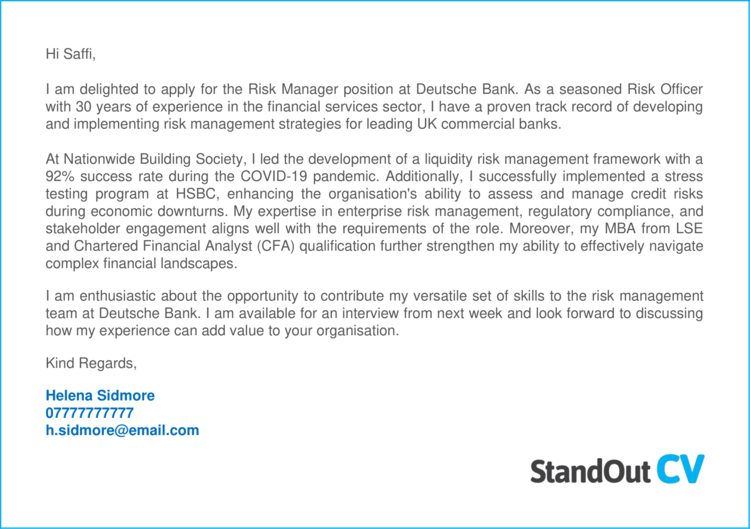 These Investment Banking cover letter examples provide you with some guidance and inspiration for writing a cover letter that gets noticed and ensures your CV will get opened.
But if you really want to master the art of writing a winning cover letter, then follow our step-by-step cove letter writing guide below.
How to write an Investment Banking cover letter
A simple step-by-step guide to writing your very own winning cover letter.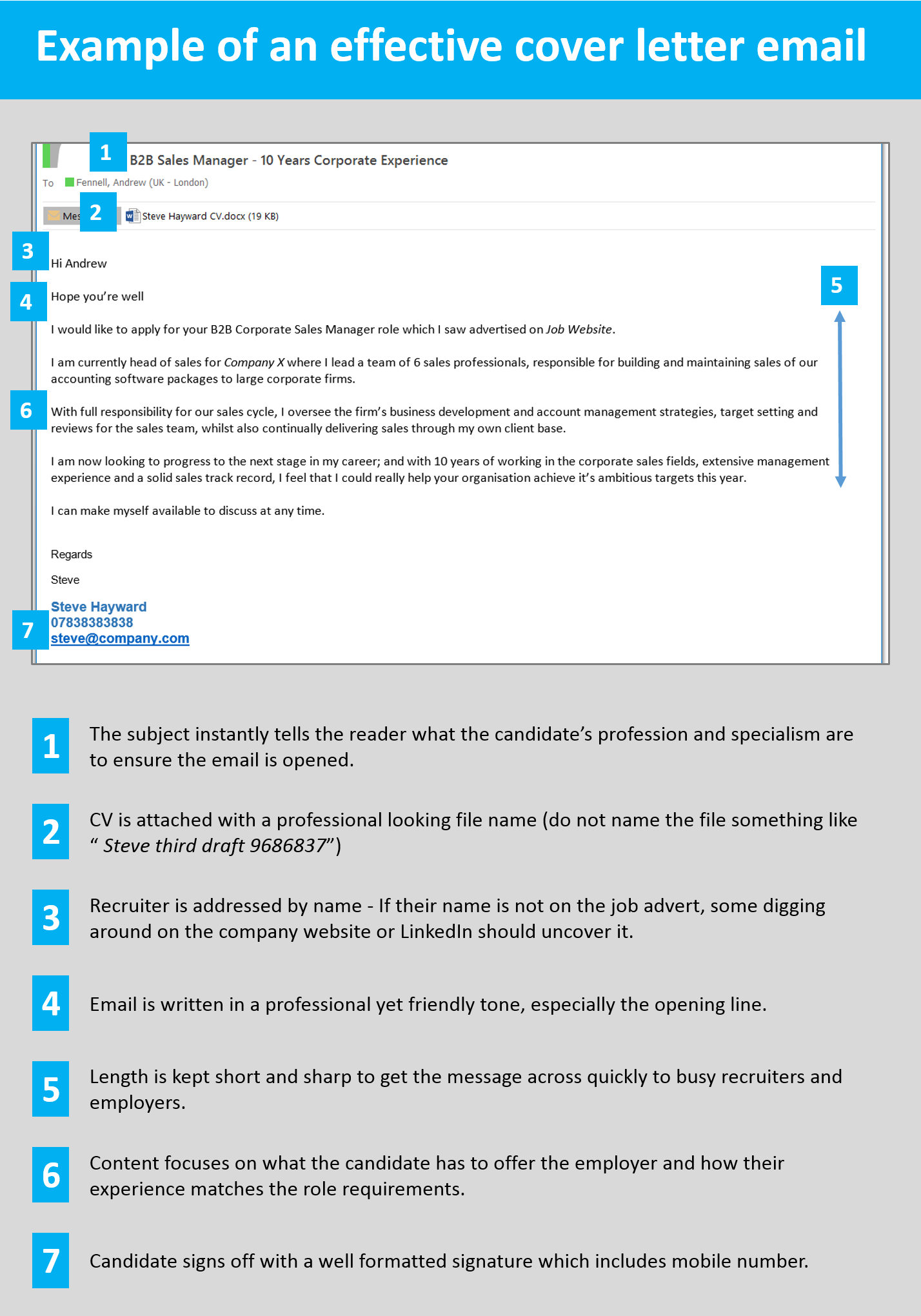 Write your cover letter in the body of an email/message
You should write your cover letter in the body of the email (or messaging system if sending via a job board) and never attach it as a document.
The reason for this?
You want your cover letter to start connecting with the recruiter from the moment they open your application.
If they have to open a document to read it, it will slow things down and they may not even bother to open it.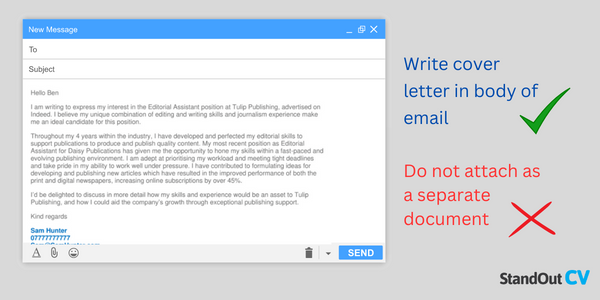 Start with a friendly greeting

To start building rapport with the recruiter or hiring manager right away, lead with a friendly greeting.
Try to strike a balance between professional and personable.
Go with something like…
Hi
Hi [insert recruiter name]
Hi [insert department/team name]
Stay away from old-fashioned greetings like "Dear sir/madam" unless applying to very formal companies – they can come across as cold and robotic.
How to find the contact's name?
Addressing the recruitment contact by name is an excellent way to start building a strong relationship. If it is not listed in the job advert, try to uncover it via these methods.
Check out the company website and look at their About page. If you see a hiring manager, HR person or internal recruiter, use their name. You could also try to figure out who would be your manager in the role and use their name.
Head to LinkedIn, search for the company and scan through the list of employees. Most professionals are on LinkedIn these days, so this is a good bet.
Identify the role you are applying for
Once you have opened the cover letter with a warm greeting, you need to explain which role you are interested in.
Sometimes a recruitment consultant could be managing over 10 vacancies, so it's crucial to pinpoint exactly which one you are interested in.
Highlight the department/area if possible and look for any reference numbers you can quote.
These are some examples you can add..
I am interested in applying for the role of *Investment Banking position* with your company.
I would like to apply for the role of Sales assistant (Ref: 40f57393)
I would like to express my interest in the customer service vacancy within your retail department
I saw your advert for an IT project manager on Reed and would like to apply for the role.
Highlight your suitability
The main purpose of your cover letter is to excite recruiters and make them eager to open your CV. And you achieve this by quickly demonstrating your suitability to the job you are applying for.
Take a look at the job adverts you are applying for, and make note of the most important skills being asked for.
Then, when you write your cover letter, make your suitability the focal point.
Explain how you meet the candidate requirements fully, and why you are so well suited to carry out the job.
This will give recruiters all the encouragement they need to open your CV and consider your application.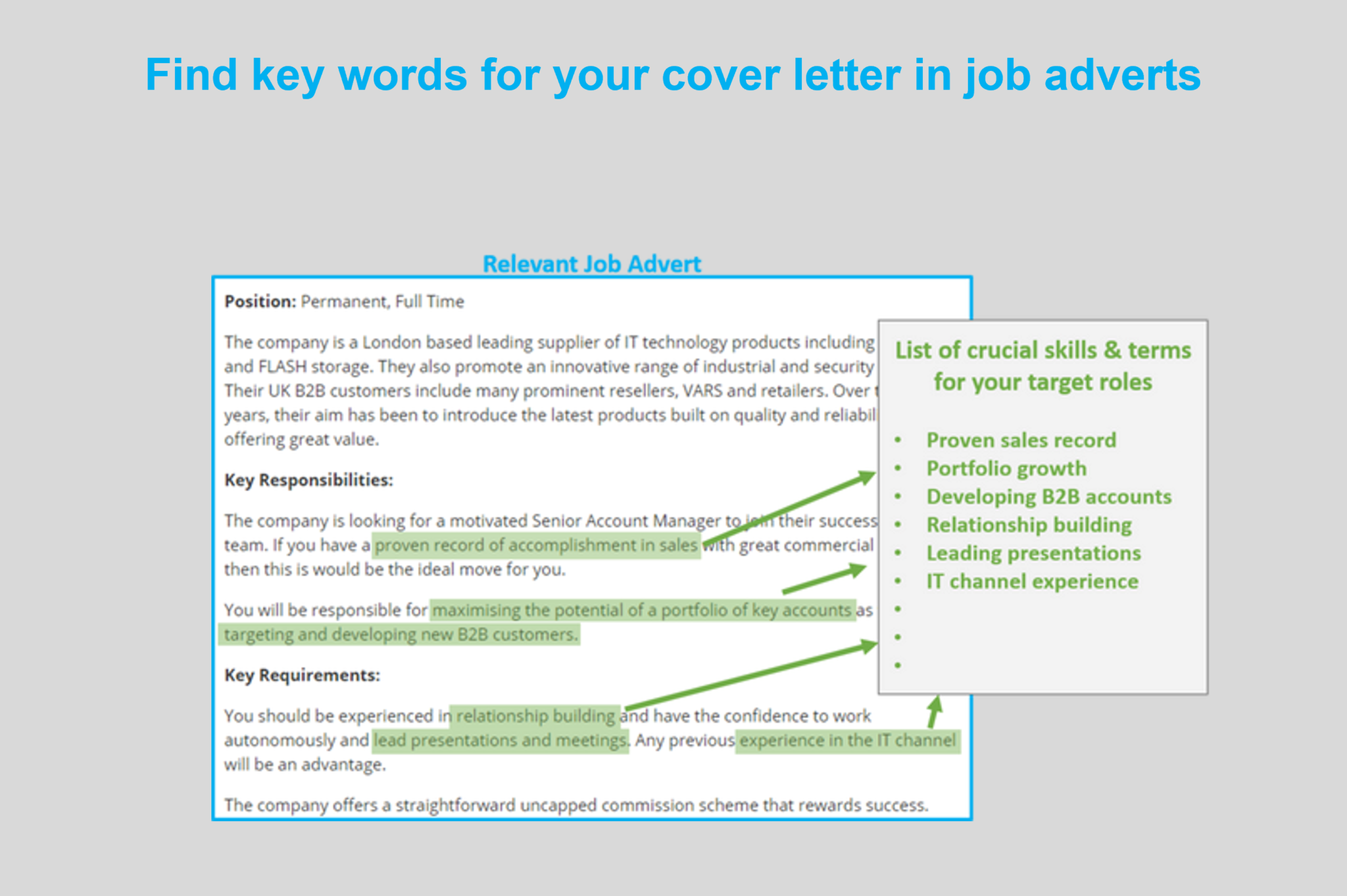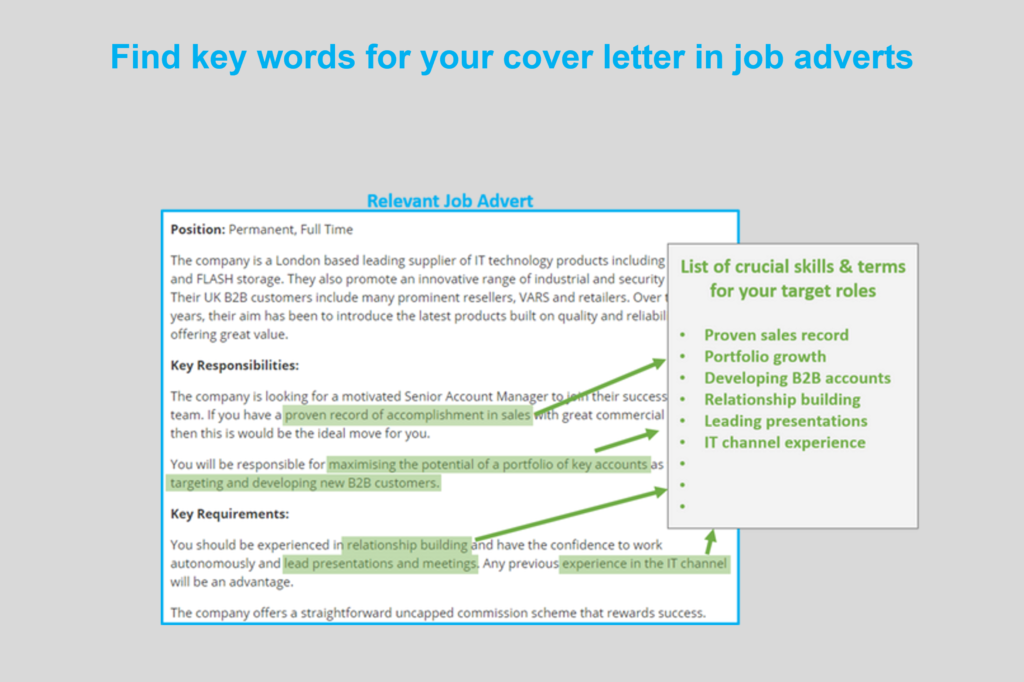 Keep it short and sharp
It is best to keep your cover letter brief if you want to ensure you hold the attention of busy recruiters and hiring managers. A lengthy cover letter will probably not get read in full, so keep yours to around 3-6 sentences and save the real detail for your CV.
Remember the purpose of your cover letter is to quickly get recruiters to notice you and encourage them to open your CV, so it only needs to include the highlights of your experience.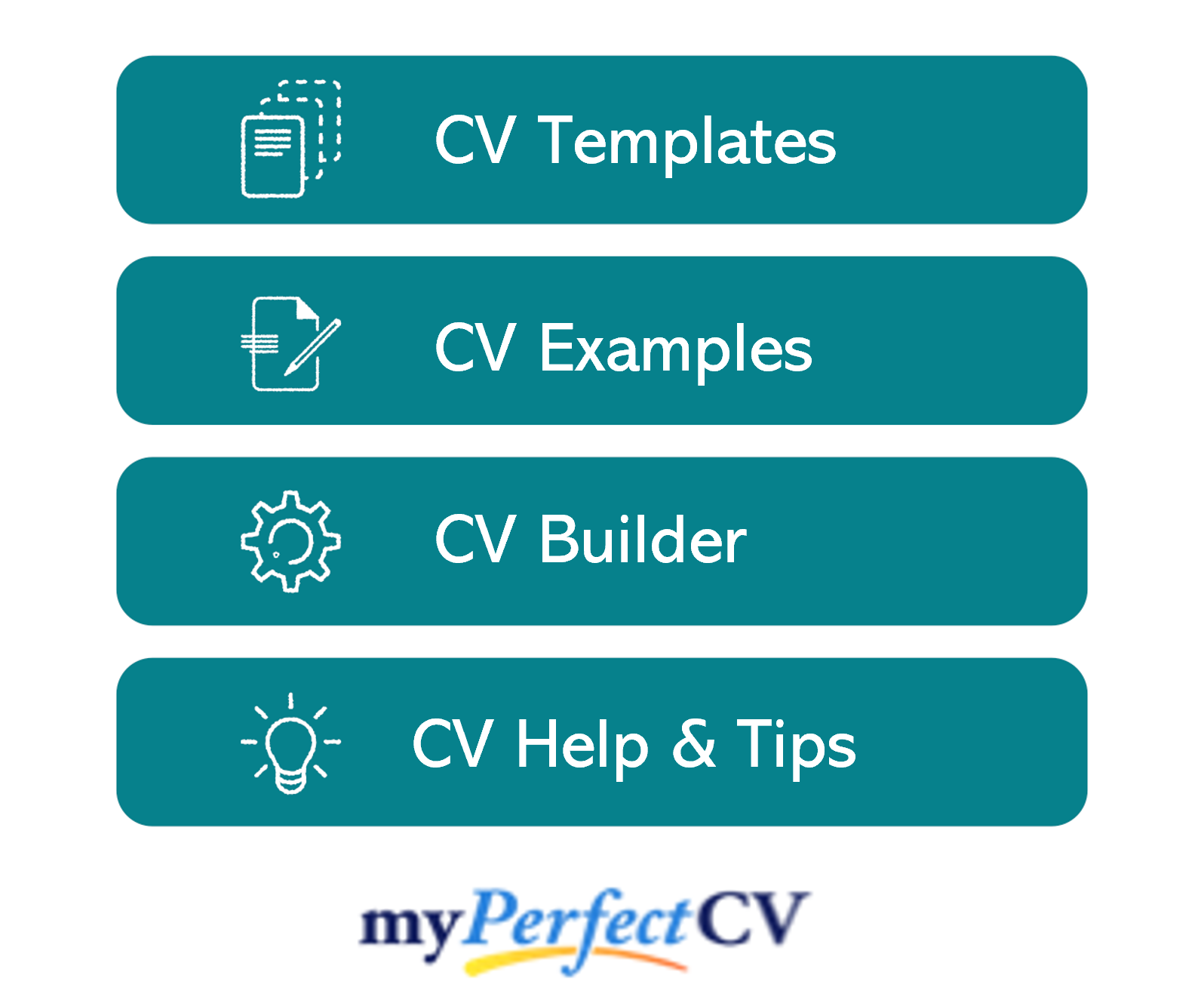 Sign off professionally
To round of your CV, you should sign off with a professional signature.
This will give your cover letter a slick appearance and also give the recruiter all of the necessary contact information they need to get in touch with you.
The information to add should include:
A friendly sign off – e.g. "Kindest regards"
Your full name
Phone number (one you can answer quickly)
Email address
Optional
Profession title
Professional social network –  e.g. LinkedIn
Here is an example signature;
Warm regards,
Jill North
IT Project Manager
078837437373
Jill@hotmail.com
LinkedIn
Quick tip: To save yourself from having to write your signature every time you send a job application, you can save it within your email drafts, or on a separate documents that you could copy in.

What to include in your Investment Banking cover letter
Here's what kind of content you should include in your Investment Banking cover letter…
The exact info will obviously depend on your industry and experience level, but these are the essentials.
Your relevant experience – Where have you worked and what type of jobs have you held?
Your qualifications – Let recruiters know about your highest level of qualification to show them you have the credentials for the job.
The impact you have made – Show how your actions have made a positive impact on previous employers; perhaps you've saved them money or helped them to acquire new customers?
Your reasons for moving – Hiring managers will want to know why you are leaving your current or previous role, so give them a brief explanation.
Your availability – When can you start a new job? Recruiters will want to know how soon they can get you on board.
Don't forget to tailor these points to the requirements of the job advert for best results.
Investment Banking cover letter templates
Copy and paste these Investment Banking cover letter templates to get a head start on your own.
Template 1
Hi Gerry,
I am writing to apply for the Investment Analyst position at CitiBank. With over 5 years of experience in financial analysis, valuation, and M&A transactions at Goldman Sachs and JPMorgan, I have honed my skills in creating financial models and conducting market research to deliver strategic advice and financial solutions to clients.
In my current role at Goldman Sachs, I manage a portfolio of over 50 clients with a total transactional asset value of £800million per annum. My in-depth understanding of the financial services industry has optimised business growth, resulting in a 30% client retention rate, surpassing company KPIs by 10%.
During my time at JPMorgan, I achieved investment returns of over 25% for clients by identifying undervalued commercial companies. Moreover, I improved productivity by 11% through the adaptation of the combined asset management database.
I am eager to bring my expertise in investment strategy, market research, and portfolio optimisation to CitiBank. I am available for an interview at your convenience and look forward to discussing how my skills can add value to your team.
Kind Regards,
Charlotte Froissant
Template 2
Hi Ellie,
I am writing to apply for the Asset Management Advisor role at JPMorgan. With a successful 20-year career as a Chartered Asset Management Advisor at leading UK banks like Morgan Stanley and Trex Bank, I possess the strategic acumen to manage a client portfolio worth over £40million.
Demonstrating my proficiency in client acquisition and revenue growth, I have grown my client portfolio by 15% in my first year at Trex Bank, generating £750K in profit for the company. In my current position, I have secured referral agreements with three third-party financial services companies, resulting in a remarkable 12% increase in local client interest. My ability to liaise with third-party organisations, combined with extensive professional networks in Madrid and New York, allows me to deliver personalised financial management plans effectively.
I am eager to discuss how my skills and achievements align with the requirements of JPMorgan. I am available for an interview at your convenience.
Kind Regards,
Stanley Dixon
Template 3
Hi Saffi,
I am delighted to apply for the Risk Manager position at Deutsche Bank. As a seasoned Risk Officer with 30 years of experience in the financial services sector, I have a proven track record of developing and implementing risk management strategies for leading UK commercial banks.
At Nationwide Building Society, I led the development of a liquidity risk management framework with a 92% success rate during the COVID-19 pandemic. Additionally, I successfully implemented a stress testing program at HSBC, enhancing the organisation's ability to assess and manage credit risks during economic downturns. My expertise in enterprise risk management, regulatory compliance, and stakeholder engagement aligns well with the requirements of the role. Moreover, my MBA from LSE and Chartered Financial Analyst (CFA) qualification further strengthen my ability to effectively navigate complex financial landscapes.
I am enthusiastic about the opportunity to contribute my versatile set of skills to the risk management team at Deutsche Bank. I am available for an interview from next week and look forward to discussing how my experience can add value to your organisation.
Kind Regards,
Helena Sidmore
Writing an impressive cover letter is a crucial step in landing a job in Investment Banking, so taking the time to perfect it is well worth while.
By following the tips and examples above you will be able to create an eye-catching cover letter that will wow recruiters and ensure your CV gets read – leading to more job interviews for you.
Good luck with your job search!