Are you ready for your next architecture role but unsure how to construct an impressive application that will get you noticed?
Then you've come to the right place.
In this guide, we'll teach you how to write a strong and creative cover letter. Simply check out our top tips and architecture cover letter examples below to inspire you.

Architecture cover letter example 1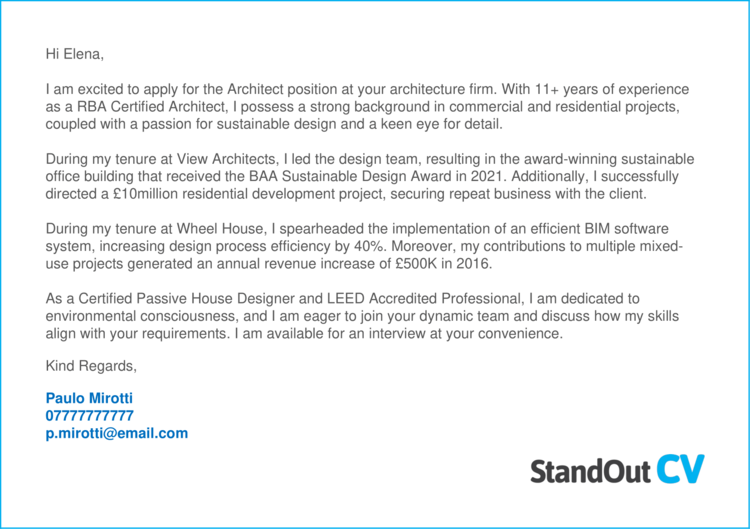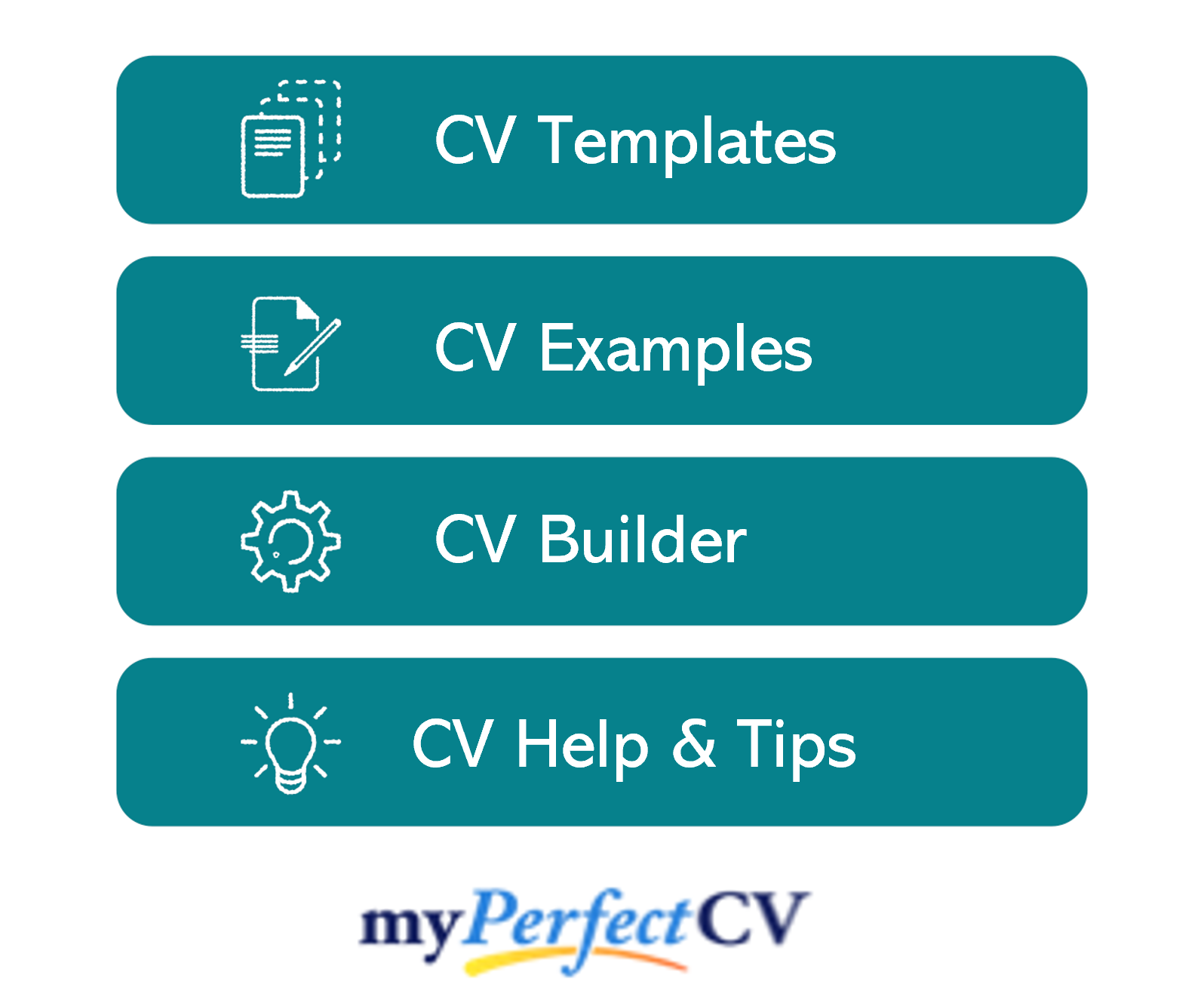 Architecture cover letter example 2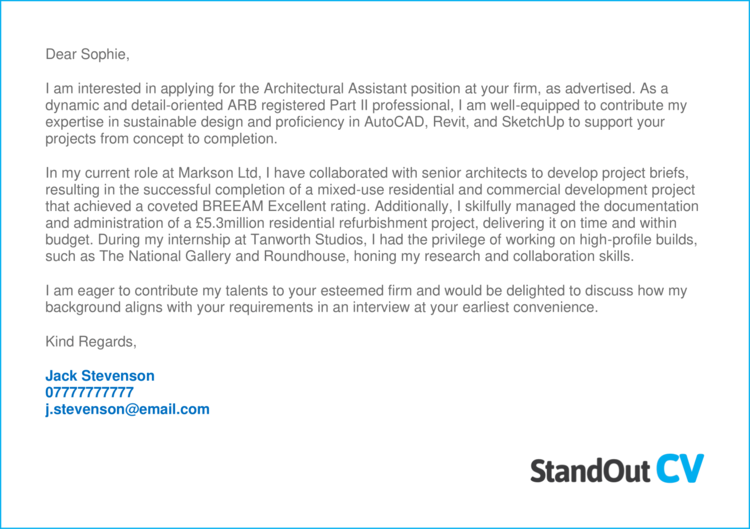 Architecture cover letter example 3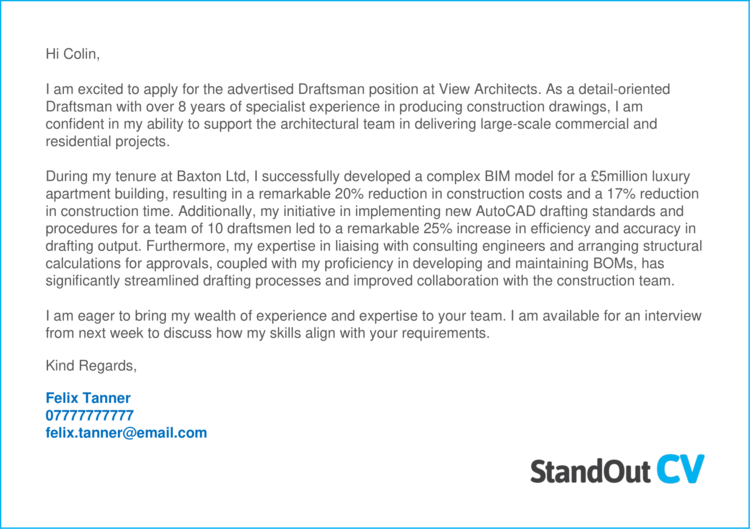 These 3 Architecture cover letter examples will provide you with some good ideas on how to format a cover letter, along with the type of message you should be trying to put across to recruiters.
To further understand exactly how you can write a cover letter that will get you noticed, check out our further guidance.
How to write an Architecture cover letter
Here's a simple process to write your own interview-winning cover letter.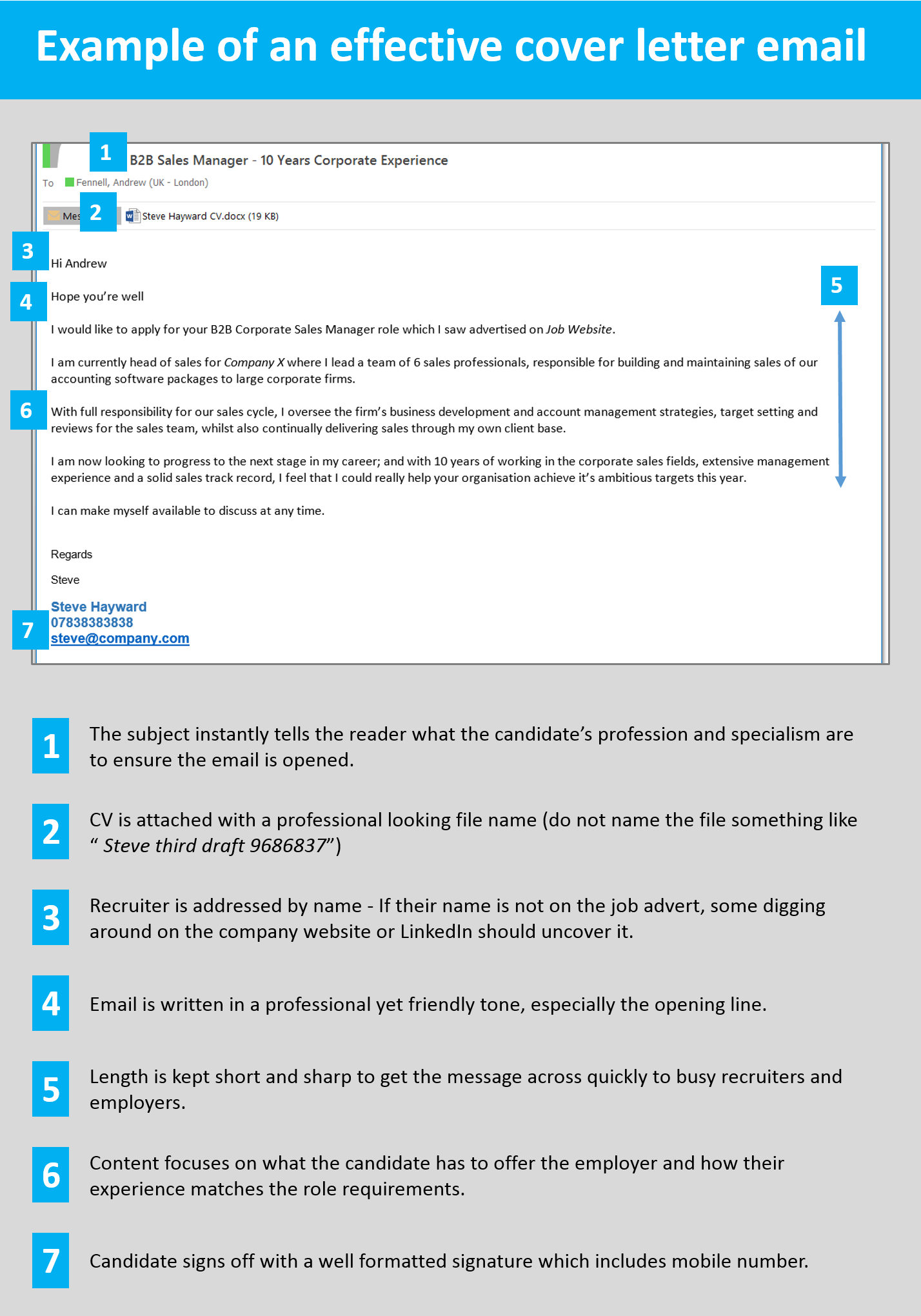 Write your cover letter in the body of an email/message
You should write your cover letter in the body of the email (or messaging system if sending via a job board) and never attach it as a document.
The reason for this?
You want your cover letter to start connecting with the recruiter from the moment they open your application.
If they have to open a document to read it, it will slow things down and they may not even bother to open it.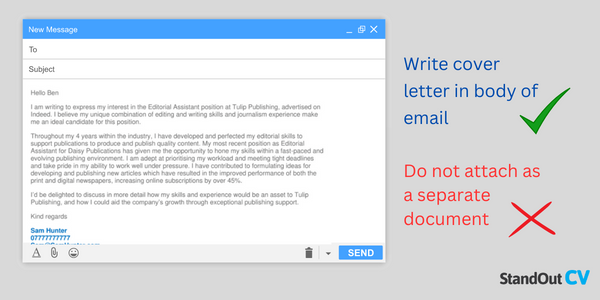 Start with a friendly greeting

To build an instant connection with the recruiter reading your cover letter, start with a warm greeting.
It should be friendly but not casual – keeping it professional at all times.
Hi, hope you're well
Hi [insert recruiter name]
Hi [insert department/team name]
Avoid overly formal greetings like "Dear sir/madam" unless applying to very traditional companies.
How to find the contact's name?
Addressing the recruitment contact by name is an excellent way to start building a strong relationship. If it is not listed in the job advert, try these methods to find it.
Check out the company website and look at their About page. If you see a hiring manager, HR person or internal recruiter, use their name. You could also try to figure out who would be your manager in the role and use their name.
Head to LinkedIn, search for the company and scan through the list of employees. Most professionals are on LinkedIn these days, so this is a good bet.
Identify the role you are applying for
Once you have opened the cover letter with a warm greeting, you need to explain which role you are interested in.
Sometimes a recruitment consultant could be managing over 10 vacancies, so it's crucial to pinpoint exactly which one you are interested in.
Highlight the department/area if possible and look for any reference numbers you can quote.
These are some examples you can add..
I am interested in applying for the role of *Architecture position* with your company.
I would like to apply for the role of Sales assistant (Ref: 40f57393)
I would like to express my interest in the customer service vacancy within your retail department
I saw your advert for an IT project manager on Reed and would like to apply for the role.
Highlight your suitability
The bulk of your cover letter should be focused around highlighting your suitability for the job you are applying to.
Doing this will show the recruiter that you are suitable candidate and encourage them to open your CV.
The best way to do this, is by studying the job advert you are applying to, and find out what the most important skills and knowledge are.
Once you know the most important requirements, you then need to highlight your matching skills to the recruiter. In a few sentences, tell them exactly why you are a good fit for the job and what you can offer the company.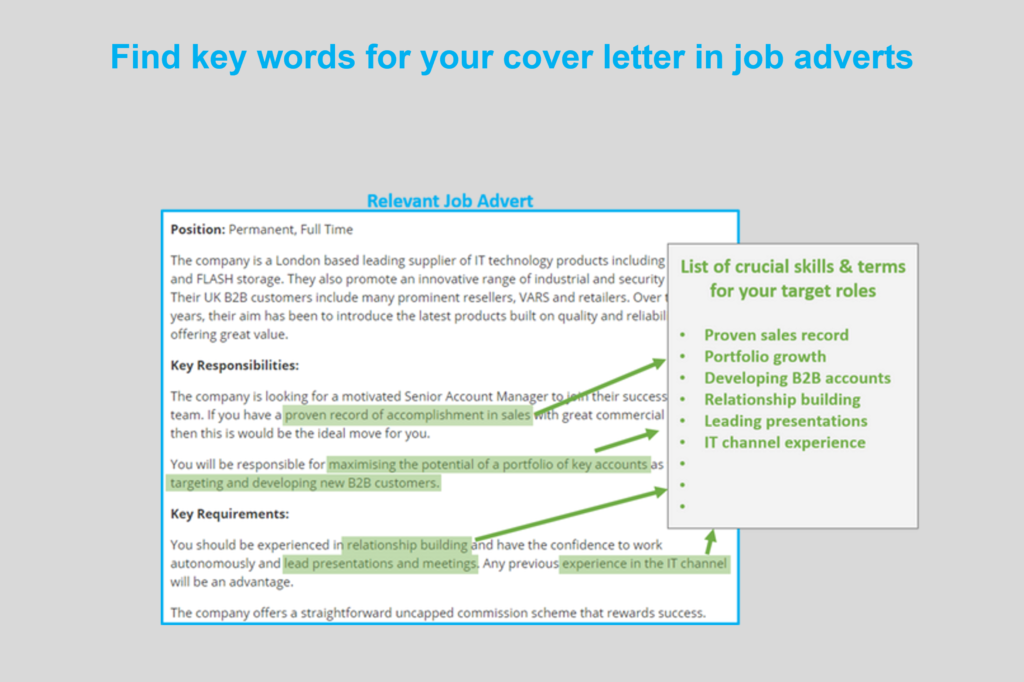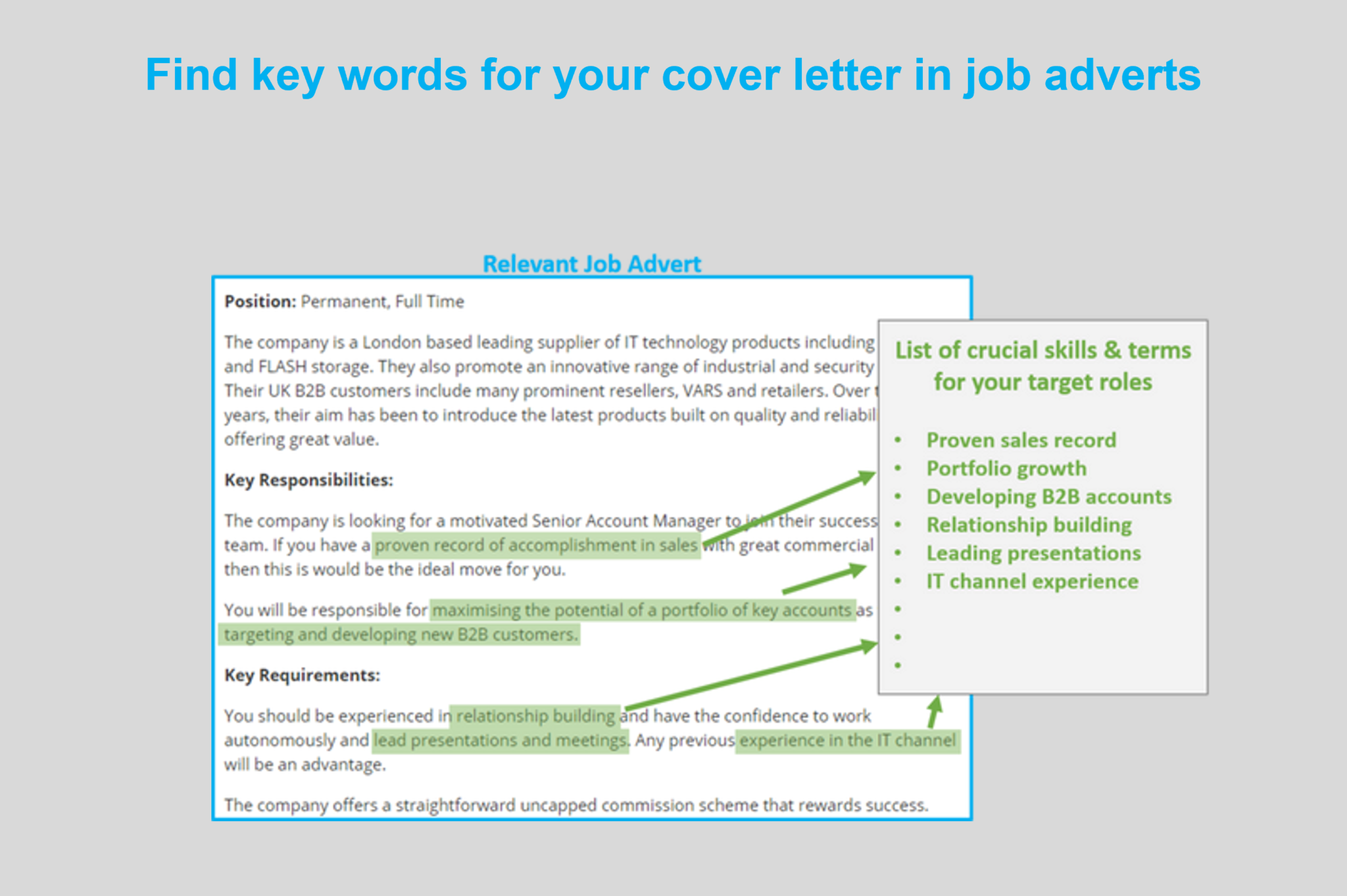 Keep it short and sharp
A good cover letter is short and sharp, getting to the point quickly with just enough information to grab the attention of recruiters.
Ideally your cover letter should be around 4-8 sentences long – anything longer will risk losing the attention of time-strapped recruiters and hiring managers.
Essentially you need to include just enough information to persuade the reader to open up your CV, where the in-depth details will sit.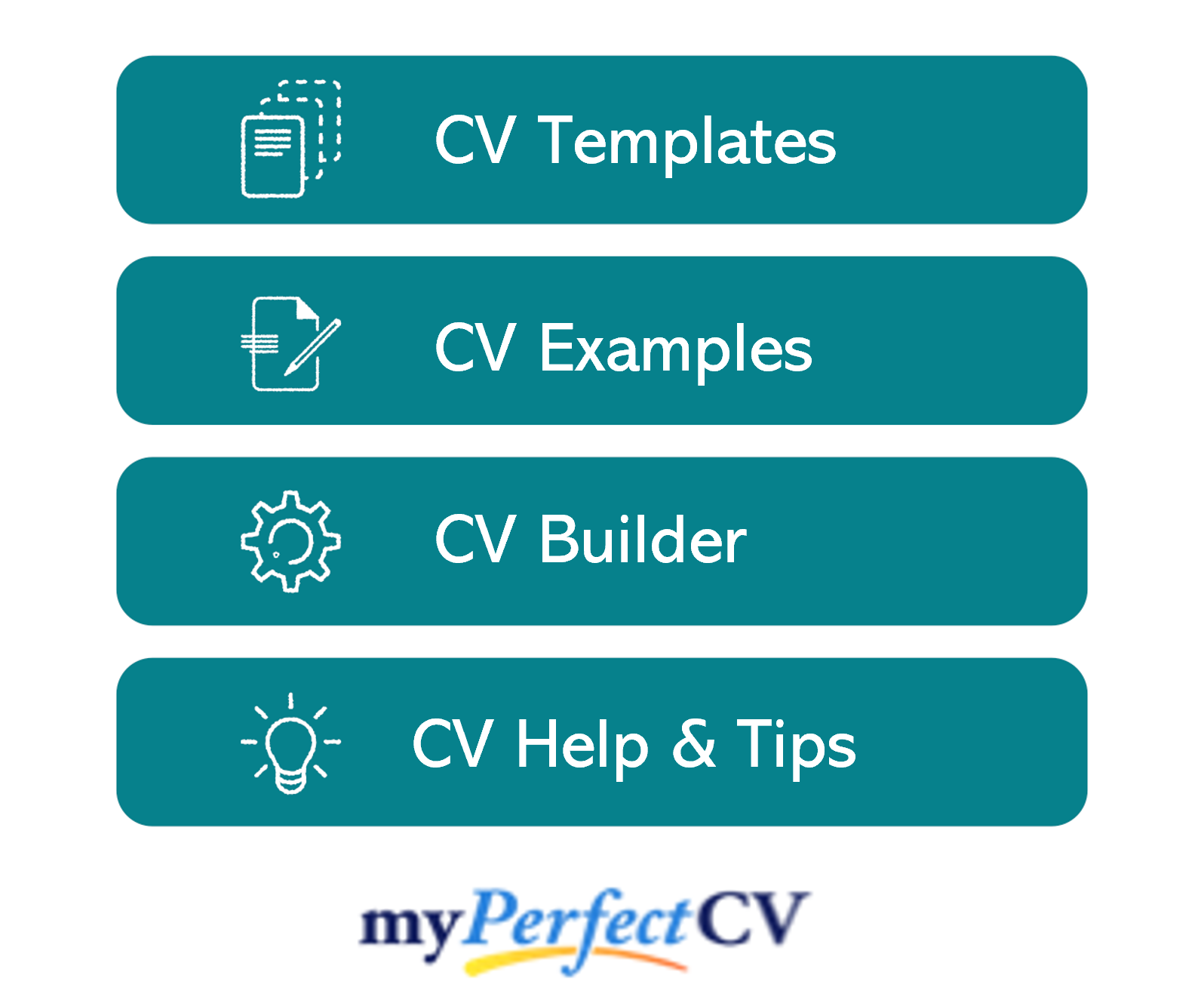 Sign off professionally
To finish off your cover note, add a professional signature to the bottom, stating your important contact details and information.
This not only provides recruiters with multiple means of contacting you, but it also adds a nice professional appearance to the cover letter, which shows that you know how to conduct yourself in the workplace.
Include the following points;
A friendly sign off – e.g. "Warm regards"
Your full name
Phone number (one you can answer quickly)
Email address
Optional
Profession title
Professional social network – e.g. LinkedIn
Here is an example signature;
Warm regards,
Aaron Smith
Customer service professional
075557437373
Aaron@smith.com
LinkedIn
Quick tip: To save yourself from having to write your signature every time you send a job application, you can save it within your email drafts, or on a separate document that you could copy in.

What to include in your Architecture cover letter
So, what type of information should you write about in your Architecture cover letter?
The specifics will obviously depend on your profession and the jobs you are applying to, but these are the key areas you should be covering.
Your industry experience – Tell recruiters the types of companies you have been working for and the roles you have held in the past.
Your qualifications – Highlight your most important relevant qualifications to show employers you are qualified to do the roles you are applying for.
The impact you have made – Demonstrate the positive impact you have made for employers in previous jobs. Have you saved money? Improved processes? Made customers happy?
Your reasons for moving – Employers will want to know why you are leaving your current/previous role, so provide them with a brief explanation here.
Your availability – When will you be able to start a new job? Check your current contract to find out your notice period if you are in a position already.
Architecture cover letter templates
Copy and paste these Architecture cover letter templates to get a head start on your own.
Template 1
Hi Elena,
I am excited to apply for the Architect position at your architecture firm. With 11+ years of experience as a RBA Certified Architect, I possess a strong background in commercial and residential projects, coupled with a passion for sustainable design and a keen eye for detail.
During my tenure at View Architects, I led the design team, resulting in the award-winning sustainable office building that received the BAA Sustainable Design Award in 2021. Additionally, I successfully directed a £10million residential development project, securing repeat business with the client.
During my tenure at Wheel House, I spearheaded the implementation of an efficient BIM software system, increasing design process efficiency by 40%. Moreover, my contributions to multiple mixed-use projects generated an annual revenue increase of £500K in 2016.
As a Certified Passive House Designer and LEED Accredited Professional, I am dedicated to environmental consciousness, and I am eager to join your dynamic team and discuss how my skills align with your requirements. I am available for an interview at your convenience.
Kind Regards,
Paulo Mirotti ¦ 07777777777 ¦ p.mirotti@email.com
Template 2
Dear Sophie,
I am interested in applying for the Architectural Assistant position at your firm, as advertised. As a dynamic and detail-oriented ARB registered Part II professional, I am well-equipped to contribute my expertise in sustainable design and proficiency in AutoCAD, Revit, and SketchUp to support your projects from concept to completion.
In my current role at Markson Ltd, I have collaborated with senior architects to develop project briefs, resulting in the successful completion of a mixed-use residential and commercial development project that achieved a coveted BREEAM Excellent rating. Additionally, I skilfully managed the documentation and administration of a £5.3million residential refurbishment project, delivering it on time and within budget. During my internship at Tanworth Studios, I had the privilege of working on high-profile builds, such as The National Gallery and Roundhouse, honing my research and collaboration skills.
I am eager to contribute my talents to your esteemed firm and would be delighted to discuss how my background aligns with your requirements in an interview at your earliest convenience.
Kind Regards,
Jack Stevenson ¦ 07777777777 ¦ j.stevenson@email.com
Template 3
Hi Colin,
I am excited to apply for the advertised Draftsman position at View Architects. As a detail-oriented Draftsman with over 8 years of specialist experience in producing construction drawings, I am confident in my ability to support the architectural team in delivering large-scale commercial and residential projects.
During my tenure at Baxton Ltd, I successfully developed a complex BIM model for a £5million luxury apartment building, resulting in a remarkable 20% reduction in construction costs and a 17% reduction in construction time. Additionally, my initiative in implementing new AutoCAD drafting standards and procedures for a team of 10 draftsmen led to a remarkable 25% increase in efficiency and accuracy in drafting output. Furthermore, my expertise in liaising with consulting engineers and arranging structural calculations for approvals, coupled with my proficiency in developing and maintaining BOMs, has significantly streamlined drafting processes and improved collaboration with the construction team.
I am eager to bring my wealth of experience and expertise to your team. I am available for an interview from next week to discuss how my skills align with your requirements.
Kind Regards,
Felix Tanner ¦ 07777777777 ¦ felix.tanner@email.com
Writing a strong attention-grabbing cover letter is a vital step in landing a good Architecture job.
Use the tips, strategies and examples above to get more responses from you job applications and start lining job interview up.
Good luck with your job search!