If you're looking for a position as an accounts assistant, you need to give yourself every chance to stand out from other qualified candidates.
And a well-written cover letter can help you to do just that.
Find out how to write an interview-winning application with our comprehensive guide and accounts assistant cover letter examples below.

Accounts Assistant cover letter example 1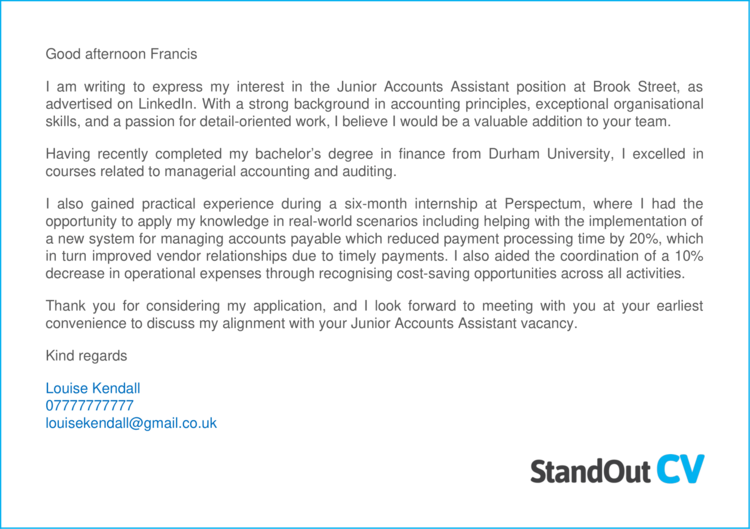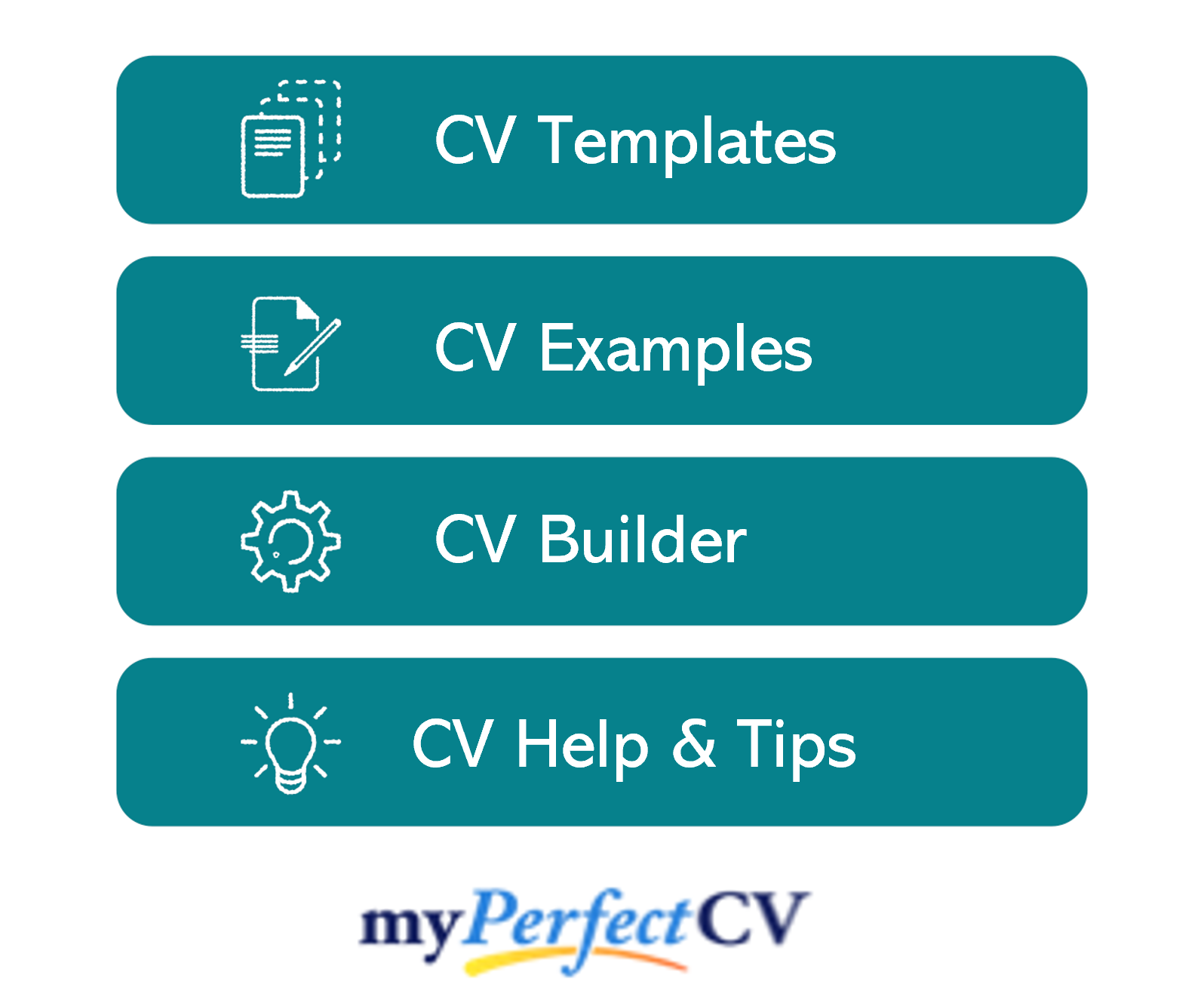 Accounts Assistant cover letter example 2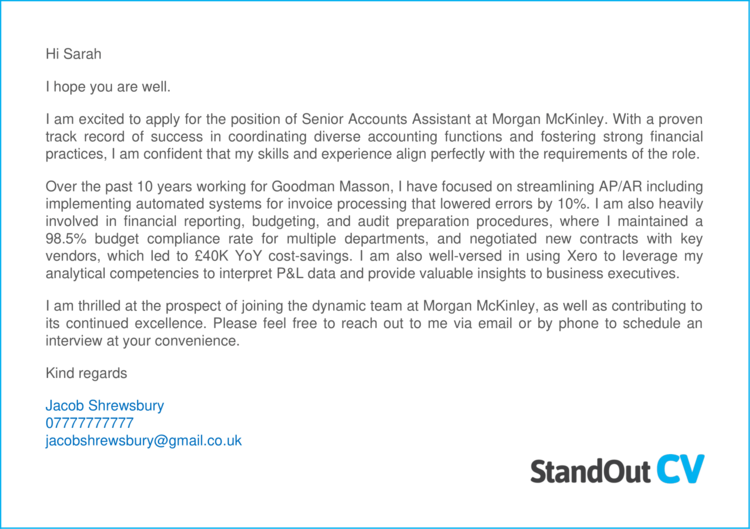 Accounts Assistant cover letter example 3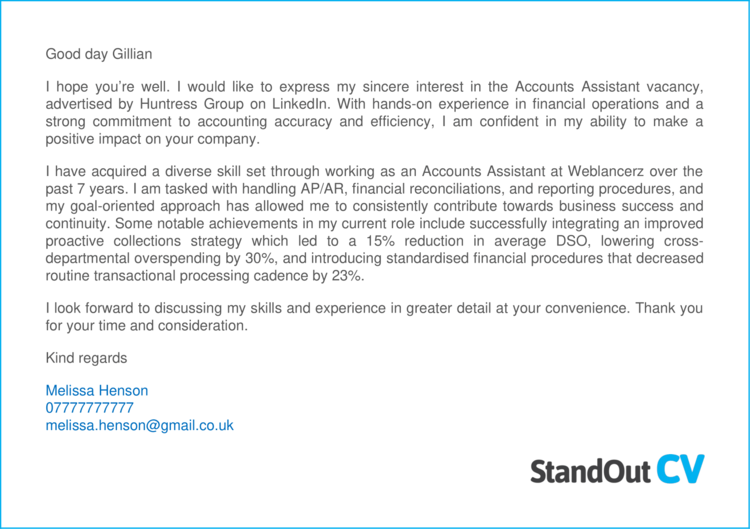 These Accounts Assistant cover letter examples provide you with some guidance and inspiration for writing a cover letter that gets noticed and ensures your CV will get opened.
But if you really want to master the art of writing a winning cover letter, then follow our step-by-step cove letter writing guide below.
How to write a Accounts Assistant cover letter
Here's how you can write your own eye-catching cover letter, broken down into simple steps.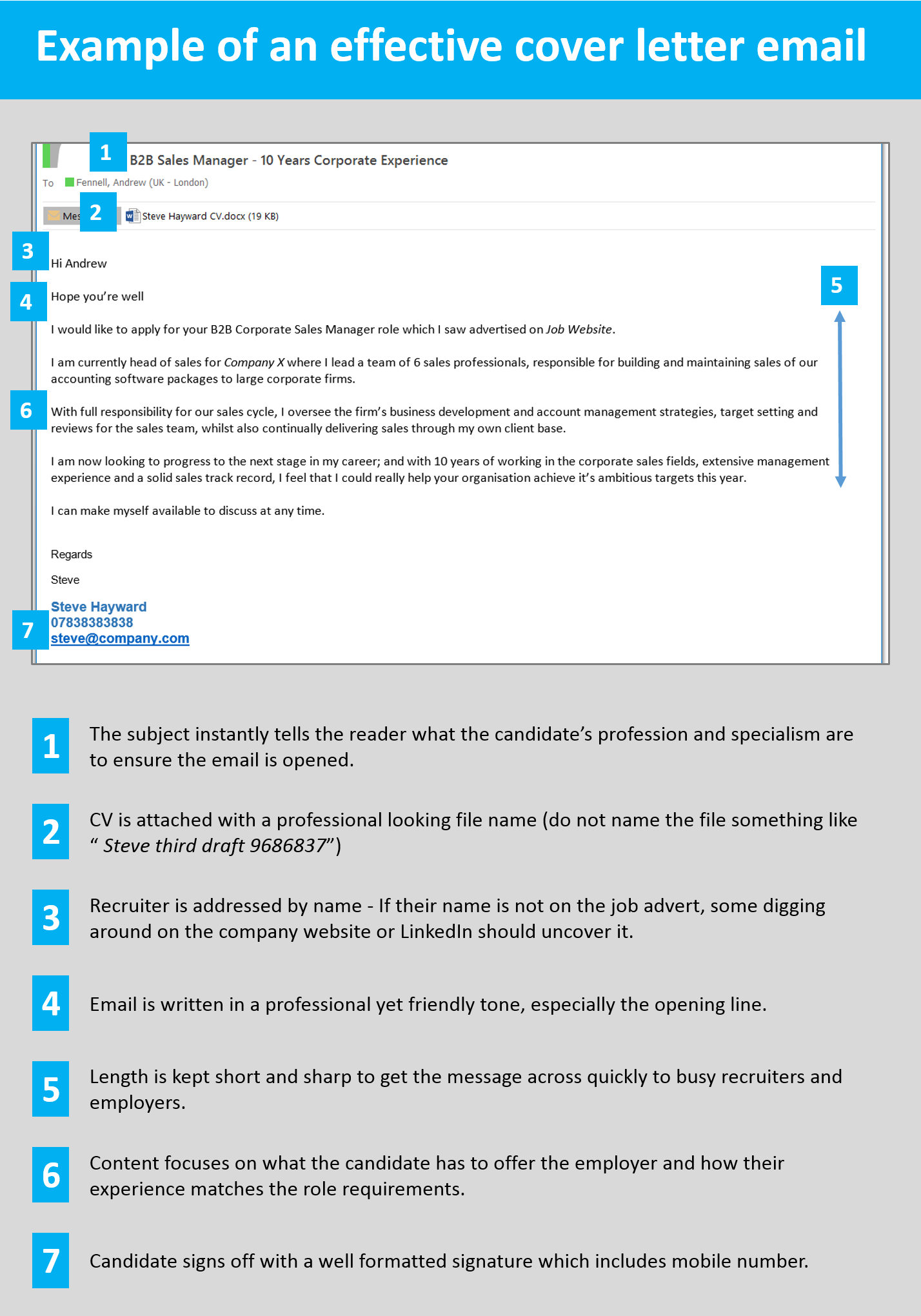 Write your cover letter in the body of an email/message
You should write your cover letter in the body of the email (or messaging system if sending via a job board) and never attach it as a document.
The reason for this?
You want your cover letter to start connecting with the recruiter from the moment they open your application.
If they have to open a document to read it, it will slow things down and they may not even bother to open it.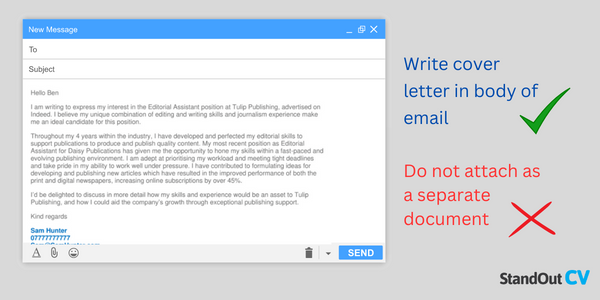 Start with a friendly greeting

To kick your cover letter off, start with a friendly greeting to build rapport with the recruiter instantly.
Your greeting should be personable but professional. Not too casual, but not too formal either
Go with something like…
Hi
Hi [insert recruiter name]
Hi [insert department/team name]
Avoid old-fashioned greetings like "Dear sir/madam" unless applying to very formal companies.
How to find the contact's name?
Addressing the recruitment contact by name is an excellent way to start building a strong relationship. If it is not listed in the job advert, try these methods to find it.
Check out the company website and look at their About page. If you see a hiring manager, HR person or internal recruiter, use their name. You could also try to figure out who would be your manager in the role and use their name.
Head to LinkedIn, search for the company and scan through the list of employees. Most professionals are on LinkedIn these days, so this is a good bet.
Identify the role you are applying for
Now that you have warmed the recruiter up with a friendly greeting, firstly you need to let them know which role you are applying for.
Sometimes a recruitment consultant will be juggling 10 or 10 vacancies, so it's important to specify which one you are applying to.
Give us much detail as possible (team/department, role title etc.) and paste in the reference number if you have one.
Here are some examples you can use.
I am interested in applying for the role of Accounts Assistant with your company.
I would like to apply for the role of Sales assistant (Ref: 40f57393)
I would like to express my interest in the customer service vacancy within your retail department
I saw your advert for an IT project manager on Reed and would like to apply for the role.
Highlight your suitability
The main purpose of your cover letter is to excite recruiters and make them eager to open your CV. And you achieve this by quickly demonstrating your suitability to the job you are applying for.
Take a look at the job adverts you are applying for, and make note of the most important skills being asked for.
Then, when you write your cover letter, make your suitability the focal point.
Explain how you meet the candidate requirements fully, and why you are so well suited to carry out the job.
This will give recruiters all the encouragement they need to open your CV and consider your application.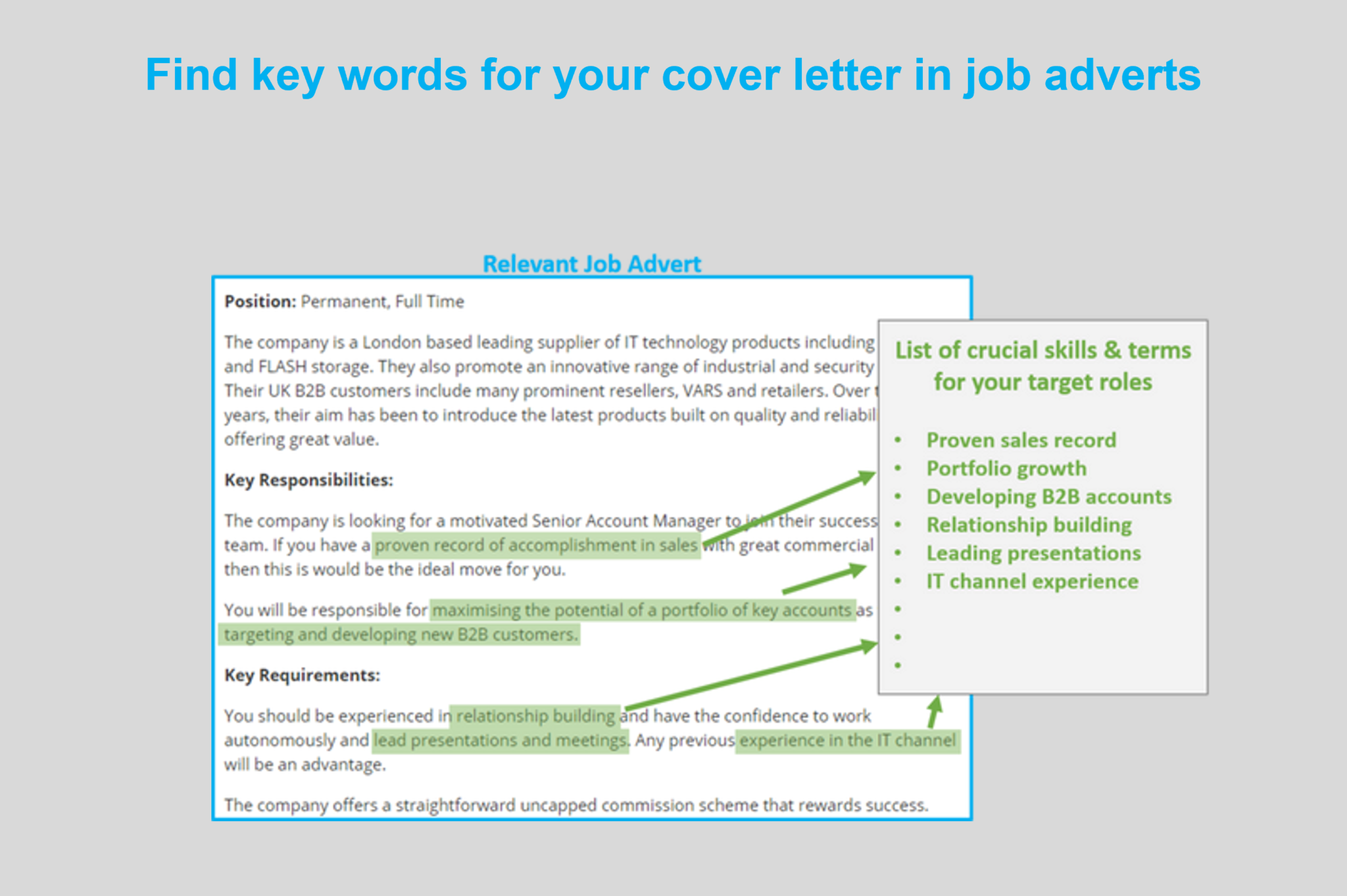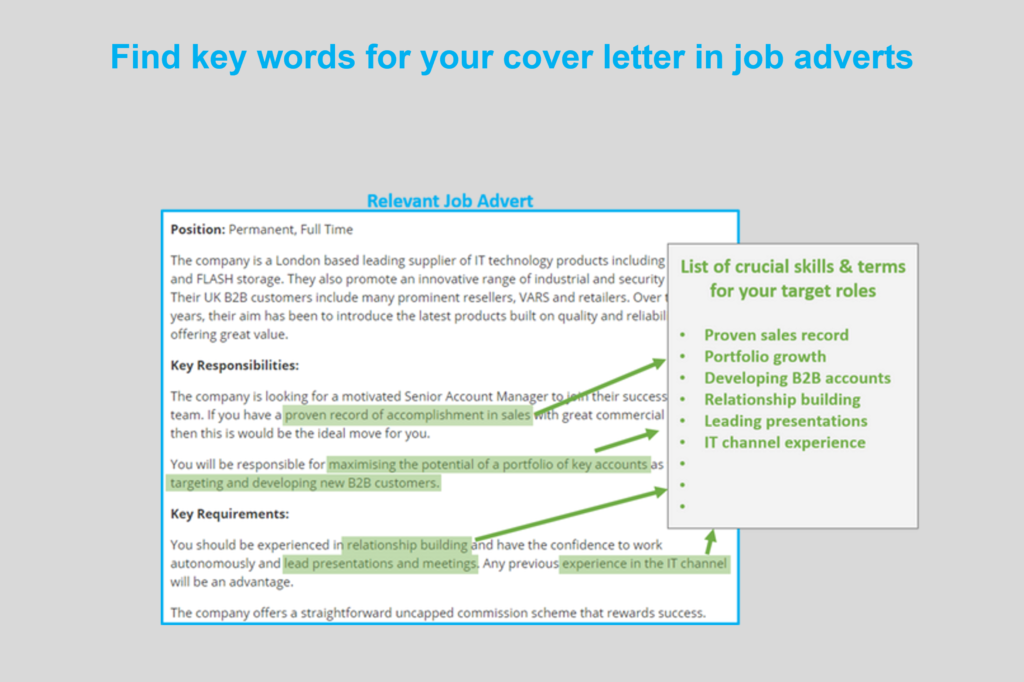 Keep it short and sharp
It is best to keep your cover letter brief if you want to ensure you hold the attention of busy recruiters and hiring managers. A lengthy cover letter will probably not get read in full, so keep yours to around 3-6 sentences and save the real detail for your CV.
Remember the purpose of your cover letter is to quickly get recruiters to notice you and encourage them to open your CV, so it only needs to include the highlights of your experience.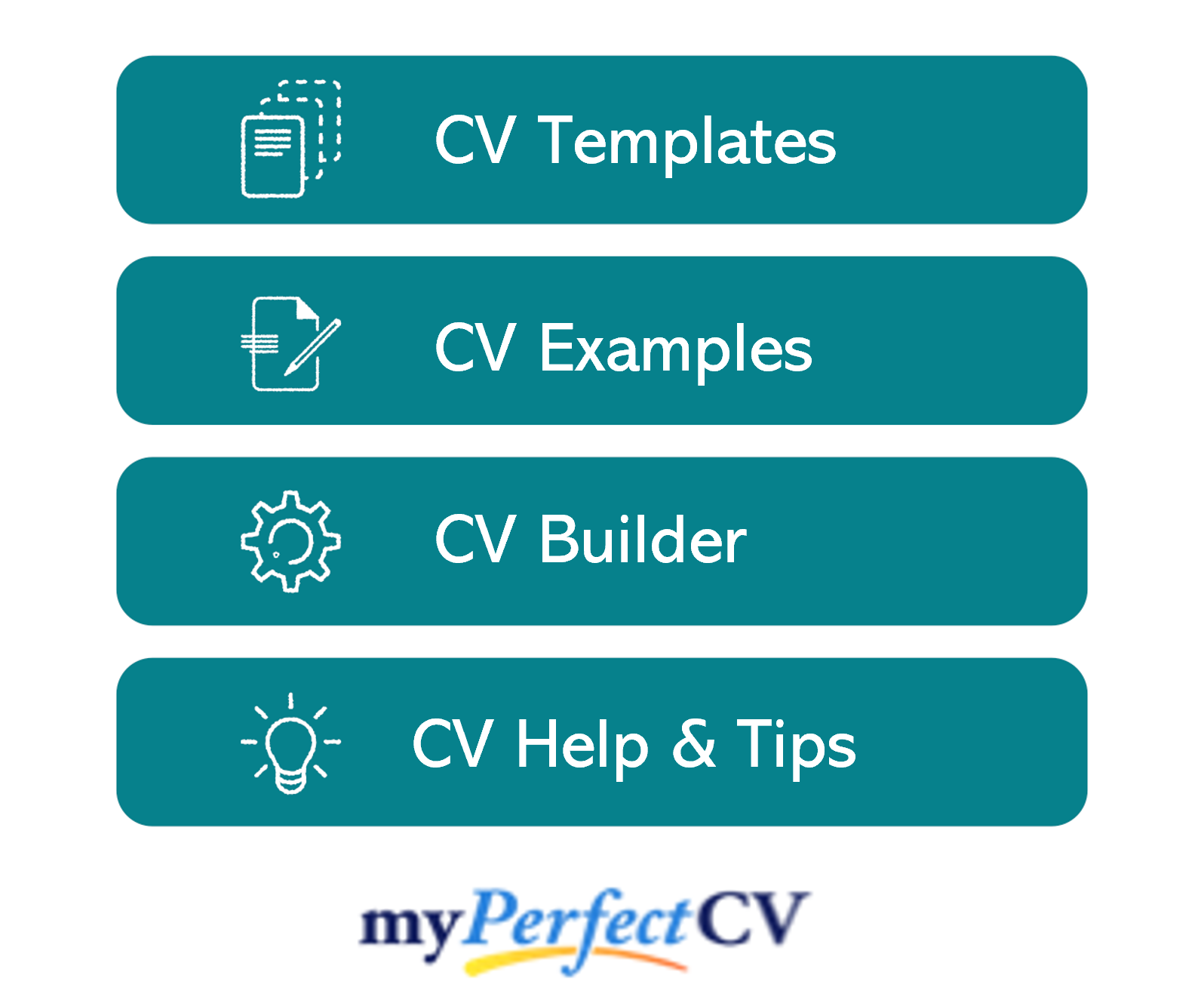 Sign off professionally
To round of your CV, you should sign off with a professional signature.
This will give your cover letter a slick appearance and also give the recruiter all of the necessary contact information they need to get in touch with you.
The information to add should include:
A friendly sign off – e.g. "Kindest regards"
Your full name
Phone number (one you can answer quickly)
Email address
Optional
Profession title
Professional social network –  e.g. LinkedIn
Here is an example signature;
Warm regards,
Jill North
IT Project Manager
078837437373
Jill@hotmail.com
LinkedIn
Quick tip: To save yourself from having to write your signature every time you send a job application, you can save it within your email drafts, or on a separate documents that you could copy in.

What to include in your Accounts Assistant cover letter
So, what type of information should you write about in your Accounts Assistant cover letter?
The specifics will obviously depend on your profession and the jobs you are applying to, but these are the key areas you should be covering.
Your industry experience – Tell recruiters the types of companies you have been working for and the roles you have held in the past.
Your qualifications – Highlight your most important relevant qualifications to show employers you are qualified to do the roles you are applying for.
The impact you have made – Demonstrate the positive impact you have made for employers in previous jobs. Have you saved money? Improved processes? Made customers happy?
Your reasons for moving – Employers will want to know why you are leaving your current/previous role, so provide them with a brief explanation here.
Your availability – When will you be able to start a new job? Check your current contract to find out your notice period if you are in a position already.
Accounts Assistant cover letter templates
Copy and paste these Accounts Assistant cover letter templates to get a head start on your own.
Template 1
Good afternoon, Francis
I am writing to express my interest in the Junior Accounts Assistant position at Brook Street, as advertised on LinkedIn. With a strong background in accounting principles, exceptional organisational skills, and a passion for detail-oriented work, I believe I would be a valuable addition to your team.
Having recently completed my bachelor's degree in finance from Durham University, I excelled in courses related to managerial accounting and auditing.
I also gained practical experience during a six-month internship at Perspectum, where I had the opportunity to apply my knowledge in real-world scenarios including helping with the implementation of a new system for managing accounts payable which reduced payment processing time by 20%, which in turn improved vendor relationships due to timely payments. I also aided the coordination of a 10% decrease in operational expenses through recognising cost-saving opportunities across all activities.
Thank you for considering my application, and I look forward to meeting with you at your earliest convenience to discuss my alignment with your Junior Accounts Assistant vacancy.
Kind regards
Louise Kendall ¦ 07777777777 ¦ louisekendall@gmail.co.uk
Template 2
Hi Sarah
I hope you are well.
I am excited to apply for the position of Senior Accounts Assistant at Morgan McKinley. With a proven track record of success in coordinating diverse accounting functions and fostering strong financial practices, I am confident that my skills and experience align perfectly with the requirements of the role.
Over the past 10 years working for Goodman Masson, I have focused on streamlining AP/AR including implementing automated systems for invoice processing that lowered errors by 10%. I am also heavily involved in financial reporting, budgeting, and audit preparation procedures, where I maintained a 98.5% budget compliance rate for multiple departments, and negotiated new contracts with key vendors, which led to £40K YoY cost-savings. I am also well-versed in using Xero to leverage my analytical competencies to interpret P&L data and provide valuable insights to business executives.
I am thrilled at the prospect of joining the dynamic team at Morgan McKinley, as well as contributing to its continued excellence. Please feel free to reach out to me via email or by phone to schedule an interview at your convenience.
Kind regards
Jacob Shrewsbury ¦ 07777777777 ¦ jacobshrewsbury@gmail.co.uk
Template 3
Good day Gillian
I hope you're well. I would like to express my sincere interest in the Accounts Assistant vacancy, advertised by Huntress Group on LinkedIn. With hands-on experience in financial operations and a strong commitment to accounting accuracy and efficiency, I am confident in my ability to make a positive impact on your company.
I have acquired a diverse skill set through working as an Accounts Assistant at Weblancerz over the past 7 years. I am tasked with handling AP/AR, financial reconciliations, and reporting procedures, and my goal-oriented approach has allowed me to consistently contribute towards business success and continuity. Some notable achievements in my current role include successfully integrating an improved proactive collections strategy which led to a 15% reduction in average DSO, lowering cross departmental overspending by 30%, and introducing standardised financial procedures that decreased routine transactional processing cadence by 23%.
I look forward to discussing my skills and experience in greater detail at your convenience. Thank you for your time and consideration.
Kind regards
Melissa Henson ¦ 07777777777 ¦ melissa.henson@gmail.co.uk
Writing a strong attention-grabbing cover letter is a vital step in landing a good Accounts Assistant job.
Use the tips, strategies and examples above to get more responses from you job applications and start lining job interview up.
Good luck with your job search!