You're a self-employed cleaner and you've just found the perfect role as a house cleaner.
But to land the job, you need to wow the owner, and since they've never seen how impressively clean you can get an oven, you need another way to grab their attention.
You need to write an application that will sweep them off their feet and we can show you how to do just that with handy tips and a self-employed house cleaner resume example.
Contents
| | |
| --- | --- |
| How to write your Self Employed House Cleaner resume | |

Self Employed House Cleaner Resume Example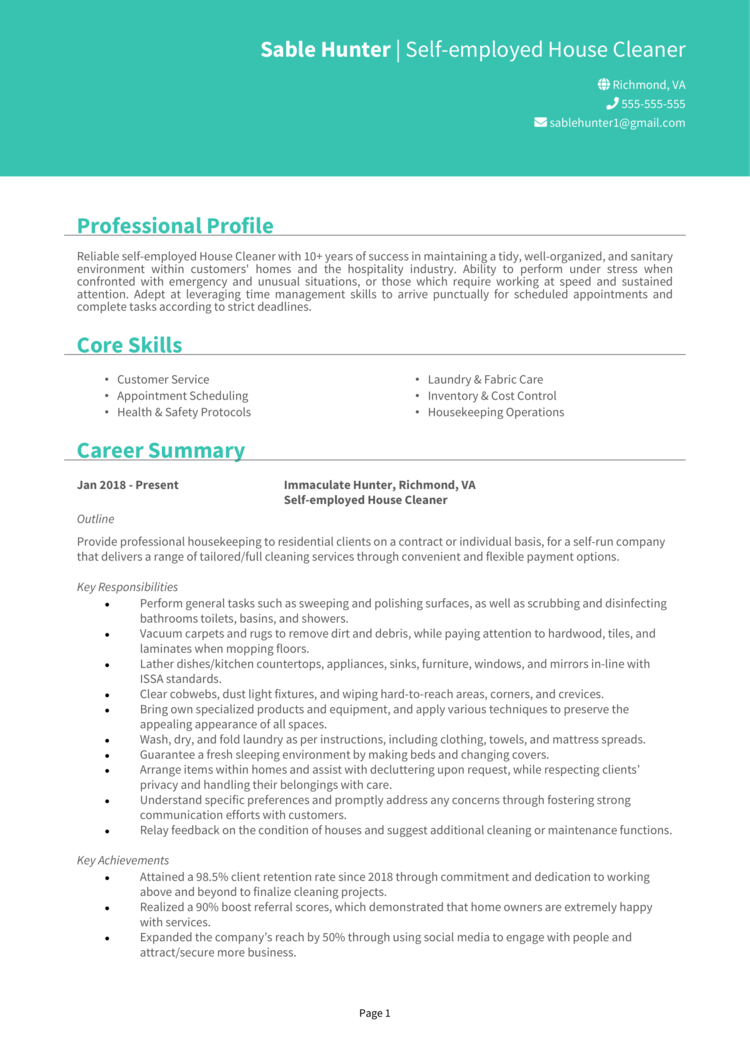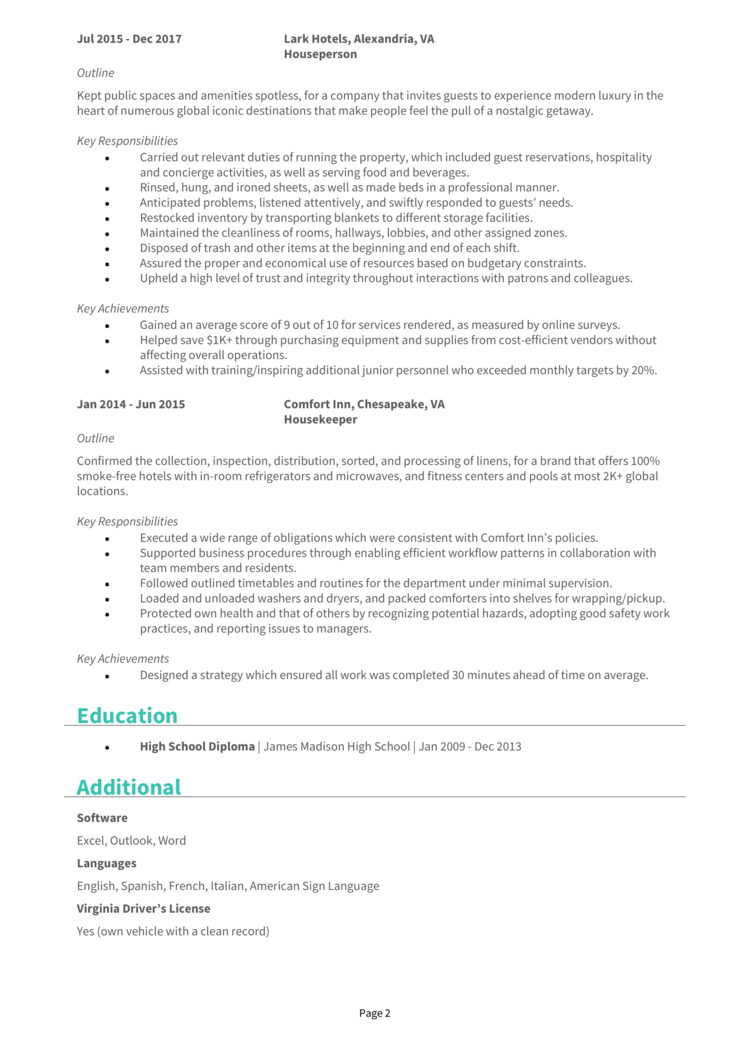 This example Self Employed House Cleaner resume provides you with a general idea of how your resume should look, and what information recruiters expect to see.
The rest of this guide will explain how to layout your resume and create each section effectively.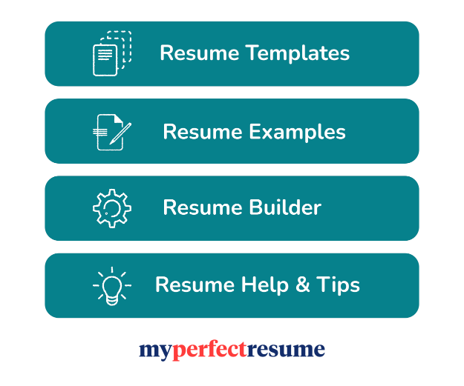 Self Employed House Cleaner resume layout and format
Formatting and structuring your resume correctly is key to landing job interviews.
Your resume needs to look attractive, but more importantly it needs to be easy for recruiters and hiring managers to read and digest the information.
These tips will help you to do that: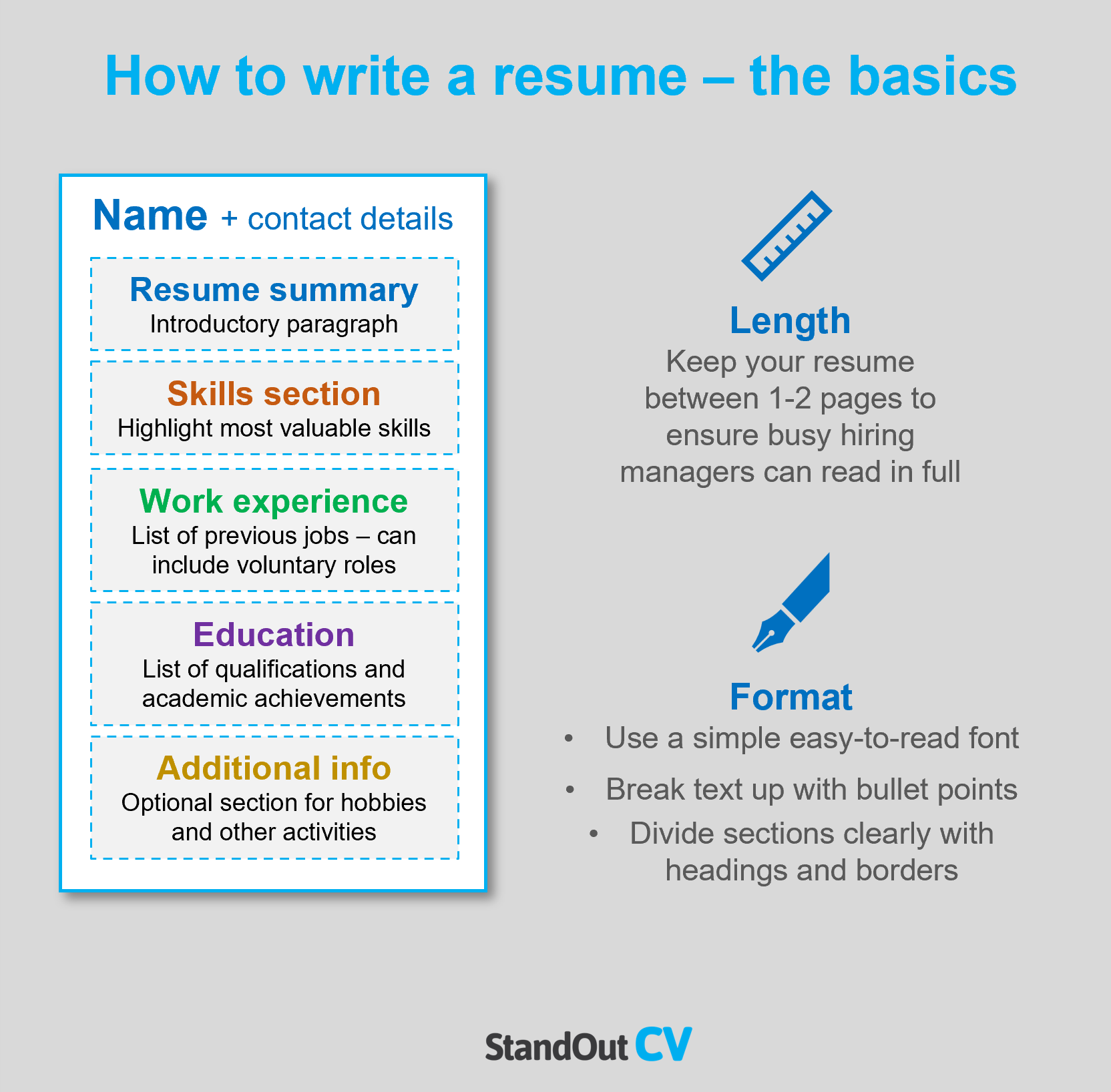 Formatting your resume
Length: Recruiters often see hundreds of resumes per day – so keep yours under 2 pages in length, if you want to ensure it gets read in full.
Font & readability: Simplicity and a pleasant reading experience are crucial if you want to highlight your most valuable skills to recruiters. Use a clear font (avoid fancy ones) and break up the text in your resume with bullet points to ensure information can be easily consumed.
Layout: A visually appealing resume is important, but don't forget about functionality. To ensure a functional design, use bold headings and borders to organize the page into clear sections.
Photos: You are not obliged to add a photo to your resume in the USA, but it can be a nice way of adding some life to the document.
Quick tip: Achieving a professional look for your resume can be difficult and time-consuming. If you want to create an attractive resume quickly, try our partner's Resume Builder and use one of their eye-catching resume templates.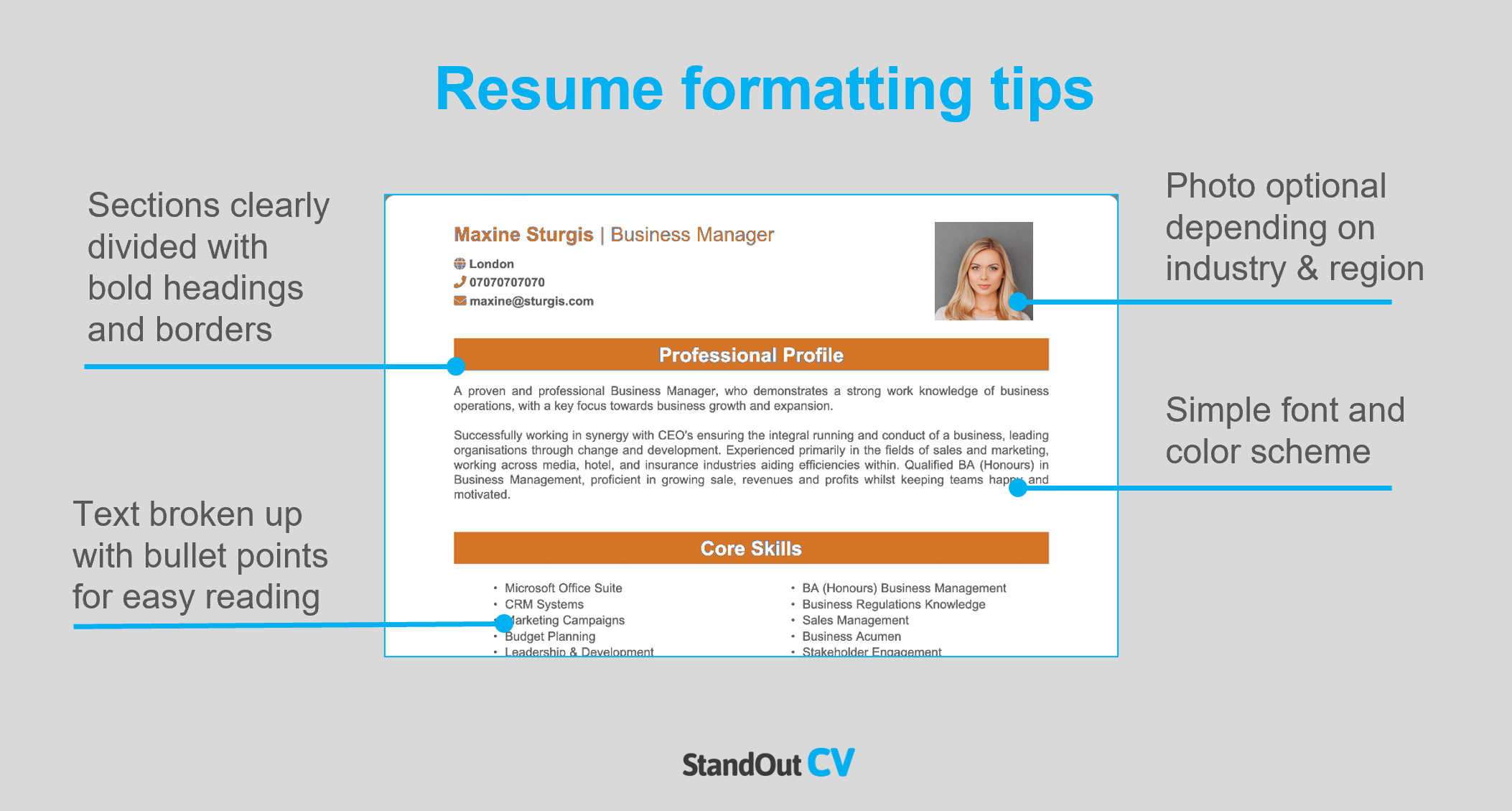 Resume layout
When you write your resume, include the sections below.
Name and contact details – Pop these at the very top to ensure recruiters know how to contact you.
Resume summary – An eye-catching paragraph which summarizes your most valuable attributes – placed near the top of your resume
Skills section – A bullet pointed list of your most in-demand skills, enabling recruiters to see your suitability from a glance.
Work experience – List some or all of your previous jobs in reverse chronological order – voluntary work and college placements can be included if you have no paid experience.
Education – A summary of your professional training and academic qualifications.
Additional info – An optional section for anything that may boost your application, such as relevant hobbies and interests
Here's what to add to each section of your Self Employed House Cleaner resume.
Contact Details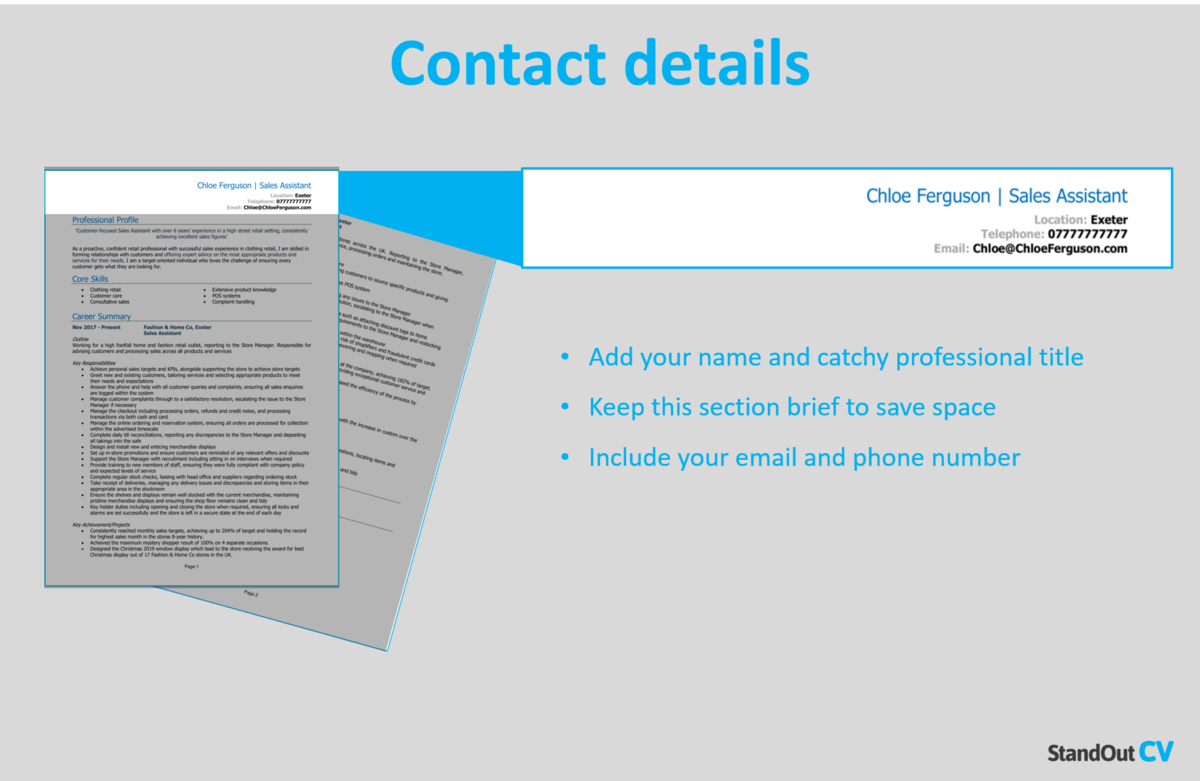 Keep your contact details short to save resume space and include the following.
Name and profession title
Cell phone number
Location – Add your local area such as Silicon Valley or New York, unless you are looking for work in a different location
Email address – Keep it professional and don't use an old address that you thought was cool in high school, but now looks a bit embarrassing.
You can add a link to your LinkedIn profile if you have one – you do not need to include personal details like date of birth or marital status.
Self Employed House Cleaner Resume Summary
Your resume summary is like an elevator pitch. It's your chance to sell yourself to employers within a short space of time.
Achieve this by summarizing your skills and expertise, whilst highlighting your abilities that closely match the jobs you are aiming for.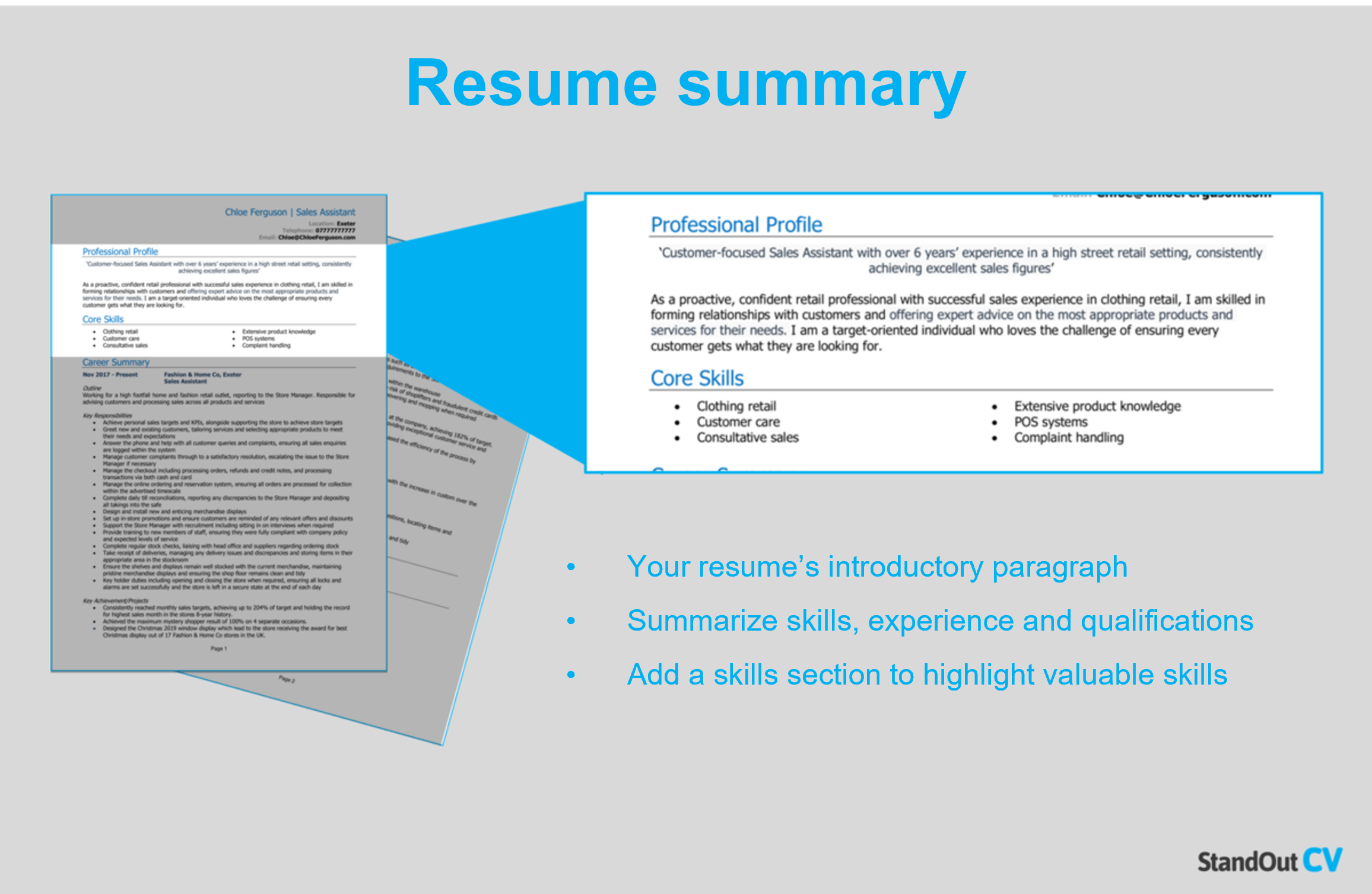 How to create a resume summary that will excite recruiters:
Keep it short: To capture a recruiter's attention and keep them interested in your resume, limit your summary to 4-7 lines as you only have a few seconds to make an impression
Tailor to target jobs: To mirror your target jobs, scrutinize the job description and include as many relevant skills as possible in your resume.
Avoid using cliches: Although you may believe that you're a "team player who always gives 110%," these kinds of cliches don't communicate much about your skills and qualifications to potential employers. It's more effective to stick to factual information in your resume.
Self Employed House Cleaner resume summary example
Reliable self-employed House Cleaner with 10+ years of success in maintaining a tidy, well-organized, and sanitary environment within customers' homes and the hospitality industry. Ability to perform under stress when confronted with emergency and unusual situations, or those which require working at speed and sustained attention. Adept at leveraging time management skills to arrive punctually for scheduled appointments and complete tasks according to strict deadlines.
What to include in your Self Employed House Cleaner resume summary?
Summary of your experience: What kind of companies have you worked for in the past? And which jobs have you carried out?
Relevant skills: Include your skills which are hyper relevant to Self Employed House Cleaner jobs to instantly show your suitability.
Qualifications: Mention any Self Employed House Cleaner qualifications that are important to your profession in the summary briefly, to show you are qualified to carry out the role.
Quick tip: Choose from hundreds of pre-written summaries across all industries, and add one to your resume with one-click in our partner's Resume Builder. All written by recruitment experts and easily tailored to suit your unique skillset and style.
Core skills section
Your core skills section, positioned just below your resume summary, provides recruiters with a quick glance at 4-10 of your most in-demand skills.
For Self Employed House Cleaner jobs, where hiring managers may receive hundreds of applications, this section can help you stand out and immediately grab their attention.
To be effective, this section should consist of 2-3 columns of bullet points that highlight attributes that are highly relevant to the jobs you are targeting.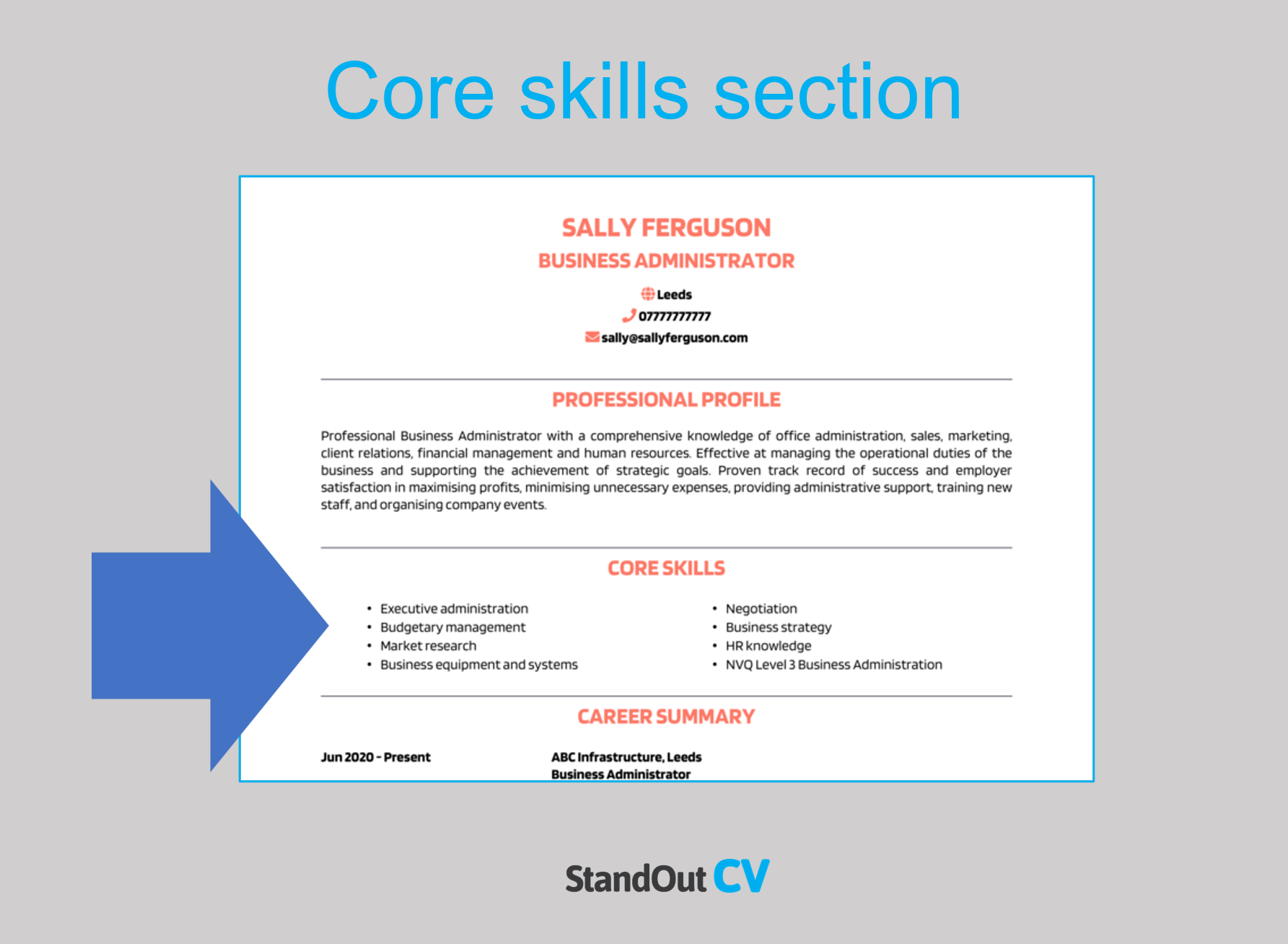 Best skills for your Self Employed House Cleaner resume
Cleaning Techniques – Using various cleaning methods and tools to achieve thorough and efficient cleaning of different surfaces and materials in homes.
Time Management – Managing time effectively to complete cleaning tasks within designated schedules, especially when handling multiple clients.
Attention to Detail – Focussing on the smallest details to ensure all areas of the home are cleaned meticulously and no spots are missed.
Client Communication – Communicating with clients to understand their specific cleaning needs, address concerns, and maintain a professional and courteous relationship.
Problem Resolution – Handling unexpected cleaning challenges, such as tough stains or delicate materials, and finding suitable solutions.
Inventory Management and Organization – Organizing cleaning supplies and equipment, ensuring everything is easily accessible and ready for use.
Customer Service – Providing exceptional customer service to retain clients and potentially gain referrals for new business opportunities.
Safety Awareness – Maintaining knowledge of safe cleaning practices and the proper use of cleaning chemicals to prevent accidents and ensure the well-being of clients and self.
Time Estimation – Estimating the time required to complete cleaning tasks accurately, allowing for efficient scheduling and client satisfaction.
Business Management – Managing a self-employed business, maintaining a reliable cleaning routine, and meeting client expectations.
Quick tip: Our partner's Resume Builder contains thousands of in-demand skills for every profession that can be added to your resume in seconds – saving you time and greatly improving your chances of landing job interviews and getting hired.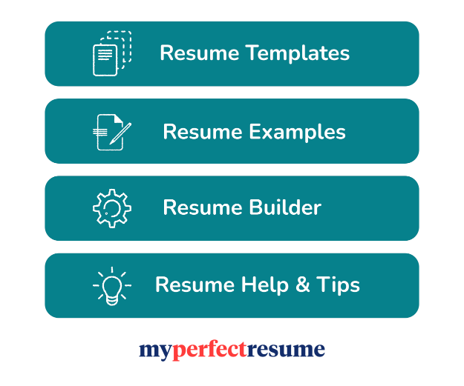 Work experience
Congratulations on successfully capturing the recruiter's interest with your attention-grabbing summary! Now, it's time to showcase your workplace impact by providing a detailed list of your previous job experiences and achievements.
If you have significant experience, consider highlighting the most recent few years to condense this section. However, for junior job seekers, it's essential to include as much relevant experience as possible, including volunteering and school work placements.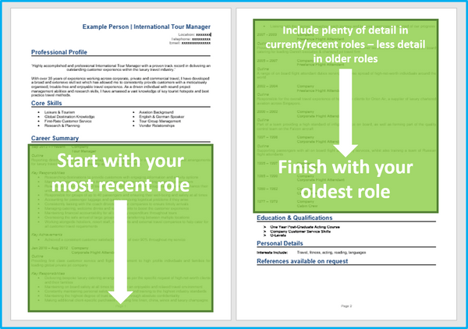 Structuring your jobs
You probably do a lot in your job, so its vital to break all of that information down into a good structure.
Structure your jobs as follows to make it easy for recruiters to skim through and pinpoint the essential info.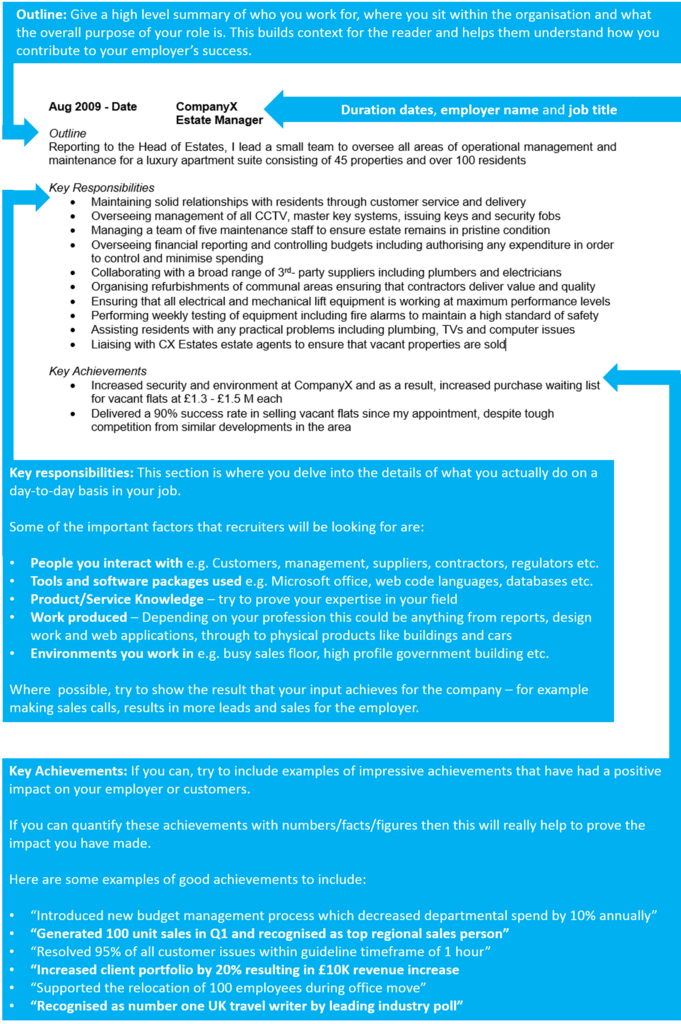 Job outline
To provide context to your jobs, begin each job with a concise summary of the organization, your role within it, and the main objectives of your position.
Key responsibilities
The bulk of the role description should be comprised of bullet points that explain all of your duties in the job.
Keep the sentences short and simple to make them easy for recruiters to digest.
Key achievements
Finish each role by highlighting some impressive achievements you made whilst in the role.
Anything that benefited the employer can be included from making financial savings, to winning new customers.
Quantify your achievements with facts and figures if you can, e.g. "reduced call wait time by 10%"
Example job for Self Employed House Cleaner resume
Outline
Provide professional housekeeping to residential clients on a contract or individual basis, for a self-run company that delivers a range of tailored/full cleaning services through convenient and flexible payment options.
Key Responsibilities
Perform general tasks such as sweeping and polishing surfaces, as well as scrubbing and disinfecting bathrooms toilets, basins, and showers.
Vacuum carpets and rugs to remove dirt and debris, while paying attention to hardwood, tiles, and laminates when mopping floors.
Lather dishes/kitchen countertops, appliances, sinks, furniture, windows, and mirrors in-line with ISSA standards.
Clear cobwebs, dust light fixtures, and wiping hard-to-reach areas, corners, and crevices.
Quick tip: Create impressive job descriptions easily in our partner's Resume Builder by adding pre-written job phrases for every industry and career stage.

Education section
Near the end of your resume add your education section.
Experienced candidates should keep it brief and focus on professional qualifications – and junior candidates can include high school diplomas, college degrees etc.
Additional information
At the end of your resume, you can add any extra information that might be relevant to the jobs you are applying for.
This could be hobbies, interests, publications, clubs or memberships.
This section is optional and doesn't need to be added if you have nothing more relevant to add.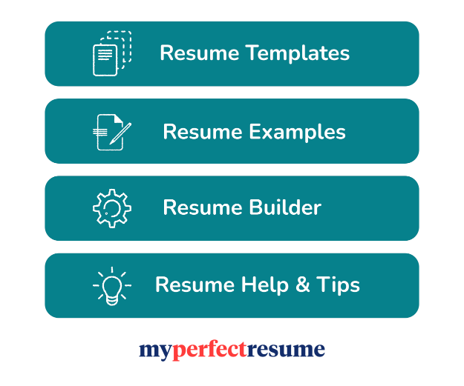 Writing your own winning Self Employed House Cleaner resume
By tailoring your resume to the specific job and industry you are targeting and ensuring that it effectively communicates your professional value, you can position yourself as a top candidate for all Self Employed House Cleaner positions.
Good luck with your job search!