Everyone looks forward to payday, and as a payroll administrator, you'll be there to ensure everyone is paid correctly and on time.
But before you can do that, you need to secure yourself an administrator position.
You can increase your chances of landing the role with our step-by-step writing guide and payroll administrator resume example below.
Contents
| | |
| --- | --- |
| How to write a Payroll Administrator resume | |

Payroll Administrator Resume Example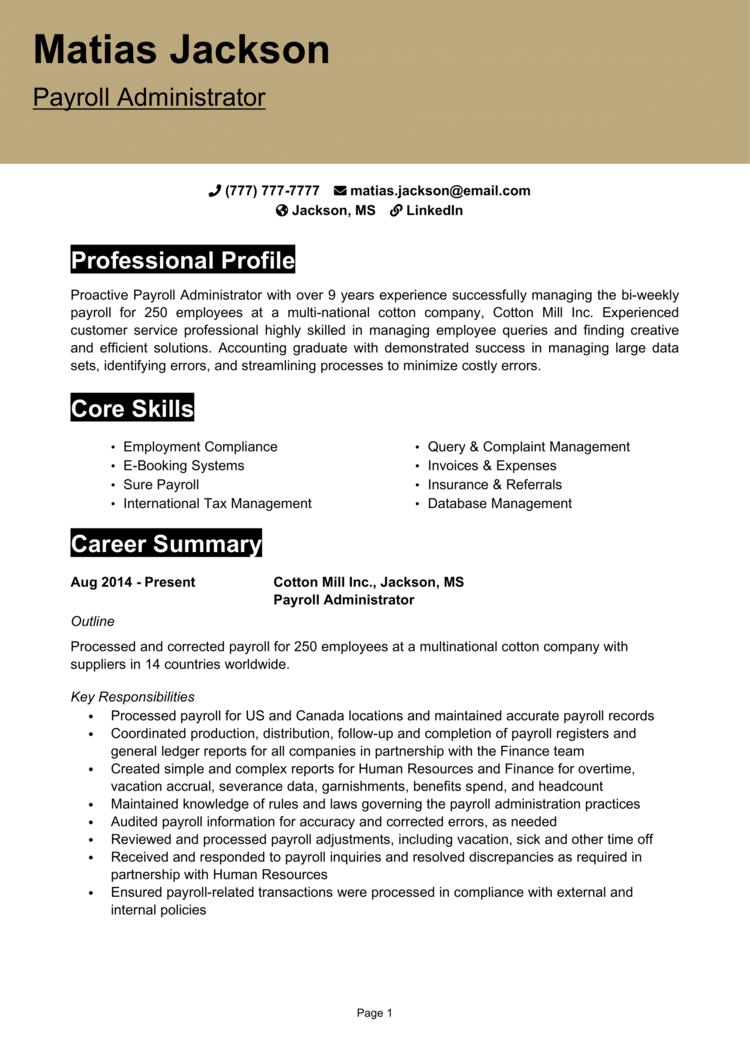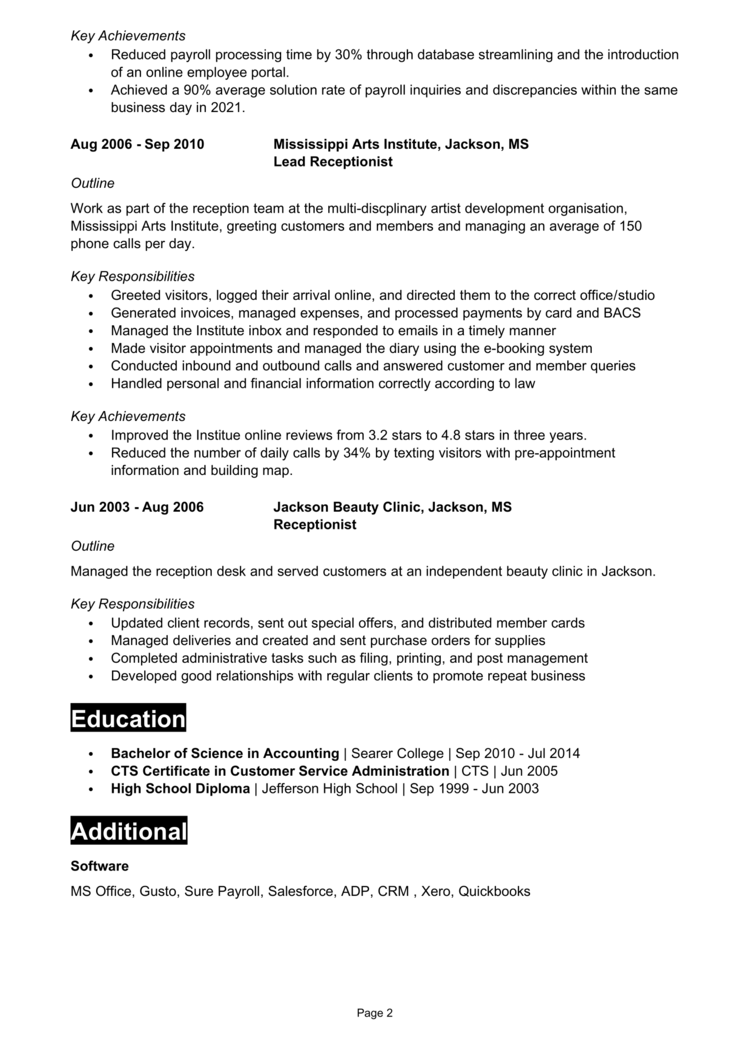 This example Payroll Administrator resume gives you a general idea of how to structure your own resume, along with the type of content you need to include.
Sticking with this resume format will help you to get noticed by employers and ensure that they can quickly see the benefit of hiring you.
Now, lets walk through a step-by-step guide on how to write your own winning resume.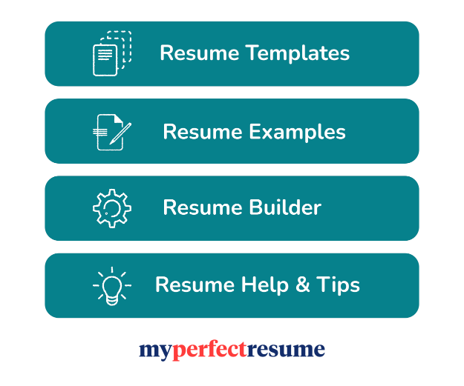 Payroll Administrator resume layout and formatting
The format and layout of your resume can make or break its success.
Sure, it's great to pack your resume with lots of impressive skills and knowledge, but if the page is not structured clearly, hiring managers will struggle to find the important stuff!
Above all, your resume should be easy-to-read and professional looking.
Follow these formatting tips to get noticed.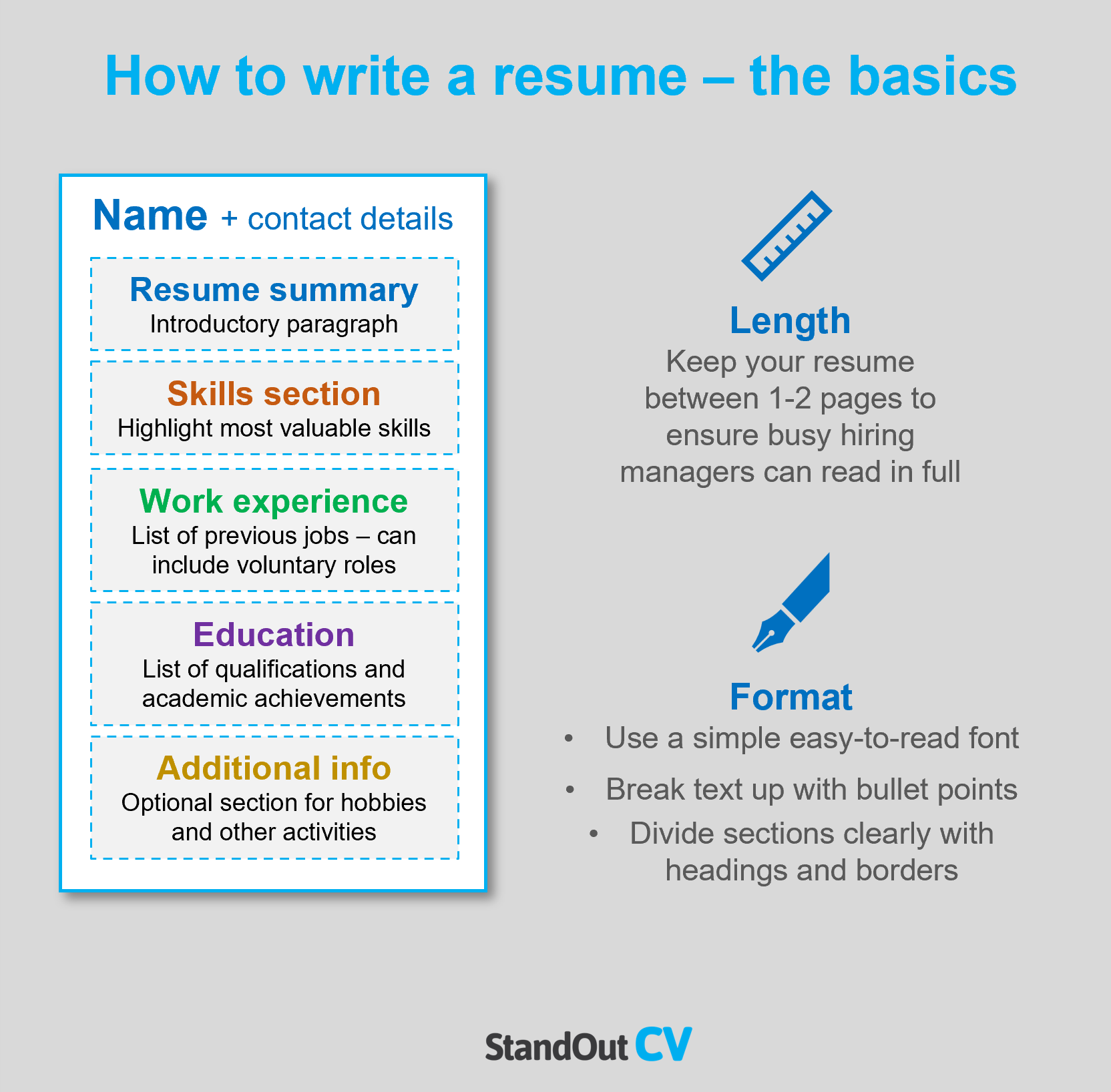 Formatting your resume
Length: As recruiters have a limited amount of time to review each resume they see, keep your resume to 2 pages or less to increase the chances of it being thoroughly reviewed.
Font & readability: The key to a good resume is readability. To make your resume easy to read, use a clear and uncomplicated font, and break up the text with bullet points and short paragraphs.
Layout & Structure: Your resume's design must strike a balance between aesthetics and functionality. Using bold headings and borders to organize the page into clear sections is an effective way to achieve both.
Photos: You don't have to add a photo to your resume in the States, but some regions and industries like to see them.
Quick tip: Achieving a professional look for your resume can be difficult and time-consuming. If you want to create an attractive resume quickly, try our partner's Resume Builder and use one of their eye-catching resume templates.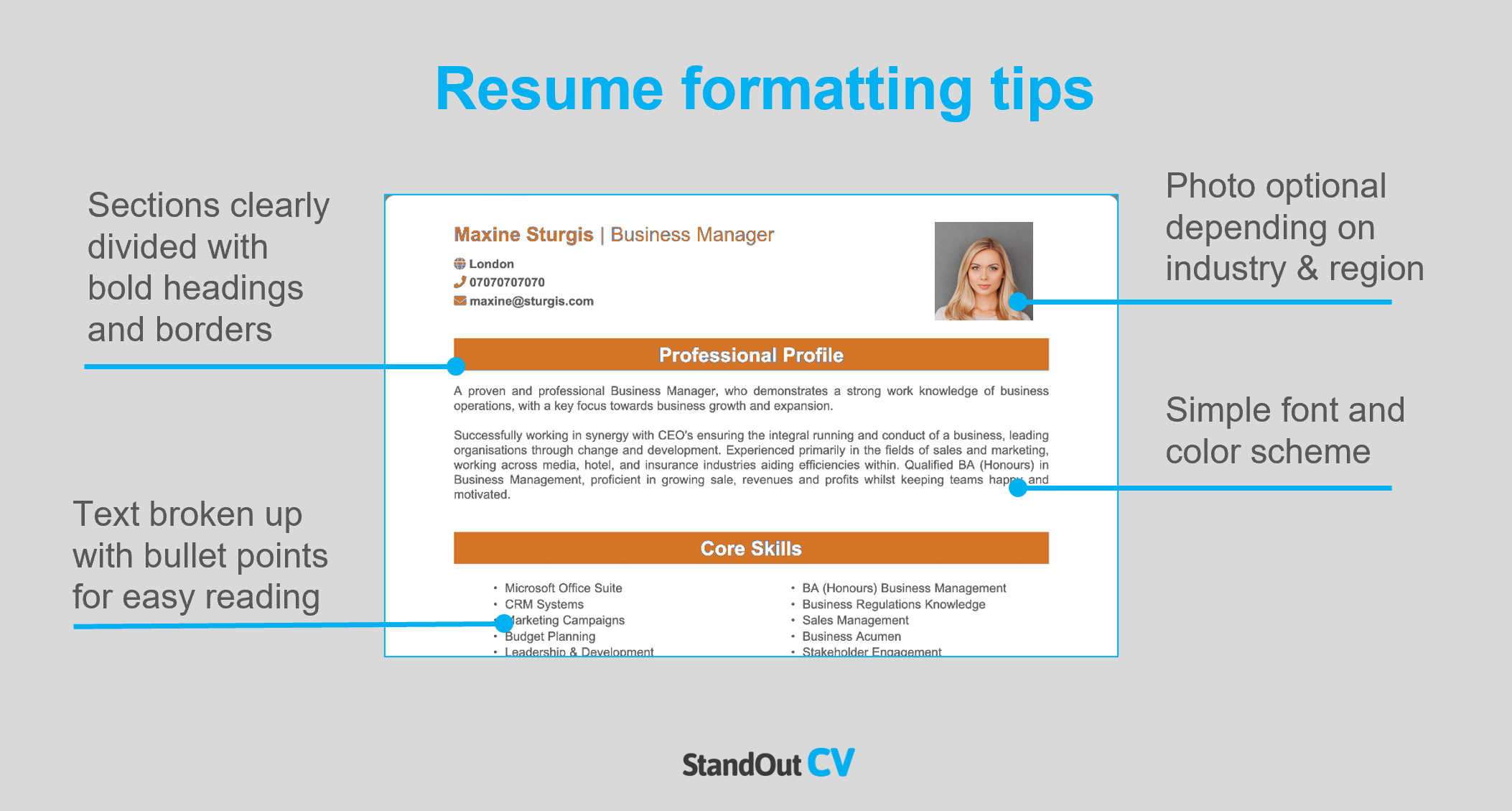 Resume layout
Divide the page into these sections when you write your own resume.
Name and contact details – Simply state who you are, and how to get in touch with you.
Resume summary – An introductory paragraph at the very top of your resume which summarizes your skills, experience and suitability for your target jobs.
Core skills section – A bullet-pointed list of your skills that relate most to your target jobs.
Work experience – A list of your current and previous jobs, including all of your responsibilities and achievements.
Education – A section that showcases all of your education and academic achievements.
Additional info (optional) – Here you can add an extra section for things like hobbies and interests, or anything else that might be relevant to your target jobs.
Here's what to include in each part of your resume.
Contact Details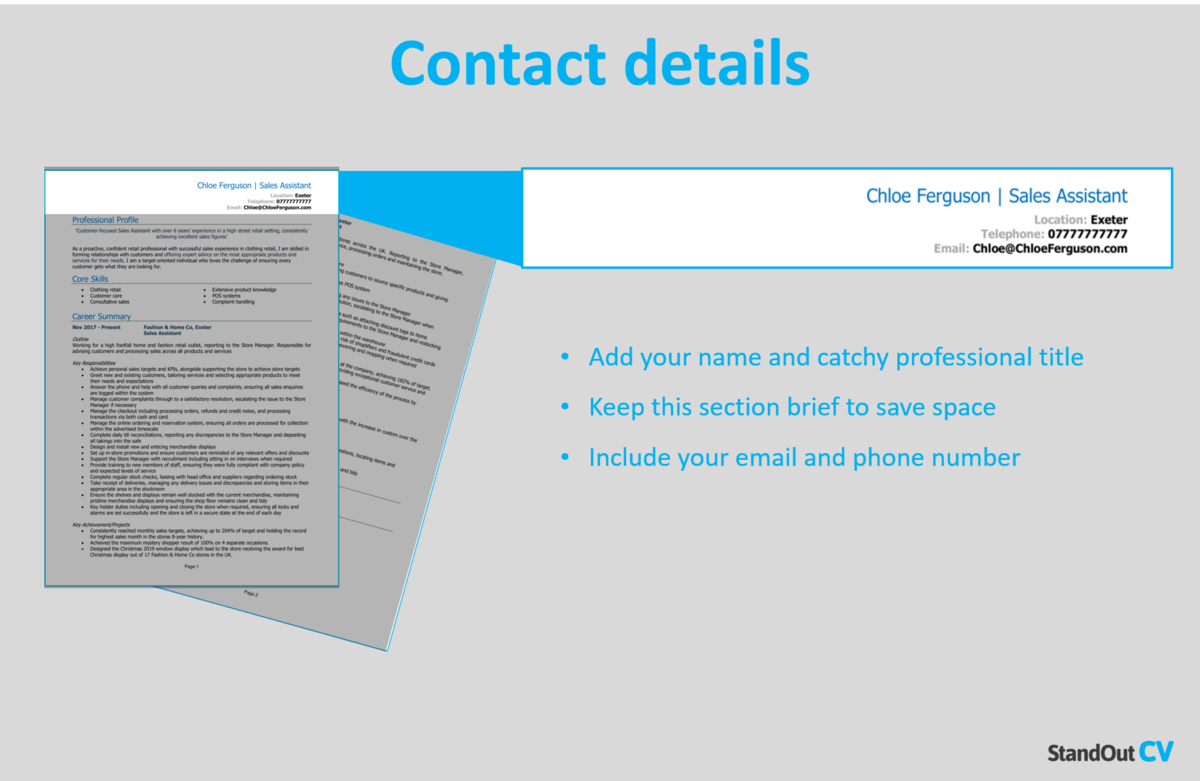 Make it easy for hiring managers to contact you by adding your contact details to the top of your resume.
Keep this section small to save space and include the following.
Name and profession title
Telephone number – Ideally your cell phone so you can answer quickly.
Location – Add your general location such as LA or New York
Email address – Use a professional looking one with no nicknames.
You can add a link to your LinkedIn profile if you have one – you do not need to include personal details like date of birth or marital status.
Payroll Administrator Resume Summary
Your resume summary is like an elevator pitch. It's your chance to sell yourself to employers within a short space of time.
Achieve this by summarizing your skills and expertise, whilst highlighting your abilities that closely match the jobs you are aiming for.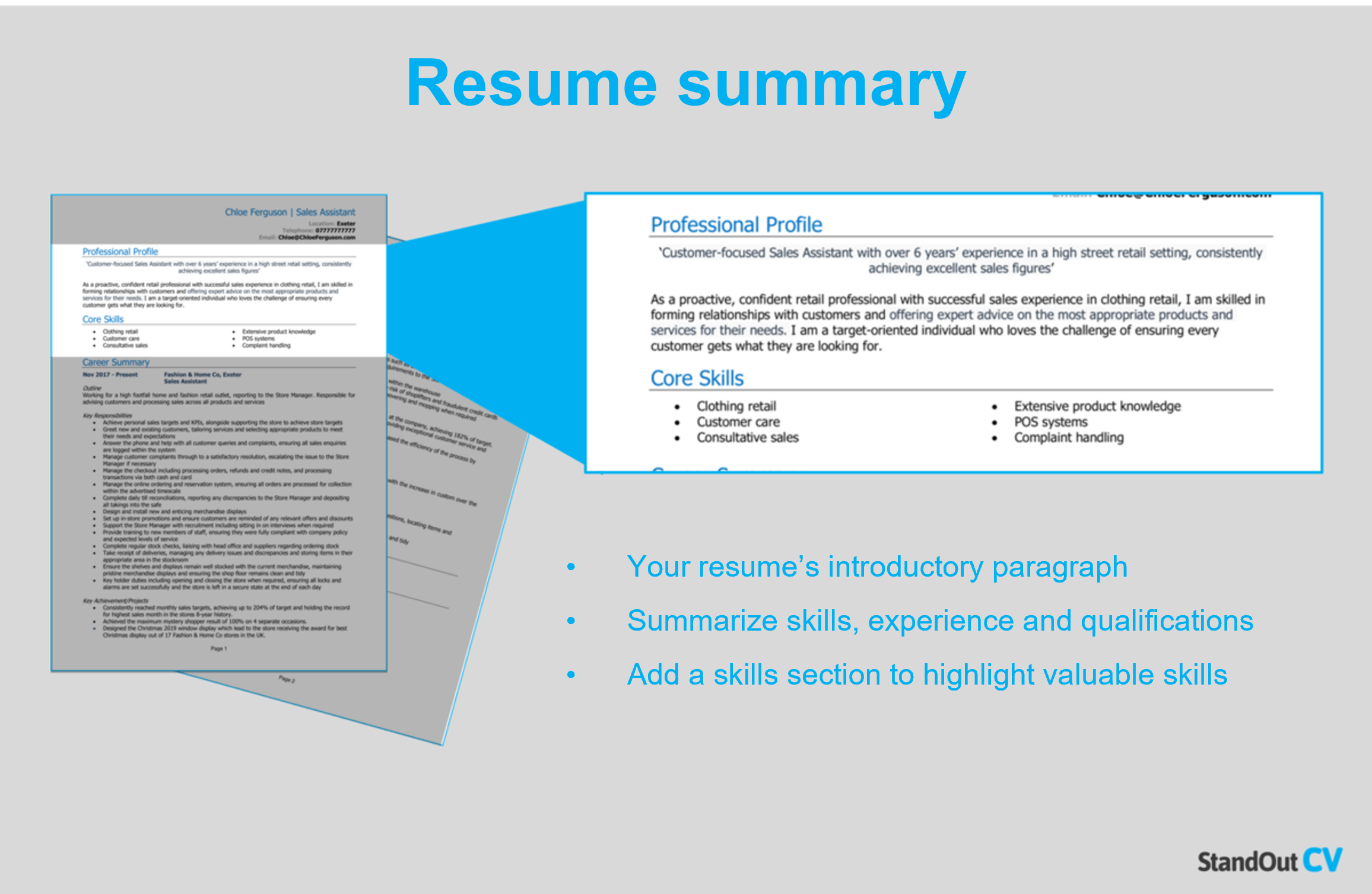 How to create a resume summary that will excite recruiters:
Keep it short: You only have a few seconds to grab a recruiters' attention and make them commit to your resume, so keep your summary between 4 – 7 lines.
Tailor to target jobs: Ensure your profile makes an impact by matching it closely to the requirements of the job description, copying as many key terms as possible.
Avoid using cliches: Although you may believe that you're a "team player who always gives 110%," these kinds of cliches don't communicate much about your skills and qualifications to potential employers. It's more effective to stick to factual information in your resume.
Payroll Administrator resume summary example
Proactive Payroll Administrator with over 9 years' experience successfully managing the bi-weekly payroll for 250 employees at a multi-national cotton company, Cotton Mill Inc. Experienced customer service professional highly skilled in managing employee queries and finding creative and efficient solutions. Accounting graduate with demonstrated success in managing large data sets, identifying errors, and streamlining processes to minimize costly errors.
What to include in your Payroll Administrator resume summary?
Summary of your experience: Provide a summary of the kind of work you have previously done, along with the benefits you have delivered to the organizations you worked with.
Relevant skills: Include your skills which are hyper relevant to Payroll Administrator jobs to instantly show your suitability.
Qualifications: To make a strong impression on potential employers when applying for Payroll Administrator jobs, be sure to mention any relevant qualifications in your summary.
Quick tip: Choose from hundreds of pre-written summaries across all industries, and add one to your resume with one-click in our partner's Resume Builder. All written by recruitment experts and easily tailored to suit your unique skillset and style.
Core skills section
Your core skills section, positioned just below your resume summary, provides recruiters with a quick glance at 4-10 of your most in-demand skills.
For Payroll Administrator jobs, where hiring managers may receive hundreds of applications, this section can help you stand out and immediately grab their attention.
To be effective, this section should consist of 2-3 columns of bullet points that highlight attributes that are highly relevant to the jobs you are targeting.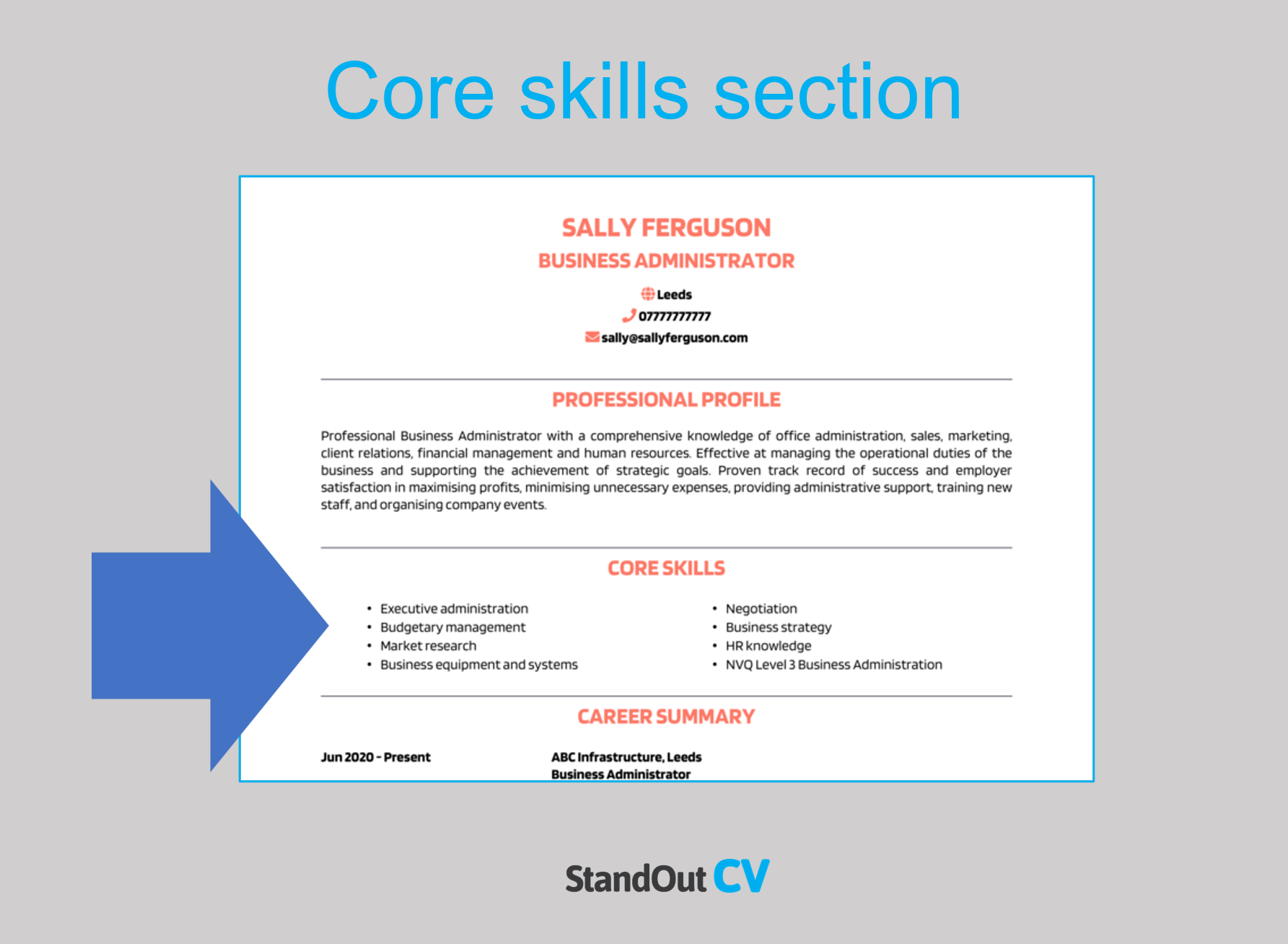 Best skills for your Payroll Administrator resume
Data accuracy – Working with a high degree of accuracy and attention to detail when processing payroll data.
Time management – Managing time effectively to ensure that payroll processing deadlines are met.
Data analysis – Analyzing payroll data and identifying errors or discrepancies.
Payroll software – Utilizing knowledge of payroll software and experience in using it to process payroll data.
Payroll laws – Utilizing knowledge of federal, state, and local payroll laws, regulations, and requirements.
Effective communication – Communicating clearly and concisely with employees and other stakeholders regarding payroll matters.
Record management – Organizing and maintaining accurate and up-to-date payroll records.
Issue resolution – Identifying and resolving payroll-related problems in a timely and effective manner.
Customer service – Providing excellent customer service to employees who have questions or concerns regarding payroll matters.
Cross functional collaboration – Working effectively in a team and collaborate with HR and other departments to ensure that payroll processes align with the organization's overall goals and objectives.
Quick tip: Our partner's Resume Builder contains thousands of in-demand skills for every profession that can be added to your resume in seconds – saving you time and greatly improving your chances of landing job interviews and getting hired.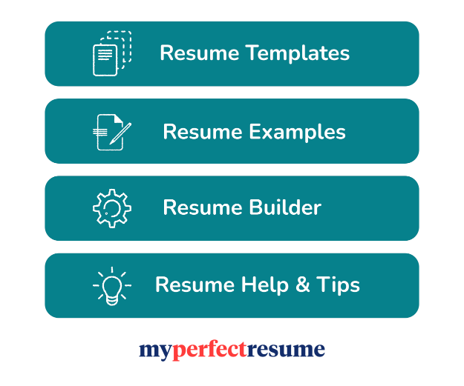 Work experience
So, you've grabbed the recruiters' attention with your summary, now it's time to show them what you're really capable of in your work experience section.
List your previous jobs from current to oldest, showing off the impact you made at each organization.
If you have tons of experience, you should just list the most recent an relevant jobs – but if you have little or no experience, add it all and even consider putting in voluntary work.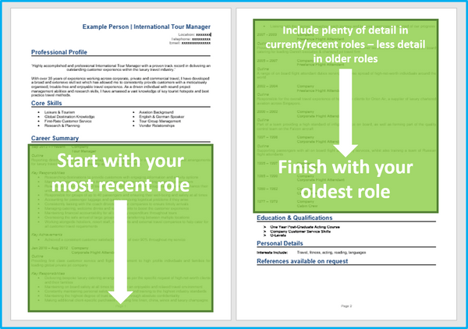 Structuring your jobs
Your job description probably includes tons of information, so it's vital to organize it well when writing about it on your resume.
Structure your jobs as like the example below to make skim-reading easy for recruiters and hiring managers.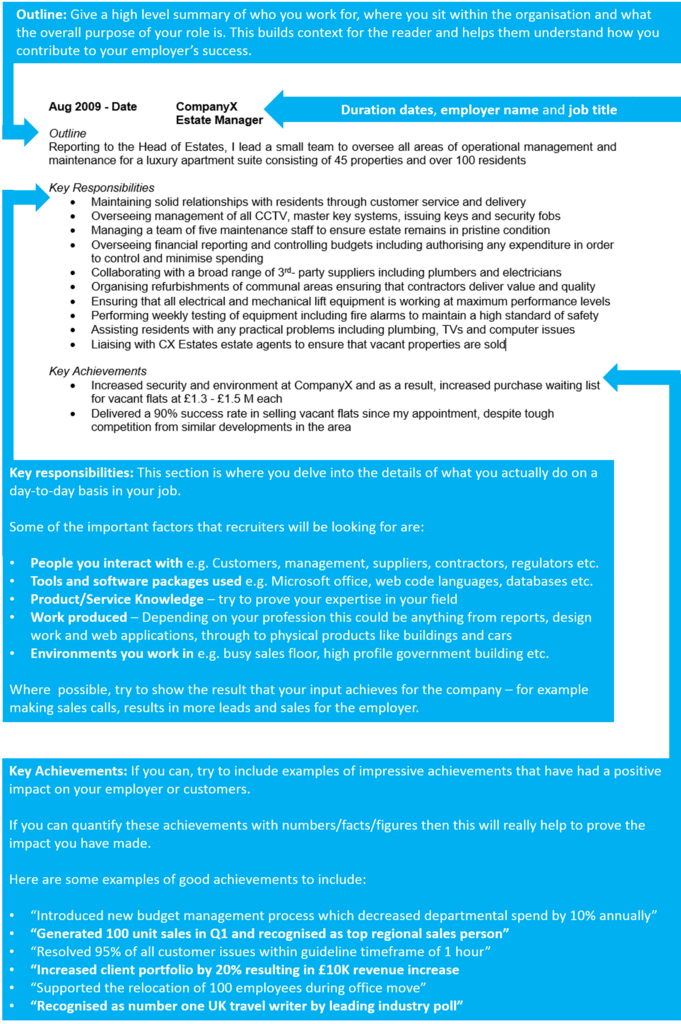 Job outline
Kick off each role with a high-level overview to summarize the focus of the job, what the organization/department does, and how you fit into the bigger picture.
Key responsibilities
Next, write up a punchy list of your daily duties and responsibilities, using short bullet points.
Describe how you apply your skills and contribute to the running of the employer's business – highlighting skills which are applicable to your target jobs.
Key achievements
Round off each job by adding some impressive achievements you made in the role.
Anything you've done that has made a big impact on your employer will make a good impression, think; generating revenue, saving costs, or improving a product.
Quantify your achievements with number where possible e.g. "reduced call wait time by 10%"
Example job for Payroll Administrator resume
Outline
Processed and corrected payroll for 250 employees at a multinational cotton company with suppliers in 14 countries worldwide.
Key Responsibilities
Processed payroll for US and Canada locations and maintained accurate payroll records
Coordinated production, distribution, follow-up and completion of payroll registers and general ledger reports for all companies in partnership with the Finance team
Created simple and complex reports for Human Resources and Finance for overtime, vacation accrual, severance data, garnishments, benefits spend, and headcount
Maintained knowledge of rules and laws governing the payroll administration practices
Quick tip: Create impressive job descriptions easily in our partner's Resume Builder by adding pre-written job phrases for every industry and career stage.

Education section
After your work experience, add your education section.
If you are an experienced professional, you can keep this part short – adding basic details of each qualification.
If you have little or no experience, bulk this section up by adding more detail and highlight important skills and knowledge for your target jobs.
Additional information
At the end of your resume, you can add any extra information that might be relevant to the jobs you are applying for.
This could be hobbies, interests, publications, clubs or memberships.
This section is optional and doesn't need to be added if you have nothing more relevant to add.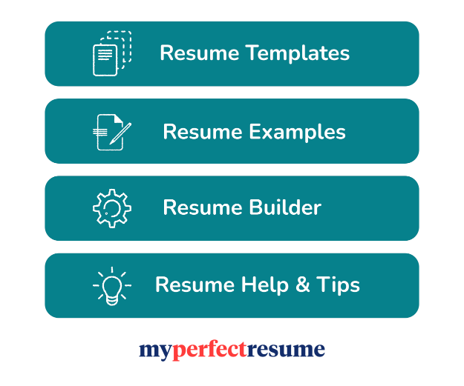 Writing your own winning Payroll Administrator resume
Following the steps in this guide will help you to create a winning Payroll Administrator resume and bag lots of interviews.
Good luck with your job search!