You love putting your artistic skills to good use to create beautiful artwork and graphic designs.
The trouble is, you're an artist, not a writer, and explaining your techniques and experience on paper can feel like hard work.
Well, the good news is we've created a detailed guide to help you write a strong application, complete with a motion designer resume example to inspire you.
Contents
| | |
| --- | --- |
| How to write your Motion Designer resume | |

Motion Designer Resume Example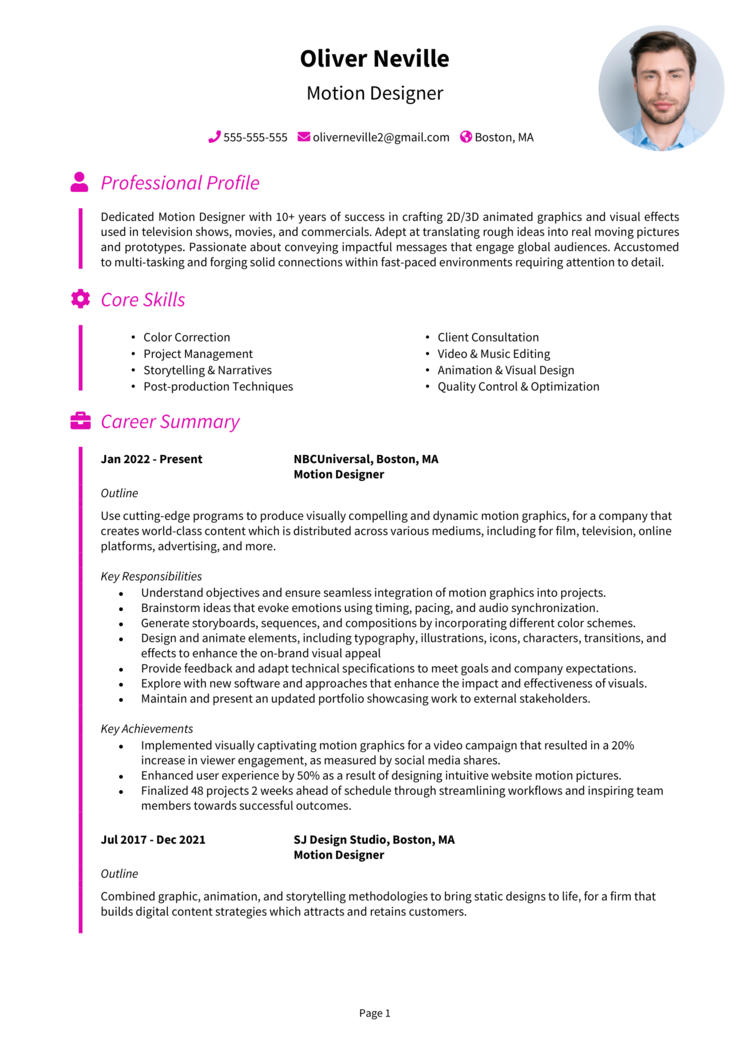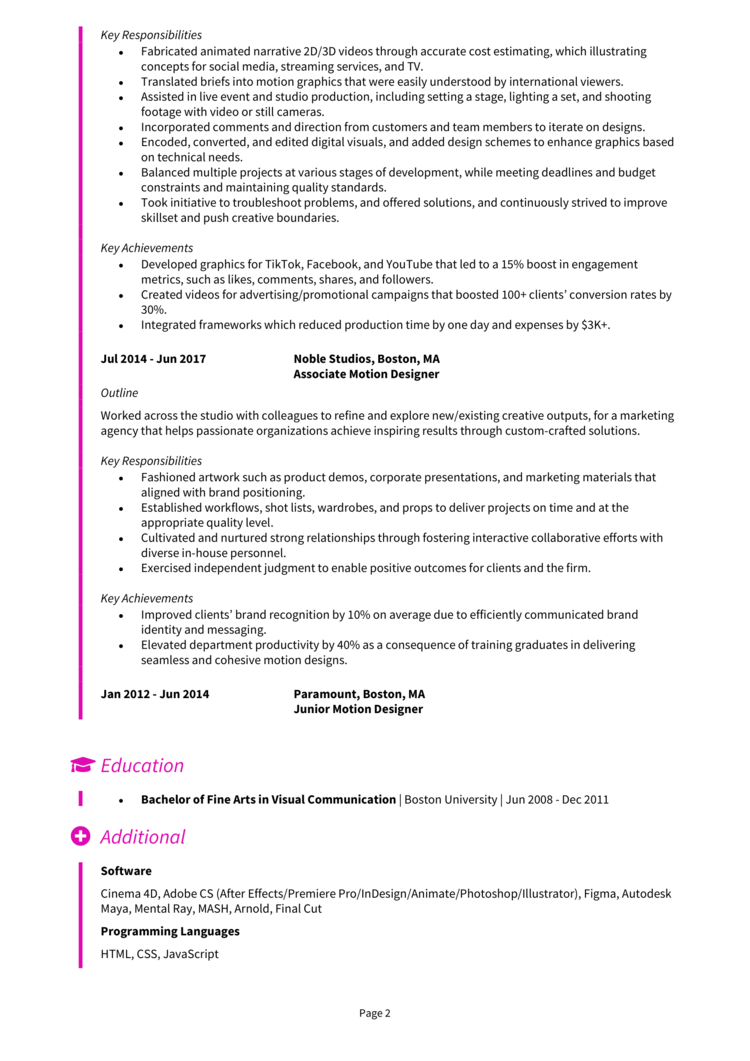 The example Motion Designer resume above shows you how a professional resume should look, along with the type of content it should contain.
You can see that the information is well-organized across the page and its easy for busy recruiters to see the candidate's important skills.
Keep this in mind when writing your own resume.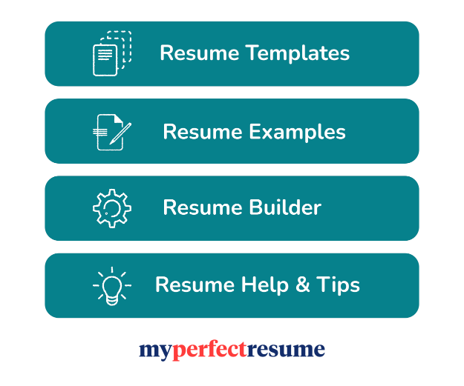 Motion Designer resume layout and format
Formatting is often overlooked when writing resume, but it's a crucial element of it"s success.
Creating a document that not only looks good, but is easily comprehended, is the key to gaining and holding the attention of busy hiring managers.
Use these formatting tips for best results.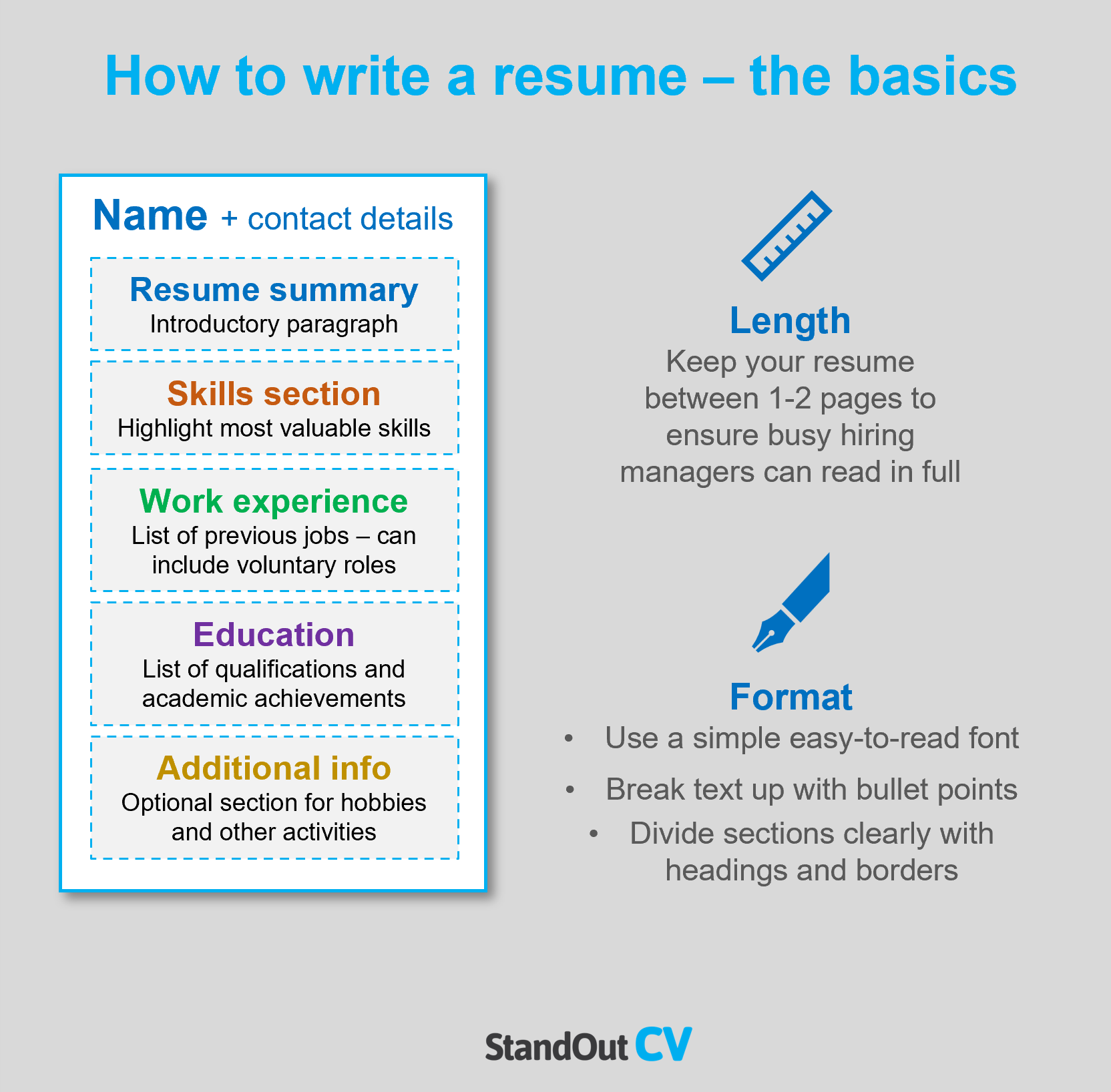 Formatting your resume
Length: As recruiters have a limited amount of time to review each resume they see, keep your resume to 2 pages or less to increase the chances of it being thoroughly reviewed.
Font & readability: Complex fonts are a readers' worst nightmare and will leave recruiters struggling to understand your message. Use a clear simple lean font in a color that stands out against the page, and break your text up with bullet points to make the content easily digestible.
Layout: When it comes to designing your resume, it's essential to make it visually appealing, but it's equally important not to overlook functionality. To achieve this, you should organize the page into clear sections using bold headings and borders.
Photos: It's not mandatory to add a photo to your resume in the USA but it if you're applying to organizations within the creative fields, it can be beneficial.
Quick tip: Achieving a professional look for your resume can be difficult and time-consuming. If you want to create an attractive resume quickly, try our partner's Resume Builder and use one of their eye-catching resume templates.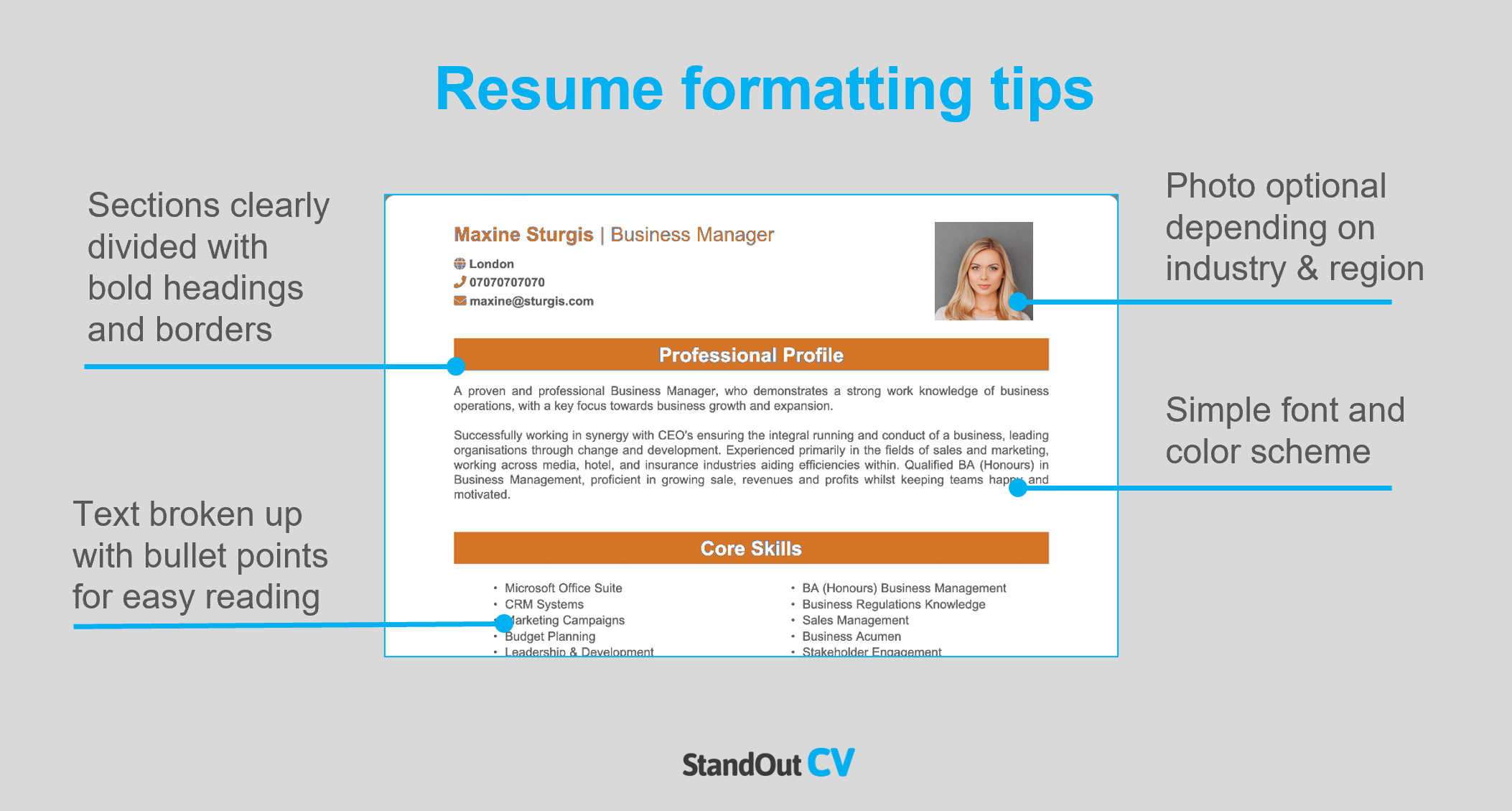 Resume layout
Include the following sections when you write your resume.
Name and contact details – Make it easy for employers to contact you, by putting these at the top.
Resume summary – An intro paragraph sitting at the top of your resume, summarizing the reasons why you should be hired.
Skills section – A short snappy list of your most important skills, that can be quickly digested
Work experience – Reverse chronological list of your previous jobs – voluntary work and college placements can be included if you have no paid experience.
Education – List your qualifications and professional training.
Additional info – An optional section for things like hobbies and interests.
Here's what to add to each section of your Motion Designer resume.
Contact Details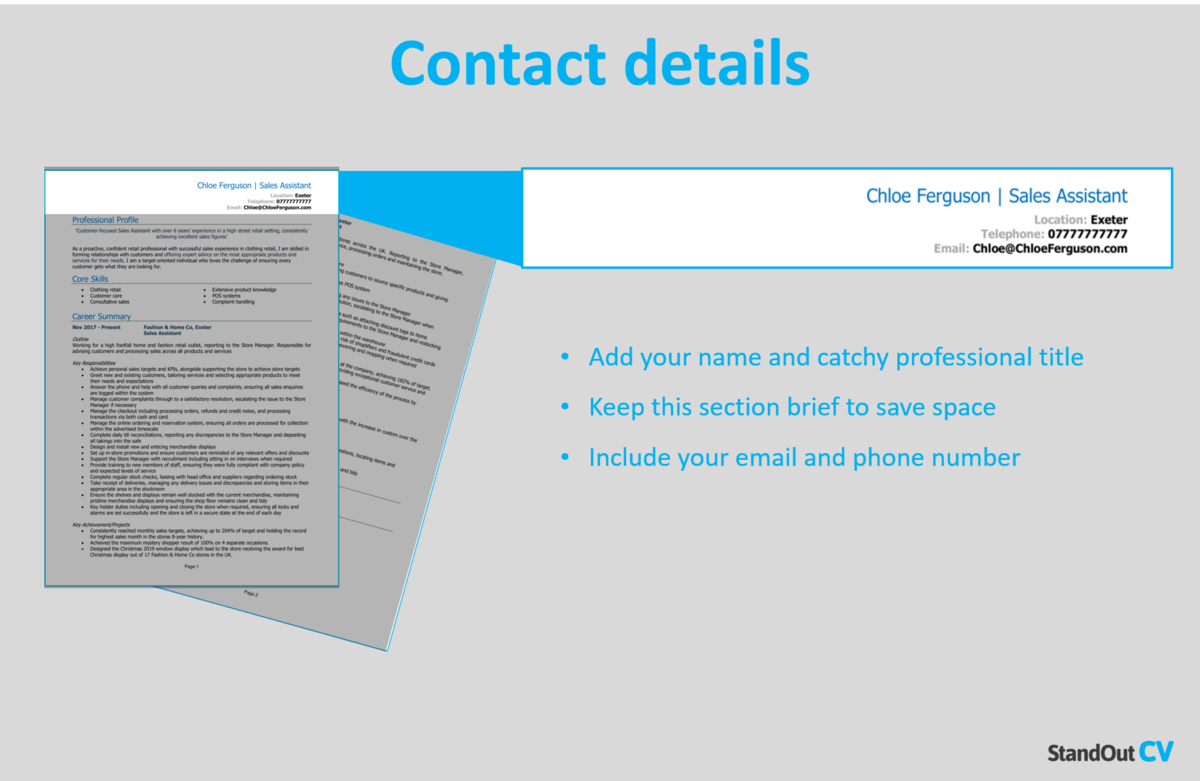 Make it easy for hiring managers to contact you by adding your contact details to the top of your resume.
Keep this section small to save space and include the following.
Name and profession title
Telephone number – Ideally your cell phone so you can answer quickly.
Location – Add your general location such as LA or New York
Email address – Use a professional looking one with no nicknames.
You can add a link to your LinkedIn profile if you have one – you do not need to include personal details like date of birth or marital status.
Motion Designer Resume Summary
Start your resume with a bang by adding a powerful summary to the top, summarizing your most valuable skills and experience.
This short paragraph is your chance to show recruiters why you are a perfect fit for the job and encourage them to read more of your resume.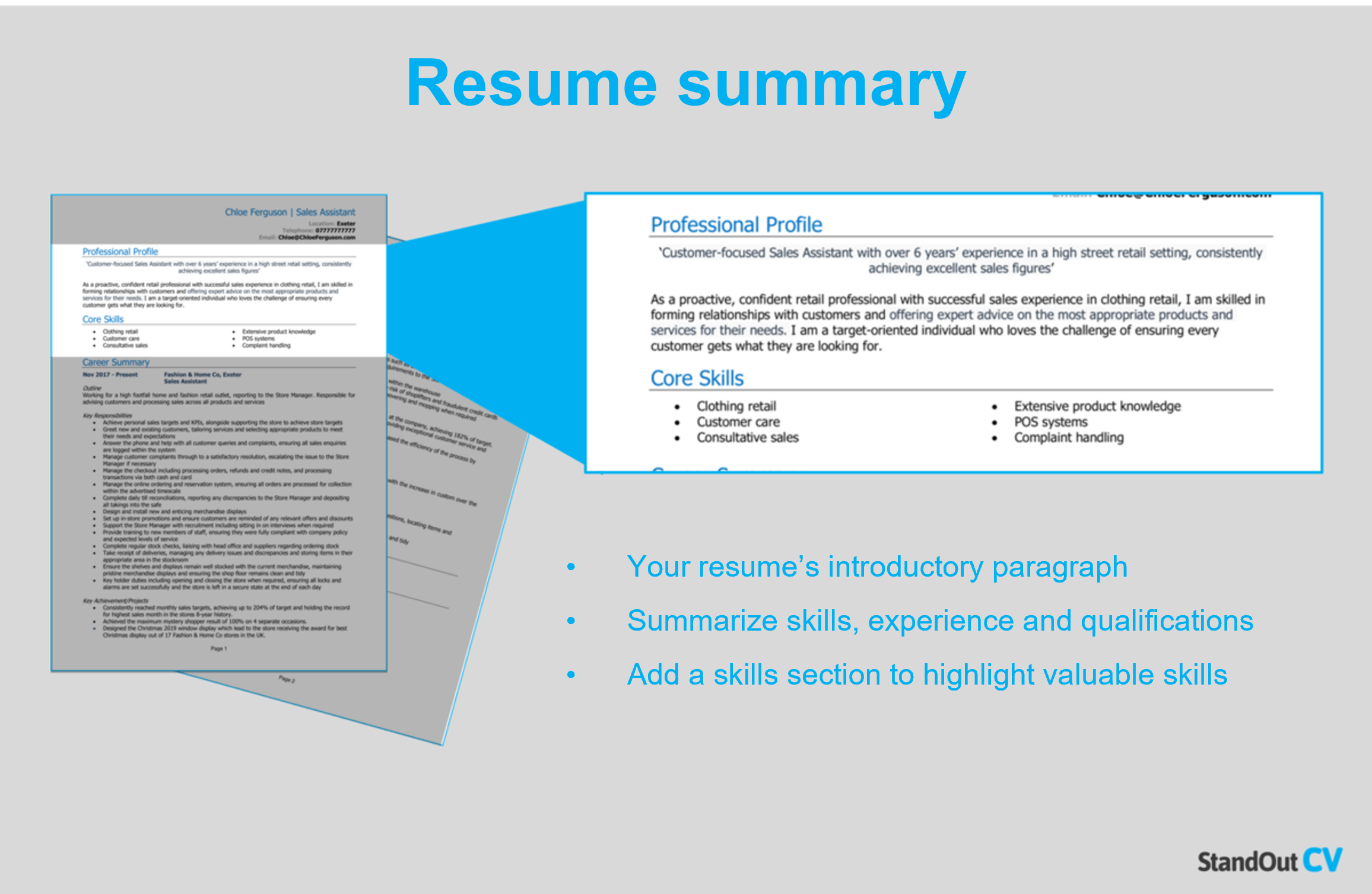 How to create a resume summary that will excite recruiters:
Keep it short: A concise and focused resume summary is essential for capturing a recruiter's attention and keeping them engaged. Limiting your summary to 4-7 lines ensures that you make a strong impression in the first few seconds of them opening the document.
Tailor to target jobs: To tailor your resume to your target jobs, it's essential to closely analyze the job description and include as many relevant skills as possible.
Avoid using cliches: Although you may believe that you're a "team player who always gives 110%," these kinds of cliches don't communicate much about your skills and qualifications to potential employers. It's more effective to stick to factual information in your resume.
Motion Designer resume summary example
Dedicated Motion Designer with 10+ years of success in crafting 2D/3D animated graphics and visual effects used in television shows, movies, and commercials. Adept at translating rough ideas into real moving pictures and prototypes. Passionate about conveying impactful messages that engage global audiences. Accustomed to multi-tasking and forging solid connections within fast-paced environments requiring attention to detail.
What to include in your Motion Designer resume summary?
Summary of your experience: Provide a summary of the kind of work you have previously done, along with the benefits you have delivered to the organizations you worked with.
Relevant skills: Incorporate your highly relevant skills for Motion Designer jobs to exhibit your suitability as soon as your resume is opened.
Qualifications: To make a strong impression on potential employers when applying for Motion Designer jobs, be sure to mention any relevant qualifications in your summary.
Quick tip: Choose from hundreds of pre-written summaries across all industries, and add one to your resume with one-click in our partner's Resume Builder. All written by recruitment experts and easily tailored to suit your unique skillset and style.
Core skills section
Sitting just underneath your resume summary, your core skills section gives recruiters 4-10 of your most in-demand skills in just a glance.
As Motion Designer jobs may get hundreds of applications, this is a great way to stand out and quickly grab hiring managers' attention.
It should be made up of 2-3 columns of bullet points and highlight attributes that are hyper-relevant to the jobs you are aiming for.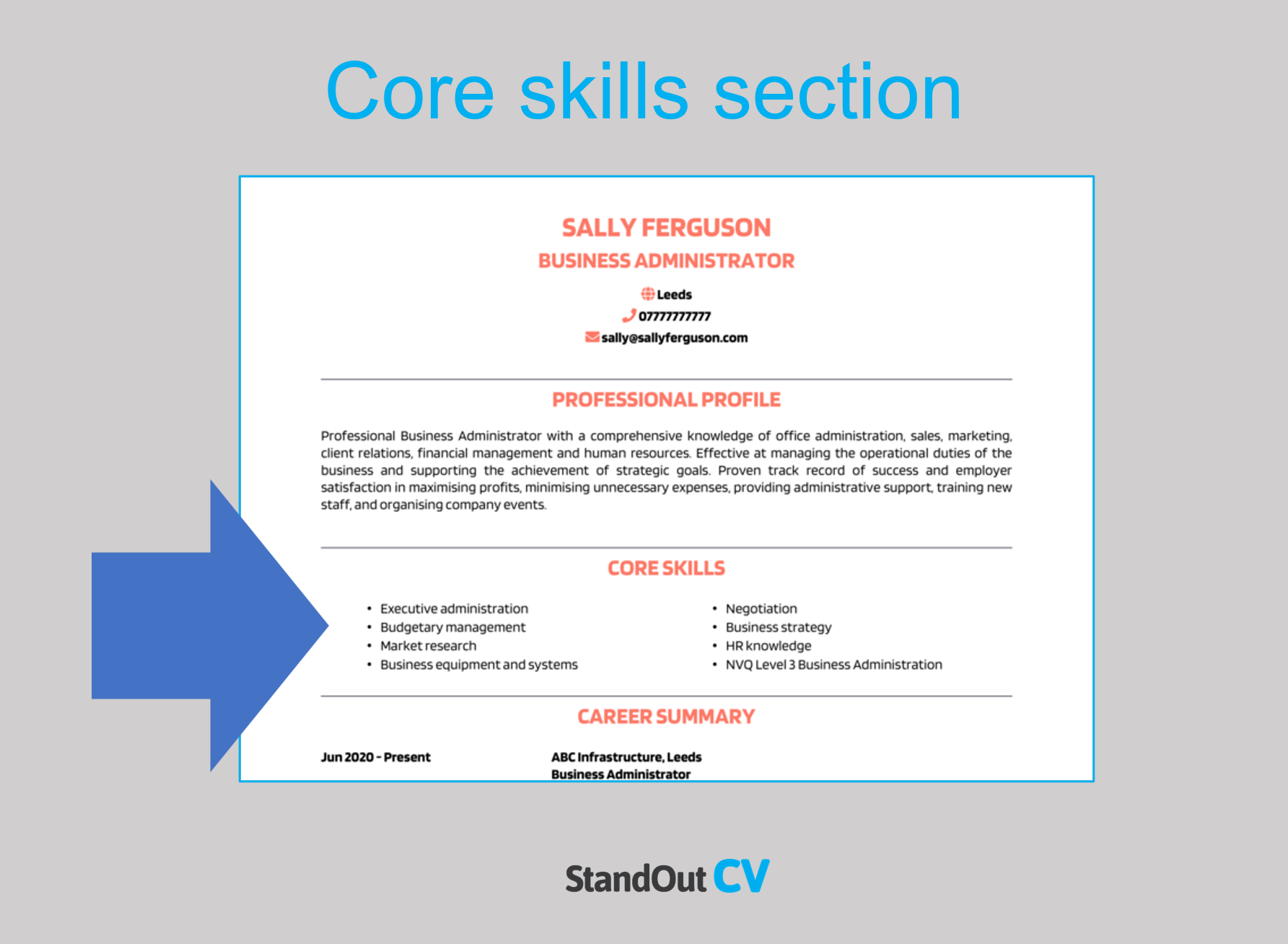 Best skills for your Motion Designer resume
Motion Graphics Software – Utilizing software such as Adobe After Effects, Cinema 4D, or similar tools to create motion graphics and animations.
Visual Storytelling – Conceptualizing and executing compelling narratives through animated sequences and visual elements.
Animation Techniques – Creating smooth and realistic animations using keyframes, easing, and timing adjustments.
Video Editing – Utilizing video editing software like Adobe Premiere Pro to incorporate motion graphics seamlessly into video projects.
Typography and Design – Utilizing knowledge of typography principles and graphic design to create visually appealing text animations and compositions.
Illustration – Creating or adapting illustrations for use in motion graphics projects.
Composition and Layout – Arranging visual elements to create balanced and aesthetically pleasing compositions.
Project Management – Meeting tight deadlines and managing multiple projects simultaneously.
Stakeholder Collaboration – Working alongside other creatives, clients, and stakeholders.
3D Modeling and Rendering – Utilizing 3D modeling software like Blender or Maya to incorporate 3D elements into motion graphics.
Quick tip: Our partner's Resume Builder contains thousands of in-demand skills for every profession that can be added to your resume in seconds – saving you time and greatly improving your chances of landing job interviews and getting hired.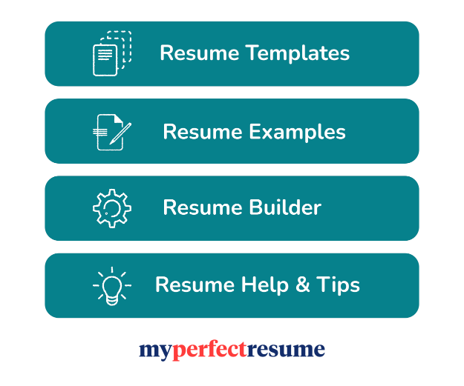 Work experience
So, you've grabbed the recruiters' attention with your summary, now it's time to show them what you're really capable of in your work experience section.
List your previous jobs from current to oldest, showing off the impact you made at each organization.
If you have tons of experience, you should just list the most recent an relevant jobs – but if you have little or no experience, add it all and even consider putting in voluntary work.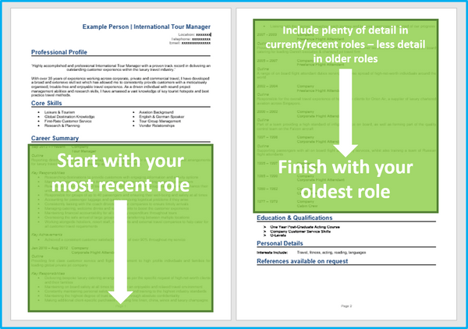 Structuring your jobs
Without a good structure, your job description can look messy and overwhelming to anyone reading them.
Make it easy for recruiters to read your work experience by structuring your roles like this.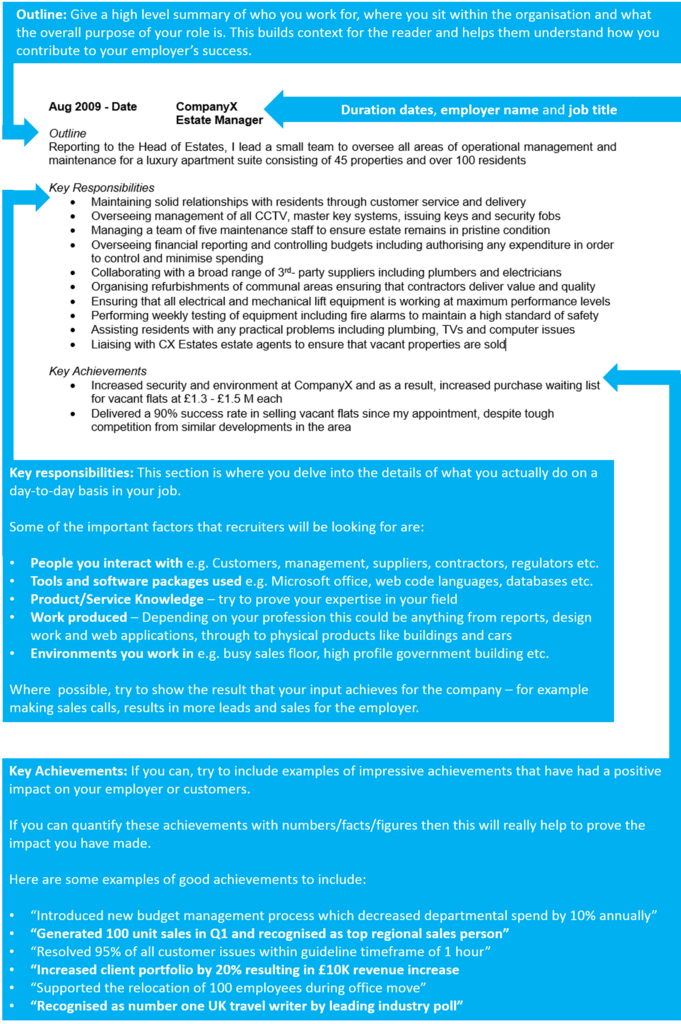 Job outline
Each role description should begin with a qucik summary of the job and company, along with how the job fits into the strucuture of the organization.
Key responsibilities
The bulk of the role description should be comprised of bullet points that explain all of your duties in the job.
Keep the sentences short and simple to make them easy for recruiters to digest.
Key achievements
Show employers the value you can bring to them by adding a few achievements to your jobs.
Whether you've saved the company money or improved an internal process, let recruiters know
Add some numbers to give readers a real scale of the impact, e.g. "reduced call wait time by 10%"
Example job for Motion Designer resume
Outline
Use cutting-edge programs to produce visually compelling and dynamic motion graphics, for a company that creates world-class content which is distributed across various mediums, including for film, television, online platforms, advertising, and more.
Key Responsibilities
Understand objectives and ensure seamless integration of motion graphics into projects.
Brainstorm ideas that evoke emotions using timing, pacing, and audio synchronization.
Generate storyboards, sequences, and compositions by incorporating different color schemes.
Design and animate elements, including typography, illustrations, icons, characters, transitions, and effects to enhance the on-brand visual appeal.
Quick tip: Create impressive job descriptions easily in our partner's Resume Builder by adding pre-written job phrases for every industry and career stage.

Education section
Nearing the end of your resume, your education/qualifications section should be added.
In a well-structured list, add all of your qualifications and certifications that qualify you to perform a typical Motion Designer role.
If you have plenty of work experience, keep this section brief – if not, add lots of detail to make up for your lack of experience.
Additional information
If you have anything else to add which is relevant to the jobs you are applying for, the additional info section is the place to add it.
Perhaps you have a hobby which involves relevant skills, or maybe you have some awards or publications worth mentioning.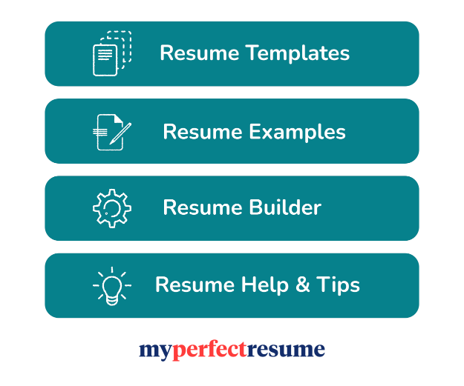 Writing your own winning Motion Designer resume
Writing a Motion Designer resume can be challenging but following the steps above will ensure that you land plenty of interviews.
Good luck with your job search!