As a facilities coordinator, your job is to ensure that the office continues running smoothly and everything is in working order.
As such, your resume needs to reflect your experience and abilities, and you can learn how to do this in the guide below.
You can also make use of our facilities coordinator resume example to strengthen your application.
Contents
| | |
| --- | --- |
| How to write a Facilities Coordinator resume | |

Facilities Coordinator Resume Example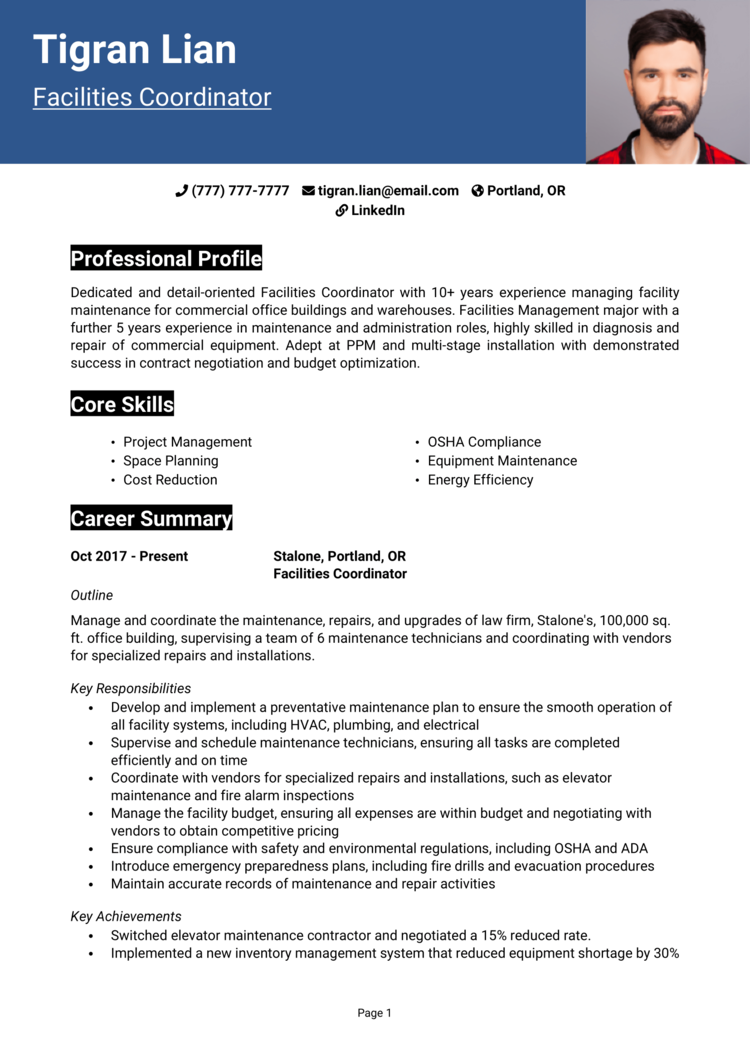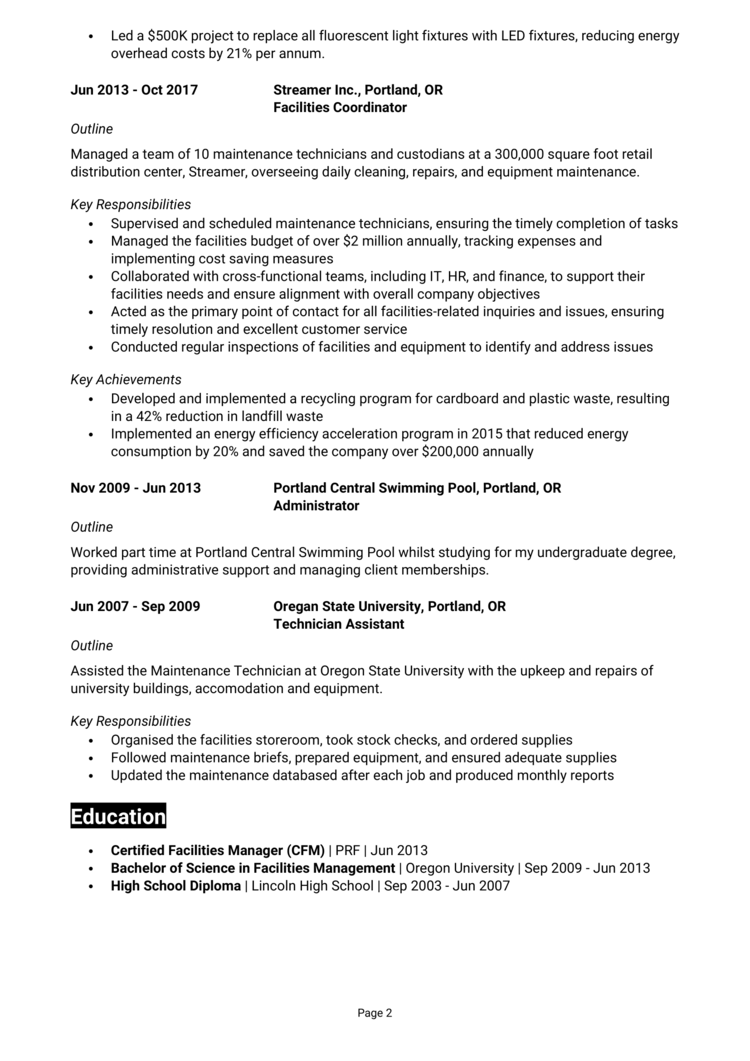 The example Facilities Coordinator resume above shows you how a professional resume should look, along with the type of content it should contain.
You can see that the information is well-organized across the page and its easy for busy recruiters to see the candidate's important skills.
Keep this in mind when writing your own resume.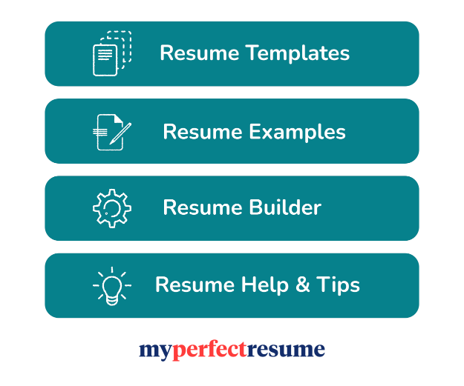 Facilities Coordinator resume layout and formatting
Your resume layout and format will play a big role in helping hiring managers to take notice of your resume and stay glued to it.
Shoot for a simple yet professional look to ensure you make a strong first impression, and organize the page in a way that is easy for readers to digest the information.
The following formatting tips should help.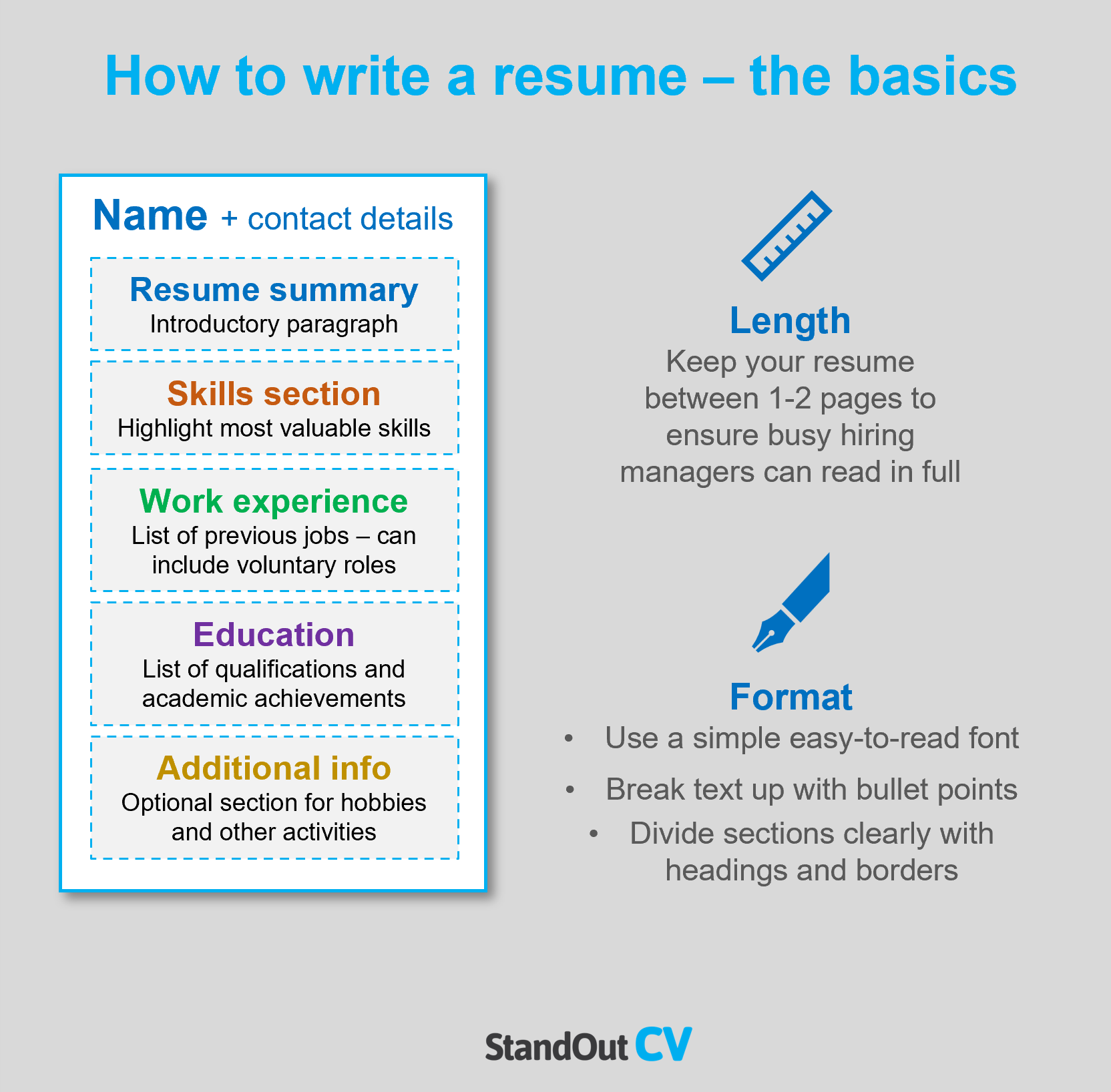 Formatting your resume
Length: Given that recruiters have to sift through tons of resumes daily, it's recommended to keep your resume brief (no more than 2 pages) to make sure it receives their full attention.
Font & readability: Nobody likes to read huge unbroken paragraphs of text – and recruiters are no different. Break your resume text up with bullet points and use a clear simple font.
Layout & Structure: A visually appealing resume is important, but don't forget about functionality. To ensure a functional design, use bold headings and borders to organize the page into clear sections.
Photos: Including a photo on your resume is not obligatory in the United States, but it may be a good idea in some regions and industries where it is customary.
Quick tip: Achieving a professional look for your resume can be difficult and time-consuming. If you want to create an attractive resume quickly, try our partner's Resume Builder and use one of their eye-catching resume templates.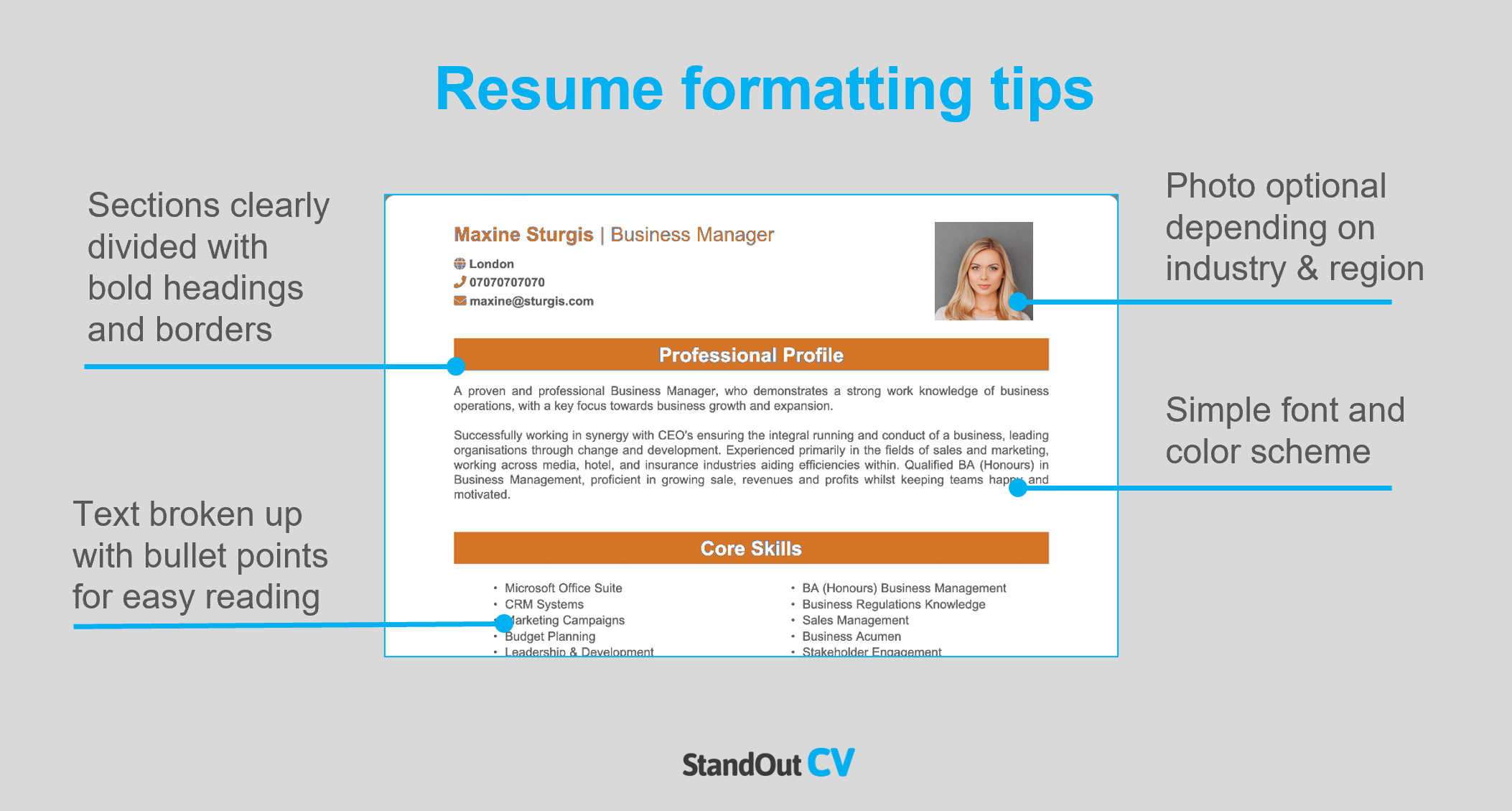 Resume layout
Add the following sections when you write your resume.
Name and contact details – Add to the very top of your resume to introduce yourself and make it super-easy for recruiters to get in touch.
Resume summary – Reel hiring managers in with an "elevator pitch" style paragraph which sums up your suitability for the job.
Skills section – A short and sharp list of your most important skills, that can be quickly skim-read.
Work experience – List your previous jobs (from newest to oldest) detailing the skills learnt and applied in each.
Education – List your qualifications and professional training.
Additional info – If it helps your application, you can add an extra section for things like hobbies and interests.
Here's what to include in each part of your resume.
Contact Details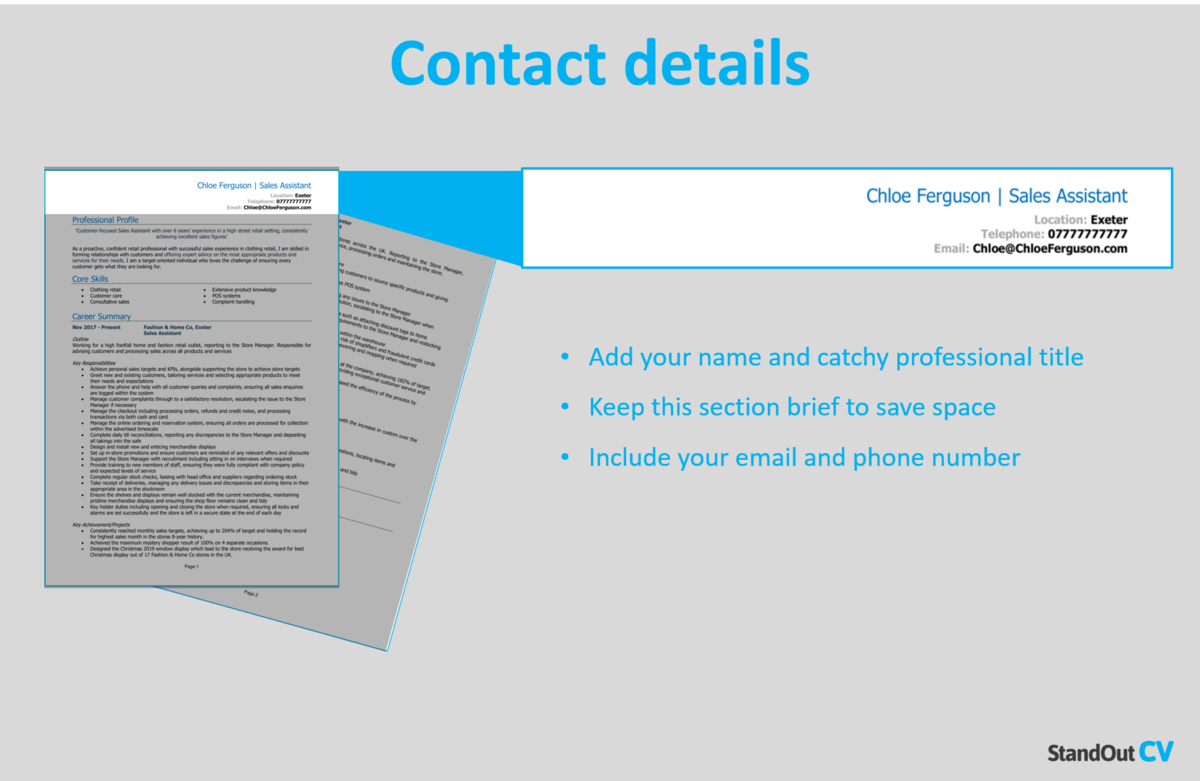 Make it easy for hiring managers to contact you by adding your contact details to the top of your resume.
Keep this section small to save space and include the following.
Name and profession title
Telephone number – Ideally your cell phone so you can answer quickly.
Location – Add your general location such as LA or New York
Email address – Use a professional looking one with no nicknames.
You can add a link to your LinkedIn profile if you have one – you do not need to include personal details like date of birth or marital status.
Facilities Coordinator Resume Summary
Grab the attention of recruiters right away by including a compelling summary at the top of your resume that summarizes your most valuable skills and experience.
This brief yet impactful section enables you to demonstrate why you're the best candidate for the job and convince recruiters to keep reading.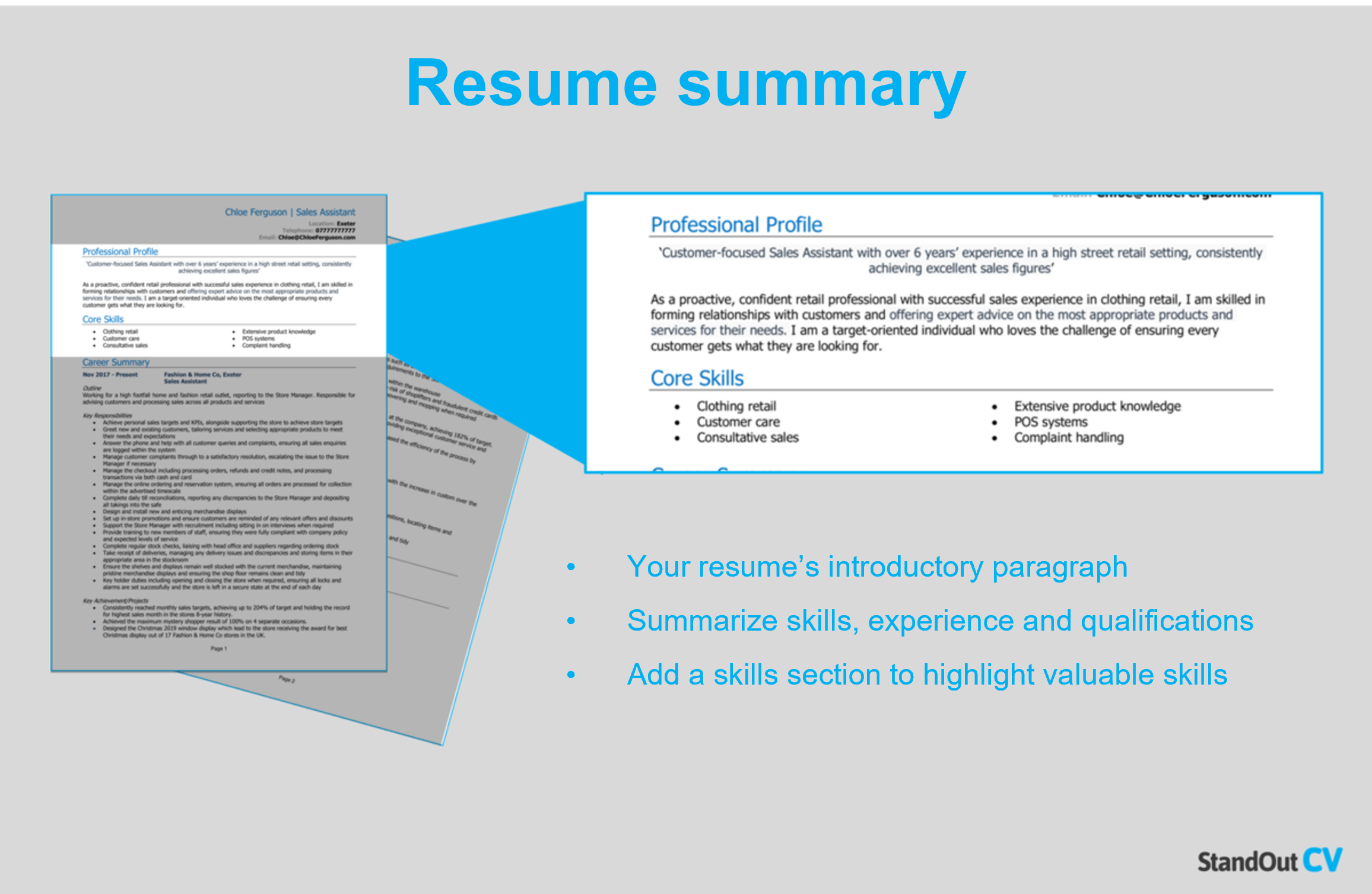 How to create a resume summary that will excite recruiters:
Keep it short: To capture a recruiter's attention and keep them interested in your resume, limit your summary to 4-7 lines as you only have a few seconds to make an impression
Tailor to target jobs: To mirror your target jobs, scrutinize the job description and include as many relevant skills as possible in your resume.
Avoid using cliches: Although you may believe that you're a "team player who always gives 110%," these kinds of cliches don't communicate much about your skills and qualifications to potential employers. It's more effective to stick to factual information in your resume.
Facilities Coordinator resume summary example
Dedicated and detail-oriented Facilities Coordinator with 10+ years' experience managing facility maintenance for commercial office buildings and warehouses. Facilities Management major with a further 5 years' experience in maintenance and administration roles, highly skilled in diagnosis and repair of commercial equipment. Adept at PPM and multi-stage installation with demonstrated success in contract negotiation and budget optimization.
What to include in your Facilities Coordinator resume summary?
Summary of your experience: Summarize the type of work you have done in the past and the ways in which you have contributed to the success of your previous employers.
Relevant skills: Include your skills which are hyper relevant to Facilities Coordinator jobs to instantly show your suitability.
Qualifications: Mention any Facilities Coordinator qualifications that are important to your profession in the summary briefly, to show you are qualified to carry out the role.
Quick tip: Choose from hundreds of pre-written summaries across all industries, and add one to your resume with one-click in our partner's Resume Builder. All written by recruitment experts and easily tailored to suit your unique skillset and style.
Core skills section
Sitting just underneath your resume summary, your core skills section gives recruiters 4-10 of your most in-demand skills in just a glance.
As Facilities Coordinator jobs may get hundreds of applications, this is a great way to stand out and quickly grab hiring managers' attention.
It should be made up of 2-3 columns of bullet points and highlight attributes that are hyper-relevant to the jobs you are aiming for.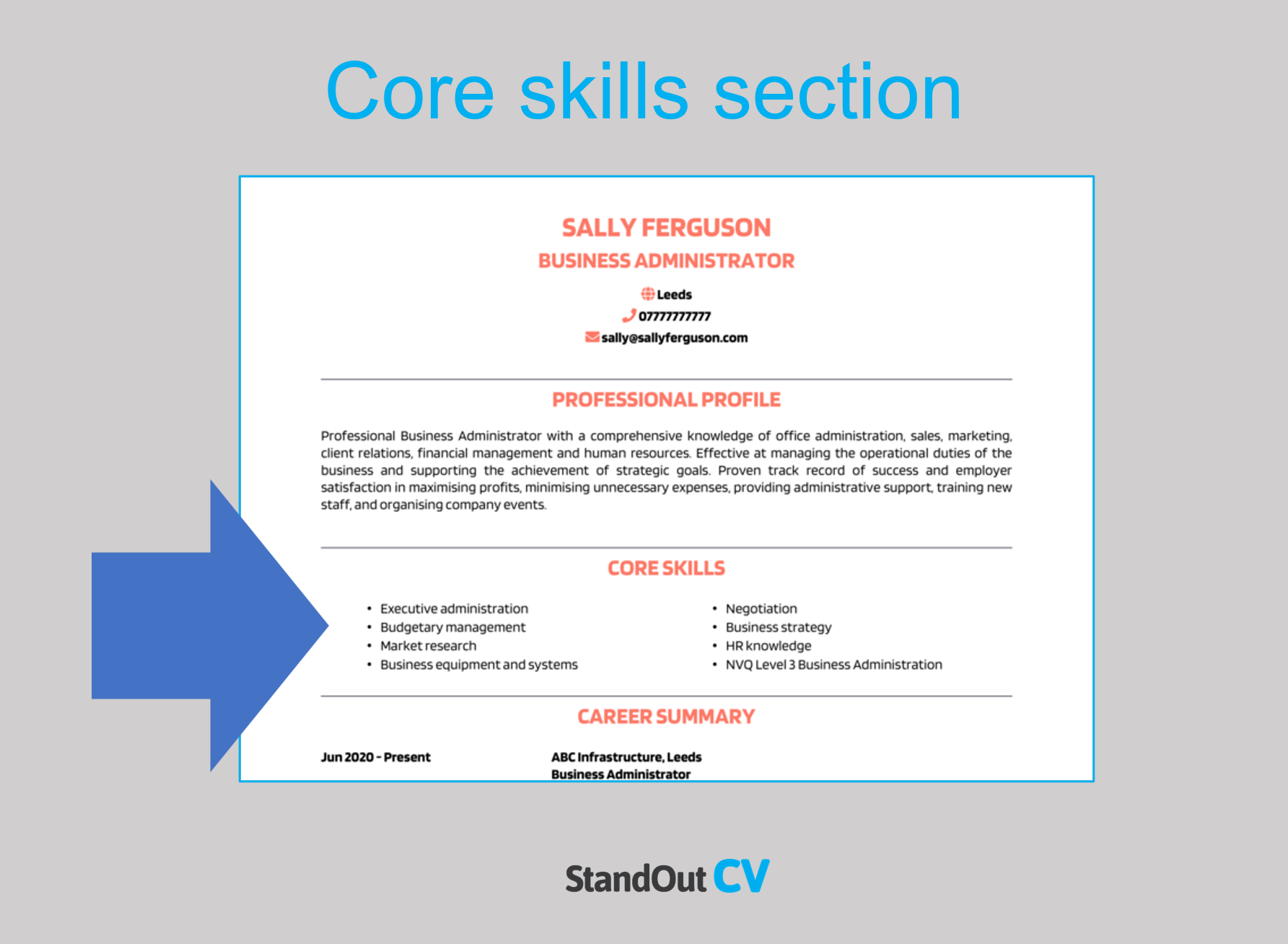 Best skills for your Facilities Coordinator resume
Facilities management – Managing facilities, including building maintenance, repairs, and improvements, to ensure that facilities are safe, functional, and well-maintained.
Vendor management – Identifying, negotiating with, and managing vendors, including contractors, suppliers, and maintenance personnel, to ensure that facilities are maintained efficiently and cost-effectively.
Budget management – Utilizing knowledge of budget management principles, including tracking expenses and preparing financial reports, to assist in managing the facilities budget and ensuring that facilities are maintained within budget constraints.
Safety protocols – Utilizing knowledge of safety protocols and practices, including maintaining compliance with health and safety regulations, to ensure a safe work environment.
Space planning – Planning and managing space allocation, including office layouts and furniture placement, to ensure that facilities are optimized for productivity and functionality.
Energy management – Utilizing knowledge of energy management principles, including identifying areas of energy waste and implementing energy-efficient practices, to reduce energy consumption and lower costs.
Project management – Managing facilities-related projects, including setting timelines, budgets, and resources, to ensure that projects are completed on time and within budget.
Facilities technology – Utilizing facilities technology, including building automation systems and maintenance software, to manage facilities efficiently and effectively.
Contract management – Utilizing knowledge of contract management processes, including contract review and negotiation, to ensure that contractual obligations are met and risks are mitigated.
Quick tip: Our partner's Resume Builder contains thousands of in-demand skills for every profession that can be added to your resume in seconds – saving you time and greatly improving your chances of landing job interviews and getting hired.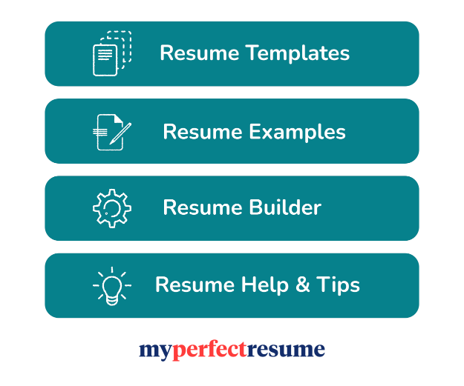 Work experience
Now that you've reeled recruiters in with your awesome summary, it's time to delve into your work experience.
Here you'll list your previous jobs (starting with your most recent and working backward) and showcase how you apply your skills in the workplace.
Provide lots of detail in recent jobs, and less in older roles.
If you have no relevant paid experience, you can include voluntary work and placements – but if you have lots of experience, you can leave out some of the really old jobs.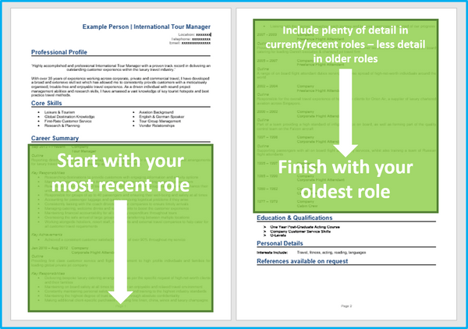 Structuring your jobs
Without a good structure, your job description can look messy and overwhelming to anyone reading them.
Make it easy for recruiters to read your work experience by structuring your roles like this.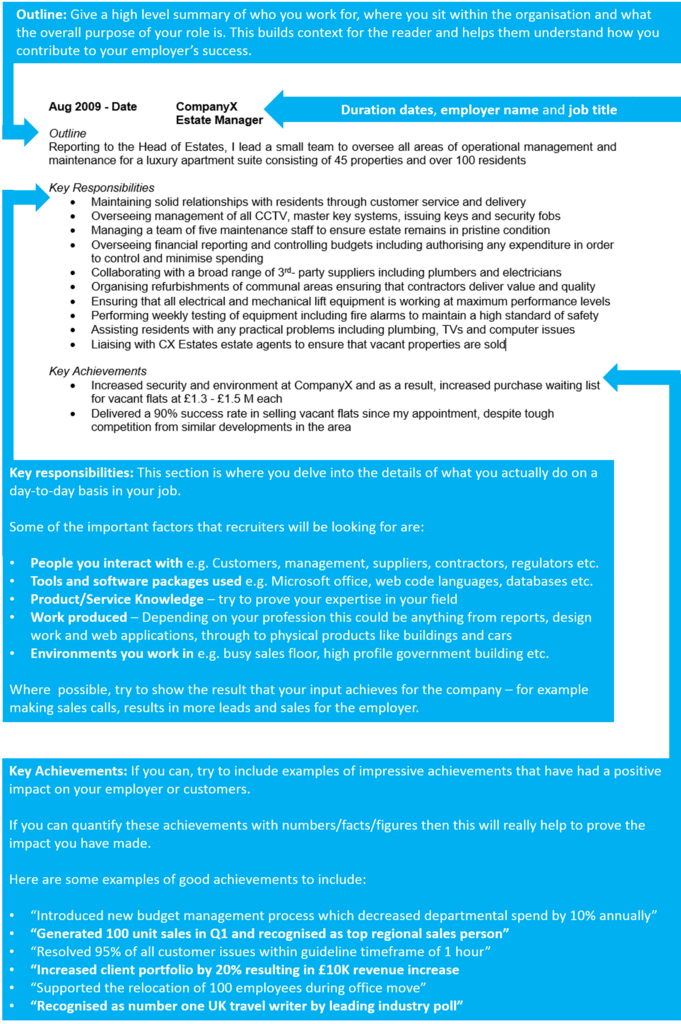 Job outline
Begin each job with a short summary of who the organization is, where you sit within it, and what the main goal of your position is.
Key responsibilities
Next, write up a punchy list of your daily duties and responsibilities, using short bullet points.
Describe how you apply your skills and contribute to the running of the employer's business – highlighting skills which are applicable to your target jobs.
Key achievements
Finish each role by highlighting some impressive achievements you made whilst in the role.
Anything that benefited the employer can be included from making financial savings, to winning new customers.
Quantify your achievements with facts and figures if you can, e.g. "reduced call wait time by 10%"
Example job for Facilities Coordinator resume
Outline
Manage and coordinate the maintenance, repairs, and upgrades of law firm, Stalone's, 100,000 sq. ft. office building, supervising a team of 6 maintenance technicians and coordinating with vendors for specialized repairs and installations.
Key Responsibilities
Develop and implement a preventative maintenance plan to ensure the smooth operation of all facility systems, including HVAC, plumbing, and electrical
Supervise and schedule maintenance technicians, ensuring all tasks are completed efficiently and on time
Coordinate with vendors for specialized repairs and installations, such as elevator maintenance and fire alarm inspections
Manage the facility budget, ensuring all expenses are within budget and negotiating with vendors to obtain competitive pricing
Quick tip: Create impressive job descriptions easily in our partner's Resume Builder by adding pre-written job phrases for every industry and career stage.

Education section
Nearing the end of your resume, your education/qualifications section should be added.
In a well-structured list, add all of your qualifications and certifications that qualify you to perform a typical Facilities Coordinator role.
If you have plenty of work experience, keep this section brief – if not, add lots of detail to make up for your lack of experience.
Additional information
The additional info section is optional but can be useful if you have anything else to add that could benefit your application.
For example, you may have some hobbies and interests that are relevant to your job – or you might have awards or publications to shout about.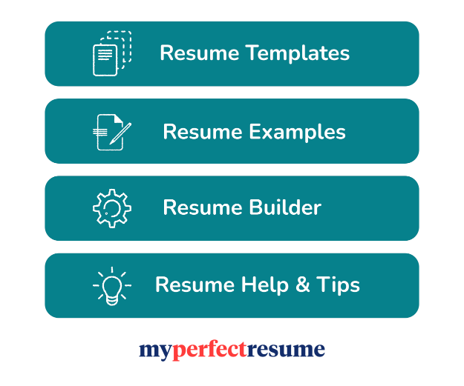 Writing your own winning Facilities Coordinator resume
Crafting a strong Facilities Coordinator resume can be a daunting task, but implementing the steps outlined above will significantly increase your chances of securing multiple interview opportunities.
Good luck with your job search!