You're organized, detail-oriented, and you've got the financial skills to ensure every project stays on budget. The tricky part is proving this to the recruiter.
In order to grab their attention and secure an interview, you need a strong resume that outlines your key achievements in the field.
To help you create this, we've put together an estimator resume example, along with our top writing tips to guide you.
Guide contents
| | |
| --- | --- |
| How to write a Estimator resume | |

Estimator Resume Example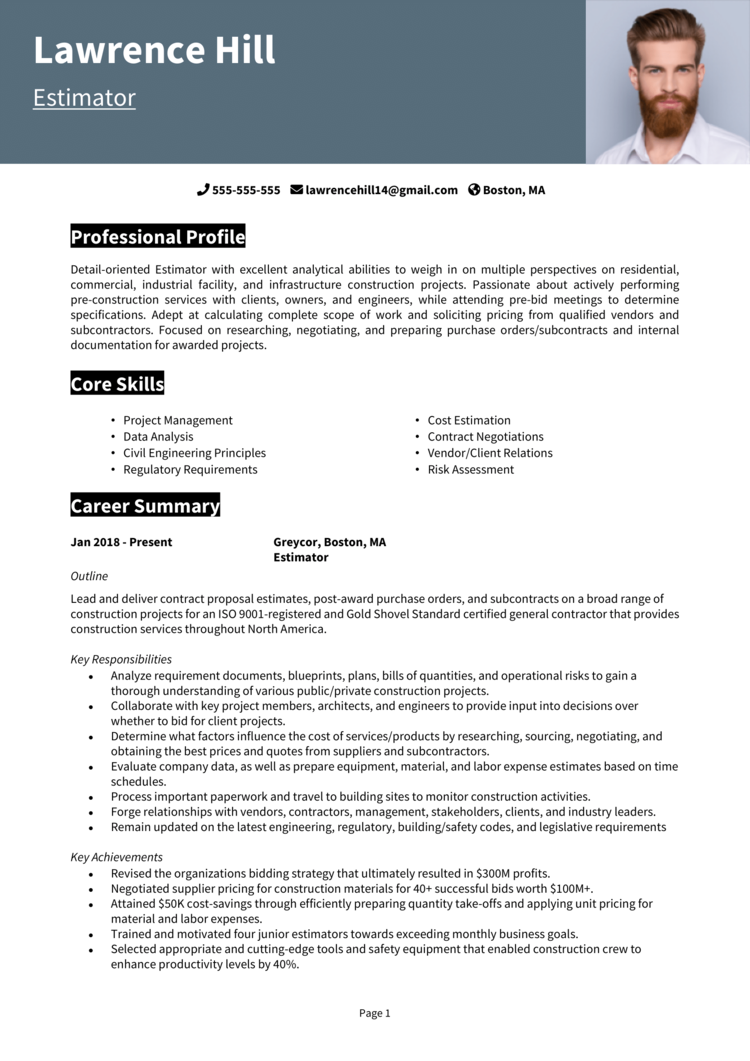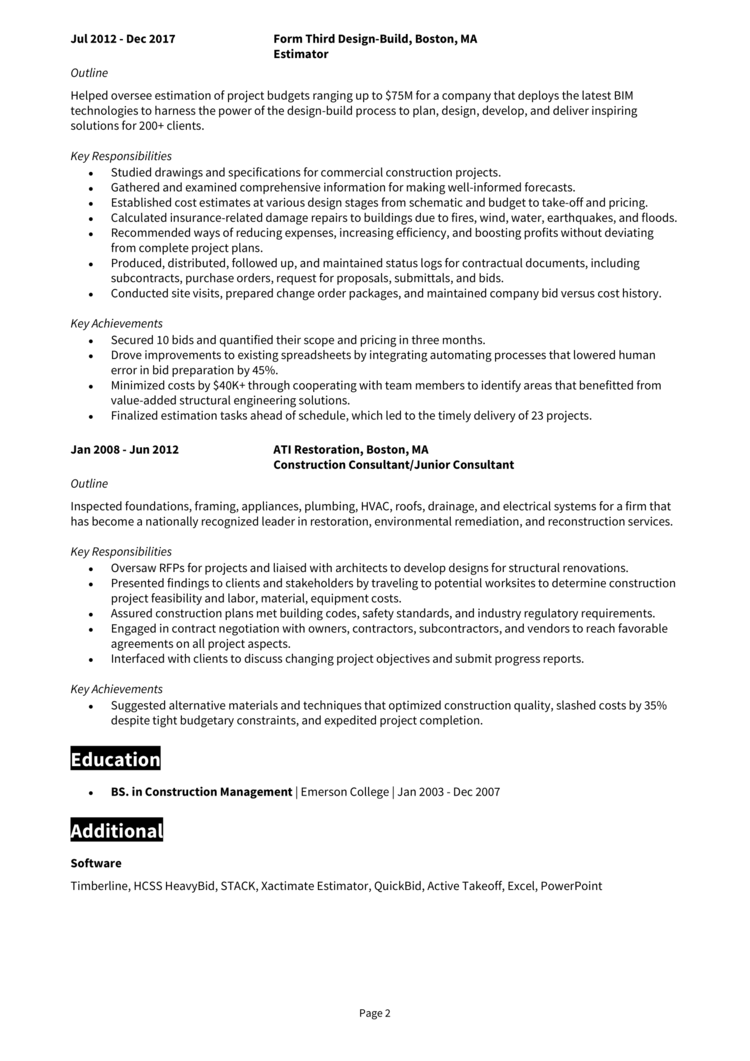 The example Estimator resume above shows you how a professional resume should look, along with the type of content it should contain.
You can see that the information is well-organized across the page, and its easy for busy recruiters to see the candidate's important skills.
Keep this in mind when writing your own resume.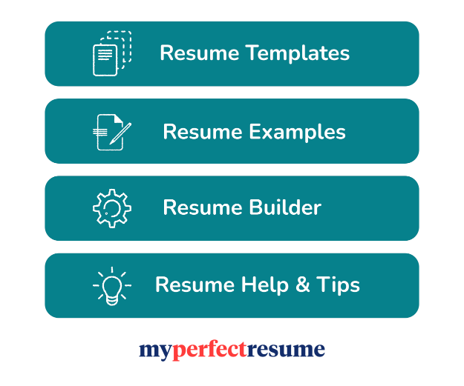 Estimator resume layout and formatting
Formatting is often overlooked when writing resume, but it's a crucial element of it"s success.
Creating a document that not only looks good, but is easily comprehended, is the key to gaining and holding the attention of busy hiring managers.
Use these formatting tips for best results.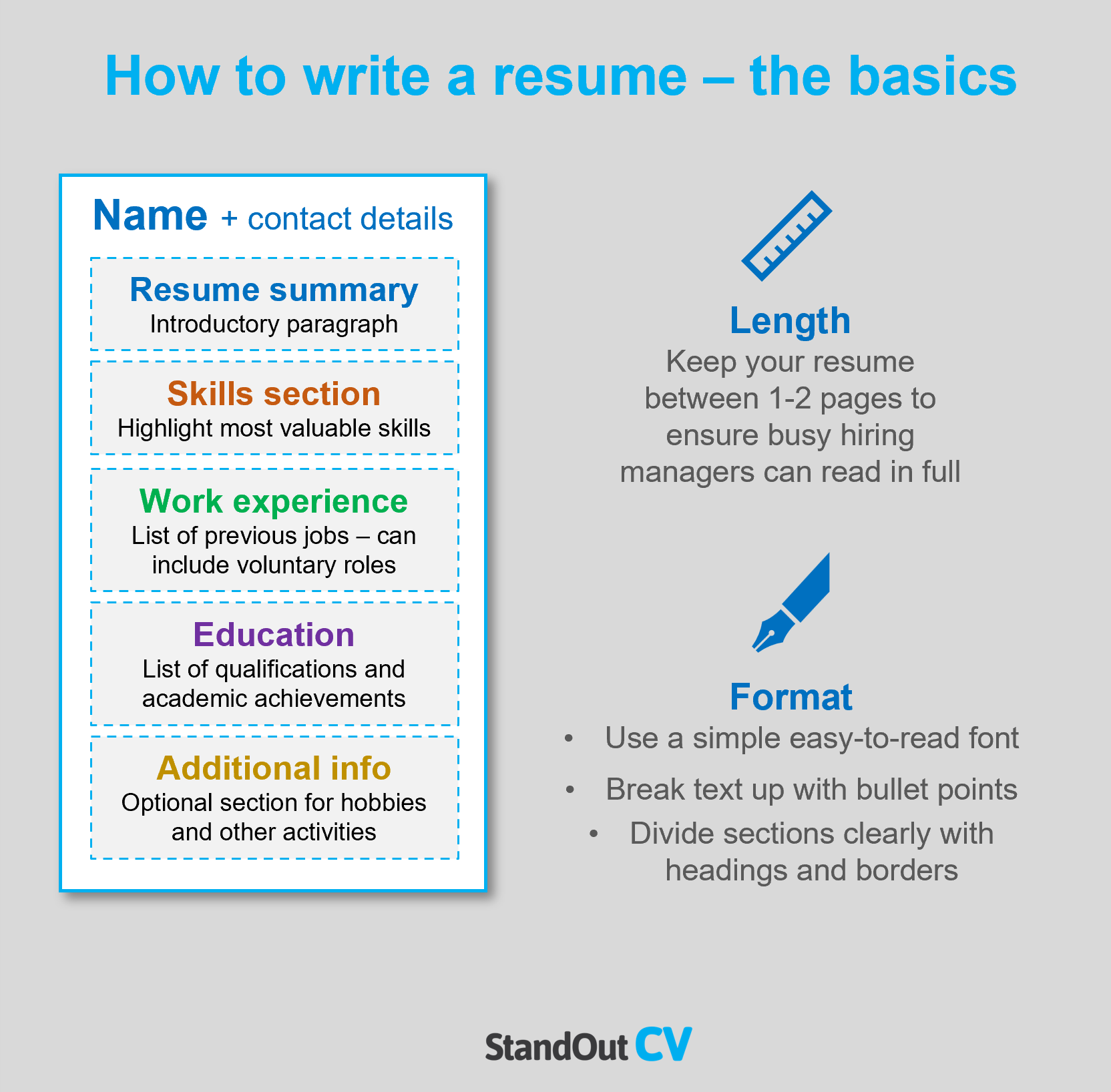 How to format your resume
Length: Recruiters often see hundreds of resumes per day – so keep yours under 2 pages in length, if you want to ensure it gets read in full.
Font & text: Complex fonts are a readers' worst nightmare and will leave recruiters struggling to understand your message. Use a clear simple lean font in a color that stands out against the page, and break your text up with bullet points to make the content easily digestible.
Design & layout: Hiring managers should be able to skim through your resume easily and pinpoint the information they want quickly. To help them do this, organize the page into clear sections with bold headings and dividing borders. The design should be clutter-free and professional-looking, with a calm color scheme.
Photos: In the USA adding a photo to your resume is optional – you don't have to do it, but it can be a nice way to get your personality across.
Quick tip: Achieving a professional look for your resume can be difficult and time-consuming. If you want to create an attractive resume quickly, try our partner's Resume Builder and use one of their eye-catching resume templates.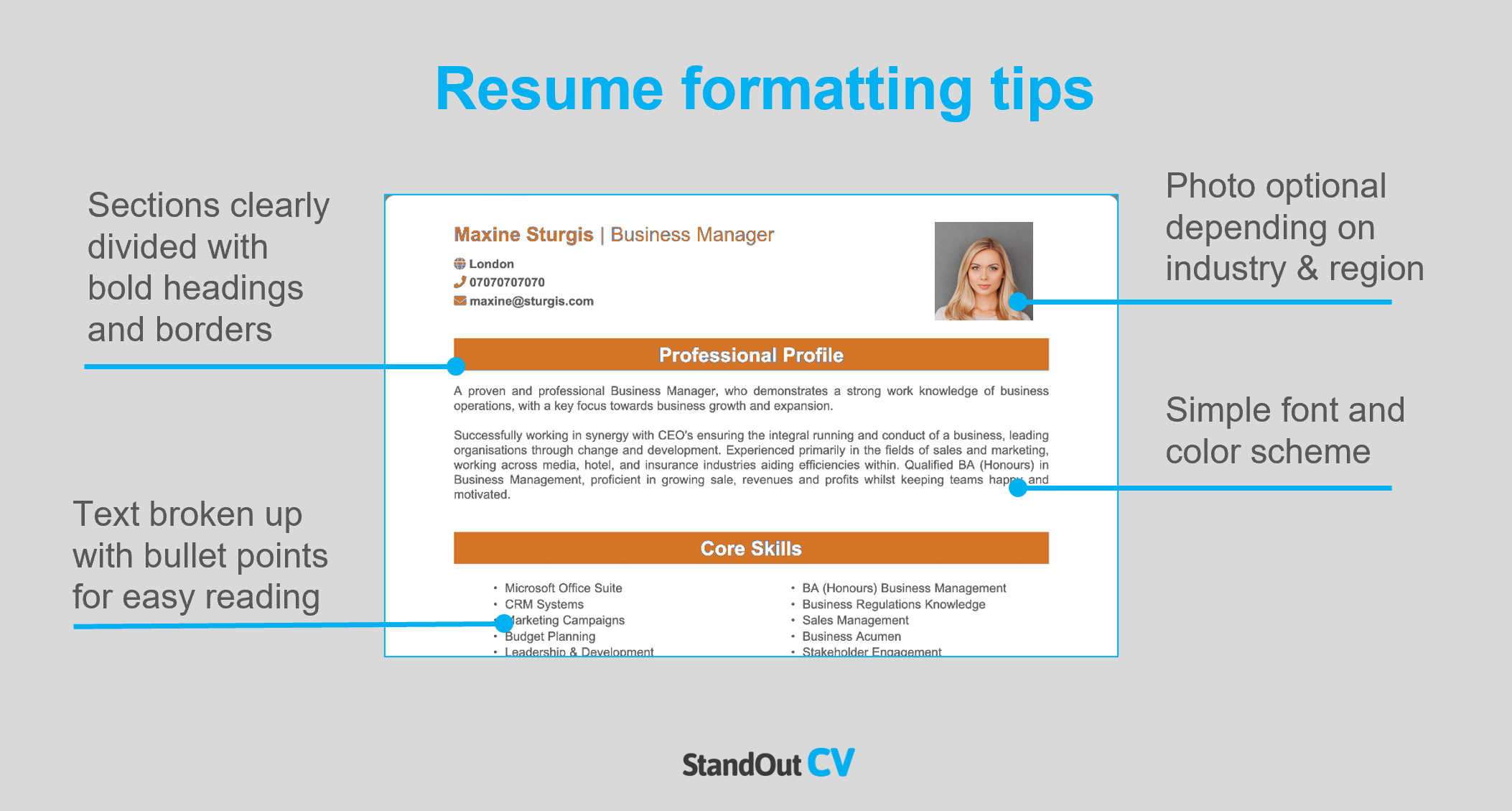 Resume layout
When you write your resume, include the sections below.
Name and contact details – Pop these at the very top to ensure recruiters know how to contact you.
Resume summary – An eye-catching paragraph which summarizes your most valuable attributes – placed near the top of your resume
Skills section – A bullet pointed list of your most in-demand skills, enabling recruiters to see your suitability from a glance.
Work experience – List some or all of your previous jobs in reverse chronological order – voluntary work and college placements can be included if you have no paid experience.
Education – A summary of your professional training and academic qualifications.
Additional info – An optional section for anything that may boost your application, such as relevant hobbies and interests
Here's what you should include in each section of your resume.
Resume Contact Details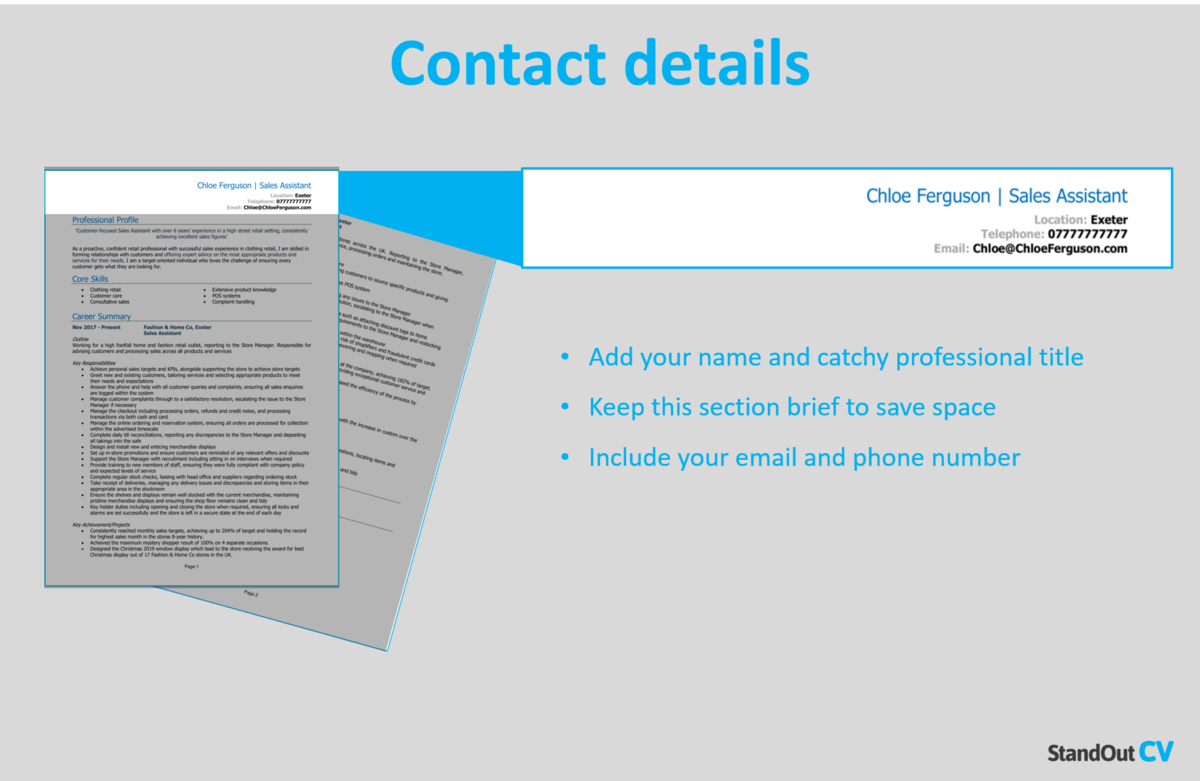 Keep your contact details short to save resume space and include the following.
Name and profession title
Cell phone number
Location – Add your local area such as Silicon Valley or New York, unless you are looking for work in a different location
Email address – Keep it professional and don't use an old address that you thought was cool in high school, but now looks a bit embarrassing.
You can add a link to your LinkedIn profile if you have one – you do not need to include personal details like date of birth or marital status.
Estimator Resume Summary
Now it's time to get into the real content of your resume, starting with the summary.
Your resume summary is a short paragraph at the top of the document, and its jobs is to catch the eye of hiring managers by summarizing all your skills and knowledge that are most important to the roles you are applying for.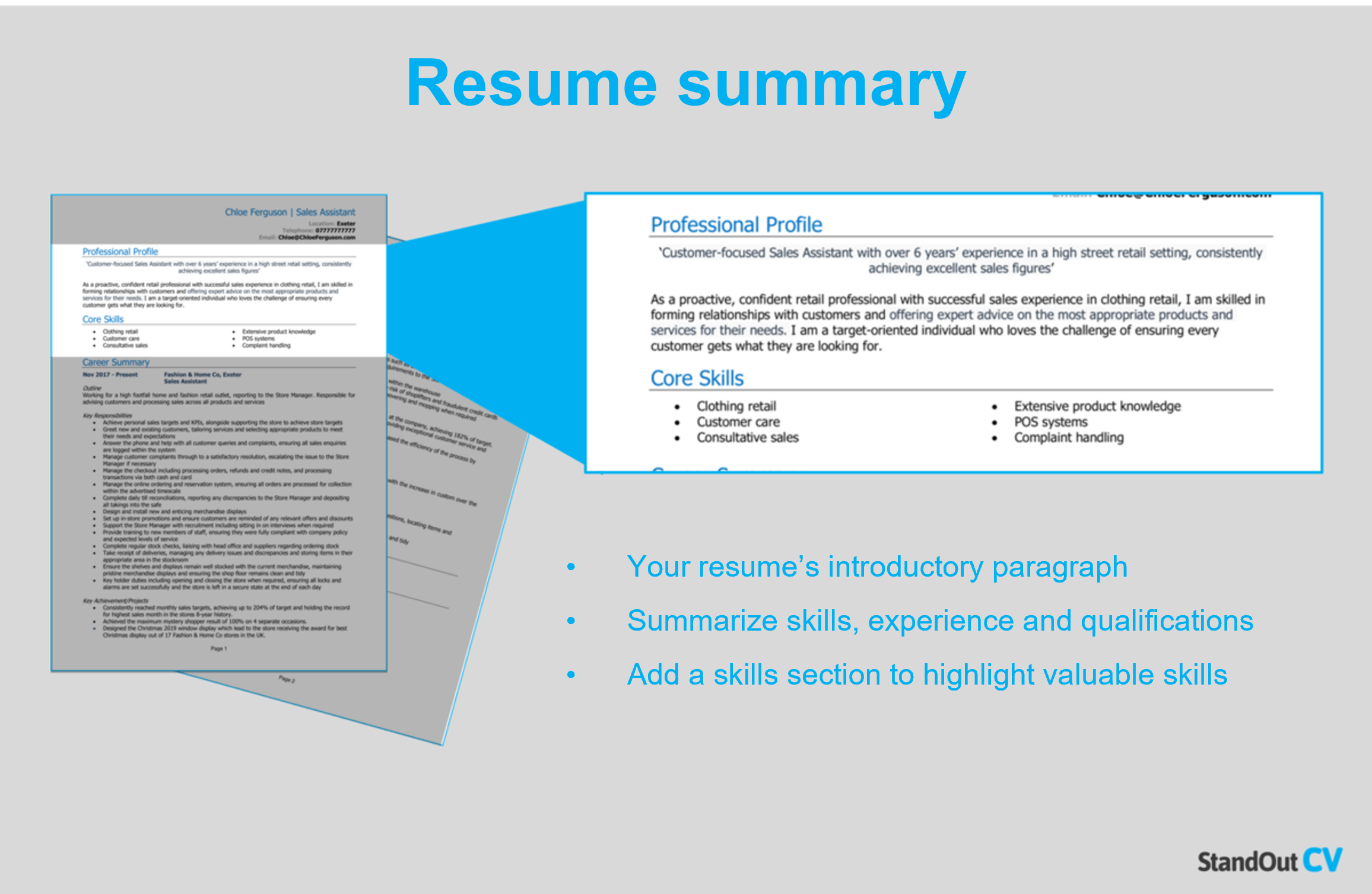 3 tips for creating a resume summary that will get noticed:
Keep it concise: Your summary is intended to be a high-level introduction to hook readers' attention, so keep it brief (4-7 lines) – save the details for later in your resume.
Tailor to target jobs: Ensure your profile makes an impact by matching it closely to the requirements of the job description, copying as many key terms as possible.
Don't use cliches: Recruiters look for facts in resumes, such as hard skills and qualifications – so, leave out the meaningless cliches like "hard worker who works well in a team and individually"
Example resume summary for Estimator
Detail-oriented Estimator with excellent analytical abilities to weigh in on multiple perspectives on residential, commercial, industrial facility, and infrastructure construction projects. Passionate about actively performing pre-construction services with clients, owners, and engineers, while attending pre-bid meetings to determine specifications. Adept at calculating complete scope of work and soliciting pricing from qualified vendors and subcontractors. Focused on researching, negotiating, and preparing purchase orders/subcontracts and internal documentation for awarded projects.
What info to include in your Estimator resume summary?
Summary of experience: What type of organizations have you worked at? What types of roles have you done and what have you contributed to previous employers?
Relevant skills: Include your skills which are hyper relevant to Estimator jobs to instantly show your suitability.
Vital qualifications: If your job requires any qualifications such as a professional course or a college degree, mention it briefly in your summary.
Quick tip: Choose from hundreds of pre-written summaries across all industries, and add one to your resume with one-click in our partner's Resume Builder. All written by recruitment experts and easily tailored to suit your unique skillset and style.
Core skills section
Sitting just underneath your resume summary, your core skills section gives recruiters 4-10 of your most in-demand skills in just a glance.
As Estimator jobs may get hundreds of applications, this is a great way to stand out and quickly grab hiring managers' attention.
It should be made up of 2-3 columns of bullet points and highlight attributes that are hyper-relevant to the jobs you are aiming for.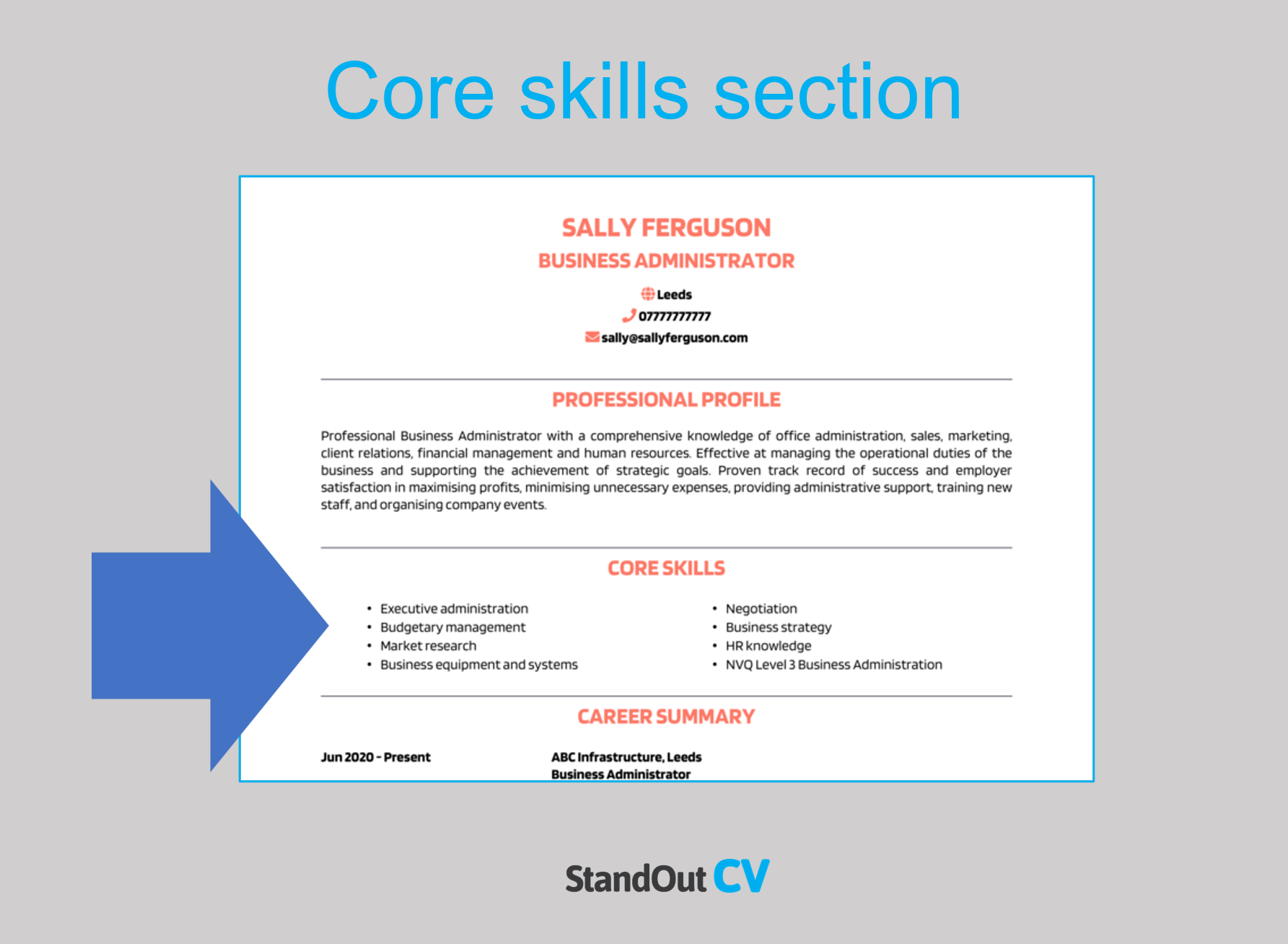 Top skills for your Estimator resume
Project Management – Understanding the project management lifecycle including overseeing projects from initiation, planning, execution, and closure.
Cost Estimation – Detailing estimation of costs, setting appropriate budgets, and controlling costs against that budget.
Contract Negotiations – Negotiating the terms and conditions in contracts and ensuring compliance with the agreements to maximise financial and operational performance and minimise risk.
Vendor Management – Managing the flow of goods and services throughout the project including maintaining relationships with suppliers to control costs, drive service excellence and mitigate risks.
Risk Assessment – Undertaking complex risk assessments to understand and mitigate the risks associated with using particular vendors, items etc.
Quick tip: Our partner's Resume Builder contains thousands of in-demand skills for every profession that can be added to your resume in seconds – saving you time and greatly improving your chances of landing job interviews and getting hired.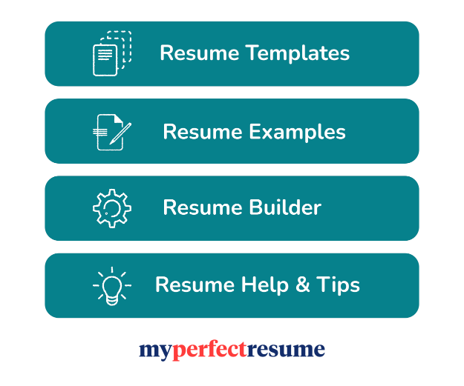 Resume work experience section
Now that you've reeled recruiters in with your awesome summary, it's time to delve into your work experience.
Here you'll list your previous jobs (starting with your most recent and working backward) and showcase how you apply your skills in the workplace.
Provide lots of detail in recent jobs, and less in older roles.
If you have no relevant paid experience, you can include voluntary work and placements – but if you have lots of experience, you can leave out some of the really old jobs.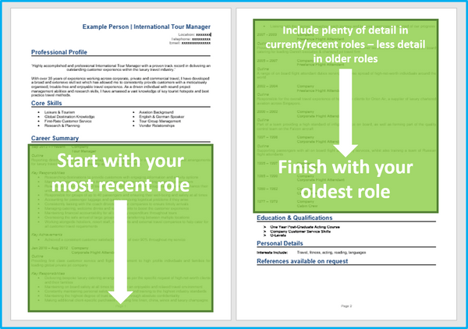 Structuring your job descriptions
You probably do a lot in your job, so its vital to break all of that information down into a good structure.
Structure your jobs as follows to make it easy for recruiters to skim through and pinpoint the essential info.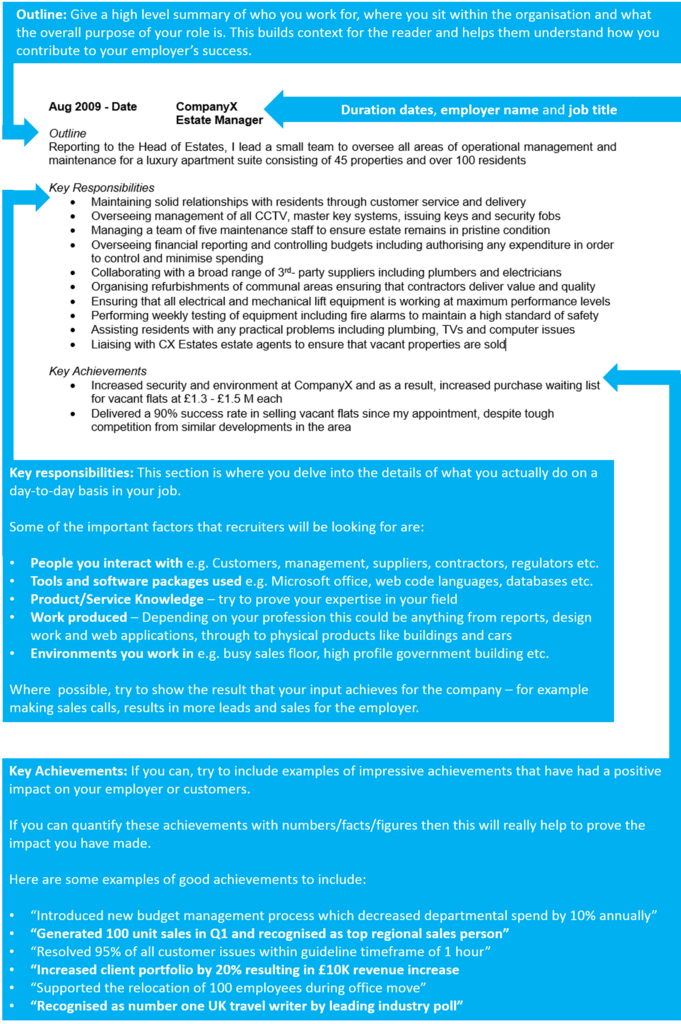 Job outline
Kick off each role with a high-level overview to summarize the focus of the job, what the organization/department does, and how you fit into the bigger picture.
Key responsibilities
Then delve into the detail of your job by listing out easy-to-read bullet points which show how you apply your skills in the workplace.
Tailor these bullet points to focus on the skills and knowledge that are required in the jobs you are applying for.
Key achievements
Finish each role by highlighting some impressive achievements you made whilst in the role.
Anything that benefited the employer can be included from making financial savings, to winning new customers.
Quantify your achievements with facts and figures if you can, e.g. "reduced call wait time by 10%"
Example job for Estimator resume
Outline
Lead and deliver contract proposal estimates, post-award purchase orders, and subcontracts on a broad range of construction projects for an ISO 9001-registered and Gold Shovel Standard certified general contractor that provides construction services throughout North America.
Key Responsibilities
Analyze requirement documents, blueprints, plans, bills of quantities, and operational risks to gain a thorough understanding of various public/private construction projects.
Collaborate with key project members, architects, and engineers to provide input into decisions over whether to bid for client projects.
Determine what factors influence the cost of services/products by researching, sourcing, negotiating, and obtaining the best prices and quotes from suppliers and subcontractors.
Evaluate company data, as well as prepare equipment, material, and labor expense estimates based on time schedules.
Quick tip: Create impressive job descriptions easily in our partner's Resume Builder by adding pre-written job phrases for every industry and career stage.

Education section
Nearing the end of your resume, your education/qualifications section should be added.
In a well-structured list, add all of your qualifications and certifications that qualify you to perform a typical Estimator role.
If you have plenty of work experience, keep this section brief – if not, add lots of detail to make up for your lack of experience.
Additional information
The additional info section is optional but can be useful if you have anything else to add that could benefit your application.
For example ,you may have some hobbies and interests that are relevant to your job – or you might have awards or publications to shout about.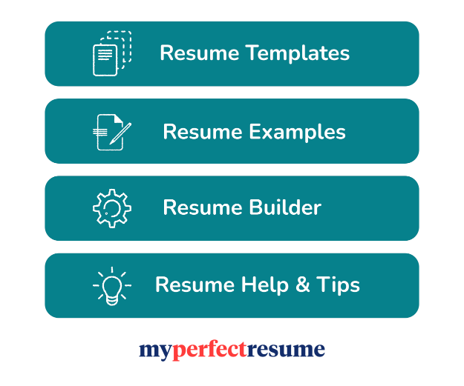 Writing your Estimator resume
A winning Estimator resume should look great, read well, and sell your skillset to hiring managers.
If you follow the steps above, you should be able to bag yourself a top job in no time.
And don't forget you can use our partner's Resume Builder if you want to save time and ensure your resume contains the very best content.
Good luck with your job search!