If you're hoping to secure an engineering role with a leading employer, you must start with an attractive resume.
Your resume is the foundation of your job hunt, and you should invest plenty of time and effort into it, if you want to secure the best interviews.
To help you do this I've complied this in-depth engineering resume guide complete with 8 engineer resume examples and downloadable template.

Mechanical engineer resume example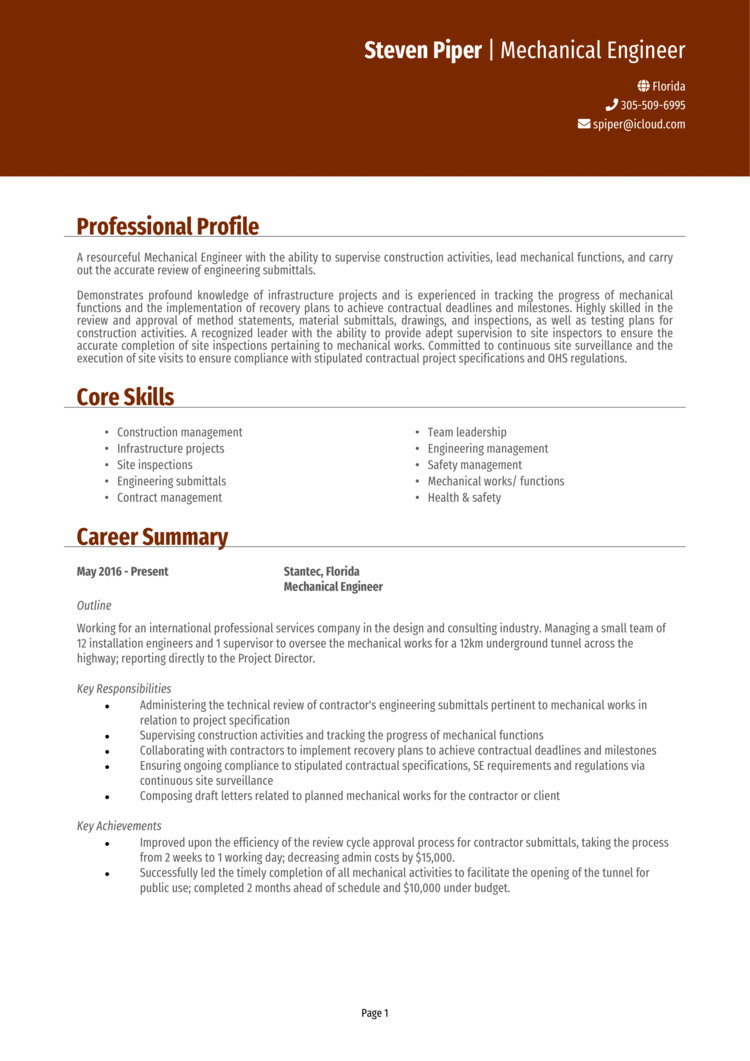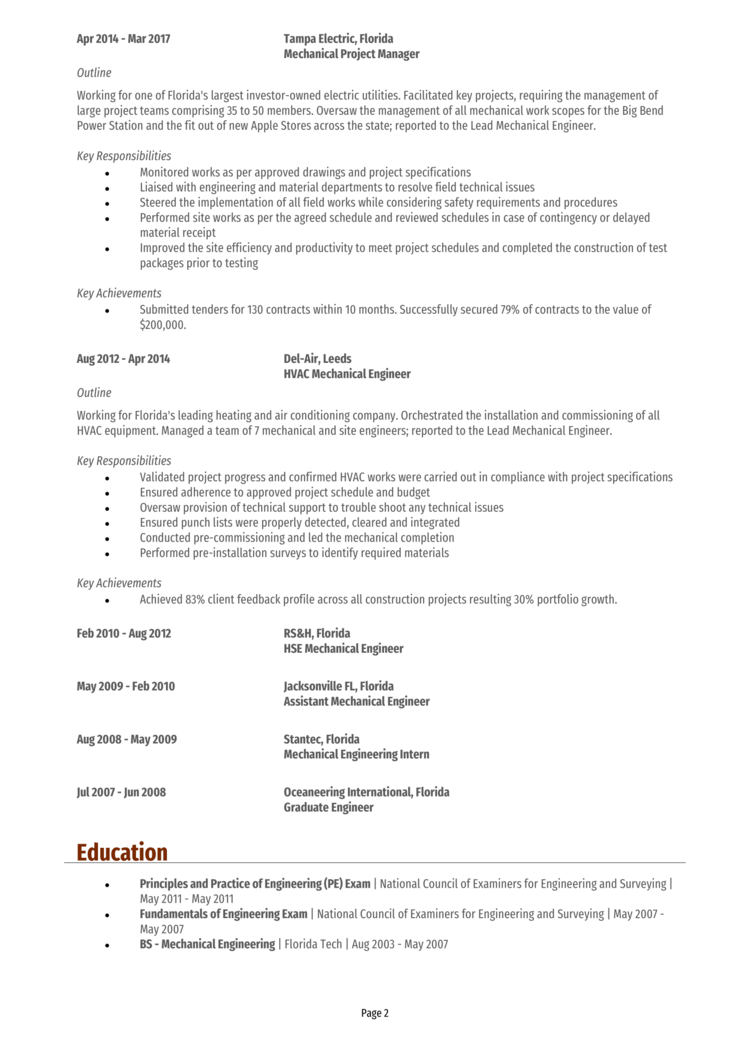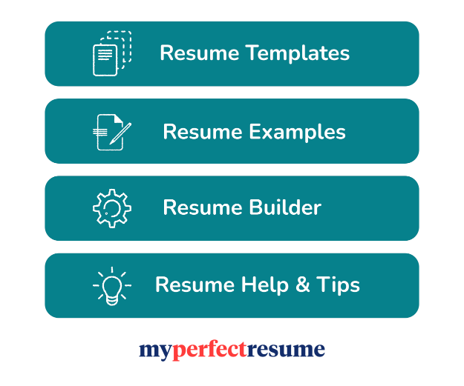 Software engineer resume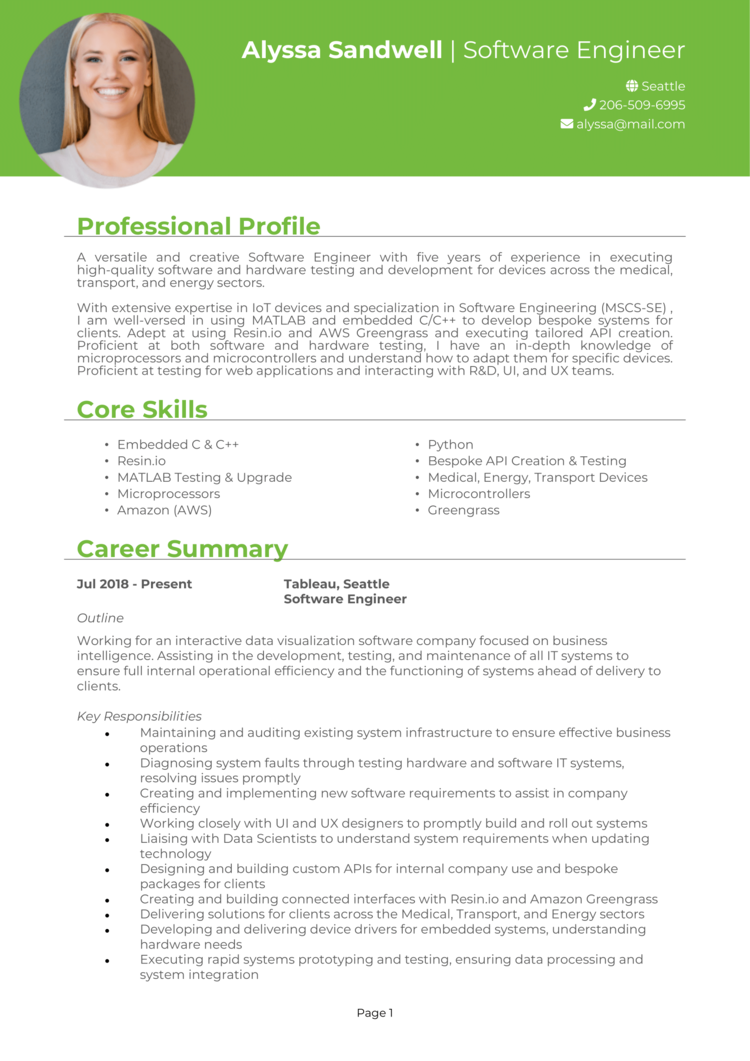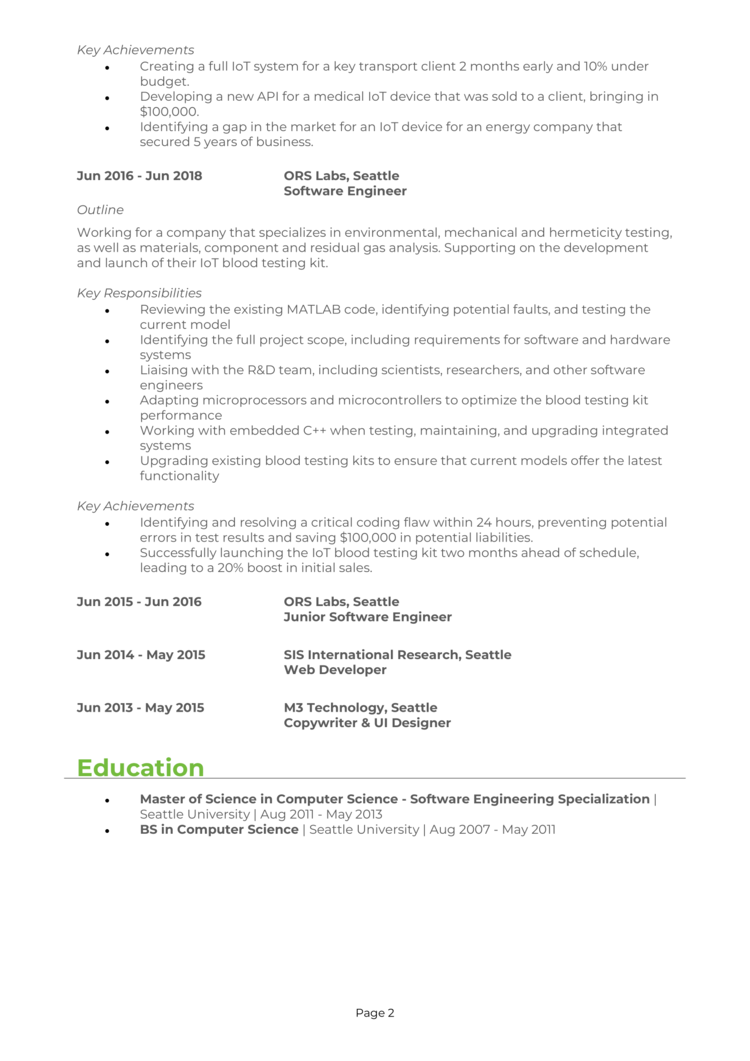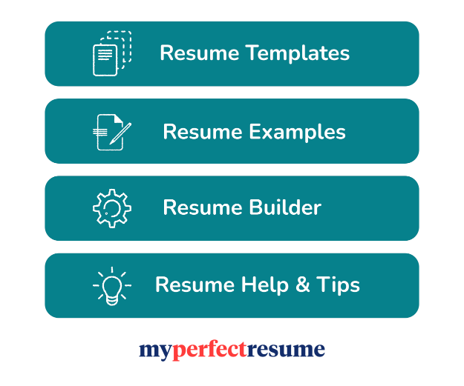 Electrical engineer resume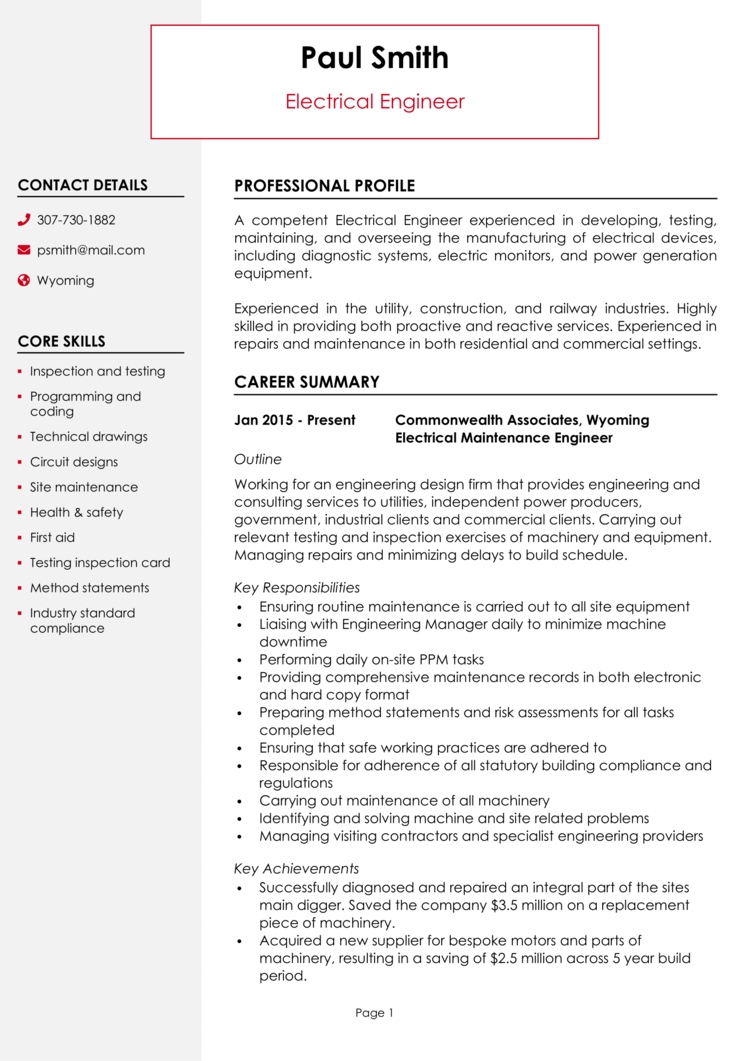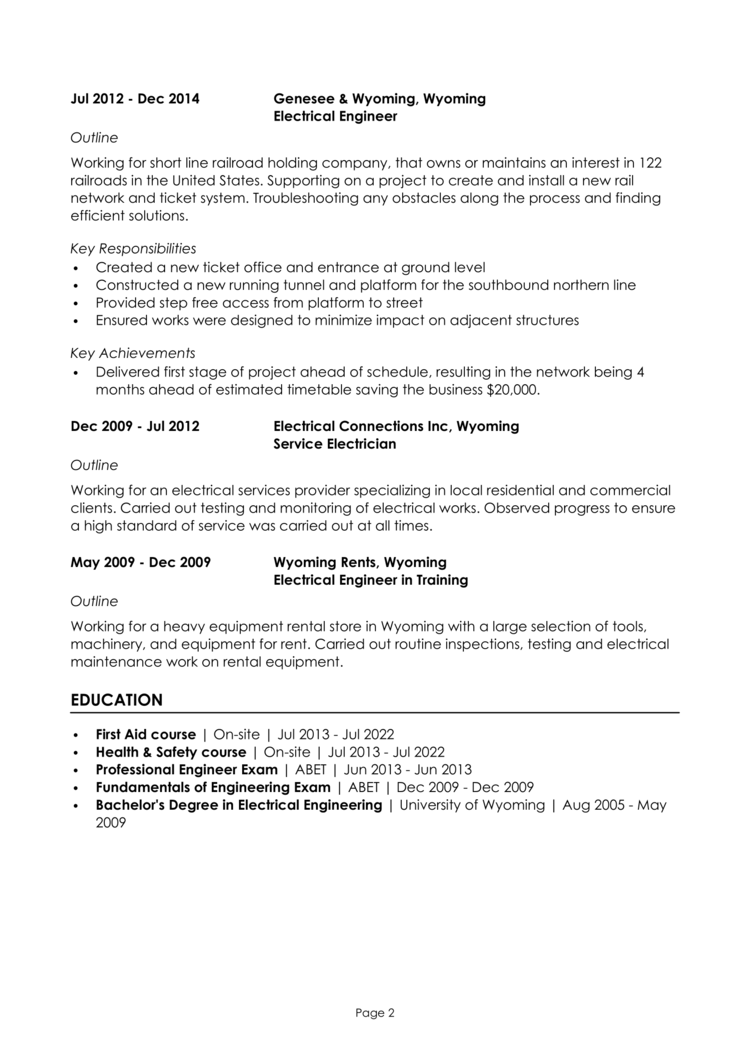 Data engineer resume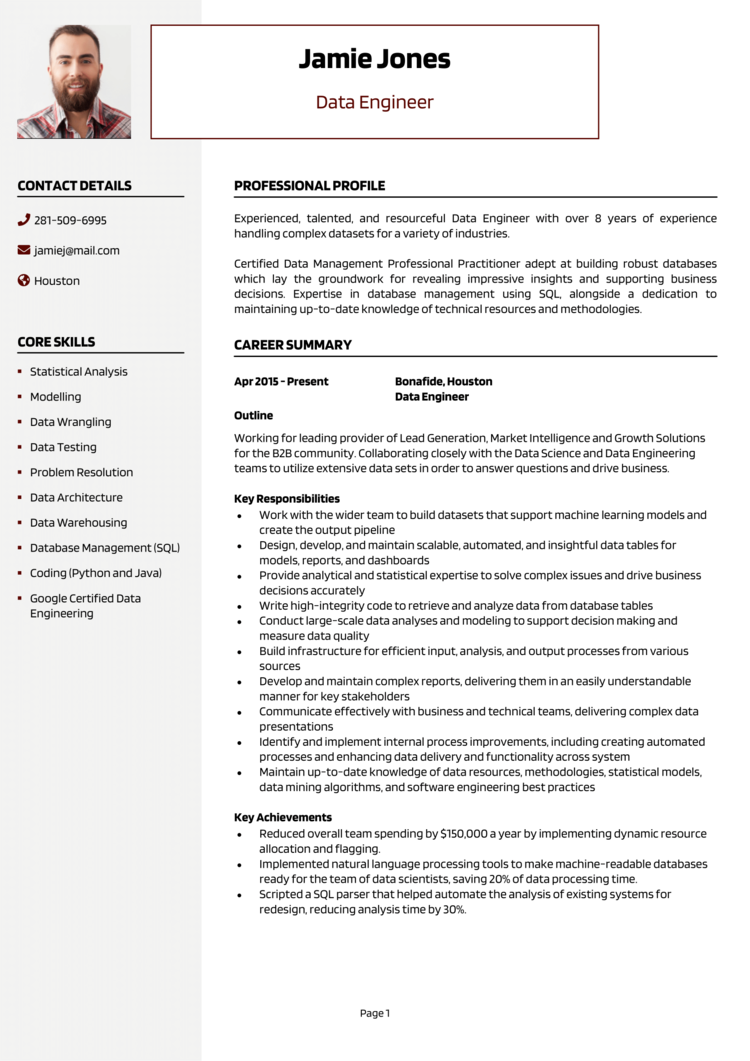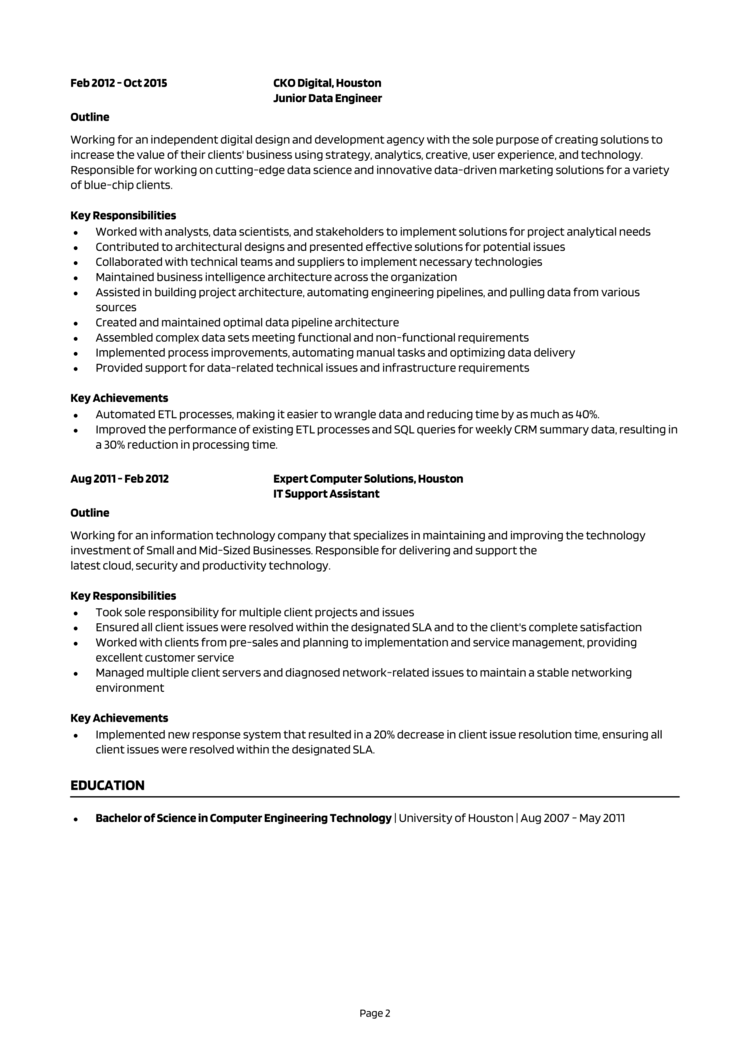 Civil engineer resume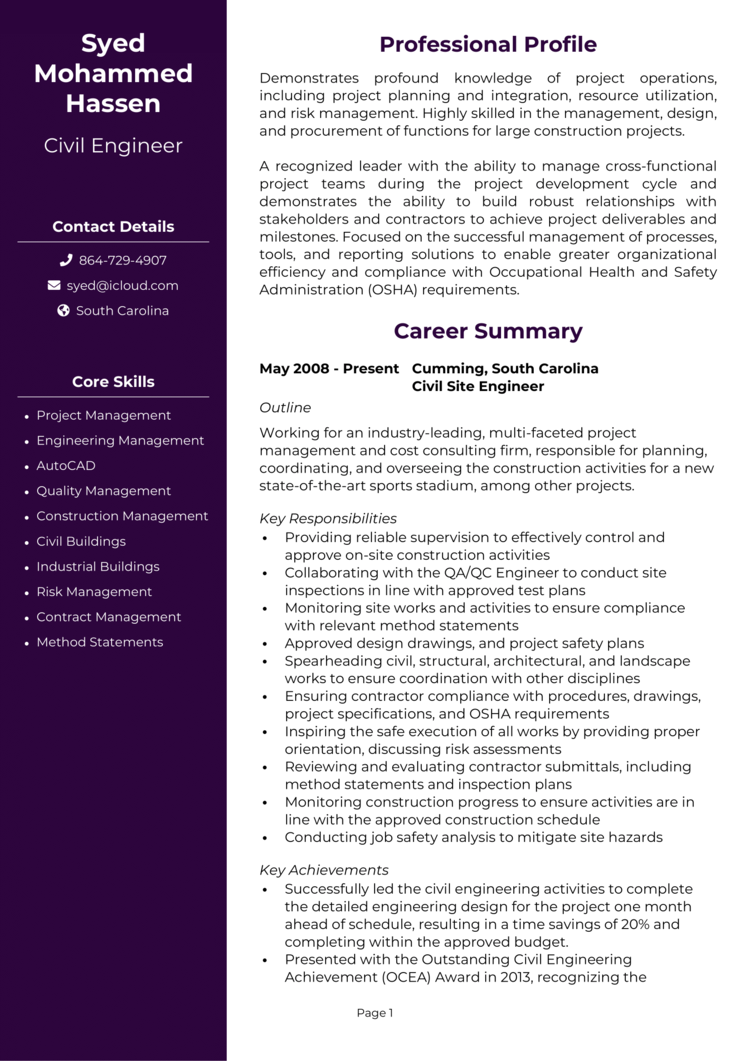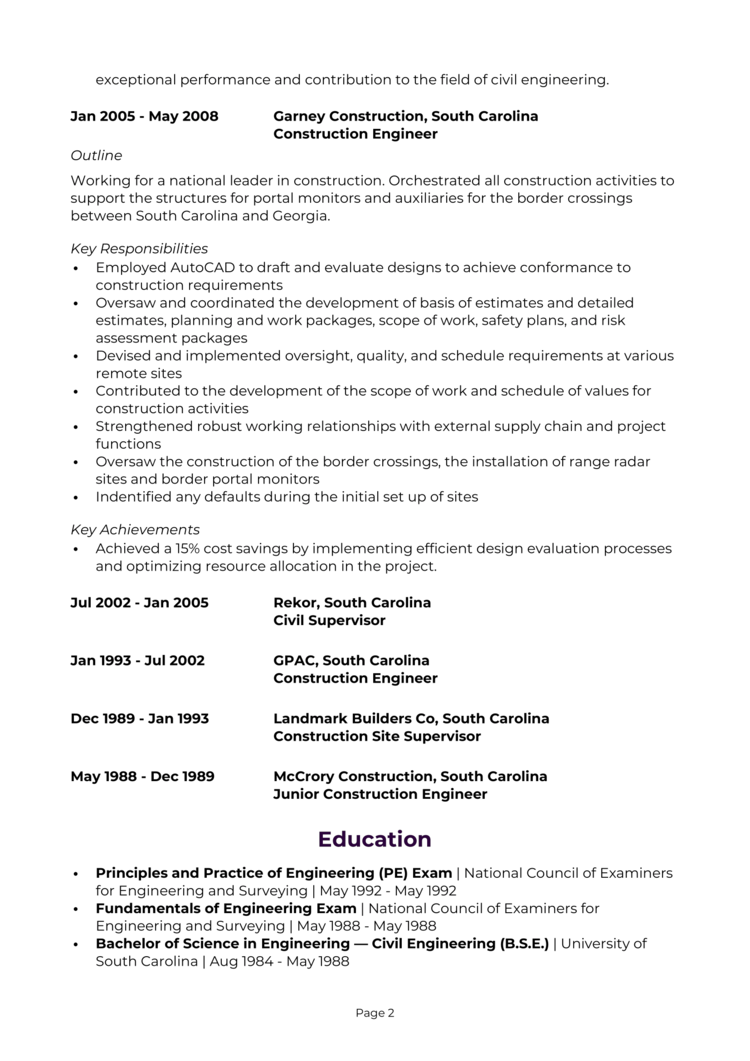 Network engineer resume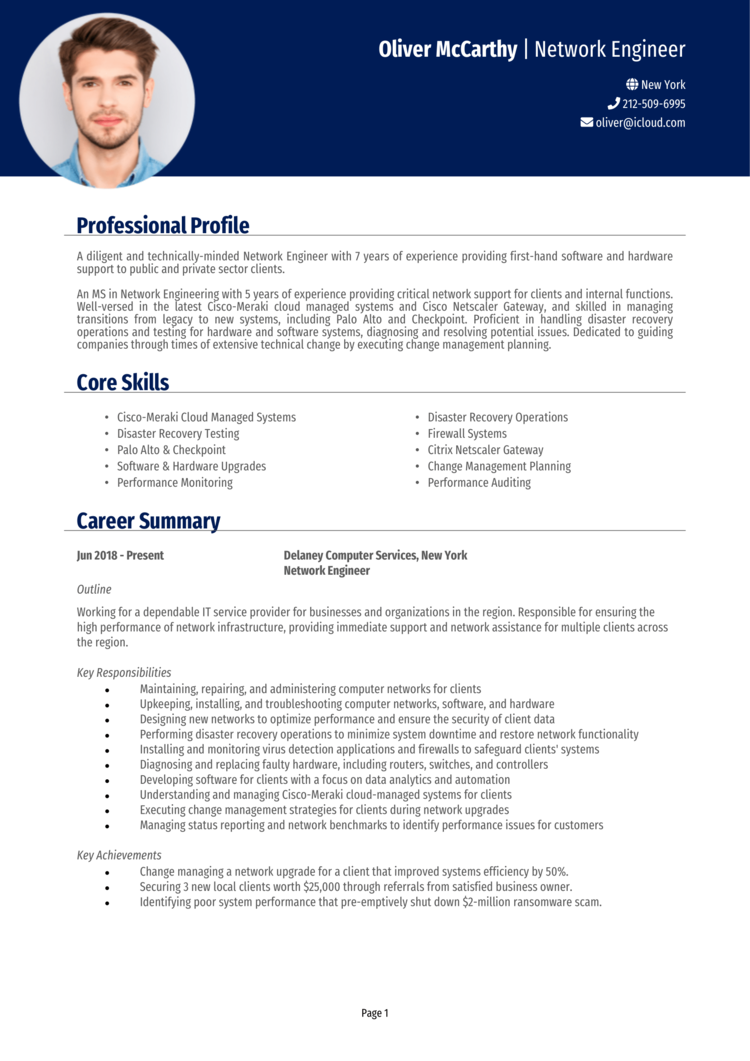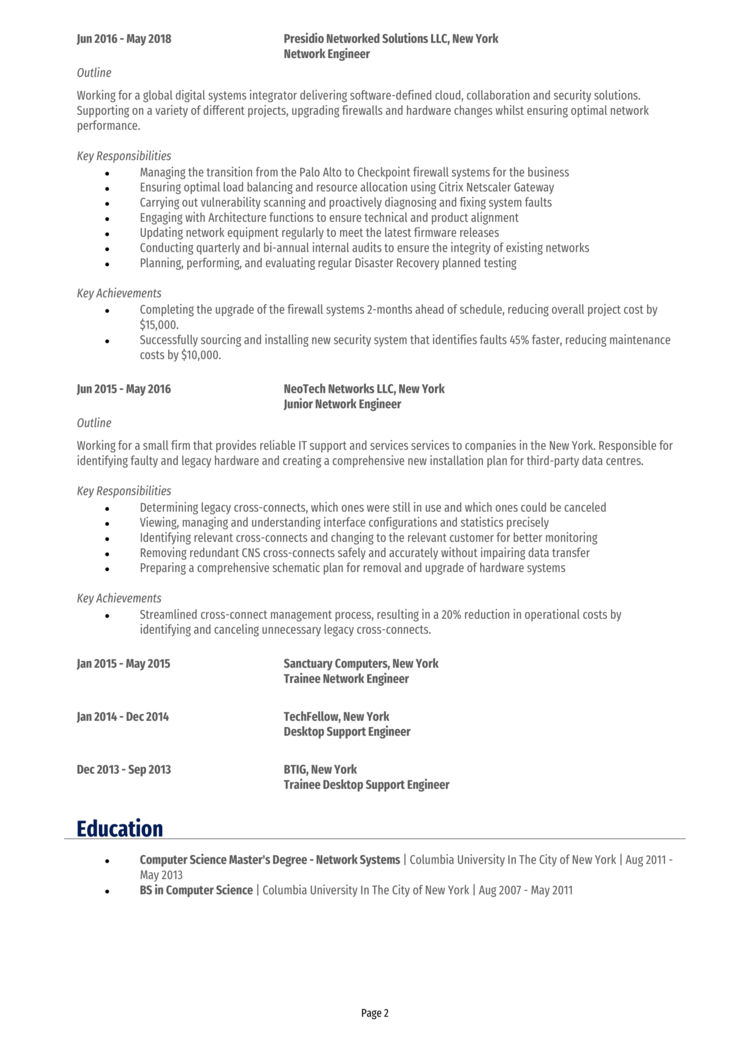 Devops engineer resume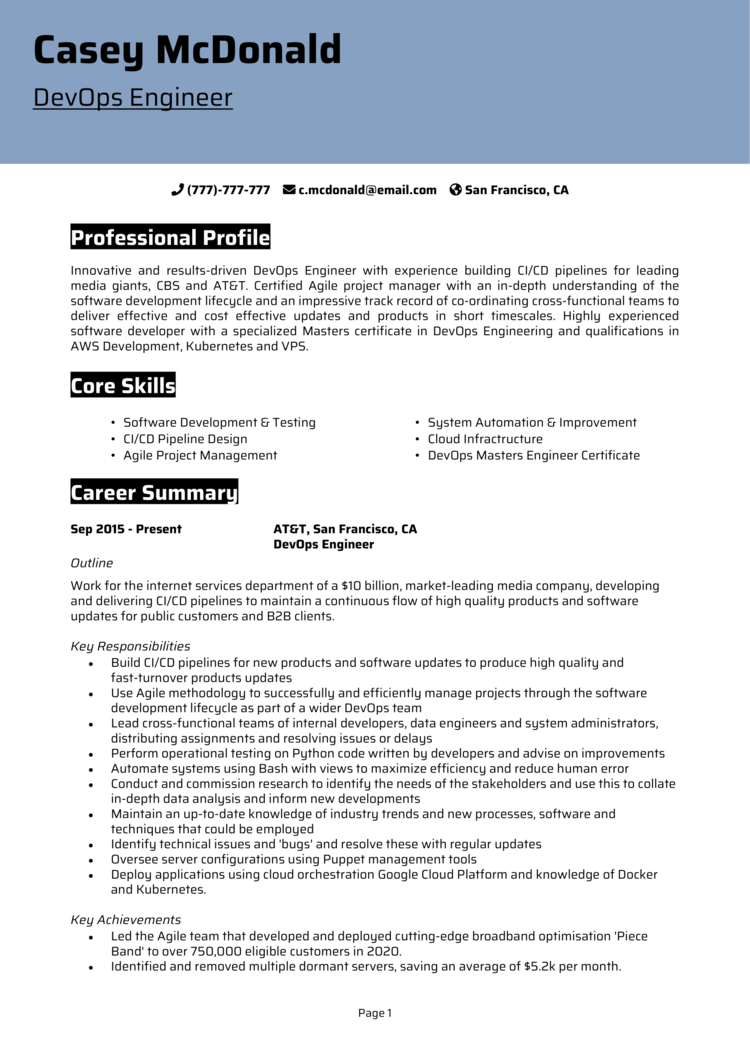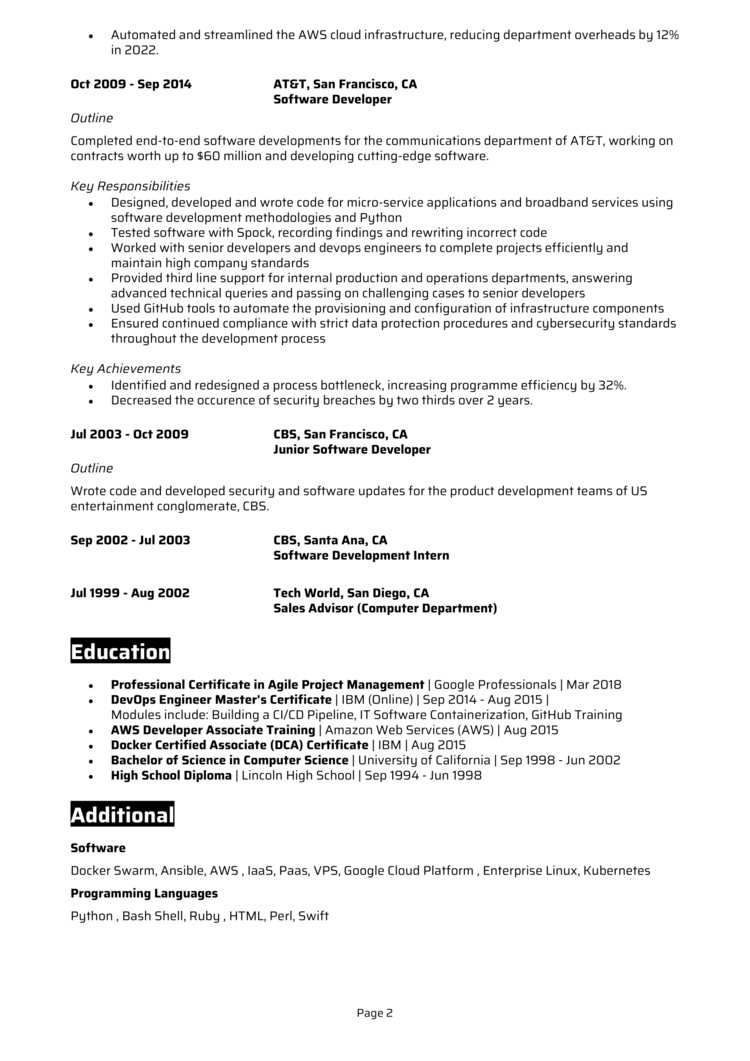 Engineering manager resume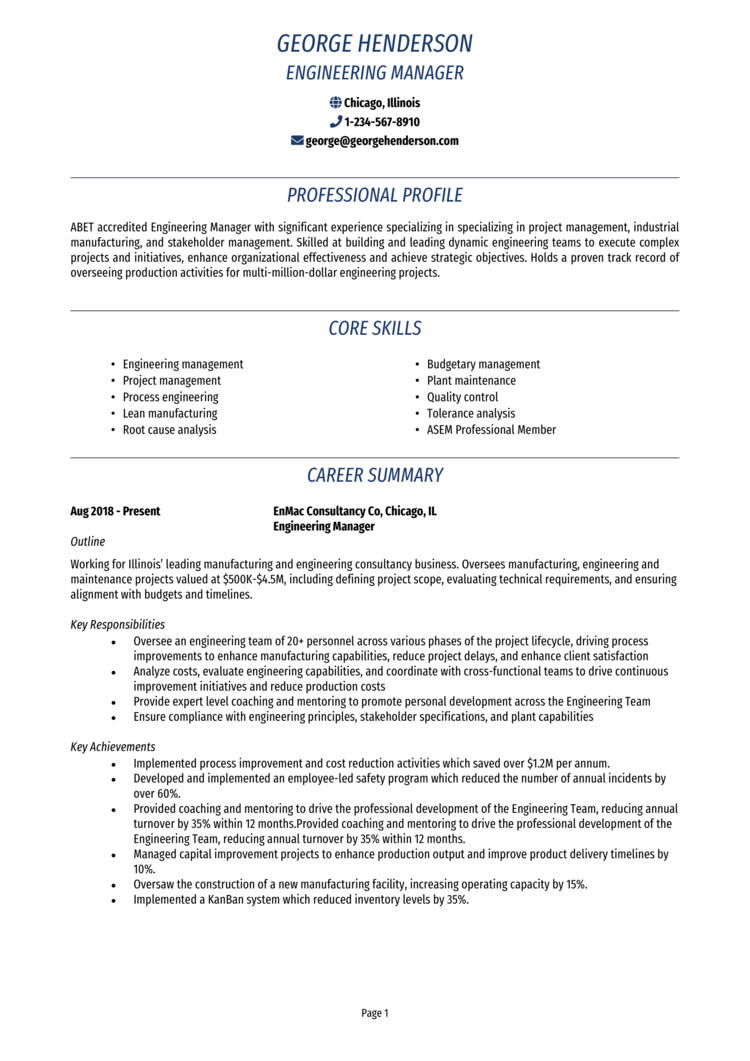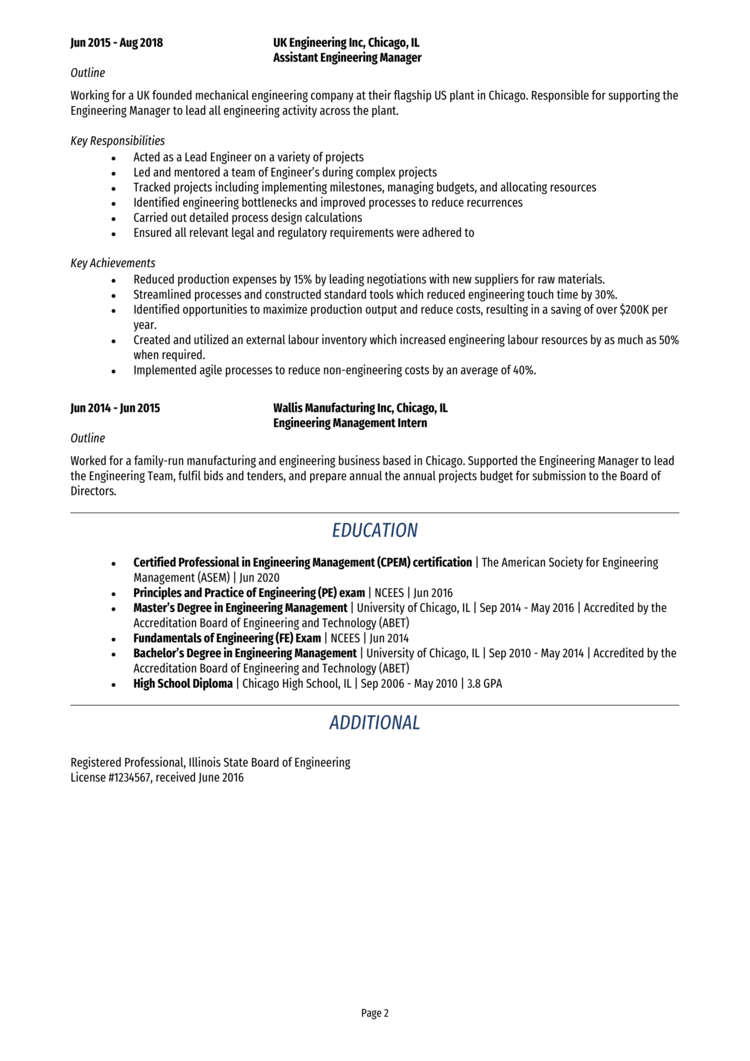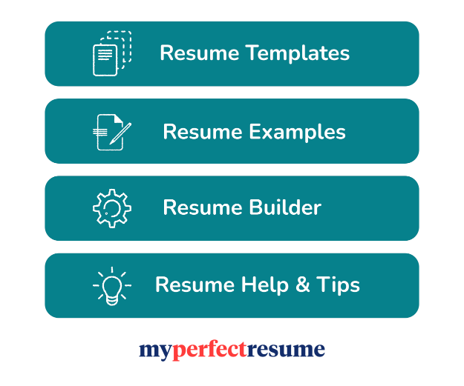 Start by looking at these examples of good engineering resumes to get a good idea of the format and structure you should be using in your own resume.
Now read this step-by-step guide to creating your own interview-winning resume.
Formatting and structuring your resume
To ensure that your resume looks professional and is easy for busy recruiters and hiring managers to read, you must get the format and structure right.
This infographic gives an overview of how to do this.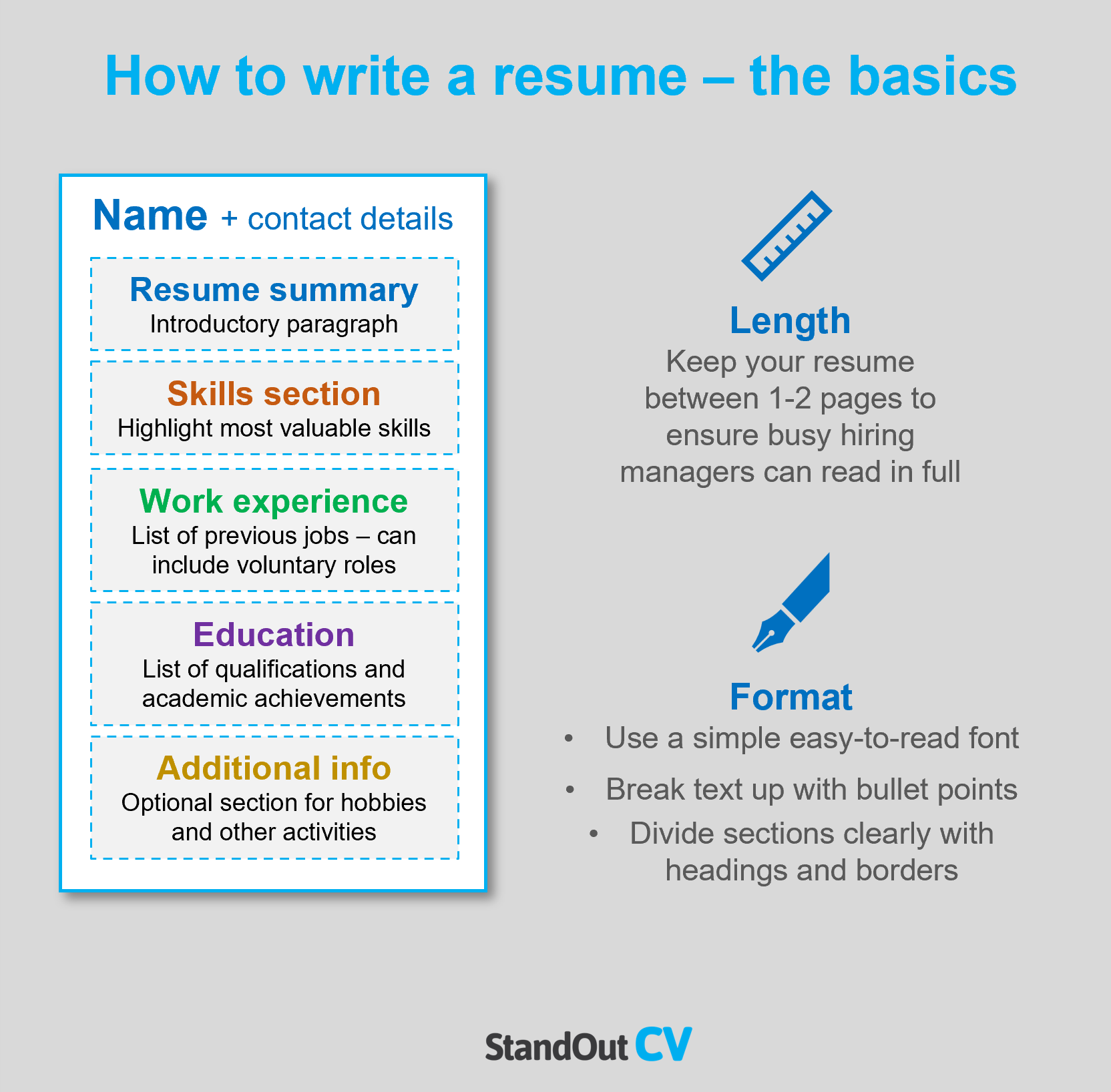 Format
To create an effective resume format, you need to consider the following elements
Length – Ideally you should keep the resume at around 2 pages of A4 in length, this is enough to provide a good level of detail without boring readers
Font – Use a clear crisp font that can be easily read. Don't be tempted to use an elaborate one, it will just irritate readers who want to digest the info quickly – also stick to a simple color scheme which is easy on the eyes and not too loud.
Readability – Break text up as much as possible to make your resume more of an appealing read to recruiters and hiring managers. Use bullet points and short paragraphs to achieve this.
Avoid distractions – Don't add images, logos or wacky designs, just keep it simple. Recruiters are only interested in the content within the resume – you can add a photo, but its not mandatory in the US.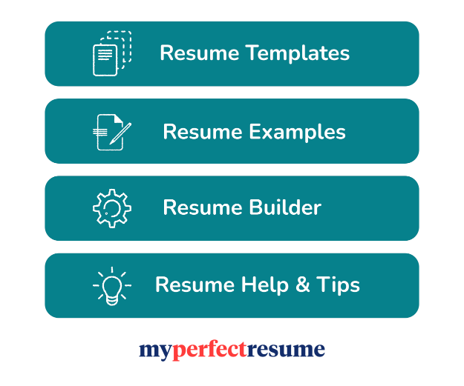 Structure
When structuring your resume, you need to consider how a recruiter will read your resume, and the order in which you want to get information across to them.
The structure I recommend using is designed to grab readers attention at the top of the resume, and then showcase more detailed examples of skills and knowledge as they progress through the document.
I will now give a quick outline of each section before delving into each one in the following chapters of this guide.
resume summary – an introductory paragraph summarizing your offering
Your work experience – list your roles in reverse chronological order
Education and qualifications
Hobbies and interests – Only include if they are relevant or add any value to your resume
Resume heading and contact details
Set the tone for your resume by heading with your name and an accompanying professional title that lets recruiters instantly know what you are about.
Something like;
Aerospace engineering lead
Graduate electrical engineer
Quick tip: Write your resume for the job you want, not the one you have. Tailor this title to reflect the jobs you are targeting.
Underneath this title, include your essential contact details so they aren't missed:
Email address
Telephone number
General location
You don't need to include your DOB, Full address etc. – they are surplus to requirement and will waste valuable space.

Writing a punchy resume summary
Your resume summary (or personal statement for junior candidates) is the first proper content section of your resume, and is an introductory paragraph that summarizes your offerings as a candidate.
The purpose of the summary is to hook recruiters and hiring managers when they open the resume, engage them, and encourage them to read on.
Aim to keep the information very high level (like an elevator pitch) and don't go into granular detail.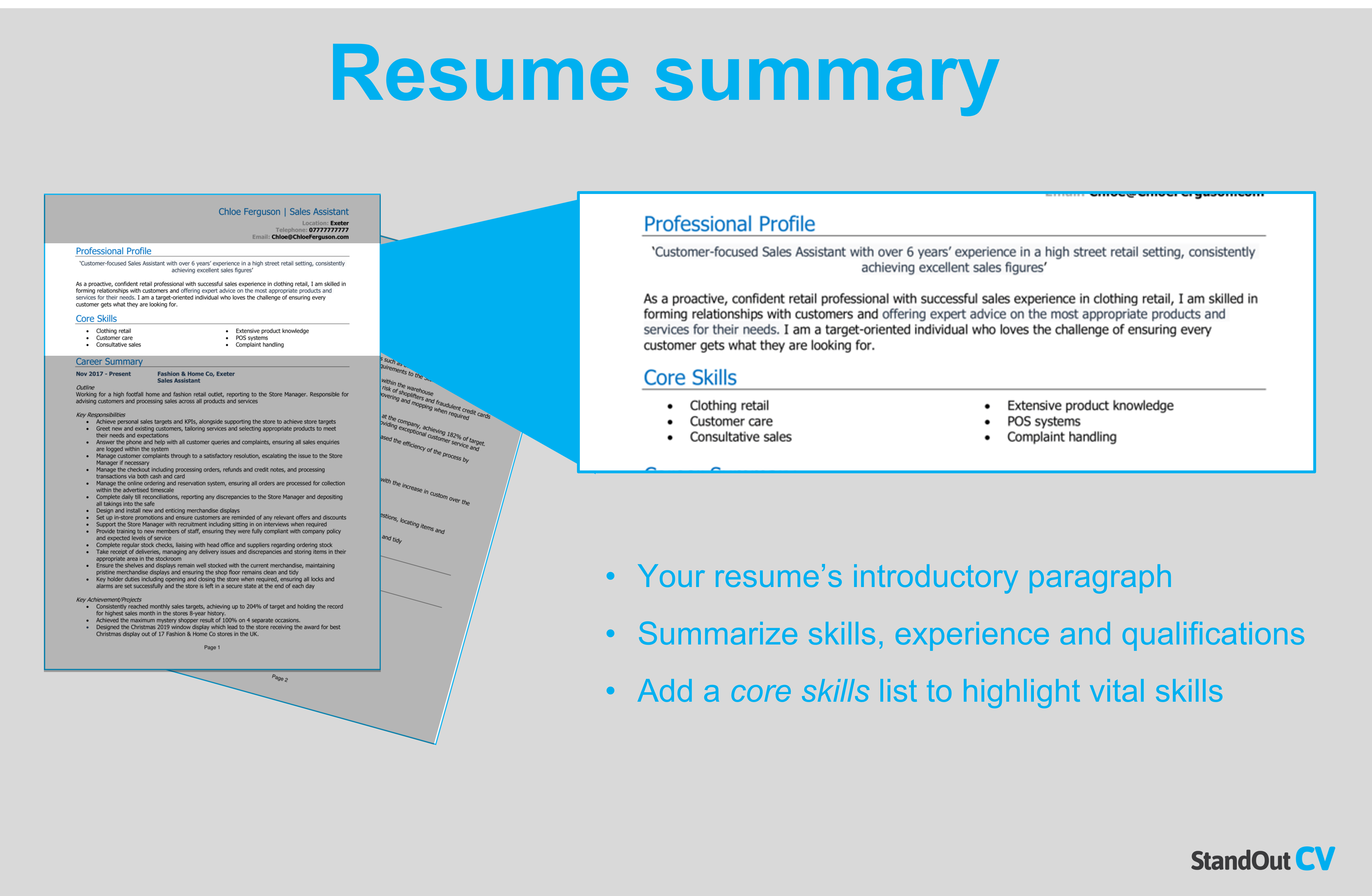 As an engineer, the type of information you want to include in your resume summary is:
Your discipline and sub-disciplines – Electrical, mechanical, civil etc.
Types of projects you work on – Property builds, car manufacturing, road building
Qualifications – Engineering degrees, industry standards
Software knowledge – AutoCAD, Microsoft Project, Excel
Engineering skills – Technical drawing, project management, risk assessment
Avoid generic cliché terms like "hard working team player".
These phrases are meaningless without context and don't tell recruiters the factual information about you that they need to know.
Take the example of a bad summary below as an example – it's impossible to tell what the candidate does.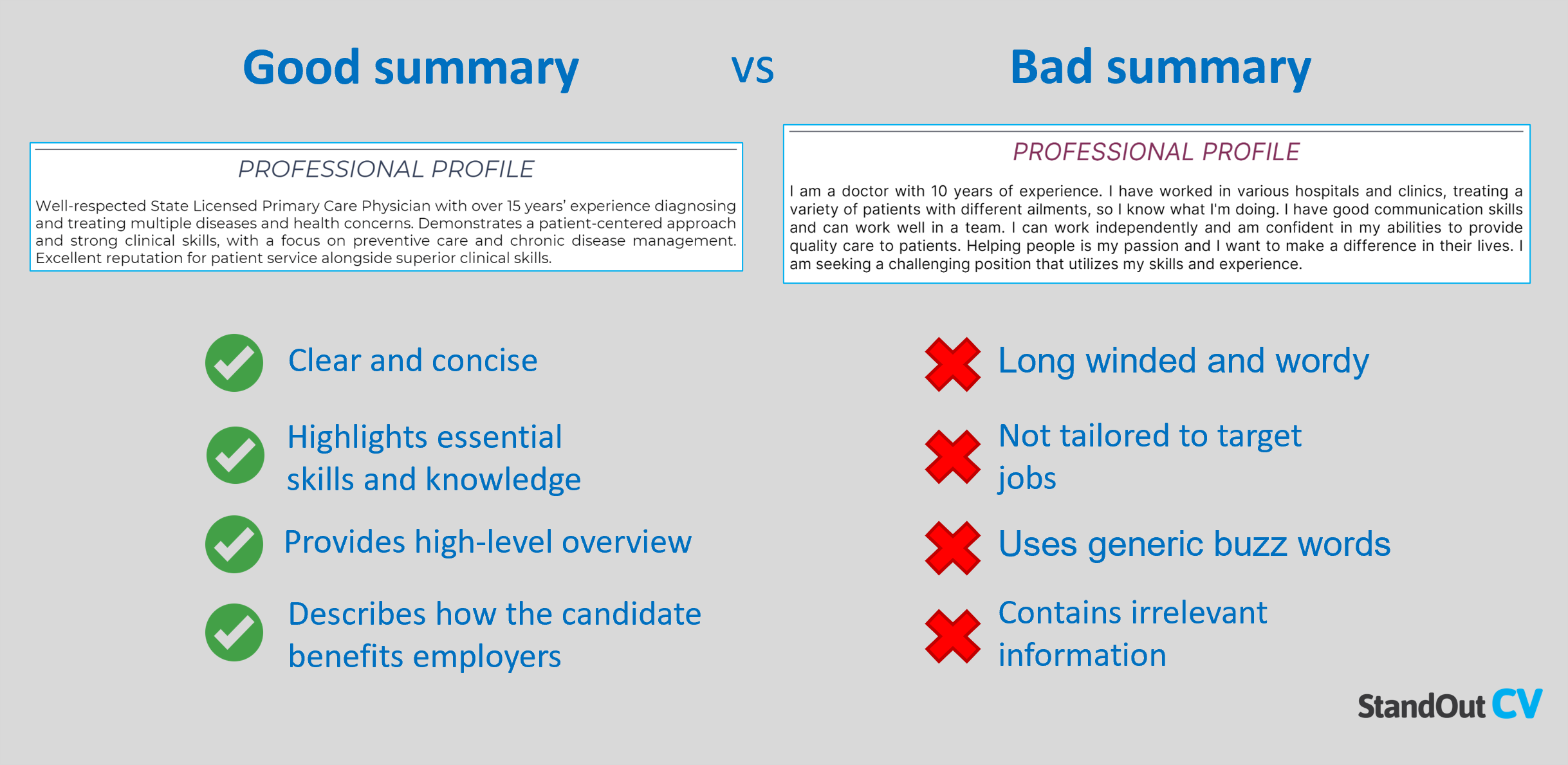 Quick tip: A poorly written resume will fail to impress recruiters and employers. Use our partner's resume builder to create a winning resume in minutes with professional templates and pre-written content for every industry.
You can also add a core skills section below your summary to ensure that your most valuable skills jump off the page and aren't missed by readers.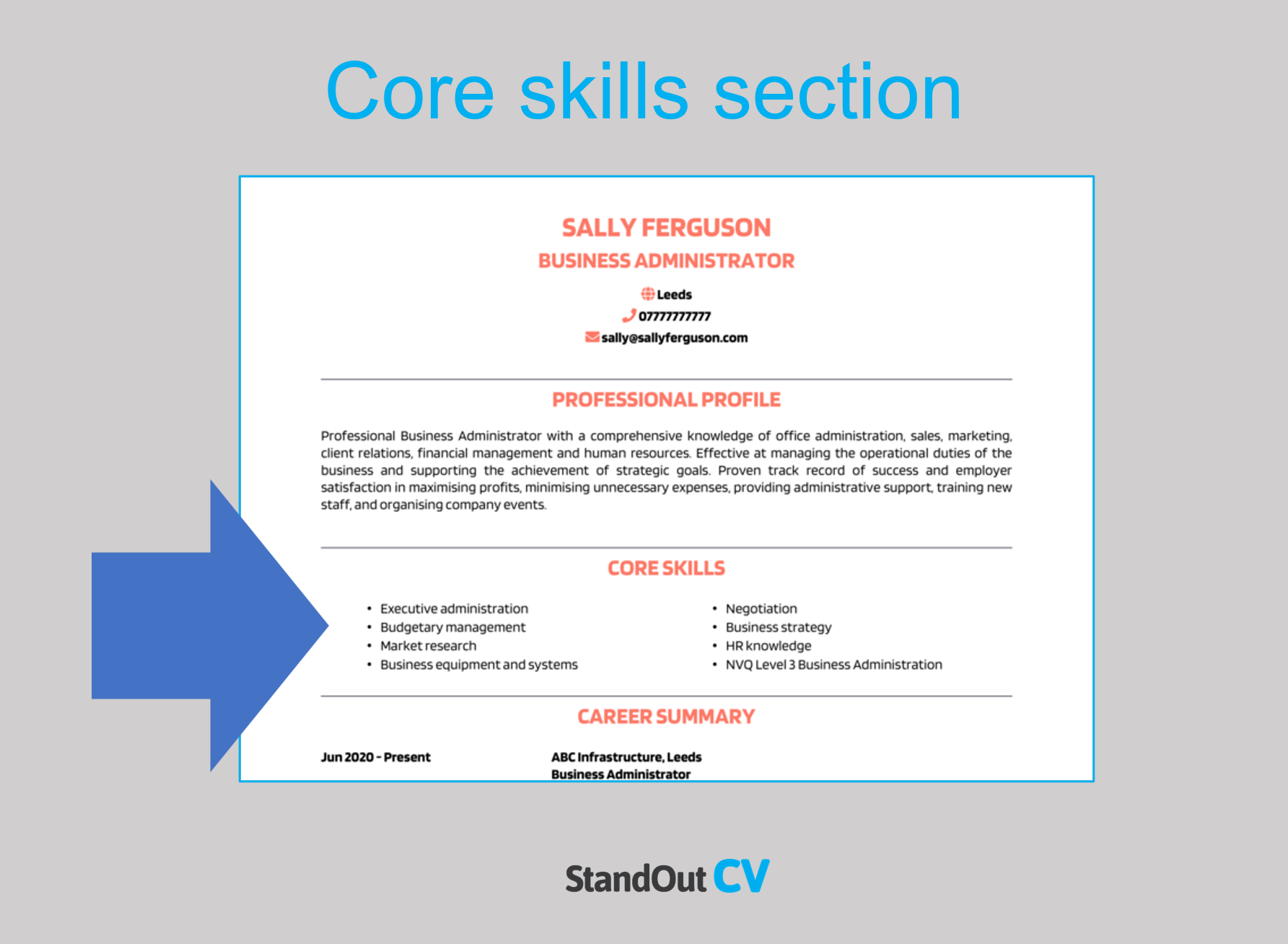 Top skills for your engineering resume
Computer-Aided Design (CAD): Proficiency in CAD software is crucial for engineers to create detailed technical drawings and models used in product design and manufacturing.
Programming: Knowledge of programming languages such as Python, C++, or MATLAB enables engineers to develop software, automate processes, and analyze data.
Data Analysis: Competency in data analysis tools and techniques allows engineers to extract meaningful insights from large datasets, aiding in decision-making and process optimization.
Mathematics: Strong mathematical skills are fundamental in engineering for solving complex equations, modeling systems, and analyzing data.
Simulation and Modeling: The ability to use simulation software and mathematical modeling techniques enables engineers to predict and analyze the behavior of systems, optimizing design and performance.
Technical Writing: Proficient technical writing skills are essential for engineers to produce clear and concise documentation, including reports, proposals, and specifications.
Materials Science: Understanding the properties, characteristics, and behavior of different materials helps engineers select appropriate materials for designs and applications.
Mechanics and Dynamics: Knowledge of mechanics and dynamics principles allows engineers to analyze and design structures, machines, and mechanical systems.
Quality Control and Assurance: Expertise in quality control methods and practices ensures that engineering projects meet specified standards and adhere to regulatory requirements.
Detailing your work experience
Once recruiters have read your summary to get a feel for your background, they will be keen to dive into your work experience to find out how you've benefited previous and current employers.
List your work experience in reverse chronological order (oldest to newest) because employers are more interested in your recent work to judge your current capabilities. You should include plenty of detail in recent roles, and less in older ones.
How far back you go will depend on how much experience you have – but between 5 -10 years is usually enough.

Structuring your roles
Your roles should be well structured to provide an easy reading experience for recruiters to allow them to skim-read and pick out the info they need.
Use the structure below to achieve this.

Intro/outline
A sentence or two outlining the purpose of the role, nature of the employer's business, and the particular area or project you work within.
For example;
"Leading the technical engineer team for X construction company on high profile multimillion dollar residential build project"
Key responsibilities
List your responsibilities in short sharp bullet point to showcase your in-demand skills and show how you contribute to your employers.
For example;
Creating technical warehouse drawings with AutoCAD as required by project manager
Conducting site inspections alongside QA engineer team to ensure site safety
Collaborating with field engineers to resolve technical issues swiftly
Key achievements
To prove how valuable your input has been during your roles, add key achievements which have had a big impact on employers or projects – and quantify them whenever you can.
For example;
Successfully led the $3m civil engineering activities to completion 1 month ahead of schedule and within the approved budget
Discovered faults in legacy technical drawings and corrected them, saving the project around 200 hours in resources and improving final delivery
Submitted tenders for over 100 California State projects with a 75% win rate
Education and qualifications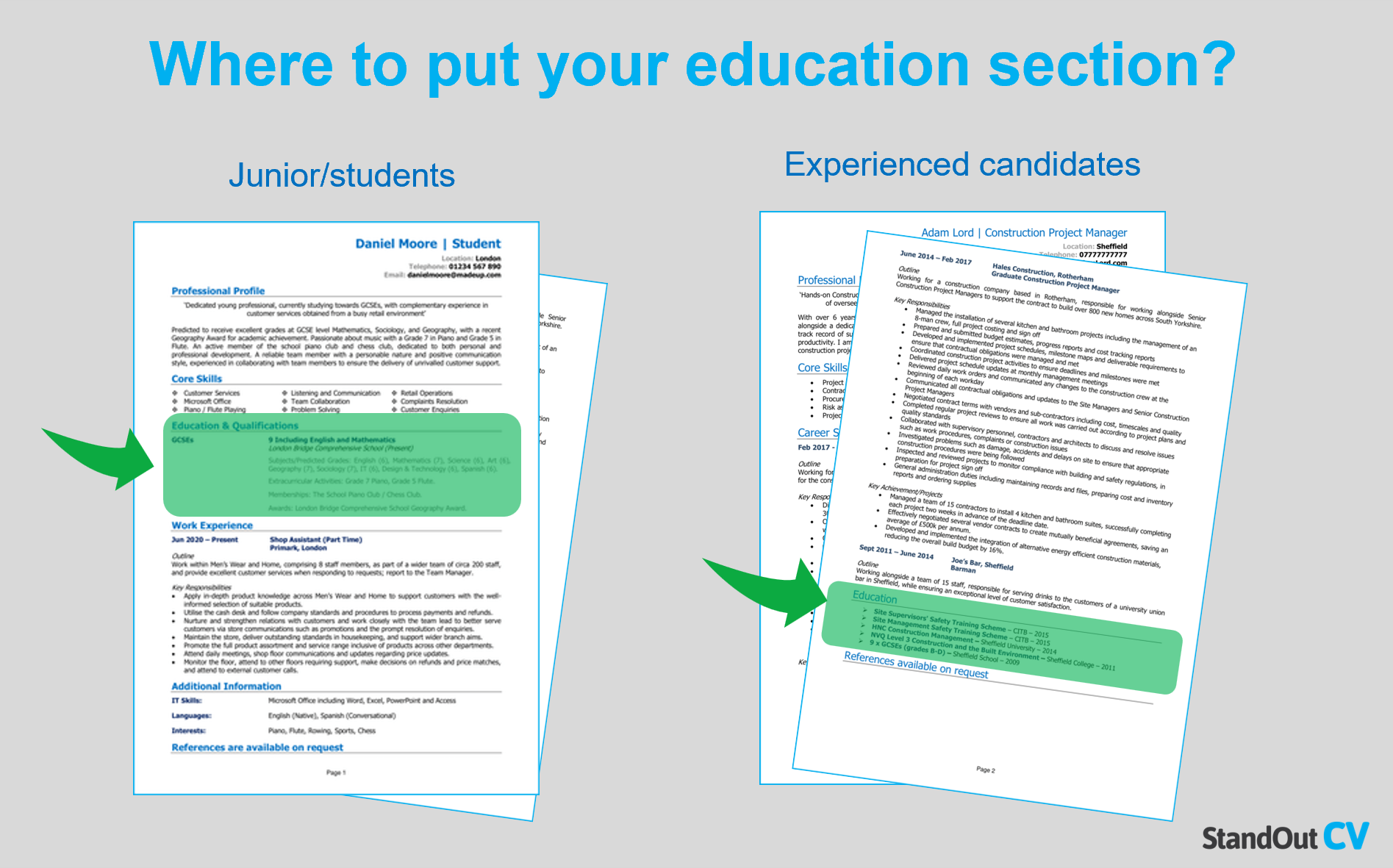 Although there should be mentions of your highest and most relevant qualifications in your summary, save your exhaustive list of qualifications for the bottom of your resume.
If you're an experienced candidate, only include the qualifications that are within the engineering space, or your particular industry. If you are a recently graduated engineer, you can also include your high school grades and achievements.
List your educational achievements in bullet points like the example below, and add extra details (such as modules, coursework etc.) if they are important to the employers you are approaching.

Writing your own engineering resume
Now that you've seen how a good engineer resume looks, and the process of writing one, I hope you can create your own interview-winning resume.
Another key point to remember is that not everybody who reads your resume will be technically minded like yourself – think recruiters, non-technical project managers etc. So, remember to write your resume in a manner which can be understood by both technical and non-technical people.
If you write a well formatted document which explains how you apply your engineering skills to benefit the projects you work on, you should definitely be able to land interviews.
Good luck with your job search!