You're calm and collected in an emergency, yet the thought of creating a resume sends you into a tailspin.
Well, now it's our turn to help you.
Below, we've put together a detailed writing guide packed with top tips and complete with a 911 dispatcher resume example for inspiration.
Contents
| | |
| --- | --- |
| How to write a 911 Dispatcher resume | |

911 Dispatcher Resume Example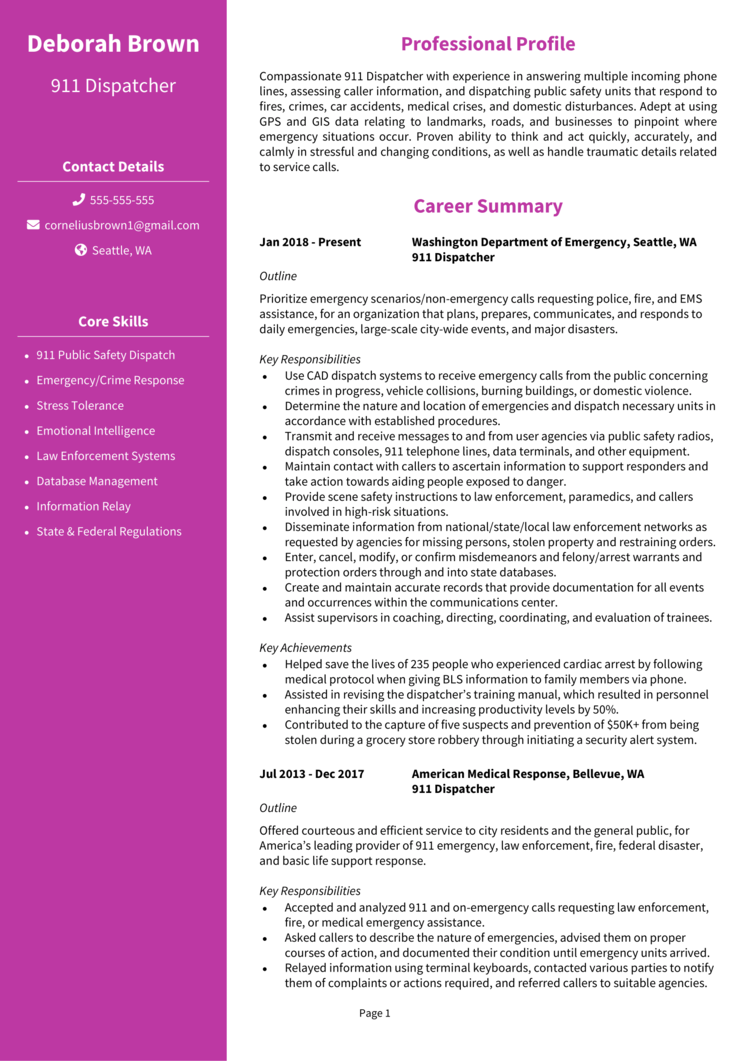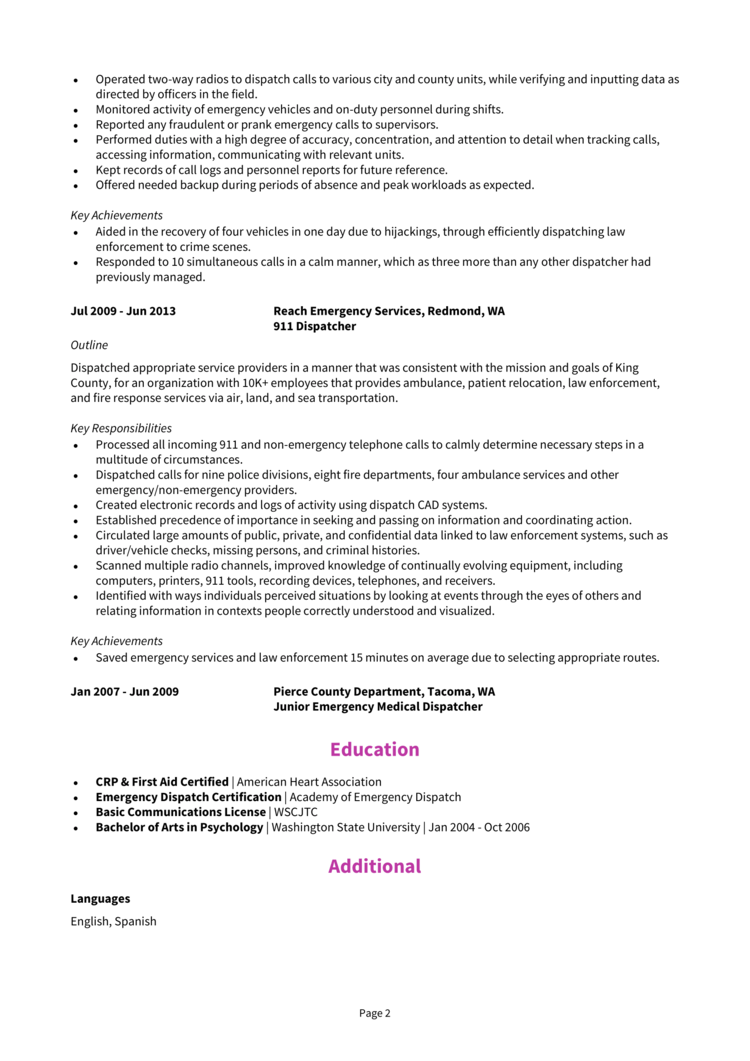 From the 911 Dispatcher resume example above, you can see the kind of information your resume will need to include, and the layout you will need to create for an easy-reading experience.
The rest of this guide will show you how to apply this format to your own unique situation, and create a resume that will attract the best employers in your industry.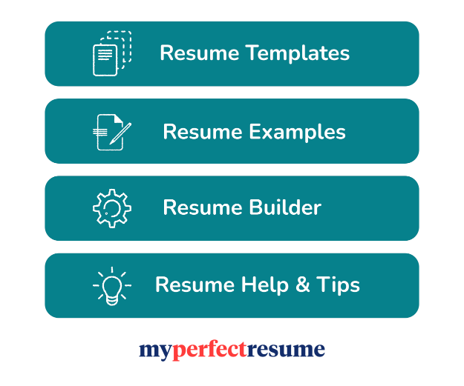 911 Dispatcher resume layout and format
Formatting is often overlooked when writing resume, but it's a crucial element of it"s success.
Creating a document that not only looks good, but is easily comprehended, is the key to gaining and holding the attention of busy hiring managers.
Use these formatting tips for best results.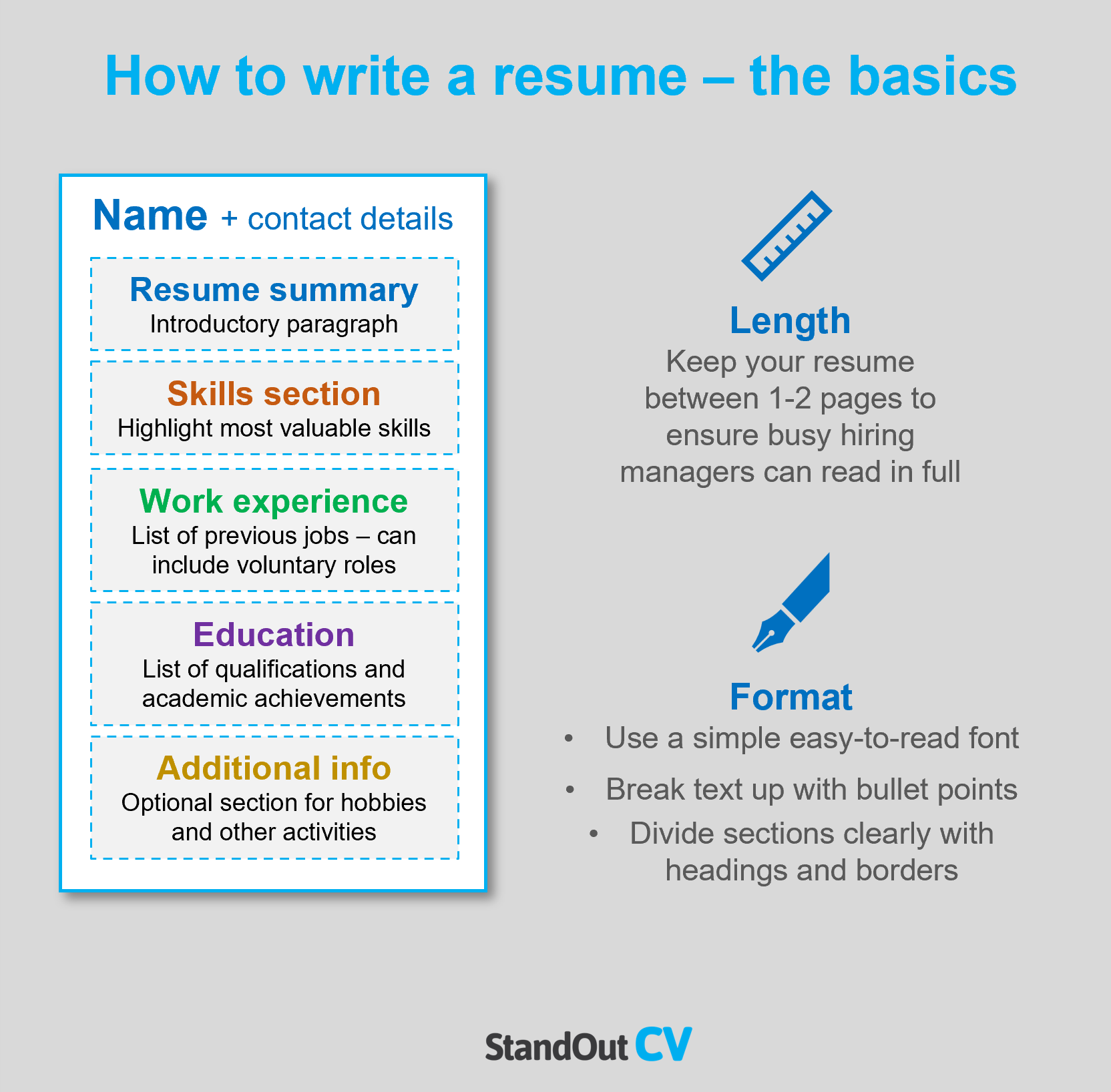 Formatting your resume for success
Length: Keep your resume to 2 pages or under. You've probably heard that recruiters and hiring managers don't have lots of time to read every resume, so keep yours brief if you want to ensure that they read all of the important info in yours.
Font & readability: A readable resume is crucial if you want recruiters to see your important skills. Ensure yours is easy to read by using a simple, clear font and breaking up the text with bullet points and short paragraphs.
Layout & Structure: Hiring managers should be able to skim through your resume easily and pinpoint the information they want quickly. To help them do this, organize the page into clear sections with bold headings and dividing borders. The design should be clutter-free and professional-looking, with a calm color scheme.
Photos: In the USA adding a photo to your resume is optional – you don't have to do it, but it can be a nice way to get your personality across.
Quick tip: Achieving a professional look for your resume can be difficult and time-consuming. If you want to create an attractive resume quickly, try our partner's Resume Builder and use one of their eye-catching resume templates.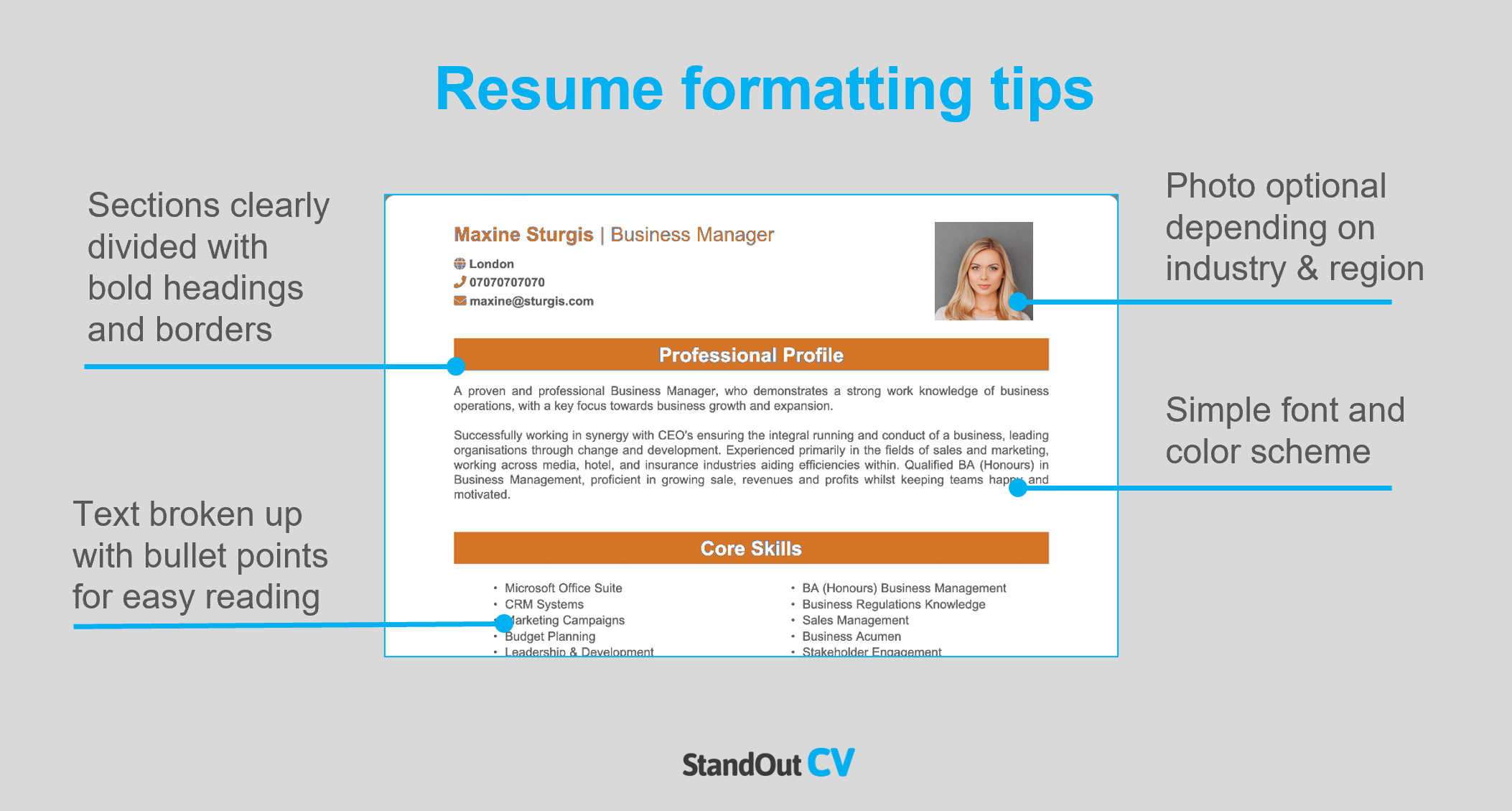 Resume layout
When you write your resume, include the sections below.
Name and contact details – Pop these at the very top to ensure recruiters know how to contact you.
Resume summary – An eye-catching paragraph which summarizes your most valuable attributes – placed near the top of your resume
Skills section – A bullet pointed list of your most in-demand skills, enabling recruiters to see your suitability from a glance.
Work experience – List some or all of your previous jobs in reverse chronological order – voluntary work and college placements can be included if you have no paid experience.
Education – A summary of your professional training and academic qualifications.
Additional info – An optional section for anything that may boost your application, such as relevant hobbies and interests
Here's what to include in each part of your resume.
Contact Details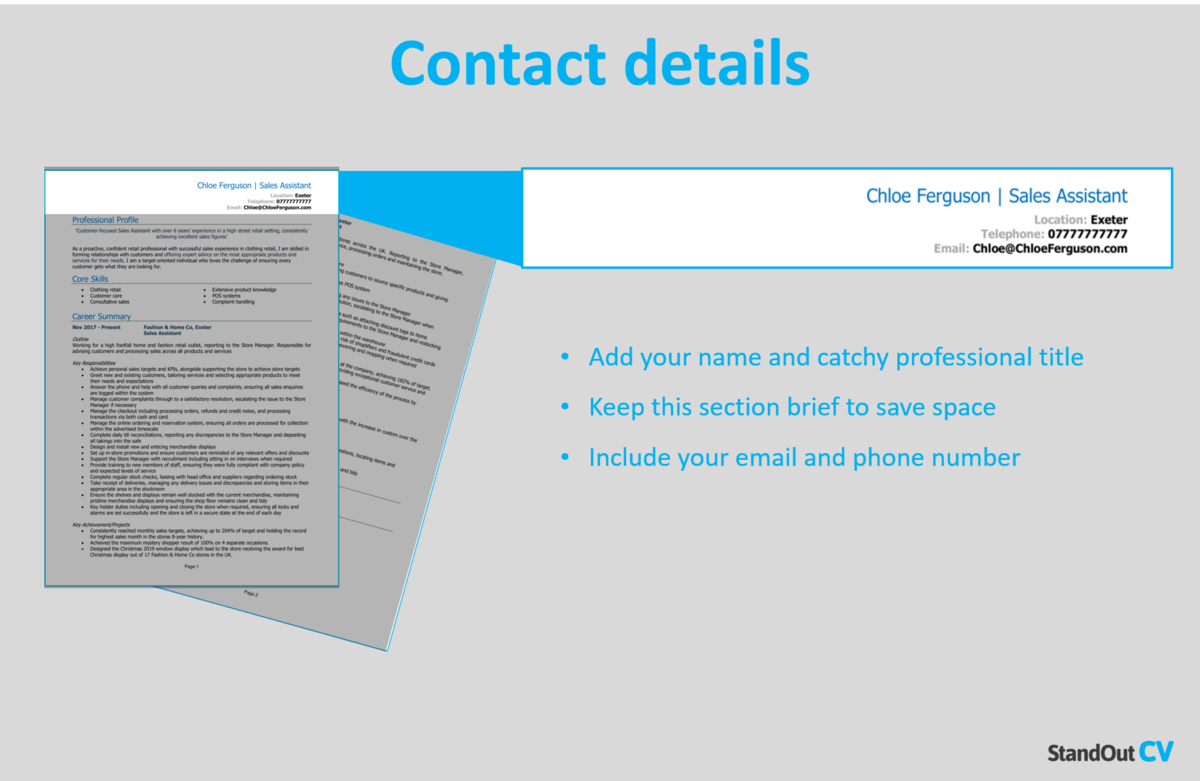 Make it easy for hiring managers to contact you by adding your contact details to the top of your resume.
Keep this section small to save space and include the following.
Name and profession title
Telephone number – Ideally your cell phone so you can answer quickly.
Location – Add your general location such as LA or New York
Email address – Use a professional looking one with no nicknames.
You can add a link to your LinkedIn profile if you have one – you do not need to include personal details like date of birth or marital status.
911 Dispatcher Resume Summary
Start your resume with a bang by adding a powerful summary to the top, summarizing your most valuable skills and experience.
This short paragraph is your chance to show recruiters why you are a perfect fit for the job and encourage them to read more of your resume.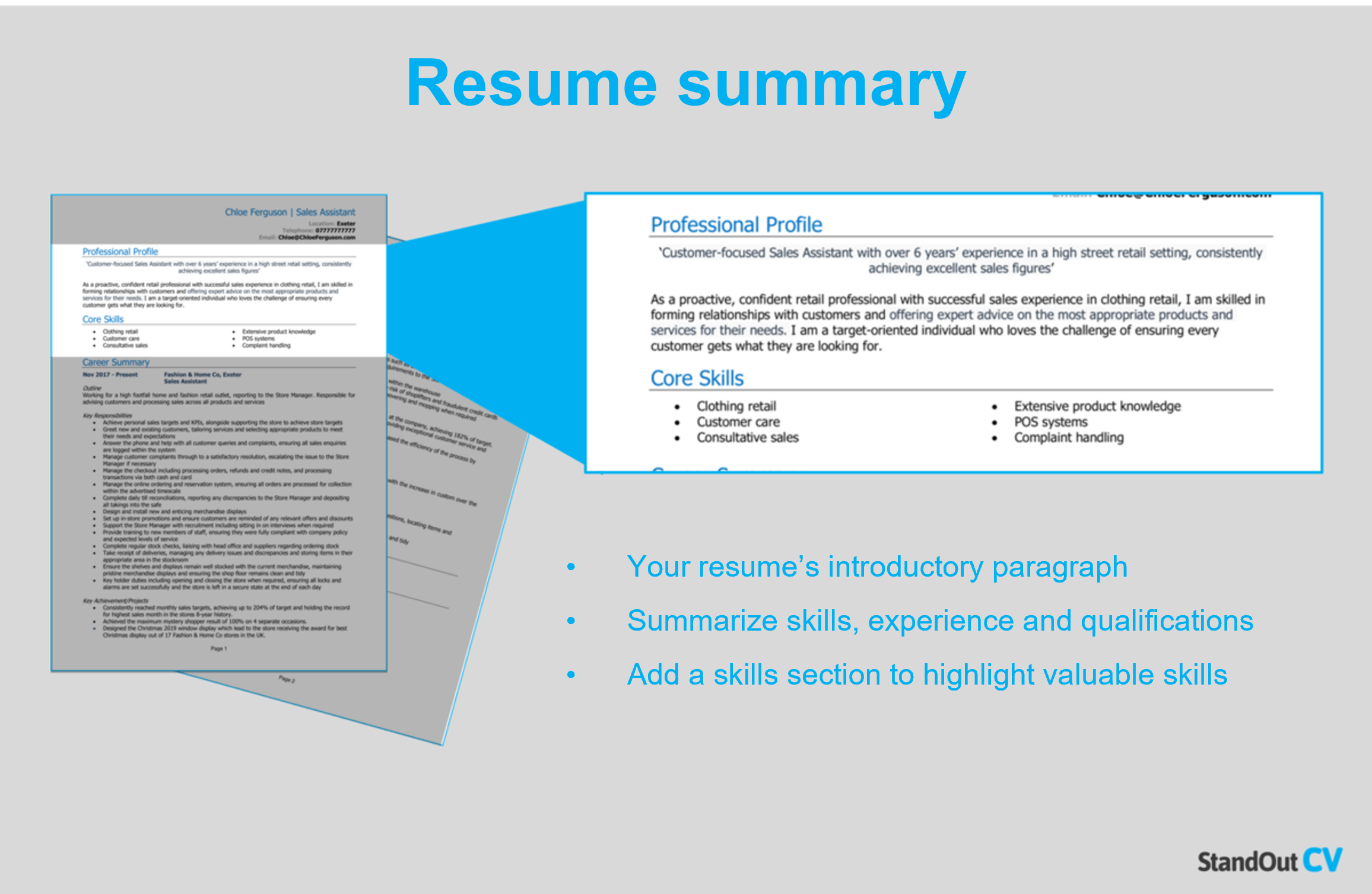 How to create a resume summary that will get you noticed:
Keep it short: Your summary is intended to be a high-level introduction to hook readers' attention, so keep it brief (4-7 lines) – save the details for later in your resume.
Tailor to target jobs: Ensure your profile makes an impact by matching it closely to the requirements of the job description, copying as many key terms as possible.
Avoid using cliches: Recruiters look for facts in resumes, such as hard skills and qualifications – so, leave out the meaningless cliches like "hard worker who works well in a team and individually"
Example resume summary for 911 Dispatcher
Compassionate 911 Dispatcher with experience in answering multiple incoming phone lines, assessing caller information, and dispatching public safety units that respond to fires, crimes, car accidents, medical crises, and domestic disturbances. Adept at using GPS and GIS data relating to landmarks, roads, and businesses to pinpoint where emergency situations occur. Proven ability to think and act quickly, accurately, and calmly in stressful and changing conditions, as well as handle traumatic details related to service calls.
What to include in your 911 Dispatcher resume summary?
Summary of experience: Briefly describe the work you have performed in the past and the contributions you have made to the organizations you have worked for.
Relevant skills: Incorporate your highly relevant skills for 911 Dispatcher jobs to exhibit your suitability as soon as your resume is opened.
Qualifications: If your job requires any qualifications such as a professional course or a college degree, mention it briefly in your summary.
Quick tip: Choose from hundreds of pre-written summaries across all industries, and add one to your resume with one-click in our partner's Resume Builder. All written by recruitment experts and easily tailored to suit your unique skillset and style.
Core skills section
Next, you should create a bullet pointed list of your core skills, formatted into 2-3 columns.
Here, you should focus on including the most important skills or knowledge listed in the job advertisement.
This will instantly prove that you're an ideal candidate, even if a recruiter only has time to briefly scan your resume.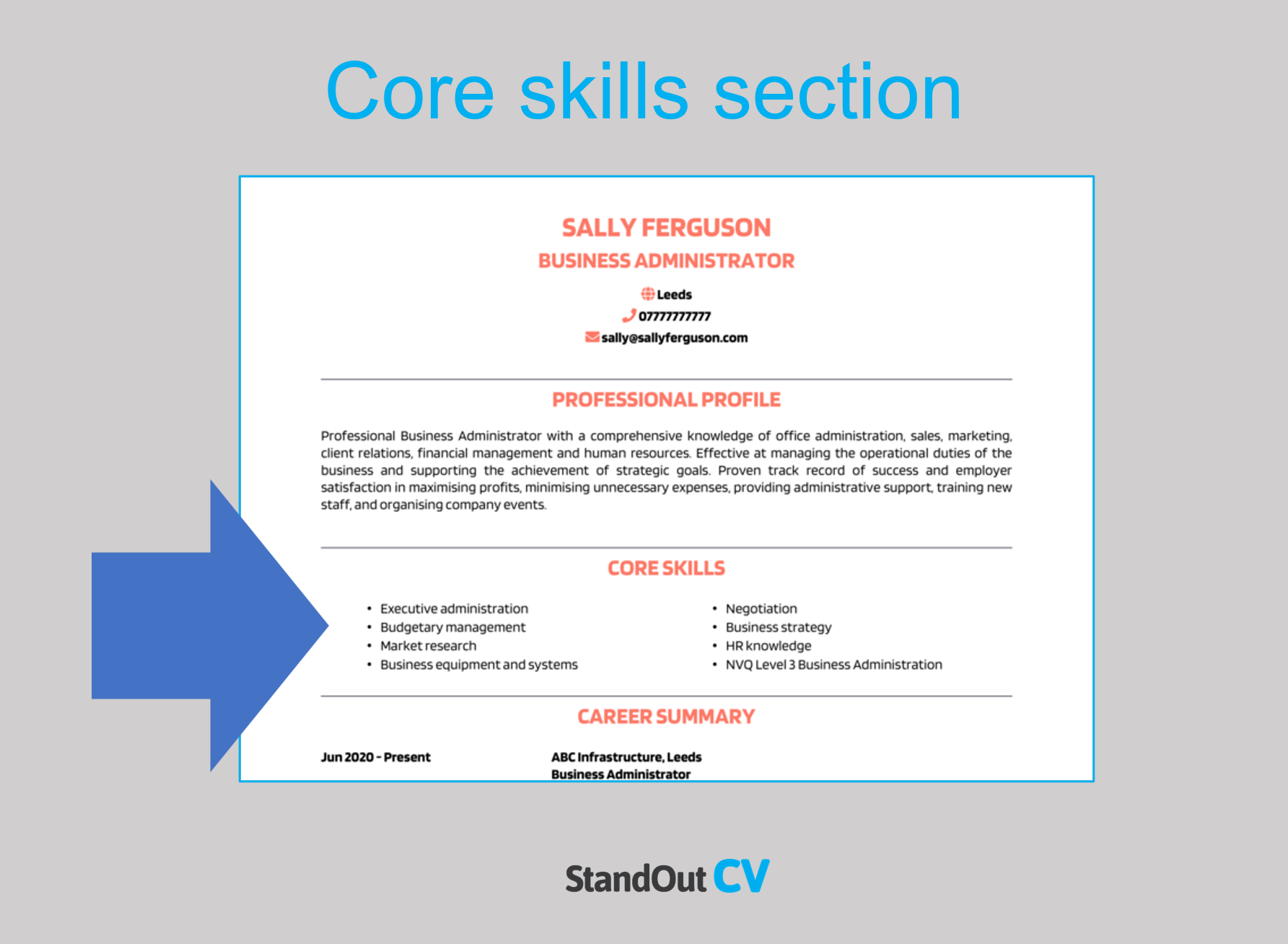 Best skills for your 911 Dispatcher resume
Prioritizing Emergencies – Managing multiple tasks and calls simultaneously, including prioritizing and responding to emergencies.
Emergency Communication – Communicating effectively with callers and emergency responders, including providing clear and concise information, active listening, and empathetic communication.
Critical Decision Making – Thinking critically and making decisions quickly, including assessing emergency situations and determining appropriate responses.
Geographical Knowledge – Maintaining detailed knowledge of the local geography, including street names, landmarks, and other pertinent information needed to direct emergency responders.
Knowledge of Emergency Protocols – Maintaining detailed knowledge of emergency response protocols and procedures, including understanding the appropriate response to different types of emergencies.
Emergency Dispatch Technologies – Using emergency dispatch systems, including radio communications, computer-aided dispatch (CAD) systems, and other technology tools.
Stress Management – Managing stress and work effectively under pressure, including remaining calm and focused during high-stress situations.
Customer Service – Providing excellent customer service to callers, including interacting with callers, answering questions, and providing support during emergencies.
Information Management – Paying close attention to detail and ensuring accurate information is collected and communicated during emergency situations.
Quick tip: Our partner's Resume Builder contains thousands of in-demand skills for every profession that can be added to your resume in seconds – saving you time and greatly improving your chances of landing job interviews and getting hired.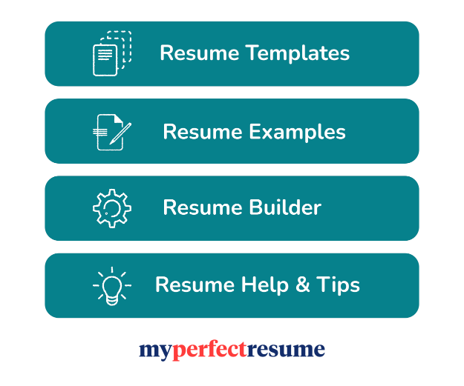 Work experience
So, you've got the recruiter interested with your catchy summary… Great work.
Now it's time to show them the impact you make in the workplace by listing out your previous jobs and what you achieved in each one.
If you have tons of experience, you can condense this part down to the last few years – if you are junior, then you should include as much possible (even volunteering and school work placements)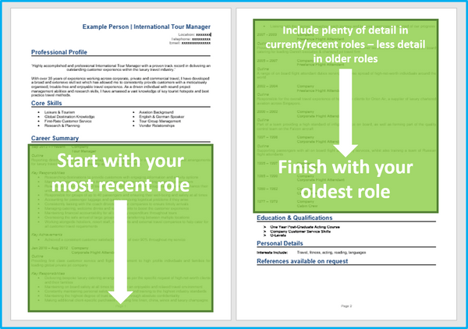 Structuring your jobs
Without a good structure, your job description can look messy and overwhelming to anyone reading them.
Make it easy for recruiters to read your work experience by structuring your roles like this.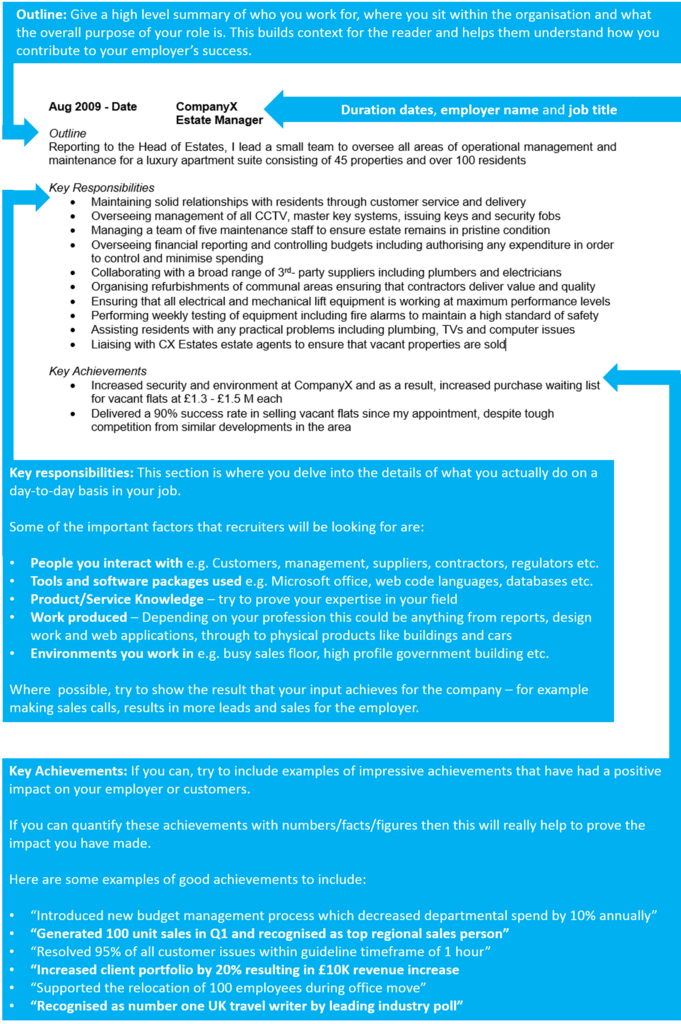 Job outline
Each role description should begin with a qucik summary of the job and company, along with how the job fits into the strucuture of the organization.
Key responsibilities
Next, write up a punchy list of your daily duties and responsibilities, using short bullet points.
Describe how you apply your skills and contribute to the running of the employer's business – highlighting skills which are applicable to your target jobs.
Key achievements
Finish each role by highlighting some impressive achievements you made whilst in the role.
Anything that benefited the employer can be included from making financial savings, to winning new customers.
Quantify your achievements with facts and figures if you can, e.g. "reduced call wait time by 10%"
Example job for 911 Dispatcher resume
Outline
Prioritize emergency scenarios/non-emergency calls requesting police, fire, and EMS assistance, for an organization that plans, prepares, communicates, and responds to daily emergencies, large-scale city-wide events, and major disasters.
Key Responsibilities
Use CAD dispatch systems to receive emergency calls from the public concerning crimes in progress, vehicle collisions, burning buildings, or domestic violence.
Determine the nature and location of emergencies and dispatch necessary units in accordance with established procedures.
Transmit and receive messages to and from user agencies via public safety radios, dispatch consoles, 911 telephone lines, data terminals, and other equipment.
Maintain contact with callers to ascertain information to support responders and take action towards aiding people exposed to danger.
Quick tip: Create impressive job descriptions easily in our partner's Resume Builder by adding pre-written job phrases for every industry and career stage.

Education section
Near the end of your resume add your education section
Experienced candidates should keep it brief and focus on professional qualifications – and junior candidates can include high school diplomas, college degrees etc.
Additional information
The bottom of your resume is a place to add any "additional info"
Any other info that didn't fall into any of the previous sections can be added here.
If you have hobbies that are related to your profession or any awards or publications – add them here.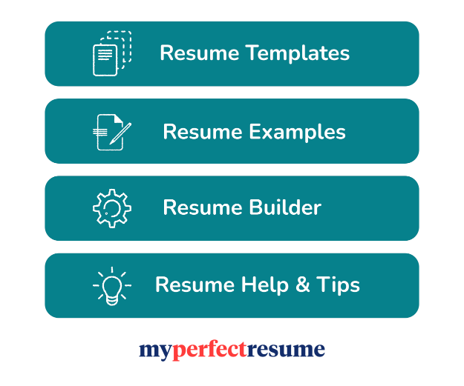 Writing your own 911 Dispatcher resume
A winning 911 Dispatcher resume should look great, read well, and sell your skillset to hiring managers.
If you follow the steps above, you should be able to bag yourself a top job in no time.
And don't forget you can use our partner's Resume Builder if you want to save time and ensure your resume contains the very best content.
Good luck with your job search!