Looking to jump up the ladder or secure your first role as a quantity surveyor?
Your first step to success is to create an impactful CV which highlights your varied skillset and showcases the exciting projects you've worked on.
This guide, which comes complete with a quantity surveyor CV example, will teach you how to put forward a compelling application and land interviews.
Here's what I'll cover:
Guide contents
Quantity surveyor CV example
Structuring and formatting your CV
Writing your CV profile
Detailing work experience
Your education
Skills required for your quantity surveyor CV

Quantity surveyor CV example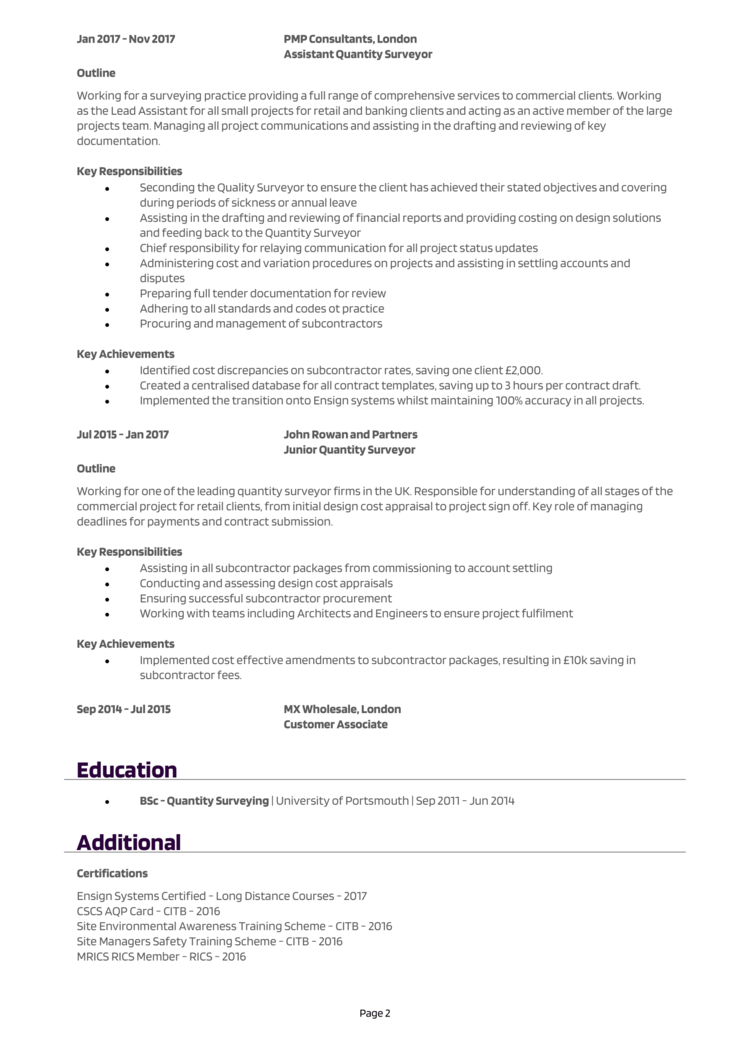 Before you get writing, have a good look over this example of a good quantity surveyor CV.
Although it gives a comprehensive overview of the candidate's industry skills and experience, the organised structure means it's not overwhelming or difficult to read.
Quantity surveyor CV structure & format
The format and structure of your CV are important because they will determine how easy it is for recruiters and employers to read your CV.
If they can find the information they need quickly, they'll be happy; but if they struggle, your application could be overlooked.
A simple and logical structure will always create a better reading experience than a complex structure, and with a few simple formatting tricks, you'll be good to go.
Check them out below:
Formatting Tips
Length: Two sides of A4 makes for the perfect CV length, though one page is okay for less experienced applicants. This forces you to make sure that every single sentence adds value to your CV and ensures you avoid waffle.
Readability: Recruiters appreciate CVs that they can quickly scan through without trouble. Ensure yours makes the cut by formatting your headings for attention (bold or coloured fonts should do the trick) and breaking up long paragraphs into smaller chunks or short, snappy bullet points.
Design: When it comes to CV design, it's best to keep things simple and sleek. While elaborate designs certainly command attention, it's not always for the right reasons! Readability is key, so whatever you choose to do, make sure you prioritize readability above everything.
Avoid: Ditch logos, images or profile photos. Not only do they take up valuable space, but they may even distract recruiters from your important written content.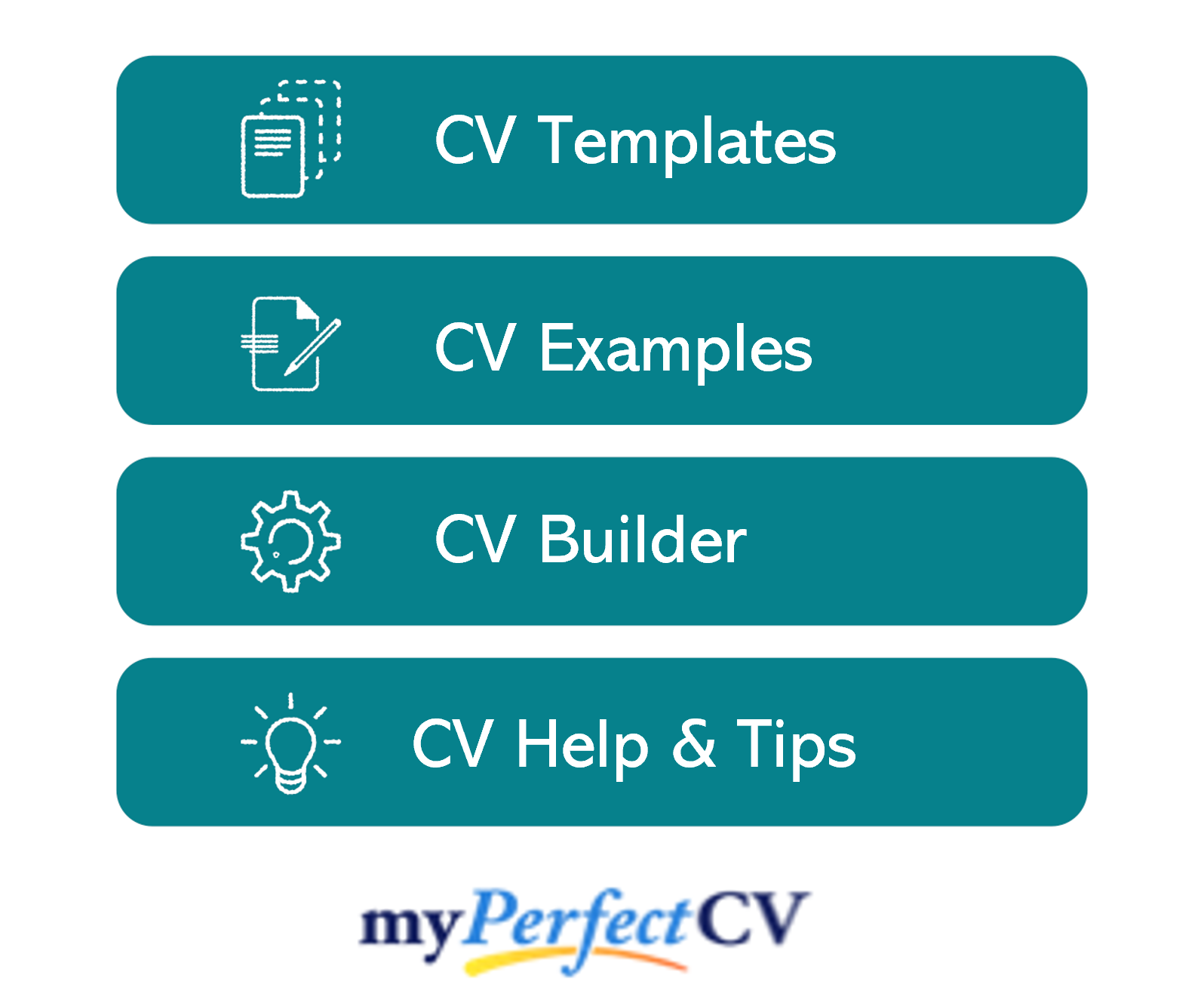 Structuring your CV
Work to the simple but effective CV structure below:
Name and contact details – Pop them at the top of your CV, so it's easy for recruiters to contact you.
CV profile – Write a snappy overview of what makes you a good fit for the role; discussing your key experience, skills and accomplishments.
Core skills section – Add a short but snappy list of your relevant skills and knowledge.
Work experience – A list of your relevant work experience, starting with your current role.
Education – A summary of your relevant qualifications and professional/vocational training.
Hobbies and interests – An optional section which you could use to write a short description of any relevant hobbies or interests.
Next, I'll go through what you should aim to include within each of thee CV sections above.
CV Contact Details
Start off your CV with a basic list of your contact details.
Here's what you should include:
Mobile number
Email address – It's often helpful to make a new email address, specifically for your job applications.
Location – Share your town or city; there's no need for a full address.
LinkedIn profile – Make sure the information on your profile is coherent with your CV, and that it's up-to-date.
Quick tip: Delete excessive details, such as your date of birth or marital status. Recruiters don't need to know this much about you at this stage, so it's best to save the space for your other CV sections.

Quantity surveyor CV Profile
Recruiters read through countless applications every day. If they don't find what they're looking for quickly, they'll simply move onto the next one.
That's what makes your CV profile (or personal statement, if you're an entry-level/graduate candidate) so important.
This short and snappy summary sits at the top of your CV, which should give a high-level overview of why you're a good match for the job.
This way, you can ensure that busy recruiters see your suitability from the outset, and so, feel your CV is worth their time.
Tips to consider when creating your profile:
Avoid clichés: Clichés like "blue-sky thinker with a go-getter attitude" might sound impressive to you, but they don't actually tell the recruiter much about you. Concentrate on highlighting hard facts and skills, as recruiters are more likely to take these on board.
Keep it punchy: When it comes to CV profile length, less is more. Recruiters are often time-strapped, meaning you need to make a quick impact. Aim for around of 3-5 persuasive text.
Tailor it:

Not tailoring your profile (and the rest of your CV) to the role you're applying for, is the worst CV mistake you could make. Before setting pen to paper, look over the job ad and make a note of the skills and experience required. Then, incorporate your findings throughout.

Avoid objectives:

You only have a short space for your CV profile, so avoid writing down your career goals or objectives. If you think these will help your application, incorporate them into your cover letter instead.
What to include in your quantity surveyor CV profile?
Experience summary – Start with a high-level overview of your relevant experience, detailing the type of work/projects you've carried out and the type of companies you've worked for.
Level of experience – Recent graduate? 5 years of experience? 15 years experience? Your experience level needs to be clear.
Qualifications – Highlight your quantity surveying degree or postgrad conversion course, as well as any other professional training you feel is relevant.
Hard skills – Read through the job description and find what specific hard skills and software knowledge the employer is seeking. Then incorporate these into your profile.
Achievements – Whether it's reducing costs or solving a complex problem, highlight some relevant stand out professional achievements in your profile.
Core skills section
Directly underneath your profile, add more impact by creating a bullet point list of your core skills.
Here, you should focus on including any skills or knowledge specifically listed in the job advertisement.
This will instantly prove your suitability, even if a recruiter only has seconds to scan each CV.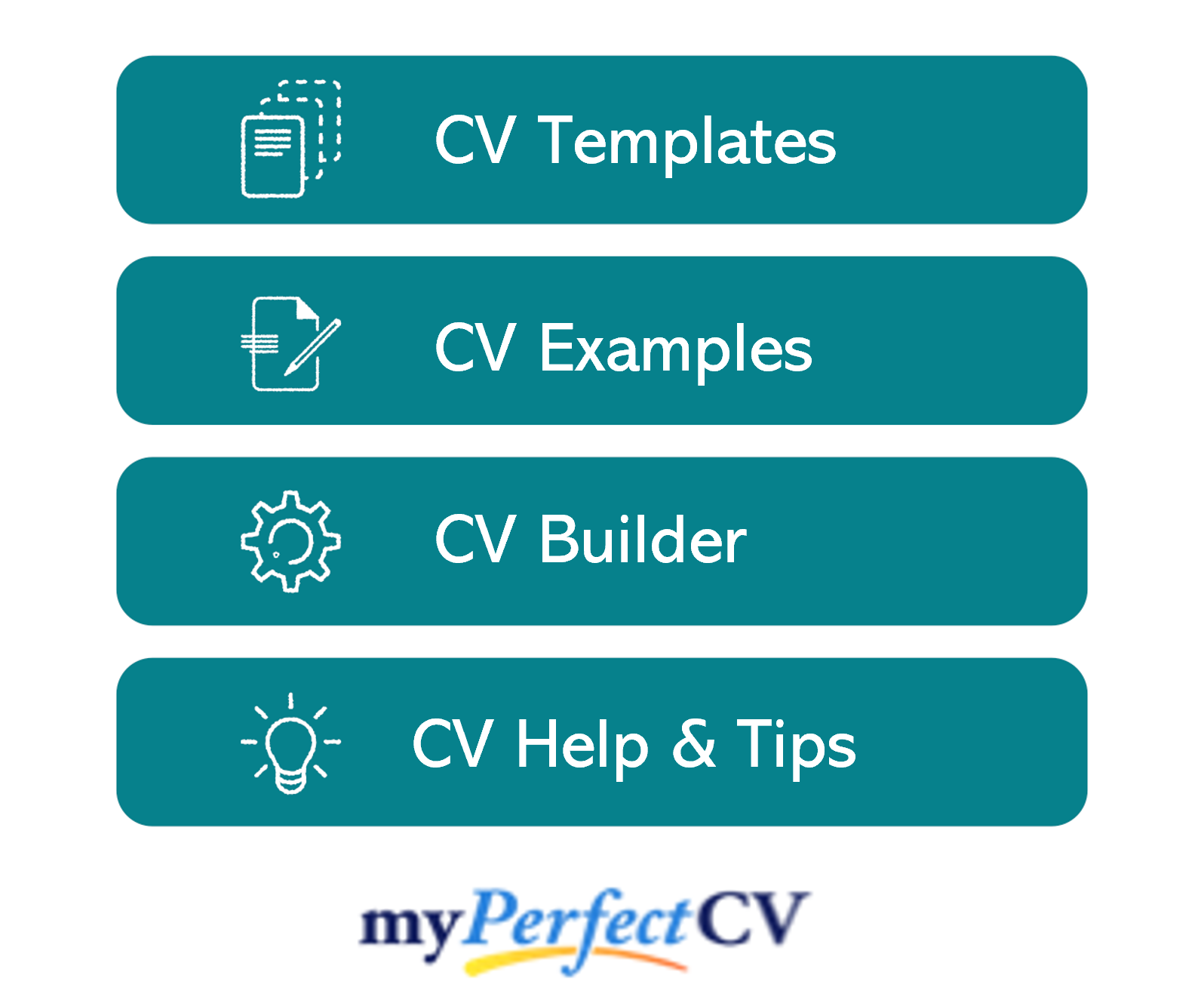 Work experience/Career history
Recruiters will be itching to know more about your relevant experience by now.
Kickstart this section with your most recent (or current) position, and work your way back through your history.
You can include voluntary and freelance work, too – as long as you're honest about the nature of the work.
Held countless contract roles and can't fit them all on your CV? Prioritise space in your CV for the role descriptions of your most recent/current roles, shortening the descriptions for less relevant or older positions.
Structuring your roles
Recruiters will be keen to gain a better idea of where you've worked and how you apply your skillset in the workplace.
However, if they're faced with huge, hard-to-read paragraphs, they may just gloss over it and move onto the next application.
To avoid this, use the simple 3-step role structure, as shown below:

Outline
Start with a 1-2 sentence summary of your role as a whole, detailing what the purpose of your position was, who you reported to or managed, and the type of organisation you worked for.
E.g.
"Responsible for the planning and delivery of a range of multi-functional surveys for a building surveyor company."
Key responsibilities
Use short, punchy bullet points to showcase your duties and responsibilities in the position.
Employers are most interested in your hard skills and sector knowledge, so point this out wherever you can.
E.g.
Prepared survey schedules with estimates of the materials, time and labour costs involved in projects.
Identified, analysed and developed responses to commercial risks.
Key achievements
To finish off each role with extra impact, list 1-3 stand out achievements, results or accomplishments.
This could be anything which had a positive outcome for the company you worked for or a client/customer.
Where applicable, quantify your examples with facts and figures.
E.g.
Completed surveys ahead of schedule and 30% under budget on average, with total client satisfaction.
Education
After your work experience, your education section should provide a summary of your academic background.
Begin with those most relevant to the industry, such as a quantity surveying degree, or your degree with postgraduate conversion, as well as any other relevant professional training.
Remember to note down any professional memberships (or progress towards them), such as the MRICS.
If you're a junior candidate, you should also mention your academic qualifications, such as A-Levels and GCSEs.
Quantity Surveyor cover letter
Interests and hobbies
The hobbies and interests CV section isn't mandatory, so don't worry if you're out of room by this point.
However, if you have an interesting hobby or interest that could support a recruiter's decision making, you might want to add them.
Be careful in terms of what you include though. Only consider hobbies that exhibit skills that are required for roles as a quantity surveyor.
But generic hobbies like "watching TV" won't impress recruiters, so you're best off saving the space for other CV sections.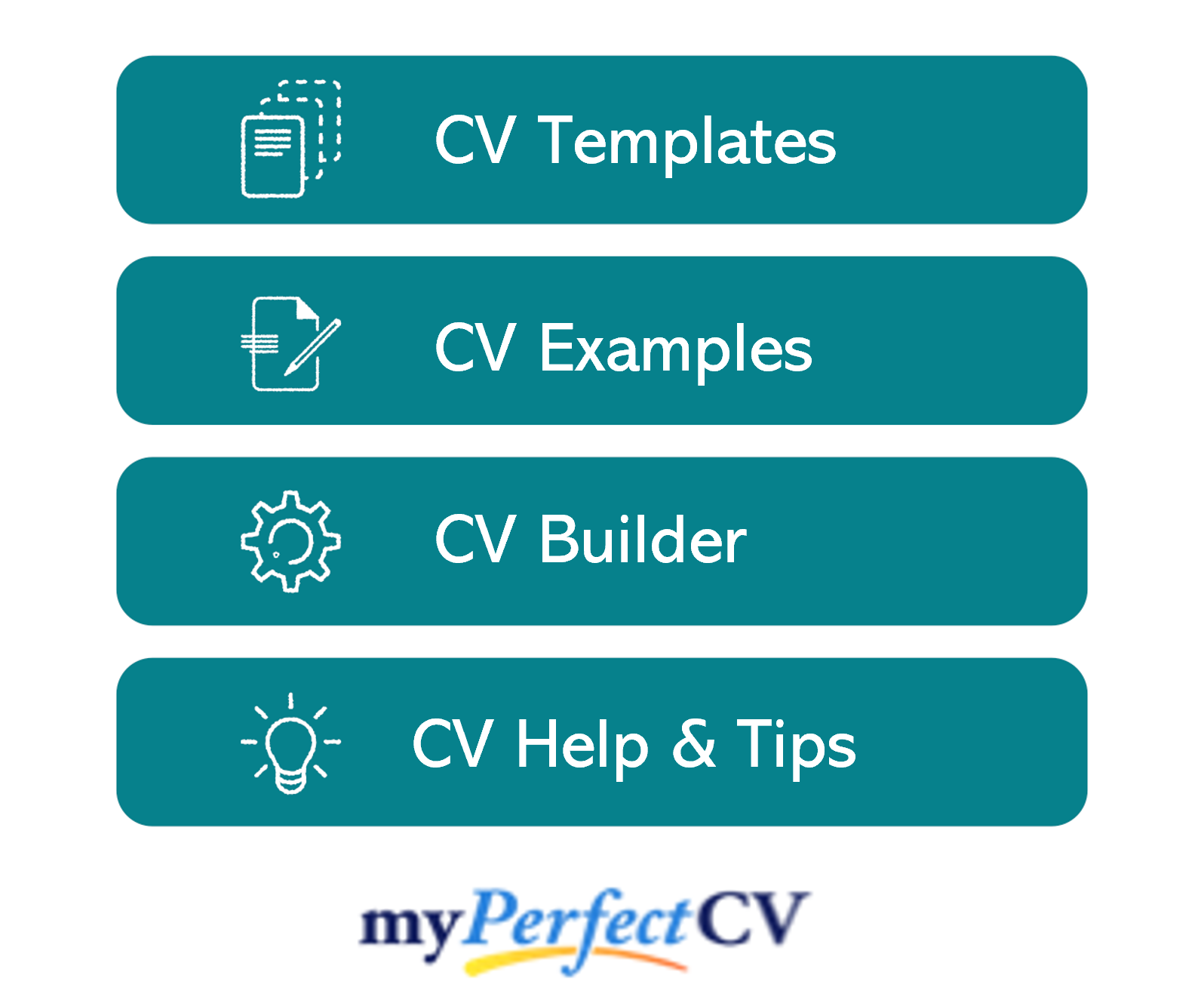 Essential skills for your quantity surveyor CV
Although each company will require a slightly different skill set, there are a number of core skills that will be required within any quantity surveyor position:
Ability to carry out feasibility studies in order to estimate materials, time and labour costs
Understanding of legal and contractual matters
Excellent IT skills and knowledge of relevant software packages
Negotiating and creating bids for tenders and contracts
Financial management and reporting skills
Understanding of environmental guidelines
Writing your quantity surveyor CV
When putting together your quantity surveyor CV, there are a few key points to remember.
Always tailor your CV to the target role, even if it means creating several versions for different roles.
Additionally, remember that the structure and format of your CV need just as much attention as the content.
Good luck with your job search!