If you're looking to land yourself a role as a project accountant, you're in luck! As this job requires specialist skills, you'll be in high demand.
That said, you've got to write a winning CV to secure the interview first.
So, let us help you with our example project accountant CV below.
Guide contents
Project Accountant CV example
Structuring and formatting your CV
Writing your CV profile
Detailing work experience
Your education
Skills required for your Project Accountant CV

Project Accountant CV example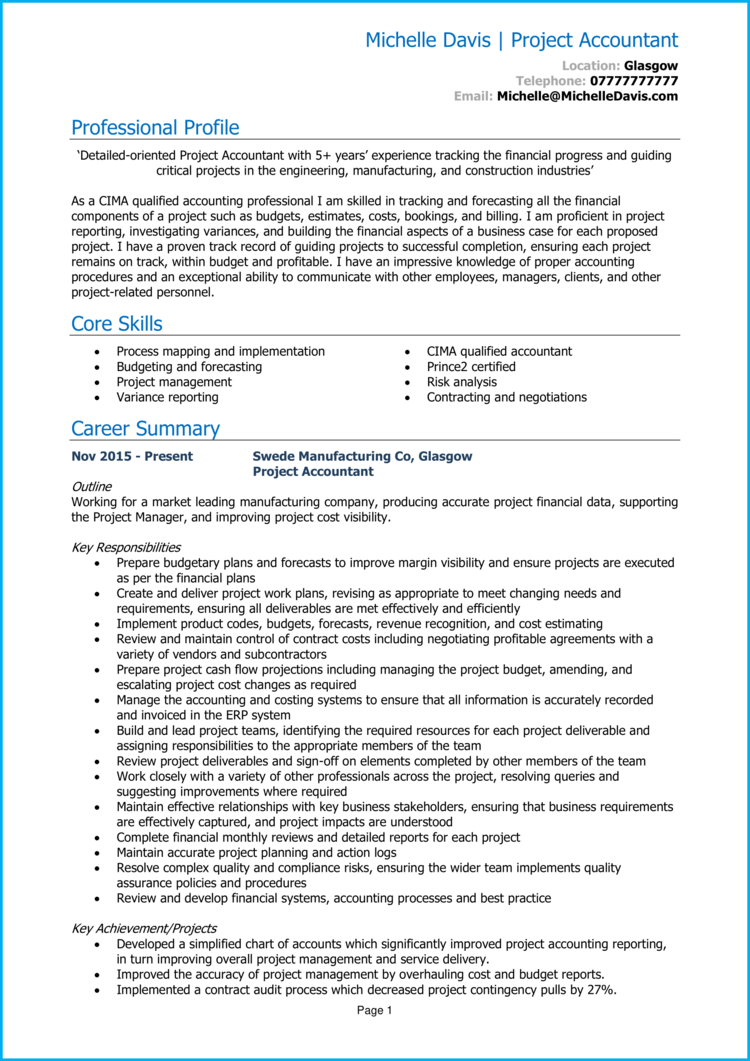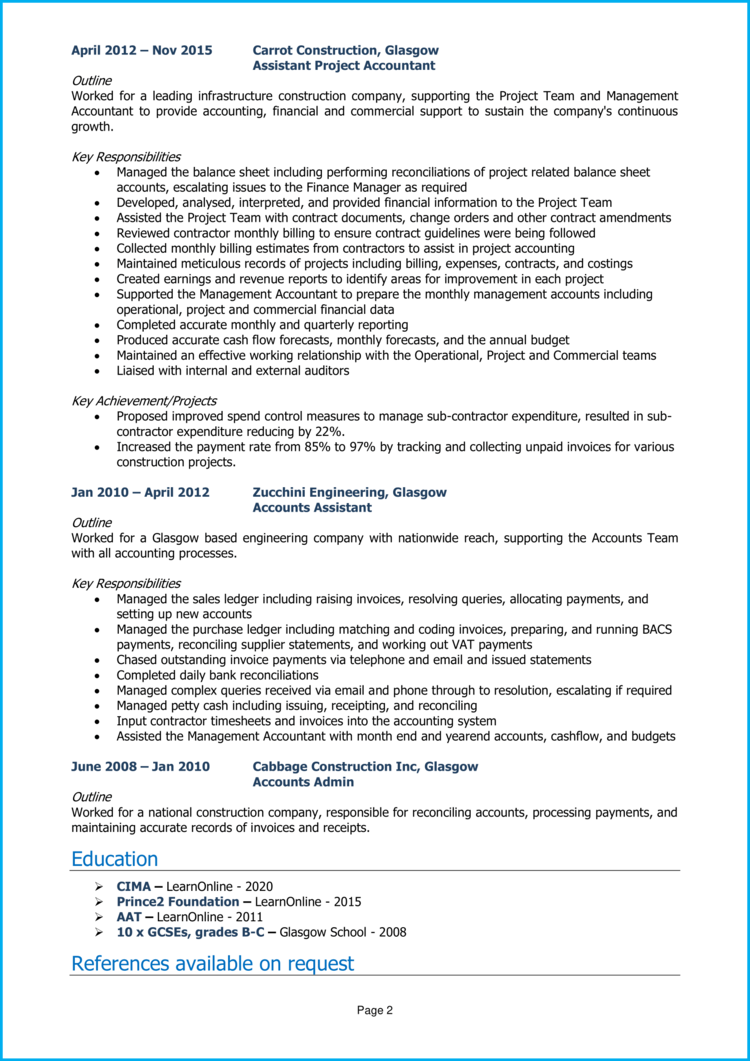 Before you start writing your own CV, take a look at the example Project Accountant CV above to give yourself a basic understanding of the style and format that recruiters and hiring managers prefer to see.
Also, take note of the type of content that is included to impress recruiters, and how the most relevant information is made prominent.
Project Accountant CV structure and format
First impressions count, so a sloppy, disorganised and difficult-to-read CV won't do you any favours.
Instead, perfect the format and structure of your CV by working to a pre-defined structure and applying some simple formatting tricks to ease readability.
Don't underestimate the importance of this step; if your CV lacks readability, your written content won't be able to shine through.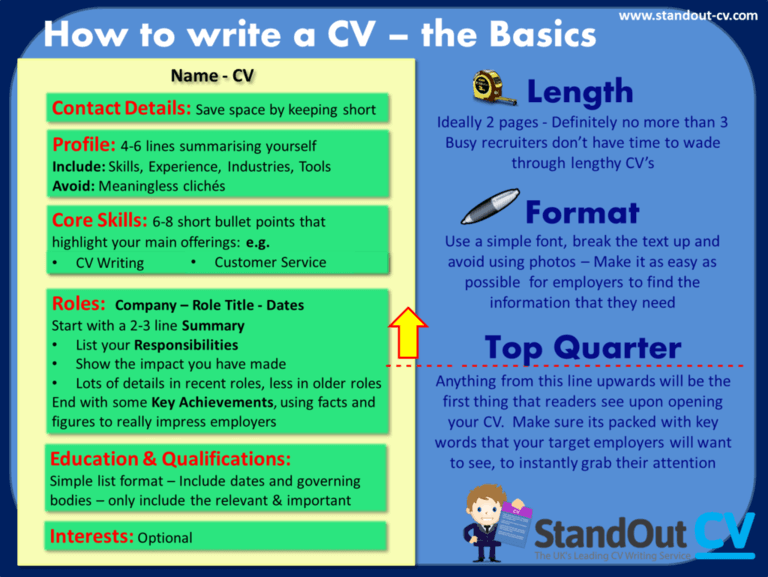 Formatting Tips
Length: Recruiters will be immediately put off by lengthy CVs – with hundreds of applications to read through, they simply don't have the time! Grabbing their attention with a short, snappy and highly relevant CV is far more likely to lead to success. Aim for two sides of A4 or less.
Readability: Make sure your CV is easy to read and looks professional by applying some simple formatting tricks. Bullet points are great for making large paragraphs more digestible, while formatting your headings with bold or coloured text will help the reader to find the information they need, with speed.
Design: While it's okay to add your own spin to your CV, avoid overdoing the design. If you go for something elaborate, you might end up frustrating recruiters who, above anything, value simplicity and clarity.
Avoid photos: If your CV has photos, images or profile pictures, hit the delete button. They're not needed and won't add any value to your applications.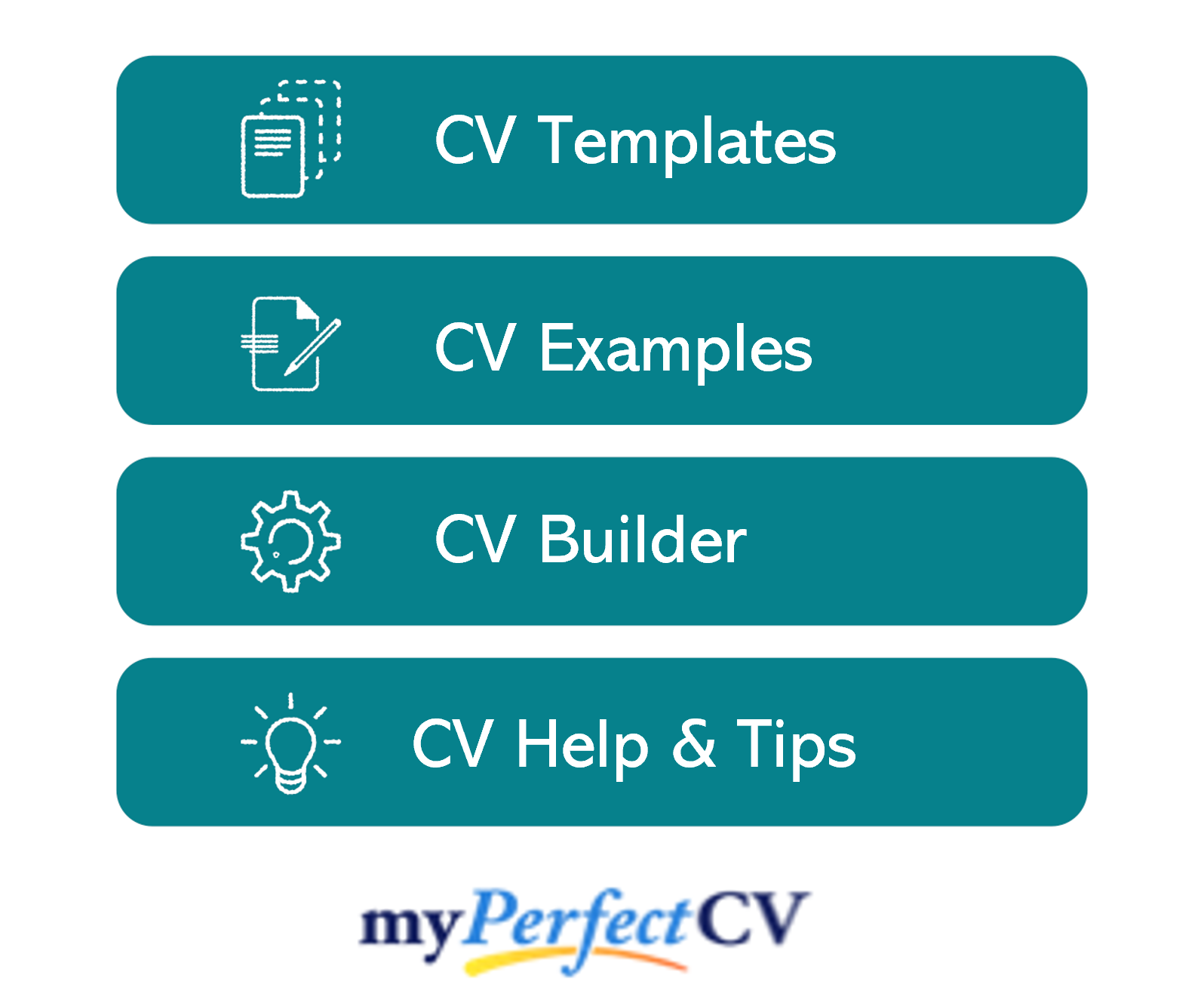 Structuring your CV
When writing your own CV, break up your CV content into the following key sections:
Name and contact details – Place them at the top of your CV, so that employers can easily get in touch.
CV profile – A punchy sales pitch of your key experience, skills and achievements to reel readers in.
Core skills section – A bullet-pointed snapshot of your abilities.
Work experience – A well-structured list of your relevant work experience.
Education – An overview of any relevant qualifications or professional training you have.
Hobbies and interests – A short description of any relevant hobbies or interests (optional).
Now I'll guide you through exactly what you should include in each CV section.
CV Contact Details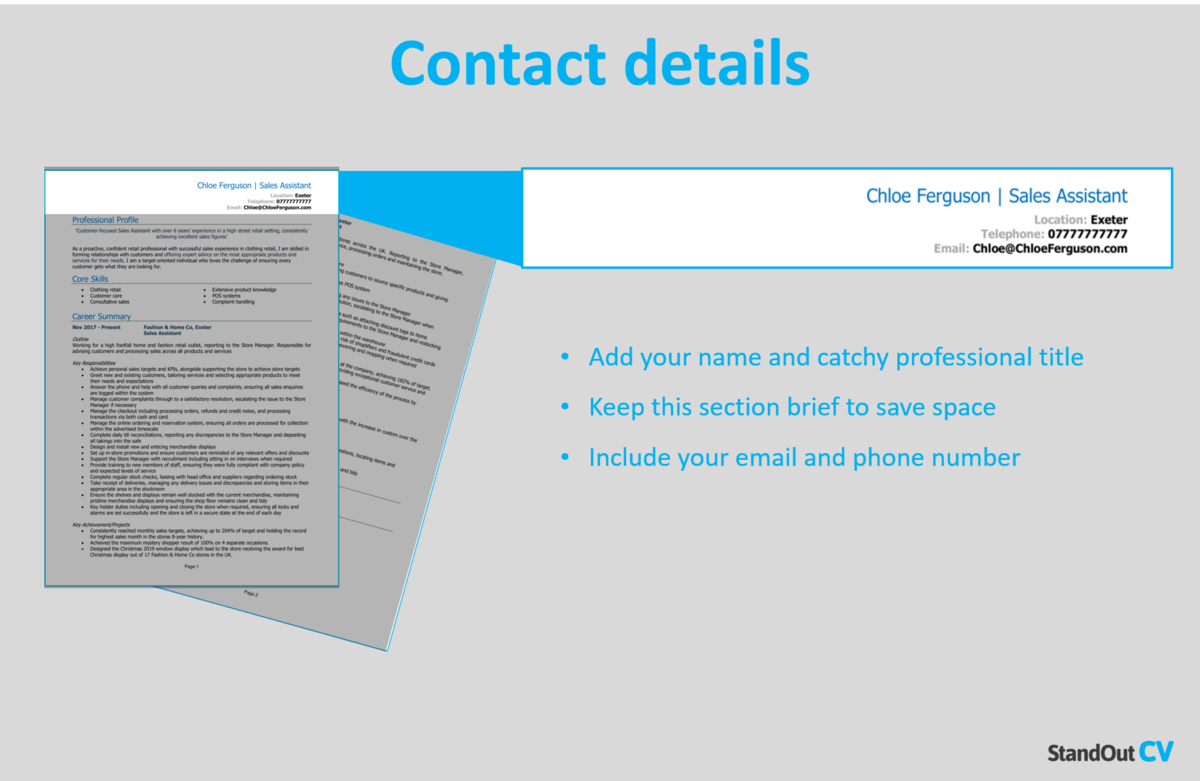 Start off your CV with a basic list of your contact details.
Here's what you should include:
Mobile number
Email address – It's often helpful to make a new email address, specifically for your job applications.
Location – Share your town or city; there's no need for a full address.
LinkedIn profile or portfolio URL – Make sure the information on them is coherent with your CV, and that they're up-to-date
Quick tip: Delete excessive details, such as your date of birth or marital status. Recruiters don't need to know this much about you, so it's best to save the space for your other CV sections.
Project Accountant CV Profile
Your CV profile is the first thing recruiters will read – so your goal is to give them a reason to read onto the end of the document!
Create a short and snappy paragraph that showcases your key skills, relevant experience and impressive accomplishments.
Ultimately, it should prove to the reader that you've got what it takes to carry out the job.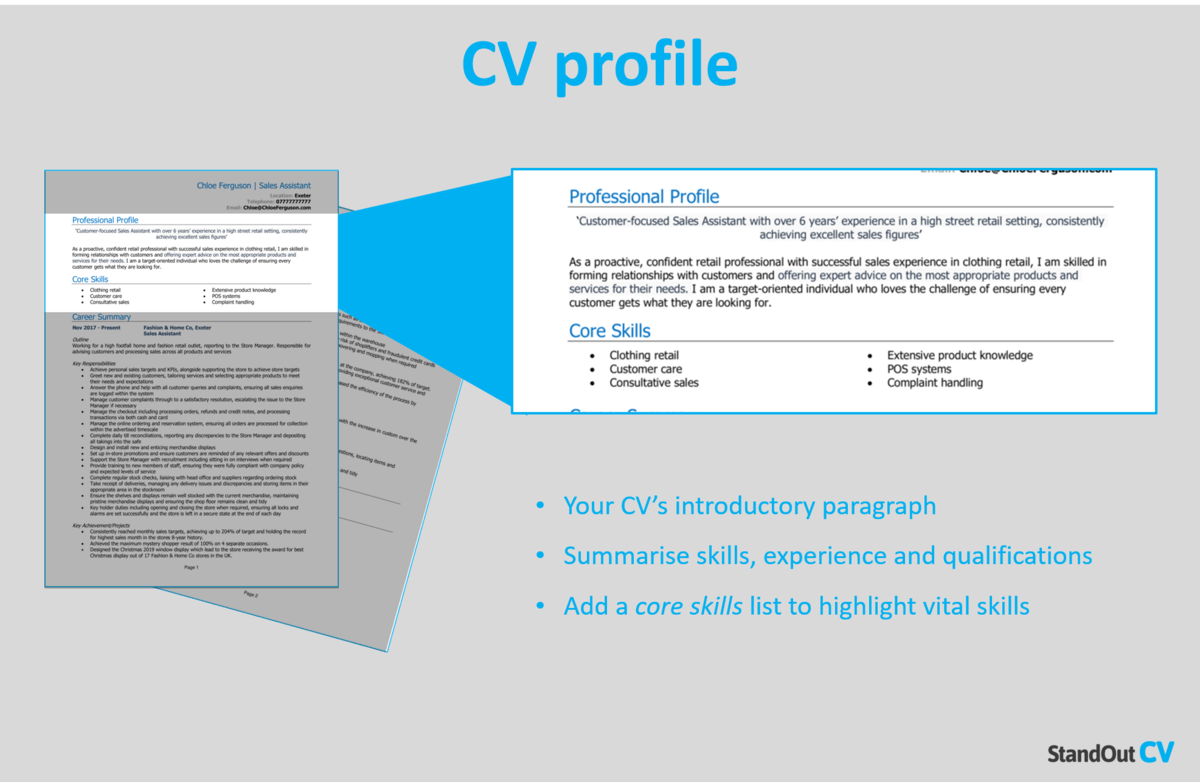 Tips for creating an impactful CV profile:
Keep it brief: Recruiters are busy, so to ensure your profile is actually read, it's best to keep it short and snappy. 3-5 punchy lines makes for the perfect profile.
Tailor it: Not tailoring your profile (and the rest of your CV) to the role you're applying for, is the worst CV mistake you could make. Before setting pen to paper, look over the job ad and make a note of the skills and experience required. Then, incorporate your findings throughout.
Don't add an objective: Want to talk about about your career goals and objectives? While the profile may seem like a good space to do so, they're actually much better suited to your cover letter.
Avoid cliches: If your CV is riddled with clichès like "Dynamic thought-leader", hit that delete button. Phrases like these are like a broken record to recruiters, who read them countless times per day. Hard facts, skills, knowledge and results are sure to yield far better results.
What to include in your Project Accountant CV profile?
Summary of experience: Recruiters will want to know what type of companies you've worked for, industries you have knowledge of, and the type of work you've carried out in the past, so give them a summary of this in your profile.
Relevant skills: Employers need to know what skills you can bring to their organisation, and ideally they want to see skills that match their job vacancy. So, research your target roles thoroughly and add the most important Project Accountant skills to your profile.
Essential qualifications: Be sure to outline your relevant Project Accountant qualifications, so that anyone reading the CV can instantly see you are qualified for the jobs you are applying to.
Quick tip: Even the best of writers can overlook typos and spelling mistakes. Use our partner's CV builder to add pre-written content that has been created by recruitment experts, and proofread by our team.
Core skills section
In addition to your CV profile, your core skills section provides an easily digestible snapshot of your skills – perfect for grabbing the attention of busy hiring managers.
As Project Accountant jobs might receive a huge pile of applications, this is a great way to stand out and show off your suitability for the role.
It should be made up of 2-3 columns of bullet points and be made up of skills that are highly relevant to the jobs you are targeting.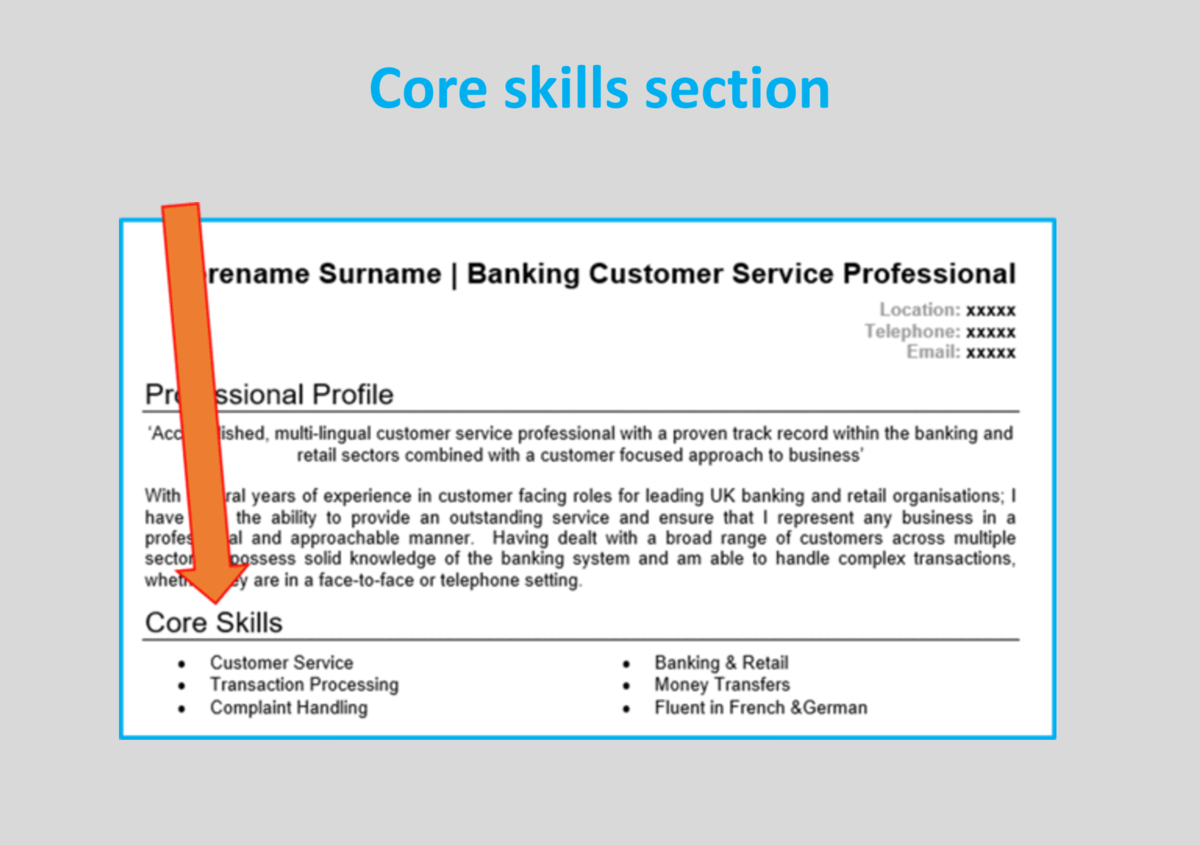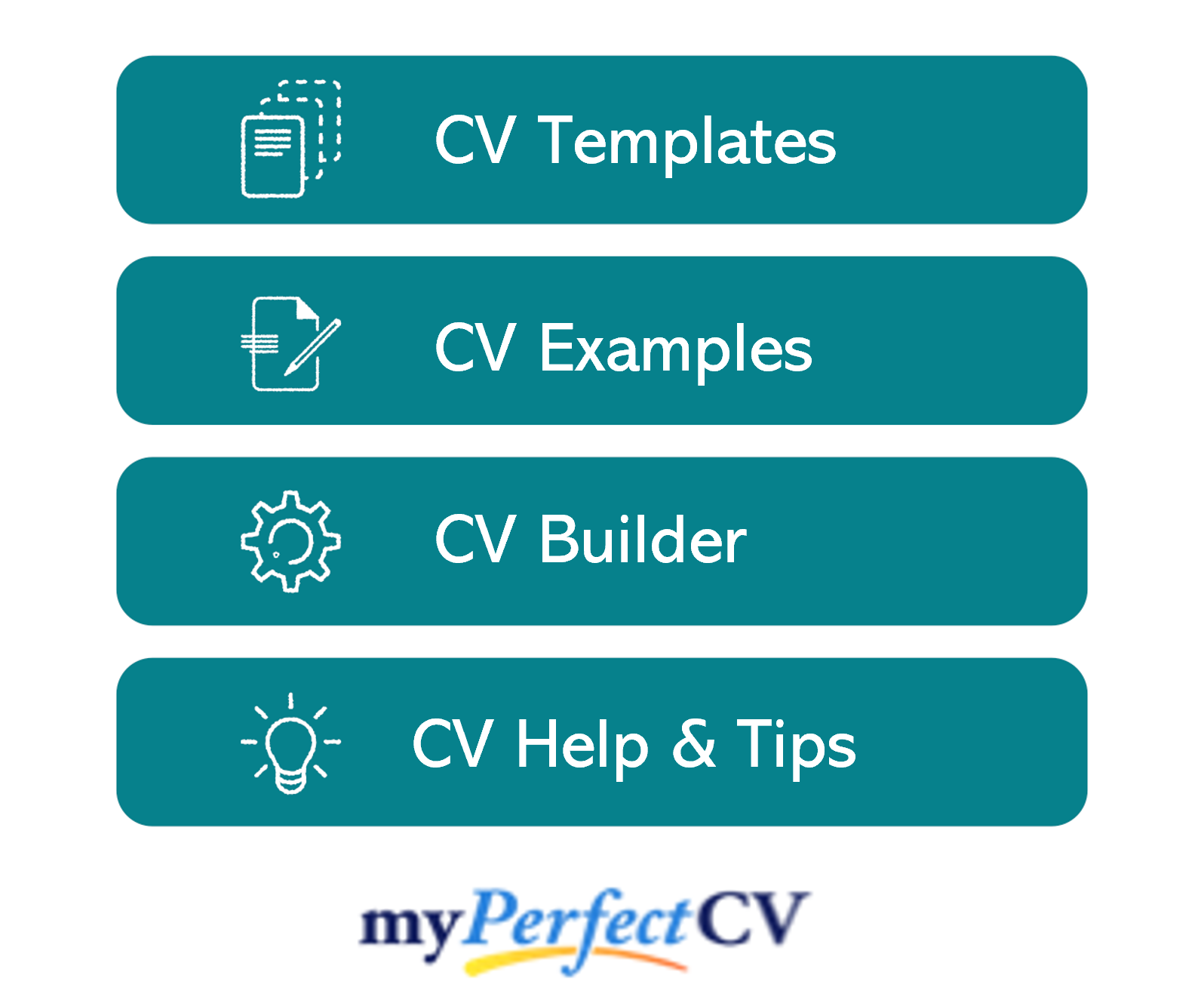 Work experience/Career history
Next up is your work experience section, which is normally the longest part of your CV.
Start with your current (or most recent) job and work your way backwards through your experience.
Can't fit all your roles? Allow more space for your recent career history and shorten down descriptions for your older roles.
Structuring your roles
Recruiters will be keen to gain a better idea of where you've worked and how you apply your skill-set in the workplace.
However, if they're faced with huge, hard-to-read paragraphs, they may just gloss over it and move onto the next application.
To avoid this, use the simple 3-step role structure, as shown below:
Outline
Firstly, give the reader some context by creating a punchy summary of the job as a whole.
You should mention what the purpose or goal of your role was, what team you were part of and who you reported to.
Key responsibilities
Follow with a snappy list of bullet points, detailing your daily duties and responsibilities.
Tailor it to the role you're applying for by mentioning how you put the target employer's desired hard skills and knowledge to use in this role.
Key achievements
To finish off each role and prove the impact you made, list 1-3 stand out achievements, results or accomplishments.
This could be anything which had a positive outcome for the company you worked for, or perhaps a client/customer.
Where applicable, quantify your examples with facts and figures.
Education
Next up, you should list your education and qualifications.
This can include your formal qualifications (a degree, A-Levels and GCSEs), as well as sector-specific Project Accountant qualifications and/or training.
While school leavers and recent grads should include a lot of detail here to make up for the lack of work experience, experienced candidates may benefit from a shorter education section, as your work experience section will be more important to recruiters.
Interests and hobbies
The hobbies and interests CV section isn't mandatory, so don't worry if you're out of room by this point.
However, if you have an interesting hobby, or an interest that could make you seem more suitable for the role, then certainly think about adding.
Be careful what you include though… Only consider hobbies that exhibit skills that are required for roles as a Project Accountant, or transferable workplace skills.
There is never any need to tell employers that you like to watch TV and eat out.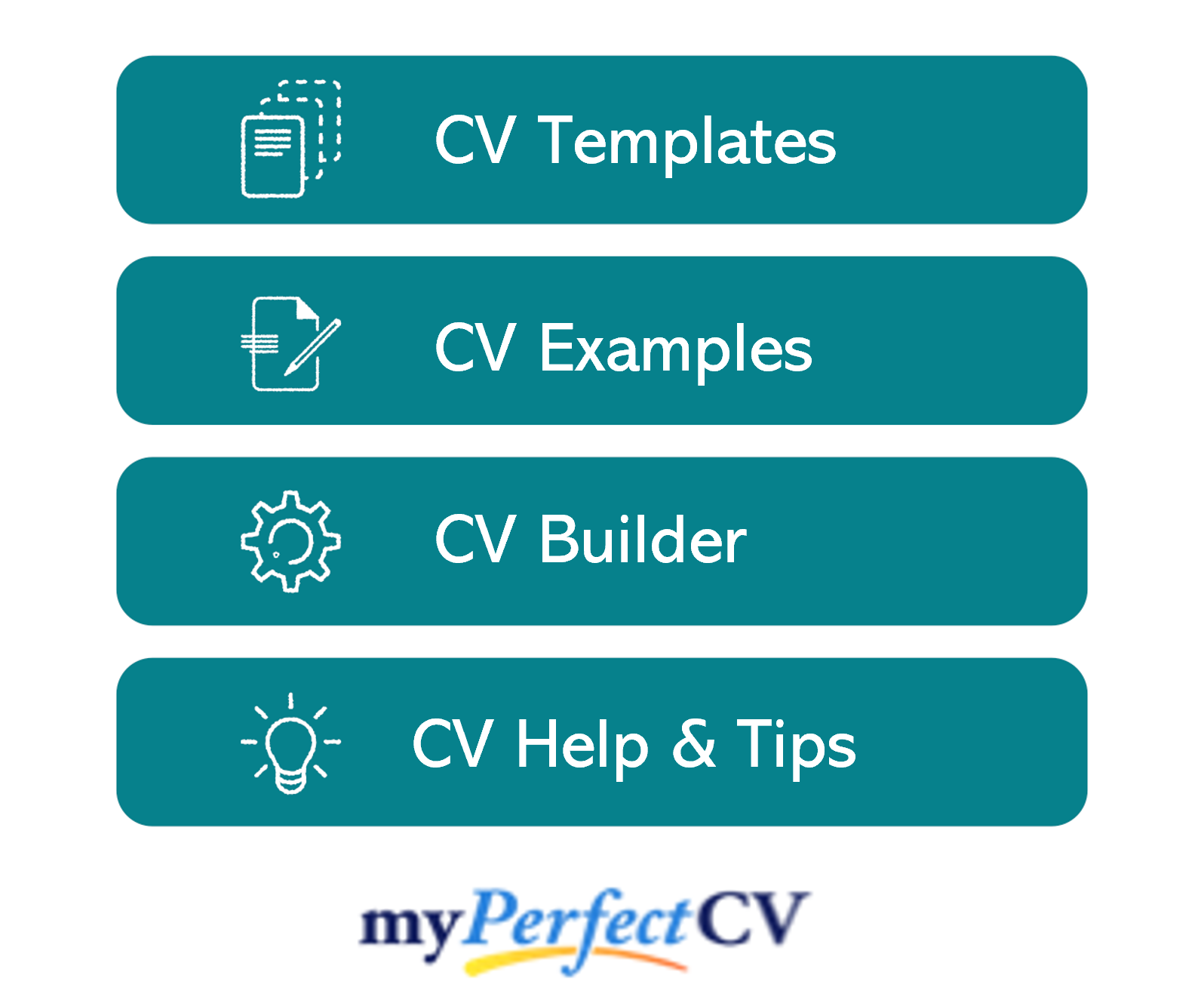 Essential skills for your Project Accountant CV
Tailoring your CV to the roles you are applying for is key to success, so make sure to read through the job descriptions and tailor your skills accordingly.
However, commonly desired Project Accountant skills include:
Budgeting and analysis: A crucial part of the role is being able to analyse and advise on project budgets
Reporting: You will be required to make bespoke financial reports for clients based on their proposed projects
Risk-management: When reviewing budgets, it's also important to be able recognise financial risks and advise the client on how to mitigate these
Attention to detail: You will be dealing with a lot of figures and in some cases, a lot of money, therefore; you need a keen eye to ensure you don't miss any important information or make costly mistakes
Invoicing: As the project progresses, you'll be required to prepare and submit invoices to suppliers and other third-parties
Writing your Project Accountant CV
Creating a strong Project Accountant CV requires a blend of punchy content, considered structure and format, and heavy tailoring.
By creating a punchy profile and core skills list, you'll be able to hook recruiter's attention and ensure your CV gets read.
Remember that research and relevance is the key to a good CV, so research your target roles before you start writing and pack your CV with relevant skills.
Best of luck with your next application!