As a primary school teacher, you get to shape young minds and support your students as they develop a whole range of new skills and abilities.
But in order to land the job, you've first got to school the recruiter in what makes you such a great (and qualified) teacher, and an impressive CV is the way to do this.
But if you're not sure where to start, we're here to teach you a thing or two. Check out our detailed writing guide below, complete with a primary school teacher CV example.
Contents
| | |
| --- | --- |
| How to write a Primary School Teacher CV | |

Primary School Teacher CV example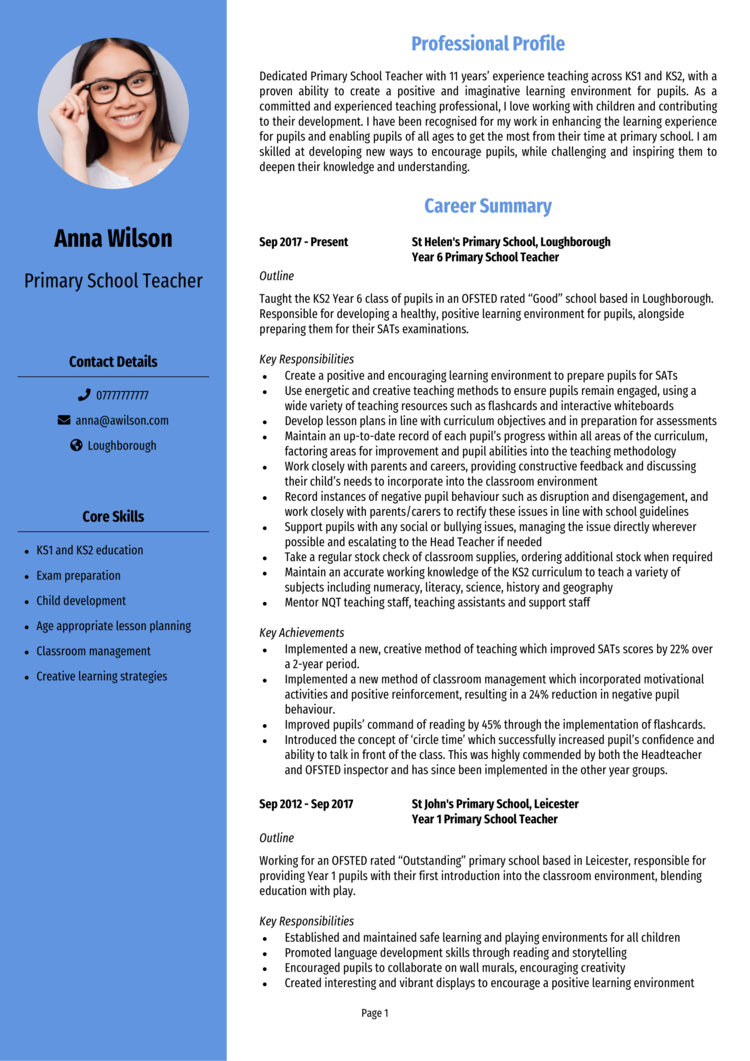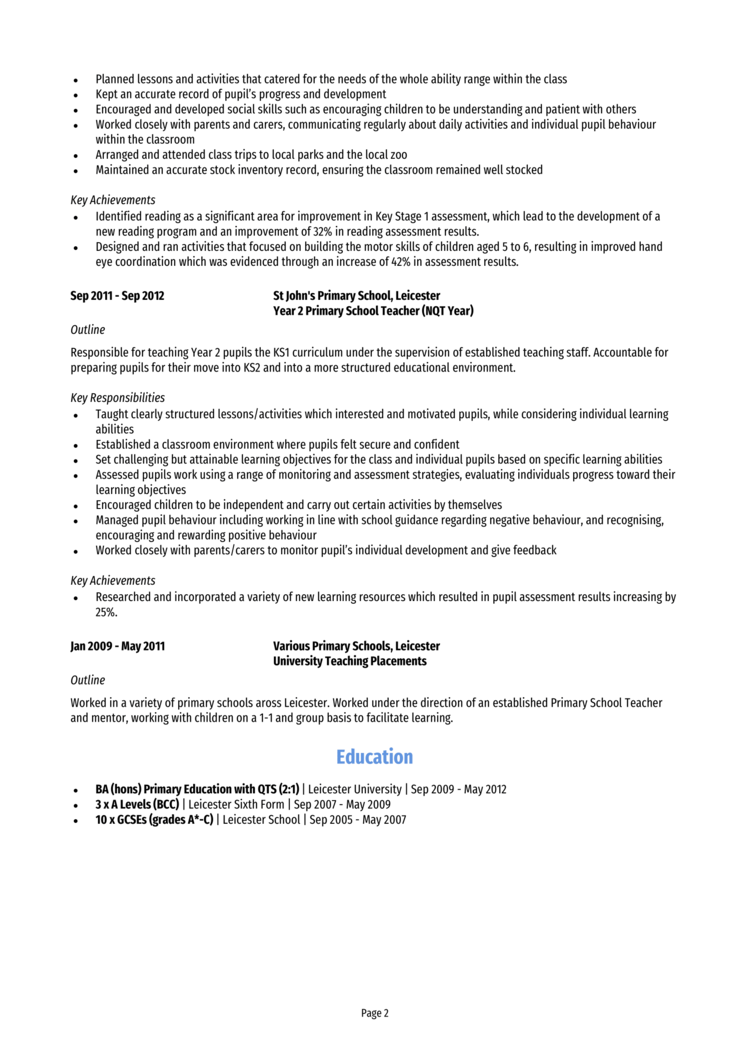 This is a good example of a Primary School Teacher CV which contains all of the information that a hiring manager will need to be impressed, and presents it in a well- structured, easy-to-read format.
Take some time to study and understand this CV, and refer to it throughout the writing of your own CV for best results.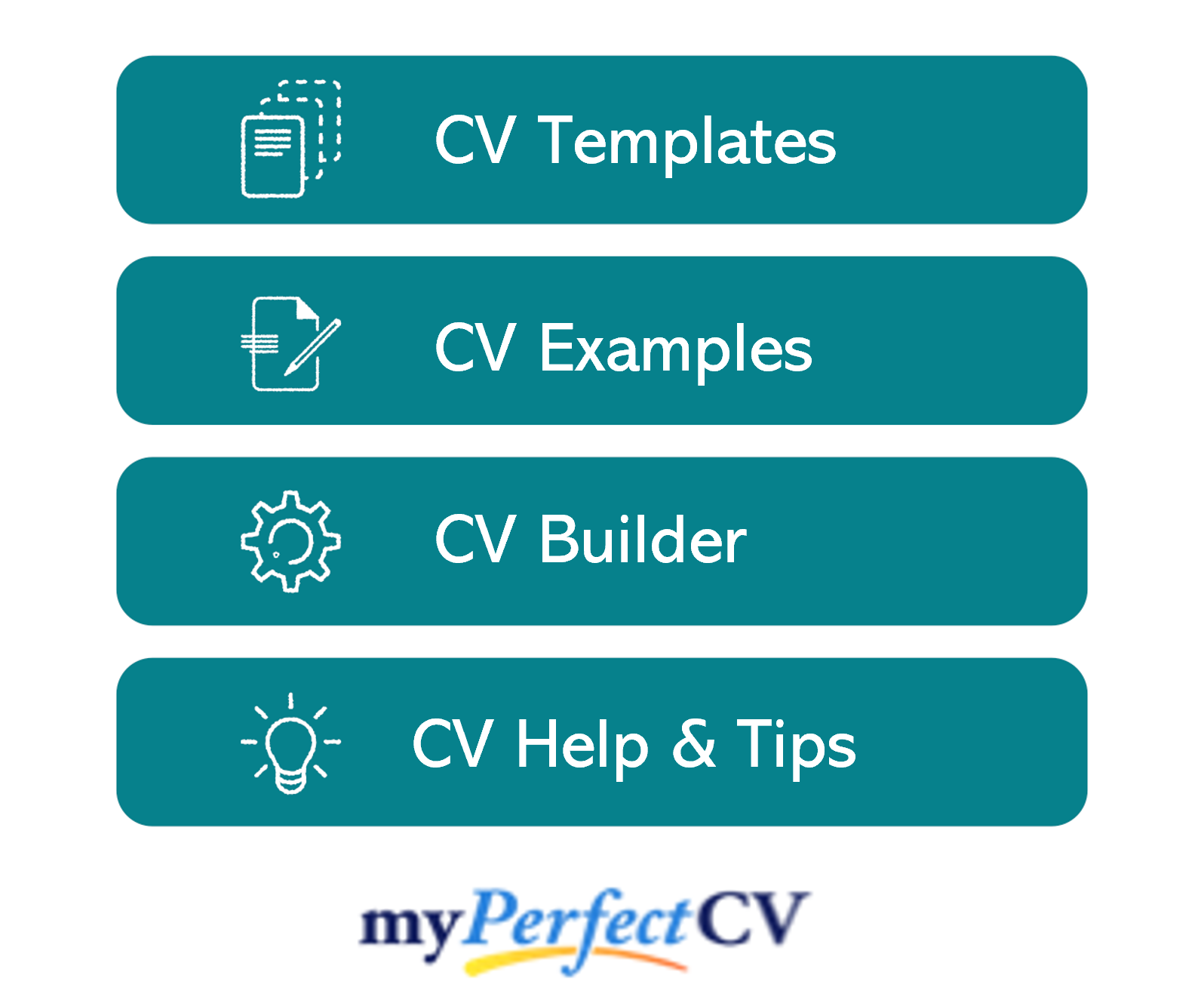 Primary School Teacher CV layout and format
The format and structure of your CV is important because it will determine how easy it is for recruiters and employers to read your CV.
If they can find the information they need quickly, they'll be happy; but if they struggle, your application could be overlooked.
A simple and logical structure will always create a better reading experience than a complex structure, and with a few simple formatting tricks, you'll be good to go.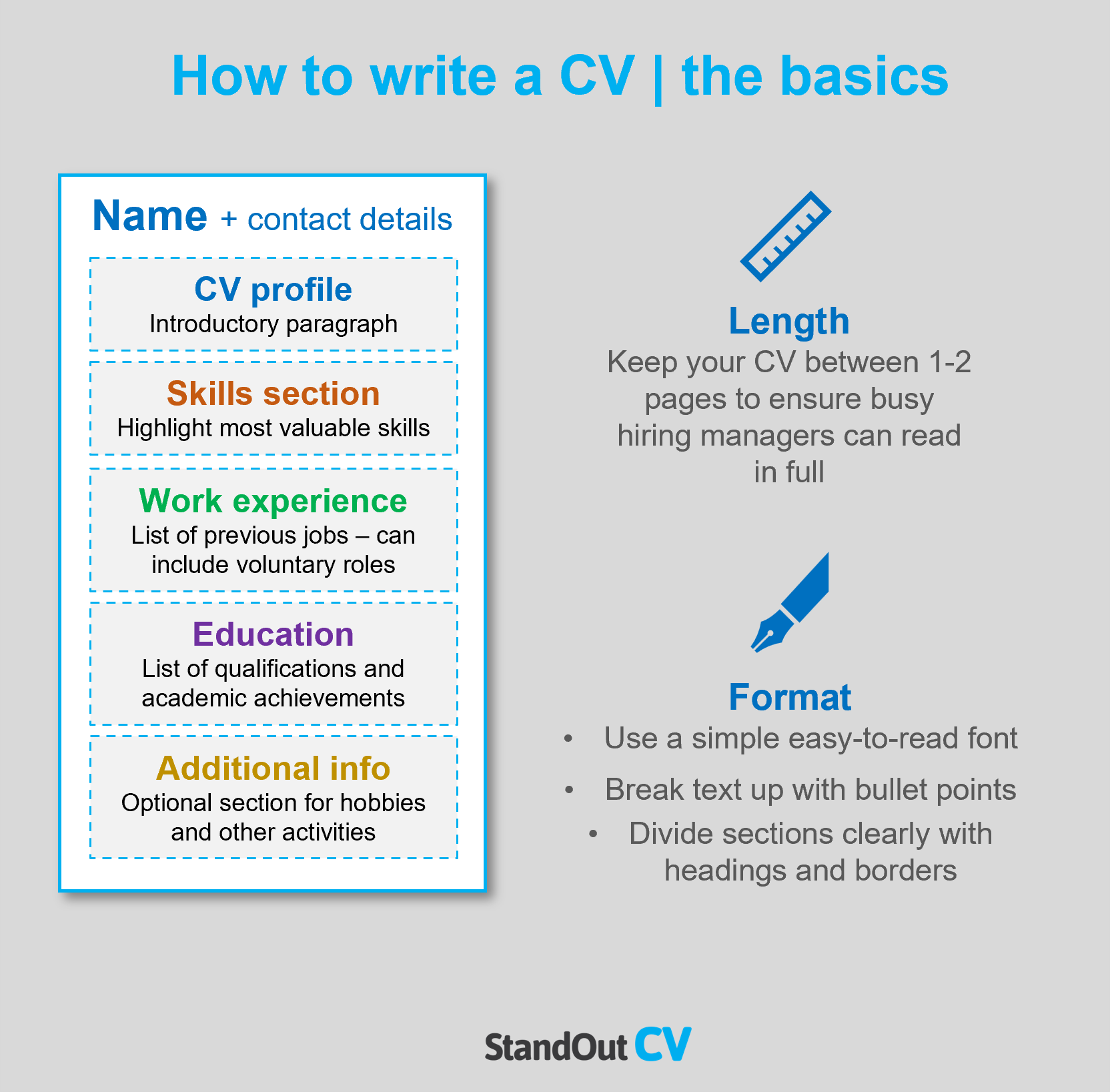 Tips for formatting your Primary School Teacher CV
Length: Recruiters will be immediately put off by lengthy CVs – with hundreds of applications to read through, they simply don't have the time! Grabbing their attention with a short, snappy and highly relevant CV is far more likely to lead to success. Aim for two sides of A4 or less.
Readability: To help recruiters quickly skim through your CV, it's important to format your section headings with bold or a different colour font and break up lengthy paragraphs into short sharp bullet points. This enables them to easily identify important information and assess your suitability.
Design: While it's okay to add your own spin to your CV, avoid overdoing the design. If you go for something elaborate, you might end up frustrating recruiters who, above anything, value simplicity and clarity.
Photos: Headshot photos aren't requiered in a CV by most employers, but some creative and artistic industries like to see them. If you decide to inclide one, make sure you look smart and professional in the picture.
Quick tip: Creating a professional CV style can be difficult and time-consuming when using Microsoft Word or Google Docs. To create a winning CV quickly, try our partner's CV Builder and use one of their eye-catching professional CV templates.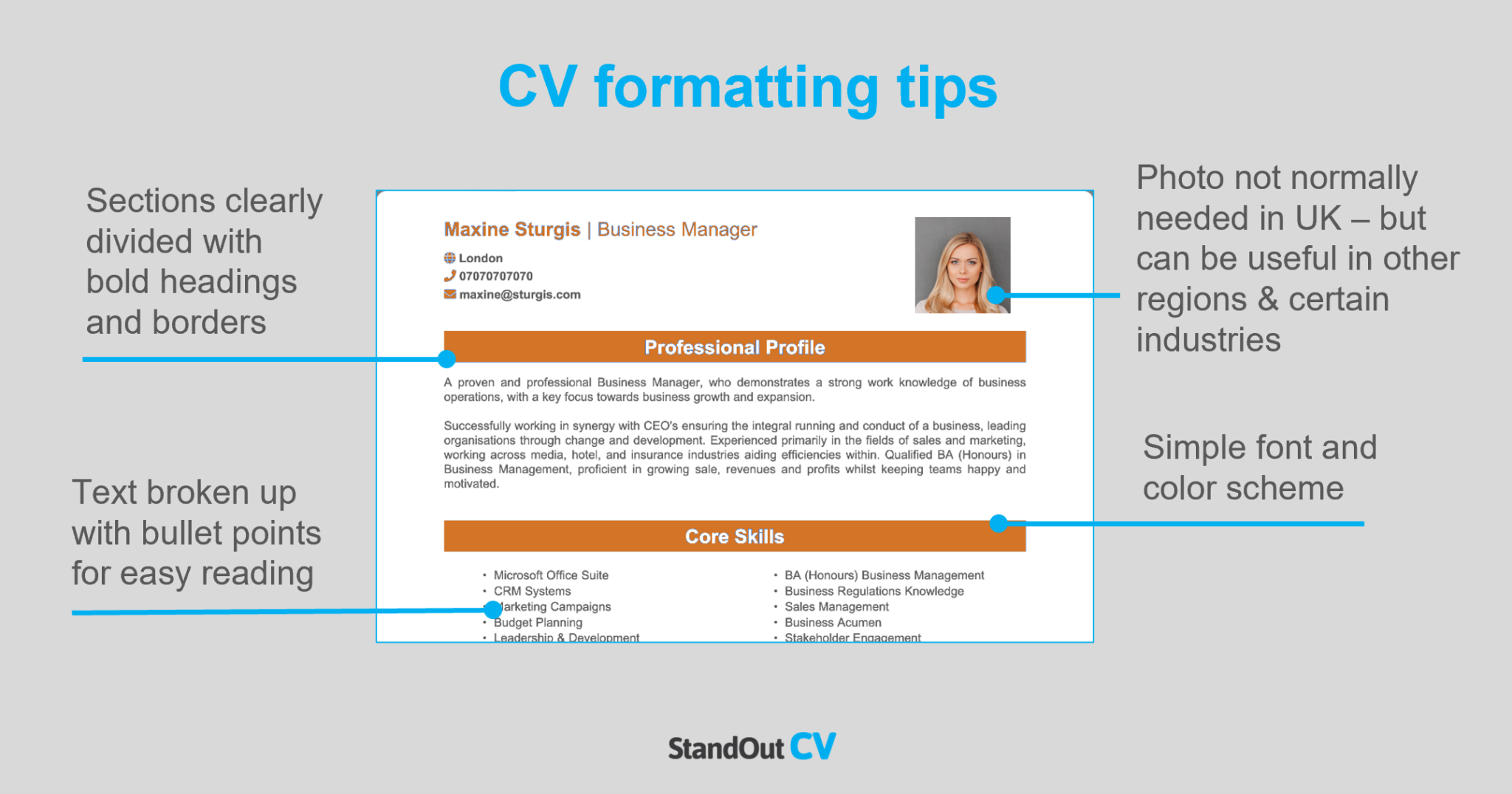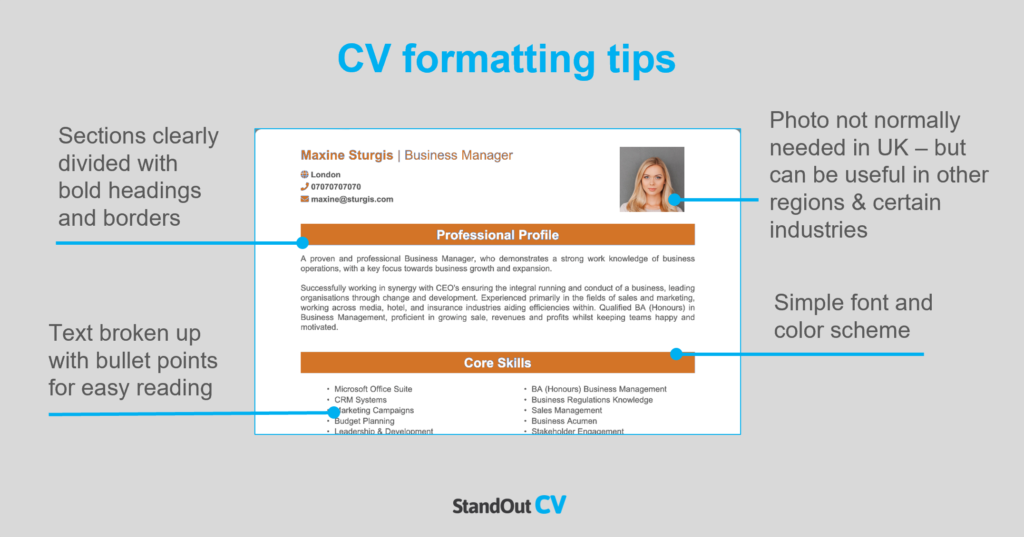 CV structure
Divide your CV into the following major sections when writing it:
Name and contact details – Head your CV with your name and contact details, to let the reader know who you are and how to contact you.
CV profile – A brief paragraph which summarises your skills and experience and highlights why you're a good match for the role.
Core skills list – A snappy, bullet-pointed list of your most relevant skills.
Work experience – A structured list of your work experience in reverse chronological order.
Education – A summary of any relevant qualifications or professional training you've completed.
Hobbies and interests – An optional section, which should only be used if your hobbies are relevant to the jobs you're applying to.
Now you understand the basic layout of a CV, here's what you should include in each section of yours.
Contact Details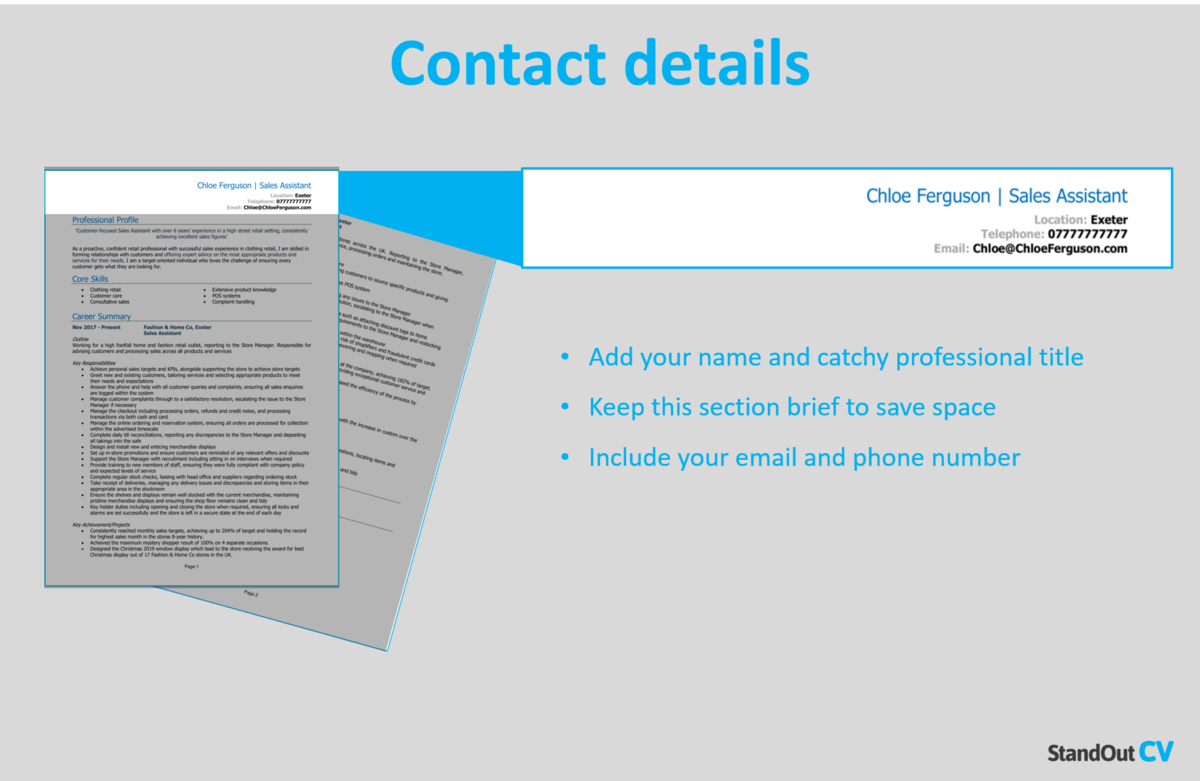 Begin by sharing your contact details, so it's easy for employers to give you a call.
Keep to the basics, such as:
Mobile number
Email address – It should sound professional, with no slang or nicknames. Make a new one for your job applications if necessary.
Location – Simply share your vague location, for example 'Manchester', rather than a full address.
LinkedIn profile or portfolio URL – Remember to update them before you send your application.
Primary School Teacher CV Profile
Recruiters read through countless applications every day.
If they don't find what they're looking for quickly, they'll simply move onto the next one.
That's what makes your CV profile (or personal statement, if you're an entry-level/graduate candidate) so important.
This short and snappy summary sits at the top of your CV, and should give a high-level overview of why you're a good match for the job.
This way, you can ensure that busy recruiters see your suitability from the outset, and so, feel your CV is worth their time.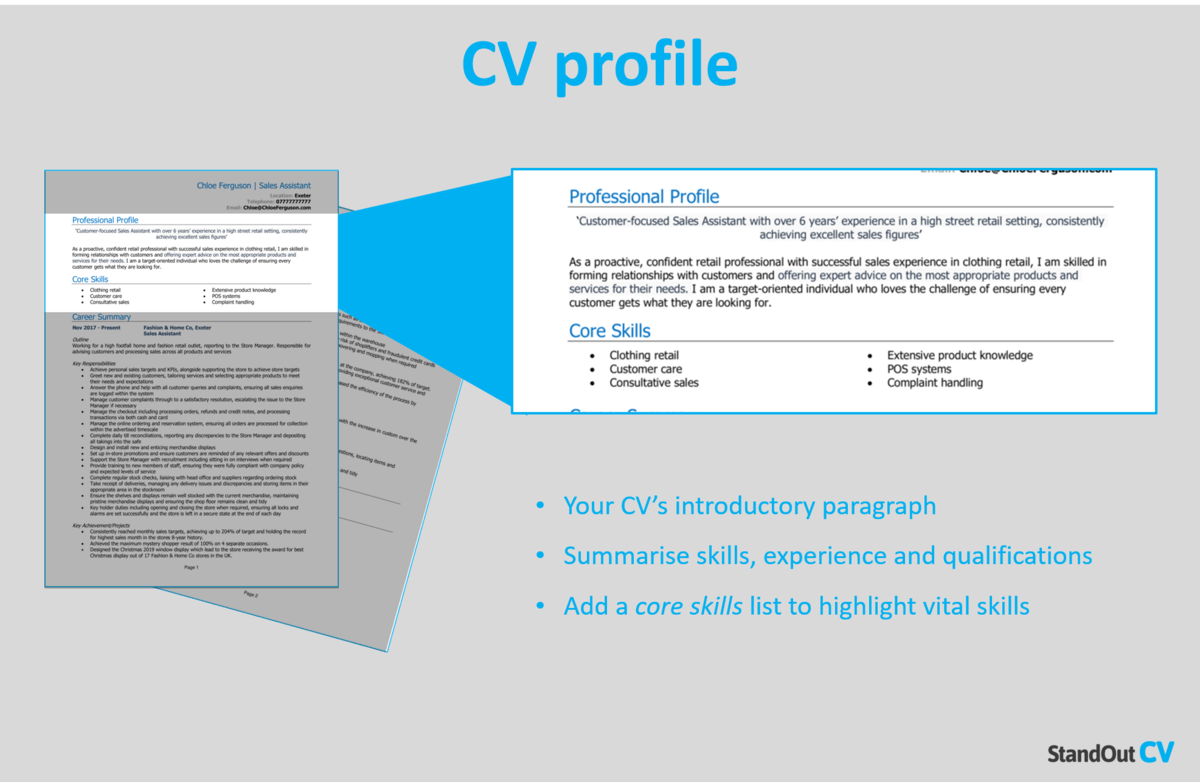 CV profile writing tips:
Make it short and sharp: Aim for a short, snappy paragraph of 3-5 lines. This is just enough room to showcase why you'd make the perfect hire, without going into excessive detail and overwhelming busy recruiters.
Tailor it: Not tailoring your profile (and the rest of your CV) to the role you're applying for, is the worst CV mistake you could make. Before setting pen to paper, look over the job ad and make a note of the skills and experience required. Then, incorporate your findings throughout.
Don't add an objective: You only have a small space for your CV profile, so avoid writing down your career goals or objectives. If you think these will help your application, incorporate them into your cover letter instead.
Avoid generic phrases: Cheesy clichès and generic phrases won't impress recruiters, who read the same statements several times per day. Impress them with your skill-set, experience and accomplishments instead!
Example CV profile for Primary School Teacher
Copy CV profile text here – keep in italicsDedicated Primary School Teacher with 11 years' experience teaching across KS1 and KS2, with a proven ability to create a positive and imaginative learning environment for pupils. As a committed and experienced teaching professional, I love working with children and contributing to their development. I have been recognised for my work in enhancing the learning experience for pupils and enabling pupils of all ages to get the most from their time at primary school. I am skilled at developing new ways to encourage pupils, while challenging and inspiring them to deepen their knowledge and understanding.
What to include in your Primary School Teacher CV profile?
Experience overview: Recruiters will want to know what type of companies you've worked for, industries you have knowledge of, and the type of work you've carried out in the past, so give them a summary of this in your profile.
Targeted skills: Highlight your skills which are most relevant to Primary School Teacher jobs, to ensure that recruiters see your most in-demand skills as soon as they open your CV.
Key qualifications: If the job postings require specific qualifications, it is essential to incorporate them in your profile to ensure visibility to hiring managers.
Quick tip: If you are finding it difficult to write an attention-grabbing CV profile, choose from hundreds of pre-written profiles across all industries, and add one to your CV with one click in our partner's CV Builder. All profiles are written by recruitment experts and easily tailored to suit your unique skillset.
Core skills section
Next, you should create a bullet pointed list of your core skills, formatted into 2-3 columns.
Here, you should focus on including the most important skills or knowledge listed in the job advertisement.
This will instantly prove that you're an ideal candidate, even if a recruiter only has time to briefly scan your CV.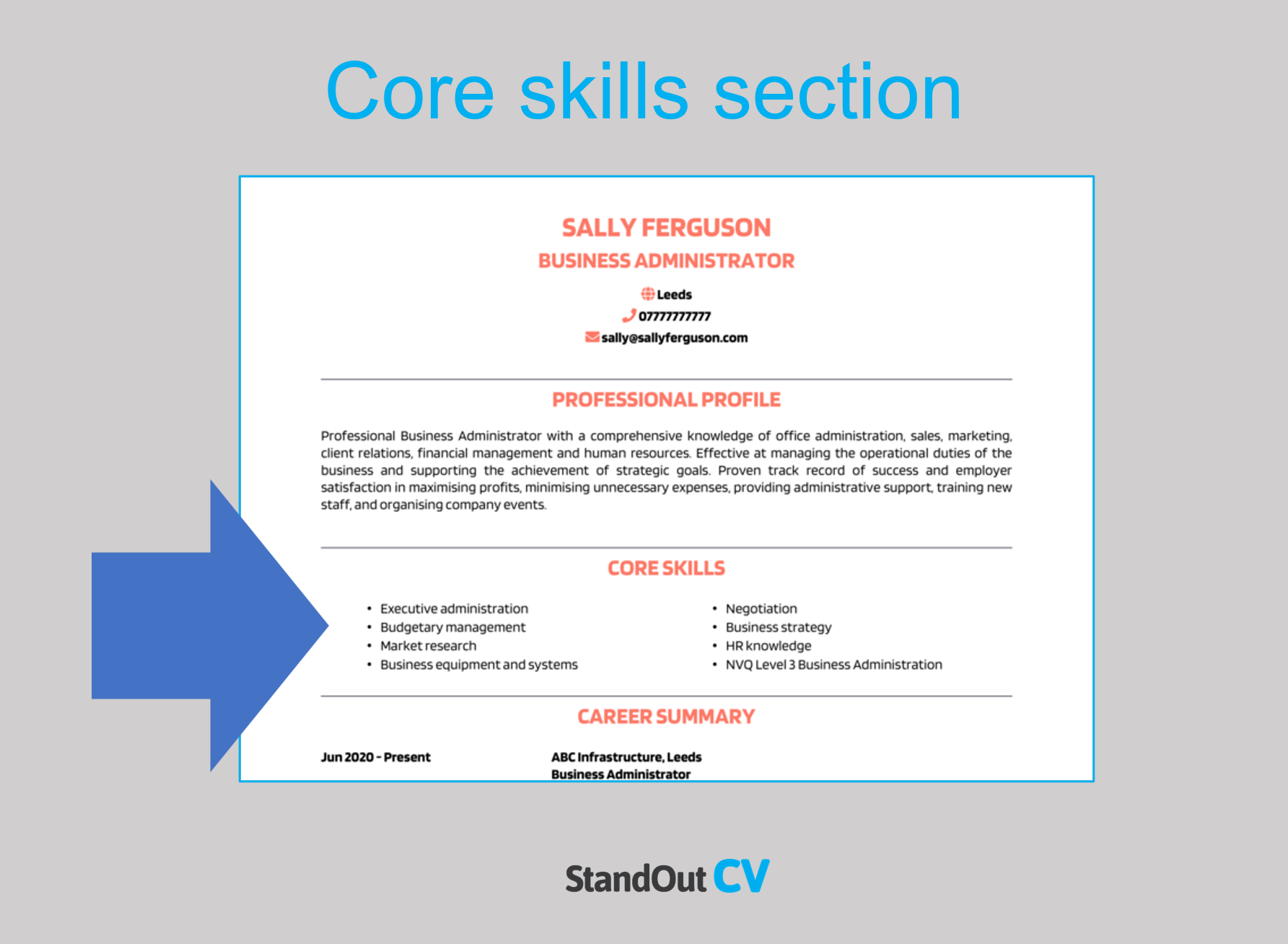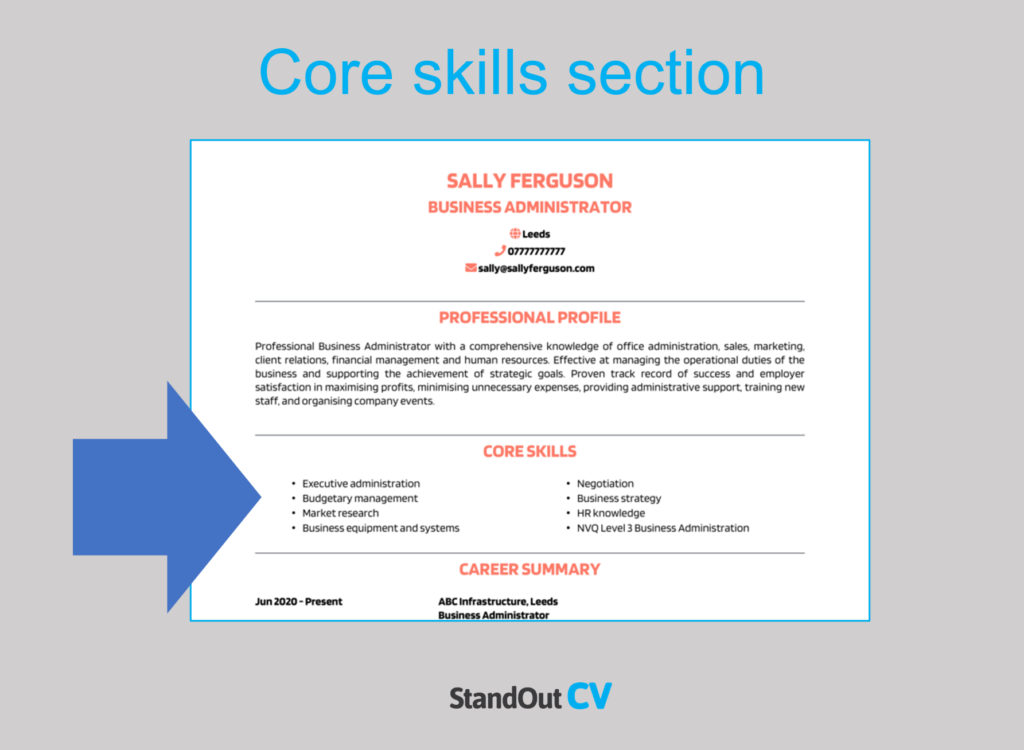 Important skills for your Primary School Teacher CV
Classroom management – Creating and maintaining a safe and positive classroom environment, managing student behaviour, and effectively communicating with parents and other stakeholders.
Curriculum design and implementation – Designing, planning, and delivering engaging and age-appropriate lessons aligned with national and local curriculum standards.
Differentiated instruction – Adapting teaching methods and materials to meet the diverse learning needs of students, including those with special educational needs.
Assessment and evaluation – Assessing student progress, identifying areas of need, and providing constructive feedback to students and parents.
Technological proficiency – Effectively incorporating technology into teaching and learning, including using online learning platforms and educational software.
Collaboration – Working collaboratively with colleagues, parents, and other stakeholders to support student learning and wellbeing.
Creative problem resolution – Identifying and addressing challenges in the classroom and developing creative solutions to support student learning.
Stakeholder communication – Communicating effectively with students, colleagues, parents, and other stakeholders, using a variety of communication methods and styles.
Quick tip: Our partner's CV Builder has thousands of in-demand skills for all industries and professions, that can be added to your CV in seconds – This will save you time and ensure you get noticed by recruiters.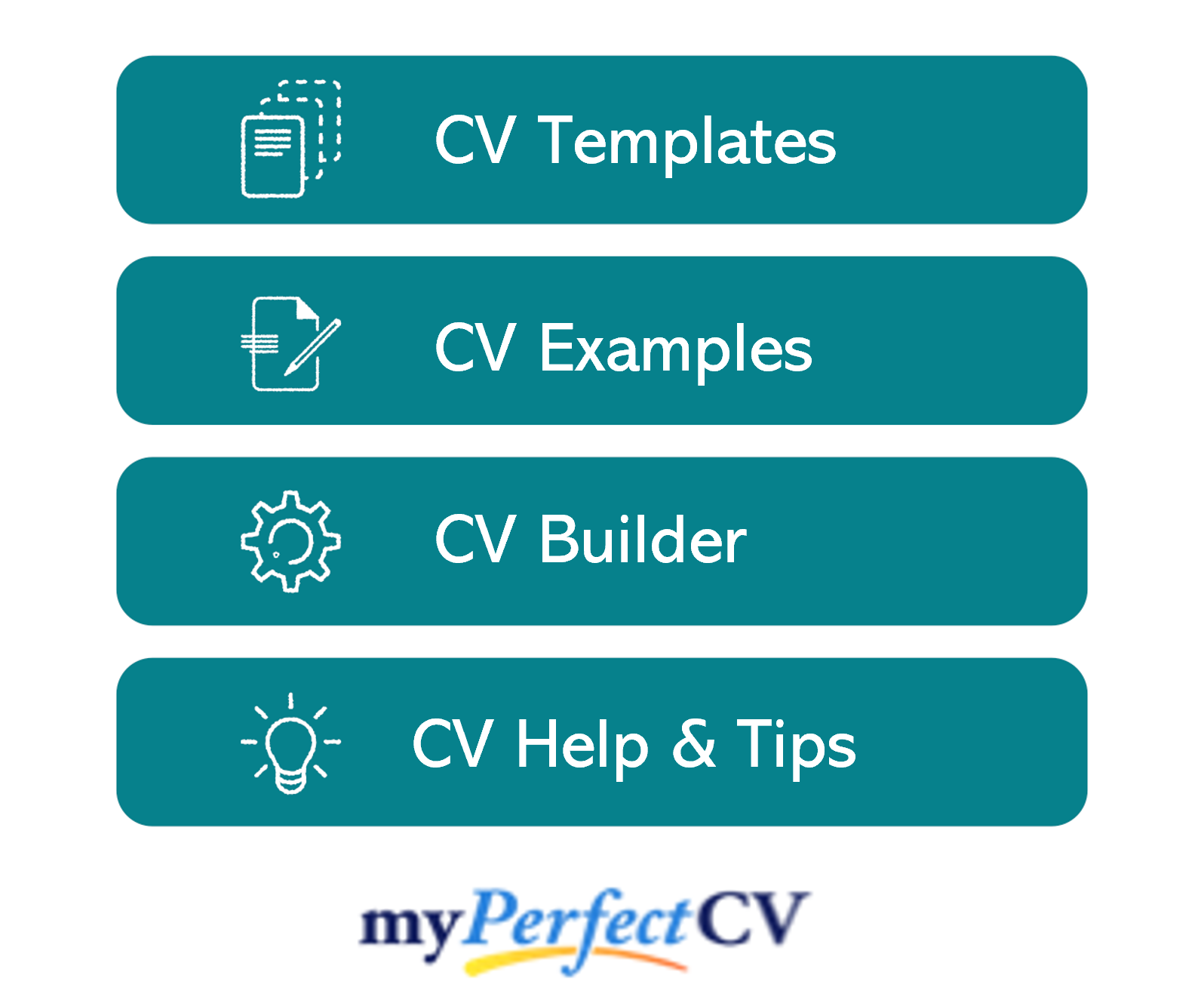 Work experience section
Now that recruiters have a good overview of your skills and abilities, you need to jump into the detail of your career history.
Give them a more thorough insight into what you can do by creating a detailed list of your relevant experience.
Start with your current role, and work backwards through all the relevant positions you've held.
This could be freelance, contract or voluntary work too; as long as it's related to the role you're applying for.
Structuring each job
Your work experience section will be long, so it's important to structure it in a way which helps recruiters to quickly and easily find the information they need.
Use the 3-step structure, shown in the below example, below to achieve this.
Outline
Start with a 1-2 sentence summary of your role as a whole, detailing what the goal of your position was, who you reported to or managed, and the type of organisation you worked for.
Key responsibilities
Use bullet points to detail the key responsibilities of your role, highlighting hard skills, software and knowledge wherever you can.
Keep them short and sharp to make them easily digestible by readers.
Key achievements
Finish off by showcasing 1-3 key achievements made within the role.
This could be anything that had a positive effect on your company, clients or customers, such as saving time or money, receiving exemplary feedback or receiving an award.
Sample job description for Primary School Teacher CV
Outline
Taught the KS2 Year 6 class of pupils in an OFSTED rated "Good" school based in Loughborough. Responsible for developing a healthy, positive learning environment for pupils, alongside preparing them for their SATs examinations.
Key Responsibilities
Create a positive and encouraging learning environment to prepare pupils for SATs
Use energetic and creative teaching methods to ensure pupils remain engaged, using a wide variety of teaching resources such as flashcards and interactive whiteboards
Develop lesson plans in line with curriculum objectives and in preparation for assessments
Maintain an up-to-date record of each pupil's progress within all areas of the curriculum, factoring areas for improvement and pupil abilities into the teaching methodology
Quick tip: Create impressive job descriptions easily in our partner's CV Builder by adding pre-written job phrases for every industry and career stage.

Education and qualifications
In your education section, make any degrees, qualifications or training which are relevant to Primary School Teacher roles a focal point.
As well as mentioning the name of the organisation, qualification titles and dates of study, you should showcase any particularly relevant modules, assignments or projects.
Hobbies and interests
This section is entirely optional, so you'll have to use your own judgement to figure out if it's worth including.
If your hobbies and interests could make you appear more suitable for your dream job, then they are definitely worth adding.
Interests which are related to the industry, or hobbies like sports teams or volunteering, which display valuable transferable skills might be worth including.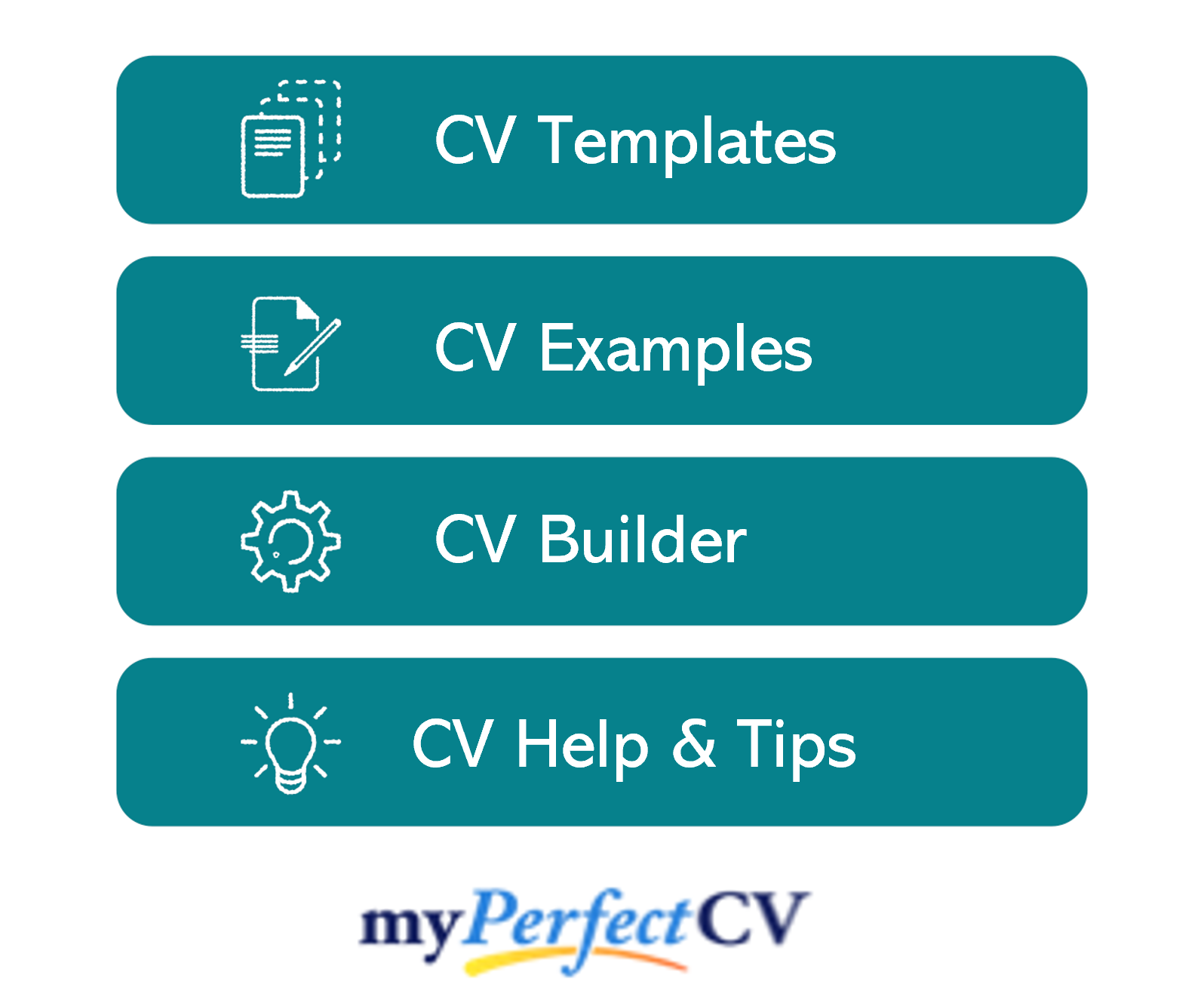 Once you've written your Primary School Teacher CV, you should proofread it several times to ensure that there are no typos or grammatical errors.
With a tailored punchy profile that showcases your relevant experience and skills, paired with well-structured role descriptions, you'll be able to impress employers and land interviews.
Good luck with your next job application!