Are you looking for your next role as a financial planner?
Then you need to invest in your career and spend some time carefully crafting a CV that's going to get you noticed.
Now, we understand that numbers are more your thing, so we're here to help you with the words. Check out our step-by-step guide and financial planner CV example below for our top writing tips.
Contents
| | |
| --- | --- |
| How to write a Financial Planner CV | |

Financial Planner CV example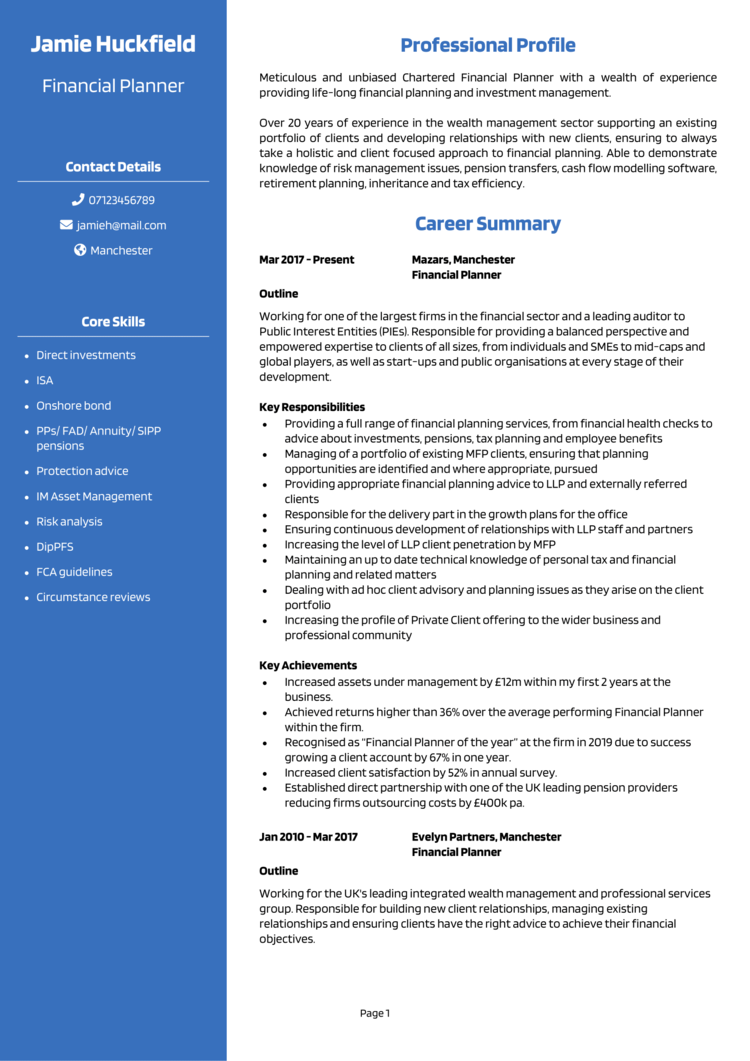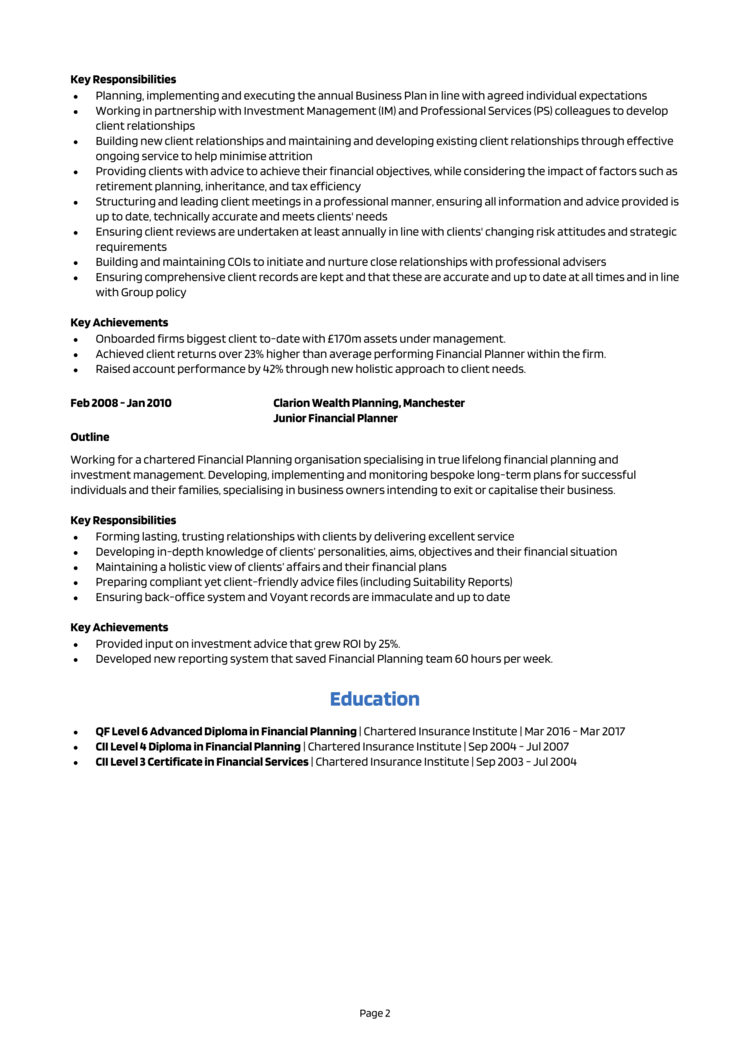 Unsure of what your Financial Planner CV should look like?
Have a look at the CV example above to get familiar with the structure, layout and format of a professional CV.
As you can see, it provides plenty of relevant information about the applicant but is still very easy to read, and brief – which will please busy recruiters and hiring managers.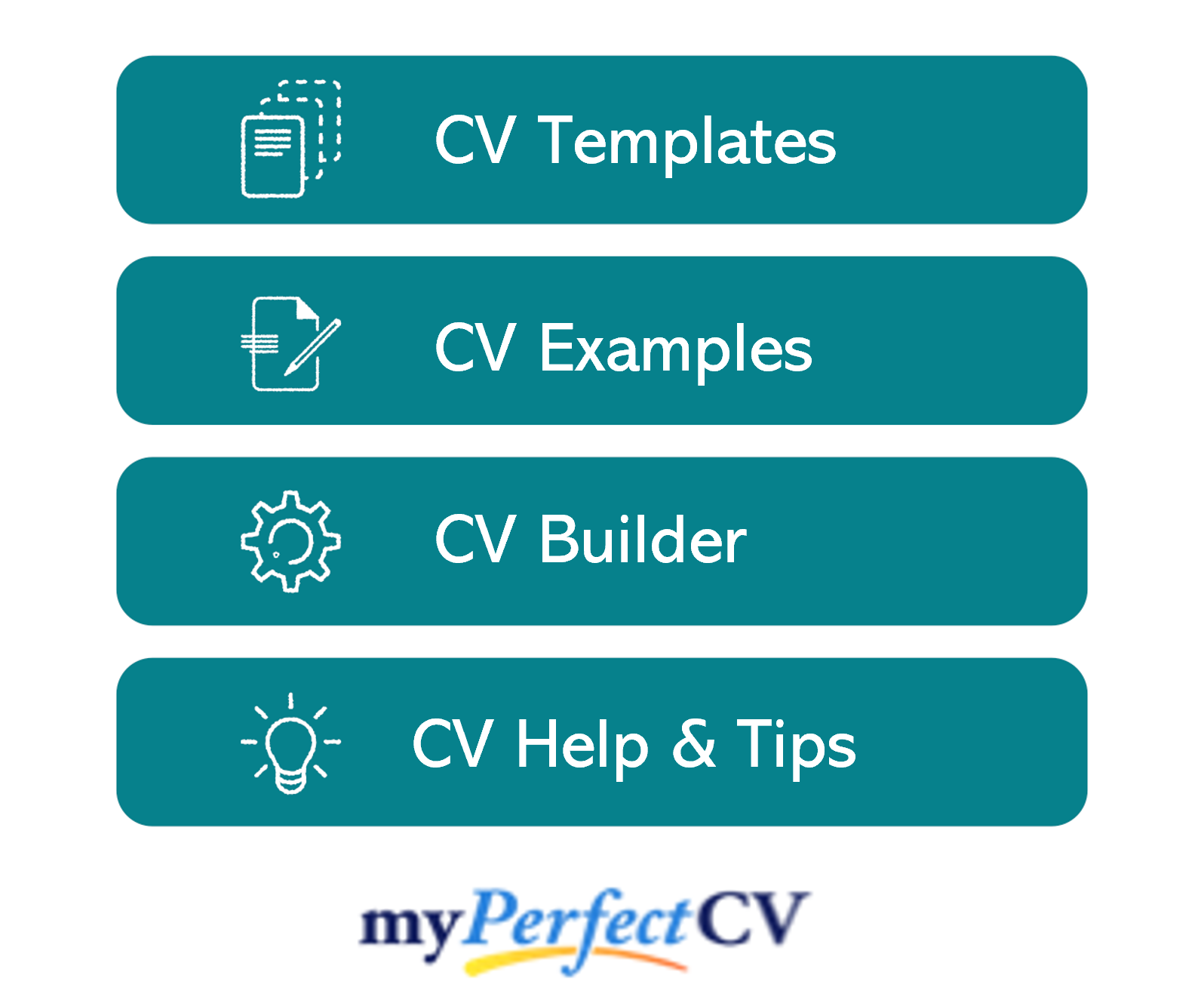 Financial Planner CV layout and format
The format and structure of your CV is important because it will determine how easy it is for recruiters and employers to read your CV.
If they can find the information they need quickly, they'll be happy; but if they struggle, your application could be overlooked.
A simple and logical structure will always create a better reading experience than a complex structure, and with a few simple formatting tricks, you'll be good to go.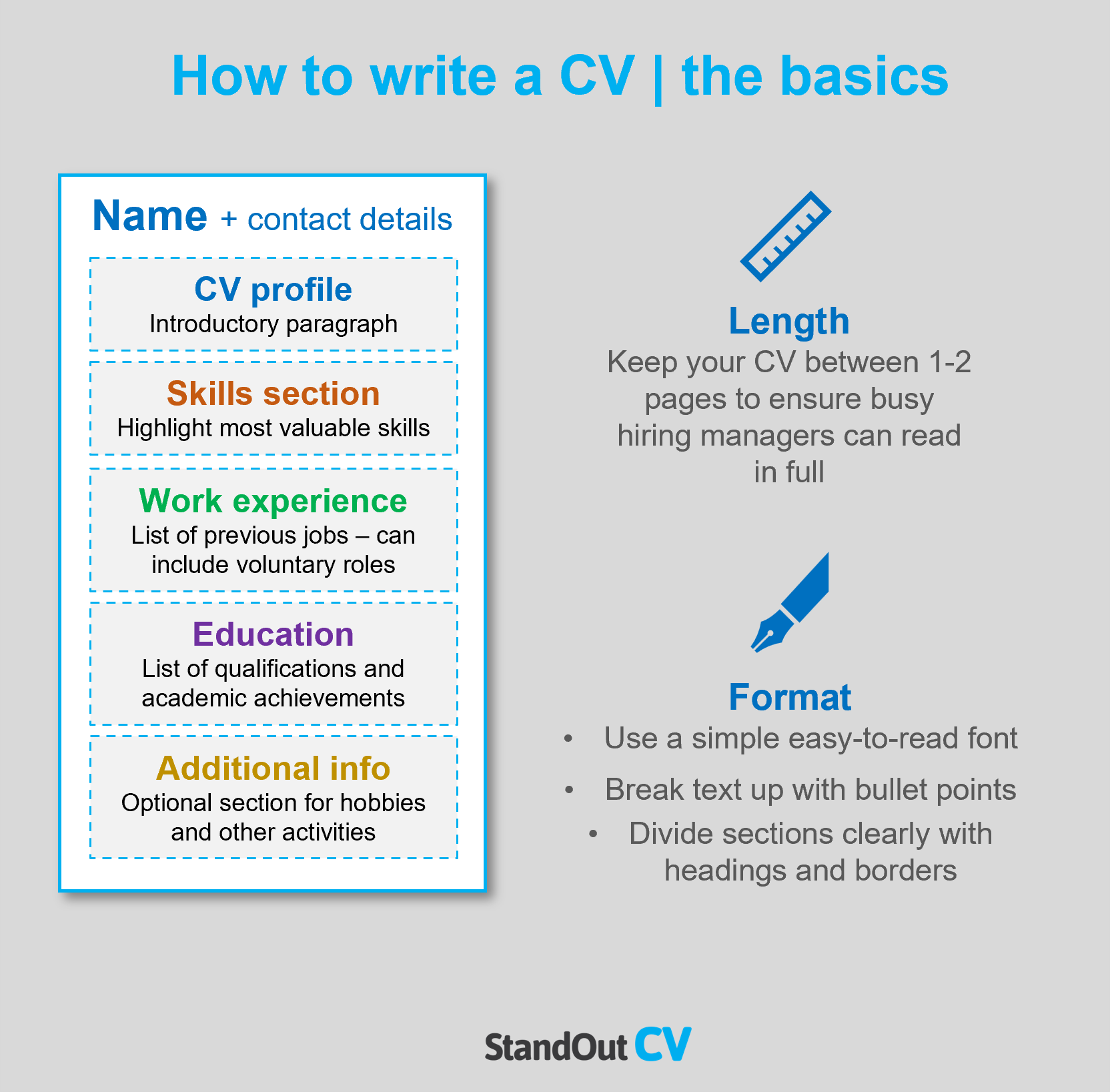 Tips for formatting your Financial Planner CV
Length: Recruiters will be immediately put off by lengthy CVs – with hundreds of applications to read through, they simply don't have the time! Grabbing their attention with a short, snappy and highly relevant CV is far more likely to lead to success. Aim for two sides of A4 or less.
Readability: Columns, lists, bullet points, bold text and subtle colour can all help to aid the readability of your CV. Your overarching goal should be to make the content as easy to read and navigate as possible, whilst also aiming to make your key skills and achievements stand out.
Design: It's generally best to stick to a simple CV design, as funky or elaborate designs rarely add any value to your application. A clear, modern font and a subtle colour scheme work perfectly and allow your skills, experience and achievements to speak for themselves.
Photos: Don't add profile photos to your CV unless you work in an industry or region which prefers to see them. Most employers in the UK will not need to see one.
Quick tip: Creating a professional CV style can be difficult and time-consuming when using Microsoft Word or Google Docs. To create a winning CV quickly, try our partner's CV Builder and use one of their eye-catching professional CV templates.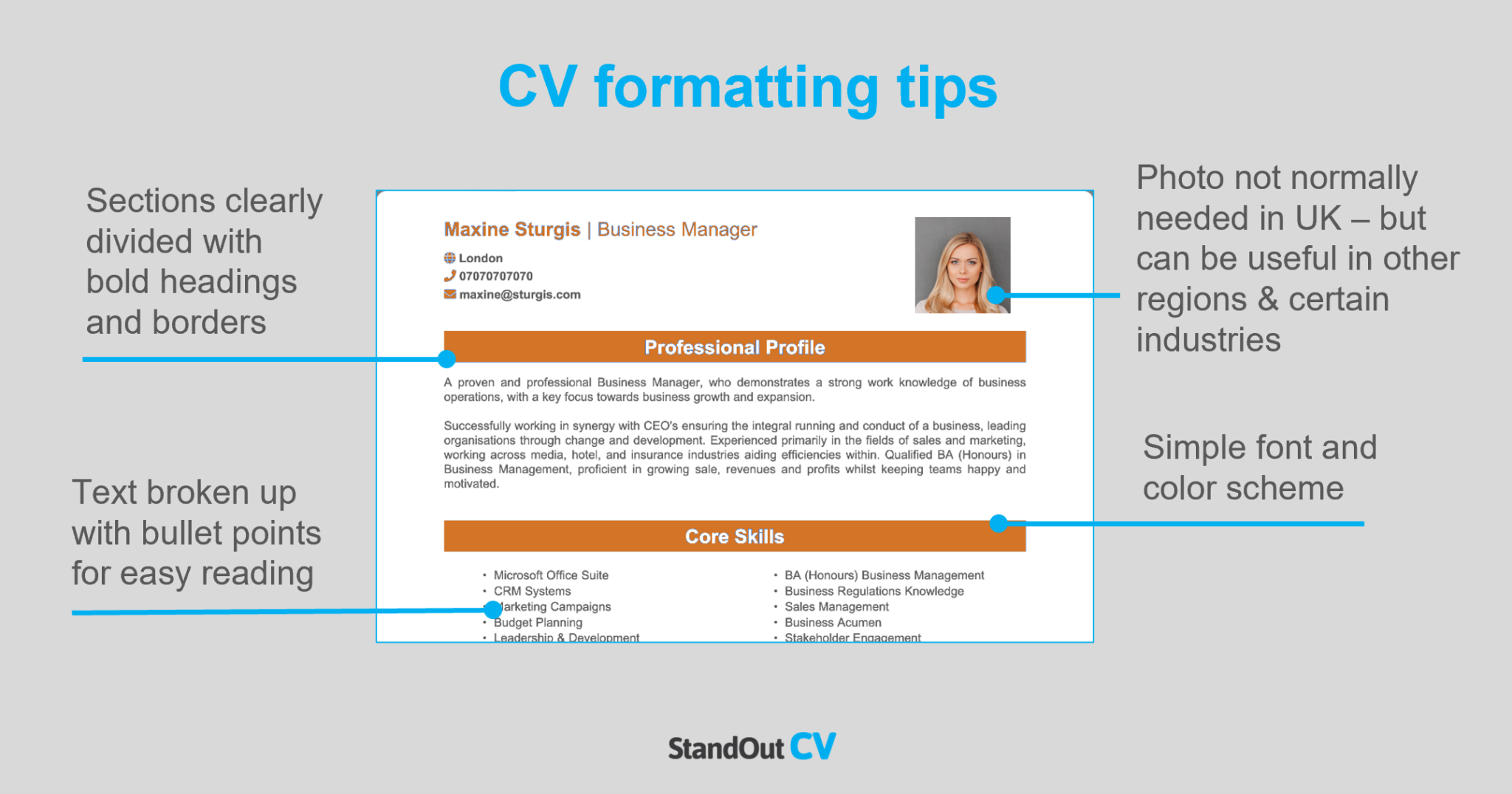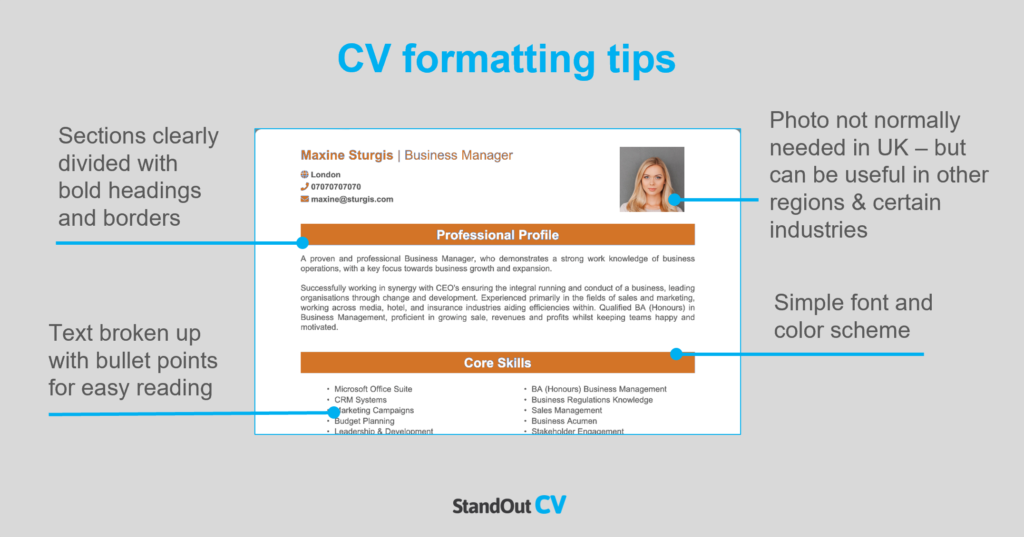 CV structure
To make it easy for busy recruiters and hiring managers to digest your CV, divide the content into several key sections when writing it:
Contact details: Always list your contact details at the very top to avoid them being missed.
Profile: Start with an introductory paragraph that catches recruiters' attention and summarises your offerings.
Work experience/career history: List your relevant work experience in reverse chronological order, starting with your current position.
Education: Provide a concise summary of your education and qualifications.
Interests and hobbies: You can include an optional section to showcase any hobbies that demonstrate transferable skills.
Now you understand the basic layout of a CV, here's what you should include in each section of yours.
Contact Details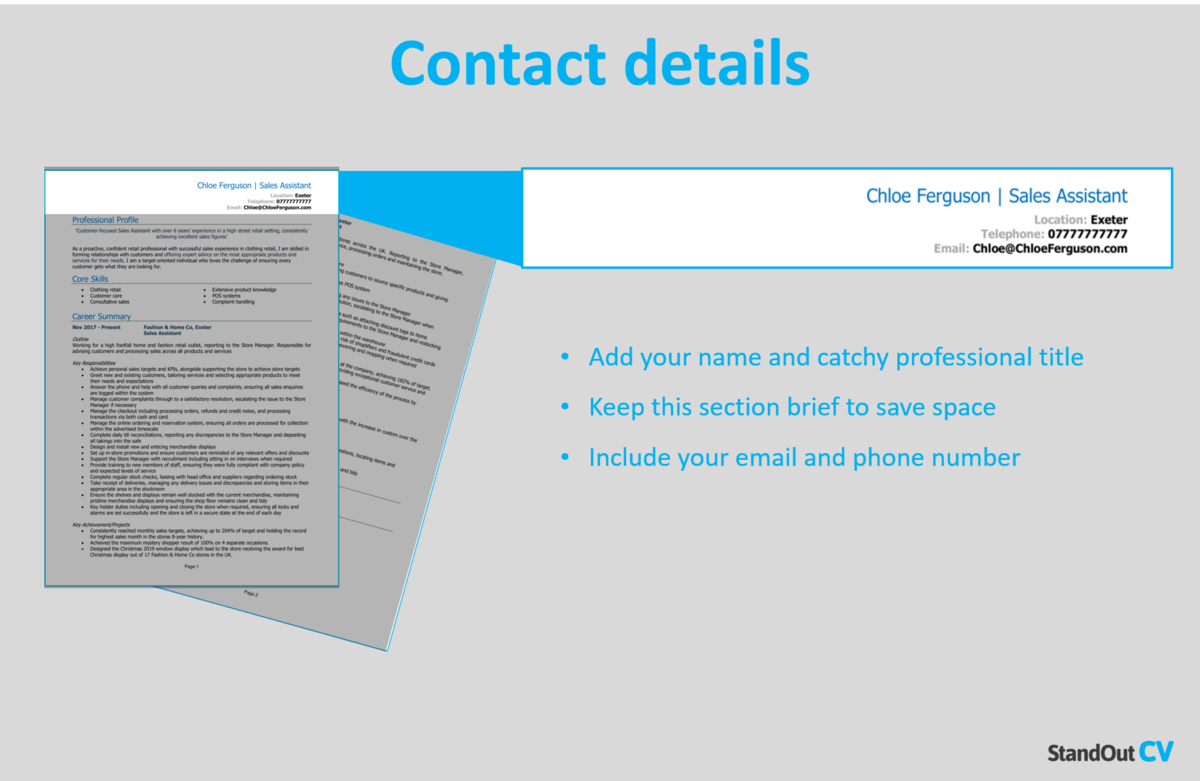 Start off your CV with a basic list of your contact details.
Here's what you should include:
Mobile number
Email address – It's often helpful to make a new email address, specifically for your job applications.
Location – Share your town or city; there's no need for a full address.
LinkedIn profile or portfolio URL – Make sure the information on them is coherent with your CV, and that they're up-to-date
Quick tip: Delete excessive details, such as your date of birth or marital status. Recruiters don't need to know this much about you, so it's best to save the space for your other CV sections.
Financial Planner CV Profile
Make a strong first impression with recruiters by starting your CV with an impactful profile (or personal statement for junior applicants).
This short introduction paragraph should summarise your skills, experience, and knowledge, highlighting your suitability for the job.
It should be compelling enough to encourage recruiters to read through the rest of your CV.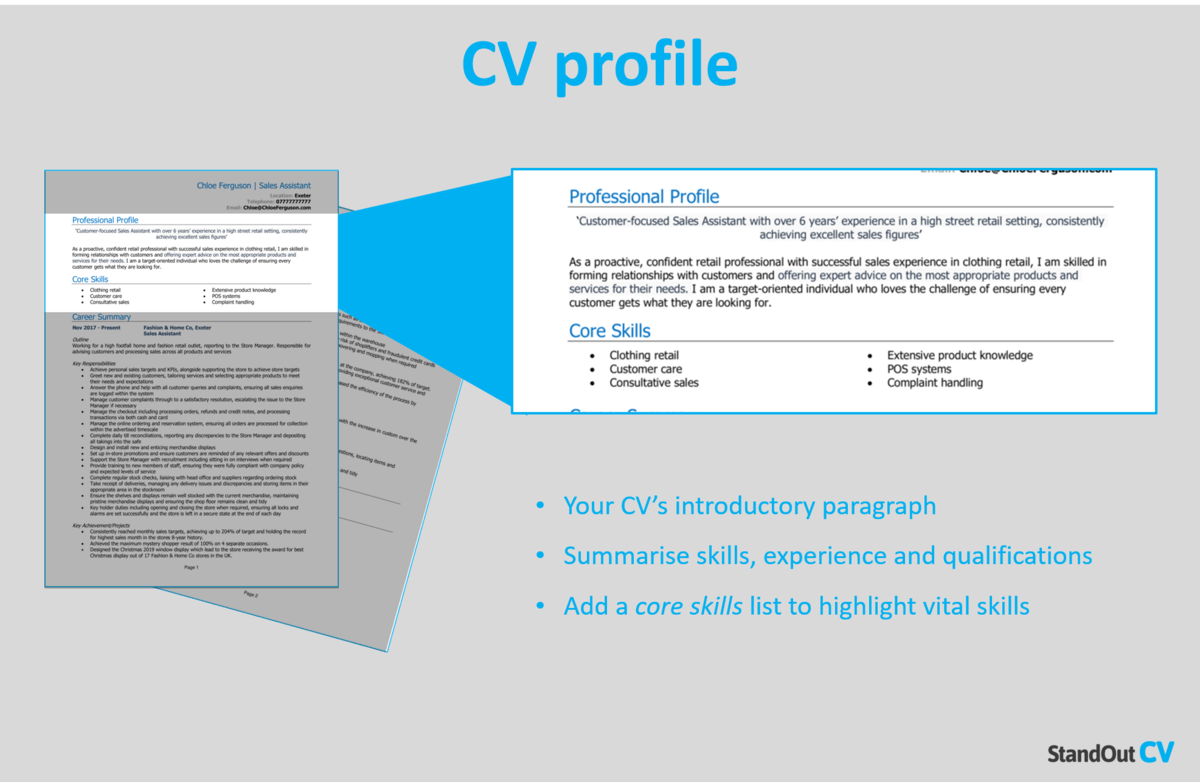 CV profile writing tips:
Make it short and sharp: The best CV profiles are short, sharp and highly relevant to the target role. For this reason, it's best to write 3-4 lines of high-level information, as anything over might be missed.
Tailor it: If recruiters don't see your suitability within a few seconds, they may close your CV straight away. Your CV profile should closely match the essential requirements listed in the job ad, so make sure to review them before you write it.
Don't add an objective: Career goals and objectives are best suited to your cover letter, so don't waste space with them in your CV profile.
Avoid generic phrases: Clichés like "blue-sky thinker with a go-getter attitude" might sound impressive to you, but they don't actually tell the recruiter much about you. Concentrate on highlighting hard facts and skills, as recruiters are more likely to take these on board.
Example CV profile for a Financial Planner
Meticulous and unbiased Chartered Financial Planner with a wealth of experience providing life-long financial planning and investment management. Over 20 years of experience in the wealth management sector supporting an existing portfolio of clients and developing relationships with new clients, ensuring to always take a holistic and client focused approach to financial planning. Able to demonstrate knowledge of risk management issues, pension transfers, cash flow modelling software, retirement planning, inheritance, and tax efficiency.
What to include in your Financial Planner CV profile?
Experience overview: Showcase your aptitude for the job you are aiming for by giving a brief summary of your past work history, including the industries you have worked in, the kinds of employers you have served, and the roles you have held.
Targeted skills: Make your most relevant Financial Planner key skills clear in your profile. These should be tailored to the specific role you're applying for – so make sure to check the job description first, and aim to match their requirements as closely as you can.
Key qualifications: If the jobs you are applying to require candidates to have certain qualifications, then you must add them in your profile to ensure they are seen by hiring managers.
Quick tip: If you are finding it difficult to write an attention-grabbing CV profile, choose from hundreds of pre-written profiles across all industries, and add one to your CV with one click in our partner's CV Builder. All profiles are written by recruitment experts and easily tailored to suit your unique skillset.
Core skills section
To ensure that your most relevant skills catch the eye of readers, create a core skills section below your profile.
This section should be presented in 2-3 columns of bullet points highlighting your applicable skills. Before crafting this section, carefully examine the job description and create a list of any required skills, specialisms, or knowledge.
Use this list to include the necessary information in your section and present yourself as the ideal match for the position.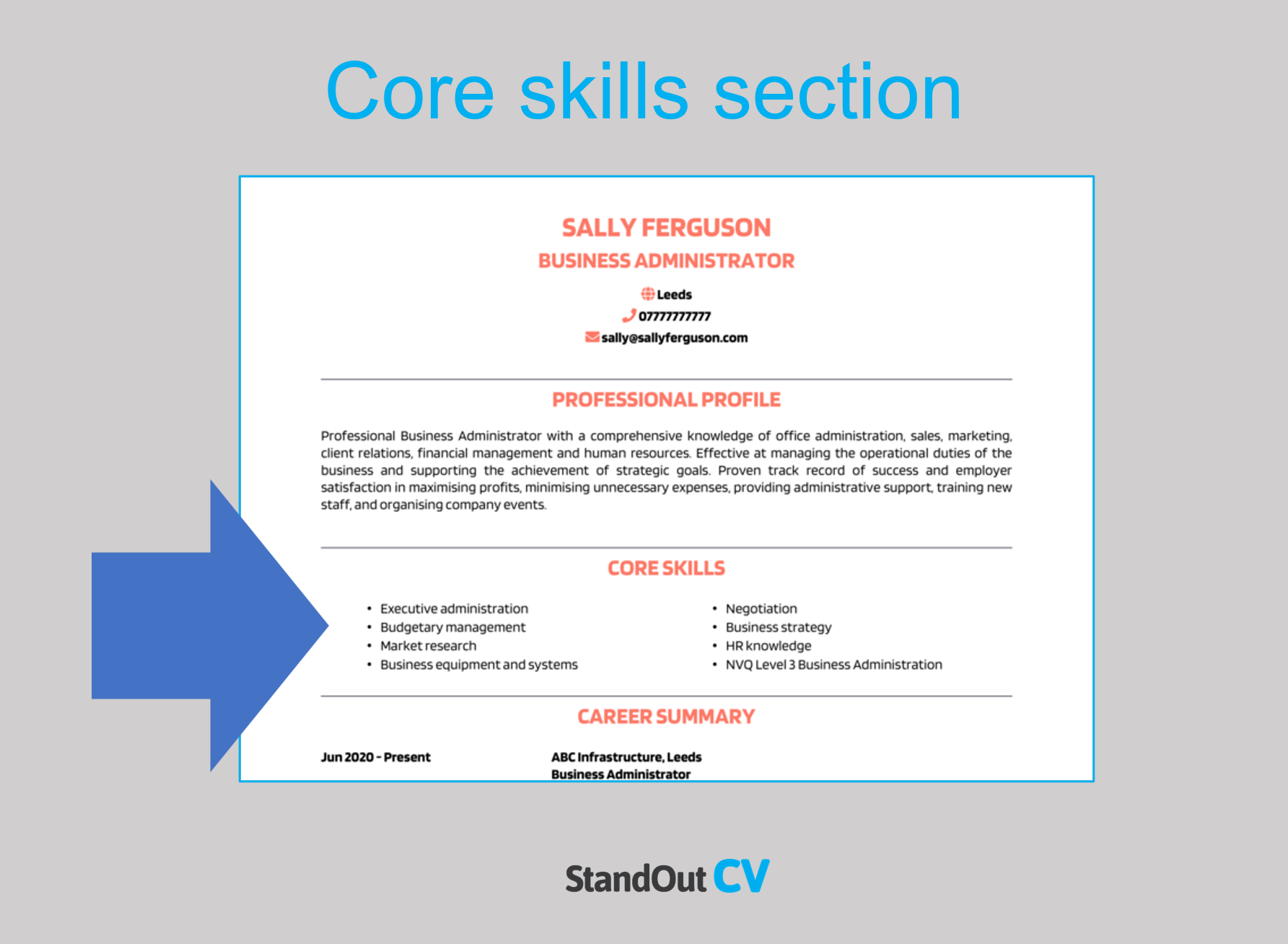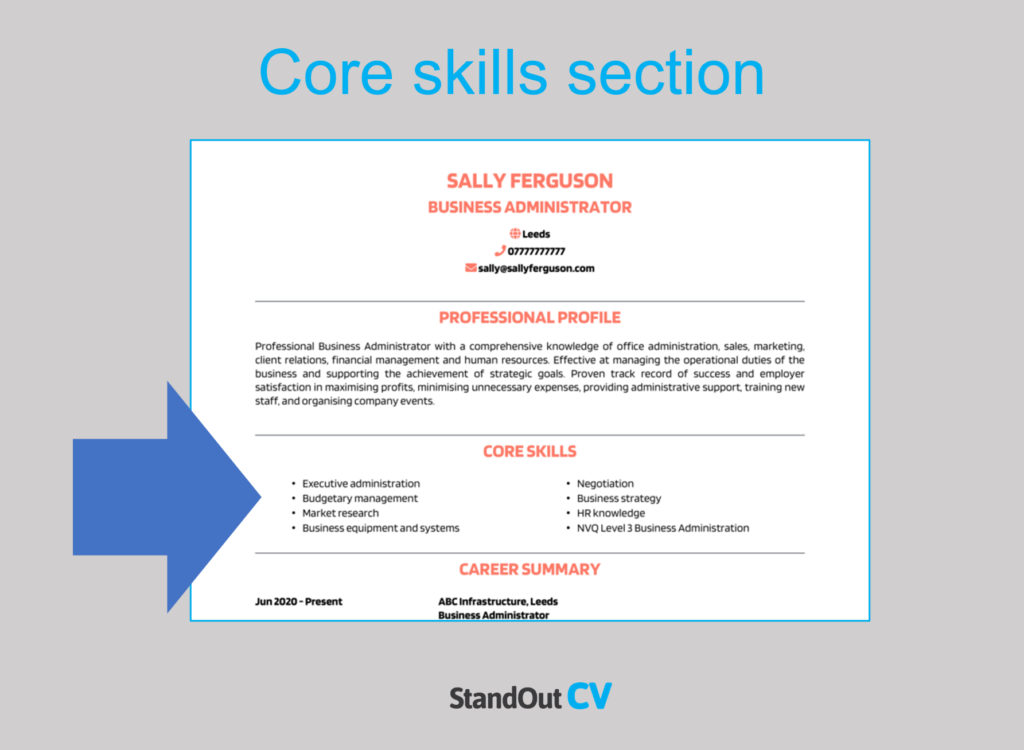 Important skills for your Financial Planner CV
Financial Analysis – Interpreting and analysing financial data to help clients make informed decisions.
Investment Planning – Utilising knowledge of investment products, market trends and risk management to make profitable investments.
Tax Planning – Utilising knowledge of tax laws and regulations, including the ability to identify tax-saving opportunities for clients.
Retirement Planning – Utilising knowledge of pension plans and investment strategies to help clients achieve their retirement goals.
Estate Planning – Managing estate planning and wealth transfer to ensure that clients' assets are transferred smoothly to their beneficiaries.
Risk Management – Identifying, assessing, and mitigating risks associated with financial planning strategies.
Financial Modelling – Using financial models to project future scenarios and assist in making strategic financial decisions.
Financial Communication – Explaining complex financial concepts to clients in a clear and concise manner.
Record Management – Paying close attention to detail and maintaining accurate financial records.
Case Management – Managing multiple clients and deadlines while ensuring that all financial planning tasks are completed accurately and on time.
Quick tip: Our partner's CV Builder has thousands of in-demand skills for all industries and professions, that can be added to your CV in seconds – This will save you time and ensure you get noticed by recruiters.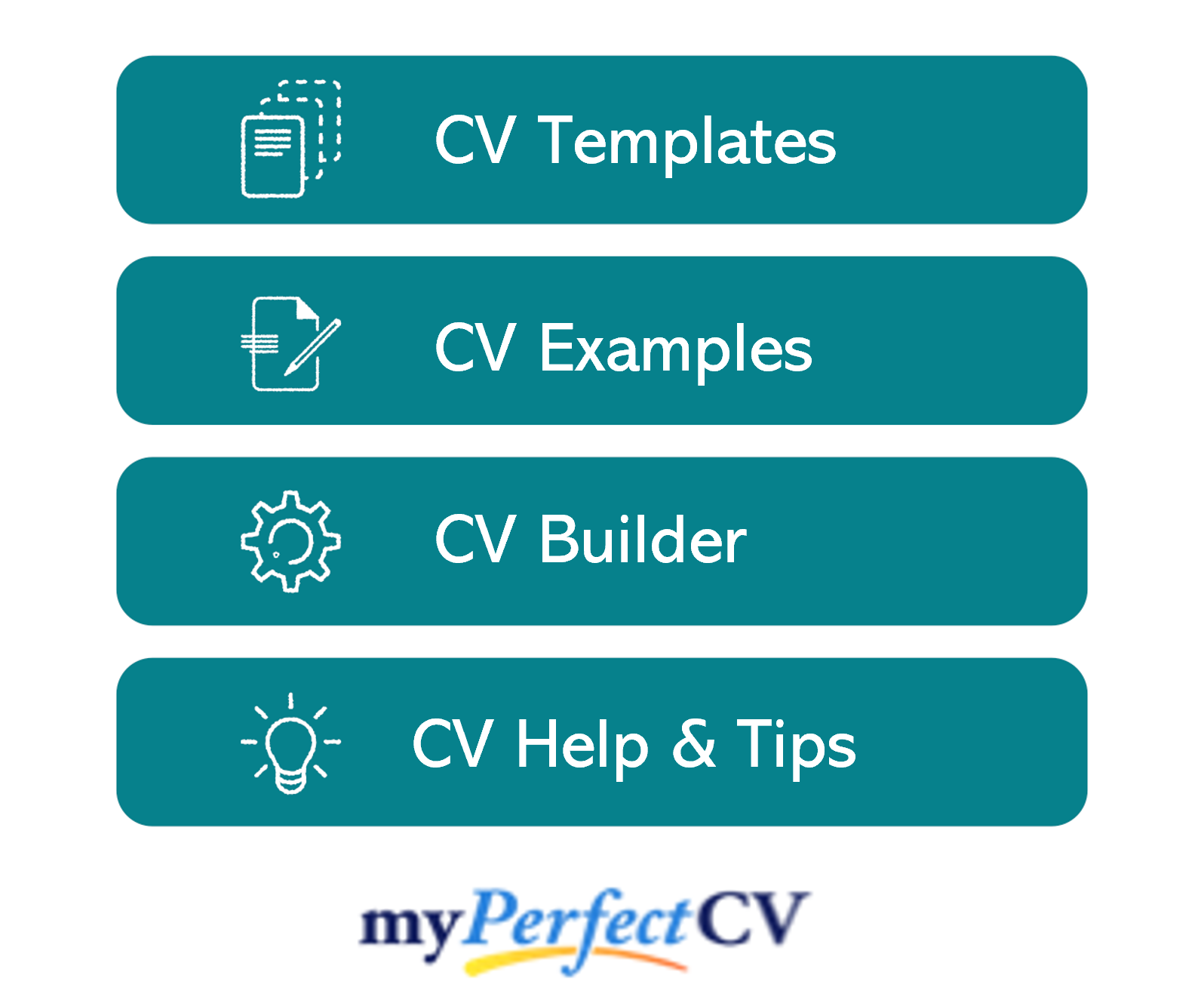 Work experience section
Now it's time to get stuck into your work experience, which should make up the bulk of your CV.
Begin with your current (or most recent) job, and work your way backwards.
If you've got too much experience to fit onto two pages, prioritise space for your most recent and relevant roles.
Structuring each job
Your work experience section will be long, so it's important to structure it in a way which helps recruiters to quickly and easily find the information they need.
Use the 3-step structure, shown in the below example, below to achieve this.
Outline
Start with a solid introduction to your role as a whole, in order to build some context.
Explain the nature of the organisation you worked for, the size of the team you were part of, who you reported to and what the overarching purpose of your job was.
Key responsibilities
Using easy-to-read bullet points, note down your day-to-day responsibilities in the role.
Make sure to showcase how you used your hard sector skills and knowledge.
Key achievements
To finish off each role and prove the impact you made, list 1-3 stand out achievements, results or accomplishments.
This could be anything which had a positive outcome for the company you worked for, or perhaps a client/customer.
Where applicable, quantify your examples with facts and figures.
Sample job description for a Financial Planner CV
Outline
Working for one of the largest firms in the financial sector and a leading auditor to Public Interest Entities (PIEs). Responsible for providing a balanced perspective and empowered expertise to clients of all sizes, from individuals and SMEs to mid-caps and global players, as well as start-ups and public organisations at every stage of their development.
Key Responsibilities
Providing a full range of financial planning services, from financial health checks to advice about investments, pensions, tax planning and employee benefits
Managing of a portfolio of existing MFP clients, ensuring that planning opportunities are identified and where appropriate, pursued
Providing appropriate financial planning advice to LLP and externally referred clients
Responsible for the delivery of growth plans for the office
Quick tip: Create impressive job descriptions easily in our partner's CV Builder by adding pre-written job phrases for every industry and career stage.

Education and qualifications
At the bottom of your CV is your full education section. You can list your formal academic qualifications, such as:
As well as any specific Financial Planner qualifications that are essential to the jobs you are applying for. Note down the name of the qualification, the organisation at which you studied, and the date of completion.
Hobbies and interests
This section is entirely optional, so you'll have to use your own judgement to figure out if it's worth including.
If your hobbies and interests could make you appear more suitable for your dream job, then they are definitely worth adding.
Interests which are related to the industry, or hobbies like sports teams or volunteering, which display valuable transferable skills might be worth including.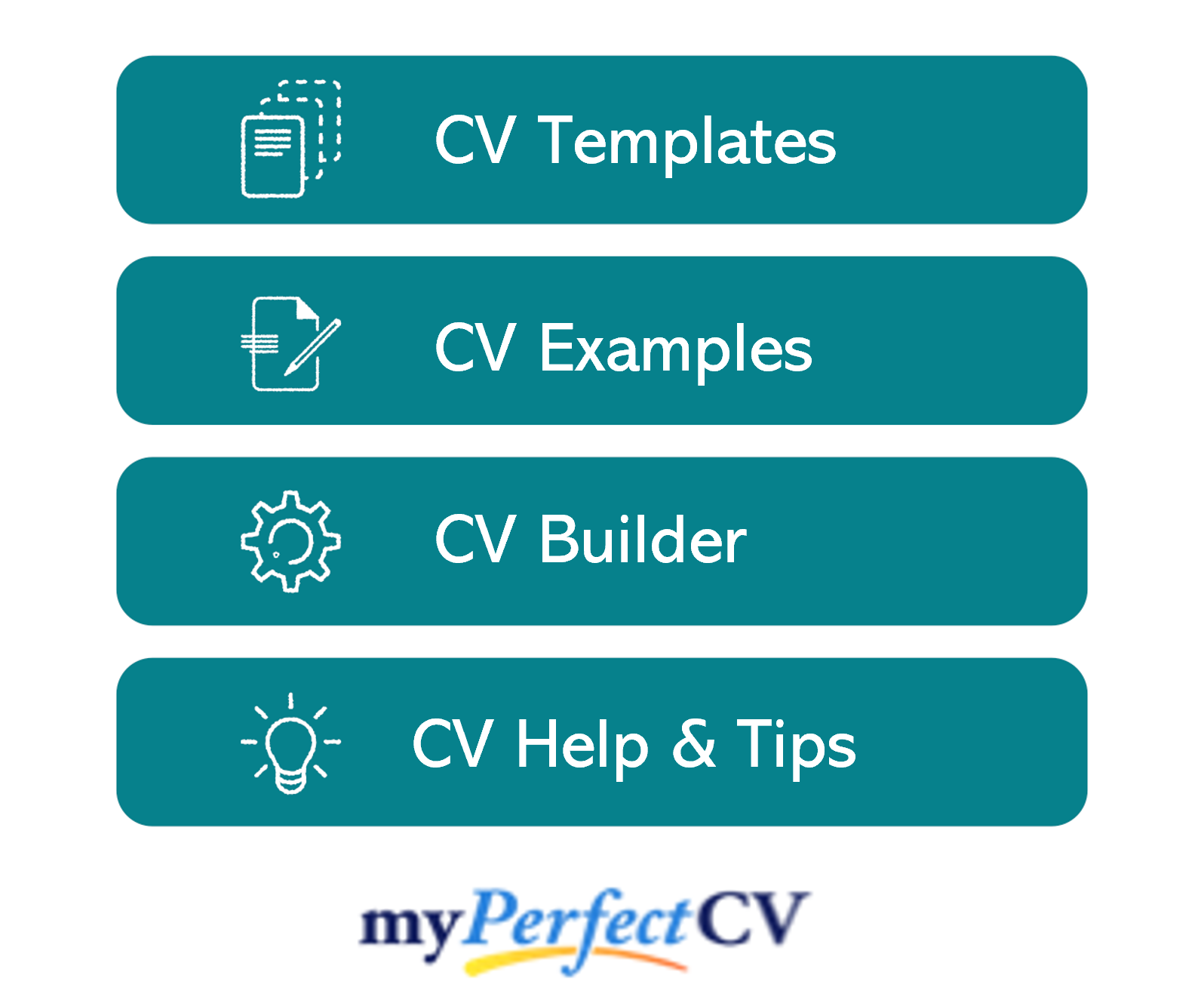 Creating a strong Financial Planner CV requires a blend of punchy content, considered structure and format, and heavy tailoring.
By creating a punchy profile and core skills list, you'll be able to hook recruiter's attention and ensure your CV gets read.
Remember that research and relevance is the key to a good CV, so research your target roles before you start writing and pack your CV with relevant skills.
Best of luck with your next application!