Have you got what it takes to manage clinical studies, from selecting the participants all the way through to reporting on the results?
If you excel at every stage of the process, leading others and ensuring that deadlines are met, you could be a valuable asset to the team.
But in order to land the role, you first need to highlight your own proven results on your CV. Find out how to do this in our handy guide and clinical project manager CV example below.
Contents
| | |
| --- | --- |
| How to write a Clinical Project Manager CV | |

Clinical Project Manager CV example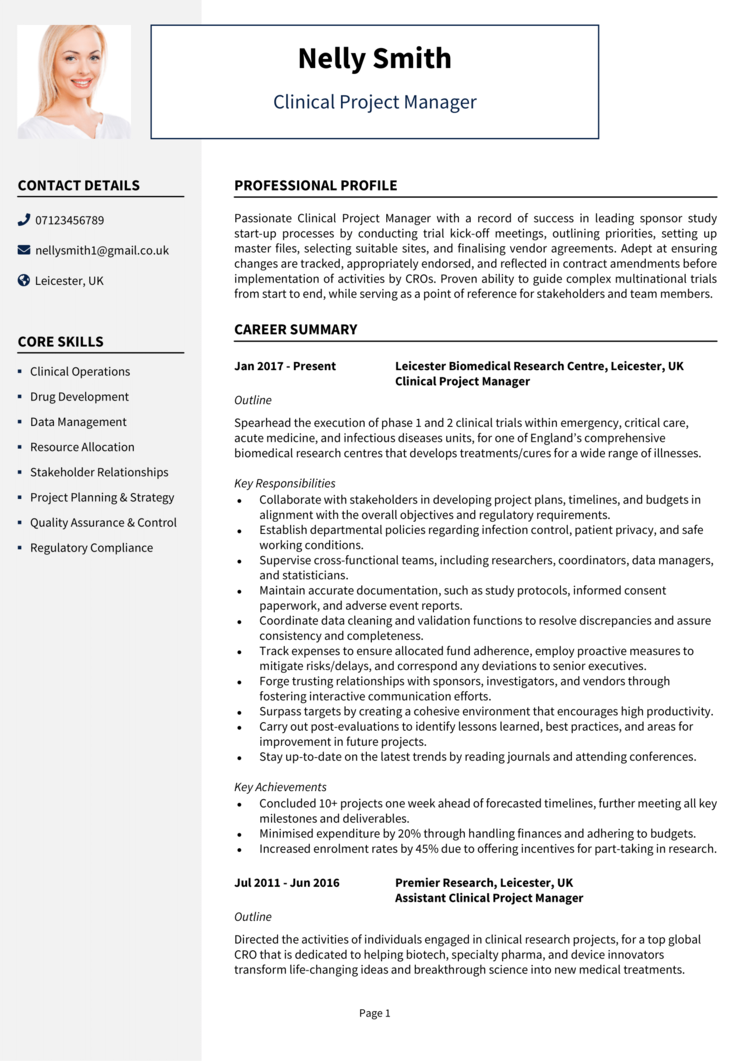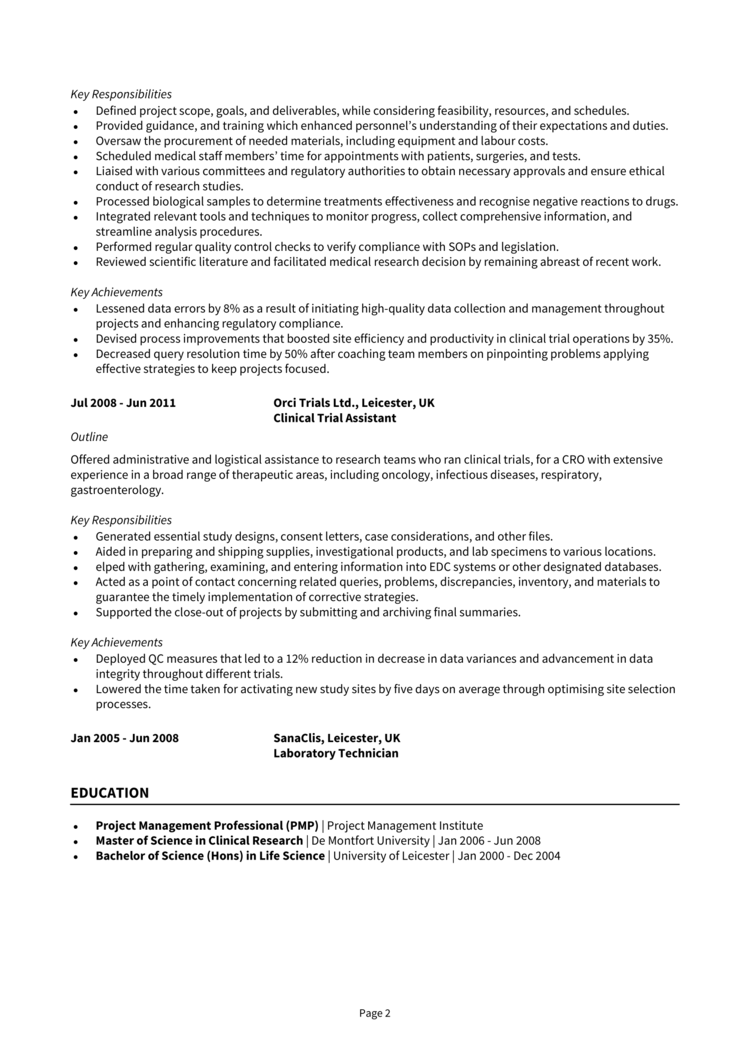 This is a good example of a Clinical Project Manager CV which contains all of the information that a hiring manager will need to be impressed, and presents it in a well- structured, easy-to-read format.
Take some time to study and understand this CV, and refer to it throughout the writing of your own CV for best results.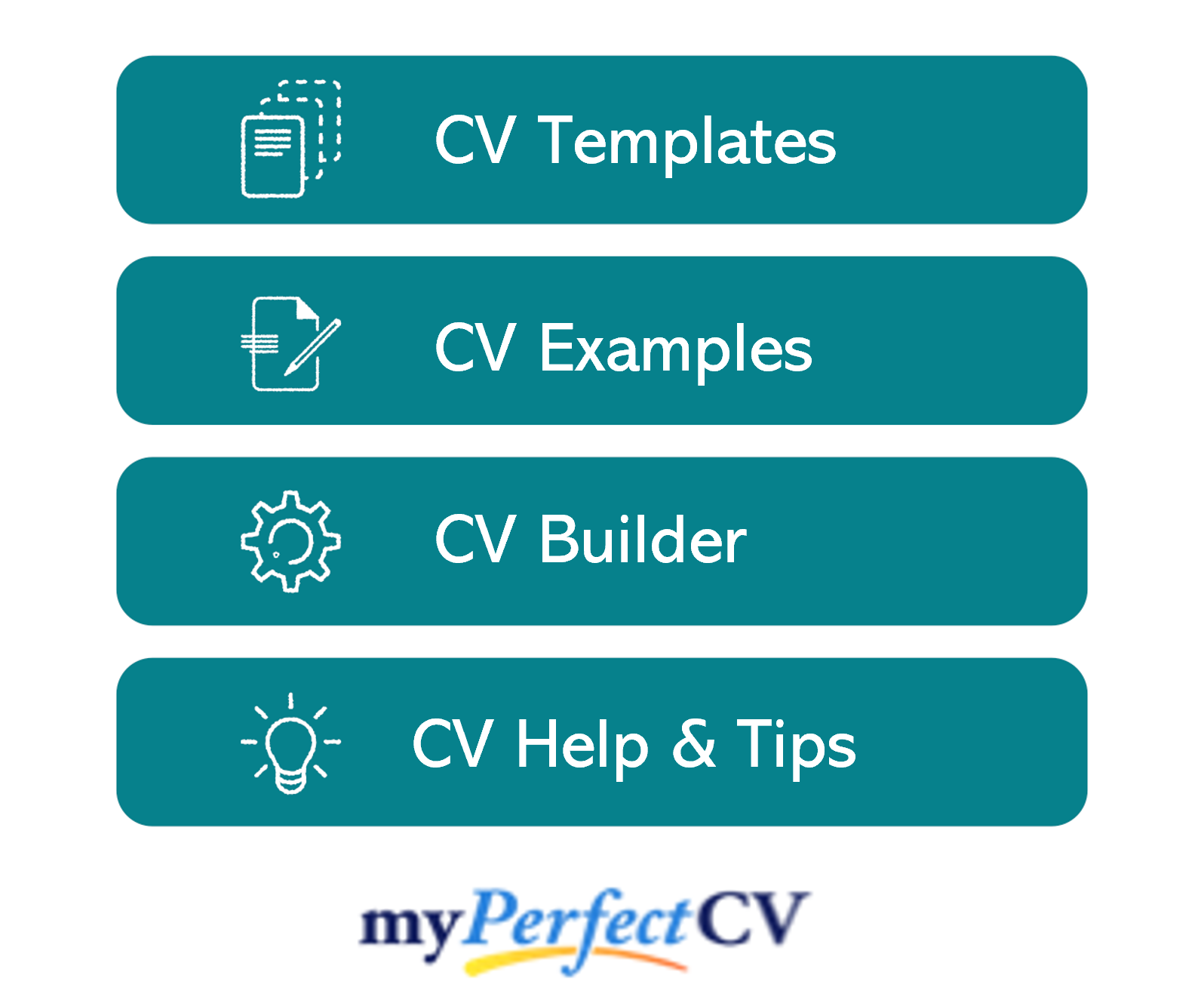 Clinical Project Manager CV format and structure
Hiring managers and recruiters are frequently overloaded with applications, and if they can't identify the relevant information in your CV within a few seconds, your application may be overlooked.
To avoid this, it's essential to format and structure your CV in a manner that makes it simple to pick out the most important information, even if the reader is in a rush.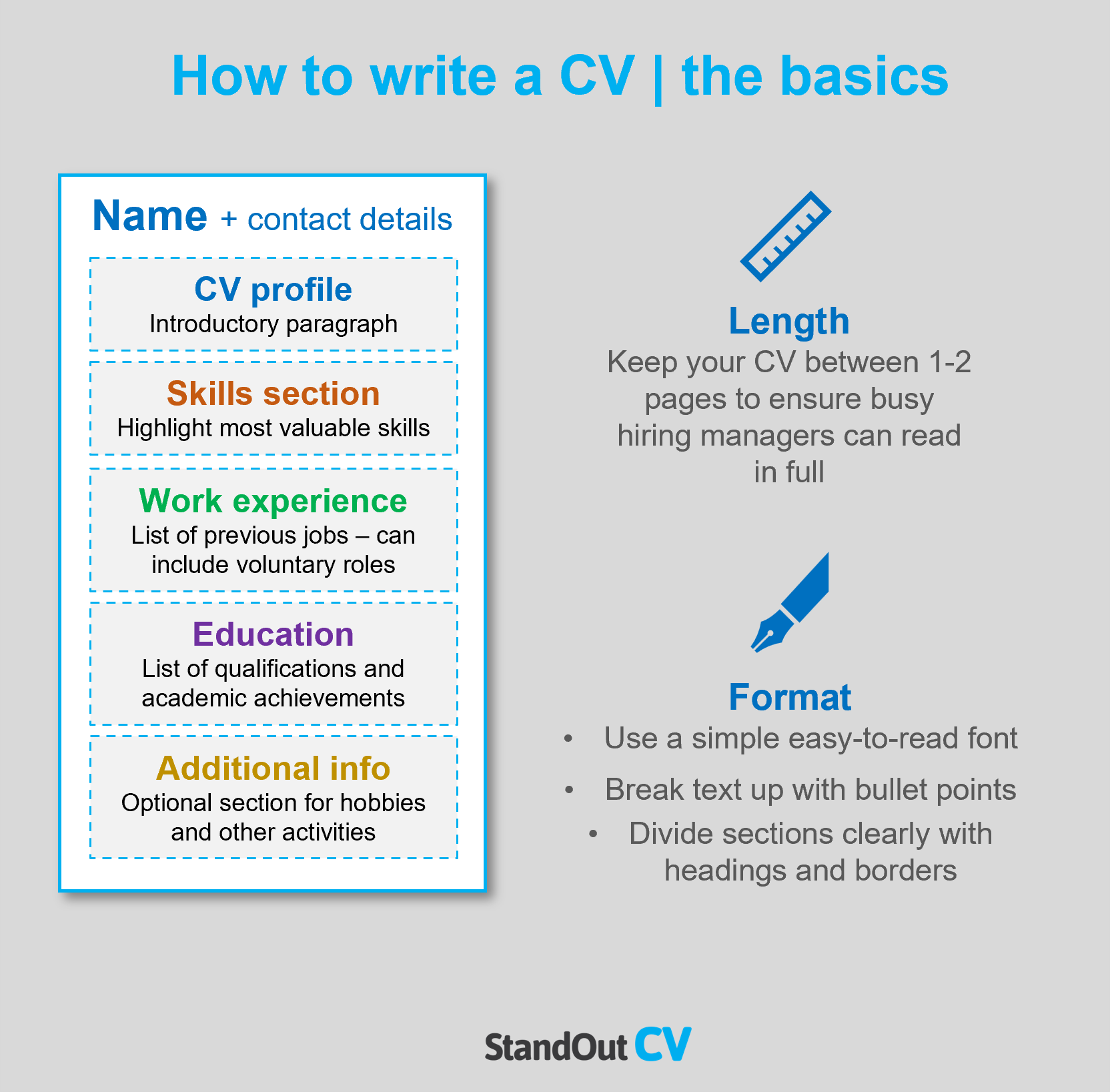 Tips for formatting your Clinical Project Manager CV
Length: Even if you've got tons of experience to brag about, recruiters don't have time to read through overly lengthy CVs. Keep it short, concise and relevant – a CV length of 2 sides of A4 pages or less is perfect for the attention spans in today's job market.
Readability: By formatting your section headings with bold or a different colour font and using bullet points to break up large blocks of text, you can help busy recruiters quickly scan through your CV. This makes it easier for them to find important details without wasting time.
Design & format: While it's okay to add your own spin to your CV, avoid overdoing the design. If you go for something elaborate, you might end up frustrating recruiters who, above anything, value simplicity and clarity.
Photos: Profile photos or aren't a requirement for most industries, so you don't need to add one in the UK – but if you do, just make sure it looks professional
Quick tip: Creating a professional CV style can be difficult and time-consuming when using Microsoft Word or Google Docs. To create a winning CV quickly, try our partner's CV Builder and use one of their eye-catching professional CV templates.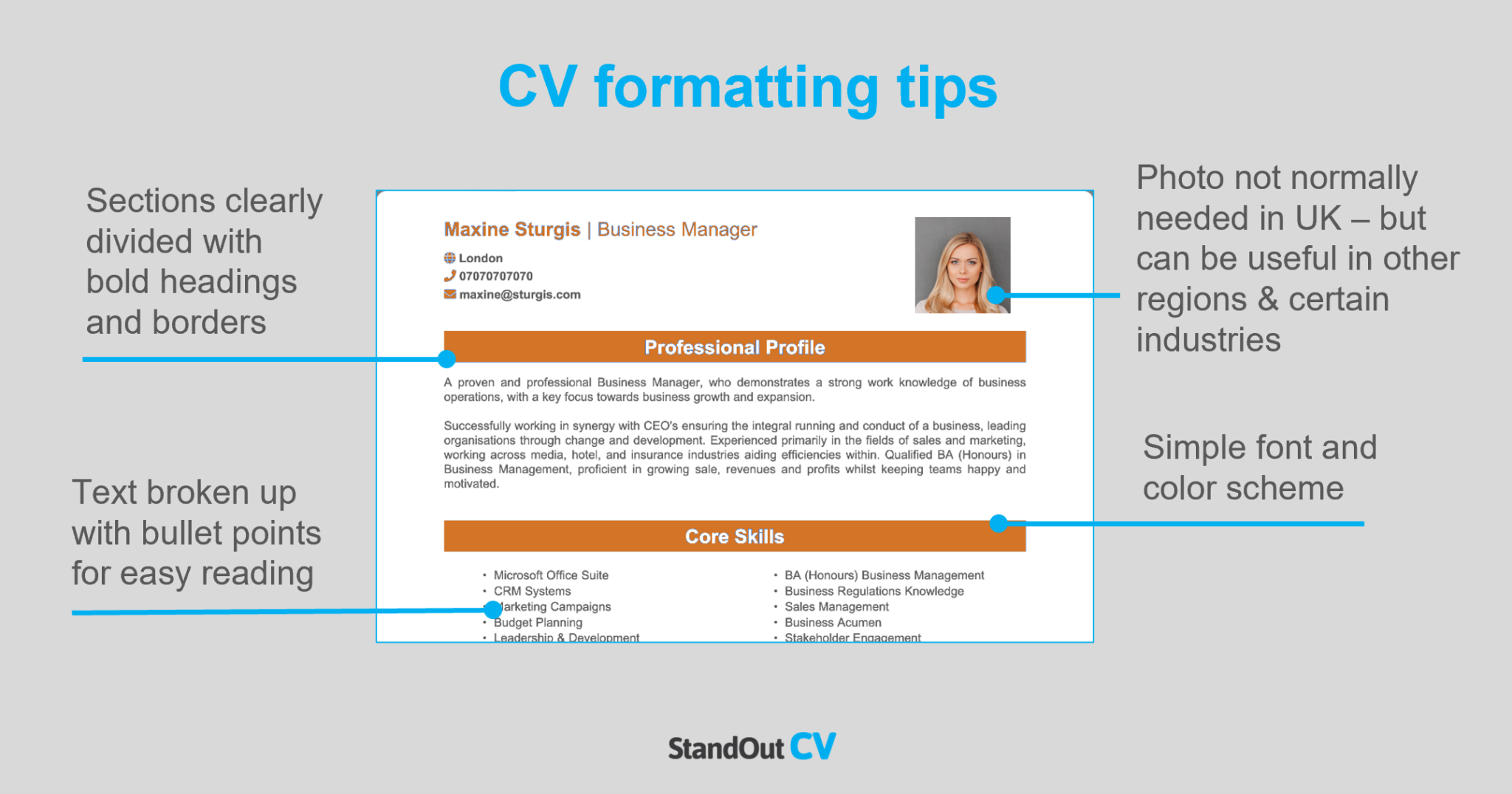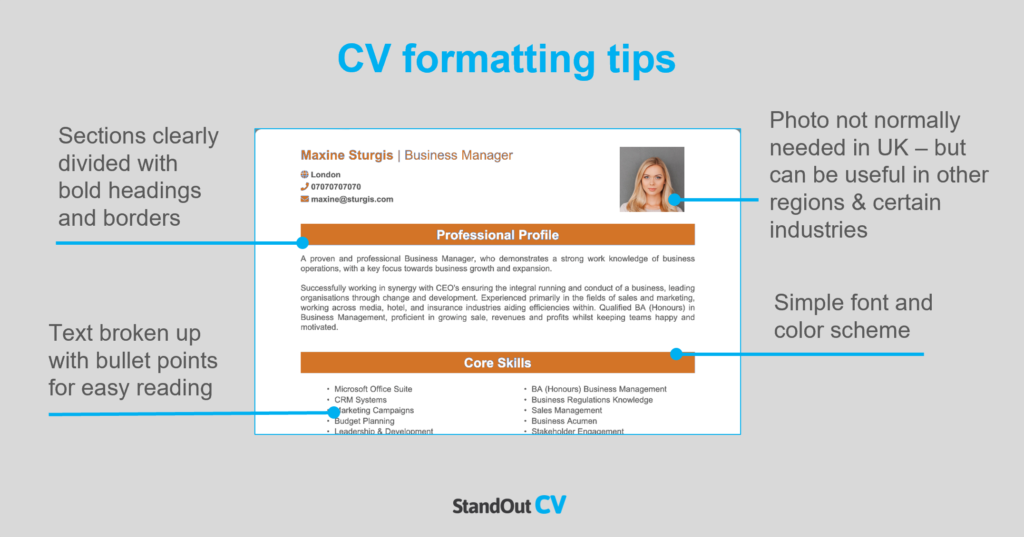 CV structure
For easy reading, write your CV to the following CV structure:
Contact details – Make it easy for recruiters to get in touch with you by listing your contact details at the top of your CV.
Profile – A short and snappy summary of your experience and skills, showcasing what makes you a good fit for the position.
Work experience / career history – Note down all your work history, with your current position first, then working backwards.
Education – A short list of your academic background and professional/vocational qualifications.
Interest and hobbies – This is an optional section, which you can use to highlight any relevant hobbies or interests.
Now you understand the basic layout of a CV, here's what you should include in each section of yours.
Contact Details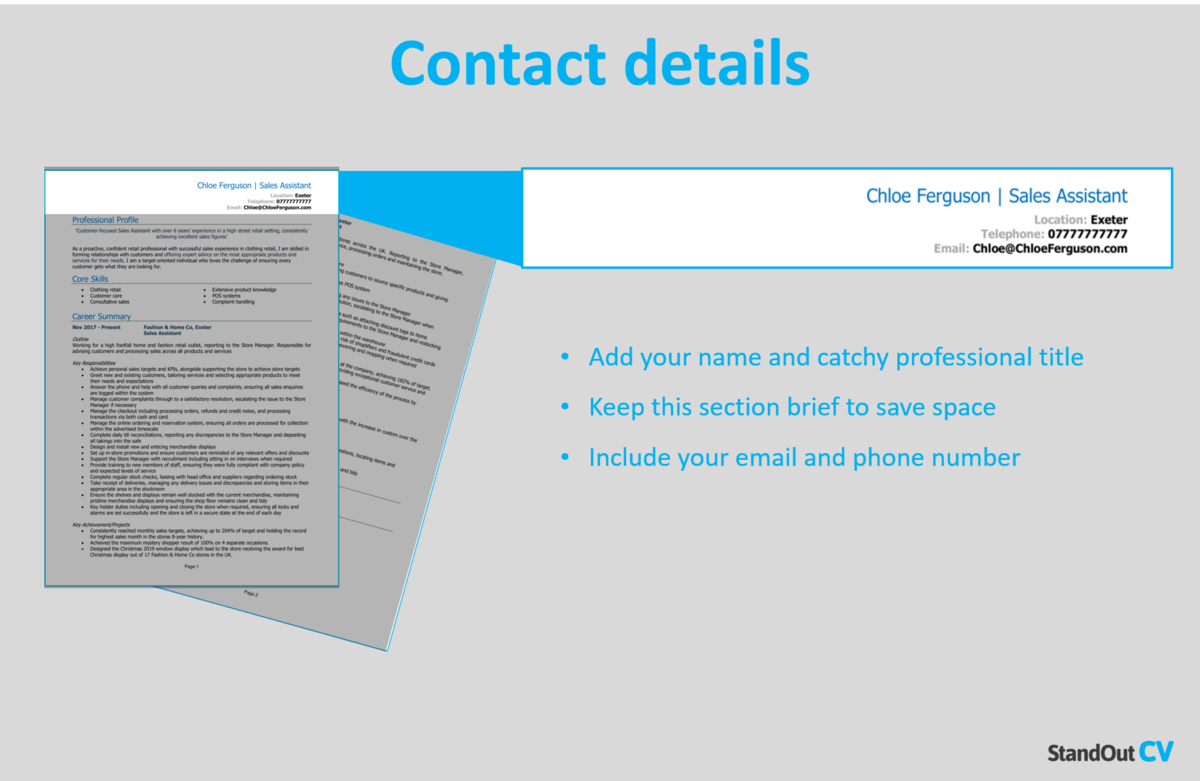 Write your contact details in the top corner of your CV, so that they're easy to find but don't take up too much space.
You only need to list your basic details, such as:
Mobile number
Email address
Location – Don't list your full address. Your town or city, such as 'Norwich' or 'Coventry' is perfect.
LinkedIn profile or portfolio URL – Remember to update these before listing them on an application.
Clinical Project Manager CV Profile
Recruiters and hiring managers are busy, so it's essential to catch their attention from the get-go.
A strong introductory profile (or personal statement, for junior candidates) at the top of the CV is the first thing they'll read, so it's a great chance to make an impression.
It should be a short but punchy summary of your key skills, relevant experience and accomplishments.
Ultimately, it should explain why you're a great fit for the role you're applying for and inspire recruiters to read the rest of your CV.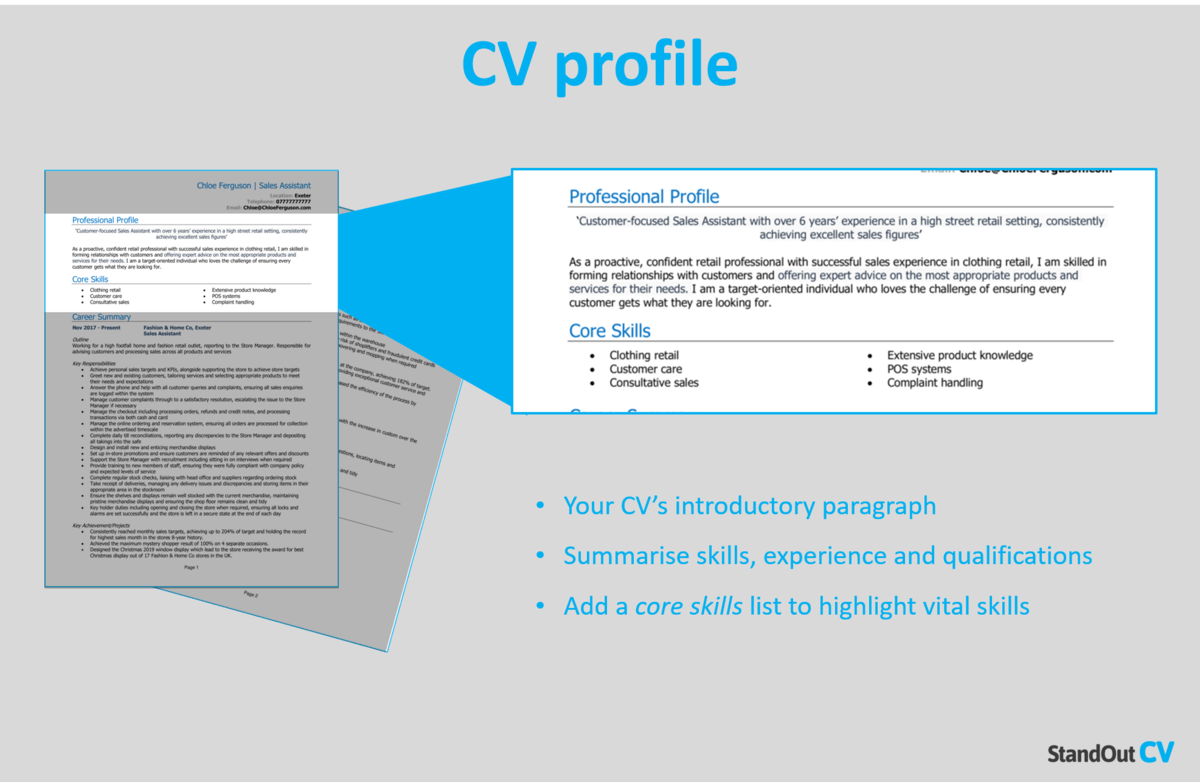 How to write a good CV profile:
Make it short and sharp: It might be tempting to submit a page-long CV profile, but recruiters won't have the time to read it. To ensure every word gets read, it's best to include high-level information only; sticking to a length of 3-5 lines.
Tailor it: No matter how much time you put into your CV profile, it won't impress if it's irrelevant to the role you're applying for. Before you start writing, make a list of the skills, knowledge and experience your target employer is looking for. Then, make sure to mention them in your CV profile and throughout the rest of your application.
Don't add an objective: Avoid discussing your career goals in your CV profile – if you think they're necessary, briefly mention them in your cover letter instead.
Avoid generic phrases: If your CV is riddled with clichès like "Dynamic thought-leader", hit that delete button. Phrases like these are like a broken record to recruiters, who read them countless times per day. Hard facts, skills, knowledge and results are sure to yield far better results.
Example CV profile for Clinical Project Manager
Passionate Clinical Project Manager with a record of success in leading sponsor study start-up processes by conducting trial kick-off meetings, outlining priorities, setting up master files, selecting suitable sites, and finalising vendor agreements. Adept at ensuring changes are tracked, appropriately endorsed, and reflected in contract amendments before implementation of activities by CROs. Proven ability to guide complex multinational trials from start to end, while serving as a point of reference for stakeholders and team members.
What to include in your Clinical Project Manager CV profile?
Experience overview: Demonstrate your suitability for your target jobs by giving a high level summary of your previous work work experience, including the industries you have worked in, types of employer, and the type of roles you have previous experience of.
Targeted skills: Make your most relevant Clinical Project Manager key skills clear in your profile. These should be tailored to the specific role you're applying for – so make sure to check the job description first, and aim to match their requirements as closely as you can.
Important qualifications: If you have any qualifications which are highly relevant to Clinical Project Manager jobs, then highlight them in your profile so that employers do not miss them.
Quick tip: If you are finding it difficult to write an attention-grabbing CV profile, choose from hundreds of pre-written profiles across all industries, and add one to your CV with one click in our partner's CV Builder. All profiles are written by recruitment experts and easily tailored to suit your unique skillset.
Core skills section
Next, you should create a bullet pointed list of your core skills, formatted into 2-3 columns.
Here, you should focus on including the most important skills or knowledge listed in the job advertisement.
This will instantly prove that you're an ideal candidate, even if a recruiter only has time to briefly scan your CV.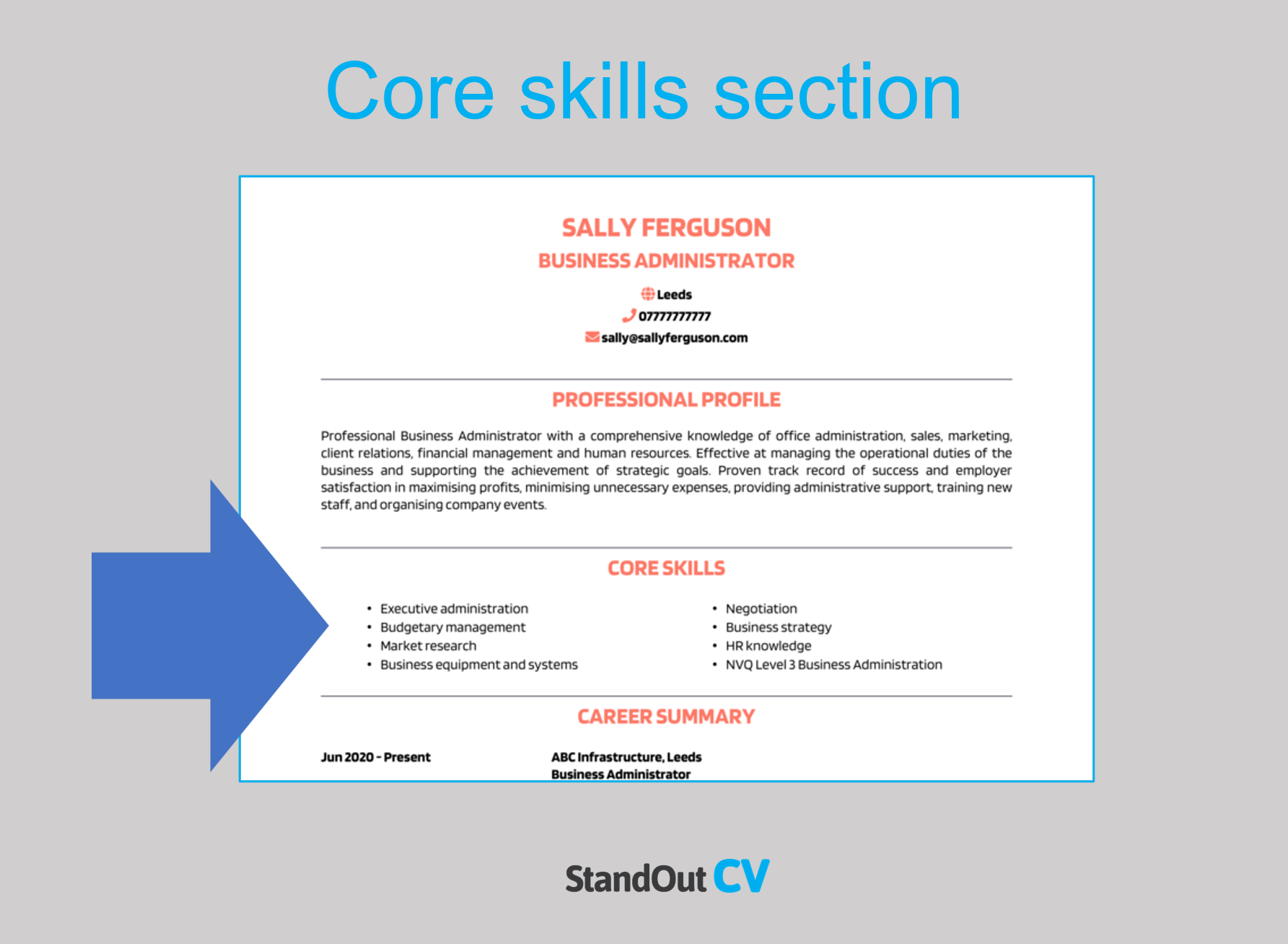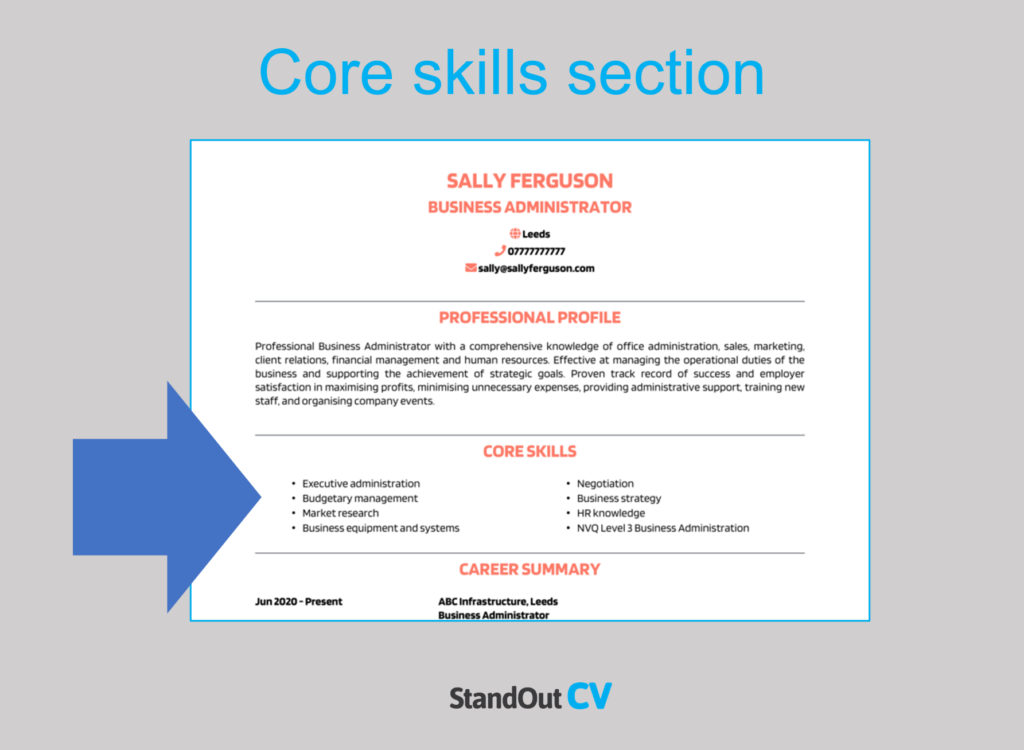 Important skills for your Clinical Project Manager CV
Project Management – Managing clinical projects, including planning, scheduling, resource allocation, and monitoring progress to ensure timely and successful project completion.
Regulatory Compliance – Utilising knowledge of relevant regulations, guidelines, and ethical considerations in the clinical research and development process, ensuring compliance throughout the project lifecycle.
Budgeting and Financial Management – Developing and managing project budgets, tracking expenses, and ensuring financial accountability.
Risk Management – Identifying potential risks, developing risk mitigation strategies, and proactively managing and mitigating risks throughout the project.
Stakeholder Management – Effectively engaging with stakeholders, such as study sponsors, investigators, ethics committees, and regulatory authorities.
Quality Assurance – Utilising knowledge of quality assurance principles and processes to ensure adherence to good clinical practices (GCP) and maintain high-quality standards in clinical projects.
Data Management – Utilising knowledge of clinical data management principles, including data collection, storage, analysis, and reporting, while ensuring data integrity and confidentiality.
Multidisciplinary Team Leadership – Leading multidisciplinary teams, setting clear expectations, providing guidance and support, and fostering a collaborative and productive work environment.
Project Documentation – Generating and maintaining project documentation, including protocols, study reports, informed consent forms, and regulatory submissions.
Problem Resolution – Analysing complex situations, identifying solutions, making informed decisions, and adapting plans as needed to overcome challenges during the project.
Quick tip: Our partner's CV Builder has thousands of in-demand skills for all industries and professions, that can be added to your CV in seconds – This will save you time and ensure you get noticed by recruiters.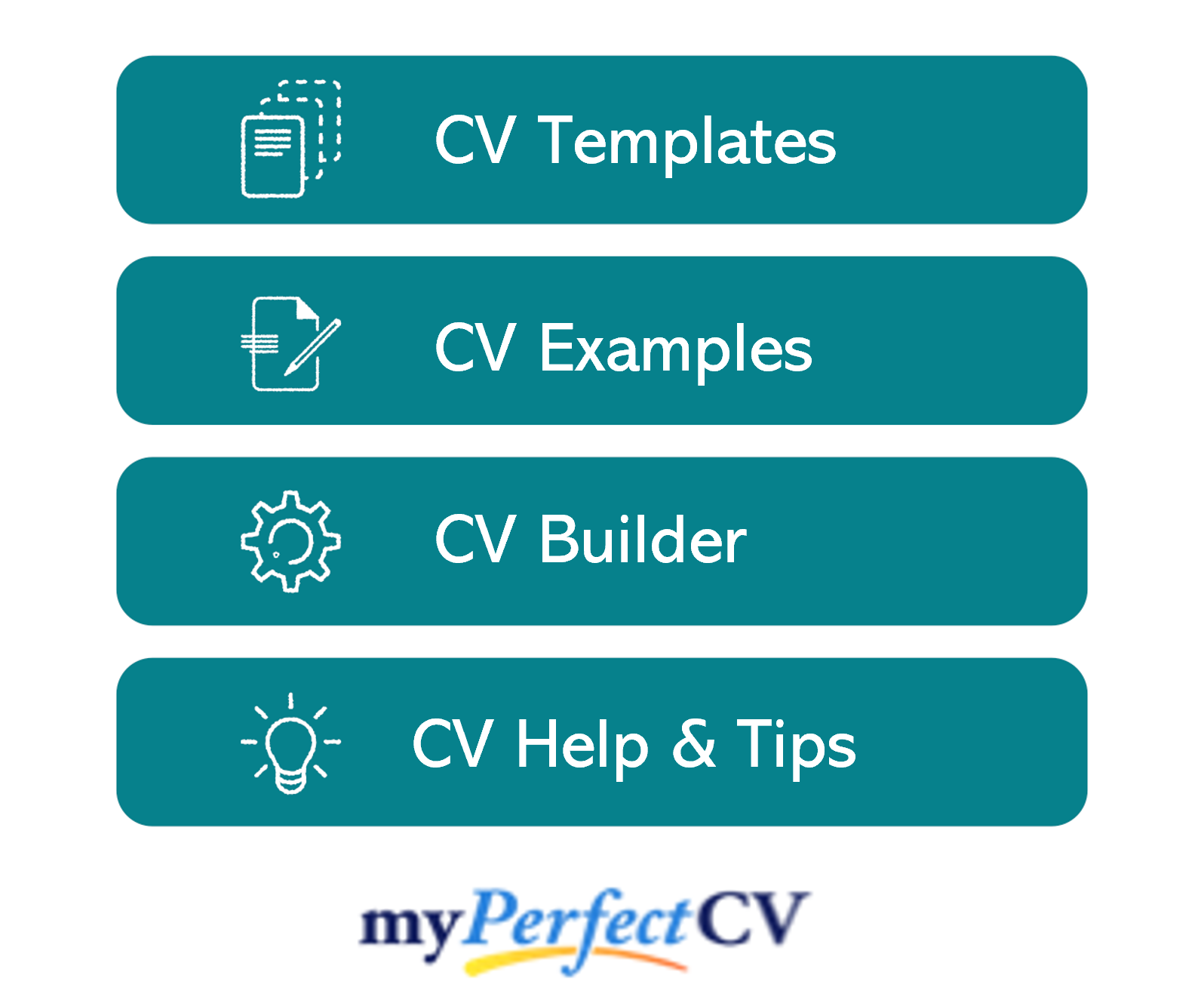 Work experience
Now it's time to get stuck into your work experience, which should make up the bulk of your CV.
Begin with your current (or most recent) job, and work your way backwards.
If you've got too much experience to fit onto two pages, prioritise space for your most recent and relevant roles.
Structuring each job
Recruiters will be keen to gain a better idea of where you've worked and how you apply your skill-set in the workplace.
However, if they're faced with huge, hard-to-read paragraphs, they may just gloss over it and move onto the next application.
To avoid this, use the simple 3-step role structure, as shown below:
Outline
Provide a brief overview of the job as a whole, such as what the overriding purpose of your job was and what type of company you worked for.
Key responsibilities
Using easy-to-read bullet points, note down your day-to-day responsibilities in the role.
Make sure to showcase how you used your hard sector skills and knowledge.
Key achievements
To finish off each role and prove the impact you made, list 1-3 stand out achievements, results or accomplishments.
This could be anything which had a positive outcome for the company you worked for, or perhaps a client/customer.
Where applicable, quantify your examples with facts and figures.
Sample job description for Clinical Project Manager CV
Outline
Spearhead the execution of phase 1 and 2 clinical trials within emergency, critical care, acute medicine, and infectious diseases units, for one of England's comprehensive biomedical research centres that develops treatments/cures for a wide range of illnesses.
Key Responsibilities
Collaborate with stakeholders in developing project plans, timelines, and budgets in alignment with the overall objectives and regulatory requirements.
Establish departmental policies regarding infection control, patient privacy, and safe working conditions.
Supervise cross-functional teams, including researchers, coordinators, data managers, and statisticians.
Maintain accurate documentation, such as study protocols, informed consent paperwork, and adverse event reports.
Quick tip: Create impressive job descriptions easily in our partner's CV Builder by adding pre-written job phrases for every industry and career stage.

Education section
In your education section, make any degrees, qualifications or training which are relevant to Clinical Project Manager roles a focal point.
As well as mentioning the name of the organisation, qualification titles and dates of study, you should showcase any particularly relevant modules, assignments or projects.
Hobbies and interests
This section is entirely optional, so you'll have to use your own judgement to figure out if it's worth including.
If your hobbies and interests could make you appear more suitable for your dream job, then they are definitely worth adding.
Interests which are related to the industry, or hobbies like sports teams or volunteering, which display valuable transferable skills might be worth including.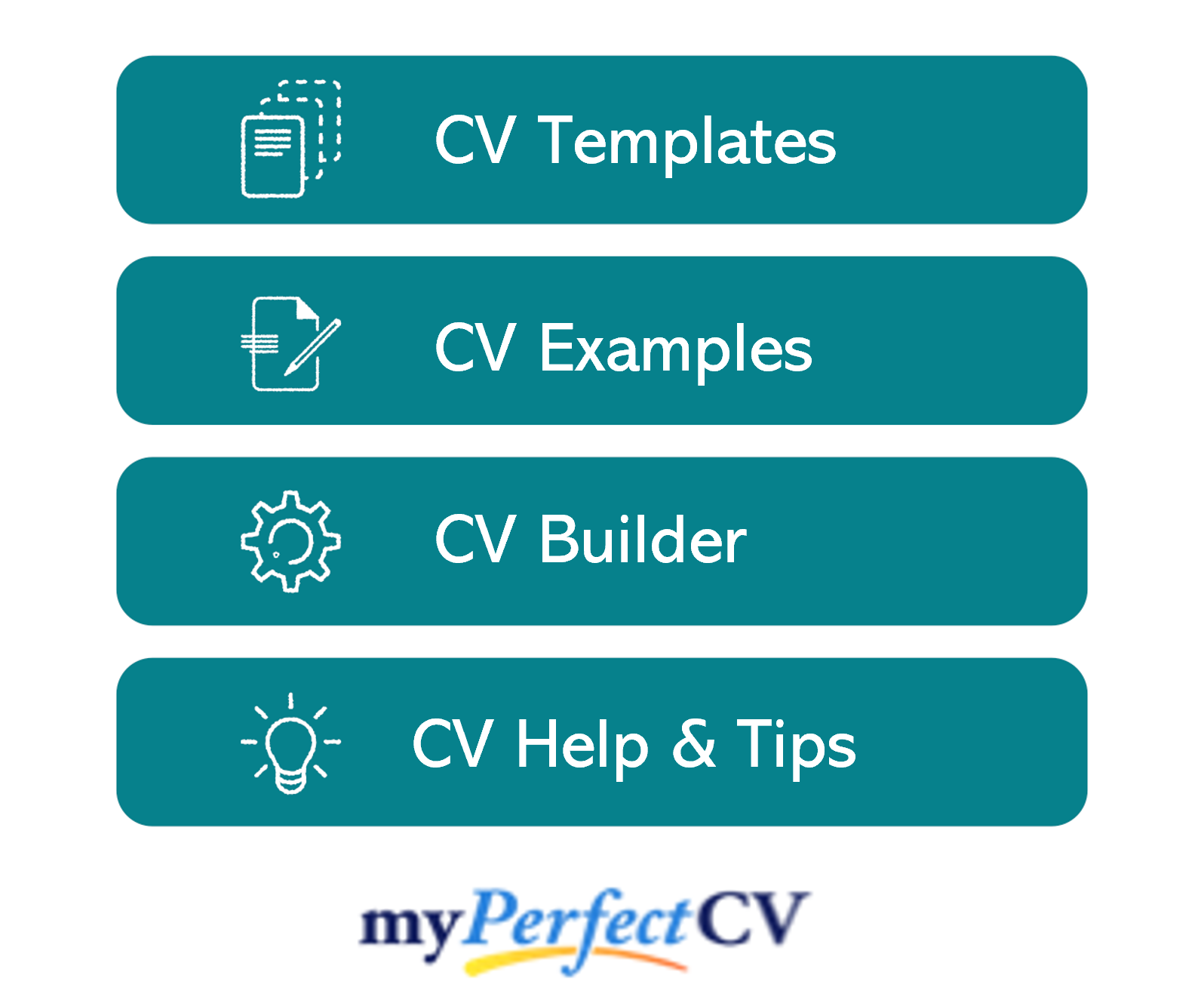 An interview-winning CV for a Clinical Project Manager role, needs to be both visually pleasing and packed with targeted content.
Whilst it needs to detail your experience, accomplishments and relevant skills, it also needs to be as clear and easy to read as possible.
Remember to research the role and review the job ad before applying, so you're able to match yourself up to the requirements.
If you follow these guidelines and keep motivated in your job search, you should land an interview in no time.
Best of luck with your next application!