A strong resume is the only way you will get noticed by employers, and land job interviews
But it's difficult to know what to include in a resume.
What is the essential information that will wow recruiters?
This guide shows you everything you need to include in your resume to be successful, broken down into 6 simple steps.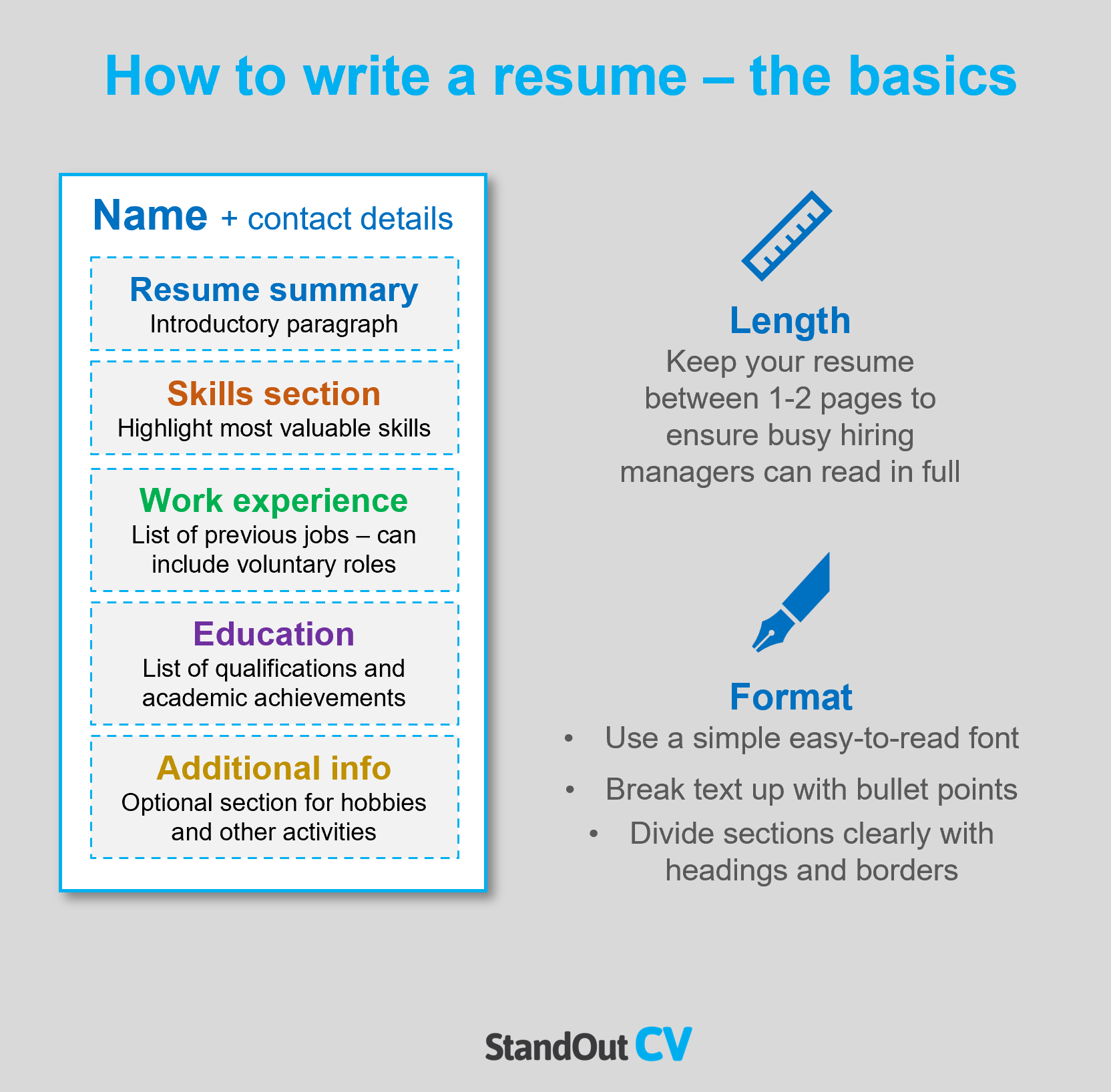 Overview of what to include in your resume
Name and contact details – Placed at the top so nobody misses them
Summary  – An intro paragraph to summarize your abilities and grab recruiters' attention
Core skills section – A bullet pointed snapshot of your most in-demand skills
Work experience – A list of your previous jobs, showing the impact you make in the workplace
Education and qualifications – Your education and qualifications to prove your knowledge
Additional info – Hobbies and interests (if they are relevant)

1. Name and contact details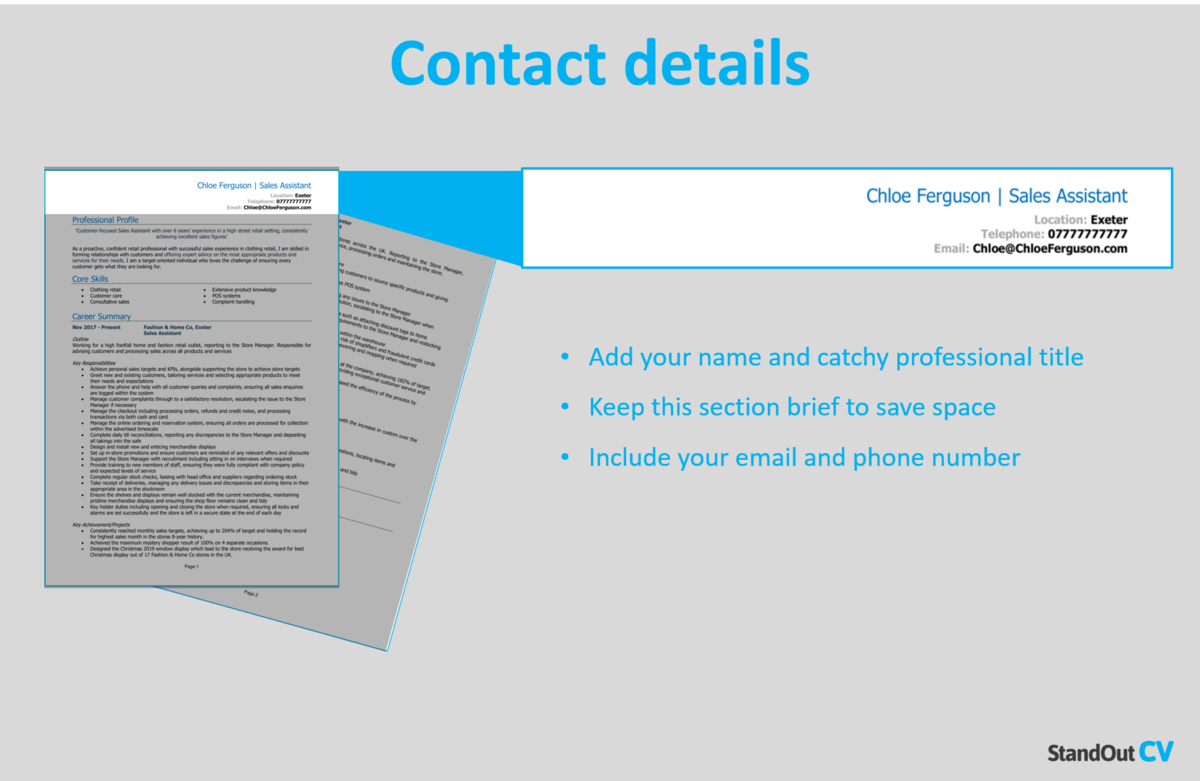 You need to make it as easy as possible for recruiters and employers to contact you, so put your contact details at the very top of your resume in big bold text.
Never hide them at the bottom of your resume – it will cost you interviews.
The import details you need to include are:
Your name
Your email address (use a professional looking one – no nicknames)
Your telephone number
Your location, or area you are looking to work
Maybe your LinkedIn profile if you have one
Take up minimal space with your contact details to save plenty of room to write the rest of your resume.
You do not need to include:
Your date of birth
Your full address
These details are surplus to requirement and will not affect a hiring decision, so don't waste space with them.
**Also, an ID thief could steal those details and use them to apply for loans in your name – so having them on a document which you are circulating online is not very safe**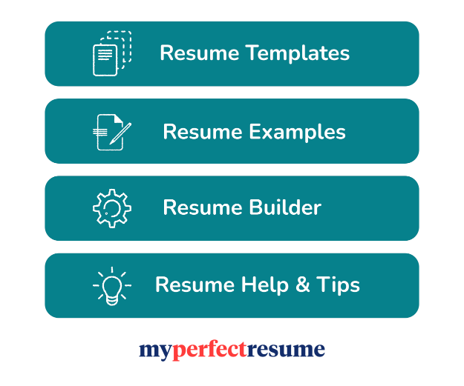 2. Resume Summary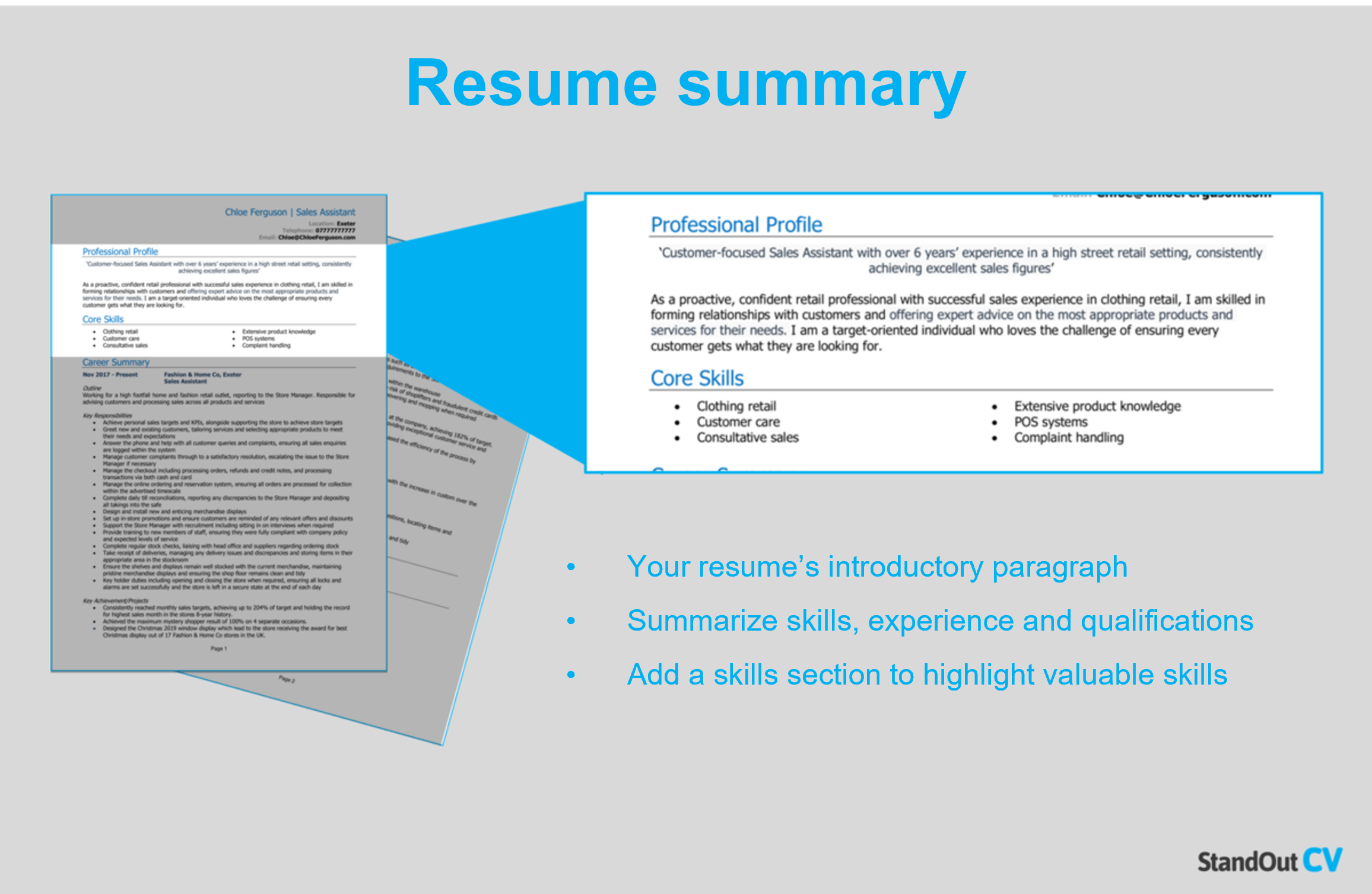 The first real piece of content you should add to your resume is an introductory paragraph, known as a resume summary or personal statement.
It should be around 4-6 sentence long, and summarize why you are the perfect candidate for the jobs you are applying to.
The reason this section is so important is that when apply for any job, your resume will usually land in the inbox of a busy recruiter or hiring manager.
They will probably be looking through lots of other resumes, so you need to impress them quickly.
In order to grab their attention and ensure that they read your resume in full, you must hook them with your resume summary.
Something like this:
Innovative and organized department manager with 18 years' experience working in high-turnover retail stores with a specialized knowledge of the fashion retail industry. Business graduate with demonstrated skill in increasing revenue and reducing waste by implementing customer service training and analyzing customer trends.
Check out more examples of resume summaries here.
The purpose of this section is to give the reader a quick overview of your skills and experience, and encourage them to read on.
So, what information should you include in your summary or personal statement?
Education & qualifications – include your most recent and relevant qualifications with lots of detail if you are inexperienced, and less detail if you are experienced.
Industries you've worked in – Where does most of your experience lie? Banking? Retail?
High level skills – Do you have sales experience? Or are you an admin specialist?
Problems you solve for your employers – Try to show how your actions affect your employers. If you are in customer service, then maybe you help to drive sales, if you are in accounting then maybe you help to save costs.
Remember to sell yourself in your summary – you only have a few seconds to get your message across, so write a persuasive paragraph that tells people why they should hire you – don't be afraid to brag a little, and tailor your summary to the jobs you are applying for.

3. Core skills section
If you really want to make a big impression in the first few seconds of your resume being opened, then you should include a core skills section just underneath your summary.
This snippet of an example resume shows how it looks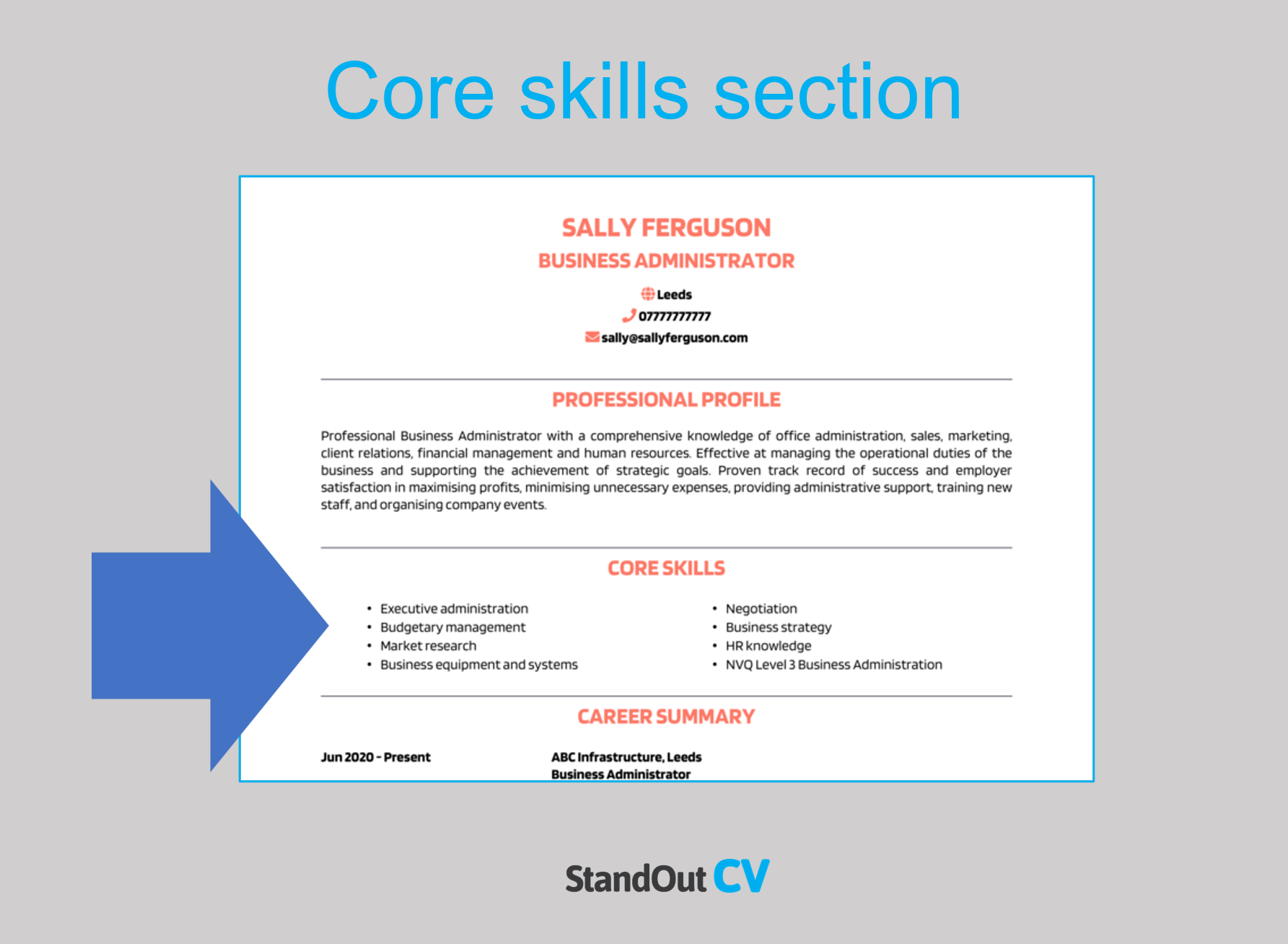 Essentially, a core skills section is a bullet pointed list split over 2 columns which highlight your most important skills and knowledge for the roles you are applying for.
The effect this section has, is that it creates a very quick snapshot of your abilities – so that readers can get a great idea of your talents from just a quick glance. This will really help you to make a big impact when your resume is opened

Pack your core skills with factual skills and experience that recruiters will be searching for (e.g. Reporting, Excel, Customer service, Marketing degree), and avoid generic clichés like "hard working", "team player", and "strong communicator"
4. Your work experience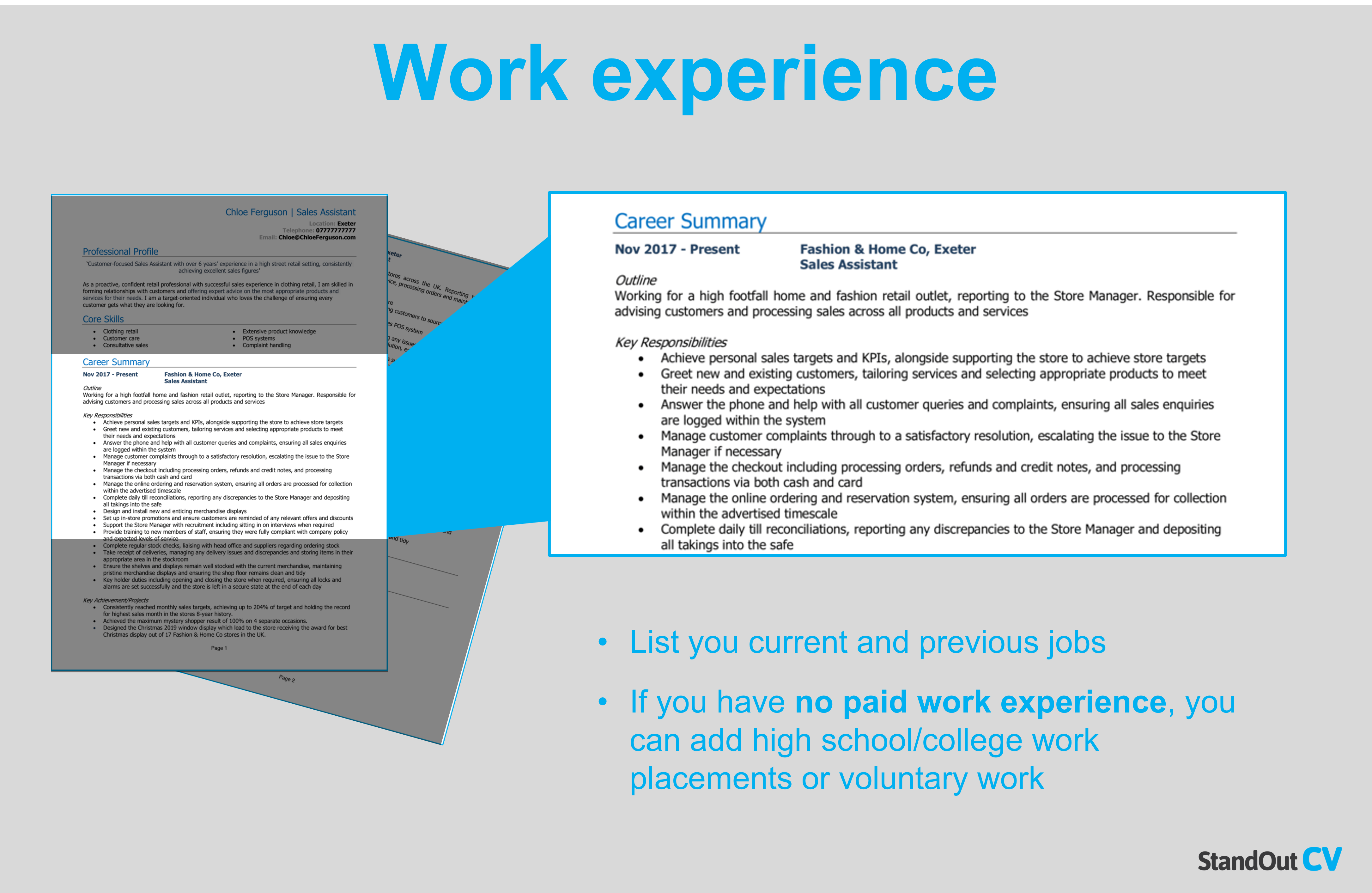 Once you've written the introductory section of your resume, it's time to delve into your work experience, and start listing your previous jobs.
**Don't worry if you have no direct work experience yet** You can always include school projects, work placements, voluntary work – or any thing else you can think of.
You should list your work history in reverse chronological order – starting with you most recent role and moving down the page as far back as necessary.
Recruiter's will be most interested in your most recent roles, so include plenty of detail in them – they are often the best way to prove your current capabilities too.
Writing your role descriptions
Within each of your role descriptions, you should aim to demonstrate who you've worked for, the skills you've used and how your presence has benefited the employer.
Format your roles like the example below to create a pleasant reading experience for recruiters, and allow them to find the information they need easily.
Outline
Never delve into the details of your roles without setting the scene first – or you risk confusing readers. Write a quick intro to show recruiters who you work for, where you sit within the business, and what the overall goal of your role is.
Responsibilities
Bullet point your responsibilities to detail exactly what you do within your role, who you liaise with, and the interpersonal skills and knowledge you apply.
Achievements
To prove the impact you make in the workplace, it's important to list some achievements you have made that have had a positive effect on your employers, using plenty of action verbs. Where possible, try to quantify these achievements with numbers so that readers can really understand the difference you make.
Check out my video guide to adding achievements to your resume…
These are some good examples of achievements…
"Implemented new admin process which saved the company 3 hours of resource time per week"
"Won 3 new clients which generated $300,000 for the business"
"Resolved 90% of customer complaints within recommended time of 24 hours"
"Saved customers an average of $300 per year by advising on new products"

5. Education & qualifications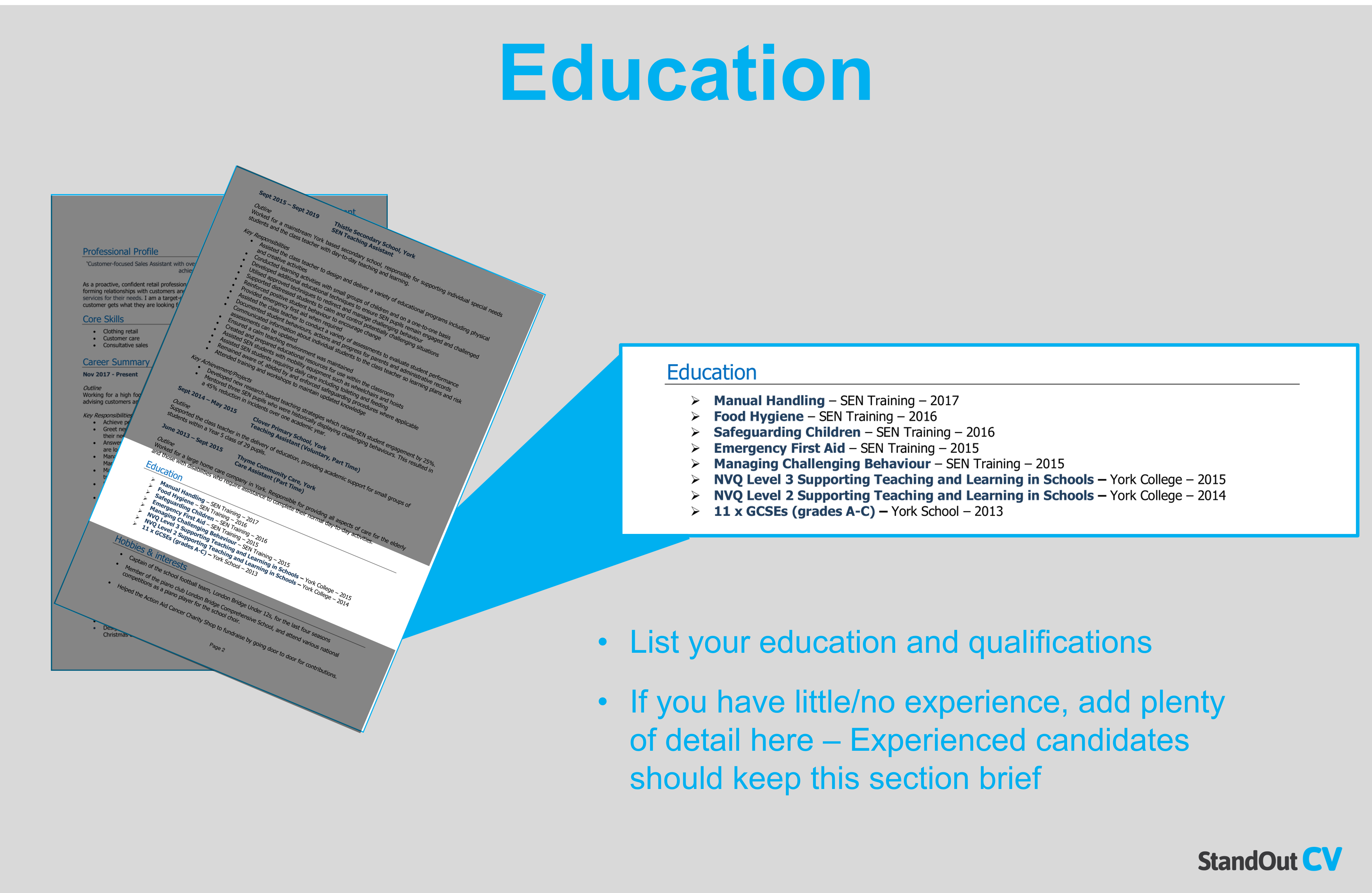 Whilst you should mention your most important qualifications at the top of your resume in your summary and core skills – the detailed listing of your education should be saved for the bottom of your resume.
The level of detail you include in your education will depend on your level of experience.
Junior candidates
If you are a junior candidate with little or no experience, then you will need to include plenty of detail in your education section.
Listing all of your qualifications from high school to college – and even detailing modules and projects undertaken where they are relevant to the jobs you are applying to.
Junior education example
This will compensate for your lack of work experience, and give you a chance to demonstrate more of the skills you possess.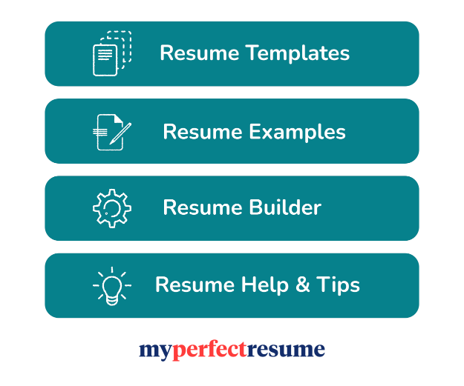 Senior candidates
If you have lots of experience, employers will not be too interested in your education, so don't take up much space with it.
Simply list your highest education (such as your degree) along with industry specific qualifications that you may have picked up during your career.
Senior education example

6. Additional Information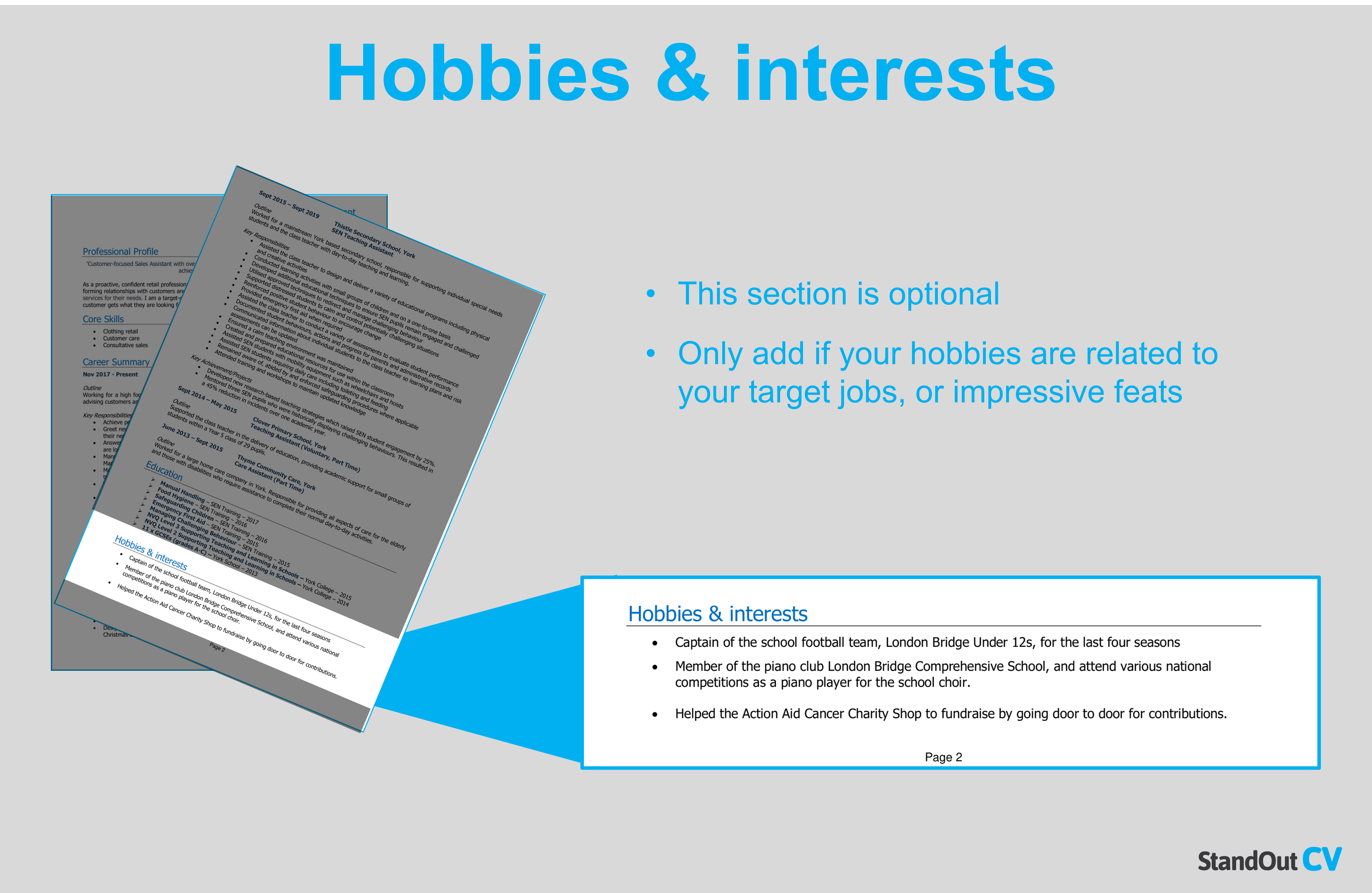 If you have any extra information that is relevant to the roles you are targeting, you can add it to the bottom of your resume in the Additional Info section.
The most common thing that people include here is hobbies and interests, but you could also include languages, software tools etc.
This is an optional section, and usually does not have much impact on hiring decisions.
However there are some instances where your hobbies and interests might help you get hired.
If you have no work experience at all, you might want to include some of your hobbies to demonstrate workplace skills. For example, you might captain a sports team which shows leadership, people skills and motivation.
If you have a hobby that is highly related to the roles you are applying for, then it could certainly be worth mentioning it. For example if you are applying for a web developer role, and you make personal websites in your spare time, this could really impress a hiring manager.
Do not include common interests such as going to the cinema or socializing with friends – everybody does these things and they won't make you stand out.
What not to include in your resume
Now that you know what goes into your resume, it's important to understand what you should not include.
Do not waste space on your resume with the following mistakes.
References
The purpose of your resume is to win interviews by selling your skills and experience to readers. At this stage of the recruitment process, nobody needs to know who your references are – and you certainly shouldn't include another person's contact details on a document which you are distributing online.
An employer can only ask to contact your references once they have made you a written offer, so be weary of anybody who asks for them earlier.
When writing your resume, it's a good idea to start thinking about who you would like to use as a reference, and maybe even asking for their permission.
But never put reference names and contact details on your resume.
Skills graphs
Skills graphs like the ones below may look fancy, but they don't provide any real scale of your abilities to readers.
Instead of using skills graphs – use numbers facts and figures to quantify your points – e.g. 3 years design experience.

Lies
Don't be tempted to lie on your resume.
Sometimes people may get away with it, but it's really not worth the risk.
Diligent recruiters will fact check your claims, and if you get caught out lying, you will ruin your reputation, and they won't be considering you for any future roles.
So, stick to the truth in your resume.
Unexplained gaps
If you have gaps in your employment, don't try to hide them in your resume
Be up front and explain your career breaks in a positive way.
Maybe you've had time out travelling, completing a personal project, or caring for a family member. Write a brief explanation of your break, and try to show some of the skills you've used and experience gained through it.
And don't be embarrassed about having time out through illness – employers should not discriminate against you for it.
What to include in your resume – Conclusion
When writing your resume, be sure to open up with a persuasive introductory summary to grab the attention of recruiters and quickly demonstrate you have the skills they are looking for. Follow up with a core skills section to create a snapshot of your abilities, before detailing your work and impact in your roles.
Round up with your education, and only include hobbies if they are relevant to the roles you are applying for.
If you need any more support creating your resume, check out our library of example resumes or read our detailed resume writing guide.
Good luck with the job search!