Following up on a job application shows that you're proactive and organised… It could also be the final step that helps you to bag an interview.
However, you need to be tactful to avoid looking pushy and ensure that you make the right impression.
Check out this step-by-step guide on following up on a job application, including top tips, common pitfalls to avoid, and follow-up email examples.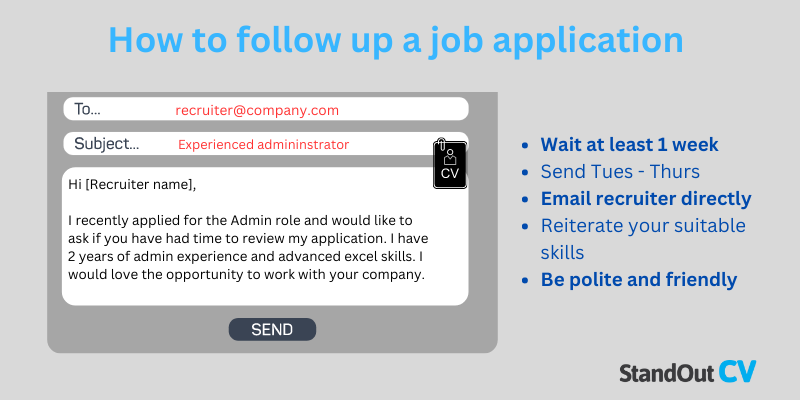 Check the job advert
The first things you should do is go back to the job advert and check if the recruiter has already given you a timeframe for following up.
They may have specified on the job advert that they will be in contact with you after a week, or even requested that nobody should follow up before a specific date.
This is because some positions will receive a large number of applications, and it can take the recruitment team a little time to get through the pile.
So, before you do anything, make sure that you're not following up earlier than the employer would like you to.
Find the right contact
Next, you need to find the correct person to contact with your follow-up email.
This will either be a recruiter who is managing the process, or the hiring manger of the vacancy.
They may have included the contact name and details in the job advert. In that case, be sure to reach out to the email address or phone number provided.
You may have also received an auto-email response when you applied for the job; these sometimes contain information on who to contact about the job.
However, if no contact information has been given, you will need to do a little digging.
Try scanning through the company website's about section to see if you can find somebody in the recruitment team to contact – you could also search LinkedIn to see if you can anybody from the relevant team to contact.
How long to wait before following up?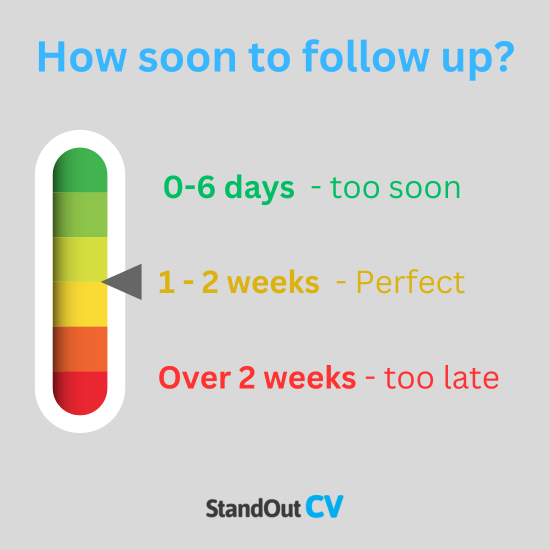 Knowing how long to wait before following up can be tricky.
Contacting too early can seem pushy, but leaving it too late could mean the job has already been filled.
Although there is no set rule (unless the recruiter has set a timeframe on the job advert), it is best practice to give the employer at least one week from the date you applied.
This gives them a reasonable chance to review your application, but should be a short enough timeframe to ensure that the job hasn't been filled yet.
You could wait a little longer if you're dealing with a large company or public sector organisation, as their hiring processes tend to be longer than most.
However, if you've not heard anything back at all after two weeks, then it's certainly worth following up on your application.
What method to follow up with?
When following up on your application, you have two main choices, email or phone.
Email is usually the most effective route, because it's hard to find phone numbers for recruitment staff and even harder to time your phone call at time when they are at their desk.
Email addresses are more commonly available, and if you send an email it will stay in the recipients inbox until they see it – so, I would recommend using email to follow up in most cases.
Try to email the direct email address of the recruiter or hiring manager (which you can find on the job advert, company website or LinkedIn) and avoid sending to a general company inbox (such as info@company.com) to avoid your email getting lost.
If you're unable to find an email address for the hiring manager or recruiter, then you could also reach out to them on LinkedIn – it's a great way to contact recruitment staff directly and the message will go straight through to their email inbox.
What day of the week to send your follow-up message
When the time comes to send your follow-up email, you need to consider your timing to increase your chances of getting a reply.
Although there is no hard rule that says when to follow up, it's best to avoid reaching out on Mondays and Fridays.
This is because Monday is usually a catch-up day after the weekend and by Friday, they may be getting ready to wind down for the week. So, if they don't see your email before they leave, it could get lost in a sea of weekend emails.
So, Tuesday through to Thursday are you best days for sending a follow up email.
What time of day should you follow up?
Now you know it's best to follow up on a Tuesday, Wednesday or Thursday, what time should you send the email?
It's best to avoid the beginning and ends of each day, because in the morning recruiters usually have lots of application emails to go through from people who have applied the night before, and you don't want your email to get lost amongst them.
And at the end of the day, most people are trying to wrap up their work and get out of the door, so they are unlikely to be checking emails and wanting to start new conversations.
So, aim to send your email after 10am, but before 4pm, this is likely to elicit a speedier and more enthusiastic response.
And if you really want to ensure the recipient is at their desk, try not to send your email during lunch hours either (12pm – 2pm)
Quick tip: To get the timing perfect, don't try to craft your email and send it at the same time. Instead, write your email out, and save it as a draft, then set yourself a reminder to send it at the best possible time.
How to write a follow-up email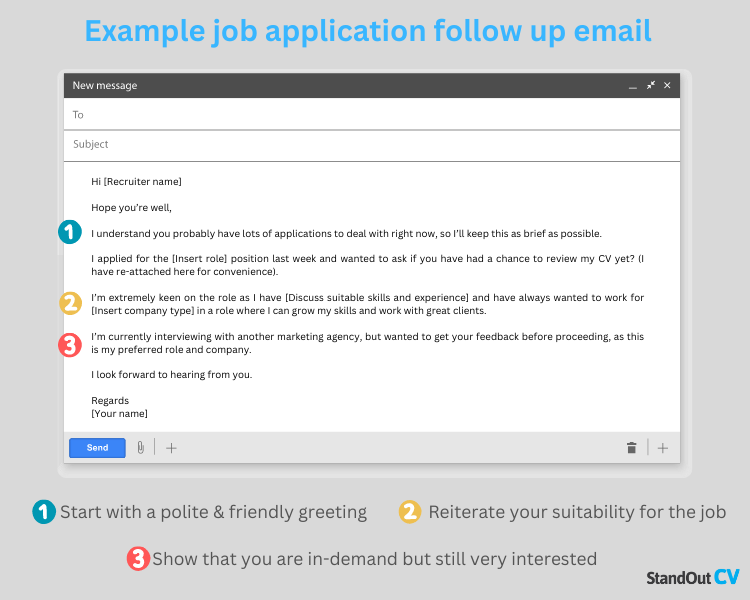 When the time comes to write your follow-up email, you need to craft a message that will grab the recipient's attention and persuade them to take another look at your CV.
Use the following tips and example above to achieve this.
Address the recruiter by name – Wherever possible, you should address the recruiter by their name. This is more personal and shows you've done your research and that you're genuinely interested in the role.
Be polite and tactful – First impressions count, even over email, so it doesn't matter if you've been waiting a long time for a response, you should always be polite and professional.
Reiterate your suitability and interest – Make sure that you reiterate why you're interested in the position, but also why you think you'd be a good fit for the role. This doesn't have to be long, just an engaging sentence or two.
Show you are in demand – You want the recruiter to know that while you're still interested, but you won't wait around forever. Suggesting that you're keen on their role but also exploring other opportunities (perhaps you have other interviews in the pipeline) could give them a little encouragement to get in contact with you, before you get snapped up elsewhere.
Re-attach your CV – Make it as straightforward as possible for the recruiter to review your application by re-attaching your CV. That way, they won't have to go searching back through emails, they can simply review your CV there and then.
Keep it brief – Last but not least, make sure that your email is short and sweet with all the key information. Remember, these are busy people, and a lengthy email can be off-putting and will likely end up in their junk folder.
Example follow up emails
Emailing an external recruiter 1
Hello Sophia,
I trust you're doing well. Respectful of your busy schedule, I'll keep this email concise.
I'm reaching out to inquire whether you've had an opportunity to review my application. For your convenience, I have re-attached my CV.
Given my extensive background in laboratory management for cancer research studies across the UK and Europe, I remain enthusiastic about the possibility of contributing to the pioneering work of Cancer Research UK. The prospect of advancing my expertise while furthering the success of the team genuinely excites me.
Although I'm in ongoing discussions regarding other opportunities, I hold the role at Cancer Research UK in high regard due to its uniqueness and potential for impact.
Thank you for your consideration, and I eagerly await your response.
Kind regards,
Michael Bowers
Emailing an external recruiter 2
Hi Safi,
I hope this email finds you well.
I wanted to express my thanks for considering my application for the Finance Manager position at CFE. I am very enthusiastic about the potential role and the company's vision.
I would like to kindly inquire if there has been a chance to review my attached CV. The prospect of contributing my expertise in growth management and implementing IMS systems to the team at CFE remains incredibly appealing to me.
Though I'm considering various roles within the engineering sector, my enthusiasm for CFE's position is distinct. Any additional information you could provide would be invaluable in guiding my next steps.
Thank you for your attention to this, and I'm eager to hear from you soon.
Best regards,
Lucie Traynor
Emailing the hiring manager 1
Good afternoon, Jon,
I trust you're doing well. I'm reaching out to follow up on the application I submitted for the Marketing Associate role. For your convenience, I've reattached my CV and cover letter.
The prospect of joining Green&Gold and driving impactful campaigns truly resonates with me. Given my experience in launching sustainable brands and devising customer segmentation strategies, I'm confident in my alignment with the position.
I'd like to mention that I am presently in discussions with another prominent beauty brand. However, my keen interest lies in Green&Gold's distinct mission of championing sustainability in the beauty realm, and your insights would be invaluable as I evaluate my options.
I'm keenly awaiting your feedback.
Warm regards,
Olu Ngobi
Emailing the hiring manager 2
Hello Gloria,
I hope this email finds you well.
I wanted to inquire about the status of my application for the Paediatric Nurse position. Recognising the demands on your time, I've included my CV once more for your ease of reference.
What particularly drew me to this role was the 'Family Support' project. I am confident that my MA in Health Management, coupled with my specialised background in paediatric hospice care, equips me to make significant contributions to this initiative.
While I am exploring other nursing opportunities in Hampshire, I am deeply interested in this specialist role.
I look forward to hearing from you soon.
Best wishes,
Patrick Samson
Follow up email template
Hi [Recruiter name]
Hope you're well,
I understand you probably have lots of applications to deal with right now, so I'll keep this as brief as possible.
I applied for the [Insert role] position last week and wanted to ask if you have had a chance to review my CV yet? (I have re-attached here for convenience).
I'm extremely keen on the role as I have [Discuss suitable skills and experience] and have always wanted to work for [Insert company type] in a role where I can grow my skills and work with great clients.
I'm currently interviewing with another marketing agency, but wanted to get your feedback before proceeding, as this is my preferred role and company.
I look forward to hearing from you.
Regards
[Your name]
How to follow up on LinkedIn
If you can't find an email address for the hiring manager, it might be easier to reach out to them or a member of their team on LinkedIn.
This can follow a similar technique to reaching out by email. You should start by thanking them for accepting your connection request (if you've added them) and reiterate who you are and which position you're interested in.
As before, you should also attach your CV to the message to make it easier for them to quickly review.
What if you still don't hear back?
If after a week, you still haven't heard back from your follow-up email or LinkedIn message, it's likely that you haven't been selected for this particular position.
However it's possible that the recruiter is just really busy or they've missed your emails.
So, if it's a position you're passionate about and truly want, you could try another quick follow up email.
Simply forward your previous follow-up email (with CV attached) and write something short and pleasant, like this:
"Hi [Recruiter name],
Sorry to bother you again, I just wanted to check if this position is still available?
Regards
[Your name]"
How to follow up by phone
If you're going to follow up by phone, it's a good idea to have some notes in front of you or to practise the call with someone else beforehand.
Try to find the direct number for the hiring manager, but if you can't, then look for the most relevant person or department.
When you get through, determine your reason for calling and make sure to be brief, thanking them for their time.
If they say they are still reviewing applications, you can politely ask if they know how long it'll take them to get in touch. If not, thank them for taking the time to review your application anyway.
You also need to be prepared for no one to answer your call, in which case, leave a clear and concise voicemail, providing your details and asking them to call you back.
Check out the example script below for more guidance.
Example phone call script for a follow up call
Hi [Recruiter name]
Sorry to bother you it's [your name] here, I applied for the [Role] position and I  just wanted to check if it was still open and if you'd seen my application?
– Let the recruiter speak
Thanks, I'm still very keen on the role as I have [discuss relevant skills and experience] and I'd love the opportunity to work with your company. If you have the chance to look at my CV I'd love to hear more about the position.
– Let the recruiter speak
Thanks for your time, bye.