If you're on the job hunt and you've begun applying to roles online, you might be wondering how long it takes to hear back about an application.
While the wait can be frustrating, particularly if you're really passionate about the job, you don't want to follow up too soon – and risk looking pushy.
On the other hand, you don't want to leave it too long either – and risk the job already being filled.
That's exactly why we've created this guide, to look at how long it typically takes to hear back from an online application and how long you should wait before chasing the recruiter.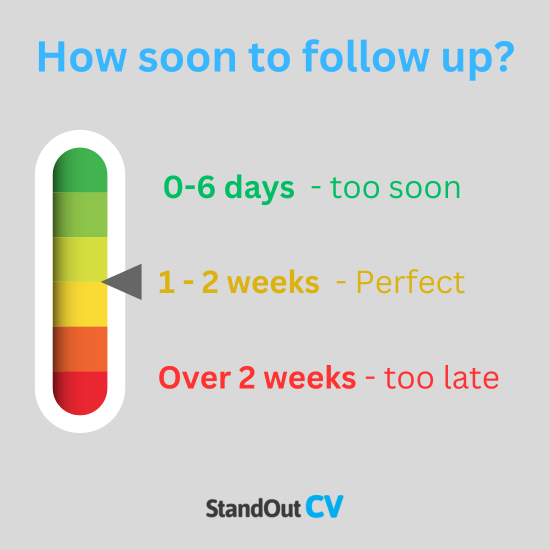 How long does it take to hear back from a job application?
Although there is no hard or fast rule, you will usually hear back on the application within 1 to 2 weeks of applying. Maybe sooner if the recruiter is really interested in your application.
In some cases, the job description or an automated reply might specify how long it will take the recruiter to get back to you – so it's worth checking those.
What factors affect response time
There are some factors that can affect how long it takes for recruiters to respond to you, these include:
Company size – Bigger organisations usually have complex processes and more people involved in their recruitment efforts, so they will typically take longer to respond than a small business, where the owner may read your CV as soon as you apply and ring you right away.
Job type – The time taken to make a decision can depend on the complexity, skill and level of the job. Often, more junior positions can be quicker to fill, while higher-level roles might require longer and more thorough consideration.
Industry – Some industries like the public sector and banking have notoriously long recruitment processes because they are bound by a lot of red tape, whereas industries like staffing or media can often be very speedy in their hiring.
Number of applicants – If a position receives a lot of applications, it is likely to take the employer longer to interview and hire someone, but if a job only has one or two applicants, the review process could take only minutes.
How long should you wait to follow up?
It's important to remember that there are a handful of reasons the employer may be taking their time getting back to you, as we've outlined above.
Granted, this doesn't make it any less frustrating.
So how long should you wait before you follow up on an application, without seeming too impatient or leaving it too late?
Less than 1 week
For the most part, you shouldn't chase up your application for at least one working week. Any time before that, and it's most likely that the recruiter hasn't had time to review your CV yet – so it's not worth rushing and making yourself look too pushy at this stage.
However, there are a couple of circumstances that could be an exception to this rule.
Only chase up your application sooner if you know the deadline is drawing close and the employer has already begun interviewing. You might also chase up your application if you already know the hiring manager or contact at the company.
Between 1 and 2 weeks
Between 1 and 2 working weeks is the ideal window to follow up on an application.
It gives the recruiter time to review applications, without putting pressure on them, or making yourself look impatient.
Most hiring professionals will be starting to think about interviews at this stage, so following up could give them the nudge they need to review or reply to your application.
Between 2 and 4 weeks
For the most part, if you haven't heard back in 2 weeks you probably haven't made it to the next stage.
That being said, for public sector jobs, or large employers with longer recruitment processes, you could still be in with a chance if you follow up. So don't rule it out completely.
Past 4 weeks
If more than a month has passed, it's likely that the role has already been filled or that the hiring manager has already begun interviewing. So, if you've left it that long, it's too late to follow up.
Plus, if you've left it 4 weeks to chase up your application, you can't have been that interested in the role in the first place, and the recruiter will recognise this.
How to follow up after a job application
If you want to follow up after a job application, the most effective method is a timely and persuasive email.
Check out this example of a good follow-up email below, and a template you can copy and paste for your own use.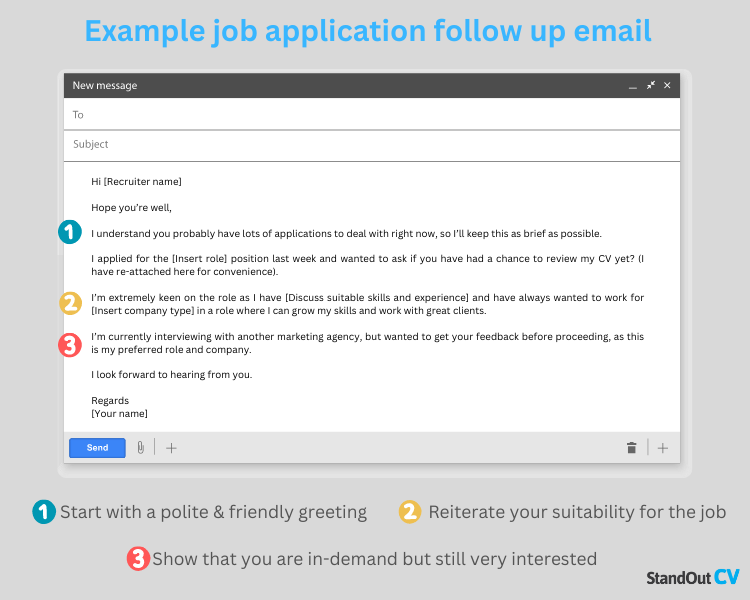 Job application email follow up template
Hi [Recruiter name]
Hope you're well,
I understand you probably have lots of applications to deal with right now, so I'll keep this as brief as possible.
I applied for the [Insert role] position last week and wanted to ask if you have had a chance to review my CV yet? (I have re-attached here for convenience).
I'm extremely keen on the role as I have [Discuss suitable skills and experience] and have always wanted to work for [Insert company type] in a role where I can grow my skills and work with great clients.
I'm currently interviewing with another marketing agency, but wanted to get your feedback before proceeding, as this is my preferred role and company.
I look forward to hearing from you.
Regards
[Your name]
Tips for following up on a job application
Here are some tips and examples for the best way of catching recruiters' attention and securing an interview.
Address the recruiter by name – Begin your email by addressing the recruiter directly using their name, if available. This personalised approach demonstrates your research and genuine interest in the role.
Be polite and tactful – Always maintain a polite and tactful tone throughout your email, as first impressions are crucial, even in email interactions. Regardless of any delays in response, professionalism should always be upheld.
Reiterate your suitability and interest – Emphasise your suitability and interest in the position, succinctly explaining why you believe you are a good fit for the role. Craft an engaging sentence or two to highlight your passion for the opportunity.
Show you are in demand – Showcase that you are actively sought after by other employers, without sounding overly boastful. Show that while you are interested in their role, you are also exploring other opportunities, possibly having other interviews lined up.
Re-attach your CV – To improve the chance of the recruiter reviewing your application, re-attach your CV to the email. This helpful approach saves them from searching through past communications.
Keep it brief – Keep your email concise and to the point. Remember that recruiters are busy individuals, and a lengthy email may deter their attention or end up in their junk folder.
What day and time to follow up
If you've waited for the correct amount of time to follow up, don't fall at the final hurdle, by sending your email at 9pm when nobody will be logged on.
To give yourself the best chance of getting a reply, there are certain times of the day and week that are better for chasing up applications.
The best days to do this are typically Tuesday to Thursday, as Mondays tend to be busy catching up after the weekend, and by Friday, the hiring manager may have begun winding down.
You should also think about the time of day you follow up. If it's too early in the morning, they may be catching up on emails, but if it's too late, they may have already switched off.
So, the best time to check in is anywhere between 11:00 and 15:00 (but avoiding lunch break time)
How to organise your job applications

When you're applying to multiple roles, you need to make sure that you stay on top of your search so you know when to follow up and when the opportunity has probably passed.
The best way to do this is with a spreadsheet.
You can download our free job tracker spreadsheet here.
Every time you apply for a job, make a note of:
The job + link for the advert
Company name
Recruiter name + contact details
Date you applied
Any communications between you and the recruiter
This allows you to keep track of the jobs you've applied for and when, on which platform and whether or not you've heard back.
This makes it much easier to know when you can follow up on applications, and gives you all the details you need to write a convincing follow-up email.
What to do while waiting
Just because you're waiting to hear back from an application or two, it doesn't mean your search has stopped. While you're waiting it's a good idea to:
Keep applying for jobs – Unfortunately, there is no guarantee you'll secure the job(s) you've applied for, so it's important that you don't just stop there. Keep applying to roles of interest until you have been offered and accepted a job
Improve your skillset – One way to keep progressing in your career and increase your chances of landing a job is to keep learning and improving your skill set. You could do this by taking online classes, attending in-person training, reading or doing research/practice at home
Network – If you keep growing your professional network, you open yourself up to more career opportunities. To do this, you can attend industry events and presentations, you can also connect with people online using platforms like LinkedIn
How to get a quicker response on your next application
Sure, you can't force the recruiter to respond to you quickly, or at all for that matter, but there are some steps you can take to try and elicit a quicker response. These include.
Tailoring your CV
First and foremost, you need to make sure you tailor your CV to the company and position you're applying for.
Tailoring can be as quick and simple as adding a few keywords from the job advert to your CV, to make yourself appear more suitable.
This makes it much easier for the recruiter to scan through and quickly determine that you're a good fit for the role  – resulting in much quicker response times for you.
Applying directly a company speculatively.
Job boards can be a great way to find and apply for jobs. However, they also have lots of competing job seekers applying for the same jobs as you .
So, making speculative applications to companies you would like to work for, can be a great way of side-stepping the competition.
Apply via email
Similarly, going directly to the inbox of the recruiter can be more effective than applying through job sites and other platforms. So, if you can find the correct email address (or if it has been provided) this can help you to get a faster response.
Write a unique cover note
Finally, if you can write and provide a unique and engaging cover letter as part of your application, you could stand out and increase your chances of getting a swift response. So take your time to craft a well-thought-out cover letter too.