Finding a job as a student can be tough… Especially when you have little or no experience.
But having a strong student resume will make it much easier.
A good resume will get you noticed by the  best employers and help you to land job interviews.
These student resume templates and 6 student resume examples show you exactly how to create an interview-winning resume, no matter what your current situation is.
There's also a simple student resume writing guide at the bottom.

Student with no experience resume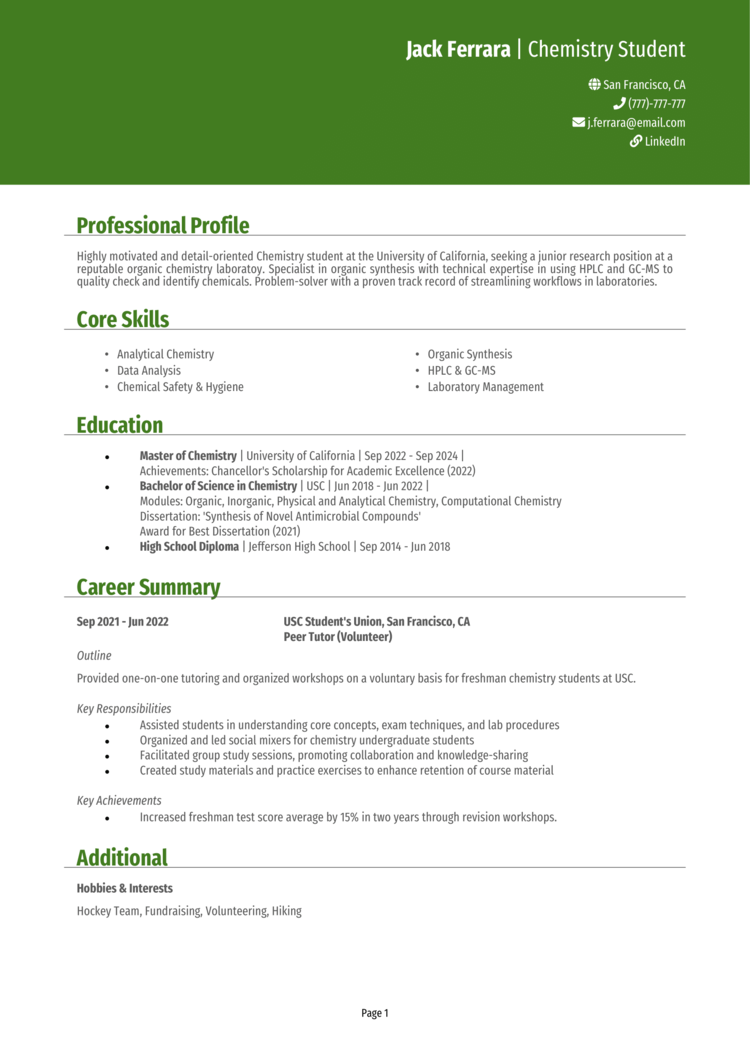 College student resume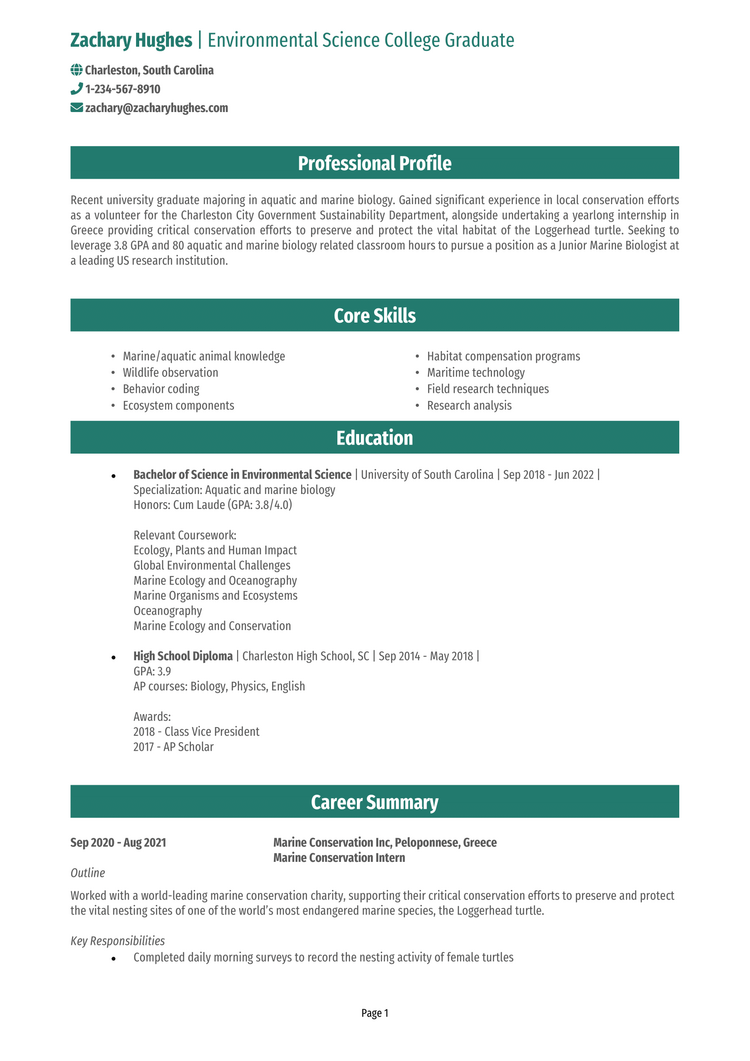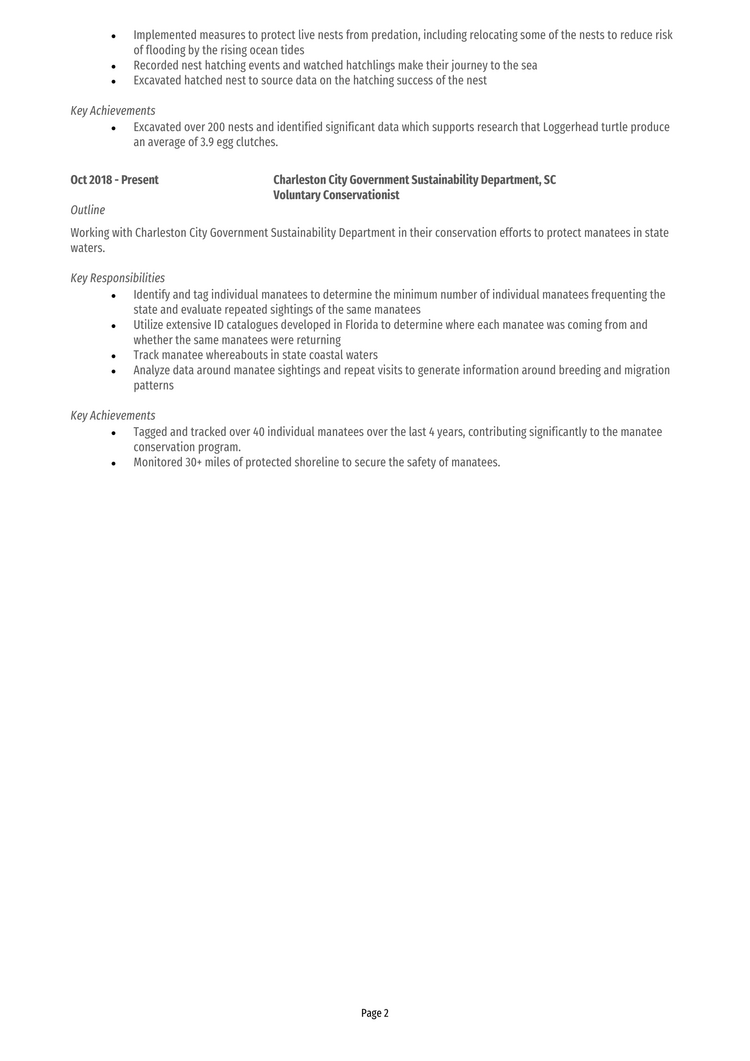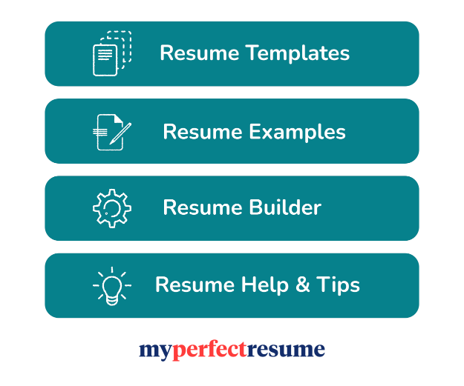 Why this resume is effective
This resume starts with a strong summary that introduces the graduate and showcases some of their most relevant and impressive experience. They have used figures in their summary, including their GPA, to immediately grab the recruiter's attention and give context to their credentials.
Their core skills have deliberately been placed near the top, outlining the hard skills that are most relevant to their industry and the role they're applying for.
Not only this, but their education section has been placed above their experience as they are a recent graduate. They have gone into detail about the topics they studied and coursework they completed to give the reader a better understanding of their knowledge base.
The use of bullet points throughout helps to break up and structure the information making it quicker and easier to read and digest.

High school student resume

Top tips for writing a resume with no experience
Research your target jobs thoroughly to find out exactly what skills and knowledge you need to highlight in your resume
Draw out transferable workplace skills from your school work, studies, projects and extra-curricular activities to prove that you have valuable skills that employers are looking for
If you have any hobbies or interests that are relevant or impressive (such as sports teams, writing, club membership, charity work etc.) add them to your resume to give it a boost
For a quick way to add experience to your resume, pick up a short term voluntary role in your local area
Nursing student resume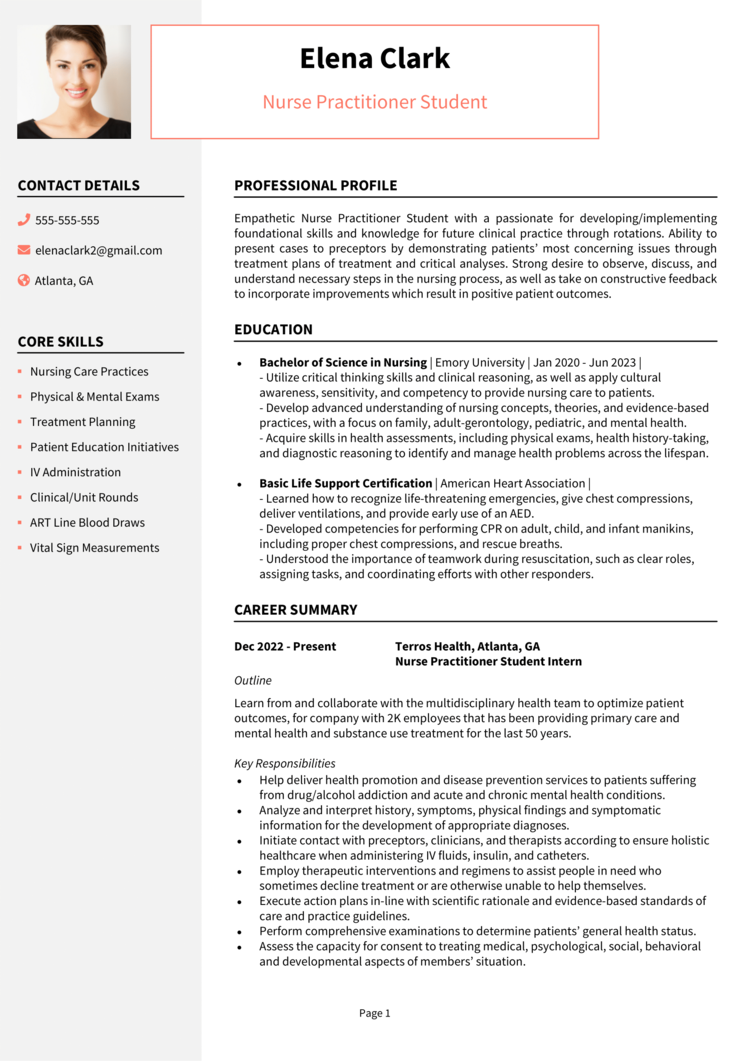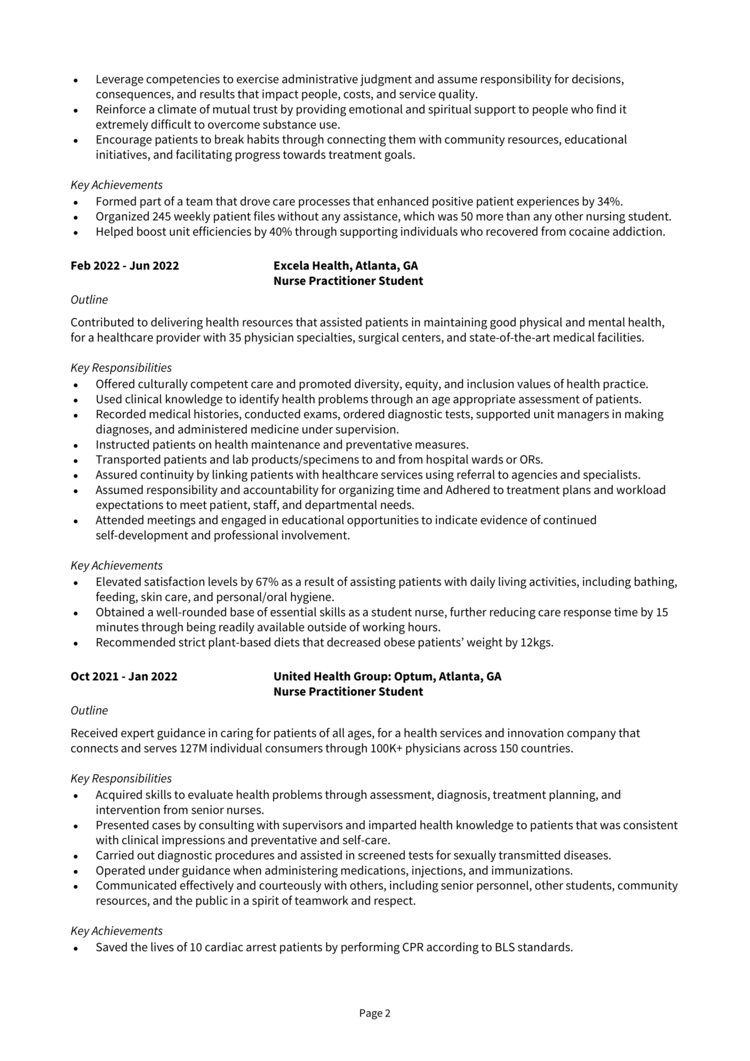 Medical student resume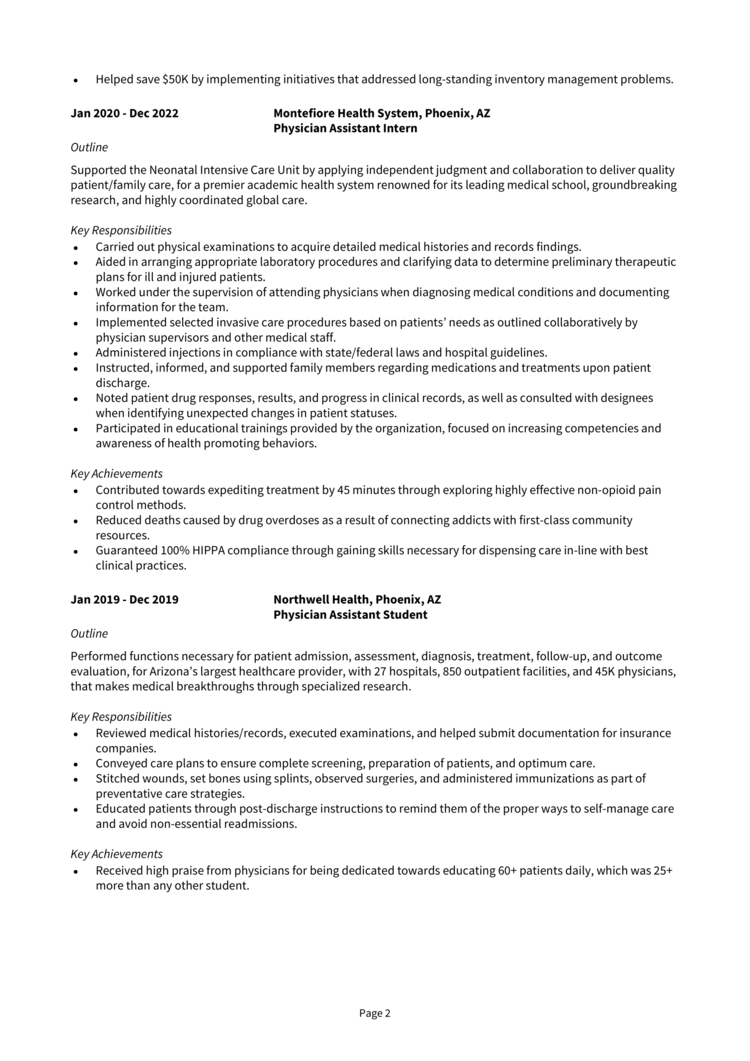 Why this resume is effective
This example of a medical student's resume starts with a strong summary, outlining some of their most important key skills right from the start, to quickly grab the recruiter's attention.
This is followed by a detailed breakdown of their education, which outlines their relevant training and certificates. Their education has been prioritized to prove they've got the necessary qualifications to work in such a highly regulated field.
The career summary showcases their most relevant and impressive experience and achievements from their college placements – this includes using numbers to quantify and give more context to their achievements, as it's important to show the impact you had on the company.
The use of a bright color in the design helps the contact details and key skills to stand out and makes the headings clearer, so the reader can quickly find the information they're looking for.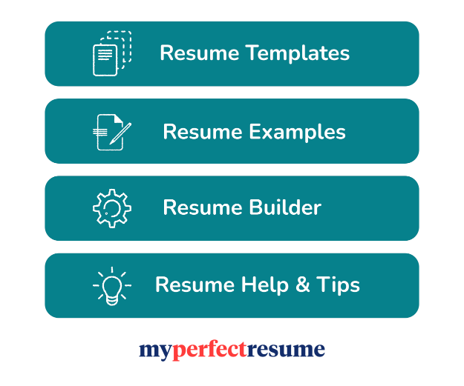 Computer science student resume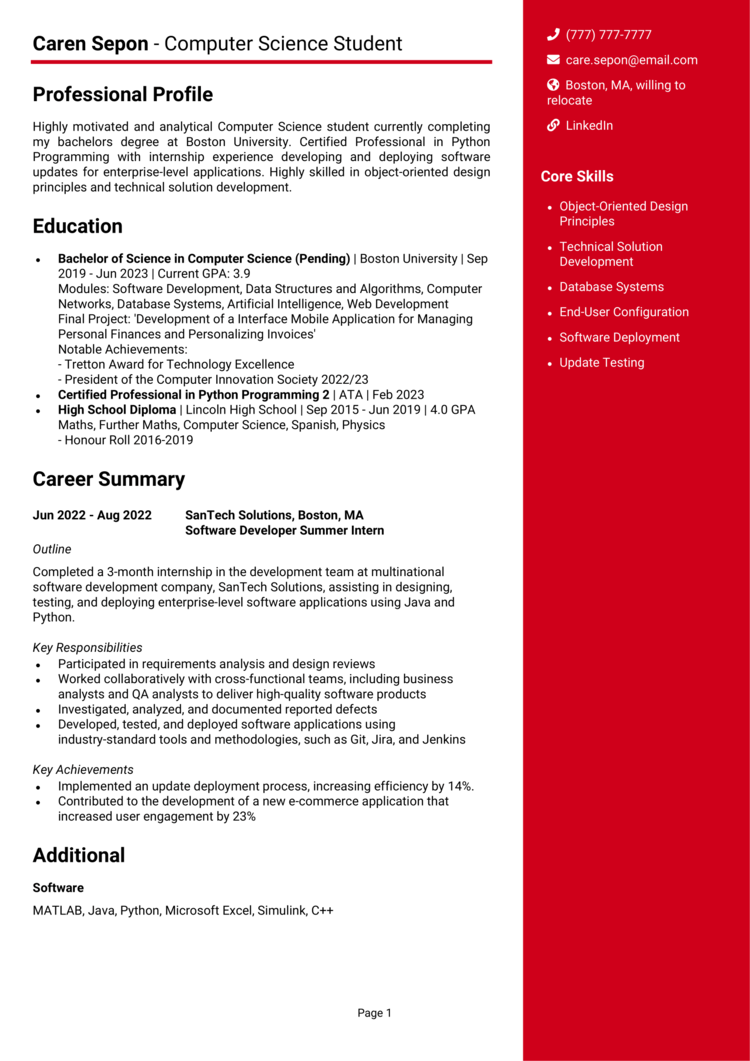 Engineering student resume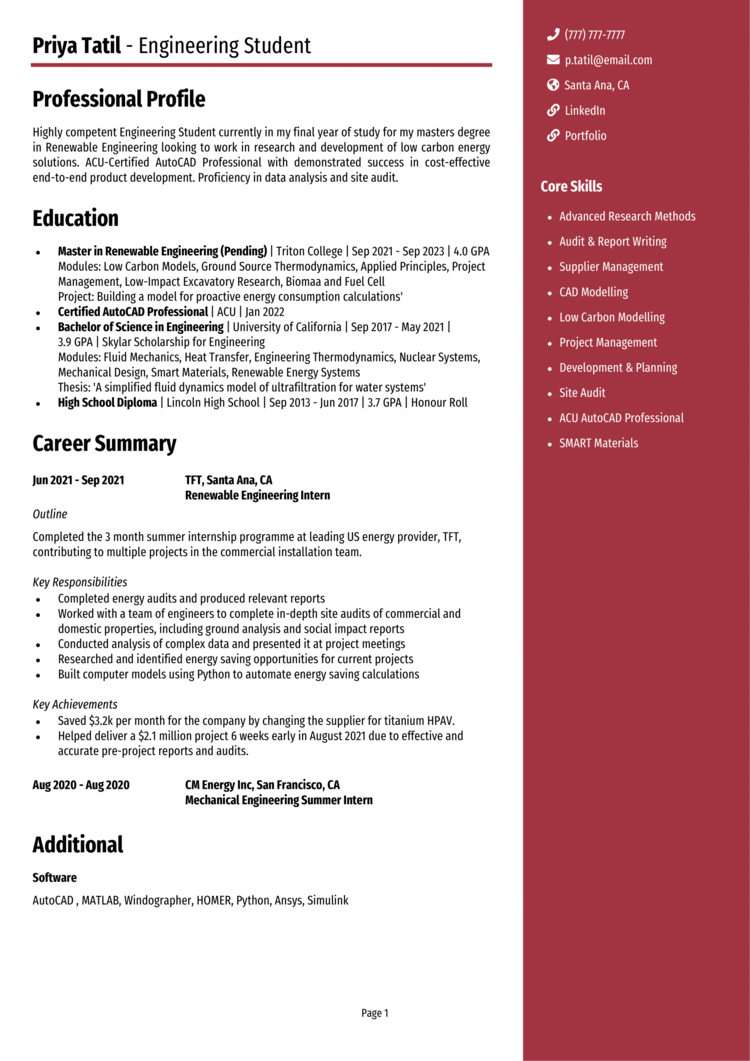 How to write a student resume
Writing your student resume is a lot easier when you have example resumes and templates, but it's still important to understand what recruiters want to see in your resume – and how to best convey the information to them.
This guide will walk you through the entire process of writing your own resume from start to finish.
Contents
Student resume structure and format
Firstly, you must structure and format your resume in a fashion that makes it easy to read, and gives it a professional outlook.
This infographic give an overview of how to layout your resume and the sections you need to include.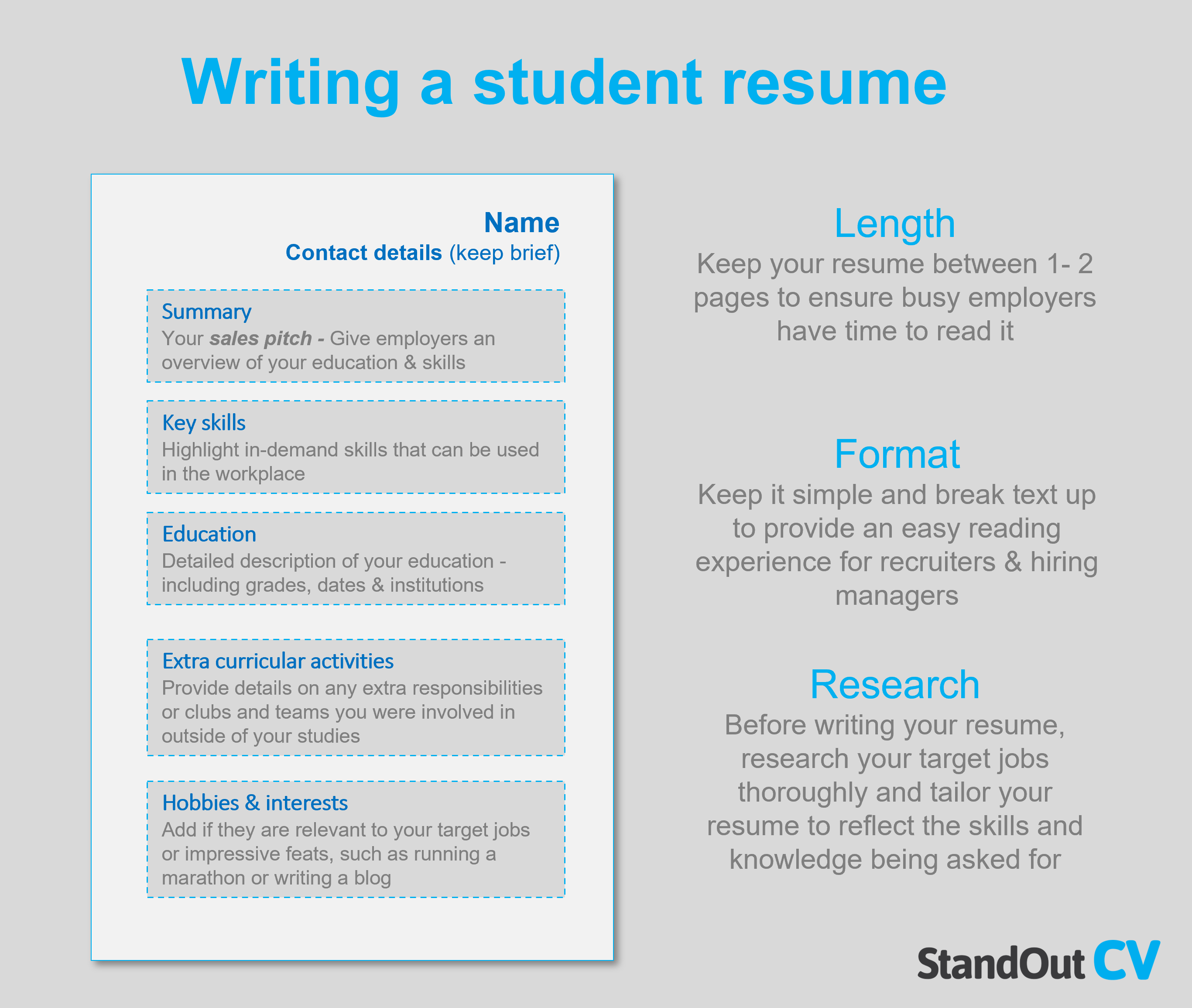 Formatting tips
Keep the font simple and clear – don't be tempted to use fancy fonts that might be tricky to read.
The color scheme should be toned down and clear with black text on a white background creating the easiest reading experience.
Text should be broken up as much as possible to ensure that busy recruiters and hiring managers can digest the information quickly, using bullet points and short sentences.
Use big bold headings to clearly define sections and break the information up further
Do your research
Before you start writing your resume it's crucial to find out what your target employers want to see in a candidate.
Without knowing the skills and knowledge that are required for the jobs you are applying for, it will be difficult to know what you should populate your resume with.
I would advise heading over to some job sites and scanning through plenty of adverts to find out what the most important skills in your niche are.
Once you have a list of the most in-demand skills for your desired jobs, ensure that you scatter those skills throughout your entire resume.

Resume summary (or personal statement)
Your personal statement or summary is an introductory paragraph which sits at the top of your resume, and is designed to give employers a high-level summary of what you can offer them
The personal statement is arguably the most important part of your resume because it is the first part of the resume that a recruiter's gaze will be drawn to – if it doesn't grab their attention, they may skip on to the next resume in their inbox.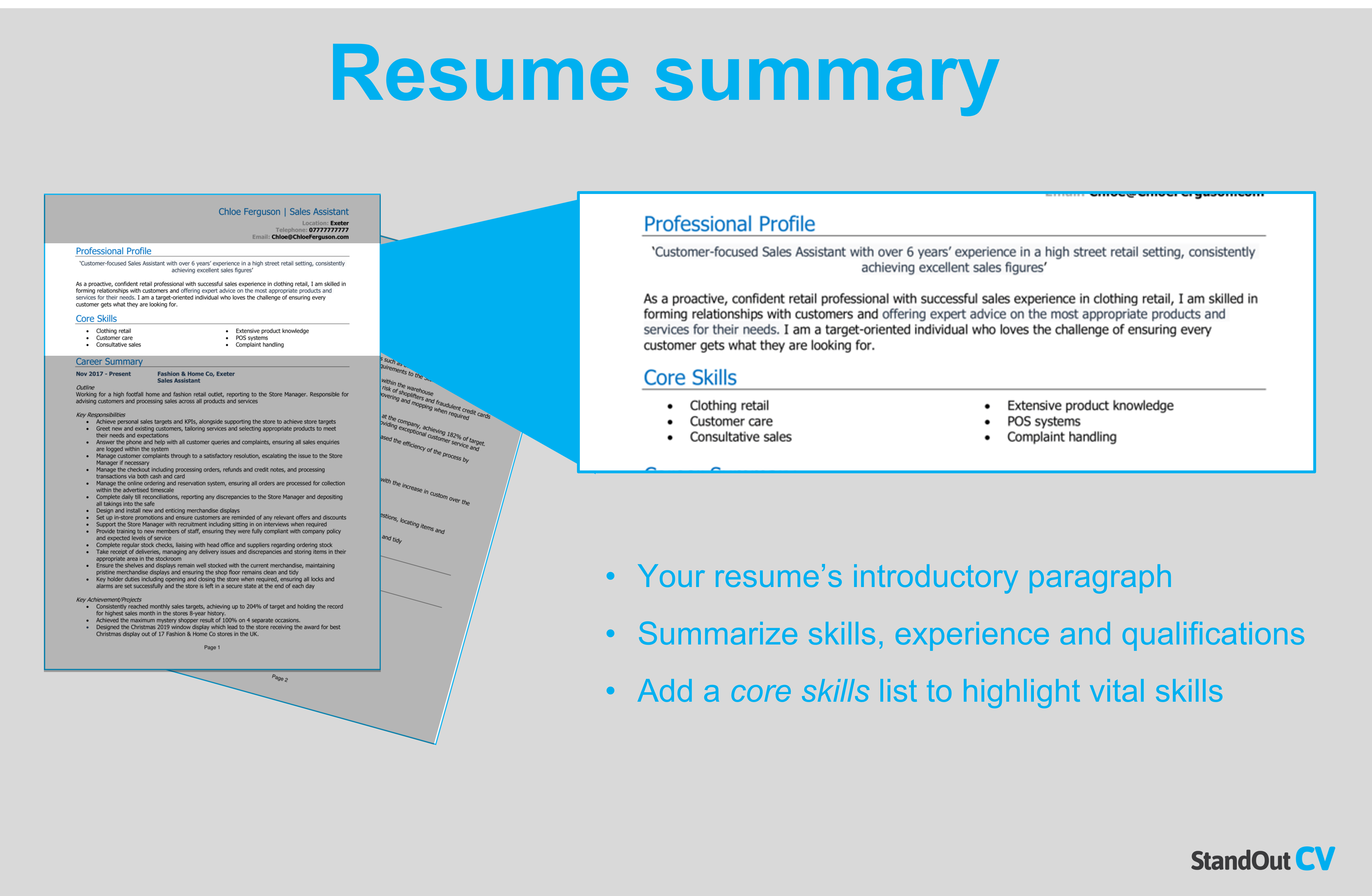 So, ensure that your personal statement is packed with relevant skills and gives a good overview of your abilities – this way it will persuade recruiters to read the rest of your resume.
It should be around 4-8 sentences long and give a solid explanation as to why you are the prefect fit for the jobs you are applying to.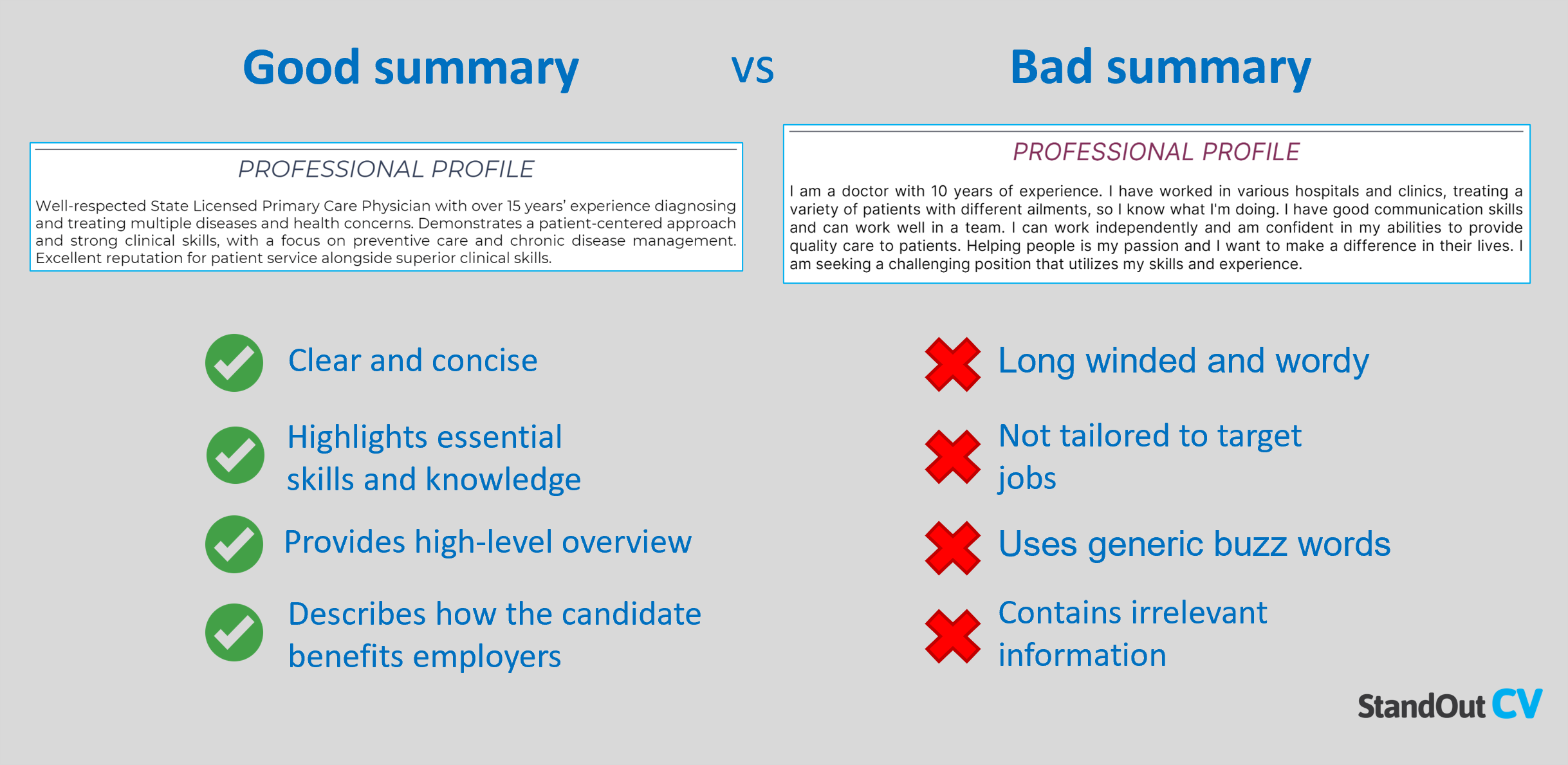 What to include in your student resume summary
Summary of your education – Being a student, your education is going to be of great interest to hiring managers, so add a high-level overview of your education to your summary, focusing on your highest levels of achievement and qualifications that are relevant to your target jobs.
In-demand skills – To ensure that your resume gets noticed by recruiters, you need to pack your summary with skills that are important to the jobs you are applying for. Read the job descriptions of the roles you are applying to and include as many of the essential skills as you can (you could have gained these through studies, work experience or even personal achievements)
Work experience – As a student you might not have much (or any) work experience, but anything you have done should be included in your summary because recruiters love to see it. This could include school work placements, internships, freelancing or even volunteering.
Example student resume summary
Student Esthetician with more than 720 hours of professional training in coolscultping, chemical peels, facials, micro-needling, dermaplaning, microdermabrasion, laser hair removal, and waxing. Proven ability to conduct client consultations to determine the best treatment methods and note any allergies. Accustomed to handling numerous tasks, while collaborating with team members within busy spa environments that require attention to detail. Focused on staying current on state board cosmetology provisions needed to obtain licensure as a fully qualified esthetician.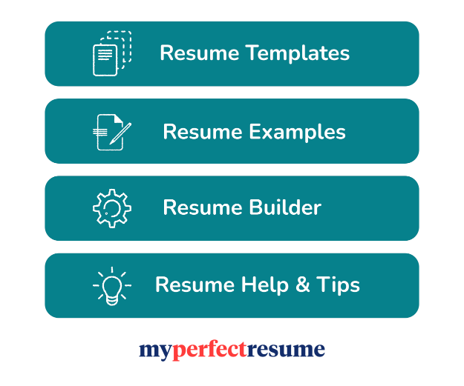 Your education section
As a student it's unlikely that you will have a lot of experience to write about, so your education section will provide you with more opportunities to write about your skills and knowledge.
Add your education section near the top of your resume, unless you have some highly relevant work experience that will be more interesting to employers (e.g. a work placement within the industry you are applying to)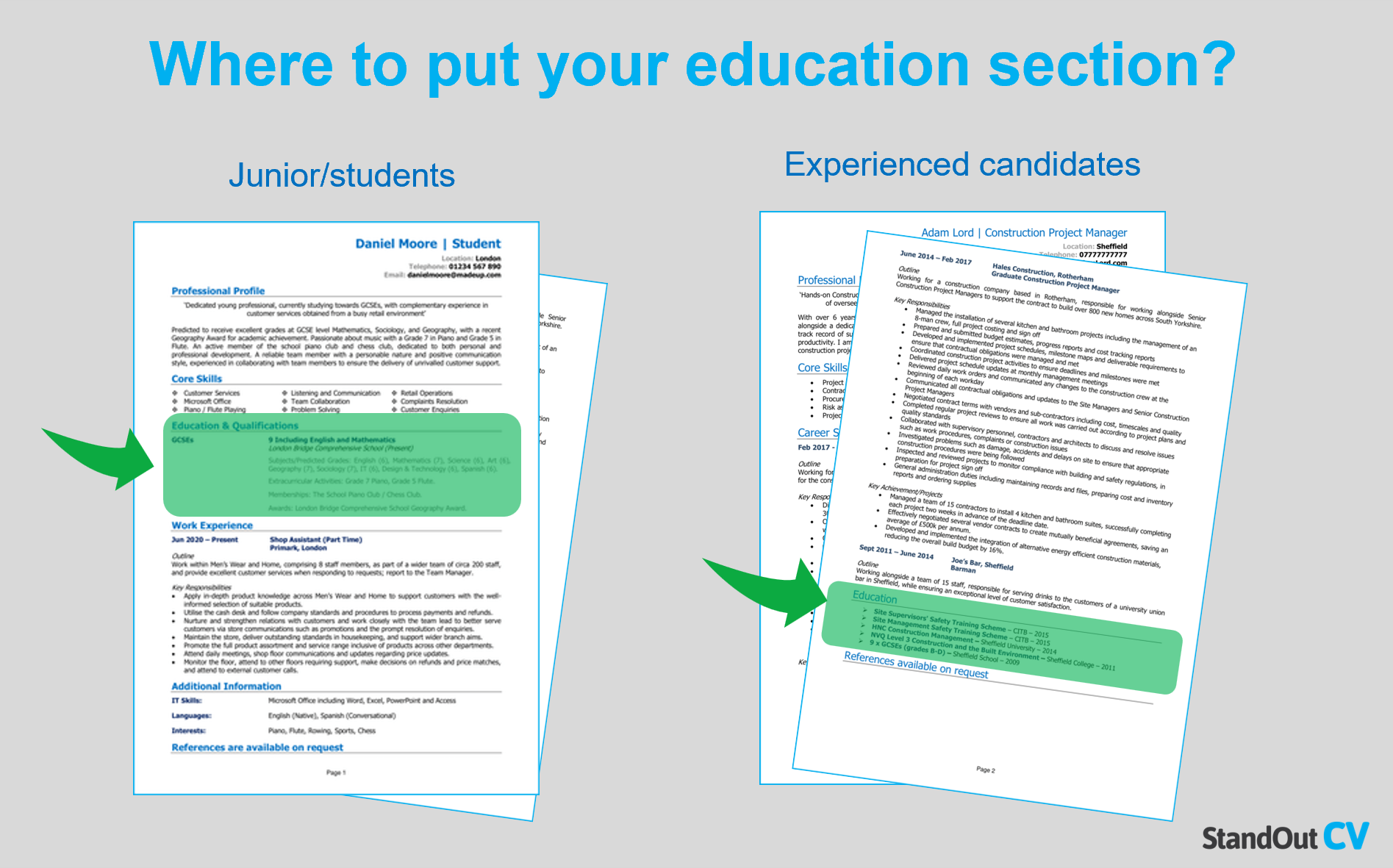 Formatting your education section
Your education needs to be easy for recruiters to navigate, so break it down into clear sections for each qualification, using bullet points and bold headings.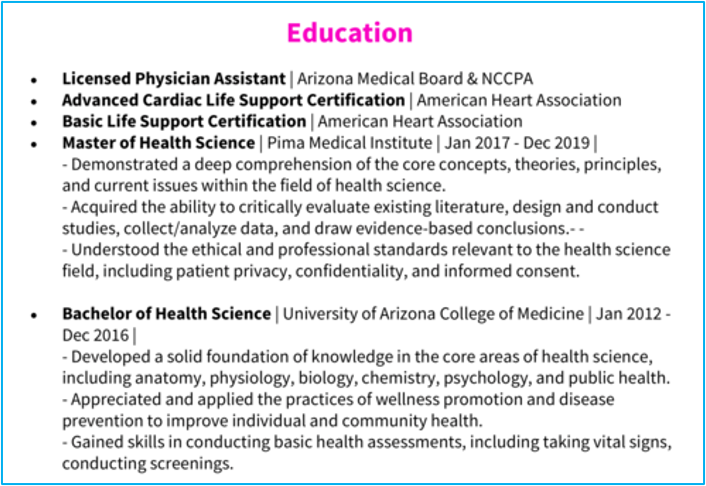 Head each entry with;
Name of qualification and subject
Institution studied at (school, college, university etc.)
Dates Studied
And for your most recent and relevant qualifications you should expand by adding details on:
Modules
Grades
Coursework
Projects
Awards and achievements
This will allow you to provide employers with plenty of detail on the skills and knowledge you picked up, along with the achievements you made.
For older and less relevant qualifications you don't have to provide as much detail because employers will be less interested. For example, if you have a marketing degree and are applying to marketing roles, it will be important to add lots of information on your marketing degree, but your primary school studies will not be as interesting to readers.
Adding your work experience (paid or unpaid)
As a student, it can be difficult to find experience to place in your resume. – especially if you don't have any paid work experience.
But the key to adding work experience to your student resume is being creative.
The work experience that you include in your resume doesn't have to be limited to full-time paid jobs only.
Think outside of the box and include any instances where you have shown initiative outside of your studies, such as:
Volunteer work – Volunteering for a local store or business in your industry can be a great way to learn relevant skills and add them to your resume.
School/University work placements – If you have done any work placements within your studies these will give you a great chance to prove your skill set and work ethic.
Freelancing – Getting freelance work is easier than ever now, thank to sites like Fiverr and PPH. Set up a summary and start offering freelance work, then add some of your projects to your resume.
Writing about these types of activities will give you plenty of opportunities to showcase workplace skills and prove you are a motivated candidate.

How to structure work experience in your resume
Use the structure below to write about your work experience and provide recruiters with a pleasant reading experience, whilst highlighting your skills and achievements.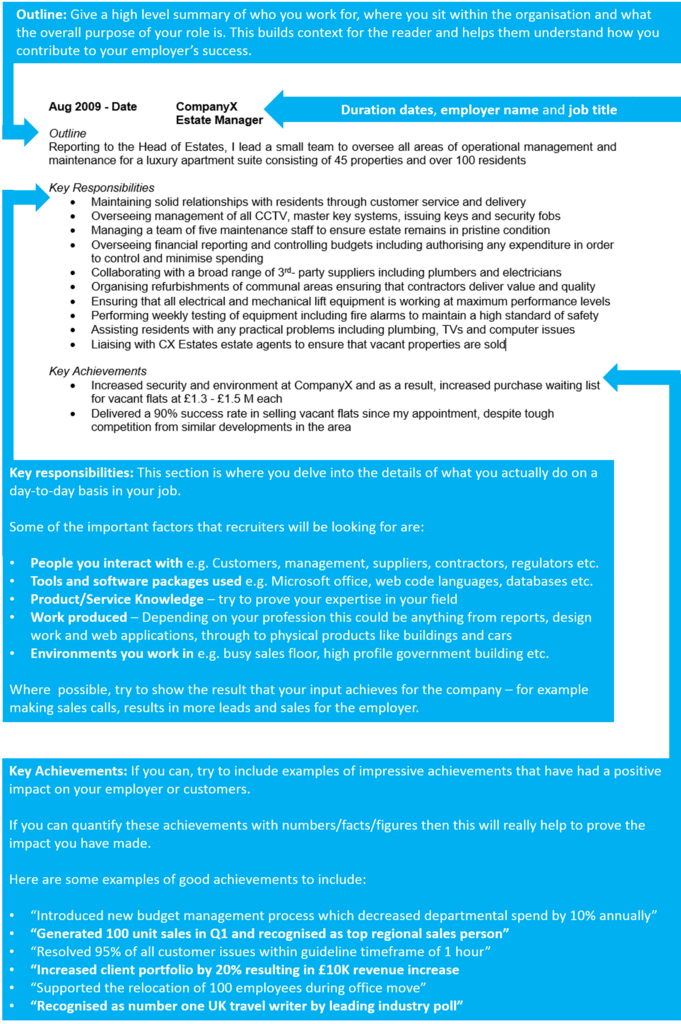 Hobbies and interests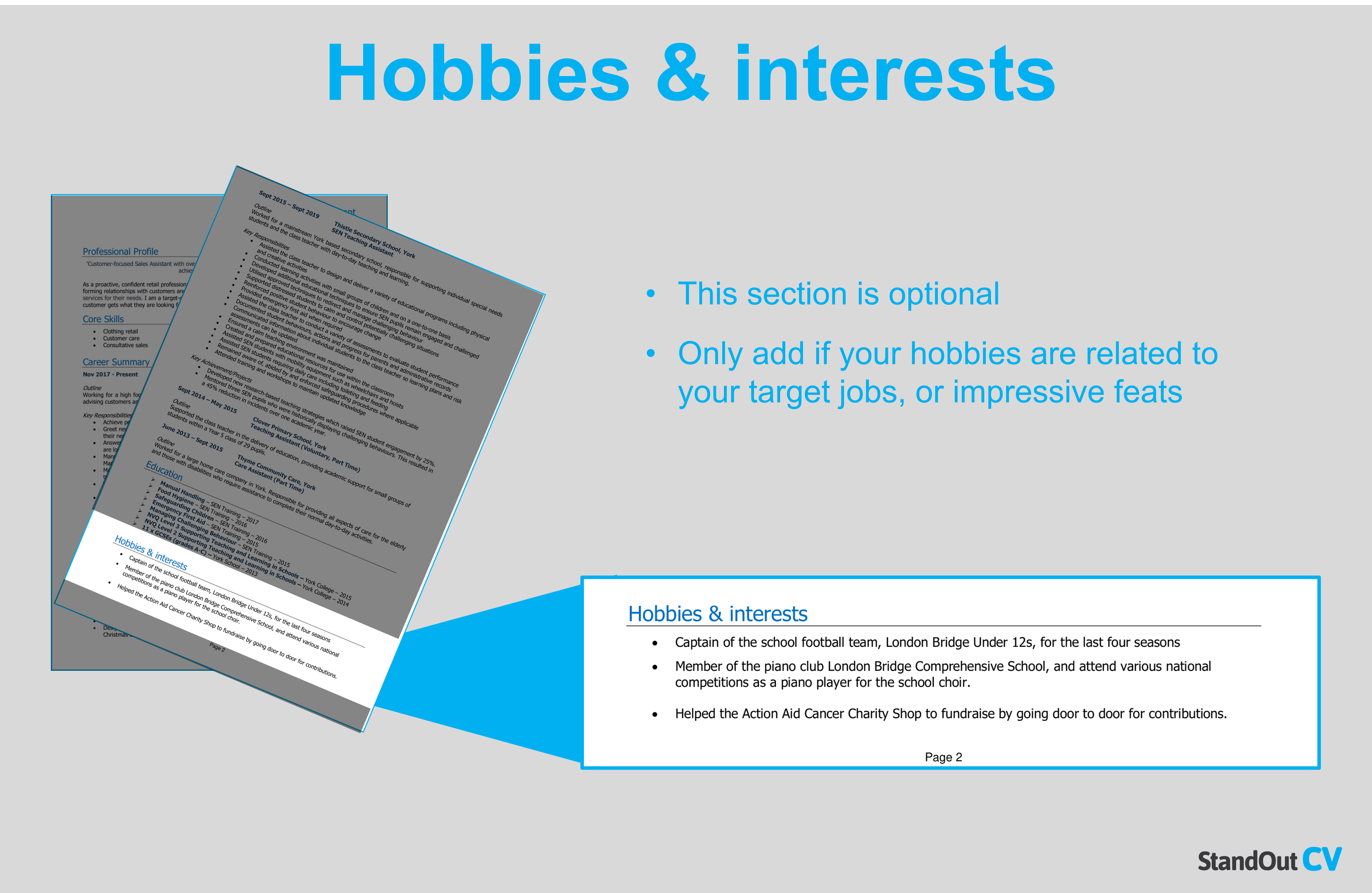 When you don't have much work experience, your hobbies and interests can be used to demonstrate lots of workplace skills and qualities.
Add interesting and constructive hobbies that will demonstrate a range of skills and personal traits, like the following
Playing for a sports team – Shows teamwork, dedication, leadership…
Being a member of a club – Shows organization, passion, consistency…
Writing a blog – Shows writing skills, pro-activity, tech knowledge…
World travel – Shows confidence, coordination, people skills…
Avoid common passive hobbies like…
Watching TV
Eating out
Going to the cinema
They are unlikely to impress anyone.
Check out my video on how to add hobbies and interests to your resume..

Using your student resume template
Once you've written a winning student resume, it's time to start landing job interviews.
Apply for jobs on multiple job websites with a strong cover letter, as well as searching for your target companies and sending them emails speculatively.
You would also benefit from attending jobs fairs locally and in major US cities.
Job hunting is never easy, so don't give up if you don't get responses straight away. Be patient, keep making applications and adjust your approach based on feedback.
Stay positive and you'll be in your dream job in no time.
You can also try our editable resume template.
Good luck with the job search!