You might not be Christian Dior, but you know your way around a sewing machine, and given any brief, you can create incredible costumes for TV or the stage.
So, if you're looking to land a position as a costume designer, you need to create a resume that sparkles brighter than a sequin jacket.
We can help you to weave together a standout resume with our step-by-step guide and costume designer resume example below.
Contents
| | |
| --- | --- |
| How to write a Costume Designer resume | |

Costume Designer Resume Example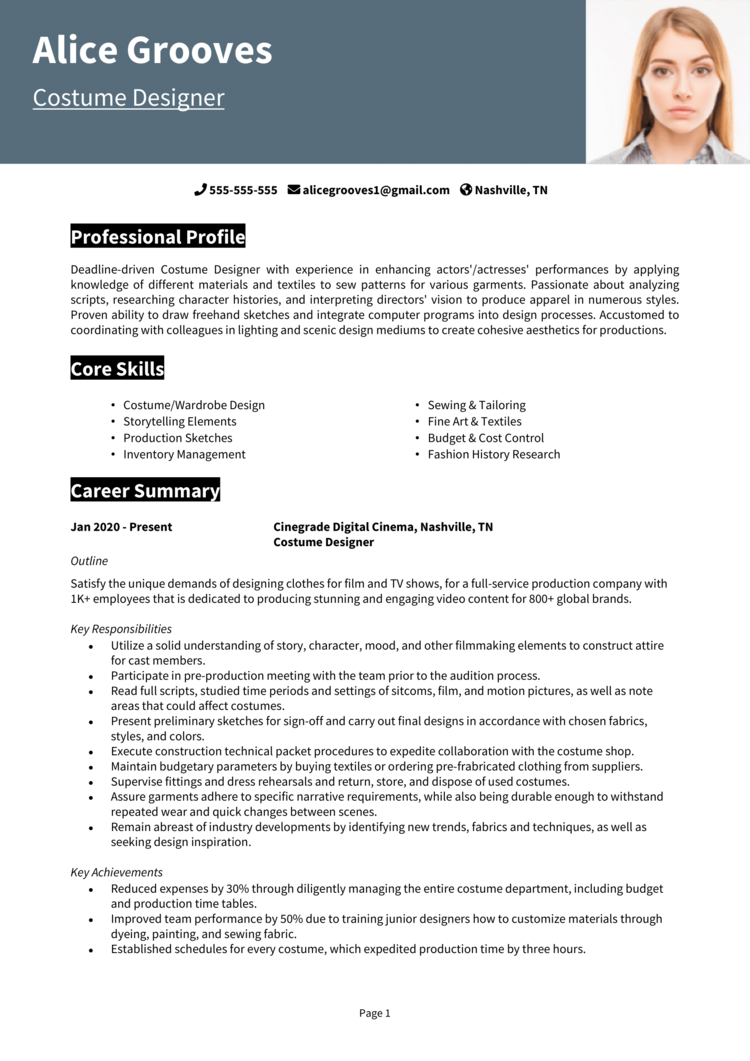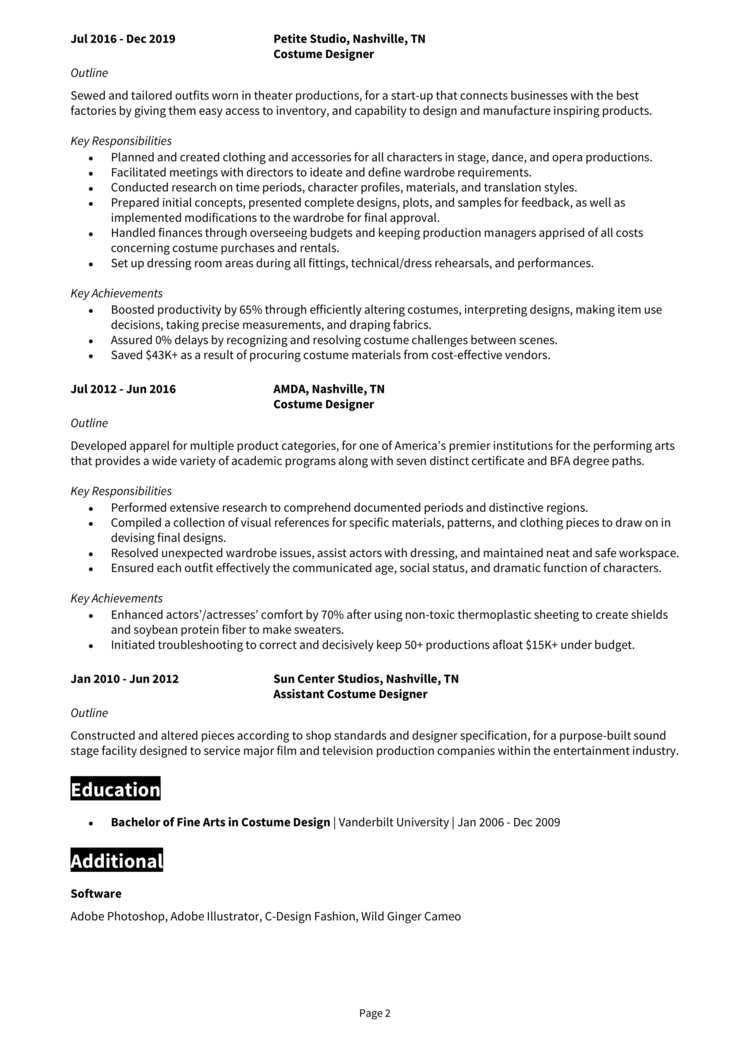 The example Costume Designer resume above shows you how a professional resume should look, along with the type of content it should contain.
You can see that the information is well-organized across the page and its easy for busy recruiters to see the candidate's important skills.
Keep this in mind when writing your own resume.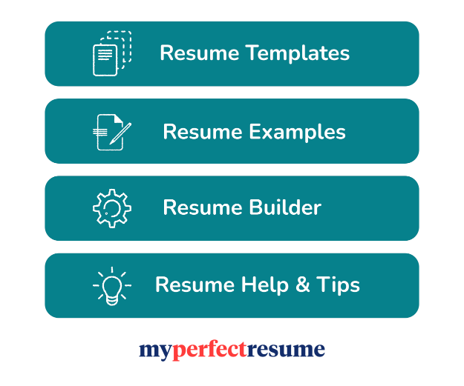 Costume Designer resume layout and formatting
Your resume layout and format will play a big role in helping hiring managers to take notice of your resume and stay glued to it.
Shoot for a simple yet professional look to ensure you make a strong first impression, and organize the page in a way that is easy for readers to digest the information.
The following formatting tips should help.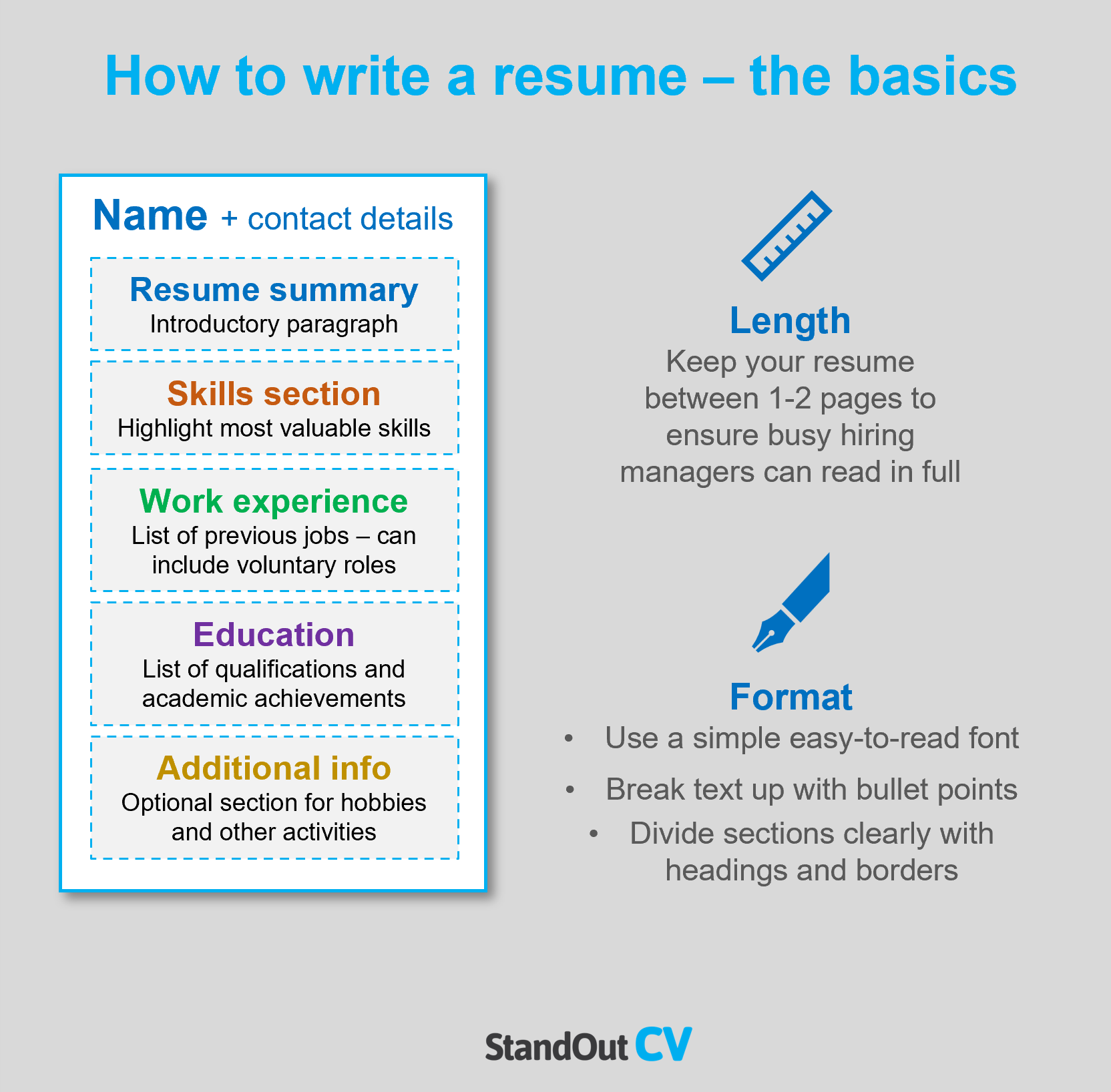 Formatting your resume
Length: To ensure that your resume gets proper attention from recruiters, it is best to keep it at 2 pages or less. Recruiters are often inundated with hundreds of resumes to review on a daily basis, so they want to read each one quickly as possible.
Font & readability: Complex fonts are a readers' worst nightmare and will leave recruiters struggling to understand your message. Use a clear simple lean font in a color that stands out against the page, and break your text up with bullet points to make the content easily digestible.
Layout & Structure: Your resume should look appealing – but don't overlook functionality when it comes to design. Organise the page into clear sections using bold headings and borders.
Photos: In the USA adding a photo to your resume is optional – you don't have to do it, but it can be a nice way to get your personality across.
Quick tip: Achieving a professional look for your resume can be difficult and time-consuming. If you want to create an attractive resume quickly, try our partner's Resume Builder and use one of their eye-catching resume templates.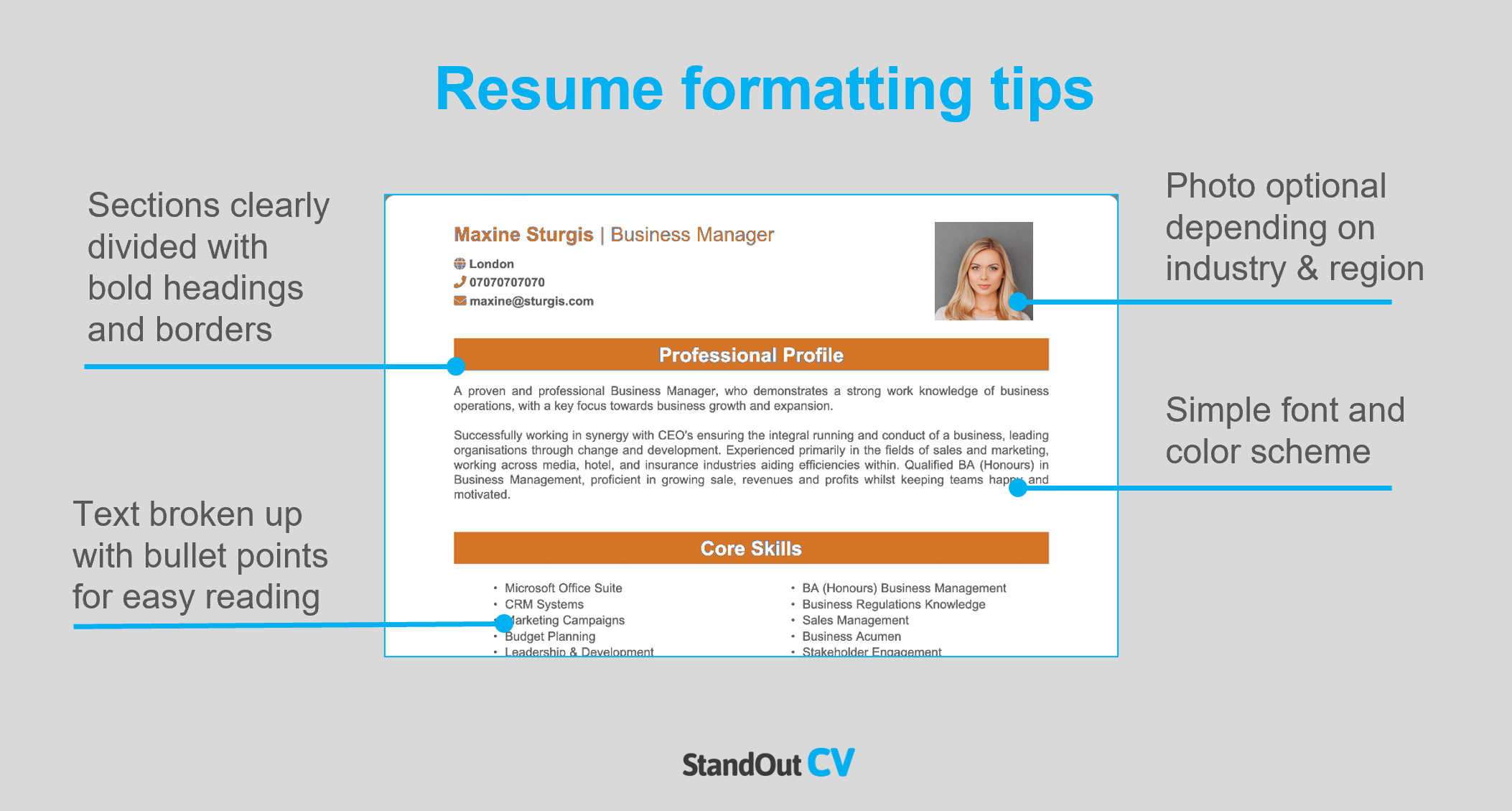 Resume layout
Divide the page into these sections when you write your own resume.
Name and contact details – Simply state who you are, and how to get in touch with you.
Resume summary – An introductory paragraph at the very top of your resume which summarizes your skills, experience and suitability for your target jobs.
Core skills section – A bullet-pointed list of your skills that relate most to your target jobs.
Work experience – A list of your current and previous jobs, including all of your responsibilities and achievements.
Education – A section that showcases all of your education and academic achievements.
Additional info (optional) – Here you can add an extra section for things like hobbies and interests, or anything else that might be relevant to your target jobs.
Here's what to include in each part of your resume.
Contact Details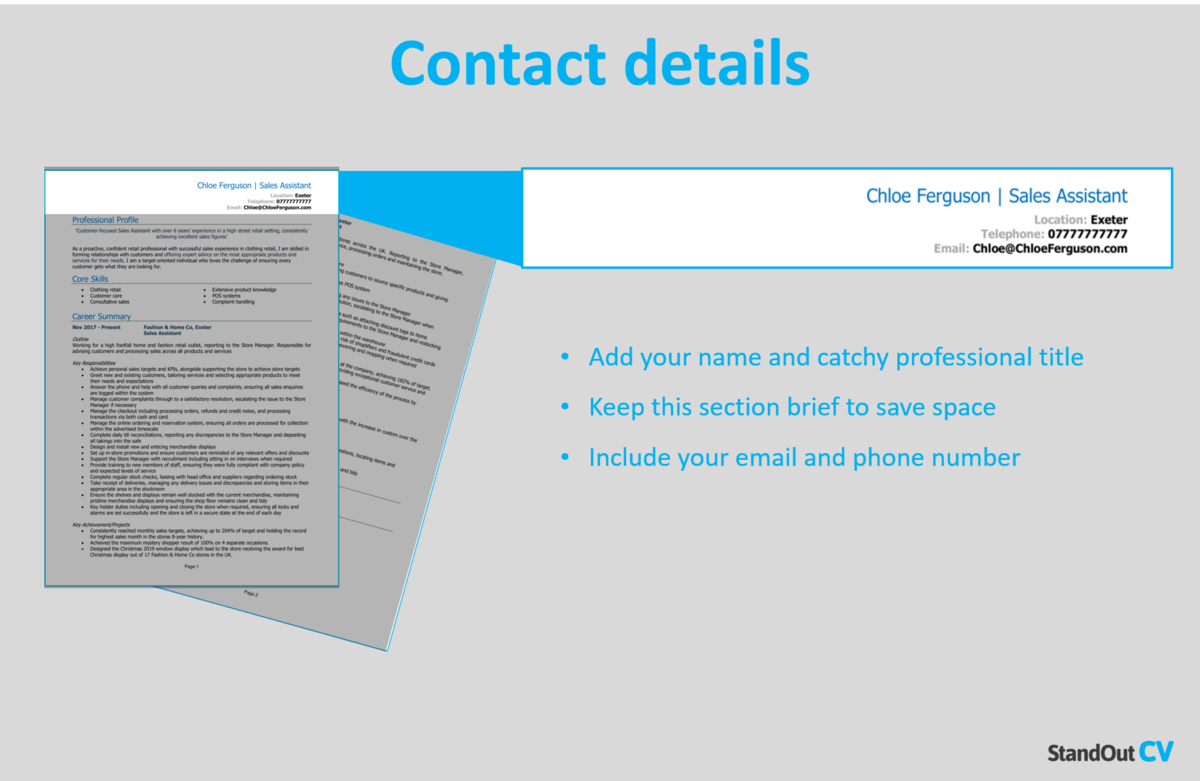 Keep your contact details short to save resume space and include the following.
Name and profession title
Cell phone number
Location – Add your local area such as Silicon Valley or New York, unless you are looking for work in a different location
Email address – Keep it professional and don't use an old address that you thought was cool in high school, but now looks a bit embarrassing.
You can add a link to your LinkedIn profile if you have one – you do not need to include personal details like date of birth or marital status.
Costume Designer Resume Summary
Make a strong first impression on recruiters by beginning your resume with a powerful summary that highlights your most valuable skills and experience.
This brief summary provides an opportunity to showcase why you're the ideal candidate for the job and persuade recruiters to read further into your resume.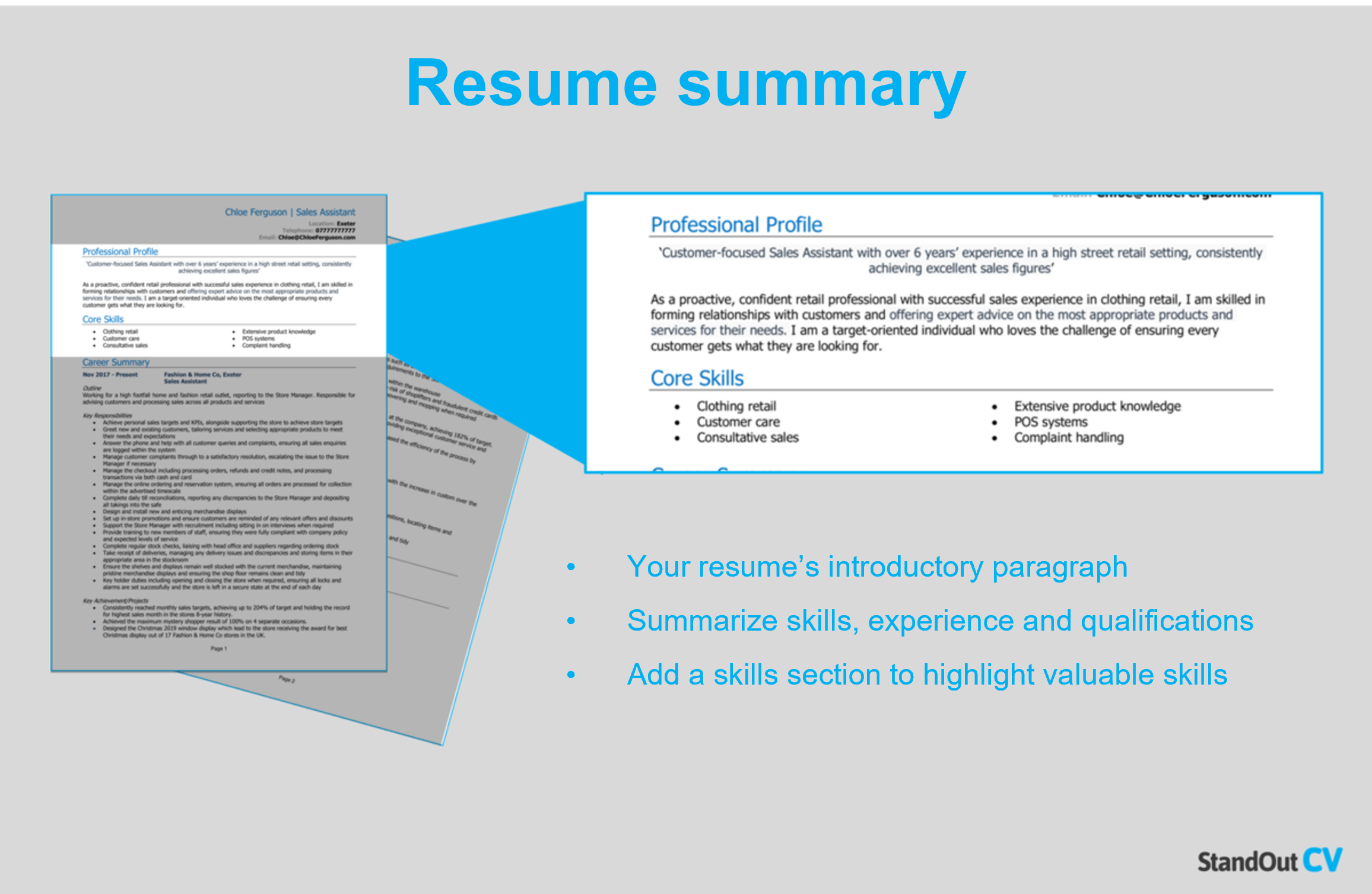 How to create a resume summary that will excite recruiters:
Keep it short: Attention spans are short in the job market, so keep your summary brief and high-level at around 4-7 lines – This is just enough to catch the eye of rushed hiring managers.
Tailor to target jobs: Recruiters will be scanning for the skills and knowledge they mentioned in the job description, so add as many as you can to your summary.
Avoid using cliches: To capture the attention of recruiters you must provide factual information, such as hard skills and qualifications, and avoid using empty phrases like "Go-getter who thinks outside the box."
Costume Designer resume summary example
Deadline-driven Costume Designer with experience in enhancing actors'/actresses' performances by applying knowledge of different materials and textiles to sew patterns for various garments. Passionate about analyzing scripts, researching character histories, and interpreting directors' vision to produce apparel in numerous styles. Proven ability to draw freehand sketches and integrate computer programs into design processes. Accustomed to coordinating with colleagues in lighting and scenic design mediums to create cohesive aesthetics for productions.
What to include in your Costume Designer resume summary?
Summary of your experience: Summarize the type of work you have done in the past and the ways in which you have contributed to the success of your previous employers.
Relevant skills: Highlight your skills which are most relevant to Costume Designer jobs, to ensure that recruiters see your most in-demand skills as soon as they open your resume.
Qualifications: Mention any Costume Designer qualifications that are important to your profession in the summary briefly, to show you are qualified to carry out the role.
Quick tip: Choose from hundreds of pre-written summaries across all industries, and add one to your resume with one-click in our partner's Resume Builder. All written by recruitment experts and easily tailored to suit your unique skillset and style.
Core skills section
Next, you should create a bullet pointed list of your core skills, formatted into 2-3 columns.
Here, you should focus on including the most important skills or knowledge listed in the job advertisement.
This will instantly prove that you're an ideal candidate, even if a recruiter only has time to briefly scan your resume.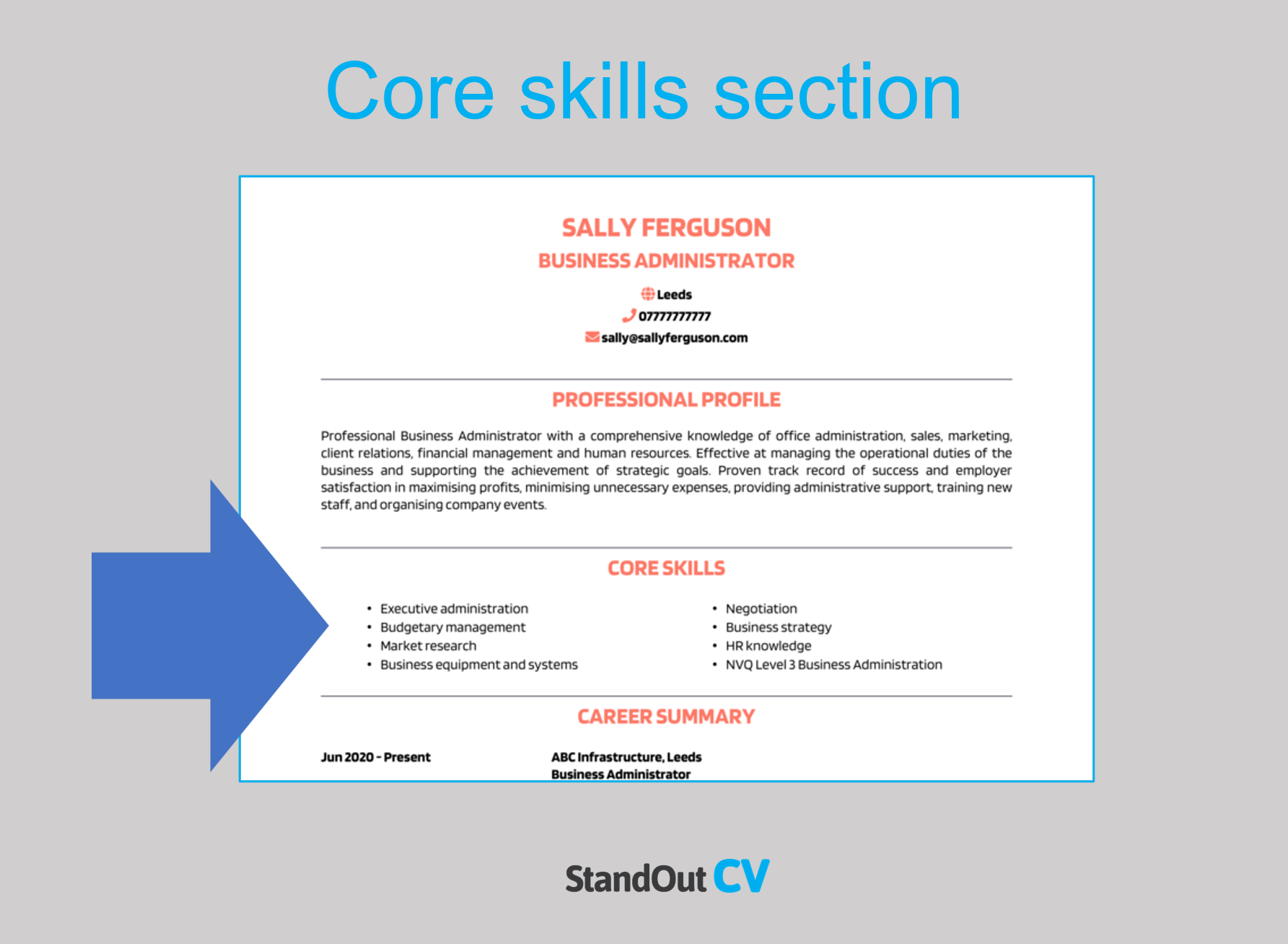 Best skills for your Costume Designer resume
Design – Creating original and visually compelling costume designs, based on the production's requirements, including research, sketches, and color palettes.
Fabric knowledge – Understanding different types of fabrics, including their properties and textures, to select the right fabrics for different costumes.
Sewing – Sewing and constructing costumes, using different types of sewing techniques, including hand stitching, machine sewing, and pattern making.
Costume fittings – Conducting costume fittings, including taking measurements and making adjustments, to ensure that costumes fit properly and comfortably.
Project management – Managing projects effectively, including meeting production deadlines and completing costume designs and construction on time.
Cross functional collaboration – Collaborating with directors, producers, and other members of the production team, including actors, to ensure that costume designs and execution meet production requirements.
Budget management – Utilizing knowledge of budgeting and resource management to manage costume budgets, to ensure that costs are within budget while still achieving high-quality costume designs.
Period and historical costume design – Understanding period and historical costume design, including fashion trends and cultural contexts, to create historically accurate and visually compelling costumes.
Wardrobe management – Managing and maintaining costumes, including cleaning and storage, to ensure that costumes are kept in good condition and can be reused for future productions.
Technical knowledge – Working with specialized equipment and techniques, including dyeing fabrics, distressing costumes, and creating special effects, to enhance costume designs and create unique visual effects.
Quick tip: Our partner's Resume Builder contains thousands of in-demand skills for every profession that can be added to your resume in seconds – saving you time and greatly improving your chances of landing job interviews and getting hired.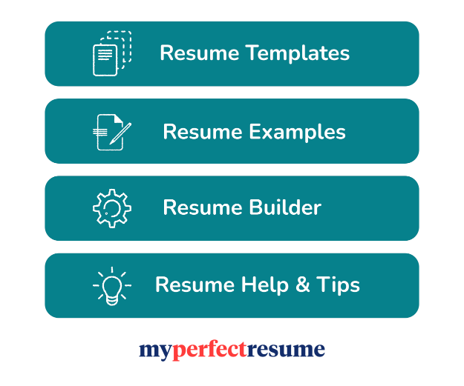 Work experience
Now that you've reeled recruiters in with your awesome summary, it's time to delve into your work experience.
Here you'll list your previous jobs (starting with your most recent and working backward) and showcase how you apply your skills in the workplace.
Provide lots of detail in recent jobs, and less in older roles.
If you have no relevant paid experience, you can include voluntary work and placements – but if you have lots of experience, you can leave out some of the really old jobs.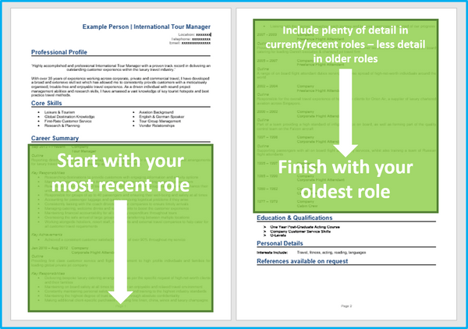 Structuring your jobs
Without a good structure, your job description can look messy and overwhelming to anyone reading them.
Make it easy for recruiters to read your work experience by structuring your roles like this.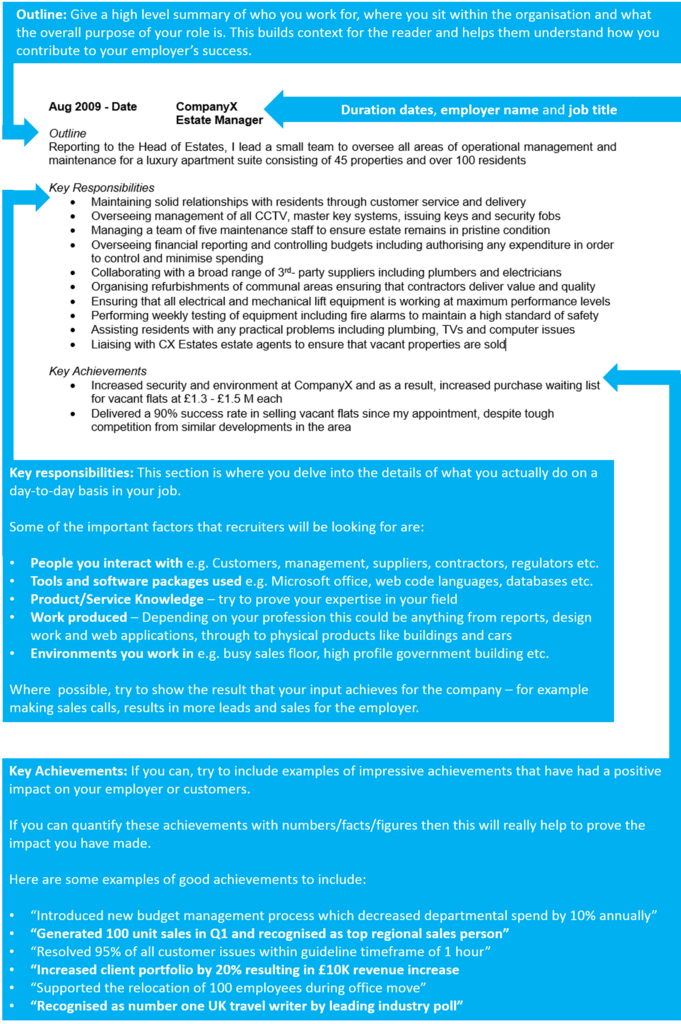 Job outline
Each role description should begin with a qucik summary of the job and company, along with how the job fits into the strucuture of the organization.
Key responsibilities
Then delve into the detail of your job by listing out easy-to-read bullet points which show how you apply your skills in the workplace.
Tailor these bullet points to focus on the skills and knowledge that are required in the jobs you are applying for.
Key achievements
Show employers the value you can bring to them by adding a few achievements to your jobs.
Whether you've saved the company money or improved an internal process, let recruiters know
Add some numbers to give readers a real scale of the impact, e.g. "reduced call wait time by 10%"
Example job for Costume Designer resume
Outline
Satisfy the unique demands of designing clothes for film and TV shows, for a full-service production company with 1K+ employees that is dedicated to producing stunning and engaging video content for 800+ global brands.
Key Responsibilities
Utilize a solid understanding of story, character, mood, and other filmmaking elements to construct attire for cast members.
Participate in pre-production meeting with the team prior to the audition process.
Read full scripts, studied time periods and settings of sitcoms, film, and motion pictures, as well as note areas that could affect costumes.
Present preliminary sketches for sign-off and carry out final designs in accordance with chosen fabrics, styles, and colors.
Quick tip: Create impressive job descriptions easily in our partner's Resume Builder by adding pre-written job phrases for every industry and career stage.

Education section
Nearing the end of your resume, your education/qualifications section should be added.
In a well-structured list, add all of your qualifications and certifications that qualify you to perform a typical Costume Designer role.
If you have plenty of work experience, keep this section brief – if not, add lots of detail to make up for your lack of experience.
Additional information
The additional info section is optional but can be useful if you have anything else to add that could benefit your application.
For example, you may have some hobbies and interests that are relevant to your job – or you might have awards or publications to shout about.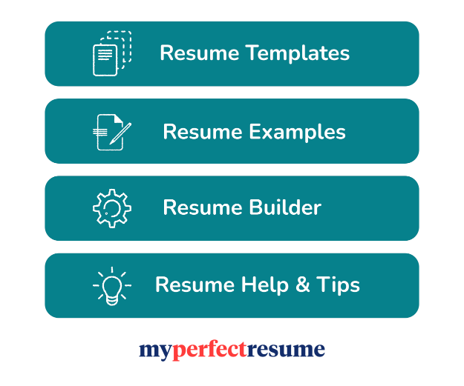 Writing your own winning Costume Designer resume
Writing a Costume Designer resume can be challenging but following the steps above will ensure that you land plenty of interviews.
Good luck with your job search!