Whether you go by warehouse picker, order picker or even picker packer, this energetic role requires the careful selection and preparation of orders for shipping.
Because there are so many retailers out there, warehouse pickers are very in demand right now, but even so, you still need to create a killer CV if you hope to impress recruiters.
To do this, you can use our top tips and example of a warehouse picker CV below.
Guide contents
Warehouse Picker CV example
Structuring and formatting your CV
Writing your CV profile
Detailing work experience
Your education
Skills required for your Warehouse Picker CV

Warehouse Picker CV example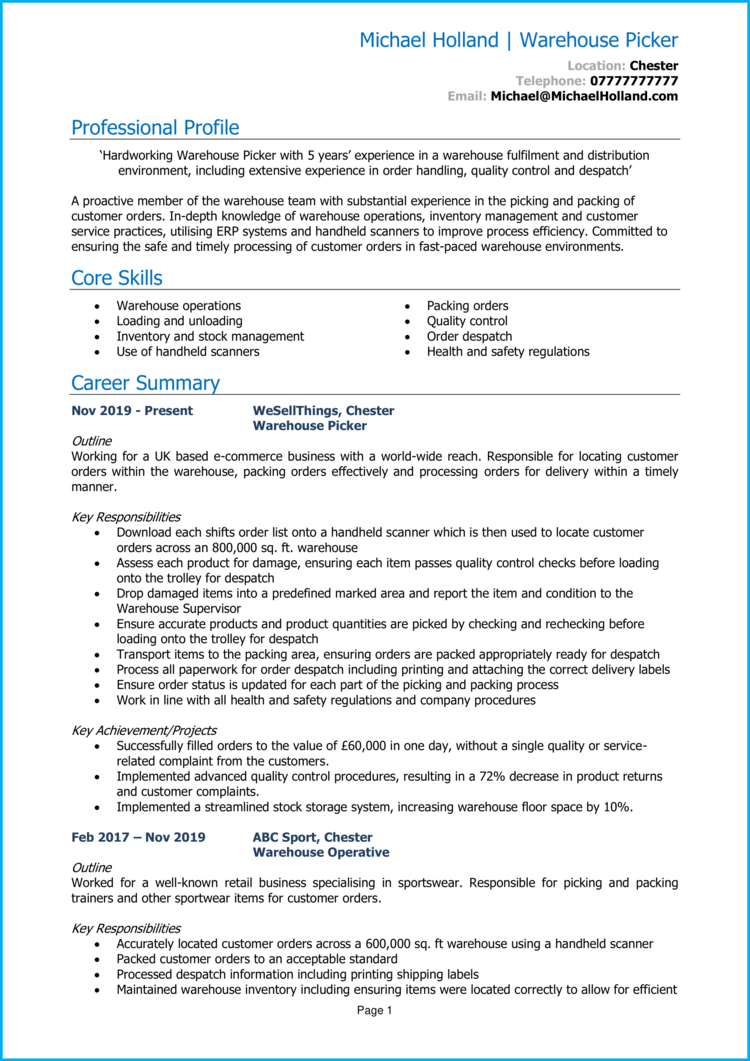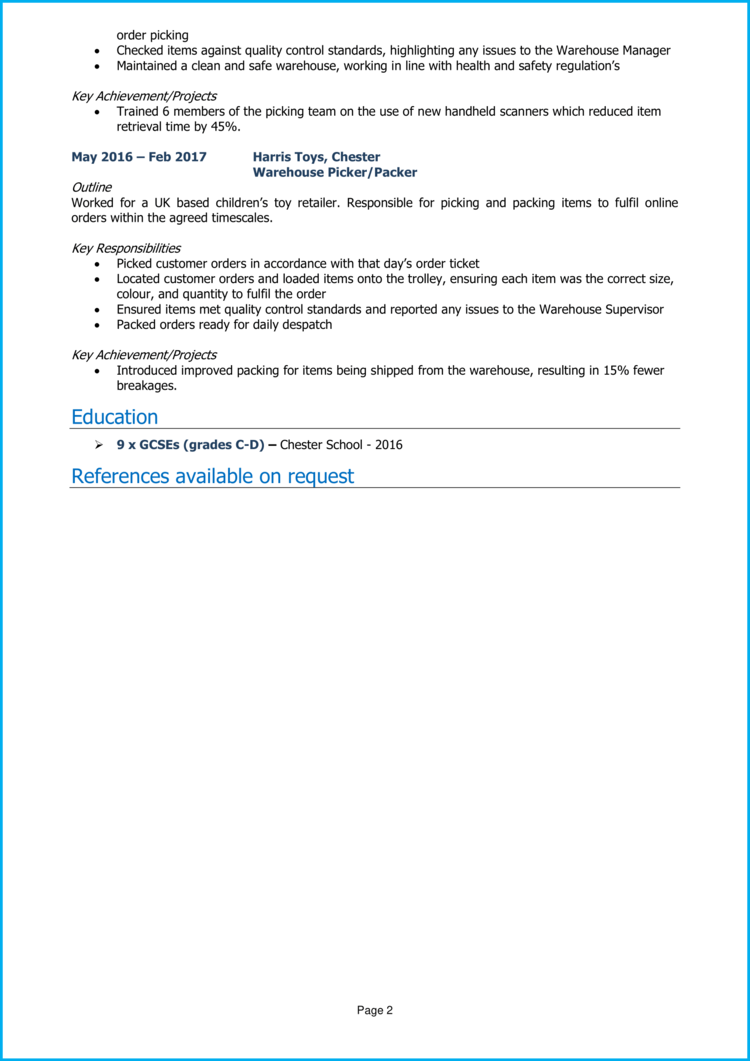 This a good example of a Warehouse Picker CV which contains all of the information that an employer would need to know, and presents it in a well- structured, easy-to-read manner.
Take some time to look at this CV and refer to it throughout the writing of your own CV for best results.
Warehouse Picker CV structure and format
Your CV is the very first impression you'll make on a potential employer.
A disorganised, cluttered and barely readable CV could seriously decrease your chances of landing interviews, so it's essential to make sure yours is slick, professional and easy to navigate.
You can do this by employing a clear structure and formatting your content with some savvy formatting techniques – check them out below: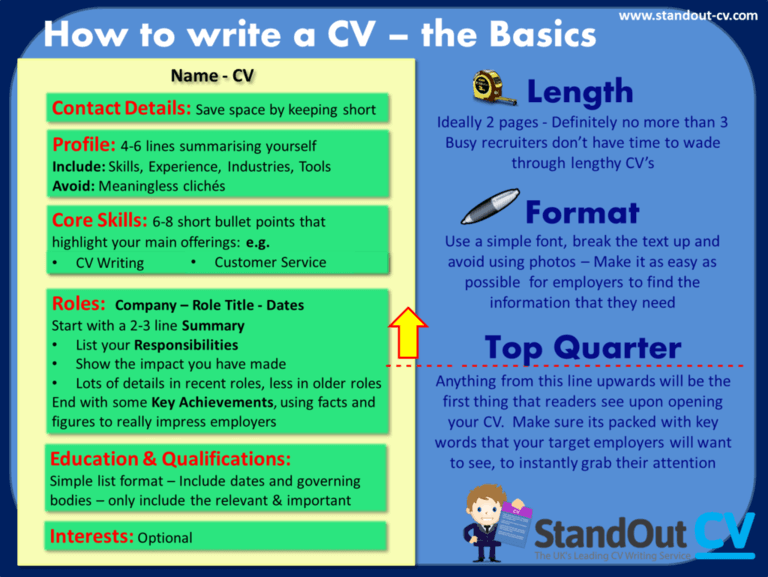 Formatting Tips
Length: While there's no 'official' CV length rule, the majority of recruiters agree that less is more. Aim for two pages of A4 or less. This is just enough room to showcase your suitability to the role, without overwhelming recruiters with irrelevant or excessive content.
Readability: By clearly formatting your section headings (bold, or a different colour font, do the trick) and breaking up big chunks of text into snappy bullet points, time-strapped recruiters will be able to skim through your CV with ease.
Design: The saying 'less is more' couldn't be more applicable to CVs. Readability is key, so avoid overly complicated designs and graphics. A subtle colour palette and easy-to-read font is all you need!
Avoid photos: If your CV has photos, images or profile pictures, hit the delete button. They're not needed and won't add any value to your applications.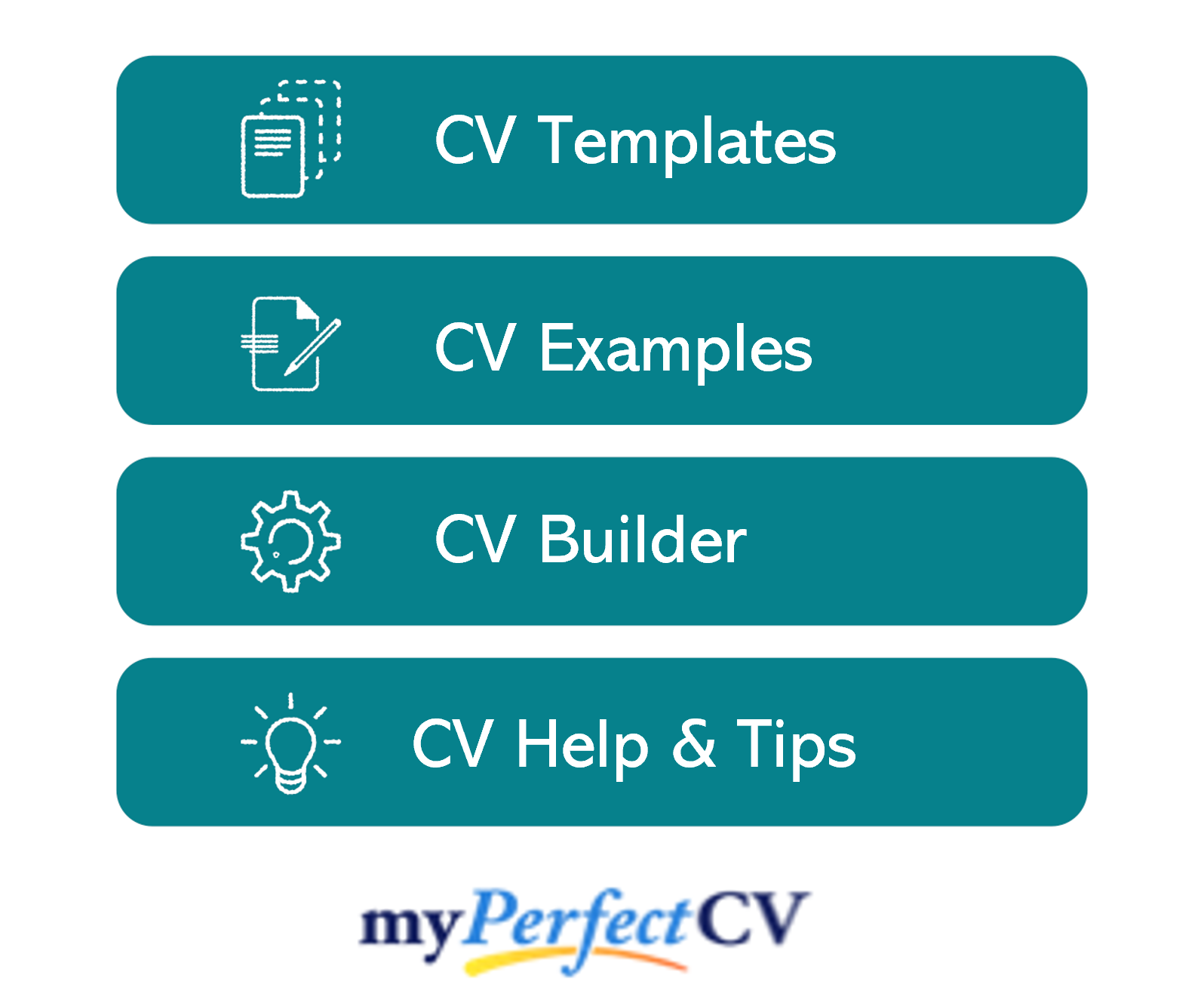 Structuring your CV
As you write your CV, work to the simple but effective structure below:
Name and contact details – Pop them at the top of your CV, so it's easy for recruiters to contact you.
CV profile – Write a snappy overview of what makes you a good fit for the role; discussing your key experience, skills and accomplishments.
Core skills section – Add a short but snappy list of your relevant skills and knowledge.
Work experience – A list of your relevant work experience, starting with your current role.
Education – A summary of your relevant qualifications and professional/vocational training.
Hobbies and interests – An optional sections, which you could use to write a short description of any relevant hobbies or interests.
Now I'll guide you through exactly what you should include in each CV section.
CV Contact Details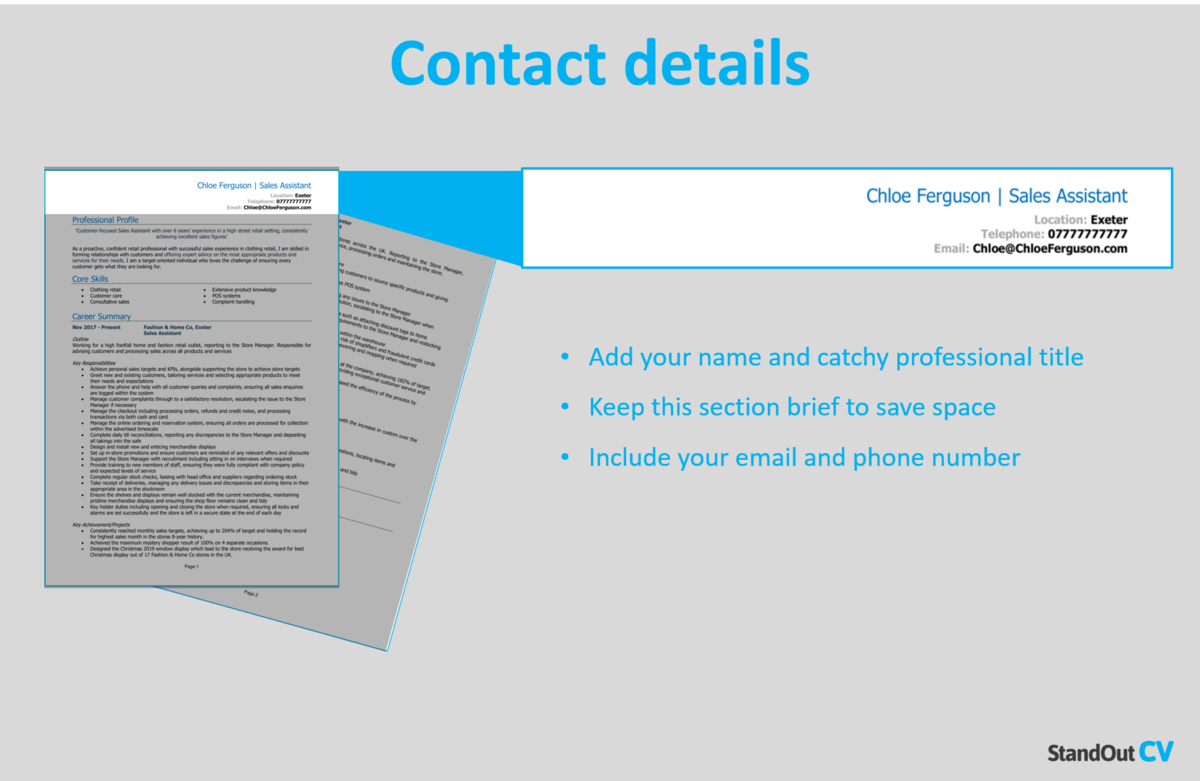 Start off your CV with a basic list of your contact details.
Here's what you should include:
Mobile number
Email address – It's often helpful to make a new email address, specifically for your job applications.
Location – Share your town or city; there's no need for a full address.
LinkedIn profile or portfolio URL – Make sure the information on them is coherent with your CV, and that they're up-to-date
Quick tip: Delete excessive details, such as your date of birth or marital status. Recruiters don't need to know this much about you, so it's best to save the space for your other CV sections.
Warehouse Picker CV Profile
Your CV profile is basically a short introductory paragraph, which summarises your key selling points and highlights why you'd make a good hire.
So, write a well-rounded summary of what you do, what your key skills are, and what relevant experience you have.
It needs to be short, snappy and punchy and, ultimately, entice the reader to read the rest of your CV.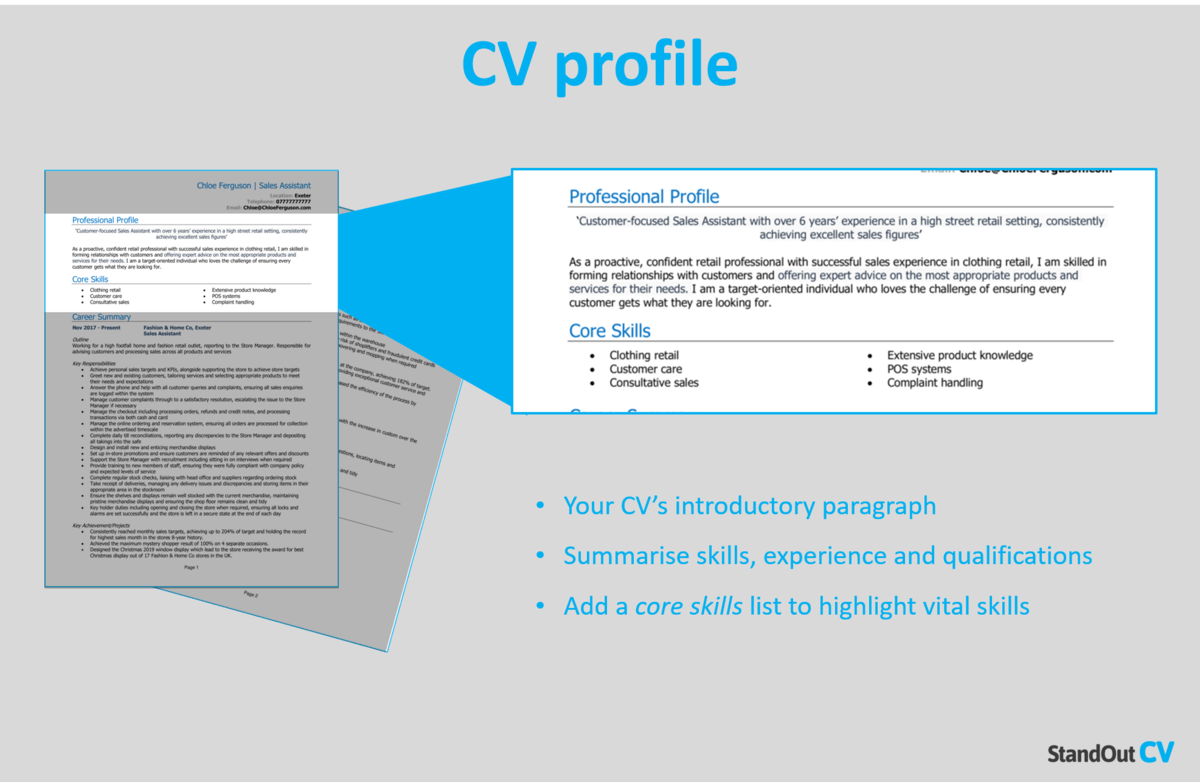 Tips for creating an impactful CV profile:
Keep it brief: It might be tempting to submit a page-long CV profile, but recruiters won't have the time to read it. To ensure every word gets read, it's best to include high-level information only; sticking to a length of 3-5 lines.
Tailor it: Not tailoring your profile (and the rest of your CV) to the role you're applying for, is the worst CV mistake you could make. Before setting pen to paper, look over the job ad and make a note of the skills and experience required. Then, incorporate your findings throughout.
Don't add an objective: Leave your career objectives or goals out of your profile. You only have limited space to work with, so they're best suited to your cover letter.
Avoid cliches: Clichés like "blue-sky thinker with a go-getter attitude" might sound impressive to you, but they don't actually tell the recruiter much about you. Concentrate on highlighting hard facts and skills, as recruiters are more likely to take these on board.
What to include in your Warehouse Picker CV profile?
Summary of experience: To give employers an idea of your capabilities, show them your track record by giving an overview of the types of companies you have worked for in the past and the roles you have carried out for previous employers – but keep it high level and save the details for your experience section.
Relevant skills: Employers need to know what skills you can bring to their organisation, and ideally they want to see skills that match their job vacancy. So, research your target roles thoroughly and add the most important Warehouse Picker skills to your profile.
Essential qualifications: If you have any qualifications which are highly relevant to Warehouse Picker jobs, then highlight them in your profile so that employers do not miss them.
Quick tip: Your CV is your first impression on recruiters, so it's vital to avoid spelling and grammar mistakes if you want to appear professional. Use our partner's CV builder to add pre-written content that has been crafted by recruitment experts.
Core skills section
In addition to your CV profile, your core skills section provides an easily digestible snapshot of your skills – perfect for grabbing the attention of busy hiring managers.
As Warehouse Picker jobs might receive a huge pile of applications, this is a great way to stand out and show off your suitability for the role.
It should be made up of 2-3 columns of bullet points and be made up of skills that are highly relevant to the jobs you are targeting.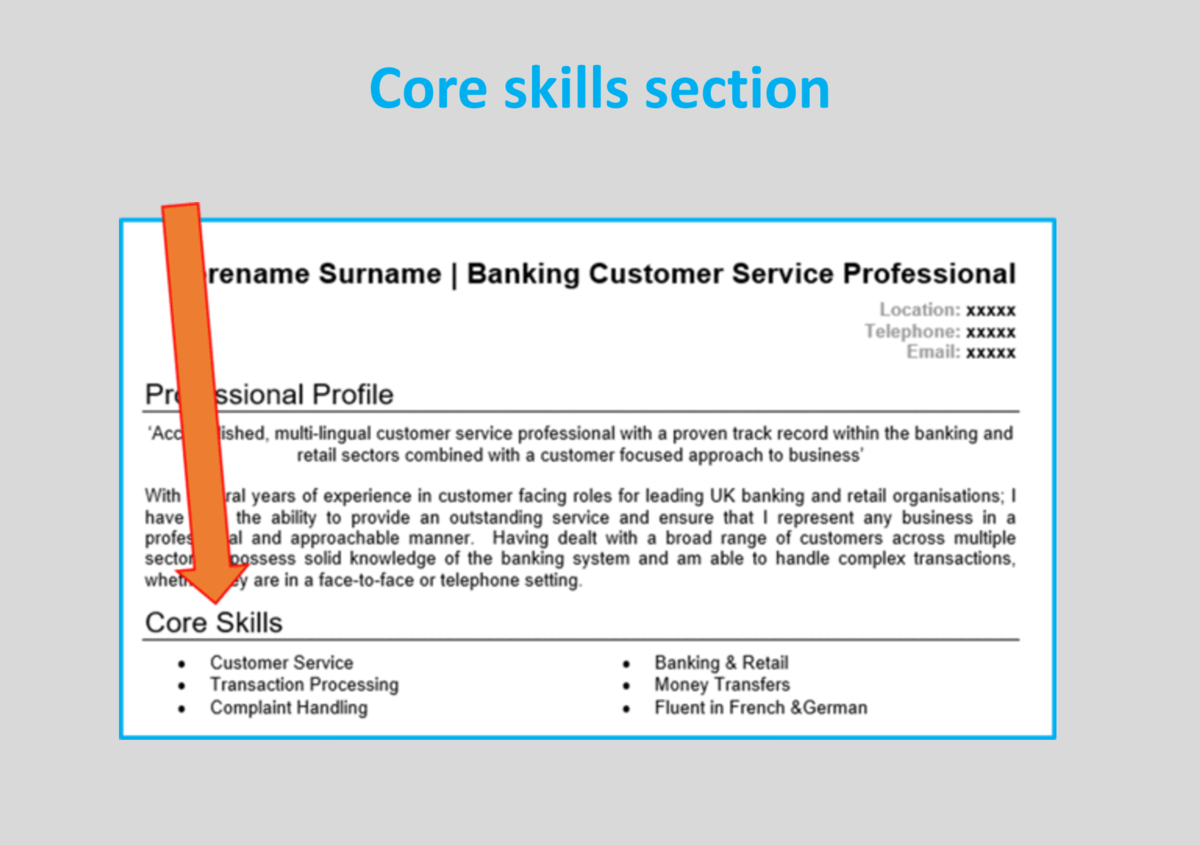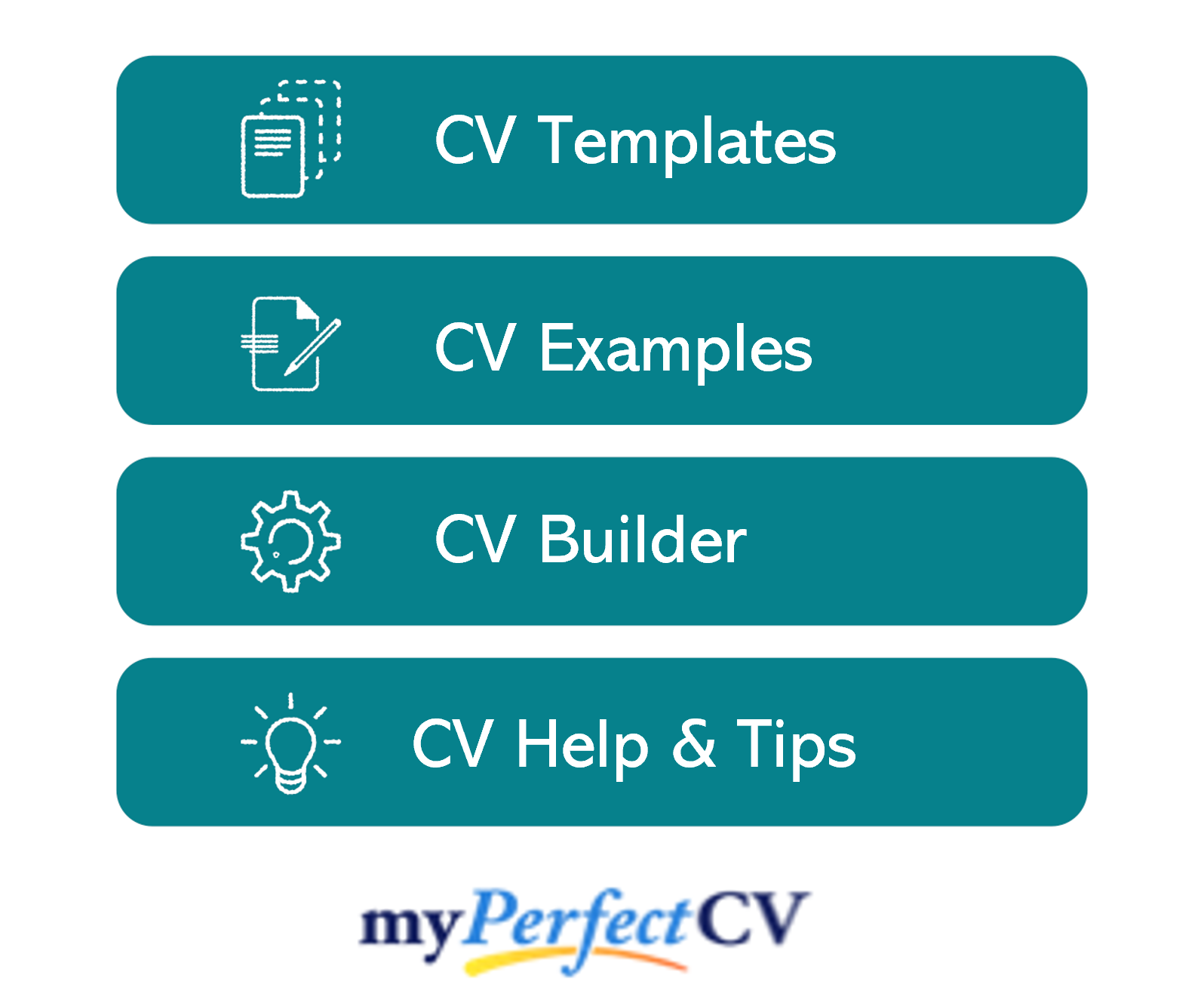 Work experience/Career history
Now it's time to get stuck into your work experience, which should make up the bulk of your CV.
Begin with your current (or most recent) job, and work your way backwards.
If you've got too much experience to fit onto two pages, prioritise space for your most recent and relevant roles.
Structuring your roles
The structure of your work experience section can seriously affect its impact.
This is generally the biggest section of a CV, and with no thought to structure, it can look bulky and important information can get lost.
Use my 3-step structure below to allow for easy navigation, so employers can find what they are looking for:
Outline
Begin with a summary of your role, detailing what the purpose of your job was, who you reported to and what size of team you were part of (or led).
Key responsibilities
Follow with a snappy list of bullet points, detailing your daily duties and responsibilities.
Tailor it to the role you're applying for by mentioning how you put the target employer's desired hard skills and knowledge to use in this role.
Key achievements
Finish off by showcasing 1-3 key achievements made within the role.
This could be anything that had a positive effect on your company, clients or customers, such as saving time or money, receiving exemplary feedback or receiving an award.
Education
At the bottom of your CV is your full education section. You can list your formal academic qualifications, such as:
As well as any specific Warehouse Picker qualifications that are essential to the jobs you are applying for.
Note down the name of the qualification, the organisation at which you studied, and the date of completion.
Interests and hobbies
The hobbies and interests CV section isn't mandatory, so don't worry if you're out of room by this point.
However, if you have an interesting hobby, or an interest that could make you seem more suitable for the role, then certainly think about adding.
Be careful what you include though… Only consider hobbies that exhibit skills that are required for roles as a Warehouse Picker, or transferable workplace skills.
There is never any need to tell employers that you like to watch TV and eat out.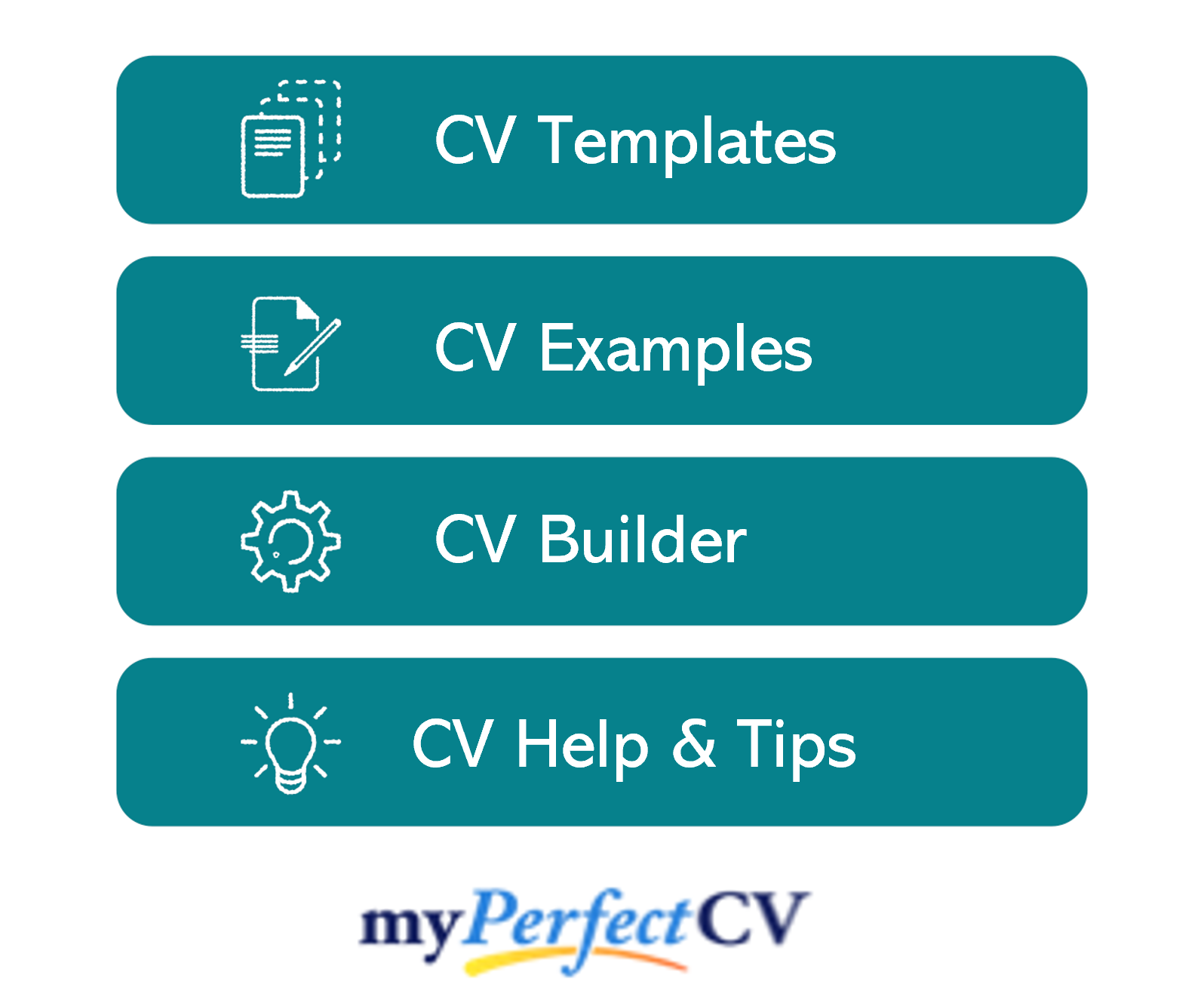 Essential skills for your Warehouse Picker CV
Tailoring your CV to the roles you are applying for is key to success, so make sure to read through the job descriptions and tailor your skills accordingly.
However, commonly desired Warehouse Picker skills include:
Picking: One of the most obvious skills you are going to need is attention to detail in order to make sure you're picking the right items when requested
Packing: You might also be required to neatly and carefully pack away incoming stock
Stocktaking: Warehouse pickers will also have to take inventory of stock and report any shortages
Keeping records: You will be expected to take note of incoming and outgoing shipments and keep clear records
Basic IT skills: Warehouse roles require the use of different technologies; therefore basic IT skills are important, as is the ability to learn to use new tools such as barcode scanners and logistics software
Writing your Warehouse Picker CV
An interview-winning CV for a Warehouse Picker role, needs to be both visually pleasing and packed with targeted content.
Whilst it needs to detail your experience, accomplishments and relevant skills, it also needs to be as clear and easy to read as possible.
Remember to research the role and review the job ad before applying, so you're able to match yourself up to the requirements.
If you follow these guidelines and keep motivated in your job search, you should land an interview in no time.
Best of luck with your next application!