When you're still in education and have limited work experience, it can be difficult to create an impressive CV.
But, by using well defined CV structure, and highlighting your transferable skills, you can still get noticed by employers and get job interviews.
I have put together this detailed guide which includes a CV example for a 15 year old, to aid you in producing a CV that will get you hired.
Guide content
CV examples
Structuring and formatting your CV
Writing your CV profile
Your education
Vital skills for your CV

CV for 15 year old example 1

CV for 15 year old example 2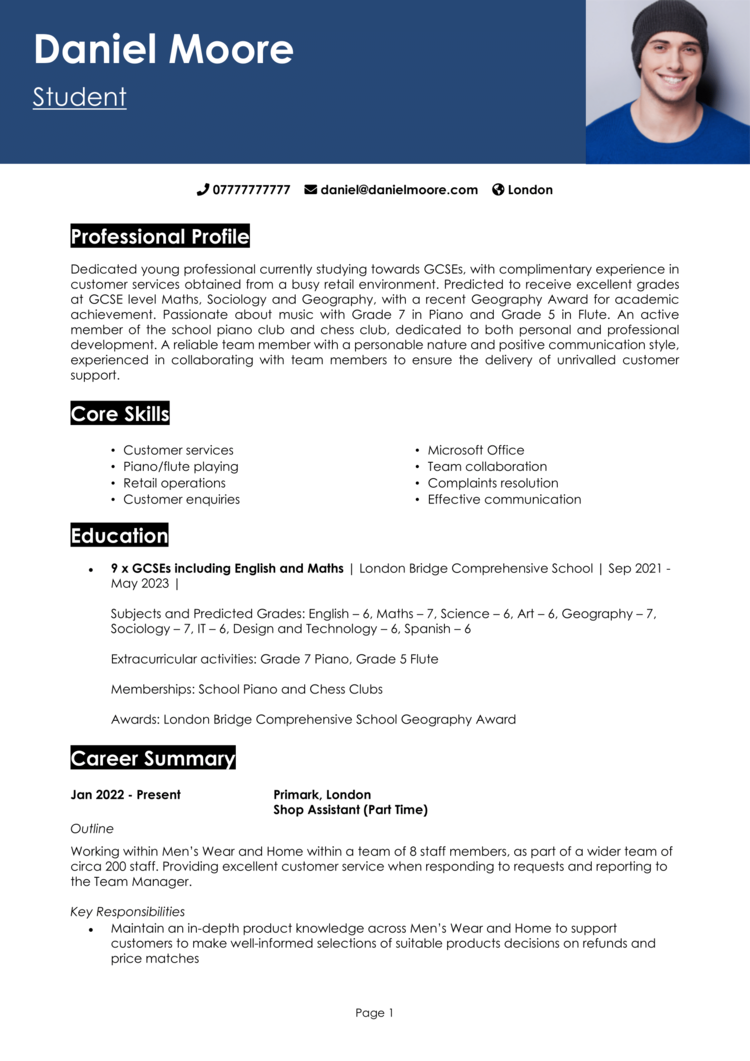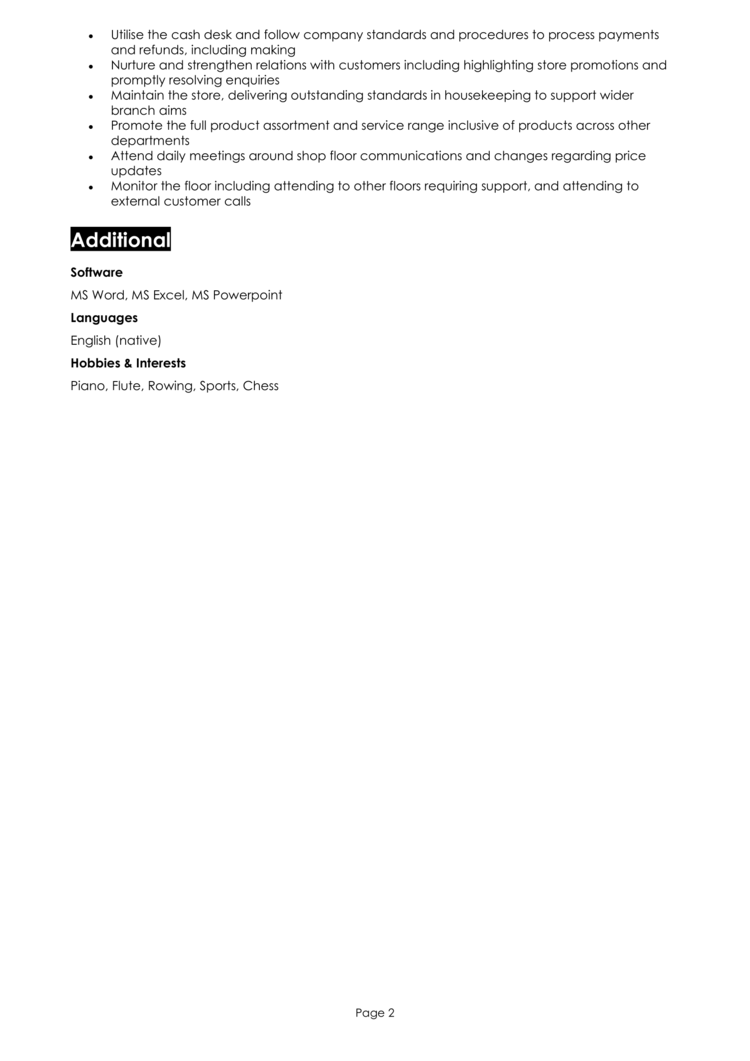 The above CV examples, show how to correctly format your CV even if you have no work experience and how to make your educational history a focal point.
This guide, will walk you through how to create your own engaging and visually pleasing CV.

CV structure & format
Facilitate ease of reading with a strong CV format, allowing recruiters to pinpoint vital details within your CV.
Make your CV easy to navigate by using defined sections and bold headers, meaning recruiters don't have to dig through reams of text to find key details.
The below infographic supports you in how to write a CV, giving you the basics of what sections to include.
Formatting Tips
An ideal CV length is 1 to 2 sides of A4, if you have limited experience it's okay to submit a CV of 1 side of A4
Keep to a simple CV design with a muted colour pallet and clear font, and avoid an over-complicated design just distracts recruiters' attention
Avoid incorporating imagery such as company or school logos or headshots, these take up valuable space within your CV without adding any value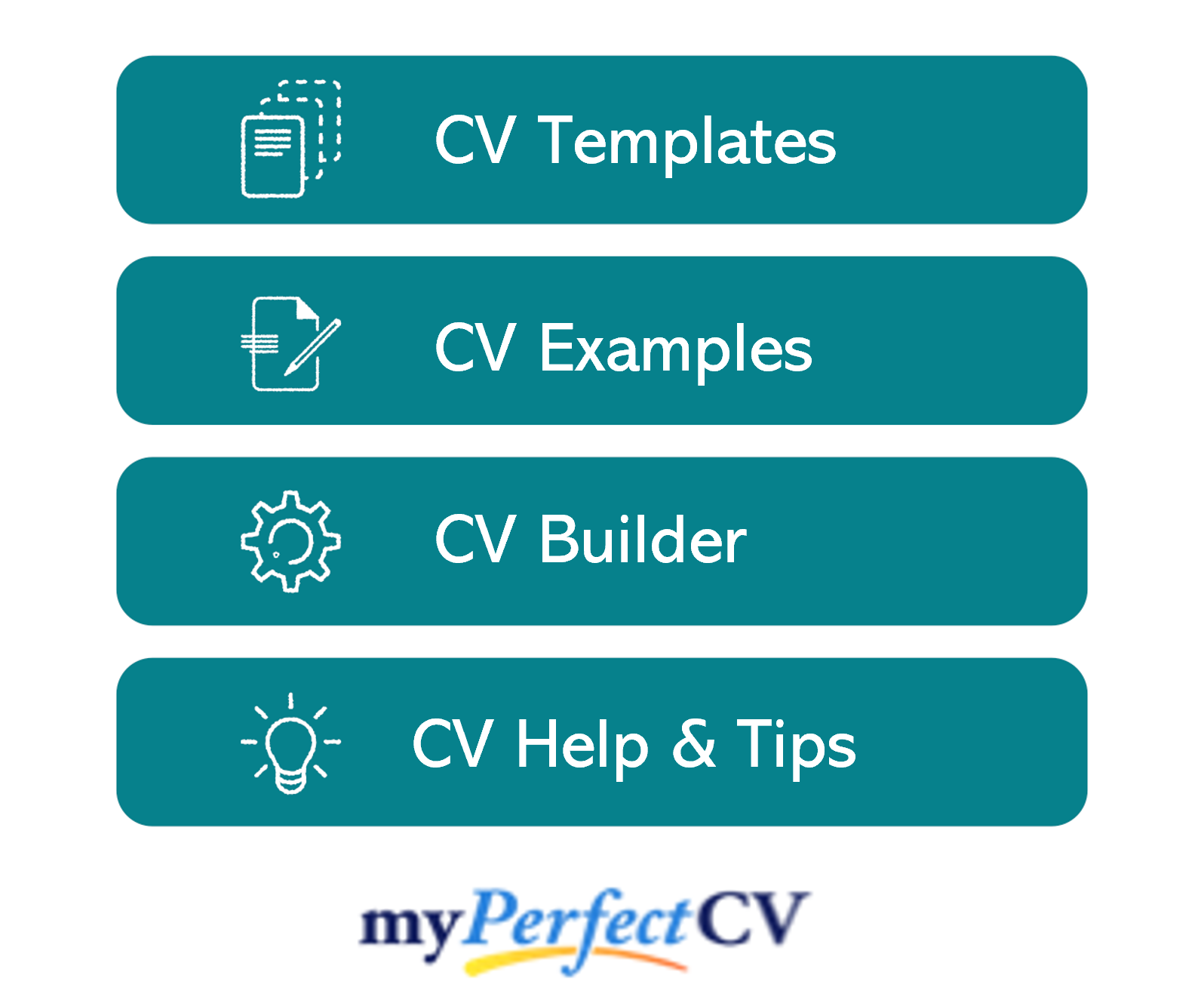 Structuring your CV
Enable ease of reading through a clear CV structure, which will help pinpoint key elements of your CV.
Working to the below sections:
Contact details – keeping them easily accessible at the top of the page
Profile – an opening paragraph that summarises your experience at first glance, emphasising your applicableness for roles
Education – featuring your educational history as well as any club involvement
Work experience – record any voluntary work experience or personal pursuits
Interests and hobbies – detailing any interests that can demonstrate your transferable skills
I'll now walk you through what to include in each section.
CV contact details
Make your contact information easily accessible at the top of the page, including key information such as:
Phone number (ideally your mobile number)
Email address
Location
Avoid adding additional details that aren't needed in the decision making process such as headshots, date of birth or marital status.
Top Tip – avoid adding childish email addresses and keep to a professional, work appropriate address.
CV profile
Your CV profile (or personal statement) is an opening paragraph between 5-10 lines that gives context to recruiters' of your educational history, marketable strengths and any voluntary experience.
Highlight your applicableness for roles to recruiters at the top of the page, grabbing their attention and drawing them in to reading further into your CV.
These points will support you in crafting your CV profile:
Research the industry you're looking to pursue prior to putting together this section, look to add keywords or sector specific skills
Stick to a paragraph length between 5-10 lines, giving an overview of your CV but enabling you to provide extra detail elsewhere
Don't blend into the crowd with overused phrases such as "I am a team player" or "I am hardworking" and instead, highlight workplace skills which are relevant to the jobs you are applying for.
Quick tip: If you struggle with spelling and grammar, try our partner's CV builder

What to include in your CV profile?
Qualifications – record the qualifications you have obtained, linking these to the sector you're applying to
Core skills – detail your core strengths that can help you transition into a range of industries such as communication, dedication or team work
Passions – give insight into the reasons why you're looking to explore a certain sector
Core skills & achievement section
Underneath your CV profile, add a core skills and achievement section that is made up of two to three columns of bullet points.
Add strengths that relate to the industry you're pursuing, ensuring at first glance that employers can see why you'd be the ideal candidate for roles.
Use the vital skills section below for inspiration or your sector research to compile this list.
Education
In your education section, you should be documenting any qualifications or courses you have obtained.
Employers are keen to see what you've achieved during your education so look to include:
Any voluntary work you completed through school
Which school you attended and dates of attendance
Any awards you achieved during your education (such as top of class or full attendance awards)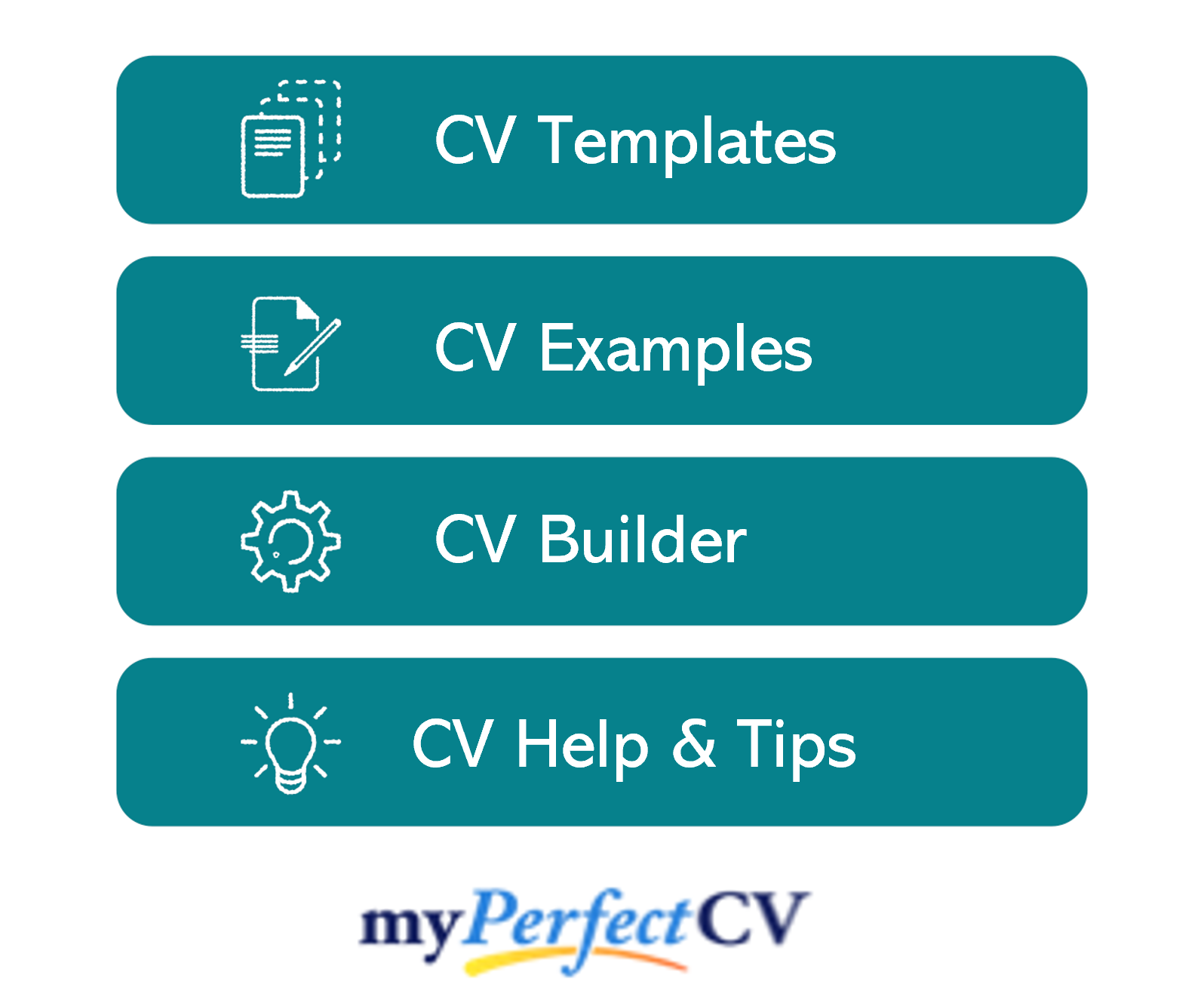 Clubs and Memberships
Within your education also incorporate clubs you have been part of or memberships gained.
These could be book clubs, sports team you were part of or even factoring in being a captain of a team or a school prefect.
See also: School leaver CV
Work experience
Work experience isn't limited to paid employment, so look to include voluntary work, any personal pursuits you have undertaken such as creating logos online or part time jobs such as working in a local cafe or having a paper round.
Structuring your roles
Look to break the information within your role descriptions into three clearly defined sections, helping recruiters easily navigate your experience.

Outline
Provide an overview of any voluntary experience you have gained and what duties you undertook.
E.g.
"Volunteered at a local vets, helping with any tasks needed from front desk to cleaning duties"
Key responsibilities
Detail your key duties in each position, in bullet point form.
E.g.
Shadowing the veterinarians as they examined pets
Cleaning up the animal cages
Key achievements
Detail any specific achievements during this time and try to use figures that can verify and boost your examples.
E.g.
Gained excellent feedback from two customers who said I was helpful during their visit to the vet
Interests and hobbies
This section should be used to boost your relevancy for roles, by displaying the transferable skills you have acquired.
Avoid cliche hobbies such as reading and instead reflect on hobbies that are linked to the sector you're hoping to pursue.
For example, focus on hobbies such as sporting team involvement, charity participation or accomplishments such as running a marathon as these all show your dedication and hard work.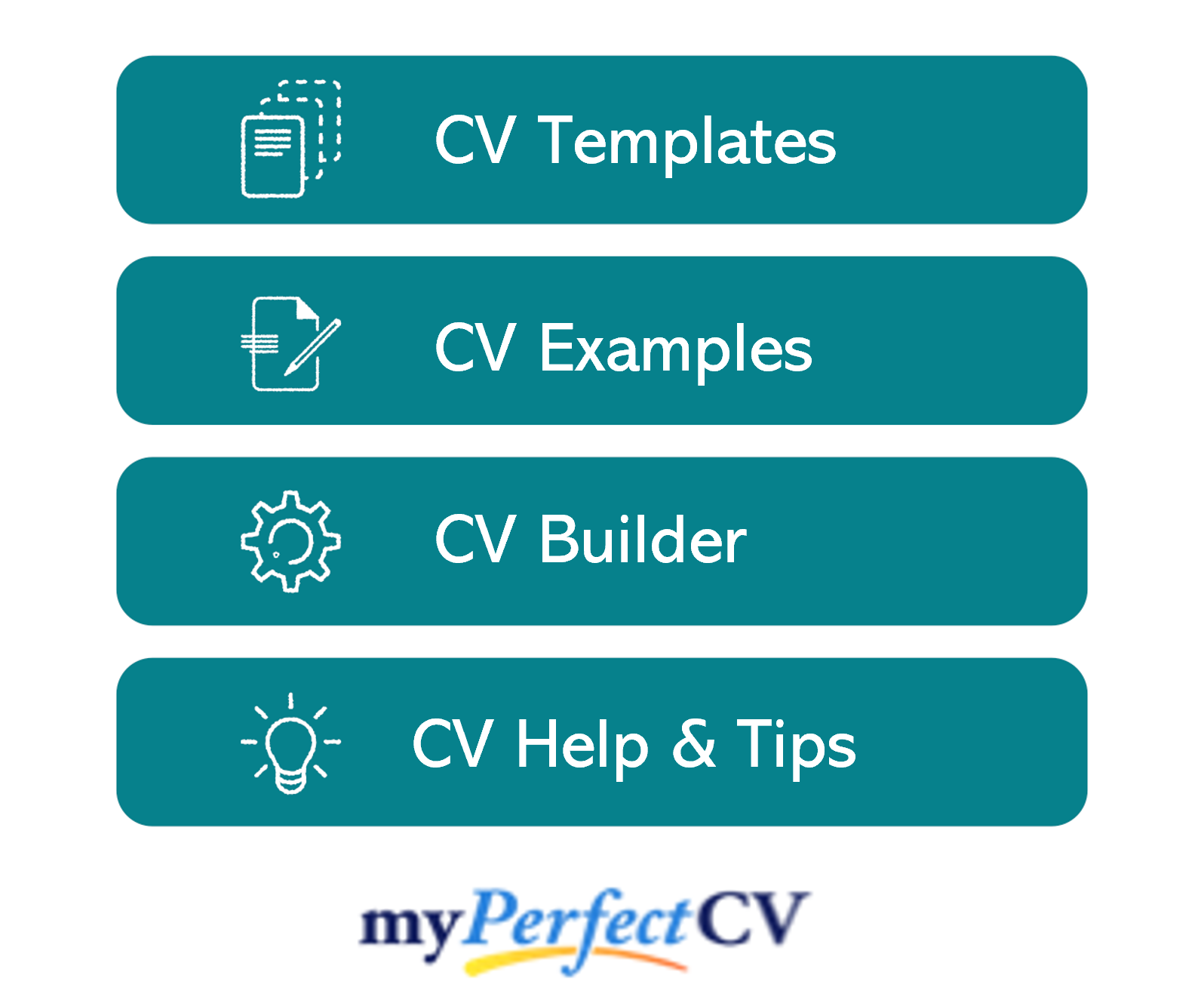 Essential skills for your CV
Whilst each individual role you apply for may be looking for a different skill set, there are fundamental strengths you need to be featuring within your CV.
Communication – being able to effectively communicate to customers or colleagues and present your ideas
Dedication – showing your drive and your ability to commit as well as revealing your work ethic
Organisation and time management – being able to work to deadlines as well as juggle your time effectively with education and employment
Team Work – having the capacity to work with others, using examples from school projects or club memberships
Writing your CV
If you have limited work experience, the key to standing out from the competition is all about displaying your transferable skills.
Your CV structure needs to both make your educational history and strengths a focal point whilst also being visually pleasing and easy to navigate.
Following this guide will help you in creating a CV, that aids you in landing plenty of interviews.
Good luck in your next application!